Three Days: Episode 2
Now that our world has been set up the action gets going, and it turns out that what we really have on our hands is a fugitive drama. I guess don't mind, since I prefer a good wronged man runaway plot to a straight-up secret agent show, but it does feel a lot like Two Weeks and Mandate of Heaven before it. Perhaps that's why it wasn't advertised as such.
While that does take away some of the freshness in the conceit, there's potential for it to make me more engaged on a character level—a principled secret agent man is one thing, but a principled secret agent on the outside of the law can be much more interesting. Let's just hope it takes us somewhere good.

SONG OF THE DAY
Lim Chang-jung – "Goodbye" from the Three Days OST [ Download ]
Audio clip: Adobe Flash Player (version 9 or above) is required to play this audio clip. Download the latest version here. You also need to have JavaScript enabled in your browser.

EPISODE 2 RECAP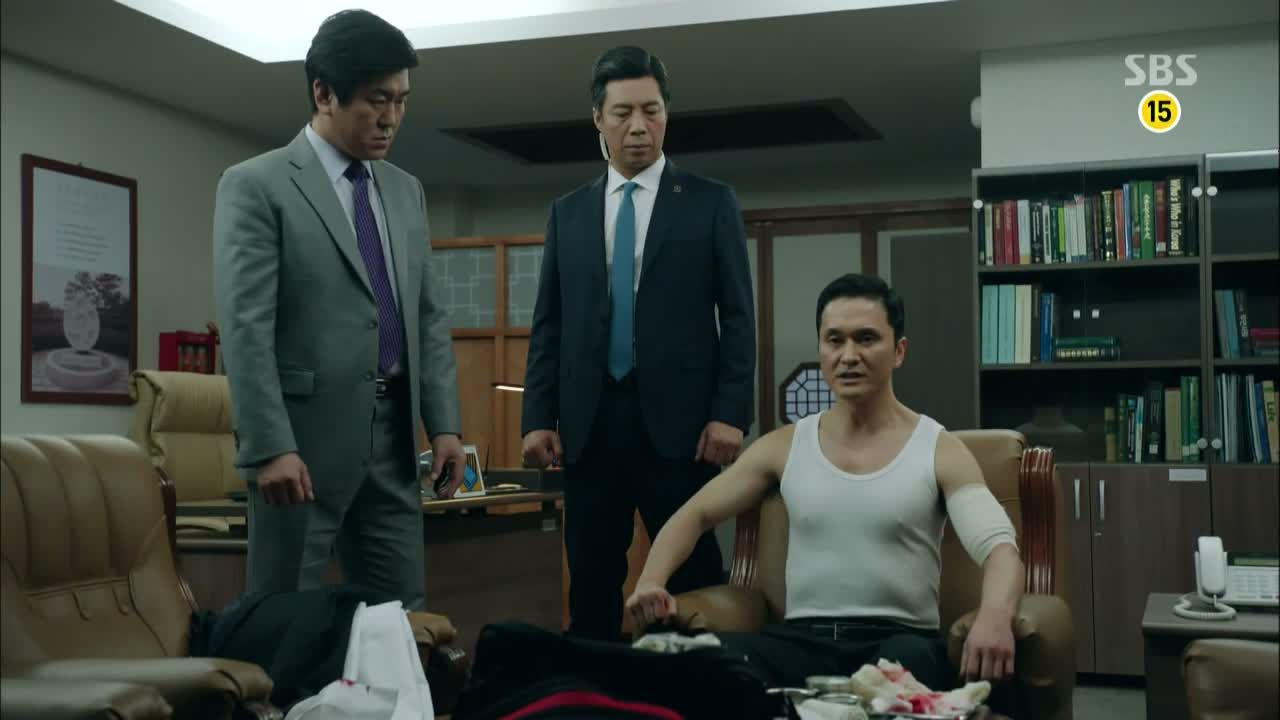 In the woods, a SWAT team sweeps the area with dogs as a man flees for cover.
Inside the presidential villa, Security Team Leader Ham sits with his shirt off after bandaging a wound in his arm. He growls that the suspect in the assassination attempt against the president has been spotted: "It's Secret Service agent Han Tae-kyung."
And back in the woods, we see that it's Tae-kyung who's being chased by the army of agents. Crud.
90 minutes earlier. March 5. 8:00 PM.
We go back to the moment of the blackout, this time from the Secret Service agents' perspective from inside the villa. They scramble to get communications back up to check on the president's status when the shots ring out: one, two, three.
The leader at the control desk interprets the flashlight signals that come from the fishing dock where the president was, just moments ago. He repeats in a shaky voice: All personnel dead.
Team Leader Ham rushes down to the dock. He finds two agents down, each with a bullet wound. That's two shots, with the third unaccounted for…
Another agent spots the president's shoe floating in the lake, which bolsters the first thought they all had—if President Lee was shot, he'd have fallen out of his fishing chair and into the lake.
Team Leader Ham orders a search and tells them to keep things under wraps until they confirm the president's status.
That's not really how the Blue House rolls though, because as soon as they send signal flares up to aid in the lake search, the central security team at the Blue House receives satellite images that send off warning bells.
The security planning team sends Cha-young to the chief secretary's office to deliver the report, though he receives a phone call that beats her to the punch. Or was she here to deliver different news altogether? Hm.
Twenty minutes later, Team Leader Ham gets status reports from each division. The blackout was the result of an EMP that took out the entire city's power. Ballistics show that Agent 1 went down with a sniper shot to the head, which sent Agent 2 jumping in front of the president to shield him. A shot to his chest takes him down.
In the replay according to the report, the sniper then gets the president in his sights, looking around in the dark and frozen with fear.
The team in the woods finds the bunker the sniper used to conceal himself—just a shallow hole dug into the ground with leaves for cover.
One of the agents suggests that the EMP is the greatest cause for alarm, because it means only vast military power could be behind this. The natural conclusion they jump to is the most dangerous one: that North Korea just assassinated their president. Crap, don't start a war!
(Okay, I know this is a drama where everyone is meant to be shifty, but the security team's second in command (Ahn Gil-kang) looks extra shifty. Stop punctuating everything with that side-eye.)
Meanwhile, Tae-kyung fiiiiiinally manages to break through the guards at the gate (though if an unarmed man can get past your security, how good is your security?) and rushes into the command room.
They're confused as to why an off-duty agent on probation is doing here, but then he asks them first—did someone attack the president? They're dumbfounded that he came here knowing this, and then he relays the army colonel's dying message that someone would attempt an assassination on this day.
Tae-kyung is sure that the colonel was killed to keep him from being able to warn them, and says that finding the colonel's killer is the key—he'll be connected to this assassination plot.
Team Leader Ham doesn't waste any time ordering them to follow up on the colonel's case, but then Chief Secretary Shin storms in with Cha-young in tow. The already tense relationship between the security team and Chief Secretary Shin gets dicey when Team Leader Ham has to admit that the president has gone missing on his watch. He makes sure to add that they still have no evidence that President Lee is dead. Well that's not exactly comforting.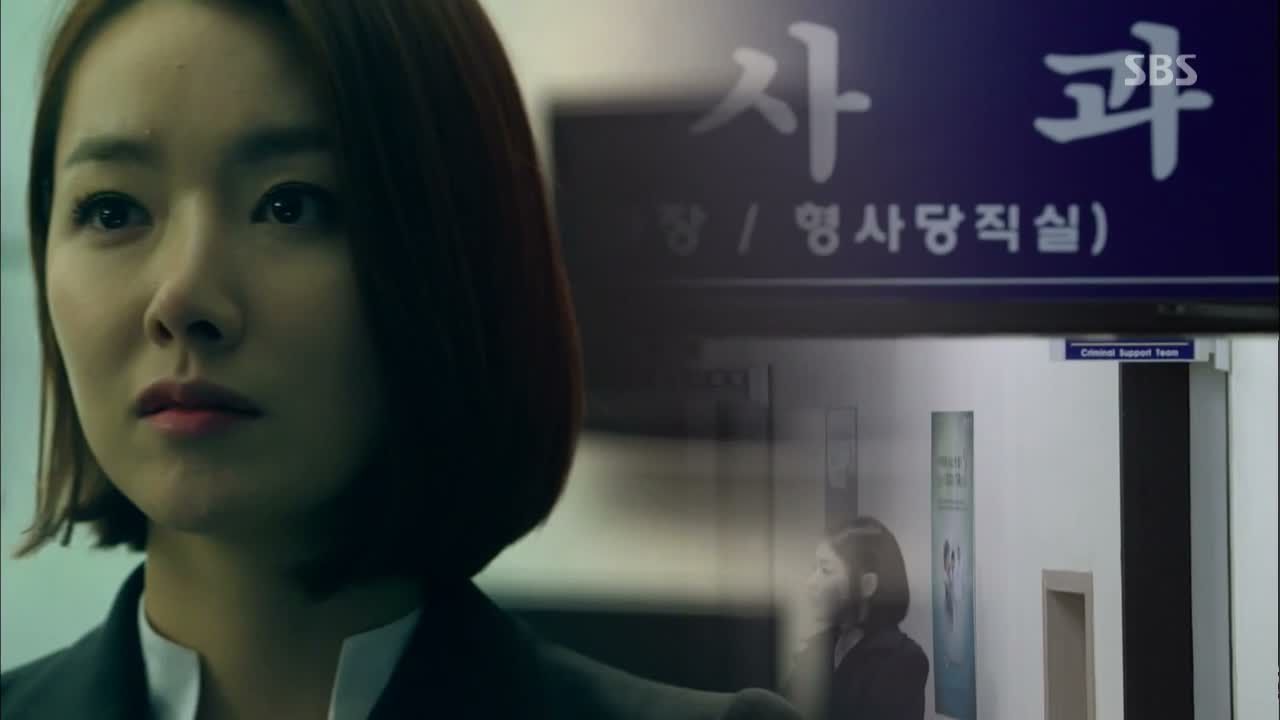 It turns out that Cha-young already followed up on the colonel's murder after she spoke with Tae-kyung, but the results of her investigation are alarmingly different from Tae-kyung's version of events.
The CCTV outside the colonel's house shows only one man entering the house that evening: Han Tae-kyung. Uh-oh. Tae-kyung swears he saw another man leaving the house before he entered, but the footage shows no one else, and there was no USB drive either.
They also checked on the security cameras for Tae-kyung's place, but there was no evidence that the colonel was ever there, and the security ajusshi claims that Tae-kyung never came by to look at the footage. What.
Chief Secretary Shin doesn't beat about the bush, and claims that it would be near impossible for someone to infiltrate their perfect security system (ahem, says the guy who missed the part where a blackout incapacitated them) unless it was an inside job by someone who knows every inch of their protocol… someone like Han Tae-kyung.
He points out that Tae-kyung is the prime suspect in the colonel's death, and asks if Team Leader Ham is going to protect him again out of loyalty. Tae-kyung is floored at the sudden wave of suspicion directed at him, but swears to his boss that it wasn't him.
But the situation is too serious to let it go at that, so Team Leader Ham orders Cha-young to take Tae-kyung into custody and begin an interrogation. Tae-kyung takes a step closer to argue, but Shifty Second Ahn Gil-kang whips out his gun. The whole room freezes over.
Tae-kyung takes a moment to process, and then just steps closer to the barrel until it's right up in his face, without so much as flinching: "Go ahead and shoot. What Secret Service agent is afraid of a gun?" Okay, that was badass.
Thankfully Team Leader Ham intervenes. He remains focused on the most important task—finding the president—and orders everyone to comply, including Tae-kyung.
Thirty minutes after the shooting, local police officer Bo-won stirs awake after her fall from the EMP blast. As she gets up, she hears a man's voice speaking in English. It's the same duo from the white truck she stopped earlier, now packing up the EMP device.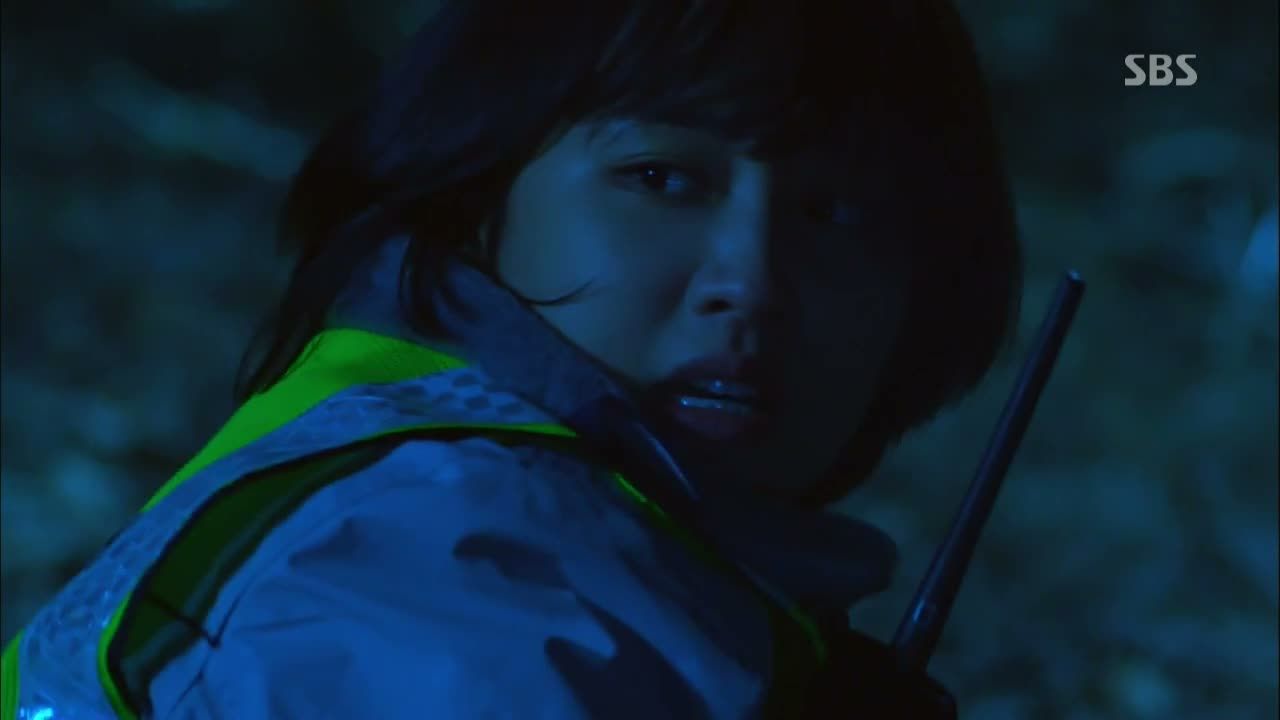 The problem is they hear her too, as the leaves rustle beneath her. One of the men approaches, gun drawn. She's injured and limping, but she runs and tumbles down the mountainside in a breathless panic.
She manages to get to her police car, but it's no safe haven—the radio is out, and the engine won't start. Gah, every time she looks behind her it sends a chill down my spine. She ditches the car and limps away, but the man in the woods stops when he finds her police badge with her name and picture on it. Ack. There might as well be a bullseye stamped on her forehead.
Despite following protocol when it comes to Tae-kyung, Team Leader Ham firmly believes that he's innocent, and calls Tae-kyung a person who isn't capable of that kind of betrayal.
Cha-young remains friendly and casual even as she escorts Tae-kyung to interrogation, saying that she can't just take his side blindly when all the evidence says otherwise. Tae-kyung points out that if he wanted to kill the president, he wouldn't have needed an EMP—he'd have walked right up and shot him.
He adds that he'd have no reason to also kill the colonel or his own father. Right? She argues that there's no proof of those deaths being linked to the assassination attempt, but he's more convinced than ever that his father's death is connected to all of this.
He stops to look out at the signal flares on the dock, and wonders aloud why the shooter bothered with an EMP—it's hard to acquire and unnecessary for the operation. She assumes it was to make the getaway easier.
But Tae-kyung says the blast came before the shots, which only makes it harder for the sniper, so why cripple your own assassination attempt? He goes to the compound map down the hall and draws the trajectory of the shots fired, from one dock to the other.
A light bulb goes off and he runs down to the dock. Hey, guy who's under arrest, maybe tell people where you're going before running away all suspicious-like. No wonder you get chased by dogs later.
He reaches the gate to the other dock and finds a mark in the sand. He thinks to himself that if this gate is unlocked, the attack could've taken place from anywhere inside the compound. He pulls on the chain… and it comes undone. He scans the area and the first building within his sights is the Secret Service dormitory.
By now Cha-young and the guards have caught up to him, and he yells at her to get Team Leader Ham. "Somebody opened this door! Chief Secretary Shin was right—there could be a mole on the inside."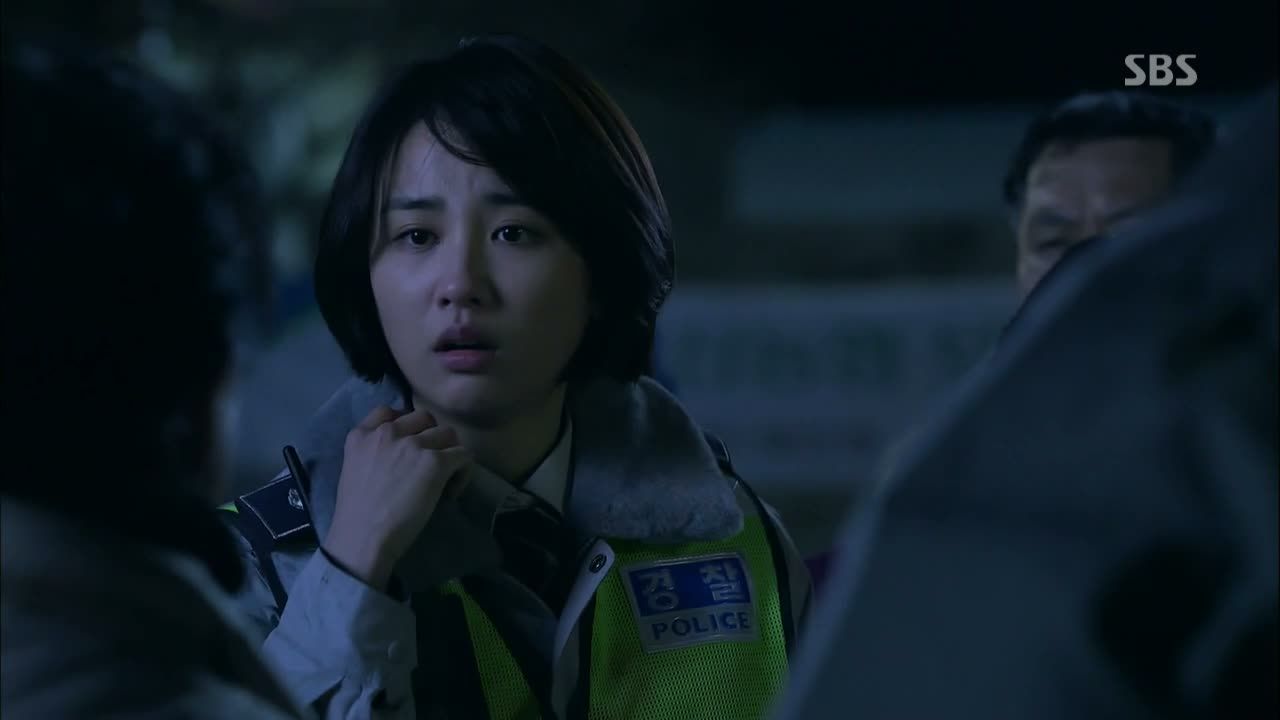 In an unknown location, a man covered in shadow (and the giantness of his cell phone—convenient, that) makes a call to the EMP duo as they drive past an accident on the side of the road. He reports that there's been a hiccup but they'll take care of it, as he looks down at Bo-won's ID.
Bo-won has made it down to the village, where the local townspeople tell her about the shots fired and worry that it's war.
Thankfully Cha-young is trusting enough to give Tae-kyung the chance to meet with Team Leader Ham as requested. He asks to speak to him alone, and Ham gives him five minutes to talk. Tae-kyung asks him to consider what he's about to say as the ramblings of a madman:
March 5. 7:45 PM.
We revisit the events based on Tae-kyung's narration. The EMP is set up to go off at exactly 8:00 on the hour. When the lights go out, shots one and two are fired killing the two agents. Then the third kills President Lee, landing him in the lake.
The gate to the other dock is opened and then re-chained. (To hide the weapon? Or set up the dock as the decoy shooting area?) But Tae-kyung's point is this: the shots actually came from inside the compound—from inside the security team's dorm no less.
Team Leader Ham listens to his theory with a skeptical look—it's already been determined that the shots came from the dock, and this is just a theory. But Tae-kyung explains that the EMP wasn't set up to conceal a getaway, but to give the shooter the chance to attack from within.
The blackout sent all agents running to priority one: the president. That left the shooter alone in the agents' dormitory, the last place anyone would care to look for suspicious activity.
As he says this, he approaches the window and steels himself before opening it. He looks out from the vantage point and sees it in his head: the sniper rifle aimed at the dock from this very window. "The shots were fired here, from this window."
Aaaaaaack. Tae-kyung says tensely that he doesn't believe that Team Leader Ham would've done such a thing, and asks who was in here at 8:00 tonight. But strangely, Team Leader Ham jumps to dismiss it as a baseless theory.
And then Tae-kyung hears the faintest sound coming from inside the room: tick-tock-tick-tock.
They exchange a charged look, and Tae-kyung says that an EMP wipes out everything, including clocks. One look at the wall clock confirms that it stopped at 8:00 PM, just like all the others. But he says that the Russians developed a wristwatch for just such a purpose, to keep running in the event of an EMP blast.
He follows the sound of the ticking clock to Team Leader Ham's jacket hanging on the coatrack. The wristwatch is still ticking away faithfully. Tae-kyung: "You must've had a personal interest in EMP bombs…"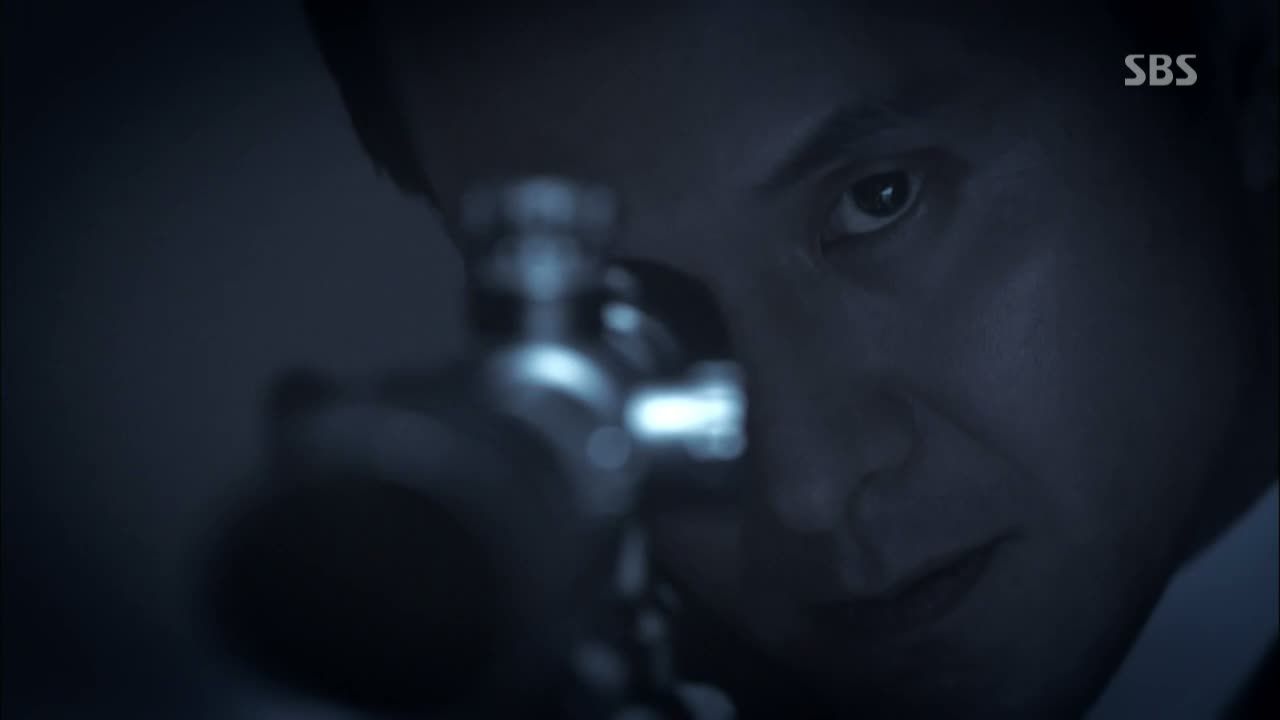 We go back to the shooting, and this time it's Team Leader Ham behind the sniper rifle. Tae-yung: "Or… you already knew that there would be an EMP blast."
He barely finishes the sentence before a gun is cocked. Crap. Team Leader Ham raises his pistol: "The president doesn't deserve to be protected. That person did something that should never be done."
Tae-kyung asks if he really killed the president and two of his own agents, and Team Leader Ham just calls it a sacrifice to prevent an even greater sacrifice. He adds that he can't let anyone else get hurt because of Tae-kyung, and moves to pull the trigger.
Tae-kyung screams, tears pooling in his eyes: "And my father?! Did you order that too? Confidential 98—is that why you killed my father?!"
Before Ham can react, Tae-kyung lurches at his throat and disarms him swiftly. He leaps out the window and tumbles to the ground for a getaway.
Team Leader Ham fires out the window, and everyone runs toward his office in a panic. Cha-young is nearest to the scene, and when he hears her approaching, he fires off another shot into his own arm. Damn.
Tae-kyung races through the woods in the scene that opened the episode, and Team Leader Ham names him as one of the culprits in the assassination attempt. Tae-kyung stops to take a breath and takes out Bo-won's card, determined to get answers.
He makes it down to the road and jumps out in the path of an oncoming car, and hijacks it just seconds ahead of Cha-young and her team.
March 5. 9:30 PM.
Bo-won makes her way to the police station, but it's eerily empty inside. She finds one landline that still works and makes a call, but the line suddenly cuts out. She looks around and then stops in her tracks when she sees a familiar white truck parked outside. Ruuuuun!
She gets to the back door but one of the men is already there trying to get inside. They struggle with the door and he clamors to get in, but she barely manages to lock it behind her. The other man is headed in the front with a gun at the ready, so she locks herself in the back room with a window as her only escape route.
Once he starts shooting at the door, she has no choice but to jump. Ow, she lands on her already injured leg. A man comes up behind her and covers her mouth before she can scream, and ohthankgod it's Tae-kyung.
He asks if she can run and gets her to the car just in the nick of time. She asks if he has a phone or a gun (I love her cranky complaint: "What kind of Secret Service agent has no gun?") and he asks about the men—he thought at first they were following him, but it's clear they wanted to kill her. She tells him that they're suspects in his father's murder.
Back the villa, Cha-young is wary enough of the accusation that Tae-kyung shot his boss that she asks Team Leader Ham point-blank if Tae-kyung shot him.
She relays what he found out about the gate being open, and watches on edge as Team Leader Ham reaches for the gun in his holster… but goes for his pocket instead.
He says unconvincingly that he must've left the gate unlocked during a routine check earlier today. But he's saved by the bell when an agent radios in from the lake that they've found the president.
Meanwhile, Bo-won takes Tae-kyung to the site of his father's crash. He walks down to where the car landed and pictures his father still there, looking back at him. He swallows back his tears.
Bo-won looks on sympathetically as he asks if the ambulance came right away, and if his father was in a lot of pain. At the sight of his tears, she thinks back to the moment she first saw him sitting alone at his father's funeral.
The security team heads down to the lake as the search boat reaches the shore. The president's body is hauled out in a bag, and the agent tells Team Leader Ham he should see for himself. They open the body bag, and everyone's faces freeze in shock.
Tae-kyung and Bo-won come back up to the road and he asks if she's sure about the two men behind his father's accident. That's when she repeats Dad's dying words about the file they'd be after, and Tae-kyung makes her repeat it to be sure: "Confidential 98?" She's positive—that was the name of the file, and now it's gone.
A bright light suddenly flashes in their direction from down the road. God, not the truck again?
Back at the lake, we finally see the body in the bag… it's not the president. No one is more surprised than Team Leader Ham, who can barely contain his twitchy reaction. "Who is this man?! Where is the president?!"
In the woods, President Lee struggles to stay conscious, bleeding from his head down to his hand.
A flashback reveals that Tae-kyung's father was in on something with the president, who asks, "On March 5, will all this be over?"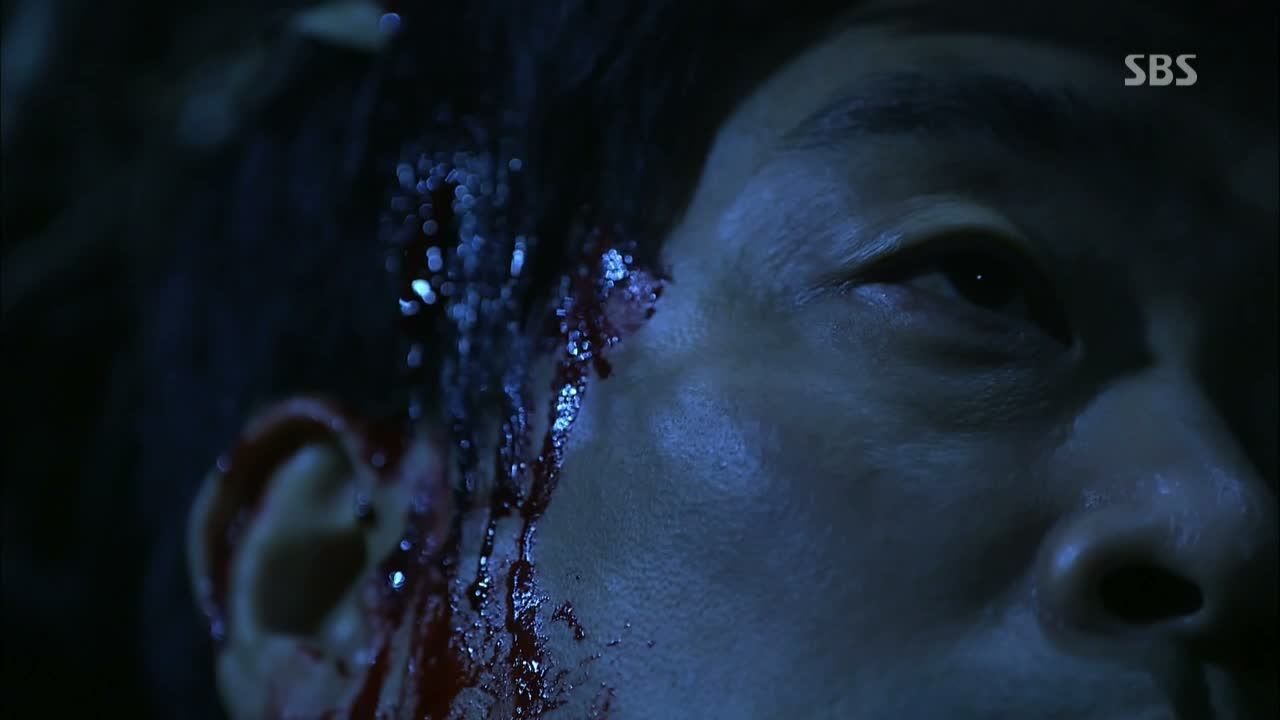 Dad answers that his trip to the villa will be his last opportunity, so they can't lose this chance. He warns that it could be dangerous, and tells the president to trust no one.
President Lee starts to fade out of consciousness…
And back on the road, Tae-kyung and Bo-won look toward the light and see the truck of doom coming straight at them.

COMMENTS
They sure are getting a lot of mileage out of one truck o' doom, hur hur. I'm going to pretend that those long seconds while they just stand in place waiting to be roadkill aren't in real time, because then I'd start to seriously question our hero's abilities as an agent, especially when it seems like he's endowed with some kind of superhuman hearing. (I know it's just being dramatized for our sake, but I'd like it if they came up with a side story about how his freakishly keen sense of hearing was passed down from his father or something, just to root it in his character.)
When you cast someone like Jang Hyun-sung in your drama, it's pretty much a waste of an actor if you don't make him the double agent bad guy, though hilariously enough, with Sohn Hyun-joo and Yoon Je-moon included, there are so many possibly shady vibes coming off of everyone that it muddles the instincts. Is he evil, or is he meant to seem evil, which means he's good?
At this point I'm wondering if I'm giving the show too much credit because I want it to be that twisty, because so far the story is rather straightforward. In any case, despite Team Leader Ham's declaration at the beginning of the episode that Tae-kyung was the bad guy, I still trusted him because of his repeated faith in our hero's moral fiber. I was all prepared for him to send Tae-kyung on a black-ops mission to find the mole, but in a story sense I do prefer that our hero is on the outs with the law. Now we have a classic fugitive story: he's framed for high treason, stripped of his credentials and all the people he trusted in his life, and the only way to clear his name is to uncover the conspiracy on his own.
I hope the show learns to make better use of its time conceit, because so far I see little use for it. There's nothing in the telling of the story that makes it dependent on that structure, and I think someone needs a reminder that what builds urgency into the story is a looming threat, not the presence of a clock. I felt the tension mount when Tae-kyung first discovered the assassination plot and had to race to stop it, but then today we've already skipped to its aftermath, and the clock is useless in a narrative tension capacity. I still cared because I care what happens to our hero, but I want another threat looming overhead, stat.
The one thing that has me excited is Tae-kyung's brains—I'm going to have fun rooting for him to outsmart everyone, because he's clearly capable of it. It's nice that his great failing is his principled nature and his faith in people, because that blinds him to shifty people like his boss. Now he's got some moral quandaries to shake his black-and-white view of the world, which is a good thing, as long as the show wants to answer the questions it raises.

RELATED POSTS
Tags: featured, Micky Yoochun, Park Ha-sun, So Yi-hyun, Sohn Hyun-joo, Three Days