A New Leaf: Episode 10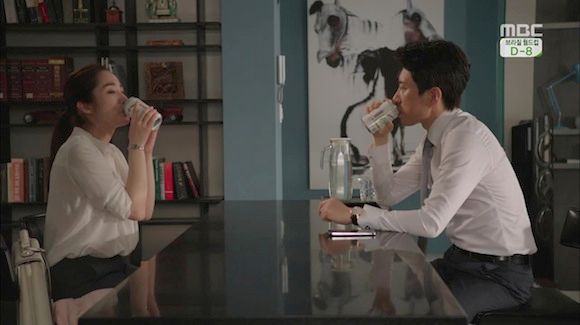 Seok-ju just can't seem to catch a break. His fiancée is about to be prosecuted, he's about to be prosecuted, his puppy needs surgery, his dad is sick, and his intern may have inadvertently won a murderer a reduced sentence. It's just a shitty day for everyone, and the relentless onslaught of suckage is helped along by some familiar evil faces we hoped we'd never see again. The bright spots in this episode are the small moments between characters, as they show new sides of themselves and begin to express their feelings in new ways. Ji-yoon's loyalty to Seok-ju clashes with her code of professional ethics, and Sang-tae shows that in addition to a mean sense of rhythm, he's packing some serious wisdom about the human heart. It's good that Seok-ju is beginning to discover (rediscover?) who his real friends are, because he's going to need them on the road ahead.

EPISODE 10 RECAP
After hearing that Jung-seon has been summoned to testify in the case against Yoorim Group, Seok-ju hightails it to the office. Meanwhile, Ji-yoon struggles with the aftermath of her grave mistake. She pores over the documents from the murder case, unable to hold back her tears.
The news about Yoorim Group's bankruptcy is now out, and many people's livelihoods will be affected. Ji-yoon's aunt is among those facing losses, and she heads for Yoorim Securities headquarters to see what's going on.
At the office, Seok-ju learns that he has been taken off the case. The Cha Yeong Woo firm has decided to give another firm the responsibility, which means Seok-ju won't be able to help Jung-seon. He can look at files from past cases, but any future files are a different matter. Since he isn't working on the case, it would be illegal for him to see the new case files.
Seok-ju calls Chairman Gwon to learn more about the nature of the crisis. Eight of the company's executives were called in for questioning, and Jung-seon was bound to be summoned because she was in charge of funds. Chairman Gwon tells him not to worry too much.
After the chairman hangs up, his son protests that it's useless for Seok-ju to want to help now, when he was the one responsible for drawing up part of the company's strategy that is now landing them in such trouble.
Chairman Gwon intends to keep Seok-ju well away from the case because it's risky to let anyone, especially a smart, ambitious future son-in-law, know every secret about your company. It would give Seok-ju too much power, and Chairman Gwon points out that once Seok-ju marries Jung-seon, he'll be competing with the Chairman's sons for management rights.
Jung-seon keeps her poker face intact during questioning from the prosecutor. He wants to know why the company registered so many losses from 2010 to 2012, but Jung-seon only became Director of Funds at the end of 2012 and has no knowledge of what went on before she assumed the position.
The prosecutor has a hard time believing that she didn't know about the company's high-risk investment plan, which is now ruining many livelihoods. He demands to know how she can have such a high position without knowing essential facts about the finances she was supposed to manage. A lot of money is unaccounted for, and Jung-seon only knows it was supposed to have gone to a number of overseas banks and foundations.
Seok-ju may be off the case, but he's still determined to get involved. When Sang-tae comes into his office, Seok-ju is preparing to see the prosecutor about the Yoorim case. He is understandably upset, because he knows that he was involved in designing the plans that have created so many victims. Sang-tae can only tell him that he never made a mistake like this before, which is why he was valued so highly by corporations with a lot to lose.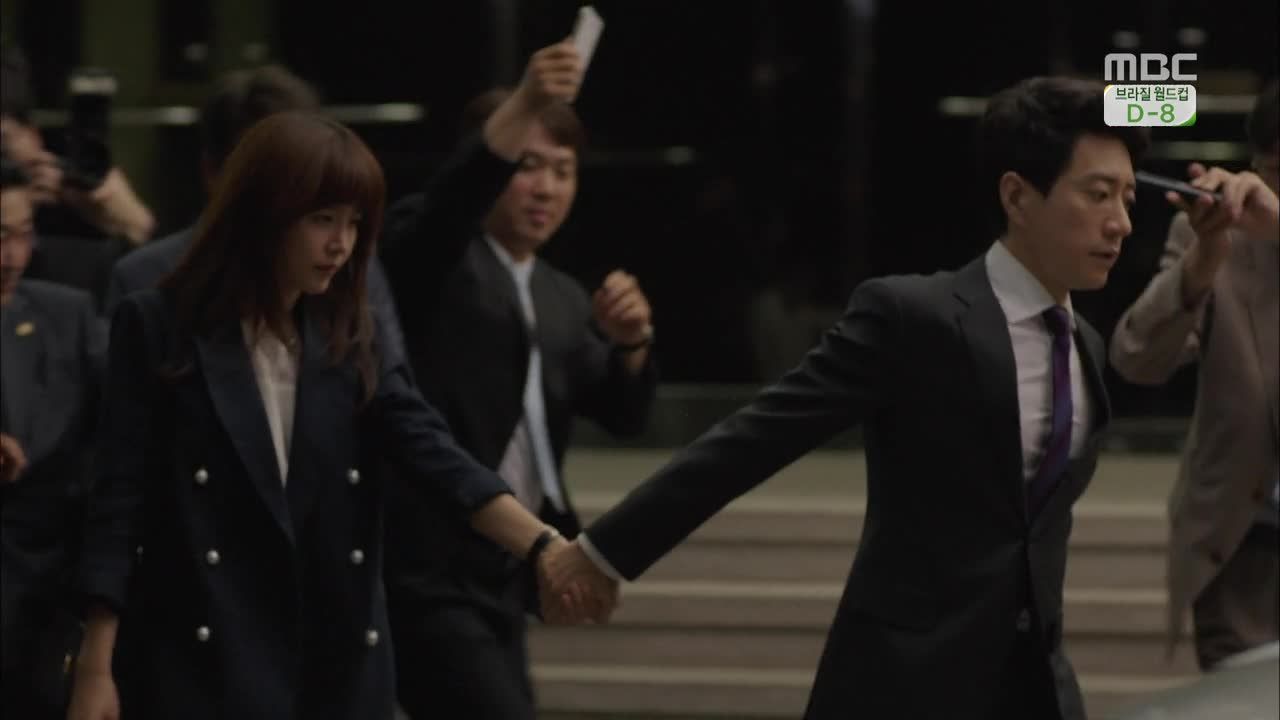 Seok-ju arrives at the prosecutor's office just as Jung-seon is leaving, and reporters swarm around her for a statement. Seok-ju grabs her hand and leads her through the crowd to his car.
They drive in silence back to Jung-seon's home. Seok-ju asks why she didn't call him when the trouble arose, but she doesn't respond. He tries to talk to her before she goes inside, but she's noticeably cold towards him.
"Are you all right?" he asks her, clearly wanting to help. "I have lawyers," she responds brusquely. "You don't have to worry."
Seok-ju rings Ji-yoon's doorbell when he gets back to the apartment, but she doesn't answer. She also ignores a phone call from her aunt, unaware of the financial trouble now facing her family.
Jung-seon's family is in full crisis-management mode. They've already liquidated two of their subsidiaries, but the problem won't be resolved until someone takes responsibility by going to jail. The uncles pull out excuses pretty quickly as to why it can't be them, and the family lawyer recommends that someone with a clean record will be better received by the public, and will receive a shorter sentence. Everyone looks at Jung-seon.
As for Jung-seon herself, she's more concerned with what the prosecutor was accusing her of. She's suspicious of her family's activities, and challenges them on the vast sum of money that went missing without showing any profits. Her uncle repeats the old story about investing in a Filipino bank and a mine, but Jung-seon doesn't seem convinced. Chairman Gwon finalizes his plan, which involves selling off a third branch of the company and sending Jung-seon to face prosecution as the scapegoat.
At the vet's office, Seok-ju catches up with Khan while continuing to worry about Jung-seon. She's not taking his calls, so he sends her a text: "Please call me. I'm worried about you."
Ji-yoon is drinking her feelings outside the apartment when Seok-ju returns. He scolds her for skipping work, and the two sit down for a quick chat. Ji-yoon is still broken up about her lack of suspicion in the murder case, but Seok-ju isn't angry at her. It's good to be trusting, he says, but a lawyer needs to make sure his or her client tells the truth.
Seok-ju's straightforward manner seems to reassure Ji-yoon, and she looks slightly more cheerful as he prepares to leave. "Show up at work tomorrow," Seok-ju says, "or I'm sending you to another team."
Jung-seon still hasn't responded to Seok-ju's text. He calls her, but she lets her phone ring. In contrast, Ji-yoon looks much more determined after Seok-ju's pep talk. She looks through pictures of her family on her phone, and promises to keep fighting.
The next day at work she is scolded for playing hooky, when Seok-ju covers for her by saying he sent her on an errand. She lights up at being defended by her boss, but the brief moment of cuteness doesn't last long. She finally answers her aunt's phone call and learns that her father's company is in trouble.
Ji-yoon rushes to learn what she can, searching the Internet and getting Sang-tae's advice. It seems that the victims — those who bought CP shares — will only receive a fraction of their money, spread out over many years. Even if the company eventually recovers, Sang-tae informs her, there will be restructuring that will cost many jobs.
Hoping to help Seok-ju, Sang-tae calls his uncle, an influential prosecutor. He learns what we already know: that with the amount of money lost from CP loans, the company will need to sacrifice someone. And it looks like that person will be Jung-seon.
Sang-tae meets Seok-ju on the roof and tells him the situation. He also clues in Seok-ju to his fiancée's past: Jung-seon's mother was disinherited when she married a poor sculptor, which is why her father is looked down on by Chairman Gwon's family. When her mother passed away, Jung-seon was forgiven and taken back, but her father is still estranged from his in-laws.
Now it looks as if Jung-seon will be the one to take responsibility for Yoorim Group's mismanagement, even though Seok-ju is confident that she couldn't have done all that Yoorim is being accused of. Although Chairman Gwon talked of the sentence as lasting a few months, Seok-ju and Sang-tae seem certain that it will be at least ten years. "The prosecution is sure to demand a life sentence," Seok-ju declares.
Hey, what do you know? Sleazy Prosecutor is back, the guy who tried to manipulate Jung Hye-ryeong into pleading guilty until Seok-ju kicked him to the curb. Now he's looking into some shady stock-selling tied to Park Dong-hyun, the deceased rapist chaebol heir. Although Dong-hyun is dead, many people have been ruined by his insider trading, so the prosecution aims to follow up on the scheme.
That's bad news for Seok-ju, because as you may or may not remember, he was paid with some of those fishy shares way back before all this amnesia business began. Sure enough, the prosecutor finds out that Seok-ju was Dong-hyun's go-to business lawyer, and orders his assistant to begin looking for any connections to the financial scheme, in the hope of issuing a search warrant.
Ji-yoon visits her aunt and the other victims of Yoorim Group's collapse, and she has no good news. Her firm can't take this kind of case. Everyone is distraught to hear that the most they can expect is 35% of their losses recouped over ten years.
Jung-seon and Chairman Gwon talk about what's best to be done, for the sake of Yoorim Group and for the family. Jung-seon admits that she has been ignoring Seok-ju's calls, and Chairman Gwon speculates about how his future son-in-law has changed. He's heard about the important financial case that Seok-ju turned down, as well as his intentions to leave the firm. Jung-seon tells him that no matter what happens, she doesn't believe that Seok-ju will be the man her grandfather wants him to be.
The conversation turns to the recovery plans, and Jung-seon seems prepared to go to jail for the sake of the company. Chairman Gwon hopes it won't be necessary, but he respects her loyalty. "You're not like your mother," he says, and recounts how his daughter refused to follow his orders, running away with her sculptor after getting pregnant.
Jung-seon's uncle joins them, and Chairman Gwon reveals his intentions to give Jung-seon a 20% share in Yoorim Cement after the current crisis is resolved. When Jung-seon's uncle objects, the chairman says that if it bothers him that much, he should take responsibility by going to jail. Jung-seon leaves the two of them together, determined to talk to Seok-ju now that she's fixed her course of action.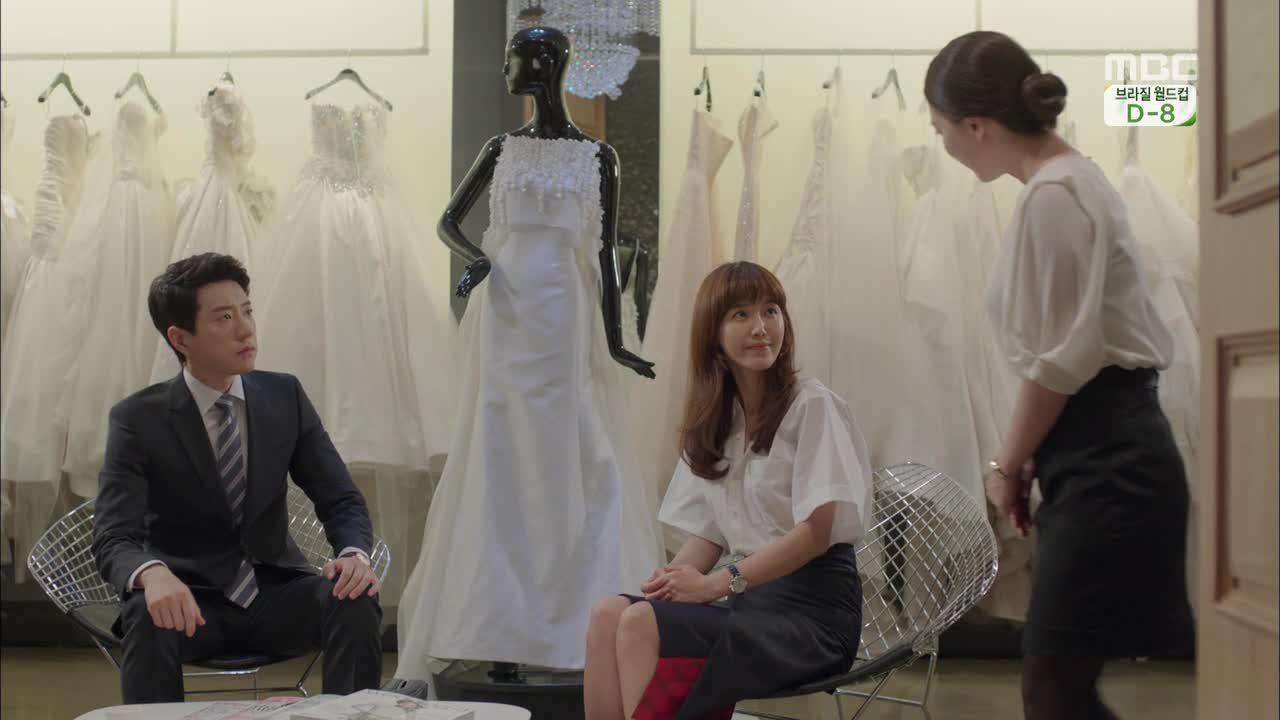 At the coffee shop where she meets Seok-ju, Jung-seon finally tells him her intentions. She doesn't want her ailing grandfather to die in prison, so she will appear before the prosecution in his place. Seok-ju tries to explain why that's a bad idea, but she only says that she didn't come here to discuss it. They go to the store where Jung-seon reserved her wedding dress, and she begins to cancel reservations to postpone the marriage. Seok-ju insists on paying for the dress, as Jung-seon promises to take care of the other steps through the wedding planner.
As they're leaving, Seok-ju asks why she's doing this. At first, Jung-seon lies that she's trying to be understanding about Seok-ju's condition. But he insists that this isn't the only reason, and she admits that she thinks she'll end up in prison. At first she was worried about his condition, but now she has a condition, too. "We're even now," she says.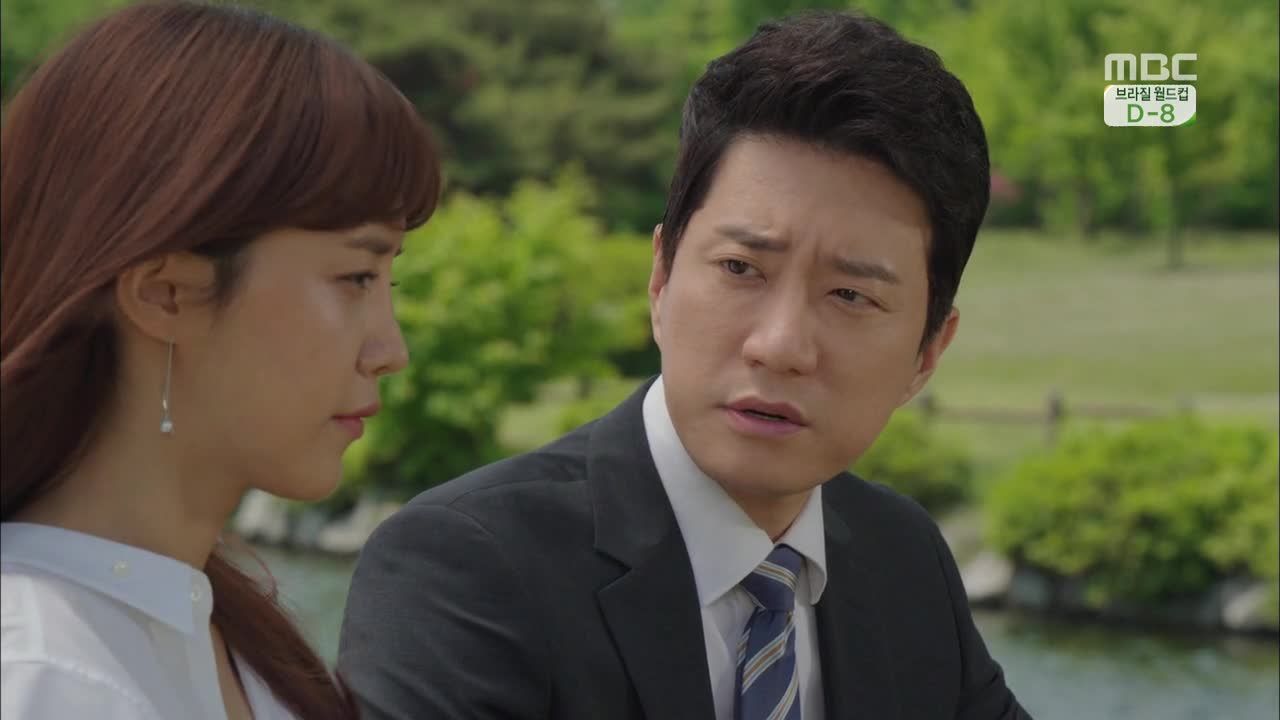 On a bench by the water, Seok-ju keeps trying to convince Jung-seon that she's in over her head. She and Chairman Gwon are banking on the sale of Yoorim Energy, which would bring in over a billion dollars and pay back most of their debts. Even if it doesn't sell, they mean to point to their intent to sell as proof of the company's good faith. But Seok-ju believes that the prosecutors won't believe them; not only will Chairman Gwon be charged, but Jung-seon's sentence will increase because she tried to shield her grandfather. She insists that won't happen, but the nervous way she wrings her hands gives her away.
Outside her house, Jung-seon tells him that their relationship will change depending on the outcome of the trial. Seok-ju wants to know if she resents him for not taking the case on behalf of her grandfather, but she reassures him that he wouldn't have been able to anyway. Chairman Gwon wouldn't want him to gain access to the company's secrets and make a power play. Unable to just let Jung-seon go, Seok-ju holds her back and promises to do everything he can to help her.
Sang-tae meets Seok-ju for a drink and finds his friend feeling pretty blue. Seok-ju is upset because of Jung-seon's desire to postpone the wedding, and he fears that she has other reasons than the upcoming trial.
Sang-tae tells Seok-ju that in all likelihood, Jung-seon doesn't trust him any more. Whether it's memory loss or his personality change, Seok-ju is no longer the person Jung-seon agreed to marry. Whatever their relationship was like, it must have had a foundation, and Seok-ju's new circumstances have caused that foundation to crumble. It's a moment of unexpected wisdom from our twice-divorced would-be idol star, and it causes Seok-ju to fall into a thoughtful silence.
Meanwhile, Sleazy Prosecutor is sharpening his knives in preparation for his insider trading case. He questions one of the men who oversaw the trades, and he calls another person we all remember (and loathe): Kim Hak-tae, the secretary who took care of Dong-hyun's dirty business. After getting stabbed in the back by Seok-ju, Hak-tae is more than happy to testify that the lawyer was paid illegally with stocks and insider advice. The prosecutor plans to issue a search warrant for Seok-ju's office and home, confident that he won't have to fight the Cha Yeong Woo law firm because Seok-ju is supposed to be leaving soon.
CEO Cha meets with Ji-won (and where has HE been all this time?) to go over the details of his contract, which include a car and driver and a sweet office with a window view. However, they are interrupted when the CEO gets a tip-off from a prosecutor that a search warrant has been issued.
The firm is thrown into chaos as the CEO's troubleshooter races to get to Seok-ju's office before the prosecution team. The employees are told to delay the investigators and buy some time. Ji-yoon goes into Seok-ju's office in time to see her colleague replacing the hard drive of Seok-ju's computer in order to keep any sensitive files out of the prosecution's hands.
In spite of Sang-tae's efforts to slow the investigators, Ji-yoon sees that they will arrive before the hard-drive switch is complete. She hides the old hard drive up her sleeve, and her coworker manages to stash his screwdrivers away just as the prosecutor with the search warrant barges in. The investigation begins, but Ji-yoon makes it safely out of the office with the hard drive.
The investigation heads to Seok-ju's apartment, blue boxes ready to collect evidence. He watches, stunned, as they turn his apartment upside down. Obviously he has no memory of what he's done, so he's as much in the dark as we are. One of the investigators finds a note hidden in one of Seok-ju's books, however, which can only mean bad news.
The prosecutor surveys the results of the search and seizure, which has turned up a large sum of money (over a billion won, so more than a million US) that was kept in an overseas bank account. The prosecutor wonders if Seok-ju has reported this income to the IRS.
Ji-yoon joins Seok-ju in his destroyed apartment, rolls up her sleeves, and starts putting everything back in order. He tells her to leave it, but instead she just asks him to buy the beer, and the two of them put the apartment back in order. They share a drink, when Seok-ju gets a call from the prosecutor telling him to report for questioning the next morning. Ji-yoon watches him go, and calls after him to keep his chin up.
Seok-ju goes to the prosecutor's office, where he's accused of hiding an overseas account that wasn't reported to the IRS. Meanwhile, Jung-seon and her family arrive in court, while Ji-yoon's aunt and the other victims of Yoorim Group's loans protest outside the courthouse. Jung-seon's uncle warns her that the debate will likely be intense, and that she should be prepared.
Back in the prosecutor's office, Seok-ju tries to get through all the questions quickly, so that he can get to Jung-seon's trial as fast as possible. The prosecutor refuses to let him go, however, until he confesses or gives more information about undocumented accounts. Seok-ju begins to answer every question by saying he doesn't remember, and although we know he's telling the truth, it probably looks like he's simply refusing to cooperate.
In the courthouse, Jung-seon begins to get grilled about the plan to sell Yoorim Energy. Just as Seok-ju had feared, the prosecution accuses Yoorim Group of deliberate fraud, not believing the story that they always meant to sell Yoorim Energy to pay back the shareholders. Jung-seon is shaken, and looks to her grandfather with concern.
Seok-ju arrives at the courthouse, but not before the prosecutor demands that Jung-seon be arrested. He claims that she shows no sign of remorse, even though many people have lost money, divorced, or even committed suicide in the wake of the company's breakdown. The gravity of the issue is further compounded by the claim that selling Yoorim Energy was always the plan, when in fact it is mere deception.
The judge agrees, and an officer enters to put Jung-seon in handcuffs. She locks eyes with Seok-ju on her way out of the courthouse, trembling with shock and fear. "Just wait," he tells her. "I'll find a way."
She looks over her shoulder as she's led away, meeting his gaze until the courtroom door closes.
COMMENTS
Well… I'm conflicted. A New Leaf has never been what you'd call fast-paced. It took two episodes for the amnesia to kick in, and each subsequent episode developed one or two cases with extraordinary amounts of detail. Yet somehow, I never felt bored, or put off by the amount of work-related plot. It's only natural that Seok-ju's past follows him even after he gets his "fresh start," and it has been fascinating to watch him try to keep his head above water as one disaster after another surfaces and tries to drag him under.
However, I've stayed interested because of what the cases showed us about our characters, and more importantly, because of how they've forced our characters to grow. The last episode was a perfect example: it followed the accused boy's case in slightly more detail than I thought was necessary at first, but then it made me swallow my words with the reveal at the end. Seeing Ji-yoon's devastation after realizing that she may have helped a murderer walk free… that, to my mind, was brilliant, and it set the stage for real growth for our naïve intern.
And we can't forget Jung-seon, who may have my vote for Best Second Lead Ever. She tries to stay loyal to her family while pursuing her ambitions, and so far I don't think her character has said a single hateful thing. The unexpected sweetness of the new Seok-ju puts her completely off-guard, and I find myself rooting for her and Ji-yoon, which is a really refreshing change.
But now we're ten episodes in, and we're still limited to brief glimpses of emotion between longer sections of detailed legal and financial jargon. I think that the emotional beats are all the more moving for their scarcity, but there's so much left that I want to see, and as the series builds to a climax, I worry that there simply won't be enough time for all of these slow-building arcs to deliver in accordance with their potential. In fact, I feel a little like the victims of this episode who invested in a long-term scheme, only to get cut off with only a fraction of the promised return. I don't think it's quite that bad yet, but with so few episodes left to go I'm starting to feel a little anxious.
Seok-ju and Jung-seon barely had time to get to know each other (again), before the current financial disaster descended and put a stop to their adorable interactions. I would have been happy to see Jung-seon grapple with her feelings for the new Seok-ju for at least another episode, especially if Ji-yoon and Ji-won got involved. But now Jung-seon has become a damsel in distress for Seok-ju to rescue, and it's not that long after Seok-ju was called on to save Jung Hye-ryeong in a similar way.
So while I am eternally grateful to A New Leaf for not becoming another workplace drama where no one ever seems to work, I have to confess I'm still waiting for the relationships to come to the fore. Maybe this makes me a terrible person, but I'm far more interested in seeing Ji-yoon interact with Jung-seon, or Ji-won butt heads with Seok-ju, than I am about whether our leads will go to prison for financial fraud. If I want to see rich people put in jail for being irresponsible with taxpayers' money, I can turn on CNN.
In spite of my frustration, this show continues to capture my interest. The storytelling has been deftly woven so far, with each new case building on the previous one, and no plot thread left loose or unaccounted for. Now if the writers choose to take that level of detail and foresight and apply it to our characters' inner struggles instead of their subpoenas, I'll be one happy guy.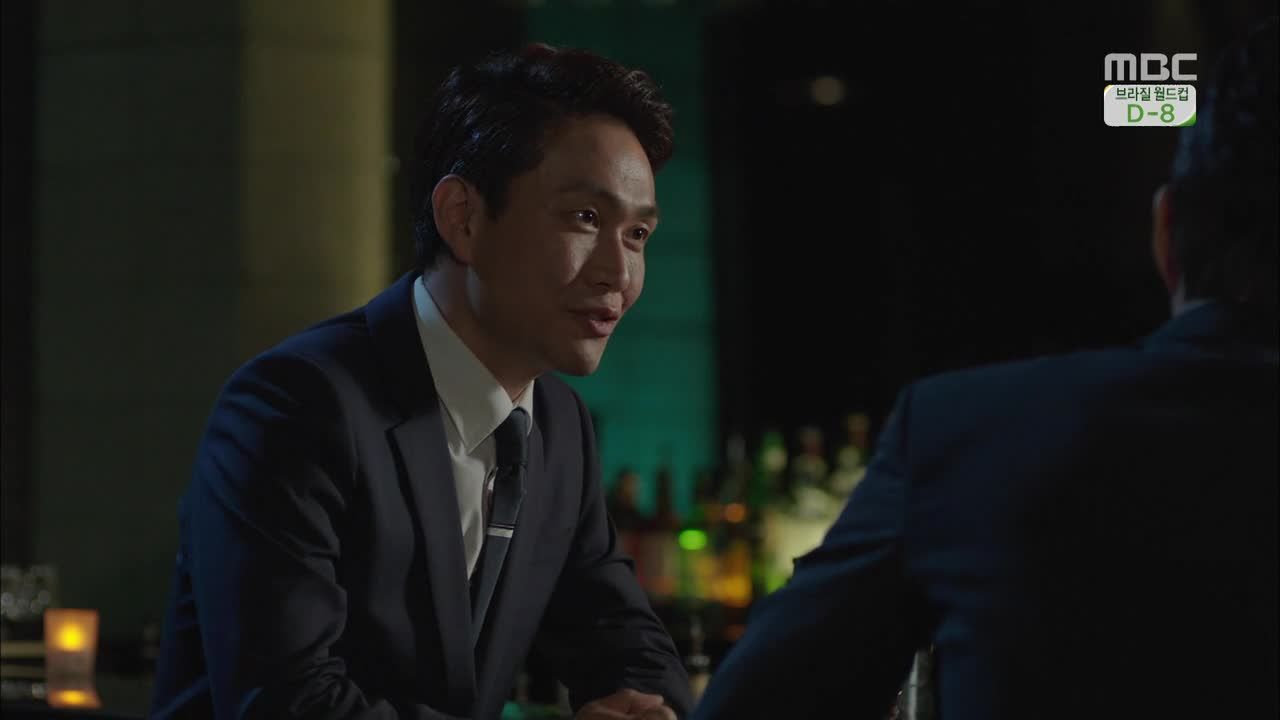 RELATED POSTS
Tags: A New Leaf, featured, Kim Myung-min, Kim Sang-joong, Park Min-young