Doctor Stranger: Episode 19
It's an odd kind of penultimate episode as jumbled pieces finally start coming together just in time for the surgery we were allegedly waiting weeks for. That isn't to say those pieces necessarily fit all that well together, but then again, Doctor Stranger has never been the kind of show that gave us answers when we wanted (or needed) them. But inasmuch as we get some answers in this hour, I'm just happy that we got them at all.
Now in its finale week, Doctor Stranger netted first place with 10.9%, followed by Triangle with 9.0%, and Trot Lovers at 6.5%.
SONG OF THE DAY
MBLAQ – "그대 내 맘에 들어오면은 (If You Come Into My Heart)" [ Download ]
Audio clip: Adobe Flash Player (version 9 or above) is required to play this audio clip. Download the latest version here. You also need to have JavaScript enabled in your browser.
EPISODE 19 RECAP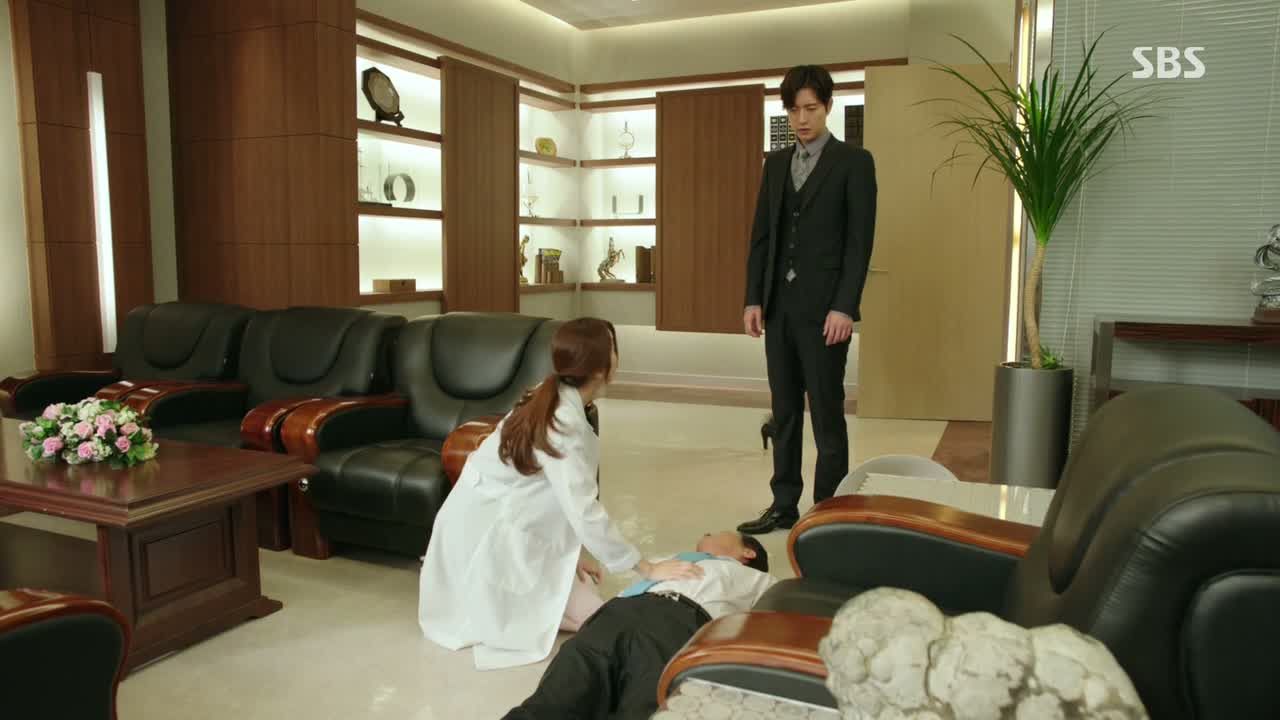 After watching Chairman Oh keel over in front of him, Jae-joon tops off his revenge cake by crushing the old man's glasses with his shoe. By the time Soo-hyun bursts in, there are tiny cracks in Jae-joon's once-stony expression, and as her father is taken away, she vows that she won't ever forgive him.
Alone, Jae-joon teeters and appears to be on the verge of tears, as if ashamed by his own words and behavior. Have the glasses disappeared, too? Does anything even matter in this show anymore? Why am I even asking these questions?
After being assured from Hoon that Chairman Oh will be fine, Soo-hyun beelines for Jae-joon's office to ask him if killing her father was his plan all along. When he claims to have locked the doors so that their conversation wouldn't be interrupted, she fires back, "From what? Killing my father?"
She doesn't buy the excuse that all Jae-joon wanted was a sincere apology, indicating how she found her father moments from death's door. Horrified, she asks how Jae-joon could be so cruel as to watch someone die in front of him: "You're not a doctor, but a murderer," she breathes. Him and every doc in this place, if we're counting.
Jae-joon genuinely seems hurt to hear those words from her, and although he accepts her criticism, he asks if she can't understand where he's coming from and what made him so cruel. Despite being told that how she feels now is how he felt when he lost his parents, Soo-hyun says she can't understand and demands that he leave the hospital immediately. He agrees.
As Jae-joon packs his things, he prepares to destroy his Metaphor Castle, only to stop himself at the sight of the princess figurine. When Chi-gyu comes in saying those crazy rumors claim that Jae-joon was the malpractice victim's son out for revenge, Jae-joon confirms that it's all true, and then bids Chi-gyu farewell, telling him to become a good doctor.
Then Jae-joon wanders through the hospital, his memories with Soo-hyun bringing a smile to his face. He stops outside the ICU where Chairman Oh lies unconscious. Needless to say, Soo-hyun isn't happy to see him here or anywhere else in the hospital, and flatly tells him never to appear in front of her again.
Again, Jae-joon accepts that and silently walks away, a shadow of the revenge-fueled man he was in the previous episode.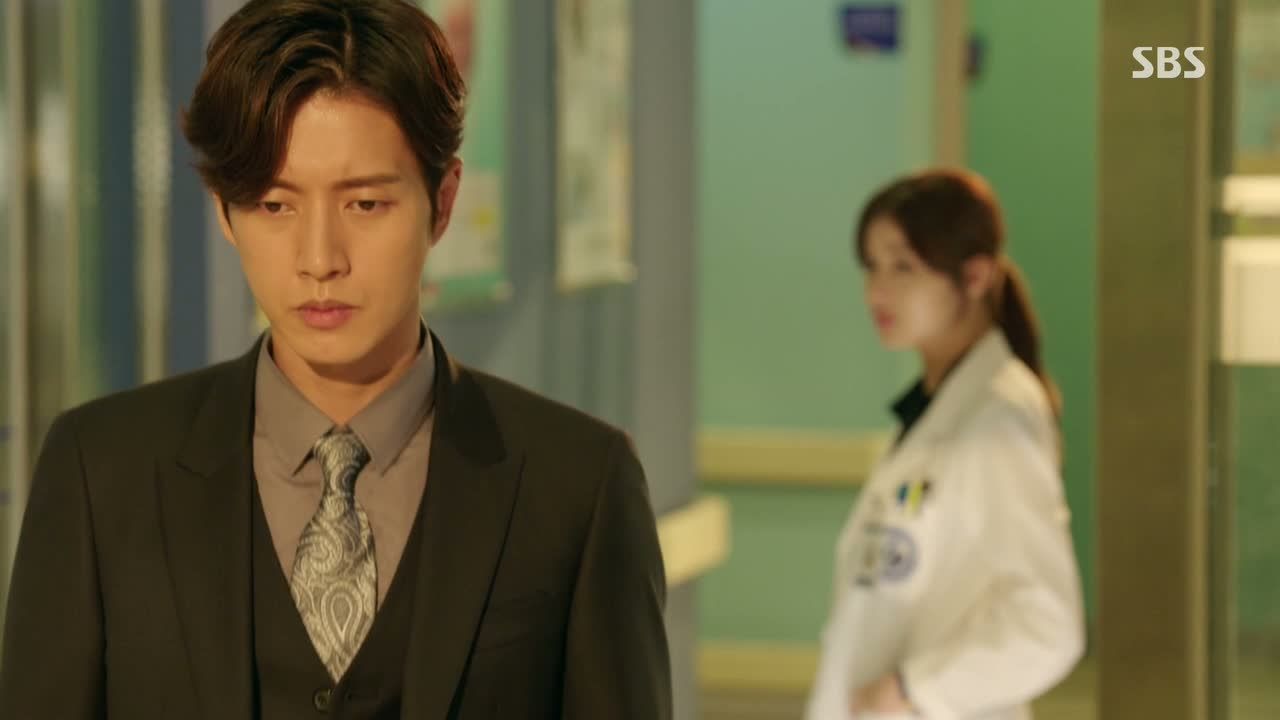 Jae-joon informs Hoon that he failed in his decades-long revenge, to which Hoon corrects him—he gave up on it because of the woman he loves. Jae-joon denies it, but Hoon knows that he performed CPR on Chairman Oh in an attempt to save him.
Hoon encourages Jae-joon to come clean to Soo-hyun and ask for her forgiveness, lest she misguidedly resent him. But Jae-joon is okay with that consequence and says he's here to say his goodbyes. He's hanging up his scalpel because he feels he doesn't have the right to be a doctor anymore.
Jae-joon: "Since the beginning, I became a doctor for my revenge, and I had no sense of duty to treat patients. At first I thought you were a stranger, but after I thought about it, the real stranger was me. I finally realized that, thanks to you; that doctors who don't sincerely respect a patient's life are all strangers."
Hoon tells Jae-joon to stay if he feels that way because Soo-hyun will eventually understand. But Jae-joon says he can't forgive himself and asks Hoon for a favor, repeating Soo-hyun's feelings for Hoon.
The answer to that is no, since Hoon has found his Jae-hee. So Jae-joon requests that Hoon look after Soo-hyun as a friend.
Soo-hyun has fallen asleep beside her father's bedside when the old man comes to. Surprisingly, the first person he's looking for is Jae-joon, whom he claims saved his life. And sure enough, a flashback teaches us that Jae-joon indeed performed CPR to save him—for Soohyun's sake, Jae-joon had reminded the barely conscious man.
Chairman Oh orders his daughter to bring "Jae-joon-ie" to him, and even though Soo-hyun can hardly believe what she's hearing, she tries calling, but her calls go unanswered. As for Jae-joon, we see him leave behind his white coat in his now-empty office.
Soo-hyun runs throughout the hospital in search of him and runs outside just as he drives away. "I'm sorry," she ekes out. "I'm sorry."
While Prime Minister Jang counts the days until his pretend surgery, Nightshade receives the disturbing news that Agent Cha's body has yet to be found.
Since we all know that being unable to discover a body means that character is Not Quite Dead, it's why we see Very Much Alive Agent Cha visit Hoon's clinic and Jae-hee's apartment, only to find nobody at home.
With Chairman Oh still in recovery, Soo-hyun is the new acting chairwoman who also gives Doctor Moon his old job back as the head of the cardiothoracic department. He's over the moon about it.
Hoon gets called in to see Soo-hyun, who relays that Jae-hee knew the truth about her kidney transplant before she met Hoon in the South, which means that Jae-hee still loves him. It seems like they're both over the awkwardness of Soo-hyun's feelings for him, and Soo-hyun says she felt like Jae-hee was trying to push him towards her.
Knowing that now, Hoon confronts Jae-hee at her place and asks why she lied, pretending to be angry and purposely pushing him away. Jae-hee repeats herself from last time, saying how his love for her was a lie. Does he know how it feels to be tormented by guilt every day, especially when the evidence is physically within her?
"It hurts even more knowing that that's because of you," she says. Just to make sure he gets her loud and clear (for once), she declares, "I never sincerely loved you."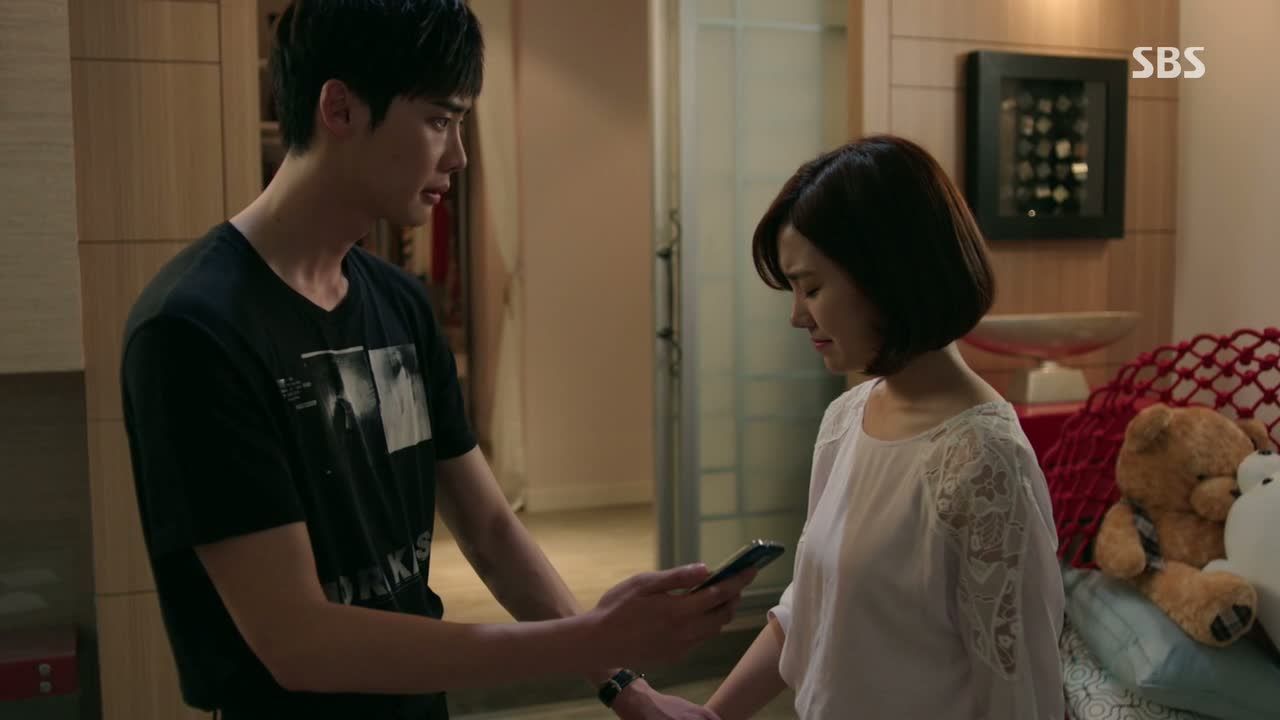 Hurt, Hoon replays the voicemail she left on his phone, the one that spoke of how happy she was with him and why she had to work alone in this mission from now on. Jae-hee tries to turn away, but Hoon forces her to listen to the sound of her own voice contradicting the words she's saying now.
Hoon whips her around once more and asks her if it's true that she doesn't love him. She says yes. His voice faltering, he asks again, demanding an answer this time. And finally Jae-hee gives in: "Fine, I like you! I love you! I never hated you and it was so hard acting like I did!" Yes, it was hard on us watching that too, but go on.
"I only thought about you every day! Every day I dreamed of living happily with you!" she confesses, crying. Relieved, Hoon hugs her, and then gently asks why she did. She says she thought he'd be safer and better off if she sent him away, and then blames herself because she didn't know that he'd be in danger because of her.
"Why is that your fault?" Hoon asks. Jae-hee: "Because I made the wrong decision. When I think about it now, I regret it so much."
A flashback takes us back to the North Korean prison camp where Jae-hee was held captive and literally joined hands with the nine-fingered Agent Cha, who simply asked, "Don't you want to meet Hoon?"
"Back then, I didn't even think that it could endanger you," she says. "No, I never thought about it because I missed you so much. I'm sorry, Hoon-ah. I really didn't think it would endanger you. But once, just once, I just wanted to see you."
Once Jae-hee is filled in about Mom's disappearance, Hoon says he plans to meet up with Nightshade and try to persuade him. Jae-hee approves of this idea.
Hoon has some sort of (unknown) plan, and he challenges Nightshade's longstanding loyalty to the prime minister, noting how his boss may not feel the same way. Furthermore, Nightshade saved his life and looked after his mother all these years. Surely that couldn't be on Prime Minister Jang's orders, right?
But Nightshade considers the latter as repaying a debt and hands him a lollipop—he'll pretend this conversation never happened.
Jae-hee pays a visit to Prime Minister Jang in his hospital suite. Noticing the newspaper reporting the overwhelming public support for him, she remarks that Jang would get what he wants if the presidential election happened right now.
Jang explains how politics is a world that defies the natural logic where the strong defeats the weak—there's no need for approval ratings when money talks or a political scare creates buzz. He knows she isn't here to listen to his boring plans, though, and Jae-hee comes right out with it and requests that he release Hoon's mother, or else Hoon won't perform the president's surgery.
It's actually funny how she returns Jang's sarcastic remark with a literal eye roll. She argues that Hoon won't be moved by threats anymore, but a glimpse of his mother will be enough of a motivation. She reminds Jang that Hoon is all he has now, which has Prime Minister Jang scowling.
While Doctor Moon prepares to look his best for the president's visit to the hospital tomorrow, Hoon is called over to Jae-hee's place: his mother is there.
After another tearful reunion, Hoon and Jae-hee sit down to eat with Mom, who places more food on his spoon. Gah, that loving gesture gets me every time. She even feeds Jae-hee, to the latter's delight.
Hoon proudly introduces Jae-hee to Mom as his girlfriend, and Mom admits that she's pretty and reaches out to touch her cheek. Nightshade is waiting outside to pick up Mom afterwards, but then Mom doubles back to give her son the teddy bear that hardly ever leaves her side. "See you later," she says. Why does that sound like a goodbye?
Jae-hee is apprehensive about Hoon's plan to try and inform the president about Prime Minister Jang's plans tomorrow, since there will be plenty of eyes watching. Hoon says he'll find a way, then tasks Jae-hee to ask for Soo-hyun's help.
At first it seems like Hoon didn't need the help, since the president says he came to meet the doctor who will operate on his heart. Prime Minister Jang convinces him otherwise, but he still orders Nightshade to make sure that Hoon and the president don't cross paths.
So Hoon is kept under a watchful eye while Soo-hyun gives the president a tour of the hospital, but still manages to lose his tail, to Prime Minister Jang's ire. With Soo-hyun's help, Hoon is able to gain an audience with the president, and gets as far as, "The prime minister's surgery…"
…And that's when Prime Minister Jang bursts in to break up this meeting. Still unaware that Hoon knows the truth about who the patient actually is, the president puts his hand out for a handshake. And Hoon takes that opportunity to use his genius and check the president's heart.
Enraged, Prime Minister Jang tears into Nightshade for almost ruining his plans, to which I have to say you kept messing with for aaaaaggges, but whatever. Convinced that Nightshade did so on purpose, he growls at Nightshade for actually having a heart and gasp, caring about people. For shame.
Listening to Jang spout on about how he's heard Nightshade talk behind his back makes me wonder if he's even more deranged than usual, and Nightshade is shocked that his boss could ever think that his loyalty wavered.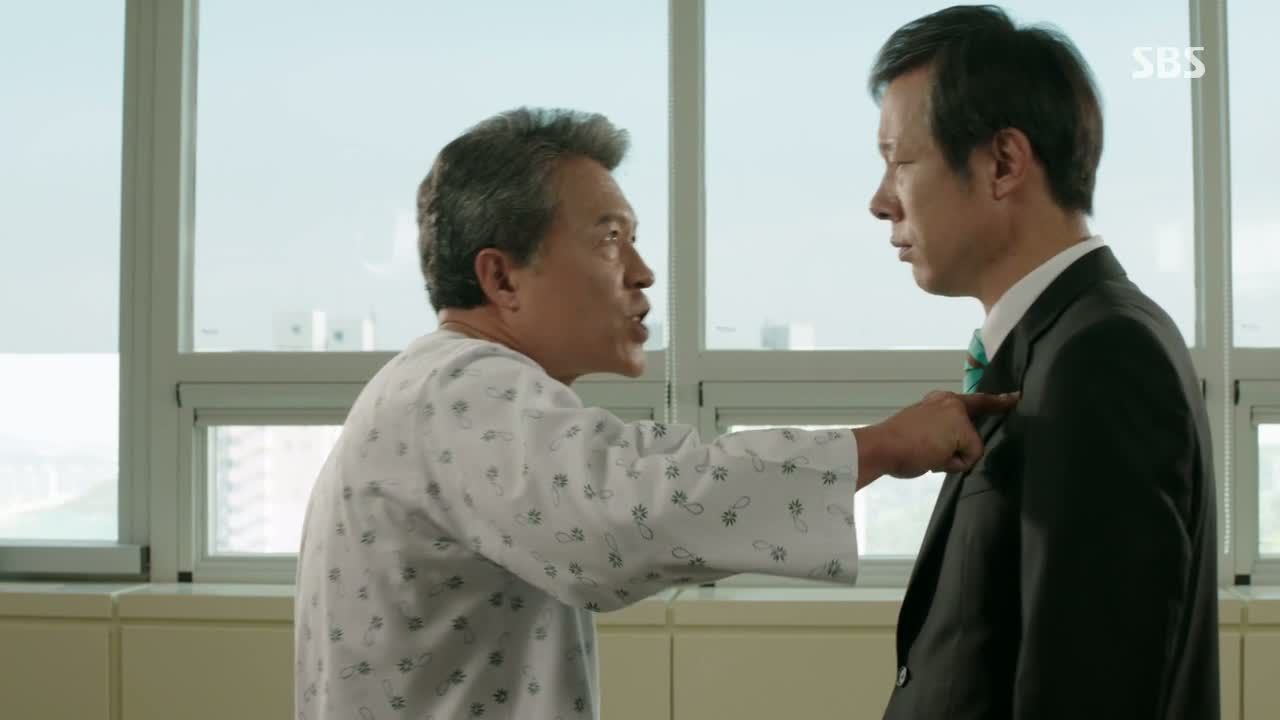 But of course, Jang pulls it together to speak to the president in a pleasant voice, though he's caught off-guard when the president says he'd like to change hospitals.
Nightshade reflects upon the decades he dedicated his life to Prime Minister Jang alone. He takes out another lollipop, reminded of young Hoon. Ooh, will you switch sides officially now?
Jae-hee worries that they've lost their opportunity now, but Hoon is confident that he's the only person who can operate on the president. Next thing we know, Prime Minister Jang grabs Hoon by the lapels, but that hardly fazes him. Given his current condition, the president will barely last a week, Hoon notes.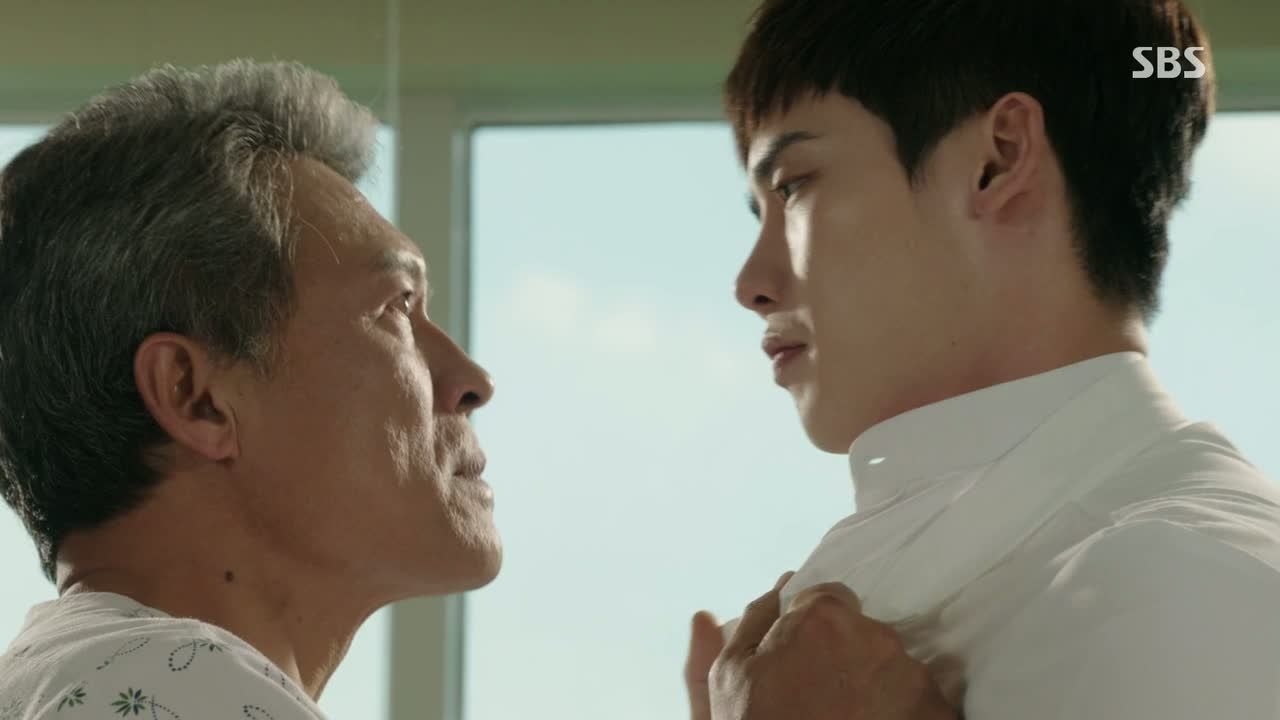 As the president receives this news simultaneously, Hoon explains that there will be a reason why the other hospitals won't take on this surgery. Because one kind of experimental procedure's success rate is too low, they'll likely recommend a different kind of operation that only Hoon can perform: the SAVER procedure. Another risky procedure that we were told… also has a low success rate.
Despite Prime Minister's scowling, Hoon is confident that the president will call to change his mind. And right on cue, the president calls to change his mind. Jae-hee is utterly relieved to hear it.
Now that the cat's out of the bag, the president asks if Hoon's last SAVER patient is alive and well. Hoon says he is. Then Hoon finally gets a private audience with the president to explain the severity of his heart condition, but that's something the president is well-aware of.
He's tired of doctors feeding him words of uncertainty rather than definite answers, but chuckles at Hoon's answer that God is the only one who can provide that guarantee. All patients are the same in the operating room, Hoon adds.
Amused, the president suggests they pick up their previously interrupted conversation. Once they return to the hospital suite, the president recommends moving up the surgery date to tomorrow… and then teeters in pain.
Hoon checks the president once he's moved onto the bed, then is pulled close to hear the president whisper to take care of him before slipping into unconsciousness. After the president is wheeled out, Prime Minister Jang wastes no time to assume power and immediately orders a meeting at the Blue House.
As Hoon prepares and begins the SAVER procedure, Prime Minister Jang puts the other ministers' squabbling to rest with the reminder that the prime minister will assume presidency if something terrible befalls upon the current president.
Jang receives a text that brings him back to Myungwoo, where he gets the verbal confirmation that the surgery went as Jang wanted. As in, the president is now unconscious.
Still, Prime Minister Jang is skeptical as he approaches the president's hospital bed. Barely listening to Nightshade's explanation about the BIS activity, Jang chooses a more direct approach, waving his hand in front of the president's face and poking the man to make sure he's unconscious.
Satisfied, Prime Minister Jang launches into his rant about how his favorite ruler was King Sejo, who forced his nephew to abdicate (and later killed him) in order to assume power for himself. Sejo was someone who knew that a strong man wasn't necessarily someone who had physical strength, but knew how to crush the weak, Prime Minister Jang argues.
He practically busts a gut laughing over how foolish the president is—why, he doesn't even know the reason he's still unconscious. Jang snarls that the president should have crushed him in the last presidential election. Did he think Jang would be his yes-man forever?
Leaning over the president, Prime Minister Jang tells the man to sleep well until the forthcoming presidential election, after which he'll win the nation's hearts by holding a North-South summit, and then make sure the president rests… forever.
And then, to Jang's alarm, the president opens his eyes and removes his oxygen mask. He's heard everything he needed to hear.
Prime Minister Jang staggers in shock, unable to comprehend what he's seeing. Moments later, Hoon and Jae-hee file into the recovery room. Booyah.

COMMENTS
With one episode left ahead of us, I'm still very much wrestling with how I feel about this hour. A part of me can't help but feel it's a pity that most of what we saw in this episode didn't come any sooner in this series, since it would have at least helped us grasp a part of our character motivations, which came across as mostly nonsensical or incomprehensible actions for a large part of this show's run.
And yet, the other part of me can't forgive Stranger for spending countless hours spinning its narrative wheels on a surgical competition that drove the medical ethics of this hospital to reside in the greatest depths of hell and carrying us to such extremes that any normalcy (or sense for that matter) felt like a dangling narrative carrot I immediately wanted to latch onto. But like always in this show, plot points that were shoved in our faces as important in one hour were then quickly fizzled out in the next.
Just last week, Stranger emphasized the importance of Jae-joon's revenge (again), only for the once again Tin Man to save Chairman Oh because of his love(?) for Soo-hyun. Jae-joon's emotions are even more complicated than his metaphors, where he'll have an emotional breakthrough, only to retreat to his stony-faced cave numerous times already. And because he disappeared for the rest of the hour after giving up on his revenge (again), all I can do is hope that he'll get to return to hear what Chairman Oh has to say after all those strained "You… you!!" last time. Oh, and that we'll get to see it instead of getting another confirmation of something that happened off-screen (again).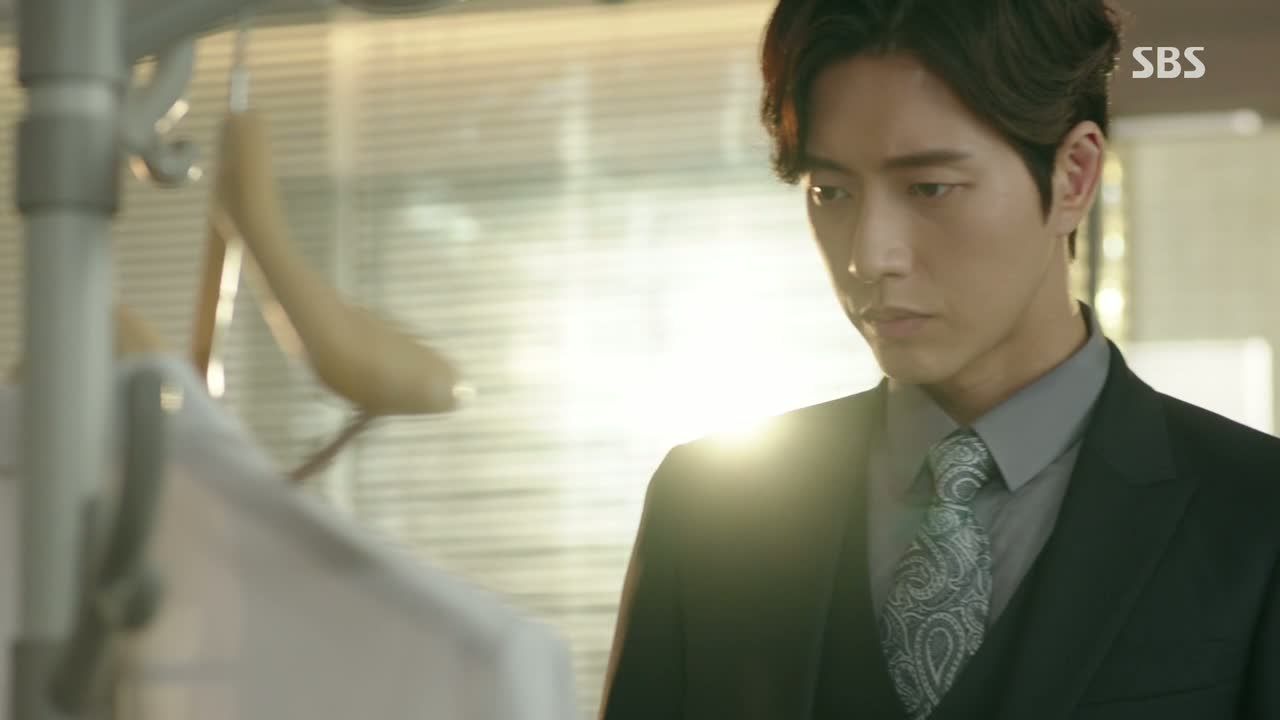 Still, it was pretty gratifying to see Prime Minister Jang finally getting his due in terms of the president's surgery. I wasn't even sure if there was a set Plan in place, considering how many times The Plan kept changing. And now that we've seen it, Hoon really is much smarter than the secret spy Jae-hee is supposed to be, isn't he? Sure there were a few obstacles and a few more consequences that had to be in his favor (like Soo-hyun as acting chairwoman), but nothing is as good as finding out about a baddie's evildoings than hearing it straight from the horse's mouth.
And perhaps for the first time in the longest time, we finally heard Jae-hee loud and clear. It doesn't, however, necessarily absolve her character from being written as someone whose identity was purposely vague for a reason that's still largely unknown or negating her nobly idiotic reason for hating Hoon by affirming that she didn't actually hate Hoon. So does that mean she doesn't hate Hoon for killing her father by saving her in a kidney transplant surgery? Or that she didn't think that joining hands with Agent Cha and to see Hoon would risk her life and his after alllllll they went through in Budapest? Honestly, your guess is as good as anyone's right now.
Now that our undead Agent Cha is back on the loose—since characters in this universe never care to check if anyone who falls in water is all dead—I'm sure he'll come bursting through any door we thought was locked to try and get another chance to kill Hoon in the next sixty minutes. Or until he's deader than dead, which at this rate, may never happen.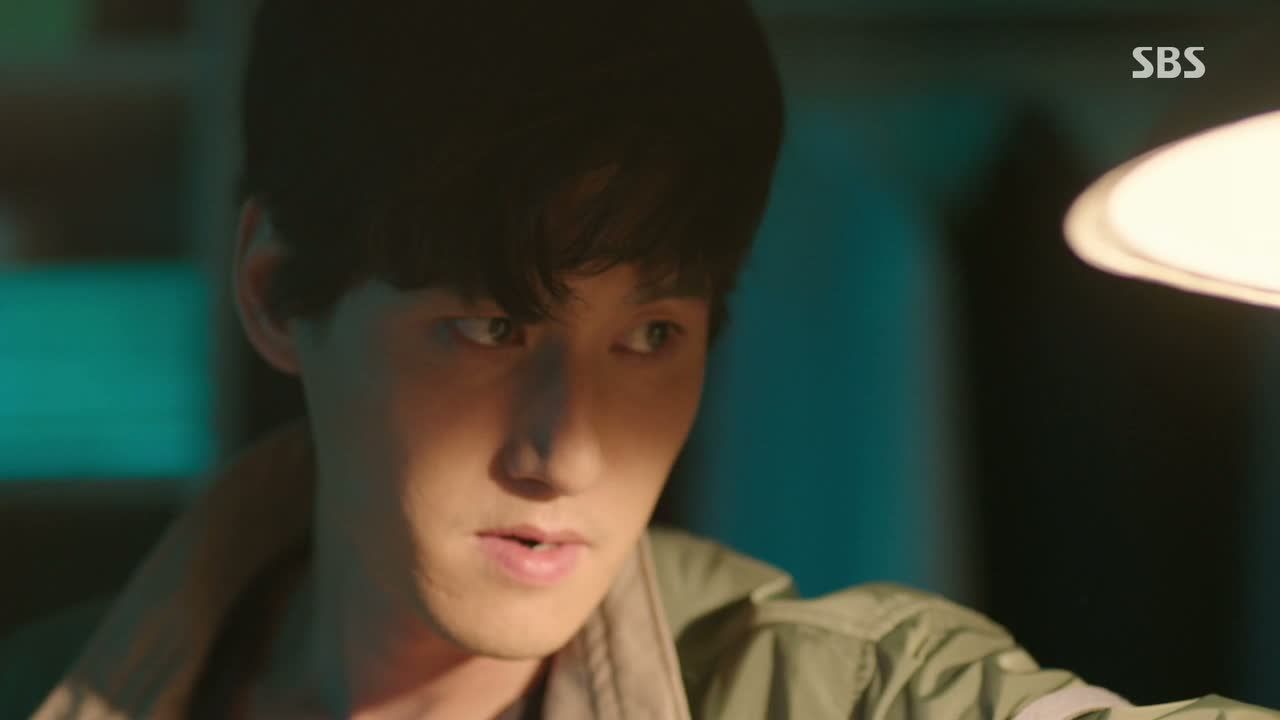 RELATED POSTS
Tags: Doctor Stranger, featured, Jin Se-yeon, Lee Jong-seok