Running Man: Episode 205
It's not the most hilarious of episodes out there, but there are still a few golden moments that only Running Man can offer. Expect the unexpected with strong personalities that make our Ace Ji-hyo look like a sweet angel in comparison and hidden charms to be discovered in the most unlikeliest of guests. Get ready to take the plunge with an episode with potential lovelines, dance parties, and lucky charms.
EPISODE 205. Broadcast on July 20, 2014.
At the Running Man boarding house, our male residents are just shooting the breeze on this sweltering hot summer day. When Kwang-soo claims that he's the longest resident here, mat-hyung Suk-jin butts in: "…that's me." HA.
Our lodgers collectively cheer when they hear that they'll be joined by new residents today. Cue our all-female guests (led by Ji-hyo): comedienne Lee Guk-joo, singer Baek Ji-young, trot singer Hong Jin-young, idol Fei (Miss A), and model Kang Seung-hyun (alternatively known as Hyoni Kang).
Even without the preview clips for what's to come, it quickly becomes apparent that these women are a force to be reckoned with. Like Ji-young, who lives up to her introduction as the female Tiger by raising a warning hand against Jong-kook when he gets cheeky. Gary: "She's the first person I've seen [raise a hand] at Jong-kook!"
As for the rest of the intros, there are a few memorable moments, like the Guk-joo's wordplay off of her "Loyalty" catchphrase (which I assume we'll see more of today) and when she gets caught fanning herself with the potted plant due to the heat.
Time to get acquainted with today's Part-Time Gigs Race where our teams (Red vs. Blue) will duke it out for prizes in each game, and the winning team at the end will win it all. The Blue Team doesn't seem so worried since they've got two fierce competitors (Jong-kook and Ji-young) in their lineup.
But just so we know the team breakdown: Blue (Jong-kook, Haha, Gary, Ji-young, Jin-young, & Fei) and Red (Jae-suk, Suk-jin, Kwang-soo, Ji-hyo, Guk-joo, & Seung-hyun).
On the bus, Guk-joo discloses that she broke up with her boyfriend recently, which Kwang-soo totally calls her out on. I wouldn't be able to tell you if it's actually true, but the hyungs try to get the two young'uns together anyway.
She lights up when Kwang-soo says he likes chubby girls (which I've heard him say in multiple interviews before), but Jae-suk immediately puts a stop to this potential loveline, staring directly into the camera as he declares: "I can assure that you two definitely won't work out."
His reason being that Kwang-soo isn't Guk-joo's type. She nods. Ha, what a cheeky way to spin that around so it flatters the guest.
Meanwhile, more flirty arrows are also being shot in the other bus, when a rogue bee forces Jin-young to move and ends up sitting next to Gary. We haven't heard Gary's trademark "What's the meaning of this" line in quite some time, but it's adorably funnier in his broken English: "What mean?" Heh.
With that, the teams pull into their first part-time gig/mission at the amusement park. At the mention of the bungalow behind them, Fei asks if it's air-conditioned. It's not. Here, the teams will scramble to be the first one out to complete an activity. Success will gain a point for their team, failure will hand the point over to the other team, and the first team to get five points wins.
After a chaotic hubbub even before the start—which requires the staff to audibly intervene—the scuffle is just as disorderly once the whistle does blow. Jong-kook's the one who exits first, however, much to everyone else's complaints. But then they all learn that once you're out of the bungalow, you can't go back in.
Anyhow, Jong-kook's task is to catch at least three out of five water balloons in a basket after throwing them up in the air and spinning around. His female teammates are understandably anxious and shout words of advice in quick succession when he misses the first: "Don't throw it up too high!" "Go easy on the throwing!" "Squat a bit."
But he misses the second, too. And the third, giving the Red Team its first point. Enraged, Ji-young vows to send Guk-joo out there next. Ha.
We cut away to the third activity where the score is now tied 1:1, but while MC Jong-kook explains the next activity (spitting and catching watermelon seeds on one's face), Haha's been looking more and more uneasy. He whispers something to Guk-joo, who immediately broadcasts it to everyone, "Haha has to go Number 2!" Oh nooo.
So Haha tries to push his way through the door once the whistle blows, determination written on his face. Ack, I actually feel bad watching as he's physically held back by the others. The man has got to GO, people!
Somehow, Guk-joo manages to inch her way out of the bungalow, despite Ji-young's best efforts to stop her. Haha hangs back while everyone else chatters away outside, where Suk-jin instructs Guk-joo to spit out the watermelon. She immediately scolds that statement: "How can you spit out food? You'd be punished for that!" My kinda girl.
Guk-joo chomps down on the watermelon and it looks like she's enjoying eating it more than anything. With time quickly winding down though, she attempts to spit some back up, but none of the seeds land. Ha, I love how Jin-young tries to make off with some watermelon for herself.
Jae-suk remarks on how there's something off with all their guests today, what with their strong personalities here a far cry from their demure public images. Annoyed by the heat, Ji-young shouts, "Let's go!" Jae-suk: "See? Ji-hyo's the gentle one!"
Haha's looking more desperate with each passing minute, the only one unable to enjoy the dance time before the next round. There's much pushing and pulling once the whistle blows, and somehow Haha slips through. Finally!
He can barely stand to hear the jokes that follow, like how Ji-young traded her cute high-pitched voice with her nagging ajumma voice or about how Jin-young's squatting posture differs from the ladylike aura she's been trying to exude. Blame the heat, guys—ain't no one want to be outside on a hot summer day.
Screw the game for variety's sake—Haha just wants to get this over with and go, damn it. He cracks the gourd shells in quick succession and then dashes off. Hahaha.
The Blue Team is leading 3:1 now, and omg, I just realized that Jong-kook's single "Lovely" was nine years ago. All of the hits the staff has been playing are a little dated, but they're all great and everyone is enjoying themselves both inside and outside of the bungalow.
The next battle is a ladies' arm wrestling battle, and the Red Team try to carry Ji-young off outside. Her teammate does her best to come to her aid, even pulling at Jae-suk's pants in her attempt. Ha, is MC Yoo wearing orange underpants?
Somewhere in the scuffle, we hear Ji-young scream, "You're going to take my scalp off!" After Jin-young gets pushed out to battle Seung-hyun, a very peaceful-looking Haha rejoins the group. All is well in the world, indeed.
Both women look pretty confident, but I'll laugh if all of Jin-young's prep to get her stance ready turns out to be for show. And then Seung-hyun beats her. HA.
The following task is to down an entire Coke in fifteen seconds and withstand another five. When another one of Ji-young's hits "My Ear's Candy," starts playing, Jae-suk complains again: "Can't we play some recent songs?!"
At one point, Haha and Guk-joo start dancing together, and whoa—Guk-joo's pretty good. Once the whistle blows, Ji-young tries to pull Kwang-soo back, and then Jae-suk tumbles outside. His hand lands on the sizzling hot mat thrice (OW) and thus, Jae-suk gets stuck to down the lukewarm soda.
So the staff offer up a proposition: drink the lukewarm one or have a larger cold one. He chooses the cold one after it's placed on his neck. Inside, Ji-young screams, "Start the timer once he opens the bottle!"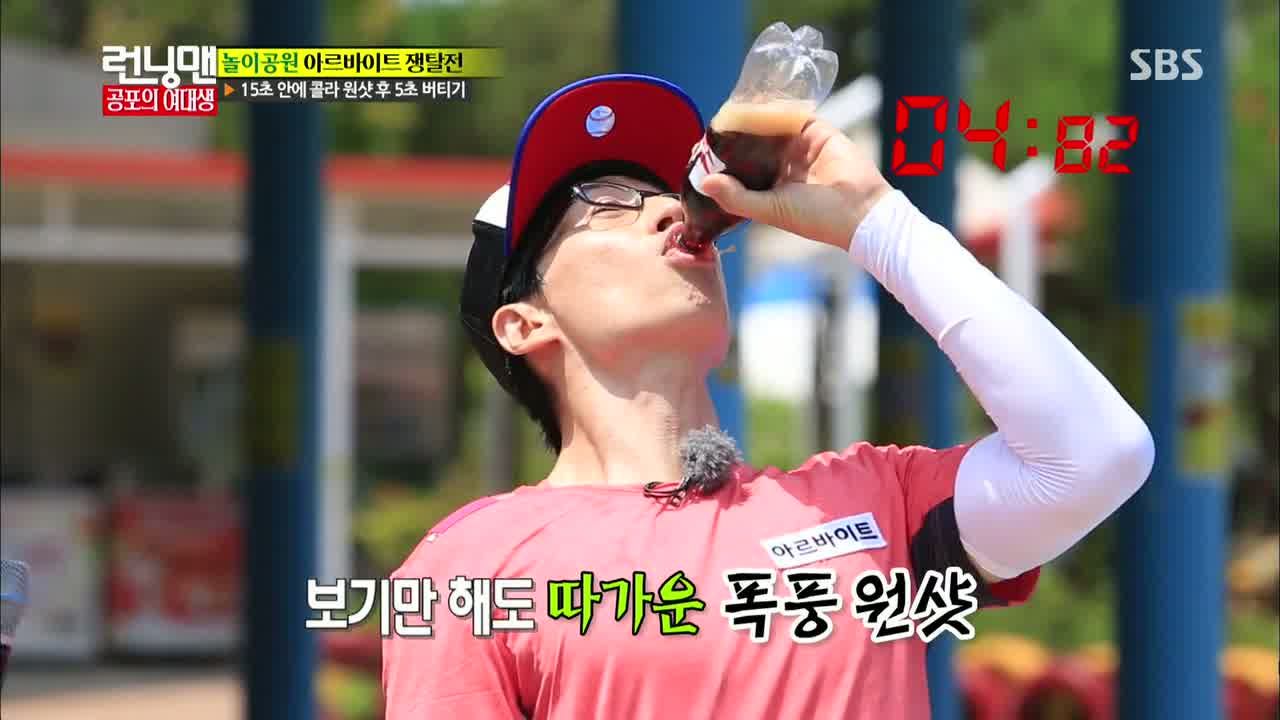 And wouldn't you believe it—Jae-suk comes the entire thing in time and celebrates with a loud burp. Now that the score's tied at 3:3 (and because this first game has gone on for farrrr toooo long now), the last round is worth two points.
First one to split an apple with their bare hands will win it, but first it's dance time. Guk-joo really is light on her feet ("I lost 8kg doing this!") and when Jae-suk tries to dance along with Fei, she tells him to stand still.
Naturally it turns into a dance party and whereas Guk-joo impresses with her dance moves, Seung-hyun is pretty stiff. Aw, and then Jae-suk pulls a PD from the staff to join in on the fun (she's apparently friends with Seung-hyun).
Watching Guk-joo's hips move must have had some impression on Gary, because she declares that he keeps sticking by her side now. Gary: "I didn't know this would happen either!" Then he totally leans into her. HA, this is great.
Anyway, back to the apple-splitting. Suk-jin and Gary face off for their teams, and a split-second later, Suk-jin wins it for his team. The winning Red Team are given the opportunity to choose five out of seven mystery prizes (two of which contain nothing) while the losing team can only choose one out of what's left.
Out of all the prizes, Guk-joo is happiest to see a box of ramyun, which she claims for herself. Ji-young can either win nothing or a laptop… and choose the latter. I love her boss reaction to choosing the right one.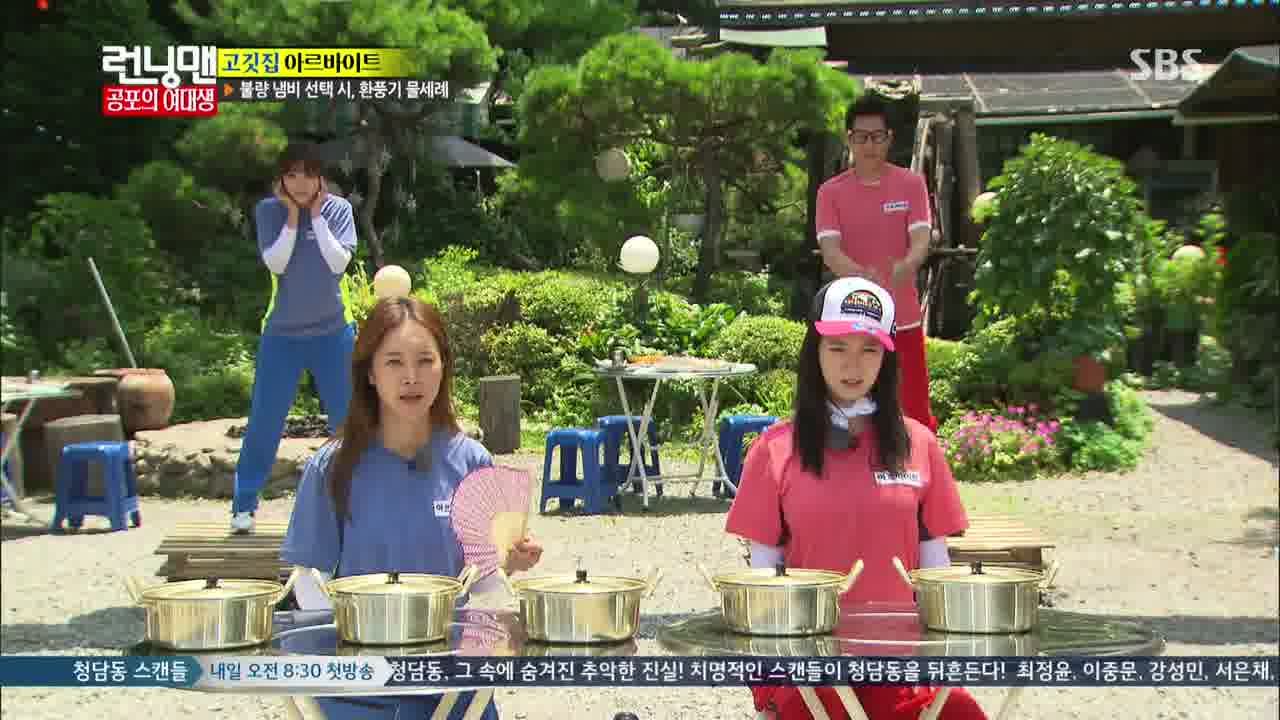 On the bus ride over to the restaurant, Jae-suk repeats that Ji-hyo's fierceness pales in comparison to Ji-young and Jin-young. Speaking of whom, those two are busy guessing what today's lunch mission might be. It's meat. I'm done.
Here, one person from each team will choose from five pot lids. Should the handle come off, their teammate will be showered with a downpour, and last team standing wins. Lucky charm Ji-young is pitted against Ji-hyo, the latter of whom was the only one who won nothing so far.
Both Ji-young and Ji-hyo pass the first round, and another lucky choice from Ji-hyo leaves Ji-young with another 50:50 situation. After making their choices, both women reach simultaneously…
…And Jin-young is doused with water. Now Ji-young's luck has turned around because she chooses the loose handle on the first try. Wet Spartakooks, anyone?
Ji-hyo chooses the loose one on the next round, and Suk-jin waits for a downpour… that doesn't seem to come. He's told to move when the pipes don't seem to be working, but the other one just seem to trickle, too. Hahahaha, this is even funnier than getting dumped with water.
Later on, Kwang-soo is switched in to choose, and Haha calls out to Ji-young: "It'll be the end for you if you lose to him!" And then she chooses the loose one. HA.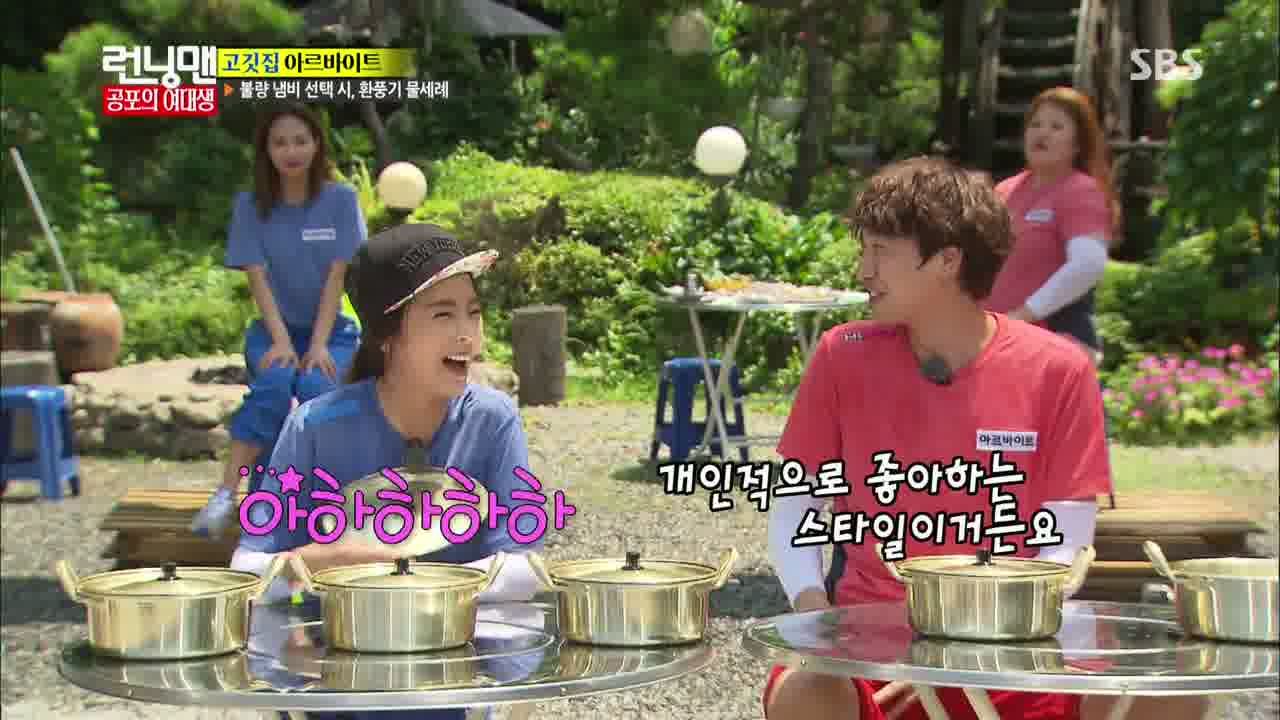 So Ji-young and Guk-joo are placed under the spouts, both waiting for what's to come in alluring poses. Both Kwang-soo and Fei pick up their pot lids at the same time… and it's Ji-young who's doused with water.
Kwang-soo's strategy of getting second choice has been working for him up to now, so naturally he sticks with it. At one point, Kwang-soo's asked whether he likes Jin-young, to which he admits that she's his type.
Mention of that prompts MC Yoo to tease a loveline between the two using an old variety favorite where both parties look at each other in a show of mutual interest. It quickly escalates into something bigger as Jae-suk says they have to share numbers and Haha throws in that they have to meet each other's parents. Lol.
Gary and Ji-young are used as an example, and while Gary looks at her… she just keeps eating. Hahahaha.
So Jin-young looks at Kwang-soo, but he doesn't return her look. Annoyed, Jin-young declares, "Let's just be friends!" She gets teased for the rejection, and Kwang-soo jokes, "Stop being so clingy!"
But then karma comes back to bite hard about thirty seconds later when Kwang-soo chooses the loose handle. Poor Guk-joo is completely soaked, but she's still humorous about it.
A few turns later, Kwang-soo is left with another 50:50 chance to win it for his team… and he does. Out of the four possible chances for a prize, the Red Team grabs a rental car and a plane ticket coupon. The Blue Team picks up a food exchange ticket.
Everyone is still hung up on the failed loveline between Kwang-soo and Jin-young, whom the giraffe swears is his type. So they put that theory to the test in an Ideal Type World Cup (a tournament-style game where you choose between two people in each round) with all the ladies on the bus.
Kwang-soo ends up choosing Guk-joo over Jin-young, to the latter's irritation. Guk-joo puffs up, pleased: "This means I was chosen over an actress, singer, and a model, right?" When the boys question Kwang-soo's choices, Haha cuts them all down: "[For Kwang-soo, it's] as long as it isn't Jin-young."
The final round pits Guk-joo against Seung-hyun, and the sympathy falls upon Guk-joo when Kwang-soo chooses the model. Jin-young tries to act cool by telling Gary to switch seats with Kwang-soo's ideal type (for this game), and Haha teases, "You needn't concern yourself!"
For their third part-time game, the teams will be playing Newspaper Basketball with newspaper-wrapped basketballs. A regular shot is worth one points while a dunk shot earns two, and it looks like Kwang-soo's got this one in the bag with his tall height.
The Red Team decide on focusing on dunk shots, but the Blue Team have got at least three skilled shooters. Things look good for the Red Team at the start as Seung-hyun rides on Kwang-soo's shoulders while Guk-joo pushes the opponents away to score a dunk.
But Jong-kook evens up the score moments later. I don't know basketball all that well, but I know enough to notice that the rules are realllllly relaxed in this games, as everyone takes any opportunity to try and steal the ball from each other.
When Kwang-soo uses his tall height to block some shots, the Blue Team physically hold him back to score another basket. A few more minutes into the game, Gary latches onto Ji-hyo (as defense! Really!) and Jin-young does the same to Jae-suk.
It's a battlefield out there until halftime is finally called, and Kwang-soo's outer shirt has peeled off thanks to Fei's hold on him. She apologizes for it.
The Blue Team starts off strong in the second half, as Haha's basket puts them in the lead 5:4. It isn't long before Seung-hyun scores two more baskets, and a catfight between Jin-young and Guk-joo erupts on court. But once they're off the court, they sit side by side together. Cute.
With just over ninety seconds left, the score is tied 6:6. Guk-joo calls out from the bench: "I love you Lee Kwang-s—" Ha, Jin-young placed her hand over Guk-joo's mouth.
Around the thirty-second mark, Jae-suk flies into the air and ties up the score again to 8:8. Kwang-soo receives a pass and jumps for a dunk shot, but misses. Then Haha passes the ball to Jong-kook, who dunks it just before the whistle blows.
Thus the Blue Team wins the basketball game 10:8, and are given first picks to the prizes: cash. Haha chooses the same box unlucky Ji-young would have. It's empty. At least the others are flowing with cash, and the Blue Team gets about $1300. Poor Kwang-soo chooses the empty one for his team.
We finally get to the final mission, which is a hula hoop ring toss. Everyone in either team must succeed or else forfeit all their prizes. Jae-suk: "You're saying we could end up with nothing?" PD: "That's right." Oh man, that sounds mean.
Despite everyone's complaints, the PD doesn't budge. So they try their hands at the ring toss, but it's harder than it looks. Then it's go-time.
The Red Team has two chances since they won two games over the Blue Team's sole win. Ji-hyo misses on her turn, which forces her team to start over. Three of the Red Team have succeeded by the time it's Guk-joo's turn. She misses, which means her team goes home empty-handed.
Jong-kook starts off for the Blue Team, and things are looking extremely good for them with five teammates successfully pulling off the ring toss. Now it's down to Haha to go big or go home.
He throws his hula hoop… and succeeds. And so the Blue Team pull off the big win, winning all of today's prizes. Jae-suk suggests they do a re-match with the same team members sometime later, which Guk-joo refuses: "I'm sorry. It's too tiring."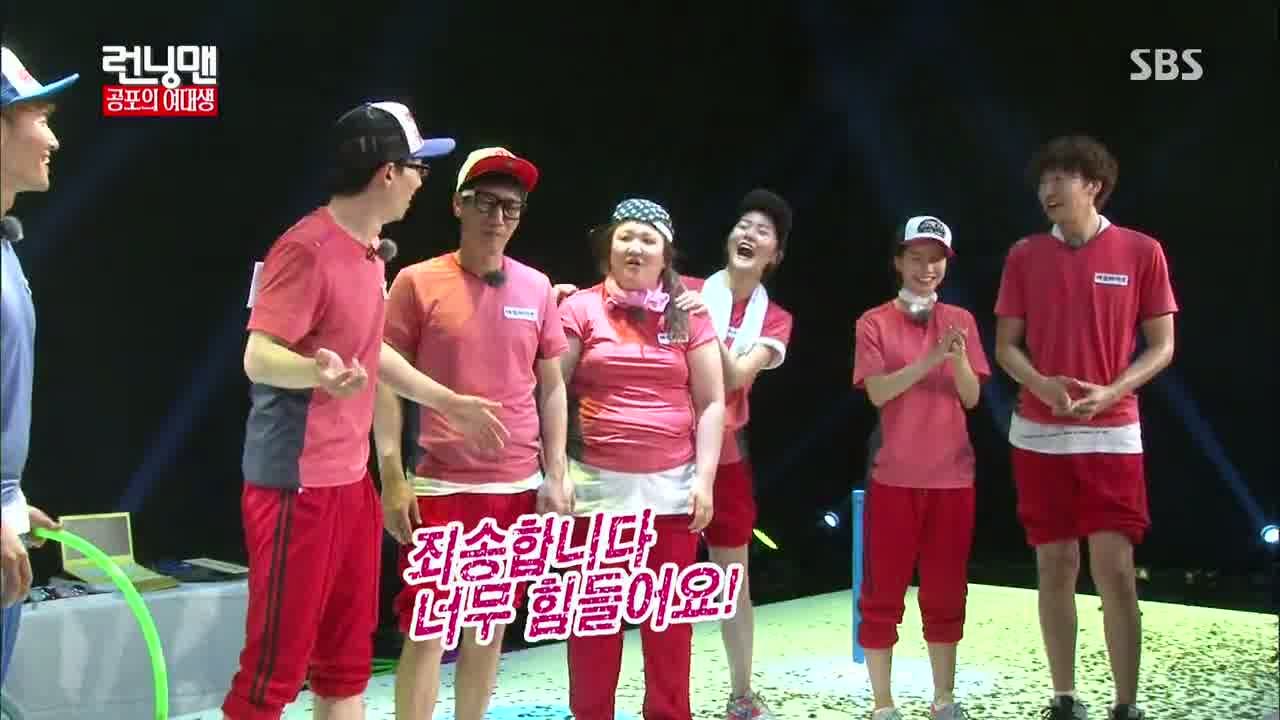 RELATED POSTS
Tags: featured, Haha, Ji Suk-jin, Kang Gary, Kim Jong-kook, Lee Kwang-soo, Running Man, Song Ji-hyo, Yoo Jae-suk