My Secret Hotel: Episode 2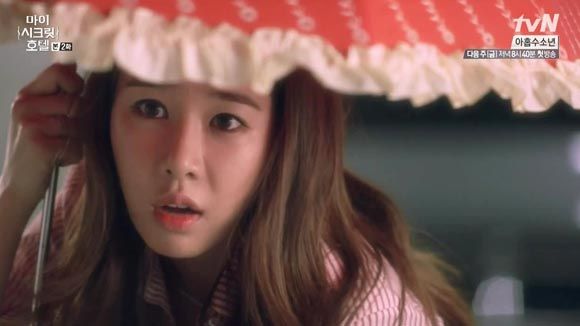 (Hi everyone! I'm going to be helping odilettante cover this show — let's hope it ends as well as it started. Please look after me, and enjoy the ride!)
What a great opening week: My Secret Hotel is hitting all my soft spots — Yoo Inna, strong and sassy heroines, Yoo Inna, sympathetic non-jerkfacey heroes, Yoo Inna, warmth and comedy — and a mysterious death to make things awkward and keep things weird. By delving into the backstory, the web of secrets gets thicker and there is plenty to unpack as relationships shift towards the murkier. Main players have been assembled and trajectories established — with a murder to solve (or maybe two), things certainly won't be quiet at The Secret Hotel.

EPISODE 2 RECAP
Sang-hyo shows Hae-young where to sign for cancelling the contract but noticing his distraction, she asks him what's wrong. Instead of answering, Hae-young picks up the papers and replies, "I almost made a mistake. This wedding…will not be cancelled."
He tears up the contract and throws it in her face with a smirk, and asks her to take good care of his wedding. Dismayed, Sang-hyo tries to convince him that he'll want to change venues. Hae-young smoothly replies that she's so dependable that he's not worried about staying here.
Switching tacks, Sang-hyo digs a stiletto heel into Hae-young's foot. Squirming, he holds firm, even when she threatens him with her fist next. Hae-young makes a quick exit, and although she gives chase, he gives her the slip.
Armed with a frilly red umbrella for disguise, Sang-hyo follows Hae-young to the parking lot. In his car, he's reliving the satisfying memory of her shocked face. "You should've been this shocked the first time!" A second later the red umbrella pops up in front of his car. She gets in and immediately threatens him (again) at umbrella-point: "Drive." When he's too slow to comply, she stabs at him. Hae-young: "She still pokes me now like she did seven years ago!"
At the river, Sang-hyo loses patience and throws him against his car demanding to know what he's playing at. He insists he's being sincere — he doesn't see any reason not to go through with it, since they've said their goodbyes to the past. He says, "Besides, how many people get an opportunity to remarry with their ex-wife preparing the ceremony? What a great opportunity! I can't let this one go—" At which point, Sang-hyo throws him a satisfying right hook, which leaves them both groaning with pain.
Sang-hyo declares, "Okay. I'll prepare it properly," as if to say, just watch me. With that, she walks away. Not to be outdone, Hae-young drives away, abandoning her. He mutters, "She won't be in danger at night with a punch like that."
A disbelieving Sang-hyo watches him go. "He left by himself? Nothing has changed from seven years ago. I waited so long for him."
Hae-young's conscience gets the better of him and he U-turns back for her. Sitting alone by the river, she declines his calls. He searches for her, but she's already hailed a taxi headed back to the hotel. Hae-young gives up, deciding, "There's no way she'd wait for me. She didn't wait for me seven years ago, either."
About to leave for the night, Sang-hyo spots somebody going into Sung-gyum's office and thinks he must be here late. The shady figure turns out to be Assistant Manager Hwang, searching for something. He seems to find what he's looking for — a photo frame hidden in a drawer.
The next day, Sung-gyum immediately notices something off when he enters his office. Simon confirms that nobody came in and the computer also shows no sign of tampering, but Sung-gyum remains suspicious. At the same time, one of the security guards takes something to Security Team Leader CHA DONG-MIN.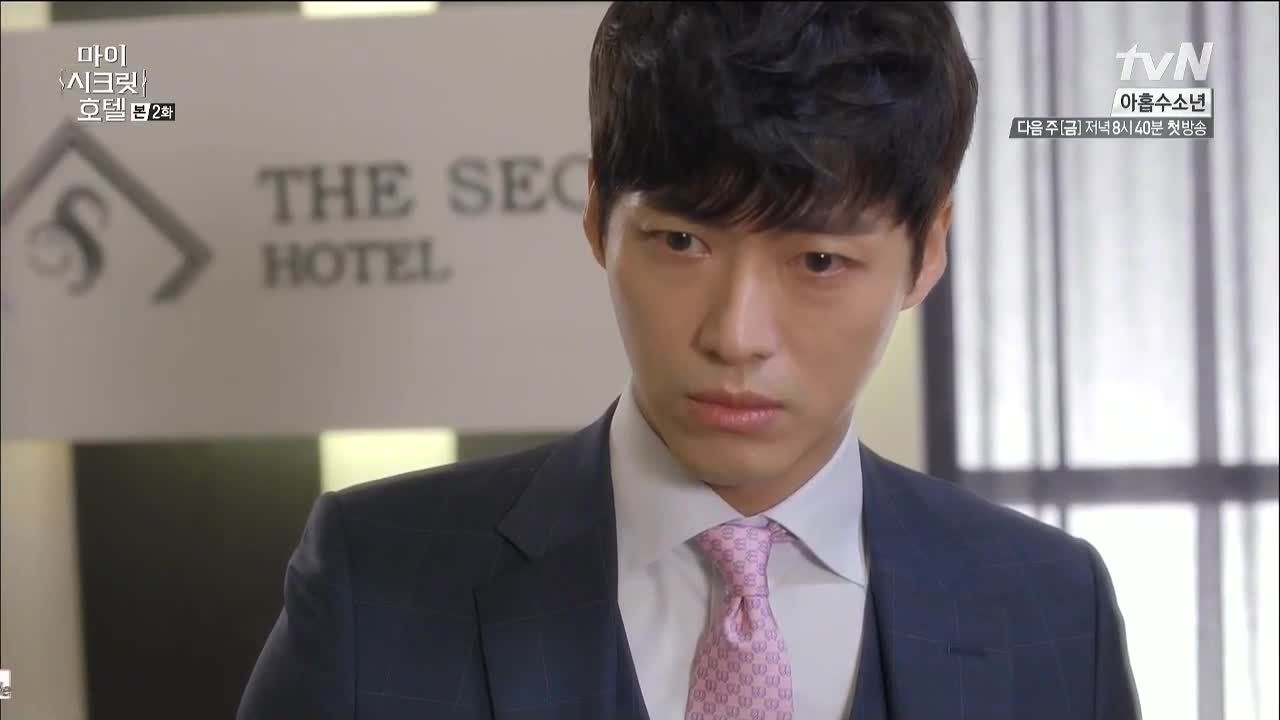 Sung-gyum heads down to the security office and meets with the same security guard, who starts a CCTV video. Meanwhile, General Manager Lee watches footage that clearly shows Assistant Manager Hwang entering Sung-gyum's office last night. He is assured that there is nothing to worry about, and all Sung-gyum sees is footage of the empty office followed by static. The guard explains that the old equipment malfunctioned.
Sung-gyum confronts General Manager Lee about the trespassing. Sung-gyum (rightly) holds him in some suspicion, and says pointedly that if someone wanted to know something about him, he'd rather be asked than have his room searched. Lee cryptically tells him, "Even if I knew, don't you think there are things I can't tell you?"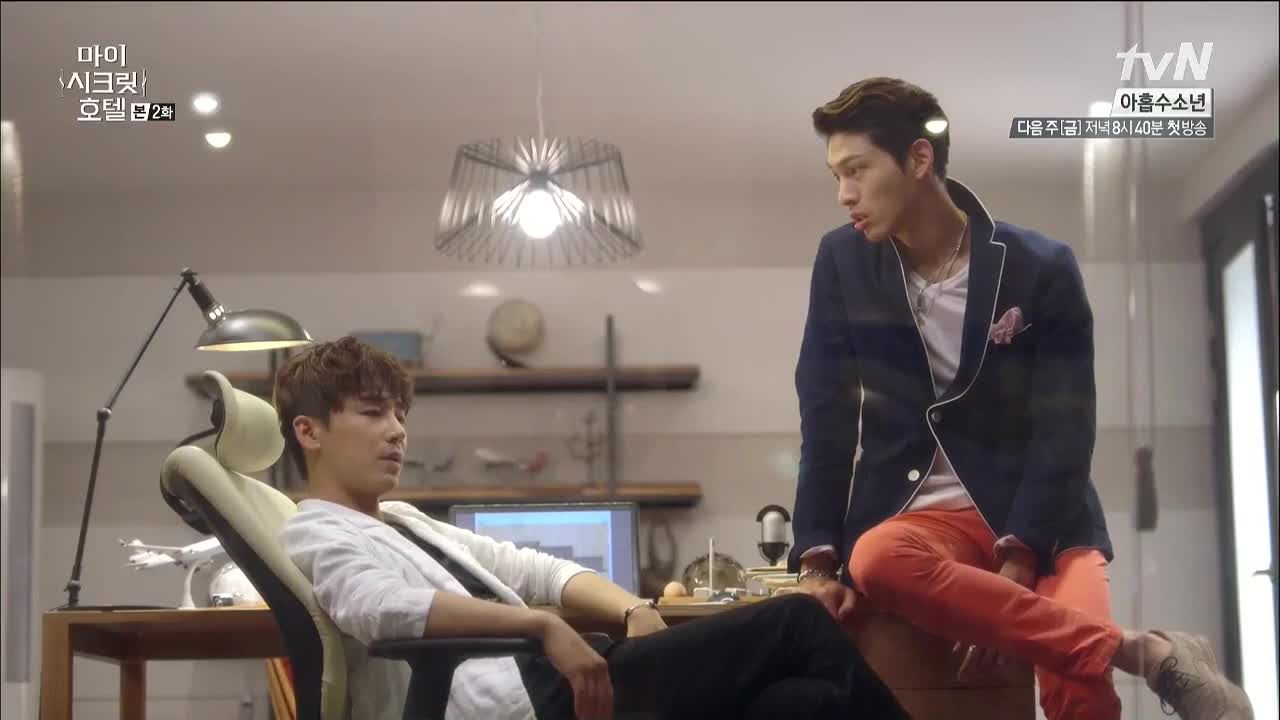 In his office, Hae-young nurses his bruised jaw and…listens to self-hypnosis? Haha. His meditation is punctuated by messages from Soo-ah, urging him to go somewhere with her. His buddy Shi-chan interrupts him next. He drops a plan for a library on his desk and urges him to compete well with rival design company Shim Architects, who also outbid them for a project last year by offering a better deal.
They have a hilariously two-track conversation, where Shi-chan urges Hae-young to face the competition head-on, because he'll look weak otherwise. Hae-young, who's fixated on Sang-hyo, hears this as encouragement to stand his ground against her.
Now whipped up, a revenge-bent Hae-young runs out.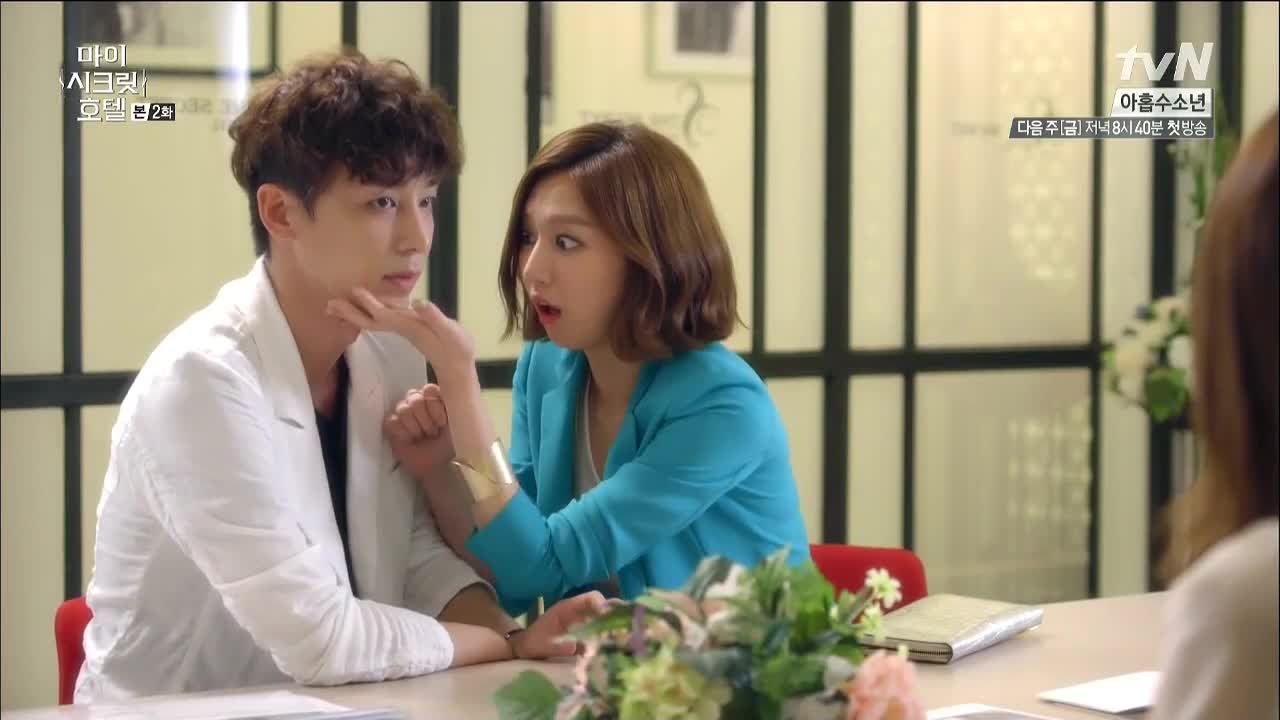 …into the meeting between Soo-ah and the wedding planners at the Secret Hotel. Hae-young plays up his affection for "my baby" Soo-ah, with sidelong glances at Sang-hyo to clock her reaction (= nil). Soo-ah is joyful at the sudden attention but notices his horrible bruise. He attributes it to a crazy woman, saying, "If all women were as pretty like our Soo-ah, no men would be getting divorced in this world."
Sang-hyo breaks up the awkward three-way by taking them to see the wedding hall. Soo-ah loves it but Hae-young churlishly picks faults with it. Somehow this becomes a V-line competition and Sang-hyo quickly sucks in her cheeks when he turns on her. When Assistant Manager Kyung-hee brings talk back to the arrangements, Sang-hyo jumps in, "You speak as though you've been married before."
He shoots back that she seems the same. Kyung-hee (un)helpfully interjects that Manager Nam is single, and he comments on a single woman being in charge of weddings: "Pretending we know things we don't." He holds out a conciliatory hand which she blows off, and having won the last point, struts away to take a call.
Kyung-hee takes the couple to the honeymoon suite, while we briefly cut to Sang-hyo steaming in her office.
While Soo-ah revels in the plush surroundings, Hae-young tries to discreetly inquire about Sang-hyo's whereabouts. He's taken by surprise when Soo-ah jumps him and makes kissy faces while he wards her off using Kyung-hee as an excuse — she (un)helpfully invites them to carry on because she ain't lookin'. Hae-young is able to extricate himself when his phone rings, and he tips her unceremoniously to the floor and escapes.
It's Sang-hyo on the phone and she accuses him of hiding his past marriage from Soo-ah. Provoked, he turns it back on her, telling her not to make assumptions. He wonders if it would be bad for people to find out the wedding planner divorced after three months.
She yells at him, but he's won this round and hangs up on her. As she mutters curses against him, the camera pans to Assistant Manager Hwang, who overheard the whole thing.
In the car, Soo-ah wonders how Sang-hyo guessed that he had been married. Ah, so he did tell her. She doesn't mind, but she is curious — what was his ex-wife like — was she pretty? He answers simply, "She was pretty." Needless to say, Soo-ah doesn't like that answer much.
Sang-hyo is still in her office, scribbling and cursing. Her co-workers look on sympathetically. It's late so she tells them to go home, but they're concerned about her and want to take her out for dinner instead. Team member Young-mi is resistant, but Gi-chul just uninvites her as a party pooper, anyway.
Sang-hyo apologizes and says she wants to be alone today… and ends up in the noraebang anyway, caterwauling off-key and with abandon. Even Assistant Manager Hwang made it along (for the free drinks).
Young-mi seems to have a problem with the attention Sang-hyo gets and stalks outside, griping to herself as she tries to light up. Suddenly, a voice calls out for Hwang Dong-bae and, peering around the corner, Young-mi sees General Manager Lee come up behind Hwang. She overhears the cryptic conversation between the two men:
Lee: "I won't stand back and watch anymore."
Hwang: "If you won't, then what will you do?"
Lee: "You think nothing of me, don't you?"
Hwang: "This won't end unless I die."
Lee: "I gave you a clear warning! Don't forget it."
Young-mi turns away, but a hand grabs her hair from behind — looks like Hwang.
In a seedy gambling den, Hwang plays poker with three other men. Hwang goes all in and puts down a winning hand… or does he? As he reaches for the winnings, his opponent puts down an even better hand and claims the winnings. But Hwang pulls an ice pick from his pocket and stabs it straight through the winner's hand, into the table. Indifferent to his screams, Hwang collects the blood-soaked money.
The next day, Sang-hyo asks Young-mi if she got home safe, surprised that she even left her bag behind. Young-mi gives the excuse that something urgent comes up, but when she's alone again, her expression is…inscrutable. Something clearly happened, but she's not giving anything away.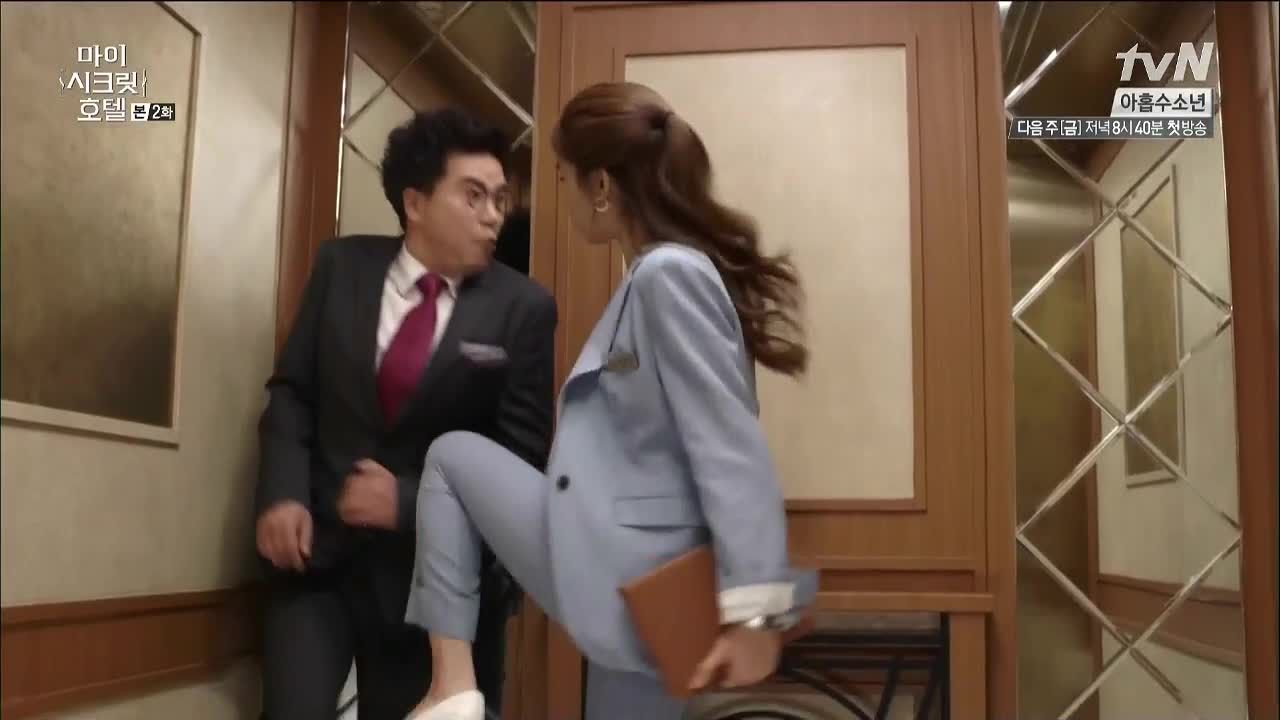 Sang-hyo waits for the elevator, which opens to one of the managers making unwanted advances on a female employee, ugh, who immediately runs away. She notes this and deliberately gets on. Slimy Manager gives her the full once-over from behind (ugh) and slimily offers to give her "dating advice" but she ain't no pushover — she backs him into the corner (with her KNEES) and threatens him with disciplinary action. He plays innocent, citing lack of evidence, but she just points up at the camera and sails out.
The gamblers from the night before arrive in the hotel, looking for Assistant Manager Hwang. The party of three corner a staffer to discover his whereabouts. From the mezzanine above, Hwang spots them and stays out of sight.
Sang-hyo runs through preparations for the wedding with Kyung-hee: All that's left is the rehearsal, which Sang-hyo looks apprehensive about. She asks Kyung-hee to be in charge of that, but she can't because of a hospital appointment. Sang-hyo initially presses but quickly takes it back, and encourages Kyung-hee to leave early to make it in time.
Sang-hyo meets Security Team Leader Cha on her way to the rehearsal, and asks if there is any progress on the pickpocketing case. He says they're still investigating.
Young-mi takes Soo-ah and Hae-young through security arrangements, which is when Sang-hyo and Team Leader Cha arrive. His eyes glued to Sang-hyo, Hae-young asks casually whether that's the man she proposed to. Soo-ah is astonished that a woman proposed, but Hae-young reminds her that she also proposed to him.
As the rehearsal proceeds, Sang-hyo flashes back to seven years ago, running into a small church in the desert with Hae-young. Hae-young's thoughts are also in the past, thinking to their wedding in a sunlit courtyard, he and Sang-hyo both nervous with anticipation. They both remember their simple, heartfelt vows, and in the present, Hae-young drops Soo-ah's hand.
As they face the audience, his eyes go straight to Sang-hyo and the pain that passes across his face is mirrored in hers. Unable to stand it anymore, Sang-hyo turns tail and leaves, and only allows herself to give in to tears safely in the bathrooms.
After the rehearsal, Hae-young drinks alone at a bar, thinking of Sang-hyo.
In her office, Sang-hyo is also lost in regrets when Assistant Manager Hwang interrupts: "Why don't you hold onto him?" He goes on, "If you want, I can mess up this wedding." She refuses, but his voice follows her as he tells her to think it over. Sang-hyo starts running — smack-bang into Sung-gyum — and bursts into tears.
They sit outside and Sung-gyum asks why she was crying. Sang-hyo tells him about her "friend" who was married seven years ago — she loved him to death but they broke up before 100 days. This scene intercuts with Hae-young telling Shi-chan, "The woman I hated to death, I met her again."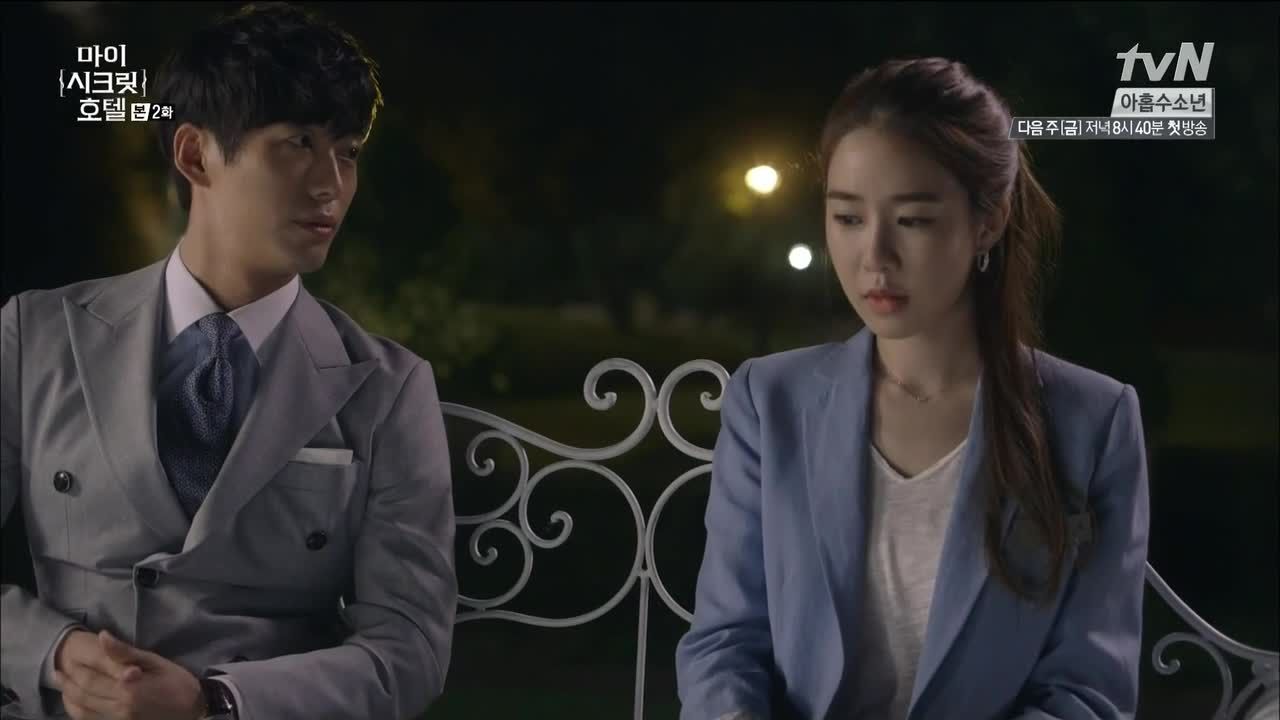 Sang-hyo: "She thought she had forgotten everything. She really thought she had erased all of it."
Hae-young: "As though I had never forgotten, I remember it all."
Hae-young admits he doesn't know what to do. Shi-chan tells him to go see her right now — find out his feelings, find out hers. "Once you ask her whatever and say whatever, then won't things become clearer somehow?"
Meanwhile, Sung-gyum is recounting a saying to Sang-hyo: If a man loves a woman, he'll crawl back to her even if he falls off a cliff. He advises her "friend" to wait: "If he has any feelings left for her, he'll contact her again however he can." She shakes her head, disagreeing. And now that she's told him a secret, she asks for one in return.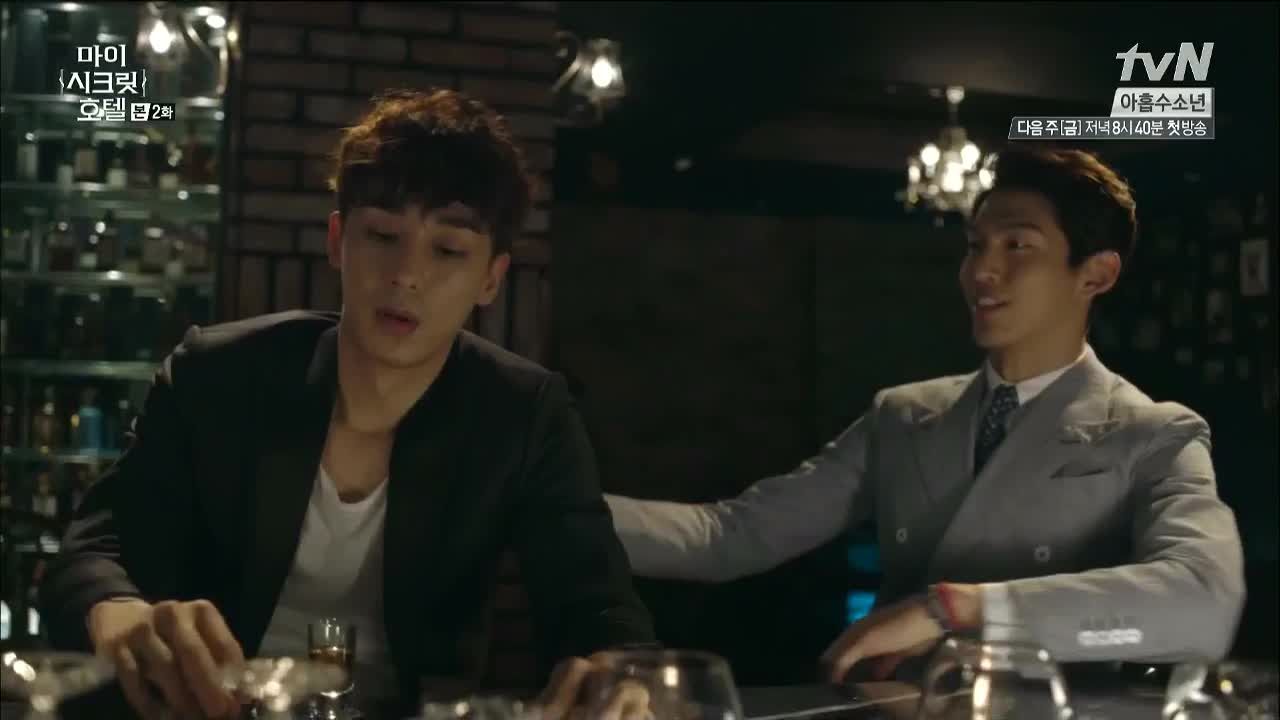 Hae-young takes Shi-chan's advice and takes a taxi to the hotel, where he runs in looking for her. He finds Kyung-hee crying in an office (oh no, this is to do with her hospital visit, isn't it?), but she's not who he wants so he keeps searching.
Next, he hears Assistant Manager Hwang purring into a phone, about long-linked destinies and how the other person made a lot of money in the U.S. He just starts to say something about the other person and General Manager Lee living the good life while he isn't, when Hae-young walks in on him.
Assistant Manager Hwang recognizes him and lets him know that Sang-hyo is still around — and wishes him luck. As he walks away, the strangeness of the exchange makes him turn back, to overhear one last snippet: "Fine. If you're not interested, I'll talk to your son." That sounds ominous.
Sung-gyum's secret is that he works at this hotel because it's his father's workplace, too. She asks if that's why he became a hotel management specialist. He is deliberately vague when he says, "I suppose you can't say there isn't a connection," but his non-specificity is odd.
He reveals that his father died here thirty years ago, but since he was only 5, he doesn't remember anything. In the moment he's totally serious, but a second later, he's all, "Damn, that line always works with the ladies!" Both of them laugh easily, and it's this cozy scene that Hae-young witnesses. His pain is evident, but he doesn't approach — a few moments later, he turns around and heads back.
At the front desk, the receptionist finds a card left for Sung-gyum.
The wedding day. Reporter Jung-eun stops by the dressing room where Soo-ah's friends fuss over the bride. She pauses at the door, hand curling into a fist, before stalking away. Now we cut back to the sequence the drama opens with: Sang-hyo making the rounds, inspecting the ice sculpture, containing her irritation.
The card left earlier is delivered to Sung-gyum in his apartment-suite. The unsigned missive reads, "Your father was murdered. Do you know who the culprit is?"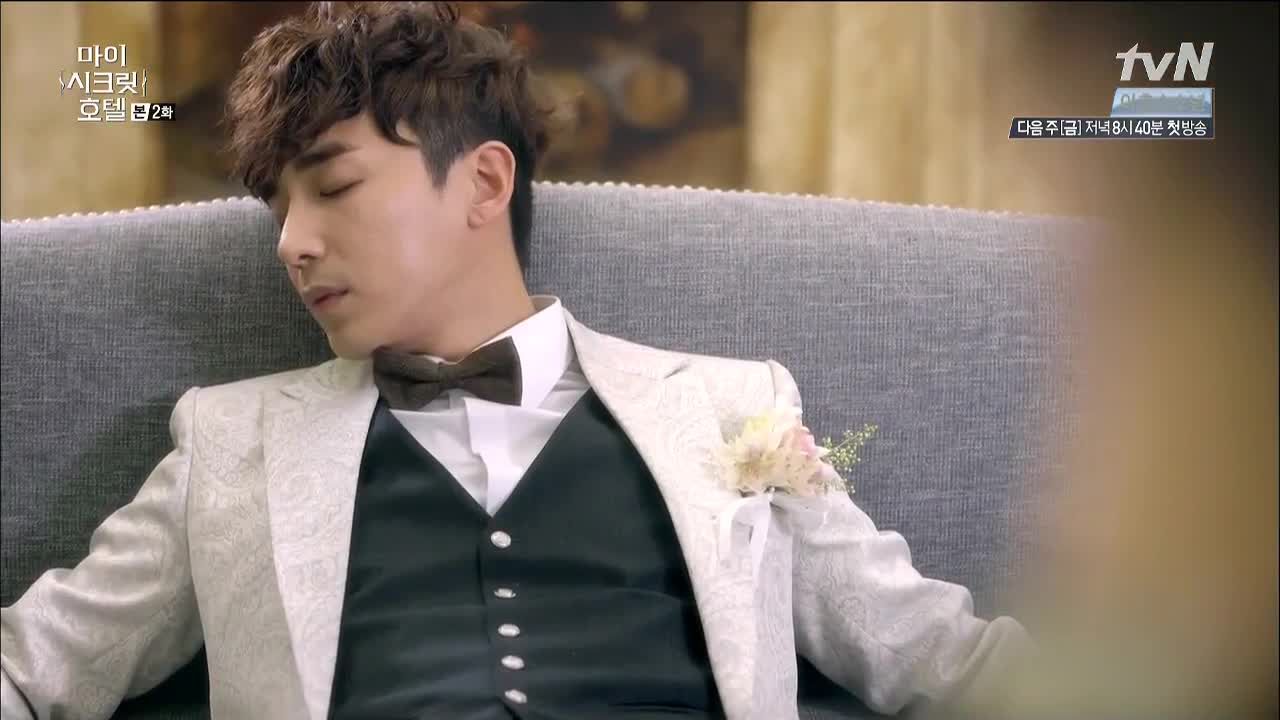 Sang-hyo brings Hae-young tea. This scene feels different now that we know how he looked for her the night before. He affects indifference, and she keeps a tight rein on herself, but their small tics betray their inward disturbance.
Sung-gyum meanwhile has Simon begin a secret investigation to find out who else, apart from General Manager Lee, is still working here from 30 years ago.
Sang-hyo asks if there is anything Hae-young is dissatisfied with. He demurs, repeating what we heard before — this wasn't an impulsive wedding. Instead of the acerbic bite of the opener, this has a touch of sadness in it now. When she tells him she did her best, sincerely, it is kind rather than challenging. Just as he's about to add something, Young-mi interrupts him to get ready, and whatever it is remains unsaid.
Alone, Sang-hyo sinks to her knees and sheds a few last tears before composing herself for the ceremony.
Sung-gyum wonders if his father was really murdered, and whose idea of a joke this is.
Hae-young begins his walk down the aisle…
…and the body crashes through the ceiling to land at his feet.
In the chaos, Sang-hyo forces her way to Hae-young's side — the body is Assistant Manager Hwang's. She recalls his words about messing up the wedding and, stricken, she clings to Hae-young.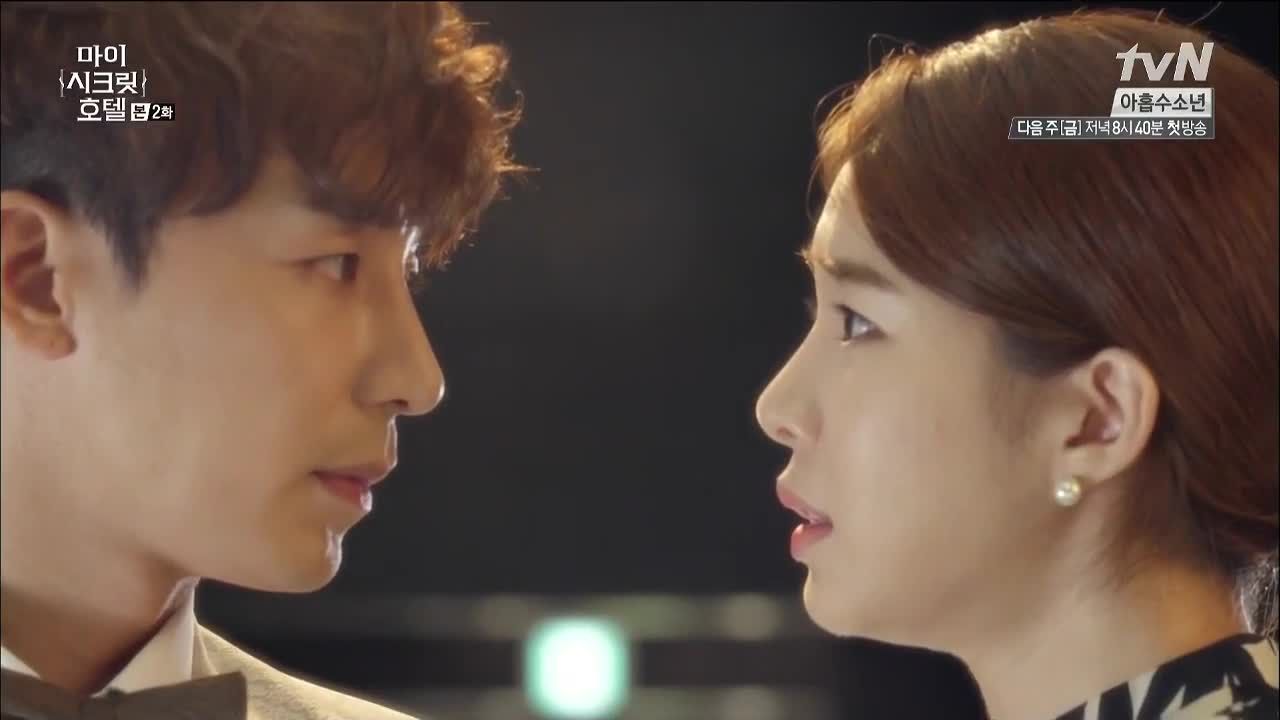 COMMENTS
Well…that's one way to interrupt a wedding.
I love Yoo Inna as a lead — she blooms in these roles in a way she hasn't for any secondary roles that I've seen her in (maybe because they always make her the evil second lead?). I watched Jin Yi-han in A New Leaf where he had one expression: boring. So I didn't have high hopes. But he's great! He has multiple expressions! And he does pain! Really well!
I think Hae-young deliberately cultivates the wastrel image to keep people at a distance. It's not a coincidence that Shi-chan is the only friend/brother-figure close to him. In contrast, Sang-hyo's shield is her efficiency coupled with personal warmth, with which she maintains her many and various relationships — if she's always asking after people, they won't have a chance to ask about her: distance accomplished.
Speaking of weddings, the first episode led us to believe theirs was a hasty, sloppy, neon-lit, back-alley, no-place, Vegas wedding, but the flashback tells a different story. Even if it was impulsive, it was also real.
It's interesting to note how much their love hasn't mutated into hate, which immediately tells you something about how they must have broken up, pointing to external factors. The hint that Jung-eun had a hand in it, the minimal animosity towards each other, and the raw longing and pain they mirror in each other any time they meet, support this. It explains why Hae-young keeps taking every chance to try again, and why she doesn't wait for him also suggests they are the victims of a misunderstanding. Her reaction to old scars makes her an elusive figure for Hae-young to catch.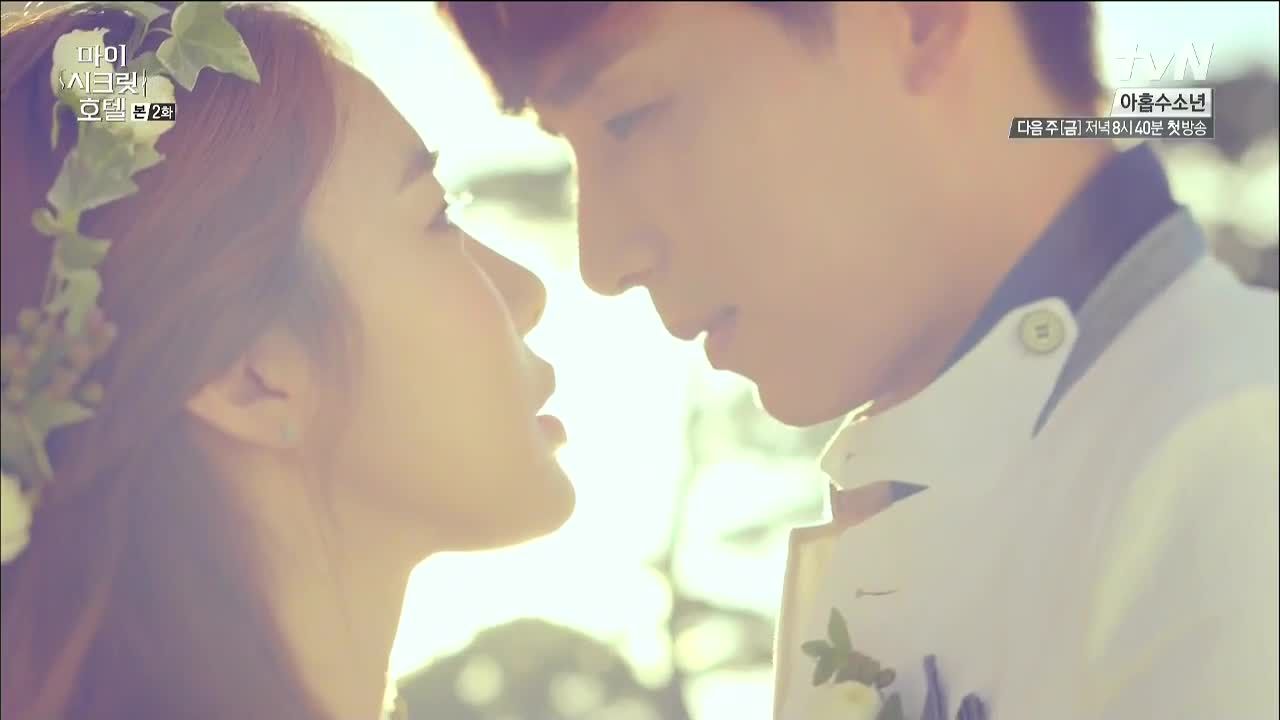 The crucial object in their incipient relationship is to get their wires uncrossed — their whole history is evidence that neither love nor maturity are enough. Their relationship seems to be dogged predominantly by both miscommunication and communication failures, whose reach extend into the present day. This whole episode has been a catalogue of missed timing and crossed wires, making a sad mess out of a relationship that otherwise has every reason to work. With both of them currently excelling in their careers, it takes out the inferiority complex and its dynamics, which I like because it precludes the tired tropes that come with it, giving you more scope to dig into the meat of the relationship itself, the whys and wherefores when they had so much on their side.
What I enjoy about the divorce-remeet conceit dramatically is that it promises a special kind of satisfaction often denied in real life, of each character being made to witness the other side of the story, all the way to seeing through misunderstandings. It's classic but subtle wish-fulfilment that adds the magic to its appeal.
Following on the heels of High School King of Savvy's ensemble of well-rounded secondary characters, Hotel has already cemented my affections, although I'm not sure it's yet bringing its best game. Namgoong Min's character, perfunctory and lukewarm, seems like a clone of his character in I Need Romance 3. I can't tell if this is just how his character is written or if that's the limit of his range as an actor. The murder note seems like the catalyst to rouse Sung-gyum into actively participating in shaping his own narrative through the course of the show. There're definitely interesting things in store for him, with hints of some kind of connection between him and Sang-hyo, Sang-hyo and Assistant Manager Hwang, and Assistant Manager Hwang and Sung-gyum, in a pretty tangled triangle that can't end well (but please do!), but I want to see more depth and nuance.
Kyung-hee cuts an uninentionally comical figure — she's well-meaning! She's got your back! But she's also got it all backward, so it's funny watching her sincere efforts — unbeknownst to her — backfire. Like Sung-gyum, she's got serious things coming up if her last scene is an indicator, and she and Sang-hyo are going to need each other, so I'm glad to see Sang-hyo mindfully take care of Kyung-hee the same way the older woman takes care of her.
Fiancée Soo-ah was a character I worried about: I didn't want her to be collateral damage in the new-old romance, because that's unfair and undeserved. Given the revelations in this episode, I'm satisfied that she's pretty much put herself here — perhaps as the price you pay for browbeating someone into marrying you. It's not fun, but it is fair, which is enough for me to happily write her off.
Oh, right — there is also a mystery! But it's currently very mysterious and this is all I've got: General Manager Lee, Assistant Manager Hwang are in the know. They are somehow possibly connected to Sung-gyum's dad. Sung-gyum's dad was (allegedly) murdered here 30 years ago. There is a US connection. Sang-hyo is an international adoptee. Hwang seems to have some kind of connection to Sang-hyo (unknown to her). Hwang did something to Young-mi but nobody knows what. There is bloody money. There are serial wallet-thefts. Hwang dies and falls through the ceiling…or falls through the ceiling and dies, it's not clear. That's where I'm at. Does this feel like a big game of Cluedo to anyone else? (And sneak preview: the detective is a mermaid.)
I have one complaint about the show's visual aspect — the occasional oversaturation in some scenes is distracting. Yeah, Yoo Inna is angelically cute but nobody needs that much of a halo. I can't see anything! The rest of it is crisp and stylish, so I hope the production team scales it down in future flashbacks.
And finally: I think when they say 'killing romance', they mean, 'there is a killing' + 'there is a romance' = 'killing romance'. I don't know, maths isn't my strong suit. But I don't care anymore either way, because if the rest of it is like this, then I'm ready to sail away on my Sang-hyo x Hae-young ship. As soon as possible! Tomorrow! Right now!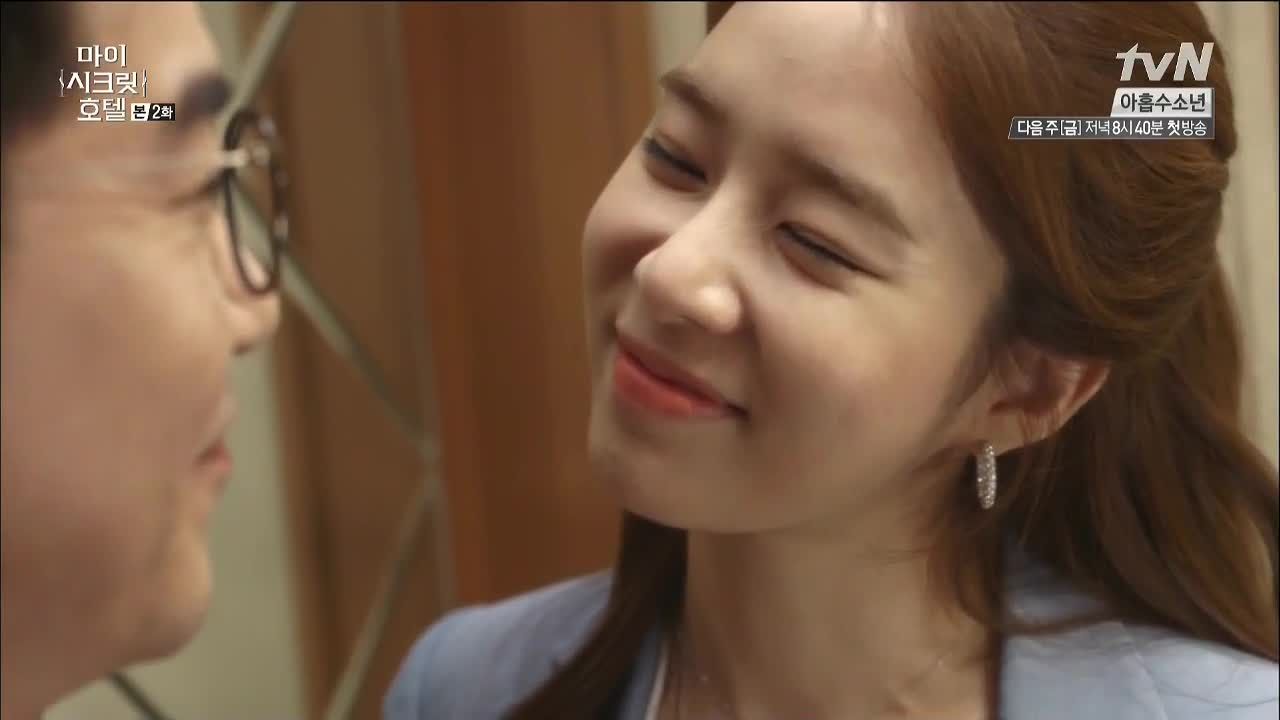 RELATED POSTS
Tags: featured, Jin Yi-han, My Secret Hotel, Namgoong Min, Yoo Inna