Bad Boys behind bars prepare for the hunt
OCN may only have one genre angle in programming its original drama series content (crime, crime, and more crime), but if it can't have breadth, at least it has depth. And of all the channels putting out scripted drama content, it does have the grittiest, goriest fare, and its new series Bad Boys ought to fit right in with its other bloody crime thrillers like Ten, God's Quiz, and Vampire Prosecutor. (My stomach isn't always up for the graphic violence of its shows, but I do appreciate that there's a corner of dramaland that'll go dark and twisted, even if OCN's shows can get rather gratuitous.)
In the most recent stills released from Bad Boys, pictured above and directly below, we get a glimpse of Park Hae-jin taking a darker turn from his softer, gentler image (You From Another Star, Doctor Stranger) to play a young genius and psychopath. He's pictured sitting by a pool of blood wearing an expressionless face, which is also how he's depicted in the stills below where he sits in prison as a convicted criminal.
He doesn't stay there for long, though, since the premise of Bad Boys is that a badass detective (played by Kim Sang-joong) gathers together a team of criminals to help work on a case, thus becoming "bad guys who catch other bad guys." The detective leader's approach states that a perfect hunt requires even more vicious hunting dogs, and these guys just the thing for the job. Ma Dong-seok plays another criminal on the team, a gangster, while Jo Dong-hyuk is the killer for hire with the abs of steel. Kang Ye-won rounds out the team as police inspector.
Bad Boys will be a Saturday-night drama on OCN and premieres on October 4.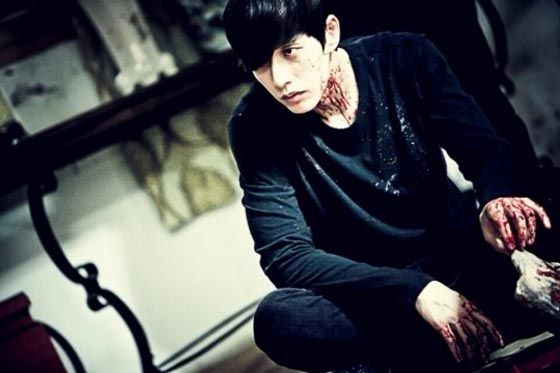 Via DongA
RELATED POSTS
Tags: Bad Guys, Jo Dong-hyuk, Kim Sang-joong, Park Hae-jin