2014 Korea Drama Awards
The Korea Drama Awards (part of the two-week Korea Drama Festival that kicked off today) isn't one of the bigger award ceremonies around, but being that it's drama-focused and inclusive of both broadcast and cable programs, it's worth a look—even if the winners list does seem rather scattershot.
The awards ceremony was held in the city of Jinju on October 1, and it should come as no surprise that You From Another Star was the biggest winner of the night, with five awards. And it's nice to see Answer Me 1994 right in the mix with some key wins. But looking at the list, mostly I'm perplexed at the randomness of the winners, even if I will agree that the individual winners did good jobs in their respective roles.
That said, at least the nominees list had a better mix of titles; it's just that the winners were concentrated into a few projects. (Examples: Answer Me 1994 and Secret Love Affair were nominees for scriptwriting, though neither won. Best Drama nominees included Empress Ki, Jung Do-jeon, and Secret Love Affair… but then again, also nominated was the whackadoodle family makjang King's Family, so maybe that's not the best example of anything.)

WINNERS LIST
Daesang: Kim Soo-hyun (You From Another Star)
Best Drama: You From Another Star
Best Scriptwriting: Jung Hyun-min (Jung Do-jeon)
Best Director: Shin Won-ho (Answer Me 1994)
Top Excellence, Actor: Kim Jaejoong (Triangle)
Top Excellence, Actress: Oh Yeon-seo (Jang Bo-ri Is Here)
Excellence Award, Actor: Lee Kwang-soo (It's Okay, It's Love)
Excellence Award, Actress: Kang So-ra (Doctor Stranger)
New Actor: Ahn Jae-hyun (You From Another Star),
Seo Kang-joon (Sly and Single Again)
New Actress: Do-hee (Answer Me 1994)
Child Actor: Kim Ji-young (Jang Bo-ri Is Here)
Global Actor Award: Otani Ryohei (Joseon Gunman)
Best Couple: Do-hee & Kim Sung-kyun (Answer Me 1994)
Hot Star Award: Shin Sung-rok (You From Another Star)
Hallyu Star Award: Kim Soo-hyun (You From Another Star)
OST Award: Ailee (Fated To Love You)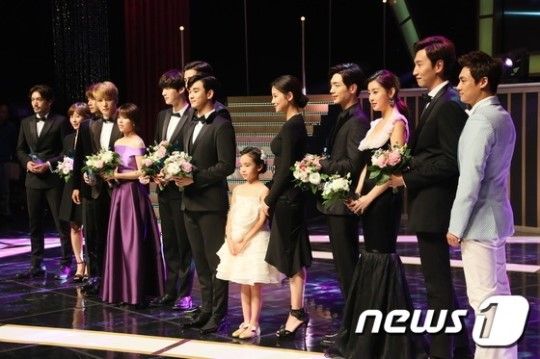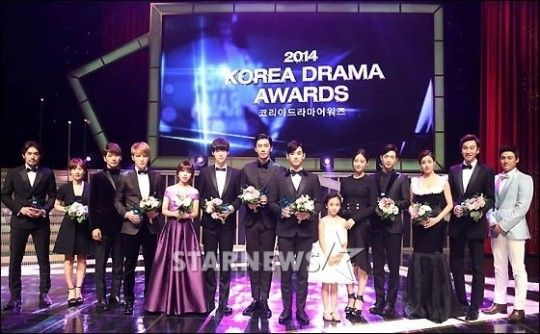 Frankly I would've picked Jeon Ji-hyun over Kim Soo-hyun for the Daesang, but the quibble is minor, as it's the combination of the two that catapulted You From Another Star to its mega-hit status. One could argue that Ha Ji-won and Jo Jae-hyun, also nominated in the category, would have been deserving Daesang winners too (for historical dramas Empress Ki and Jung Do-jeon), and Lee Min-ho was a huge draw for Heirs (though I'd say giving him the award would've been a travesty)—but you can't argue with the power of You From Another Star.
I'm a fan of Oh Yeon-seo's look, which opts for a more sophisticated, edgy flair than the feminine, pretty dresses worn by most of the other ladies. The others look great, of course—but Oh Yeon-seo looks sharp and badass.
She took home the Top Excellence Award in the actress category, which feels appropriate given that her family drama Jang Bo-ri Is Here is a huge ratings hit these days, teetering on the brink of national drama status (it's just shy of 40% with a few episodes left to go). Yes, the drama is something of a shrill, melodramatic angstfest, but hey, it brings home the ratings.

I'm surprised to see Jaejoong take home the Top Excellence Award—not because he wasn't good in Triangle, but because he beat out actors in higher-profile dramas, like Ji Chang-wook of Empress Ki and Yoo Ah-in of Secret Love Affair. (He also beat Lee Jong-seok and Lee Seung-gi, but their projects—Doctor Stranger and You're All Surrounded—didn't have the same buzz factor.) But congrats to him, and he looks, as ever, beautiful.

Yay for Lee Kwang-soo! I would've been happy to see Seo In-gook win too (High School King of Savvy), but Kwang-soo was great in It's Okay, It's Love and always has a way of making you sympathize with his characters.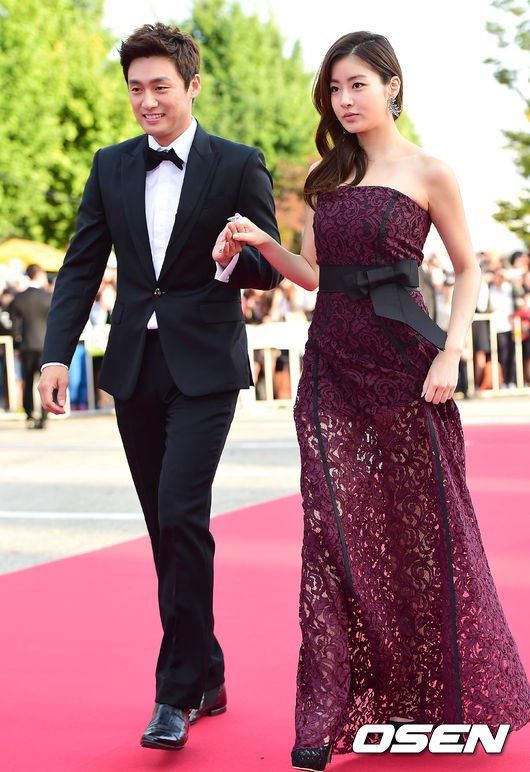 Kang So-ra looks fantastic, doesn't she? She's here on the arm of Oh Sang-jin (Yoo Inna's prosecutor oppa from You From Another Star); the two were hosts at the awards ceremony. I much prefer the lacy gown to the ruffly one, but in any case, good on Kang So-ra for taking home an award for Doctor Stranger. At least that show won something?

Shin Sung-rok, everybody's favorite murderous villain (You From Another Star), won the "Hot Star" award. Yes, he is.

Ahn Jae-hyun pretty much came out of nowhere and parlayed his cute little-bro role in You From Another Star to a bigger part in You're All Surrounded, netting a higher mainstream profile overall. Now he gets a New Actor win, which may not be his last of the year.

Is anybody else surprised that the uber-catchy "You are my destiny" song from You From Another Star didn't win in the OST category? Perhaps they split their own vote (the show had two songs in this category), allowing Ailee to swoop in and bring home the prize for Fated To Love You.

Aw, I love that the Best Couple award went to the adorably mismatched Do-hee and Kim Sung-kyun pairing of Answer Me 1994. Admittedly, the actors look a lot more mismatched as themselves, but I'll just pretend that it's Yoon-jin and Samcheonpo up there accepting the award. Do-hee also picked up a solo award for New Actress, and the drama's PD, Shin Won-ho, won for directing.

Otani Ryohei (Joseon Gunman) won for Global Actor, which appears to be a new category. I'm not sure who else was nominated, but perhaps it'll be a nice category for non-Korean actors in K-dramas. There are far more who are terrible than who are good, but hey, I'll be happy to see the ratio swing in the other direction.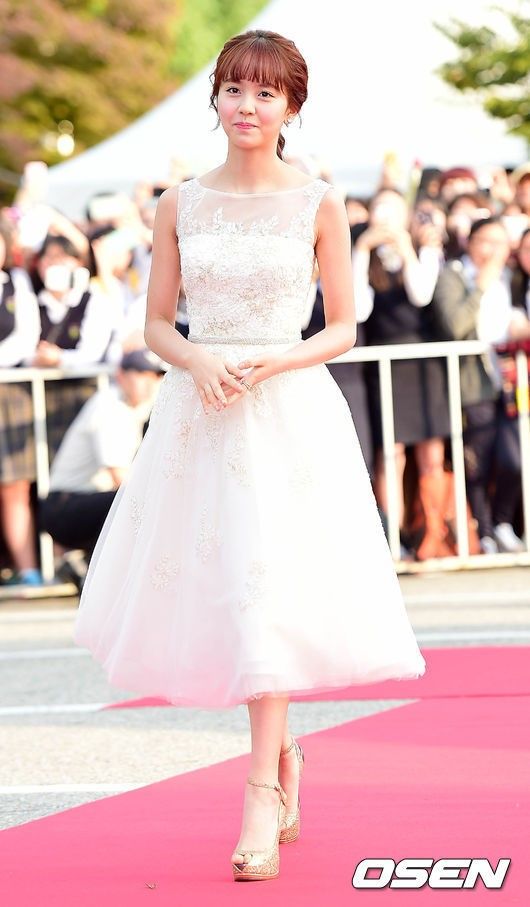 I feel like I'm always saying this, but Kim So-hyun (Reset) is growing up nicely, isn't she? (She turned 15 this summer.) Her fashion sense is evolving nice-ly, too, and her tea-length lacy white pick is both chic and age-appropriate.

Lee Yi-kyung has been picking up a number of supporting roles this year, with You From Another Star and You're All Surrounded and Trot Lovers. He's been bratty, aegyo-filled, and murderous—not all at once!—so it's nice to see him trying on different acting hats. He's here presenting with Miss Korea's Moon Ji-in.

Clara (Emergency Couple) looks fresh and rosy in her dusty pink gown, which looks better in action than standing still. This is a gown that I would normally find awkwardly shaped, which she somehow manages to make look flattering.

This seems like a safe choice for Ha Yeon-joo (Miss Korea, My Secret Hotel), who I think could get away with bolder or riskier choices and stand out more on the red carpet. But I'll concede that this fits her like a glove and she looks great in it.

I'd say fit is also the key point for former Jewelry member and actress Kim Eun-jung (K-Pop Ultimate Survival). I'm torn on her black gown, which is cut perfectly to her figure and has an interesting texture (leather? brocade? old curtain?), but is also a little plain. Or is the shiny material embellishment enough?

Hm, I don't love Go Eun-mi's (Empire of Gold) selection, though I suspect I would appreciate the glittery gold color more up close. It's okay. It's pretty.

Kim Ji-young beat out a couple of adorable competitors in the Child Actor category, with Kim Yoo-bin (plot-driving Saet-byul in God's Gift – 14 Days) and Hong Hwa-ri (Taecyeon's precocious daughter in Wonderful Season) also nominated. I haven't seen her in Jang Bo-ri Is Here, but if I can count on anything in dramaland, it's that the kiddos are little scene-stealer who can often hold their own against the grown-ups.

I'm not familiar with Kim Kwon (Into the Fire, Secret Love Affair), but he's not helping matters by looking like he rolled onto the red carpet by accident while maybe delivering flower bouquets backstage. Put on a suit! Tuck in your shirt! Look like you're trying!

Newcomer Park Sun-ho (Gold Rainbow) presents with SNL's Ahn Young-mi, whose gown just makes me itch to rip off the ruffly bottom. She kinda looks like a human bell.

And last but not least, here we have a New Actor winner, Seo Kang-joon (Sly and Single Again), who I'd say at this stage in his career is more charisma than acting skill. But he's young and dimply and a noona-killer in the making. Especially when he's doing a little dance on the red carpet. Go on, be adorable, you.
Via Newsen
RELATED POSTS
Tags: Ahn Jae-hyun, awards, Clara, Do-hee, Ha Yeon-joo, Jaejoong, Kang So-ra, Kim So-hyun, Kim Soo-hyun, Kim Sung-kyun, Lee Kwang-soo, Lee Yi-kyung, Otani Ryohei, Seo Kang-joon, Shin Sung-rok