Plus Nine Boys: Episode 11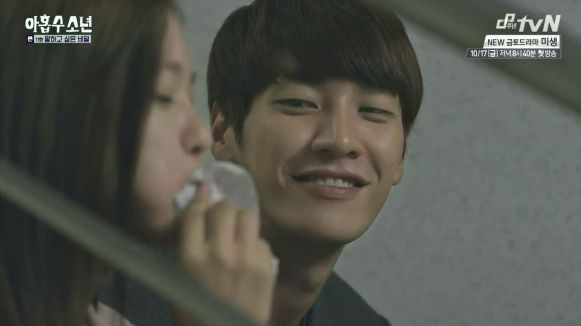 Now that love is in the air, it's time for secrets to start impinging on everyone's momentary happiness, from secret identities to secret office romances. There's definitely a thrill to a clandestine romance filled with coded messages and secret rendezvous, but no matter how good your intentions at the outset, keeping secrets has a way of making you the bad guy.
Meanwhile, some backstage drama: Plus Nine Boys is currently under fire for accusations of plagiarism (a musical called The 9th Exit claims that there are key story points that overlap, including the plus-nine curse that's part of the show's central premise), and injunctions have been filed to stop tvN from airing the show. Producers claim the drama isn't plagiarized, and the show is airing as normal for now.
The series will end at 14 episodes though, which isn't strictly a cut, since they never said how many episodes it would be in the first place. But with recent cutbacks to other shows at the network due to low ratings, it seems like a trend. Whether it has anything to do with the plagiarism suit or not remains to be seen; in any case, the series will wrap next week.

SONG OF THE DAY
Yook Sung-jae & Oh Seung-hee – "궁금해" (Curious) for the Plus Nine Boys OST [ Download ]
Audio clip: Adobe Flash Player (version 9 or above) is required to play this audio clip. Download the latest version here. You also need to have JavaScript enabled in your browser.

Track 11: "A secret I want to tell"
At the office, Jin-gu spots Se-young over at the communal printer and grins mischievously as he clicks on a giant photo of them together on his computer screen. Seconds later, he waits for her reaction as multiple copies of their couple photo come shooting out of the printer, freaking Se-young out. That's cute.
She's even more freaked out when Jae-bum comes by to help her staple, so then Jin-gu has to dash over and run interference. Aiee, their secret office romance is already making me nervous.
A little later, they meet in the stairway for sneaky snuggles, and Jin-gu complains about having to keep their relationship under wraps. He wonders half-jokingly if she's trying to get revenge, but she chides that she's not him (touché), and that it's because things will become more difficult for them at work.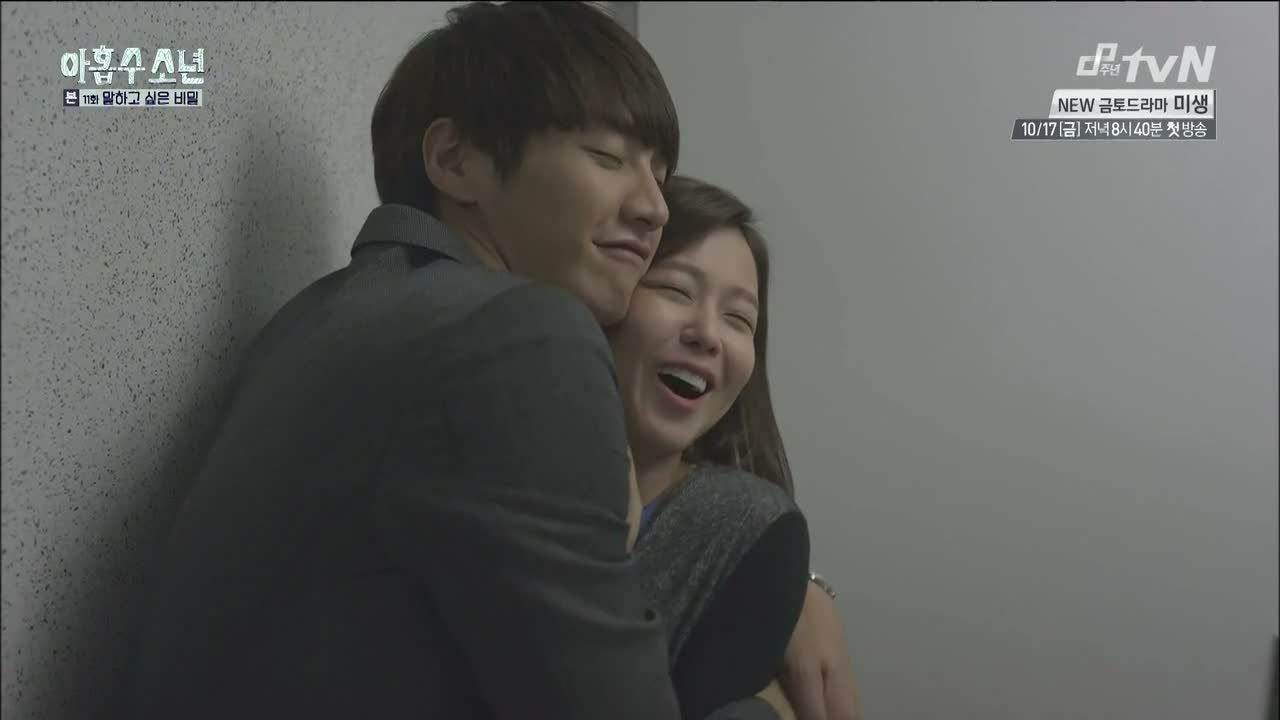 They almost get caught hugging, so Se-young tells Jin-gu not to even look at her in the office. He pouts that he's dying of impatience just to see her every day, but she tells him that they'll use that secret phrase—I'm dying—if they have something to say to each other.
But as we get a quick flash-forward of Jae-bum possibly finding out their secret, Jin-gu narrates that keeping it a secret means that things are good for a while… "But in order to protect our love, we have to tell that secret… someday."
Kwang-soo calls Da-in and suggests an afternoon date, asking if there's anywhere she wants to go. She decides she's really curious about the coffee shop where they first met, and tells him to just meet her there instead of picking her up.
He clearly has no idea which café she's talking about, but pretends to remember over the phone, so now he's stuck trying dig through the cobwebs in his brain for the place they first met.
Young-hoon tells him to just feign sickness and avoid the inevitable failure, but Kwang-soo is determined to figure this out and asks for help. Young-hoon suggests that he try to engage his other senses if his memory isn't cutting it—maybe though his mind can't remember, his body will.
At lunch time, Jin-gu uses their secret code and pretends to go out to meet someone else, leaving Se-young to lie to their usual lunch buddies Jae-bum and Go-eun that she's feeling sick and can't eat.
They meet each other outside and Se-young keeps looking around like she's having a guilty love affair, and he complains that he's still in a one-sided love. He does think it's adorable that she's putting in all kinds of effort now, like wearing heels to match his height, though she says it's not because she's short—he's just needlessly tall.
She calls him "you" instead of "oppa," which launches them into a noogie-war, and they head to lunch half-wrestling down the street.
After a while though, Se-young starts wobbling painfully in her heels, and Jin-gu asks to just go somewhere close so that she stops limping. But she insists that pain is better than being caught, and continues to trek towards out-of-the-way restaurants.
Finally Jin-gu just drags her to a closer place to stop her hobbling, but then of all the places, it's where Jae-bum and Go-eun have decided to eat. They try to make a quiet exit but Jae-bum sees them, so they're forced to sit down.
The worst part is that Se-young now has to keep up the lie that she's feeling too sick to eat, and practically dies of hunger watching Jin-gu purposely slurp his noodles to taunt her. It's evil but it's cute.
He leaves the group to go run some errands on his own, and Se-young returns to her desk with swollen feet and an empty stomach. She complains when Jin-gu calls her out to their secret stairwell, but she lights up when he greets her with a burger. Aw.
She wolfs it down blissfully, which he watches like it's the cutest thing ever, and asks if they shouldn't just tell everyone the truth instead of all this sneaking around. But Se-young puts her foot down that they can't ever, ever, but then softens to say that they will later.
He then takes out a pair of sneakers that he bought, and stoops down to change her out of her painful heels. He tells her not to be patient about stuff with him, and to just say when she's hurting because the whole point of having a boyfriend is to have someone to lean on: "You can whine and complain to me, and you can be honest with me."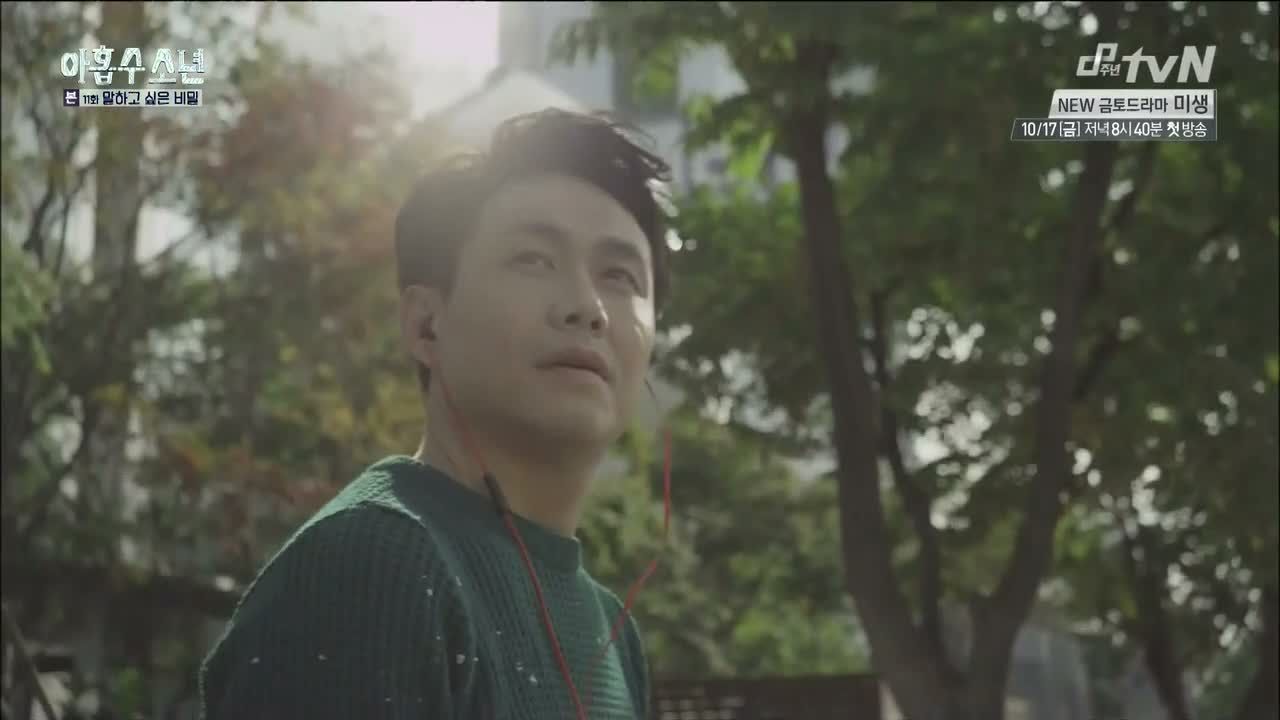 Kwang-soo heads out to find his coffee shop and plays old love songs to jog his senses, believing that it'll lead him to Da-in. Instead of trying to remember, he just takes his old bus, and like habit, Present Kwang-soo follows Past Kwang-soo's footsteps all the way to the neighborhood and right to the café.
As he walks up the steps to the second floor, we see how nervous he was that first day, and how Da-in turned around to smile at him. In the present, he walks up full of giddy anticipation and calls out her name… and there she is in the same chair, smiling back at him.
She admits that she's surprised he actually remembered, having fully expected a phone call with some kind of excuse. But he says he remembers it all, down to what she looked like that day, and how he felt. He recalls a different memory when they had spent the entire night holding hands, and takes her hand now to say, "Just like this."
He thanks her for coming out to meet him today, and she in turn thanks him for remembering—it clearly means a lot to her, and she finally shows signs of opening up to him.
Min-gu's friends show him a picture of a legendary gangster girl from a nearby school, and point out that she looks an awful lot like Su-ah. Ruh-roh. But Min-gu doesn't believe it for a second, sure that they're mistaken because she looks nothing like his beautiful, perfect girlfriend. (Hilariously, his other friend agrees that there are all sorts of people who look exactly alike in the world: "You look just like Seo In-gook!")
He goes to meet Su-ah at the park, where she's prepared a lunchbox that makes him swoon. But when she gets hit in the back by a stray basketball, she darts up and swears, to Min-gu's utter shock.
He's still stunned when she excuses herself to go to the restroom, and catches sight of two missed calls on her phone, from "Ruined Bitch" and "Rotten Bitch." Suddenly the idea that she could be a badass gangster doesn't seem so off to Min-gu, and he sits there dazed, not knowing what to think.
Kwang-soo and Da-in end their date by picking Eun-seo up from daycare, and he insists on carrying her so that he can hold Da-in's hand. They sit outside their building for a while, and she turns to him and says that she's sorry for disappearing without a word ten years ago, and that she's regretted it ever since.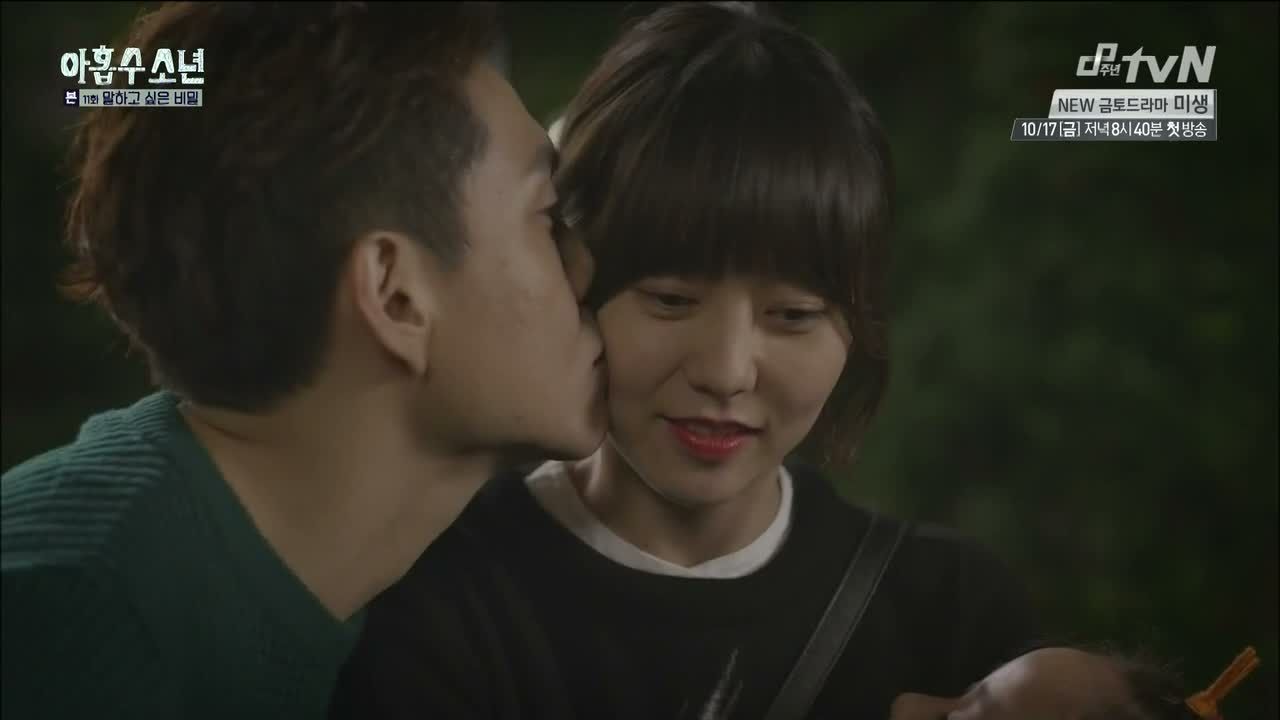 She says that she was too young to know, and that she thought saying, "It's okay" when it wasn't, was better for him. But it only made her lonelier. She admits that she even had the thought that disappearing would mean that he'd feel a little bit of her pain and know what it was like, but that in the end she's the one who regretted it.
She's relieved to finally tell him that she's sorry, and he thanks her for coming back into his life like this, and surprises her with a kiss on the cheek. He starts to move closer for a real kiss, but then Eun-seo stirs awake just in time to kill the mood.
They head up in the elevator and Kwang-soo insists on holding Da-in's hand the whole way up, clinging tightly when Da-in tries to pull away just in case Eun-seo sees. But then the doors open on the ninth floor and Mom suddenly appears, and Kwang-soo drops her hand like a hot potato. Ack.
Mom was headed up to bring Da-in some food, and kicks Kwang-soo out to go have tea upstairs. Kwang-soo just sits on their couch at home, staring up above and wondering nervously what's keeping Mom so long. (In the background, Dong-gu has resorted to onions to practice his crying scenes, ha.)
Mom returns and asks Kwang-soo when he's going to bring home his new girlfriend, finally confronting him with her suspicions that he's dating. He denies it, but she says the fortuneteller predicted that one of them would meet a girl this fall, and the other two couldn't possibly be dating.
Both Min-gu and Jin-gu raise their hands to say that they are, which Mom doesn't even hear because she's too busy saying that they're too innocent to date. Oh, Mom, if you only knew.
She tells Kwang-soo to bring her home, promising that she won't be picky because she knows he can't be picky at his age: "It's okay if she's an alien!" Kwang-soo perks up a little at that, and asks if any girl is really okay. Mom: "Of course! Well, just as long as she isn't a single mother…"
Kwang-soo deflates, and upstairs, Da-in thinks back to the elevator hand-dropping with a sigh.
Jin-gu arrives early to work the next morning with coffee at the ready, and texts Se-young to meet him in the stairwell. He waits and waits and repeatedly sends more texts, which she doesn't see because she left her phone in the bathroom. But someone else picks it up…
He gives up and goes to his desk pouting, and after he mentions the text messages, Se-young digs around for her phone and realizes then that it's missing. They look everywhere but can't find it, and she worries that someone found it, because she doesn't lock her phone with a passcode.
Jin-gu bites the bullet and calls her phone, and their gossipy flirty sunbae picks up, already having figured out their secret. They catch her just as she's about to share what she knows with Jae-bum and Go-eun, and literally drag her away by both arms.
They beg her to keep it a secret, so she regretfully complies, not that I put that much faith in her promise "to try." Se-young sighs in relief, and Jin-gu says he knows that she's worried about hurting Jae-bum's feelings. She's surprised that he's caught on to Jae-bum liking her, and he says he's known for a while.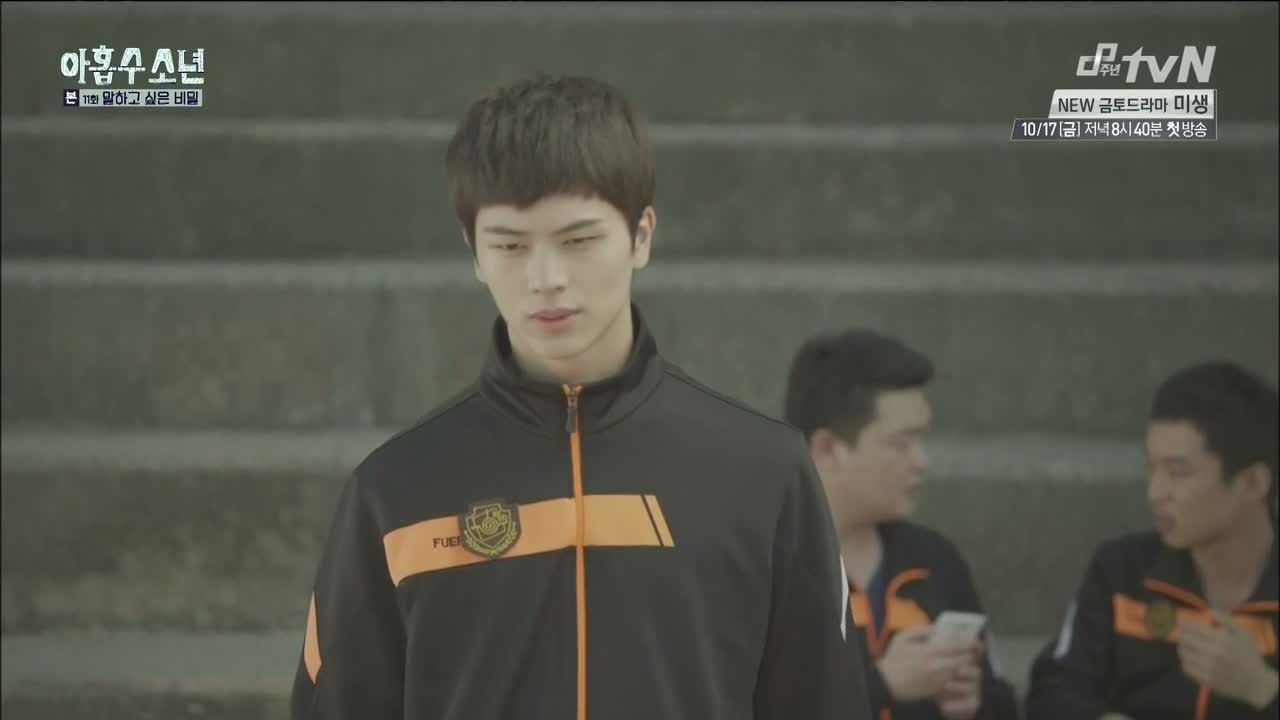 He takes her hand and tells her reassuringly that she doesn't have to worry—he'll do all the hard stuff, and all she has to do is not let go of his hand. She finally cracks a little smile at that.
Min-gu's friends nervously share more proof that Su-ah might in fact be that famous party girl gangster, and though he denies it to them, soon he's going undercover to follow her around. He swears to himself that he's not here because he doesn't trust her—it's because he wants to prove that she isn't that girl.
He gapes when the first thing she does after class is meet an oppa with a motorcycle, who takes her shopping for makeup. It's starting to look bad, but then she asks Oppa if Mom will like this for her birthday present, and he reminds her to come home early tonight. Whew, one bullet dodged.
Min-gu is already feeling terrible for having suspected her by the time he follows her back to the tutoring academy, but then her friends meet her outside and whine that she didn't let them meet her brother.
They ask her to set them up with her high-schooler's friends instead, threatening to out her real identity if she doesn't. Su-ah just tells them their threats won't work, because Min-gu is too smitten with her to be swayed.
Kwang-soo swings by to pick Da-in up and apologizes for letting go of her hand yesterday in the elevator. She's still in the habit of saying it's okay when it isn't, but now he knows better and apologizes anyway, promising never to let go again.
When they arrive home with Eun-seo, he takes Da-in's hand again, and this time he asks Eun-seo for her permission to do so. That's cute.
A minute later, Mom pulls into the garage with Dong-gu, and thinks it strange when she sees Kwang-soo's car here so early in the evening, and with a child's car seat in the back too. She doesn't think much of it and runs to catch the elevator, and of course runs right into Kwang-soo and Da-in.
But this time, Kwang-soo keeps his word—even when Mom goes slackjawed and Da-in tries to break free, he holds on tightly.
Meanwhile, Min-gu braces himself before opening up Su-ah's high school yearbook, which his friend dug up on request. It's pretty funny how dramatic the moment is for him, as he carefully opens the book and scans the pictures. He can't deny it anymore, because there it is, as clear as day: Su-ah and her two friends, in all their rebellious teen punk glory.
His heart sinks, and he's still in denial when he goes to meet her that night. Su-ah can tell that something's wrong, and as an answer, he just silently takes out her yearbook. He starts to ask haltingly, "It's a lie, right? That's not you!"
She feels terrible about it at first, but when he says that and starts to walk away, she gets mad and calls out, "Hey, Kang Min-gu!" and orders him to sit back down. Ha. Well, she is his noona after all. He stares back, dumbfounded.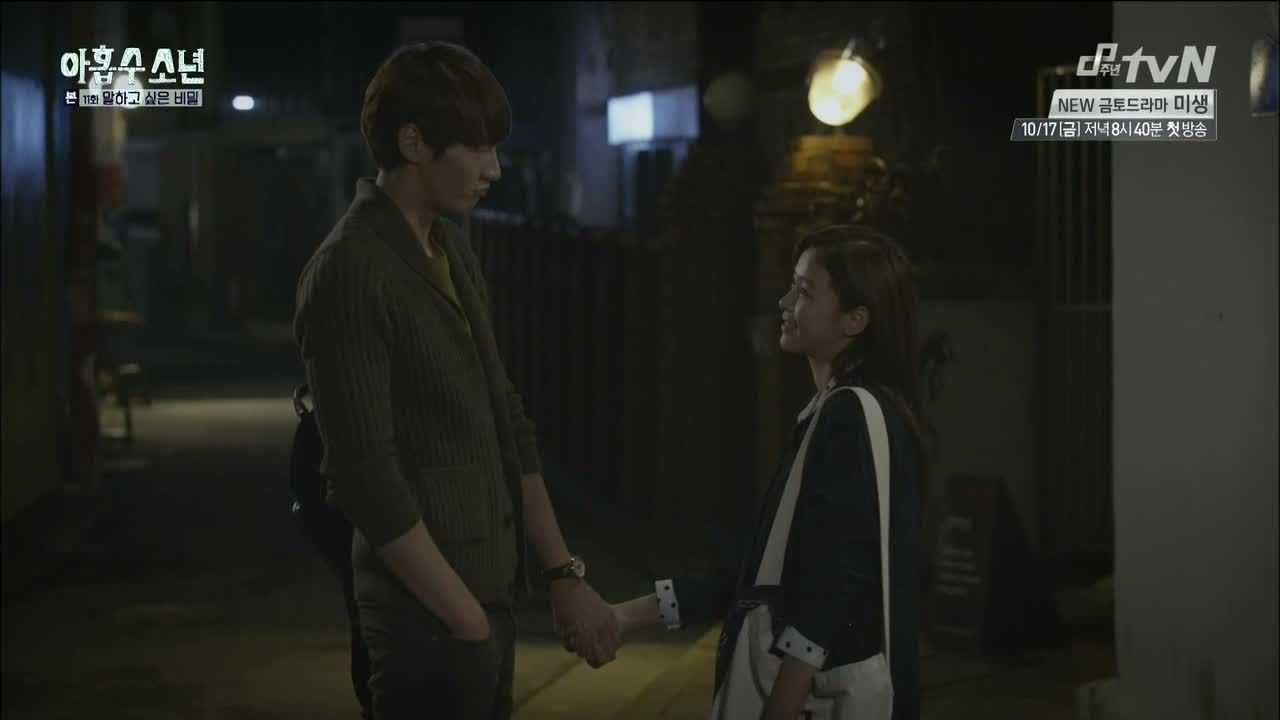 Jin-gu walks Se-young home, now suddenly worried for her safety. They say goodnight outside her building, but he's reluctant to let go and decides that she'll need to be escorted up the stairs because stairs are dangerous too. Lol, a million bucks says he's inside her apartment in under a minute.
He walks her to the door and she says goodnight again, and he just slips past her through the open door, speed-talking about how he's thirsty and needs to recharge his phone because he can't possibly ride the bus home and not talk to her the whole way. Pfft. At the same time, Jae-bum calls, but she doesn't hear her phone ring.
He runs into her bedroom and she has to drag him out of her bed, and then she's extra horrified when he picks up a childhood picture. He plays keep-away with it, teasing her endlessly, until she's so close that all he has to do is drop his arms to be hugging her.
It's a charged moment, but Se-young is saved by the bell when Jin-gu gets a text. He reluctantly breaks free to answer it, though the second that she sees that it's from Go-eun, she gets jealous. He notices and thinks it's cute, and shows her his contacts to prove that he erased all women (minus Mom) ever since they started dating.
He prods her to check, and when she finds a few girls still saved in his phone, he babbles about how he forgot to erase them, swearing that she's the only girl for him. She playfully threatens to call one to make sure he isn't lying, and he chases her back towards her front door.
It's her turn to play keep-away, and he just tickles her until she gives in. This time, he doesn't let the moment pass, and when she smiles back at him, he starts to lean in close for a kiss…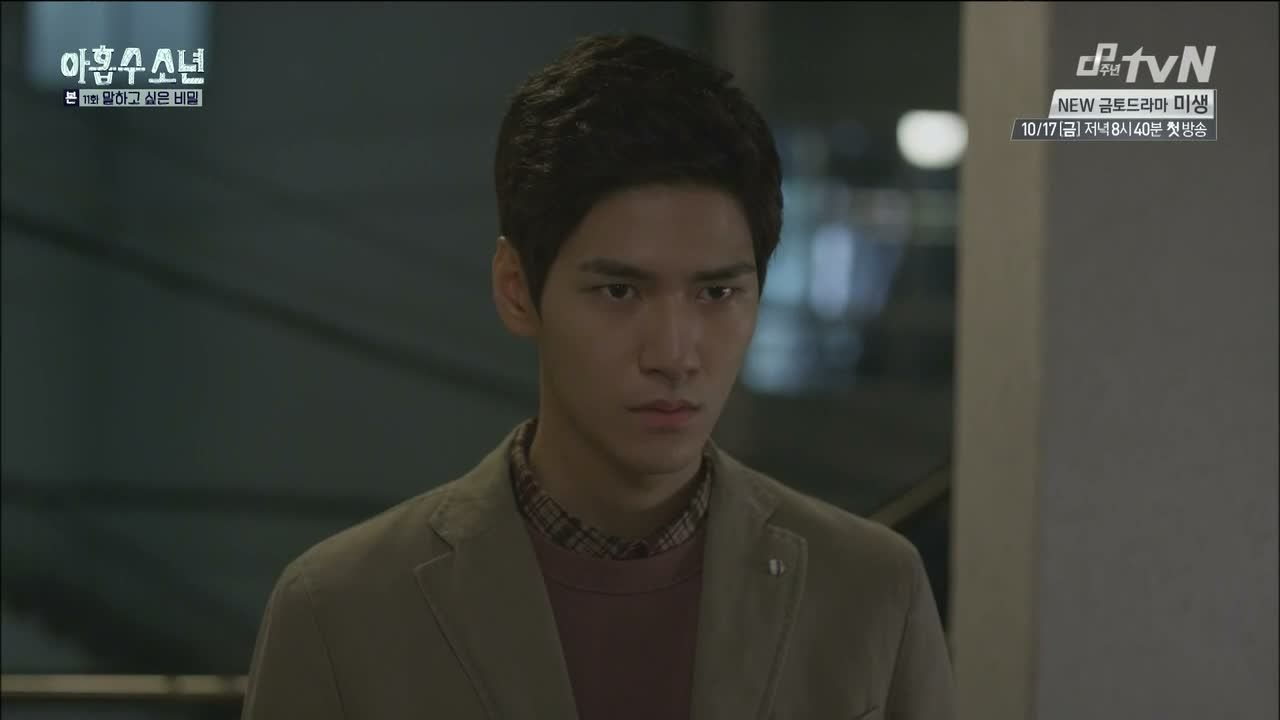 And standing outside her door is Jae-bum, having overheard their bickering play-fight. Aw, poor buddy.
Min-gu stands frozen in place wondering whether or not to turn back, and Kwang-soo clasps Da-in's hand firmly while Mom looks back and forth in horror. Jin-gu leans closer and closer to Se-young, as Jae-bum hangs his head on the other side of her door. Jin-gu narrates: "When the curtain falls on a secret, only then does sincere love's stage begin."

COMMENTS
I know Se-young isn't two-timing Jae-bum or anything, but when they both know how much he likes her, they really shouldn't be keeping their relationship a secret from him. They're just being cowardly about the timing, because it's inevitable that he'll be hurt when he finds out—delaying it only lets them pretend that they don't have to deal with the consequences. Obviously they didn't do anything wrong by falling in love, but now that they're sneaking around, they're starting to wrong their friends in the name of protecting them from unpleasant heartache. I worry most for Jin-gu's friendship with Jae-bum, especially since Jae-bum was the one who openly shared his crush, while Jin-gu remained quiet about his own feelings.
Other than the fact that they're hiding from Jae-bum and Go-eun, everything else about their secret office romance is cute, because there's no reason to make their relationship public to their coworkers, and the secret dates in the stairwell are adorable. Now their stolen glances in the office take on a whole new thrill, since it's no longer one-sided longing (though truthfully I think the show is at its best when Jin-gu is sad and pining—sorry, Jin-gu! Your pain is our gain!). But the secret-keeping aside, they're a cute couple because of the teasing, easygoing friendship that they've always had, and there's such a natural progression from playful teasing to tingly skinship.
Kwang-soo and Da-in finally took some steps in this episode that I liked, though honestly, I wish she'd get mad first before apologizing. But I guess I'll take whatever words I can get out of her. It's just, she finally admits to regretting how she pretended to be fine when she wasn't, and owns up to her own mistakes in doing that and disappearing without an explanation (thank ye), but she never got mad at him for her side of things, and moreover, she seems mostly unchanged. I just know that if my maybe-boyfriend dropped my hand like it was made of hot lava in front of people, I'd be pissed. Good for Kwang-soo for coming around and fixing his mistake by the end of the episode, but I'm not convinced that Da-in is doing any changing on her end.
At least she actually seems like she likes him now (not that we'll ever know WHY, because we're not allowed to know her feelings, but whatever). I do get the other, separate fear—being a single mom means she's going to face some harsh opposition if she ever wants to remarry—but between Kwang-soo and Da-in, I feel like their past is more of a roadblock than the fact that she has a child. I'm not sure we'll ever get a satisfactory answer on that front though, since it seems that their story is moving more towards getting approval from Mom (er, Noona, technically—I often forget that Kwang-soo isn't one of her sons).
And in Min-gu's story, I've switched sides to rooting for Su-ah over Min-gu, because if he's going to break up with her over this, I'll totally think less of him. What good are effusive declarations of all-consuming love and destiny if you can't even accept a girl for her past? Okay, so her past is quite possibly criminal. But she didn't ask to be put on a pedestal of perfection, did she? I actually think the real Su-ah is cooler than his idea of her as some magical elf princess, and I like their story better now that she's starting to punch holes in his illusion. Get it together, kid, or you'll lose the real girlfriend trying to hold onto the fantasy one. Just ask your hyung and uncle about lifetimes spent in regret!

RELATED POSTS
Tags: featured, Kim Young-kwang, Kyung Su-jin, Oh Jung-se, Plus Nine Boys