Misaeng: Episode 15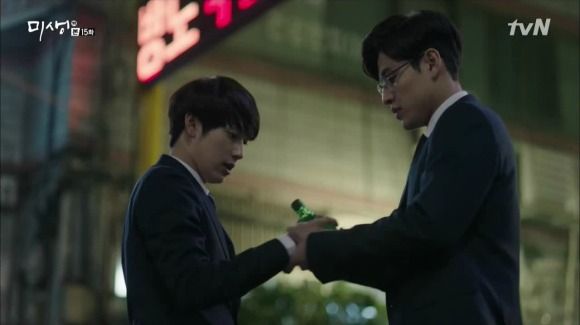 The big theme of the day is around acknowledgement, whether it be from colleagues, bosses, or family. It's not something that comes easily, as it takes time and an empathic understanding of a person to acknowledge their worth. But the result is rewarding because in a world where there are so many people ready to put you down, a small recognition of hardship or acknowledgement of effort can get you through the day. Might I add that there's a hint of bromance as well? Sometimes that's all I need to get through my day.

EPISODE 15 RECAP
As Geu-rae overhears Chief Oh's conversation with Deputy Director Sun about not giving him hope, he thinks about his path with a predetermined end. Although he wants to continue as "us" and "together," he realizes this path and optimistically tells himself that he has one more year with his team. So the next morning, he arrives full of energy with a loud greeting and a big smile. Aw.
Seok-yul continues to mope while making coffee for his team. Baek-ki (with a new haircut) walks in and bluntly consoles him, as he himself has experienced the futile attempts at escaping his newbie status. Seok-yul tries to counter his claim, but Baek-ki's successively preoccupied with a call, revision suggestions from Assistant Manager Kang, and then an emergency shipment malfunction report, leaving Seok-yul alone to face his problems.
The steel team deals with the crisis in an organized chaos, with calls and meetings being scheduled right away. The ship is stuck somewhere near Vietnam with a hole in it, and the options to recover it are limited. Baek-ki proposes another ship to transfer the items, a crane, or a towboat, but they all get shut down due to impracticality.
Dong-shik and Geu-rae arrive amidst this chaos, and they ask Assistant Manager Kang about the details. Geu-rae quietly asks Dong-shik if the hole can just be patched up, which elicits an incredulous response from Baek-ki but an intrigued response from Assistant Manager Kang. He considers it a valid option and sets plans with the chief to attempt this fix.
Chief Oh asks Geu-rae for all of his reports and drafts, and he delivers all the completed work. Seeing this, Chief Oh asks what Geu-rae is working so hard on, and he replies that he's looking for a new sales item for the team. He doesn't have experience working on new sales items by himself, but Chief Oh tells him to continue, a little surprised by his work ethic.
Young-yi's work is interrupted by a call from her mother, and she steps outside to call her back. Her mother apologizes for her father, who took out money again to try a new business, and pleads for help to cover the deposit for the landlord. Her voice quivering, Young-yi tells her mother that she barely recovered from paying off her father's previous debt and has nothing to do with him anymore. She thought she could live her own life now, and on the verge of tears, she refuses to give her mother the money.
Geu-rae continues to work hard under the silent vigilance of Chief Oh. As Chief Oh walks out, he runs into the steel team and asks about their emergency. Thankfully, it got resolved because the crack was patchable, and Assistant Manager Kang gives credit to Geu-rae for the idea. He praises that some people like Geu-rae may not have correct answers but have solutions to problems. Baek-ki looks slightly envious of the praise, and Chief Oh brushes it off as a matter of interpretation, though he's got a proud papa smile plastered on his face as he walks away.
When Baek-ki returns to the team, he's showered by more praise for Geu-rae from his chief and then from Assistant Manager Kang, who thanks Geu-rae in person when he delivers documents to the team. Baek-ki walks off to the break room in outrage. Not being able to contain his anger, he throws his pen and takes a moment to cool off. Just as he's about to leave, he sees Geu-rae, who has picked up his pen and walks over to hand it to him.
Baek-ki takes it and spits out some biting words. He tells Geu-rae to take care of his own shortcomings before meddling in another's business. Even in face of spite, Geu-rae maintains his impassive façade, thanks Baek-ki for the warning, and goes back to work.
Geu-rae returns to his desk in a gloomy mood, but his thoughts are interrupted by Seok-yul. He peeks at his work and teases him for improving so much since their intern days. Then he reminisces on his onsite days and explains to Geu-rae that he wants to go back because he fears what he'll become stuck in the office, hinting at Assistant Manager Sung.
He asks Geu-rae what he was thinking about, and Geu-rae replies that no matter what happens, there is always this distance. Without further explanation, Seok-yul hits the nail right on the head and picks up that he's referencing Baek-ki. Seok-yul elaborates that with Baek-ki, it's always one step forward and two steps back. Sounds about right.
Baek-ki goes out for a drink with Bitter Intern (who I'd hope we'd never see again) and gives him updates on Geu-rae. As expected, he's super bitter about how much Geu-rae has accomplished and meddled with, crediting everything to his connections within the company. He's clearly still resentful that someone who lacked credentials got hired instead of him.
He asks Baek-ki to be completely honest with him and asks if he really thinks that Geu-rae is like them. "We're us and he's him. Equal opportunity my ass. How can he share that opportunity with us? Do you know how much money my mother spent to send me to tutoring? Do you know much struggle she went through? This is discrimination."
Seeing where he is now compared to Geu-rae, he sarcastically notes that he should have lazed around more during his youth. Baek-ki asks how his work is, and he replies that it's only temporary, as the ultimate goal is a major corporation. He adds that the only way for them to survive is to score a position at a big corporation.
Geu-rae works the night away at home, polishing his presentation with more jargon to add a professional touch. He reminds himself of Chief Oh's advice to convince yourself in order to convince others, and he notes that he has a good feeling, a conviction about this report.
The next morning, Dong-shik comments on Geu-rae's confident attitude, and Chief Chun boosts Geu-rae's confidence by saying that he's always full of unique ideas. But Chief Oh deflates the expectations by reminding them that Geu-rae doesn't really know anything.
Geu-rae wraps up his presentation in front of Chief Oh and Chief Chun, with only the latter giving him an applause. Chief Oh reads right through his strategy of using professional English jargon and criticizes him for using these words without even understanding the language. Chief Chun gives him a compliment, saying that it doesn't give off an amateur feel, but Chief Oh notes that words aren't everything — they won't suffice.
Chief Chun gives Geu-rae an encouraging pat on the arm before following Chief Oh out, but Geu-rae seems completely deflated. Baek-ki walks by the meeting room, and when their eyes meet, he walks away. Geu-rae's reminded of Baek-ki's warning that he should compensate for his own flaws before minding other people's business, and that message hits home.
Young-yi struggles to pay attention at work, and when Chief Jung asks her to print a copy of the Norwegian minerals report, she doesn't respond until Assistant Manager Ha knocks on her cubicle. She forgets what he's requesting, runs to the copy room, and runs right back when she realizes she needed to print it. Chief Oh watches this scene (hilariously trying to give Young-yi a friendly wave as she runs back and forth in confusion), and Chief Jung pokes at him, questioning aloud if Young-yi has become Geu-rae for the day. Heh, the petty rivalry.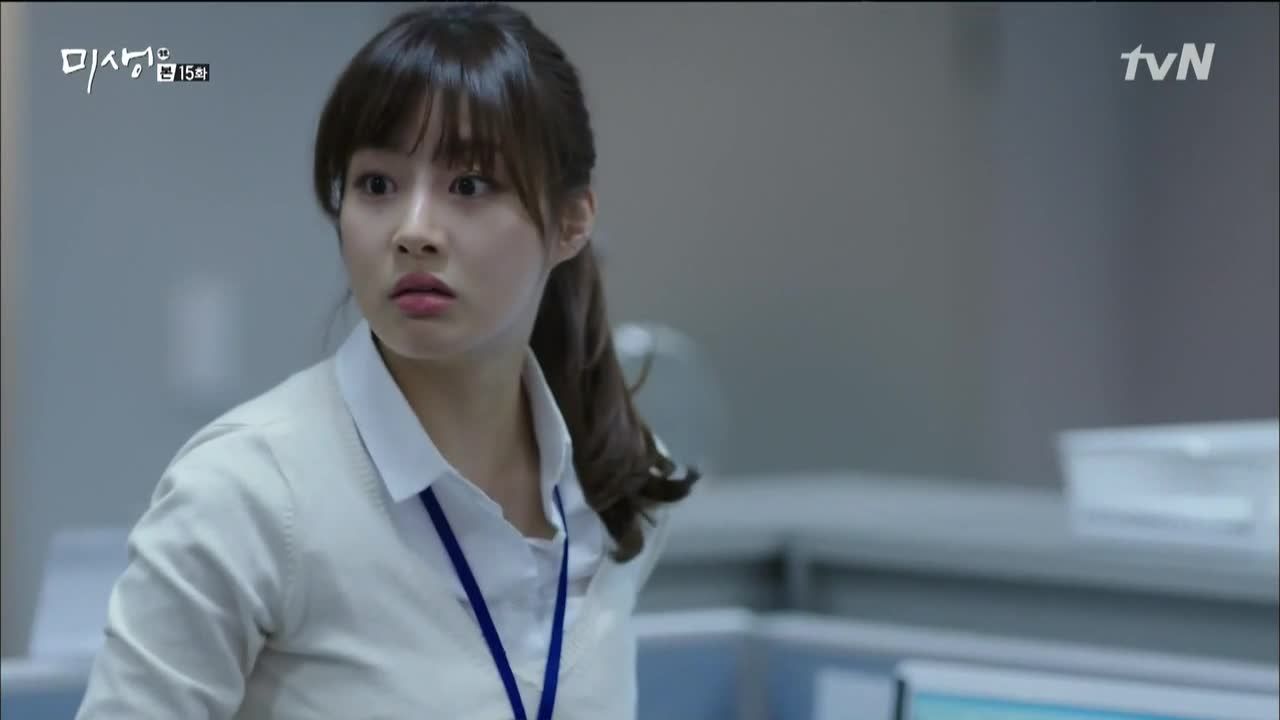 Upon returning to their desks, Chief Chun asks Chief Oh if he'll be giving any feedback to Geu-rae. He clearly tried too hard, and it showed, but constructive criticism could help. Chief Oh doesn't plan on giving any feedback, and Chief Chun comments on his changed behavior towards Geu-rae in this new year. He also asks if there's any possibility of Geu-rae becoming a permanent employee, but Chief Oh dismisses the possibility and walks away.
Young-yi continues to get sidetracked by her mother's ringing pleas but tells herself that she's not going to cave this time. Assistant Manager Ha gives a strange look in response to her uncharacteristic behavior just as her father calls. She ignores the call, but her phone continues to ring as she's ordered to quickly find the Norwegian contract for Manager Ma, who's on the phone with Chief Jung.
Her mind clearly not there, she doesn't remember the passcode to their cabinet. The delay causes Manager Ma to walk over to the team in fury, and Assistant Manager Ha opens the cabinet to find the contract for her. She apologizes and runs off to take the call while Chief Jung gets a kick in the shin by Manager Ma.
Outside, Chief Oh thinks about the possibility of Geu-rae's permanent employment. His thoughts are interrupted by Young-yi hysterically yelling at her father on the phone. She's overwhelmed by her father's casual request for money again, and she hangs up telling him to never call again. Chief Oh is caught eavesdropping, and before he can explain, she runs back into the building for a much needed cry in the stairwell.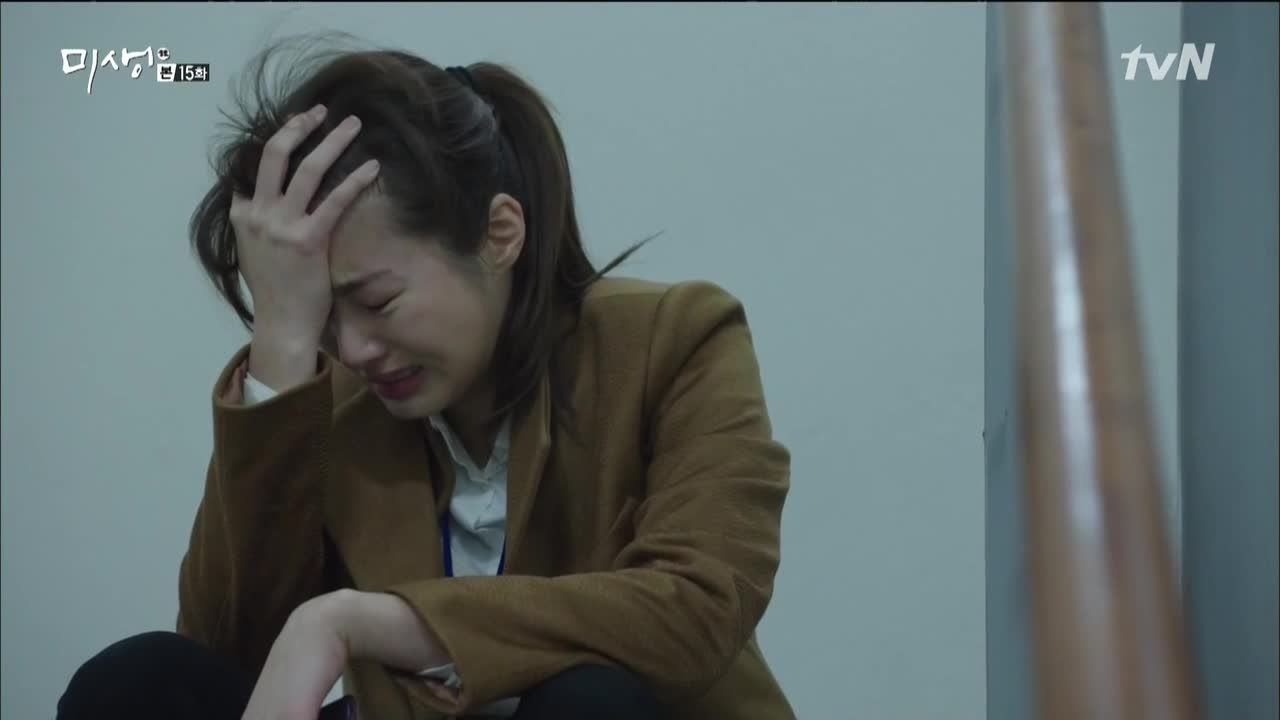 The resource team members wonder what's wrong with Young-yi today, and though Assistant Manager Ha tries to brush it aside, Chief Jung acknowledges that it's hard to ignore since they see her every day. When she returns, they try to ask what's going on, but she refuses all her team's attempts to understand. Assistant Manager Ha scolds her for dragging her personal life into the office and walks off in frustration. Chief Oh walks in and watches Young-yi push through her day.
When he returns to his desk, he sees Geu-rae depressingly reflecting on his status: without basics, any achievement is for naught. Chief Oh thinks about Chief Chun's suggestion to give Geu-rae feedback and decides to do so. He sits Geu-rae down in a meeting room and hands him an envelope of 100,000 won. He tells him that business is just a fancy word for sales, which has the sole purpose of buying products to sell to a target audience. He gives him the mission to find out the basics of sales by buying something with that money, and selling it (to anyone who isn't family) by 7 o'clock that evening.
Dong-shik looks through Geu-rae's report while making copies and quickly concludes that it got rejected. He forgets to take it with him as he leaves, and Baek-ki happens to be the next person making copies. Dong-shik returns for the report with Assistant Manager Kang, who's there to get some coffee, and since Baek-ki looked through most of it, they ask for his feedback. His criticisms are met with silence, and when Assistant Manager Kang guesses that Geu-rae has been given the 100,000 won mission, he decides to make Baek-ki join him.
Baek-ki's clearly annoyed to be assigned the same newbie task as Geu-rae and tells him to buy any item; he'll find a way to sell it. In the meantime, Baek-ki plans on meeting up with a sunbae, and Geu-rae indignantly stares at him as he makes the call.
Back in the office, Dong-shik wonders how Geu-rae is doing and remembers when he was first assigned this task. He was lost trying to figure out what to sell and then had the realization that he should find the cheapest item possible and sell a lot of it. We see Geu-rae running around the streets finding the cheapest item, and in voiceover Chief Oh continues the conversation: "Thinking that you can just sell the cheapest item: that's the pitfall of this mission."
Geu-rae finds the cheapest underpants and socks at a street stand and quickly decides to get 100,000 won worth. Carrying two large bags of underpants and socks, he picks up a call from Dong-shik checking on his progress. He replies confidently to his questions, and after he hangs up, Dong-shik and Chief Chun joke about the possibility of Geu-rae getting the cheapest underwear and socks sold on the street. He wouldn't have, right? Haha.
Seok-yul gets ridiculed by his seniors for the forum mishap, and Assistant Manager Sung jokingly tells them that he'll do a better job training his newbie. Seok-yul submits the report to him, but it gets ripped up right in front of him. Assistant Manager Sung doesn't say what was wrong with it and tells him to figure it out with his own resources. Angry tears well up in Seok-yul's eyes as he holds in his frustration.
Young-yi takes out a limited loan with her newbie status and returns to the office, only to get scolded by Assistant Manager Ha for not fulfilling her duties. Her work falls on another team member, and she still can't seem to get on top of her work, missing an incoming call. Her team looks at her worriedly, which Assistant Manager Ha expresses in the form of angry yelling, and she apologizes for her lack of focus.
Geu-rae returns with the bags of socks and underpants, and they head over to Baek-ki's sunbae's company. He meets with his generous sunbae, who'd previously spent an overwhelming amount of money on a congratulatory dinner. Baek-ki explains that this is a task assigned by their company and asks his sunbae to give him a good offer. The sunbae asks specific questions, like where the product is from and how much he's selling it for, but Baek-ki doesn't have clear answers. His sunbae decides not to buy the product and tells him the reason: He doesn't need it.
They walk out dejected, and Baek-ki scolds Geu-rae for his choice in the items. Geu-rae argues that Baek-ki told him to get anything and continues by acknowledging that he lacks experience and skill — that's why every moment is more pressing to him. He walks away ready to finish off the task alone, but Baek-ki gets a text from Assistant Manager Kang asking how his mission is going, forcing him to continue with Geu-rae.
The two end up awkwardly standing on a subway train, where they've decided to try to sell their items. Baek-ki tries to hide away in the corner and suggests that they find a different location, but Geu-rae seems determined to make some sales. Baek-ki sits down in protest and pretends that he's not involved.
Geu-rae cautiously greets the crowd in the train and starts to promote the socks to everyone. Baek-ki watches Geu-rae's earnest attempts to sell the socks and thinks back to his words on how everything is much more urgent for him. Thinking back to his time as an intern, he remembers how hard Geu-rae worked, and he can still see that in him now. At one point, a lady throws down the socks in annoyance, and Baek-ki walks over to help pick them up.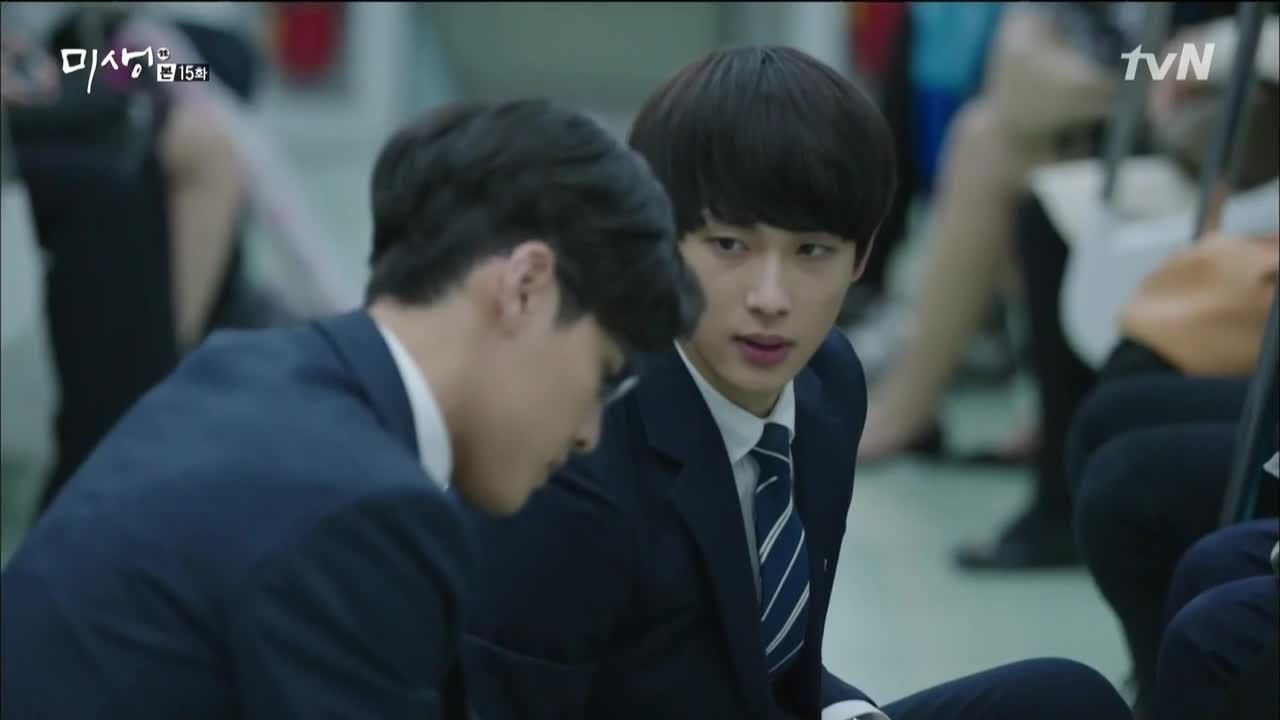 Walking out of the subway station, Geu-rae looks up at the ticking clock and closes his eyes. When he opens them, he takes the bags of items and tells Baek-ki that he'll be back after selling them. As he walks over to a building, he tells us in voiceover: "A good memory is commendable, but real greatness comes from forgetting." A montage of his baduk days reveals to us that the building is the place where he spent most of his youth. We see that Baek-ki followed him here, and he looks utterly confused by this building.
Geu-rae walks in and climbs up the stairs. As he approaches the place of his youth, he tells us, "As in all games, once the play has started, you realize how unprepared you actually are. If you want to run away, it's already too late." After some hesitation, Geu-rae gets himself to go inside, where he greets his former team leader. Baek-ki follows, still completely confused at why he's there until he overhears a group of guys talking about how unexpectedly Geu-rae came back.
After a quick greeting, Geu-rae sits down with his team leader to tell him the reason for his visit: selling the underpants and socks. He starts to unpack the items, but his team leader stops him. He gets up, and after a moment of silence, he tells Geu-rae that he thinks he came to the wrong place. Everyone here would buy the items from him, whether it be out of pity or encouragement. It would defeat the purpose of the task, and Geu-rae knows this.
As Baek-ki walks out, he recalls the eavesdropped conversation. They guys talk about what a shame it was for Geu-rae to drop baduk, since he's much better than the professionals they know now. He started much later than usual to get into the professional sphere, but he advanced enough to be considered one of the best. He was even a smart student while working part-time jobs and practicing baduk. If it weren't for his family's financial difficulty, he would be excelling at baduk now. They note that it must have been hard for him to come back here after giving up.
Geu-rae leaves after parting with his team leader, and from afar, Baek-ki watches him as he takes one more look at the building before heading back. When he returns to the subway station, Baek-ki feigns ignorance and acts disappointed that Geu-rae wasn't able to sell anything. They decide to head back, as their time limit is over, and they walk back together in silence.
Seok-yul concludes another stressful day of work and runs into Young-yi, who's returning with food for a late night work session. She thrown off by his depressed state and tells him to cheer up, to which he forces a smile.
Chief Oh plays with his cigarette outside as he thinks back to earlier in the day when he asked for any statistics on sales team contract employees with Geu-rae's education becoming permanent employees. He was told that it's never happened before, which only makes Geu-rae's chances worse. Young-yi runs into him outside, and Chief Oh greets his favorite newbie. He asks if he needs to trip anyone again, but Young-yi admits that it's her fault this time. She mentions the awkward moment earlier in the day, and though Chief Oh pretends not to know, she explains that she always has a hard time with her father.
She asks when Chief Oh plans to leave, and he says that he's waiting on Geu-rae. Young-yi assures him that Geu-rae is bound to accomplish something, and Chief Oh optimistically agrees.
But from the looks of it, Geu-rae and Baek-ki may return empty-handed, or full-handed in this case. Baek-ki asks if they're really going to return without a single sale, and Geu-rae dejectedly says that there's nothing else they can do. A bicycle whizzes by Geu-rae, which seems to bring him to his senses, and he notices a sauna nearby. He suddenly thinks back to all the times that his surrounding coworkers would break to go to the sauna, and he overhears other workers entering the sauna complaining about wearing the same underpants after washing up.
He hands Baek-ki the bags of items and runs off to get a bottle of soju. When he returns, he tells Baek-ki that they can sell their items right here in front of the sauna and gives Baek-ki the soju, as he seemed to need it while they were in the subway. And so drunk sales times ensue, with Geu-rae and Baek-ki both being the loud obnoxious salesmen they need to be. They catch the attention of their fellow senior salarymen and other passersby, successfully selling their items. Baek-ki is amused by drunk Geu-rae, and they seem to have a good time. Nothing a little soju couldn't fix.
Geu-rae returns to the office still drunk yet satisfied with his sales feat. He sold everything, and Chief Oh seems pleasantly surprised with the result despite the time. He tells Geu-rae that it's not about selling everything and asks what he learned. Geu-rae starts slurring some drunk explanations, but Chief Oh yells at him to sober up and submit a report by tomorrow morning.
After sobering up and finishing his report, Geu-rae turns off the lights and starts to exit when he sees that Baek-ki is doing the same. Their awkwardness is back, and Baek-ki breaks the silence by giving some acknowledgement: "I don't believe we're at the same level, but still… I'll see you tomorrow."

COMMENTS
Another wave of struggles passes through One International, and the newbies continue to maneuver their way to make it out alive. I was waiting for this interaction between Geu-rae and Baek-ki, and I am so glad that it finally happened with an extra dose of drunk shenanigans. The understanding and acknowledgement between these two is long overdue, well-deserved, and much more rewarding with the wait. To be honest, it was mostly due to Baek-ki, who needed to stop taking two steps back every time he took one forward. Thanks to the newbie mission and the chance to get a glimpse into Geu-rae's life, Baek-ki was able to take leaps forward from entitlement and jealousy to sympathy and pity, and even empathy and respect.
It's a matter of understanding where people came from. Bitter Intern isn't just bitter because he thinks he's better. Okay, maybe that's actually all there is for him and he's just stuck at the stage of entitlement and jealousy. But we see that his resentment does have a reason. He doesn't see the same struggles he faced reflected in Geu-rae. And therein lies the problem: He's comparing apples to oranges. He's missing the context of Geu-rae's life, and by directly comparing his credentials to Geu-rae's lack of them, he sees a very simple answer to a quite complex issue. Luckily, Bitter Intern isn't the one at the office — Baek-ki is, and he now has a better understanding of Geu-rae's context.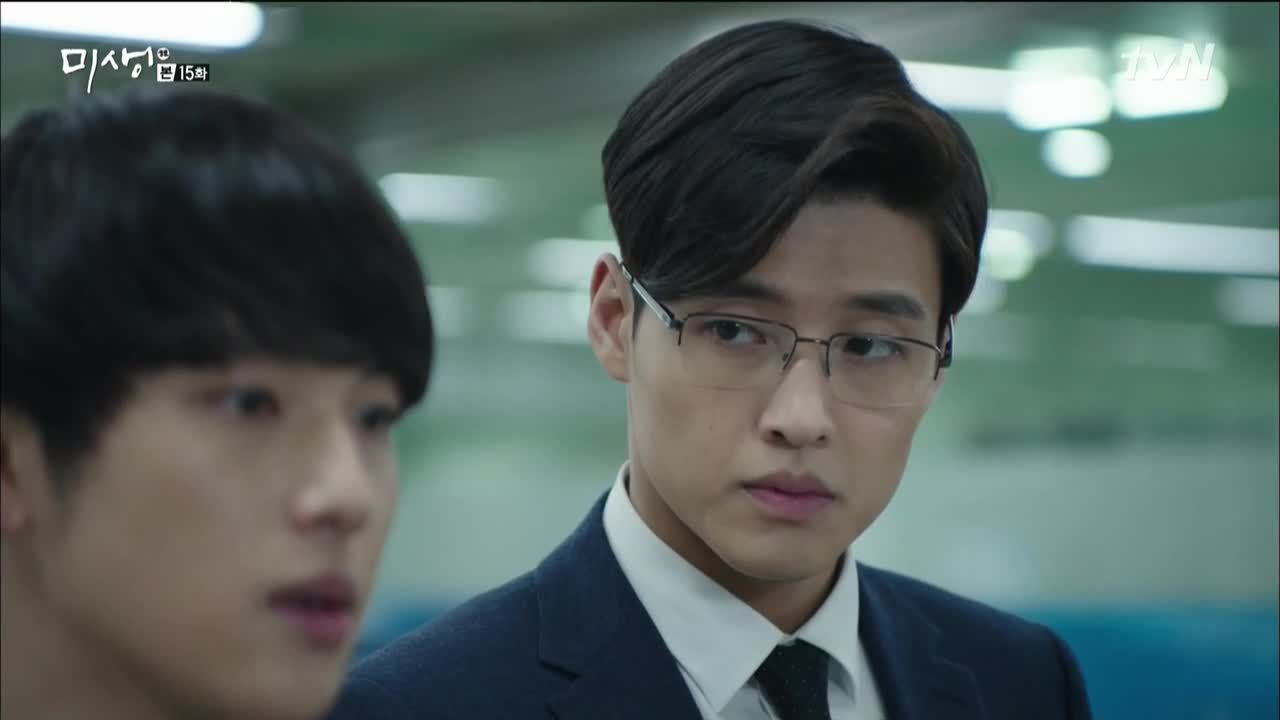 I like the complexity of Baek-ki's character, and I can see Kang Haneul staying true to his mission of taking on interesting characters. Baek-ki isn't constantly malicious, but he has enough malice and pride to make him a flawed yet realistic character. And most of his nasty words have some truth in them. At the time, they seem to be direct results of his envy and entitlement, but they have enough truth to resonate with Geu-rae later on. Sometimes, I can get wrapped up in rooting for the underdog that I forget that he doesn't actually belong there. Baek-ki's that character who constantly reminds me that Geu-rae's not qualified, but in a good way. He's the one that reminds us that Geu-rae's not a geeeenius and that getting to this position usually takes a lot more than memorization and intuitive smarts. Geu-rae still has a ways to go.
As does Seok-yul, but more with finding a good balance for his pride. I wish that Seok-yul had more screen time to grow because he seems so behind with his character arc compared to his fellow newbies. I can't really tell who's at fault for this continued tension between Seok-yul and Assistant Manager Sung. It's something that this show does well — lots of nuances and gray areas. It does seem like both parties are at fault, but I'm leaning towards Seok-yul for the bigger part of the blame. While part of me wants him to continue his anarchist streak of fighting The Man, I understand that there is a time and place in the workplace. That's a lesson that the rest of our newbies have learned: that it's foolish to fight the powerful as the powerless. It's a practical choice, and I want Seok-yul to learn this. I admire his persistence in sticking to his guns, but it's crushing his spirit. I want bubbly, gregarious, gossip queen Seok-yul back.
Young-yi is a strong and fiercely independent woman, and all those characteristics make her an admirable yet fatally flawed character. You can see just how foolishly strong she is in this episode when she's forced to embrace all her family's monetary debt despite her obvious resentment towards her parents. And she doesn't tell anyone about this. She purposefully isolates herself so that she can be her own person without the baggage of pity she could possibly get with the exposure of her vulnerabilities. She became this independent person to escape the burdens, but if there's something you can never escape, it's the burden of family. That's where all her logic is flawed and backwards. She's only building the pressure inside of her by keeping everything to herself, and her strong and independent façade is bound to crack. I'm sure the newbies would have her back if she lightened some of her burdens on them.
As would our resident Newbie Guardian Angel Chief Oh. I really hope he continues his trend of being that guardian angel because the other two — Seok-yul and Young-yi — could sure use his help. But wait! His newbie still needs his help. Geu-rae needs a permanent home. Where else is he going to go when he's an adorable drunk who's proud of his achievement of selling underpants and socks?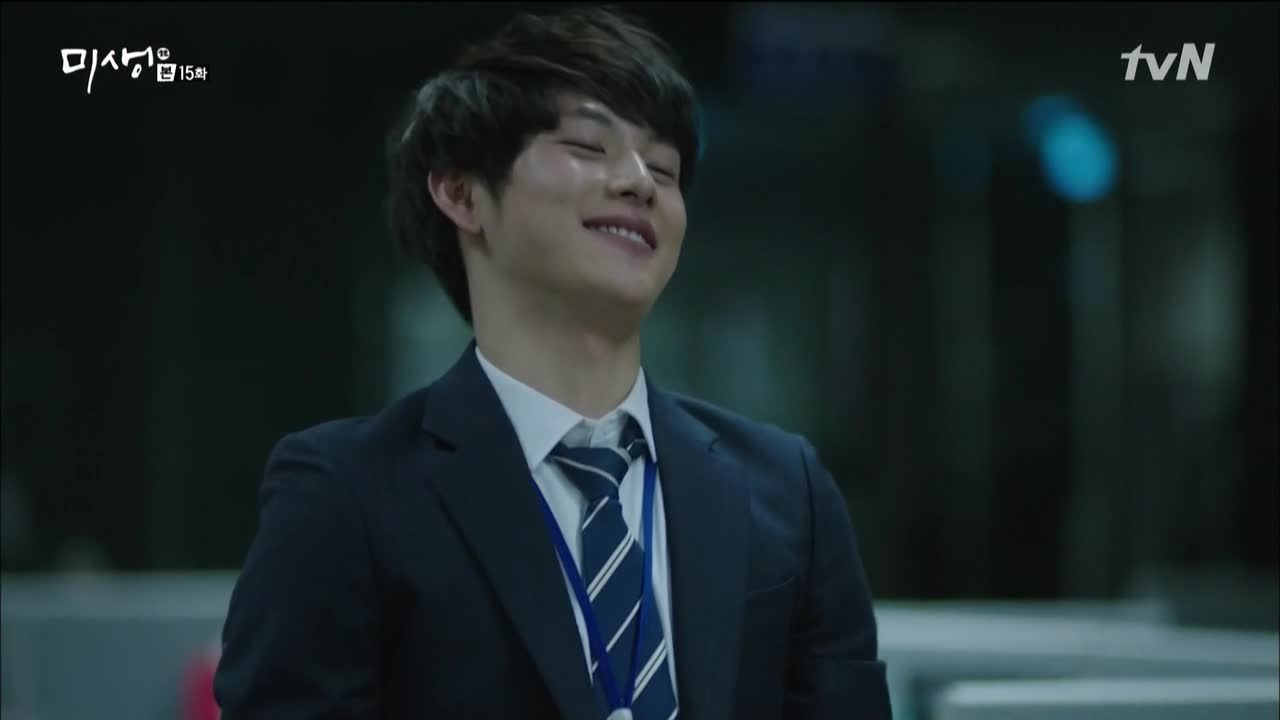 RELATED POSTS
Tags: featured, Im Shi-wan, Kang Haneul, Kang So-ra, Lee Sung-min, Misaeng