Spy: Episode 3
Learning the truth is never an easy pill to swallow, especially when it threatens to crumble everything you've worked so hard to preserve. Mom is caught between a rock and a hard place in this episode when her past forces her to choose between handing over her son or risk putting her entire family in harm's way.
The one thing that keeps her from tipping over the edge is the rock in her life—the husband who showers her with love, adoration, and affection each and every day. Given how many obstacles these two have overcome together to get to where they are now, they sure aren't going to let another one stand in the way of their happiness. Perhaps the young lovebirds can take a page from Mom and Dad's book when it comes to a committed relationship that has stood for decades and will last a lifetime.
SONG OF THE DAY
G. Soul – "You" [ Download ]
Audio clip: Adobe Flash Player (version 9 or above) is required to play this audio clip. Download the latest version here. You also need to have JavaScript enabled in your browser.
EPISODE 3 RECAP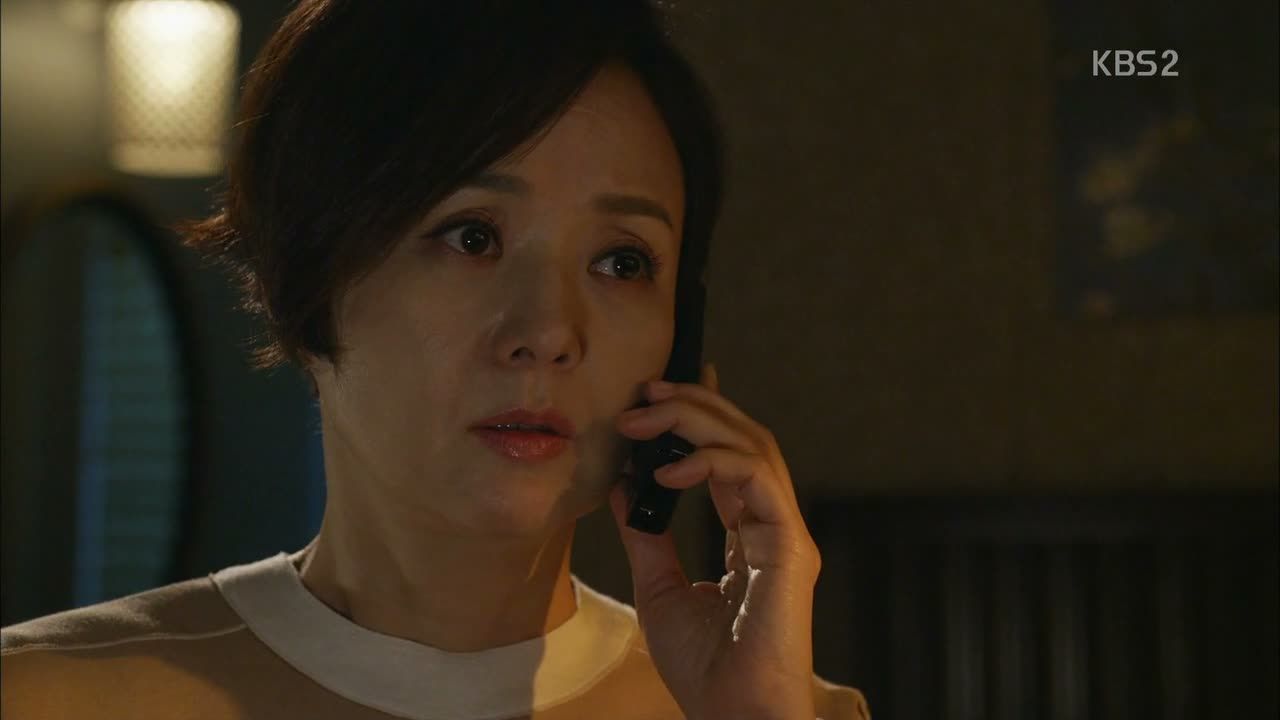 When Mom refuses to believe the idea that her son is actually a spy, Ki-chul tells her that the truth hurts. He'll give her time to think over his offer of handing Sun-woo over to him in exchange for her freedom. "Don't see what you believe in. Believe in what you see before you," he advises.
She watches as Sun-woo rises from the couch to take a call, then rifles through a scrapbook to fish out his work number. The staffer on the other line doesn't readily recognize Sun-woo's name, but soon verifies that Sun-woo had been transferred to another department three years ago (though the records don't indicate which one) and that business trip to Busan was cancelled.
One would think that the NIS would've done a better job of creating aliases for their secret agents, but nevertheless the words hit like a ton of bricks on Mom, who clutches her chest in pain. She whirls around when Sun-woo bursts into the room, saying that he needs to go into work. She thinks about confronting him about it, but the words get caught in her throat and she sends him off.
As Mom sits at home in silence, contemplating over what she's learned, Sun-woo stays late at the office to review the surveillance tapes at the subway station. He's told that there's no point since the bomb didn't detonate properly and no one was hurt, but Sun-woo just waves his colleague away.
In the morning, little sis Young-seo figures that oppa spent the night at his girlfriend's house again. Dad playfully scolds her, then turns to his wife, beaming that they'll be able to prepare for their retirement pending today's decision at work about that big project he's been working on for the Ministry of National Defense.
Sun-woo arrives at the makeshift headquarters only to see everything being packed up and moved out. As per Chief Song's orders, the interrogation process has ceased, and Soo-yeon, the North Korean agent will speak out in a press conference tomorrow morning.
Mom demands to know what Ki-chul will task Sun-woo to do, adding that he knows nothing about her son. But Ki-chul counters that she doesn't either—if it hadn't been for him, Sun-woo would still be working in China. "Think carefully about what's really best for your son."
At that, Mom runs into the bathroom, sobbing… or so we're led to think because her eyes bears no tears. Letting the shower run, she reaches into the cabinet to pocket some emergency funds and packs some clothes before heading out.
Sun-woo finds Hyun-tae at home and lets himself inside, much to Hyun-tae's annoyance. The place is a pigsty with dirty clothes and empty liquor bottles, and Sun-woo discovers a family photo of Hyun-tae with what looks like his wife and daughter.
Despite Hyun-tae's yelling, Sun-woo whips up some ramyun for his sunbae and starts cleaning up the place. Barely two words come out of Sun-woo's mouth before he given a flat out no—whatever Sun-woo is thinking of doing, he better give up the idea. But Sun-woo argues that there's so much missing information—they don't know what their enemies' motives are and why the current North Korean sleeper agents are being exterminated.
It's probably about money, Hyun-tae replies, and those baddies will run off to China as soon as they hear that someone else knows about their presence. All they have to do is reveal that story to the public and look good in front of their bosses by showing them how hard they're working.
Soo-yeon's family will be in danger if she goes public with her story, Sun-woo notes. Hyun-tae acknowledges that it'd be a tragic fate, but they can't let sympathy get in the way of their work. Furthermore, their higher-ups will care even less about that family, let alone a North Korean spy defector.
Sun-woo says they should stop it then, but Hyun-tae likes that idea even less, particularly that bit about "us" like they're a team. Knocking over the trash again to illustrate his point, Hyun-tae says he doesn't mind things being a little dirty and tells Sun-woo to suck up to Chief Song if it's a promotion he's after.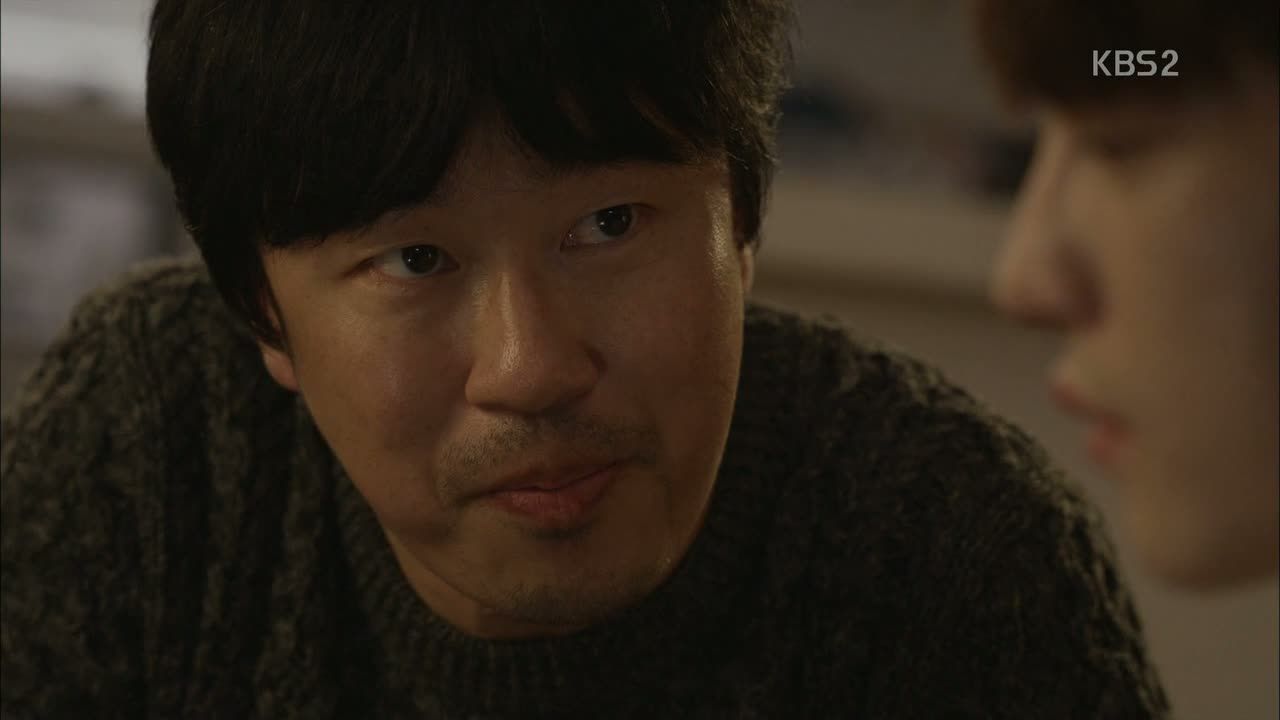 Sun-woo says the scarred man killed his fellow agent in China—would Hyun-tae stand idly by, knowing that his partner's killer was in Korea? Hyun-tae takes a moment before bending down to meet Sun-woo's eye level: "Yeah, if it were me, I'd just forget about it."
"This moment feels incredibly tragic for you right now, doesn't it?" Once a little time passes, Sun-woo will just find the situation funny, Hyun-tae continues. "So don't try so hard."
Mom goes about business as usual, losing her tail in the form of one of Ki-chul's lackeys in the grocery store. Changed into new clothes and perusing flights to China, she heads to the bank to withdraw the funds from her accounts… only to be told that all the money was taken out two days ago.
Panicked, she runs to the nearest store to try out her credit cards, but none of them work either. Ah, must've been Ki-chul's doing, huh? Someone else steps in to pay for her purchase just then… and wouldn't you know—it's Ki-chul in the flesh.
Ki-chul is disappointed that Mom even entertained the thought of running away alone and leaving her family behind. Would Sun-woo be safe if she disappeared? But Mom counters that Ki-chul can't kill an active agent and there's no way he could persuade Sun-woo onto his side.
All Ki-chul has to do is mention that video with Mom's face in clear view to silence her. In his eyes, she has two choices: either wreck her family's lives or plead with her son in tears. He, for one, thinks the answer's pretty clear. Once she's made her decision, she can either meet him tonight or he'll meet with Sun-woo.
It's sweet how Dad will make time for his wife for a chat no matter how busy he is. They meet in a cafe near his workplace, where she asks if he remembers when they first met. He breathes a sigh of relief, having worried that something terrible had happened. Unfortunately he can't stay much longer since he has that big presentation today, and offers some reassuring words and a quick apology before heading out.
Just as he's about to head into that meeting, he receives a text from his wife that sounds an awful lot like a goodbye. It's then he recalls his wife's attempts to try and get through to him, and he runs out of the elevator in search for her.
She's neither at the cafe nor anywhere in the vicinity, but thankfully picks up his call. Dad asks where she is, but one name makes him stop in his tracks: "Hwang Ki-chul is here," she tells him. He asks to talk face to face, but she thinks her determination will waver if she sees him again. This all started with her and she'll be the one to take care of it, she says.
Her car passes by him right then, and the couple briefly lock eyes with each other. He tries to chase after the car, but Mom drives off, saying, "I'm really sorry, honey."
But it doesn't end there—Dad climbs into a car and catches up to her in no time. In her car, Mom practices her confession: "To this day, I have never been able to live a day in peace. Because… I do not have the confidence to deceive my family any longer, I have come to turn myself in. I… I am a spy."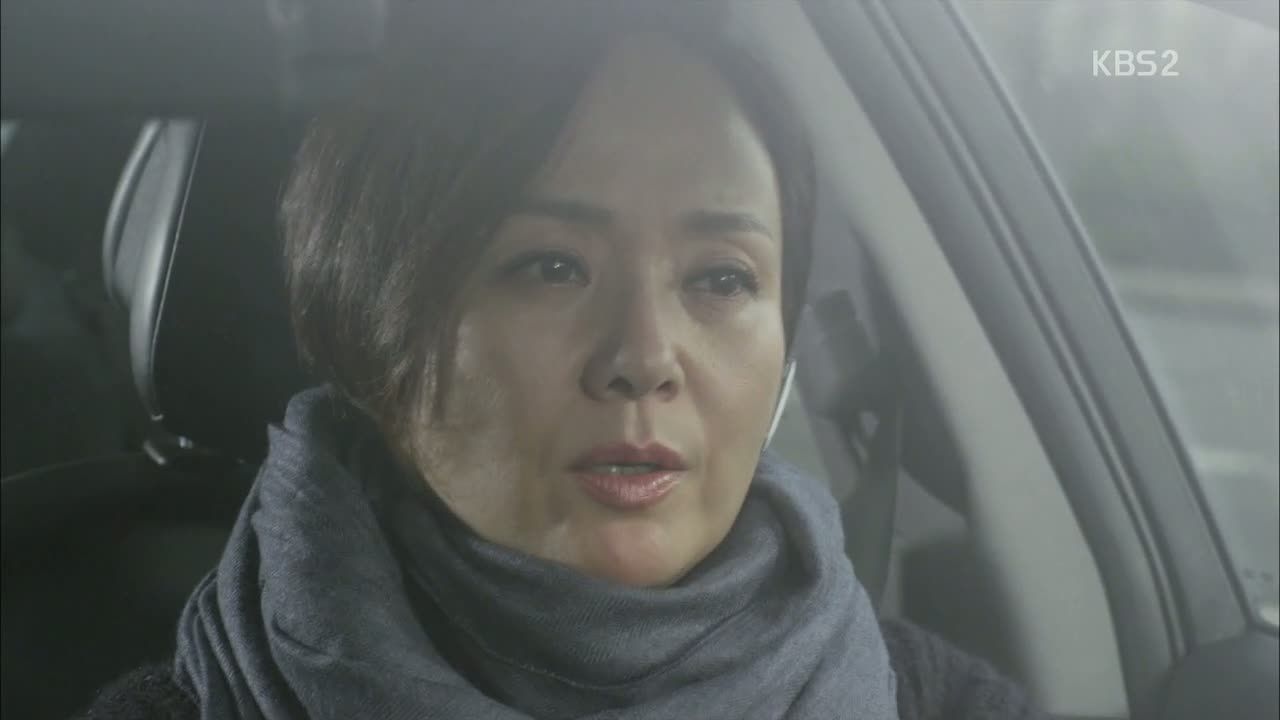 Mom answers a call from Dad (and I can't help but notice that he's listed as "Young-seo's Dad," since usually Korean mothers will use their first born's name in that term of endearment) who's worried that she's thinking of doing something extreme. They'll be able to find a solution together, he promises.
She's convinced that all she needs to do is turn herself in to save the rest of their family, but Dad tearfully says he worked so hard all these years so that he could secure her happiness. Nothing will matter if she's gone, he pleads. But there's no changing her mind, and Mom hangs up.
Dad refuses to give up, however, speeding down the road ahead of her to cut her off. She hits the brakes just in time and steps out of the car to face him. He looks absolutely frightened and asks what it is that Ki-chul wants—money? Intel? "Sun-woo," she answers.
She informs her husband that their son isn't a simple government employee, but works as an NIS agent. She cries that Ki-chul is after their son, and somehow Dad finds the rationality to say that there will be a way to secure their family's safety. When Mom remain stubborn that turning herself in is the only way, he cries that he can't bear to be alone.
He loves their family as much as she does—they've done so well up to now, so surely they'll be able to figure out a way to overcome this obstacle, too. "We're a married couple, after all. We're a family." I'm not crying; there's just a little bit of dust in my eye.
They're ordered to move their cars by a police officer, and Dad softly encourages his wife to continue this conversation at home. Mom stands there for a long moment before climbing back into her car.
They wait at home until the designated time draws near. Mom is ready to face Ki-chul on her own, but Dad won't send her off by herself. I love how the background music swells and wanes at just the right moments in their exchange, and they agree to face Ki-chul together. He draws her into a tight embrace.
As for Sun-woo, he finds Eun-ah sitting alone in a bar looking dispirited. She's surprised when he figures out that her blind date didn't go well, to which he explains that he put the pieces together from her hair, her feminine outfit, and time of day. They're part of the same team now, after all. Heh.
Eun-ah is slurring her words the next time we check in with her, sharing her woes to Sun-woo about how she keeps screwing up on her dates because she's too fixated on whether the guy is lying to her or not.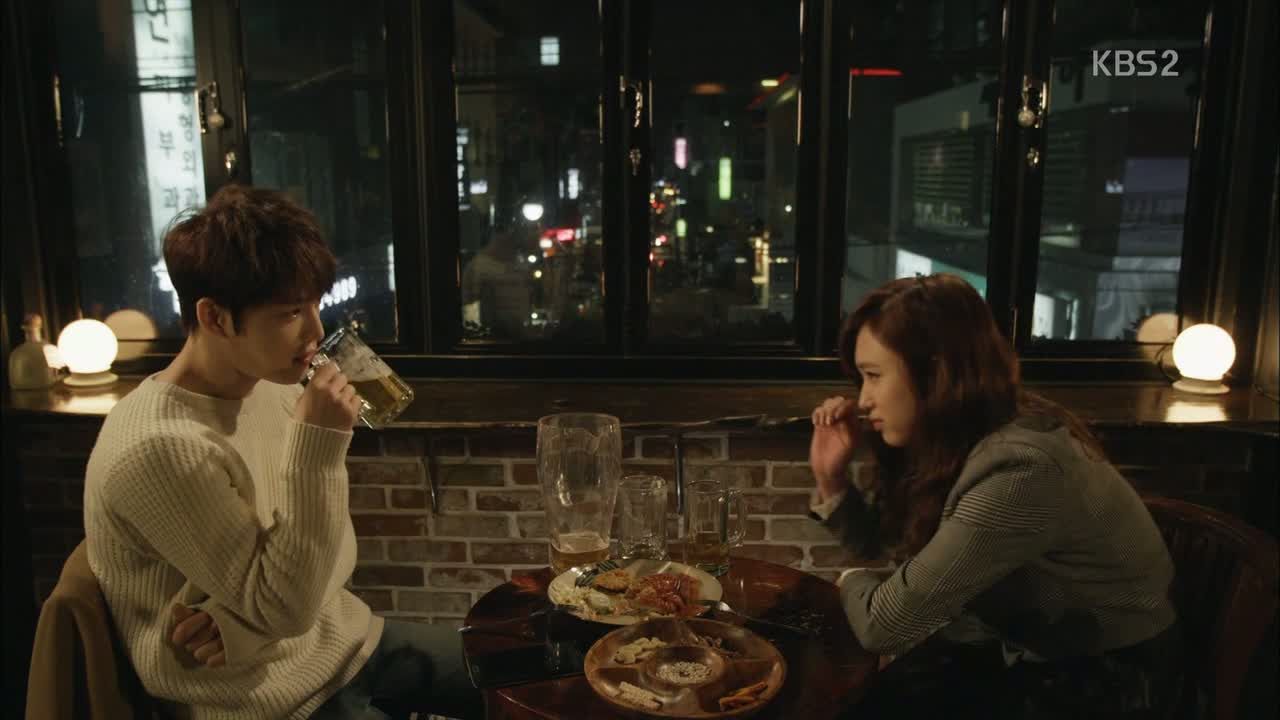 Sun-woo asks if he looks like the type to lie often then, but she notes that he's talking in banmal to her right now. He argues that she suggested it first, then adds that they're the same age and he technically ranks higher than her even if she's been with the NIS for longer.
So that's how they decide to be friends (albeit in her drunken state), and the mention of Hyun-tae's name has Sun-woo asking about what their sunbae is like. She heard that he used to be the brightest brain in the NIS and more like a lost kite now.
That's all because of the Supervisor, of course—whose history Sun-woo knows of as well: the best permanent North Korean spy sent to the South who had a hand in the downfall of Jang Sung-taek, but the Supervisor's current whereabouts are unknown.
Hyun-tae had gone after the Supervisor, ignoring his superiors' dissuasion that it was too dangerous. But that mission had blown up in his face, and one of his fellow agents were literally torn into pieces in front of him. Eeeeeeek. So Hyun-tae has been living a quiet life ever since, but there must be some residual rage seeing as how the mere mention of the Supervisor makes him fly into a fury.
Sun-woo asks about Chief Song next, who's been part of the NIS as long as Hyun-tae has. He's married to a former assemblyman's daughter, and she guesses that their team leader might want to pursue politics later.
Mom and Dad arrive at the rendezvous point together, though Dad is held back from accompanying his wife to see Ki-chul. Ki-chul recognizes Dad, saying that he's aged, and asks why they came together. Mom: "Because we're married."
After hearing that the presentation didn't go well, Dad tells his secretary that he'll call him back. Ki-chul demands that Mom call Sun-woo over right now, and when she says she can't, Ki-chul replies that it isn't because she can't, but that she doesn't want to. What if he does what he wants now?
He grabs onto the netting menacingly, and it's at that moment that Dad breaks free off the goons' hold on him and rushes forward to protect his wife. "We'll do it!" he declares.
Those words are surprising, even to Ki-chul, and Mom voices her agreement. Forcing Sun-woo to do Ki-chul's bidding against his will could fail, but they could fulfill that task for him. Ki-chul points out that it's been quite some time since Mom has been in the field and that she's a housewife.
"And I'm a mom!" she adds emphatically. Sure, Sun-woo could perhaps do a better job, but he's a straight-laced young man who's always followed the rules and would never listen to Ki-chul. However Ki-chul is ready to put the model citizen to the test: "Shall we test it out, and see how strong his patriotism is?"
But Mom counters that Ki-chul's gentler approach of threatening their family with Sun-woo is because he has no other choice—if he did, he would have taken different measures already. Ki-chul needs Sun-woo or he's done for, and Mom knows it.
So they'll become spies in Sun-woo's place, and that's the next best thing she can offer. When Ki-chul says he'll think it over, Mom realizes that Ki-chul must answer to someone else. He refuses her request to speak with that superior, reminding her that he'll be the only one she meets and he is the one who decides their fates.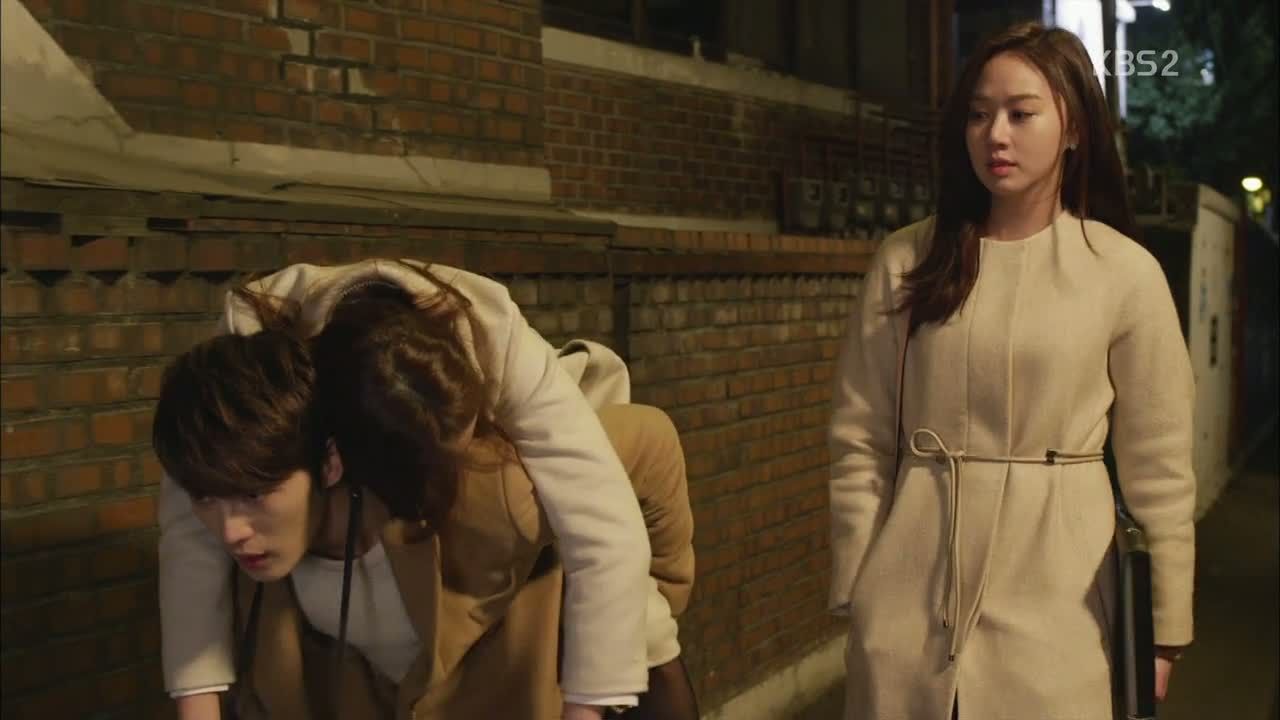 Yoon-jin waves happily to Sun-woo when she sees him approach, though her smile drops to see him carrying a passed out Eun-ah on his back. He doesn't explain who Eun-ah is, but as they walk, Yoon-jin points out that she's pretty.
Sun-woo struggles as he explains to his girlfriend that this was the first time they met outside work because he had a work-related question, and she was the one who drank all the beer. He isn't that close to her either, he swearz it.
She has fun teasing it about it, and we see that the reason Sun-woo is struggling so much is because he's trying to keep his hands from any inappropriate areas. He enlists Yoon-jin's help and drops Eun-ah off at home.
Yoon-jin can't help but overhear the friendliness in Eun-ah's mother's voice, using that to tell him that she seems to like Sun-woo. Neither Sun-woo nor I really understand where she's getting at with her hints about Eun-ah, but Yoon-jin says he and Eun-ah seem well-suited from each other by all counts.
But Sun-woo cuts her off mid-sentence with a kiss, and is it just me or does she not seem so happy about it? Sun-woo tells her that Eun-ah is just a co-worker and that he only has her. Damn the men in this family—where can I get one?
He asks if she feels anxious because she doesn't trust him, to which Yoon-jin shakes her head no. She musters up a smile, and the couple walk under the snow flurries. Ha, he even tries offering her a piggyback ride.
Dad keeps the TV playing loudly in the background so that their conversation can remain unheard from the bugs. He says that Ki-chul's side seemed surprised, but Mom know that this isn't as simple as it seems. One mission will lead to another, and now it's possible that they've endangered him on top of herself and Sun-woo.
Having Mom arrested and Sun-woo dragged away to work under Ki-chul would have yielded a similar result, so Dad suggests they buy more time until they can hire a professional to take care of the situation. Mom worries that it's too dangerous, but Dad calmly tells her that this isn't the first time they've faced danger—they even managed to escape China.
As long as they make the right decisions, they'll be able to get through this, he assures her. They're interrupted by Young-seo's entrance, who thinks her lovey-dovey parents are actually arguing for once.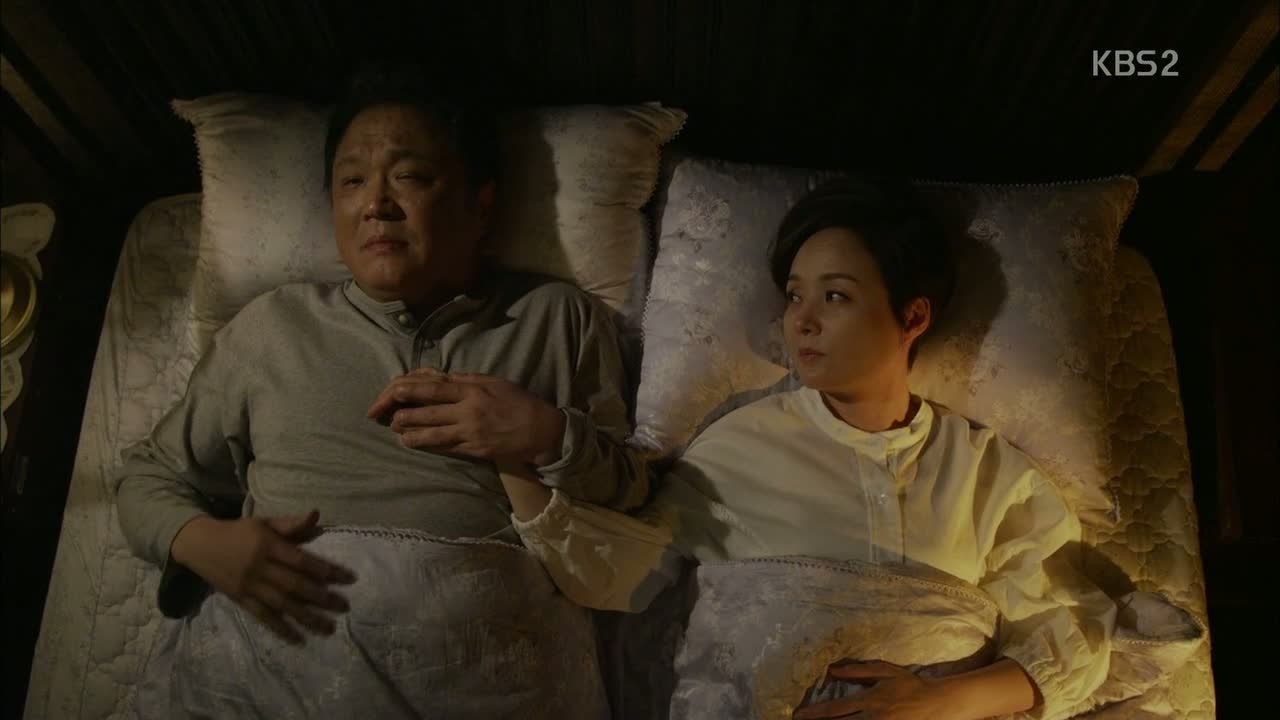 Neither Mom and Dad can fall asleep in bed that night. Mom turns to her husband to express her gratitude, and he silently places her hand over his heart before closing his eyes. God, I love these two.
Mom receives a call from Ki-chul during breakfast, and after their children head out the door, Dad offers to accompany her. But she says Ki-chul wanted to see her alone, and so Dad resignedly accepts on the condition that she call him as soon as their meeting is over.
Mom packs a knife and what looks like a GPS location tracker before heading out while Dad looks at his phone nervously. Sun-woo stops Chief Song's car, informing him that he has a way to catch the Supervisor.
Mom steps inside Ki-chul's headquarters, but before she can step into his office, her bag gets swiped out of her hand. One of the lackeys shows off the knife to his boss, who clucks in disappointment: "I thought there was a real bomb in there."
"Even if I wanted to let you guys get the job done," Ki-chul says, leaning forward. "I can't trust you this way."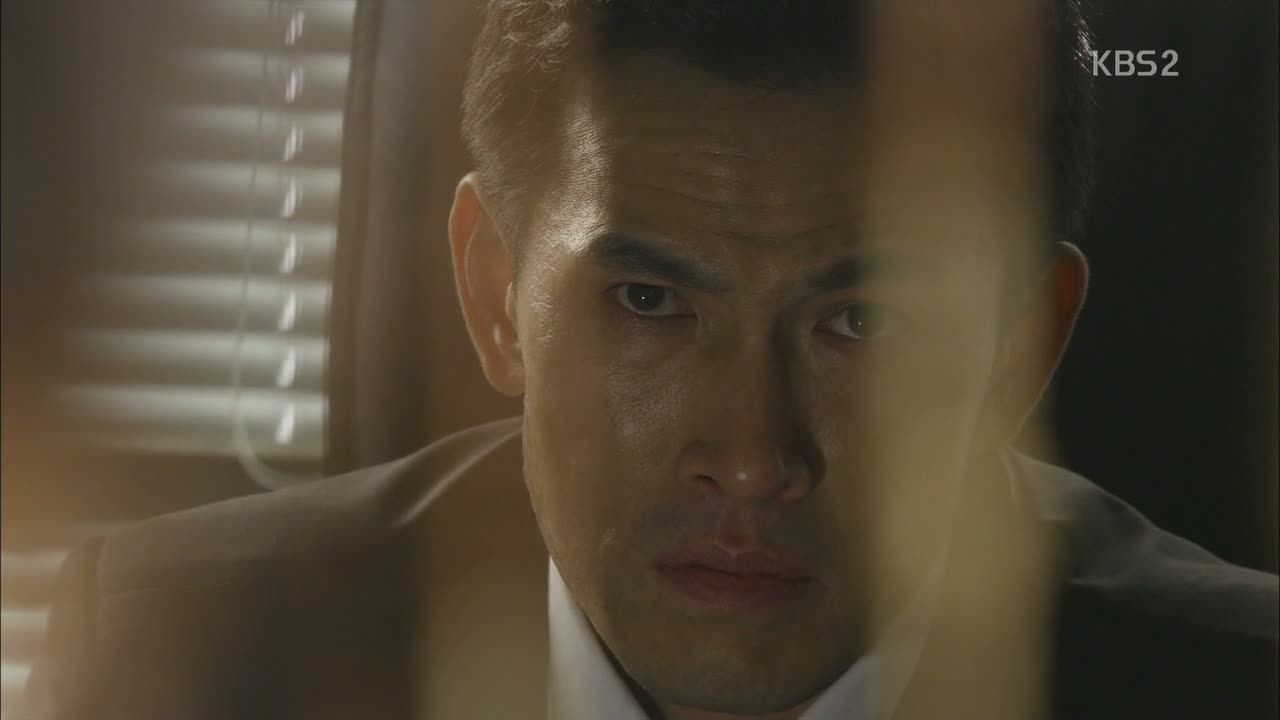 COMMENTS
Well to be perfectly honest, we can't trust you either, Ki-chul. So there. As menacing and cruel as Ki-chul has shown himself to be (by having his fellow North Korean agents killed), I do find it interesting that Ki-chul isn't the one calling the shots on this mission. Even though he argues that he doesn't let his personal feelings get in the way of the work at hand, Mom does bring up a good point that Ki-chul could have easily pursued alternative methods to drag Sun-woo onto his side if he so wished.
It begs the ever-looming question of why it must be Sun-woo out of all the NIS agents out there. Have the North heard about Sun-woo's skills, or a personal recommendation, or personal revenge (against Mom), or maybe beauty is simply universal (I kid about the last bit… sort of). In any case, the task is still shrouded in mystery and we still don't quite know how the threat of Sun-woo's involvement ties into it.
For someone as sharp as Mom to analyze Ki-chul's behavior, I wish Mom was also smarter about the way she sought to protect her family sooner. I understood that she would consider herself as the biggest liability as an inactive secret agent living a quiet life for decades, and yet for a woman who set off a bomb to be rid of Ki-chul (temporarily), I'd hoped she had thought of a more strategic plan in all those hours she spent contemplating. That isn't to say that I don't find her admirable because she offered to exchange Sun-woo's service for hers, and yet I see the writing flaws in the execution because she first attempted to turn herself in (to save her family) and after her husband declared that they would carry out that mission instead. So basically my current longing is for one thing: where is badass Mama Spy when we need her?
And at least Mom has a loving, doting husband by her side. I can't say this enough: I love the men in this family. Dad has always been a warm and reasonable presence by her side, but this is the episode where he displayed his fierce devotion and incredible vulnerability. His commitment to her and their family is so powerful and moving, and you could see the panicked fear on his face once Ki-chul's name came up. He was so afraid of losing the love of his life, and time and time again, he reinforced the idea that they were one unit that made decision together in their marriage. With so many broken marriages in both the dramaverse and in reality, their relationship is so inspiring and just plain wonderful to watch. We haven't seen the past hardships (i.e., escaping China) but we see the life they've built up together.
It's also sweet how Dad's goal in their marriage is so simple: to make his wife happy. And while it might seem so minor, I loved how he stopped by to talk to his wife in person even for a minute despite his busy schedule, let alone the presentation that could change their future. The life-or-death desperation in their situation and connection are what draws me to pay more attention to this couple than Sun-woo and Yoon-jin's relationship, which strikes bland in comparison. We don't know how long Yoon-jin has known about Sun-woo's occupation, but whatever the reason, Sun-woo is also transparent in all the qualities about himself when he's around her. If this kind of honest and genuine behavior exists in every man in this family, where can I find myself one?

RELATED POSTS
Tags: Bae Jong-ok, featured, Go Sung-hee, Jaejoong, Spy