Ho-gu's Love: Episode 3
It's my turn to weigh in on Ho-gu's Love! For being promoted as a light and zany opposites-attract romance, this show is surprisingly more heartfelt than I'd expected. There are lots of comedic moments, but the show is centered much more around the emotional development than the comedy, which gives it a more subdued overall tone than it appeared at first glance. Good thing we've got Choi Woo-shik anchoring this show, because he gives the show its heart, raw and bruised though it may be at times.
SONG OF THE DAY
공기남녀 (Air Couple) – "숨바꼭질" (Hide and seek) [ Download ]
Audio clip: Adobe Flash Player (version 9 or above) is required to play this audio clip. Download the latest version here. You also need to have JavaScript enabled in your browser.

Third Fool's Errand: Let's leave the squid in its place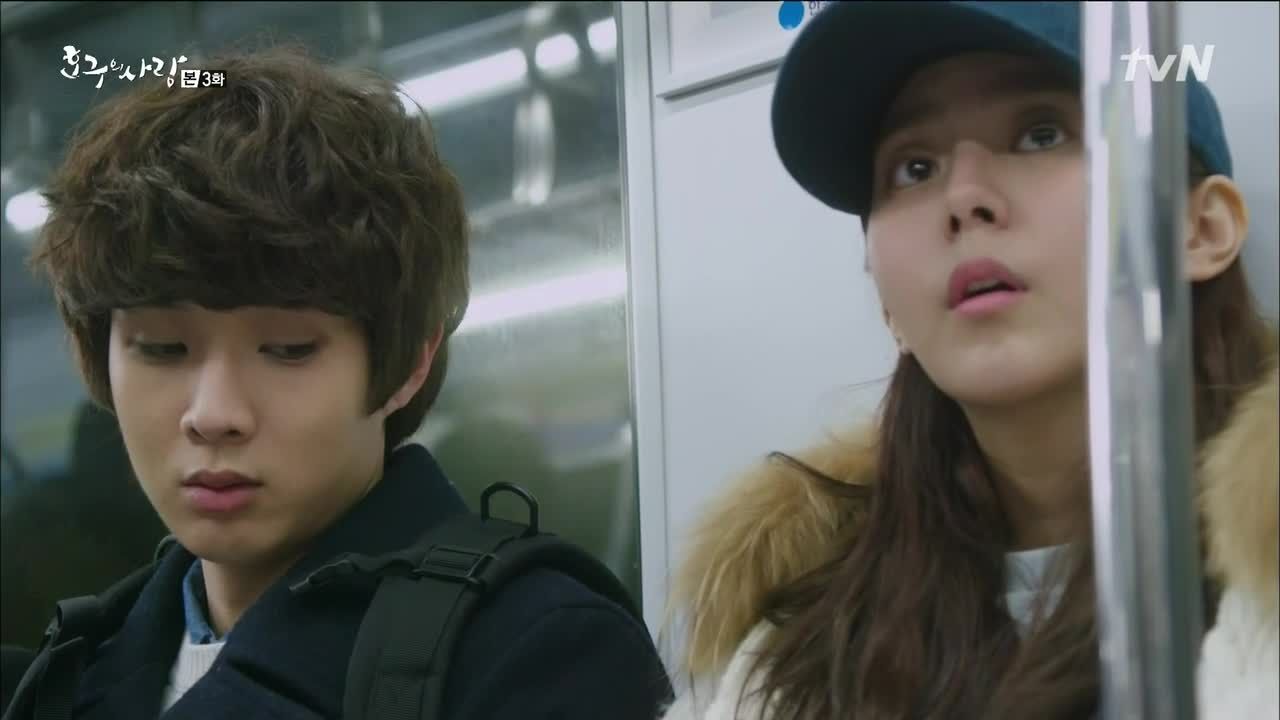 Ho-gu and Do-hee meet for the first time in months on the subway, and the passing glimpse of her very pregnant abdomen puts him in shock. Do-hee stiffens, but adopts her usual brusqueness while he takes a seat next to her, dazed, at first not wanting to turn his head to confirm that what he saw was real.
But his eyes slide sideways and he (verrrry slooooowly) starts to work out the situation, and Do-hee confirms by saying she's one her way back from the hospital, "because of my baby." Ho-gu thinks confusedly, "A baby should be made when a man and a woman love. Pregnancy should happen when a man and woman are married. Then Do-hee…"
She gets up at her stop and exits the subway car as he thinks, "Then what about me, waiting for her these six months?" He bolts out of the car at the last second, angry at himself for being so dumb while he chases after Do-hee.
That transitions to a scene late at night, as Ho-gu is being dragged out of a restaurant, covered in… blood? pepper sauce? while shouting at his buddies that it's unfair. The police have been called and drag him out and into the squad car.
Dad and Ho-kyung rush to the police station where he's being held, and everyone asks in bewilderment why he did it. Ho-gu just lies there, staring blankly, covered in red.
Six months earlier.
Ho-gu looks at his photos of Do-hee from their trip to Yeosu, moony-eyed and smiling. He hides them from his buddies, which prompts Chung-jae to fart in his face while Tae-hee just calmly picks up the pictures when he's not looking. While the truth dawns on him, Ho-gu shakes his head wildly and then jumps on him to shut him up, and then takes him out to eat meat.
Ho-gu ends up apologetically feeding Tae-hee as he explains how he ended up spending the night with Do-hee. Tae-hee takes this in unblinkingly for long moments before the dam breaks, and he bursts out in hurt and anger that Ho-gu kept this a secret. He reminds him, "I poured all of my teen years into you." Ho-gu hangs his head and remembers back to high school:
Ho-gu heads to the bathroom with his head buried in a manhwa book, and notices a gang of boys cornering a scared Tae-hee—as the new kid, they've designated him their snack errand boy, and Tae-hee has tried to stand up to them. Ho-gu finally has enough and yells at the gang, pointing a finger at them—with a hand that's dripping in pee. Ewwww. Everybody recoils as he waves his hand in their direction, and when he pats the lead bully on the shirtfront, the bully turns his anger on both of them.
Afterward, both boys are scratched up and battered as they sit in a manhwa shop together, eating ramyun. Tae-hee wonders at Ho-gu's name, and Ho-gu explains, probably for the millionth time in his life, that the characters making up his name mean "true hero" (rather than the "pushover" that is everyone's first thought). Tae-hee starts to introduce himself, but Ho-gu already knows his name, and gives him the last piece of kimchi to boot. Tae-hee is so touched he offers the snack in his pocket.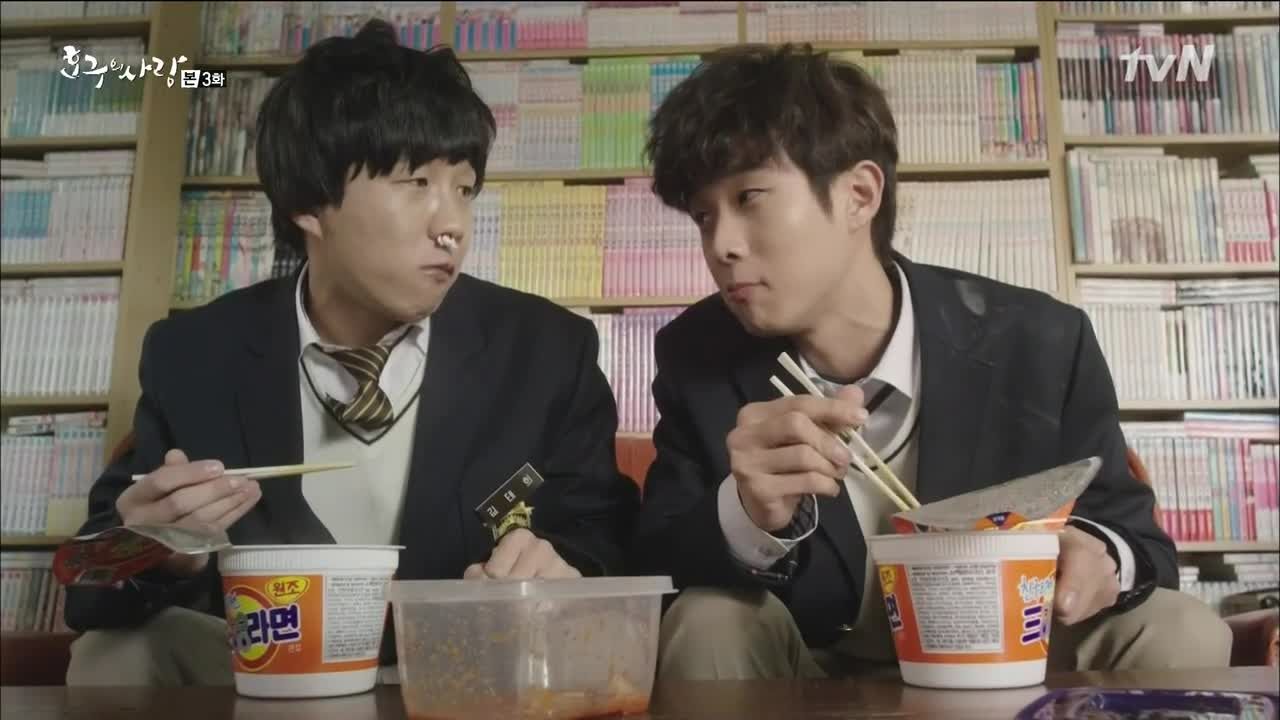 In the present day (well, six months before the absolute present), Tae-hee storms out of the restaurant in a huff, and Ho-gu tries to calm him down with flattery. Finally Tae-hee stops and pouts about his feelings being hurt, but also adds that he's proud of Ho-gu—now he's finally on the level of that jerk, Byun Kang-chul.
Speaking of whom, Kang-chul is currently participating in a Polar Bear Swim Festival, leading the pack of hundreds as they swim in the frigid ocean. He takes first place and poses with the other medalists, trying to ignore the polar bear that keeps photobombing his moment. Haha, it's so random and weird, and therefore funny.
From what we've seen thus far of Kang-chul, we can infer that he's a haughty perfectionist, so it's amusing to see that he's shaking in cold while trying to look laid-back for a sel-ca. And then it goes from laid-back to sultry to downright laughable.
Kang-chul's secretary, Gong-mi, happens to be friends with Ho-kyung, which somehow makes perfect sense. The ladies chat about setting up friends on dates, and when Gong-mi asks Ho-kyung to get her brother to go on a date with a girl who wants a nice guy, Ho-kyung balks, saying that he's too nice and innocent that he needs a girl who's even nicer than him.
Do-hee meets with her coach while holding her bag in front of her stomach, and he still thinks that she's out on hemorrhoid-surgery-related concerns. He wants her back in action by next month, which she answers only noncommittally before asking for money. Without blinking an eye, she names a huge sum (close to ten grand), which sounds absurd until she reminds him of how she earned more than he gave her.
Do-hee's wearing a large sweatshirt that mostly covers up her condition, but on the subway a grandma insists she take a seat, seeing as how she's pregnant. Do-hee protests that she's not, but grandma isn't fooled and just asks after her condition with kind concern. Do-hee worries that she's eating too much, but granny just says that it's one side effect, and the baby must want its mom to gain weight.
Then we jump ahead to December, which is when Do-hee is due to give birth. By now Ho-gu is a blank-eyed mess of despondency, wondering why Christmas is still so far away. Then he leaps for his phone when it sounds, and cries when the battery dies. Dad calls Mom in worry, saying the he thinks the poor kid still believes in Santa. LOL. Mom corrects him, saying that she thinks things didn't go so well with that "some girl" a few months back.
"Some" happens to be Ho-kyung's specialty, and she's actually giving a presentation to her class on the value of being good at it (i.e., navigating the waters of flirtation at the outset of a potential relationship) in order to succeed in dating. To back up her assertion, she presents data from an experiment, conducted with three different mice. Ha, she shows how giving and withholding food spurred that mouse to try harder and survive, over the other mice that were fed regularly or not at all.
The professor is intrigued with her research, though she wonders if she'll be lacking in test subject. Ho-kyung assures her that she's got plenty of those, providing the segue to our three hogus.
When she arrives to see Ho-gu, Tae-hee, and Chung-jae, labels inform us which is which: Chung-jae is Mouse No. 3, whose survival instinct is spurred by regular feedings, alternating with withheld feedings. (That is to say, Ho-kyung has given him the numbers of three girls, but none of them returned his calls, and she says they've all gone to the sticks and are out of range.) Tae-hee is Mouse No. 1, poor mouse who gets no food ever and loses the ability to grasp food when it's present, while Ho-gu is Mouse No. 2, who gets fed indiscriminately and thus becomes lethargic and loses the drive to keep eating.
Ho-gu gets a text message and frantically checks his phone… and deflates when it's not Do-hee. Ho-kyung scoffs at him for still being hung up on Do-hee, and says "Sure, sure" sarcastically when his buddies defend him for still having hope. He gets so upset that he yells at his sister, and she later apologizes while he sits outside with an unlit cigarette dangling from his lips. He says that he doesn't need a constant exchange of messages to confirm feelings between a couple; a sense of mutual trust is enough.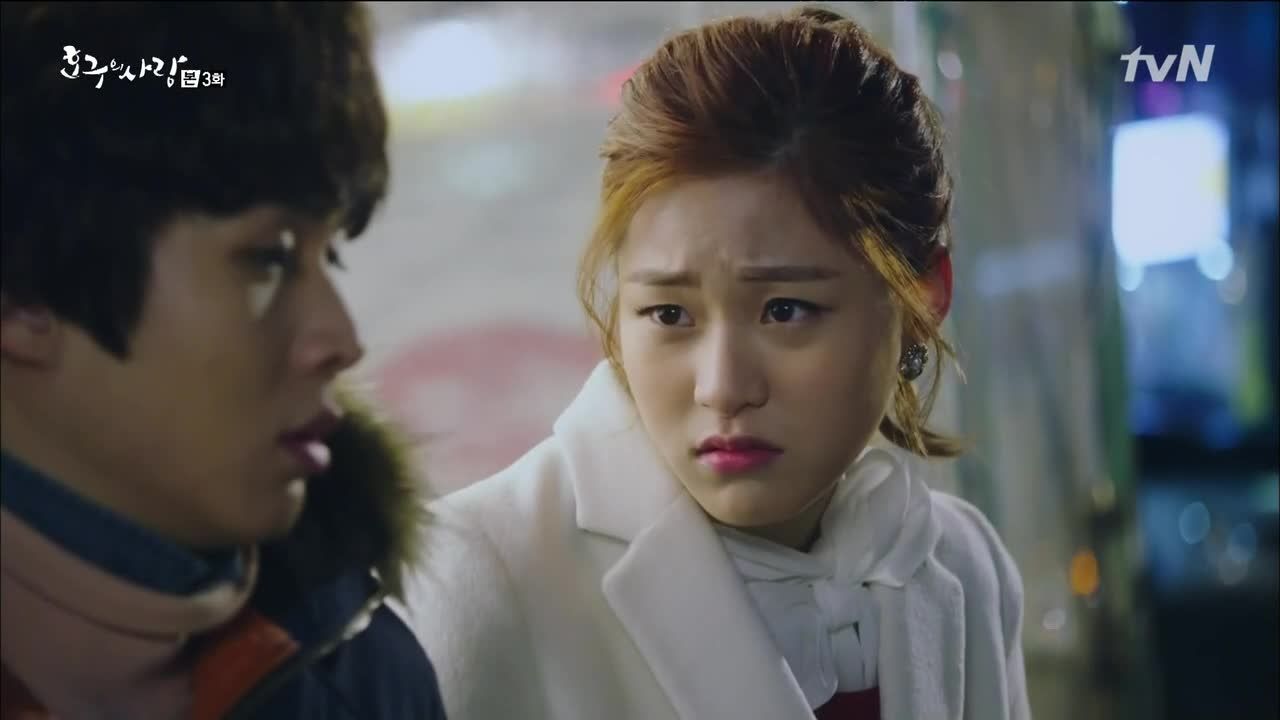 Ho-kyung sighs and offers advice as a fellow young person in the world. She explains coming home drunk the other night, and having kissed a guy. She can't remember who it is, but weirder yet is that she can't then figure out which of her five research partners it could have been, because nobody's acting different at all. So the time has passed for the kiss to mean anything more than a momentary physical act.
Later that night, Ho-gu tries calling Do-hee and gets no answer, as usual. He tries the swimming league next, which is how he meets the coach, taking us back to his meeting with the coach that we'd previously seen. The coach and Ho-kyung have now both told him that he and Do-hee aren't on the same level—heck, Ho-kyung says he's not even in the same species. Do-hee's human, and he's… a squid.
But turns out that Do-hee is craving squid, quite literally, and the doctor assures her that it's fine to eat. She's due any day now, and the doctor's comment about light exercise—swimming in particular—makes her stiffen and say she's really bad at swimming. The doctor plays along, and just directs her to a good restaurant that has squid soondae.
That's when she gets on the subway where Ho-gu gives up his seat for her, putting them face to face for the first time in months. Ho-gu chases her out into the station, mistaking someone else for her, only to have Do-hee find him.
She invites him to eat squid soondae with her, and he fumes inside, imagining himself slapping her with a piece of squid and raging about how he spent the past six months pining and waiting, and how all she can do is ask if he wants to eat.
But in actuality, he sits miserably and asks how far along she is, and when she got married. Do-hee says she got married quickly, and when he asks if it's okay to marry like that (as in, so lightly), she answers that it must be fate—that's what people say when something happens just like that, easily.
And what can he say to that? Ho-gu thinks to himself how there's no use in arguing or demanding explanations, since they'll change nothing. He pays for their lunch and thinks, "Still, I didn't want to show my back first" and sends Do-hee off first. He watches her go, thinking, "I felt I needed to see Do-hee walking away with my own eyes."
He tells Tae-hee this over soju later that night, and Tae-hee tries to cheer him up, saying that it made him nervous when he found out that Do-hee had been the girl Ho-gu was entangled with. She's a superstar celebrity, and they're just squids: "Wouldn't squids be happier with other squids?" If they tried to mix, the squid would be the one hurt.
Ho-gu says he's fine and thinks of it as a nice dream, saying that at least he's got a cool friend like Tae-hee next to him. They clasp hands and brotherly "i love you"s and drink up.
In the morning, Ho-gu wakes up covered in red sauce and hugging a huge squid-shaped pillow, which entangles him with its tentacles while he screams in alarm… which is when he wakes up again, thankfully not hugging a huge squid, but lying this time next to a dozen actual squids, which makes him scream some more.
This one's not a dream, and his friends just tell him calmly that of course there are fresh squids in his bed, because Ho-gu brought them with him. Doesn't he remember yesterday?
Ho-gu thinks. We flash back to last night.
In the squid restaurant, Ho-gu's passed out at the table and Tae-hee calls Chung-jae to help carry him home. Ho-gu snaps awake while Tae-hee goes to the bathroom, and starts crying pitifully for his buddies in the squid tank. "What? You want to come out of there?" he asks them. He grabs one in each hand and waves them around, crying in sympathy for their plight, while the ajumma freaks out and Tae-hee convinces him to return them to the tank.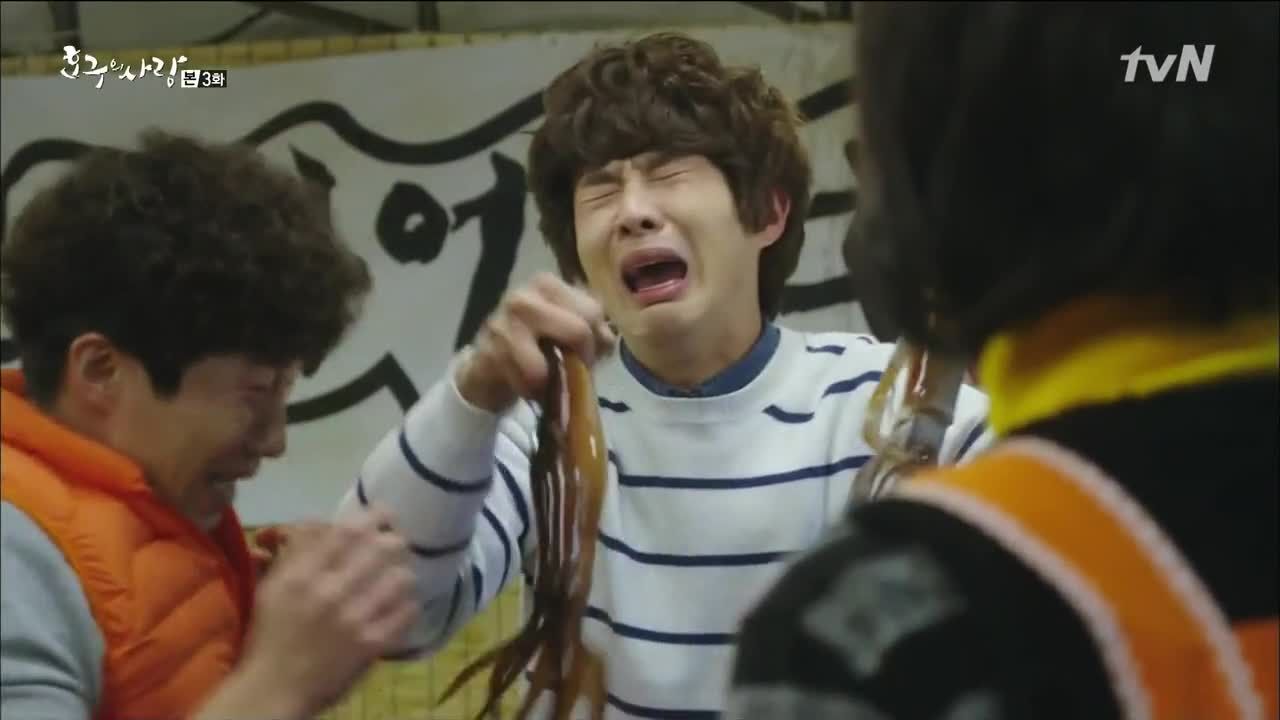 Things are calm for about a second, until Ho-gu grabs for the squids again and stuffs them in a bag, promising to take them home. It takes several cops and both friends to subdue Ho-gu, and in the scuffle the hot sauce tube gets sprayed all over him. So he's dragged off yelling all about how they need to live free and how it's so unfair.
And now, we're finally fully caught up to the present day. Ho-gu's friends tell him how he insisted on setting them free, and then covered them with his blanket because they might get cold. Chung-jae says exhaustedly that they'll have to move away from this neighborhood now, while Tae-hee rails at him. Ho-gu slowly shifts position till he's on his knees, hanging his head contritely.
At least they'll have squid for ages, and the family keeps it a secret from Mom, just telling her that Ho-gu bought a bunch of squid for a bargain. Today's Christmas Eve, and the parents have plans to go vacation on the beach for several nights. Ho-kyung has plans to spend the holiday with her friends, and Ho-gu offers to keep the shop open for them.
Later, Ho-gu opens up a box containing mementoes of his night with Do-hee, from the soju bottlecap they drank from to her silver medal. He remembers the words Do-hee said after they kissed, that she doesn't intend to date him.
Dad joins him outside that night and asks if he fought with his some-girl, or got dumped. Ho-gu says no, that he just mistook the relationship for more than it was, saying that it's okay and that it's all over now. Dad asks if he asked directly whether he'd been mistaken, and that it's more embarrassing to never say what he meant.
Do-hee packs a bag in her small single room, and lingers over the manhwa book she borrowed from Ho-gu. It's the same book he's looking at in the shop—or rather, the empty space where it should be.
In the morning, he steps out when he hears a book being left in the drop box, and heads out to get it. Around the corner, Do-hee breathes a sigh of relief, thinking he'd spotted her. She slips away unseen, and Ho-gu pulls out the books in the box. The sight of her book tips him off and he immediately runs down the block looking for her, and sees her walking away.
By now overdue, Do-hee tries the light exercise option and heads to an empty pool, where she floats idly until the employee tries to hurry her out. She (only barely) manages to bite back the string of swears, and sweetly promises to clean up after herself and lock up, and he agrees to let her.
Do-hee resumes floating, and then another voice calls out to her. It's Ho-gu.
Sitting side by side, she makes an excuse for why she didn't come into the shop to return the book. He hands back her medal, but before she takes it back, he asks her to answer one thing. "You and I… what were we?" Aw, he took Dad's advice.
Do-hee replies, "We were friends. And we're friends now." He asks if "just friends" go to see the ocean together, or hold hands and run together. And if they were friends, she should have invited him to her wedding.
She concedes that they'd had something—so what? She reminds him that she'd warned him that she wouldn't date him, and her voice gets a little sneering as she says he's overreacting. Going to the beach, staying out all night, having some skinship: "Is that so special?"
That sparks Ho-gu's anger, and he yells back, "To me, that's not what we did. Even if you disappeared for six months without calling, even if you got married without word, even if you showed up out of the blue in this condition! I've never hated you. But seeing you today, you're a real bitch. And you—are you so surprised that you're peeing yourself?"
Nope, that's her water breaking. It sounds a little extra-pathetic today when he sighs, "My name is Ho-gu."
Next thing we know, he's hurrying along next to her hospital gurney, urging her to hang in there. In pain, she grabs his hair and holds on tight.

COMMENTS
It took me a little while to adjust to this show, whose pacing is a little different than the shows I've seen lately, although not too different from some of tvN's previous rom-coms like Flower Boy Next Door or even Dating Agency Cyrano. I was expecting this writer-director duo to re-create the zaniness of their previous collaboration, Flower Boy Ramyun Shop, and the first two episodes surprised me by being slower and more contemplative.
There are two major strengths to the show, which are its directorial hand and its leading man. PD Pyo Min-soo is doing a lot here, in subtle touches and scene transitions that aren't always obvious but are clearly very well-thought-out. Scenes that aren't necessarily linked may be connected by a sly bit of wordplay that provides a nice bridge, or maybe a visual moment that smooths out the transition. Even without these small touches I wouldn't think the editing were choppy because there's a stylistic cohesion that pulls the thing together, but it does make the drama feel more like an indie movie, keeping us flowing from one scene to the next in a nicely considered bit of directing.
Choi Woo-shik is the more obvious factor, and he is really a gem here. He's shown flashes of being a promising actor in many/all of his previous dramas, but now he really rises to the challenge and inhabits this character, and infuses him with so much sincerity that it's almost painful, because you feel like his Ho-gu is real. Despite the obvious gag with his name, the character is never the butt of a joke—maybe to people in his world he is, but never to us watching the drama—and never becomes a caricature of the sad sack lonelyheart.
It would have been really easy to draw him in the slick rom-com mold of slapstick dork heroes, always ready to mug for the camera as he takes a pratfall, but Choi Woo-shik acts with a quiet dignity that makes Ho-gu admirable, rather than laughable. It must be frustrating to love him and watch him being so painfully innocent, as his family does, but there's no undercurrent of mean spirit. Ho-gu is sweet and earnest and the world may not appreciate that, but the drama very clearly recognizes his value, and it makes me root not for him to stop being a hogu, but for the world to stop treating him like being who he is is something to pity. For what it's worth, I do think Do-hee sees this in him too, and I have hope that she will appreciate it sooner rather than later. We're still in the dark about many things with her, but I want to believe that there are explanations that shed light on her actions. More for Ho-gu's sake than ours do I want her to be the woman he thinks she is—that's a bit of faith that ought to be realized, no?
RELATED POSTS
Tags: Choi Woo-shik, featured, Ho-gu's Love, UEE