Spy: Episode 7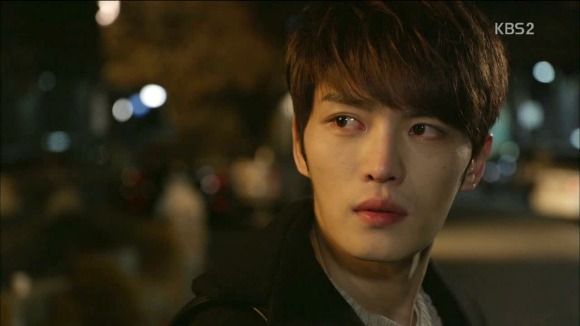 For a world where the stakes are so high for the characters that inhabit it, the current level of danger they all face is surprisingly low. It's not like the safe delivery of one handsome secret agent will influence the already tense North-South relations or anything, right? As we learn more about Yoon-jin's past in this episode, it turns out that the women in Sun-woo's life share common ground with each other when it comes to Sun-woo's safety and well-being.
Which leaves Sun-woo with the never-ending question of where his heart lies: family or love?
SONG OF THE DAY
VIXX – "어둠 속을 밝혀줘 (Light Me Up)" [ Download ]
Audio clip: Adobe Flash Player (version 9 or above) is required to play this audio clip. Download the latest version here. You also need to have JavaScript enabled in your browser.
EPISODE 7 RECAP
We open on the night when Yoon-jin had first received her mission: Ki-chul had wasted no time in burning the photo of her and her mother, then chided her for becoming accustomed to living like a Seoulite.
But now it was time for the real work to begin. After giving her an application for a work visa, Ki-chul had scoffed when she'd asked about more details. It isn't in her place to know more than she needs to, he'd reminded her, then added not to act so flustered because everything else will already be in motion.
So Yoon-jin had visited the immigration office as instructed, where she'd been immediately apprehended as an illegal resident carrying a counterfeit passport. That was also the day she first met Sun-woo, who had intervened and confronted the employee in regards to a tip-off about another applicant he'd approved.
Seeing that had Yoon-jin recall Ki-chul's words that the plan has already been set. Sun-woo had given her a reassuring nod that everything would be okay. Fast-forward to the recent past when Yoon-jin went to greet Sun-woo's family. Ki-chul had advised her on the phone to be on her guard, as Mom is an astute woman and quick on the uptake.
Ki-chul hadn't been too far when he'd called, and Yoon-jin had seen the van drive away before heading inside. Then on the night before Soo-yeon's death, Yoon-jin had been the one to give Ki-chul a heads-up. She'd been concerned about Sun-woo's safety and relieved to hear that Sun-woo wouldn't be hurt… although left in shock when Soo-yeon's death was reported on the news.
Another ring takes us back to the present, where Mom holds up the ringing phone: "Are you looking for this?" After asking if Yoon-jin doesn't want to answer it, Mom says in a knowing voice that in her day, the North only selected orphans as spies because family members were a liability.
"Now… they don't even select those without families anymore," Yoon-jin answers, her voice shaking. "Because they don't return if there's nothing for them to protect." Mom holds out the phone for Yoon-jin to take before pulling back at the last second—what are Yoon-jin's intentions for approaching her son?
Yoon-jin replies that her orders were to stick by Sun-woo's side; she doesn't know what the bigger picture is either because she's simply a pawn that abides by orders. But no sooner does she say that does Mom respond with a slap across the face.
Mom demands that Yoon-jin never appear before her or her family from this moment on, denying Yoon-jin in calling her the affectionate address of "Mother." With tears in her eyes, Yoon-jin insists that her feelings towards Sun-woo are sincere, despite knowing that she wasn't supposed to fall in love with him.
But Mom will hear none of it now, barking at how Yoon-jin could have done this to Sun-woo if she truly loved him. "And what about you?" Yoon-jin returns. "You're also deceiving Sun-woo, aren't you? Then are your feelings fake, Mother?"
Mom argues that she's working as a spy to protect her son from harm, but Yoon-jin counters that she's acting under the same intentions. After all the lying, deceiving, and spying to keep Sun-woo from being harmed, Yoon-jin doesn't know who she's affiliated with anymore. She's becoming someone who cannot be forgiven by Sun-woo or her homeland, and now she's at her wit's end.
Her sobbing breaks Mom's resolve by a hair, though she tells Yoon-jin in a stern voice not to let Ki-chul that she's been found out. She orders Yoon-jin to disappear off-the-grid and promises not to tell Sun-woo—that's the last thing she can do for Yoon-jin.
Yoon-jin sits in the dark with her tears until her spidey senses pick up on Sun-woo approaching. She quickly calls him with an excuse that she's busy with work tonight, and when Sun-woo asks if he can just see her face, she denies him that.
Poor Sun-woo persists, just wanting to be by her side, but he gets turned away. Before he leaves, however, he asks her to promise not to endure things by herself in the future. On the other side of the door, Yoon-jin chokes back her sobs…
… and Mom clicks off the microphone, having heard the exchange. Watching Sun-woo leave, Yoon-jin bids him a tearful farewell.
Mom waits outside until Sun-woo arrives home looking dejected. He asks if Mom had gone to see Yoon-jin lately, letting the matter drop when the answer is no. Before they head inside, however, Sun-woo reminds his mother that no matter what happens in the future, his feelings won't ever change.
Once she's alone, Mom questions that statement: "Are you sure [those feelings] won't change?" Unable to sleep, Mom gets up to take her pills and tells herself to bear through this.
There's a look of new determination in Yoon-jin's eyes the following morning, as evidenced in her all-black outfit. She collects some cash and various passports in a hidden compartment beneath a drawer, and then picks up a call from her mysterious contact who angrily says she was the one who didn't answer last time.
Yoon-jin tells her contact that he'll need to expedite her earlier request, which sounds like smuggling her family out of North Korea. He huffs at the immediacy, though agrees to do what he can when Yoon-jin offers her entire emergency stash. Their rendezvous point is in three days, she reminds him.
At home, Mom sits next to her husband while he calls Chief Song to explain why they can't meet at his workplace. Chief Song insists that he's not trying to spy on Dad's company or anything, to which Dad gently replies that the company's future hangs on the balance of the project for the Ministry of Defense.
He instead directs the conversation to invite Chief Song over for dinner tomorrow night, and when the man hesitates, Dad extends the offer to the rest of Sun-woo's colleagues. He adds that he'll have remote access at home, and while Chief Song isn't happy about the arrangement, he agrees.
Over at his headquarters, Ki-chul has overheard the conversation, including the part where Dad wonders why Chief Song doesn't want to come by himself. Growing curious, Ki-chul performs a quick search on the internet, where a news article reports that Hedge Technet had retracted their bid for the codebreaking program in order to further develop their software.
Ki-chul smirks, taking this as good news. Hm, interesting.
Sun-woo is surprised to hear about Chief Song and his colleagues coming over for dinner. Dad chuckles that it was Mom's idea, and though they're briefly interrupted by little sister Young-seo's poor grades in school, Sun-woo still finds the news suspicious.
Sun-woo sends a worried text to Yoon-jin, who takes a moment to scan her surroundings on the subway before picking up a call from a restricted number. It's Ki-chul, who seemingly buys her excuse that she's feeling under the weather and on her way to the hospital. But Yoon-jin has picked up on a tail—one of Ki-chul's lackeys—and calmly steps out of the train…
… Or so the lackey thinks, because she realizes belatedly that Yoon-jin's still on the train. But she's one step too late anyway and loses Yoon-jin, who walks away with a smug expression.
Over at NIS headquarters, Sun-woo is distracted during Hyun-tae's speech about how this new-fangled facial identification technology makes things so easy for the young'uns. They're interrupted by Chief Song's arrival, and Hyun-tae doesn't miss him hand over a briefcase to their resident hacker.
Sun-woo follows Chief Song out into the hall after the mention about tomorrow's dinner, worried since his family are still in the dark about him being a spy. Chief Song seems sarcastically amused by how Sun-woo's kept it a secret and says there's nothing to worry about since they'll play the civil servant act to a T.
Meanwhile, Hyun-tae bugs the hacker about that top-secret briefcase, catching a glimpse of the coding program. The hacker says it's classified information, but admits that he doesn't know the contacts either since it's blocked off by a passcode.
Yoon-jin ignores Ki-chul's call, only to look up and see another one of his lackeys waiting for her by the subway entrance. She hops over to the other side of the escalator to find another way, but gets blocked off again. She gets escorted into a van and sends a reply to Sun-woo's text (that asked her to send her one period if she's okay).
Sun-woo beams to see that single dot and tries calling, but gets no answer. Yoon-jin is taken to a remote area where Ki-chul is already waiting for her. He notes that the women around Sun-woo act so similarly when given the same mission, and Yoon-jin doesn't regret the decision she's made to try and escape.
Ki-chul's given some thought as to how to deal with her and her family—should he burn them to death or send them off to a prison camp? He knows better than to try and force a woman to change her mind once it's made up.
Yoon-jin bites back that her family is already in transit, and it doesn't matter to her what he chooses to do with her. Ki-chul doesn't skip a beat, saying that death would only be an easy way out. With that, he lets her go.
Just as Yoon-jin is about to walk away, a familiar ring stops her in her tracks. It's the phone she thought she'd thrown away earlier—the same one that's now in Ki-chul's hands. Taking it from Ki-chul's hand, Yoon-jin answers and is utterly relieved to hear her mother's voice on the other end telling her that they arrived safely.
But this consequence can only mean that Yoon-jin can't walk away from this mission (and Ki-chul's grasp) that easily. She asks what it is that Ki-chul wants from her, then he grabs her throat: "Absolute allegiance," Ki-chul replies. "That's the path you've chosen."
Sun-woo stays late at the office, where his facial identification software picks up on a possible match between Ki-chul and an old army photo. Eun-ah teases him for his dedication and guesses that he's hit a rough patch with his ladyfriend. Adding that there are plenty of fish in the sea, she offers to be a drinking buddy again. Uh, yes please?
Eun-ah makes a face when Yoon-jin calls (booo), and Sun-woo admits that he'd been worried all day but relieved to hear that she's fine. While they make dinner plans, Sun-woo doesn't notice the program pick up on another match among the North Korean ranks: Mom.
Speaking of whom, Mom sits with Dad to test out the phone-hacking program, noticing that moving the phone interrupts the process. They'll need a full three minutes in order to pull it off, but they don't even know whether Chief Song will take out his phone or not.
After Mom is sent the profiles of the rest of the analytics team, she draws the conclusion that Dad and Chief Song will need to be left alone. However, it won't be easy for her to keep watch on the others on her own.
They'll need another person to help out, and as if right on cue, Young-seo comes through the door. Little sis had been previously denied the privilege to stay for dinner because of her poor grades, but now she's tasked to keep Eun-ah occupied.
Even Sun-woo's adoration for pickles (yes, you read that right) can barely get a smile out of Yoon-jin at dinner. He can see right through her and figures that Mom did go and see his girlfriend after all. He comes right out with it and asks what Mom said, and when Yoon-jin insists that's not the case, he isn't fooled in the least.
Still, he backs off and apologizes on Mom's behalf. He takes her hand and promises to protect her, not caring whether his family understands or not anymore. But Yoon-jin pulls her hand out of his and says that's not what a family does.
If someone were to ask her to choose between love or her family, she'd choose the latter every single time. He asks about those who are orphans then—they'd only have love. Taking her hand again, he vows to protect her and become the family she doesn't have (since he believes Yoon-jin has no other family).
He says that doing so would eliminate all her other worries. It's wonderfully earnest and noble, and again… where can I find me one of those men?
Sun-woo drives her home, but before she gets out of the car, he invites her over to join them for dinner. He wants to introduce her to everyone as the woman he's going to marry. Well, that's one helluva surprise proposal.
Once inside, Yoon-jin sends a reply and breaks down in sobs. Sun-woo is pleased to see that she's accepted the dinner invite and sends a quick thanks.
Just then, ominous music falls as we cut away to Sun-woo's cubicle, where the computer identifies two faces from the day Soo-yeon had died to two soldiers in the North Korean troops: Ki-chul and Mom.

COMMENTS
If suspense is what Spy wanted to achieve in this show about espionage, then I'm sorry to say that the show has fallen short of its mark. Those last few moments could have been better played out if we didn't see Mom's face being scanned earlier in the episode because that takes away from the surprise that the computer software would think to identify Mom's face, too. I'd been hoping and waiting for the drama to pick up the pace and deliver a taut and thrill-tastic story for some episodes now. You could call it wishful thinking, as the experimental format of a 90-minute double-header really could have supported the idea of cleverly using 50 minutes (or less) per episode to its narrative advantage.
But the truth is that we're approaching the halfway point, and it feels like Spy is continuing to drag its feet with each passing episode. We still don't know what the all-too-important mission that somehow involves Sun-woo is, and there isn't really anyone we can turn to for answers in our characters either, since the only person who knows of the bigger picture is Ki-chul. And even he, our closest baddie at present, seems too low on the villainous ladder to provide a proper explanation.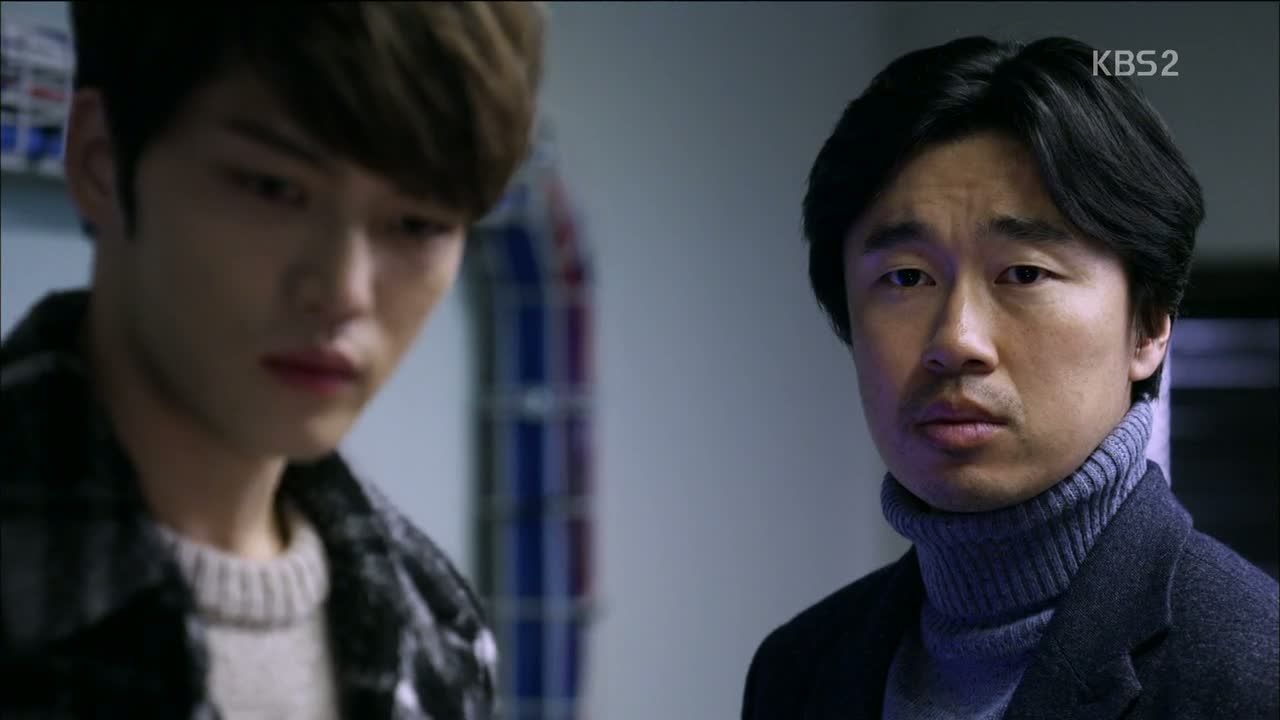 At this point, I'd even say that there might not be enough of the overarching story arc to take us through the second half. For a show jumping off of a lengthy source material (the Israeli drama The Gordin Cell was 22 episodes long), that's rather surprising, and yet the main writing credit for Spy lists a number of short drama specials. So I'm torn between whether the writers aren't able to pace the narrative in a lengthier mini-series format or that they're saving their better cards for the second half. And if it's the second, I'd be more disappointed because I feel one should never be stingy with good material.
It's a real damn shame then that Spy has chosen to dedicate its individual episodes to smaller-scale story arcs thus far, like the One Dinner Invitation. A part of me hopes that this will be the most tension-filled dinner ever, but then the other part hopes that there ought to be some explosions going on in the background to liven things up. Frankly, I feel like we didn't a deeper explanation to Yoon-jin's past, and rather needed a better focus on that conversation between Mom and Yoon-jin.
And this is where the story makes a stronger showing. It was an interesting contrast between Mom and Yoon-jin as to why each woman was recruited into the spy world: One had nothing to lose while the other risks losing everyone she loves. Both women are driven by the motivation to keep Sun-woo safe, a common factor that makes me wish Mom and Yoon-jin would team up together if it's that urgent of a matter. But then again, if Ki-chul really needs Sun-woo that much and without a scratch at that, then the biggest danger Sun-woo faces is a paper cut. Owie.
RELATED POSTS
Tags: Bae Jong-ok, featured, Go Sung-hee, Jaejoong, Spy