Angry Mom: Episode 1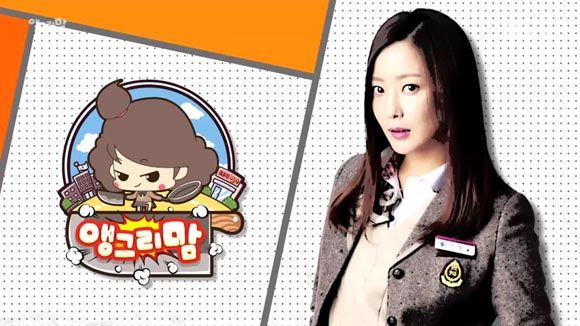 Angry Mom is darker than I'd expected it to be, but in a totally welcome way—it's stark at times and tinged with the harshness of reality, yet has a lot of promise for cuteness and warmth as well. I say promise because there wasn't a whole lotta comedy in the first episode, which was spent establishing the severity of the circumstances, but I do think the funnies are headed our way. More than anything the characters are going to drive this story, and I'm super excited to have Kim Hee-sun delivering so much emotion and intensity—far, far more than she has delivered throughout her career—and Kim Yoo-jung stepping it up to match her. I have good feelings about this one so far.
SONG OF THE DAY
Kris Leone – "Mother" [ Download ]
Audio clip: Adobe Flash Player (version 9 or above) is required to play this audio clip. Download the latest version here. You also need to have JavaScript enabled in your browser.

EPISODE 1 RECAP
In a small restaurant named Pig Mom, a woman narrates that a power dynamic emerges in every relationship, pitting strong versus weak. Sometimes age is the determining factor, and at other times fists are more effective. Demonstrating her point is a table of three, where a minor tiff escalates into a full-blown brawl.
That brings our narrator out from the kitchen to break up the fight: She's JO KANG-JA (her name happens to mean Strong One; she's played by Kim Hee-sun), an ajumma with frizzy hair and a (pixelated) mouthful of swears. She screams at the men, shutting them up into contrition.
As the conflict resolves, Kang-ja notes that there's a third way to assert power: a loud voice, which she's just proven she's a pro at. But there's a force even more powerful than that: money. And those with it always win.
Kang-ja arrives home to her family: There's the snappish mother-in-law who complains about the dinner that's not made, the wimpy husband (Im Hyung-joon) who slinks off to avoid having to defend her, and the teenage daughter AH-RAN (Kim Yoo-jung) who shrugs her off with monosyllabic answers.
Ah-ran is in that adolescent phase where she doesn't want anything to do with Mom and pushes aside any attempt to help. Kang-ja takes it in stride and watches her daughter heading off to her night academy, explaining to us that there's one exception to all those rules of power, because the person who loves more is always in the weaker position. "To me, my daughter is like that," she thinks. "I am a mother."
Outside the academy, Ah-ran gets pushed around by a trio of bullies after defending her friend Yi-kyung. Ah-ran is remarkably composed in the face of the violence, telling the girls to keep their jealousy in check since head bully WANG JUNG-HEE (Lizzy) is only picking on Yi-kyung for being prettier than her.
Ah-ran's refusal to back down and strong words (calling Jung-hee pathetic) escalates the violence. It also attracts the notice of other students nearby, particularly a boy (Baro) who dials a number on his phone.
It's to a friend, GO BOK-DONG (Ji-soo), who shows up just as Jung-hee's about to flip her lid. His presence makes the mean girls instantly deferential, and they stop bullying to do his bidding. What is he, the alpha bully? Yet Bok-dong's intervention acts to help Ah-ran, which makes this an interesting dynamic.
Jung-hee and her mean girls shuffle off apologetically, and Bok-dong kneels down to look Ah-ran eye to eye. She's trembling, and he drawls that they're seeing a lot of each other lately: "Let's not see a lot of each other."
Ah-ran hurries away with her friend, who apologizes for causing her trouble yet again. Smiling, Ah-ran just tells Yi-kyung to run since it's raining, and the two girls laugh and twirl in the downpour.
At home, Kang-ja worries about Ah-ran being caught in the rain, but her immature husband and naggy mother-in-law are more interested in having her whip up a snack for them. She excuses herself to go out looking for Ah-ran, leaving them griping after her.
Kang-ja arrives at the academy just as class is being let out by its teacher, PARK NOAH (Ji Hyun-woo), for whom the word hapless seems tailor-made. He's super earnest as he encourages his kids to try harder and not sleep through class, and they just yawn and grimace in his face.
Kang-ja lights up when Ah-ran exits the building, calling her over. Ah-ran pulls Mom aside in annoyance and rejects the ride home and the umbrella, leaving Mom frustrated. Kang-ja asks why Ah-ran never wants to be picked up from school, why she locks herself up in her room, why she recoils from touching her, why she won't say a word.
Finally Ah-ran bursts out that she dislikes talking to Mom. Her twitchiness makes me think this is more about the bullies than about hating Mom, but Kang-ja doesn't understand, wondering if she did something wrong. Then Ah-ran flinches from Mom's hand on her shoulder and says harshly, "You being my mother is the mistake." Ah-ran runs off, and Kang-ja swallows her hurt.
Ah-ran joins her friend Yi-kyung, and they head off with Teacher Noah's umbrella. Upset, Kang-ja drops the umbrella she'd brought for her daughter, and Noah hurries after her to return it, calling her "student" since she's wearing Ah-ran's old gym clothes.
Kang-ja ignores his help and heads into a nearby pojangmacha to order a bottle of soju. Noah bursts inside the tent to cancel that order, determined to keep this student from a path of delinquency (which is adorable). He puts on his deepest teacherly growl (which really isn't very deep) and orders her to go home.
Kang-ja snaps that she's not a student, but he points at the school name on her jacket and demands her class number and name. Temper flaring, she jumps up and lets loose a torrent of bleeped swears, mixing in her hometown saturi accent. Noah just stares in shock. Blink, blink.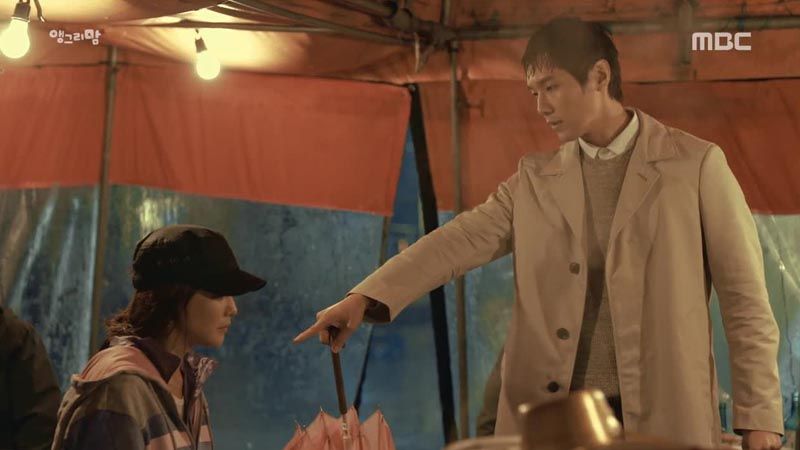 Kang-ja storms off, replaying Ah-ran's words in her head. It makes her think back to her own schoolgirl days, and the strained relationship she had with her own mother, a tough ajumma from Busan who'd once grumbled to Kang-ja, "If you weren't here, I wouldn't have lived like this." Teenage Kang-ja had snapped back, "Did I ask to be born?"
Ah-ran takes the bus home, and flinches in pain when bumped into. Now we know her real reason for pushing Mom's touch away, since it looks like she's pretty bruised under that uniform.
When Kang-ja returns home and finds Ah-ran's door locked yet again, she lets herself in with the key, determined to have a talk. But Ah-ran is asleep, and Kang-ja sighs and starts to tuck her in… revealing Ah-ran's badly bruised wrist. In alarm, Kang-ja pulls back the covers and finds more injuries all over her arms and legs.
Ah-ran snaps awake, but it's too late to hide. Kang-ja demands to know what happened, not buying the "I hurt myself in gym class" excuse. Ah-ran says Mom couldn't do anything anyway and tells her to butt out.
Kang-ja sits down to discuss it with her husband Jin-sang, ready to barge into school tomorrow to demand a solution. Jin-sang argues that they should be more careful; they don't want this to backfire on them, and that there's not much they can do legally. He suggests inquiring quietly and transferring Ah-ran to a new school.
Jin-sang's words make sense, but Kang-ja eyes him with bitter disappointment. "If she were your biological daughter, would you say that?" she asks.
Jin-sang declares that Ah-ran was his daughter from the moment he married her, and then returns, "She's not your biological daughter either!" Huh. That's interesting, but we don't get an explanation because Jin-sang realizes he went too far and backs down.
Kang-ja leaves the room and finds Ah-ran standing outside, having heard everything. She agrees with Dad, not wanting Mom to do stir the pot, saying that whatever Mom does to help her might not in fact help. "Don't do anything," Ah-ran requests.
Kang-ja drinks by herself for a while, then takes a deep breath and tells herself to act like an adult, like a mother. Don't act rashly. So the next day, she meets a teacher at a cafe to discuss this calmly.
Meanwhile, let's meet the players behind the bureaucracy: Myeongseong Foundation runs Myeongseong High School, and there are a handful of players we'll have to get to know. I can't promise it's exciting, but it is important so here are the nuts and bolts: The foundation is headed by Chairman Hong, who's been accused of misusing public funds. He's wheelchair-bound and sickly, so his secretary, JOO AE-YEON (Oh Yoon-ah), handles the media and ushers him off. The sharp look in Ae-yeon's eye tells us to watch out for her.
Also worth watching out for is Myeongseong High teacher DO JUNG-WOO (Kim Tae-hoon), who has a distinct shark-like quality. He's also well-connected, putting in a courtesy call to the minister of education.
Kang-ja's meeting with the teacher prompts Do Jung-woo to inquire into the bullying allegations, and he interviews the students. They predictably downplay the accusations: Head bully Jung-hee swears that she never laid a hand on Ah-ran (only scared her a little), and the indifferent HONG SANG-TAE (Baro), who happens to be Chairman Hong's son, feigns ignorance. Clearly a lie, since he was the one who called alpha dog Bok-dong to intervene the other night.
Bok-dong tells Do Jung-woo to ask the victim herself. If she's too scared of retaliation to say anything, well, then she can just keep getting beat up. I can't read this guy, but it's intriguing.
Hearing that students are being questioned, timid Yi-kyung worries that this will escalate and involve her mother. Ah-ran assures her that Yi-kyung won't get dragged into this, but urges her friend to tell her mother before things get any bigger. But Yi-kyung can't have her mother knowing, ever.
Chairman Hong is wheeled into a meeting with the school's vice principal, then leaps at the man in a fury, completely able-bodied after all. You big stinkin' faker! He attacks the blubbering vice principal for passing along internal information to the prosecutor's office, getting quite violent. The music in this scene is disturbingly lighthearted.
Chairman Hong's definitely a baddie but we aren't told much about the particulars; all we know at this point is that everybody in his camp seems incredibly sketchy. His two underlings, secretary Ae-yeon and her chief secretary boss, snipe at each other and about him; Ae-yeon seems to hold herself above her crude boss, but Chief Secretary Ahn insinuates that she only got this far via sponsor relationships.
She's disappointed that the education minister stepped in and prevented something, having thought it would happen this time. Everything about the scene direction hints that she's Up To Something.
At school, Teacher Jung-woo calls Ah-ran in next for questioning. She tries to deny the whole situation, but he doesn't believe that. He suggests that Ah-ran not ruin her own prospects with her friendship with Yi-kyung, which is the source of her trouble. She replies, "Yi-kyung is my friend. I will protect her, so nobody can mess with her."
Kang-ja has a follow-up meeting with the high school teacher, whose only solution is to transfer Ah-ran to another school. He says that Ah-ran's troubles stem from her friendship with another girl (which has spurred lesbian rumors) and tells Mom that the safest thing to do is keep quiet and move. Don't rock the boat.
Kang-ja blows up at the teacher, demanding to know if the teacher would just shut up and let it slide if his daughter were beaten from head to toe. She threatens to take this to the police, the government, the court—as far as she can take it.
But Kang-ja finds herself thwarted at every turn. There's no proof, no witnesses, not even a victim's statement. The police won't help, and can't file a report.
Even so, Kang-ja's aggressive stance has the teachers nervous. Jung-woo puts in a call to someone to "proceed as discussed," in order to take care of the problem.
Kang-ja heads to the courthouse next, calling in a favor with a judge she knows. He's in trial, and Kang-ja sits in as a bullying student reads a tearful statement apologizing for taking out his pain and anger on his victim. Both boys cry and the judge guides the victim into accepting the bully's apology. The judge commends the bully for recognizing his wrongs and sentences him to community service.
Afterward, the judge greets Kang-ja warmly and asks her to wait in the cafe nearby. Her spirits lift, but while she waits she overhears a disturbance nearby—the sobbing bully is right back to threatening his victim, having put on a convincing show.
Kang-ja heads back to the courthouse, where she sees a distraught mother clinging to the judge, demanding that he save her child: "You told me to fight till the end, and I'd win! But my child died! My child committed suicide while the bully lives well!"
Stone-faced, the judge stands there looking away while the mother wails that the law can't be trusted. That rocks Kang-ja deeply.
Ah-ran walks to her night academy, and senses that she's being followed. She starts running, and with her stalker in hot pursuit, Ah-ran comes to a dead end in an alley. In a panic she tires climbing over a wall, but as she falls, her pursuer catches up to her and corners her.
She trembles as a knife is held to her throat—it's Bok-dong, reminding her that he'd warned her to stay out of Yi-kyung's business. "If you want to live, shut your mouth, shut your ears, and erase everything in your head. I know nothing."
She protests, "But Yi-kyung…" He says that everyone "who knows about that" could end up dead, and that the world is a lot meaner than she thinks. Ah-ran is nothing to "them" and they'll think nothing of swatting her dead like a fly.
"If you don't wanna die, live like you're dead," he growls. Terrified, Ah-ran agrees.
Bok-dong leaves her with a final warning that telling her mother could get Mom killed too, by somebody even stronger than him. Ah-ran collapses into a sobbing, scared heap.
Kang-ja trudges home feeling helpless, then hears something from around the corner. It's Ah-ran, bloody and shaking from shock. Kang-ja rushes to her side in alarm, holding her as she starts to fade. "M-mom," Ah-ran murmurs before her eyes roll back into her head.
Kang-ja takes her home, the warnings ringing in her ears about retaliation and blowback. A text from Yi-kyung arrives asking why Ah-ran isn't in class, and suddenly Kang-ja is bursting out of the house and driving to the academy in a hurry.
Poor Teacher Noah, whose earnest literature lecture is slept through and thoroughly ignored. As he leaves his classroom, he spies Kang-ja in the halls, asking everyone if they know Yi-kyung, and recognizes her from the pojangmacha. Given what he thinks of her (she's tough, she drinks, she swears), he assumes she's going to terrorize Yi-kyung and threatens to report her to police—although when Kang-ja snatches his phone away, she finds that he just called the operator. Haha, he's adorable.
When Noah tries to stop her, she grabs him by the throat (thereby reinforcing his misunderstanding), just as she hears Yi-kyung's name down the hall. Thinking to protect the girl, Noah lies that it's not her, but then Yi-kyung is snatched and yanked away by somebody.
Kang-ja runs after them, but loses them in a crowd of students outside. While trying to make her way through them, in the commotion a low voice (Bok-dong's?) growls into her hear, "If you keep going, ajumma, your daughter might die." And then he's gone.
In a darkened room, a man kicks down a student and issues a warning to shut up and butt out. It's Chairman Hong's Chief Secretary Ahn, who proceeds to violently kick the bejeezus out of her… and then we see that his victim is Teenage Kang-ja, and we're in her memory. He tells her to stay away from his younger sibling or have her face torn off.
Kang-ja considers everyone's warnings and suggestions, understanding just how much the system won't help her. She goes into Ah-ran's room that night and finds her daughter huddled under her desk, mumbling, "Save me, Mom. Save me…" Oof. What could a mother say to that? Kang-ja holds her close and cries.
Kang-ja tends to Ah-ran's injuries, then heads out to a nightclub, ready to do some kind of battle.
It looks like a club for the middle-aged gangster set, rowdy and roughneck. A bouncer grabs Kang-ja and tells her this is no place for kids, just as a ruckus breaks out. A disgruntled ajusshi is shoved over, and grabs the nearest person ready for a fight.
Kang-ja easily strikes him in the throat and steals his belt off his trousers to use as a whip (though she doesn't have to when his pants just fall down). She handily dispatches all the men who come swinging at her, then tells one of the gangsters to pass the message to his boss: "Beolgupo Sashimi is here."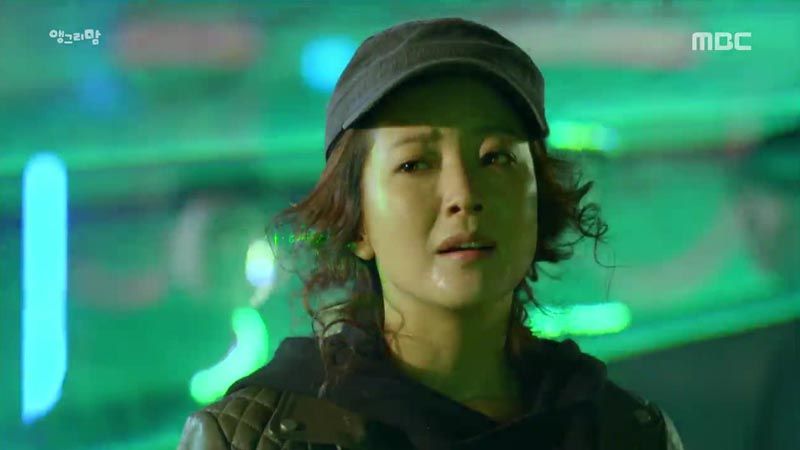 COMMENTS
I like it, even if it's not exactly for the reasons I thought I would. We've been hit with a lot of dramas lately that have advertised themselves as one thing (say, bright and cheeky comedy) only to deliver something else (moody, heavy drama), and while the end product isn't bad, I still feel bummed to not get what I'd been promised. Angry Mom was smart in starting off light and cute before it settled into the darker aspects, because I knew we'd eventually get back around to the upbeat parts.
I actually would have enjoyed a drama that was only about the bleaker, darker aspects of Angry Mom, which explored the realities of adolescent bullying, because those parts were handled deftly as well. It's just that with the promotions we've seen, we were teased with funny, so we'd better get funny. It's all about managing and delivering on expectations!
There are several things I really responded to, but by far the most compelling was the mother-daughter relationship, and specifically Kim Hee-sun as the mother. It's amazing that nearly two decades into her career she seems to be putting in her first substantial performance, but better late than never, right? She's always been a likable actress in my book, particularly in lighter fare, but I've never thought anything special of her acting. Yet here, she's passionate and fierce, and I completely buy her protective mama lion stance, trying to contain her rage and frustration at a system that just doesn't care about something that is her everything.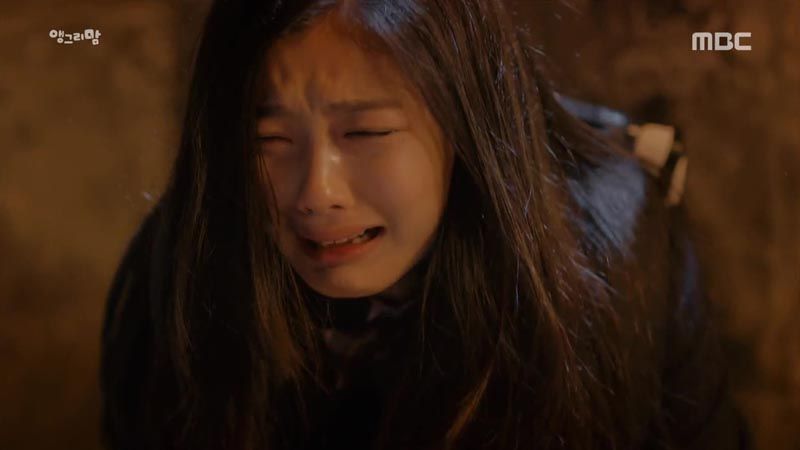 That wouldn't be nearly as convincing if the mother-daughter relationship weren't well-drawn and compellingly acted, so Kim Yoo-jung is pivotal as well. I like her here already more than I have in everything I've seen her in before, partly because I think she's improving but also partly because a lot of her characters have been flatly good. Ah-ran has more depth, and I like her mix of bravery and fear, her strength and vulnerability. I want her to heal her rift with her mother and stand on her own feet, just as much as I want her to let her mother help her. I expect that'll be the trajectory of this drama, and I'm looking forward to it unfolding—I've got my tissues ready, since already the first episode made me tear up in several spots, all of them between Kang-ja and Ah-ran.
There's a sizable dose of intrigue and mystery intertwined into the plot, and it's too early to tell how it'll go. I like that there's a bigger story at play, but I also do hope we won't spend too much time with corrupt bigwigs and scheming underlings. There's something strange going on with Yi-kyung, her fear of her mother knowing something, and Bok-dong's actions, not to mention the aloof Sang-tae—are the boys helping, or are they part of the problem? I find that dynamic interesting, but I'm not as interested in Chairman Hong or his revolving door of principals and puppets. Especially when we could be spending our time with Noah (so cute!) and Mom and high school hijinks—I can't wait to see badass Kang-ja reawakened and ruling the school. Thankfully the show moved quickly enough to set us up for that to happen soon, so I'll see you next episode!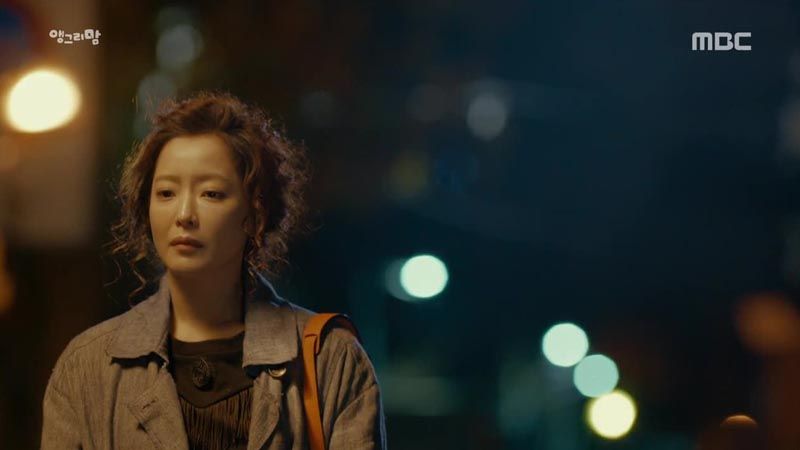 RELATED POSTS
Tags: Angry Mom, Baro, featured, first episodes, Ji Hyun-woo, Ji-soo, Kim Hee-sun, Kim Yoo-jung