Running Man: Episode 237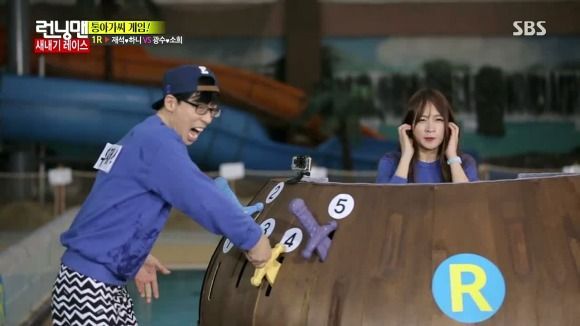 It's the start of a new academic year in Korea, which is also the perfect time to make new friends and potential new lovelines. A group of ladies come to play with the cast on both and ready to take on any obstacle, from hurdles to flying chairs, and trivia questions. Get ready for a tension-filled game that will require our pairings to use their brains and figure out what will keep them on top or drag them down to the bottom.
EPISODE 237. Broadcast on March 8, 2015.
On this brisk March morning, the guys note Ji-hyo's absence the opening, which can only mean one thing: female guests. Time to meet today's guests: EXID's Hani (of that addictively catchy "Up & Down" song, actresses Nam Ji-hyun (What's With This Family), Jung So-min (Big Man), and Yoon So-hee (Secret Door), rounded out by rookie idol Yerin (GFriend).
With all of these beauties, Ji-hyo gets a lackluster reception. In any case, today's Freshman Race coincides with the beginning of a new academic year (as schools in Korea start in March, as opposed to say, August or September in the States).
Then it's time to announce our pairings: Jae-suk and Hani, Jong-kook and Ji-hyun ("You'll go through a lot today!" "He nags a lot!"), Gary and So-min, Kwang-soo and So-hee, and Suk-jin and Yerin. Which leaves a disappointed Haha with Ji-hyo. Haha (to the staff): "Why are you all doing this to me?"
Our couples will start off by choosing an item and exchange them based on hints acquired from winning today's mission. Whoever ends up with the right item at the end, wins. To everyone's surprise, the ladies charge at the table to grab a item. Something tells me these girls are in to win it.
Haha adorably plays wingman to Kwang-soo, sending well-wishes to So-hee. Kwang-soo is impressed by her logical deductions, attributing it to being a KAIST student. Meanwhile, Jae-suk is understandable to Hani's exhaustion given her rigorous schedule as in idol.
She slaps on a smile, but she's down for the count soon enough. When she finally wakes, Jae-suk jokes, "I thought you were dead." She even lets out a burp through the window and apologizes afterwards.
Our teams gather at gymnasium, greeted by that oh so welcoming acupuncture mat. Suk-jin and Yerin are jokingly referred to as the "Star Junior" Team for the 30-year age gap between them. Gary teases So-min for her uncommon word choice in her vocabulary, then the guys point out that So-hee fits the bill on the type of girl Kwang-woo tends to like.
Of course, that only causes Kwang-soo to flush a deeper pink. When Ji-hyun arrives, she brightly claims that Jong-kook didn't nag in the car, but the others know that the day is still young. Kwang-soo: "Once you finish a game, that's when the criticism starts." Ji-hyo: "You'll never hear the end of it if you don't do well."
In this first game, our guys will carry their female teammates, toss them over the hurdle, piggyback them on the acupuncture mat (ow!), bite the snack, and then finally throw and catch a ball between them. Oh, all barefoot, but we knew that would be a given.
Jong-kook is first to toss Ji-hyun over the hurdle, though he ends up slipping on the mat. Some guys have an easier time at it than the others, but Ji-hyun's the first to bite on her snack. Jong-kook and Ji-hyun have a nice cushion of lead time whereas the mat hyungs continue to throw (and fail) to toss their teammates over.
Among the three teams trying to toss and catch the ball over and over again, it's Gary and So-min who succeed first. When Suk-jin asks for a handicap, Kwang-soo silently attempts to raise Jong-kook's hurdle.
Jong-kook says it needs to stay low lest the fall injures Ji-hyun, but that just strikes up an argument between the guys, all, You didn't worry about US for the past five years.
As expected, Jong-kook takes the lead, and this time, Yerin hops over the hurdle. Ooh, smart. The remaining team fight for any ball they can see, and it's Jae-suk and Hani who grab second place.
Kwang-soo gets called out for trying to act cool versus his dorky (but lovable) variety persona. Jong-kook and Ji-hyun take the lead for the third time in the third round, although Kwang-soo and So-hee catch up soon enough.
After a few attempts at interference, both couples throw their balls up simultaneously… and it's Kwang-soo and So-hee who snag third place. While first and second place teams get a hint and chance to switch up love signs, our third place team can only do a switcharoo.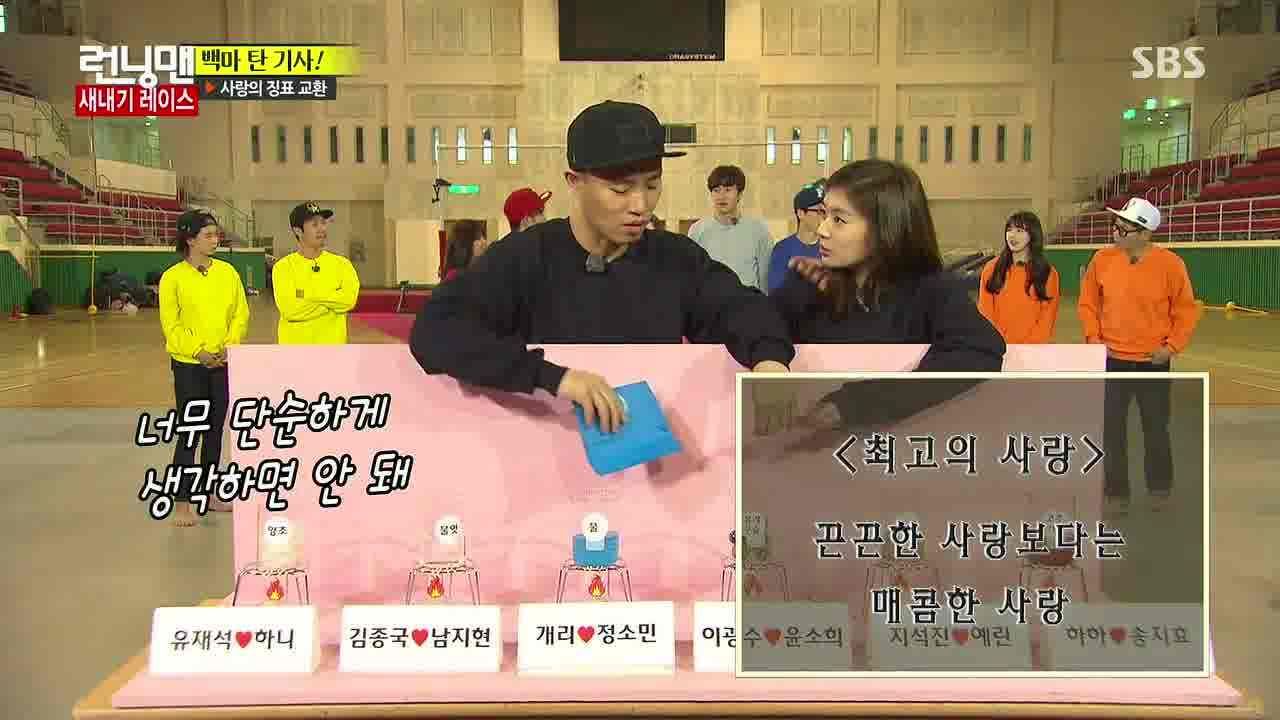 While Jae-suk and Hani switch items around, Suk-jin points out that the first switch is virtually meaningless since the teams have so little to go off of. Jae-suk tells him to keep quiet if he's not in the winner's zone.
So-min's adorable out-of-date vocabulary shows up again when she tells Gary that she wants to "keep" their current love sign. Using their clue that a "spicy" love is better than a "gooey" one, they switch out for the hot pepper oil.
Then it's off to the swimming pool where our teams will engage in a game that looks like a hybrid Pop-Up Pirate Game and flying chairs (the boys will insert "swords" into the numbered barrel until the ladies go flying). Our ladies have the honor of sitting in the hot seat, and the response is mixed among the guys between relief and sadness.
In a round of rock-paper-scissors, our resident Lady Luck aka Ji-hyo chooses the first two teams to play. They initially choose Jae-suk and Hani first, but a performance of the ever-catchy "Up & Down" is enough to revoke that choice.
That leads to a dance-off that will determine who'll sit in the hot seat. So-hee's dance with Kwang-soo looks like straight out of a club, while Ji-hyun's cute wave has the others refer to as "the model student wave." So-min's traditional dance (to electronica beat) has everyone bust a gut, but you gotta give her points for committing to it to the end.
Maknae Yerin gives it everything she's got to the point that she accidently knee-kicks herself. Ouch. But as soon as a GFriend single comes on, she immediately switches to the song's choreography… but then reverts back to her hilariously exaggerated dancing when the music changes again. LOL.
Her moves are so addictive that before long, she's got the others doing the same. Even after all that effort, however, Jae-suk and Hani are pitted against Kwang-soo and So-hee. Jae-suk: "Do you really hate me and [Kwang-soo] that much?"
Jae-suk tries a ritualistic dance and even spews water in hopes that So-hee will go flying first. Kwang-soo's first try is a dud, so he mirrors Jae-suk's dance and water ritual, though this time he spits the water into Jae-suk's face. Twice.
Both Jae-suk and Kwang-soo get through their first two attempts without incident (much to their relief) and any turn after that makes them even more nervous. With three slots remaining, Jae-suk inserts yet another knife…
… and nothing happens. Jae-suk looks like he's about to pull something due to his building anxiety, and Kwang-soo's jaw drops in awe. Now Jae-suk and Kwang-soo insert their last swords simultaneously… and it's So-hee who goes flying.
No one wants to meet Jae-suk's gaze after witnessing their potential fate. But when Jae-suk suggests that the guys race, they all rise immediately, not caring that they have to get wet and trudge through the pool in order to get back to Jae-suk first. Then when Suk-jin hugs him first, Jae-suk tells him that it's his lucky day.
Kwang-soo chooses the unlucky number and tries to mess with Suk-jin's head about his first choice. But Suk-jin commits, Yerin yelps… and nothing happens. Jae-suk and Suk-jin go back and forth, and at one point, Hani insists on four—though she giggles that it'd be funny if she went flying after all that insistence.
Fortunately, nothing happens. Suk-jin turns to Kwang-soo for advice, but he goes against Kwang-soo's warning about number nine. And then pays for it when Yerin goes flying into the pool.
Jong-kook and Ji-hyun are the next pairing to go up against Jae-suk, and the number to avoid this time is three. When Jae-suk lets Jong-kook go first, Spartakooks dishes back, "Can't I stab Jae-suk?"
Both Jae-suk and Jong-kook call out numbers until Jae-suk finally calls out three. We know that means Hani will be flown out of her seat and yep, into the pool she goes. Afterward, she brightly says that are falsies are still in place. Heh.
But the best is Gary, who chooses the unlucky number right at the start. He can barely believe it even after So-min is ejected from her chair. So now it's down to Haha and Ji-hyo vs. Jong-kook and Ji-hyun, and Haha clears his first attempt.
Then Jong-kook chooses four and Ji-hyun goes flying, putting Haha and Ji-hyo in first place. Again, our top three teams are given a chance to switch items around. Jong-kook and Ji-hyun are granted a "yes/no" question, to which they ask, "Does it have anything to do with fire?" Answer: "No."
Haha and Ji-hyo are given the chance to ask a question as well, so Haha asks what kind of "experiment" will happen at the final mission location. He's told that it involves density. It's information, but doesn't really help deduce anything for them. Once they make their switch (candle wax for marbles), it can't be undone.
So-hee makes a keen deduction in the car by noting that the water is dyed because it's the same clear color as the corn syrup. She thinks that everyone's items will be combined at the end, but the team that possesses the item with the lightest density will win. Smart.
While that duo is busy using their noggins, Hani snacks in her car. Her eyes go wide when she hears that the show once gave out a diamond ring as a prize. LOL, her facial expressions are the best.
The Easy Brothers and their teammates are first to arrive at their third mission, where they'll need to climb stairs up a hill carry giant stuffed teddy bears, and their teammate will need to correctly answer a trivia question.
It sounds simple enough, but nothing is ever simple on this show. Those dolls have been sitting out in the rain, which means they're wet and heavy. The question, however, is an entirely different manner. Suk-jin knows the 1989 song "An Ideal Woman," but he argues, "Yerin was born in 1996!"
But while Yerin knows of the song, she doesn't know the specific lyrics. And then by the time Suk-jin returns to the bottom, he opts for a short break before being given his next question. Ha.
While Gary knows what the lowest grade in the Korean academic grading system is, he doesn't know what it ("ga") stands for. Neither does So-min, who makes a guess anyway, but it's wrong.
But So-min feels confident about her Greek mythology, and eureka! It's correct. Suk-jin makes the sad climb up to the top, repeating his Harry Potter question to himself along the way. He's disappointed when he learns that Yerin doesn't know anything about the Potterverse.
Things appear to look up for Kwang-soo and So-hee, the latter of whom correctly identifies the "La Cucaracha" song as a reference to a cockroach. Kwang-soo doesn't seem to believe her at first, but nevertheless, this means they pick up second place.
The other teams try their best to mess with Jae-suk and Hani's brains about the "An Ideal Woman" lyrics, offering that it's of a woman who meets "the whites of the other person's eyes." When Hani gets it wrong anyway, Jae-suk jokes that he knew that they wouldn't win today from the moment she was snoring in the car.
Even with a few sageuks under her belt, trivia still isn't one of Ji-hyo's strengths. Asked where the hotspot for young people in the Joseon era, Gary accidentally gives away the right answer ("Apgujeong"). Only that Ji-hyo names a different place instead.
Jae-suk and Hani snag third place by answering their trivia question correctly. Poor Suk-jin hasn't even made it down the stairs when he hears the news, and that solo shot of him standing there with a giant teddy bear is depressing yet funny. Caption: "And they say the early bird is the first to grow tired…"
Our teams gather together again for one final swap. A flashback teaches us that Jae-suk and Hani suspect that today's mission has to do with the items' boiling points. So following that logic, they believe that it's either hot pepper oil or corn syrup they're looking for. They go for the hot pepper oil.
Kwang-soo has trouble figuring out where he should best read his hint until he finally tells Taek PD that this is the first hint he's received today. Jae-suk then takes the opportunity to taunt Kwang-soo again, saying that So-hee will end up figuring everything out on her own anyway.
At least Kwang-soo and So-hee's hint informs them that they're currently within the top three. While the two discuss in whispers about which item will float at the top, Suk-jin and Yerin exclaim that they haven't once seen what the items looks like today.
Gary and So-min are informed that they're currently in fifth place with their corn syrup item. It looks like they were tossing around the idea of density too, so as such, they take the hot pepper oil from Kwang-soo and So-hee.
Now all that's left is to test everything in a long cylinder and see what will float at the top. Before Jae-suk can pour in his water, Jong-kook and Ji-hyun ask if they can place their marbles in first.
Suk-jin and Yerin's peanuts fall right to the bottom, but when Kwang-soo starts pouring in the syrup, the peanuts rise to the top. Jong-kook and Ji-hyun fully expect their marbles to fall to the bottom… and so they do.
Interestingly enough, the candle wax float atop the water with the peanuts. Finally, Gary pours in the oil, hoping to take the candle wax and peanuts down. And while the peanuts slip down to the oil-water layer, the candle wax safely float at the top, making Haha and Ji-hyo our victors today.
Kwang-soo points out that So-hee figured out the game from the start and bragged about her knowledge about density, only to be outsmarted by that darn candle wax. When Suk-jin tries to insist that the lone peanut at the top qualifies as a tie, Kwang-soo fishes it out and pops it into his mouth. Eww.
Two seconds later: "Ah, it's spicy!" Well that's what you get for eating a hot-oiled peanut. What else did you expect? Heh.
RELATED POSTS
Tags: featured, Haha, Ji Suk-jin, Kang Gary, Kim Jong-kook, Lee Kwang-soo, Running Man, Song Ji-hyo, Yoo Jae-suk