Ho-gu's Love: Episode 15
Do-hee and Ho-gu still have a lot of things to clear up before they can be together, but until Do-hee can come to terms with her past and be honest, there's not much hope. We finally learn who's grave she's been visiting all this time, and why that person made such a strong impression on Do-hee's life. But that impression may not be such a good thing for her to keep carrying around, not if she wants to move forward and be happy. Part of moving forward is letting go of the past, however difficult that may be.
EPISODE 15 RECAP
Fifteenth Foolish Act: "Let's not hide our face."
Geum-dong rolls over for the first time, and as Do-hee and Ho-gu watch him, Do-hee tearfully suggests they stop. She means stop dating and Ho-gu agrees, but he's only agreeing to stop fighting, admitting he got a little sensitive for a minute.
Meanwhile Ho-kyung confronts Kang-chul for giving Kyung-woo her number, accusing him of thinking about nothing but himself. He looks baffled when she asks if he even once thought of how she feels, which pretty much answers her question. She storms out, and Kang-chul clutches his chest — where his heart is suddenly pounding. He follows Ho-kyung and starts to tell her something, but he just nervously asks her to go to Geum-dong's 100-day celebration with him.
Everyone shows up to Geum-dong's party, but Ho-kyung looks miserable and doesn't notice Kang-chul shooting her curious looks every time he gets a chance. Gong-mi calls for a group selca but Ho-kyung has difficulty getting everyone in the shot, until Kang-chul breaks out his selca-stick. Aww, he's so proud, and doesn't even notice everyone giving him the serious side-eye, hee.
Ho-gu and Do-hee sit for pictures, but the air is awkward and they have to be encouraged to smile and look affectionate. They break apart as soon as the pictures stop, but luckily nobody notices.
Tae-hee and Chung-jae invite Kang-chul out for drinks after the party, and it's cute how he hesitantly asks if Ho-kyung will be going, too. She shoots them down, saying she's busy, but the guys decide to go out together anyway.
Later that night Ho-gu hangs out with Ho-kyung in her room,and when asked, Ho-gu says he doesn't want to be alone because there's so much in his head. He's wondering if he's really just the underachieving loser everyone else sees, and Ho-kyung asks if being in a relationship isn't what he thought it would be.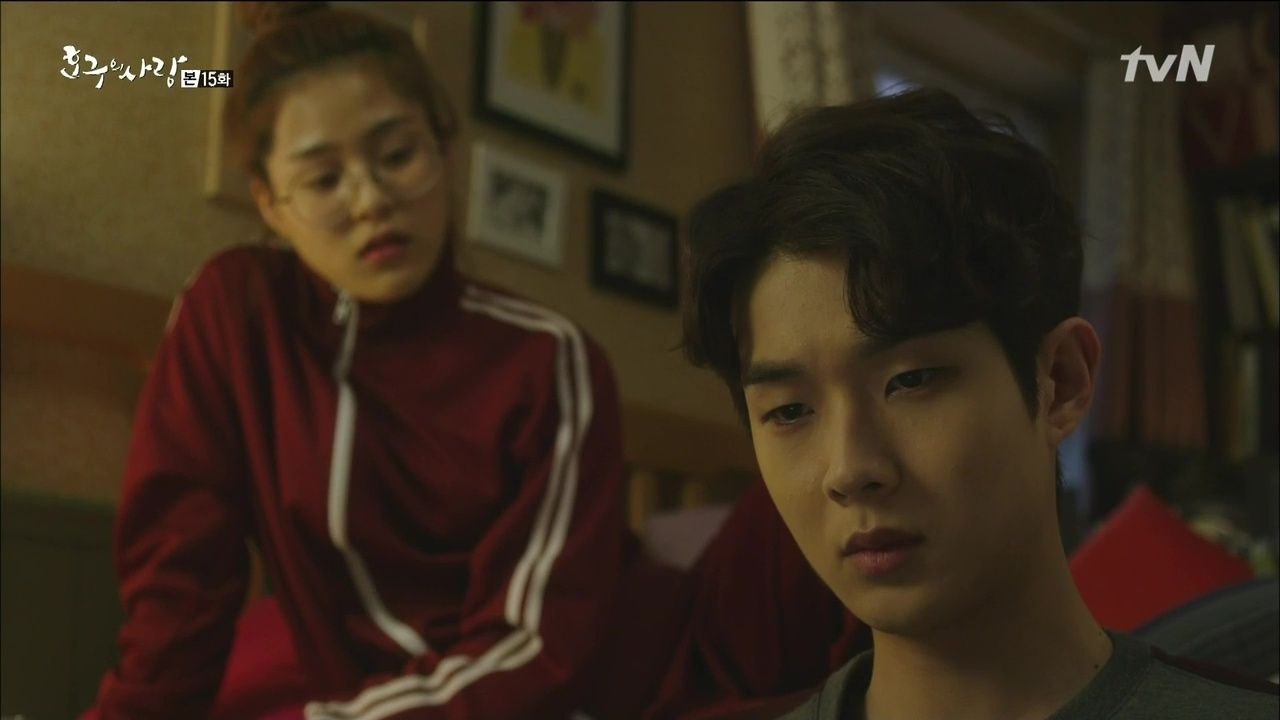 Ho-gu bluffs that it's just fine thanks, but Ho-kyung asks if he's feeling insecure about Geum-dong's father. Ho-gu is surprised, but she's a smart cookie. She says she figured it out from Do-hee's comment that maybe the little mermaid didn't speak, not because of a spell, but because her words would have angered the prince. She tells Ho-gu that in her opinion, Do-hee is hiding something.
Kang-chul comes home drunk and happy, and congratulates Geum-dong (he always calls the baby "Geum-deng" when he's drunk, which cracks me up) on his 100-day birthday. Do-hee comments that Kang-chul seems more human since he became gay, but he protests — he's not gay anymore! He passed that test and even made same-sex friends, which he thinks proves it.
Do-hee says he must have forgotten about Ho-gu then, making Kang-chul look up in surprise, wondering how she knew. She says that since there's no way whatsoever that he could like her, she figures he's tolerated all this change in his life because of Ho-gu.
Kang-chul admits that Ho-gu makes his heart race, but he's not sure if it's romantic feelings or culture shock. The only thing he knows for sure is that, because of Ho-gu, he's able to understand Do-hee better. Now he knows how she could have wanted to hide, but expose her rapist, all at the same time.
Do-hee looks touched, and tells Kang-chul to stay gay – he's a better person that way. Offended, Kang-chul clutches his metaphorical pearls and tells her, "If you like it so much, then YOU go be gay!" As he flounces off, Do-hee hollers that he's just jealous because she stole Ho-gu from him. HA.
Kang-chul's mom starts to tell her husband about some research she's doing into homosexuality, but throws her pen down in frustration and says it's all useless words. She asks why Dad is even in her room, which makes him twitchy, and he pretends it's nothing. But before he leaves, he offers to sleep in her room (pretending he can't sleep worrying about Kang-chul) and her eager agreement is adorable.
Kang-chul sits in his own bed and texts Ho-kyung, asking what he did wrong. She doesn't answer, but looks sadly at the shoes he tied for her so long ago, and says that she's getting tired. We see that Do-hee and Ho-gu are both up late too, thinking of each other and unsure what to do.
Everyone is up late worrying, and Ho-gu's parents are no exception. Mom tells Dad that she met with Kang-chul's mom again, who had cried that she'd gone through Kang-chul's study and found Do-hee's lawsuit papers. Shocked to know that Do-hee isn't just a single mother but that she was raped, Ho-gu's mom stays up late worrying, and finally gets up and starts to write a letter.
The next day Do-hee struggles at swim practice because of a sore wrist, and her coach calls a break. She sees that Ho-gu's mom has come to see her, and they sit outside to talk. Mom says that Ho-gu takes after her and not his father, because really, she's the soft-hearted one in the family. She just hides it well.
Mom calls herself "small-minded," but Do-hee says that's not it – it's just that she's a mother. With a very open expression, Do-hee says she knows Mom came her to say something difficult, and invites her to say whatever she needs to say. Mom gently takes Do-hee's hand and massages her sore wrist, and tells her that she'll have a lot of aches for a while after giving birth. Coach calls Do-hee inside for a minute, and Mom says she'll wait for her to come back.
But when Do-hee returns, all that's on the bench is an empty drink carton, and Mom is nowhere in sight. She finds Mom quickly, but ducks behind a pillar when she sees that Ho-gu's dad is there too, and that Mom is sobbing on his shoulder. She cries that looking at Do-hee breaks her heart, and she couldn't say what she came to say.
Do-hee goes back to the bench alone and picks up the discarded drink carton, wondering if Mom leaves notes in them like her son. Sure enough, there's a note inside, and Do-hee takes it out — it's the letter Ho-gu's mom wrote late in the night.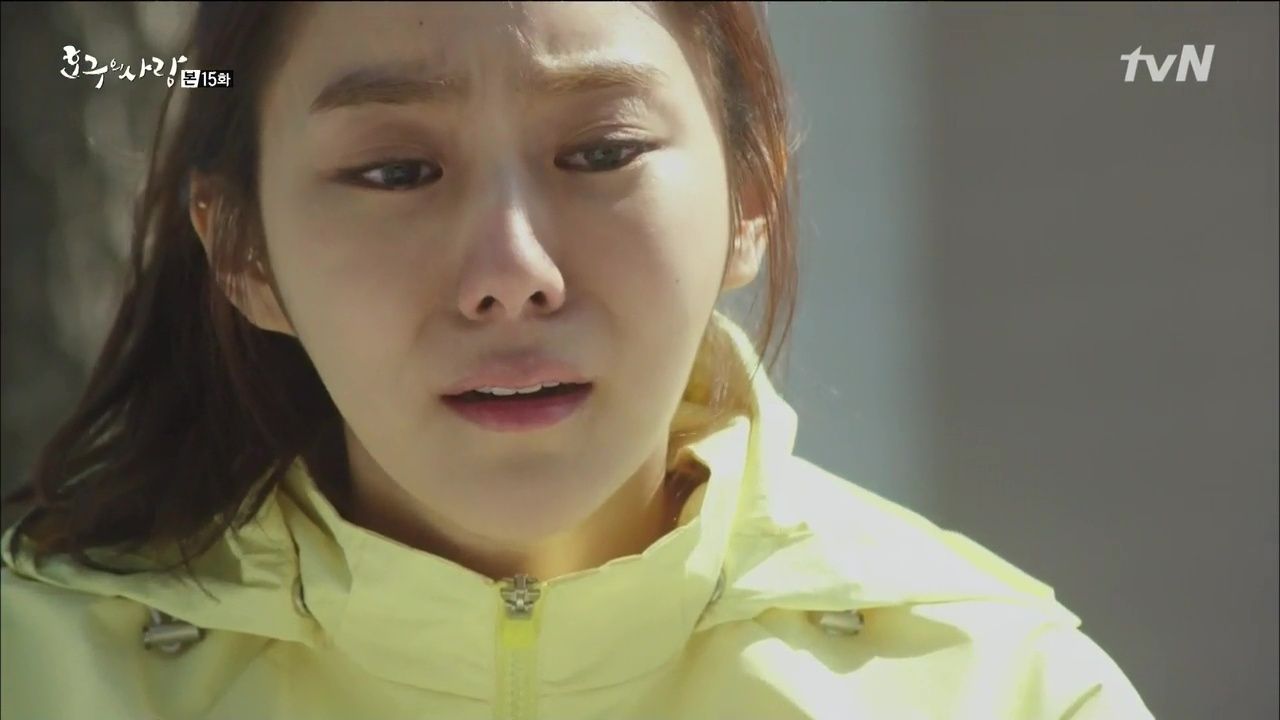 The note is addressed to Do-hee, and Mom asks if she's going to continue to raise her baby. She wonders about Do-hee's parents and if they know, and asks permission to meet them (not knowing they've passed away). She asks Do-hee's plans regarding Ho-gu, which makes Do-hee start to cry, understanding now what a hard time Ho-gu's parents are having with all this.
Ho-gu brings Geum-dong home, but instead of finding Do-hee in Kang-chul's apartment, he finds CEO Park and her assistant packing up Do-hee's things. CEO Park tells Ho-gu that she's arranged everything — Do-hee will live in the company dorms, and that she'll be taking care of Geum-dong herself until they can arrange a formal adoption.
Ho-kyung is still ignoring Kang-chul's texts, and has a hilarious conversation with herself with her face half-made-up. Her bare side wonders if she should let Kang-chul win this one, but her made-up side angrily forbids herself to call him. Her bare side asks if she should at least call him back, and her made-up side snaps that she'll never do it.
Ho-kyung goes out in her raggedy tracksuit, and finds herself face-to-face with Kang-chul. He's come looking for her, but doesn't even realize it's her with her hair up and no makeup on (I love the running gag that Ho-kyung is completely unrecognizable without her makeup). Ho-kyung goes with it, and pretends she's just passing by the house. She meets Gong-mi for drinks, and wonders if there's a man in the world she could ever show her bare face to.
Ho-gu calls Do-hee from Kang-chul's place, but she says she's going straight to her new dorm from practice. He asks to see her, because the photographer is going to frame Geum-dong's picture and he has something to give to her. Do-hee agrees to meet him at the photography studio, and quickly hangs up. We see that she's not at practice, but at her friend's grave, where she finally speaks her friend's name — Ji-yoon.
Ho-gu holds a letter and swears that today he'll tell Do-hee… something. He goes into Kang-chul's study for some glue, where he sees a file marked with Do-hee's name. He reads it, and his face falls. When Kang-chul comes home, he finds Do-hee and Geum-dong's things all missing and Ho-gu sitting on the floor of his study, holding the file and in a state of shock.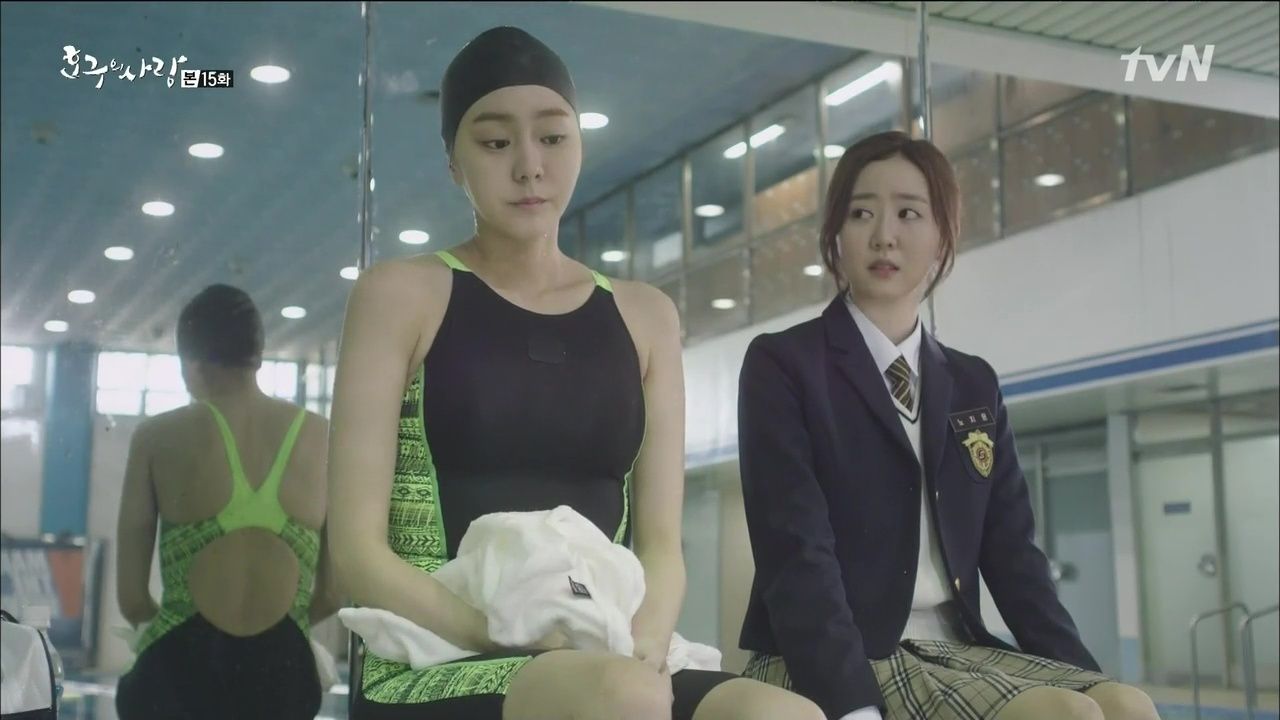 Kang-chul calls Do-hee to let her know that Ho-gu saw the file, and she hangs up and says sadly, "Ji-yoon, my prince found out." She thinks back to the day her classmate refused to eat the purity candy, and sure enough, the girl is Ji-yoon, who is now deceased. Later that day, Ji-yoon waits for Do-hee after swim practice, and Do-hee offers to teach her to swim.
Ji-yoon accepts, but admits afterward that she actually hates swimming because she hates the feeling of the water confining her — she just doesn't want to go home. Do-hee notices some pretty serious bruising on Ji-yoon's torso, but Ji-yoon only says that she hates everything having to do with her body and that she won't go swimming again. Back in the present, Do-hee tells Ji-yoon's grave that, since Ho-gu is a prince, the least she can do is say a final farewell.
Kang-chul comes clean about the lawsuit papers to Ho-gu, telling him that this is why Do-hee came to him in the first place. Ho-gu wants to know who assaulted her, but Kang-chul admits he doesn't actually know. He says that he buried it for the sake of Do-hee and the company, and that above all, Do-hee hadn't wanted Ho-gu to find out.
Do-hee sits in CEO Park's car and remembers going to Ji-yoon's house for the first time, where she'd seen Ji-yoon come running out with her face bloodied and her clothing torn half-off, having obviously just been sexually assaulted, and not for the first time. The girls had sat in a park, and Do-hee had urged Ji-yoon to make a police report. Ji-yoon says that her abuser would only tell the world that she seduced him.
Do-hee said Ji-yoon should at least tell her parents, but she really can't do that – the shock would kill them. But most of all, Ji-yoon says she doesn't want people looking at her like Do-hee is looking at her now, with pity in their eyes. In the present, Do-hee realizes that if she sees Ho-gu now, he'll look at her in that pitying way, too. She tells CEO Park to just drive her to the dorms, and looks at the seat next to her, where the specter of her dead friend Ji-yoon sits.
Their drive takes them right past the photography shop, and Do-hee sees Ho-gu there waiting for her. She doesn't say anything as they pass, and Ji-yoon's spirit puts a comforting hand on her shoulder as Do-hee starts to cry.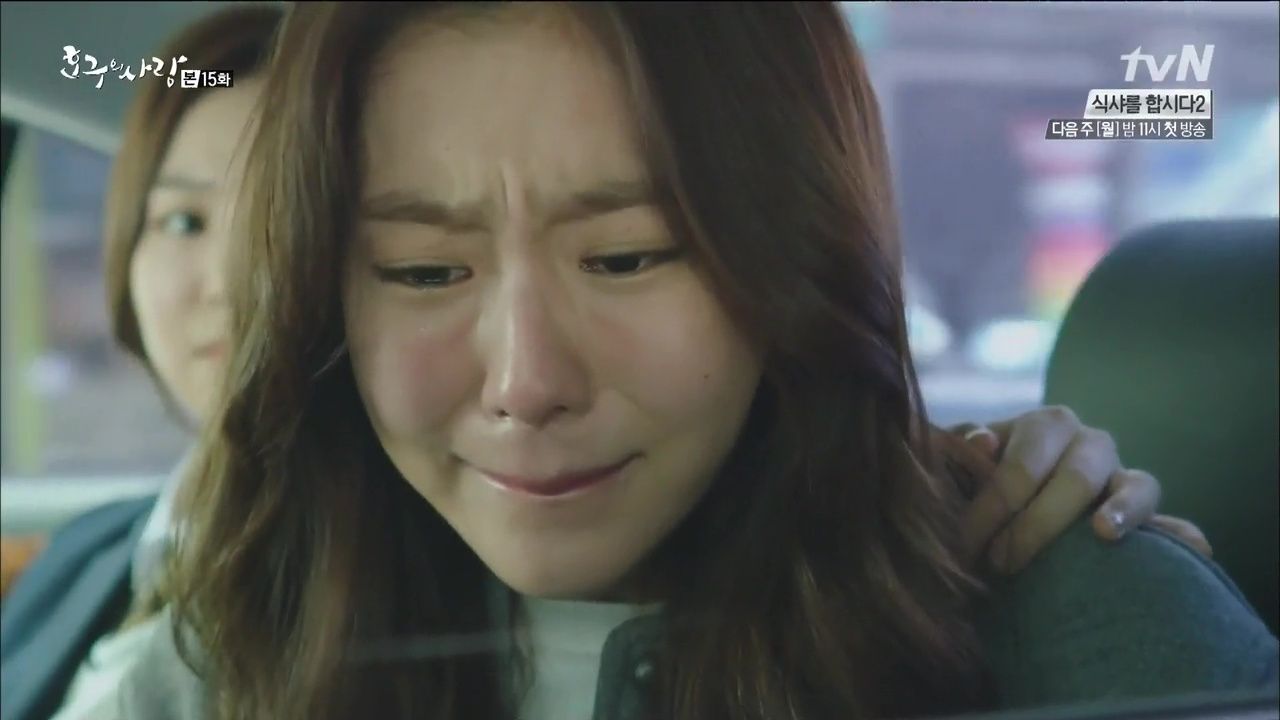 Ho-gu waits all day next to the photo of himself, Do-hee, and Geum-dong looking like a happy family, displayed proudly in the shop window. Finally after dark, the shop owner asks if he wants to take the picture, but Ho-gu declines, saying his friend will certainly come to see it tomorrow.
But she never does, and after some time goes by the photo is relegated to a corner of the window, half-hidden behind another photo. In his office, Kang-chul checks the latest installation of a webtoon called "Winged Baby," by Kang Ho-gu. Geum-dong's story is now a popular webtoon, but Kang-chul declares it boring as usual, hee.
He heads to court, but Gong-mi doesn't jump up to wish him luck anymore… kinda hard to do when you're hugely pregnant. Kang-chul gapes at her massive belly, which Gong-mi says (amongst many eyerolls) that he'd have noticed if he ever paid attention to anyone but himself. At least Kang-chul has the grace to look chastened, having heard this particular accusation before.
Gong-mi's babydaddy, Chung-jae, yells at Tae-hee and his new girlfriend for making kissyfaces at each other at work when he's trying to earn money for diapers. He gets even more upset when they exclaim at how popular Ho-gu's webtoon has gotten lately.
Coach marvels to Do-hee at practice about how good Kyung-woo has gotten lately, having recently won a gold medal and setting records right and left. He tells Do-hee to work harder, since her CFs have been given to her teammates, but Do-hee hardly seems interested. Coach says there's a gold medal in it for her if she does, but Do-hee doesn't seem as eager for a gold as she used to be.
As she heads listlessly back to the pool, we see that Do-hee had been more interested in reading Ho-gu's latest webtoon. Apparently Ji-yoon's spirit is still following her, and she chastises Do-hee that she'll never win a gold medal this way.
Do-hee visits Geum-dong (he's gotten so big!) at the orphanage, but the lady who takes care of him doesn't seem to know she's his mother. She mentions that another visitor brought Geum-dong some really great diaper cream for his rash, and Do-hee notices a familiar rattle in Geum-dong's things, but she doesn't remember bringing it for him. Awww, is Ho-gu visiting Geum-dong, too?
Do-hee meets with CEO Park about some possible CF offers, but doesn't seem interested in those, either. Things get super awkward when Kyung-woo enters the room, and at least CEO Park looks upset that he showed up early for their meeting. Do-hee leaves the room, only slowing to give Kyung-woo an icy glare. In the hallway she asks his photo why she has to avoid him, and Ji-yoon's reflection reminds her that fighting him could get her hurt.
Ho-kyung comes running into a bookshop, where Ho-gu is dressed to the nines but hiding because he's gotten a rip in his pants. HA. He blames her for dressing him in too-tight pants, but she says she was only trying to make him look good for his signing event. Luckily, she's brought him some new pants.
As Ho-gu heads to the signing table, he runs smack into Do-hee, who looks just as surprised to see him here. They make halting small talk, but Ho-kyung arrives to announce that this is Ho-gu's signing event, and brag that he's soooo successful now. Ho-gu is called to the signing table, and Ho-kyung circles Do-hee like a vulture then leads her out for a talk.
Ever the straight-shooter, Ho-kyung asks point-blank why Do-hee just disappeared like that. She tells Do-hee that everything started going well for Ho-gu after she left, which Do-hee takes gracefully.
Later, alone in her dorm room, Do-hee thinks about the next thing Ho-kyung had said to her. She'd told Do-hee that Ho-gu is getting married, but that he didn't want Do-hee too know. Do-hee had hidden her devastation, extending congratulations to Ho-gu, but Ho-kyung told her to tell him herself. Do-hee sits in the dorm, alone and frustrated, with only Ji-yoon's memory for company.
She goes to Kang-chul to talk, who confirms that he also heard about Ho-gu's upcoming wedding. Do-hee pretends they never really had anything, and comments that Kang-chul's place is back to feeling cold and empty. She noticed he hasn't changed his pass-code, which is so cute – I knew he secretly loved having people drop by.
When Kang-chul asks if Do-hee plans to go to this year's class reunion, she plays it cool, but shows up anyway. Her classmates scramble for pictures and autographs, and she finally has enough and retreats to the restroom, where she runs into Tae-hee. She asks him if Ho-gu is coming tonight, but Tae-hee says he's too busy with wedding preparations.
Do-hee decides to leave, and finds herself face-to-face with Ho-gu, who came after all. They go for a walk by the Han River, where Do-hee gets all flustered and insecure. Finally she gets up the guts to apologize for not saying goodbye, but Ho-gu just coolly excuses her, knowing she was busy then. She asks if Ho-gu visited Geum-dong and left him the rattle, but Ho-gu denies doing any such thing.
They sit on a bench and have some juice, and Do-hee mentions Ho-gu's upcoming wedding — but he's still playing things close to the vest, and doesn't offer any more information. She asks what he wanted to give her that day at the photography shop, but he wonders why she wants to know now, so long afterward, and refuses to say. He admits he suffered a lot then, and doesn't feel like comforting her.
He goes looking for a restroom, and Do-hee notices he left his empty juice box on the bench. Knowing how he leaves things that hurt behind this way, she checks, and sure enough the empty box contains a letter. Ho-gu had written it the day CEO Park had moved Do-hee out of Kang-chul's place and taken Geum-dong away.
In the letter, he reminds Do-hee how she asked him what his plans were, if not dating. He'd said he didn't know if they were dating, in love, or just flirting, but he knew one thing: Do-hee is "my Geum-dong's mom." She hadn't given up on Geum-dong, and had gone through so much to have and keep him — to Ho-gu, that makes her an amazing woman.
He'd entreated Do-hee not to feel guilty or ashamed, and just to be happy. As Do-hee reads this and realizes what she missed out on, she lets her grief roll over her and gives in to tears. She thinks to herself that Ho-gu is her happiness, and wonders what she'll do now that she's lost him.
A bit later, Ho-gu and Do-hee stand at a crosswalk waiting for the light, and Ho-gu muses that it's probably too cold to go to the beach. He sighs to himself, "I want to see the sea," and Do-hee looks up hopefully. Ho-gu shakes her hand in farewell and heads across the street, leaving Do-hee on her side — girl, that was your green light, go go go!
Do-hee stands for a long moment, frozen with indecision, and says in voiceover that she still doesn't know why she acted the way she did that day. Maybe it was the full moon, or the night air, but for the first time, she became a loser. She runs to Ho-gu, leaving the ghost of Ji-yoon standing alone by the side of the road.
Do-hee grabs Ho-gu's arm and he whirls around, and now his hopeful expression matches her own. "Let's go to the sea," she says, but Ho-gu reminds her that he's getting married. Do-hee's face falls and she apologizes for forgetting, but Ho-gu swoops in to shut her up with a kiss.
COMMENTS
I love this last scene so much! It's wonderful to see Ho-gu and Do-hee play out their earlier meeting with their roles reversed, and this time Do-hee has to be the one to let go of her insecurities and go for what she wants. Since she's the one who gave up on love for fear of what Ho-gu would think of her, without even bothering to ask him (more on this later), she needed to be the one to fix it. And I think Ho-gu played her quite skillfully.
Because at this point — and I haven't seen the finale so no spoilers please — I'm positive this whole wedding thing is a red herring. If Ho-gu is planning a wedding to anyone, it's to Do-hee. I'm pretty sure he and his friends cooked this up to make Do-hee feel a bit desperate to make her feelings known. While I don't normally support lying and manipulation, in this case (and knowing how Do-hee only digs her heels in when confronted directly), I think a little smart maneuvering is in order. Do-hee is like a skittish fawn that you can't approach directly, you have to come up on her slowly and sideways, and make her think that coming to you is her idea. So in this case, I think (what I'm sure is) the plan worked perfectly. And it's not even really lying, if you think about it… the person Ho-gu is planning to marry is almost certainly Do-hee, and nobody mentioned the potential bride's name!
The whole final scene was orchestrated perfectly, and is such perfect proof of how well Ho-gu knows and understands Do-hee. He made sure she heard about his upcoming wedding, so that she would be thinking of him and worrying that he's lost to her. Then he reversed their roles from the previous reunion, where this time it was her who went there hoping to see him and he was the one who showed up late. He played hard-to-get while she tried to get his attention, and he knew she would look in that juice box when he left her alone with it and see the letter. Finally, he made sure to say the one thing that would let her know exactly where he stood, when he said he wanted to go to the sea.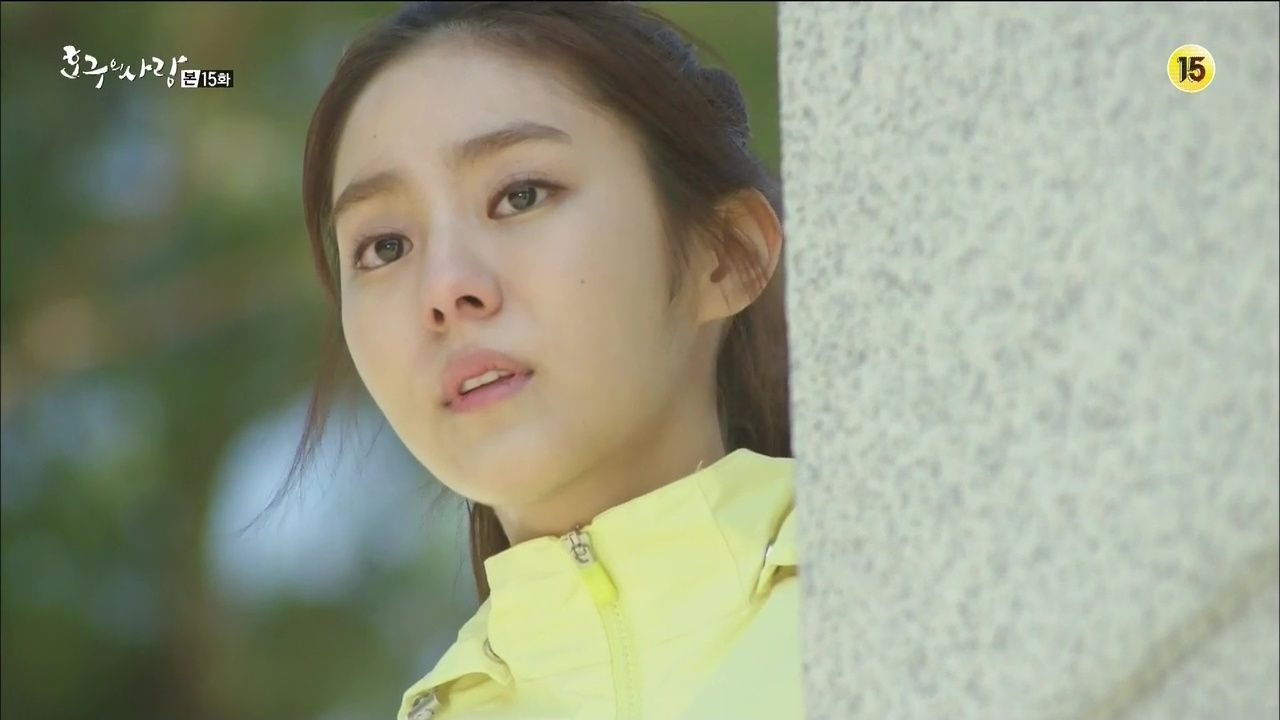 I do hope that Ho-gu makes her work a bit harder before he lets her completely off the hook, though, because the way she left things with him was inexcusable. I can understand her lingering fears about him discovering that Geum-dong was a product of rape, and her reluctance to see him looking at her with pity. Never think that I don't have the utmost sympathy and understanding of why Do-hee made the decision she made not to see Ho-gu again. But she did owe him a final goodbye, and at the very least she should have asked for more time and then said goodbye properly. Just disappearing is never okay, in my opinion. I'll admit to feeling a bit of satisfaction that she got to read Ho-gu's letter and feel the loss of what could have been, if she'd only given him a chance. She should have known that Ho-gu is a better man than to blame or pity her for something that wasn't her fault.
But I'm also glad that Ho-gu didn't let Do-hee twist in the wind too long. She may be prickly and haughty, but she's got a squishy tender inside, and too much punishment could have sent her running away again. I love that he dropped the one hint that would show her exactly how he felt without actually saying it, by mentioning the sea. He knew she'd hear that for the invitation it was, and she would know his feelings in that moment.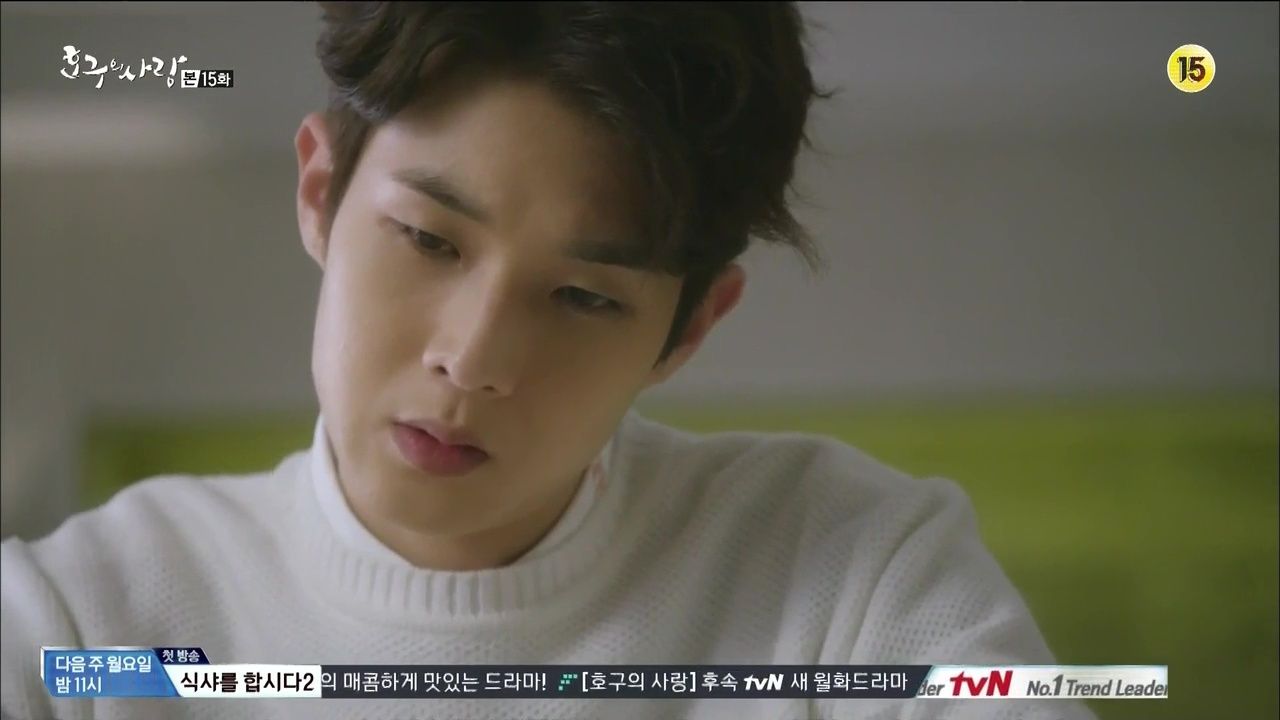 Though I have yet to see the finale, I have to weigh in with some early final thoughts. I'll admit that, though I was excited for the show just based on the casting, I was a bit disappointed when the first couple of episodes turned out to be darker than expected. But I was intrigued enough to stick with it, and I'm so glad I did. Ho-gu's Love tackled some pretty serious issues our world faces today, including but not limited to rape, single motherhood, and alternative sexuality. But the characters were never made into caricatures, and they were always handled with care and sensitivity. I have to tip my hand to the deft and skillful writing, too, because the way the layers of the characters' pasts were peeled back slowly and at just the right times, was such a wonderful way to shed light on their feelings and behaviors in the present. I always felt like there was a direction and purpose to where the storytelling was taking us, and that was proven time and again as each secret and piece of history was revealed.
And last but not least, the highest of kudos to the entire cast of Ho-gu's Love, for taking on such important yet scary topics, and making us love each character not just in spite of their faults, but because of them. This truly is one of the best-cast dramas I've seen, and I think Choi Woo-shik, UEE, and Im Seul-ong each portrayed their characters with exceptional skill and sensitivity. I've been a fan of all three of them as actors for some time, but I can say with confidence that they all exceeded anything I've seen them in before. I'm leaving this show extremely impressed in every respect, and it's set a bar for dramas, for me, that's going to be very hard to beat.
RELATED POSTS
Tags: Choi Woo-shik, featured, Ho-gu's Love, UEE