Running Man: Episode 240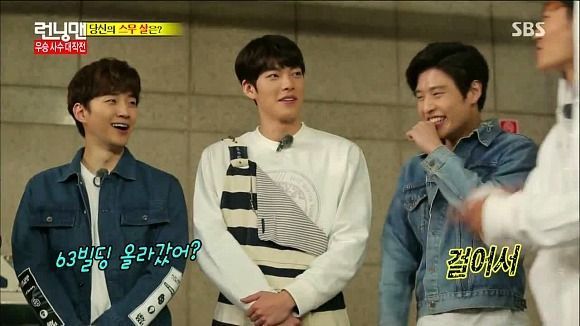 Yes, yes, and yes. While today might be a day dedicated to securing a win for Suk-jin, I'd be lying if I said my eyes weren't drawn in by all the pretty on my screen. It turns out that making sure Suk-jin wins is much harder than trying to beat him at the game, but if anyone wants a piece of that gold prize, they'll have to work together as a team to make Suk-jin's day.
EPISODE 240. Broadcast on March 29, 2015.
In honor of the recently-released movie Twenty, the cast comes dressed in clothes that hail back to their youthful twenties. Ha, Gary really did have a mop on his head back then (and so did Haha), and it's honestly pretty weird seeing Jong-kook as a skinny guy unlike the muscular man he is today.
Jae-suk says that Suk-jin should be wearing bell bottom jeans to reflect his era, to which Suk-jin argues back, "I wore skinny jeans back then!" Kwang-soo really does look much better without the 'stache, which really did age him beyond his twenty-nine years.
But then it's time to meet our flower boys who are in their twenties: 2PM's Junho, Kang Haneul, and Kim Woo-bin. Oppa, I love you, but… what in the world is up with those jail uniform overalls and yellow socks? #SaveWoobinfromhiscoordi
Woo-bin has a go at the punch machine (Suk-jin: "You looked like you'd be a good fighter from Friend 2"), drawing impressed oohs when he clocks an 837. The moment can't pass without Jong-kook putting a number on the board too… with a 667. Oh boy, that'd be a bit embarrassing.
The rule of today's game is simple: help Suk-jin win first place in all of today's games and everyone wins. Losing to Big Nose Hyung is a LOT harder than beating him, but that's where the strategizin' comes into play. There are ten gold buttons on the line, one for each of them, so they'll need to work together today.
But of course Suk-jin has to double back inside when he forgets to take the gold with him. It isn't the dressing room, but thankfully, his manager has scooped it up for him. In an effort to teach him a lesson to stay on his toes today, Jae-suk pulls away just as Suk-jin walks towards the van. Twice. Hahaha.
The cast reminisces about their Australian adventure with Woo-bin last time, then arrive at the pool where they'll be splitting into teams for their first mission, a quiz game. Divided into Team Suk-jin and Team Not Suk-jin, the mat-hyun invites trivia king Jae-suk over to his team.
Woo-bin silently slinks towards Team Not Suk-jin, along with the other trivia duds (like Ji-hyo and Haha). Suk-jin notes that there's a weak link of their own on their team—Junho, whom Jae-suk is because he just missed his timing. Junho: "Once I came to my senses, everyone was over there."
When Suk-jin adds that this entire race is a team effort, Jae-suk notes that they're here to build him up, not the other way around.
Every member on Team Suk-jin must answer a question correctly in order to gain 30 points. Getting just even one answer wrong means a downpour for all. Team Not Suk-jin must answer either-or questions, and Jong-kook points out that that's harder since someone needs to know what the wrong answer is in order to deliberately give the incorrect answer. Woo-bin steps forward: "That's why I'm here."
Haneul grows anxious at everyone's remarks that he's a smartypants for playing such intelligent characters. Haneul: "Those were just roles!" Haha: "Let's see if it's real-to-life then."
Haneul flusters immediately flusters at the question about androgen levels, but gives the right answer in the end: "Acne!" On the other side, Gary squeals that Kwang-soo thought it was hair.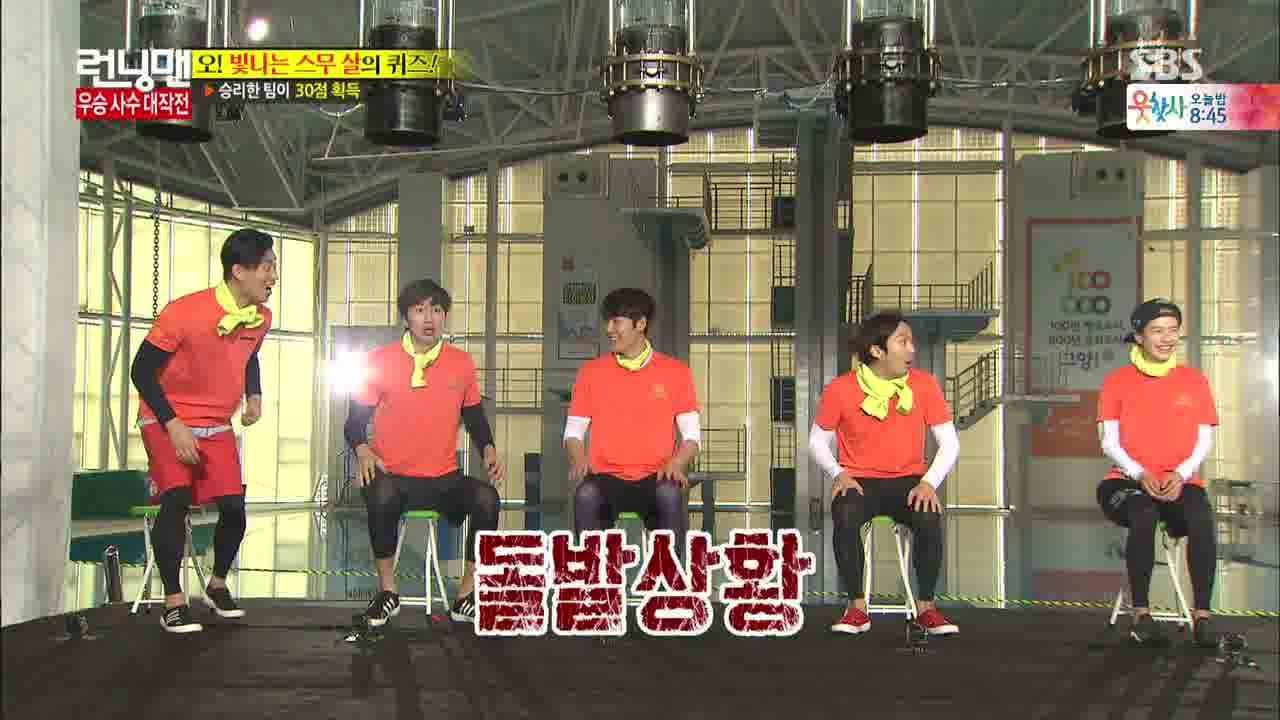 Junho get his question right, and so does Jong-kook (thanks to a little help from Woo-bin). Jae-suk is presented with a super difficult question about quote from a Korean poem, and he goes with his gut. It's wrong, and down comes the water.
Team Not Suk-jin has a 50/50 shot at correctly getting their answers wrong, but then Gary gets the right answer. That has everyone a bit nervous, and then Kwang-soo looks confused about his question. Does the hanja character in "constipation" refer to "hide" or "block"?
Kwang-soo answers "to hide," and then momentarily celebrates before realizing that he actually got the question right. "Why would you hide that!" So it's apparent that the questions are set up to be obviously deceiving, and now it's a battle of wits between the cast vs. the staff.
The year 1985 precedes Woo-bin's birth (he's a 1989-er), so he looks positively flummoxed when he's asked what movie premiered that year: Back to the Future or The Terminator. Woo-bin answers that latter, which is wrong (it premiered in 1984), which means they all get wet.
It's back to Team Suk-jin, who are looking for the correct answer of "ivory tower." What Haneul says instead: "Plaster!" Oh boy.
So while the entire team is drenched again, it at least gets a good laugh out of everyone. Jae-suk says his "plaster tower" comment will put him on the top of the internet search engines. "It's going to follow you forever!"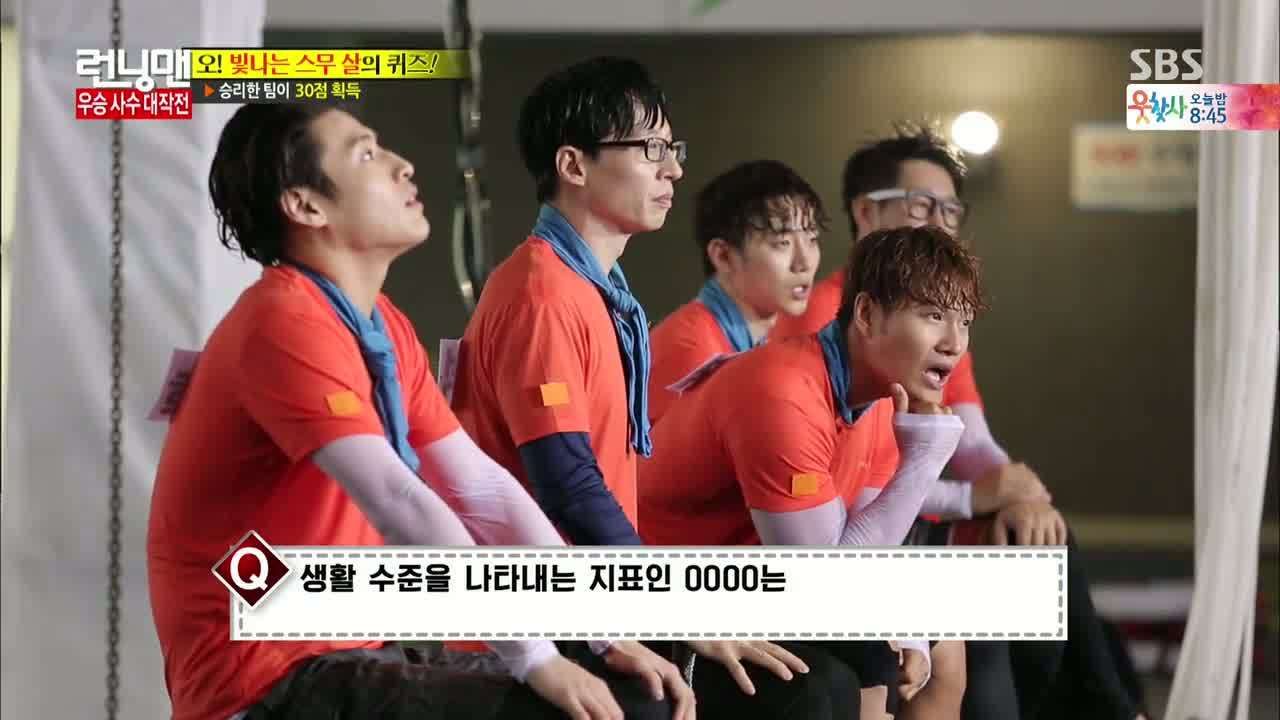 We skip ahead to Kwang-soo's turn, and he barely listens to half the question before guessing… and gets it right. Kwang-soo defends himself saying that he wouldn't have understood the question anyway, so it's up to Woo-bing to answer incorrectly. He does, and a rain shower congratulates them for their close call.
Suk-jin switches seats so that he can answer first. When asked what the Chinese character for the age of 20 means, Jae-suk shares Gary's answer with the class: "adult." Suk-jin ends up giving the correct answer (yak-kwan).
Jong-kook is faced with the question of the name for the Vietnamese traditional dress (ao dai). He has to dig deep into his memory, but guesses right. Jae-suk gets his question right too, and now it's down to Haneul.
And if Taek PD didn't make this hard enough as it already is, he tells Haneul to rattle of all the colors in a double rainbow in order (i.e., the reverse of ROYGBIV) but Haneul runs out of time.
Down comes the water, then down goes Haneul with it. HAHAHA. Aw, I feel bad for him, but think of this way—you're getting so much airtime with your heodangness! Caption: From "elite" to "Handsome Kwang-soo," where did things go wrong?
We skip ahead back to Team Suk-jin's turn, and this time, the first four members answer correctly. It's down to Suk-jin to correctly answer the question regarding the terminology used for someone who's still vigorous in their golden years.
Suk-jin answers correctly ("Hale and hearty!"), and the others admit that they thought it was wrong because Haneul believed it to be true. Anyhow, they earn 30 points towards their 100 point goal.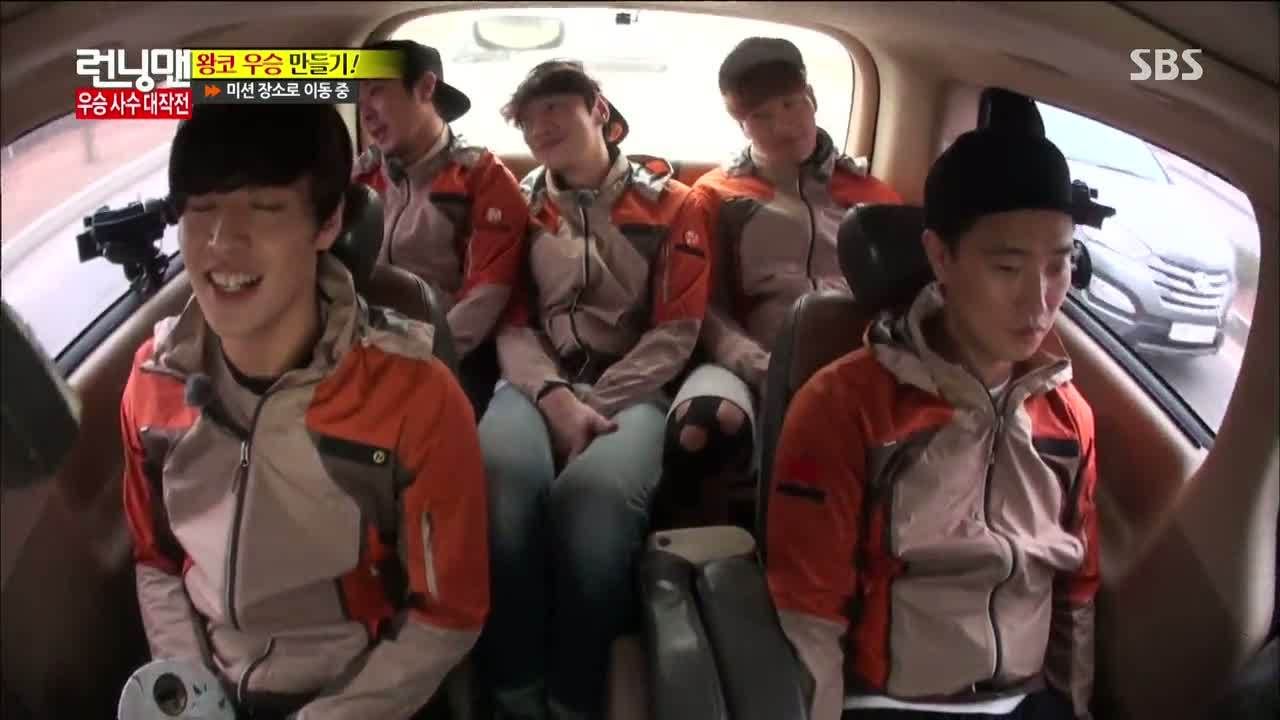 Jae-suk has Haneul sing tunes from the movie C'est Si Bon in the van, and excuse me while I sit and enjoy the voice flowing out of the musical theatre trained star. It's cute how Haha, Kwang-soo, and Jong-kook bob their heads along with the beat in the back row.
That music break perfectly ties into their second mission: a noraebang-themed game where everyone will need to break off into pairs. Jong-kook pairs up with Haha, noting that they even did a US tour together. Haha: "Even though I didn't say a word."
Our teams must sing wearing pedometers, and their total count and noraebang score must be as greater than (but close to) 600 to win, lest they sing again. Everyone decides that Suk-jin and Ji-hyo must go first so they have a standard.
So he and Ji-hyo dance to Insooni's "Every Night" an upbeat tune. Suk-jin already starts wearing down halfway into the song, so Haha takes it upon himself to keep Suk-jin moving. Taek PD adds up their score to get 686, which means the other teams must exceed that number.
Kwang-soo and Junho are up next with 2PM's "Heartbeat," and Kwang-soo starts shaking as soon as the melody starts. He and Junho keep running in place throughout the song, but at least they get a high noraebang score of 97.
Kwang-soo's completely out of breath by the end of it, his exhausted utterings are all he can manage. Thankfully, they get a top score of 832.
Jong-kook and Haha take on a ballad, and Haha gets down on all fours to thrust and shake his butt. The slow song allows them to try and fill the time with as much movement, though it is scary-funny to listen to Jong-kook singing in a deeper register.
Jong-kook and Haha are well over 800, and so are Jae-suk and Gary. Now it's down to Woo-bin and Haneul and the two split their responsibilities between running and singing, respectively. Haneul still manages to keep singing while running in place and hee, Woo-bin shakes his butt on the sidelines.
The boys look exhausted, but there's surprising news: Haneul's pedometer only recorded 128 of his steps. Oh no! They guess that he must've accidentally pressed the reset button mid-song.
This means the boys have to get a combined noraebang score of over 138 to hit past that 686 barrier. Well fine, I guess that means we have to listen to Haneul sing again to Emerald Castle's "Steps." *grabs popcorn*
It also happens to be Kwang-soo's favorite song, and when the giraffe tries to steal the mic, Jae-suk plucks it right out of his hands. Team effort, remember?
But then if you can believe it, the machine gives him a 71. What in the what now? That leaves Woo-bin to score a 67 or higher, and everyone gets in on the dance. He gets an 82.
So Suk-jin earns another 50 points for getting first place, which puts him at 80 points. I have a feeling getting those last 20 points won't be easy, and it isn't: their final mission is entitled "Scary Nametag Ripping."
There will be five "hunters" chasing them down, and it'll be their job to: a) protect Suk-jin and b) make sure he tears off two nametags himself, which are worth 10 points each. Kwang-soo tells Haneul not to run, but if they have to, Kwang-soo will be the first to dash.
Haneul bursts out laughing in disbelief, until he finally says, "You're exactly what you appear to be on TV!"
Jong-kook and Woo-bin are in charge of protecting the mat hyung, and the others suddenly hear a commotion somewhere in the building. That yelp belongs to Junho, who takes off after Jae-suk upon seeing a hunter.
The hunter appears before four of them, but figures he's outnumbered when more teammates show up. While they chatter about how built the hunter is, Jong-kook is busy training Woo-bin on how to protect Suk-jin.
All seven of them start running when another hunter starts running up the stairs. But no matter how large their hunter is, a 7:1 odds isn't quite in his favor, so he bolts. As soon as he runs down, however, the hunter is joined by two more.
It's a pretty hilarious shot of seven cast members being chased by three hunters and a horde of VJs, and the group finds a short reclusion in the elevator. Once downstairs, Haneul hides to launch a sneak attack, but he's found out right away.
The others come to Haneul's aid just as another hunter appears. Fighting off five people, one hunter reaches for Haneul's back, only to have the nametag slip through his fingers. And then Haha rips off said hunter's nametag.
It's a team effort, but Gary rips off the second hunter's nametag. The group takes on a third, and that's when Jong-kook shows up to lend a hand. Haneul keeps an eye out while the others pin the hunter to the ground, shouting that Suk-jin has to do the deed.
It's a struggle, but Suk-jin manages to grab the nametag. Yay! Everyone is feeling pretty by this point and break off into pairs to search for the remaining two hunters. That doesn't seem like a good idea, and it isn't, because both hunters come flying down a stairwell.
Kwang-soo and Haneul give chase until they face off the hunters 1:1, and it's only too easy for their enemies to do away with them. Losing two members puts things more into perspective, but then Jae-suk and Junho walk right into the hunters' hiding place.
Junho is one step too late in ripping off the hunter's nametag, and Jae-suk is eliminated soon afterwards.
The hunters are aware of Gary's previous boxing days, to which Haha asks if that qualifies him and Ji-hyo to leave their teammate behind. The hunters allow it, and Haha and Ji-hyo leave Gary for elimination.
Afterward, Gary says this is by far the most betrayed he's felt in RM history. "It feels 200 times worse than being betrayed by Kwang-soo."
Those betrayers last all of five minutes before being eliminated themselves, and now only Jong-kook, Woo-bin, and Suk-jin remain. It isn't long before they meet the hunters and Suk-jin wonders how he ended up in his final confrontation.
Woo-bin notes that using force proves disadvantageous to them, to which Suk-jin says they can fight dirty and spit then. Jong-kook has to make sure Suk-jin doesn't launch himself into an attack that would put him in a vulnerable position, then launches into an attack to deal with one hunter.
Now the odds are looking far better, and Suk-jin bends down at Jong-kook's cue. Following Jong-kook's instructions, Suk-jin rips off the second nametag, giving him the other 10 points he needs to win.
Everyone is in a celebratory mood when they gather together again and thank the "hunters" (aka MMA fighters) for their participation. But this episode isn't over: Taek PD tells Suk-jin that he can take the gold for himself if he closes the lid and walks out those doors.
The alternative is to divide the gold evenly among them, and the guys ask why Suk-jin is even thinking this over. Junho mentions that he even shed literal blood in today's games, and Suk-jin returns that he can repay the favor some other way.
So it's up to Suk-jin… who then closes the lid and walks off, leaving everyone shocked. Haneul asks if it isn't a joke where Suk-jin will share the prize later on, but Jae-suk shakes his head.
Gary jokes, "His manager had parked the car right in front of the entrance." Guess gold really does outdo friendship for our impala.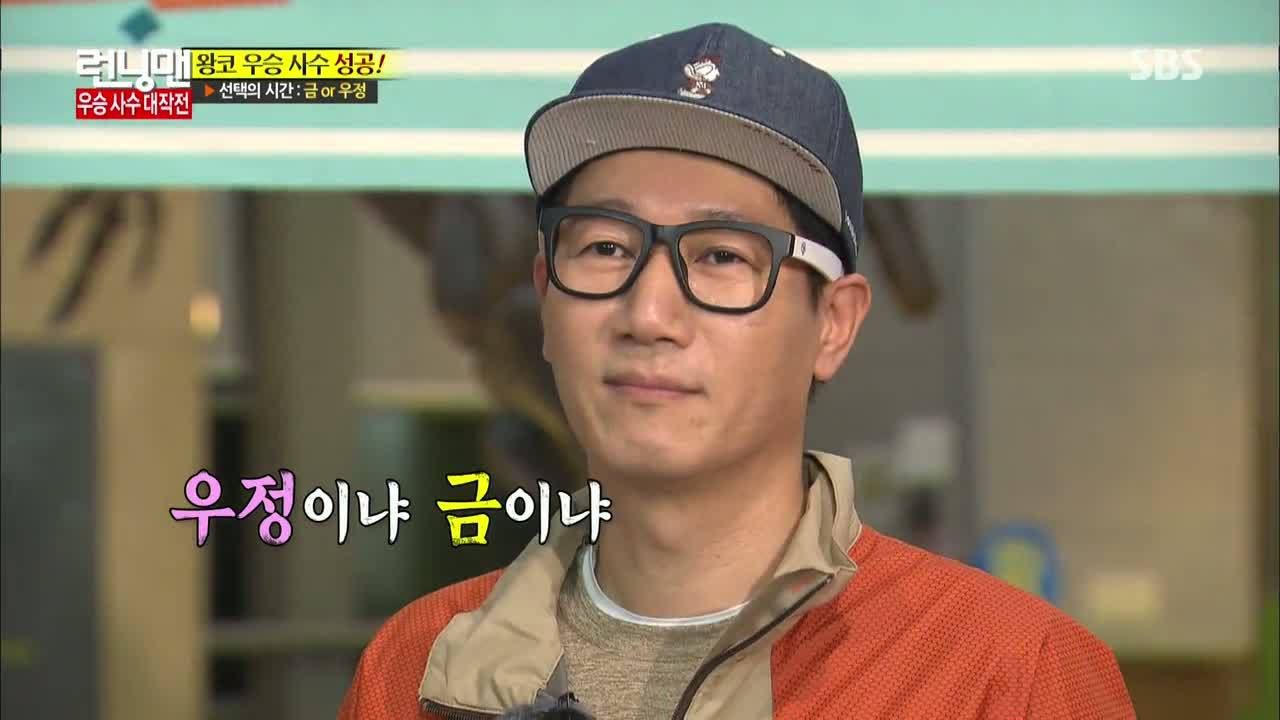 RELATED POSTS
Tags: featured, Haha, Ji Suk-jin, Kang Gary, Kim Jong-kook, Lee Kwang-soo, Running Man, Song Ji-hyo, Yoo Jae-suk