Falling for Innocence: Episode 14
Soon-jung may be the only person immune to this face, and she proves it by attempting to venture out and start a new life, far away from our hero and his daily gifts of flowers, hand-written notes, and pretty much anything else he can possibly provide to make her day just a little bit cheerier. It's time for Min-ho to return the favor and protect her, which is a calling that may yield no rewards or notoriety, but one that we know comes straight from Min-ho's big ol' cries-at-the-drop-of-a-Soon-jung-shaped-hat heart. And we love him for it.
SONG OF THE DAY
HeartB – "혼잣말 (Missing You)" [ Download ]
Audio clip: Adobe Flash Player (version 9 or above) is required to play this audio clip. Download the latest version here. You also need to have JavaScript enabled in your browser.

EPISODE 14 RECAP
Min-ho hasn't been himself since Soon-jung left, as evidenced by his habit of bursting into the office hoping she'll magically be sitting at her old desk. Secretary Oh explains to the other secretaries that he's having a tough time moments before Min-ho runs into a door.
He's even taken to terrorizing happy couples, something that Secretary Oh and Ok-hyun witness firsthand when Min-ho all but screams at two lovebirds: "Do you think you'll be happy forever? Love changes, you know! Happiness passes, but sadness never will!" Hahahaha. Way to twist Dong-wook's words of wisdom to fit your angsty mood.
Min-ho's reputation at the office is going south ever since he's become a crazy person, since he's also made a habit of reciting poetry that reminds him of Soon-jung in board meetings and crying after. I don't think I've ever seen a nervous breakdown be so entertaining.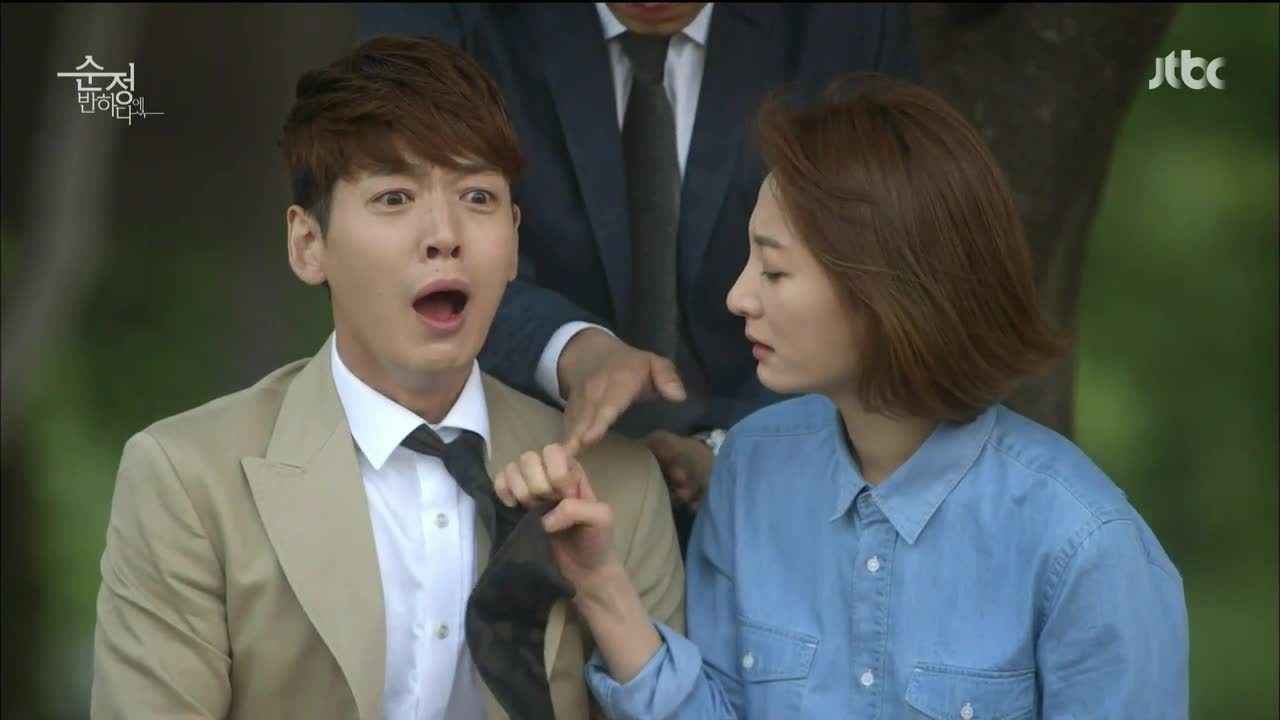 Secretary Oh tries to lift Min-ho's spirits with music, but the plan backfires when the song repeatedly uses Soon-jung's name (since it translates to "innocence.") Min-ho keeps having similar emotional outbursts whenever anything reminds him of Soon-jung, which are all equally hilarious.
The only explanation Secretary Oh can give is that Soon-jung was Min-ho's first real love, which is why his reaction is so childish. Ok-hyun even pitches in to help change Min-ho's focus onto the hit-and-run case, though soon enough Secretary Oh and Min-ho are both acting like children when they think they've cracked the case—they can issue Joon-hee a search warrant to find evidence!
Ok-hyun has to be the one to tell the amateur sleuths that search warrants don't just fall out of the sky, but Min-ho can help if he gets his prosecutor buddy to press gambling charges on Noh Hyungnim. If they can get ahold of Noh, then they can mine what information he has on Joon-hee. Min-ho promises to do right by Wendy.
Joon-hee hasn't forgotten Ji-hyun's not-so-veiled threats against him, so he turns the tables on her by offering her a chance to be his co-conspirator one last time. After all, she can't really think that Gold Partners would only punish him for the failure to acquire Hermia, does she?
With the looming threat of Joon-hee dragging her down with him if he were to fail, she reluctantly agrees to help him in his plan to use the law to bring down Hermia (again). Is this Operation: Hermia Takedown 4.0 now? I've lost count.
Soon-jung ends up dropping by the office for an employment certificate, but seems surprised when the other secretaries tell her how pitiful Min-ho's been acting. Plus, he's refused to hire anyone else to fill her position in the hopes that she'd return.
Min-ho ends up running into her outside the elevator, and the only reason he acts so cool is because he thinks he's started hallucinating images of Soon-jung. But when he touches her and feels she's real, he all but jumps out of his skin in shock.
It only gets worse when Soon-jung sits him down to explain that she plans to move far away to the country to start a new life. She can't stay in Seoul or near the central factory where so many memories of Dong-wook remain, and wants to be free from the shackles of the past.
The only reason she's telling him this, she adds, is so he can move on too. She means her words to be encouraging, even though Min-ho thinks they're anything but, and wants him to succeed in spite of her absence.
Before she leaves, Min-ho clarifies something that's been hanging over both their heads: "No matter what anyone says, I didn't like you because of my heart, but because it's you. I like you because you're Kim Soon-jung. I just wanted to tell you that."
He seems surprisingly more mature now than before, and tells her that he won't beg her to accept his feelings—he'll just always be grateful to her, and will express that gratitude in his own way going forward. "Let's cheer up!" he says, chiming the words she'd said back to her. For all intents and purposes, he seems to be taking this rather coolly. Methinks that's just a front.
Soon-jung returns home that night (after a stint at Ok-hyun's) to find a barrage of notes Min-ho left at her door when he couldn't get ahold of her, mostly saying he's sorry. Min-ho returns home with plans to be strong like Soon-jung said, but gets interrupted by a sudden flash of something. Pain? Illness? Whatever it is, it's not good.
Min-ho finds out that he had nothing to worry about with Papa Ma, since he's not at all perturbed by the revelation that his son's heart is now beating inside Min-ho's body—if anything, he's grateful.
No one brings it home in this show quite like Papa Ma, who tearfully tells Min-ho that his heart knew before he did. When Min-ho collapsed during a meeting, Papa Ma felt a pang in his heart, something telling him that he had a connection with Min-ho.
"That's the connection between a father and son," he adds. Min-ho wipes away a tear, touched by Papa Ma's genuine love and understanding. But when Papa Ma attempts to explain Soon-jung's behavior, Min-ho says he's got it—he's returning all the favors she gave him by helping her in her day-to-day life, even if she doesn't know it.
He's partnered up with Ok-hyun in order to keep tabs on Soon-jung's eating habits (to make sure she's not skipping meals), and he continues to leave her flowers with notes attached, replacing "Good morning" with "Soon morning," for her name. Absolutely adorable.
There's not a morning that passes without a flower left near her front door, and Soon-jung eventually tosses the lot of them over Min-ho's front gate. He responds the next morning by dropping a huge armful of sunflowers at her door, but when he's caught by an angry Soon-jung, he just turns tail and runs for it. Hah.
"This is your punishment," one of the flower notes reads. "I'm going to send you flowers until I die!" Okay, while I don't normally condone stalker-like behavior in dramas, Min-ho's found a way to make this all freakishly cute. Maybe because he acts like such a lovesick schoolboy.
While Joon-hee plots and plans to bring a patent lawsuit against Hermia in order to shut down or stall their sales and induce bankruptcy, Noh Hyungnim calls to demand that he make good on the promise he made to pay for his wife's hospital bills and find her a new kidney.
Joon-hee couldn't really care less and demands that Noh Hyungnim bring him the black box memory card in exchange for a kidney he's acquired. Noh knows that he'd lose what leverage he has, but Joon-hee's all, "Fine, don't trust me. I have nothing to lose." Said the handsomest liar ever.
So Noh Hyungnim falls for the trap (what wait how why blergh) and agrees to exchange the memory card for a ticket to China, where his wife's new kidney is waiting. Because that makes all the sense.
Sales are going well for the new product at Hermia, while Soon-jung finds the job market a lot tougher than she'd initially anticipated. She jumps at the first call she gets for an interview, thinking nothing of the taxi that was called to her house.
She also fails to wonder if Min-ho's behind the job opportunity that opens up, since the interviewer mentions her experience at Hermia as a reason for hiring her. Min-ho's also responsible for having an umbrella brought to her outside the Daeji Pharmaceuticals building so Soon-jung won't have to walk in the rain, as he watches from a nearby car.
Noh Hyungnim goes to a deserted car graveyard where Joon-hee said he'd meet him, at night, and seems genuinely surprised when club-wielding thugs meet him instead. They beat him near the point of death, but don't find the memory card on him.
They're stopped from finishing the job when Ok-hyun and her detective buddy conveniently show up, since they finally got a search warrant for Noh Hyungnim's car. And also knew exactly where to find him. What luck!
He manages to escape in his car while the thugs engage Ok-hyun and her buddy, leaving Joon-hee with no memory card and no Noh Hyungnim. He meets with his surprisingly not-arrested thugs, but makes no further plans with them for the time being to avoid suspicion.
Though the cops were able to track Noh Hyungnim down to a junkyard, they aren't able to find him in a normal pharmacy, where he grabs for first aid items to tend to his bloody and bruised body.
Ever since her interview, Soon-jung has been happy to see the flowers at her door each morning, so she finds it odd when she doesn't find one waiting.
It's because Min-ho just received news that he's being sued for the patent of his new product, and just like Joon-hee planned, all sales are on hold pending the case's resolution. (Also likely and unfortunately important: He woke up feeling a pain roughly in his chest region.)
Min-ho knows the patent lawsuit is Joon-hee's doing, and Joon-hee doesn't even bother pretending like it isn't. The years he spent living like a dog while learning the law are now being put to good use, since the important connections he made then are what's aiding him now.
"But don't worry," Joon-hee adds with a smirk. "You'll win the lawsuit… in three years, perhaps?" That's three years Min-ho can't sell his new product, which will cost Hermia dearly. On top of that, Min-ho's being summoned to the prosecutor's office on trumped-up professional negligence charges, also thanks to Joon-hee.
Soon-jung just thinks she's had really good luck lately when the rental she's looking at is surprisingly amenable to her new work schedule, while the person responsible for her good luck sits in an interrogation room. At least Min-ho calls the prosecutor out for being law school buddies with Joon-hee, so they both know why they're really there.
Secretary Oh scoops Min-ho up after his hours-long interrogation with even more bad news: Gold Partners has put in some bribes at the prosecutor's office to control them, and furthermore, Joon-hee is a lawyer that knows how to turn the system against Hermia. Min-ho won't be cowed though, and vows to fight till the last man.
It's cute when Soon-jung claims to feel awkward meeting Papa Ma for the first time after Min-ho's heart revelation, only for Papa Ma to reply, "Why do you feel awkward? You're not the one who has my son's heart." Truth. He's also supportive of her move while being disappointed by it, since he doesn't want her to run away.
She says she's sorry that all this happened, considering that Papa Ma had given her permission to date Min-ho. But Papa Ma explains things in a way she hadn't thought of, now that he knows she told Min-ho she wanted to protect him: "Dong-wook was someone who protected you silently. But I think Chairman Kang is someone you want to protect. What I mean is, ultimately, maybe you love both of them in different ways."
Those words remain at the forefront of Soon-jung's mind as she goes home that night, only to find Min-ho idling away some time on their joint stairway. He's happy to hear that things are going so well for her (despite his heavy hand in making all that happen), but admits that he can't stop thinking about everything he didn't or couldn't do for her before.
So it comes from the heart when he tells her that he wants only happiness to find her in Hwaseong, but that seeing her face was like a shot of much-needed medicine to him today. He's the one to leave first, but Soon-jung looks more unsettled by that farewell than she lets on.
Noh Hyungnim confronts Joon-hee at work, where he figures he's less likely to be attacked by thugs. It's the same ol' argument: Joon-hee wants the black box memory card and promises nothing in return. Noh knows now that Joon-hee never intended to find a kidney for his wife, and Joon-hee doesn't deny it.
Joon-hee feels secure in threatening and daring Noh Hyungnim because they're partners-in-crime at this point, so Noh would lose out by turning the black box evidence over to the police. At the same time, he claims he'll help pay for Noh's wife's funeral if he hands over the memory card now… but he'd have to be really stupid to trust Joon-hee again, right?
To make matters worse, Noh Hyungnim's dying wife tells him that there wouldn't be any hope for her even if they could find a kidney—her heart as it is now would make surgery impossible. Even on her deathbed, she implores him not to commit any crimes or wrongdoings on her behalf.
Min-ho and Joon-hee have a tense meeting now that they know the shareholders are getting together to discuss dismissing Min-ho as chairman. Joon-hee is counting on them to choose him instead, but Min-ho takes heart in knowing that everything bad Joon-hee's done and will do will come back to bite him.
Joon-hee doesn't think so, since that only happens to sentimental saps like Min-ho. Either way, total war is declared between them. The only advantage Min-ho has now is Soon-jung's words of support, which help him to keep a cheery disposition despite the dreary proceedings.
Soon-jung, meanwhile, finds out the hard way that Min-ho's been helping her from afar after she accidentally walks in on her realtor conspiring with Min-ho's side over the phone. While Soon-jung had thought she'd just found the perfect place at the perfect price, now she finds out that she's been fooled—Min-ho was going to pay the difference so that the price stayed reasonable for her.
Noh Hyungnim approaches Min-ho now that he knows he and Joon-hee don't have the best of relationships, even though Min-ho has suspected his involvement in the product tampering case since day one. He doesn't deny it, but admits he has the black box recording from the crime scene.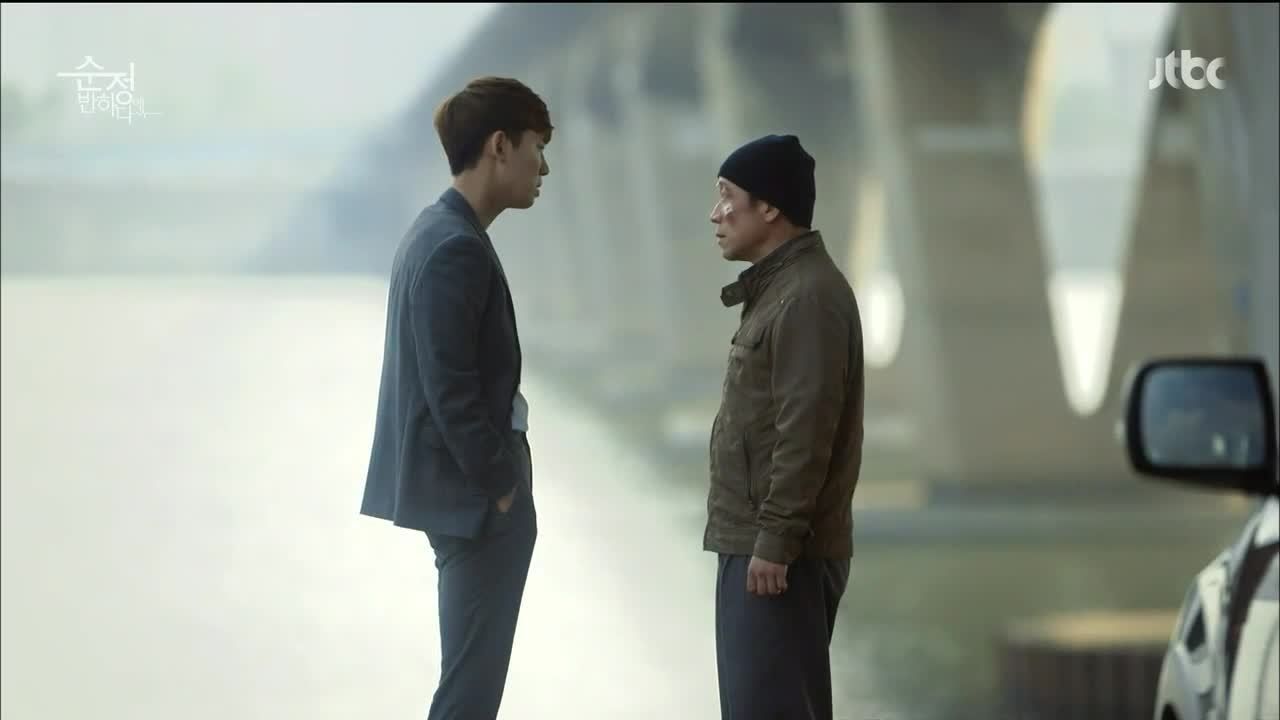 He'll give it to Min-ho only if Min-ho gives his children enough money to live on comfortably, since Noh Hyungnim knows that revealing the black box will land him in jail and make him unable to support them. But if the recorded information is enough to take Joon-hee and Gold Partners down, wouldn't that make it worth it for Min-ho?
Soon-jung finds out from her realtor that Min-ho had wanted to buy a house for her, and afterward goes to her employer to hear the same story—they're an affiliate company of Hermia's, and Min-ho had asked him to hire her.
Now Soon-jung realizes all the helping hands she's been getting haven't been so coincidental after all, and that it was Min-ho all along. I can't tell whether she's happy, sad, angry, or all of the above.
Joon-hee gets a call from Noh Hyungnim outside the police station, where he plans to turn himself in to Ok-hyun. He adds that the black box is with Min-ho now, and that the media will soon be all over Joon-hee's involvement in the product tampering case as well as the murder of Ma Dong-wook.
Now Joon-hee's taking him seriously, but it's too late. Noh Hyungnim won't take any offers from him and walks himself into the station to confess to Ok-hyun that he witnessed Joon-hee murder Dong-wook with his car. Though the black box, of course, isn't with him.
It's with Min-ho, who's juuuust about to walk into a newspaper office when Soon-jung calls. He's so excited to answer that he practices moderating his voice before pressing the button, and misinterprets Soon-jung saying she's going to meet him where he is as being a good sign. Aww. She's going to kill his spirit, isn't she?
Or Joon-hee's thugs will do the job—Joon-hee puts in an emergency call for them to take care of Min-ho, and fast. He sends them Min-ho's exact location. (Does everyone have GPS capabilities now?)
Soon-jung gets dropped off across the street from Min-ho, and he doesn't seem to pick up from her expression that she's upset(?) with him. Instead, he's over the moon as he walks to the nearest crossing. Even she can't help but smile at his silly antics, so maybe she isn't so cross after all.
She only notices the black-clad motorcycle driver gunning for him when it's too late, and just as Min-ho makes a step to cross, the man pulls out a club…
…And bludgeons Min-ho over the head with it while driving full speed. The motorcycle is already gone by the time Min-ho falls to the ground. Soon-jung screams.

COMMENTS
Really, Joon-hee? Really. Even if we pretended that you weren't leaving enough criminal breadcrumbs around to feed the world's pigeon population for the next decade, have you truly learned nothing from all this back and forth with Noh Hyungnim? Your failure to acquire the one thing that could totally and completely ruin you (again, if we're in an alternate reality where that memory card is the only thing police could use against you) is what caused this mess—now you can't even order a proper hit? What kind of villain are you?
The whole point here shouldn't be to kill the messenger, it should be to steal the message. Clubbing Min-ho over the head while he's still in possession of the card accomplishes nothing more than to just delay its exposure, which Joon-hee still has no control over. And in all actuality, it's just going to incriminate Joon-hee further if Ok-hyun looks into the case, realizes that Min-ho was attacked while on his way to expose Joon-hee's crimes, and finds the memory card that'll explain everything. Joon-hee can dig himself as deep a grave as he wants at this point, but it's only fun for us if he at least tries to claw his way out.
And yes, having Noh Hyungnim beaten could be called trying, but Joon-hee certainly didn't seem to be in a rush even though he had weeks to take action. It puts Joon-hee constantly behind the game, since he's not smart enough to get himself ahead of it by more than a half-step at a time, if that. Min-ho getting clubbed over the head could be considered that half-step, but again, it's certainly no permanent solution. Joon-hee doesn't seem to realize how much he's scrambling at this point, but I hope when the truth does hit him, it hits him like a high-speed blow to the head.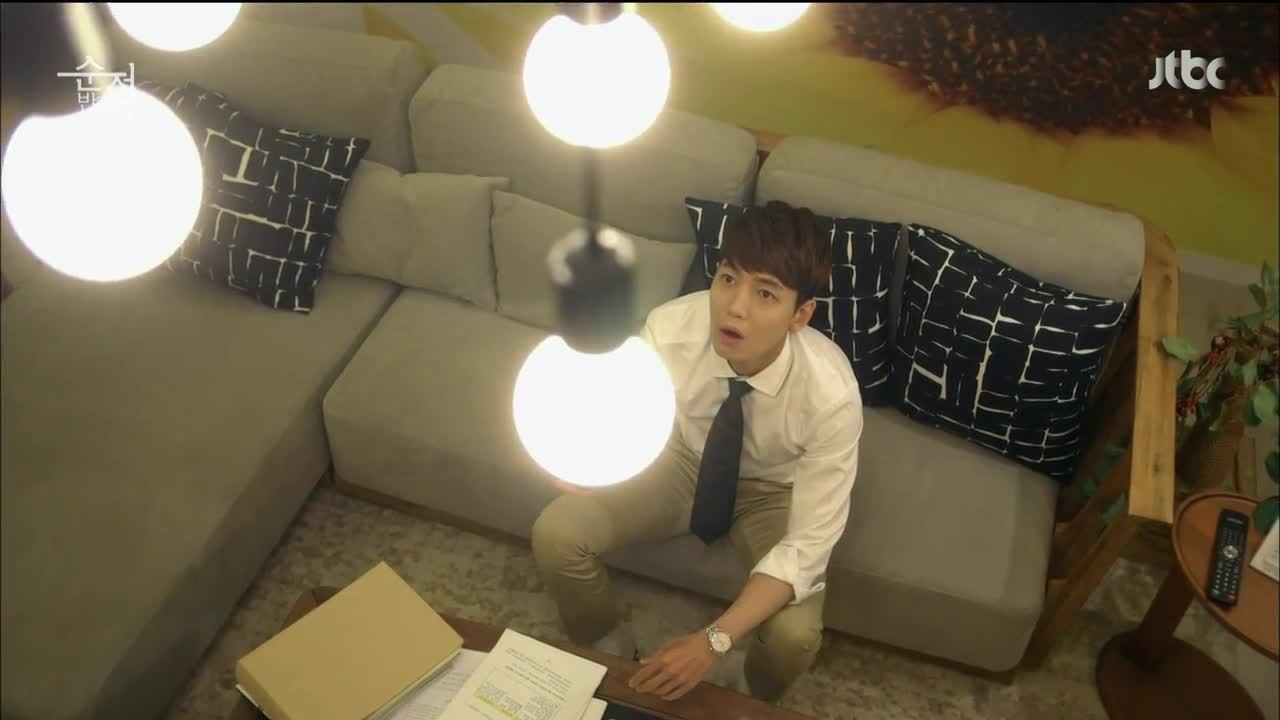 I have faith that Min-ho will pull through this, if only because dramaverse laws dictate that there's another week left and Min-ho can't spend it dead or in a coma. But this cliffhanger also gives me a vague sort of hope that the moments of inexplicable illness Min-ho experienced this hour might've just been red herrings, and that they weren't hinting at the possibility of some life-threatening illness that'll rear its ugly head in the eleventh hour, because nothing would be worse than ending the show on that note. (Please, please don't make me eat those words.)
As for Soon-jung, I'm more curious to know what she was planning to say to Min-ho after finding out that he'd been acting as her fairy godfather this whole time. Min-ho has been such a treat to watch since his attitude adjustment, and his childlike innocence really helped sell his actions toward Soon-jung as being those of a pure soul and an even purer heart. He had no intention of her finding out how much he was helping her outside of her daily flower delivery, which is both selfless and a little bit sad—she'd basically told him there was no hope for them, and he still wanted to see her happy, even if that meant taking himself out of the picture romantically.
So with any hope it's that earnestness that Soon-jung thought of once she realized what he was up to, but even if she saw his actions as unwelcome and patronizing, she can't very well stay mad at a soon-to-be blunt force trauma patient who loves her with all his heart, can she?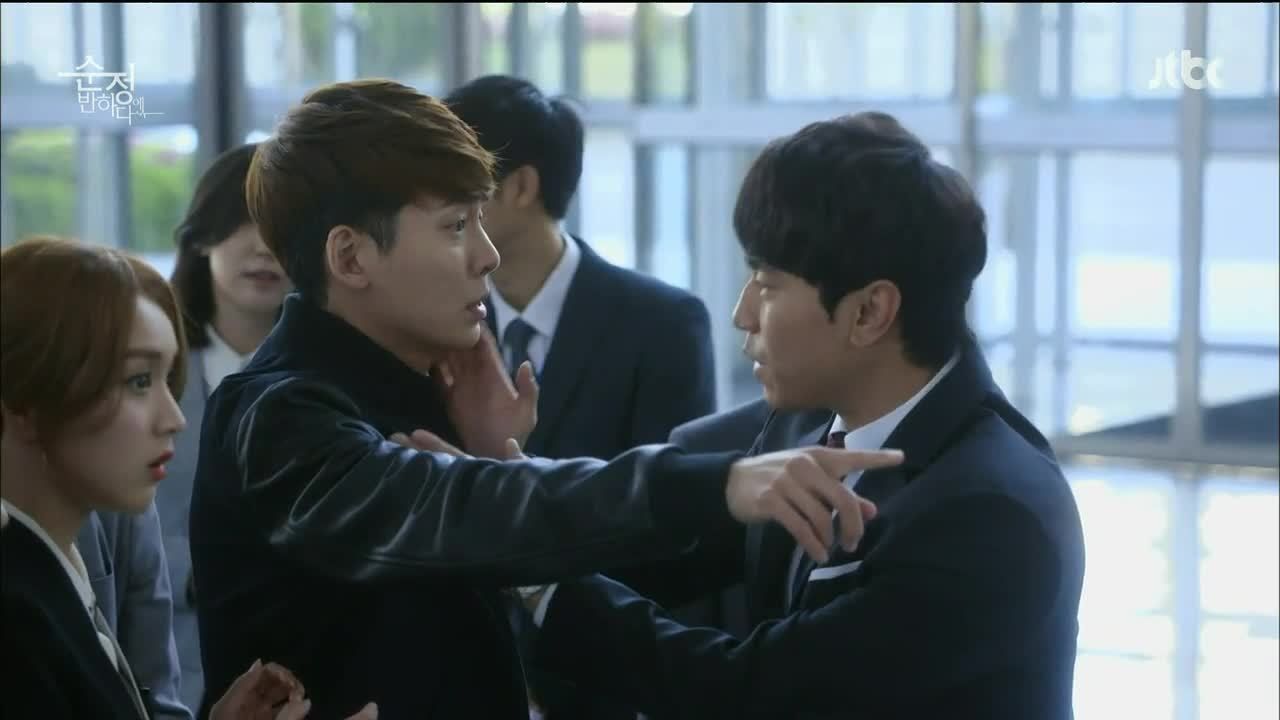 RELATED POSTS
Tags: Falling for Innocence, featured, Jung Kyung-ho, Kim So-yeon, Yoon Hyun-min