Warm and Cozy: Episode 3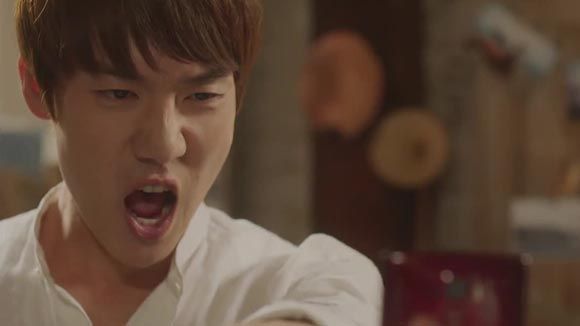 Gah, how can our hero be so exasperating and endearing in equal measure? He's a total scamp, and it's so hard to resist, even when I'm mad at him. It makes it really easy to imagine what our heroine is feeling, that's for certain.
Warm and Cozy continues to be light and refreshing, its wafer-thin plot balanced out by the endearing characters. I do find myself wishing for more action, since this show isn't as funny as it could be, nor is it original or quirky, which are all things that would inject a dose of vitality to the proceedings. I don't think the drama is trying to be something other than breezy and sweet—I like how easy it is to watch—but a little more flavor wouldn't hurt. Thankfully, the two leads are carrying, well, everything.
SONG OF THE DAY
Ha Neul-hae, Kong Bo-kyung – "Butterfly" from the Warm and Cozy OST [ Download ]
Audio clip: Adobe Flash Player (version 9 or above) is required to play this audio clip. Download the latest version here. You also need to have JavaScript enabled in your browser.

EPISODE 3 RECAP
Determined to make this Jeju thing work, Jung-joo starts putting roots down and gets a new license as a citizen of the island.
She drops by Warm and Cozy and overhears Poong-san taking reservations. Hearing about a novelist who gives the restaurant occasional bumps in traffic when she posts about them, Jung-joo checks out the site. It features a post labeling Gun-woo a romantic guy, with the explanation that he supposedly met his first love in Jeju… on his nineteenth birthday, when she blew in like a "gust of strong wind."
Jung-joo's eyes widen. Does that mean…? (Punctuating the grand realization is Heirs' love theme "Love Is the Moment," which apparently still provokes a Pavlovian response in me. Twitch.)
Gun-woo drops by and sees that she's planning to have cup noodles for lunch and insists she not eat that junk (oh, I love this cancer misunderstanding so much—not a sentence I ever thought I'd utter). He mistakes her shocked expression for health concerns and leans in close to check on her, making her heart pound, and she hastily says it's just because she saw something on the internet that made her angry.
She intends to cover up the holes in her roof before it rains, and Gun-woo insists on doing a proper job of it. She has to head over to discuss her rebuilding costs with a contractor, and Gun-woo advises her not to make any hasty decisions. He suggests a combined welcome party and consultation chat tonight, promising to have dinner waiting when she's done.
Buuuuuut as soon as he gets started on repairing the roof, first love Ji-won calls (ugh, her) and suggests flying down to Jeju to have dinner together. Gun-woo stammers an okay, nearly falling off the roof when he bounces in excitement. What does it say that even though I love him, I hate her so much that I'm disappointed when he doesn't fall?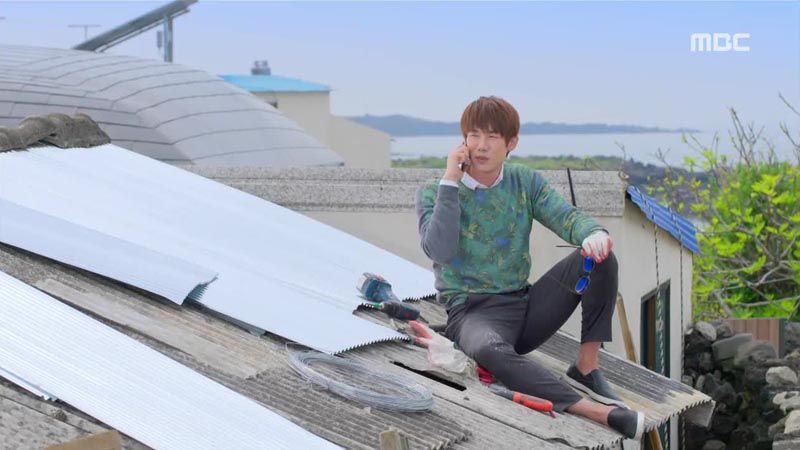 So Gun-woo ditches the roof project and hurries back to his restaurant to prepare a fancy dinner, wanting every detail perfect. Boooooooo. Hissssss.
Jung-joo meets with the contractor, whose quoted prices are too steep. She pleads for a lower price, and with the help of Sorang village's helpful Mr. Gong, the fish restaurant owner/realtor/construction director, she gets him to reconsider. He also mentions that the forecasted rain makes him hungry for a signature Jeju anchovy dish, and Jung-joo buys some on her way home.
Gun-woo reserves champagne at his brother's resort, but recalls that hyung froze his credit cards. Then he spies Jung-joo's bag… Ack! No! Abort boneheaded plan!
But no, he takes Jung-joo's employee award, the one she'd intended to sell for cash.
Hyung Jung-geun is having a hard time persuading talented marketing personnel to relocate to Jeju, and thinks of Ji-won. She's happy to schedule a meeting with him, and even though she's already arrived at the Jeju airport, she cancels on Gun-woo with the lie that she can't leave Seoul. Gah, you're not even trying to make her the least bit likable, are you?
Jung-joo drops by the restaurant with her fresh anchovies, and hears from Poong-san that Gun-woo's preparing a very special dinner for his first love—the one he met on his birthday. Thinking she's the one the dinner is for, she eats one of the strawberries and Poong-san freaks out, chiding her for eating someone else's food—Ms. First Love is on her way here at this very moment.
Jung-joo realizes she misunderstood the situation and hides her reaction, though her heart sinks as Poong-san explains how Ji-won was the reason for Warm & Cozy's existence. He suspects that Gun-woo's lingering here is because he's been waiting for her to come back. And now she's back.
Gun-woo picks up the champagne from the resort restaurant, and on his way out overhears Ji-won's voice in the lobby. Oh phew, at least he finds out right away that she lied to him about not being able to come to Jeju, and he watches her reject his phone call. From the look on his face, he's gotten the message.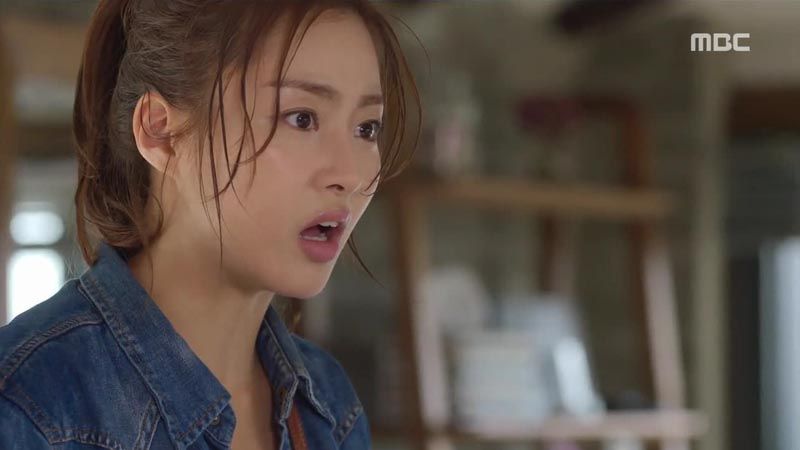 Jung-joo comes home to an unfinished roof, just as it starts to rain, of course. She retrieves her rain slicker from Gun-woo's place, which is where she spots the award box, now empty, and guesses that Gun-woo took it.
By nighttime the rain is a full-fledged storm, and she's starving and cold. She retrieves her ramyun and decides to cook up her anchovies, which she left at the restaurant, and heads over to find Gun-woo sleeping in the restaurant next to an open bottle of champagne.
Jung-joo grumbles at him for taking her award and selling it. Half-sleepy and half-upset over his terrible day, Gun-woo says he's "borrowing" it and points out she was going to sell it anyway. He'll pay her back in cash.
She calls him a dirtbag, and a thief and liar to boot, calling him out for all of his wrongs, which is a frankly legitimate list of accusations. Isn't he ashamed of himself? She insists he pay her back right this minute.
Peevishly, Gun-woo throws a coin—worth about a dime—at her feet, then tosses another coin in a different direction and tells her to pick them up. Oh. No. You. Didn't. I know you've had a crap day, but damn if that isn't assy.
Stung, Jung-joo says he must have seen her as a beggar for accepting his help, and calls him trash. He really did keep his old promise to ruin his life, she says.
She calls the money so dirty that she won't take it, and storms off angrily. And when she gets home, the roof is in even more precarious shape, with the sheeting ready to come apart, and she climbs up to try to salvage it.
Gun-woo tells himself that Jung-joo wouldn't have gone back out in the storm, but can't shake his worry and heads over to her shack anyway, finding her on the rooftop struggling to fix it. He yells at her to get down before she's hurt, just as she slides off and falls to the ground. A gust of wind sends the last of the roofing materials flying away, ripping from the house in big gaping holes.
She sits in shock for a while before giving in to sobs, and Gun-woo at least looks panged by conscience. Don't get me wrong, I'm still mad at him, and whipping up her anchovies into a warm dish isn't anywhere near good enough penance, but I suppose it's gratifying that at least he feels terrible.
She mentions his dinner, and he admits that Ji-won didn't come. As they eat his "warm and cozy" noodles, he explains that those words (which are distinctly Jeju terms) were taught to his mother by his father, who was from Jeju. He's never known the man, and his nineteenth birthday was in fact the only time his mother ever talked about him.
In flashback, we see that after meeting Jung-joo, his mother had told him who his father was. And as he was reacting to the surprising news, he'd met Ji-won for the first time.
Jung-joo muses that it was a happy day for him, and he says it was, though I wouldn't say so from his expression.
Over in Seoul, Gun-woo's brother and sister talk about the same day, and how Gun-woo changed after hearing about his father. So noona urges hyung to cut him a little slack, since it affected him so much.
Gun-woo and Jung-joo proceed to get rip-roaring drunk, tearing through bottles of liquor and the rest of the champagne. She's affronted to hear her gold award was worth less than she'd thought, and says mournfully that even still, she'd go back to the job if they'd take her. Pointing to head and heart, she laments how much it hurts—"It hurts to death."
Ha, and of course he interprets those words literally and is wracked with pity. When she says that she has no money for a new roof and has to live without a literal roof over her head, and get soaked when it rains, Gun-woo tries to cheer her up. He offers to get soaked instead of her, holding up his hands over head to say, "I'm long! I'll block you like this!"
Jung-joo sighs that fixing up the house and working hard on the cafe was her "last wish," which has flown away just like her roof. At those words, he offers, "Then… should I give you Warm & Cozy?"
Mind you, they're both pretty tipsy at this point but still coherent (more or less), and their exchange is adorably cute and to the point: "Do you want it?" "Yes, give it to me!" "Okay, I will!"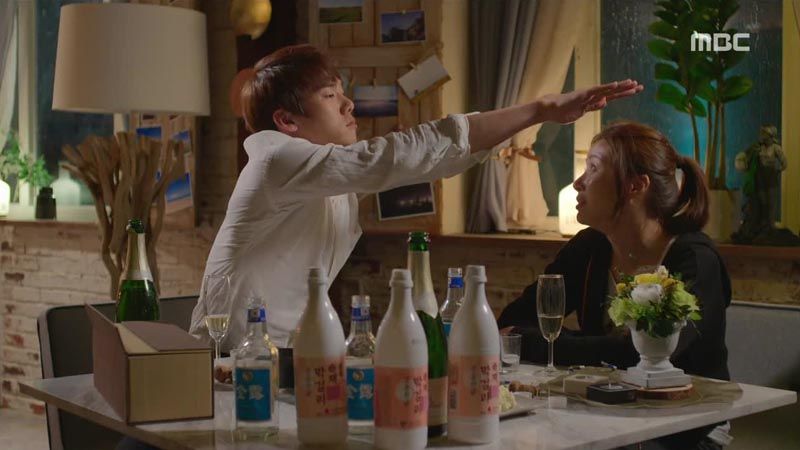 Gun-woo shows her around and proposes that she give him the money she earmarked for repairs (50 million won), which will be her deposit on the place. Then he can repay his debt and move back to Seoul, and she can take over the restaurant.
Jung-joo sighs that it'll take her the rest of her life to pay back that loan, which he takes as a reference to her terminal diagnosis. Trying to urge some positivity into her, he says, People don't die that easily! You can live for a long time!"
She asks if it's really okay to make the loan last until she dies, and Gun-woo pulls her into a hug, teary-eyed. "Don't die soon, Jung-joo-ya," he says. She pats his back and promises to stay alive, and he blubbers, "Don't dieeeeeee."
At Jung-geun's resort, the executives discuss ways to make their nonsmoking policy more clear without alienating smokers, and a few of the men chuckle that it's so darned difficult to quit themselves. They ask Jung-geun how he managed it, and he says that it was just a matter of discipline, which they praise.
His driver lauds his disciplined personality as well, saying he's proud to work for someone so decisive and effective. Of course, he doesn't notice that Jung-geun's hand has subconsciously gripped his pen like a cigarette, and Jung-geun looks transfixed by it. He has his driver pull over and drop him off near a lighthouse, saying he'd like to take a walk, which of course is just the cover story for him to sneak a cigarette.
This will be his last smoke, he swears to himself, really really! He strikes a match, only to have it blown out by the sea breeze. He huddles down for shelter in a corner of the pier, only to have all his matches blown out, one after another. And then his foot slips on the kelp-lined steps, and he goes flying down into the water. Splash!
Hyung's not much of a swimmer, and after splashing ineffectually on the surface, he starts to sink. He looks up at the surface of the water, growing ever farther in the distance, and sees the cigarette sinking with him. "Ah," he sighs. "I should have quit." Smoking kills, kids!
He wonders if he's going to die due to his smoking habit, just as… a mermaid… starts swimming for him. At least, that's what she looks like, though in reality she's decked out in head-to-toe neoprene—it's the head diver ajumma, Hae-shil.
She has her full Ariel moment as he pictures her as a redheaded savior before his vision clears. Hae-shil helps him up, and then stuns him by slapping him in the face. Twice. Hard.
He's stunned, but she barks that life is precious. Ohhh, she thinks he was committing suicide. HA.
Hae-shil makes a fire for Jung-geun to warm himself with, and feeds him fresh abalone, telling him firmly to live and breathe and eat good things. She doesn't know why he tried to jump into the sea, she says, but buck up. Have strength.
Jung-geun doesn't quite know what to make of it, but he lets her drive him on her quad bike and puts on her ajumma diver tracksuit. She hands him bus fare, and when he asks for her contact information to repay her, she tells him to keep the money.
He doesn't like being mistaken for a pathetic sad sack but he isn't in a position to reject her help, though he does try to tell her that of all the things she's fished out of the sea, he's by far worth the most, like a pearl. She just laughs at his bluster and drives off, leaving him shouting after her, "I'm a pearl! A black pearl!"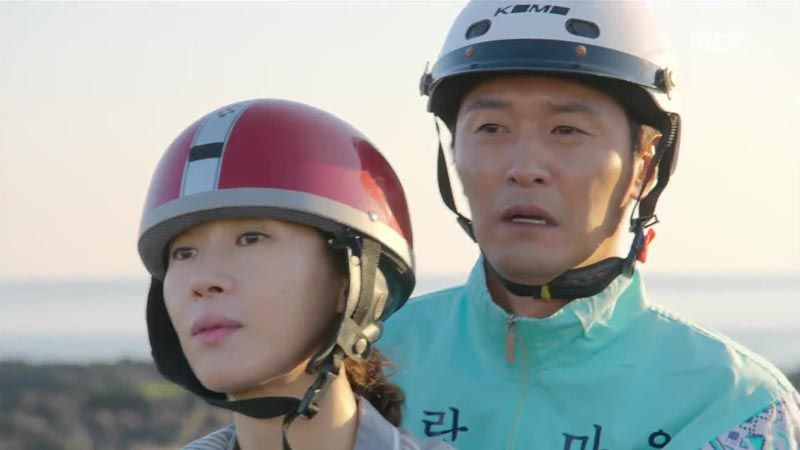 Town mayor and ex-underwear model Wook drops by Jung-joo's house and takes in the wreckage, wondering whether she's okay.
She is, having slept the night at the restaurant, and she wakes up wondering how much of last night was a dream. To her elation, however, Gun-woo has left her a copy of the contract they signed, stamped with their thumbprints and valid "until Lee Jung-joo dies." She checks her balance to confirm that she transferred her life savings to him last night, then takes stock of what is now hers.
Welling up with excitement, she squeals and does a little dance outside the shop. Wook sees her and smiles, glad to see that she's okay.
Gun-woo returns to Seoul, eager to get his relationship to Ji-won (ugh, her) back on track. He explains seeing her in Jeju and not confronting her because he was angry, but has calmed down and understands that she probably had a reason.
Ji-won goes with that, saying that she was in Jeju for work, playing it off like she lied because it was going to be a surprise. Gah, I hate you. Shut up.
Anyway, the look on his face is rather priceless when she says she's going to be working in Jeju, given everything he just did to get outta there. Especially when she chirps that now she can eat every day at his restaurant. Isn't that great?
Gun-woo goes running to his noona for money, asking for 50 million (aka, the amount Jung-joo gave him). But she refuses, since their brother had predicted this and warned her that if she helped, he'd cut her off too. Which means he'll have to come up with another plan…
Jung-joo starts planning what to do with the shop, thinking to convert its menu to something much more profitable. To her shock, she walks into the restaurant to find a whole bevy of food cooking away—and Gun-woo's back acting totally natural, like he hadn't just packed up his life and said good riddance.
Gun-woo says that he had a lot more attachment to the place than he'd expected, though he assures her that he's not here to take back his offer; a contract is a contract. Instead, he makes an exaggerated show of pointing out "problems" in the kitchen that need fixing, and when customers enter, he offers to cook rather than turn them away.
Poong-san is just as confused at Gun-woo's return, especially since he knows him well enough to find it mighty odd that he'd just volunteer his services and help out. Still, it's a rare busy night at Warm & Cozy so Jung-joo accepts his help as they serve a full house of diners.
After closing up for the night, she's surprised that Gun-woo has made himself comfy here, intending to stay with her in the apartment upstairs. He argues that his old rental is already rented to someone else, and pulls out a cot, ready to settle down.
Jung-joo orders him out of her bedroom, and he leaves huffily, noting to himself that she's being tougher than he'd expected.
Jung-joo tosses and turns in bed, wondering what he's up to and how long he means to stay. Gun-woo tosses and turns too, downstairs on the dining chairs, and decides to appeal to Jung-joo's sympathies again.
He whines about the cold and angles for pity, and when that doesn't work, he pretends to hear something outside. She reminds him that he'd said there were no thieves here, but all of a sudden Jeju is sooooo dangerous, and he can't in good conscience leave her to sleep alone.
Jung-joo kicks him out again, and he leaves grumbling again. Still, this time his words ring in her ears, and she ends up going down with blankets, though he's nowhere to be seen. She looks for him outside, wondering where he went, and then gives him a call.
His phone rings from inside her room, and then she spots his arm carefully emerging from a pile of blankets to pick up his phone. Haha, he's hidden himself on the cot in the corner of her room, and the sight is amusing enough that Jung-joo smiles and lets it go for tonight.
She flicks off the light, gets into bed, and pretends not to know. Gun-woo peers out from his hiding spot, thinking he's gotten away with it, and Jung-joo lets him think that.

COMMENTS
Oh, Gun-woo. I started out this episode so annoyed with him, knowing that I would probably forgive him (and pretty easily at that) but still wanting to give him a good hard pinch for being a dummypants about that stupid first love. (I don't think I'd get much pushback in saying she's pretty awful all around—I know she's a second lead who isn't going to get the guy regardless, but way to be lazy in not even trying. If you're going to make her an annoying character, at least give it to an actress who can act, or conversely, if you're forced to cast someone who's terrible, then make the character interesting. One or the other! Not both!)
But despite being really annoyed when he predictably ditched Jung-joo and stole from her to impress a totally unappreciative, undeserving person, Gun-woo is saved by being earnest and well-intentioned. His main flaw is that he's self-centered—it isn't even that he thinks he's better than other people, it's just that he thinks of things only as they affect him and forgets to consider the other person. But he's not a jackass, and I believe that he genuinely cares for Jung-joo, and that he'd still care about her if he knew she wasn't dying of cancer.
Throwing money was pretty bad of him (it sparked a distinct "oh shit" reaction in me), but otherwise, his lies and concocted stories are mostly harmless. At least when she can see through him, it makes him an immature scamp—it cracks me up to see him using his smarts in all the silliest ways. It reminds me of students who stay up all night Photoshopping medical forms or accident reports to serve as excuses instead of just, you know, writing that term paper.
Jung-joo is a great character because although she's the straight (wo)man in the comedy (which is often harder to make funny or interesting when the other person gets all the fun quirks), Kang So-ra plays her with so much heart that I'm on her side, a hundred percent, in every situation. The two actors have a solid rapport that will likely carry the show for me—and while I wish that weren't the only thing that's really doing it for me, I am at least thankful for it. I could watch them bicker and make up and flirt for daaaaays.
Of course, I don't want our hero to lose his impish ways, but hopefully his streak of irresponsibility is what he'll grow out of throughout the course of the show, with Jung-joo breathing some maturity into him. 'Cause why be exasperatingly boyish when you could be manly and swoony instead? Always choose swoony!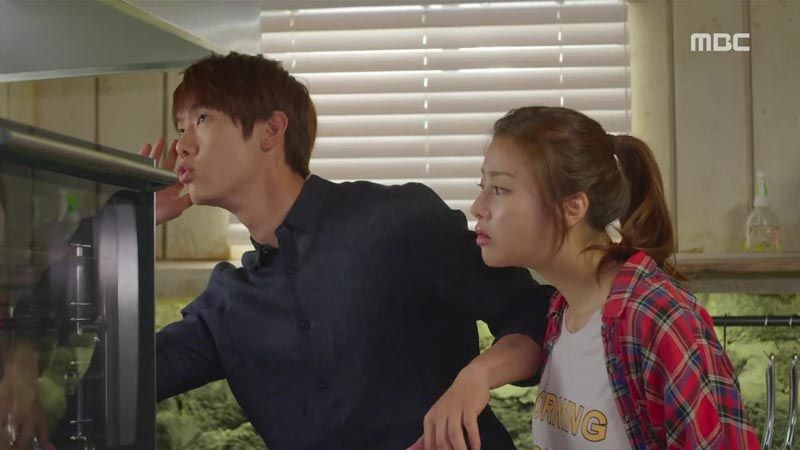 RELATED POSTS
Tags: featured, Kang So-ra, Warm and Cozy, Yoo Yeon-seok