Mask: Episode 6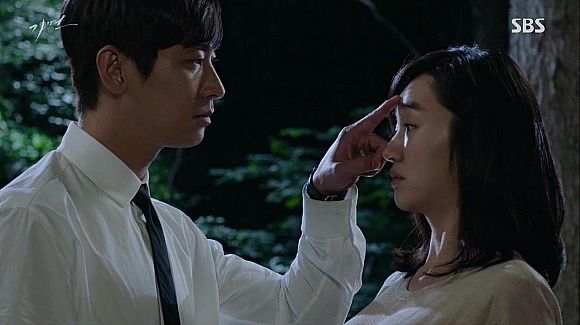 Min-woo and Ji-sook are beginning to trust one another and opening up… but Ji-sook is shaken to the core when she's forced to reject her family, and it will take a strong supporter to help her through the emotional aftermath. Let's hope Min-woo is up to this first real challenge as a husband.
EPISODE 6 RECAP: "Family, That Heartbreaking Memory"
Min-woo and Ji-sook dance as if they're alone, until a voice breaks through their daze: "Noona!" Ji-hyuk stands staring at Ji-sook, and for a long moment she's too shocked to respond. Everyone waits to see what she'll do, and she finally says in a quiet voice that she doesn't know who this man is. Ji-hyuk is escorted from the room, calling frantically for his sister.
Ji-sook is still rattled the next morning at breakfast. Mi-yeon pretends concern as an excuse to pepper her with questions about Ji-hyuk, assuming he's someone Eun-ha dated, but Min-woo again rises to Ji-sook's defense. Mi-yeon won't drop it, so Seok-hoon offers a convenient excuse that possibly he was a stalker.
After the meal Seok-hoon finds Ji-sook to threaten her again for putting his plan in danger, but he quickly takes on a friendlier tone when Mi-yeon joins them. She offers to find out who the "stalker" is, and though it's clear she's mostly being nosy, her pretense of wanting to help means Ji-sook can't object.
It's Min-woo's first day as Director at SJ Group, and before he even gets to his new office he's hit with a challenge. Three employees gossip in the elevator about the new director, and it's apparent that word has gotten out about his perfectionist tendencies. Supposedly, he's also fat and bald and sees a psychiatrist from the stress of counting all of his money. HA.
He passes this first test by not mentioning it, and making a speech to his new team that he's worked hard to get here and he knows it won't be easy, setting up a team mindset from the beginning. The employees from the elevator nervously watch as Min-woo compulsively straightens his desk to his liking, causing him to get self-conscious and shut the blinds on them.
The moment Min-woo stops to take a breather, a smile starts to curve his lips as his thoughts drift to his wife. But the real Eun-ha's words that she's going to keep dating her lover after they're married intrude on his happy thoughts, and he shakes some sense back into himself.
Mi-yeon and Stepmom get some information back on Ji-sook's mother, and when Ji-sook comes to talk to them about an exhibit, they can't help but mention that she's supposed to be the art expert. Mi-yeon sneers that maybe the information in the envelope will jog her memory, but Mi-yeon snatches away the envelope, saying that giving everything away so soon would be no fun.
Mi-yeon instructs Ji-sook to be in charge of cleaning at the gallery, pretty much relegating her to janitorial duties. Ji-sook asks why Mi-yeon dislikes her so much, hoping to find a way to fix it for the sake of the family, but Mi-yeon isn't interested. She makes it clear that they are not family, only people who make nice because they want something from each other.
She spells out her feelings clearly — she hates Ji-sook so much, she would kill her if she could. Once Ji-sook recovers her memories, she'll know why.
Ji-hyuk has found the gallery, having not given up on speaking to this woman who looks like his sister, and he catches the tail end of this conversation. Mi-yeon sees him there and says, for him to hear, that Ji-sook will start her cleaning duties with the bathrooms.
Ji-hyuk leaves, running into Mi-yeon on her way out. He initially resists her offer to give him information, but curiosity wins out. Over coffee he asks why Mi-yeon is pretending to be helpful, since he can see they're not close.
Still assuming he's an old boyfriend, Mi-yeon prods for information, and Ji-hyuk is smart enough not to tip his hand. I gotta admit he's more insightful than I gave him credit for. He agrees that she's on the right track (ha, he calls her "ajumma") and asks Mi-yeon to tell Ji-sook that he'll keep trying until he talks to her.
Mi-yeon assumes that he wants to get his old girlfriend back, and tells him they have the same goal. She's totally wrong, but it gets Ji-hyuk the access to Ji-sook that he needs.
Min-woo is so distracted by the thought that his wife has another man, he spends his entire first meeting composing texts to her about it and immediately deleting them. He sure is putting a lot of effort into acting like he doesn't care, ha. He finally leaves the meeting, frustrated, and gives a CCTV camera the evil eye on his way out.
Min-woo decides to address his concerns in person, and finds Ji-sook in the gallery scrubbing toilets. When he tells her to stop and she refuses, he forcibly tears the brush out of her hands. She argues that she's nobody special to be above cleaning, but Min-woo asserts that it would make him look bad if word got out.
He takes Ji-sook to lunch to talk, and he takes her sadness over seeing Ji-hyuk as guilt, assuming he's the man she loves. She does admit she loves him, but says sadly that she shouldn't see him anymore. When Min-woo gives her permission to see him, since it was a condition of their marriage, Ji-sook happily asks if it's okay and Min-woo reminds her not to get caught.
Ji-sook talks to Seok-hoon before meeting with her brother, arguing that she may as well or he'll cause more disruptions. Seok-hoon slams an envelope on his desk, then grips Ji-sook by the neck to look at them — it's the DNA results, and it's a death sentence to them both. Luckily he switched the results before Stepmom got them, but it was a close thing.
Seok-hoon reminds Ji-sook that if it comes to that, he will kill her before she can take him down with her. He releases her and gives permission to see Ji-hyuk, but only to end this.
Min-woo takes his disappointment out on Ji-sook, complaining about her leaving her clothes out. When she stares at the clothes in her closet and says they don't look good on her, he takes her literally and throws a fit, tossing the clothes angrily around her dressing room. Aww, he's really hurt because he thinks she's in love with another man.
He takes a nervous Chang-soo out for a drive, and gripes about how crazy it is to get married. He complains about Ji-sook's nightmares and her unwillingness to stand up for herself to his family, claiming not to like anything about her.
Butler Nam-chul and Maid Yeon-soo help Ji-sook clean up her dressing room, but they let slip that Min-woo didn't send them, but Seok-hoon. Ji-sook wonders how he knew she needed help, and starts looking for a hidden camera.
She's right, and Seok-hoon is watching her from his laptop but telling Mi-yeon that he's going over work documents. She has a secret of her own, as she flips through photos of her husband giving that diamond necklace to Eun-ha.
The next day, Min-woo tells Ji-sook to come to work with him — he arranged for her to help him instead of going to the gallery from now on. She says she has an important meeting, so he tells her to come to his office that afternoon for an interview, and to make sure to wear her wedding ring.
Ji-sook's meeting is actually with Ji-hyuk, and she keeps her sunglasses on to hide her eyes. As Seok-hoon and Scar watch from a distance, Ji-sook takes on Eun-ha's persona and says that she looked into this woman who supposedly resembles her. She says she had a DNA test done and there was no relation.
She gives Ji-hyuk a check for the family's debt and asks him to quit bothering her, but he stops her before she can leave. He brings up things they used to do as children, hoping to get her to admit she's really Ji-sook, but she blows up at him instead and says she was only curious. Her words are harsh, but behind her sunglasses, tears well up.
Ji-hyuk says he'll believe her if she lets him see her eyes, and he reaches to remove her sunglasses. She almost lets him, but then bats his hand away. She says she's not his sister, and tells him to take the money — but instead, Ji-hyuk tears up the check and says he'd only take it if it were from his sister. He leaves, saying he'll never bother her again.
Later Ji-hyuk, battered and bloody, brings another haul of money to Director Shim. Shim is impressed by his collecting prowess, but Ji-hyuk has no intention of making a career of it — he just wants to pay his family's debt and get out.
He asks for jobs with larger dollar amounts, but gets a little mouthy, and after he leaves Shim says he needs to teach him a lesson. But Ji-hyuk gave him the idea to get into bigger deals, and he also remembers Scar offering to buy out a large number of their accounts, and how they got off so easily from the cops that time. I… think that Director Shim, thinking, is a Very Bad Thing.
Even though Min-woo warned Ji-sook several times not to be late, it's cute how he's all It's only been five minutes! when Chang-woo offers to call her. She arrives still looking morose, and can't manage to play the role of the happy wife during the interview. For his part, Min-woo smiles and says they're in love, and not in an arranged marriage like the rumors say.
Ji-sook does help by elaborating on Min-woo's boring telling of their fabricated meet-cute story, but when it's time for pictures she can barely bring herself to smile. She suddenly stands and excuses herself, and Min-woo follows her out.
Ji-sook cries that all the lying is getting to her, asking how he can stand it. In answer, he makes a call and cancels the article they just interviewed for, then says that from now on they'll be honest with each other.
The first thing he wants to know is where she went this afternoon, but Ji-sook declines to answer since they promised not to get involved in each other's private lives. Min-woo says that's fine, but she keeps involving him. How could he not get involved when his wife sits next to him, with that expression on her face?
Ji-sook tries to remind him that they married for business reasons, but Min-woo admits that
he doesn't want her throwing that up at him anymore. He says they have to leave or they'll get home too late — he has an event to go to.
Min-woo seems disappointed when Ji-sook doesn't ask where they're going, and the conversation in the car is awkward. Min-woo calms down and tells her not to be upset by what he said about involving him, so she rewards him by saying she ended things with "that man." She knows he'll interpret it that she broke up with her lover, which is sweet.
Butler Nam-chul reports back to Dad that Min-woo did well on his first day at work, and that the employees like him. Dad relaxes with a cup of tea, but when Stepmom enters the room to discuss Min-woo's interview, he suddenly blows up and screams that she scared him. Well okay then. Stepmom checks the date, realizing why her husband is overreacting.
She meets her daughter at the bar and orders a shot, and Mi-yeon says she's drinking her wine with a straw because she gets drunk faster. They're both furious at their husbands, and Stepmom grumbles that Dad is still like this after twenty years. She tells Mi-yeon that she'll go nuts if Min-woo gets control of the company, and Mi-yeon remembers what day it is.
Min-woo and Ji-sook stand in front of his mother's urn — it's her memorial day. Min-woo says that he wanted his mother to meet his wife, which, AWWW. He says that he can't remember her very well anymore, and that he wishes he had more pictures, and promises Ji-sook that they'll see her biological mother soon.
It spooks Ji-sook when he asks her mother's memorial date, since he's unaware that her mother is alive and well. She goes out for some air, but she stops at the door when she hears him playing the violin. He's not overly talented, but he'd said his mother loved his playing, and it's a sweet and vulnerable moment that doesn't escape Ji-sook's notice.
She sits by a river and admires her wedding ring, saying that her mother would have been proud of it. She tries to take it off and accidentally flips it into the river, so she wades in to find it. When Min-woo sees her knee-deep in water, his own fears of his mother's drowning rush back to him.
He offers to buy Ji-sook a new ring if she'll come out of the water, but she can't imagine just leaving a diamond ring like that. Luckily she finds it quickly, but slips and falls into the current anyway. Min-woo acts fast and grabs her hand, pulling her out of the water, but her ring is swept away.
Ji-sook is more upset about the ring than her fall, and it's obvious that Min-woo's screaming is more from worry than anger. But she's distraught that her wedding ring is gone, which takes the fury out of him.
As he drives home, Min-woo expresses surprise that the ring meant that much to her, and she mutters something about the giver's sincerity, then counters that she didn't know he played the violin. He says he used to be good as a child, but these days he only plays for his mother. Suddenly the car jerks and stops, stranding them on the remote road.
Min-woo looks at the engine, quickly determining that someone tampered with it. Of course there's no cell phone service where they are, so they set off on foot to get help. Min-woo notices Ji-sook's clothes are still dripping wet, and suggests she take them off and squeeze them out so they'll dry faster.
He finds a large boulder for her to undress behind, and she orders him not to come near while she changes. HAHAHA, she totally catches him peeking, and he pretends to be stretching. Because that move ever fooled any girl ever, hee. It flusters Ji-sook enough that she puts her belt on backward, and her offended face is hilarious.
Min-woo gets right up close to comment that her lips are purple and she appears to be running a fever. He gruffly suggests they go back to the car because it's too cold out here for her, and Ji-sook seems touched by his grouchy concern.
Mi-yeon drinks a lot with her mom, and Seok-hoon finds her in their bedroom stuffing her face with leftovers. She says she's hungry no matter how much she eats, and ooohh, I bet she's pregnant. Seok-hoon grudgingly asks what's wrong, and she asks if he loves her.
Seok-hoon claims to have married her for love, and while I don't think she truly believes him, Mi-yeon says she loves him too. But she adds that she loves Min-woo too, and hopes that things work out with his marriage and that they truly fall in love.
Apparently Mi-yeon has been playing matchmaker, and Min-woo's taking Ji-sook to meet his mother was Mi-yeon's idea. Seok-hoon looks angry for a moment but schools his expression, and listens as Mi-yeon babbles about a man and woman stranded on an island and falling in love. She confesses to have messed with Min-woo's car, telling Seok-hoon that she stranded them on an island.
Seok-hoon is angry that they could get in an accident, and he tries to call both Min-woo and Ji-sook but gets no answer. He starts out to find them, but Mi-yeon stops him, "Don't go. If you love me, don't go." He tells her that he sincerely loves her, but he goes.
Back at the car, Min-woo apologizes to Ji-sook for getting her into this situation. He shows surprising awareness of her situation when he says it must be isolating for her, in a place she doesn't know anyone. He even admits that he understands how scared and lonely she must be.
He reveals that when he was a child he lived with his mother, not his father — in fact, he didn't even know he had a father. And even now, after decades, he still feels like a stranger in that house. Ji-sook teases that he said he always gets sentimental at night.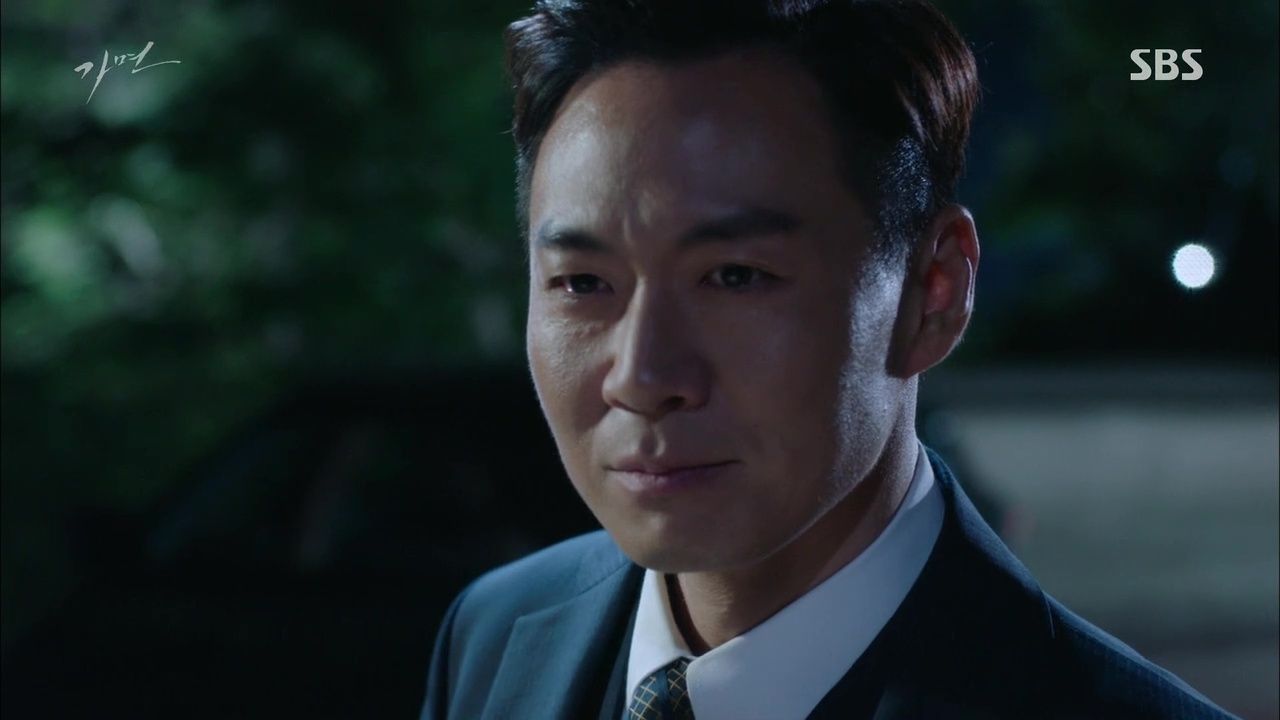 Min-woo notices that Ji-sook is shivering, and he says with all innocent intentions that she should take her wet clothes off. She argues that she'd only be colder, and when Min-woo says he'll go look for help again, she asks him to stay. But then, she passes out.
Seok-hoon comes racing down the road towards them, screeching to a stop in front of Min-woo's car. He sees Min-woo and Ji-sook in the backseat, and it's obvious that both of them are naked. Misinterpreting the situation, Seok-hoon remembers telling Ji-sook that if she can make Min-woo trust her enough to want her physically, she can control him.
Seok-hoon sees his plans getting closer to fruition and smiles, as Min-woo wakes to see him standing in the road, staring at them.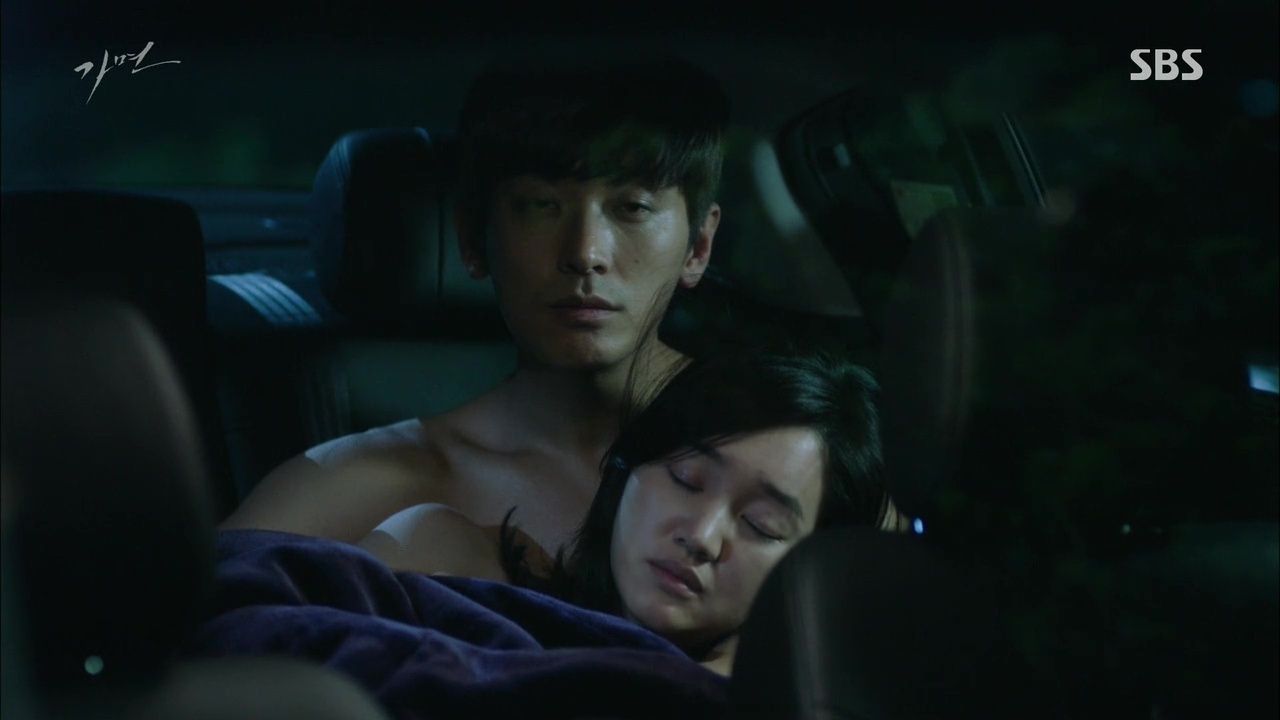 COMMENTS
Seok-hoon is such a mystery. I actually believed him when he told his wife that he loves her, and I think he truly does, on whatever level he's capable of loving another person. But I also believe that he loved Eun-ha, and that his distorted emotions are now coming to rest on Ji-sook. I just think he's someone who doesn't let his feelings get in the way of what he wants, and right now he wants Min-woo to go down. I still don't entirely understand why, but I believe that Seok-hoon is committed to this plan so fully that he's willing to lose people he loves to see it come to fruition. It's just so sick and twisted to see him conflicted over his feelings, yet willing to put someone he loves in harm's way in order to get his way.
I'm happy that, even this early on in the relationships, Min-woo at least is admitting that on some level he cares for Ji-sook. He's still couching it as "how could I not care since you're my wife," as if he would be this way no matter who she was, but we all know that's just an excuse. Even though he only lets his guard down when he's alone, little moments like his tiny smile when he thought of dancing with Ji-sook, are starting to give him away. If he's not careful, those unguarded solitary moments are going to start happening in front of Ji-sook, and he won't be able to bluff anymore. He's already showing small signs of vulnerability, such as when he backed down about not involving him in her life, and when he took Ji-sook to meet his mother. He's softening towards her, and it shows on his face and in his actions.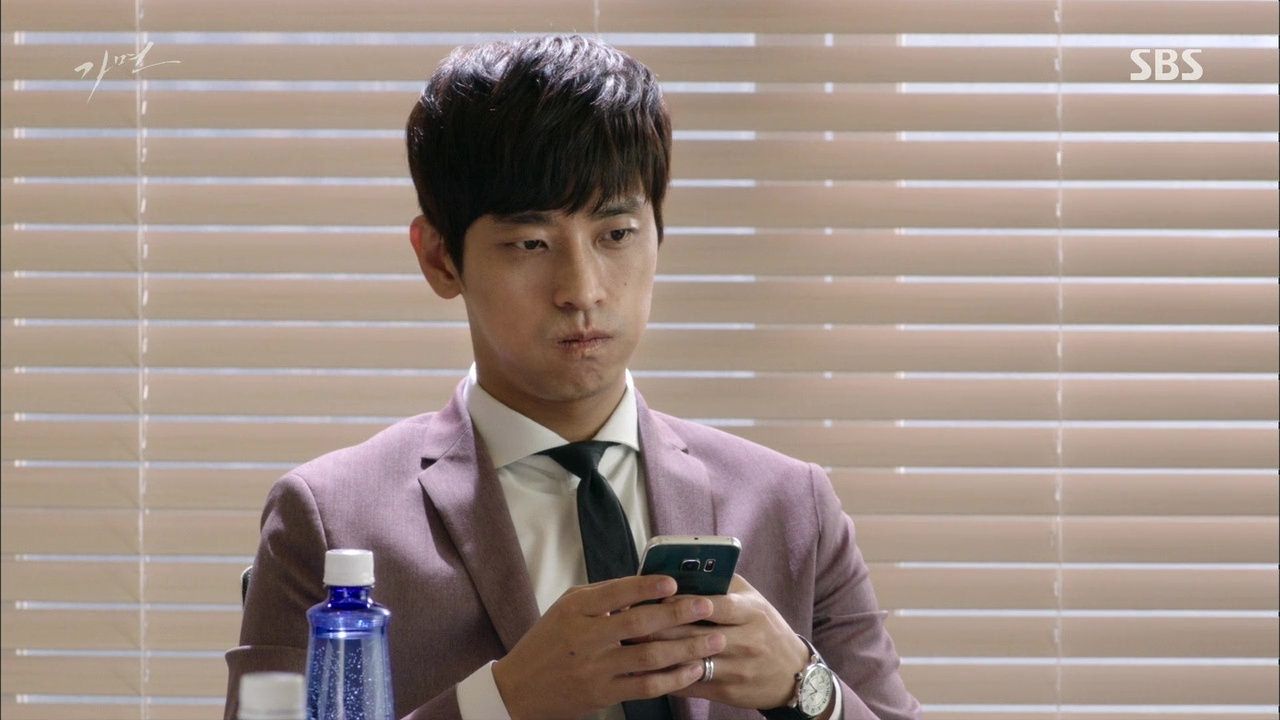 I'm a little disappointed that the plot line of Min-woo being gaslighted into thinking he's crazy seems to have been dropped. I initially found that element of the story one of the most compelling reasons to watch, since it was a major part of the family's (I think it's at least Seok-hoon's, or possibly Stepmom's) plan to keep him out of SJ Group. But for some reason, since the wedding, there hasn't been any indications of their drugging and machinations to keep him weak and powerless. And while I'm enjoying seeing Min-woo find his footing and his strength, I wish that his confidence were being shaken for a bit longer. I feel like the master plan was much more complex early on in the story — medicate Min-woo and get a doctor to make him think he's mentally unstable, set him up to think he's dangerous, then marry him off to a woman who can continue to undermine him from the inside. It was evil and brilliant, and it seemed to be working.
But now, none of that is happening, and it's my one small disappointment in the way the story is unfolding at this point. As soon as Eun-ha died and Ji-sook was tagged in, and the wedding took place, all of that just… stopped. No more drugs, no more nefarious doctor, no more suspect situations orchestrated to undermine Min-woo's confidence. And aside from lots of threats not to get caught, Seok-hoon isn't even having Ji-sook do anything. He's vaguely said "make sure Min-woo doesn't get the director job," but when Min-woo got it anyway, I expected Seok-hoon to come down on Ji-sook like a tornado. But yet… nothing. Come on Seok-hoon, don't let me down, you're badder than this!
I'm hoping that, now that Seok-hoon thinks that Ji-sook is getting Min-woo under her spell by making him want her physically, that the nefarious plots will resurface. They're what made this story interesting, and though the burgeoning romance is sweet and I'm enjoying seeing Min-woo and Ji-sook develop feelings for each other, let's face it — I'm here for the crazy plotting. The show set up my expectations for a lot of that, so two episodes of none of it feels like a bit of a letdown. Hopefully next week we'll see an upswing in the crazy!
RELATED POSTS
Tags: featured, Joo Ji-hoon, Mask, Su Ae, Yeon Jung-hoon, Yoo In-young