The Producers: Episode 8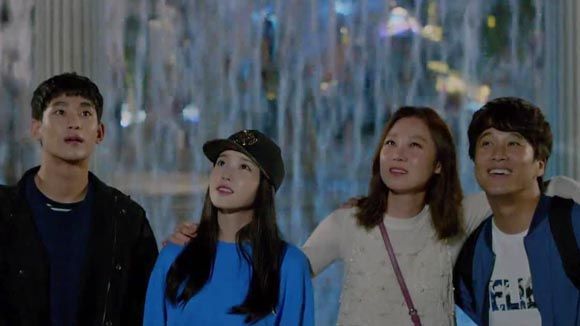 Today's episode is all about lovelines, and goodness knows this is a drama that enjoys playing with all the different relationship configurations, but more than anything I feel like it's really about friendships. Some are solidified, while others spring up seemingly unexpectedly, giving our characters a source of support from people they hadn't necessarily expected to give it. Lovelines are fun and all (you'll never hear me balk at a cute romance) but sometimes more than a spark of attraction, what speaks to the soul is a spark of recognition, from one person understanding the heart of another.
SONG OF THE DAY
Coffee Boy – "이게 사랑일까" (Is This Love?) [ Download ]
Audio clip: Adobe Flash Player (version 9 or above) is required to play this audio clip. Download the latest version here. You also need to have JavaScript enabled in your browser.

EPISODE 8: "Understanding lovelines"
Cindy kisses Seung-chan, completely taking him by surprise. He actually takes a confused step backward (sad) and stammers that this is a first for him. To which Cindy says that it's not like she goes around acting like this to everyone. She asks what his reaction means, saying that she feels like an MC, handling this conversation solo.
But when it sounds like his answer may be negative, she hurriedly stops him and says she'll give him time to think it over. She asks for a reply after he's figured out his feelings, looking rather sad as she says she'll wait.
Ye-jin gets caught in traffic on the way to the amusement park, and rejects a call from Cindy's Manager Kim (muttering that they're the ones who threw her under the bus) before picking up one from Joon-mo. He urges her to hurry to make the fireworks show in an hour, then reconsiders and adds that she shouldn't hurry so much that it'll be dangerous: "Come carefully!"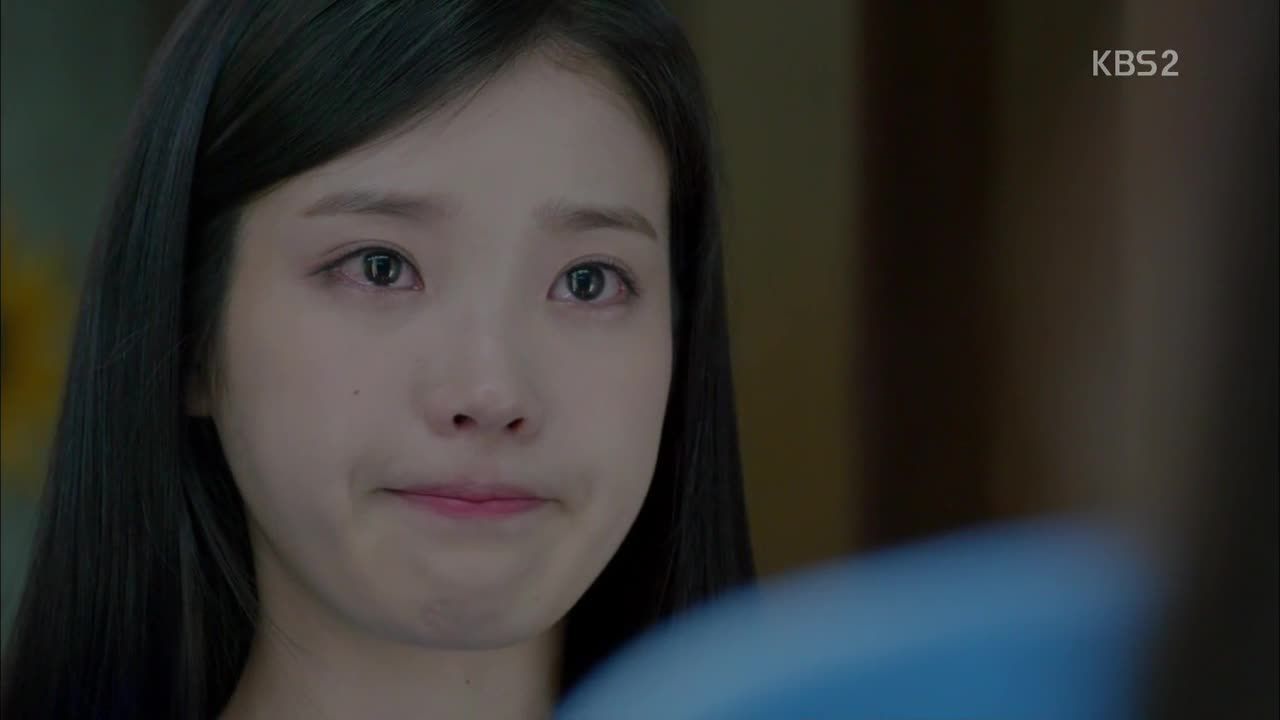 In the bathroom, Cindy mops up her tears and grumbles that someone would think she just got rejected by a guy… and the wonders if she did just get rejected. She insists to herself that he hasn't replied yet and tells herself to pull it together, even as she's crying in disappointment.
She tells Seung-chan that she's ready to leave, though he replies that Ye-jin's not here yet, Joon-mo's still in his meeting, and moreover, it's her birthday—they should celebrate it together. Then he pushes her cap down over her face and stands in front of her to prevent an employee from taking her photo. But Cindy peers over Seung-chan's shoulder and asks for a souvenir picture anyway.
Of course, one look at the photo has her complaining how Seung-chan made her face look extra big (the courteous thing is for the man to stand in the foreground to make the woman's face look smaller, since Koreans prize small faces). But she's mollified when he says he's never really taken photos with women before.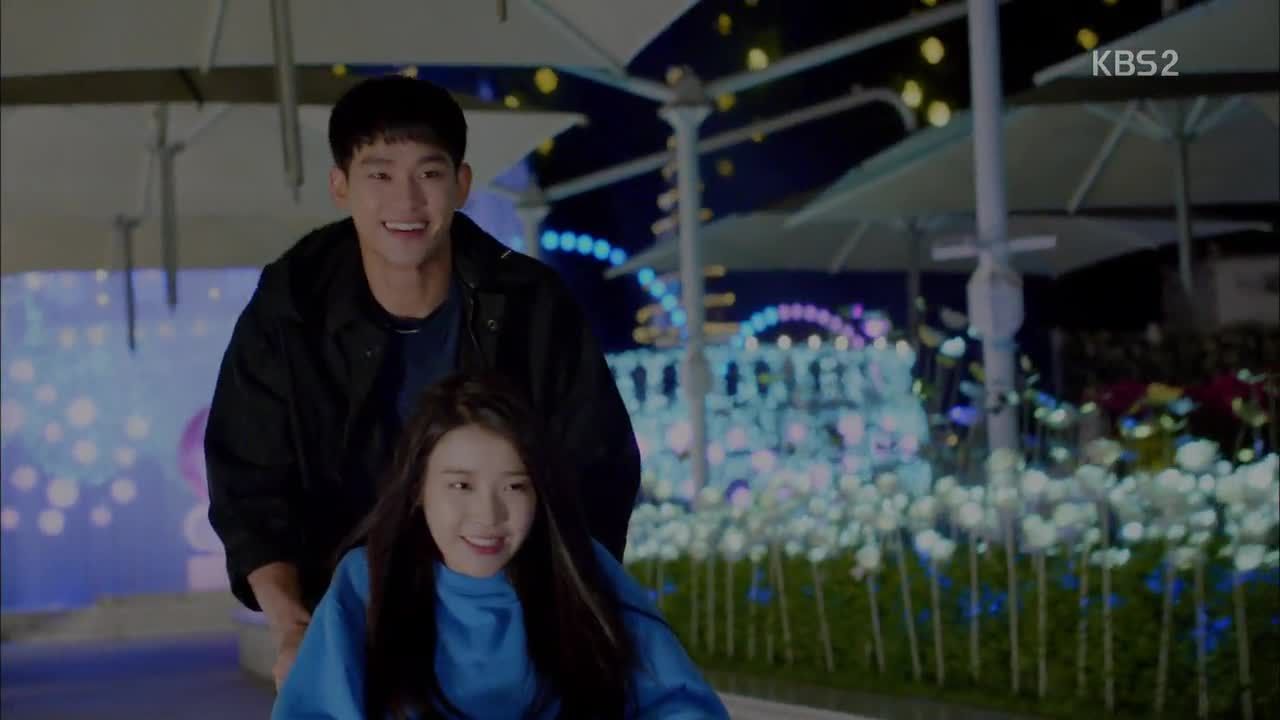 Sensing that she's feeling awkward, Seung-chan wheels her to a long, empty corridor and instructs Cindy to hold on tight. He starts running, making the wheelchair zoom by and putting big grins on both their faces.
Once at the park, Ye-jin gets a call from stranger about her headlights and heads back to the parking lot. She informs Joon-mo over the phone just as it belatedly occurs to her that her number isn't posted in her car anymore, then she drops her phone in shock to see somebody waiting for her. Joon-mo grows worried and starts running toward her.
But it's only Manager Kim, here to confront her about harboring Cindy. He's already confirmed it, having reviewed car black box footage and witnessed Cindy taking out the recycling outside Joon-mo's apartment.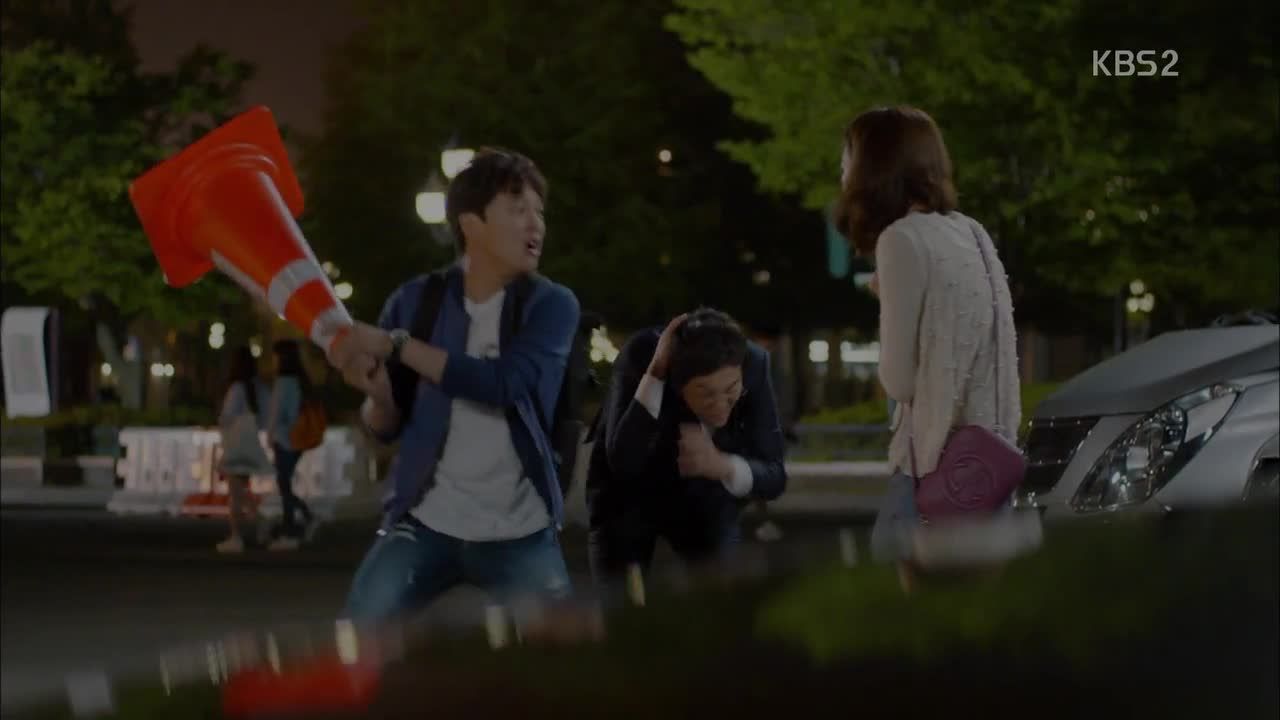 And, then, BAM! Joon-mo attacks Manager Kim with a traffic cone, thwacking him on the head—hard. Hahaha. I know it's a total mistake but it's just so satisfying.
Manager Kim isn't without sympathy for Cindy's feelings, but he reminds them how fearsome CEO Byun is. He adds that Byun acts this way about Cindy for fear that she'll turn out "like that friend" from before. Just tell us what that's about already! After all this buildup, it had better be good.
Joon-mo agrees to take responsibility for Cindy and escort her back to them, but not today—it's her birthday, and the fireworks are about to start.
So the three PDs gather with Cindy to watch the display and wish her a happy birthday. She thanks them in a small voice that goes unheard, and looks wistfully at Seung-chan as Ye-jin throws an arm over each of the boys. Cindy stands up to join them, and wedges her way between Seung-chan and Ye-jin, haha.
Ye-jin declares that a birthday night must end at the noraebang, adding that Joon-mo's got quite the voice. Joon-mo says that his friends were always telling him to be a singer (ha, I always forget that Cha Tae-hyun used to be a singer), and at that, Seung-chan pipes up that he can sing, too. Joon-mo looks at him skeptically… and then we cut to Seung-chan giving a rousing rendition of "This Is the Moment." Joon-mo is grudging at best, while Ye-jin claps enthusiastically and pats Seung-chan's head approvingly.
Ye-jin and Joon-mo take a turn with a bunch of '90s kpop hits, and the more in sync they get, the sadder Seung-chan looks, which Cindy notices. Then Seung-chan enters his next selection—Lee Seung-gi's noona-love anthem, "Because You're My Woman." He's extra pleased when Ye-jin says it's her favorite song, which Joon-mo would never sing for her even when she begged.
Joon-mo almost cancels the song, which Ye-jin prevents. But then Cindy, who's looked glum all this time, grabs the remote and cuts the song short with a totally insincere "Sorry. Pushed it by accident."
Then it's Cindy's turn, and she picks Younha's "Waiting," singing about falling for someone who doesn't love her back but waiting anyway. The song continues scoring the scene as Seung-chan heads home at the end of the night (where he turns a shampoo bottle bearing Cindy's face away before undressing), touching his lips to recall the kiss. Joon-mo watches Ye-jin without her seeing, while Cindy looks at her photo with Seung-chan, smiling as she falls asleep.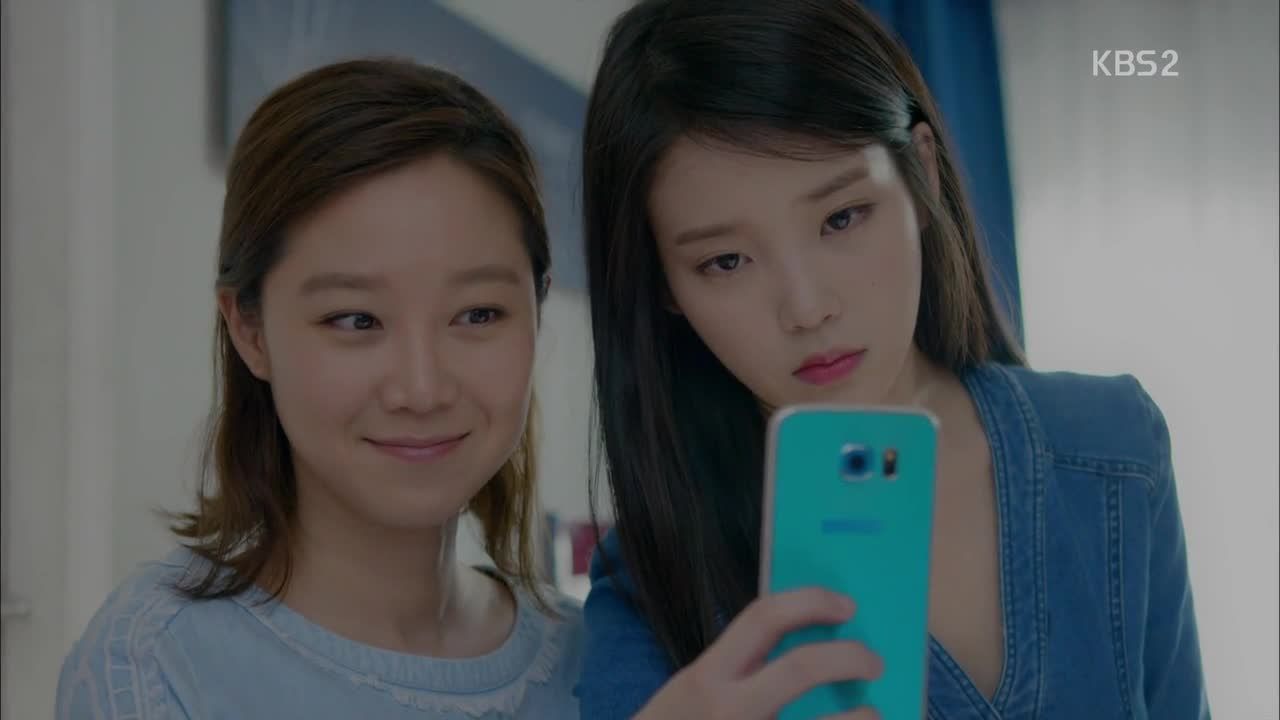 In the morning, Cindy reads the article online that insinuates that Ye-jin pushed her deliberately and apologizes for the trouble it caused. Ye-jin replies that it's okay, even if it did put her in a tough spot, and got her car vandalized, and required costly repairs…
And Cindy just replies, "Okay." HA. She does take a selca with Ye-jin and thanks her for her help, then heads out to be collected by her managers.
As her car pulls out of the apartment complex, Cindy catches a glimpse of Seung-chan walking by, and a passage from the Demian book seems to illustrate her feelings perfectly—about longing to live out her life, to put something of herself out into the world, and to form relationships. She looks backward at Seung-chan as her car passes, and the passage reads, "Sometimes I thought, 'Now, right now, without a doubt, my love would be heading my way. That [he] would be at the next street corner, that [he] would call from the next window.'" And once again, we see that it's a passage that both she and Seung-chan have marked in the book.
At the 1N2D office, the staff discusses the current state of the idol lovelines. Cindy's the only one without a match, and the (women) writers giggle about matching her with Seung-chan, having sent him out of the meeting to discuss it behind his back. The shoe-tying scene sparked response from viewers, so they propose actively pursuing that dynamic. For instance, they suggest that Seung-chan cover Cindy's segment for an upcoming special featuring friend visits to the cast members' homes.
Joon-mo doesn't look too convinced, but his writers like the thought of Cindy possibly developing interest in Seung-chan. All the while, Cindy finds herself obsessively checking her phone, disappointed when Seung-chan doesn't call or message.
Ye-jin receives a package at the office and recoils to hear it's from Cindy's fans, expecting the worst. But it's full of cute stuffed animals and "I love you" messages, which the bratty writer explains is a result of Cindy uploading a photo online. It's their selca from the morning, with the caption: "Enjoying a sweet break with the always kind PD Tak Ye-jin." Ye-jin is practically giddy at the five thousand likes and the note that calls her Korea's best uljjang (face + jjang) PD.
Seung-chan, Joon-mo, and another PD head to lunch and start that maddening "What do you want to eat? No, not that" game. Joon-mo turns the question to Seung-chan, whose ideas get shot down, and finally he blurts, "You may eat whatever you like. I will eat bibim noodles." HA, and then the others follow him for noodles.
Ye-jin and PD Hong-soon join them, and Hong-soon quickly gets on Seung-chan's shit list by urging Ye-jin to go on a blind date with his friend. Seung-chan's petty jealousy rears its head—he withholds his egg from Hong-soon, then pretends to only have enough mints for everyone minus him (having first stolen the supply to ensure just this).
CEO Byun visits Cindy for the inevitable confrontation and asks where Cindy stayed during her brief getaway. She's surprised to hear that Cindy has friends she doesn't know about, and says that if they started a war against each other, Cindy would lose. Cindy understands this, but counters that in so doing, she would lose Cindy, her biggest asset.
CEO Byun chuckles that she's quite smart to know this, but says she's already lost one—someone who was once as dear to her as Cindy was, whose spot Cindy took. If she lost Cindy, that space would be filled right away by a new star.
Seung-chan works up the nerve to ask Joon-mo if he's fine having Ye-jin go on a blind date. He calls Joon-mo cowardly for knowing how Ye-jin feels but ignoring that anyway, making sure she doesn't get too close while also making it difficult for her to go too far.
Joon-mo replies that he's come to understand something from his time working here: "Good intentions don't make good conclusions." He says that a person can't get involved if they can't take responsibility for it through the end—which we know he'd learned the hard way. We hear the thoughts haunting his memories, as a young girl's voice had asked if he'd take responsibility for her all the way, and he'd assured her he would. Which, apparently, he wasn't able to do.
Seung-chan catches Ye-jin on her way out that evening, and carries her fan gift box for her as an excuse to suggest that maybe going on a blind date is a bad idea. He points out that men are the best judges of other men and finds excuses to indicate that the guy is a bad match. For instance, a man who likes stylish women is too fixated on their looks, though Ye-jin reminds him that Seung-chan liked his noona for being pretty. Haha.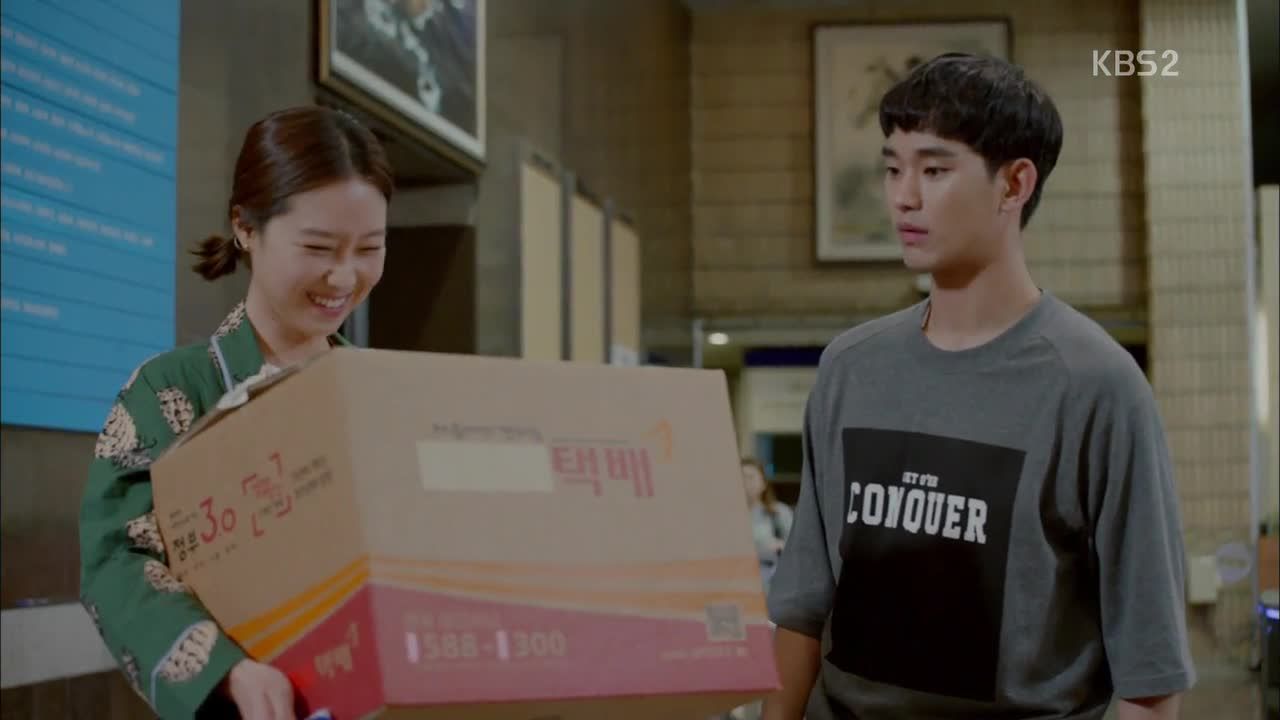 When Ye-jin starts to hand over her installment payment for the day, he stops her and asks if they can change the terms of payment, from cash to goods. Like, for instance… dinner… or liquor… or movie tickets? Omg, adorable. Ye-jin eyes him suspiciously, and waits until he offers a twenty percent discount on the debt to accept. He grins in his uncontrollable way, and both of them feel like winners.
Ye-jin complains about Cindy's lack of manners for not contacting them to say she got home okay, and by now we know her well enough to see that the bluster is a cover for her concern. She asks if Seung-chan has tried calling, which he hasn't.
Cindy, meanwhile, is so disappointed over not getting a call that she texts Manager Oppa to call her, just to see if her phone is working. Then she logs onto her anti-cafe where her antis are wishing she'd hurry back into action… because life is boring without somebody to hate on. Cindy takes perverse satisfaction in chiming in (under the username Lose Cindy)—especially when they enthusiastically welcome her back and recommend her as a new cafe administrator because of her robust contributions to the site. LOL. She scoffs aloud at how absurd they are, but writes back cutely, "Really? Thank you!"
Ye-jin calls Cindy ostensibly to ask where she put something in the refrigerator, though really to check that she survived her encounter with CEO Byun, saying that she worried. Aw, the ladies get awkward and halting 'cause they're not good with sincerity, but are they going to be reluctant girlfriends? This is going to be my favorite thing.
Cindy caaaasually asks Ye-jin whether it's customary for maknae PDs to be very busy—say, so busy they can't even make phone calls or text. She deflates when Ye-jin says they aren't that busy, using Seung-chan's readiness to help her earlier as an example. Sigh.
Joon-mo spots Ye-jin's phone receiving a text and a call from the guy she's to be set up with. He tells Ye-jin about the message she missed—but then hangs back and offers reasons why she should decline. Ye-jin is struck with him saying exactly what Seung-chan said, and supposes that two guys saying the same thing is a warning sign not to go on the date.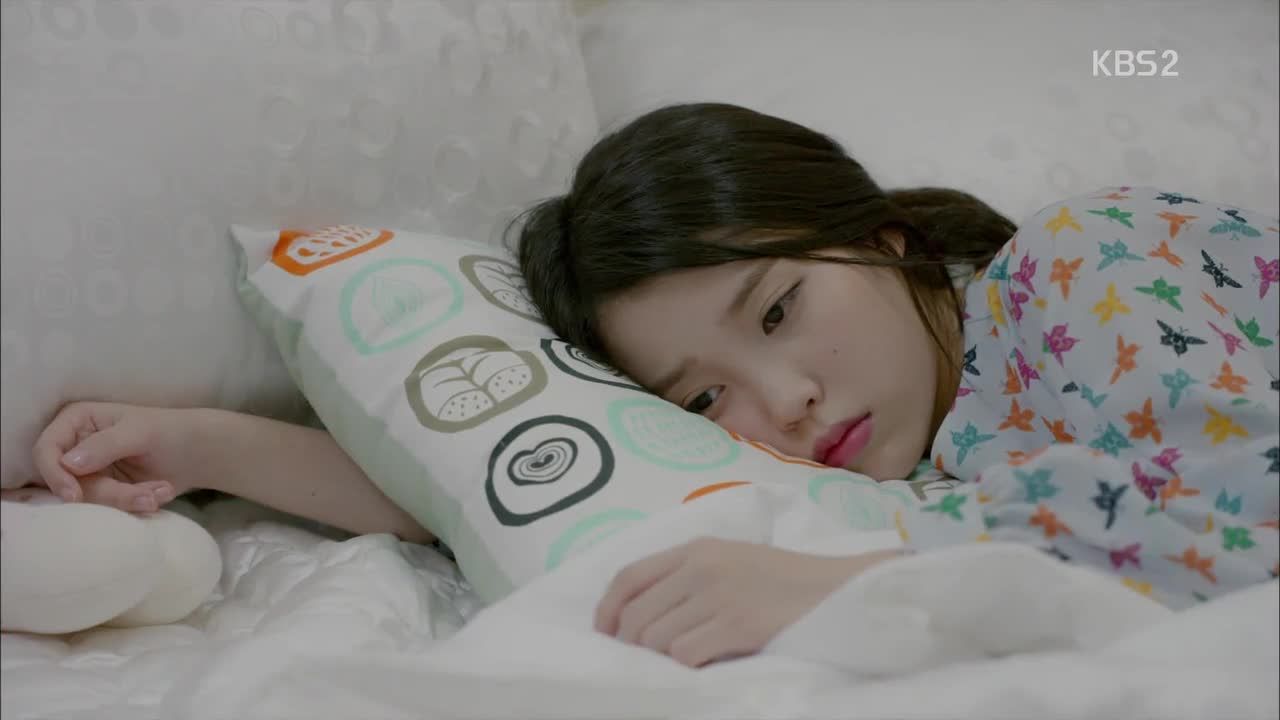 Cindy keeps checking her phone for messages that don't come, and starts texting Seung-chan several messages that she deletes before sending—asking how he is, why he isn't calling, and then snapping that he doesn't have to call.
She's moping in bed when Manager Oppa informs her that the 1N2D sent a team to surprise her at home, and she's annoyed until he says that of all people, they had to send that rookie PD. She bolts up, alternately excited and upset, deciding to send him away, then let him in, then send him away…
Finally, she decides to let them in (after first getting all prettied up, of course), and Seung-chan explains the purpose of today's shoo. Cindy wonders uneasily what "best friend" they could have called here today, trying to make it seem like there are too many for her to pick just one. The doorbell rings, and she nervously goes to answer it…
And immediately blurts, "Why are YOU here?"
It's Go Ara, hilariously awkward as she and Cindy pretend to be super tight while going through the usual friendisms for the camera's sake. They slap on huge false smiles for the audience, holding hands and calling each other best friends and soulmates, while a flashback takes us to a standoff in a stairwell. Both girls glare with a hand in each other's hair, refusing to let go before the other one, leading to a stalemate.
They tell the camera that it may seem that they're rivals, but really, they're the first to be happy for each other when they land deals, even when they steal commercials from each other.
Then the VJ pauses the shoot to reset the camera and the smiles drop as they mutter at each other. Cindy tells Ara she shouldn't have come, and Ara points out that it's Cindy's CEO that asked the favor of Ara's CEO, since Cindy had no friends. Ara blames the rumor that they spent three hours grabbing each other's hair (Cindy: "That's not a rumor") for keeping her from shampoo ads, and Cindy smugly informs her that she got one.
Ara reasons that this is a win-win situation for all involved, boosting both their images, and suggests that they make the best of it. She hams it up for the cameras, cooking Cindy fried rice and insisting on feeding her, which Cindy only allows because she can't stand to see Ara feeding Seung-chan instead.
Then Seung-chan instructs them to send a video message to each other's cell phones, and the ladies have to pause to first get each other's numbers. HAHA.
They keep up the facade until Ara leaves, and Seung-chan hangs back to have a word with Cindy. He hems and haws awkwardly about this forced friendship shoot feeling wrong for their concept, and that he doesn't feel good about broadcasting lies. She argues that it wasn't a lie, and that you don't have to be very close to everyone you call a friend.
Seung-chan goes for a more straightforward approach and tells Cindy honestly, "I think you're a good person, but it doesn't seem as though you think that of yourself. And so, I wonder if at some point, even your sincerity became acting."
She asks if he's giving her his answer now. She explains that Joon-mo had told her that in a real variety show, all she had to do was be herself: "But what is my real self? I don't know." If she doesn't love herself, as he says, then who else would? Who would understand her?
She says she understands his reply and bids him goodbye. Once she's in her room, she bursts into tears.
At the station, Hong-soon is excited to be put in charge of the variety department's athletic day, because he sees it as another opportunity to suck up to the station director. Brownnosing first, always!
Ye-jin tells the docu crew that she finds these events tiresome, where you're forced to put on a show of cheering on people who get upset if you don't. On the other hand, Seung-chan lights up to hear Ye-jin cheering for him while he shows off his basketball skills, and interviews that he loves this feeling of teamwork and cooperation—and support from the cheering crowd—and wishes they could have athletic days all the time.
The guys, meanwhile, go gaga over the chance to ogle the bratty Music Bank writer in tight clothing as she takes out all the other women in dodgeball. Seung-chan uneasily watches Ye-jin fall victim to her and reminds his fellow blubbering dudes that they're actually cheering against their own teammates.
Hong-soon knows a moment of fear when he's overtaken in the relay race by Office Nazi, and then it's on to the main event, the soccer match. As ever, CP Kim and Hong-soon are all about cheering for the station director, even though they're both on the opposing team. Not that that matters, because everybody falls back to let the director have the ball—people on his team hold everyone else at bay, while opponents all but pass him the ball. The director basks in feeling like a superstar, making for the world's slowest and least exciting game ever.
That is, until Seung-chan races in to play a legitimate game, stealing the ball and causing the director to fall. Hong-soon races up to Seung-chan and shoves him aside, leaving him blinking in bewilderment since they're on the same team, lol. Office Nazi drily commentates as the farce continues, and the director scores a wimpy goal, which everyone jumps out of the way to allow.
Yet Seung-chan comes back to claim possession of the ball and scores a quick goal, screaming in triumph… until he registers that everyone's staring at him in shock that he'd dare play for real. Tied now, the game goes to shootout to determine a winner, and it's up to Seung-chan to try to score against Joon-mo. Everyone wonders whether he'll fall in line and allow the director to win, or if he means to play for real like a crazy person.
Time slows, everyone holds their breaths, Seung-chan clenches his fist and starts to run. He shoots—a fast, serious kick—and Joon-mo dives to block it…
We don't see the result, but join him after the match as Ye-jin compliments his athleticism and mops at his sweat. She suggest a picture, and he pushes his face forward (per Cindy's instructions) to make sure hers comes out smaller. She gives him the choice to pick his "payment" for the day, and he chooses a movie, exulting to himself over the date that she doesn't know is a date.
But the song that plays as she leaves smiling is (Coffee Boy's) "Is This Love?"—the same song that plays as Hong-soon runs into Office Nazi at a restaurant and joins her at the table.
And at home, Cindy watches the video message from Ara, who's sent a surprisingly sincere message about how she'd always felt they were similar, debuting at similar times at young ages. Ara says how that made her dislike Cindy more, but thanks her for the invitation: "Today was the first time I'd gone over to a friend's house." Cindy wipes at a tear, unwittingly moved, and saves Ara in her phone under the group "Friends."
Today's lesson about understanding lovelines: "We know the beginning, but not the end."
Ye-jin arrives at the movie theater and realizes her phone is dead. Seung-chan drives over full of giddy excitement. And Cindy gets caught in the rain while waiting for Seung-chan outside his home, and calls him to let him know she has something to say. He says he has plans, but she just says she'll wait.
He calls Ye-jin, who doesn't pick up, leaving him with the dilemma of who to go to first.

EPILOGUE
Ah, now back to that shootout ending the soccer game. Seung-chan prepares himself and shoots. Joon-mo launches himself in the air, and successfully blocks the ball. No goal!

COMMENTS
First off, there was absolutely no need for today's episode to be an hour and a half. Now that the drama has lost its experimental edge and is basically a straight-up rom-com, 90 minutes (!!) seems like so much time that even the producers are looking for ways to fill it, which leads to episodes like this one that felt like two (or three) episodes just smooshed together, rather than one cohesive one. That whole segment at the athletic day—while super funny, I'll admit—was essentially filler. The story before and after that long segment was essentially continuous, playing with the Seung-chan love triangle and Cindy's loneliness, and it was like they sliced open the episode at one point to drop in extra material, then sewed it back up to end on a relevant moment. STOP THAT, SHOW. You're a good drama! Don't lose focus!
And to add another minor quibble, I find these epilogues growing increasingly irrelevant. Early on they were cute and funny, but they're losing punch. You From Another Star had the best epilogues because they tied into the main plot without being crucial to it; they were fun B-sides that added a punchline or showed a slightly different angle. If an epilogue is more about conveying a crucial bit of information, I feel like they should go into the episode itself. Today's was about something that happened in the main plotline but didn't really add a twist—it should have just been in the show proper. It would be fine if the epilogue were entertaining on its own merits, which it wasn't.
But that aside, I did really enjoy the episode and its narrative movement. I still don't know which way the lovelines will end, which I suppose is the entire point, given today's message. I know what I suspect and what I want, but the drama does make it a point to keep things up in the air. Like Seung-chan touching his lips after the kiss, even as his crush on Ye-jin rages stronger than ever. And how Ye-jin mostly seems to think of him in a platonic sense but makes comments about seeing him in a new light after he does something impressive, like singing a power ballad or showing off his athletic prowess. And how Joon-mo clearly cares about Ye-jin despite being afraid of doing anything to change their status.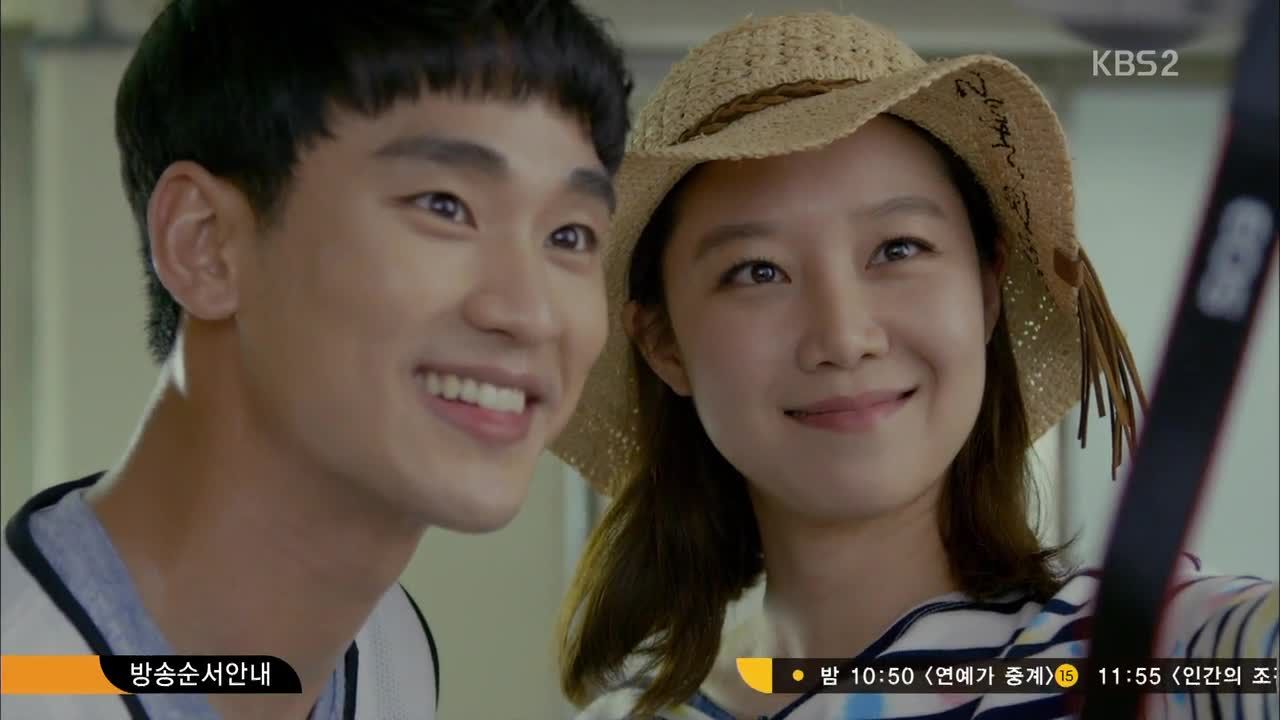 I do feel like Joon-mo is getting short shrift in the plotline, which on one hand I don't mind as much because I adore Seung-chan, as a person as a character, and am happy to have the story focus on him. But I find it too easy to be annoyed with Joon-mo, and I feel like it shouldn't be so easy to dismiss him; I want to care more about him and am annoyed with the show that I don't. We've been given enough hints as to a traumatic incident in his past that's made him so gun-shy about taking responsibility for someone, and I want to know what that is—partly for curiosity's sake but really mostly to be able to see Joon-mo in a more sympathetic light. I know he has good reasons for being, as Seung-chan, cowardly about his feelings for Ye-jin. But until I know what they are, I can't give him that sympathy. Help ME help YOU, won't you?
I don't know that the end of the episode is that much of a cliffhanger, though, because I don't feel like it's quite the right setup to indicate a choice of the heart. So far he's 100 percent in Ye-jin's camp, so if he were to go to her, there's no surprise in leaving Cindy waiting. And if he were to go to Cindy instead, it reasonable to presume that the injured girl in the rain trumps the one safely indoors.
I feel for Cindy enough that I keep wishing for Seung-chan to see her as she wants him to, for her sake more than anything. And every time he doesn't, it pinches my heart for her, because she's opening up and emerging into the world, like that bird bursting from its eggshell that served as a metaphor in the previous episode, and the person who brought her out may not be the person who can walk with her on these new paths she's finding. But maybe that's fine—maybe that's the point, and maybe she needs to find a way to walk on her own first. Maybe Seung-chan isn't the endgame for her, but the catalyst to get her caring again about taking control over her own life again and loving herself and figuring out what her true self is.
Cindy's always the one stealing glances at the others, and when she "wins" an argument or gets to keep face publicly, it always feels like somehow she's still the loser because the others have each other to turn to at the end of the day. It's why I loved how they explored Cindy's character with the manufactured friend visit, turning a cameo appearance into something narratively meaningful. I liked how Cindy defended it to Seung-chan, calling Ara a friend she's just not that friendly with. On one level it's a big ole sham to present the two as buddies when they're clearly acting, but on another level, they understand each other in a way that others don't; it's their similarities that pitted them against each other as youngsters, but maybe that'll be their bond now as adults, an understanding that perhaps means more than regular house visits or false smiles for the camera.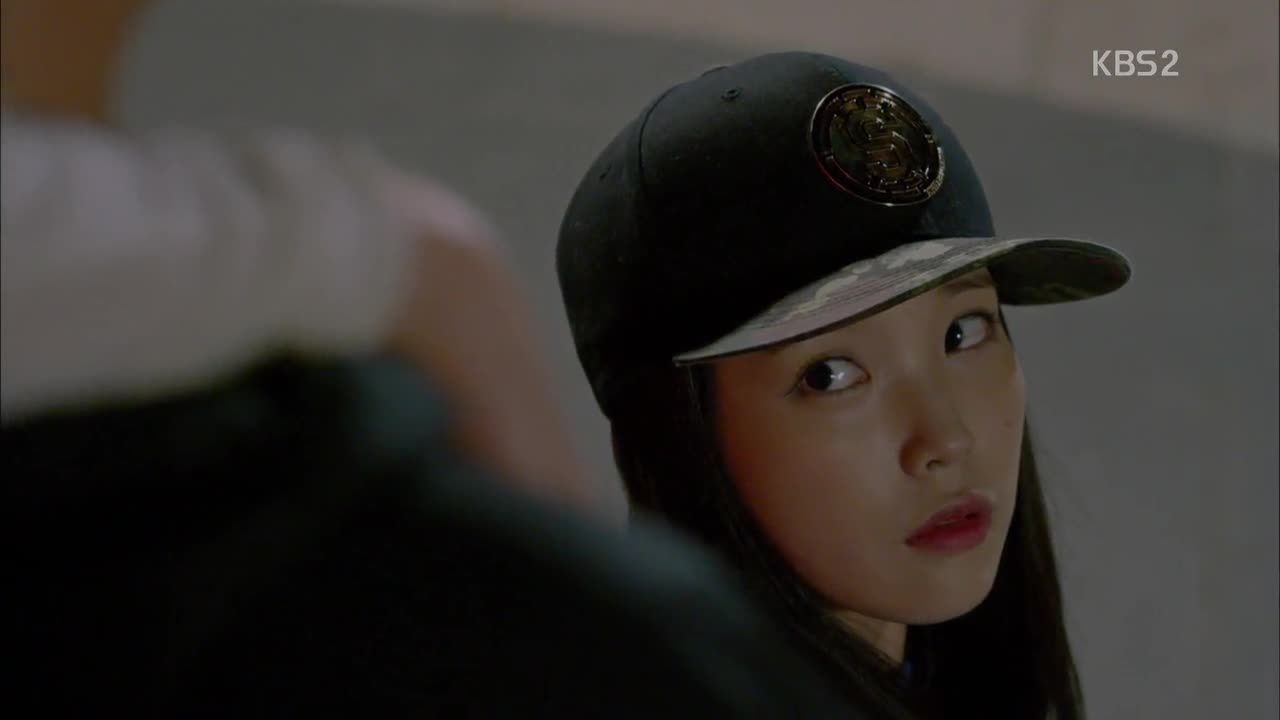 RELATED POSTS
Tags: Cha Tae-hyun, featured, Gong Hyo-jin, IU, Kim Soo-hyun, The Producers