Yoo Seung-ho leads team of merry swindlers in comedy Kim Seon-dal

Yoo Seung-ho, Jo Jae-hyun
The plot of Yoo Seung-ho's new film project Kim Seon-dal sounded fun and quirky when it was first announced, but now with the rest of the cast in place, we've got even more reasons to be interested: Jo Jae-hyun (Punch), Yeon Woo-jin (Divorce Lawyer in Love), Ra Mi-ran (Ode to My Father), Go Chang-seok (Kill Me, Heal Me), Jeon Seok-ho (Misaeng), Seo Ye-ji (Superdaddy Yeol), and EXO's Xiumin have all been added.
Kim Seon-dal is based on a folk hero with a sly streak, casting a satirical eye on society with a comedic touch. Yoo Seung-ho stars as the "best swindler in all of Joseon," free of spirit and quick of step, while Jo Jae-hyun once again taps into his villainous side to play an authority figure whose ambitions and greed take precedence over, say, his country or his king. In one famous tale, Kim Seon-dal conned a rich man who wanted to sell river water to villagers who could get it for free, which suggests that our hero enjoys taking down people who are abusing their power in unjust ways, rather than, say, conning poor peasants of their livelihoods.
Our hero's got to have a posse, and Go Chang-seok will play our hero's partner in crime (aw, remember when he played Yoo Seung-ho's father in Busan?), while Xiumin plays the youngest member of the band of con artists and the hero's close dongsaeng. Ra Mi-ran will probably be a crack-up as a fortune-telling shaman.

Yeon Woo-jin, Xiumin
Meanwhile, Yeon Woo-jin plays King Hyojong (17th king of Joseon, Injo's son, brother of Crown Prince Sohyeon), who works to protect his people and his country against the threat posed by the villain's conspiracy plot. Jeon Seok-ho plays the leader of the royal investigation bureau who chases our hero—who is, after all, a criminal. (I do love this dynamic often seen in sageuks where the law enforcement and the protagonists are technically at odds despite both being the "good guys" of the story—or at least, both in opposition to the villains—and watching them eventually work their way to being on the same side.) And lastly, we have Seo Ye-ji playing Yoo Seung-ho's love interest, a nobleman's daughter. Just don't swindle her dad, okay? Unless he's evil, I guess. Then you can swindle away.
I do have a soft spot for cheeky heroes who skirt the law, who are generally more fun than the stuffy principled ones. I'm not familiar with the original folk tale, but it sounds like our hero may not be primarily motivated by noble ideals; it's just that in highlighting how he tricks people, many of whom are themselves selfish and greedy, the story shines a light on what's wrong with the world. Hence the satire, and a sharp sense of humor.
With its cast now set, Kim Seon-dal will begin filming in June.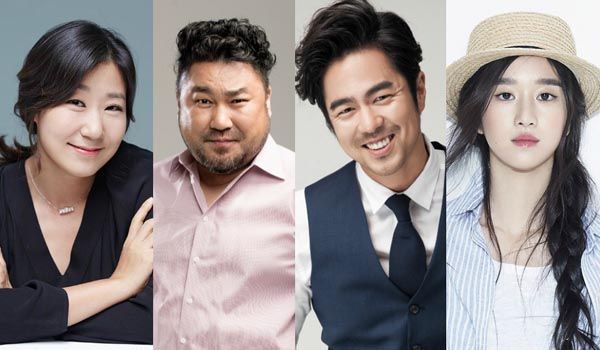 Ra Mi-ran, Go Chang-seok, Jeon Seok-ho, Seo Ye-ji
Via Chosun
RELATED POSTS
Tags: Go Chang-seok, Jo Jae-hyun, Seo Ye-ji, Yeon Woo-jin, Yoo Seung-ho