High Society: Episode 9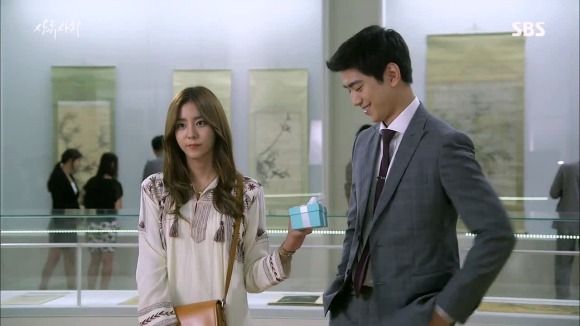 What a world of a difference one smile makes. Now was that so hard? Getting past the defensive walls Joon-ki puts up around him are moments that come too far in between in this series, so it's important to treasure them when they do come. Some prejudices are upheld while others come crumbling down, as both of our couples face impending obstacles that could shake the foundation of their relationships. No one said that dating someone of a different social class would be easy, but then again relationships were never that simple to begin with.
SONG OF THE DAY
Younha – "기다리다 (Waiting)" [ Download ]
Audio clip: Adobe Flash Player (version 9 or above) is required to play this audio clip. Download the latest version here. You also need to have JavaScript enabled in your browser.
EPISODE 9 RECAP
Mere seconds after that frosty exchange with Chang-soo, Joon-ki is hit with a more pressing concern: his relationship with Yoon-ha has made front page news. He recalls an earlier conversation with Chairman Jang's right-hand man, unsurprised to hear that the chairman disapproves of the relationship.
He'd been honest in admitting being friends with the reporter who publicized Yoon-ha's chaebol background, though sidestepped any direct involvement in that or ulterior motives in dating Yoon-ha. Joon-ki wonders if that the chairman's secretary took him up on his off-hand remark that "a dating scandal" might grab his attention.
Chang-soo's hyung appears supportive of the ordinary boy-rich girl romance, if only because that means it can eventually backfire on Chang-soo. He growls at an article about a certain director (and conglomerate owner's son) excessively using a corporate card for personal expenses.
Yoon-ha learns of the dating news thanks to So-hyun, who feels robbed of the internet spotlight. She doesn't let unni get under her skin, arguing that Joon-ki is a hundred times better than any of her model boyfriends. When asked if she truly thinks Joon-ki loves her, Yoon-ha says he had no idea that she was rich when they first met.
But So-hyun astutely points out that Joon-ki's probably using her to better his own societal image. Plus, it's not like she's going to marry the guy or anything—which So-hyun couldn't be more wrong about because Yoon-ha is determined to go the distance with Joon-ki.
Madam Min sits stunned in her bedroom, her drunken ravings from the previous night still haunting her thoughts. She's gotten used to bottling her emotions, only to let them out in her inebriated state—the mornings after still scare her.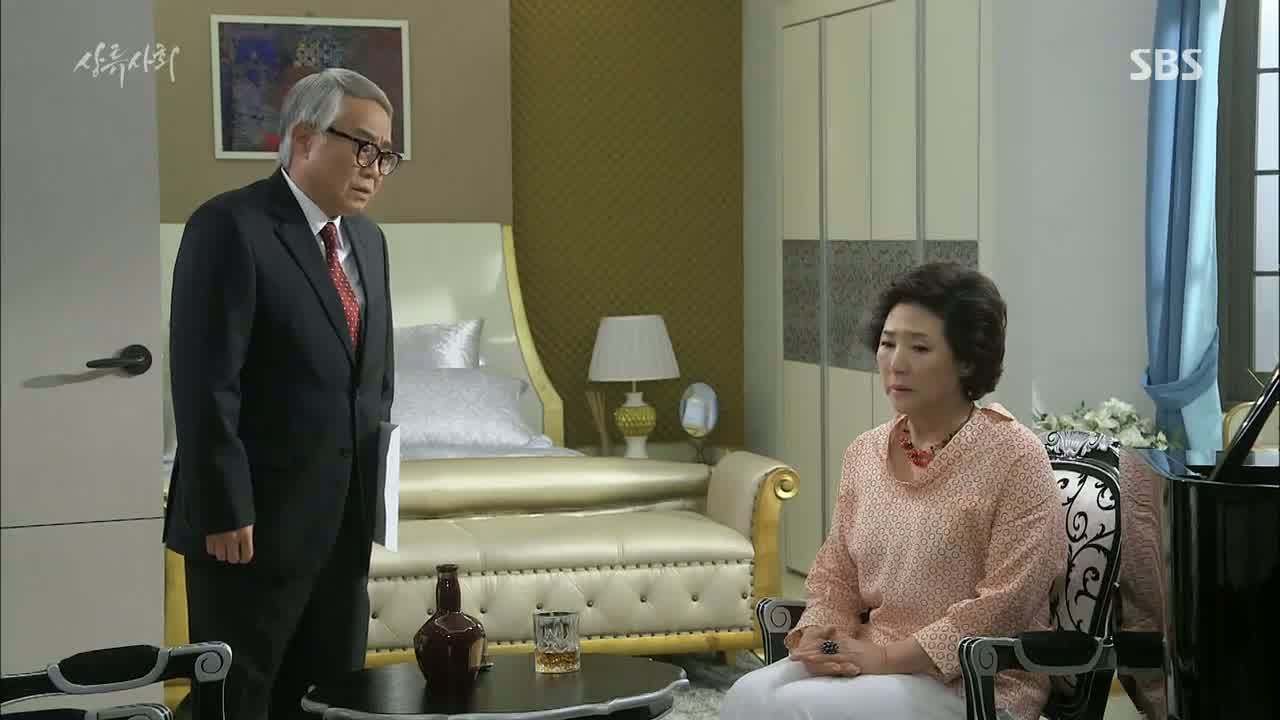 Butler Hong can empathize with her frightened state, still remembering how beautiful and bright she was in her younger years. Those days seem like a distant memory now, not because of how much time has passed, but rather because that part of herself died long ago.
She cries that she'll have to beg for her husband's forgiveness yet again, and then for the first time, she concedes to the idea that Kyung-joon is dead. Butler Hong updates her on both Kyung-joon's case and Yoon-ha's now-public relationship, adding that this will be the last report he gives (because Chairman Jang said he'd fire him if Madam Min was to ever take up the bottle again).
Madam Min is finally honest to herself, acknowledging that her heart was always warm to Kyung-joon but cold to Yoon-ha. Perhaps it has to do with that sense of guilt, she adds, which just makes her angry at herself.
Judging from Chairman Jang's irate reaction, we can deduce that this latest article weren't on his orders. He nearly pops a vein in his forehead to hear that Joon-ki appears to be too clever and ambitious to cower in fear at the chairman's threats.
Ever the optimist, Ji-yi finds the bright side in this news scandal. She admits that Joon-ki must've been caught off-guard, though, and been too busy warding off gossiping employees to call his pouting girlfriend. So Yoon-ha texts Joon-ki (attaching a photo of the news article in case anyone forgot about it), and the two agree to meet later tonight.
Ji-yi sits down to her boss to verbally resign from her part-time job. It's sorta great how his reaction mirrors mine: Oh no, not you too. She's quitting because she's lined up a full-time salaried job: working with Yoon-ha.
Her boss doesn't buy the idea that the girls will be equals at her new position—working for her friend ought to come with enormous stress. But he brightens at the idea that she'll come back to work here if things don't pan out. He asks what her secret is to meeting two chaebols in her lifetime, to which Ji-yi answers, "Being nice."
Chang-soo's hyung decides to drop into his little brother's office for a little tete-a-tete. He rubs in how Joon-ki keeping his chaebol romance a secret must've irked him, and Chang-soo takes a mental note of how interested Hyung is of Joon-ki's affairs.
It turns out that chaebol son abusing his corporate card is Hyung, who sputters that he was too busy to pick up their father's calls and definitely not avoiding him. Chang-soo relishes in this moment, offering false concern that he would never want his brother to lose face in front of his sister-in-law and their father.
Hyung knows how Chang-soo is Daddy's favorite, who must be crushed by Joon-ki's betrayal. He dishes back the fake sympathy, citing how Chang-soo's former best bud knows of all of his weaknesses. Chang-soo matter-of-factly fires back: "He probably knows more of your weaknesses, hyung. I ordered him [to look into that], you see."
Chang-soo is still sensitive to any mention of the word "childish" when he picks Ji-yi up for lunch. She can tell right away that he's in a sour mood, wondering if it's because he never had to care about what other people think of him.
But that only annoys him more, and he asks about her future plans now that she's quit her job at the supermarket. He's against the idea of his girlfriend having to report to her best friend at her new job, saying she can spend his money freely instead.
Even though Ji-yi knows Chang-soo is in a rotten mood, she still says it'd be nice if they'd respect each other's livelihoods. He means to point out the workplace power dynamics that would eventually at Ji-yi, but she doesn't see anything wrong with her friend scouting her for her capabilities and potential.
She asks if that's the case with Chang-soo and Joon-ki—does he boss Joon-ki around just because he's a subordinate? Behaving like that would really hurt someone, especially a friend, Ji-yi declares.
She rises from her seat just then, and Chang-soo chases her down to confront her. Ji-yi knows that Chang-soo tends to say things that would normally make someone wonder if they're being looked down upon, but she doesn't say anything because she knows he doesn't. It's tough when she tries to push past the difference between them by trying to respect their differing perspectives.
She insists that this new position means working with not under Yoon-ha, but Chang-soo still won't accept it. Ji-yi accepts his no, but says she's going to take the job anyway.
Back at Jang Manor, Yoon-ha refuses to end things with Joon-ki, not falling for any of her father's threats of taking her assets away. This is a business deal and they both need each other and she'll do a good job. Chairman Jang wonders how he can trust those words, and Yoon-ha touts back that her father saw the potential in her: "Believe in yourself." No really, that's what she says.
Chairman Jang is still against marriage, but then something really strange happens: he gets huffy over how Yoon-ha always made the first mood, then almost impressed because Joon-ki wanted to be the gentleman. Yoon-ha asks for her father to respect her relationship with Joon-ki because they're truly happy and he sees her for more than a chaebol's daughter.
Chairman Jang wonders how his daughter is so unafraid of him, to which she says one doesn't bite back at the man who clothed, fed, and sheltered her. She isn't afraid of him because he's her father. And something about her words make his eyes glisten.
Instead of entering her husband's study, Madam Min pours herself another drink. The cup barely comes to her lips when she's reminded of thoughts of Kyung-joon. One conversation at a golf course led them to talk about the ups and downs of life (spoken in terms of "surplus" and "deficit"), and how Kyung-joon didn't compare himself to Ye-won because they each have their distinct roles.
He had known that he bore the weight of all his employees and their families, which made him occasionally wonder what life would've been like if he'd been born into an ordinary family. Madam Min had entertained a similar idea once, but believed that this privileged life is the hand they were dealt.
Kyung-joon had agreed, yet also believed that getting a taste of what life is like on the other end of the societal divide was important, too.
Chairman Jang gives the usual demeaning lecture to Madam Min, criticizing her shortcomings as the lady of the house. But Madam Min has had enough, and declares that she won't cooperate with any of her husband's demands, not while he only thinks of money when it comes to his children.
She'll go through with this divorce and won't regret it one bit. She used to have something to protect, but no longer: "You don't know how scary it is dealing with someone who has nothing left to lose, do you?"
She snarls that he better not mess with her people ever again, claiming that success is hard work but ruining someone takes only an instant.
Chang-soo's mother drops by her son's office for a round of I told you so before scoffing at how Chang-soo is seeing a part-timer. He takes note of his mother's mention that Joon-ki remained tight-lipped about Ji-yi, and tells his mother not to lay a finger on Ji-yi lest he turn truly angry.
Chang-soo's mother shoots down the idea that Chang-soo made sure his recently-quit part-timer girlfriend lives a life of luxury because her youngest is too careful with his money. She can hardly say the same of Hyung.
Yoon-ha finally finds that key resting among her accessories, then heads back to the library where Kyung-joon once showed her his safe located behind a hidden bookcase. A long yet convenient flashback takes us back when Kyung-joon praised his sister for always striving to be better and guarding her heart.
Both their parents were once lively, affectionate, and energetic people, but they've changed throughout the years. Guarding one's heart is a skill too, and then he had told her his passcode like an offhanded remark: 0700.
Sure enough, that works, and Yoon-ha opens the safe to find yet another case. What she discovers astounds her: company stocks and a USB. She stows these in her own safe.
Joon-ki sits with Ye-won's lackey, not believing him for a second that he was recommended through a headhunter, since Yumin is the only company he's ever worked for and too low on the corporate ladder for any headhunter to take notice.
So the lackey comes clean about coming here under Ye-won's instructions: she may be interested in the guy her sister is seeing, but she does want to recruit him. Joon-ki is sharp enough to ask if Ye-won's intentions are genuine or whether she wishes to conquer new territory. "I don't make a move unless I'm fully prepared."
The lackey reports back the conditions aren't just right for Joon-ki yet (he assumes money would solve this). Until she can see how useful having Joon-ki around will be, Ye-won won't make any more aggressive moves. She doesn't, however, like to hear that it seems like Yoon-ha has something up her sleeve too.
Speaking of whom, Yoon-ha accompanies Ji-yi on her shopping trip in order to uplift her spirits and cement her decision in working at Taejin with her. She tells Ji-yi not to worry about the employees gossiping about her because she'll be the one to put them in their place.
Yoon-ha imparts the same words of advice her brother once told her: that there were plenty of times in her life where she could've destroyed herself, but she didn't. Instead Ji-yi guarded her heart better than anyone could have, and those words comfort Ji-yi.
The girls ogle over an expensive watch, which Yoon-ha can afford but Ji-yi can't. Ji-yi's the enabler, encouraging her friend to buy it for her boyfriend. She gets a call just then too… from Chang-soo's mother.
While Lady Kim has her own spy in the manor, Mama Lee is pelted with texts from nosy ajummas asking if her son is marrying up.
Chang-soo makes good on his earlier word of flexing his stresses away with Joon-ki's words echoing in his ears. He meets up with Yoon-ha to hear why she's recruited her friend to work at Taejin.
He challenges her simple answer of "she's capable," though accepts the following argument that Ji-yi possesses a keen business sense. He gives her his blessing, then changes the subject to ask if Yoon-ha truly thinks that Joon-ki likes her.
Yoon-ha honestly says there are times when Joon-ki wears this unreadable gaze… which she interprets as being swept off of her feet by him. She doesn't believe Joon-ki would ever approach her with an underlying motive because she made the first move with him.
Mama Lee stumbles upon the locked drawer containing Joon-ki's research on Yoon-ha. She's more surprised that Yoon-ha's chaebols roots are true than questioning why her son has all this info on her.
Yoon-ha meets Joon-ki as the same art gallery as before, where she presents him with the watch. Joon-ki looks legitimately moved, and could it be that he's seeing her with adoration?
They head outside to discuss what's on Yoon-ha's mind: first, she's sorry about all the trouble she's caused him because of their relationship going public, and second, she found the stocks Kyung-joon left for her. She hasn't checked the USB before telling Joon-ki about it.
Furthermore, Yoon-ha knows that these stocks aren't part of the two percent stake that Kyung-joon has publicly bought in her name. Joon-ki wonders how that's possible when things like that are supposed to be reported, but supposes Kyung-joon could have utilized a third party.
The only way that theory would pan out is if that third party handed those shares over to her during her brother's funeral arrangements. No one would've paid close attention then, he tells her. All she needs to do is find out who that mystery person is.
When Yoon-ha trips, Joon-ki tightly holds onto her so she doesn't fall. He scolds her for not looking where she's going, and when she goes starry-eyed at his concern, he calls her a "geum-sa-bba" (an abbreviation for "someone who easily falls in love"). Yoon-ha, however, is unfamiliar with internet slang.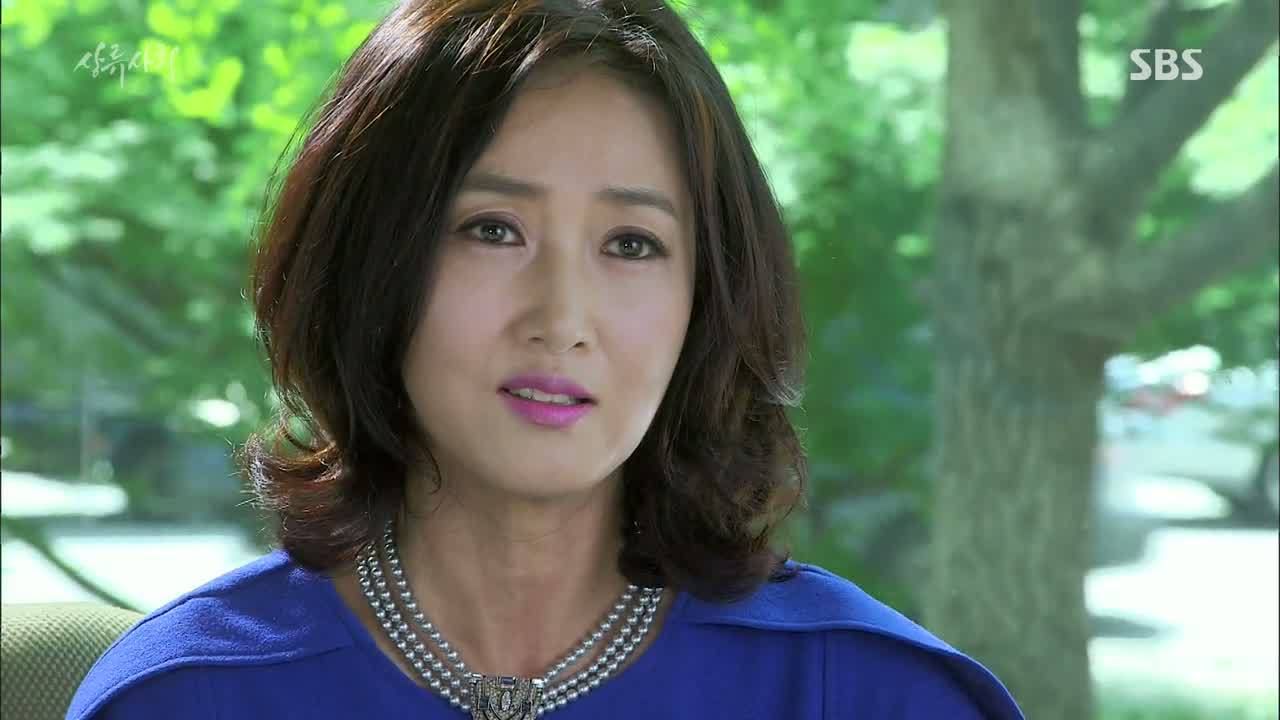 Ji-yi braces herself before sitting across Chang-soo's mother, who prides herself as someone who stays out of her son's love life. However, she can't ignore his sudden atypical behavior, and she wouldn't have set up this meeting if her son's girlfriend was at least college-educated. Ji-yi knows that this fling will end nowhere, right?
But Ji-yi keeps up a brave face and enlightens Chang-soo's mother about the comedian Park Myung-soo's background. He too was a high school graduate and still claims to be despite earning a college degree later in life. It's better for him to stick to an image of appearing less educated, but he still boasts an educated wife and real estate.
Her friend told her that one's heart is a skill too, and she has the best of the best. She has nothing to hide just because she's a high school graduate. "So this is why Chang-soo fell for you," Chang-soo's mother admits.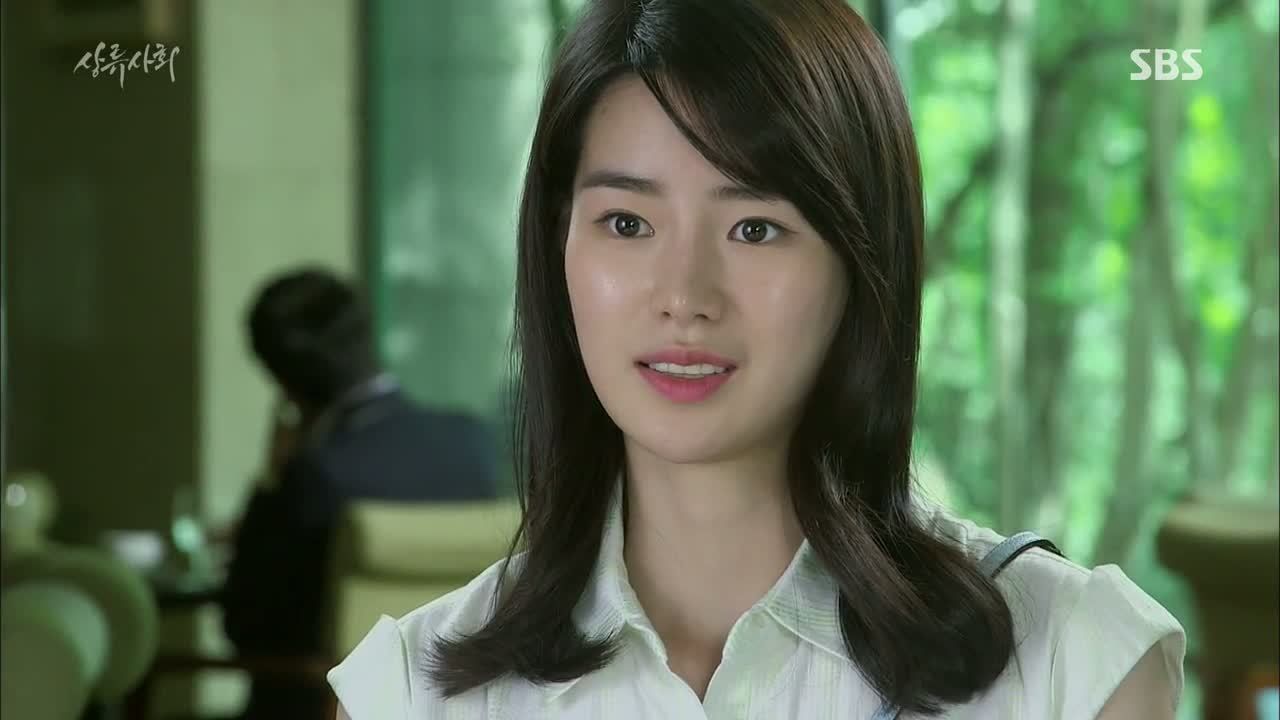 But that won't stop Chang-soo's mother from explaining to Ji-yi what their reality looks like: "People like us won't ever accept a daughter-in-law like you." Chang-soo won't marry her either—he's simply toying with her.
Ji-yi looks devastated, but holds back her tears and says she wouldn't want to marry into a household who is against their union either. "But Chang-soo hasn't decided whether or not he'll marry me. I can see him until then."
Asked if she has no pride, Ji-yi declares, "There's no such thing as pride when it comes to love. My desire to see him comes first." Chang-soo's mother can hardly believe her ears at how Ji-yo won't just stand down.
Ji-yi trudges up the hill home that night where Chang-soo has been waiting. Ji-yi asks weakly: "Who are you?" Chang-soo: "The man who moved all of Korea to hang a streetlamp for you." She embraces him, her eyes filled with tears.
Yoon-ha and Joon-ki, meanwhile, arrive at Taejin Group headquarters where she slips her hand into hers. She gives him a tour of her currently empty office, and when Joon-ki asks about any future plans to climb up the ladder (like say, become president), Yoon-ha says she doesn't have any of the sort.
Her plans are to quit as soon as Kyung-joon's matters are taken care of. "My goal isn't a seat." Joon-ki looks legitimately surprised to hear that, which is when Yoon-ha calls him out on that mysterious gaze of his every now and then. And to remedy that…
… she leans in to plant a kiss on his lips.
Joon-ki: "I know what love is. Being able to smile even in miserable situations. Looking at a cruel reality… in an cheery way, and then coming to like the tranquil situation you're given. Liking you… has made that cruel reality fade away. So the one thing I'm on my guard for is…"
"You… I think you're really different," Joon-ki admits, then swoops in to kiss her.

COMMENTS
At last. For all the unsaid things of what can be inferred from Joon-ki's character, I'm so relieved that we see the moment of his long-held prejudices against the rich changing. In the past few episodes, we've heard him voice his negative opinion of the wealthy and their elitist ways (even if it was mostly directed at one person: Chang-soo), and at the very least, had the inkling that there was an underlying reason as to why he approached and started dating Yoon-ha.
So imagine his surprise that Yoon-ha's end goal of working at Taejin isn't because she wants to take over the company and bask in oodles of money, but rather a more personal reason. Compare that to watching how Chang-soo is fighting over company rights and inheritance with his brothers, and so I can understand why Joon-ki would be taken aback that this girl isn't greedy about wealth and power. Unfortunately, the language of his voiceover still hovers at an altitude of 35,000 ft., so let's bring those words down to ground level so that we can all understand with you.
Still, Joon-ki seeing Yoon-ha in a new light is an important turning point for his relationship with her, because now his feelings extend beyond his initial intentions for approaching her (we're still waiting on that answer). Rather than saying that Joon-ki didn't like Yoon-ha, I do think that he'd been humoring her by giving her the kind of dreamlike romance she hoped for. Yoon-ha has always been the more invested one in this pairing, but now I'm intrigued by the thought of Joon-ki's developing feelings for her.
And if her earlier words about how Joon-ki appreciates her just the way she holds true from here on out, Joon-ki has an uphill battle ahead of him. Whatever he does now will be compared against his cunning ways from his recent past, which I'm sure will eventually create waves once Yoon-ha gets word. But then again, she's busy putting together the convenient flashback pieces that make up the puzzle Kyung-joon left for her.
What I'd wish we'd see more of is actually seeing our leads be as smart and capable in action as the people in this dramaverse claim that they are. Joon-ki was the target of compliments from third parties who have never seen him do all that much, but there's a difference in being told that the smartypants is a genius versus watching him be a walking example of that. Even the man himself says he doesn't make a move unless he's prepared for what faces him. And here you are, having made the choice to fall for the girl who took you by surprise. Or maybe you just really wanted to kiss her. In any case, your move, Joon-ki.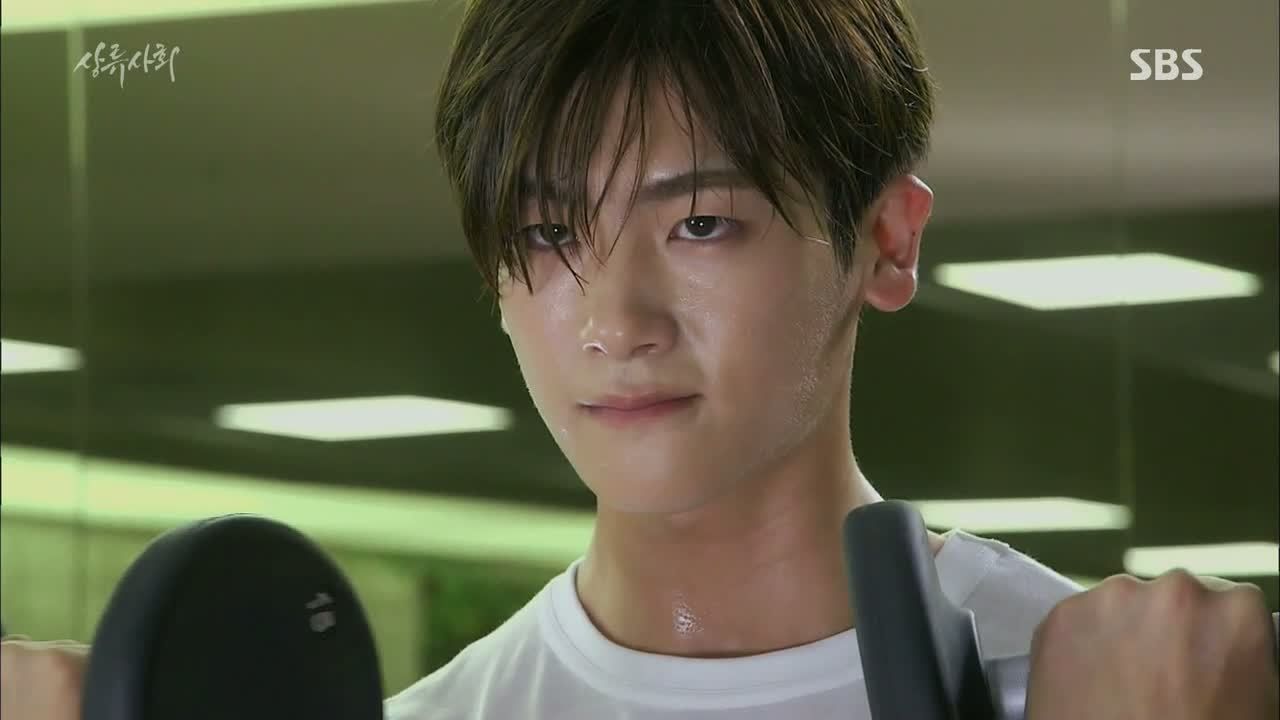 RELATED POSTS
Tags: featured, High Society, Im Ji-yeon, Park Hyung-shik, Sung Joon, UEE