The Time I've Loved You: Episode 15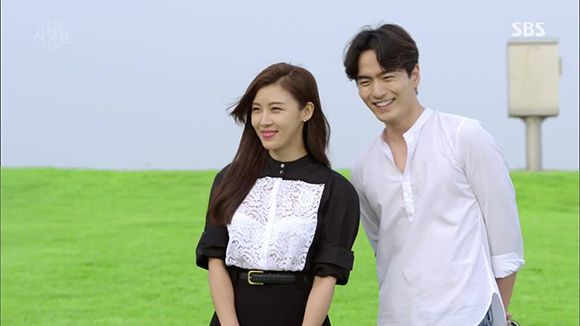 Welcome to the beginning of a two-episode epilogue, replete with our two friendbirds learning how to navigate the transition between seventeen years of platonic togetherness and a newly formed relationship. But to those seeking conflict, you might want to look elsewhere, because who needs that taking up valuable screen time when those scenes could be better served by selling valuable things to us?
SONG OF THE DAY
Younha – "우리가 헤어진 진짜 이유 (The Reason Why We Broke Up)" [ Download ]
Audio clip: Adobe Flash Player (version 9 or above) is required to play this audio clip. Download the latest version here. You also need to have JavaScript enabled in your browser.

EPISODE 15 RECAP
After their airport kiss, Hana seems a bit taken aback that Won is still going to leave for Paris, since she obviously doesn't want him to leave. If only there were a way she could have told him earlier that she wasn't leaving, something like a letter or telegraph…
Hana sighs that she rushed over here since he was leaving, but didn't really think of what to do past this point. "We got to find out how we feel about each other. That's enough," Won says optimistically. Hana still calls him a jerk for leaving.
She produces the necklace he once gifted her, saying she was never without it, and he fastens it around her neck. He pulls her into an embrace by way of goodbye, and she asks, "Will we be able to make it?" "Yes," he replies. "Whether we're near or apart, we're always together." As he walks away, he makes a heart shape with his arms.
Two months later.
Despite her having turned down the transfer option from Jumei Global, the company still wants Hana to handle their affairs domestically. It's a lesson in English, since we see also see Won giving a work presentation in English, Korean, and French to airline trainees.
When questioned by a French couple on what he's going to be doing this evening, he tells them he's got a video chat scheduled with his girlfriend in Korea. The long-distance aspect of it doesn't matter to him, he says, since "I'm going to love only her until the end."
Won and Hana have their video chat after he gets off work, which is early morning for her in Korea. She tells him about Jumei wanting to work with her again, while he tells her how he's been doing so well in Paris that they want him to extend his stay.
Hana is not having that, so Won just says he'll come back home as soon as possible. She falls asleep despite her best efforts in front of her computer, and Won smiles as he tells her sleeping form, "I love you."
At work, So-eun wonders if Mi-hyang is pregnant, because she's suffering indigestion and a high sensitivity to scent. Meanwhile, Hana finds out from Assistant Hong that she's been dating her brother this whole time since Hong hasn't been able to get in contact with him.
Hana does cosmetic repairs on her and Won's rooftop hideout in anticipation of his return. She remembers when she'd first brought him to the rooftop as a place for him to cry as much as he wanted, unaware that he was crying back then over the letters he never delivered for his friend.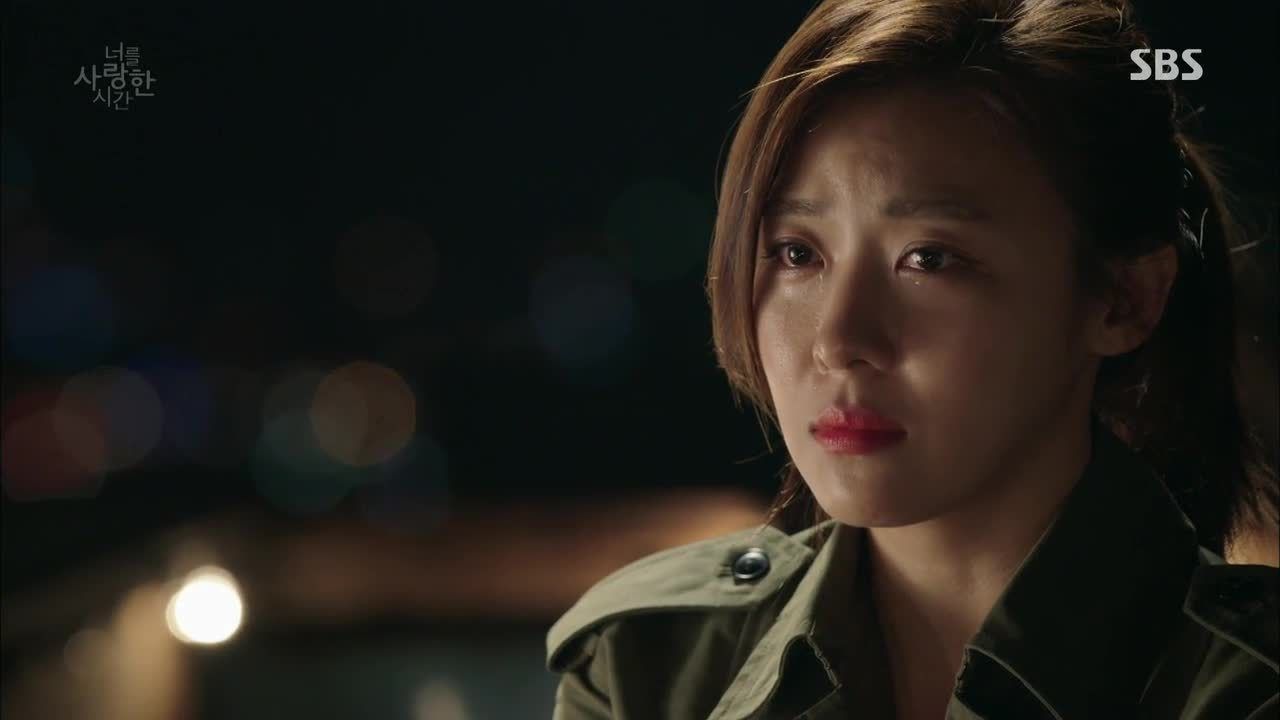 It's here, where Won could cry to his heart's content, that became their hideout. A place where she could comfort Won after his mother left, and where she could spend time alone when he was gone. Then, Hana muses in voiceover, it's here where she realized how deeply rooted Won is to her, and how stupid she was for not figuring that out sooner.
"I miss you, Choi Won," she cries to herself. Then she adds in voiceover that he also made her realize she can cry just because she misses him, even if she's not sad.
She goes over to Mi-hyang's house to see if she's heard from Won recently, since she hasn't been able to get ahold of him for days. That's when a thoroughly freaked out Mi-hyang shows her a positive pregnancy test.
Hana has to talk her off the ledge, and Mi-hyang tries to talk herself into this as she proclaims that she'll show the world that women in their forties are still women and are capable of being loved and having children. Hana backs her up all the way, and feels better about aging herself when faced with Mi-hyang's tenacity.
But since Mi-hyang shared a secret with her, Hana shares one in return, though it's hard to understand through her girlish giggling: "Won and I are dating." She admits she's worried because they've been friends for so long, and doesn't know what will become of them if they were to stop dating. Would she lose a friend?
"Won is important to me both as a friend and a man," she adds. She can't take the thought of losing him in either capacity, to which Mi-hyang says to stop worrying and just go for it. Mi-hyang supports them fully, and guesses rightly that Won must be over the moon about all this.
Hana hears Won's voice outside, but assumes she's just hearing things because she misses him… only to turn around and see Won standing there in the flesh. He opens his arms as wide as his grin, but Hana kicks him in the shin. Does he know how worried she was these past few days?
He said he wanted to surprise her, and came back because he missed her too much. Hana gets over her anger and hugs him, but they separate when her father comes out of the house. He doesn't know they're dating, but invites Won over for dinner anyway.
Won plays that he's hurt because Hana separated from him so fast, only for her to point out that he took his hands off first. It's only when she calls him jagi (honey, darling, sweetheart, etc.), a term of high endearment reserved for the most serious of relationships, that Won totally melts into a gooey puddle of happiness. He wants her to call him that all the time now.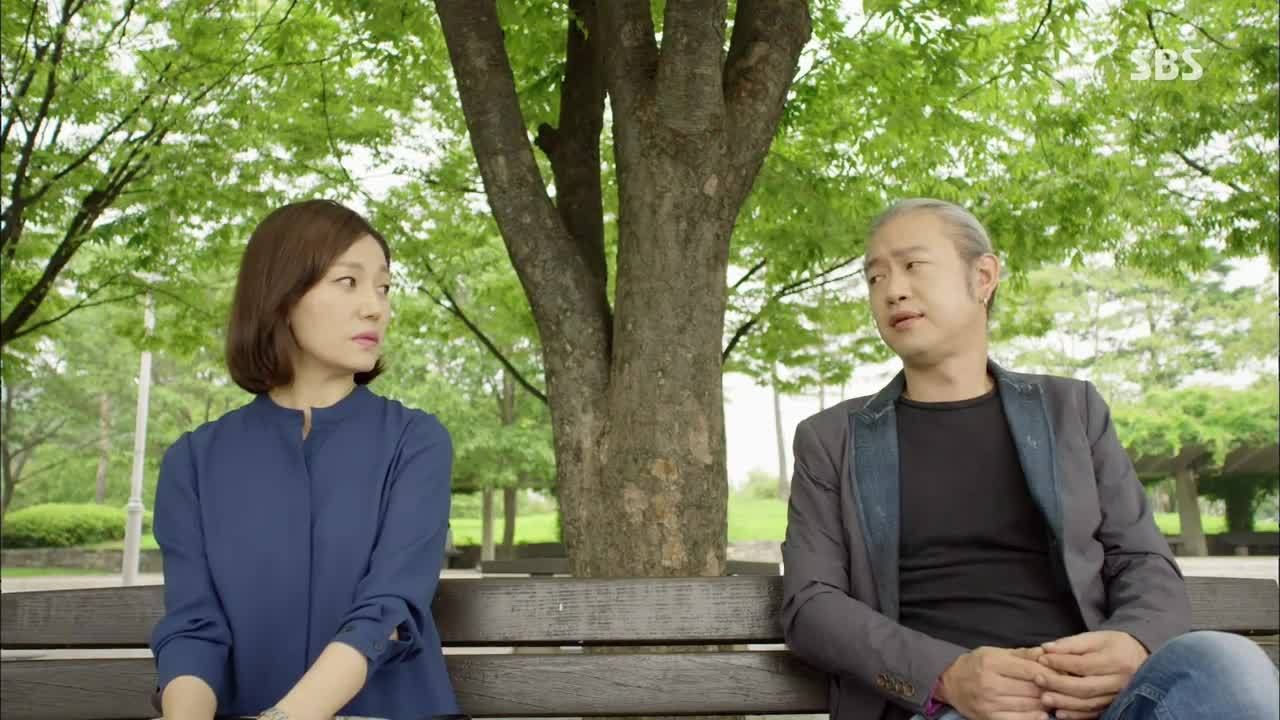 Mi-hyang tells Teacher Park that she's pregnant, and of her fears that her complexion and body will get ruined in the process, not to mention the fact that she'll have to take off work.
Still, she's resolved to have the baby, and Teacher Park says he's all for it in his usual dry manner. But they'll have to find a house first, which makes Mi-hyang do a double take—is he proposing to her right now? He nods, and they embrace happily.
Won and Hana out themselves as a couple to their high school buddies, who aren't even surprised. When one of them asks how far they've gone, Won jokingly shushes them before fake-kissing Hana in front of them.
After telling the Three Stooges at work that being in Paris was extremely difficult (due to this long-distance relationship with Hana), Won is invited out for beer with So-eun.
She knows things are going well between him and Hana, and says that she doesn't regret liking him, but will keep it as a good memory instead. Disregarding the fact that they already had this conversation, Won at least says that while he found her feelings burdensome at first, he learned from her that he needed to express his feelings.
While Dae-bok comes out of seclusion after finishing his comic master work, Mi-hyang gives Won the contact information for his mother, who called when he was in Paris.
She's in a nursing home nearby, and Won goes to visit her with Hana. Won asks her why she didn't tell him she was this sick, but Mom says she feels bad—she's a bad mother who abandoned her son, after all.
But she remembers Hana, and is happy that she's still by Won's side and hopes that she'll stay with him in the future. "I will," Hana promises. Hana must know more about her own son than she does, Mom admits, but she's happy with the man she's with and that she'll leave this world knowing that.
Won says there's no reason for her to talk like that when she's still healthy, but Mom knows her time is coming. She didn't want to meet Won in her last moments, but rather like this, when she's still able to talk and smile. A few tears leak out when she says she doesn't need a funeral—it's what she deserves for not being there for Won.
Regardless, Won takes his mother by the hand and assures her that he'll come to visit often. "I'm sorry, but I did love you in my own way," Mom confesses. "I'm so glad… that I got to see you." The man she loves sends them off, apologizing for not contacting Won sooner because his mother didn't want him to.
Won reminisces to Hana about how he couldn't understand his mother leaving him as a child to find a new love, using the excuse that she missed his father so much after he passed away. Now he realizes that she's the kind of person who was very lonely and needed to be loved.
The man she's with isn't the kind she would've once gone for, but Won comments that those requirements become less important as you age. Which has him thinking… didn't Hana say she could find her ideal type through a kiss? How does he measure up?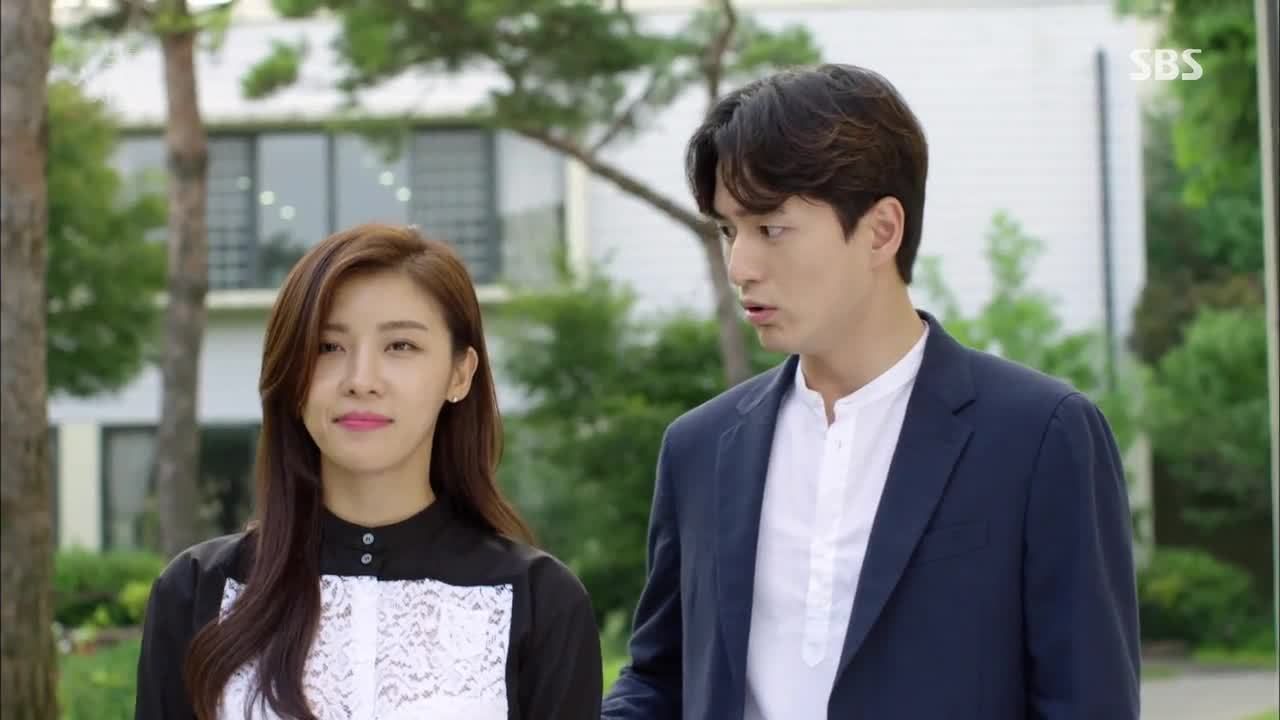 She takes him back to their first kiss in high school, which is when she'd confirmed her feelings. He'd made her heart flutter, just like she claimed her ideal man would do, though she doesn't admit as much to Won and lets him fret instead.
Assistant Hong is angry with Dae-bok for going off the grid to finish his work, but he confronts her with a flower and a roll of toilet paper. Since the Hanja for flower is hwa, which is also the word for anger, he tells her to let go of her anger by unrolling the toilet paper. And before you ask, no, there's no deeper meaning here. They just had to sell some toilet paper.
Won takes Hana to a grassy hill he normally goes to when he feels frustrated, but now he wants to make new memories there with her. They walk through the grass barefooted, and Hana takes pictures of their feet as she makes jokes about Won's toes. Won has no jokes about her feet, because they're perfect the way they are.
"We've been friends for so long, but there's still a lot we don't know about each other, isn't there?" Hana muses. Won says it's going to be exciting every time he learns something new about her, though nothing will ever be an unwelcome surprise because he loves her so much.
Speaking of which, he mentions how much they called and texted each other while he was away, but she never told him she loved him or sent him heart emojis. Hana says she didn't because it's embarrassing (but wasn't when she was telling Seo-hoo she loved him), but that's not an excuse to Won.
"I told you I like you," Hana says, but Won points out that "liking" him and "loving" him are two completely different things. Is she retaliating against him because he said he'd never love her? Hana bizarrely changes the subject to ask if he met another woman while he was away, turning their dinner into a bickerfest of epic proportions.
She tells him later that he gets upset too easily, to which Won fires back, "What? I can't do that?" To answer that question, Hana says she'll need to ask her friend, and dials a number…
…Shortly before Won's phone begins to ring. She talks to him as she would when they were friends, telling him about the new guy she's dating and how he's always picking fights during their dates. Won acts like he's giving unbiased advice as he tells her that her boyfriend probably just wants her to open up to him more.
"He must like you more than you like him," Won adds. Usually those people are the kind that makes mistakes. "How can you be sure that he likes me more than I like him?" she asks. Then she adds that sometimes she misses him as a friend, to which he returns, "Should we go back to being friends?"
That's not what Hana wants either. But, she continues the fake-call and asks if she can vent to him about her boyfriend sometimes, to which Won jokes that he'll even go beat him up if that's needed. He likes it a little rough anyway.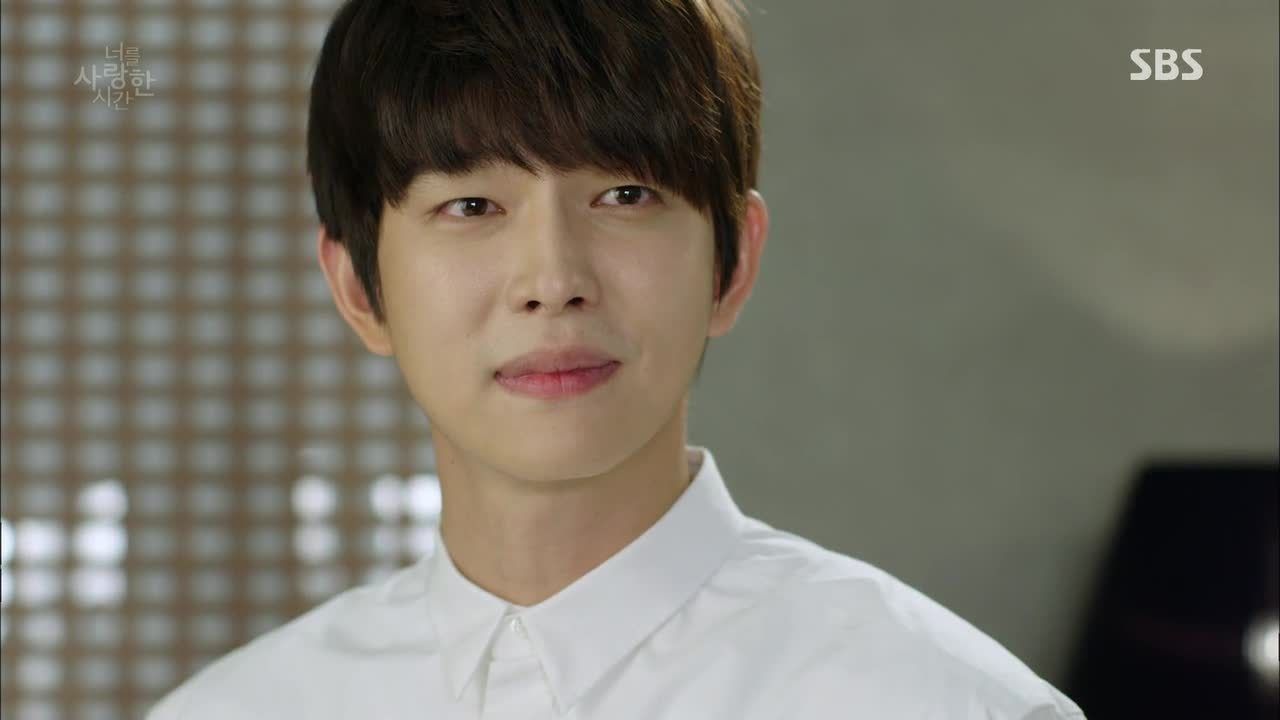 Despite all the drama surrounding his slave contract that would take him out of Korea forever, Seo-hoo returns to his homeland for a special concert. He can't help but think about Hana as he plays the scales on his piano, and Teacher Park advises him to translate that feeling into his music instead.
He gives Director Byun tickets to the concert on account of how much their collaboration helped his career, and passes by Hana's currently unoccupied office in the hopes of catching a glimpse of her.
Mom and Dad are elated that Won and Hana are together now, even though Mom is trying to figure out how to adjust to treating Won as Hana's boyfriend as opposed to her friend.
Dad hints at marriage, only for Won to say that they've only just begun to date, and he wants to date Hana properly before living with her. Mom begins to threaten them should they ever hurt each other, but then backs down to defer to their better judgment—they'll be able to work whatever disagreements they have among themselves. She's just happy they're an item.
Mi-hyang pulls Won into her office to tell him that she'll be taking a break after their next flight because she's pregnant. She's considering it the last bit of good fortune in her life—meeting the man she loves, having a baby—so she warns Won against ruining it for her.
He's surprised, of course, but happy for her nonetheless. She promises to introduce him properly to the father of her child and smiles sheepishly.
Won waits nervously for Hana at the movie theater, and she shows up looking like she's about to go to a cocktail party. She's late, but Won doesn't have the brain cells to focus on that. All he can see is how pretty she looks and the necklace he gave her around her neck.
He doesn't let her eat popcorn because it's too fattening, and lifts the armrest between them so he can hold her hand during the movie. Hana just smiles and pops her straw into his drink, so they can share the same cup. Won smiles like he just scored a home run.
Won protects Hana from a crowded elevator by walling her in with his body, which is when she notices a thread loose on his button. She pulls at it, but the whole button comes off instead, opening his shirt up. Won: "You did that on purpose, didn't you?"
Once they're at his house, they find themselves in an awkward situation as Won starts to take his shirt off in front of her so she can sew the button back on. She starts to go downstairs, but Won wrist grabs her in what's supposed to be a romantic move and pushes her against the wall…
…A bit too hard though, since she lets out an audible "Ow!" He's apologetic, but tries to keep up the mood as he tells her that there'll be a different tension with her coming into his room now as opposed to when they were just friends.
She slips out of his grasp and stands closer to the bed, and Won approaches her much more carefully now to kiss her deeply. They stay like that a while, and look into each other's eyes when they pull away.
A moment passes before Hana playfully shoves Won down onto the bed before joining him, and the rest is history. Hana's the first to wake up the next morning, and smiles softly as she brushes Won's hair away from his face.
He wakes up and does the same to her, smiling as he asks if she slept well. He pulls her closer and tells her not to go to work, and tries to cover them up for a bit of fun before she has to go, albeit unsuccessfully.
Later, he gets a call that stops him dead in his tracks, while Hana presents another project at work. For no other reason than that we're nearing the end, she and Team Leader Hwang bury the hatchet, as does her terrible ex and his now-pregnant wife Min-ji.
The call was about Won's mother, who was in critical condition earlier but is now stabilizing somewhat. A passing nun gives Won the rosary his mother carried with her, worn from years of praying and inscribed with his name.
Hana shows up to give him moral support, and tells him that she'll be praying for his mother to recover quickly. She takes his hand and holds it so they can share a silent moment of prayer together.
Won goes up to their rooftop hideout alone to cry, only for it to light up like a Christmas tree. In lights on the wall, Hana's written "My One," and reminds him that he can cry all he wants here.
Through his tears, Won tells her that he thought he'd forgotten about his mother since it had been so long since he'd seen her. But he must have missed her, because he feels bad about not knowing she was sick.
"I'm worried I won't be able to see her again," he cries. "I'm scared I'll really be alone." "But I'm here for you," Hana says comfortingly. "I'll stay by your side. I'll never leave you. This must be what love is to me."
And then, "I love you, Won." She spreads open her arms again, and he leans into her embrace, his tears overflowing. Hana just holds him as he cries.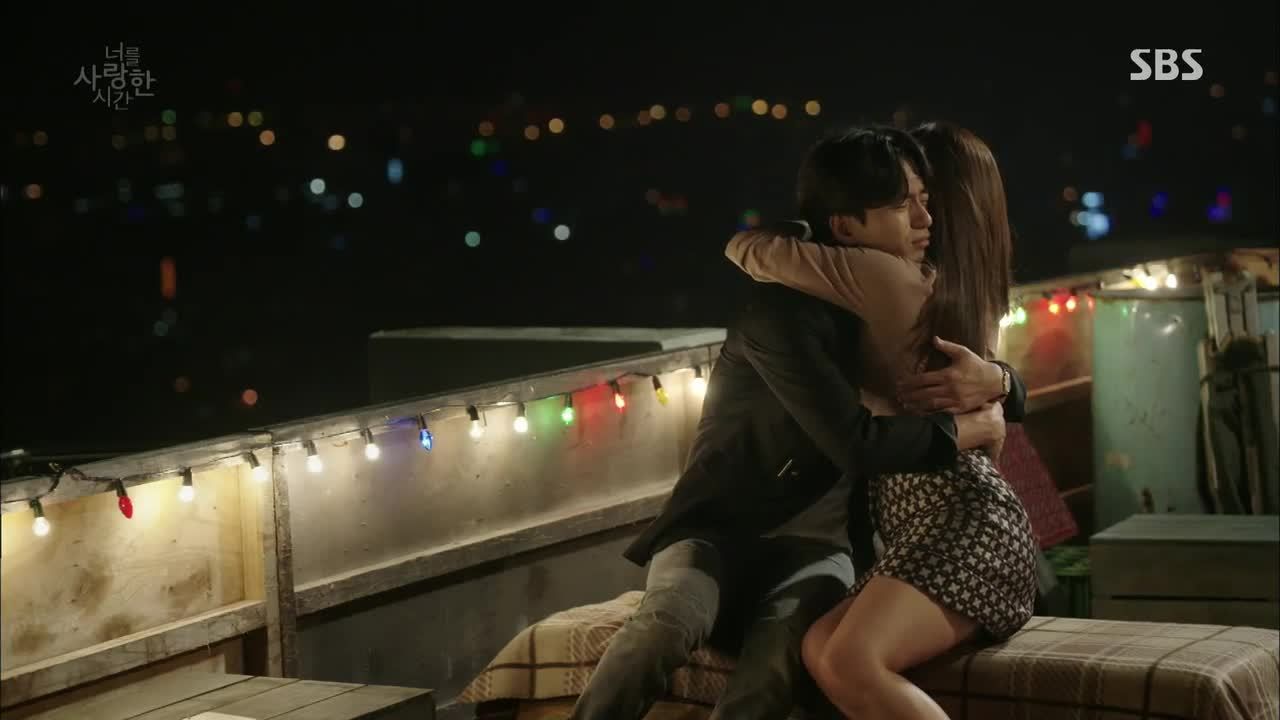 COMMENTS
Won's right about one thing: he's way more into her than she is into him, and boy does it show. There's something decidedly off about their chemistry, which was doomed from the start with the vastly different trajectories Hana and Won have had. Hana's transitioned straight from relationship to relationship while Won has had none over the course of the series (So-eun doesn't count), so it makes it difficult still to buy that she could switch gears almost instantly from Seo-hoo to Won.
What's more is that she had to go through so much more to be with Seo-hoo because that's what she suddenly wanted and was going to get no matter the cost, so by contrast, it seems like she sort of dispassionately walked into a relationship that was already waiting for her with Won. It's hard to pin why they're just not working or throwing sparks off in every scene, and while I'd credit most of that to a writing failure in regards to Hana's character, there's also something to be said about body language—what I'm guessing is supposed to come off as coquettish behavior reads more forced and uncomfortable than seems intended.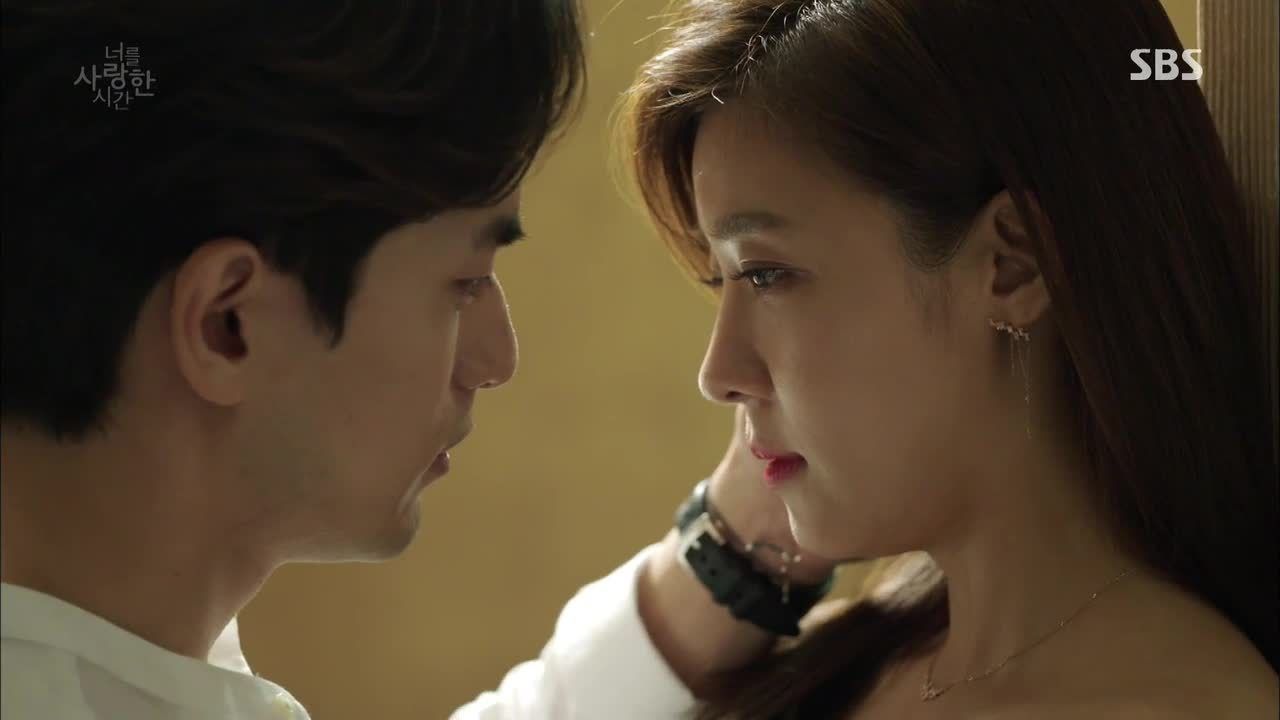 Aside from that, this episode feels like the beginning of a long epilogue, which is exactly what I was afraid of last week. Won and Hana address some issues that needed addressing, sure, but it was all so sapped of weight or dramatic heft that it was really hard to care. It already feels like they're on the home stretch of their relationship, and nothing they bring up now is going to fundamentally change anything—not because their bond is that strong, but because there's just not enough time left.
The emotional beats are still lacking, and it kind of sucks that Won is always the one stuck with fly-by-night backstories that come back to haunt him. First it was his buddy Dae-yoon, whose conflict was introduced and resolved in one episode, and now it's his mother. Obviously the need for a mother figure is a universal thing we can all understand, but the show seemed to go out of its way not to mention Won's parents or how their absence affected him, so now the sudden introduction of his dying mother feels out of place and just a little purposeless.
It's good that Won is getting some closure on an issue we didn't know needed closure before, but again, it's all so general. I can't even say it's conflict for the sake of conflict because it's not actually conflict, and while it's an issue that would mean something to any person/character, I wish the show could've given us literally anything else that would somehow feel at all unique to Won. But then again, I've wished a lot of things for this show, and that's been working out swell so far.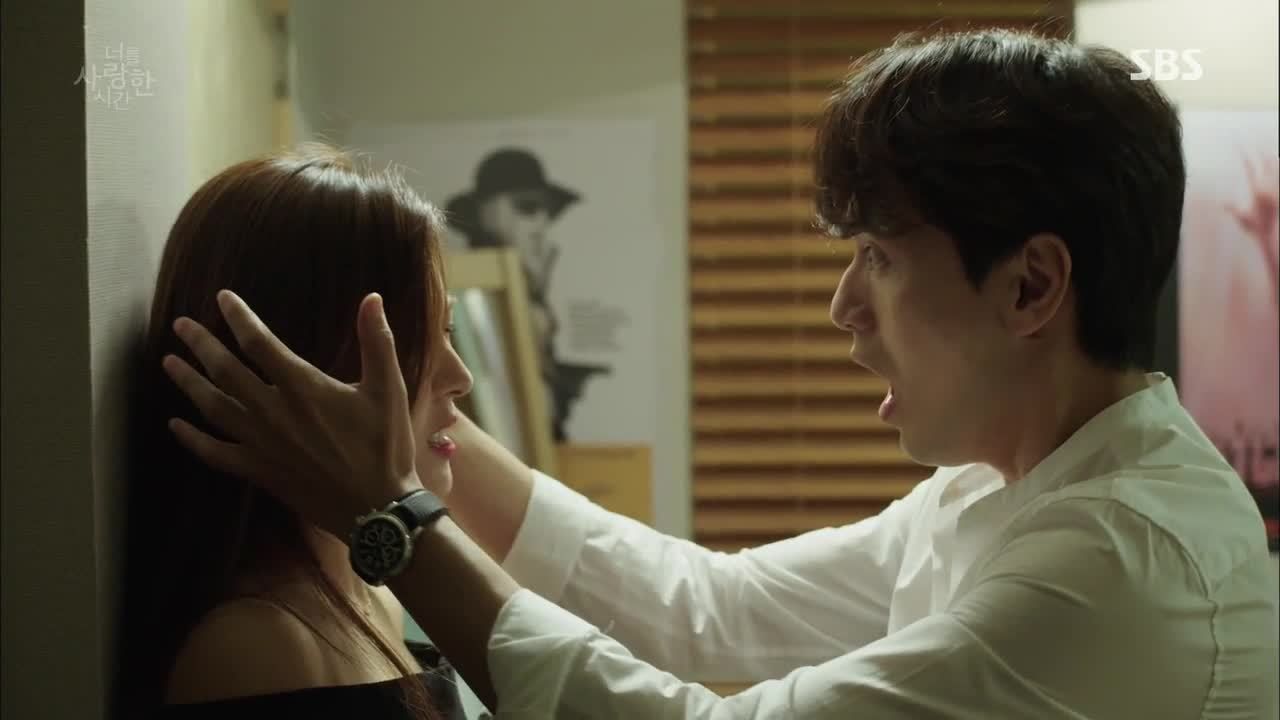 RELATED POSTS
Tags: featured, Ha Ji-won, Lee Jin-wook, The Time I've Loved You