Dramabeans Top 10: Korean dramas about friends-to-lovers romances
javabeans: Did everyone like the first Top 10 feature? I can say I thoroughly enjoyed it… in that capping my workload to just 10 entries (…ish) is really working for me.
girlfriday: Being limited is really liberating. It also means we have the energy to think up new lists on new topics, which keeps it fun for us.
javabeans: Yes, I'm already looking forward to the next several Top 10 lists, which we've already got planned out. Though I won't ruin it by blurting out the topics just yet. For now, it's all about friends!
girlfriday: Well, friends who secretly lurrrrve each other and spend decades angsting about how they're supposed to just be friends.
javabeans: Orrrrr friends who don't secretly love each other until twenty years later, and then all of a sudden are hit with the love bug. I like those too, because when they aren't in love at the start, the dynamic is totally different. I like when the girl can just slum around and be totally normal around the guy, who'll fall in love with her in spite of the bedhead and messy pajamas.
girlfriday: Yeah the comfortable platonic closeness is what I love about these kinds of romances. Un-romances? They get to have all the benefits of a best friend without the romantic complications, leading to a kind of intimacy you don't normally get. Of course, then comes the feelings and the angst, but there's fun in that too.
javabeans: We did debate back and forth about what "qualified" as a friends-to-lovers romance, because there's a tricky gray area in the middle. Usually when the leads were childhood first loves who may not have even kissed or confessed their feelings, which makes them seem more like friends, but if those feelings were there at the start, we opted not to count them. (Examples: Will It Snow For Christmas, 49 Days, I Miss You, that kind of thing.)
girlfriday: Mostly, we were thinking of dramas where you actually spend a good chunk of the drama with the two leads being friends, and either being blind to their feelings or not seeing each other romantically yet.
javabeans: It wasn't until we compiled the list that we realized, with some surprise, how many friends-to-lovers dramas came from this year. Stealth trend!
girlfriday: This is one trend that I'll never tire of, so it can just stay forever and ever! FRIENDS 4EVA!
javabeans: Also, if you notice some funny counting in the Top 10 list, shhhh! Just go with it. Math was never our forte.
girlfriday: It's not that we can't count… it's jut that we couldn't cut any more. And we figured drama content was more important than numbers.
javabeans: Amen.
1. Jealousy (1992)
javabeans: Ah, Jealousy, the one that started it all. Not only was it the first trendy Korean drama to grace the airwaves, it was also the first straight-up rom-com, a ratings blockbuster (56.1% ratings!), and a prime example of this trope, centering around longtime friends who gradually awaken to their feelings and take a miniseries to figure out how to make it work. Buddies throughout school and entering the real world together, these two leads were so comfortable with each other that it didn't occur for the heroine to feel any differently until the day the hero announced that he had a girlfriend he wanted to introduce her to. Cue jealousy, angst, tears, and hilarity as they spent sixteen episodes trying to adjust to the new dynamics in their relationships—growing apart, growing up, and finally, growing closer again.
2. Propose (1997)
girlfriday: This is one of dramaland's classic friends-to-lovers rom-coms, starring Kim Hee-sun and Ryu Shi-won back when they were the bright young It-stars of the late '90s. They were two best friends who lived down the street from each other, who had been together for every moment of their lives, big or small. It wasn't until they grew up that feelings started to creep into their once-comfortable dynamic, and suddenly sleepovers began to feel awkward and romantic suitors sparked newfound jealousy. The blurring of lines and romantic confusion led to some heady angst for both of them, but he was always her shoulder to cry on, even when her heart was broken over another man. Theirs was the kind of love that had always been there from the start; they just took the long way around to put a name to it. And a ring on it.
3. Bottom of the 9th with 2 Outs (2007)
awcoconuts: This 2007 drama remains in my heart as one of the friends-to-lovers shows to beat. While it deceptively didn't have much to do with baseball, there were plenty of ball-game metaphors thrown in that helped set the stage for the two thirty-year-old leads. She's an aspiring writer who decides to move out when her mother keeps nagging her to make something of herself, while he's a successful marketing executive who hasn't had more than the casual fling since the departure of his first love. Unexpectedly, the two besties are forced to live together, and while initially they drive each other crazy, the sparks begin to fly.
The duo were comfortable in a way that only two contemporaries who've known each other since birth could be—not only did they know each other's romantic histories, but they supported one another through breakups, and began to yearn to fill the hole in the other's heart. It wasn't just the adorable chemistry; the show was pitch perfect in depicting the post-college, young-professional stage of life, in which you are acutely aware of your carefree youth slipping away, and every decision is that much more weighted. When they finally got together, it wasn't just a blithe affair, but the result of two adults concluding, after serious consideration, that their relationship was more meaningful than any other.
4. The Time I've Loved You (2015)
HeadsNo2: Setting out with a star-studded cast and based off a hit Taiwanese drama, The Time I've Loved You had all the makings of a sweet slice-of-life drama based on two longtime friends who would eventually realize that they were each other's soulmates. No surprises in this sort of straightforward premise, and surprises aren't what you sign up for—it's the interpersonal relationships, the love, laughter, tears, and the ability to see something special blossom between two people who know each other better than they know themselves.
We saw the beginnings of what this drama really could've showcased, though unfortunately, the show went in a different direction after a last-minute writer switch. Even so, there was an indelible quality to certain moments that made them as memorable as they were fluffy, whether it was our best friends' secret hideout, our heroine's metaphorical choice of scene-stealing shoes, and that adorable time the hero did the heroine's makeup. It all sounds like small stuff, and in the end, it's always the small stuff that comes together to make a cohesive whole with genres like this. In this case, it was a compendium of the little things that led these two best buddies of seventeen years to find out that their perfect match was right there all along.
5. Twenty Again (2015)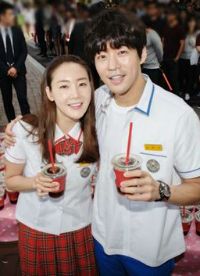 girlfriday: What's great about the relationship in Twenty Again is that it focused on developing the heartwarming friendship first and foremost, namely because of the misunderstanding set into the premise: He secretly loved her for twenty years but thought she was happily married to the love of her life, while she was actually in the middle of a divorce. The two old friends reunited and immediately reverted to petty immature teenagers every time they were near each other, making for some truly memorable acts of childishness from two adults who had yet to grow up.
The heroine's journey of self-discovery began when she went back to college late in life, but it was really the reunion with her old friend that spurred her to change, because he remembered her exactly as she was—the awesome, spunky girl she used to be before she became a mother at 18—and was determined to remind her of it. Behind the scenes he was as selfless as a friend could be, secretly arranging it so that she could cross off the items on her bucket list when he (mistakenly) thought she was dying, or trying to save her marriage when he thought that's what she wanted. Okay, so he may have been a pigtail-pulling grumpypants grade-schooler to her face, but nobody's perfect.
6. Answer Me 1997 (2012)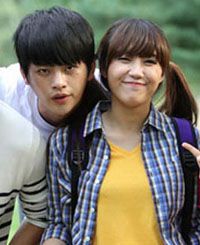 gummimochi: You can't think of lifelong friends-turned-lovers without thinking of Answer Me 1997, the nostalgia-filled series that brought us back to simpler times of in-person social networks and actual phone calls, and all the heady feelings of that unforgettable teenage first love. The series was centered around a tightly knit group of high schoolers, who stuck together through thick and thin during life's most turbulent time, otherwise known as high school. At the heart of the group was a feisty everygirl and the boy next door who was always showing how much he cared, while being deathly afraid that she might catch on. He knew every lovable quirk and annoying habit about her, and there were no secrets between them… apart from the tiny one where he was totally smitten with her.
Amidst the constant bickering and swapping of inside jokes, we got a refreshingly grounded couple who could be honest with each other about practically everything, as they grew up side by side. From that first confirmation kiss to the I-don't-care-if-you've-got-a-cold make-out session, Answer Me 1997 reminded us that there's always a chance to escape that dreaded Friend Zone.
7. Ex-Girlfriend Club (2015)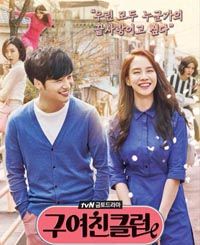 javabeans: Perhaps these two weren't 100 percent platonic friends initially, but they did stick themselves firmly in the friend zone when they reunited years after drifting apart. Working together to adapt his hit webtoon—all about his exes—into her movie gave them a chance to reconnect over late-night planning sessions and team bonding trips, reminding them why they'd been so good as friends before and making us all wonder why that went awry. With three ex-girlfriends hovering around, being adorably pesky and meddling, romance wouldn't get much of a chance to rear its head… but that's the thing about love—once it's taken root, no amount of hilarious interference and outlandishly elaborate schemes can prevent it from continuing its course. Our heroine may have been the fifth wheel at the start, but examining his past loves and why they ended also gave her the opportunity to understand exactly where they'd gone wrong before, and find a way out of the friend zone the second time around.
8. Plus Nine Boys (2014)
LollyPip: There were several lovelines in tvN's coming-of-age series about a family of men, all in their cursed "plus nine" year, all trying to overcome their terrible, terrible luck in the romance department. But the main love story was undoubtedly the one at age 29, between two old friends who had known each other since college and now worked together. The problem was that she knew better than anyone that he was a notorious ladies' man, and when he found himself falling in love with her, she was fiercely determined to guard her heart from him.
No longer happy being friends, the hero had to jump through hoops to convince his friend that his feelings were genuine, which became the heart of the show, as he spent his days pining and going to great lengths to prove his love. No guy was ever so pitiful, or so adorable. The biggest problem for these two friends was knowing each other too well, and your own internal obstacles can often be the hardest to overcome. But trust can be earned, history doesn't have to repeat itself, and curses can be broken. All hail the power of love.
9. Personal Taste (2010)
gummimochi: After being taken for granted by a longtime boyfriend, who can blame a girl for welcoming a kind, considerate, handsome and attentive roommate who'd become her gay best friend? If only she knew that her new BFF had a hidden motive for wanting to live under the same roof.
Personal Taste opened its doors to two strangers whose relationship was built an innocent misunderstanding that led to identity confusion and some hilarious roommate hijinks, like shower mishaps and chainsaw shenanigans. Things were bound to get complicated when that gay best friend (who's actually straight) started developing genuine feelings for her. Come clean and lose a meaningful friendship, or say nothing and keep those building emotions (and sexual frustration) bottled up? But if you made me choose… but really, there is no choice—I'd be all over him in a heartbeat. Game Over.
10. Persevere, Gu Hae-ra (2015)
LollyPip: This drama gave us a sweet, heartwarming story about a ragtag group of kids who just wanted to sing, and all the heartbreak, professional and personal, that goes along with that dream. Add in a central lifelong friendship that was torn apart early on by mutual tragedy and misunderstanding, and you had a friends-to-lovers story prime for angst.
The two leads had felt a connection the moment they met as children, and grew up knowing every heartfelt desire, embarrassing phobia, and dream for the future about each other. The fact that they were so close, and had so nearly confessed their mutual feelings, only made the sting of separation worse when he bore the brunt of a noble sacrifice that looked like betrayal. Still, he quietly helped her whenever he could, even when she would never know, showing his love to us but never to her. It may have been a long and painful road back to romance, but ultimately, a bond this tight was too strong for evil presidents, guilty consciences, and crazy fangirls to keep apart forever.
10. (+1) Let's Eat 2 (2015)
javabeans: For being a drama centered around food indulgences and the current "meokbang" trend of eating onscreen, Let's Eat 2 was surprisingly sweet and character-driven. These two leads weren't exactly longtime friends, but having been classmates in grade school gave them a refreshing familiarity when they reconnected as adults and new neighbors. Because their initial dynamic was more driven by aversion (hers, after he'd unwittingly inflicted hurtful scars as a child) than attraction, they skipped the pleasantries and cut right to the straight talk with each other. The heroine could only be uptight and nervous around the object of her crush, but the hero inspired no awe, and thus got the full force of her energetic, emotional, sometimes abrasive whirlwind of a personality. One of the best things about these friends-to-lovers relationships is how the characters often find love when they aren't looking for it; it just comes along and slaps them in the face one day, and the lucky ones know to grab on when they have the chance. And if that comes with a heaping portion (or sixteen) of delicious food-porn goodness, then count 'em extra lucky. Serve me up.
10. (+2) The Producers (2015)
girlfriday: The Producers highlighted some of the best and the worst of the friends-to-lovers trope by giving us a pair of best friends who were already a couple in every way… except the one that matters. Being best friends of twenty years meant that these two had no qualms about living together, relying on each other for the little things, and being a shoulder to cry on during their toughest moments as battle-weary television producers.
But it was self-awareness that they lacked, which was all the more ironic because they were the subject of a fake documentary within the show, in which their innermost feelings were caught on camera. Sometimes they were frustratingly blind to the fact that they were already in love, and other times they were the sweetest embodiment of showing their love in actions, not in words. Just… sometimes you need SAY THE WORDS though, okay? Orrrrrrrrr you could just light all the streetlamps from now to the end of days and follow her from the broadcast station to the retirement home and hope she figures it out someday. Your call.

+4 Honorable Mentions:
13. I Need Romance 2012: These two grew up together as neighbors in attached houses, knew everything about each other, and were the oldest of friends who even salvaged their friendship after dating. But these friends also kept their benefits, which knocks them off the official Top 10 (+2) list.
14. Bubblegum (2015): This couple will probably work their way up to the Top 10 (+2), if they keep up the cute devotion of the hero who dotes on the girl he grew up with, making sure she eats right, dresses warmly, and doesn't get her heart broken by bad men. I'm pretty sure we can think of one way to ensure that. It might take sixteen episodes to get there though.
15. Because It's the First Time (2015): This drama is another one that just started, but it features a sweet lifelong friendship that in practice feels a lot like a romance. She's his first love, but he's decided that it's time to grow up and date lots of girls, though it doesn't stop him from acting like her boyfriend when the need arises. We'll look forward to seeing how he gets her onboard the romance.
16. She Was Pretty (2015): This one's not in the Top 10 proper because technically these two were first loves, not merely friends… but with a friendship so heartfelt and poignant, we couldn't leave them off entirely. The drama found a way to preserve their pure-hearted childhood sweetness as they transitioned to adult romance, and given how feel-good and gratifying the development was, we figured nobody would mind us sneaking them on the list. It's not cheating if everyone wins, right?

RELATED POSTS
Tags: 1 show to rule them all, Answer Me 1997, Bubblegum, Dramabeans Top 10, Ex-Girlfriend Club, featured, I Need Romance 2012, Jealousy, Let's Eat 2, lists, Persevere Gu Hae-ra, Personal Taste, Plus Nine Boys, Propose, She Was Pretty, The Producers, The Time I've Loved You, Twenty Again