Running Man: Episode 273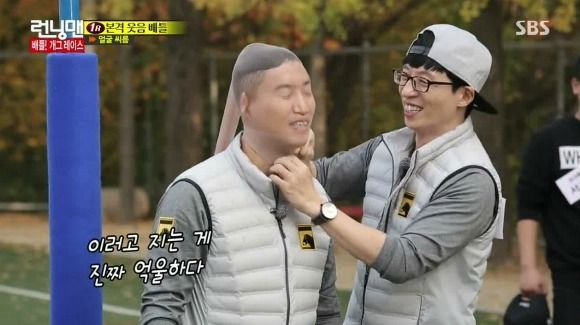 Our cast is put up to a new kind of challenge this week: a live audience. Bringing laughs on stage week after week is no easy feat, but today's guests are always prepared to use humor to make someone smile. This Laughter Battle will force our cast to learn the ins and out of comedy within a matter of hours to put on an entertaining show, followed by a heartwarming surprise. While awkward silence can often feel stifling, laughter can also be the best medicine.
EPISODE 273. Broadcast on November 15, 2015.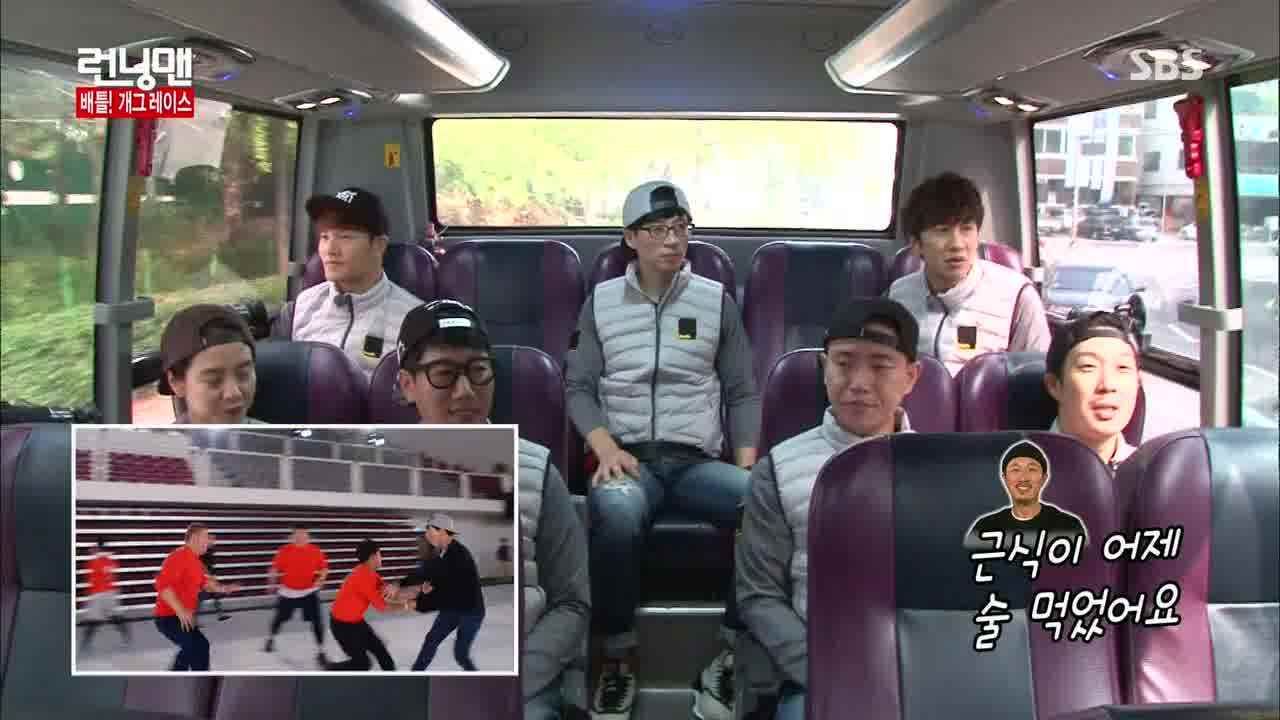 It's the morning after the 100 vs. 100 battle as our cast reminisces on an epic yet tiring day. Haha says his old roomie actor Park Geun-shik drowned his sorrows in drink over the loss, and the group agrees that veteran boxer Chang Jung-koo looked like he was having the time of his life.
We know it isn't easy to beat the Running Man cast when they're working as a team, and their matching outfits suggest they'll again be working as one today. They arrive at the Dongcheon-dong SBS Hall, home to the comedy show People Who Seek Laughter.
Jae-suk and Suk-jin in particular are happily proud to see their comedian hoobaes and the comedy duo Cultwo. No one in this group knows what they're getting themselves into, but both groups know that they'll be battling it out today.
To even out the numbers, the Running Man Team will pull two comedy groups over to their team. Comedienne Kim Hyun-jung who's known as Makdoong-ie (or "the youngest") stays in character, whose voice we can hear when she's close to a microphone.
Kwang-soo tells the hiphop comedy trio Namolla Family that he once failed an audition to appear in one of their music videos. The two teams engage in a warm-up ddakji battle, and first up is comedian Jang Jae-young who sticks the same finger that went up his own nose into Suk-jin's. Eww.
In retaliation, Suk-jin shows off his ddakji skills to beat Jang Jae-young and his team. Then Lee Jung-soo displays how one can drink from one of those huge plastic water jugs without the use of hands by kicking it and drinking whatever shoots upwards. HA.
Kwang-soo is pulled into trying it out himself, and it does indeed work. Comedienne Lee Eun-hyung shows off a spot-on impersonation of Ji-hyo sleeping in the car, and Lee Dong-yeob happens to hail from Jong-kook's hometown, but isn't afraid of beating him in ddakji on camera.
Comedienne Im Ji-hyun totally misses with her ddakji attempt, and one by one, the Running Man cast shows off their ddakji skills. When Jae-suk asks if Kim Hyun-jung likes her fellow comedian Kim Seung-ho, she jokes that she likes someone else, but that same person rejected her today. Heh.
To that, Cultwo's Jung Chan-woo says, "If you're going to fall in love, at least take off the stage makeup first."
Because Kim Hyun-jung's Makdoongie skit is no longer on rotation (she even made her own nametag, aw), the Running Man cast bring her over. They also recruit Lee Eun-hyung and her boyfriend Kang Jae-joon and their team Only For Men, and lastly Uncomfortable Mr. Bok-nam with Im Ji-hyun, Oh Bok-nam, and Hong Ga-ram.
Over lunch, Jong-kook gives a flat no to Hyun-jung's question of whether he'll take her if she breaks up with her boyfriend. That leads to the topic of Jae-joon and Eun-hyung's long-term relationship, and even Eun-hyung appears surprised that they'll be getting married early next year.
Jae-joon explains that financial difficulties played a part in postponing the marriage, since People Who Seek Laughter was off the air for nearly three years in between 2010-2013.
His roommate Kim Gun-hyung used to be a camera assistant to the Infinite Challenge crew. He worked at a department store to make ends meet when a sunbae recognized him and brought him back to the entertainment industry.
Ji-hyun says her parents were opposed to her career choice for some time, and Hyun-jung has been in the industry for nearly a decade. Her cohort Jung Joo-ri is more well-known, and Hyun-jung asks if she can be on Jae-suk's talk show Happy Together.
When Jong-kook tells her to ask about Infinite Challenge, she turns to Haha, who's all You're asking ME?
The teams gather together at a field, and there's honestly too many to count on the Comedy Team. One notable person is Kim Jung-hwan who also used to be an MC to get audience members enthusiastic before a show.
He shows off the teamwork within the Comedy Team, which only gets the Running Man Team hyped up to beat them. Jung-hwan goes through the same chants with them, but then throws in an "L-M!" (to which they should scream "N-O!"), and Haha yells back "M-G!"
Jae-suk says Jung-hwan's efforts always made a huge difference in the crowd's energy, to which Jung-hwan points to his sunbae Dong-yeob. Jae-suk: "I'm sure he learned from someone else, too."
So Dong-yeob goes through the chants with them too, including the ones about how their favorite comedian is him. And then he tosses in, "Which comedian do you hate the most?" and the Running Man Team automatically responds, "Lee Dong-yeob!"
Now on to the first game: Face Wrestling. Here, each competitor will have a stocking (connected to a pole) over their heads and run over to stack five liquid yogurts the fastest. Best out of three wins it. Ah, so we're going for the visual gag first.
Bald comedian Kang Hyun steps up to the plate and goes up against Gary. HA, both men give us some unforgettable expressions while the stocking pull on their faces. In the end, Gary takes the first round.
Up next, Jae-joon faces Lee Soo-han, and pffft, Suk-jin tries to grab a selca with Lee Soo-han's stretched face. Soo-han is unable to see anything, so he jumps back a few steps to gauge where the table is before hopping back towards it.
While he's got two towers going, Jae-joon finishes his tower to ultimately win the first game.
Their next game is Jump Rope Charades, where one person will try to act out gestures while jumping rope. The team that guesses the most correct answers in 100 seconds, wins. Jae-suk crashes the Comedy Team's strategy session, scolding the three sunbaes for hogging all the talking while their hoobaes are bunched up together.
Kwang-soo does a pretty good job for the Running Man team, though yelps out in pain whenever the rope smacks his leg. I'm sure it hurts most when it hits bare skin, but he continues to go all out until the bell mercifully rings with eight answers.
Comedian Choi Baek-seon jumps for the Comedy Team, who get only seven answers correct, much to their disappointment.
So the Running Man Team come into the final mission leading 2:0 when we jump to a theatre. Here they'll be preparing three sketches vs. the Comedy Team's five to perform in front of a live audience.
Jae-joon enlists Haha and Ji-hyo for their sketch, and Jae-suk doubles over when Jong-kook is recruited to be in a sketch with Hyun-jung. She happily cries, "I made sure to add in a kiss scene!"
After Gary is pulled in as well, Jae-suk, Suk-jin, and Kwang-soo celebrate that they're off for the day. With just three hours and forty minutes until curtain rises, Gary starts to sweat. He's not the only one either, since the others want to put on a good show for the audience and not bring down the comedians' image.
Ji-hyo worries that her delivery won't bring on the laughs, and Gary looks relieved that he doesn't have to act as a boyfriend whose girlfriend drips with aegyo in her voice. Then there's Jong-kook who notices that his big acting scene is all but a kiss.
The guys point out that Hyun-jung is responsible for the script, and as funny as she may be, she's dead serious when it comes to reading lines. As they rehearse, the other guy gets jealous and picks a fight with Jong-kook. How does he retaliate? By grabbing him by the shirtfront. LOL.
Gary gets upset when Kwang-soo tries passing on some acting tips. He immediately turns to the cameras, all, Did you get that? Did you SEE him?! and tells Kwang-soo that he acted wayy before Kwang-soo ever did.
With one hour until showtime, the teams hurry to memorize their lines. Jong-kook's team picks apart every single action while rehearsal continues until finally the theatre is filled with people.
The audience screams upon seeing Jae-suk, Suk-jin, and Kwang-soo, who explain today's theme and voting system. The first Comedy Team is up first with Gary's team on deck, and Hong Yoon-hwa's wig-falling blunder gets the audience busting a gut.
The sketch starts off with Im Ji-hyun yelling at her doctor boyfriend for suddenly breaking up with her, and Oh Bok-nam awkwardly walking into the room. With his exit, it's time for Gary's appearance.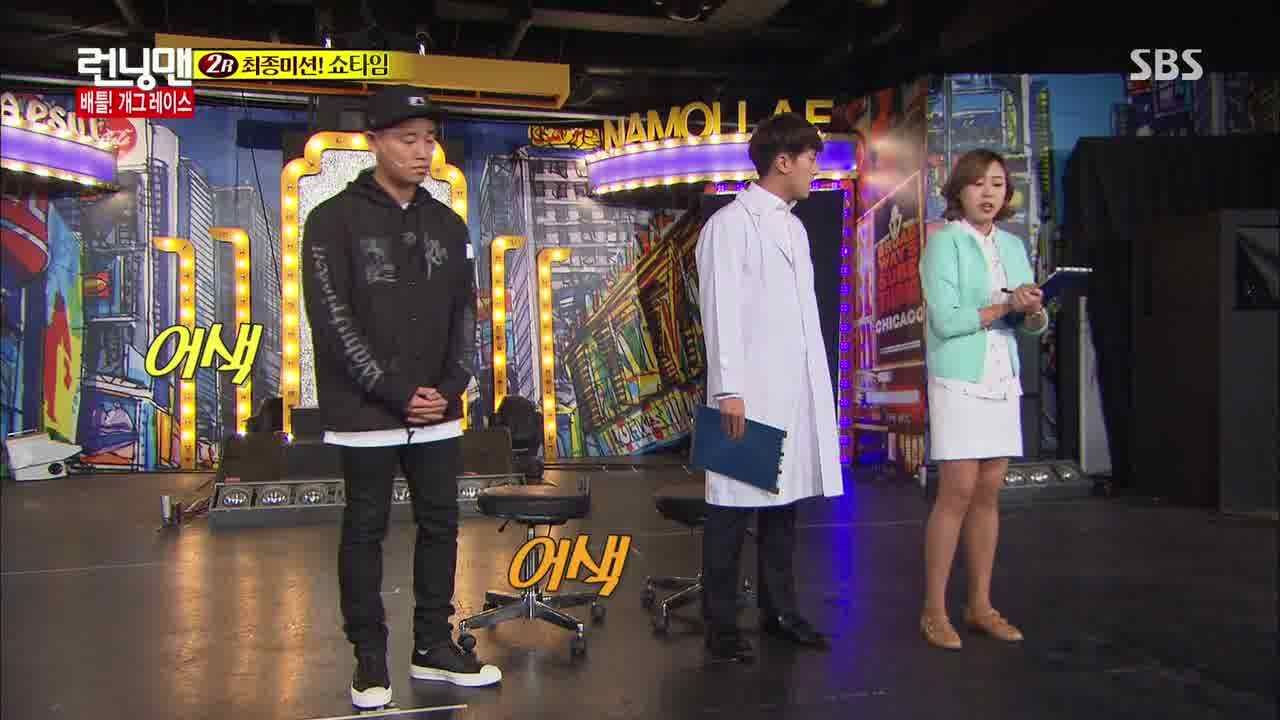 As expected, the audience erupt into screams once he appears. He stands there awkwardly while the doctor and nurse resume their spat until he interjects when the nurse asks, "Who's that woman you're meeting on Mondays?" Gary: "Ji-hyo?"
He and Bok-nam awkwardly try to diagnose one another while another as the squabble continues. At one point, Bok-nam raises his shirt, and when the doctor ad-libs that the nurse should put herself in his shoes, both Bok-nam and Gary look at each other.
But for the sake of comedy, Gary hands over the stethoscope and bares his stomach. He even adds in an off-the-cuff remark of his own: "Kid, can you close your eyes?"
And then when the nurse retorts, "Filthy jerk!" Gary and Bok-nam look dejected. Given his cue to step off stage, Gary makes sure to apologize once more before taking his exit. Bok-nam nearly jumps when the doctor throws down his chart and stomps off.
Eventually Bok-nam and Gary find themselves alone on stage, and they leave hand-in-hand. While Hipkwondo is on stage, Jong-kook is called in for standby. His team members start the sketch with Hyun-jung's ex-boyfriend recognizing her in her male get-up.
Upon his cue, Jong-kook takes the stage and delivers his first line: "Aren't you my first love Hyun-jung?" She explains that she met lots of guys and told them that they were her first love, which leads to a fight between the men.
Here comes the part where Jong-kook must grab him by the shirtfront, which he does with ease. When Hyun-jung tries to dissuade him, Jong-kook lets go and twirls her around for a supposed kiss. HA.
I love the other camera angle we get of Hyun-jung placing some of her dark makeup on his face. Their teammates are honestly surprised, and Jong-kook explains that the original plan was for her to draw it on, but did this instead. I'd say it was a far better idea.
Soon the second big moment arrives when their "boss" hits each of them in the gut and they crumble. But then the boss stops in front of Jong-kook whose eyes read You really wanna do that?
All Jong-kook has to do is take off his jacket to get the girls screaming, and the hit simply bounces off of him. And when Hyun-jung is about to get hit, he runs over to block it. Once it's over, Hyun-jung apologizes for not bringing a pen with them, but like before, I totally agree that the smudging was better.
One of the Comedy Team's sketch includes Jae-suk's "I'm so sexy" dance performed in the most recent Infinite Challenge music festival. He shows them how it's done, then murmurs the other show's name.
Backstage, Ji-hyo and Haha are about to burst in anxiousness. She shows up first as the aegyoified girlfriend to Jae-hoon, and it's great how Jae-suk, Suk-jin, and Kwang-soo burst into laughter.
She delivers her first "steak, steak, snake" line and goes all out to play the petulant girlfriend. Soon, Haha is dragged in by Eun-hyung to play the exhausted boyfriend. He comes alive as soon as the guys start headbanging, though it takes an extra second to get over the dizziness.
He switches into nagging mode, and when she starts pouting, he drags her over to Jae-suk to compare their expressions. Jae-suk immediately sinks into the moment.
The teams gather together again after the votes are in following the performance. The show has also prepared special video messages from the comedian's families. Each heartwarming message is filled with love and a bit of humor, but that's not all…
… as the mothers also enter the theatre, along with all the other families of the People Who Seek Laughter cast. Turns out the families were within the audience during the show, and Yoon-hwa explains she was most surprised to see her sister here since she thought her sister would be going abroad again for work.
Yoon-hwa's mother has a touch of humor of her own, and Eun-hyung's father explains that he met Jae-joon's family over dinner earlier. He adds that if the couple wishes to get married and be happy, then he's all for it. Awww.
Everyone is a bit perplexed when they hear that Gun-hyung tells his mother that he lives off of yulmucha (Job's Tears tea). He explains that he gave that answers so that his mother wouldn't worry about him being poor, but that it became a meaningful word between them about his finances.
Lee Jae-hoon's father can deliver his son's catchphrase just as well as he can, and the other parents take turns to speak of their sons and daughters with pride. Aww, Lee Hye-ji's father makes his workers gather together to watch the comedy show together every week.
Jung-hwan apologizes for becoming a comedian much later than his fellow comedians, then inserts a bit of humor to lighten the mood.
Nothing can quite warm the heart like family does, and now it's finally time to announce a winner: The Running Man team with 139 votes to 119 votes to the Comedy Team. Given golden mouths (with a golden "tooth") as their prizes, Jae-suk delivers the closing to thank everyone for the laughs, fun, and memories.
RELATED POSTS
Tags: featured, Haha, Ji Suk-jin, Kang Gary, Kim Jong-kook, Lee Kwang-soo, Running Man, Song Ji-hyo, Yoo Jae-suk