Six Flying Dragons: Episode 16
What a ride. Bang-won displays his multiple talents this episode, which range from thinking like the enemy to being a damn fine orator. The darkness that dwells within him isn't missed by the others, but it seems to be more or less tolerated when his crazy risk-taking yields crazy good results. Whether that'll come back to bite his enablers in the bottom remains to be seen, although history would have a point to make when it comes to giving Bang-won free rein. The ends shouldn't always justify the means, but with a system so corrupt, who can blame our intrepid hero for using a little dynamite to make a point? (Actually, don't answer that.)
SONG OF THE DAY
Chi Won – "이밤 (This Night)" [ Download ]
Audio clip: Adobe Flash Player (version 9 or above) is required to play this audio clip. Download the latest version here. You also need to have JavaScript enabled in your browser.

EPISODE 16 RECAP
In the least suspicious way possible, Minister Hong acknowledges that though his impeachment was to be decided today, Elder Jo's treason is way too important not to be investigated first. Yes, let's all trust the man who was about to be ousted to provide a convenient reason to delay the proceedings.
And so the dodang votes to approve Elder Jo's arrest, though Lee Seong-gye tells Minister Hong it's because they wanted to see the matter thoroughly investigated. Hong doesn't seem afraid of such scrutiny, and seems to be arrogantly preening more than ever.
Meanwhile, Team Joseon finds out about the supposed treason plot by Elder Jo and realize that even if it turns out to be untrue, their mission will be severely compromised. Now, Jung Do-jeon asks Bang-won how he came to the conclusion that this was all part of Minister Hong's grand plan.
"Because Haedong Gapjok must have been Hong In-bang's goal from the beginning," Bang-won reasons. Despite the fact that no one's been stupid enough to attack the noble clan in seven hundred years, Bang-won is sure that Minister Hong plans to be the first.
When asked to explain why he thinks so, Bang-won explains that it's because he would have done the same if he were Minister Hong. He slips into character as the devious minister and voices his thoughts and his anger at being tricked out of marrying into Haedong Gapjok by Lee Seong-gye and Jung Do-jeon.
Because he still carries so much self-hatred over betraying the sadaebu under torture, why would he consider attacking the Haedong Gapjok so taboo? It all comes down to pride and arrogance, and Bang-won seems to relay that mindset of Minister Hong's eerily well. But at least now the others have an idea as to what he could be thinking.
While Minister Hong uses one of his old torturers (the one he bludgeoned into total submission) to take over Elder Jo's investigation and beat him silly, Bang-won's instincts prove to be right as we get a glimpse into a conversation between Gil Tae-mi and his crazy in-law.
Though Gil Tae-mi expresses reasonable doubt over Minister Hong's plan to go after the Haedong Gapjok, Hong points out all the times he did things that would've been unheard of. He'll just do as he always does, and succeed like he always has.
Jung Do-jeon confides to Officer Nam that he believes Bang-won was right, and that he underestimated Minister Hong. "If you think lightly of your enemy, you will surely fail," Jung Do-jeon cites the truth of all clashes, and realizes that Bang-won was the only one who didn't sell Minister Hong's abilities short.
If that's true, Officer Nam concedes, then it only makes him dislike Bang-won more—the only reason he caught on when they didn't is because he has the same mind as Minister Hong. Jung Do-jeon asks Bang-ji for his thoughts, which the warrior huffs at like a teenager asked to contribute to the family discussion.
To him, the power Minister Hong seeks in taking out the Haedong Gapjok isn't real power, because real power comes from real strength (he uses his sword to make this point). But if Hong realizes that the power people like Jung Do-jeon and the Haedong Gapjok wield is made only of clever words, then nothing will stop him.
Minister Hong pays a visit to Daddy Min's house and opens up with a pleasant, "Have you ever been threatened? I came to threaten you." Hong is the very picture of a smiling devil as he tells the Haedong Gapjok clan member that he has the power to get Elder Jo to confess to whatever he wants him to—so whether he points the finger at Lee Seong-gye or back at his own clan is up to Daddy Min.
"I'm telling you to kneel before me," Minister Hong adds, practically laughing at the thought. When Daddy Min blusters that Hong is in denial for thinking he can do something that no other politician has ever been able to do (in attacking his clan), Hong's answer is simple: He'll succeed because the Haedong Gapjok has no power. They've enjoyed the illusion of uncontested power for seven hundred years, and Hong is not afraid.
To prove his point, Minister Hong bellows that he has the power right now to order his servants to strip Daddy Min naked and hang him up by his ankles—and there's nothing Daddy Min could do to stop him. He hands Daddy Min the petition he wants the Haedong Gapjok to deliver to the king, naming Lee Seong-gye as the conspirator behind Elder Jo's treacherous plot.
And if he doesn't turn that petition in, Minister Hong will end the looong reign of the Haedong Gapjok. "Do you think I can't do it?" he challenges. "It only took me eight years to rise from the dregs of the sadaebu to the highest seat in the dodang! It doesn't matter to me if I lose it all, but you'll lose seven hundred years." He has a point there.
As Jung Do-jeon tells Lee Seong-gye and Jung Mong-joo that it's likely the Haedong Gapjok will bend to Minister Hong's demands simply because they're so unused to conflict, Hong tells his cohorts the same thing. After all, his goal isn't the Haedong Gapjok at all—it's Lee Seong-gye.
After catching up with Boon-yi over their first home-cooked meal together since their reunion, Bang-ji is called to accompany Jung Do-jeon on his visit to Daddy Min. Though his servants claim he's not home, Yeon-hee's intel says differently, even if she also shares the same intel with Cho-young.
While Moo-hyul trains with Master Hong (and Grandma backtracks on treating him like a household servant), Bang-won and his brothers test the newest advancement in modern warfare: gunpowder. Introduced by military commander and scientist Choe Mu-seon from a Chinese recipe, it's the first time they've seen the likes of it and they're appropriately awed.
Boon-yi steals Bang-won away to tell him that Jung Do-jeon has tasked him with finding out what it was that Minister Hong and Daddy Min discussed. She reminds Bang-won that he's now Daddy Min's son-in-law, so that should provide leverage—but Bang-won says the opposite is true, since his wife's family is ready to spirit her away should things start going south.
He knows he'll have to convince his wife if he's to get any information, but he doesn't have anything to entice her to give him anything. Boon-yi chuckles at this, figuring that Bang-won actually married a female version of himself. Her advice? Bang-won should use his talent for getting into other people's heads to get into his wife's. If he thinks like her, he'll figure out what he could do to sway her.
Daddy Min warns his daughter to be ready to flee should they sign the petition like Minister Hong wants (since her father-in-law would then be branded a criminal), and Bang-won knows that's exactly what she's planning to do.
But since she hedged her bets on him and his father initially, figuring that the tide of power would turn their way, he asks for her to make a deal with him. She'll write down everything her father said to her today, and he'll write down his family's biggest secret, one she can use to protect her family if need be.
She agrees, but when it comes time to switch papers, Bang-won receives only an empty page. Da-kyung, however, gets exactly what Bang-won promised, even though the contents shock her. She doesn't understand why he'd share this kind of secret when he doesn't trust her, but he had no other choice.
Moved by this, Da-kyung asks if he'll really be able to stop Minister Hong if she tells him everything she knows. Bang-won replies that whether he succeeds or fails shouldn't matter to her—with that secret in her hands, there's no way for her clan to lose.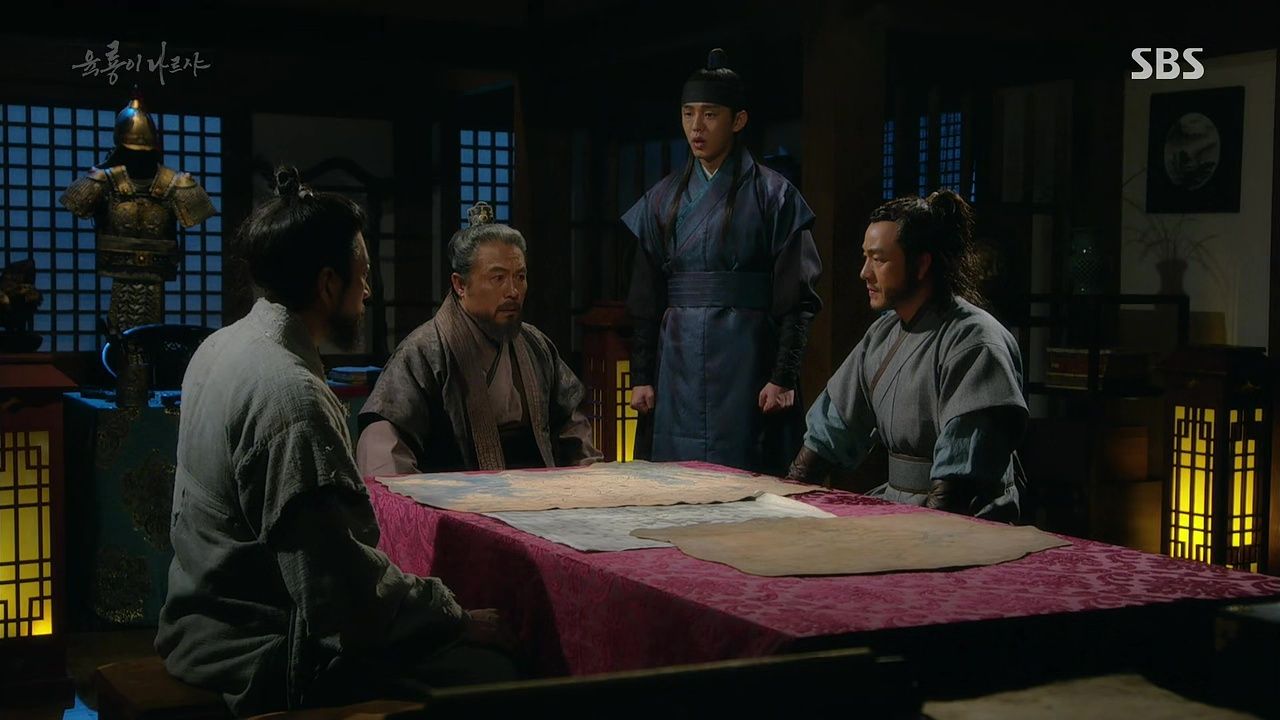 He takes the information she gives him straight to his father, so that he and Jung Do-jeon know about the petition Minister Hong has given them to sign. At the same time, Minister Hong informs Lee In-gyeom of his plans, which prompts the old former minister to note, "I have raised a monster." Indeed he has, but this monster wants him to make sure General Choi is kept in line so his plot goes smoothly.
Jung Do-jeon's first reaction is to get Lee Seong-gye out of the capital, since they'll have no other way to protect him if the petition goes through. Neither the great general or his brother-in-arms Lee Ji-ran are for running away, despite Jung's insistence that they'd really be tried for treason if they attacked Gil Tae-mi and Minister Hong without a reason.
"Then make a reason for us," Lee Seong-gye tells him. "Give me a strategy." Those are always the magic words, and Jung Do-jeon thinks of one way… but they'll need General Choi and, more importantly, time. Bang-won promises to buy them that time by making it so that the Haedong Gapjok can't sign that petition, since he knows where they'll be meeting tonight.
In private, Jung Do-jeon confronts Bang-won over his promise to buy time, knowing he lied. He's got something else planned, doesn't he? He knows Bang-won well enough to know he's got something in mind because he's told no one about it, which he tends to do when he becomes sure of a plan.
But, rather than chastising him, Jung Do-jeon gives him his blessing to carry out whatever plan is in his mind. Bang-won is honored by his trust and promises that he'll succeed.
With Lee In-gyeom's warning that Minister Hong has already gained the Haedong Gapjok's support in his plan to arrest Lee Seong-gye fresh in his mind, General Choi receives none other than the supposedly treacherous general himself for a late night visit.
Bang-won makes a very dangerous decision in placing one box full of actual gunpowder on a table next to another identical box he's filled with rocks, and then by asking Boon-yi to bring him one of the two. It's so he won't know which he actually has, and Boon-yi doesn't know that whichever one she chose will determine whether they live or die tonight.
Amidst all the life and death stakes, we get a nice break with Moo-hyul practicing how he'll approach Gil Tae-mi for a fight while looking as cool and manly as possible. But when Bang-won approaches with the red box and asks for Young-kyu to gather men in secret, Moo-hyul sees a chance to add another battle to his resume.
Daddy Min presents the petition to the other Haedong Gapjok members later that night, with the option to either sign it or fight against Minister Hong and face the consequences. None of them are willing to fight since they're so unused to conflict, and besides, what's thirty more years of Minister Hong's tyranny when their clan will live on forever?
But before they can sign the petition, they find themselves surrounded by Bang-won's men. Bang-won himself walks into the center of the pavilion and unwraps the red box in front of the clan members, telling them that there's gunpowder inside. No one's leaving until he says everything on his mind, on pain of death.
Taking the petition in his hands, Bang-won reminds them that signing this would mean the end of a general who protected Goryeo against foreign invaders over a false accusation. Then again, nothing would change for them, and they have a long history of standing idly by during times of crisis—he even confronts them with the fact that they hid away on Ganghwa Island during the thirty years of the Mongol invasion.
And what did they do for the people who suffered? Nothing but write poetry. "Besides that, what have you done for the past seven hundred years?" Bang-won asks. "You all just sat by and watched history happen." One of the elders finally barks that Bang-won can't expect to say these things and get out alive, only for him to level the elder with a chilling stare: "Yes, I believe I will."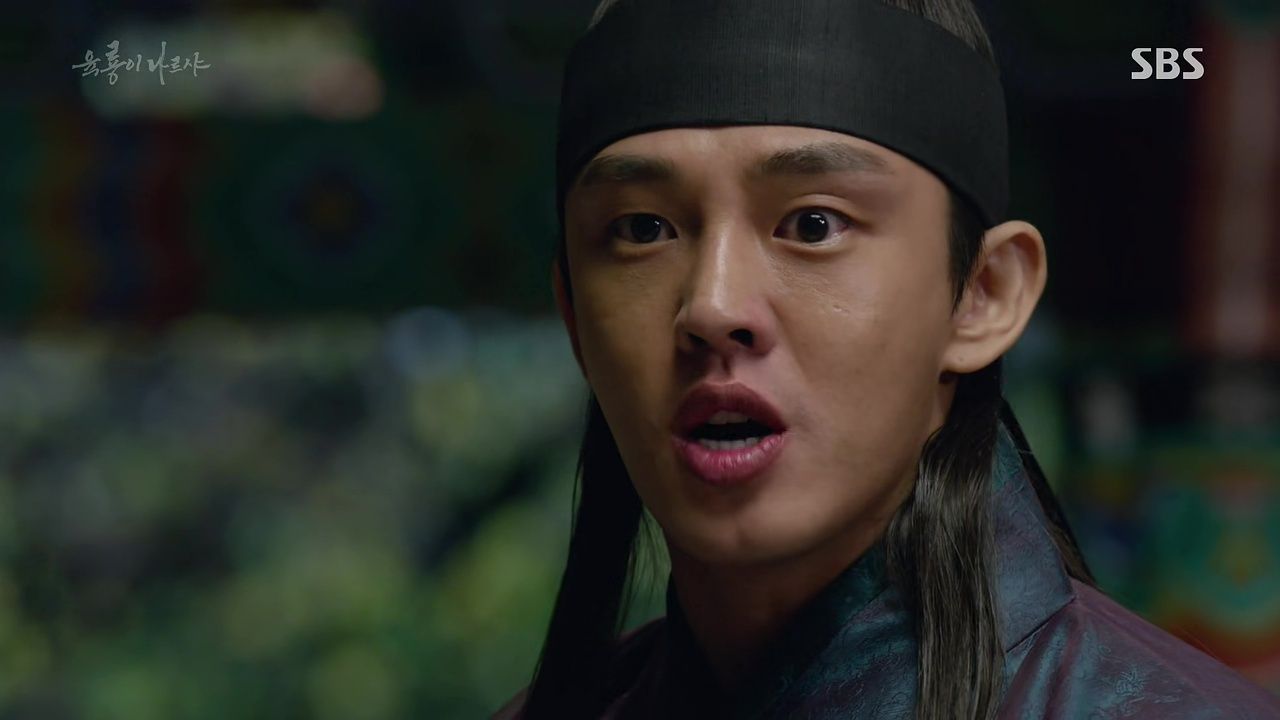 While Bang-won acknowledges that he wouldn't have dreamed of facing them like this even a day ago, he found the courage to do so because he learned that they planned to surrender to Minister Hong. And he won't be the only one. If they set this precedent tonight, they'll be setting the stage for politicians to use them and make them kneel in the future, just like Minister Hong did.
"Like tonight, you'll probably just nod your heads powerlessly," Bang-won argues emphatically. "Just like the past seven hundred years, that will become your next seven hundred y ears. Do you truly wish to create a history of humiliation and indignity for yourselves?" Or, he offers, they can erase that indignity by signing the document he has, and ensure a shining future for their clan.
He reads his petition aloud, which gets all the old coots' hearts palpitating: It's a indictment of Minister Hong, Lee In-gyeom, and Gil Tae-mi for all the legitimate crimes they have perpetrated by stealing land and taking bribes. It even calls them to be held accountable and impeached for accusing Elder Jo of treason and for throwing the country into chaos.
Speaking like a great leader, Bang-won urges them to sign his petition and work with him to clear the scum out of the dodang. "And if we can't? What will you do if we can't?" Daddy Min asks. "You will do it, but we don't have a lot of time," Bang-won returns. In order to help them make a speedy decision, he sets the long fuse leading to the gunpowder(?) alight in front of them.
He promises to pull the fuse if they sign the petition, but if not, they'll all die together. The elders all jump up to sign as the flame gets closer and closer to the box, though Daddy Min retains his composure throughout. His is the last signature required, and he's in no hurry as he stares his son-in-law down. This is not the best time to be playing chicken, guys.
He warns Bang-won that if he's just bluffing, he's going to be sorry. But Bang-won returns just as easily, "Are you willing to bet your life on my bluff?" Another long, charged moment passes. Even Bang-won starts to look nervous as he thinks only of Boon-yi, in case he really is about to die.
An anxiously high-pitched Moo-hyul intervenes to point out that Bang-won wouldn't be shaking if he was lying—will Daddy Min kill everyone here? That's the deciding moment for him, as he finally signs the petition.
At the last brushstroke, Bang-won takes Moo-hyul's sword and cuts the fuse. Daddy Min immediately pulls the lid off the box, revealing nothing but rocks inside. He can't understand how Bang-won could have looked so fearful if he knew there wasn't actually gunpowder inside, and Bang-won admits that he kept the truth from himself in order to deceive them all—and himself—convincingly.
Officer Nam tears into Jung Do-jeon for allowing Bang-won to take a box of gunpowder(!) to the Haedong Gapjok assembly, only for Boon-yi to gently intervene: "It wasn't gunpowder."
She tells them how she'd picked up on Bang-won's mood when he asked her to retrieve one of the boxes, and had checked their contents. She wasn't sure what he was planning to do, but since gunpowder would be dangerous, she gave him the box of rocks instead.
Young-kyu wonders if Bang-won will really be able to just walk away from this without punishment, but Bang-won banked on the Haedong Gapjok covering the whole incident up. To admit that they signed because they were threatened would be shameful otherwise. Moo-hyul just looks at Bang-won with awe: "He's really amazing!"
Spies for Cho-young and Minister Hong set off to inform their masters, while Moo-hyul comments on the coming of the morning to Bang-won, who just smiles. "Hong In-bang, this will be your last morning."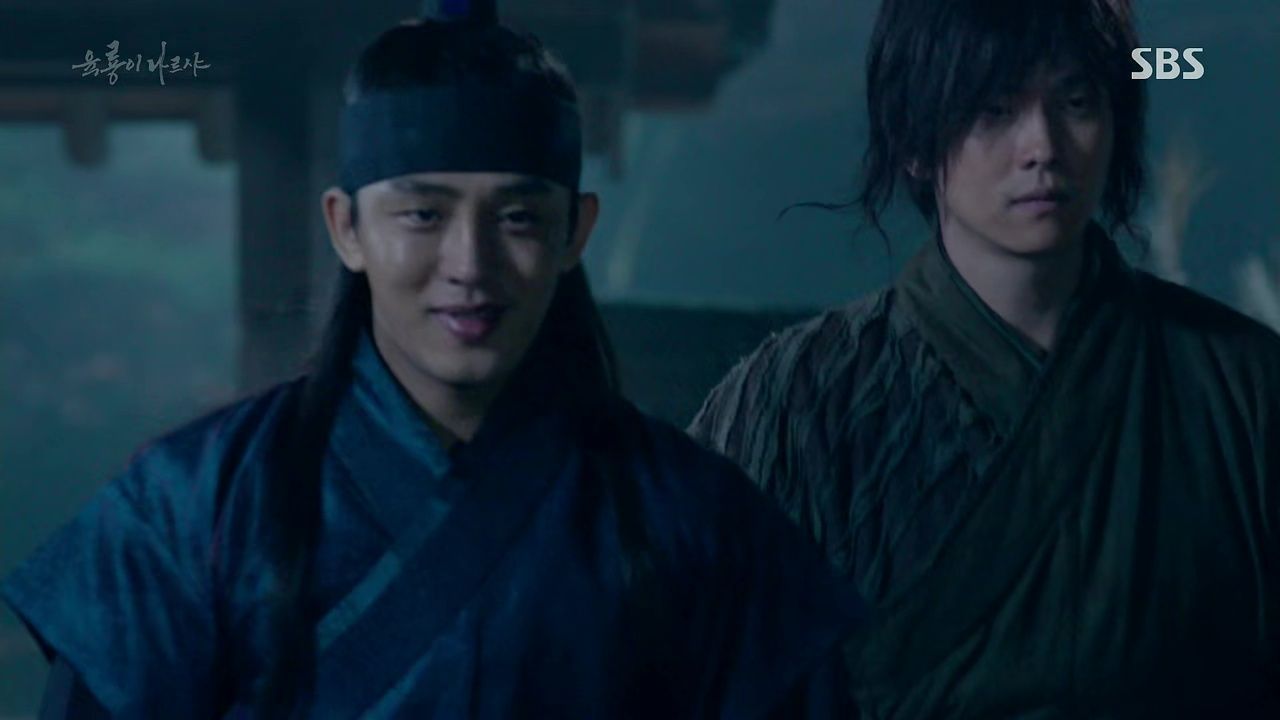 COMMENTS
Phew, that was tense. Even knowing that Bang-won wasn't going to blow himself up (because history), that scene was convincing enough to put us right in his shoes and feel his anxiety. Was the box filled with rocks, or gunpowder? Would he live long enough to find out?
And the best part about it was that you could see all that playing on his face, since he was juggling way too many unknowns for such a dangerous gamble. At first, I thought he was saying Boon-yi's name in those last critical moments because he loves her and thought he was going to die—and while that may have played a tiny part, it seems more like he was hoping she'd made the right decision. Then again, he would've been in real trouble if Daddy Min hadn't called his bluff and let the fuse burn out, since he wouldn't have had anything to threaten them with in the first place. I wonder if he would've preferred the gunpowder in that case.
But Bang-won took what can only be described as an absolutely insane risk nonetheless, and while I can't see why giving himself a fifty-fifty shot would've helped him deceive himself into being fearful more than just taking the actual box of gunpowder, it was a fun device to see played out anyway. The questions his self-deception raises are interesting, since we could point to any number of reasons why he didn't want to know what was in the box—maybe he didn't want to be wholly responsible for what happened, maybe he wanted to give himself at least half a chance to live, or maybe he wanted to absolve himself of the weight of knowingly threatening a whole bunch of people with death by half.
Or, and this is the explanation that seems to resonate the most with me, maybe he couldn't have allowed himself to take the box of gunpowder because he couldn't trust himself that completely. I'm sure Bang-won was fully prepared to die, but he did add a good deal of uncertainty by not knowing which box Boon-yi brought him. And maybe if he had known for sure that what was inside would kill him, he might've given in during that frightening game of chicken he and Daddy Min played. I wouldn't doubt for one second that Bang-won thought of all these possibilities, which is why he used chance and sheer force of will to make sure that his alternate petition was signed in time.
It really was a flawless plan if you take out everything that could've gone wrong (which was everything), and the fact that he persevered despite all the risks is part of what makes Bang-won so formidable and such a treat to watch. But lest we lay the praise on too heavily, it's important to note that he may have met his match in Da-kyung, since he seems to have married the female version of himself. Because if she managed to pull one on Bang-won with that letter now, I doubt there'll be a shortage of high stakes shenanigans to come. As for me, I can't wait.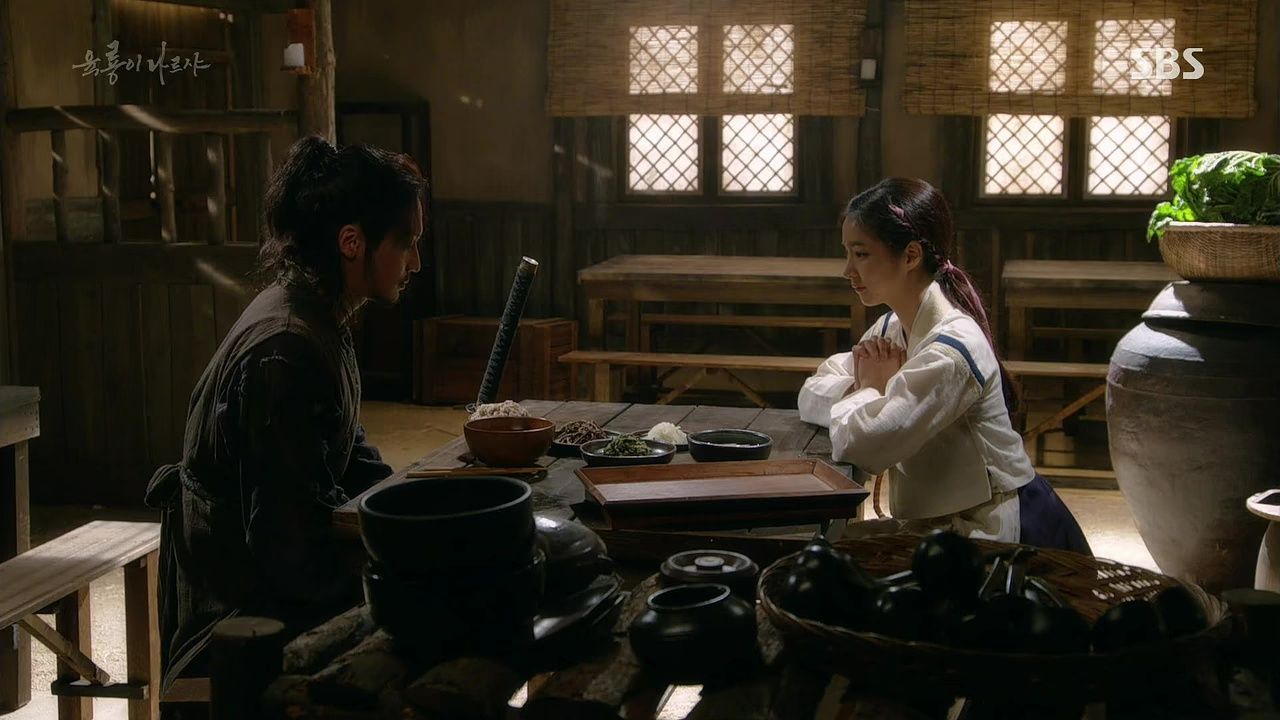 RELATED POSTS
Tags: Byun Yo-han, featured, Kim Myung-min, Shin Se-kyung, Six Flying Dragons, Yoo Ah-in