Answer Me 1988: Episode 14
Jung-hwan-ah, stop making that face, will ya? I can't be mad at you when you pout. School is back in session and the kids kick off their senior year of high school with Jung-hwan's birthday, an occasion that stirs up a lot of unspoken feelings. Not… that there are many other kinds of feelings in this group. Unspoken is kind of the specialty around here, though I think that's about to change. Sun-woo also faces a major shift in his life and struggles with what's best for his family versus what his heart is telling him.

SONG OF THE DAY
Wable – "보라빛향기" (Scent of Purple Light) for the Answer Me 1988 OST [ Download ]
Audio clip: Adobe Flash Player (version 9 or above) is required to play this audio clip. Download the latest version here. You also need to have JavaScript enabled in your browser.

EPISODE 14: "Don't you worry"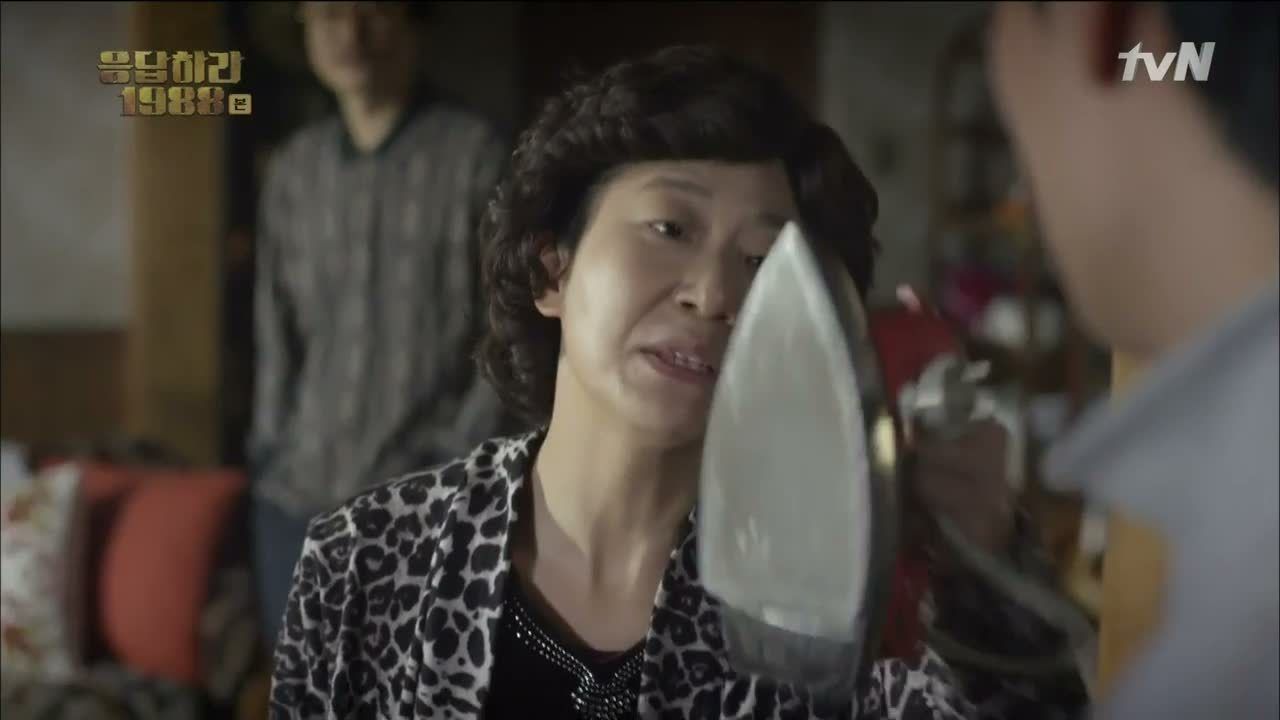 March 1989. Jung-hwan's mom gets out all the clothes to iron, and then remembers that her husband "fixed" the iron and made the cord about a foot long. She gives up trying to make any use of it and goes to throw it out, and Dad tries to stop her because he thinks they could use it for ten more years.
Jung-hwan happens to come out of his room at the worst time, and Mom greets him with: "Is it Mom or Dad? We're getting a divorce because of an iron. Who do you want to follow?" Jung-hwan stupidly answers, "Dad," and gets whacked in the head. Jung-bong hyung sees this and says without being asked, "I will follow Mother." Mom tosses him her wallet for giving the correct answer. Pfft.
Taek's dad is busy dividing up a massive fruit basket that Taek brought home, and Taek volunteers to go make the deliveries. Dad says he'll go to Sun-woo's, and Dong-ryong comes by to pick up his own portion because he saw the basket arrive and knew to expect it. Taek sees that Dad is saving the precious bananas (which he says are for Jin-ju), and he asks for just one. Dad points out with a chuckle that they were his to begin with.
Taek drops by Jung-hwan's house first, where Dad tries to teach him his gag greeting and Mom invites him to dinner. He's on his way to see Deok-sun though, which Jung-hwan clearly takes note of. They make plans to get together for Jung-hwan's birthday, which is coming up this weekend.
Taek goes to Deok-sun's next, and she wonders why he stood outside knocking when he could've just come in. She gasps at his bare feet and covers them with a blanket, and happily peels the banana and offers him half. He tells her to eat it all, though she saves the rest. She can tell he hasn't slept much, and asks if he took sleeping pills. He says no, not since she told him not to (awww). She asks about the painkillers too, presumably for his headaches, and he reports that he only took one pill, earning him heaps of praise.
No-eul comes home and greets Taek respectfully, and asks if he'll give him ten autographs for his teacher. Taek agrees, and smiles as he watches Deok-sun wipe No-eul's face as he eats the other half of her banana. She sighs that he's aging faster than Dad, and No-eul assures her that he'll look young when he's older.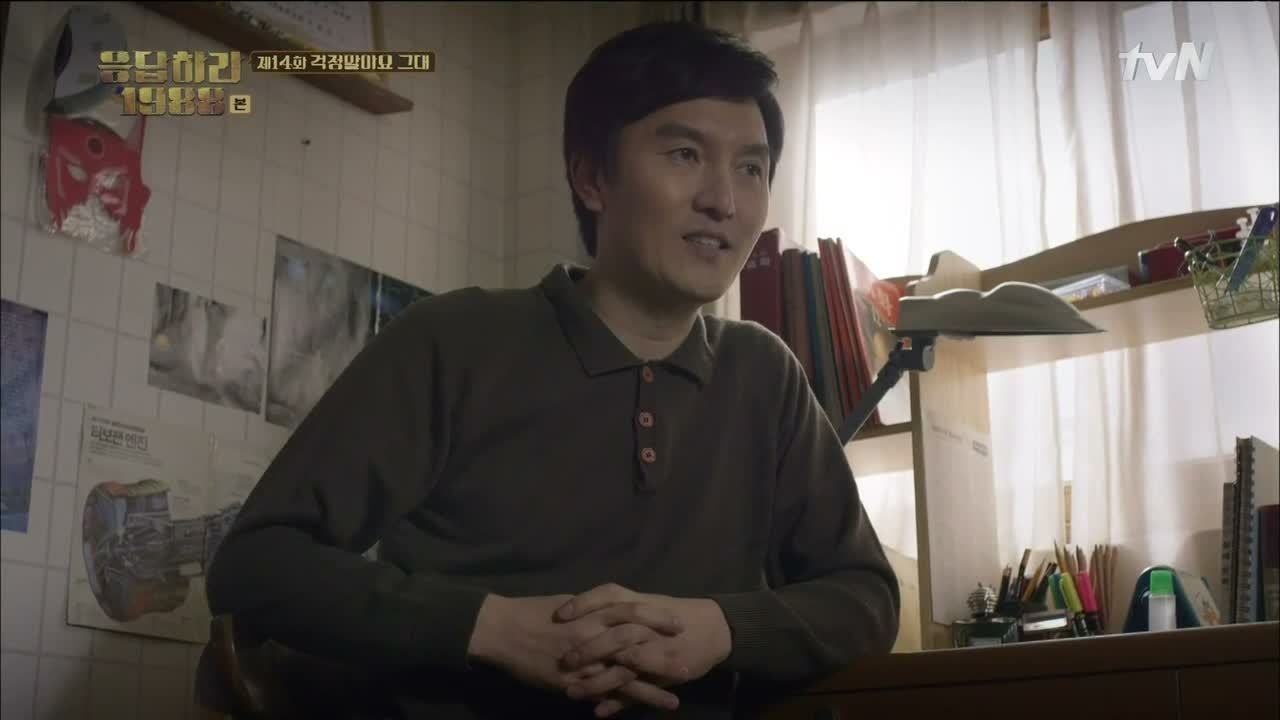 Sun-woo waits for Bora outside in the cold, and he sneaks a hot-pack to warm his hand before she arrives. He sighs at all the studying she's doing lately, but she says that she starts work next week and can't stand to be hapless at her new job. He takes off one of her mittens so that they can hold hands, and she wonders how his hands are that warm. He keeps his little trade secret to himself.
Jin-ju eats two bananas at a time, and Mom asks Taek's dad to watch her again when school starts for Sun-woo, because she plans to go back to work. Dad gingerly mentions that Sun-woo knows about her job, and she's shocked that he found out. But he assures her that Sun-woo is thoughtful and understanding. Sun-woo comes home and tries not to let it bother him that Taek's dad is always there. But he notices the way that ajusshi has peeled tangerines for his mom, and that seems to unsettle him.
Sun-woo works on a model airplane in his room, and suddenly an ajusshi we haven't seen before is sitting there instructing him to use glue for the wings instead of rice. Sun-woo follows his instructions with a smile, until Mom calls him to dinner. I have a feeling this is Dad, and I'm going to be crying before this episode is over.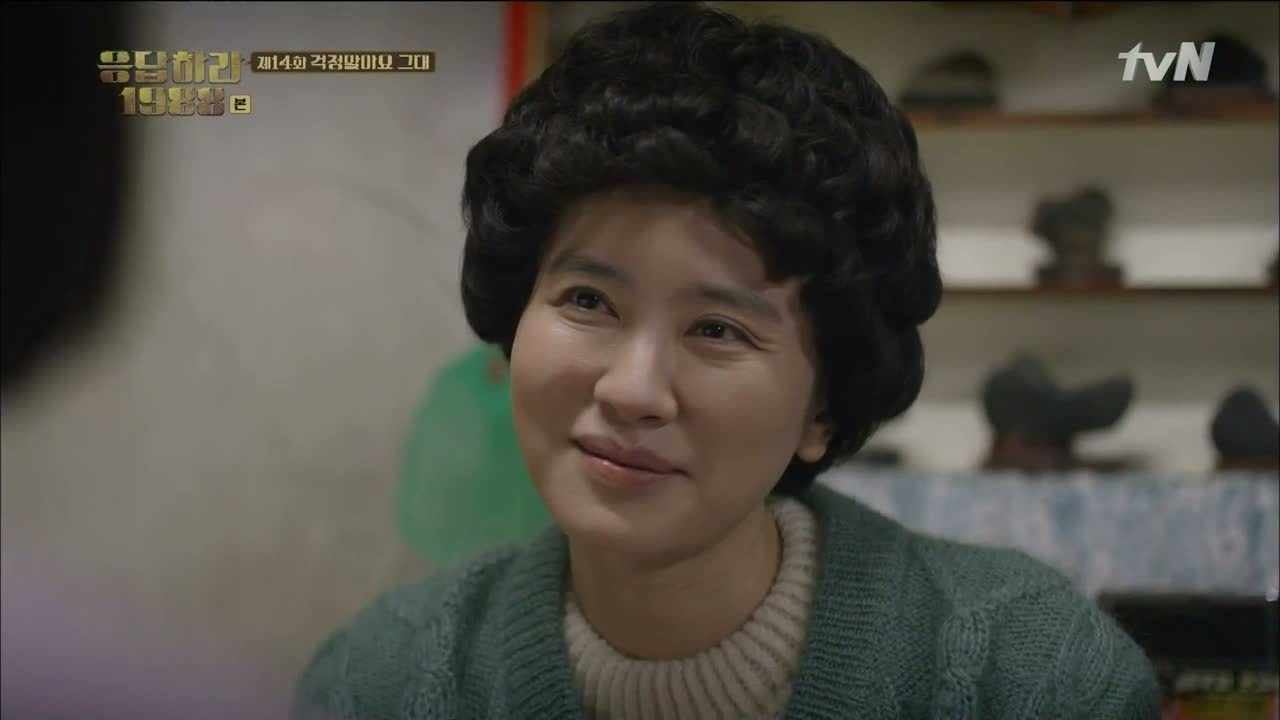 Deok-sun's family wonders where Dad is and why he's not home for dinner, and Mom says he's meeting a friend today. No-eul wonders if Dad's out lending another friend money, and Bora reminds him that they have no money to lend. Dad is drinking alone at a pojangmacha though, long after his friend has gone.
Deok-sun lights up when Mom gives her a new pair of shoes and says she can throw her old ratty pair away. Mom regrets that they're not fancy designer shoes, but Deok-sun is over the moon about them anyway, making Mom grateful. No-eul whines for a new pair too, and Mom hates having to tell him that she'll buy him a new pair next year when he becomes a senior.
Mom starts to worry that Dad is really late and she ends up waiting outside in the street. He finally comes home carrying a package of meat, and Mom is upset about him spending that kind of money when they can't spare it. Dad says that his friend gave it to him, and Mom's anger flares up at the friend's name because he's the one who put their family in all this debt in the first place.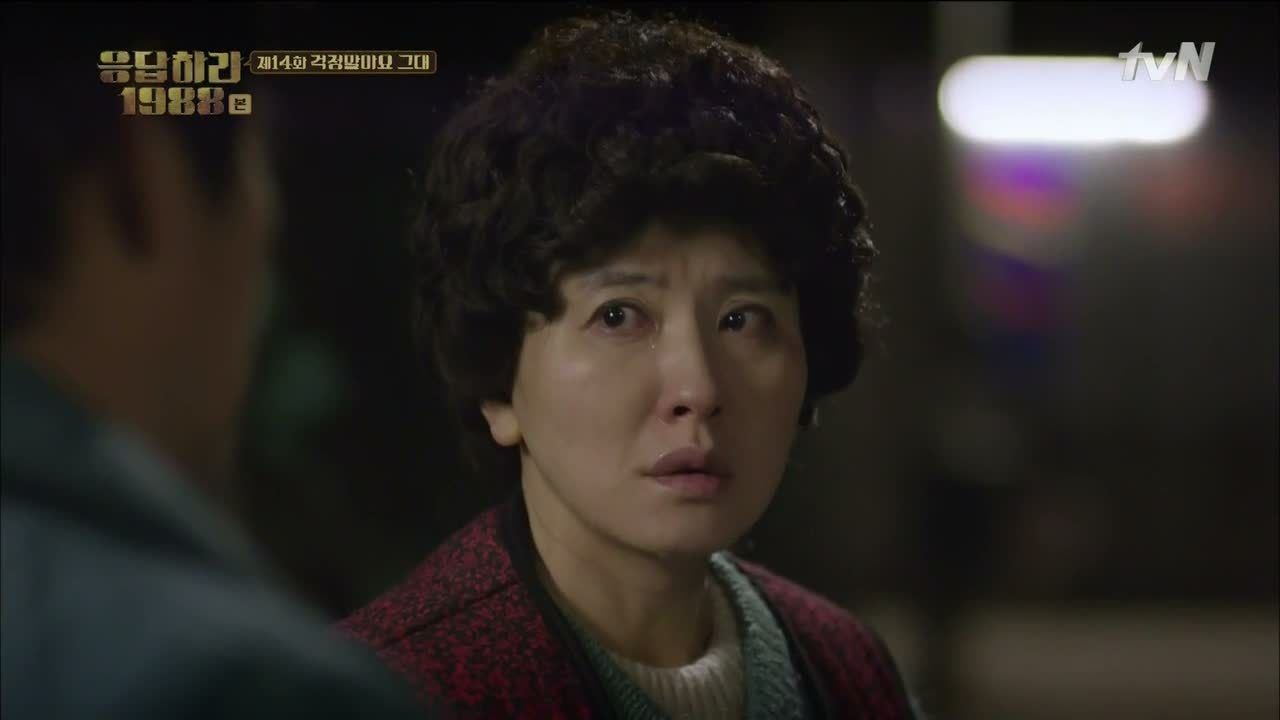 She can't believe he dared to show his face after all this time, and demands to see him in person so she can drag him to the police station. But Dad says quietly, "It's all over." He says that the debt has been repaid to the bank in full, and they're free and clear. Oh wow, I was totally holding my breath for the worst of the worst.
Mom starts crying instantly, and Dad says that his friend felt so terrible that he couldn't bear to see Mom's face, and that he would spend the rest of his life, and the afterlife too, repaying them for the wrong he's done to their family.
Dad tells Mom that she's suffered for a long time, and from now on he'll be bringing home full paychecks, and she might not be rich, but he'll make sure that she never has to go around borrowing money to make ends meet again. He tells her that he's sorry, and Mom says that she wasn't the one who suffered—their kids were.
Sun-woo's mom nervously sits down with Sun-woo and brings up her job, swearing that she was planning to quit. But he surprises her by saying that he's okay with it, just as long as she promises to stop if it ever gets too difficult or if her wrist is hurting. She quickly agrees before he changes his mind.
Deok-sun's family sits down to breakfast the next morning, and everyone's jaws drop at the mountains and mountains of food on the table. The kids panic and No-eul asks if their family is ruined and this is their last meal before going on the run, but Mom giddily tells them that they're now debt-free.
Everyone whoops and cheers, and No-eul asks for a new pair of shoes, and Deok-sun asks for allowance money so she can buy Jung-hwan a birthday present. Dad happily opens his wallet and gives them each allowance money, and Bora says she's okay without. Dad says he has something else in mind for her, and Mom and Dad sit Bora down for a conversation. Deok-sun and No-eul try to eavesdrop, but they can't hear what's going, and neither can we.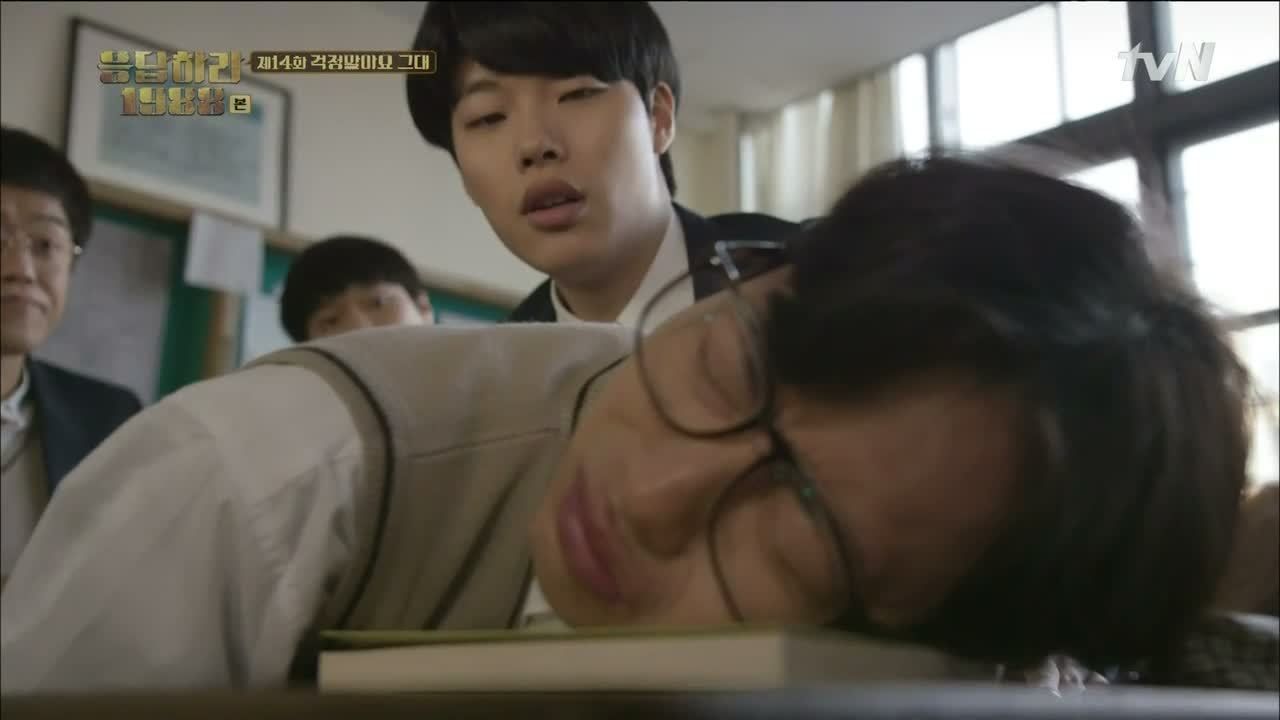 It's the first day of school, and Deok-sun greets her new senior class boisterously, only to be met with dead silence. Ja-hyun whispers that everyone's all serious about studying now, and they lament not being deskmates anymore, and the fact that Mi-ok is in a different class. Their one saving grace is that they have the same homeroom teacher, and everyone cheers when she enters the class.
At the boys' school, the guys are all in the same class and sitting in the same seats, but their big worry is that they'll be assigned a bad homeroom teacher. Dong-ryong prays silently, and Sun-woo scoffs that they couldn't possibly be assigned that teacher…
And of course, Dong-ryong's dad saunters into their class. Oh noes! Teacher Dad: "You guys are all dead." Dong-ryong faux-faints right into the aisle, and Teacher Dad just tells them to ignore him. Once Teach is gone, Dong-ryong cries at his desk and his friends crack up.
Deok-sun's new deskmate is their class president, and she invites class prez to eat lunch with her friends, and gets her to tutor her in math later. Mi-ok turns down snacks after lunch because she's on a diet, and the other girls wonder why on earth she'd want to do that. Mi-ok announces that she's got a date this weekend, and the other girls squeal in delight.
Mi-ok asks Deok-sun to act like she doesn't know, just in case things go awry with Jung-bong. Deok-sun doesn't really see how she'd keep her mouth shut when they live in the same house, but says she'll try.
Jung-bong tries on outfit after outfit for his big date, everything from jeans and T-shirts to a full-on zoot suit, and I really really hope that Jung-hwan comes in and helps him out.
Deok-sun comes by later that day to see Jung-hwan, and he chuckles when she greets his dad exuberantly, as usual. She's here to see Jung-bong, who's already left for his date, and spills the news to Jung-hwan about him going out with her friend Mi-ok.
Deok-sun makes sure that they're doing Jung-hwan's birthday party over at Taek's house like always, and he's surprised to realize that his birthday is tomorrow. He says that they should just skip it, but Deok-sun is adamant that they can't, and then quickly adds the excuse that his mom said she'd order food for them.
Jung-hwan asks where Hyung's date is, and when Deok-sun tells him, he asks if it's at the coffee shop. She says there's a restaurant upstairs, and they both realize at the same time what that could mean.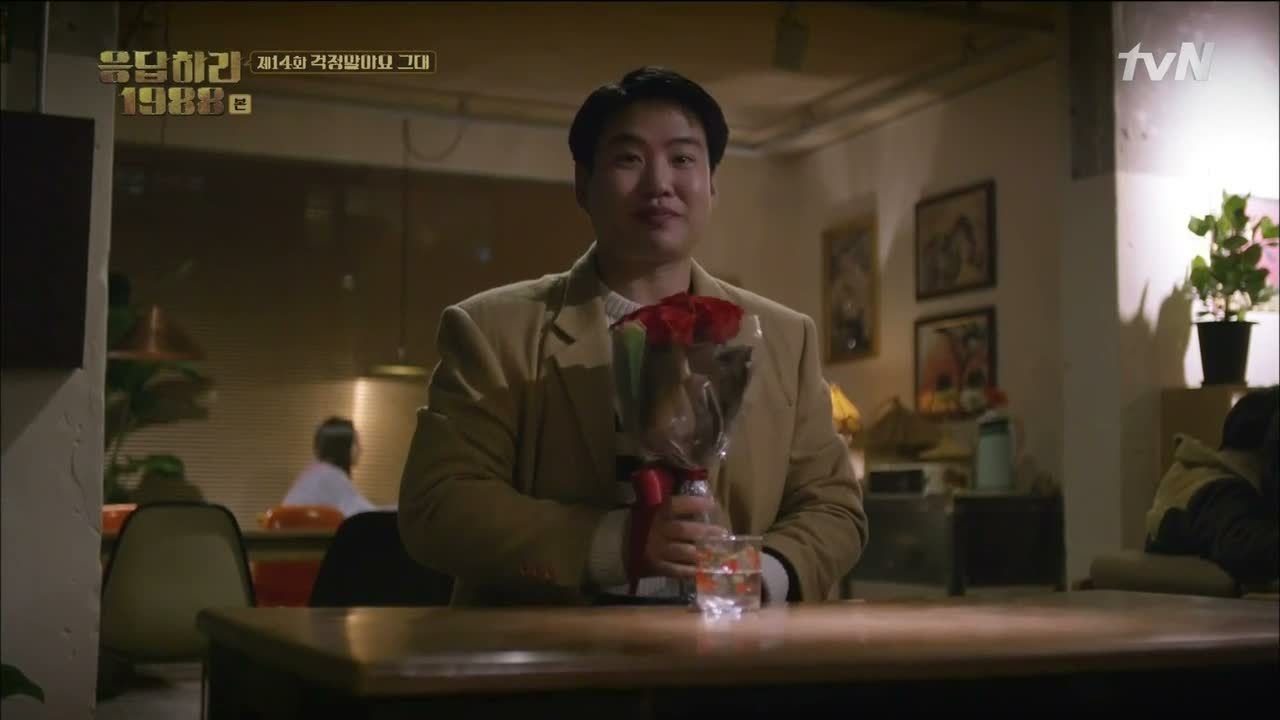 Just as they feared, Jung-bong is waiting (all spiffed up and with a bouquet of roses!) on one floor, while Mi-ok is waiting one floor up. Ack.
Deok-sun's mom is like a kid at Christmas when Jung-hwan's parents deliver her brand new gas stove that Dad ordered for her. She just keeps turning it on and off excitedly like she can't believe it.
Both Deok-sun and Jung-hwan are nervous about Jung-bong's date, and we see that hours later, they're still waiting separately on different floors. Jung-bong finally gets up to search the other floors, but so does Mi-ok, and they somehow manage to miss each other wherever they go. I love that their music switches from hopeful to a breakup ballad, all in the span of one evening.
Sun-woo calls Bora and asks her to come meet him later tonight because he has something important to give her. They marvel at the convenience of calling each other and wonder how people used to date before they had phones. And here I was wondering how on earth people dated before cell phones. Sun-woo looks up at the ajusshi and asks if it's really okay to give Bora this thing, whatever it is, and the ajusshi says it's been long enough. He asks if Sun-woo really likes Bora, and Sun-woo smiles and nods shyly.
Jung-hwan waits outside, still worried about Hyung, and Deok-sun comes out too to see if he came home. Jung-hwan tells her to wait inside and that he'll call when Hyung is home. Deok-sun's phone rings and she expects that it'll be Mi-ok, only it's Jung-bong and he's still at the café waiting.
Poor Mi-ok comes home crying, and Deok-sun decides to brave talking to Mi-ok's scary dad and calls her house. Mi-ok wails that she was stood up, and Deok-sun tells her about how Jung-bong was there all night, all dressed up in a coat and holding roses. She doesn't understand how they kept missing each other, but she tells Mi-ok to hurry up and get back there, because Jung-bong is still waiting and can't be standing out in the cold in his health.
Mi-ok runs back out of the house sobbing, and the music switches back to "Right Here Waiting." Lol, it's actually playing on the radio in her taxi, and the taxi driver sees her crying and cranks up the radio to make her feel better.
Jung-bong is standing outside long after the café has closed, shaking like a leaf but still holding his roses in anticipation. Mi-ok finally arrives and asks how long he's been here, and Jung-bong says through chattering teeth that it hasn't been that long at all, and he just got here too. Aw, could you possibly be any sweeter?
She can obviously tell from his red face and hands that he's been standing here for hours, and when he gives her the roses, she takes his hand to warm it in hers. Jung-bong's heart starts to race, and he narrates that he wanted to confirm whether his racing heart was due to his condition, or this girl.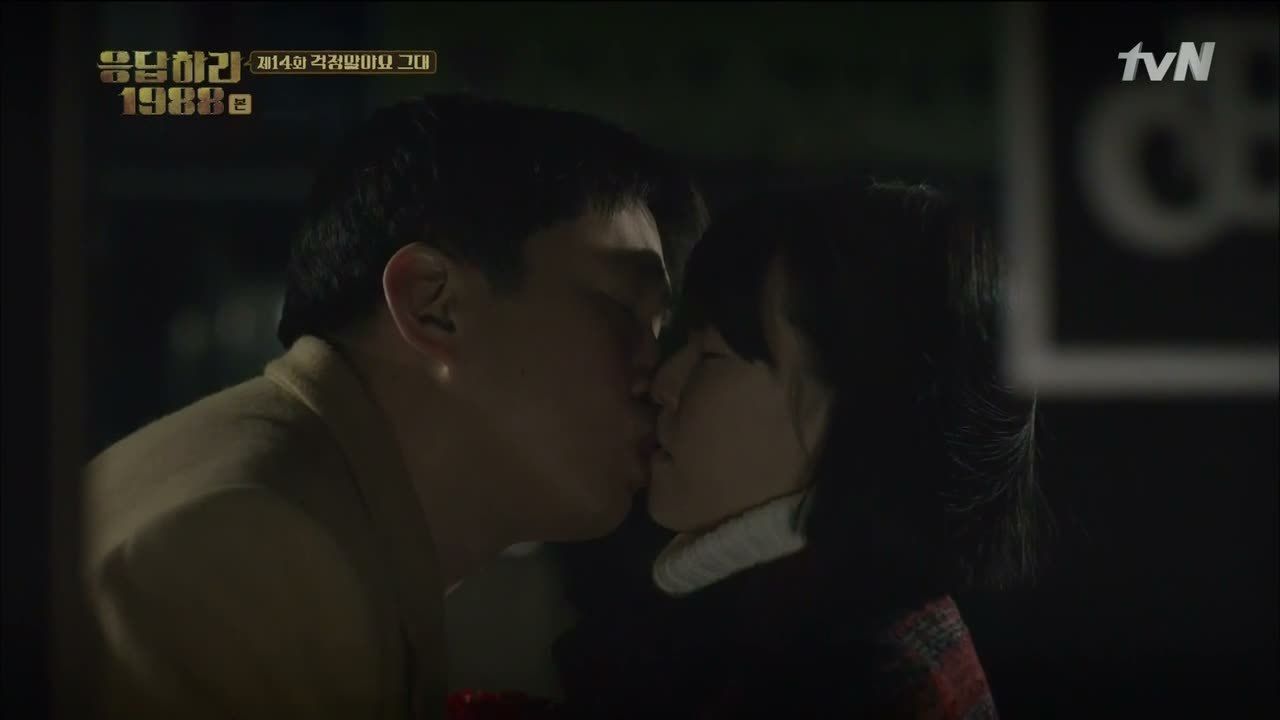 And then he parodies the Answer Me 1997 "confirmation" and leans in to kiss her. Keh.
Sun-woo admits to Bora that he's feeling a little left out of Mom's life lately, because things that she used to discuss with him, she's now telling Taek's dad instead. Bora asks why he doesn't like Taek's dad, and he swears that he likes ajusshi, but he also just doesn't feel good about how close he is to Mom.
Sun-woo waits till they're on their way home before giving her his present. It's the necklace that his dad gave him, and she recognizes it right away. He's had it engraved: "SW ♥ Purple" [bora = purple]. She's a little taken aback and doesn't think she can accept it, but he says it's just a necklace and he wanted her to have it.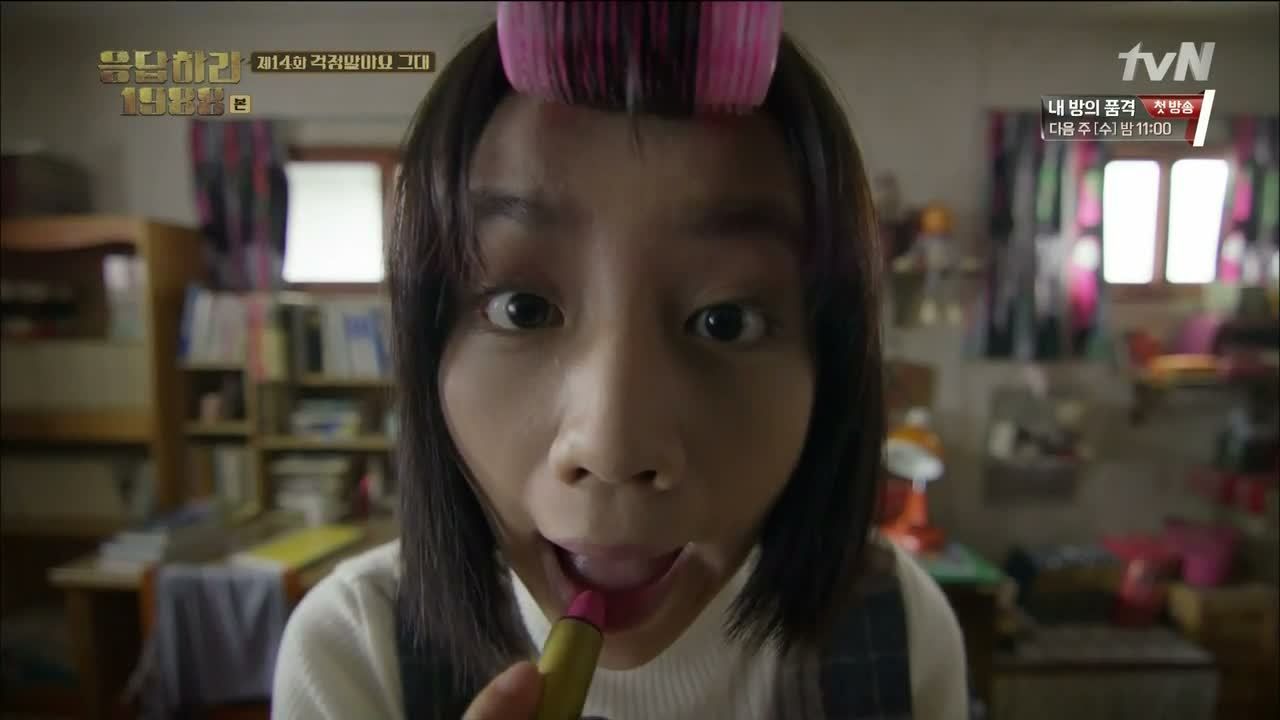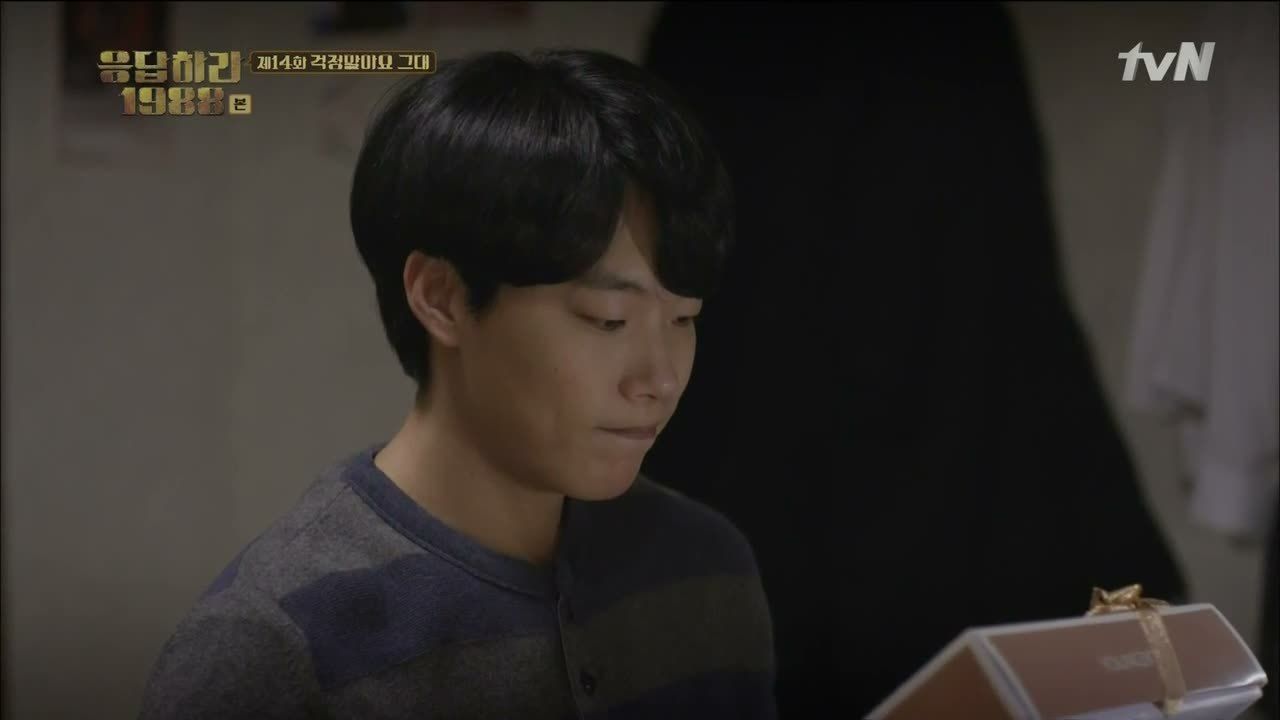 Deok-sun gets all dolled up for Jung-hwan's birthday party, and No-eul says the hyungs are complaining that she's taking too long. Meanwhile Jung-hwan contemplates a birthday gift sitting on his nightstand—a pink dress shirt. He doesn't seem the type to wear pink, but I have a feeling it's meant to match the pink gloves he gave to Deok-sun?
Jung-bong comes by and gives him a poster of The Blue Lagoon for his birthday, and he peers enviously at Jung-hwan's new pink shirt, which happens to be his favorite color.
They sing happy birthday to Jung-hwan and give him a soccer ball that they bought together, mostly with Taek's money. Taek struggles with chopsticks, as usual, and Deok-sun tries to help him and ends up shoving a fork in his hand. They want to watch Top Gun even though Dong-ryong and Jung-hwan have already seen it twice, and Deok-sun uses her best aegyo to ask Jung-hwan if they can watch it. As if he'd say no to you.
Dong-ryong sighs that they'd never watch something so wholesome if Deok-sun weren't here, and she says they can watch racy movies—she's fine with that. Taek laughs and says they're not okay watching that stuff with her.
She's shocked to find out that Taek watches them too, and he quickly backtracks to say that he doesn't like them. Deok-sun turns all her fury on Dong-ryong, blaming him for teaching Taek bad things. Dong-ryong argues that she doesn't know everything about Taek, while Deok-sun scoffs that there's nothing she doesn't know about Taek.
Dad interrupts the violence to ask Taek for the number to his hotel, and tells him that he has to leave for his next match in Busan soon. Jung-hwan asks why he didn't just leave earlier today, but Taek says he'll sleep on the way.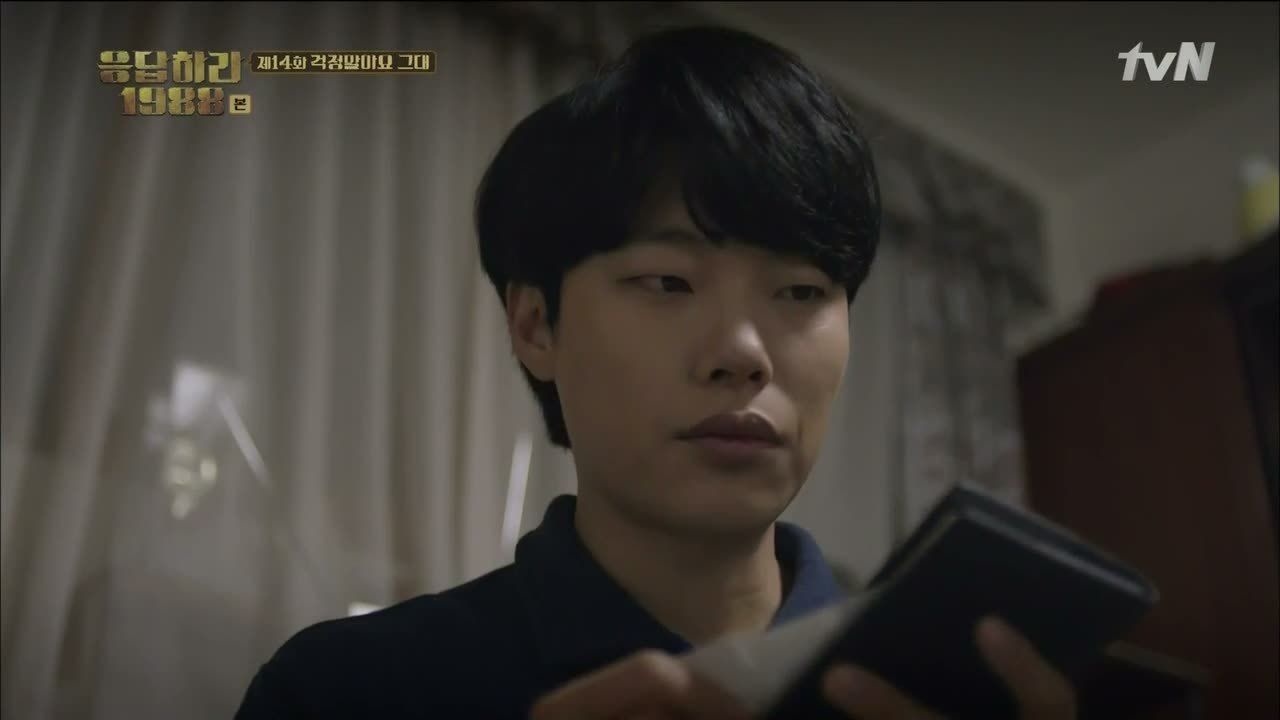 Jung-hwan sees that Taek left his padlocked drawer open and goes to close it, when he notices the little notebook with a picture sticking out of it. It's the picture of Taek and Deok-sun together in China, and Jung-hwan quietly puts it back where he found it.
Bora sits at her desk contemplating her big conversation with Mom and Dad, which we now see in flashback. Dad had told her how sorry he was for not being able to support her dreams properly, but now that they're debt-free, he can support her for as long as it takes to study for the bar exam. Mom and Dad knew it was always her original dream and that she'd shelved it for practical concerns, and they were ashamed to not be able to do this until now.
Bora was touched and asked for some time to think about it, and Mom told her to take all the time she needs. In the present, Dad wonders if Bora has made her decision, and Mom says she hasn't canceled her part-time accounting job yet, but she trusts Bora to choose whatever is right for her life.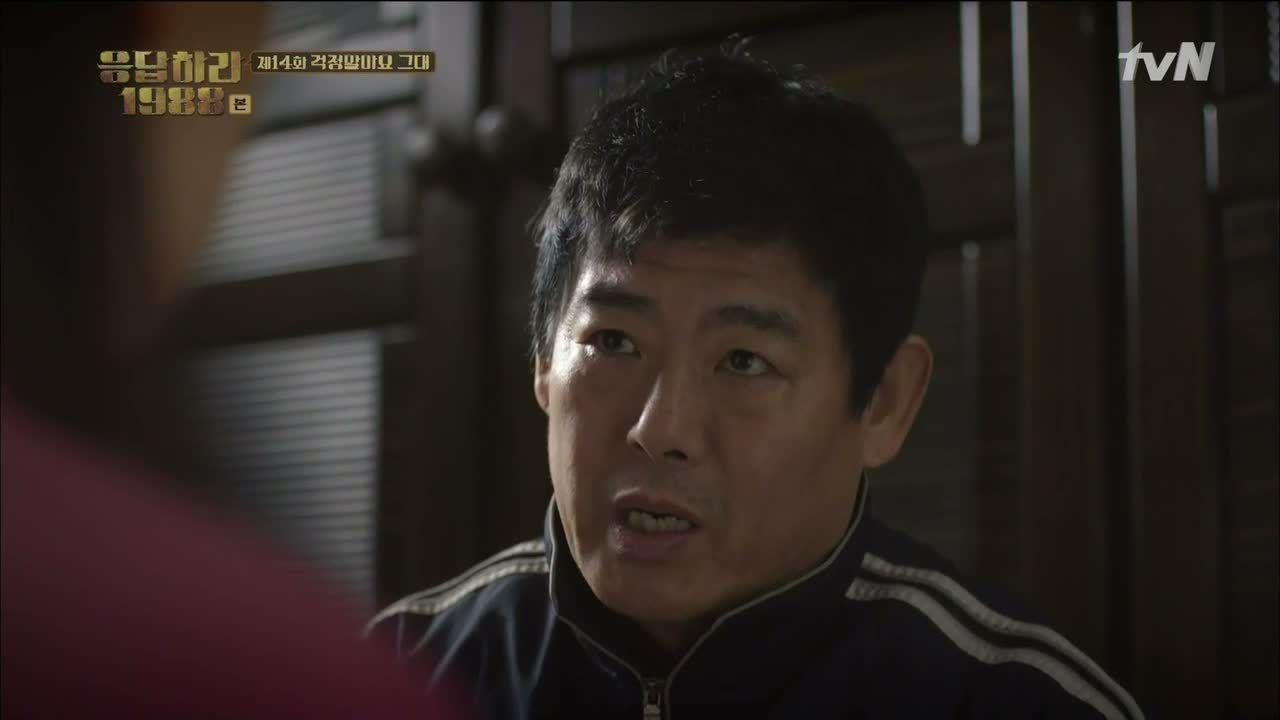 Deok-sun and Ja-hyun get the full report on Mi-ok's star-crossed date, and they assume it'd be a miracle if Jung-bong so much as held her hand. Mi-ok doesn't tell them about the kiss, preferring to keep that her little secret.
The girls ask Deok-sun about her birthday present to Jung-hwan, but she sighs that he hasn't worn his pink shirt. She wonders if maybe she was wrong about Jung-hwan liking her at all. Deok-sun is called over to speak with her new deskmate's mother, and though we don't hear the conversation, later that night she and Class Prez bicker over the noise level in the classroom.
Sun-woo says hello to Taek's dad on his way home that night, and thanks him for looking after Jin-ju. At home, he takes out an old baseball and mitt, and asks the ajusshi who's always in his room lately if he remembers this signed ball. He says that his friends all prefer soccer but he likes baseball, and the ajusshi asks if Jung-hwan is still prickly. Sun-woo says he is, as ever.
Jung-hwan takes out his pink shirt and stares at it for a while, and quickly puts it away when Jung-bong comes in. Jung-bong points out that Jung-hwan doesn't even like pink and asks if he can have the shirt because it's his favorite color. Oh no, Jung-hwan, I know you'd give Hyung anything, but don't do it! Don't do eeeeet!
Deok-sun complains about Class Prez to her friends, but when they get to their classroom, they find everyone in a circle and panicking. Deok-sun breaks through the crowd and sees Class Prez lying on the floor having what looks like a seizure, and she quickly takes charge and yells at everyone to back away and close the doors.
When Class Prez wakes up in the nurse's office later, she cries when she realizes that she collapsed in class in front of everyone. She braces herself before returning to class, expecting to be singled out or ridiculed.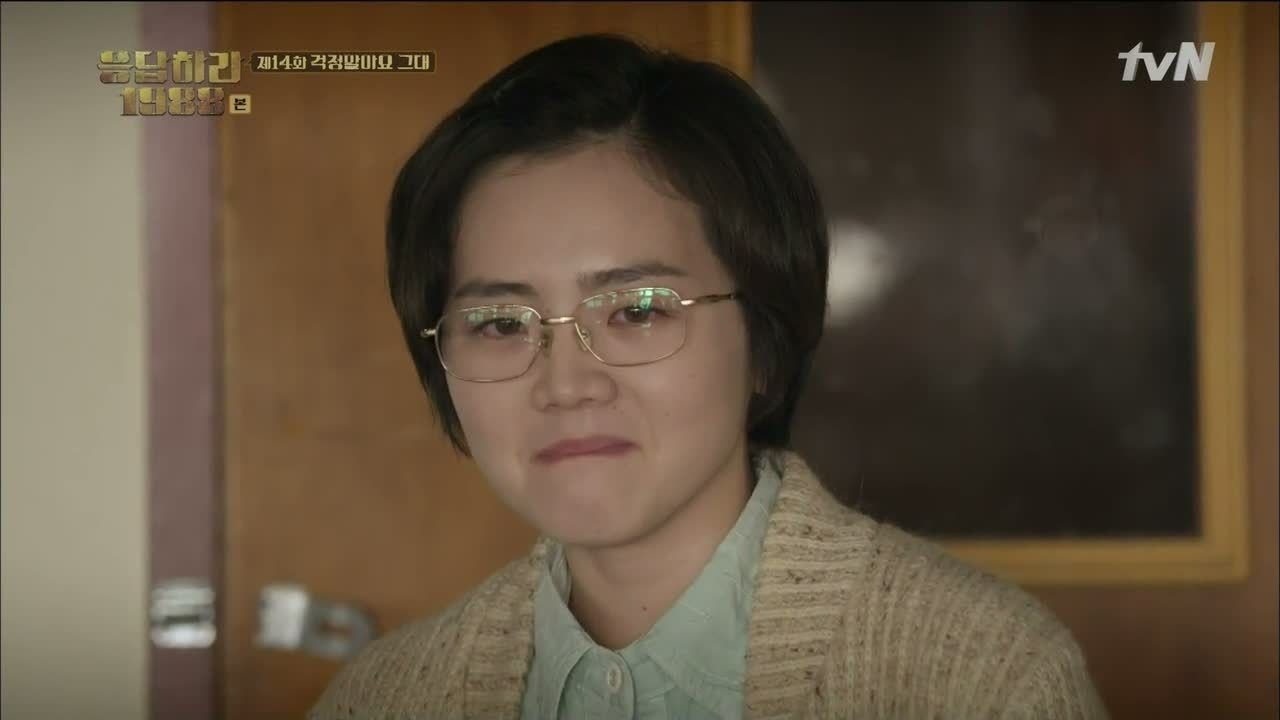 But when she returns, no one acts out of the ordinary or gives her a second glance, and Deok-sun complains for her to hurry up and open her lunchbox so they can have some sausages. The girl smiles gratefully and joins her new group of friends. I know I say this a lot in this show, but: awwww.
Sun-woo and Mom cross paths on their way in and out, and again Sun-woo tamps down his reaction when Taek's dad arrives with Jin-ju asleep in his arms and carries her into Mom's room. Sun-woo goes to meet Bora and asks if she'll let him have a drink, and she gives him a stern look but pours him half a shot of soju.
She guesses that Taek's dad came over again, and asks if he's figured it out yet, the reason he doesn't like Taek's dad. Sun-woo insists that he doesn't not like him, and Bora let him leave it at that. He wonders what she's so lost in thought about, and she says she was thinking about him.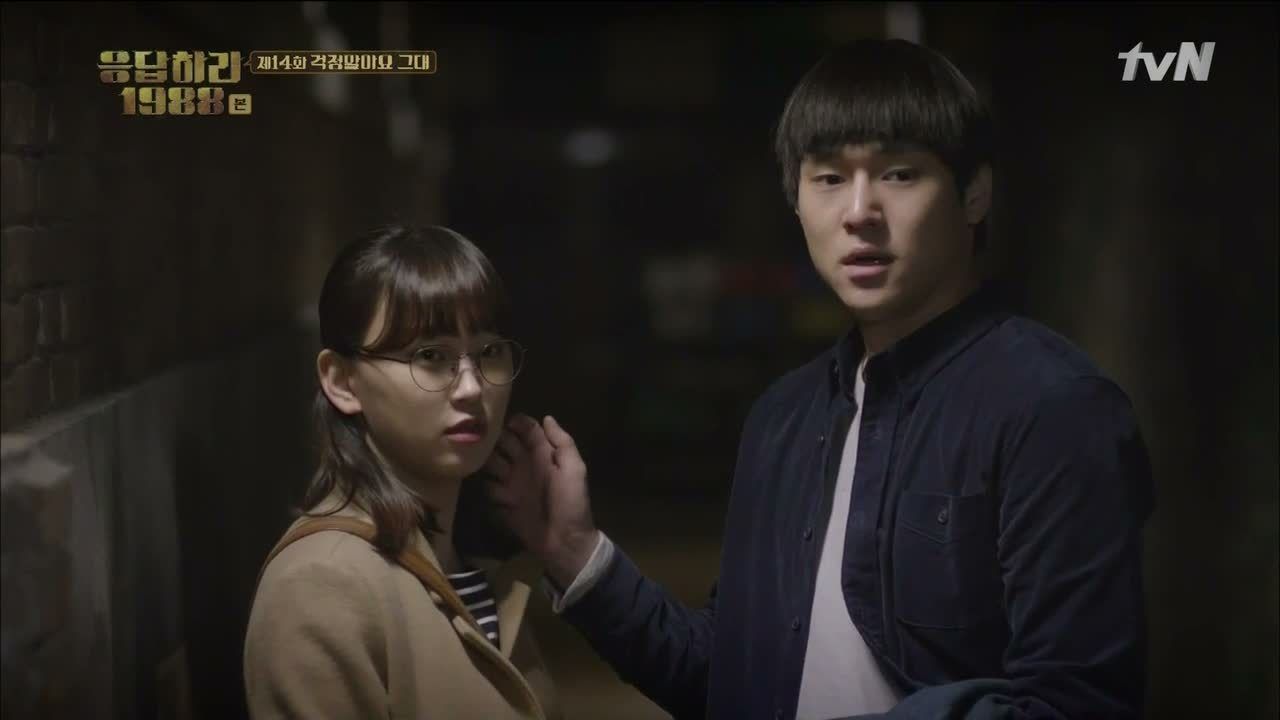 When they near their street, Sun-woo asks if there's really something going on with her lately, but Bora says it's nothing. He admits to feeling uneasy, though he can't pinpoint why. He reaches out to touch her face, when Taek's dry voice interrupts: "What if someone else sees?"
Bora grouses that Taek never makes any noise when he's walking and warns him that she's going to trust him (to keep their secret). Sun-woo calls Mom to say that he's sleeping over at Taek's, and Mom asks how many painkillers Taek took today. Taek holds up one finger, then slowly raises a second, and Sun-woo assures Mom that he didn't take that many.
They go to bed, and Sun-woo curls up into Taek's side for warmth and cuddles. I love these two. Taek asks if things are going well with Bora, and Sun-woo says they're good. He asks Taek why he likes Deok-sun, when lots of other girls like him.
A slow smile spreads across Taek's face as he answers, "I just like her. I like being with her." And then he gets all serious as he adds, "I think I might die without her." Sun-woo bursts out laughing and says he's gone insane, and Taek laughs.
As Deok-sun and her friends leave school that night, Class Prez's mom is waiting by the gate to speak to Deok-sun. Mom asks with tears in her eyes if she can give Deok-sun a hug, and she thanks her for taking such good care of her daughter. Deok-sun worries that she forgot a few things, but Mom says she did wonderfully, and marvels at what a lovely person she is.
We flash back to their earlier conversation, where Mom had explained that her daughter had epileptic seizures. She apologized for the burden, and asked Deok-sun to just take some precautions and take her to the nurse's office if she ever collapsed at school.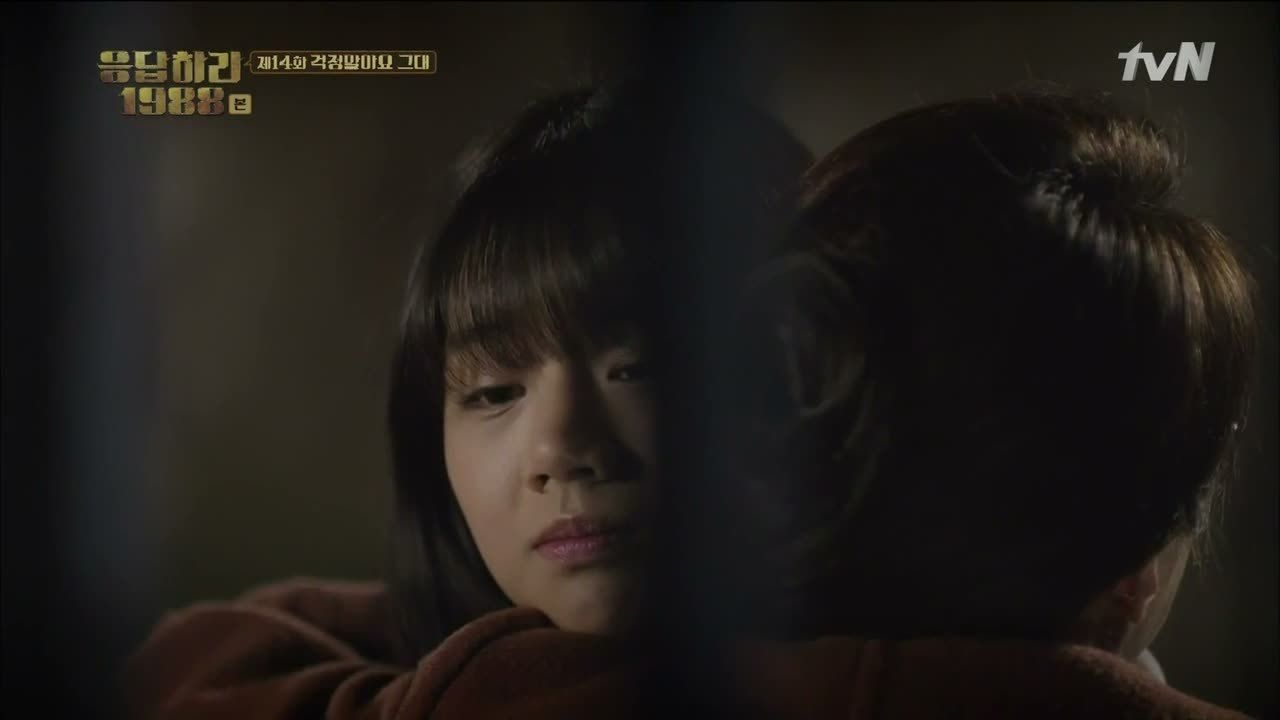 In the present, Deok-sun's mom gets a call from Teacher, asking her parents to praise Deok-sun for the things she did in class today. And in a flashback, we find out that Teacher was the one who recommended Deok-sun to Class Prez's mom in the first place. Teacher said she'd be the one to take good care of her daughter, because she's smart and kind. She added honestly that Deok-sun isn't very good at her schoolwork, but she assured Mom that Deok-sun was still very smart.
Dad smiles proudly when Mom tells him all about it later that night, and he's even prouder when Mom says that Deok-sun is still up late studying because she's a senior now. Dad gets up to go praise her, and then laughs to find her asleep at her desk: "That's our Deok-sun."
Mom, Dad, and No-eul watch Yoo Jae-suk on TV (when he was 17!) and Mom and No-eul decide that he'll definitely be a funny comedian someday. Dad scoffs that he looks like a grasshopper and takes bets that Deok-sun has a better shot getting into Seoul U.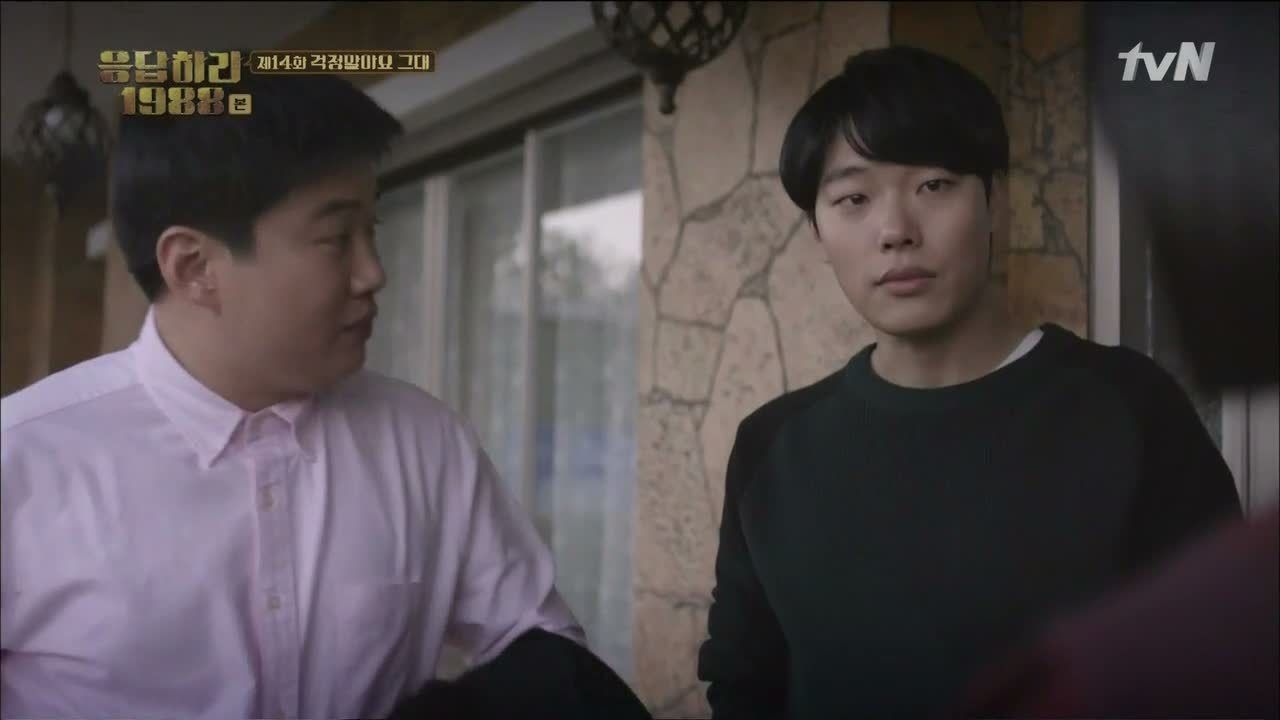 Bora asks No-eul to step out because she has something to tell Mom and Dad. We don't find out her decision yet, but she calls Sun-woo to meet up with him afterwards. After Sun-woo steps out to see Bora, Jin-ju trips and falls in the yard and hits the back of her head, and Taek's dad goes running toward the house and tells Sun-woo as he passes by that Jin-ju needs to go to the hospital.
Deok-sun primps before knocking on Jung-hwan's door so they can go over to Taek's, but Jung-bong comes out first, wearing the pink birthday shirt. Oh noooo, Jung-hwan, you moron.
Her face falls and Jung-hwan comes out, and it's only when he sees her expression that he realizes what a colossal mistake he made. Ohmygah, do you not know girls AT ALL? LIKE, AT ALL? Deok-sun stomps off alone, and Jung-hwan kicks some junk on the patio in frustration.
Sun-woo and Mom watch over Jin-ju in the hospital and ask each other if they're okay, and Mom says it's nothing to worry about. Jin-ju wakes up after Mom steps outside, and the first thing she does is ask for ajusshi. Sun-woo is disappointed, but he says he'll go get him.
When he goes looking for Taek's dad, he overhears Mom breaking down in tears. It's only now that she shows her true fears, and she berates herself for not keeping an eye on Jin-ju the whole time, and worries that she let something terrible happen. Taek's dad reassures her that it'll all be fine, and that she did nothing wrong. And from down the hall, Sun-woo watches them with conflicted emotions.
He comes out to meet Bora and says that Jin-ju will be okay, and after a while he finally admits that he's figured out the reason he doesn't like Taek's dad: "Because I'm sorry to my dad. I'm so sorry to my dad." He bursts into sobs and Bora holds him as he cries.
Later that night, Sun-woo eats alone in his room and says that Mom makes the best dumpling soup. The ajusshi who's been in his room all week says he likes all of Mom's cooking, and this time Sun-woo answers back and calls him Dad. Great, I'm already crying.
Sun-woo says that Jin-ju got hurt today, and Mom told him that she was fine, but in front of Taek's dad she cried and said she was scared. Dad says it's because she didn't want Sun-woo to worry, and Sun-woo asks if Dad isn't upset by it. Dad says that there's nothing he can do for Mom anymore—all he needed to do was stay by her side, but he can't even do that now, and he understands her. Dad: "All I want is for your mother to be happy. That's enough."
Sun-woo cries, "Dad, I'm sorry. I'm so sorry." We pull back to show that Sun-woo is sitting alone in his room, talking to the pictures of Dad on his shelf. And the man we'd seen in his room was exactly the way Dad looked in those pictures, when Sun-woo was a little boy.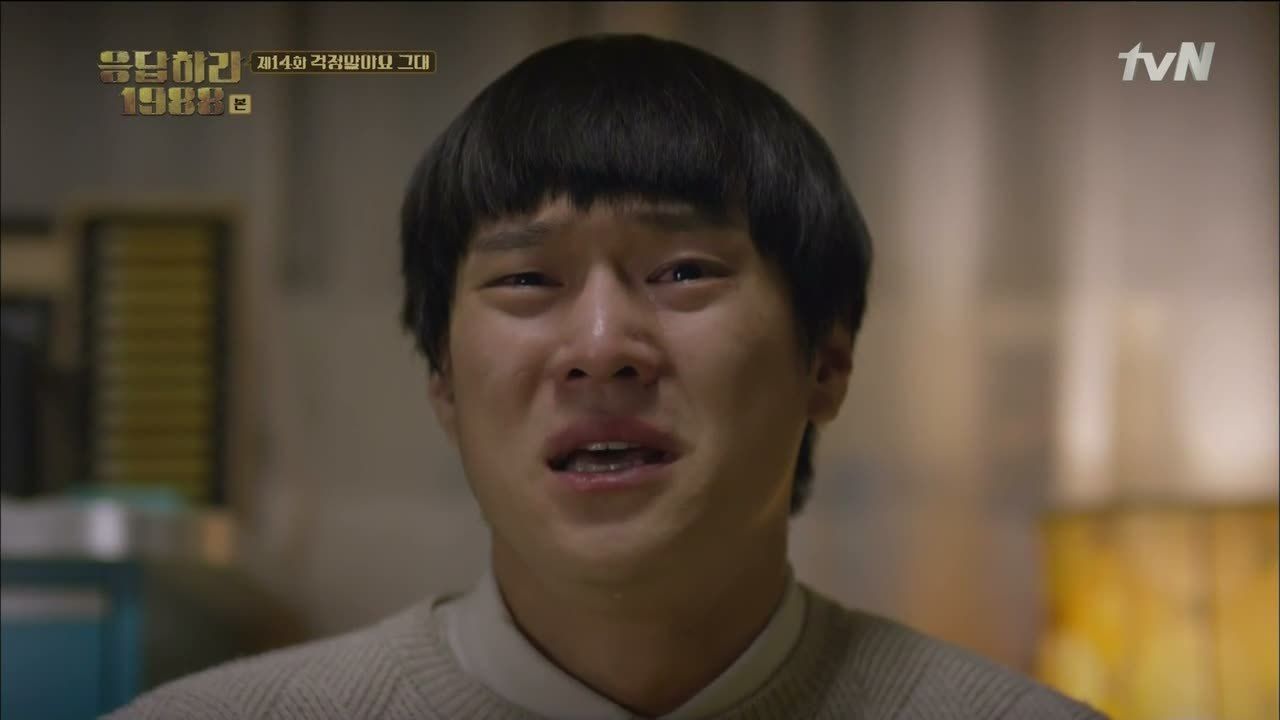 Deok-sun sits alone on the stairs on their street, and Dong-ryong wonders what's got her so down. She asks for his advice and asks why nobody likes her, to which Dong-ryong snorts. She sighs that she must not have the right to be loved, and Dong-ryong asks how she likes her sweet potatoes, and if she prefers singers Lee Moon-se or Park Nam-jung. She answers each right away with her preferences.
He asks if she likes him better or Taek, and she says without hesitating, "Taekie." He then asks if she likes Jung-hwan or Sun-woo better, and she gives a non-answer, asking why he's asking.
Dong-ryong smiles knowingly and says, "I'm asking what you like. Not what other people like, but you. YOU. Who do you like?" He says she has preferences for everything else, so doesn't she know what kind of guy she likes? Dong-ryong: "Without someone else liking you, you could like someone, right?" He really is a wise old soul.
He gets up when he sees Taek down the street holding a stack of pizzas, and when Taek says he bought five pies so that they could each take one home, Dong-ryong says lovingly, "Let's get married." Taek turns him down, poor thing, but he holds Deok-sun back and asks her to come over for a little while.
While he's in the bathroom, Deok-sun finds a stack of fan letters with hearts all over them and asks if he replies. He shakes his head. Deok-sun sighs that it must be nice not to care about anything else other than baduk, and says he's never even liked anyone before.
Taek says she's wrong, and she scoffs that there's nothing about him that she doesn't know. After a moment, Taek says, "You don't know anything about me. I like someone. And I'm going to confess… soon." Soon, when?
Jung-hwan can't concentrate on his books and lies down in bed, and he sighs at the pink shirt that's hanging up in his room. Wait, The Pink Shirt? Did you get it back?
We flash back to Jung-bong asking him for the shirt (and buttering him up with a wink, heh). Jung-hwan looked up at him and shook his head: "No. Not this shirt." He put it back in his drawer and closed it, and that was the end of that. Squee. Why am I squeeing so much right now.
And in the present, Jung-bong walks Mi-ok to her gate and thanks her for the new pink shirt, which fits him just right. He said it arrived this morning and it's exactly what he wanted, and she asks him to keep it a secret from Deok-sun, who'd get mad that she copied her gift. No, you pink-shirt-gift-ruiners! Tell her! Agh. Jung-bong bids her goodnight and then turns back to give her a hug, only from the waist up.

COMMENTS
Okay, the pink shirt got me. I was so convinced that Jung-hwan was a dolt and got mad at him for being so insensitive, even though I only assumed he'd said yes because he can't say no to Hyung for anything. Granted, he's STILL the slowest turtle ever when it comes to making a move, but it's not like Taek is any faster at this point. Now his frustration makes more sense, because he's got the shirt hanging up in his room all ready to wear no matter how embarrassing the color might be for him, but then Hyung had to muck it all up with that misunderstanding. It's still stupid on Jung-hwan's part not to then explain himself, but I thought the plot point was great for what it revealed about Deok-sun. I just have this memory of being in that exact frame of mind, where you give a boy a gift and are just dying in anticipation to see him wear it or use it, as if that means everything. And the look of disappointment on her face when she thought that he gave it away like it was nothing? That just shot straight to my teenage girl heart, buried somewhere in there.
I really love where that took us with Deok-sun's character, and the way that wise old soul Dong-ryong turned her own questions back on her. She's so focused on the idea of romance—the stuff she's read in books and seen in movies—that so far a lot of her feelings have been about being in love, not a person that she's in love with. I'd argue that she likes Jung-hwan more than she knows, based on her reactions to him, but the point is that all of it hasn't really solidified into feelings for one person and one person alone, for her. Not in the same way that Jung-hwan and Taek are laser-focused on her. So it does bring up some questions, about what she really feels and for whom. The funny part is, I think it's only a mystery to her.
I know Deok-sun gets some flak because she's a little more in love with the idea of a boyfriend than in love with a boy, but I don't blame her for that because I don't think the show is trying to paint her as anything else—she's eighteen and hardly knows anything of life, and I like that she's learning love right now, and figuring those things out by trial and error. That's what you're supposed to do, and teenage years are full of embarrassing crushes on people that you like for reasons you'll never, ever remember in ten or fifteen years. Lifelong relationships have started on less, and I've never been hung up on the idea that Deok-sun or Jung-hwan or Taek have shallow feelings because they came about suddenly one day. The boys just have the advantage of liking her for longer and knowing their feelings, and I think she's getting there. I like that her love story is full of mishaps and very small moments, and that it doesn't have to be some grand romance for all time. I just want her to figure out her heart and go after what she wants.
Sun-woo's storyline really moved me in this episode, even though we knew at the start exactly where it would go, and that he's too good a kid to stand in the way of his mother's happiness. But it was heartbreaking all the same because he seemed alone in missing Dad as much as he did, and it occurred to me that he'd spent all this time talking to his Dad alone in his room; we just hadn't seen it. It's clearly been hard on him to see Mom rely on Taek's dad so much and Jin-ju ask for him all the time, but I expected him to resent the idea of someone else trying to be a father to him. When he finally pinpointed that what he felt was guilt for liking Taek's dad and accepting him, it really just made me cry. He was already the best kid ever in the entire world, but I didn't expect him to be that understanding and mature about it right away. I'm scared for what's around the bend for him with Bora (I think that part of her decision about the future includes whether she has time to date), so I'm glad that he's at least found some peace about the possibility of Mom moving on. Maybe he can even be the one to nudge Mom and Taek's dad in the right direction, or at least get Taekie onboard with sleepovers foreva.

RELATED POSTS
Tags: Answer Me 1988, featured, Go Kyung-pyo, Hyeri, Park Bo-gum, Ryu Joon-yeol