Bubblegum: Episode 13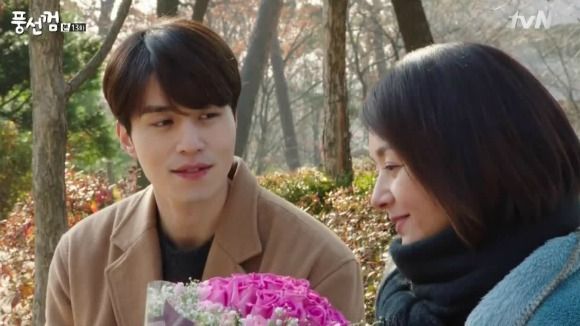 We finally achieve some real breakthroughs in the impasse between Haeng-ah and Ri-hwan, with the administering of some much needed home truths, thanks to their friends. Hopefully, we've put the worst of the angst behind us, and now we can focus on the important things, like the present happiness that we might finally be allowed to have.
EPISODE 13: "A green light in the dark night sky"
Haeng-ah and Ri-hwan each start their day alone, and a split-screen sequence that is both pretty and strange shows their mirroring routines. They arrive at the hospital, Haeng-ah a beat behind the whole way, and come face to face in front of Dr. Go's office. The sight of him brings a smile Haeng-ah's lips, but he just looks at her and walks stoically past.
She follows after him, asking him to wait. He doesn't stop, but when a bloody patient is wheeled past them, he spins back and covers Haeng-ah's eyes, cradling her. "Are you okay?" he asks, still holding her. She releases herself and turns around, asking in return if he's okay. She's okay, she tells him, since she didn't break up with him, although he broke up with her. He turns away, pained, and says if they do this, they'll have to go through all that pain again from the beginning.
She asks him to stay for the appointment, since they've both come and it's for his mother's sake. Dr. Go arrives in his office to find them waiting together, and genially asks if they've talked it out. LOL was that on purpose? So, he asks them, who's at fault? They look agog at him.
Dr. Go tells Ri-hwan that he's steering himself towards depression, while Haeng-ah always blames herself for everything. He tries to break her shell, asking if Mom was ever wrong about anything she did, and Haeng-ah defends her. They talk over each other until, in a crest of emotion, Haeng-ah finally yells that Mom was wrong. Ri-hwan stays frozen beside her the whole time.
She follows him out, and Dr. Go's words accompany us: There's a difference between wanting and doing, he'd told them, and that Mom wanting it this way doesn't mean they ought to follow. Ri-hwan tells Haeng-ah to stop doing this — it doesn't change anything. It's he and Mom who are the burdens. If he'd only left her in Namhae that time, she'd have lived happily, not being mistreated or worrying about them. Which is rank nonsense, as Haeng-ah points out.
She tells him that the only reason she'll accept a break-up is if he stops liking her. If he's worried about inheriting the gene, she knows if it's caught early enough, you can get treatment and have a much better prognosis. If they can say Mom was wrong, that Ri-hwan sending her away didn't help— It did help, he cuts in. She's one less thing to worry about if she isn't there. Then she'll wait, she tells him, and walks away first.
Dong-hwa takes photos of herself with Aunt Princess — she wants to add them to the wall full of Ri-hwan and Haeng-ah's pictures. They squabble good-naturedly, and Dong-hwa goes to see if Mom's here yet. Aunt looks sadly at the photos, worried for the two kids.
Ri-hwan meets Dr. Go by himself, and they talk about the genetic testing. The doc tells him it won't be the end of the world, whatever the result, although Ri-hwan already looks it. He has his blood drawn and bottled.
Dong-hwa apologizes to an angry customer, who complains about Mom taking photos of him. Aunt takes Mom away while Dong-hwa explains that Mom is ill, but he carries on being a twat. He tells his date to think of it as stepping in dog-crap. Dong-hwa has enough and calls him out for being so rude. Incensed, he demands the manager and the next thing you know, Uncle Gangster has him out on his ear. Good.
Upstairs, Mom starts to cry. Childlike, she asks for Ri-hwan, who collects her.
Tae-hee arrives at a riverside bench to meet Haeng-ah. When Haeng-ah goes to get her a drink, leaving her phone, Tae-hee finds her Alzheimer's research on it. Having realized the possibility that Ri-hwan could inherit his mother's illness, she's furious with Haeng-ah when she returns — that must be why he broke up with her so easily. She unleashes a torrent of angry words, and asks her why the hell she's putting herself through all this for that future. Ugh, her unrighteous anger is getting old.
Upset, Haeng-ah asks why Tae-hee, at least, can't support her. "If I'm your friend, aren't you mine?" Tae-hee asks. How can they be, when she puts up a façade and won't show her real feelings? That finally raises some heat from Haeng-ah, who erupts that she hates everyone and everything but asks where she's meant to take out that anger — Ri-hwan? The doctors? God?
"Everyone!" Tae-hee screams back. "Anyone! Even me," she says pleadingly. Both women's tears fall freely.
Ri-hwan wraps Mom in a blanket, and presents her with a bouquet of flowers, which awake a childish delight. They go for a walk, and she recalls a time from his childhood when he gave her flowers for her birthday. She made him cry when she got angry with him for getting her things that die and have to be thrown away. And then she reprimanded him for misspelling "happy birthday" in the card he gave her. She regrets being so demanding, but Ri-hwan tells her she was brave — nobody could have done what she did.
They sit for a bit, and he notices she put a glove on backwards. He fixes them for her, soothing her all the while with a stream of comforting words. Hugging her flowers, she smiles and says that among the people who lose their memories, she must be the happiest. Ri-hwan stops dead — that's the first time she's ever said she was happy, he says to her in wonderment. A smile grows, and Mom smiles too, immersed in the beautiful day.
In voiceover, Ri-hwan observes that when her world was brightly lit, all she saw was the shadow at her feet, but now, a weak ray of light is clearest to her in the darkness, bringing her a new happiness she'd never had before. In their warm and comforting house, he tucks her in to sleep.
Alone, he thinks of what else Haeng-ah said to him earlier, about how she'd always felt like she needed someone who liked her more than she liked him, someone she could show off to her friends. But all she really needed were the people she already had all along, she told him.
Oppa Jung-woo visits Yi-seul hiding out in her office to avoid her mother. They spend a few minutes laughing at her vagaries and the ugly suitors she keeps bringing. Jung-woo tempers their gentle joking, saying Mom's endured a lot to keep her position in the family she married into — that's why she doesn't get Yi-seul, who she was born with everything Mom struggled for. Yi-seul thinks she's just become bored, with nothing left to fight for or protect. Proving her point, we cut away to Mom being fractious and snappy with her driver.
Yi-seul tells oppa that she wants Mom to stay just the way she is, energetic and bold, although she concedes it would be nice if she were a bit nicer. Jung-woo cuts to the chase now, and he knows about her looking into Alzheimer's hospitals. He asks if she can't let go of Ri-hwan now. With mounting sadness, she agrees that she wants to, and that Ri-hwan even asked her to, but she held on fast, being a burden to him when he's already weighed down by so much. He starts to mention a hospital in the U.S.
Ri-hwan opens the fridge and finds Mom's notebook. He remembers last time, when she told him not to listen to her anymore, she also told him to contact the sanatorium. He argues against it, but she pleads with him to protect her last bit of pride — although it's foolish, it's what she's spent her whole life doing.
She'll become worse and worse, she says, but Ri-hwan contradicts her — she'll just be different. And as much as she changes, he'll change with her. If she forgets her hardships and gains comfort, he'll feel comfort, too. And if she forgets him, he'll just come see her as her upstairs neighbor. "I'm ready, now," he tells her. She demands pen and paper.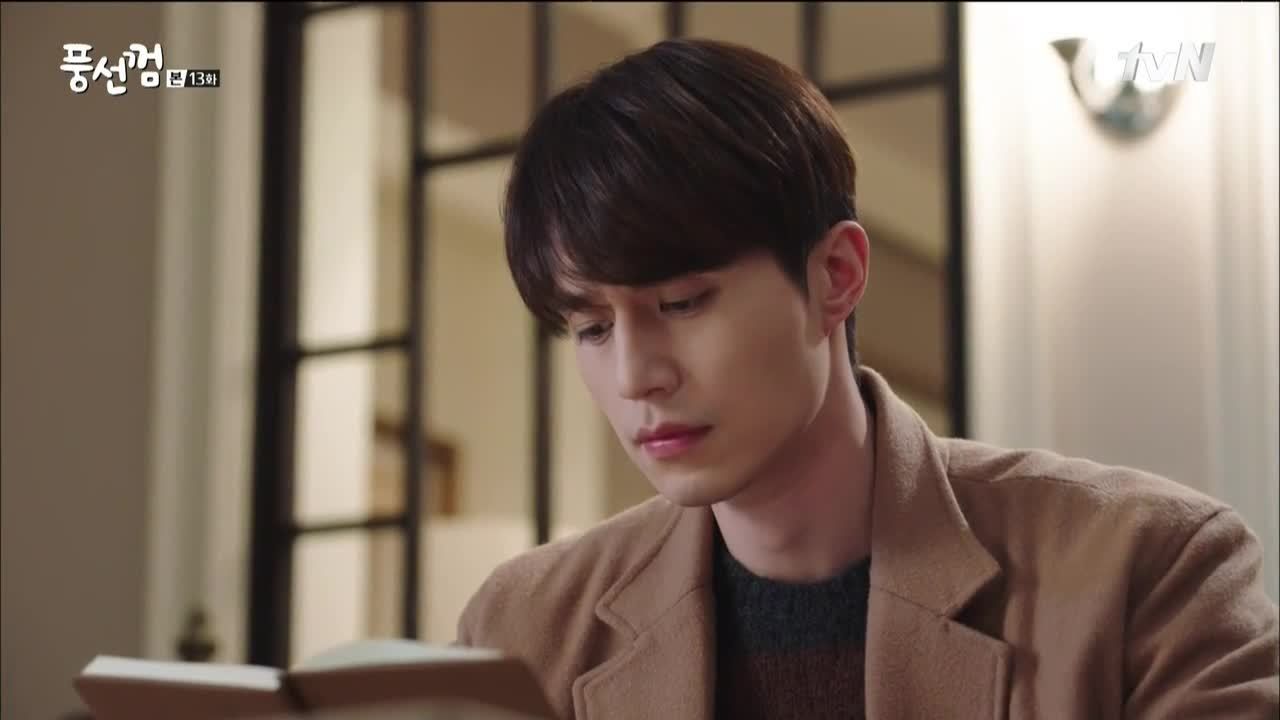 That's the notebook Ri-hwan opens now, to her to-do list. Among the items are visiting Haeng-ah's dad, Haeng-ah, apologizing to Ri-hwan, visiting the ocean…and that she's sorry. She writes to herself that if she forgets what all of this means, then not to let on to anyone. He turns over the page to her three things she mustn't forget, and traces the line about her happy day.
Se-young and Joon-sung emerge from a salon, where she's gotten herself the Ahn Yo-na look. Feeling prettier (and younger), she heads in to film her CF…and comes out super-glum. They return to the studio and we find out why: It was for anti-ageing drinks, which she shares with the team. Dinner's still on her, she says, resigned to her fate.
Manager Jo pops in while they're recording the show, and Haeng-ah waves at him. Tae-hee notices and looks up. He quickly turns heel.
Se-young reads an email asking her to congratulate a listener on her marriage, which she does in the most perfunctory way possible before demanding they go to commercial. Off-air, she splutters about why they have to do stuff like this. Joon-sung watches her pensively.
Jung-woo visits Ri-hwan at his clinic and looks around in curiosity. He muses that his mom would have gotten rid of all this. Playing the chaebol card for jokes, he grins that it's even better that it's his friend's clinic, because threatening friends is much more effective on someone like him. He gets to the point: Yi-seul likes Ri-hwan, but he doesn't like her back. Jung-woo thought about what he could do (other than kidnapping, bribery or assault, natch), and slides over an envelope.
It's a credit card and business card, Jung-woo tells him, which will get him the best possible care for his mom and every other earthly thing they could need. Ri-hwan declines, and Jung-woo becomes serious. He wants his little sister to marry someone she loves, he says, but more than that, someone who loves her. If Ri-hwan can't be that person, he suggests he go away somewhere where they can't just come by and see him. Um, or how about you stop coming by? Just saying. Occam's razor.
He tells Ri-hwan to think about it and reply quickly, and reminds him it's for his mother's sake.
Suk-joon enters the station building, where his picture has now been removed. Manager Jo spots him and runs to him in shock, but Suk-joon reassures him that the President's not in. Jo, weirded out by his new relaxed demeanor, starts to lead him out, but not before Se-young and the team arrive.
They're on their way to eat together, and Suk-joon invites them out with him, his treat. Se-young still thinks it's all a compliment to her and gushes that it's a little burdensome. Manager Jo backs her up, and tries to separate (Tae-hee's there), but Se-young is all, but he came all this way! She doesn't even notice that Suk-joon directs his words to Haeng-ah the whole time.
At dinner, openly attentive, he cuts a steak and gives it to Haeng-ah, who sits opposite him. Se-young prattles that he needn't do the same for her, and cozies up with Joon-sung. Suk-joon offers to help Haeng-ah house-hunt, and she reminds him of what she said before. A flashback shows her telling him that even if they were to start over again, it wouldn't be like before, because she only has the one heart to give.
Tae-hee calls Manager Jo. He answers with a sigh, and arranges to meet her in a café near the station. In his room, he remembers Ji-hoon's regret at losing Tae-hee, and calls him. Just in from work, Jo's call makes him grave, and he heads out again.
There's a knock at Manager Jo's door, and Tae-hee waits outside. This isn't the café, she accuses. Meanwhile, Ji-hoon arrives at the café, and looks around for her.
Now in the studio lounge, Manager Jo agrees that you can't help who you like. He admits that he doesn't dislike her — he has no reason to dislike her — he's amazed that she likes him, and wonders if such a spring will come for him again. It felt strange, and good, and sad, he says, but that's as far as it goes for him. Her eyes well.
He crosses the room. He offers her his wallet, but she doesn't want to hear things like how he has no money. He just gently tells her to open it. Inside is a photo of his two kids, and he says that he doesn't like her enough to put her picture over theirs, and that's the important thing. It's not something he wants, so to take it would just be greed, and he doesn't want to live like that.
Left alone in the studio, Tae-hee shakes with silent sobs. In his darkened room, Manager Jo sighs.
The café closes and Ji-hoon has to leave. He emerges just as Tae-hee rounds the corner in her car and they make eye contact. She backs up to him, and gets out of the car. He tells her that he knows she didn't come to meet him, but he came in case she got stood up. Softening, he asks if she's okay. She turns her face away, choking back tears.
Dong-hwa complains as she helps Haeng-ah unpack food sent by Aunt, and wonders why unni's so gaunt in the face. They settle for coffees and Dong-hwa says she can have Ri-hwan, she's finished with him. But she's disappointed he didn't overcome his mom and hold onto Haeng-ah. Haeng-ah tells her that it's not the present, but the future that he's worried about. If she were Ri-hwan, she'd run away, to where nobody could find her…she trails off in sudden realization. Leaving Dong-hwa alone, she hurries out.
Ji-hoon gets home, shivering from cold. He discovers Ri-hwan hasn't eaten either and they share a pot of ramyun. Ri-hwan worries that Ji-hoon is overburdened at the clinic because of him, but he won't hear it and tells him to keep his chin up. Ri-hwan would do exactly the same if it were Ji-hoon's dad, or Aunt Princess, he says. He asks about the sanatorium, but Ri-hwan can't bring himself to send her there, even though she's already part-paid it. If the Secret Garden family can carry on helping, he says, he wants to carry on like this.
Ji-hoon muses that Mom would really disapprove of their ramyun-meal right now. Ri-hwan says that it feels strange, that not doing what she said could be the right thing. The doorbell rings then, and Ri-hwan springs up in alarm, thinking something's up with Mom, but Ji-hoon opens the door to Haeng-ah.
Ri-hwan's just as alarmed to see her, and from across the length of the room, she wonders if he got that test, and tells him not to. He tries to leave, and Haeng-ah asks Ji-hoon to hold onto him. She cries out that if she's right, then he's about to run away to where he can't be found. Ji-hoon asks him if it's true, and if he really took the test. Ri-hwan can't raise his eyes, and reveals that he hasn't got the results yet.
Ji-hoon turns an optimistic face to Haeng-ah: Even if it's positive— She already knows, because she's spent every spare minute reading and researching. When Ri-hwan tries to go, she reassures them that she's leaving. Before she does, she tells him that if someone had told her back when she was a kid that she'd lose her parents or that his mom would lose her memories, she wouldn't have been able to live. But look, she points out, she's living just fine. Eating well and laughing, even though she misses him right now.
She's borne through this much sorrow, and she's not afraid of what could happen now, she tells him. No matter what happens, she'll still be living well, be it in ten years or twenty — if he's by her side. His eyes shine with unshed tears.
Haeng-ah waits alone for the bus. At their house, Ji-hoon tells Ri-hwan to hurry to her. Even though they'll find their way back to each other in the end, the longer they're apart, the deeper their wounds will become. He says that Ri-hwan's doing the same thing his mother did — hurting her in order to protect her. That gets Ri-hwan's attention.
Haeng-ah boards the bus. It pulls away, but stops again to let on a late passenger — Ri-hwan. Haeng-ah straightens, eyes wide.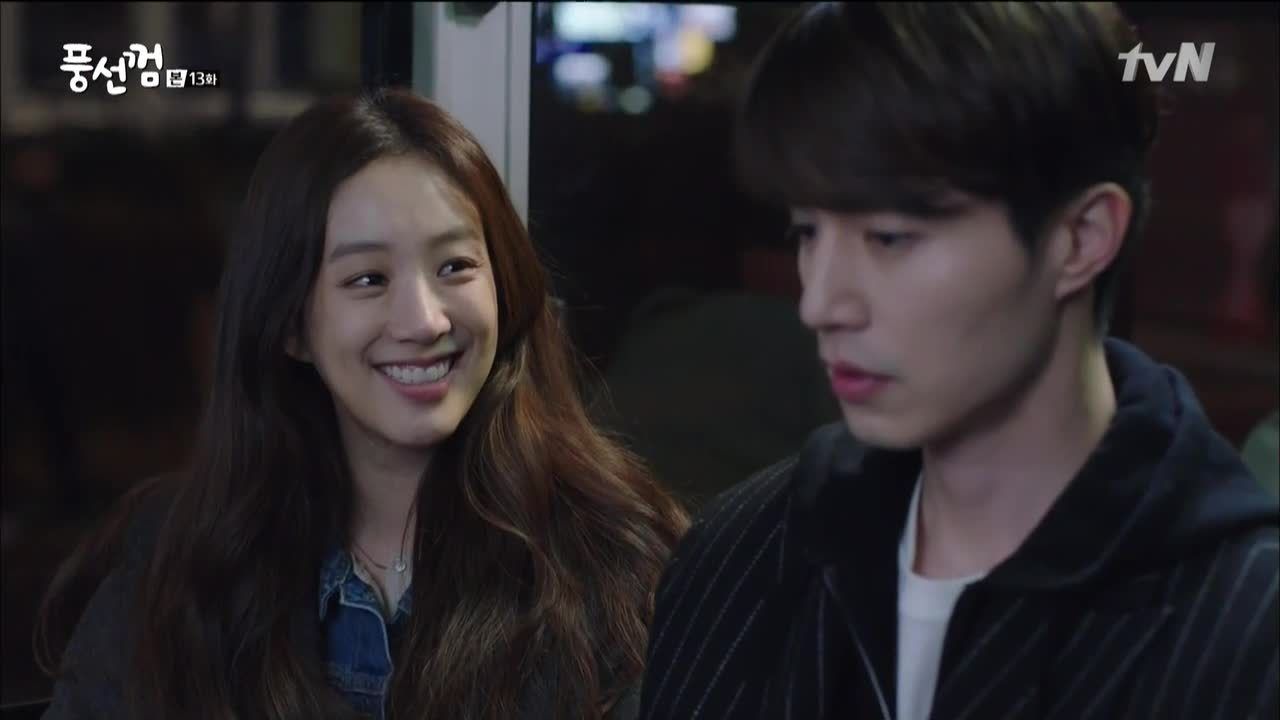 He slowly makes his way up, and sits beside her. She breaks into the loveliest grin you've ever seen after a thousand episodes of heartache, and slowly, slowly, although his eyes are still hopelessly sad, Ri-hwan's lips move the tiniest bit.
She squeezes his hand, and he turns it over to lace his fingers with hers, and finally smiles a real smile and turns to look at her, "I'm here," he says. He kisses her softly on the forehead, and she closes her eyes in contentment.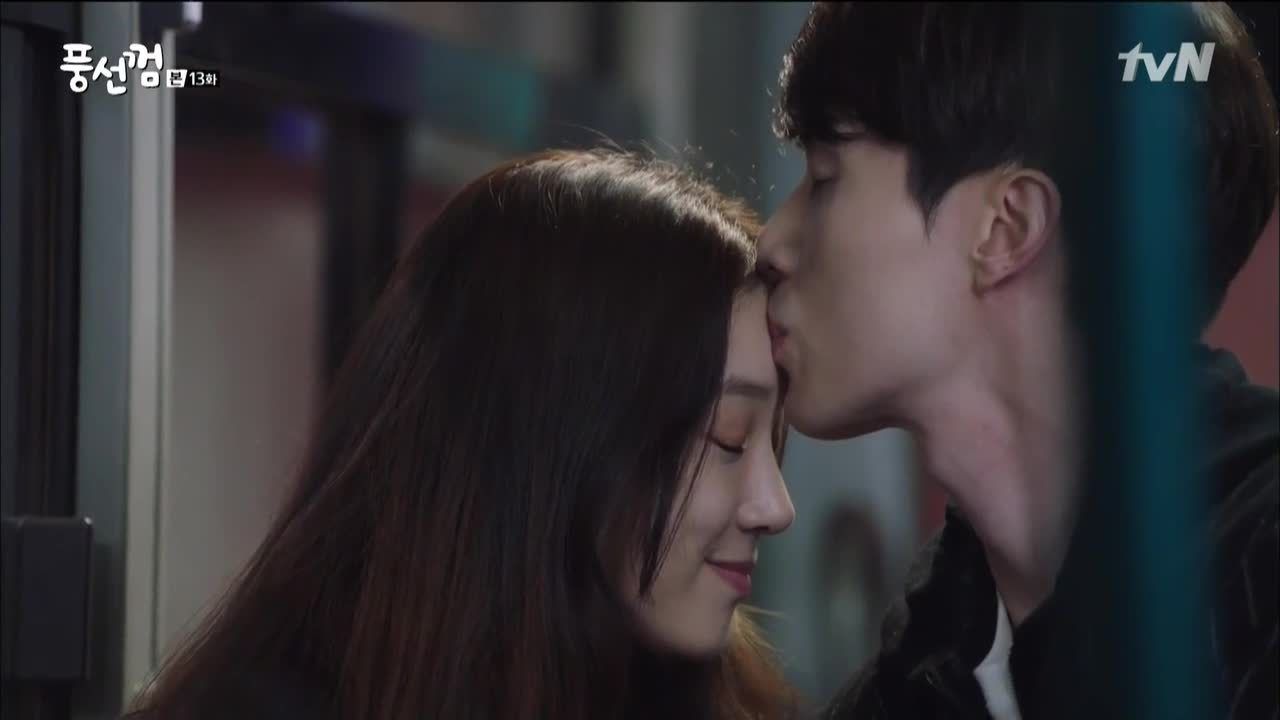 COMMENTS
Finally, finally, the wave of angst has broken! Honestly, this whole period of separation Ri-hwan initiated was not only unnecessary and pointless, but it was also in direct contradiction to his (very moving) game-ending words to her in episode 9, about how they always come back to each other in the end. So why'd you go break up with her then?! The beginning sequence, too, made a visible and symbolic callback to it — their roads literally led them to each other. And for all his freezing her out, he couldn't even let her face a bloody patient, so he lost at his own game pretty much immediately.
Causing pain in order to protect: It's an interesting myth, and I'm glad Ji-hoon called it out in such a succinct way. There are times it may be true, but, you know, closing the barn gate! She already loves you! You already love her! You already decided to be together! It's already game over! At that point, it just stops being negotiable — at that point, you don't prevent pain by abandoning them, you cause it. And you take away their agency, which is never cool.
Now that the show itself makes it clear that Mom was essentially selfish, I see more clearly what they intended for her character. But the late-stage redemption attempted for her doesn't really land for me, because as LollyPip says, one moment of clarity doesn't make up for a lifetime of stubborn self-serving. I think it's a natural human reflex to pity the sick, and therefore we would think, "because she's sick, she deserves to be forgiven." But while that's a sentiment that is necessary and good in real life, in this show, it's an unsatisfying and inelegant resolution for her character so far, and I hope it's finished in a better way in the remaining episodes.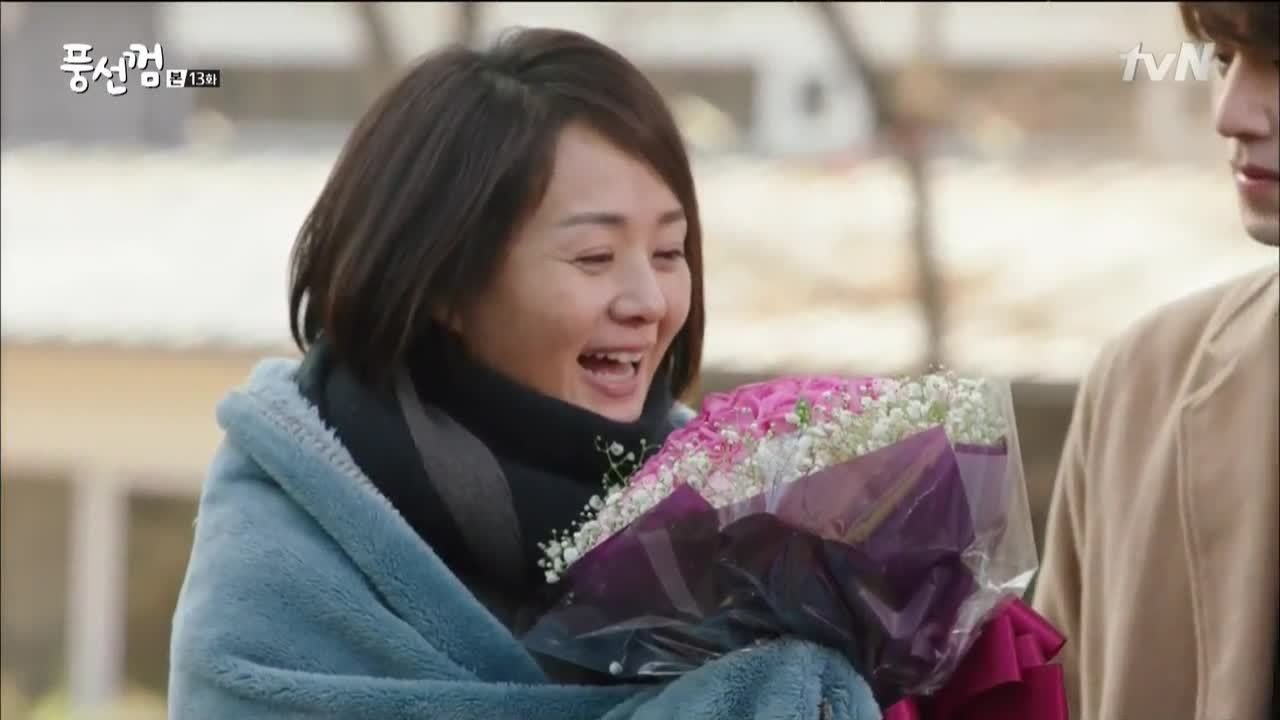 I'm really glad that the show addressed Mom's wrongdoings so clearly and unequivocally in the confrontation between Haeng-ah and Dr. Go. The obligation to be understanding is so internalized for them that it's not one you easily give yourself permission to override. It's an unhappy coming-of-age for both of them to accept Mom as a flawed, troubled person, rather than an irreproachable elder figure. Ri-hwan's struggle this episode has been coming to the understanding that his love for his mother doesn't exist on the same axis as being critical of her actions — they're independent variables. Otherwise, his love would have to be contingent on her being perfect, so when she's evidently not perfect, he would have to not see it even if he sees it, in order to maintain his love. It creates a false mental universe where everything has to be subtly shifted in a way that keeps her in the right, all the time and no matter what. So it's a breakthrough for him to finally realize that accepting her flaws isn't a challenge to his love for her: Love isn't, in fact, a variable at all — it's a constant.
It's so gratifying that Haeng-ah finally comes undone with Dr. Go, and at last admits to pain, sorrow, and anger, and most importantly, her feelings receive validation. It struck me, during their riverside fight, what a curious friendship it is between Haeng-ah and Tae-hee. I admit, when she started that angry tirade, I was annoyed with her, but by the end, I understood the emotion driving her. While Tae-hee is more prickly, it's increasingly clear that Haeng-ah has become more aloof, and that's what Tae-hee is reacting to. She wants Haeng-ah to be present in their friendship, to engage with her emotionally, and it's that very emotion that Haeng-ah withholds, with new walls going up since Ri-hwan cut her off. It gives a more painful shade of meaning to what she said to him about her living well depending on him being by her side, because clearly it really, really does.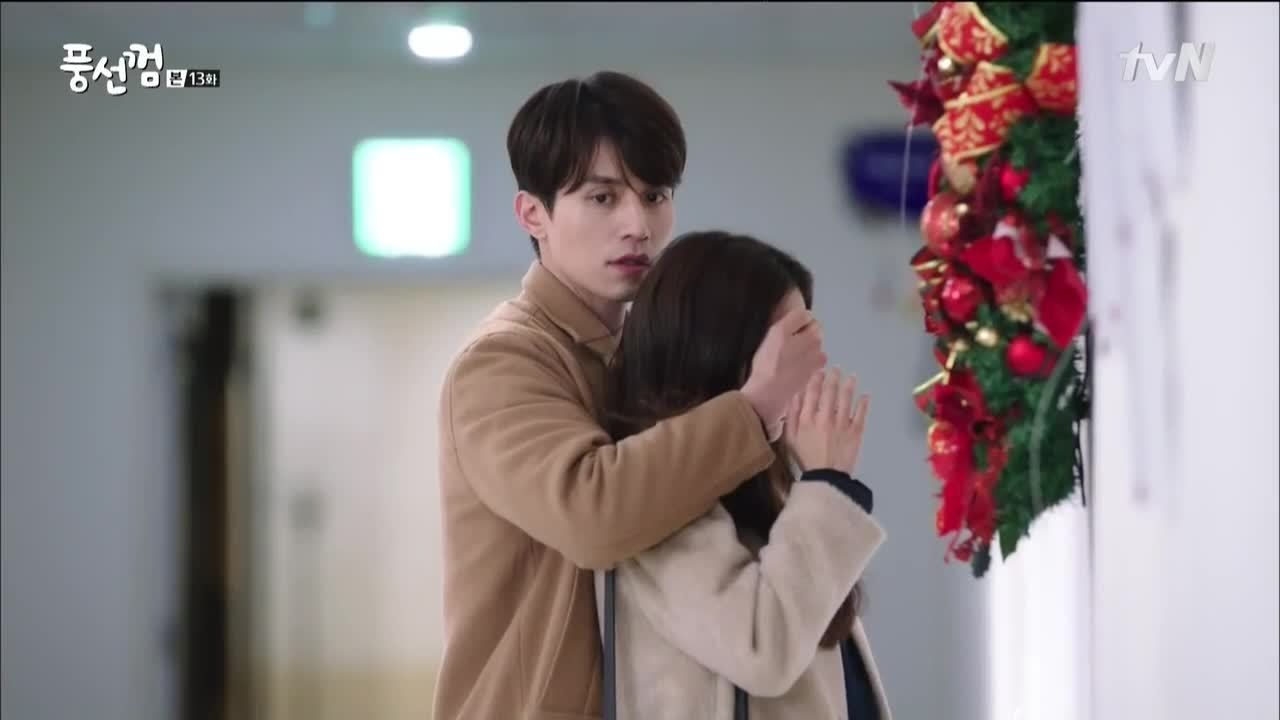 On a critical note, it seems that the writing has spread itself thin over too many unimportant storylines without caring for how it fits into the rest of the drama. Some of the secondary storylines that cropped up this episode were tonally jarring and out of place, like that strange filler of a scene with Yi-seul and her brother, and their mom. Jung-woo is barely a tertiary character, and that exposition of their mom's sad chaebol life was just odd. If we'd had more Jung-woo before, more of their sibling relationship, it would have been different (and I might have cared), but as it is, even Yi-seul is fairly superfluous lately.
Se-young is similarly jarring. As I've mentioned before, she and Joon-sung are in their own little rom-com, but never has it been more at odds with the rest of the episode. It's compounded by the fact that their storyline hasn't really deepened, although I can see what they're trying to do (and I enjoy noona romances more than most!). But it feels protracted and superficial, almost like the writers don't really care about her. On the other hand, I thought Manager Jo's treatment of Tae-hee's feelings was really beautiful. It was a powerful scene, too, sensitive and honest, his long soul-searching evident. I've been wondering how this triangle would work out. But I think Tae-hee will be okay, even though she's really hurt now. She'll get up again — she's too pragmatic to wallow.
Lastly, I have to credit again the marvellous job that Lee Dong-wook and Jung Ryeo-won are doing with their subtle, many-layered emotions. Ri-hwan's external frozenness this episode was such a movingly real portrayal of the terrible emotional dissonance happening inside, and after a steady diet of watery smiles, seeing Haeng-ah's true smile at the end was like the sun coming out. Enough misery now, let's be happy!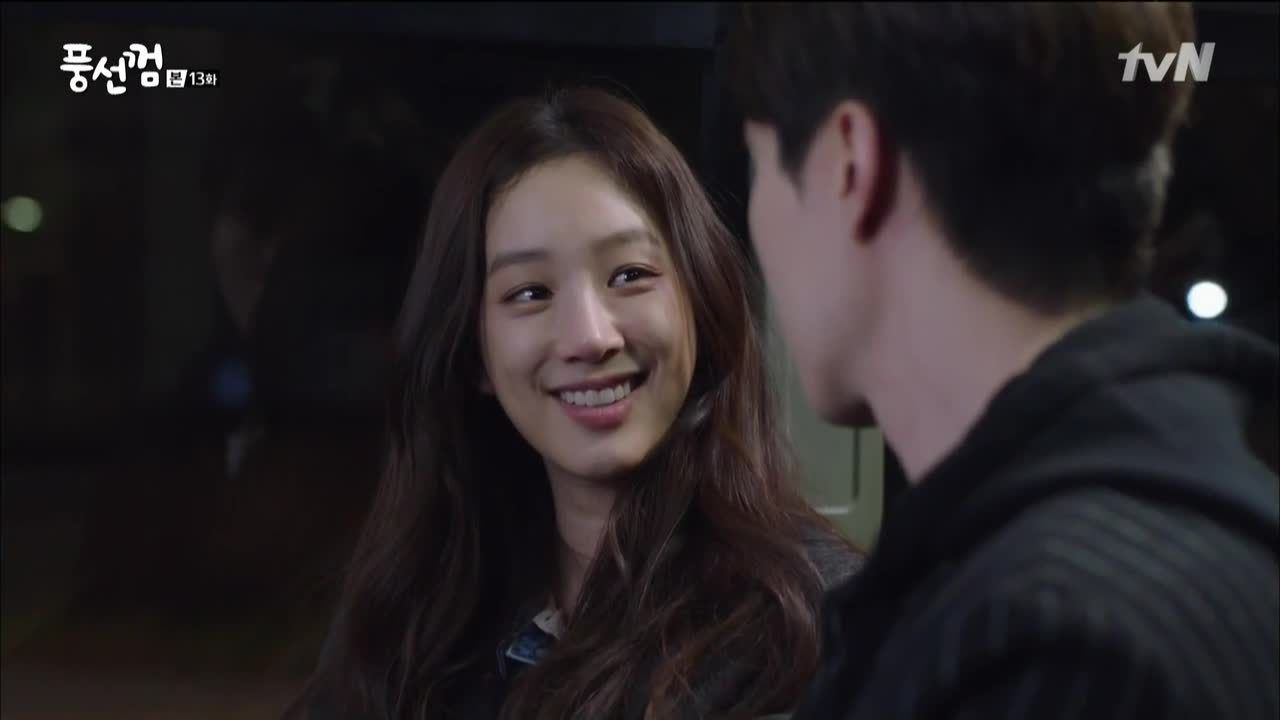 RELATED POSTS
Tags: Bubblegum, featured, Jung Ryeo-won, Lee Dong-wook