Remember—Son's War: Episode 1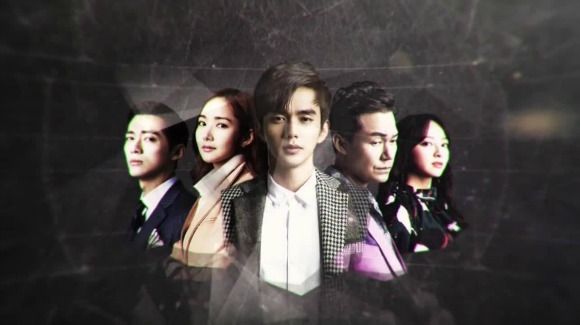 Remember—Son's War is one of the many memory-related dramas as of late, but we've got a strong one in our midst. We piece together a fragmented memory of a murder alongside a son seeking justice for his father, whose memory continues to degenerate. The agency to find the truth is powerful, but truth is opaque. Thankfully, we've got a hero with impeccable memory of every detail and allies in this war. The premise alone was compelling enough from the get-go, so this stellar cast — tasked with unfolding the story behind this memory — will surely make this ride all the more enjoyable, emotional, and poignant. In search of this memory, we go…

EPISODE 1 RECAP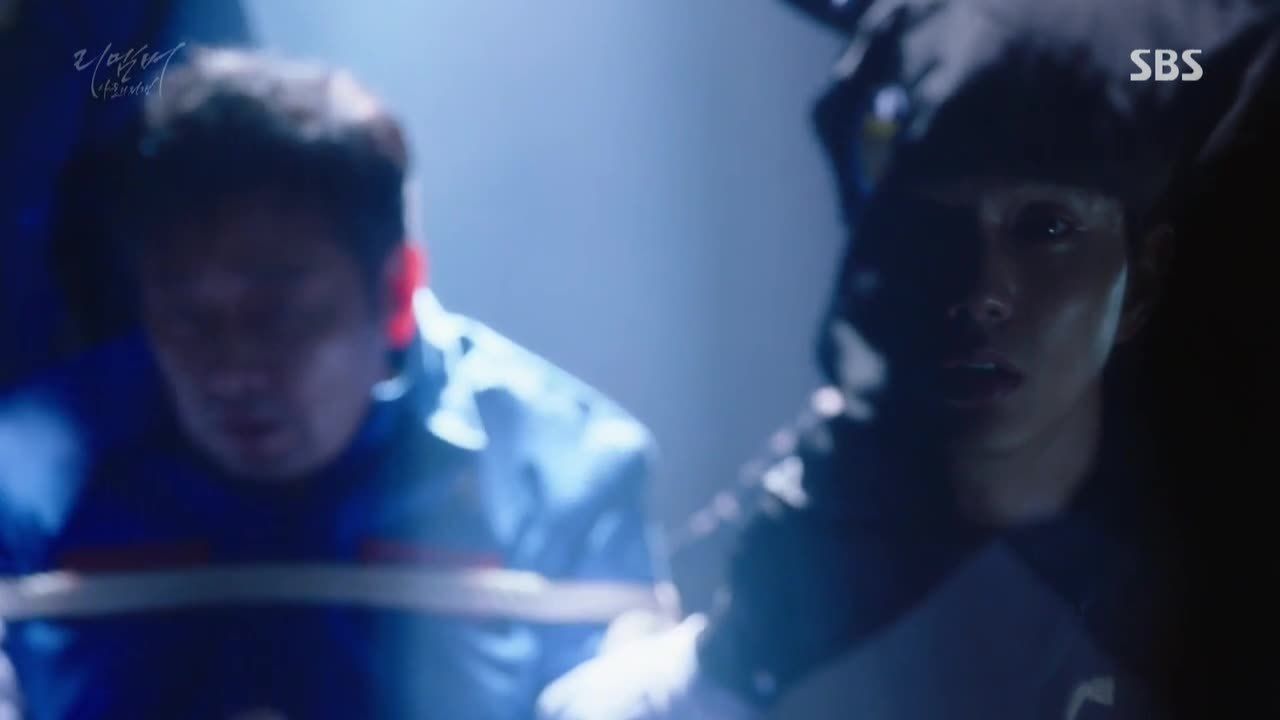 The prison doors open, and two guards escort a tied-up prisoner, their footsteps echoing through the hall. At the sight of the execution chamber, the prisoner tries to resist entrance, but he's dragged into the room.
The noose is prepared, and the prisoner stares at it with fear and shock. His eyes meet those of a boy on the other side of the glass, and he runs frantically toward him. He pleads for his freedom, insisting that he's innocent. "Jin-woo ya, tell them I'm not the culprit! Jin-woo ya, you told me you would get me out! Get me out!"
Getting on his knees, Jin-woo desperately begs the officials to save his father. They stare stoically at the scene, while Jin-woo yells and bangs on the glass. The execution process continues, despite their hysteria, and the noose is wrapped around his neck. Time stands still in the moment the floor releases, and the innocent father is hung.
Jin-woo wakes up from his nightmare in cold sweat, eyes wide with fear. He realizes his surroundings and breathes a sigh of relief — he's simply in his office on a late night. He looks intently at his calendar, which has December 9th circled.
It's the day of the prison visit. Jin-woo's father sits across from him and politely apologizes for his lack of recognition. The unfamiliarity seems normal to Jin-woo, and he introduces himself. He's SEO JIN-WOO (Yoo Seung-ho), the defense attorney for SEO JAE-HYUK (Jeon Gwang-ryul) in his retrial, four years after his initial trial.
Jae-hyuk presumes that Jin-woo knows his sentence and condition, and Jin-woo begins to prepare his father for their upcoming trial. But Jae-hyuk ponders aloud, "At the end of life, what remains is not your money or name, but your memory. But for me, even that memory does not remain."
He describes what others have told him about the horrible crime he committed: killing a young woman, a 20-year-old college student. Whether it's good or bad fortune, he has no memory of it. He tells Jin-woo that he'll decline the offer for his retrial.
Jin-woo asks if it's because he doesn't trust a young lawyer like him. Jae-hyuk smiles and explains that he trusts Jin-woo's practice. But his lack of memory can't justify his innocence, so he's decided to stay in prison to repent.
Jae-hyuk notes that Jin-woo isn't surprised and asks if they've had this conversation before. Jin-woo recounts that he's refused an appeal 7 times, insisted on receiving punishment 9 times, and told Jin-woo that he'd represent him well 10 times. They laugh at his stellar memory, but Jin-woo quickly changes the mood by insisting on Jae-hyuk's innocence. Someone else deserves the punishment that Jae-hyuk has wrongfully received these past four years. Even if he can't remember, he must remember.
Suddenly, a flicker of Jae-hyuk's memory comes back, and he asks Jin-woo if he had a son. He encourages his crying father to keep digging into his memory, for he'll realize that his son may be closer than he thinks. Jin-woo exits the prison, and he vows to get his father out.
Four years ago. On a typical morning, Jin-woo expresses his approval of the side dishes for breakfast. He promises to make dinner that night and gets even more excited when his father promises to come home early from work. They're called outside by neighborhood friends, a father and his daughter Jung-ah, with a bag of sweet potatoes to share. They've just come back from their morning hike and tease each other for insisting on accompanying the other.
In a fancy hotel, a man with an intricate dragon tattoo on his back showers and prepares his outfit with his one night stand counterpart. As he walks out to start his day, the woman reminds him of his promise to stay with her for the day. In his thick Kyungsangdo accent, he says that he has no recollection of such a promise. She assumes he's going to his wife, but he laughs off the idea. He's got a trial to attend.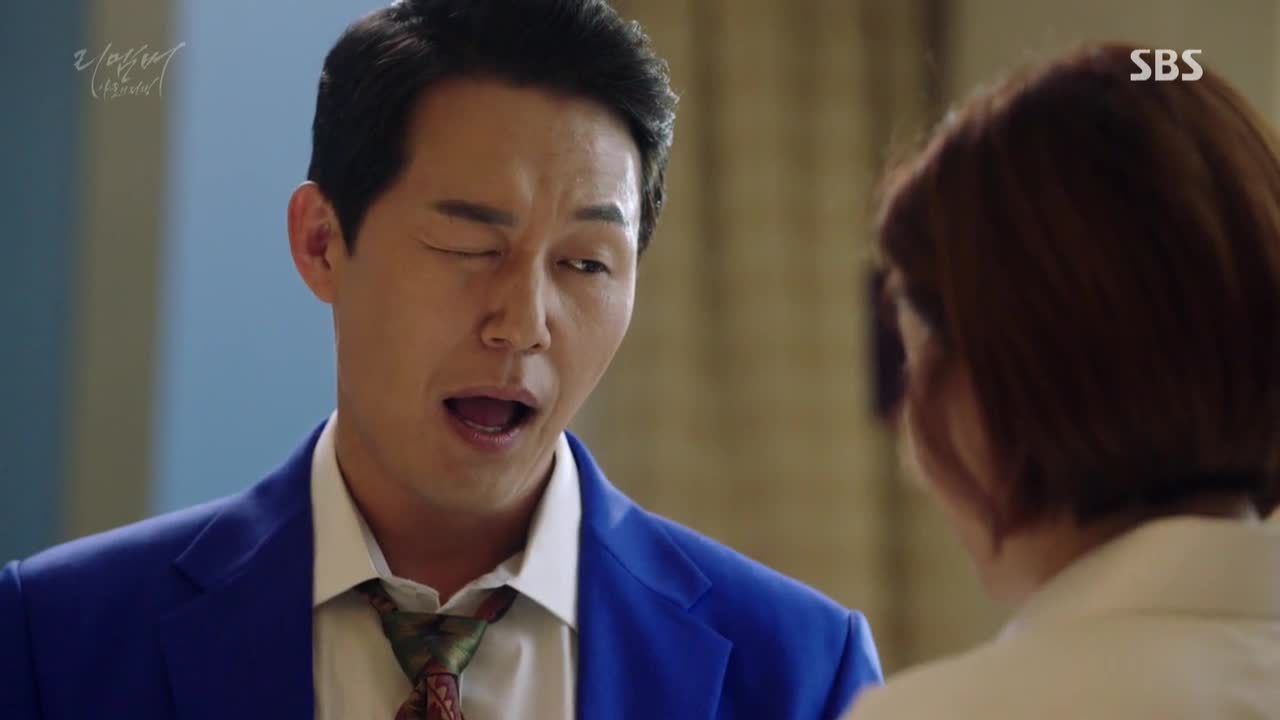 She's skeptical that a man with a dragon tattoo on his back would be a lawyer, so he gives her a business card. Sure enough, the man with the dragon tattoo, PARK DONG-HO (Park Sung-woong), is the lawyer he claims to be. Good guy or bad guy, his job is to release his clients' handcuffs. On cue, he receives a call from his boss and heads out to do his job.
Dong-ho greets his handcuffed client, SUK JOO-IL (Lee Won-jong) with a fist bump and seems stumped in their difficult situation. His client had a physical encounter with a young man at the club, and now he's faced with 30 weeks of jail time. There's barely any room for mercy, since the man is the chaebol heir to Il-ho Insurance. On top of that, they're going up against prosecutor TAK YOUNG-JIN, who's notoriously resistant to bribes.
But Dong-ho reminds his mob boss client that a good lawyer wins with no charges in court, but the best lawyer doesn't even need to go to court. *fist bump*
In his high school uniform, Jin-woo video calls his father as he waits for his bus to the broadcast station. Dad works a menial labor job, and he was called to work on short notice. He apologizes to Jin-woo for not accompanying him and asks him to give him a better view of his outfit. He gives a thumbs up of approval for his handsome son. They're adorable.
When Jin-woo starts to exit the bus, he bumps into a student (Park Min-young), and she drops her bag. He returns it to her, but just as he's about to leave, she notices a slit in her bag and no wallet. She demands everyone to stay on the bus, since they're all part of a crime scene. She rattles off legal jargon while carrying a giant law book, and all of the bus riders end up at the police department.
The police can't find anything on the bus surveillance footage, so they ask pickpocketed girl if she can specify potential suspects. She scans the bus riders and corners Jin-woo — he's the one most likely to have pickpocketed her when he bumped into her.
Though Jin-woo denies the deed, she's convinced that he's the culprit and insists that she remembers everything. Jin-woo cracks a little smile. She remembers, huh? How good is her memory? Pretty good, she claims. Then what was the exact time of their encounter? What was the person next to her wearing? She laughs at the questions.
Jin-woo digs back into his super memory and tells her everything, from the exact hour and minute to the bus information to the outfit of the person sitting next to her. And sure enough, they find a girl in the bus crowd fitting the exact description.
Pickpocketed girl complains that no one remembers such small details, but Jin-woo argues that the smallest details are the most important. She doesn't believe him. "Soon enough, you'll believe me. Because my memory doesn't miss one thing," he claims.
Jin-woo goes back into his memory to replay the exact scene of their encounter. The scene freezes in time as he walks through the bus. He finds that the bag was slit open before they made a stop, so it's likely that the crime scene was earlier in the timeline. He backtracks to the bus stop, where he watches their wait for the bus. He sees a man in jeans with a Rolex watch getting into a prepared black car. Jin-woo repeats the man's words before he entered the car: "In an hour, the Office of Tax Administration."
The girl laughs again in disbelief, but the police confirm Jin-woo's memory. The license plate of the car matches one of a stolen vehicle. The crowd murmurs in fascination, but Jin-woo isn't done. He claims that the criminal is here with them. After a moment, he points to the poster on a cabinet with a picture of the real pickpocket, Oh Jong-su. "My memory is accurate to the smallest detail." The crowd applauds.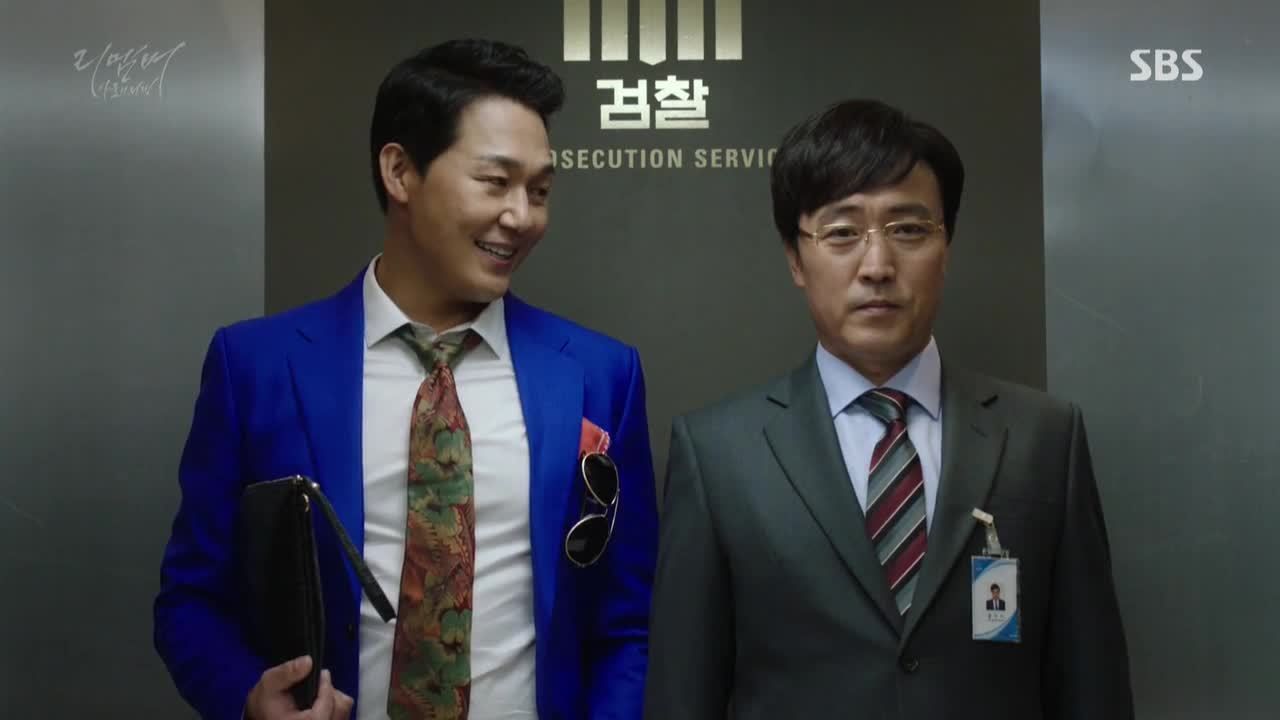 Mob boss lawyer Dong-ho stands out with his bright blue suit in the grayscale color scheme of the prosecutor's office. He runs into a familiar enemy, Prosecutor HONG MOO-SUK, in the elevator, and the prosecutor asks Dong-ho if he's still working under mob boss Suk Joo-il. Dong-ho expresses his disapproval of his phrasing (working under), and the prosecutor extends an invitation to face off in court soon to straighten out their ill fate.
But Dong-ho is looking for another person in this office: Prosecutor Tak Young-jin, his opponent. Dong-ho follows him into the bathroom and gives him a frivolous greeting at the urinals. Prosecutor Tak refuses to compromise, but Dong-ho gives him a tempting offer. Defer this trial, and Dong-ho will help him score a huge drug case in Busan. It'll be good for his reputation, especially after his epic loss in his last mob case. He doesn't reject the offer, which looks good for Dong-ho.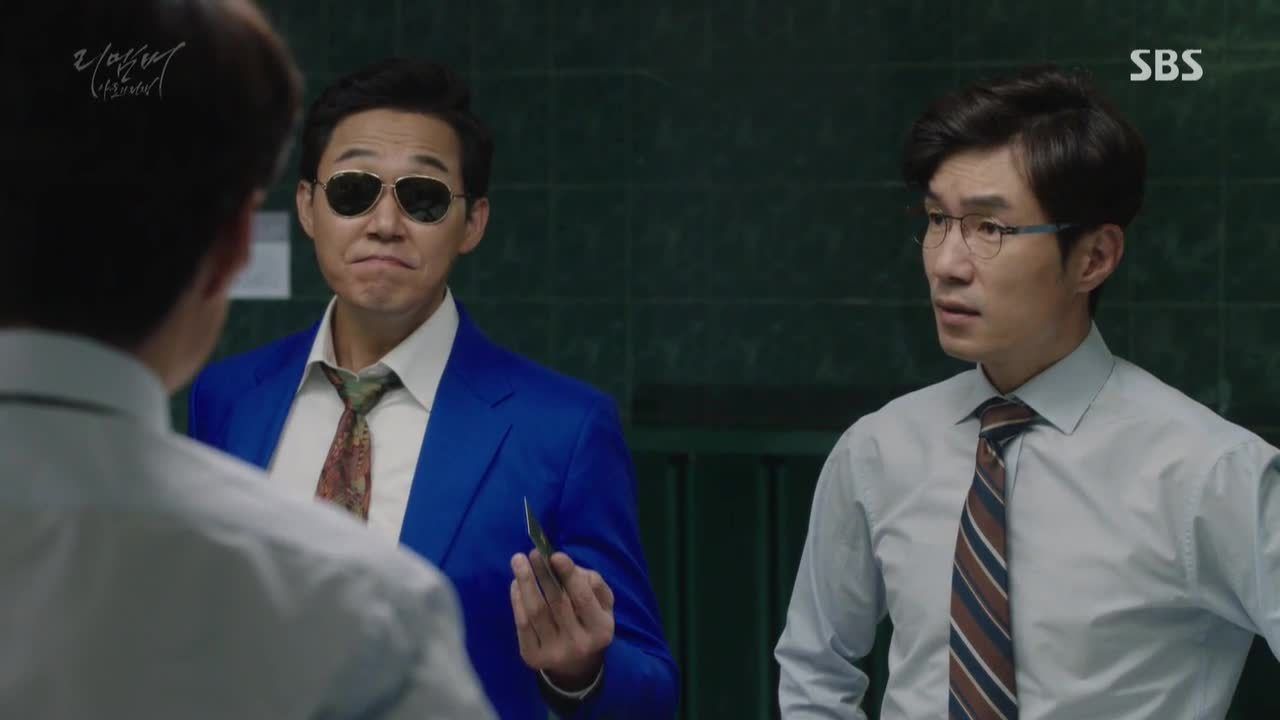 The bus riders are released from the police office, and the pickpocketed girl tries to apologize to Jin-woo again. She apologizes profusely, but he doesn't accept her apology. If he didn't have such a detailed memory, her baseless claims could have framed him as the real culprit. He warns her not judge without the full story — someone's life could be on the line.
As he leaves, he turns around to add that she should be especially careful if she's a law student. She referenced section 4, clause 5 of criminal law? Section 4 has to do with real estate, and there are only 3 clauses. HA.
Our law student, LEE IN-AH, quietly sneaks into her lecture, but her professor notices her and picks on her to answer his scenario question. She responds that this supposed relative who was sexually harassing the girl should be locked up right away with the charge of attempted assault. But another classmate, NAM YEO-KYUNG (Jung Hye-sung), disagrees and claims that the action was halted when the girl screamed, so attempted assault would not be the charge. She steals the spotlight with her flawless recitation of the law.
As they share a meal, Prosecutor Tak asks how Dong-ho knew of his lack of knowledge in mob cases. Dong-ho doesn't reveal his source but simply explains that this information is why he's got high success rate. He offers his helpful tips in this new partnership, and they toast.
Prosecutor Tak asks how Dong-ho plans to handle their chaebol heir, but Dong-ho's still thinking it through. Prosecutor Tak says that NAM GYU-MAN (Namgoong Min) has everything — money and power — but humanity. With that much money and power, he should have grown up in a household that embedded manners, but he turned out pretty twisted. He's got no filter. And we see that: His company workers line up with bowed heads as he walks by, and he forces an older gentleman to bow deeper to meet his satisfaction.
Prosecutor Tak admits that he agreed to Dong-ho's conditions partly because he doesn't want to help such a filthy guy. Looks like they've got obstacles, but Dong-ho smiles and reassures Prosecutor Tak that he doesn't have a 100% success rate for no reason.
In the car, Chaebol Nam Gyu-man asks for an update on their case against this mob boss. His secretary, AHN SOO-BUM (Lee Shi-un), assures him that the case is going well. Gyu-man insists that they speak informally when they're not in the company setting — they're friends, after all. Secretary Ahn speaks informally in a formal tone as he says that the case should end in their favor, especially with their prosecutor.
Dissatisfied by the response, Gyu-man tells his chauffeur to stop the car, and Secretary Ahn shuffles out by our spoiled chaebol's window. Pushing at his friend's forehead, Gyu-man recalls being embarrassed in front of his friends and wants more than just legal punishment. He asks about the mob boss's family and orders his secretary to find a guy good with knives. Say, what?!
Then he asks about the next line of business. The venue is being prepared, and Gyu-man reminds his secretary to recruit a trot singer, preferably unknown. To finish off his tantrum, Gyu-man leaves Secretary Ahn on the side of the road and tells him to take a taxi back. After the royal pain in the ass leaves, Secretary Ahn fumes with anger.
From afar, Dong-ho and his photographer capture this interaction. Dong-ho has got his hands full.
Law student In-ah returns home to her family pizza shop, where her mother is watching a TV program with Jin-woo showing off his hyperthymesia memory. She's amazed and tells her daughter that this kid could easily pass the bar exam with his memory. Frustrated by Jin-woo, In-ah changes the channel, but the news also shows Jin-woo as the student who identified the pickpocket. In-ah turns off the TV and storms inside.
Secretary Ahn recruits Jin-woo's neighborhood friend, Jung-ah, as the unknown singer Gyu-man requested, and it seems like she agreed without knowing any context. As she approaches the venue, Secretary Ahn tells her to sing the given repertoire, and she notices Jin-woo's father working outside. She reveals that he's her father's neighborhood friend.
The event is a huge party with all its attendees drinking and shooting up drugs, and Jung-ah is visibly bothered. Secretary Ahn brings her to the dressing room and gives her a dress to change into, but she refuses. She'll just sing. He brings her to the door to point out all the filthy rich sons at this party. Still she refuses the job, but he hands her an envelope of enough money to cover her tuition and walks out.
When Gyu-man arrives, he's bothered by Jin-woo's father, who is vacuuming the lobby. They kick him out and head to meet the singer. Jung-ah has changed into the dress but looks frightened and reluctant to perform. Gyu-man enters her dressing room and gives her a sleazy look.
Jin-woo waits for Dad with his promised kimchee jjigae dinner, but his father has yet to return home. He gives him a call, but he doesn't answer because he's busy at the phone store to buy a replacement for his son's cracked phone. The lady claims that this is his third time coming by the store. Uh-oh.
Jung-ah begins to sing, and it's immediately clear that Gyu-man disapproves. He drunkenly gets up and yells at her for her song choice. He's sick and tired of all the English — he wants trot music. Jung-ah nervously apologizes and gets right into singing a trot song.
After her performance, Jung-ah is taking off her jewelry in the dressing room when Gyu-man bursts in with a bottle and two wine glasses. He offers her a drink and looks at her with scary eyes.
The next morning, Jin-woo receives a call from Dad. The dinner looks untouched, and Dad hadn't come home that night. When Jin-woo asks where he is, Dad doesn't know. He's wandering around with his bought cellphone in the middle of nowhere. Jin-woo worriedly rushes out to find him.
Dad continues to wander in the woods and comes across a body of a young lady. It's Jung-ah. He's shocked and tries to wake her, but she's dead. He pulls out his phone to call the police, but he can't remember his phone's passcode. Dad panics and grabs his head in pain. Jin-woo arrives on the scene to find a dead Jung-ah and his father passing out beside her.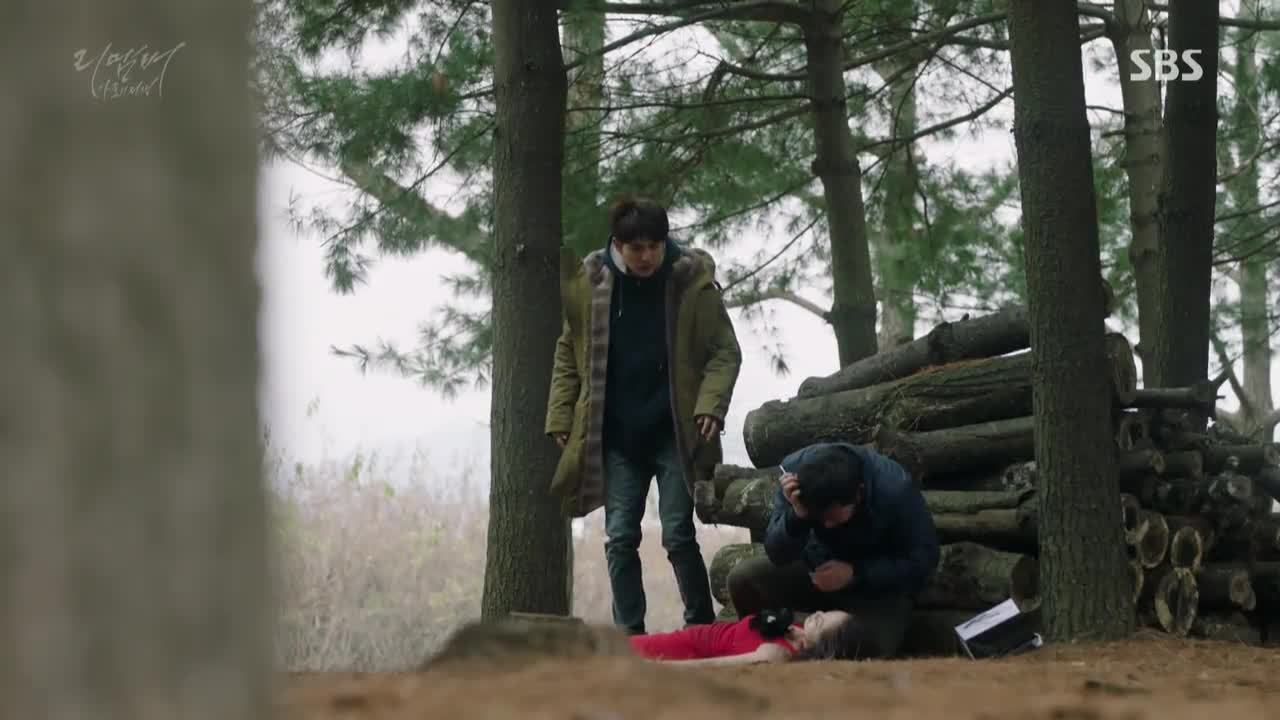 At the hospital, Dad gets interrogated by the detectives on the case, since he was the first witness. Dad can't remember why he was at the location and how he got there, which makes him seem more suspicious. The detectives seem to question him as if he's a suspect, so Jin-woo intervenes with his memory of criminal laws to protect his father from unlawful interrogation.
But when asked if Dad knew the girl, he claims that he's never seen her. Jin-woo looks at him, shocked, since they clearly know Jung-ah. But Dad denies any knowledge of this girl.
Jin-woo rushes back home to find all the phone purchases and other multiple purchases. He seems to be assuming the worst and gets Dad tested for possible memory loss. But in the doctor's office, Dad shows no sign of major memory loss, which is a relief for Jin-woo.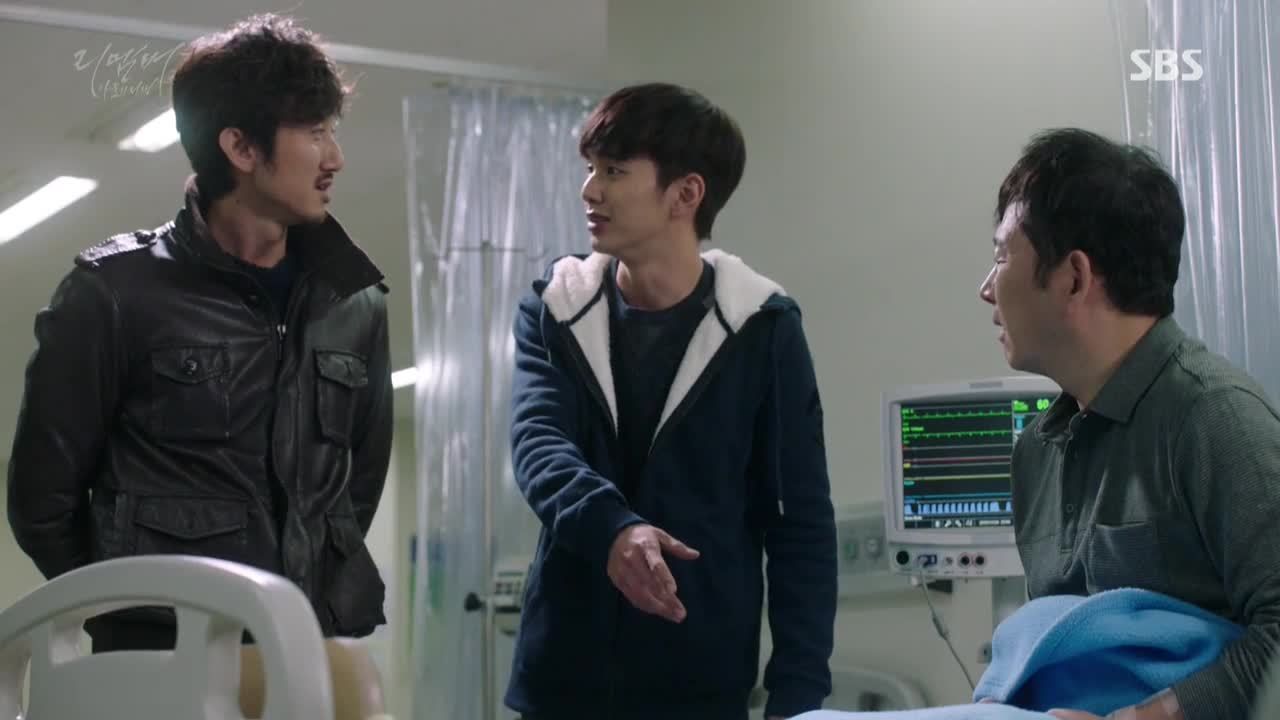 The Seochon murder becomes national news, and the prosecutors are pressured to narrow down a suspect. Elevator Prosecutor Hong tells the detective on the case to look through his list of possible suspects, but the detective says that they've found no leads and searching through this list would be useless. But they've got their jobs on the line, and Prosecutor Hong threatens to cut him loose if they can't catch a suspect soon.
At the funeral, Dad and Jin-woo pay their respects to Jung-ah and her father. Dad encourages his friend to stay strong for Jung-ah, to find the killer for her sake. Then the detectives barge in, with Prosecutor Hong's warning ringing in their heads: 3 days to get a confession.
The detective drags Dad out of the service, much to everyone's surprise. Jin-woo tries to chase after his father, who assures him that everything is okay — they've probably got something wrong. Dad is swiftly taken away in the police van, leaving Jin-woo soaking in the rain outside.
Once the coast is clear, one police car veers off, and the detective orders the driver to turn off the siren. Dad looks confused about where they're going, but he's given no answers. The van ends up in an empty warehouse, and we're left in the dark about what happens there.
Jin-woo returns to a ransacked home, and it's clear where this chaos is headed.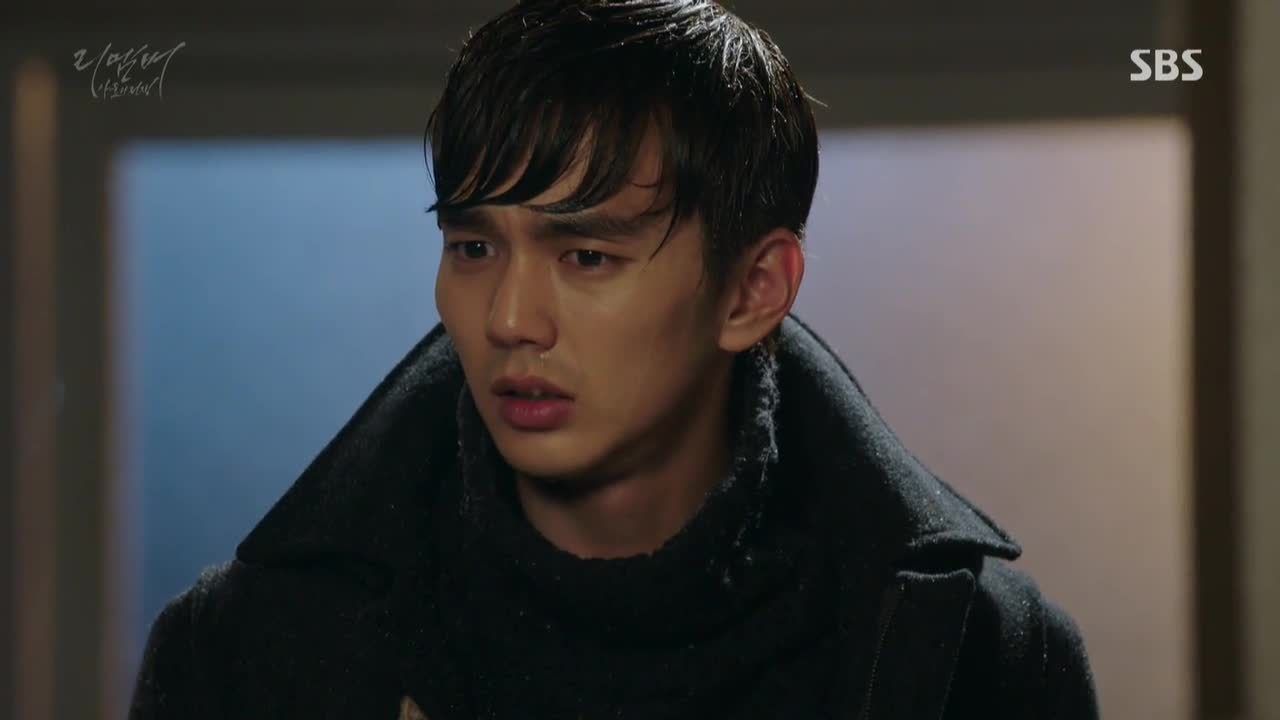 The news reports on the killer in the Seochon murder case, and In-ah's parents watch the news in horror. Her father watches with disbelief, having met Jin-woo's dad on multiple occasions. He would never commit such a deed. Then In-ah's mom turns around and asks if that Jung-ah is the Jung-ah from her 5th grade class. In-ah gasps in shock upon realization that she knew this Jung-ah.
Jin-woo waits to meet his father, and tears begin to well up when he sees Dad. He asks Dad what's happened, but Dad can't recognize him. He asks who Jin-woo is, and the lack of recognition shocks Jin-woo. Once Jin-woo clarifies that he is Dad's son, the realization slowly hits, and Dad begins to shed tears. They reach their hands out against the glass, both crying.
In-ah finds Jin-woo standing outside of the courthouse, watching the protests demanding capital punishment for Dad. She tries to catch his attention, but the bus arrives with Dad. The crowds rush towards him, and police forces have to stand in their way. Dad looks confused and overwhelmed by the crowd, and Jin-woo watches the scene with fear.
Suddenly, a man recognizes Jin-woo as the killer's son, and they all rush towards him. In-ah gets pushed into the crowd as the police block them off from Jin-woo. The protester manages to pull his necklace off, and it falls along with the ring hung on it. Jin-woo gets beaten with thrown eggs and stands helplessly in front of the courthouse.

COMMENTS
I'm enthralled by the performances in this first episode. Our father-son duo emotionally grounds this show, and these two are a powerful pair. Jeon Gwang-ryul is wonderfully poignant in performance as Jin-woo's father, expressing tragedy and regret in a fragile way. The subtle changes in his unfamiliarity to his recognition of Jin-woo induced a strong pang of emotions, including a deep sadness for his shame in forgetting his son. He's just got those forlorn eyes that say everything about what he's feeling. And of course, Yoo Seung-ho reflecting that weight of emotions completes it. He looks so great on screen, in character, and ugh, I just love him.
In the same vein but a different response, I am so disgusted by Gyu-man. I am disgusted by his mannerisms, his entitlement, his party… Is it too early for me to hate his entire being? But wow, we've got to give Namgoong Min a hand for animating this deeply disturbing character with bravado. I'm hoping we'll be given more middle ground in his character, as opposed to a straight up villain to the extreme. I'd love to see the complexities that created such a despicable being, and I know Namgoong Min is capable of adding dimension and creating a vulnerable villain. He's got the bad guy thing down — I'm already getting chills and higher blood pressure just looking at the guy — but I want to feel more invested in this antagonist.
I was hoping for more bromance between our chaebol pain and his secretary, but I'm not sure that'll be the nature of their relationship. Or maybe it'll develop into a better bromance once our resentful secretary does something to Gyu-man's liking. As long as the cost for their friendship isn't an innocent life, I'm all for more petty antics between these two.
What a fun character we've got with Dong-ho. His carefree nature and shrewd practice is a nice comic breeze in the gravity of everything else. He's savvy in his field, though I wonder if he intentionally uses his skills for our mob boss. Is it his choice to be defending mobs? He sure didn't seem happy to be labeled as working under the mob boss, which makes me question what landed him in his current practice. Dong-ho's an interesting one, and we'll need to peel away his goofy grins to find out how he fits into this story.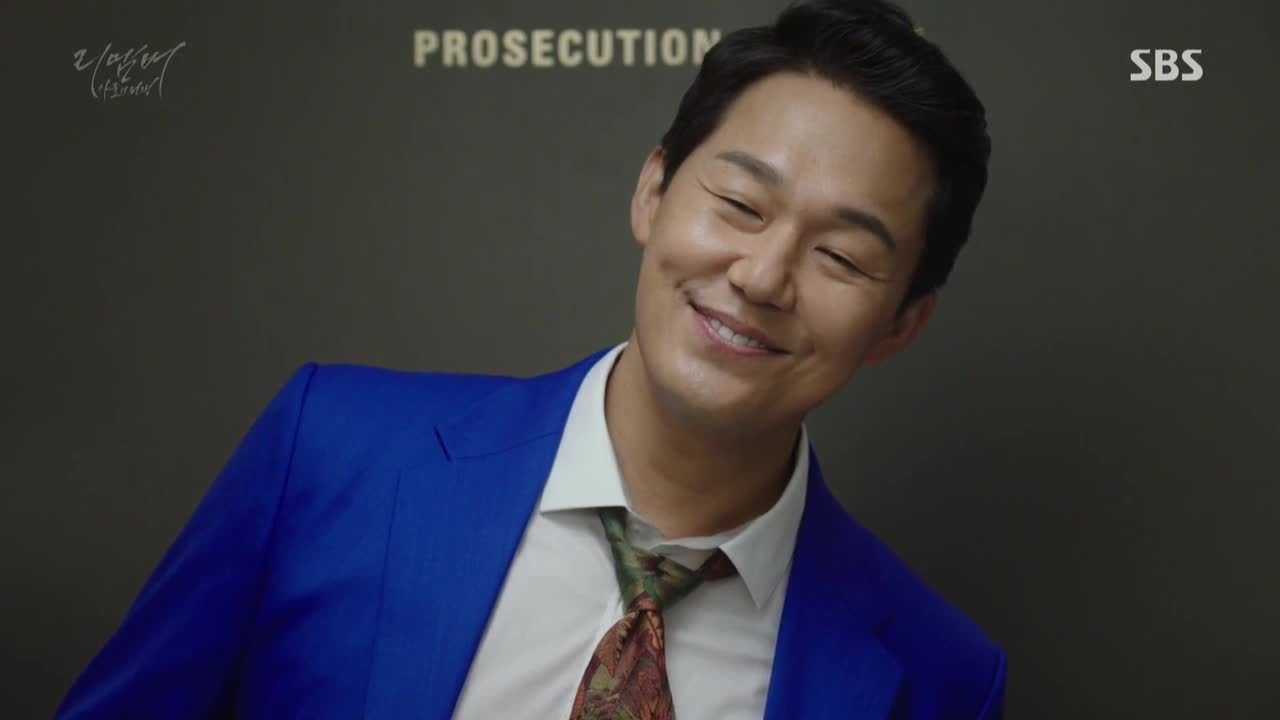 The memory sequence was excellent in its representation of the details of hyperactive memory. Revisiting a memory almost seems supernatural, and though we're not explicitly traveling through a wormhole to go back to the past, this whole memory deal is essentially time travel for us. I do wonder how useful this condition would be to Dad's situation, since there is absolutely no memory base to begin with. How will his detailed memory help him, if the memory isn't his to begin with?
I'm curious to see how the partnership between Jin-woo and In-ah grows, since we've seen some of the fundamental differences in their thought process. No doubt, Jin-woo's recall ability has contributed to his insistence on knowing everything before making assumptions. But that's not to say that In-ah was completely wrong in deducing that Jin-woo was the pickpocket. She shows a weakness and hypocrisy of human nature in our tendency to blame others with the slightest association when faced with little evidence. Which is exactly what happened with Dad, except with more political manipulation and illicit activities.
With all the pieces in place, I'm eager to see how this drama capitalizes on all of its potential. You've got a great story, a strong cast, and compatible directing — show us what you're made of!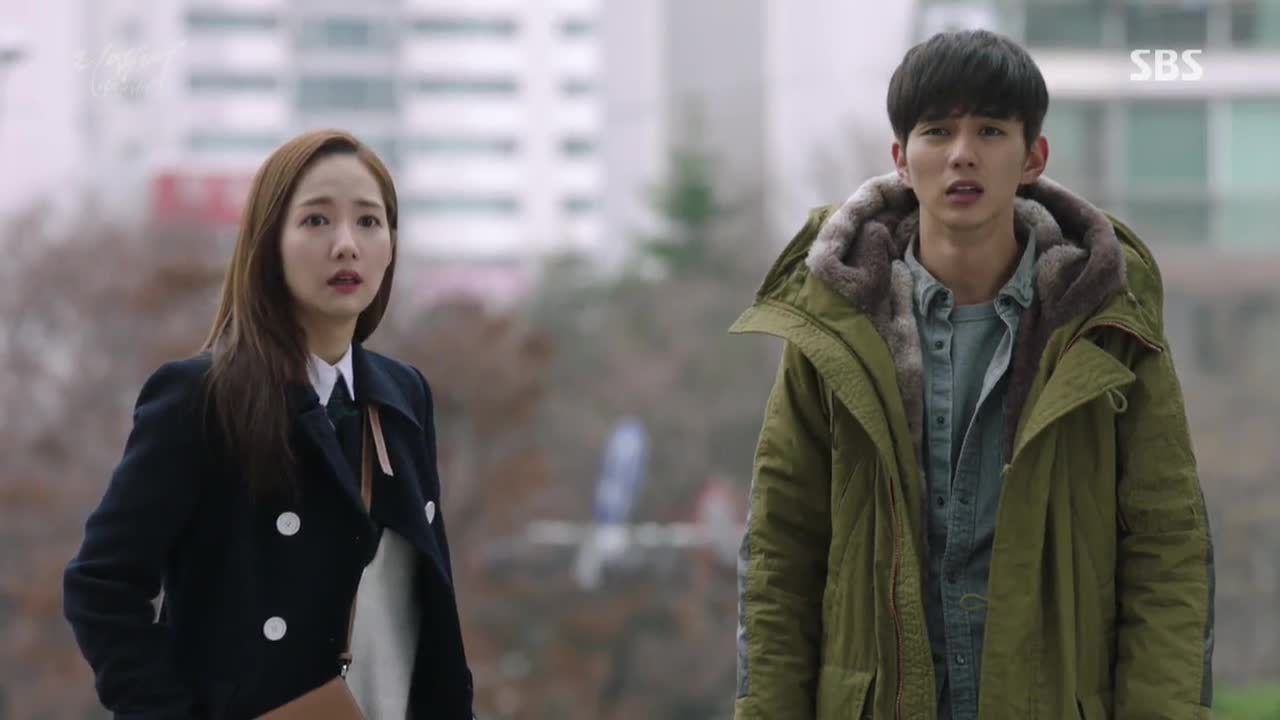 RELATED POSTS
Tags: featured, first episodes, Namgoong Min, Park Min-young, Park Sung-woong, Remember—Son's War, Yoo Seung-ho