The Bean Count [Year in Review, Part 1]
Welcome to The Bean Count, a new feature we're trying out this year, which arose, if we're being totally honest, out of a half-loopy brainstorming session of thinking up new, improved (?) ways to weigh in on the past year's drama offerings. The Beanie Polls are all about you guys, and the Editors' Picks are our chance to highlight the shows we felt merited special recognition. And of course we have our individual reviews coming up a little later this month.
But sometimes the critically acclaimed shows aren't the ones that stick with you, and we wondered how our staff would vote if the question wasn't "Which drama was the best?" but more along the lines of "Let's say we gave you beans. And you could award a show however many beans you had based on whatever reason you wanted. How would you give away your beans? By the way, in this scenario beans are a good thing."
That was the birth of The Bean Count, an ill-fated attempt by writers to do math.
Even nonsensical games need rules, so here were ours:
1. You get one bean for every 2015 show you've watched in its entirety. (You also earn one bean per currently airing show if you've seen every available episode thus far.) So: If you watched fifty shows, you get fifty beans. Five shows, five beans.
2. You can allot your beans to whatever 2015 shows you choose, whatever your reasoning (or lack thereof) may be. All your beans to one show? Okay. One bean to every show? Okay too.
You'll see from our chart that some people weighted their beans heavily for the few shows they really loved, while others were more inclined to spread their love around. It was fun for us to see the results too, because we didn't discuss our bean allotments with each other, and were curious to see how everyone's beans would stack up. We weren't allowed to collude with each other or give each other beans, and it made every decision feel weighted with significance. Sure, I might feel like giving a show's bean to another show, but what if that show got left off the bean tally entirely? Could I deal with that sense of responsibility?
Suddenly every single bean started feeling extremely precious, and we'd constantly be saying things like, I don't know if I can afford to give this show a bean, but what if it gets zero beans?! Did I really love this show three beans as much as that show? Why didn't I watch another show so I could have one more bean to give? Can I manage to watch a full show in the next three days to earn another bean?
FIRST WORLD PROBLEMS, y'all.
In the end, we think the bean count revealed a lot about each recapper's personal preferences, as well as what stood out for us as a group in 2015. There's a nifty chart where you can see how everyone distributed their beans, and a handy pie chart version as well. Because who doesn't like pie?
Play along! Tell us how many beans you earned this year, and how you'd allot them to the dramas of 2015.
IN CHRONOLOGICAL ORDER: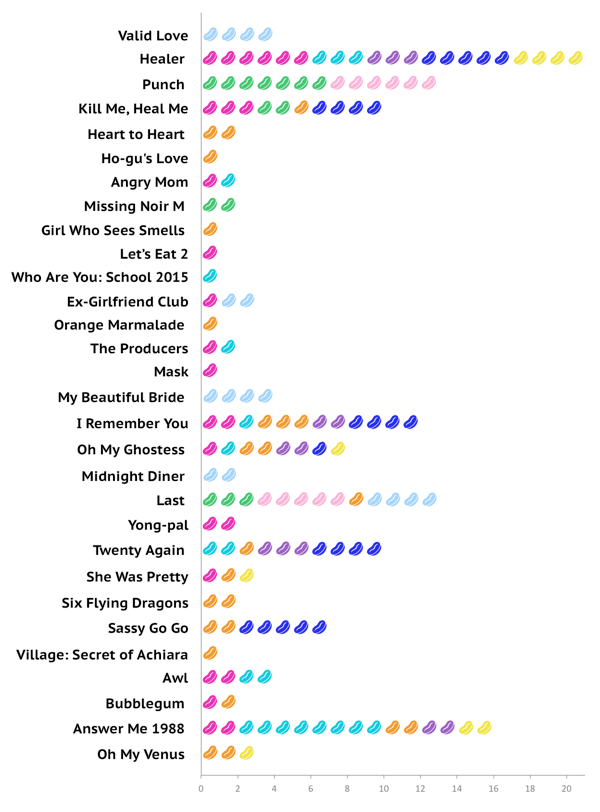 RELATED POSTS
Tags: featured, The Bean Count, year in review, year in review 2015