Running Man: Episode 284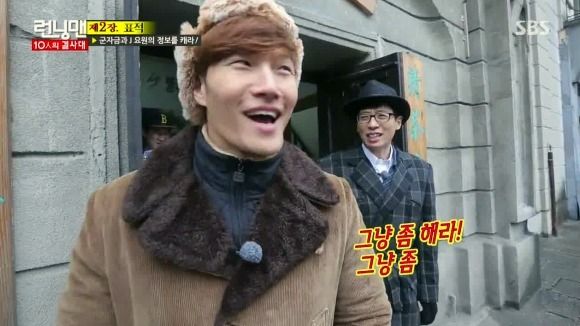 In this second installment of the annual Park Ji-sung special, our cast and guests are dropped into a period drama, working in secret in Shanghai for the independence movement. As they collect funds for the war effort, they'll soon find out that not everyone can be trusted. So it'll be up to them to protect one of their own and figure out who has betrayed them all.
EPISODE 284. Broadcast on January 31, 2016.
We're transported to 1926 Shanghai, where a courier in the independence army faces treacherous obstacles transporting war funds. He fights off imperial officers at every turn and keeps running with the suitcase.
He reaches a dead end and soon finds himself surrounded. He's outnumbered, and the officers beat him with their sticks. Hope looks bleak… and that's when his comrades burst onto the scene. Ohhh yeahhh, blast that Gaksital theme song!
The group escapes into the street, but they're surrounded by even more officers. Though they fight as they might, one by one they're all arrested. We're told that even if the imperial officers have seized this suitcase, there are still five more waiting to be found…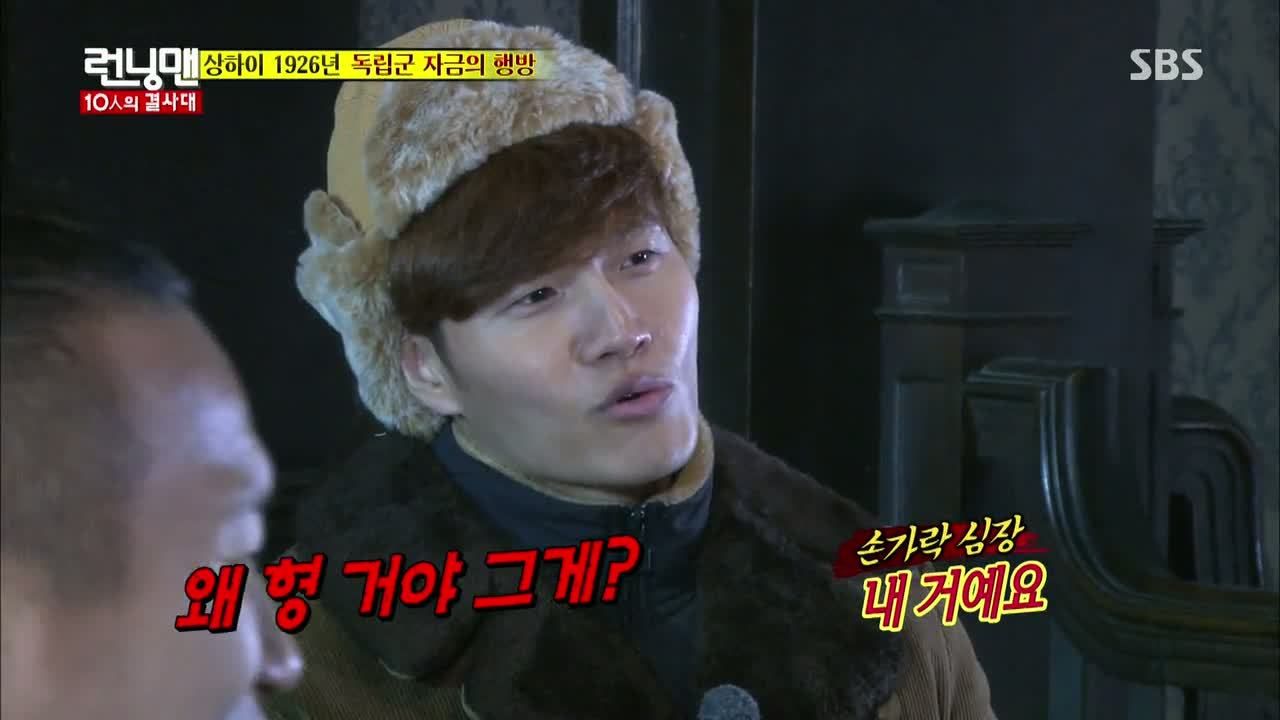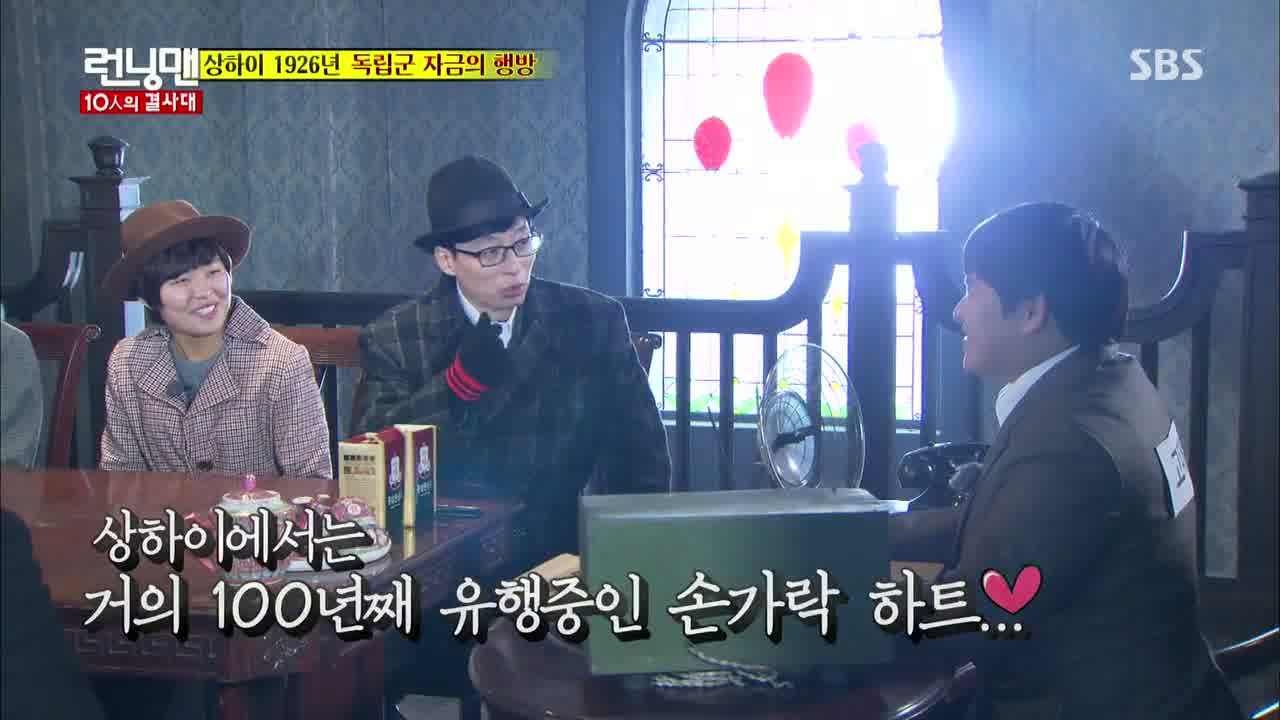 A few months later, we're introduced to ten individuals, including three of our guests from last week: Jung Dae-sae, Ji So-yun, and Park Ji-sung. A secret message informs them that K has been apprehended—it is up to them to collect the other war funds and rescue J.
The crew gathers at the branch office, where Leader Go (aka lovable Maknae FD) breaks down their mission for them: Earn money by playing the games, then buy intel from informants wearing a red scarf, who will return their passphrase of "I love you" with a finger heart. Jae-suk: "But that's my thing!"
Acquiring intel will cost them three won each, and a translation—given to them by those holding a red umbrella—will cost them one won each time. Jae-suk takes issue with spending money to find hidden funds.
Still, the objective is to rescue J and transport him (or her?) to their headquarters in Manchuria, no matter what. That has Jae-suk point out that someone might lose their life for the greater cause, which Jong-kook says that happens all the time with them anyway.
With that, the secret society squad heads out (to the tune of the Prince of Persia) and marvels at the sights and sounds of the crowded Nanjing Road. Jae-suk's VJ Kwon-ryul cracks up when he likens himself to Ha Jung-woo's oh-so-cool character in the movie Assassination.
Meanwhile, Jong-kook and Kwang-soo read a mission scroll with the instructions for Wasabi Dumpling Roulette: eating dumplings in earn, the one who gets the wasabi dumpling is the loser.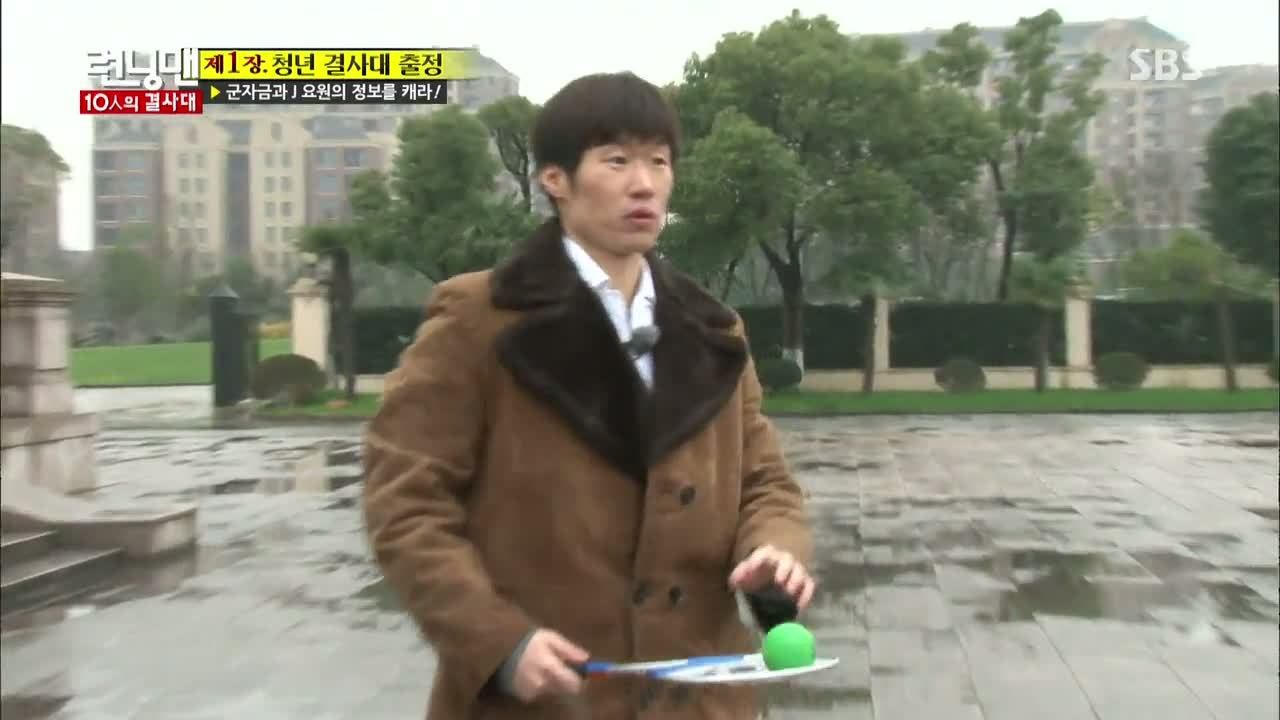 Kwang-soo goes first and he thinks he's okay… until the pungent wasabi hits him soon afterwards. HA. And if you thought that there's no way that could happen to him twice in a row—well, you'd be wrong, because it does. LOL, Kwang-soo.
Captain Park discovers another stall which houses another mission: throw a ball up into the air, spin three times, and catch it with the racquet. So Ji-sung throws, spins… and fails. On his second attempt, the ball falls way behind him, and in his dizzied state, he asks, "Where'd it go?!"
Elsewhere, Haha and Dae-sae are in the middle of a tug of war battle to see who can ring the bell on their side first. As expected, Dae-sae drags Haha towards him and waits a minute before ringing the bell.
Then it's Jae-suk and Suk-jin's turn, and the latter gets close until he's dragged backwards. All of the winners pick up three won each, and Suk-jin accidentally helps Kwang-soo get the right answer at one of the stalls.
Jae-suk, Suk-jin, Haha, and Ji-sung become spectators to a mask-changing performer who changes masks, removes them, and seemingly puts one back on in a blink of an eye. Jae-suk isn't too upset when he's told he can't participate for joining in mid-performance, calling himself the gangster with broad shoulders.
So the three are asked about when the mask with two halves appeared. Ji-sung and Haha both get it right—it turns out Ji-sung was using his noggin' too, having paid attention to the performer's hand gestures and counting the changes.
A little later, both Jong-kook and Ji-sung approach people with red scarves with the passphrase… and receive finger hearts. Both pay for the intel, written in Chinese characters. Ji-sung recognizes the characters "man" in his hint, and happens to run into Suk-jin paying off someone to translate his hint ("small eyes").
Seeing Ji-sung gives Suk-jin pause, but we see that "a man with small eyes" could also apply to several people. Ji-hyo takes a cab around town and she invites Jae-suk to play a game with her.
She assures him that there will be no betrayal here since she's in desperate need of money. They both chase the one date around the table with their extra-long chopsticks. Reminding her that he never promised to lose to her, Jae-suk grabs the date and eats it.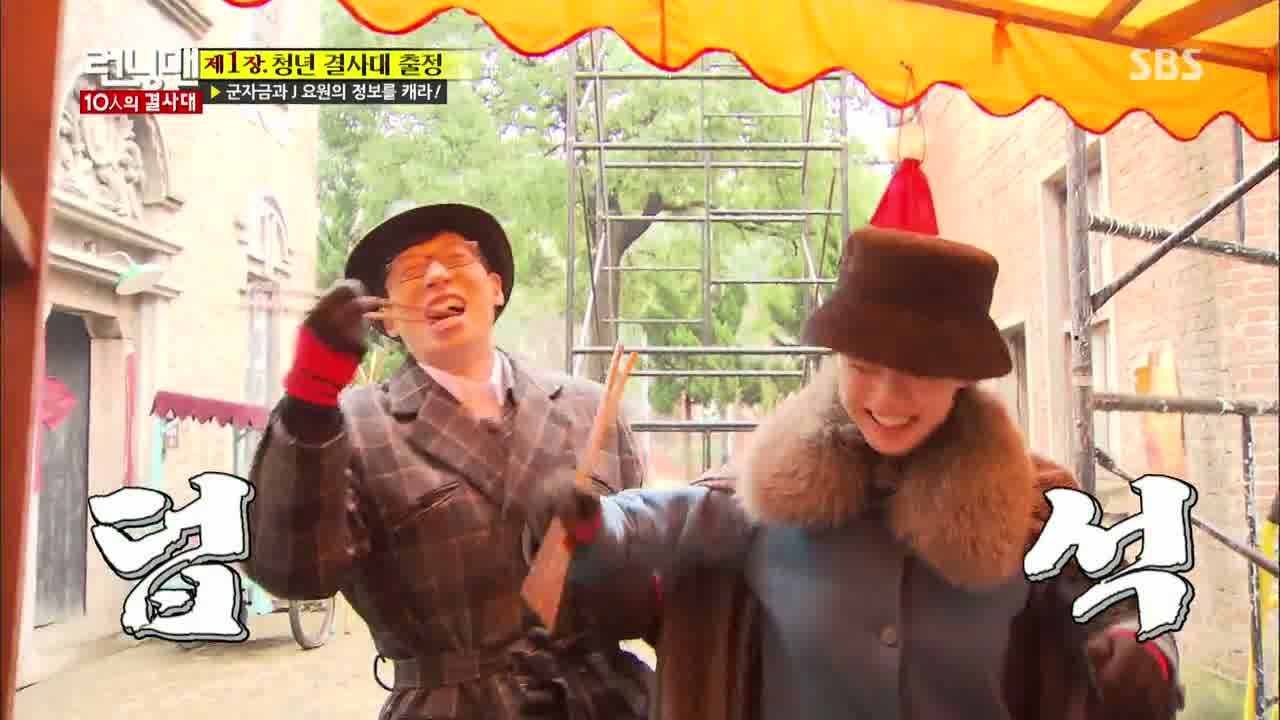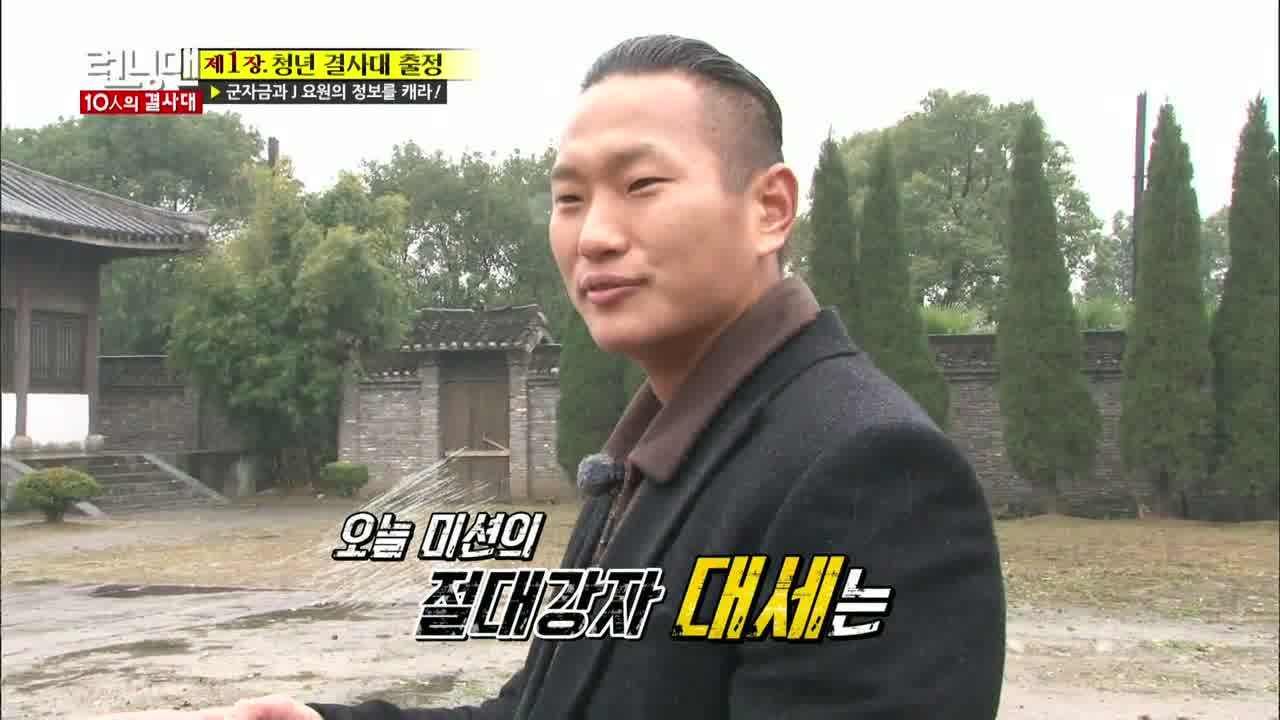 Both Kwang-soo and Jae-suk approach an informant at the same time. Jae-suk is a hair ahead of him, and he too learns of the "small eyes" hint. He needs more clues, which is a perfect segue to Dae-sae, who is apparently working his butt of getting coins and gaining more hints.
Cut to: Gary, who can't get a single thing right. He calls out to So-yun to play the Wasabi Dumpling Roulette with him, and Imma be honest—if he gets that wasabi dumpling, I'm going to laugh.
They both successfully eat two each, and now it's a 50:50 chance. So-yun gets the wasabi one and Gary picks up his first set of coins. The other members quickly try to rack up those coins to get even more intel, and soon they're called in for an emergency meeting.
Just then, imperial officers appear and they all try to act natural. It's a public announcement: Shanghai citizens must report if they see any independence army members. Anyone who does not have proper identification will be assumed to be a rebel and arrested.
Leader Go explains that the enemy must've caught on to their activities and will perform random inspections. Thankfully, there's a place where the secret squad members can get forged identification documents. Jae-suk: "You're making us spend money again!"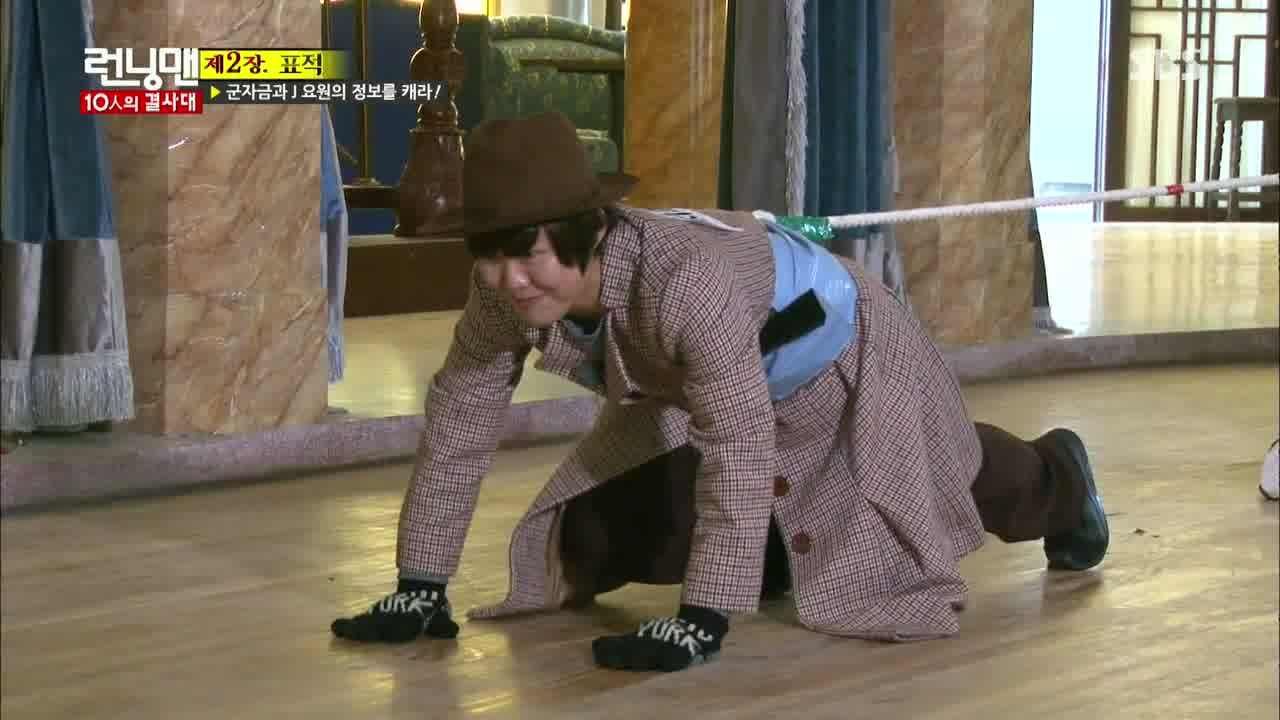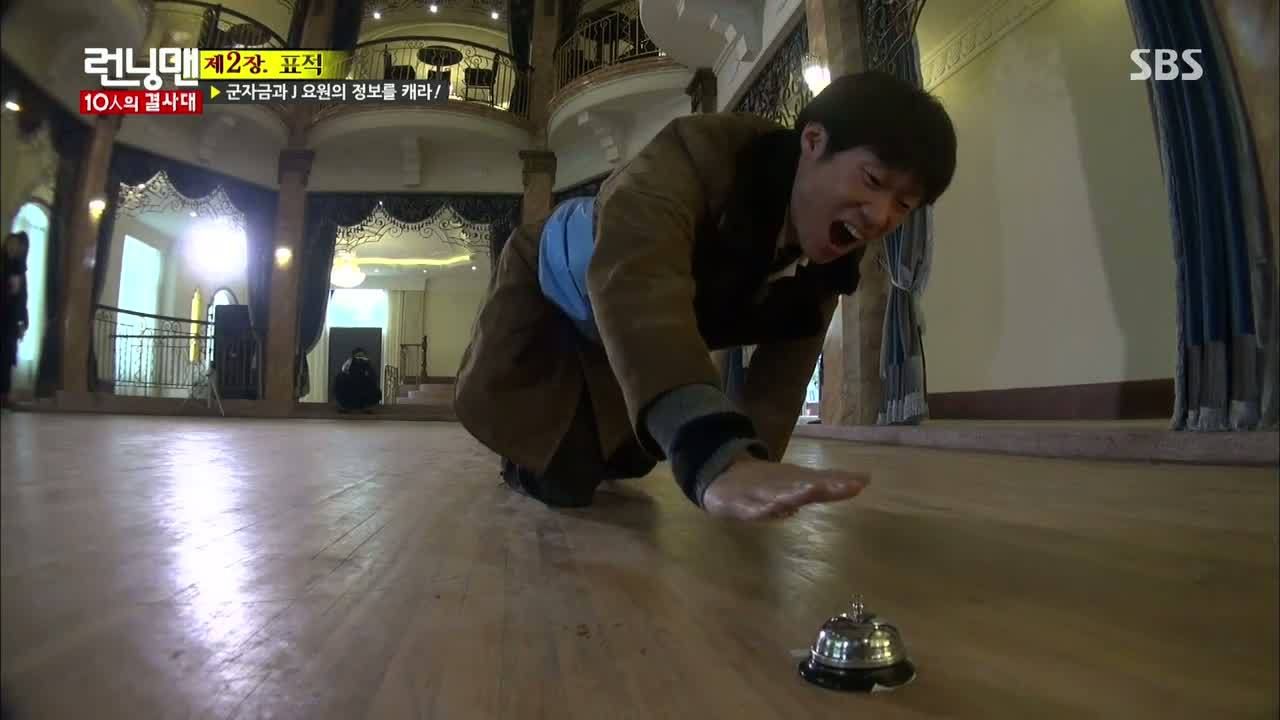 Doing so will cost them a hefty five won, and if that weren't bad enough, there's a moving jail roaming the streets. Haha and Dae-sae abandon their plan to act natural when a group of officers approach, and So-hyun plays that tug of war game against Ji-sung.
To think, two professional-level soccer players on all fours to try and ring a bell on opposite sides. Ji-sung acknowledges that So-yun is surprisingly strong, so it's a tough win for him. He gives her a won for her efforts.
So-yun adorably tries her hand at pickpocketing, attempting to swipe Jae-suk's money when he tries to steal Ji-hyo's. "I learned it from you," she says.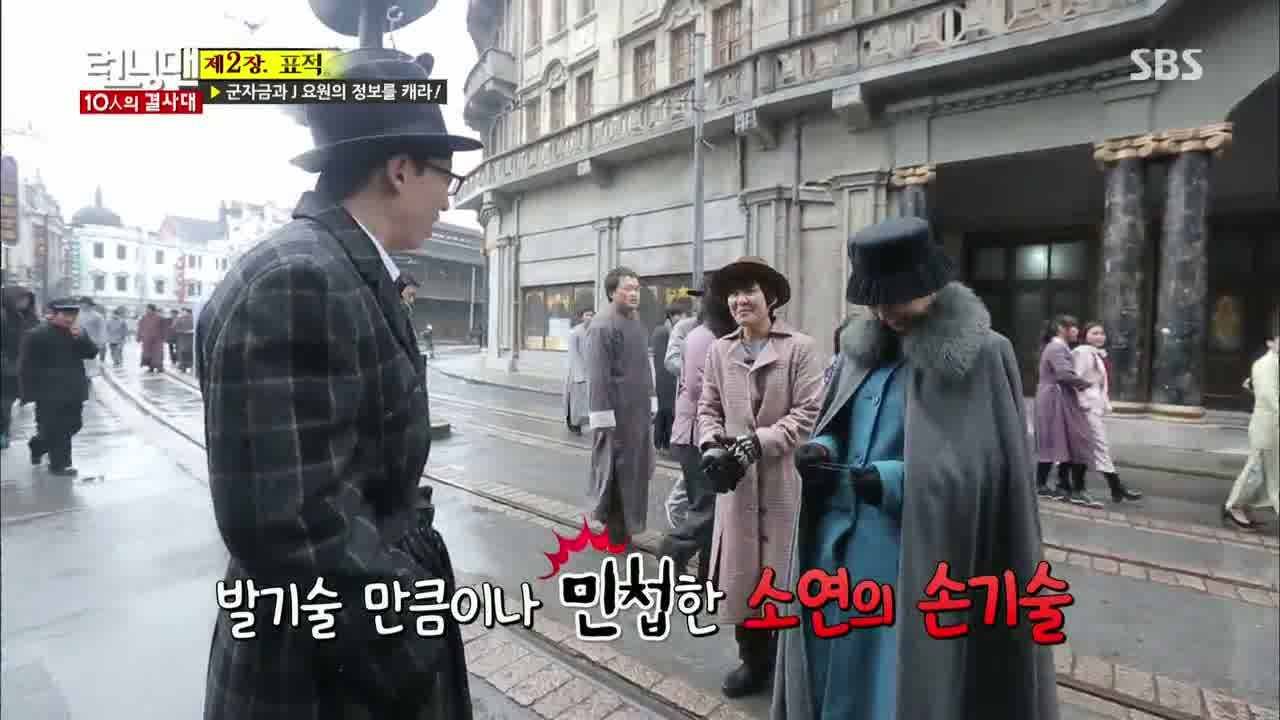 Gary runs inside the office to buy his identification, and so does Jong-kook. Jae-suk makes fun of his name (Jin Zhong Guo), though: "Why is it jjin (steamed) Jong Kook? Sahl-meun (boiled) is so much better!" Jong-kook gets some petty revenge a few seconds later with Jae-suk's name (Liu Zai Xi): "Yoo Ja-shik (child)?"
Jae-suk can barely put up with Jong-kook today either—as soon as Jong-kook says he doesn't know what to do now, Jae-suk is all, "Just play along! Run around! What is this show all about?!"
Still, Jong-kook can't shake off the feeling that something is off. Once he finds out that Kwang-soo doesn't have any identification on him, he deliberately tries to grab the officers' attention. When Jong-kook won't quiet down, Kwang-soo swoops in as if to cover Jong-kook's mouth with his.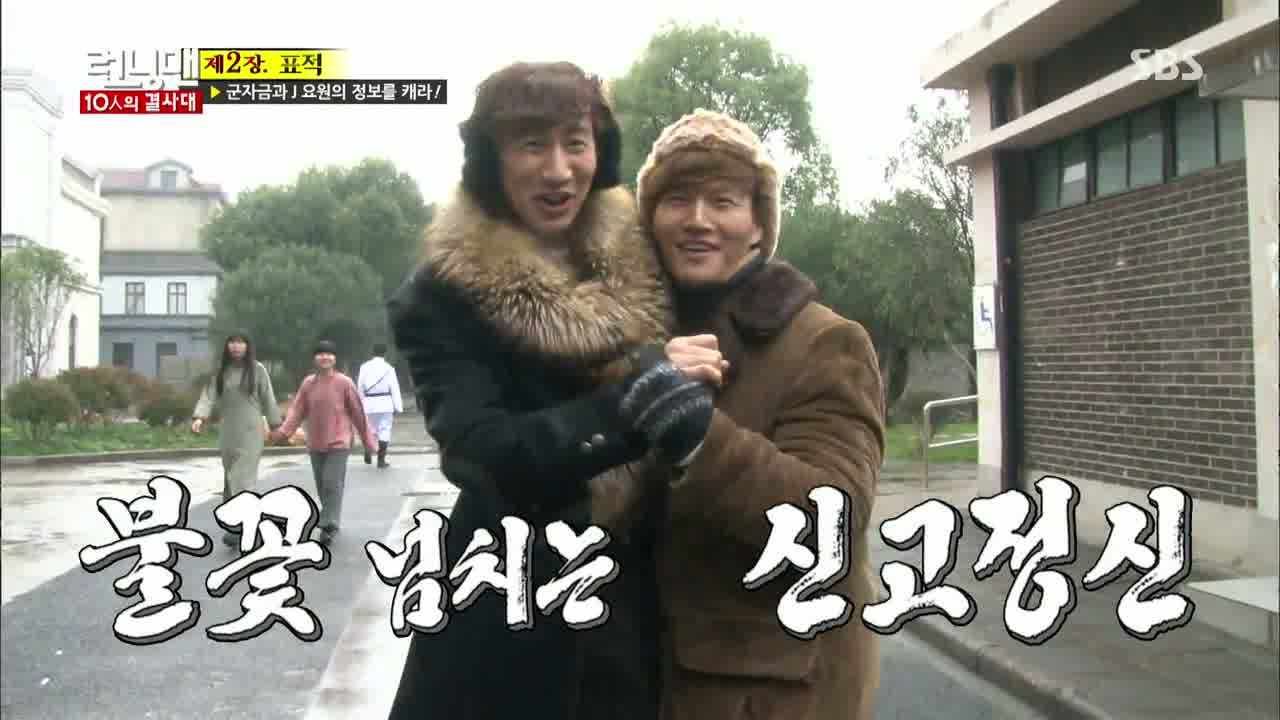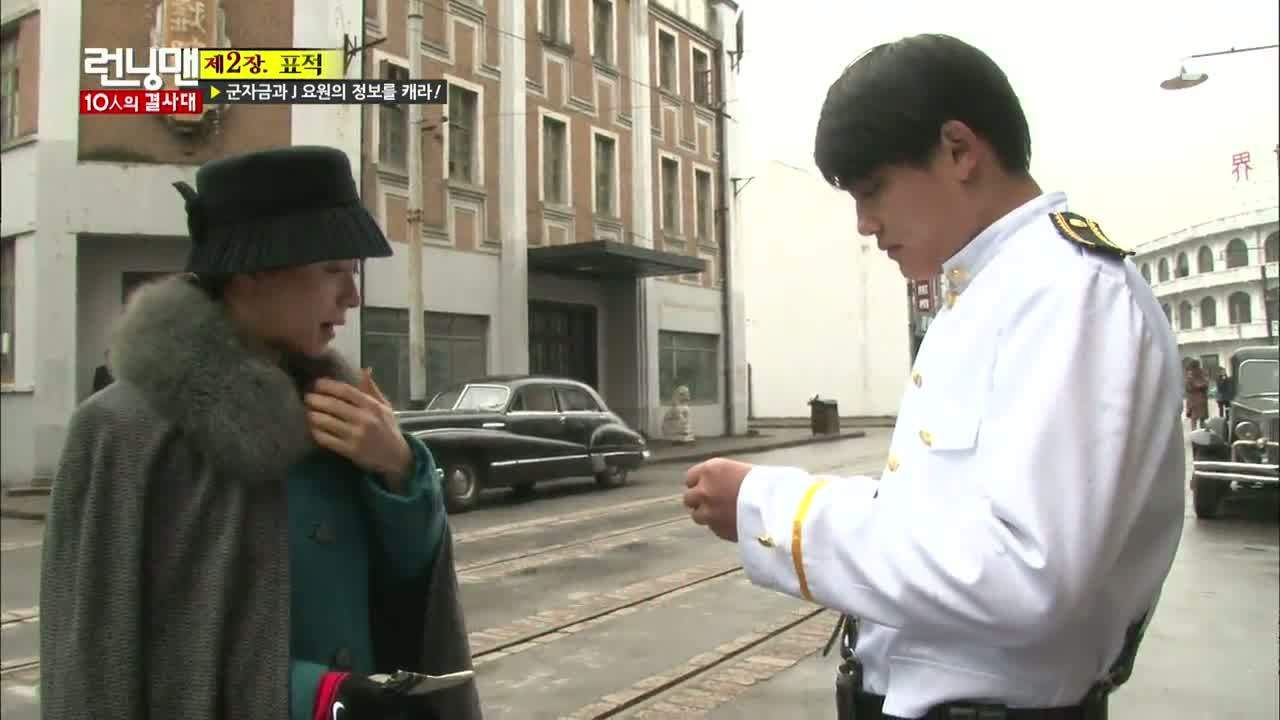 It's a close call for Ji-hyo, who thankfully has identification to show an imperial officer. She also adds that she's seeing someone on Mondays. Monday Couple ftw!
Meanwhile at the branch office, Leader Go receives a message that there is a spy among the ten secret society members. That spy's name contains "J" and "S", which could be one of at least five possibilities. Leader Go crumples up the note in anger.
Leader Go pulls Jae-suk and Suk-jin aside to inform them about the spy, and the latter immediately confronts Ji-sung about it. All those with "J" and "S" in their names stake their innocence, but what's definite is that neither Gary nor Haha is a spy.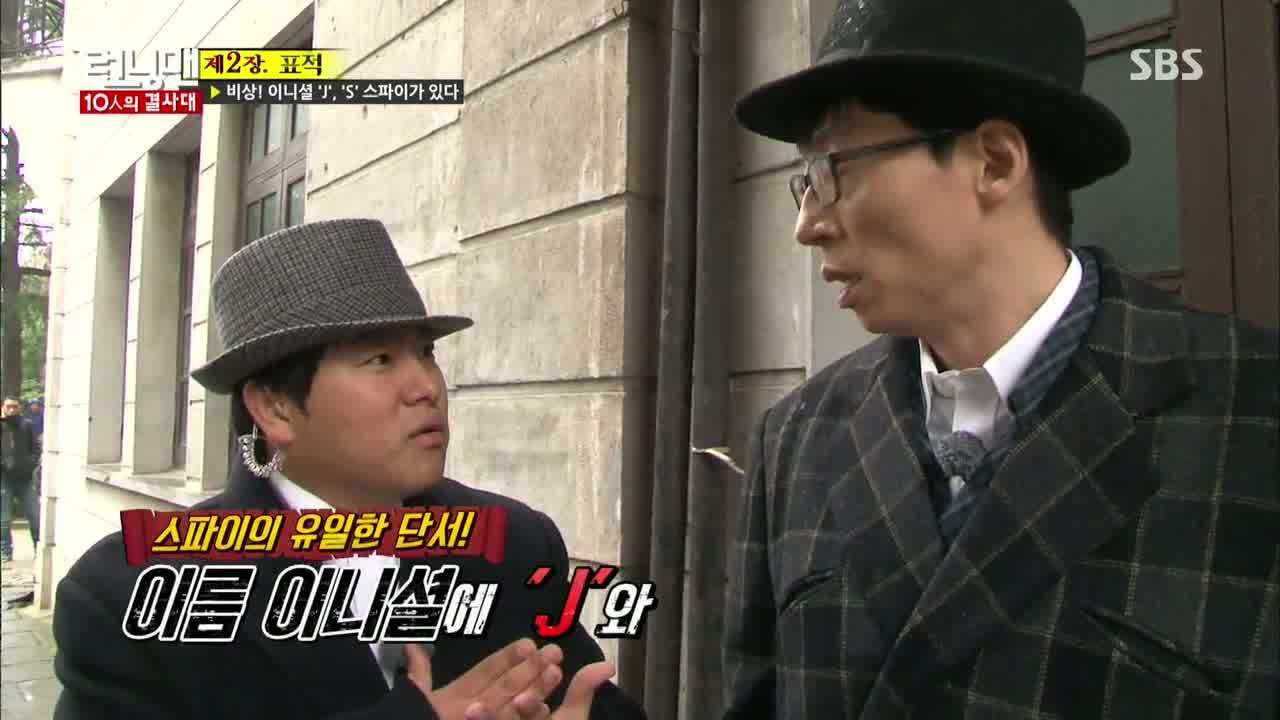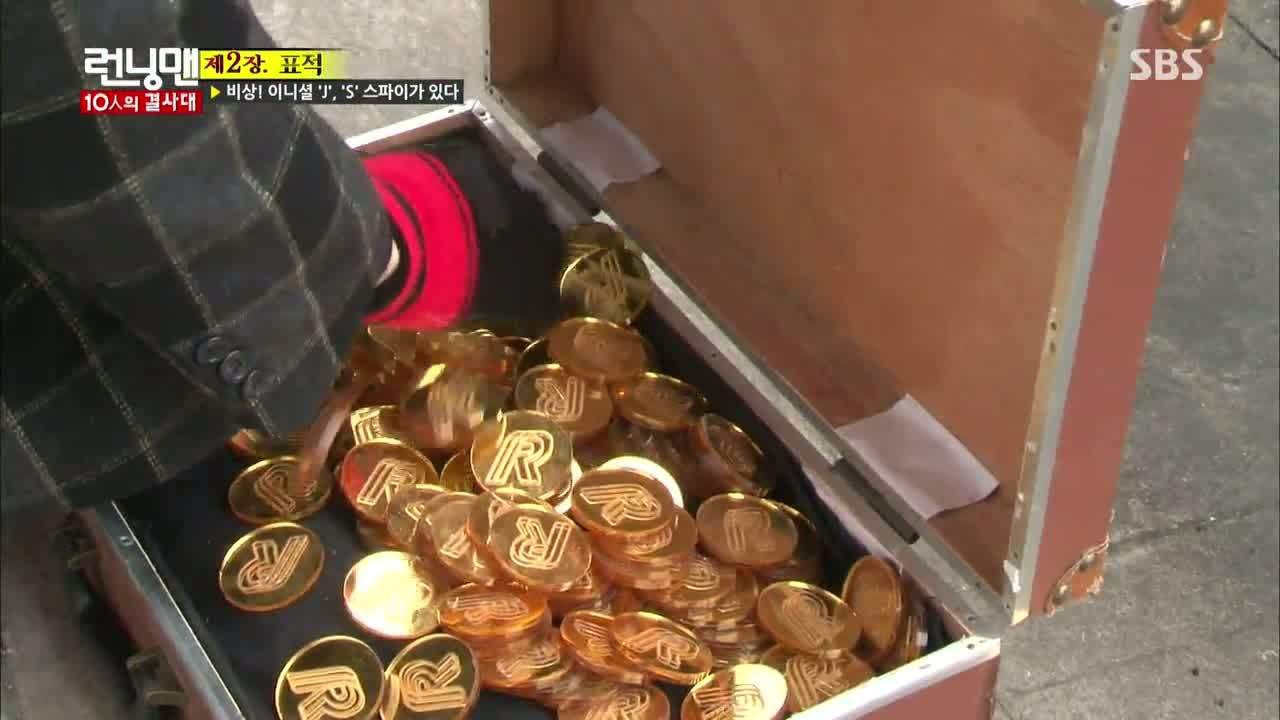 Neither are Jong-kook and Kwang-soo by that count, and when Suk-jin suspects Dae-sae, Jong-kook sets him straight: Dae-sae is likely to be the J they need to save whereas Ji-sung is probably the spy.
While that's going on, Jae-suk receives a valuable hint: a map. He has another clue as well, and he uses it to track down where the suitcase is hidden. Indeed, that's where the case is located and it's full of coins.
Ji-sung finds one with the help of a map too, but what he doesn't understand is why the spy hasn't done anything to intervene yet. Whoever it is, they should've eliminated someone by now. Caption: Could it be that they are waiting until all five suitcases are found?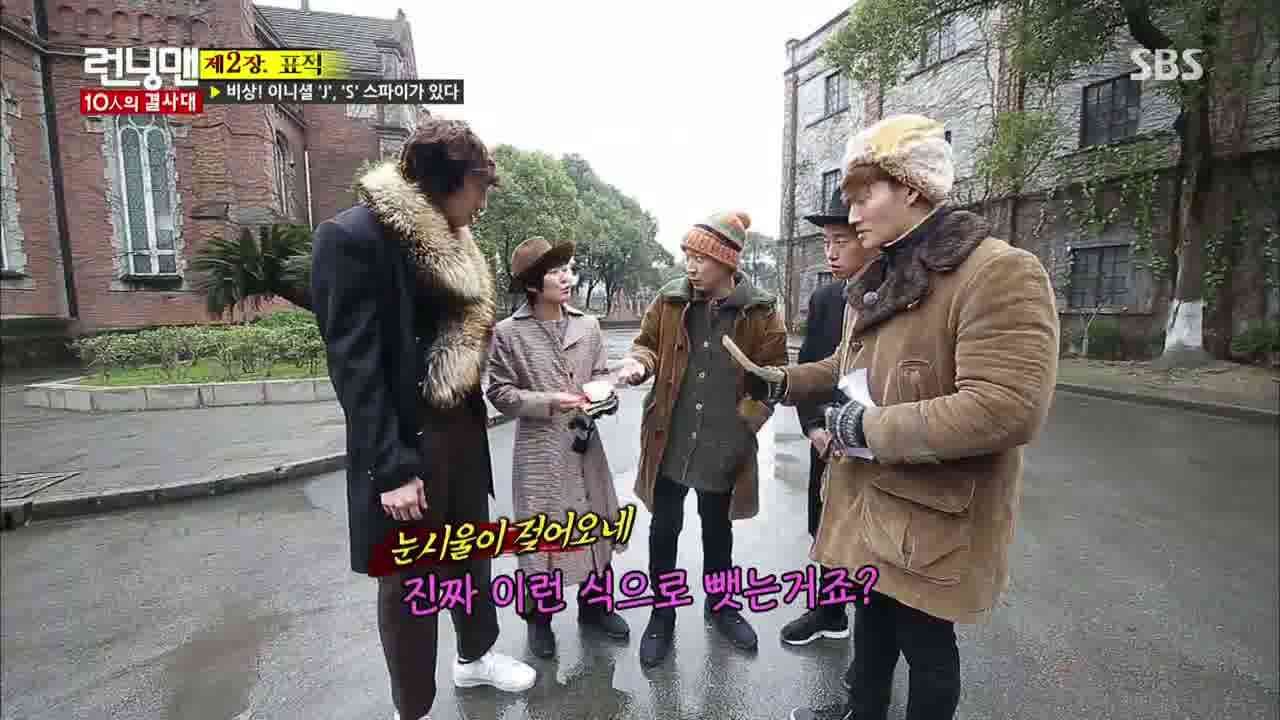 Haha pulls Kwang-soo aside to point out that the definite Not Js and Not Spies need to stick together. The message Gary has found reads that they must collect all the money and meet at the bridge to cross over to Manchuria at the appointed time.
When Haha, Kwang-soo, Gary, and Jong-kook try to cross over a bridge at the edge of town, they're immediately turned away. Deciding that they need more intel, they squeeze every last coin from So-yun's pocket to buy more intel—if she isn't a spy, she'll help them out.
Their hint reveals that J's wife has worked at a broadcasting station before, which dwindles the possibility down to either Ji-sung or Jae-suk. Suk-jin's wife was once a coordi as well, Haha adds.
Elsewhere, Ji-sung is still trying to figure out who the spy is and what the objective might be: Could the spy be after J? Suk-jin gets suspicious when he sees Jae-suk with a suitcase in hand. Suk-jin believes that Ji-sung and Dae-sae are either the spy or J, and is it just me or is Jae-suk looking a little too agreeable?
Suk-jin says they should just get rid of Jong-kook, a task which Jae-suk points out, would only invite suspicion towards them. Suk-jin says they can just act like spies, and Jae-suk is totally onboard with the idea.
Their first objective will be to target the definite Not Spies, and when they approach Jong-kook, the latter greets Jae-suk as J. Jae-suk gets offended and afraid when Jong-kook stands beside him to compare how small each other's eyes are, and he's flabbergasted when everyone believes him to be J.
When Dae-sae joins them, Jong-kook doesn't consider him a spy because he's so open about his clues. The next clue states that J is proficient running on grass. That makes them think it might be a professional soccer player. Ji-sung?
But then there's Grasshopper aka Jae-suk and the Impala (Suk-jin) can also run on grass. Jae-suk and Suk-jin slip away, having decided that they must protect themselves. Anything that he does rouses suspicion with Jong-kook, so it's always a lose-lose situation with that guy.
The mat hyungs decide to start the hunt, starting with the Giraffe, Kwang-soo. It's a pretty easy kill, and Kwang-soo puts up a fight once he hears that neither hyung were spies. The hyungs move on to Dae-sae and try to talk him up to find an opportune moment.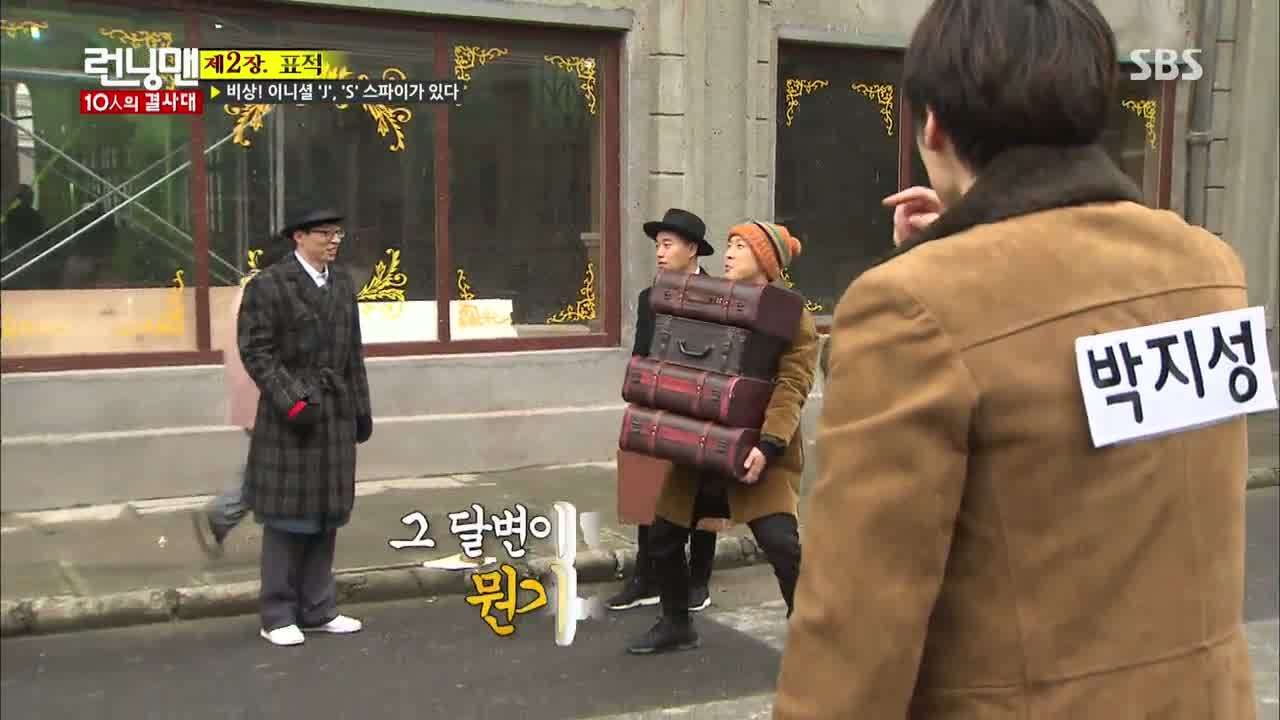 Suk-jin just goes for it, and he and Jae-suk immediately flee the scene. We see that Jong-kook and So-yun have found the last two suitcases, and Ji-sung insists that he's not a spy.
His proclamation does little to put everyone else's minds at ease, and then Haha calls a time-out. He has a proposition: he and Gary will care for the five suitcases since neither of them are J or the spy.
When Jae-suk tells them to later inform them which car that money will be in, Ji-sung immediately gets suspicious. "Why would you ask that?"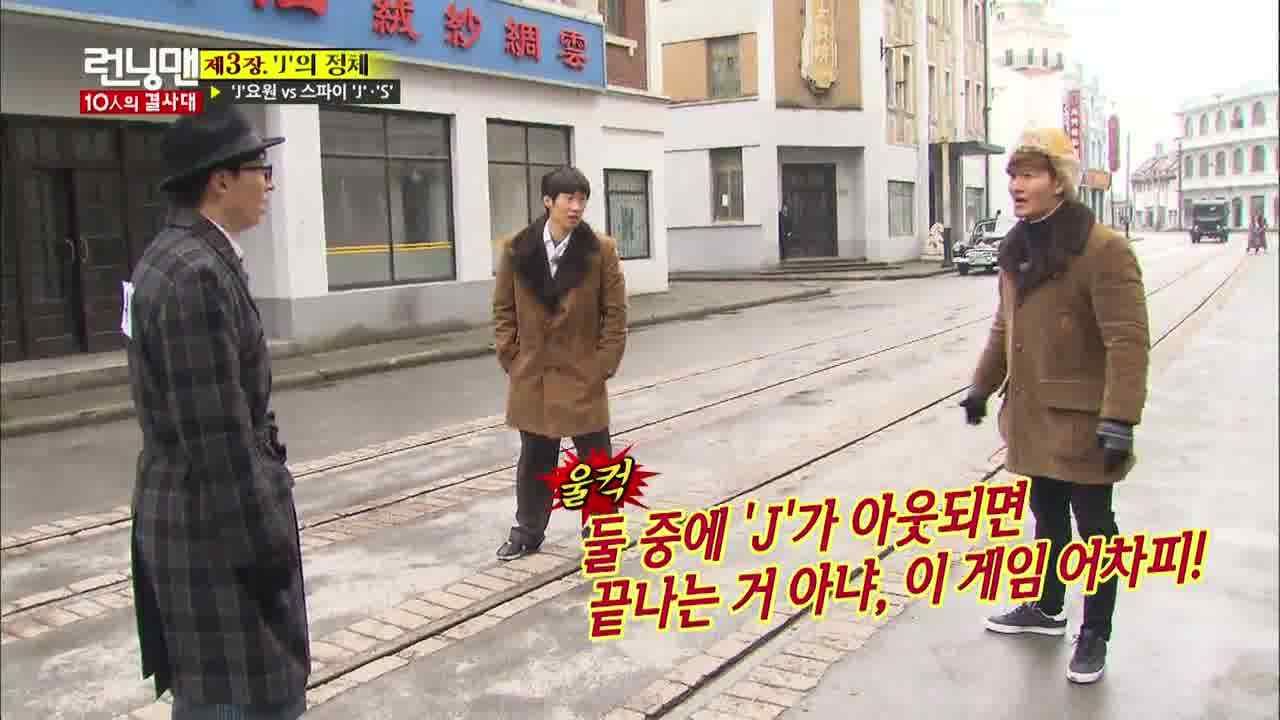 As Jong-kook and his boys walk away with the suitcases, they're still wary about Ji-sung. Speaking of whom, Ji-sung doesn't get why people are suspecting him, telling Ji-hyo that he hasn't even seen Dae-sae or Kwang-soo all day.
Now that he's alone, Jae-suk says that he must finish them all. Hmm.
A little later, Suk-jin whispers that he believes Jae-suk to be J. When Ji-sung approaches Jong-kook, he's told about the theory that he's either J or the spy. No one knows who J is and they're all out of clues now, so when Jae-suk joins the party, Jong-kook suggests that they put an end to this: if the spy eliminates J, that's the end of the game anyway.
And then right on cue, Suk-jin appears out of seemingly nowhere. But as soon as suspicion falls on him, Suk-jin makes a run for it. As So-yun runs after him, Ji-sung remarks that he feels bad for Suk-jin.
Jong-kook prattles on about why he doesn't suspect Jae-suk… but that's when Jae-suk pounces on him. In the end, Jong-kook is eliminated, because Jae-suk was the spy all along.
He narrates that a spy must always make sure that he is seen—that way no one will suspect him. His plan was to eliminate all the Not Spies, and then pretended that Suk-jin was a genius when he came up with the same suggestion.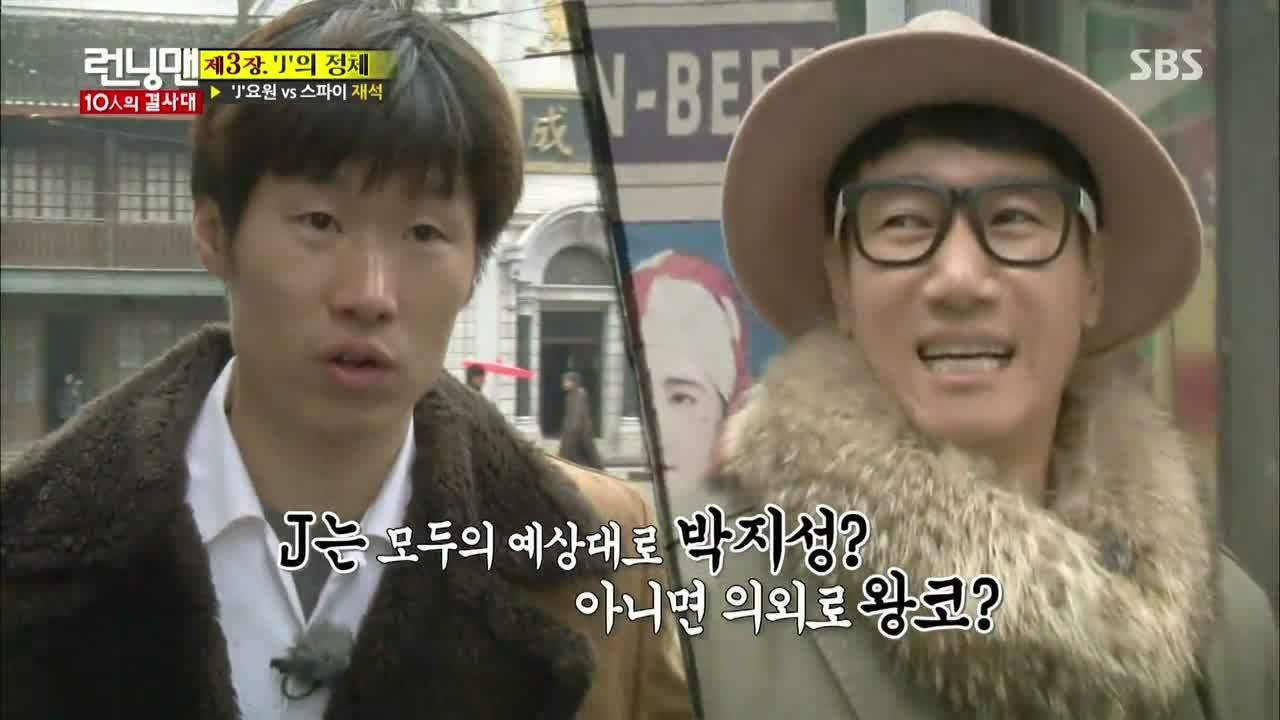 So that's how Jae-suk got a free accomplice, and now it's just a matter of figuring out who J is. Is it Ji-sung or Suk-jin? Suk-jin had been operating under the belief that he'd been helping J, and now he's under fire for possibly being the spy.
So-yun is convinced that Suk-jin is the spy since he tries to rip off her nametag. Caption: I may not be a spy, but I do enjoy the nametag hunt. When Jae-suk and Ji-sung join them, they all acknowledge that any one of them could be the spy.
Jae-suk suggests that they all go their separate ways and figures he can't eliminate Suk-jin lest people suspect him. He does run into Ji-hyo, who asks if he's here to rip off her nametag. Did he eliminate Kwang-soo and the other too?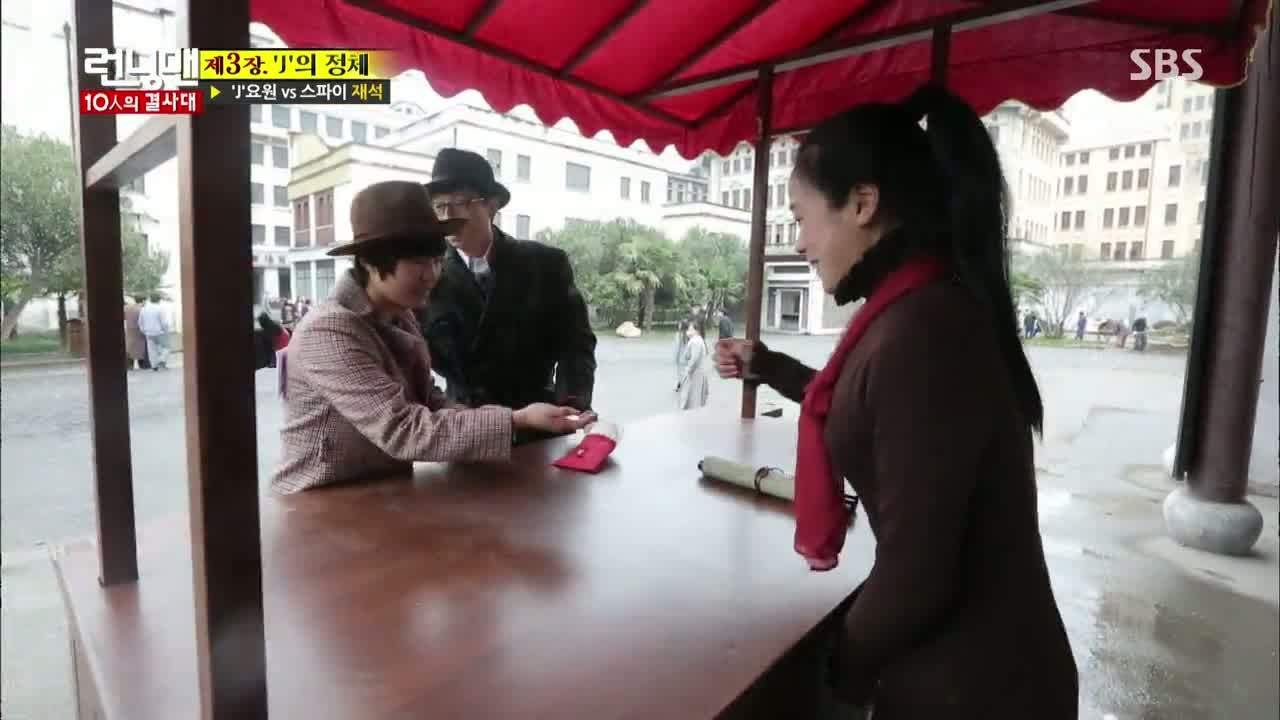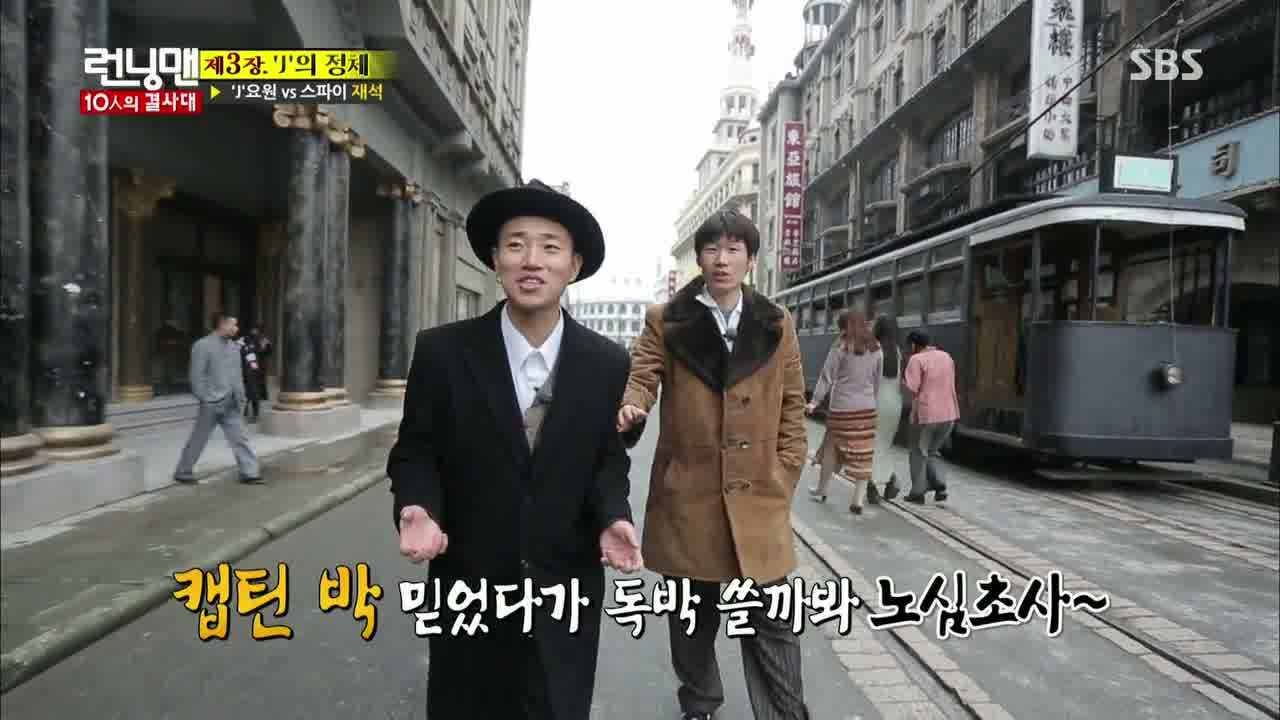 He doesn't deny it, and that's when Suk-jin appears to help tear off Ji-hyo's nametag. Jae-suk moves on to So-yun and readily admits to being a spy, much to her surprise. He dares her to try and rip off his nametag then—she'll just have to take responsibility if he turns out to be J.
They walk towards a stall together, and when So-yun points out that he gave the informant too much, Jae-suk reaches for her nametag and eliminates her.
Meanwhile, Gary and Ji-sung try to suss out this J and spy business. Gary doesn't know what to think, especially when everyone is insisting that they're innocent. All of a sudden, Suk-jin charges at him to eliminate Gary, later explaining that he thought he might be in danger.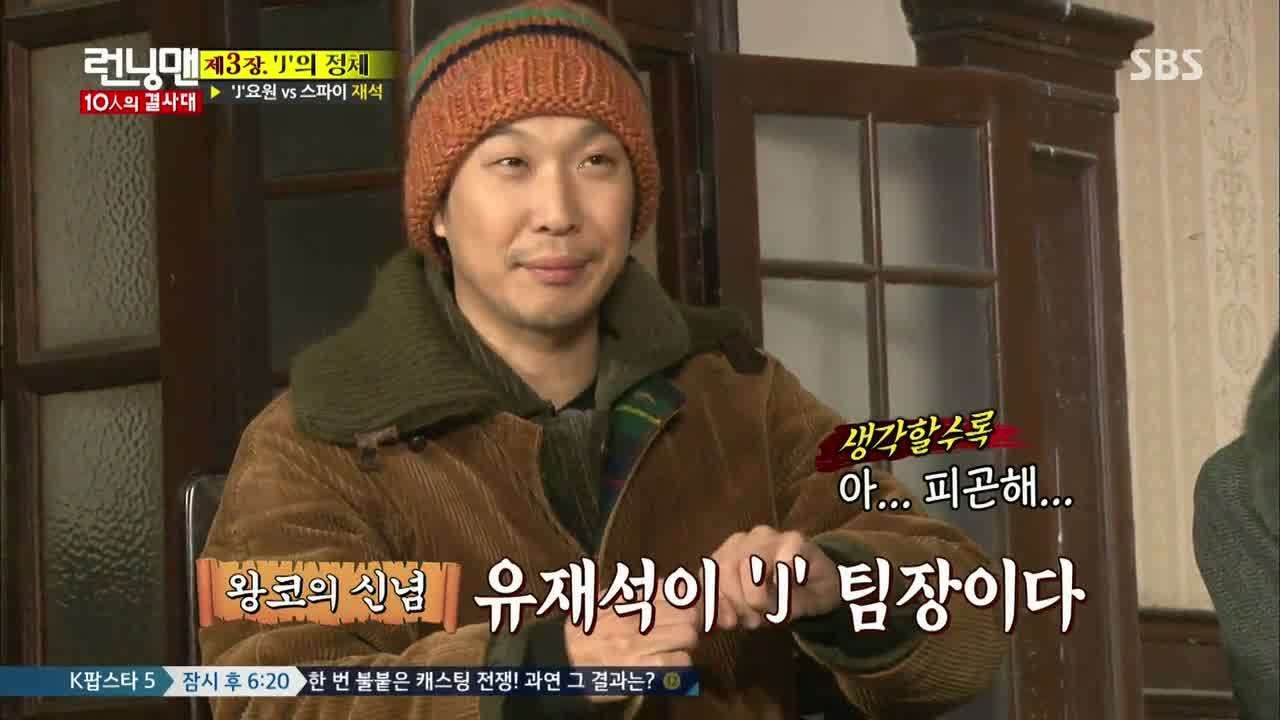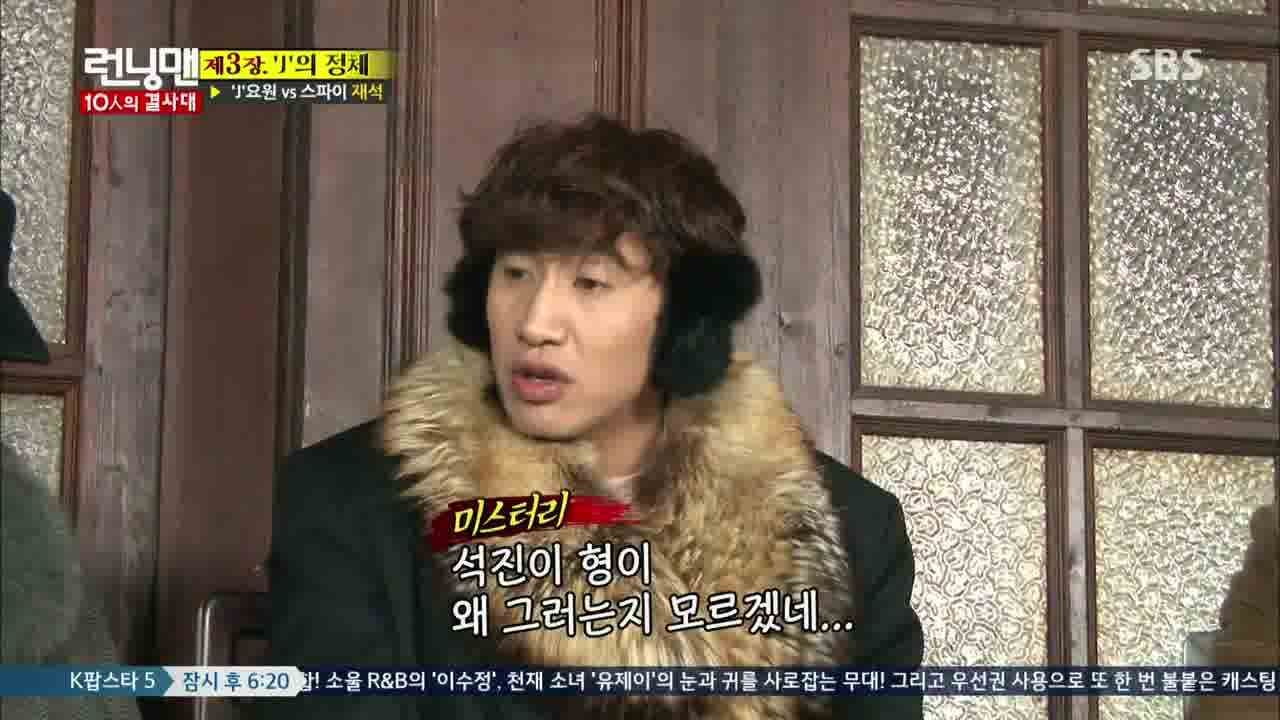 Haha comes running at that moment, having seen everything. Neither Haha nor Gary believe that Suk-jin would do such a thing if he were truly innocent, and that's how Suk-jin becomes their next target. But then off comes Haha's nametag and Suk-jin swears he isn't the spy.
Over in jail, the eliminated agree that Jae-suk's definitely the spy, but none of them can understand why Suk-jin is helping him. They hope that Suk-jin really is a spy because he'd only end up looking foolish if he weren't.
Ji-sung backs away when he realizes that Jae-suk and Suk-jin have an alliance. He asks why Suk-jin eliminated three people, to which Suk-jin replies that he felt like he was being targeted. Ji-sung makes it clear that he didn't tear off any nametags, but he did see Suk-jin target a few people.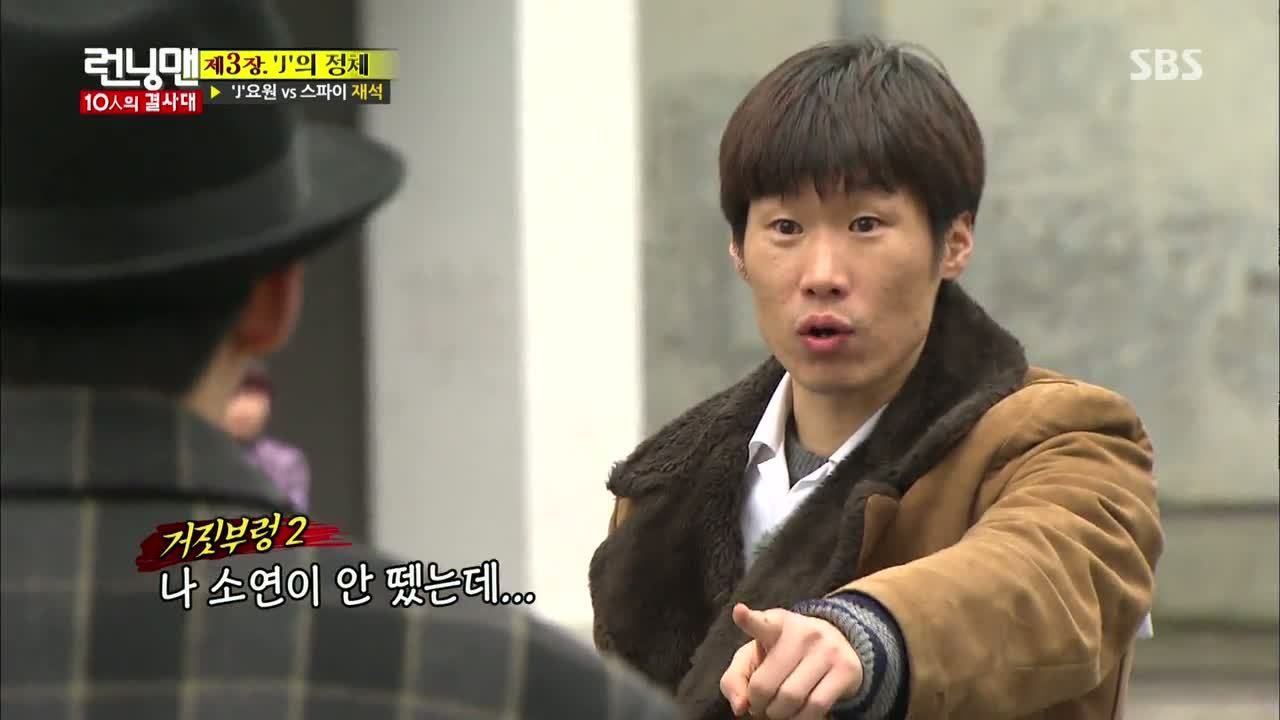 Jae-suk gets on that train, citing that he saw Suk-jin eliminate Dae-sae. Feeling betrayed, Suk-jin asks, "Are you really going to be like this?" And when Suk-jin returns the favor in kind by saying that Jae-suk attacked Kwang-soo, Ji-sung looks absolutely stunned.
Ji-sung doesn't buy the "I was simply trying to protect myself" excuse, noting that J has no reason to tear off any nametags. Jae-suk says that helping out a spy is far better than sitting in jail doing nothing all day, but he quickly recovers from that slip of the tongue by pointing the finger at Ji-sung.
Suk-jin honestly says he wants to rip off Ji-sung's nametag and run across the bridge with Jae-suk, whom he thinks is J. But as soon as Jae-suk asks if they should eliminate Suk-jin, the latter immediately moseys over to Ji-sung.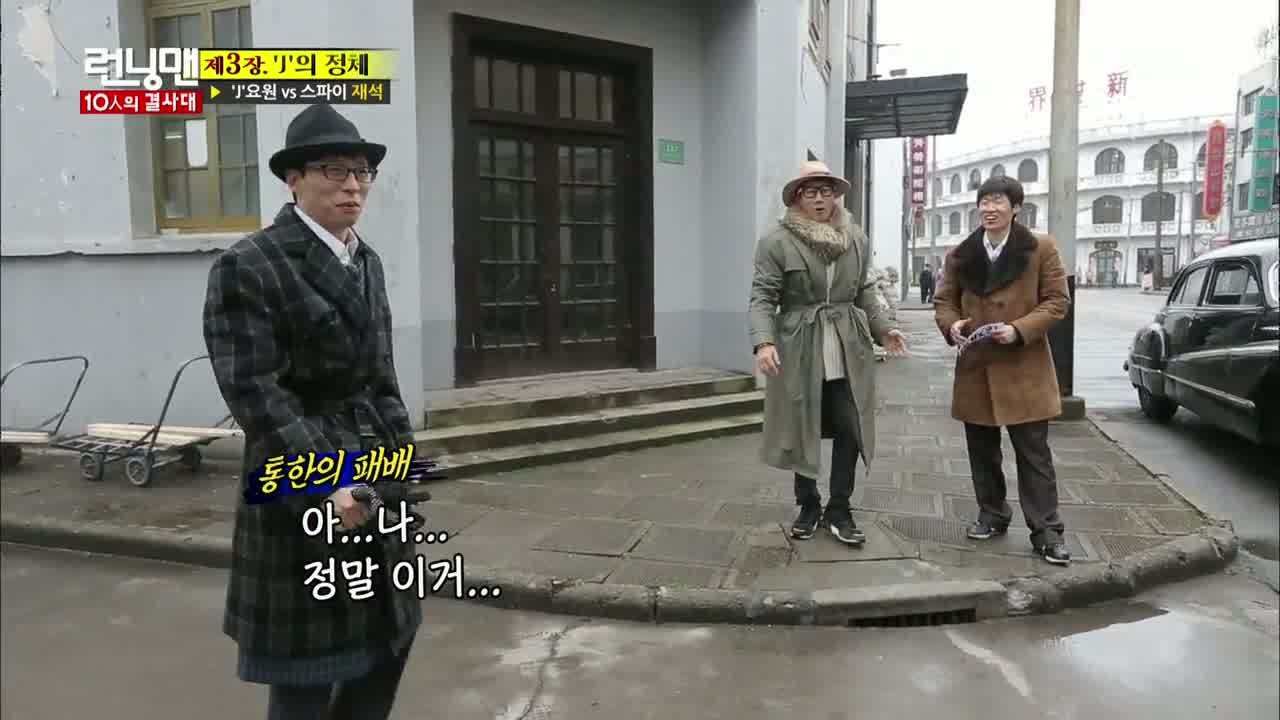 Suk-jin states that Ji-sung can't act, but Jae-suk's a natural. So when Suk-jin asks him directly whether he eliminated his fellow squad members, Jae-suk owns up to it. That's enough for Suk-jin and Ji-sung to attack him… and find out that he's the spy.
Jae-suk imparts some final words that he hopes the secret society squad will be successful in achieving Korea's independence. Now we learn who J is: it's none other than Ji-sung. Suk-jin apologizes for the prolonged suspicion, then he and Ji-sung climb into a car with the war funds.
Everyone gathers together again for the closing and agree that they'll always start with eliminating Suk-jin, the Race Starter, in the future. I think it's safe to say that we can all hope that Captain Park will come back soon—there will always be a spot here waiting for you.
RELATED POSTS
Tags: featured, Haha, Ji Suk-jin, Kang Gary, Kim Jong-kook, Lee Kwang-soo, Running Man, Song Ji-hyo, Yoo Jae-suk