Come Back, Ajusshi: Episode 8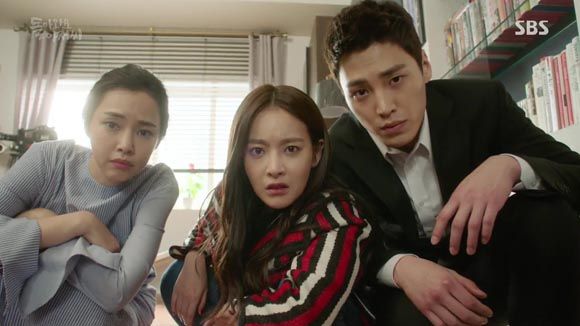 I'm back for one more episode! We've got the recaps and episodes on schedule now, which was worth the effort now that we can be more current with the airing schedule.
One constant lesson we've seen in this show is that even when you're given a supernatural boost and a new body and an extra chance, things don't necessarily go the way you planned, mostly because our ajusshis are human and limited in their understanding and perspective. I like that about them, because while it seemed so simple to come back with a new identity and magically fix things without consequence, the reality turns out to be a lot more complicated. They still have an uphill battle in figuring out how to solve those unsettled issues they left behind—or heck, identifying what those issues even are in the first place.
SONG OF THE DAY
Sohn Ho-young – "Moon Light" from the Come Back, Ajusshi OST [ Download ]
Audio clip: Adobe Flash Player (version 9 or above) is required to play this audio clip. Download the latest version here. You also need to have JavaScript enabled in your browser.

EPISODE 8 RECAP
Hae-joon shows the executives the video of Young-soo's death, and to his surprise, Da-hye is angry. He's taken off-guard when she asks if this is any better than if her husband committed suicide.
Hong-nan, meanwhile, posts Yoo Hyuk's recorded confession online, prompting people to wonder who masterminded the scandal to make Yi-yeon look like a cheater. The obvious suspect is her ex-husband, and he's furious at the news. He listens to the confession posted online, in which Yoo Hyuk readily admits to being hired to act like Yi-yeon's boyfriend. Jae-gook assumes this is the work of Yi-yeon working with Hae-joon.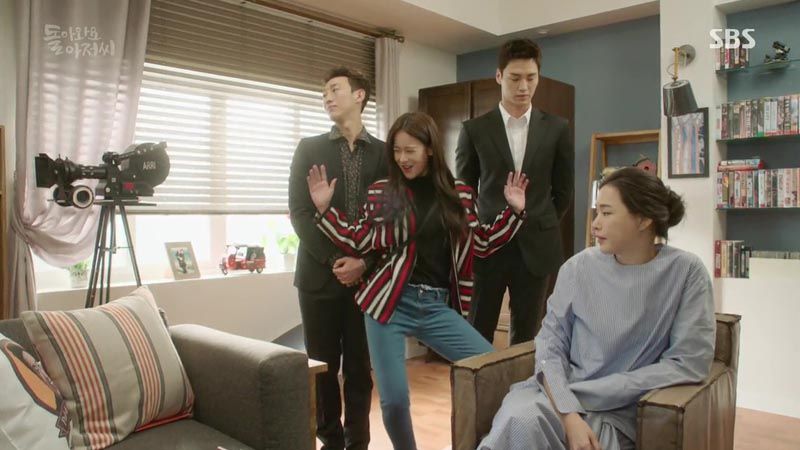 Now they fill in Yi-yeon on the sting, and Hong-nan relives their action-movie efforts with gusto, punctuating her enthusiasm with a set of pelvic thrusts. (She makes Seung-jae do one, too, which is adorable.) Yi-yeon sighs that their efforts were unnecessary and unasked-for, although they notice that she spent the night gorging on snacks and drinks. Comfort-eating?
When she asks what happened to Yoo Hyuk, the three others look at each other in alarm, suddenly remembering. He's been stuffed into a piece of luggage and is a pathetic quivering mess when they let him out. They set a pot of ramyun in front of him, which he alternately tries to eat and then is shamed into not eating; Yi-yeon asks incredulously if he dares to eat in front of her, but Hong-nan supposes they can't leave him to starve.
When Seung-jae gets a call from boss Suk-chul, Je-gil comments that it's time he chose sides. Hong-nan just asks if he'll be okay, then teases him about being so worried about her that he followed her last night. She delivers a few playful (but powerful) whacks to his body, then notices when he seems to be in real pain, feeling him up all over (heh). Insisting on taking a look, she sits him down and pulls off his shirt (HEH), while he sits there awkwardly as she applies ointment on his injuries.
Hong-nan gives him some advice on how to deal with Suk-chul, even telling him to sell her out as Gi-tak's sister if that's what he needs to do. "No matter what happens, you have to stay alive," she says.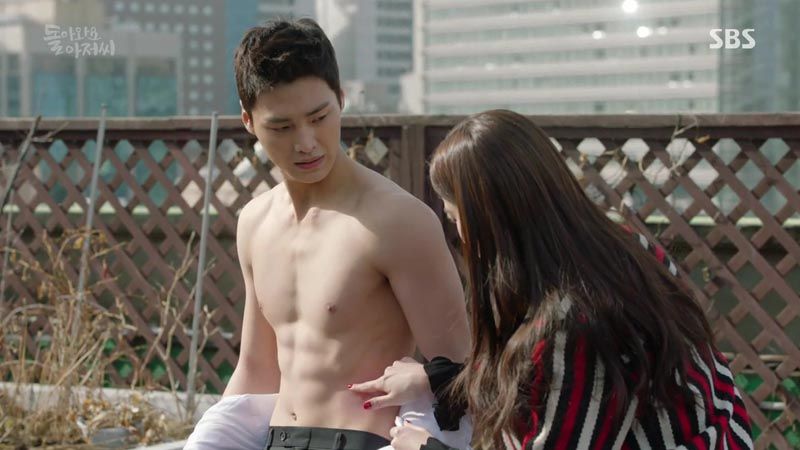 Hong-nan and Hae-joon have lunch and discuss the outcomes of their respective missions, which drew less praise than they were expecting: Da-hye wasn't overcome with happiness, and Yi-yeon didn't cry in gratitude. They drink and sigh, and Hong-nan says that becoming a woman didn't help her understand what a woman's heart is like. Hae-joon wishes he could know that too. So do we, my friend.
Hae-joon drops by his family's home just as they're setting out the altar for Young-soo's 49th-day memorial. Hanna wonders if her father made it to heaven safely, having been told that Day 49 is when a dead soul leaves earth. Young-soo thinks sadly, "Daddy's right here, next to you."
Suk-chul drops by to have a word with Seung-jae, who keeps his face stony before the boss but looks a little unsettled when Suk-chul insinuates that he knows there's more going on. Suk-chul asks if Hong-nan really is his sister.
Da-hye sits down with her daughter to explain more about her father's death, saying that he loved their family very much and worked incredibly hard for them—and because he worked so hard, he was unwell, "and must have wanted to rest a little early."
Hae-joon informs his/Young-soo's father the circumstances of his death, saying that the company will compensate them and that he can rest easy now. His father starts to cry in front of Young-soo's photo, saying that of course his son wouldn't take his life in vain.
Then Hanna bursts out of her room in tears, and cries for Hae-joon to bring her father back. Her mother and grandfather hug her while crying, and Hae-joon watches from outside the family circle, in tears himself.
Yi-yeon also observes the 49th day for Gi-tak, going with Hong-nan to pay her respects at his grave marker. Yi-yeon steps close to the tree and touches his nameplate, thanking Gi-tak for sending his sister to her. Behind her, Hong-nan cranes her neck trying to hear, though she can't catch any of it.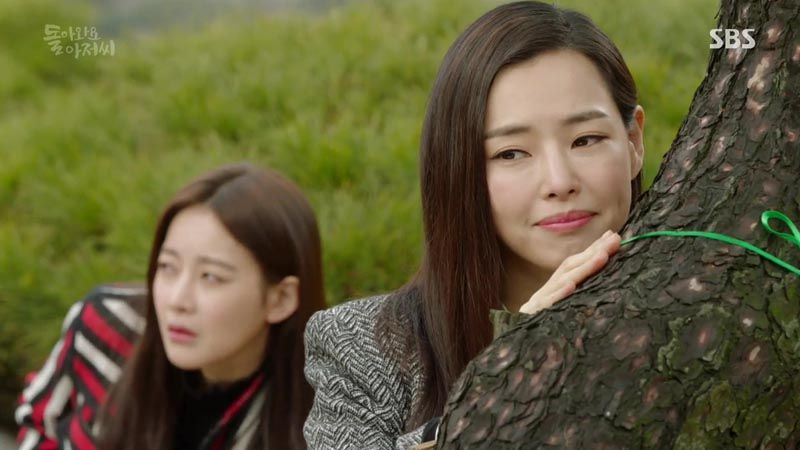 Je-gil and Seung-jae show up too, and set out a bowl of beef soup in offering. Hong-nan sniffs back tears and takes a swig of the soup, and they laugh over her suspicion of it not being authentic Korean beef and Je-gil's insistence that it is.
Hae-joon looks up at the department store sadly, and we see Young-soo in his body as he wonders why he doesn't feel unburdened even though his wrongful death has been revealed. Maya joins him and replies, "Because you can't turn back death."
A group of young store employees walks by wondering at how much money Young-soo's family will get, squealing at mention of his ghost. Maya takes Hae-joon's hand comfortingly, reminding him that she'd said it would be hard coming back to earth.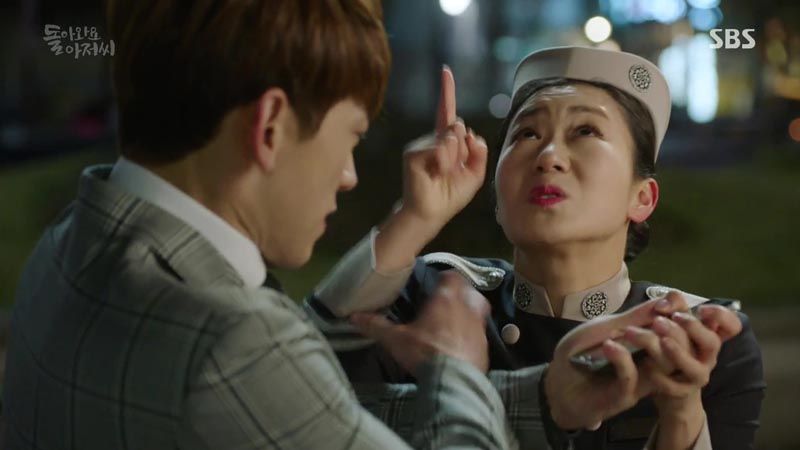 Since his grudge has been resolved, Maya motions up at the sky, trying to make him press the button to take him to heaven. But Hae-joon resists, insisting his grudge isn't settled yet, just as he spots Da-hye walking into the store. Fearing that she's here to rendezvous with Ji-hoon, he races inside, though the storeroom is empty.
Then he sees Da-hye sitting inside the prop carriage, talking aloud to Young-soo, saying she felt she might be able to talk to him here. She has laid out a spread of memorial foods from his altar, and says, "After you left like that, I was so sorry and scared. I thought I was the only one having a hard time, but you were struggling too, enough to die. And I didn't know that, and just blamed you."
Standing nearby, Young-soo thinks, "No, I'm sorry."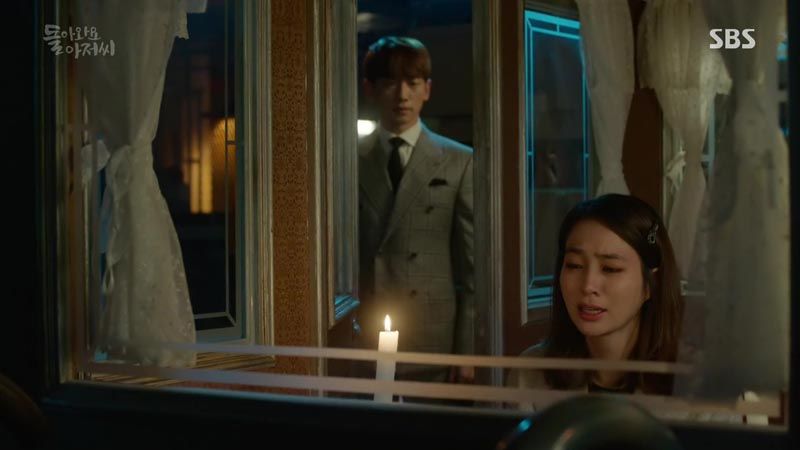 Da-hye says she wanted to believe that he didn't commit suicide, because it was too much to bear to think otherwise. "You dummy," she cries, "why did you go up there? Didn't you think of me? Did you think of us?"
Hae-joon struggles to contain his sobs. Da-hye says, "Young-soo-sshi, I thought I just had to do a good job, on my own. I thought I was doing well, but living with you, I was very lonely. We must have lived foolishly. You didn't pay attention to me, and I couldn't be honest with you. If I'd been more honest, would things be different now? I can't shake that thought. I'm sorry. I can't hang onto you with these feelings. I came to say this, Young-soo-sshi. I'll send you on now."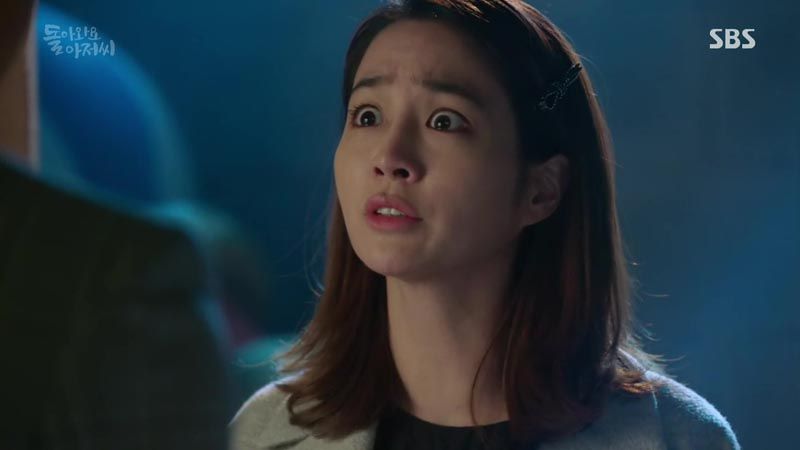 Her words alarm Hae-joon, and when she steps out, he demands to know what she means—so she wasn't happy all that time? Ji-hoon's accusation runs through his mind, and he grabs Da-hye's arms to demand, "Was I a stain on your life?!"
Suddenly time sloooooows to a crawl, then freezes. Hae-joon looks at frozen Da-hye in confusion, then finds himself (as Young-soo) back in his living room. But when Hanna lights up to see "Daddy," she runs right through Young-soo into Ji-hoon's arms, who's taken his place in this cozy family scene. His own father vanishes from the room, and the family portrait changes too, with Ji-hoon replacing him.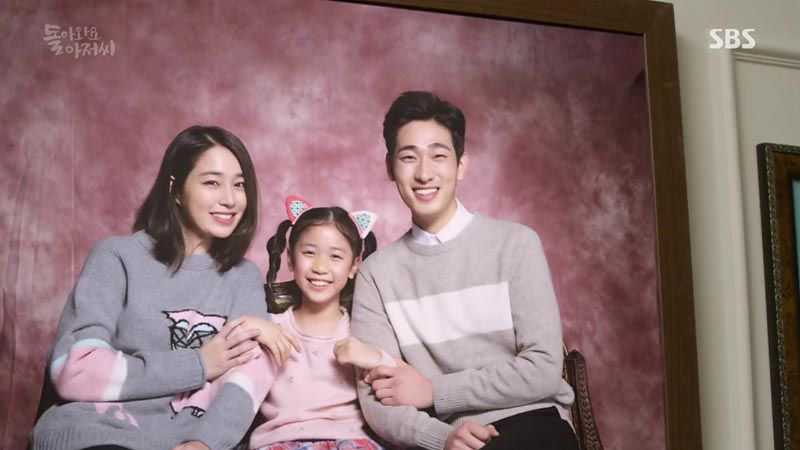 Young-soo shouts, "No! This can't be!" Maya appears to remind him of what would happen if he broke the rules—the "fate scarier than death" is that his very existence would disappear from the earth.
Then he's back in Hae-joon's body and time resumes. Da-hye tells him to butt out of her affairs and leaves, while Maya informs him that he won't get another warning.
Hong-nan walks Yi-yeon home, and her eyes widen when Yi-yeon invites her to stay the night—especially when Yi-yeon starts undressing in front of her. Hong-nan gets all hot and bothered and has to tell herself not to imagine what's going on in Yi-yeon's shower, resorting to boxing and push-ups to keep her distracted. (I love that she's doing my kind of push-ups: on the knees and on an incline.)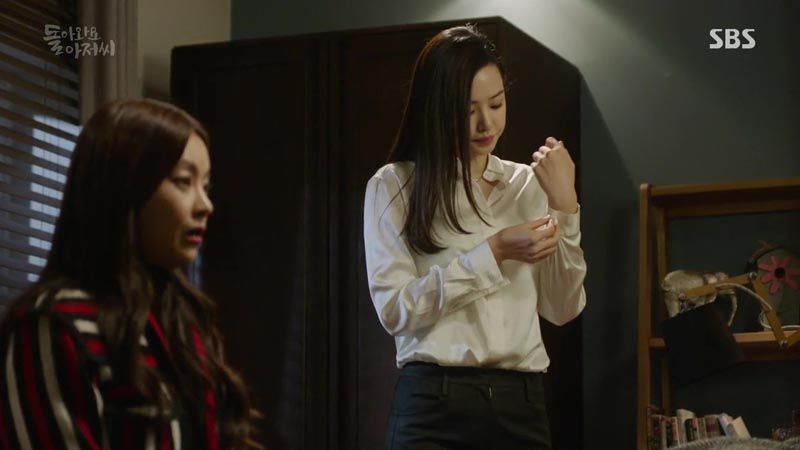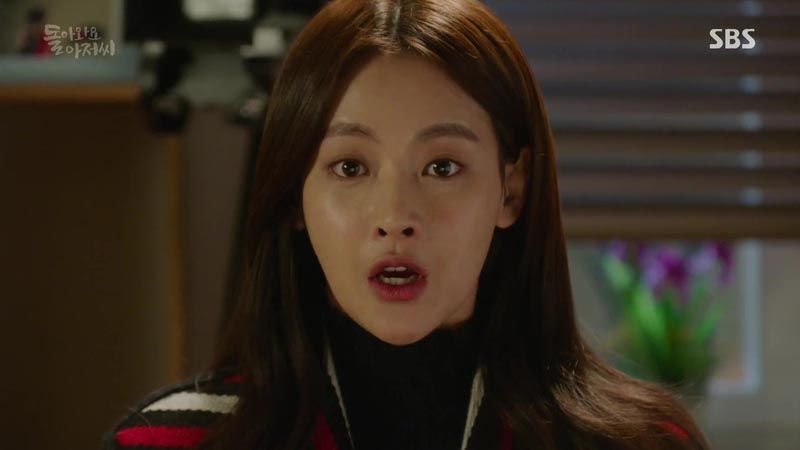 Hae-joon shows up outside, so Hong-nan joins him as he shares how horrible it was to be confronted with life where he didn't exist. He can't believe his wife had been keeping her thoughts from him this whole time, concerned that all her feelings have been a lie. Hong-nan wonders why she never said anything before now, and Yi-yeon's voice cuts in: "It wasn't that she said so, but you didn't understand?"
Her hunch is that the woman said so multiple times—but when their words go unheard, women stop staying them. Hae-joon declares that he won't let her go, and Yi-yeon cuts in again: "That's not love, it's obsession. If you love someone, you should know how to let them go."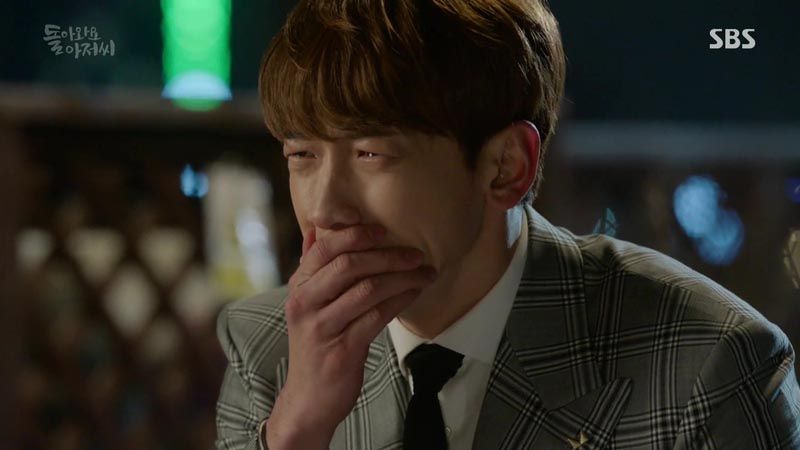 She sighs that being unable to differentiate love and obsession is pathetic, and the other two take offense at the wording. Hong-nan says she wants to forget, but what is she supposed to do if she can't? That person keeps haunting her sight, enough to make her want to dig her eyes out. How is that pathetic?
Hae-joon weeps comically, and Yi-yeon assumes Hong-nan is talking about him and advises, "Don't like him. He's too pathetic." Haha.
Hae-joon can't bear the thought of how miserable his life would be if not even Da-hye loved him, and wonders if he should seduce her all over again. Groaaaan. This guy is the slowest learner ever. Hong-nan says that would be revenge, and suggests they check with Maya.
That's Maya's cue to pop in, and she says if Hae-joon seduces Da-hye intending to destroy her, that's revenge. Hae-joon says that's not what he wants—he wants to know if Da-hye loved him, and what her true feelings were. Hong-nan chimes in that Young-soo needs this unresolved issue resolved before going to heaven. Maya can't take Hae-joon's puppy-dog eyes and wails that she's going to die from overwork.
Jae-gook asks to see his father but is turned away by the secretary. Jae-gook works himself into a full-fledged tantrum over the latest scandal, blaming Hae-joon for masterminding it as a way to bring down the Cha family. The chairman bursts into the room in a rage, growling, "You moron!" So he does speak!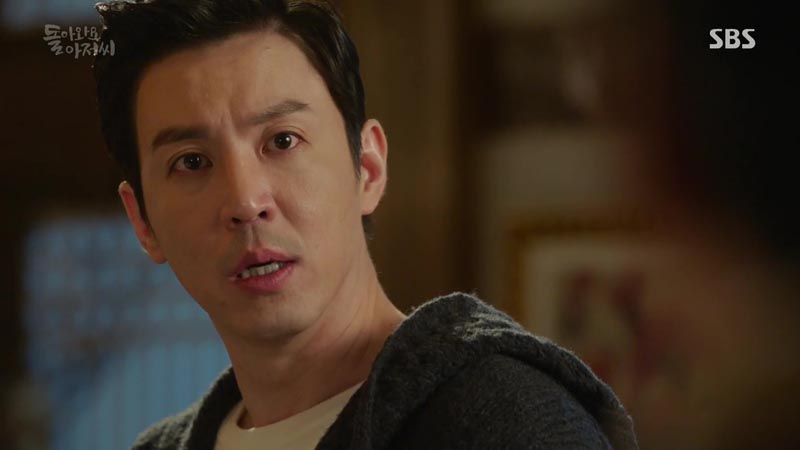 Jae-gook comments bitterly that the first words out of his father's mouth in years are insults, but the chairman barks that it was to save his own life, since talking to Jae-gook would have raised his blood pressure and killed him. You know, I don't think he's wrong.
Da-hye discusses their financial situation with her father-in-law, because the loan repayments are piling up and she can't cover them on her salary. She feels bad about asking to sell the house, but Dad acts like he was going to suggest the same thing. She says he ought to rail against her instead, but they're both very sweet about it, thanking and apologizing to each other.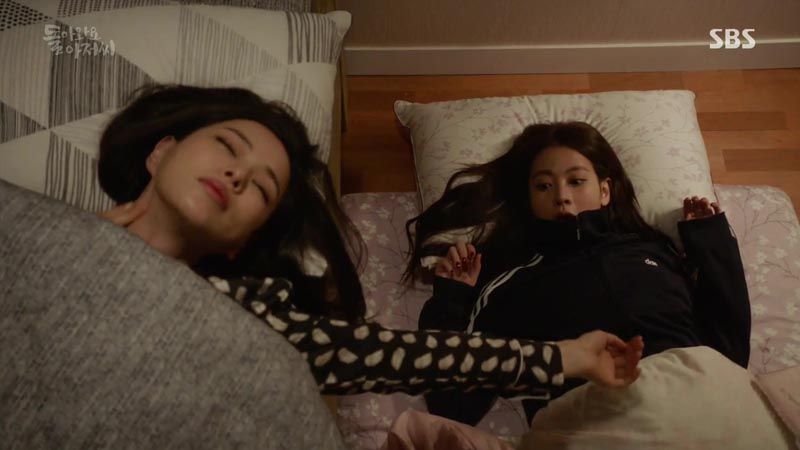 Yi-yeon sleeps comfortably in bed while Hong-nan lies on the floor next to her, too worked up to sleep. Yi-yeon kicks off her covers and fidgets, and when Hong-nan tucks her back in, Yi-yeon grabs her around the neck and clings in her sleep.
Hae-joon spends the night cuddled up with the dog in the doghouse. Still half-asleep, he lets himself into the house and sits right down at the breakfast table, helping himself to soup and acting like he never died. Naturally, the family is alarmed.
Da-hye demands to know how he let himself in, and Hae-joon belatedly comes to his senses, cursing the liquor that made him forget himself. He lies that Young-soo let him know the door code, and Dad's ready to call the cops just as both Da-hye and Hae-joon get called in to the president's office.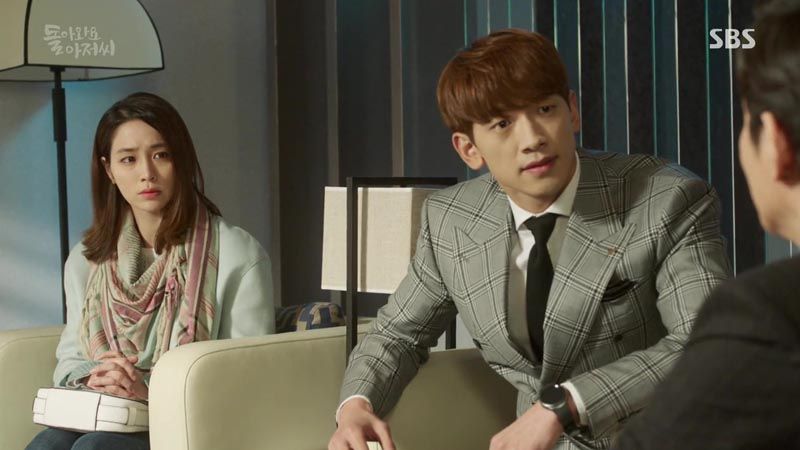 The company has cleared Young-soo's name of the bribery accusation, saying that the money was recovered in the locker. The official story contradicts Ji-hoon's earlier lie that the locker only contained gift certificates, but Jae-gook glosses over it to say that the matter is settled now.
However, the company doesn't recognize the second point of Young-soo's overworking himself to death. Hae-joon argues, but Jae-gook declares that it's only his theory that Young-soo's fall was induced from overworking. The company will offer compensation, however, and Da-hye is given paperwork to sign, which Hae-joon asks her not to do—it's just an attempt to shut her up.
In any case Da-hye refuses to sign, saying that the amount isn't enough. Hae-joon follows Da-hye out to ask what she meant, saying that she ought to get something after what she's suffered. The words make her flash back to saying a similar thing to her husband.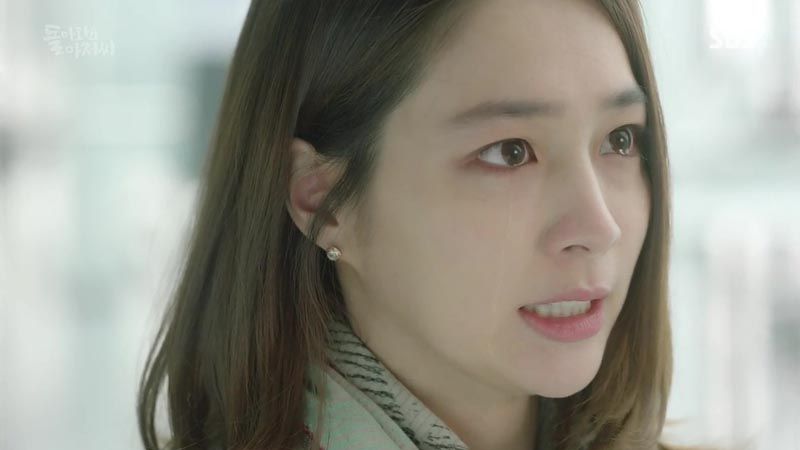 She spits out that fine, she does need money, and it would be nice to receive life insurance payouts and company compensation: "But how could I? I can I swap his life for money?"
He asks why not: "Do you think you have no right to take that money?" He says that other people take the money even with aching hearts, "Because that's what family is." And if she loved her husband, she wouldn't have any reason to react like this.
She snaps at him not to worry about not getting his debt repaid, since she'll sell her house if she has to. That's not the answer he was angling for, but then again, he didn't ask the right question.
As Ji-hoon passes by, Hae-joon asks how much the amount was. Ji-hoon says it was more than Young-soo could have earned his whole life, and that if he were Young-soo, he would have told her to take it and live comfortably.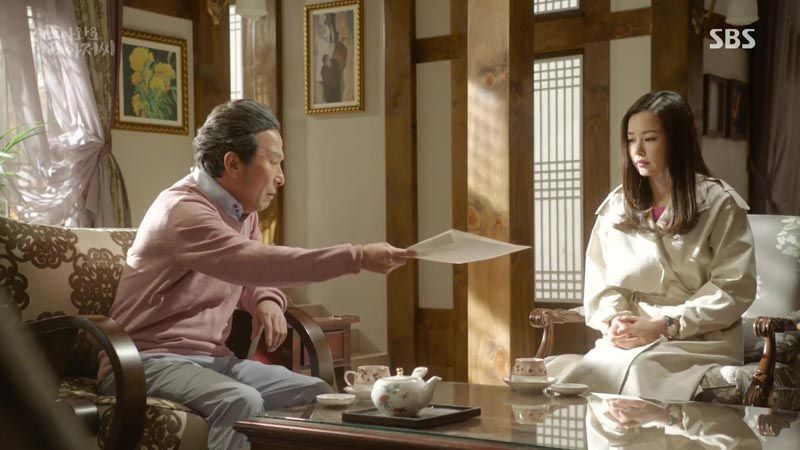 Yi-yeon is called in by Chairman Cha and reunited with her son. The chairman says that he can't have the future Sunjin Group heir raised carelessly and offers her a comfortable life, which includes one of his subsidiary companies.
It's a generous offer, but Yi-yeon tells him that she doesn't want Young-chan to see her that way. She wants him to realize the value of earning things, and to appreciate freedom: "More than anything, I'll raise him to be full of love. Outside of this palace." The chairman looks surprised, but not angry.
Jae-gook asks for a word, and proposes putting out a story for damage control, with photos showing the family in happy accord. She isn't tempted, so he pulls out another set of photos and offers to go forward with that story instead, featuring her embrace with Gi-tak. Jae-gook outlines the alternate narrative: Yi-yeon betrayed her gangster first love to marry a chaebol, and as revenge, the gangster set her up with a fake boyfriend.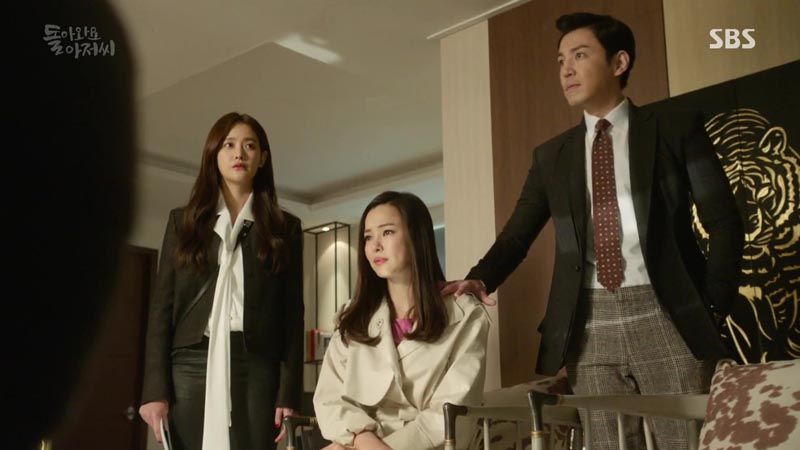 Hong-nan challenges him to go ahead with it. But Yi-yeon asks him not to use a dead person for his means, "Not if you're human."
Jae-gook says makes reference to Yi-yeon running away ten years ago, and she asks incredulously if he had their son's paternity tested. She scoffs that Jae-gook can't even recognize his own child. Jae-gook blames her for driving him crazy, but she states that it isn't because of Gi-tak that she's like this—it's because she didn't like Jae-gook. That strikes a nerve, and he leans in and warns her not to provoke him.
Hong-nan flings his arm off and tells him that if he can't receive love, he ought to be looking at himself rather than blaming others. She challenges him to be a man (she literally tells him to hold his dick, ha) and reflect on it, "Or fight it out. If you lay a hand on Song Yi-yeon again, you'll die by my hand."
Hong-nan flings the photos in the air and taunts Jae-gook to go public if he wants to announce to everyone what a loser he is.
Yi-yeon leaves Jae-gook with the words, "Don't be jealous of Han Gi-tak. How can a man who can't even let go of one bean in his hand understand a man who gives up everything of himself?"
Ji-hoon tells Da-hye that he'll support whatever choice she makes, whether it's to sue the company or accept the compensation. However, he'd like if she wouldn't live in the shadow of a dead person and live without worrying about money.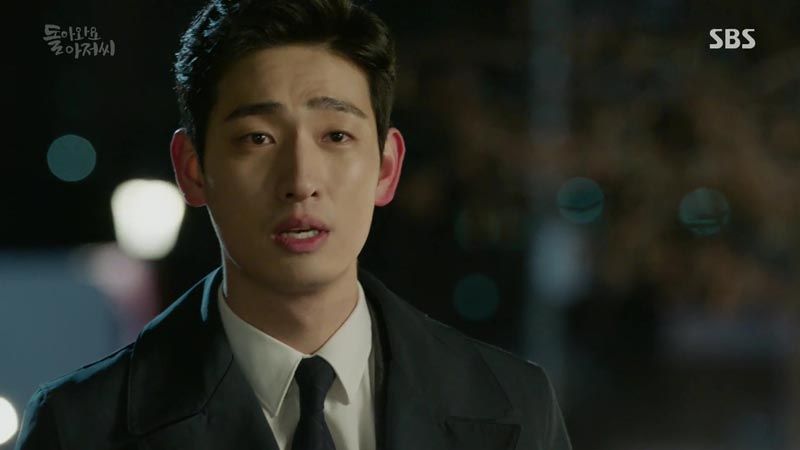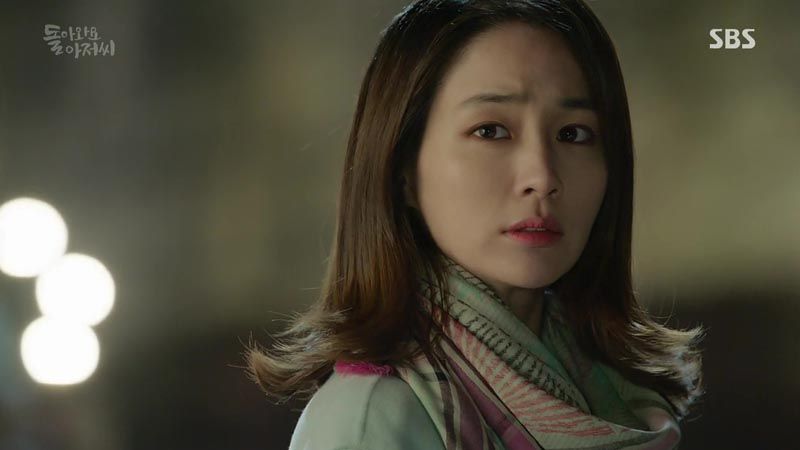 Da-hye reminds him how he'd said they never had a proper goodbye, so she explains now that he chose ambition and lacked respect for her. Young-soo was there for her then, so Ji-hoon can stop thinking she's living this way because of him. "It was my choice, and my life," she says.
He makes one last request for a second chance at forgiveness: "Can't you give me one now? The chance to return to you?" But Da-hye just turns and walks on.
Yi-yeon takes Young-chan home with her, telling him it's her friend's house. She asks why Hong-nan isn't asking about what happened ten years ago, but Hong-nan only chides that she ought to have lived better.
Yi-yeon says, "I killed your brother twice." She thinks back to when she'd married Jae-gook, wondering what would've happened if she'd chosen differently.
Hong-nan barks at her to put those thoughts away. If she's going to raise Young-chan on her own, she'd better forget such weak thoughts and keep her wits about her, and show those bastards that she's living well.
Jae-gook proceeds to publish the story painting the family as a happy trio, and Hong-nan grits her teeth to read it. Yi-yeon says I told you so about wasting her efforts, and although Hong-nan is all set to argue back, the sight of Yi-yeon fresh out of the shower addles her wits.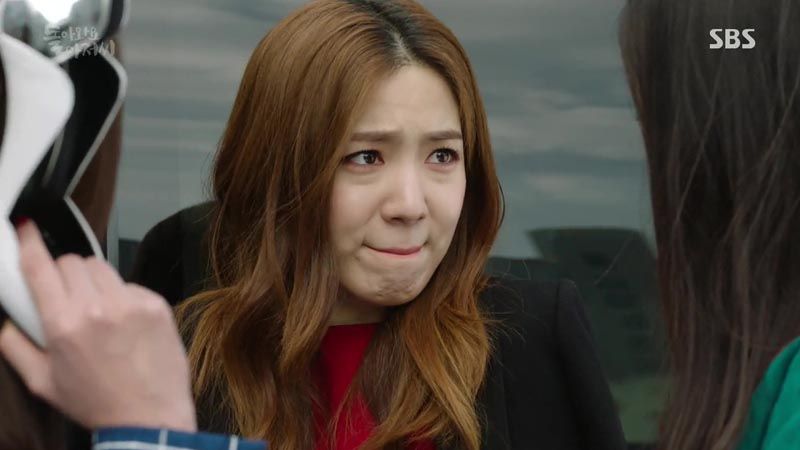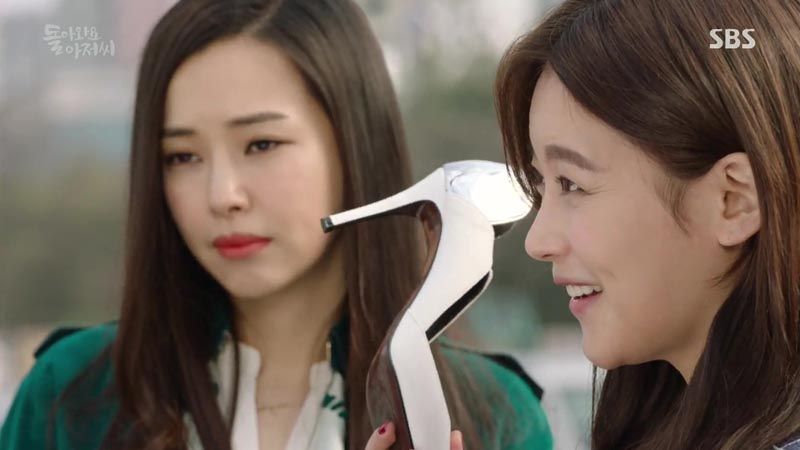 Time to get back to work. Rival actress Joo-yeon gulps to be cornered by Hong-nan and Yi-yeon outside her van, cowering a bit (which is satisfying) when Yi-yeon reminds her that she screwed her over. How will she repay that debt? Hong-nan toys with a stiletto and Yi-yeon suggests that Joo-yeon find a gig to include her in, or just hand off.
Hae-joon is alarmed to find a For Sale sign on Da-hye's house, with prospective buyers already at the door. He shoos them away and finds Hanna crying inside over losing the house. He vows to make sure it won't be sold.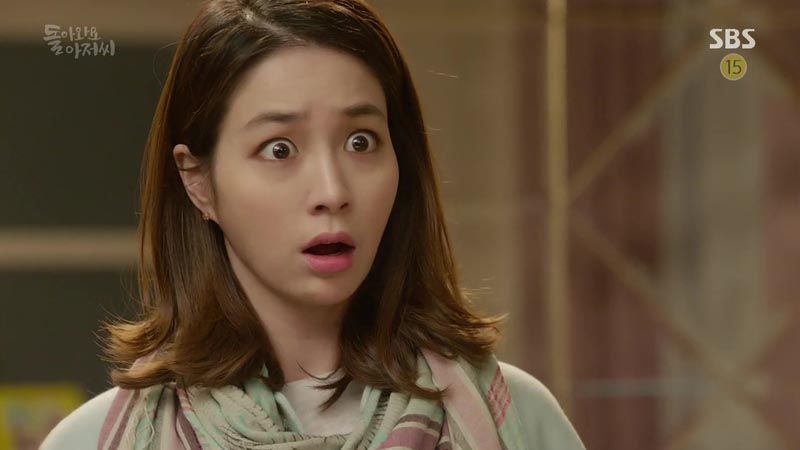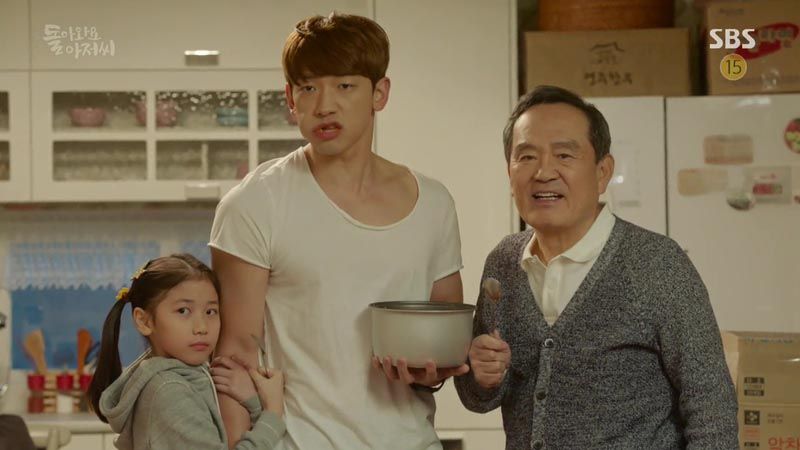 By the time Da-hye gets home that night, he's installed himself comfortably and Hanna is firmly on his side. Even Dad, who'd supported her decision previously, says that maybe they don't have to sell after all.
Hae-joon insists that as the creditor owed half the house, he has a say in it. She demands to see the paperwork, and he stammers that it's, uh, in transit from America.
He fumbles for an excuse to stick around, and throws her words back at her: "You said you were lonely! I'll make sure you're busy and not lonely! Live with me."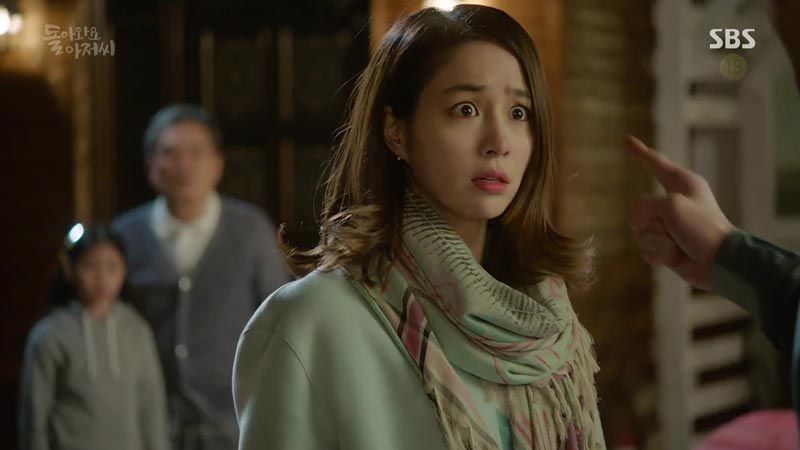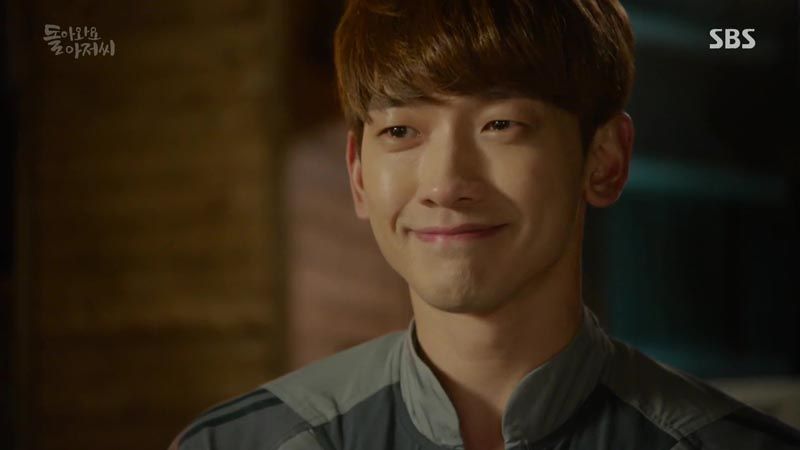 COMMENTS
Ha. Note that the words he uses, "live with me," are often used in reference to being married, which is why they pack an extra punch of surprise. The ending moment makes me think we're in for a period of cohabitation hijinks where they're living together one way (debtor-creditor) but a bunch of their interactions get interpreted through that other lens of married couple. And you know what, that's not a bad setup for comedy, since I enjoy Hae-joon's cheeky smile at the end and the tone suggests a light, fun setup.
But I wonder if the show is missing the forest for the trees with Young-soo's whole storyline, because I can't help thinking they're mishandling his half of the plot. I'm really enjoying Rain in this and he's playing the moments perfectly, whether it's as the whining crybaby or the easily bothered ajusshi, and it pains me to have a problem with him on principle more than performance. Young-soo was always kind of bumbling and reaction-based, chasing a scenario from two steps behind rather than being coolly in command of it, and I don't have a problem with Hae-joon displaying those same traits.
But halfway into the show, I feel like he should be learning more—and listening more—than he is. It seems like he's got a narrative already set up in his head and is selectively taking in information that fits that belief, and it drives me batty when he's having a conversation and only hears what he wants to hear. Da-hye literally tells him her husband's life can't be exchanged for money, but he's so hurt and defensive that he hears that as either her trying to angle for more money, or feeling guilt over not being "entitled" to it because she didn't love him. I mean, being thick-headed can be charming too, but at this point you'd need a sledgehammer to get through to him.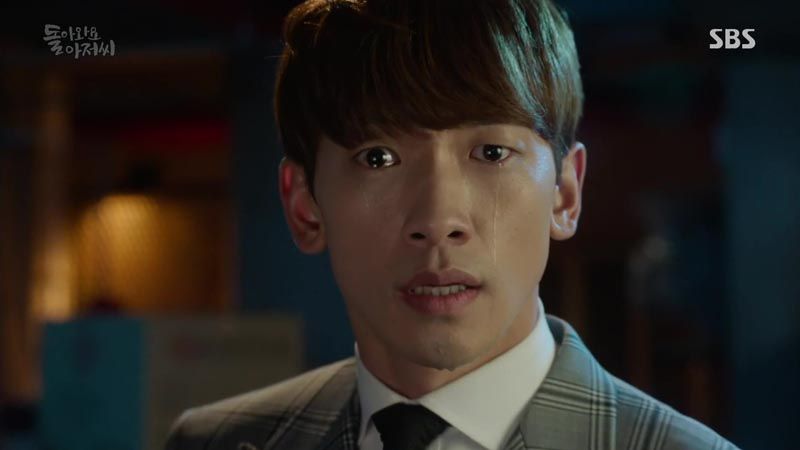 That wouldn't be a problem if he were making discoveries about himself, but it's strange to me how little introspection this whole adventure is bringing him, especially when you contrast it with Hong-nan. I love that moment when Yi-yeon described Gi-tak as a man who laid down everything of himself, as though he was only now realizing that, seeing it through her eyes. Maya tells Hae-joon that this re-life process will expose him to painful moments as he sees himself through other people's eyes, but I'm thinking we get that with Hong-nan and not so much with Hae-joon, who brings to mind a one-way broadcast—one that outputs loud declarations but has no input button.
I wonder if this is partially because his setup inherently didn't have as much mystery or outside conflict built in, so maybe it's just harder to draw out over 16 episodes. That would explain why it feels like he's going in circles or not moving at all, because there isn't as much to unearth with him: He worked too hard and didn't see his wife's feelings. (And true to form, he's still not seeing them now, despite the second chance.)
I really do hope that Hae-joon (and the show) can figure this out soon, because I do want Young-soo to resolve his grudge and go to heaven with a peaceful heart. The sooner he takes the focus off of himself and more on what's best for his family, the better he'll be—in that regard, he really needs to learn from Hong-nan, who only ever thinks about other people, often at his own expense. I dunno, could they maybe swap places for a week and fill some of each other's gaps? I mean, we're already in massive body-swapping territory; what's a few extra shenanigans?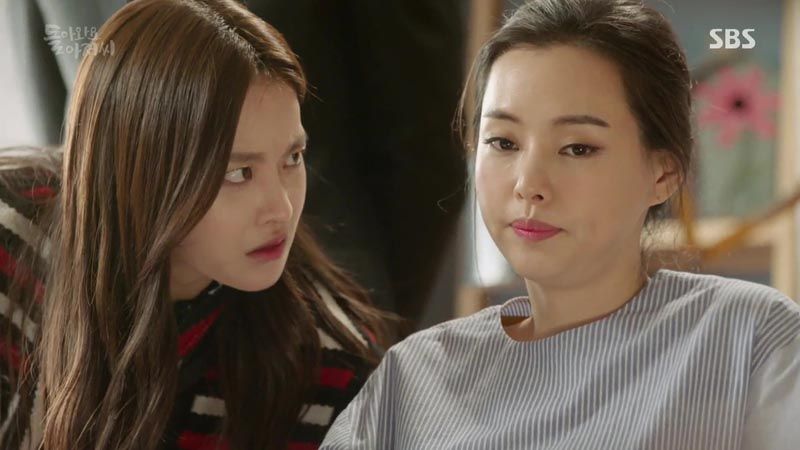 RELATED POSTS
Tags: Come Back, Ajusshi, featured, Lee Min-jung, Oh Yeon-seo, Rain