Goodbye Mr. Black: Episode 10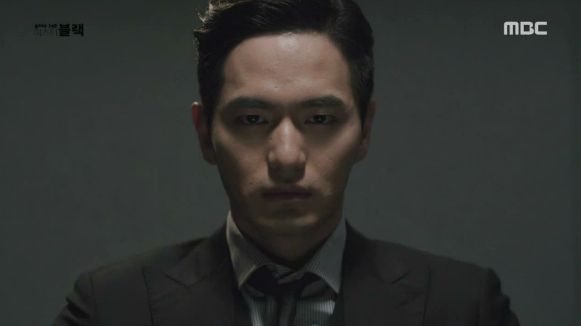 I actually enjoyed this episode, because people start to be less predictable, which leads to crucial mistakes on both sides. I like it when a drama shakes up the established pattern—taking the conflict out of the corporate boardroom, for example, which was much needed in Goodbye Mr. Black—and lets everyone fly off the handle a little when they're driven to extremes. Let's just say, this show is way more exciting when we're talking about murder than when we're talking about corporate mergers. Whadduya know.

SONG OF THE DAY
Luwa – "여태 기다려왔나요" (Have You Waited All This Time) [Download]
Audio clip: Adobe Flash Player (version 9 or above) is required to play this audio clip. Download the latest version here. You also need to have JavaScript enabled in your browser.

EPISODE 10 RECAP
Discovering his little sister in such a traumatized state has left Black a little traumatized himself, and he sits quietly with Ji-soo asleep in his lap as they wait for the boat to arrive on the island. He pats her gently and thinks to himself that everything will okay now, and she clutches oppa's sleeve tightly.
Both baddie camps are made aware of Ji-soo's discovery, and Teacher Baek sits back with a smile, eager to see what Sun-jae will do next to cover up his past crimes.
A doctor confirms that Ji-soo is blind in both eyes, and Ji-ryun runs to the hospital once he hears that they've returned with Ji-soo. Inside the hospital room, Black asks Swan to cover up his eyes, then says he sees nothing now—not even Swan. Did you need her to cover your eyes to get that metaphor across? He means that all he sees is his rage, of course, and she tells him to do what he needs to do.
Black says that in order to make them all pay for their sins, he has to go back to being Cha Ji-won. Swan: "I'll wait with Ji-soo. Don't forgive them, ever."
Swan rushes him off when they hear sirens approaching, and Woo-jin and Ji-ryun do their best to hold off the detectives who storm in looking for Black. They bust in with a warrant anyway, but Black has already made a stealthy escape. Outside, Sun-jae's dad frets over being the one to call the cops on Ji-won, likely at his son's command.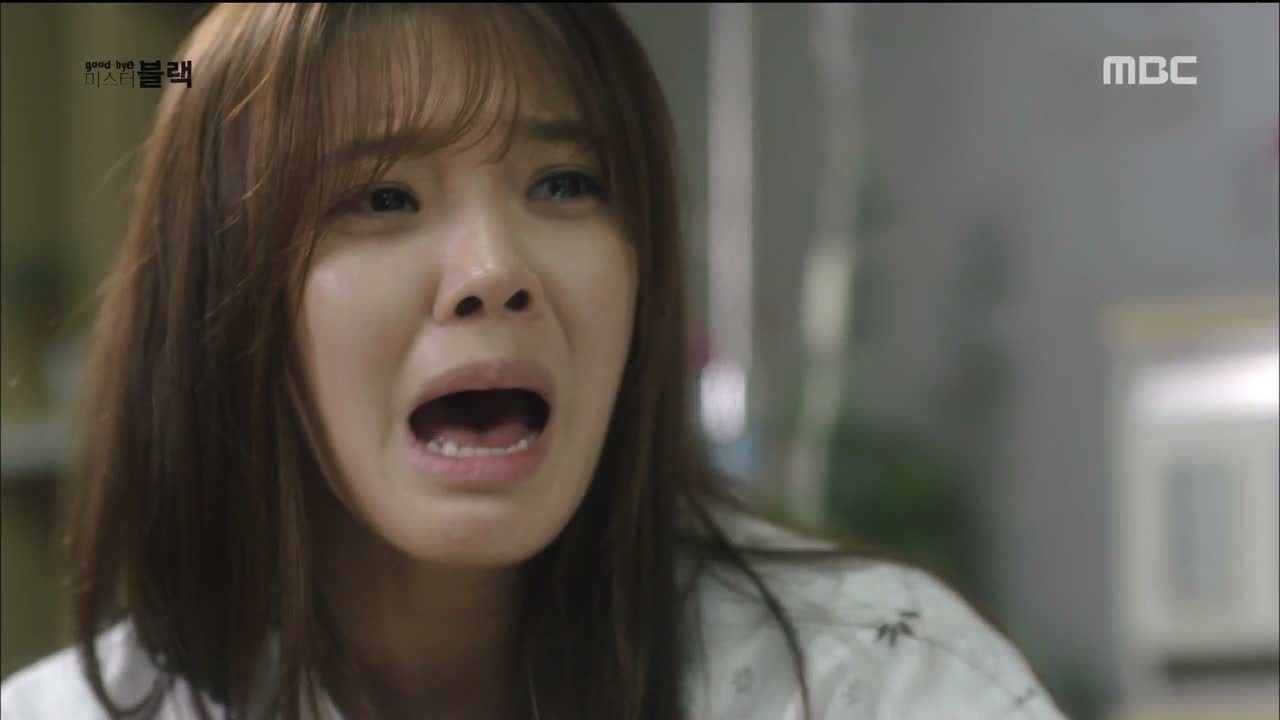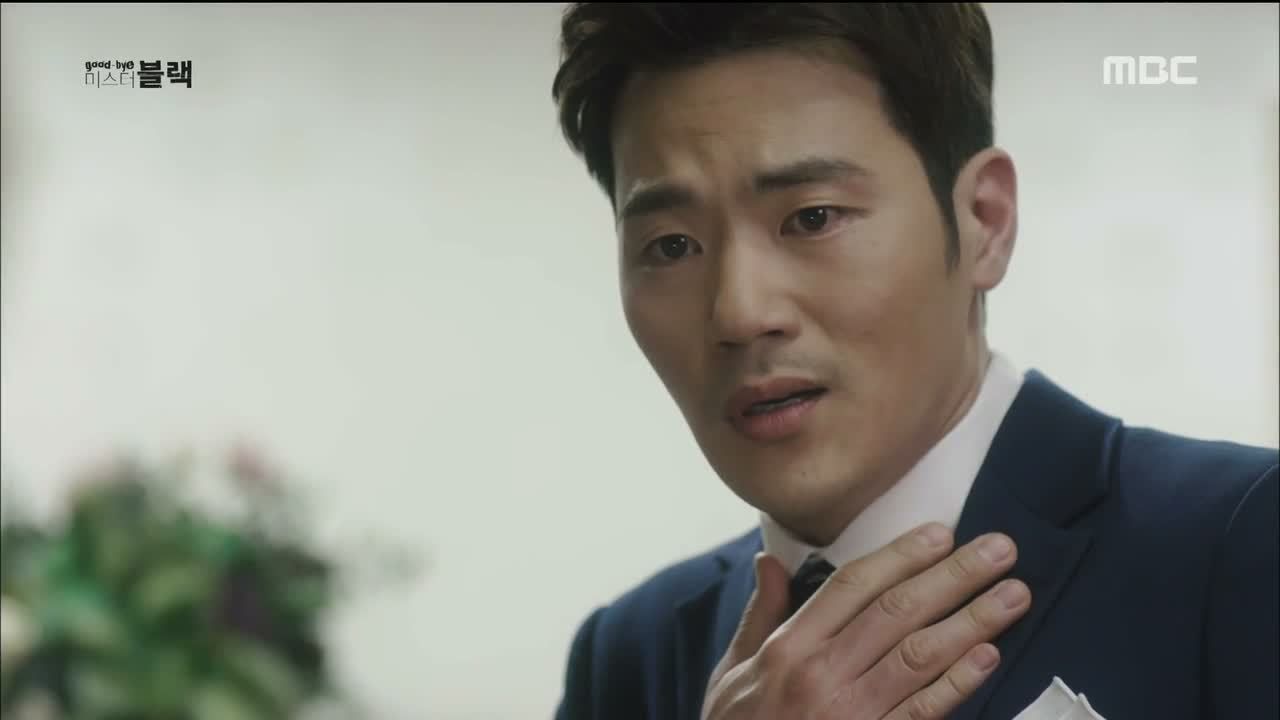 Sun-jae uses the cops as a diversion to sneak past everyone into Ji-soo's room, and his hand trembles as he closes in on her throat…But Ji-soo senses someone there and grabs his hand, thinking it's Ji-won. "Oppa? Ji-won oppa?" she asks, growing more panicked at the prolonged silence. Sun-jae backs away, terrified, unable to hide the conflicted emotion in his eyes when he sees her fumbling around helplessly and calling out for Ji-won.
He sits in his car in a daze, thoughts flooded with memories of Ji-soo as the adoring little sister who always had a crush on him. Yeah, remember how she trusted and looked up to you, and then you broke her? Gah.
Mari rushes to the hospital to see Ji-soo, and is horrified to see the state that she's in. Ji-soo seems to recognize Mari's voice and comes to her senses as she reaches out for unni's hand, but Mari is so shocked that she pulls away.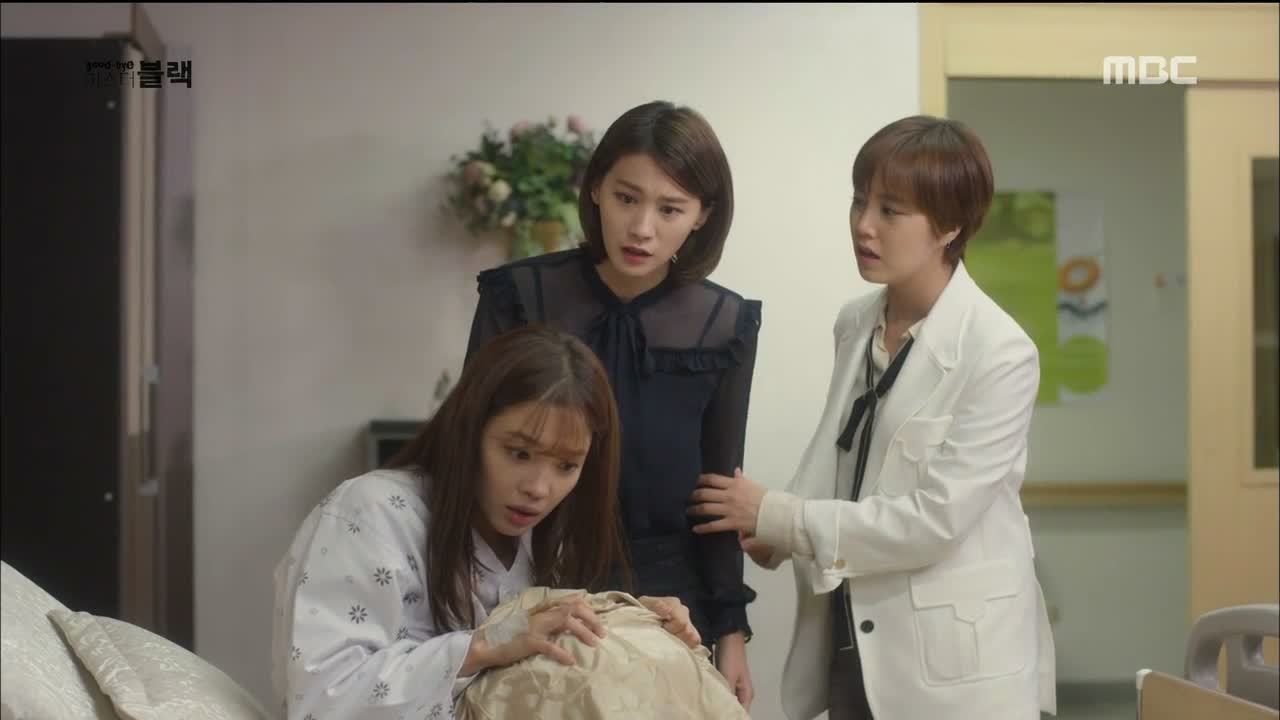 Sun-jae returns to the empty house and digs out the old power of attorney document that Ji-soo signed just before he almost killed her, leaving her shares in his care. Suddenly all the lights go off, and Sun-jae just quietly grabs the penknife from his desk. You know you're a killer when your first thought during a blackout is to reach for a sharp weapon and make use of the opportunity.
Or maybe he intends to create a trap for Black, because he leaves the penknife conspicuously out on the piano. Black shows up and attacks Sun-jae without warning, slamming him into walls before shoving him to the ground.
Sun-jae says that Teacher Baek was the one who made Ji-soo that way, but Black just growls, "Whether it's prison or hell, I'm taking you with me." Aw, yeeeah. Let's go!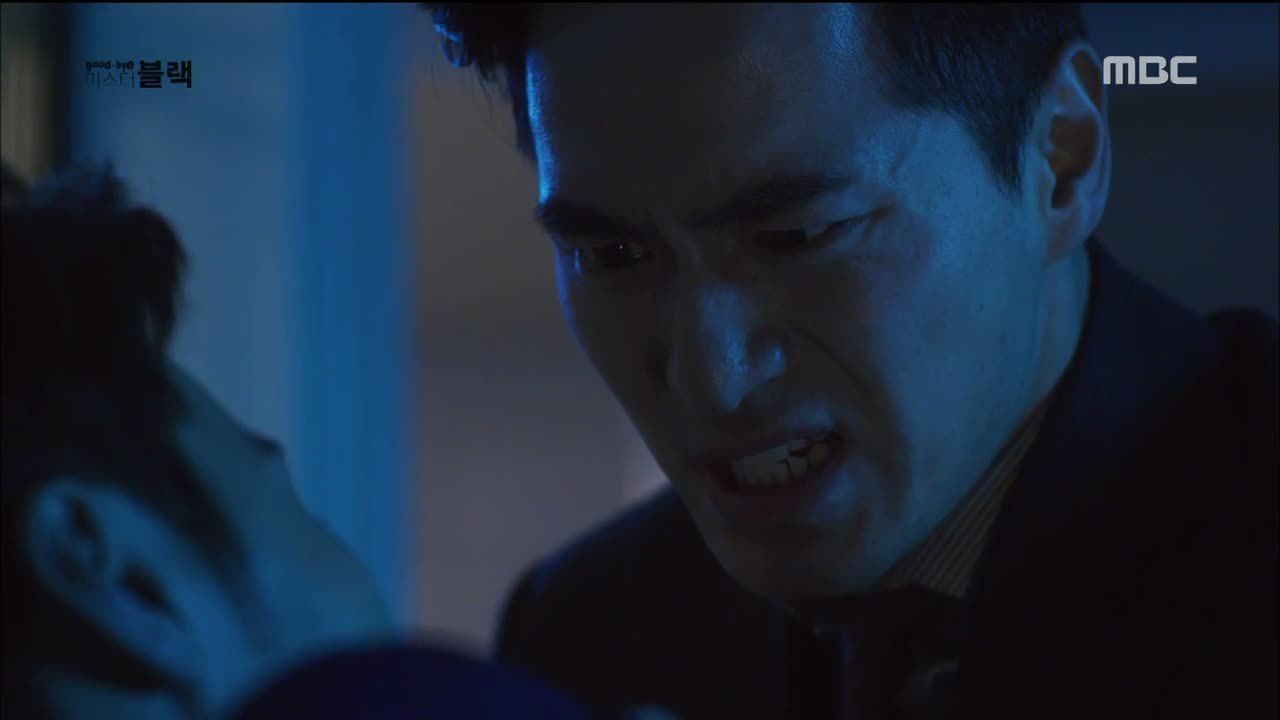 Black demands for Sun-jae to return his sister to the way she used to be, and shakes with anger as he says, "My sister liked you so much! How could you do this to her?!" Sun-jae doesn't even fight back or get defensive, and actually eggs Black on to go ahead and send him to prison or hell. What's he trying to do?
Sun-jae lands a punch before scrambling for the penknife, but Black swiftly disarms him. This must be what Sun-jae was waiting for, because he struggles against the penknife in Black's hand, but points it towards himself, and Black starts trying to pull away from him, alarmed.
But Sun-jae's got the better grip, and he says, "I should've killed you that day…" before launching himself at the knife. Ack! Just when you think Black couldn't be any more screwed.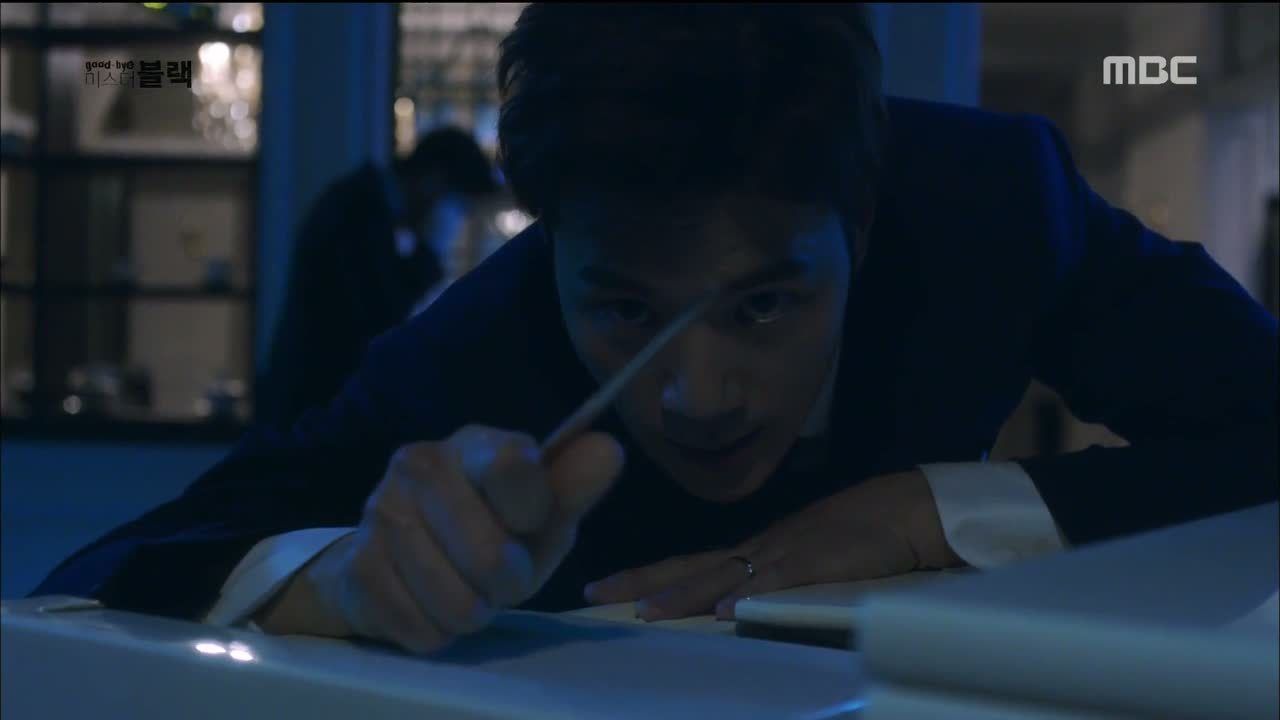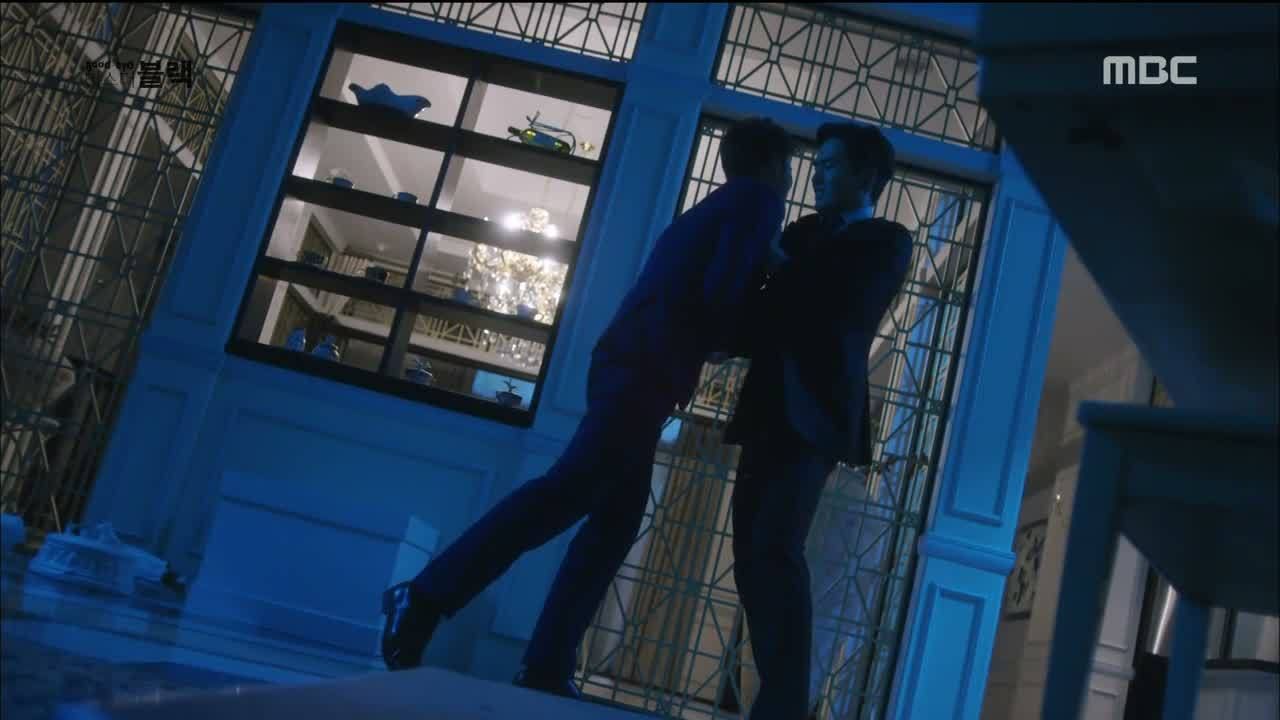 Sun-jae drives the knife deeper into his gut and whispers into Black's ear, "If only you weren't here. Cha Ji-won, you shouldn't have come back." He actually smiles over Black's shoulder, satisfied with himself, and then collapses to the floor when he hears sirens approaching.
Black drops the penknife covered in Sun-jae's blood, almost resigning himself to his fate. I fully expected him to run, but he lets himself get arrested (why??) and arrives at the police station surrounded by reporters. Swan runs to him and tries to break through the crowd, but he just looks back at her once looking sad, before being led inside.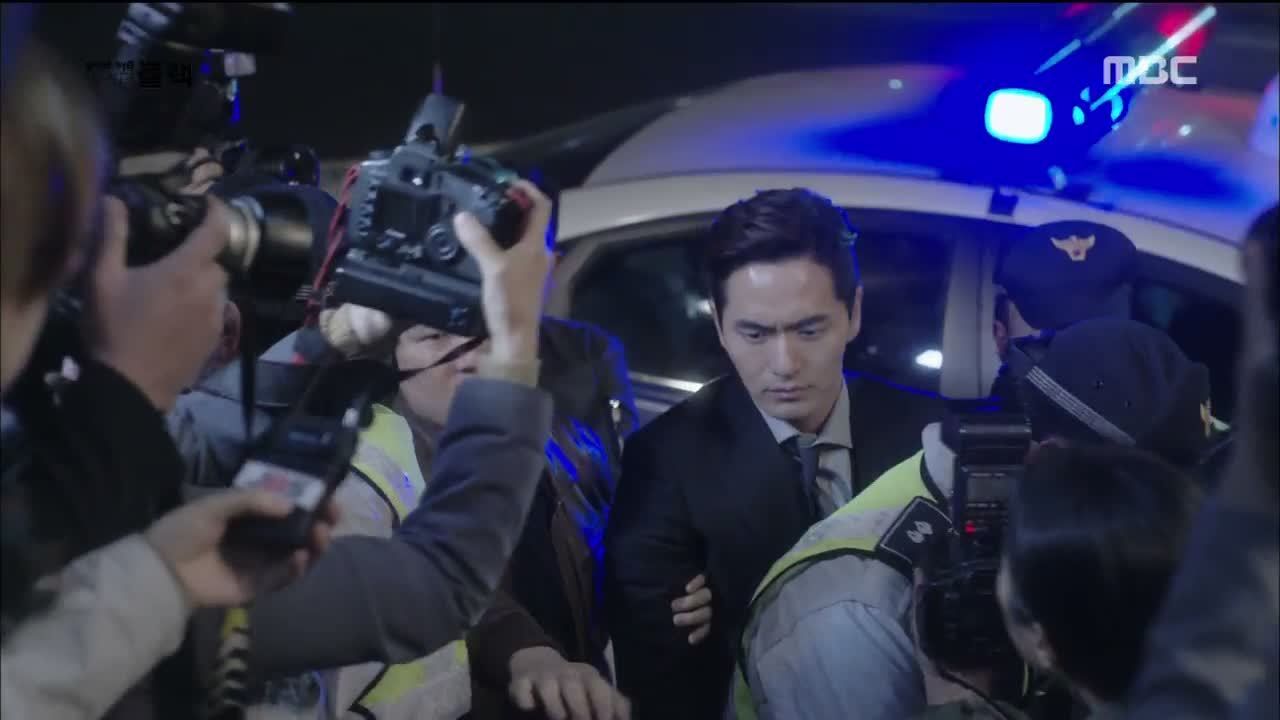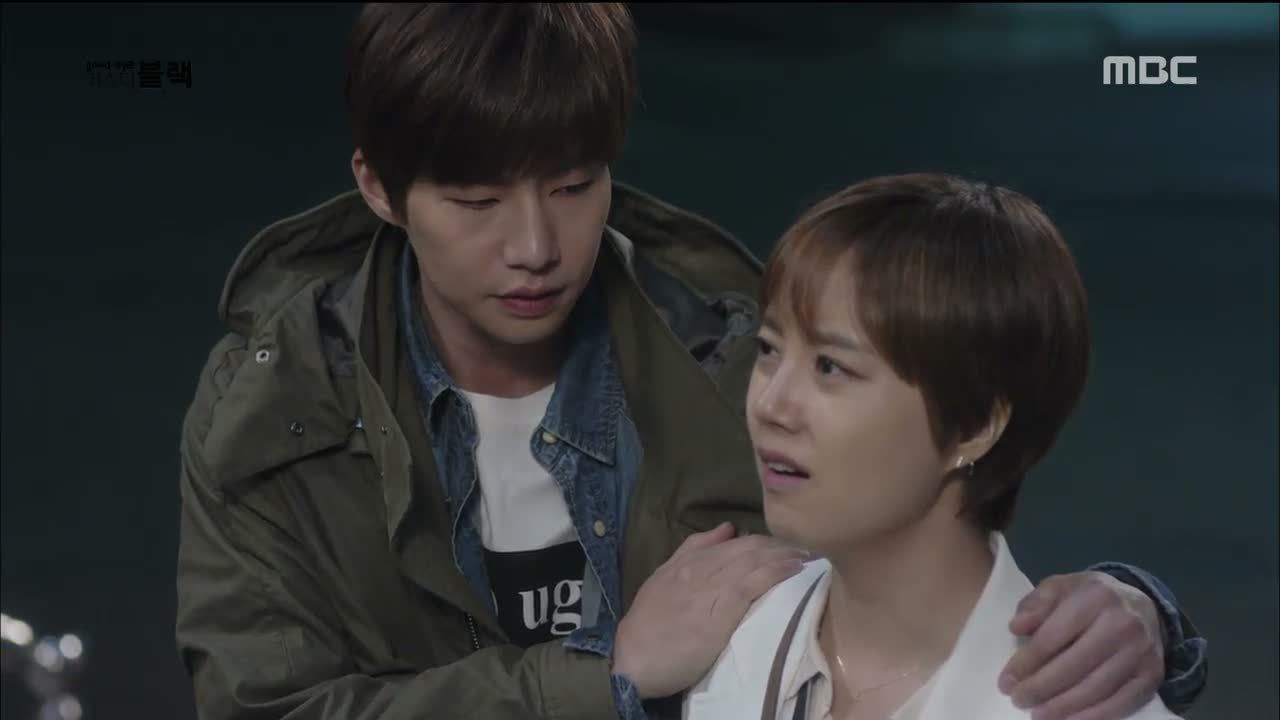 The detective interrogates him about his cover identity, but Black just readily admits that he's Cha Ji-won. You keep doing that! How is that helpful?
Ji-ryun is his first visitor in prison, and he's relieved when Black smiles and makes jokes about his handcuffs being uncomfortable. Ji-ryun says that Swan is taking good care of Ji-soo and wil take her home, where it's safe. Ji-ryun muses that if it were him, he wouldn't have let Sun-jae live. Black says he wanted to kill Sun-jae in the moment, but he knew that if he did, he wouldn't be able to return to Swan and Ji-soo.
Black doesn't want Ji-soo getting involved in his case, but Ji-ryun points out that there's no other way to prove Black's innocence without her testimony. The security footage he recovered from the Thai hospital has disappeared. But Black says they'll start digging into Sun-jae's finances, and find something there.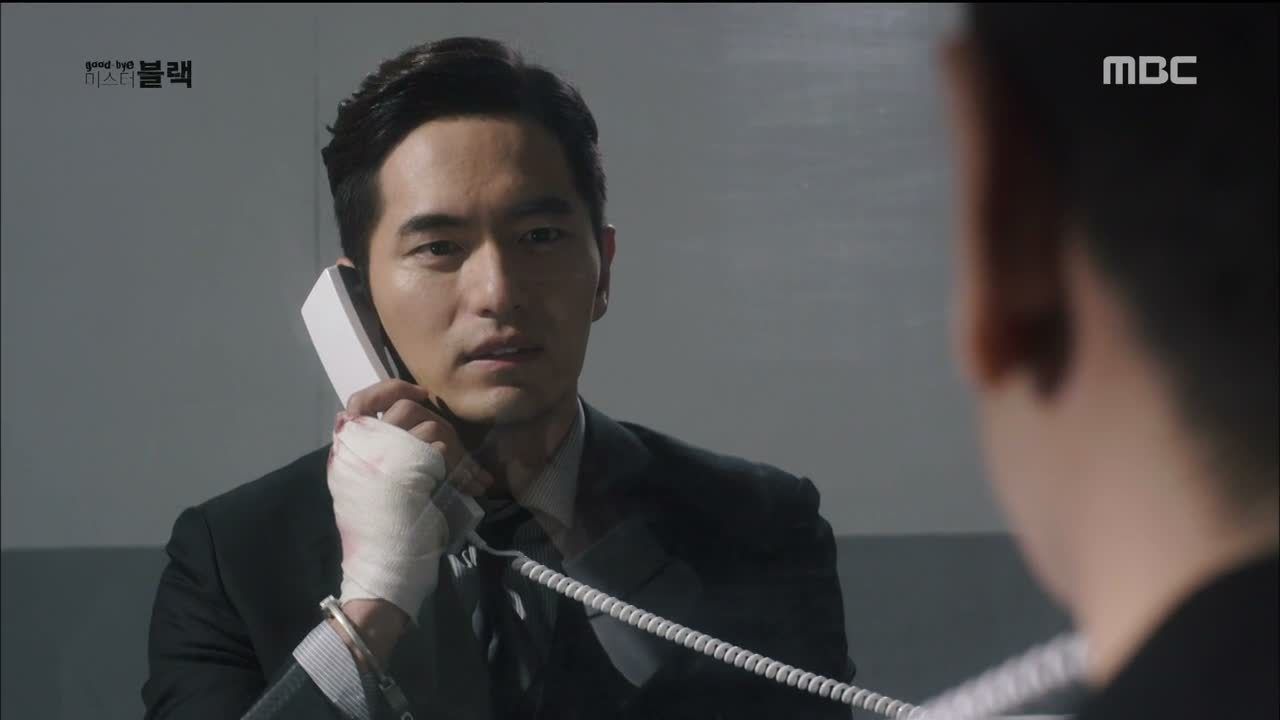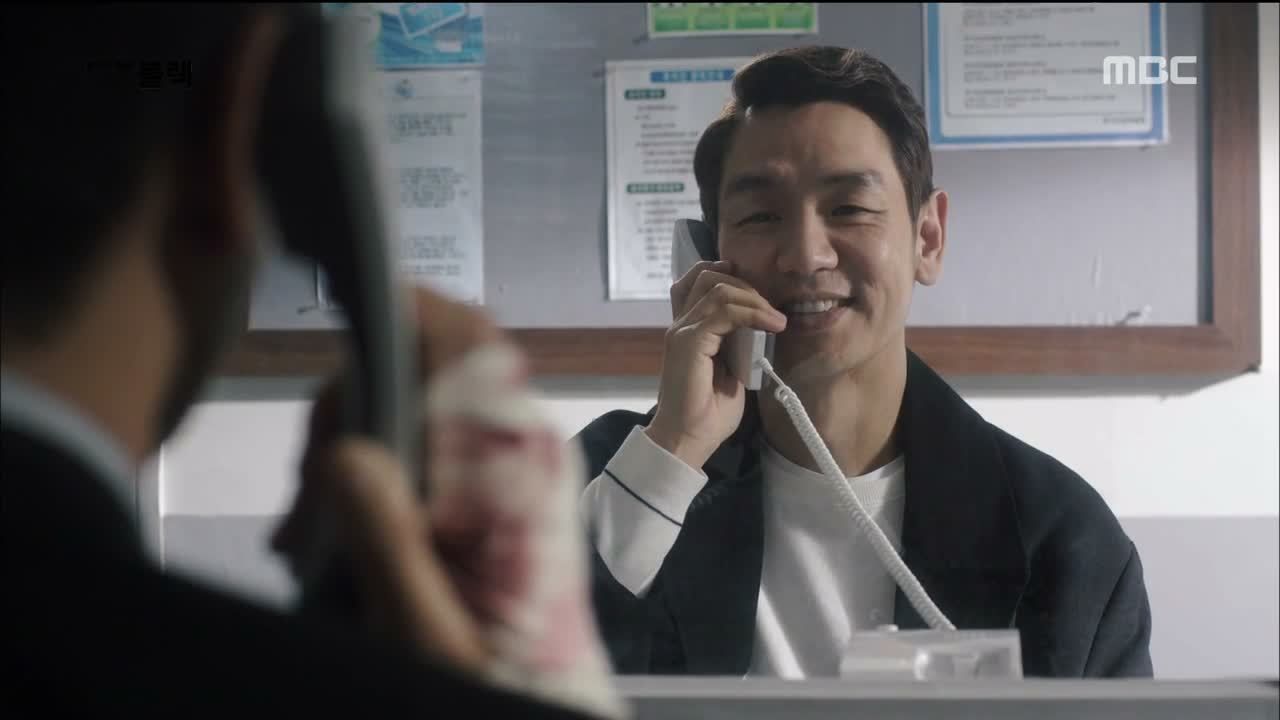 At the hospital, Mari asks Sun-jae why Black blames him for what happened to his sister. Sun-jae feigns ignorance and says it must be because they didn't look for her enough when she was missing, and I wonder if Mari buys it.
Teacher Baek fumes when the news comes out about Cha Ji-won's return, and he snaps at Sun-jae for making things more complicated instead of just killing him. Sun-jae says Teacher Baek can kill him if he wants to, but he had to make a safety net once Ji-soo resurfaced.
Sun-jae meets with MRB reps Sung-min and May, and threatens to sue them for breaching their contract because of Black's criminal case. They try to put up a fight, but Sun-jae says they can either pay the massive penalty or sign a new contract, wherein his company makes all the money from the casino deal.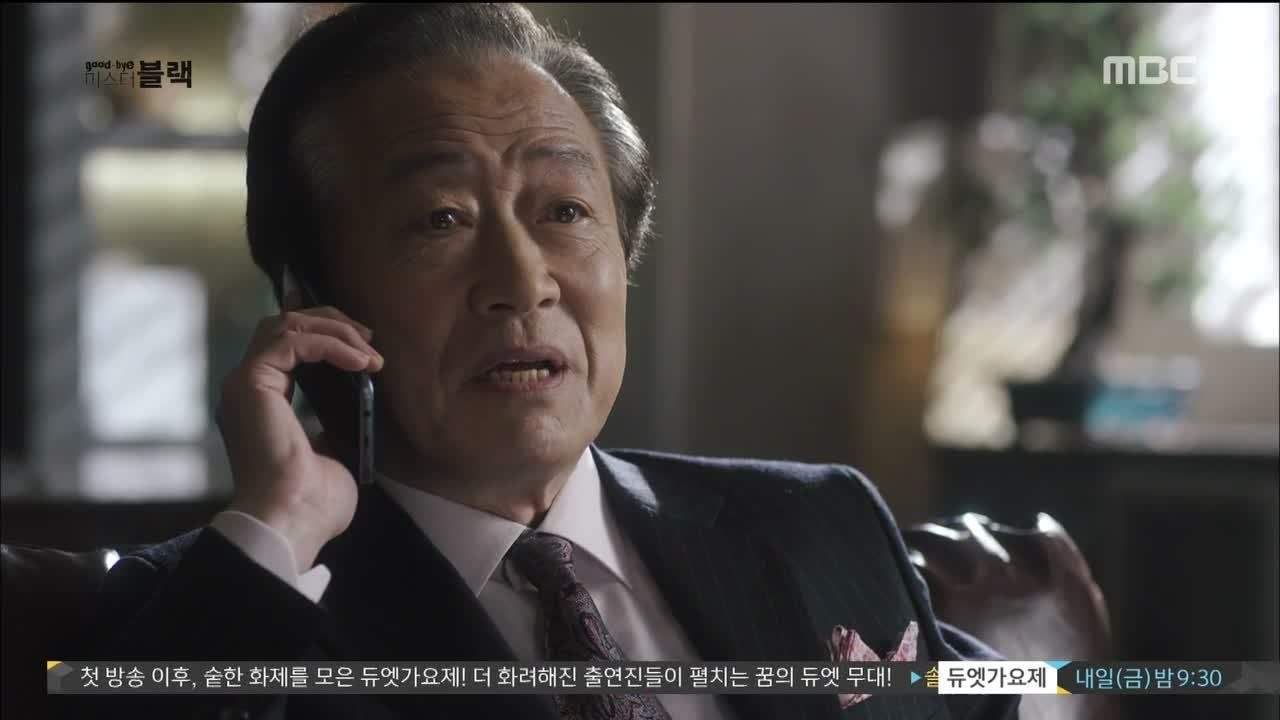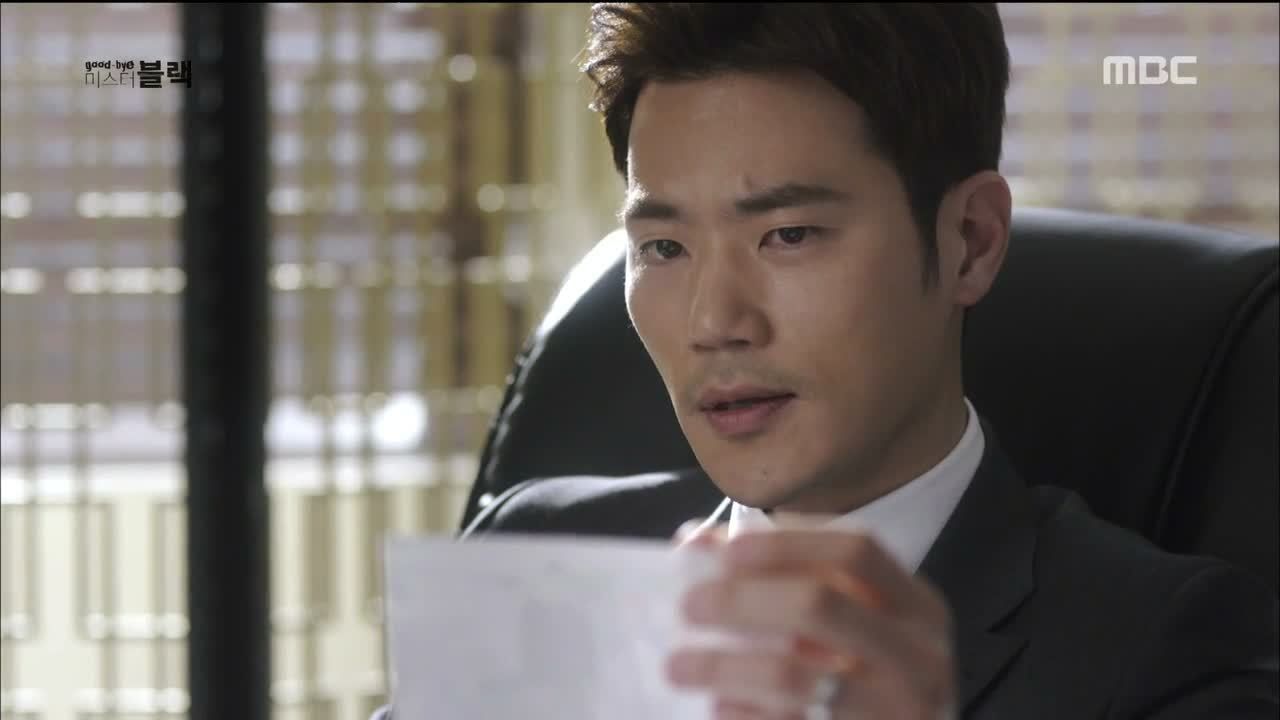 Sung-min is angry and ready to walk away, but May persuades him to sign—with Black in jail for attempted murder, Sun-jae is still their best bet of clearing his name, so they have to keep ties in whatever way they can.
Teacher Baek sends Sun-jae a peace offering—a photo of Black with Swan—and tells him that they have a special relationship. Sun-jae remembers that awkward dinner when Mari had asked Swan about being married, and the way she and Black had both clammed up.
Swan's mother comes to see Ji-soo in the hospital and wails about how sorry she is for not looking out for her and her brother, and how she won't be able to face Chairman Cha in the afterlife for letting all this happen to them.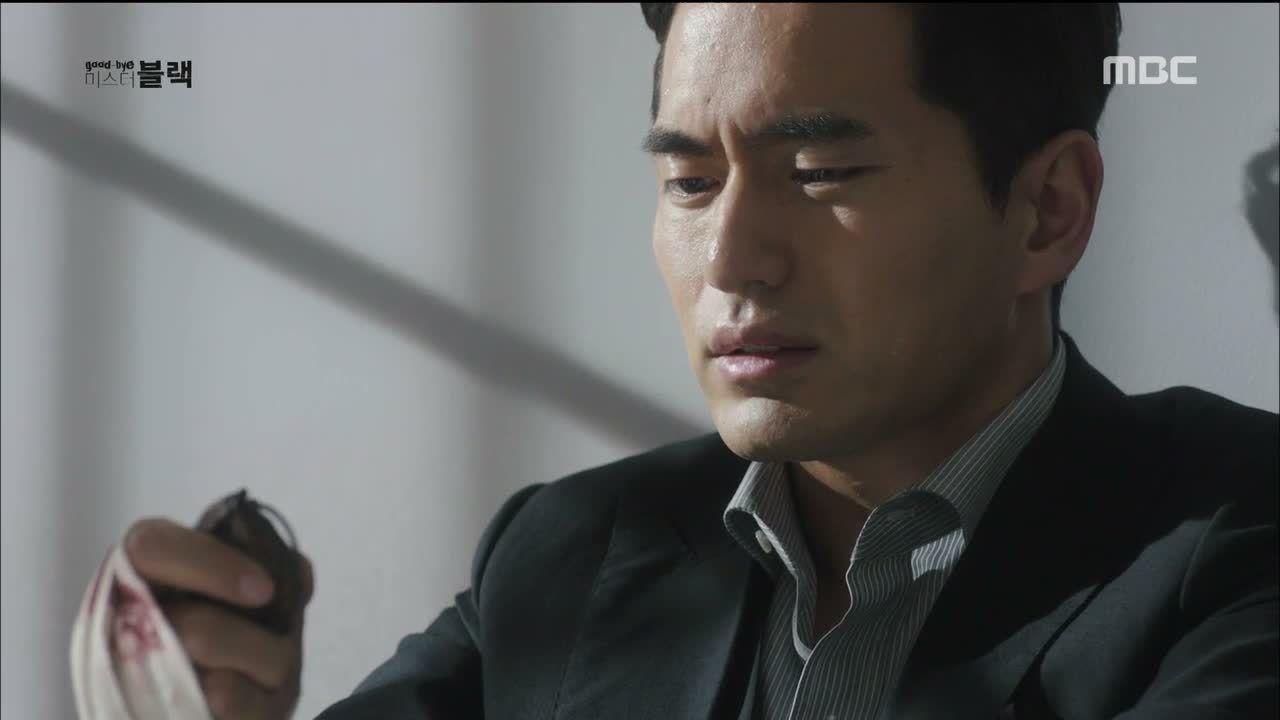 Mari and her housekeeper return to the wrecked house, and Mari notices when the housekeeper snatches something up from the floor. Mari pries it out of her hands and finds a little spy camera. Well now we know why they kept panning over to the metronome on the piano.
Mari watches the footage, which has captured the whole fight from the night before and very clearly shows Sun-jae launching himself at the penknife. She gasps in shock.
Black's head starts ringing again with sharp pain, but he can't do anything about it inside his jail cell. He just clutches the compass Swan made for him, like it helps ease his pain.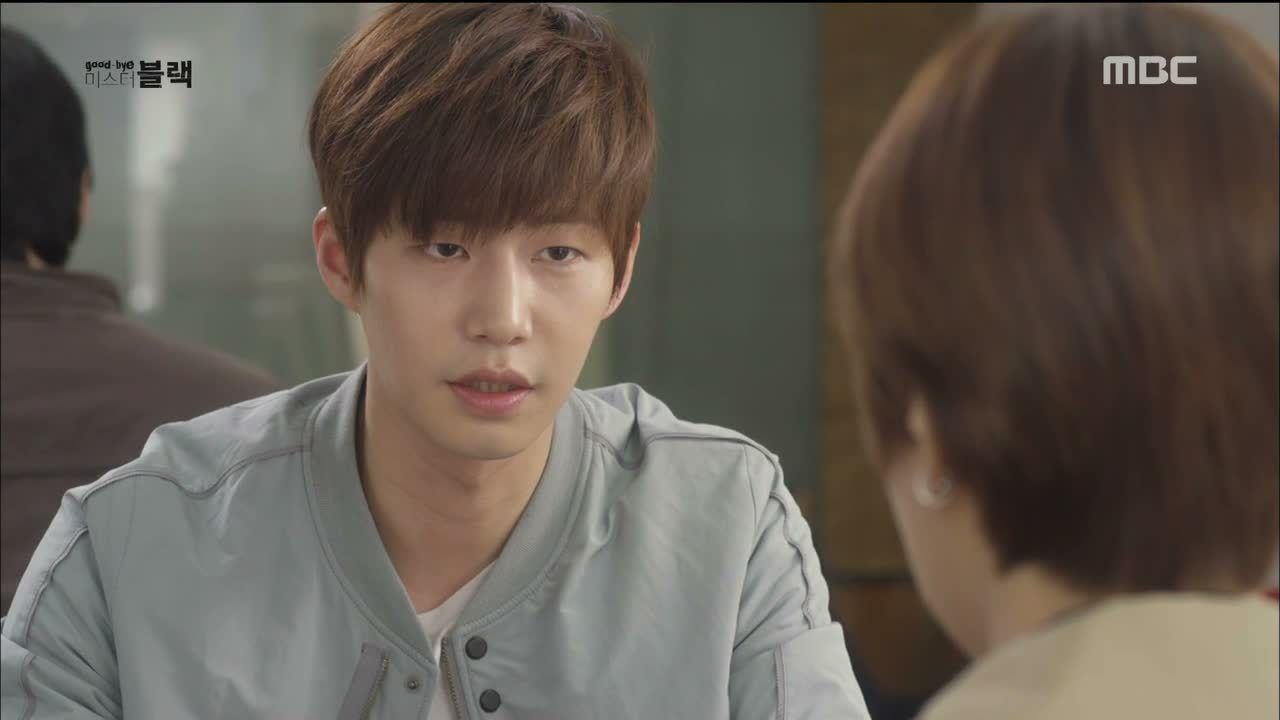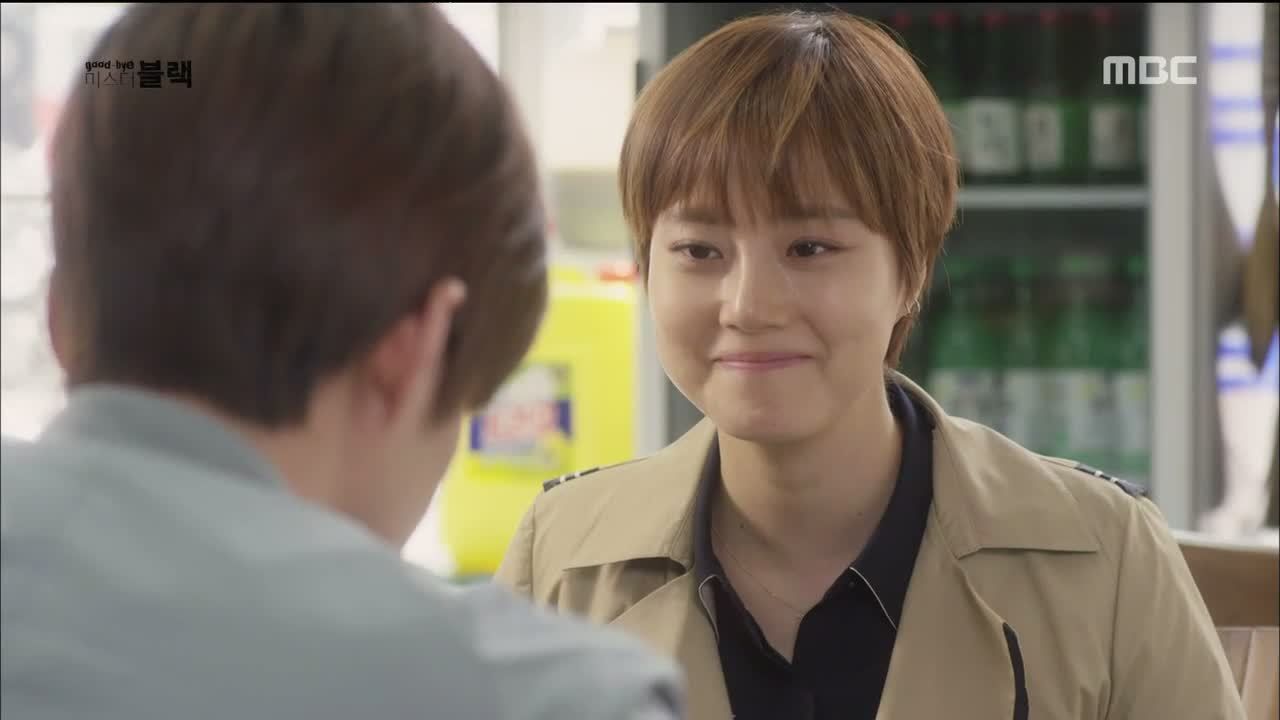 Swan's co-workers match Black's picture in the newspaper to the "wedding photo" on her desk, and Woo-jin yells at them for jumping to the conclusion that he's a murderer just because he's been accused. Swan arrives and adds that Black is too handsome to be a killer, which makes Dark Blue Panda bluer.
She asks for a week off, then adds quickly that she'd also like to not be fired. He just sighs and asks if she's eating, and takes her out to lunch. He quotes Winnie the Pooh (is it a bear simpatico thing?) and tells her that worrying about someone means you love them. He says he's not confessing or anything, but he is severely worried about her. He guesses that Black must be, too.
Woo-jin tells her to eat, then mutters, "I'm going to take that damn bastard's side and write a proper story." Swan lights up and thanks him, but Woo-jin just says gruffly that it's his job. I think we all know you're going above and beyond considering your broken heart, but go ahead, you play it cool.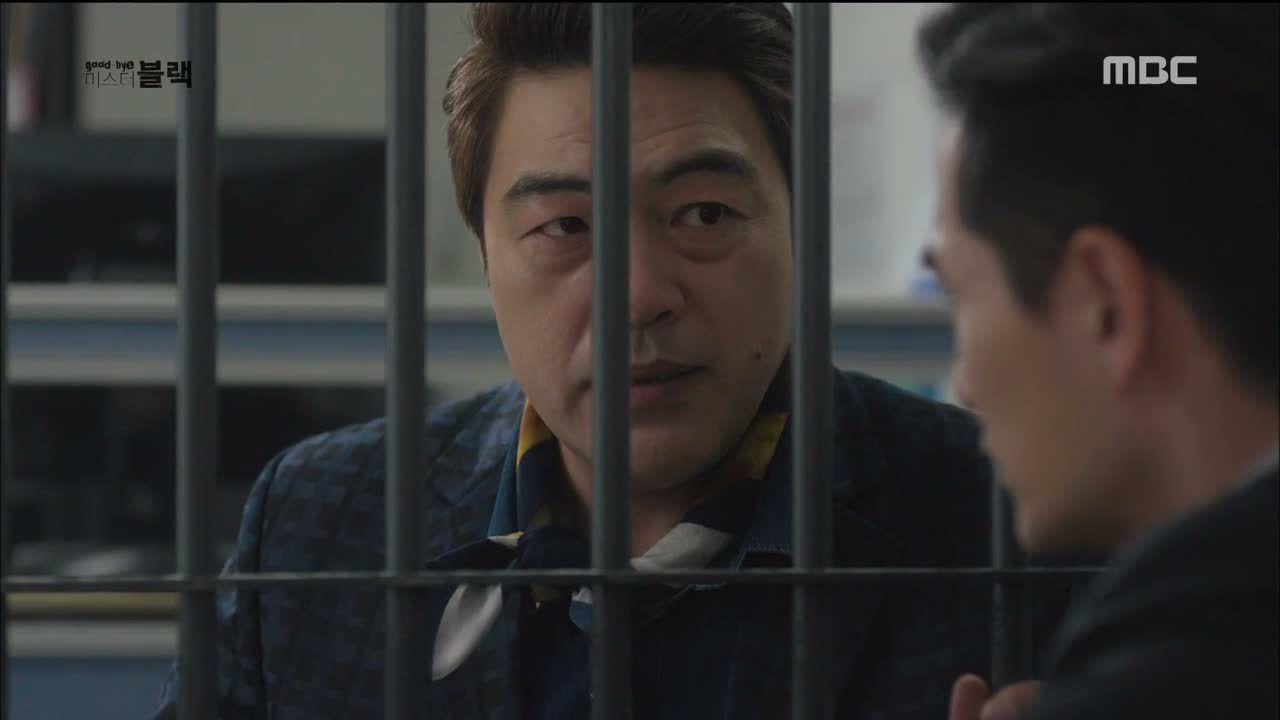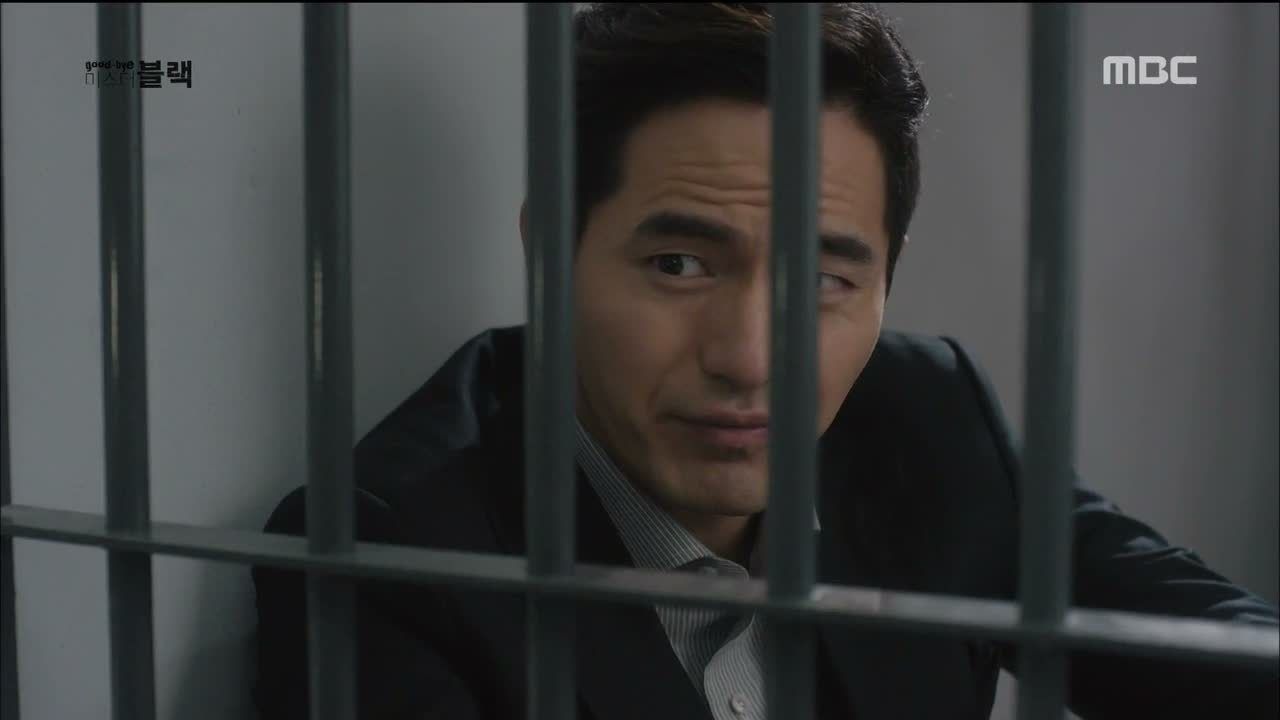 Sung-min manages to get in a special visit to Black's holding cell at the police station, and passes him a few pills to keep the impending aneurysm at bay. Sung-min frets that he can't be by Black's side, and Black asks if he wants to come in and keep him company. Hee.
Sun-jae uses his prosecutor connections to rush Black's trial and get him moved to prison. Dad worries that Ji-won would never survive prison (Is it because he's pretty?), and Sun-jae has to whine like a kid, "He stabbed ME!" Dad just answers on reflex, "But Ji-won isn't the kind of kid who'd do that…" Sun-jae gets his attention by calling him Father, and says that if he wants to keep being called that, he'll do as he's told. Sheesh.
Swan and Woo-jin go to the police station to beg for a short visit with Black before he's transferred, and Woo-jin coaxes the detective to give Swan a few minutes. That doesn't really explain why the backyard of the police station looks like a park where you'd go on dates, but shhh. We're having a moment.
Swan rushes over to Black, who holds up his handcuffed wrists and says he can't really hold her properly right now. She hugs him and he jokes about her impressive connections at the police station, while she asks if they should take Ji-soo and go on the run. She echoes his words back in Thailand and says she's confident because she's fast.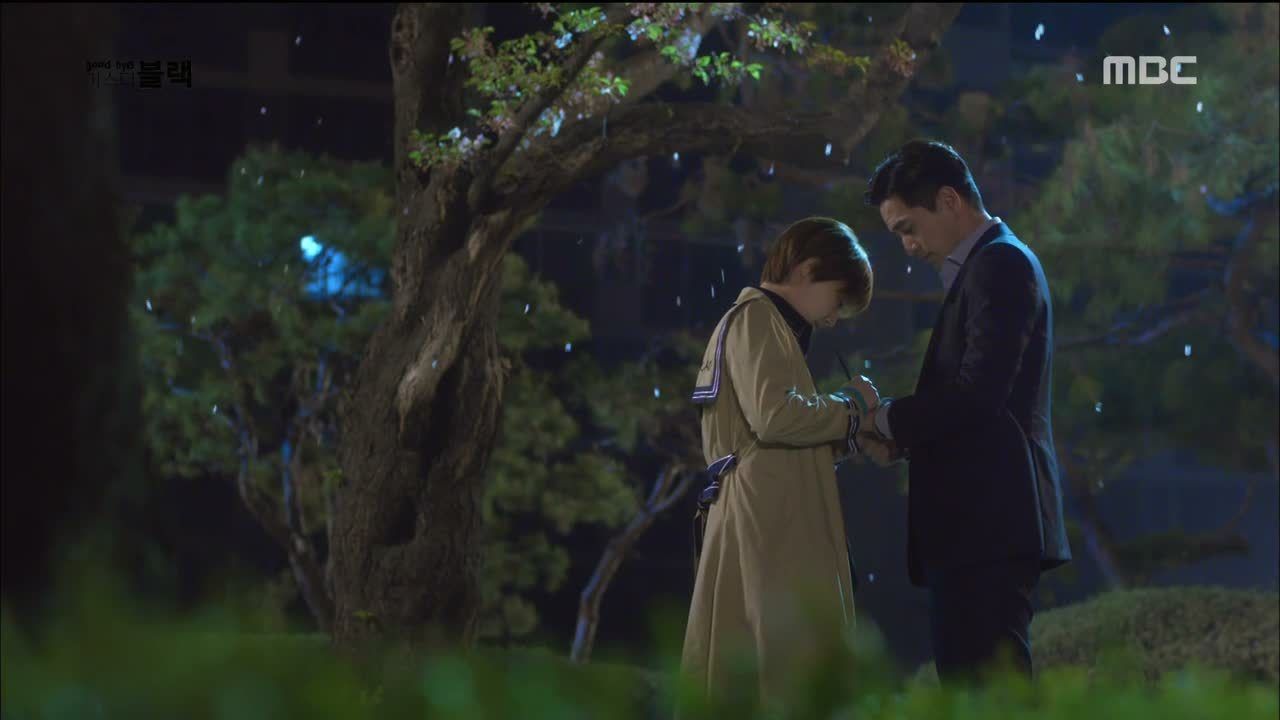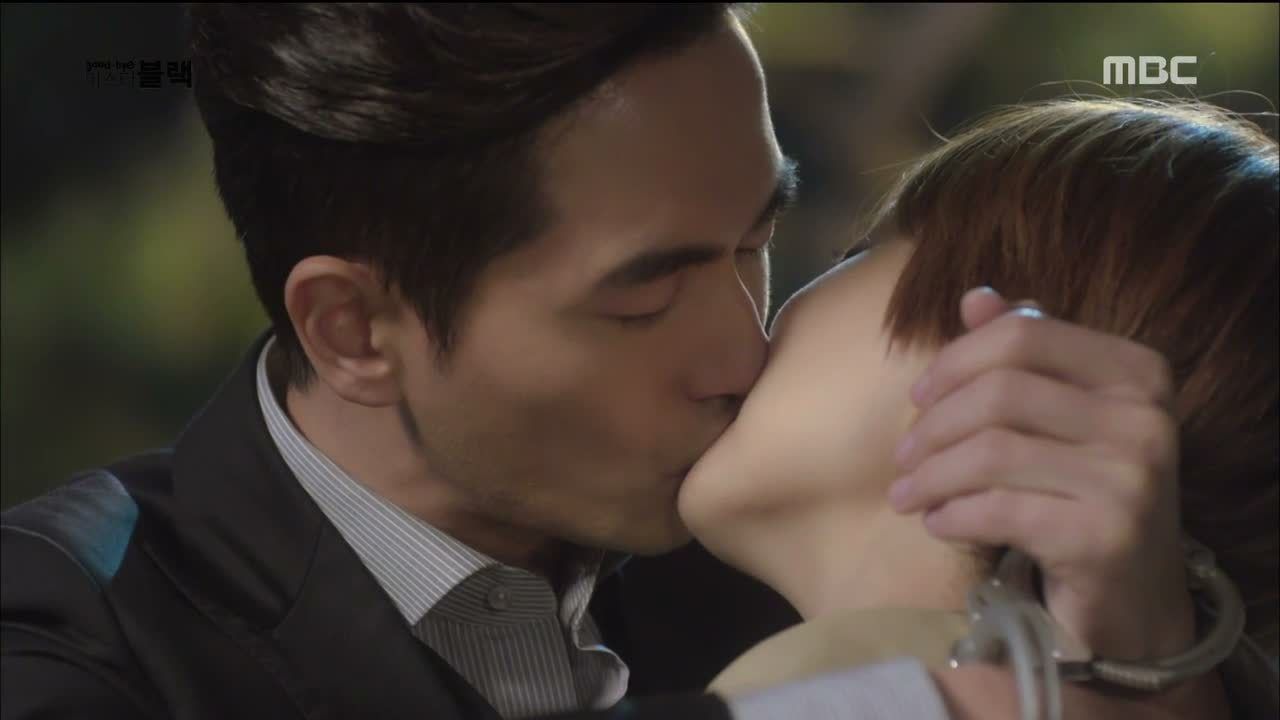 Black just apologizes for letting her see him this way, and hands her the compass she made him. He says they won't let him take it to prison, and worries about losing his way without it. Swan takes out a pen and draws a compass on his hand, saying, "Two ugly ducklings will be waiting for you. Don't lose your way, and hurry back."
He says they're almost out of time, then swings his hands up over Swan's head as he asks, "Why did you come back to me?" She answers, "Wherever you are, I'm going to find you now."
He stares intently at her and then pulls her in for a kiss. I wish this had been their first kiss. It's less emotionally jarring than the one last time.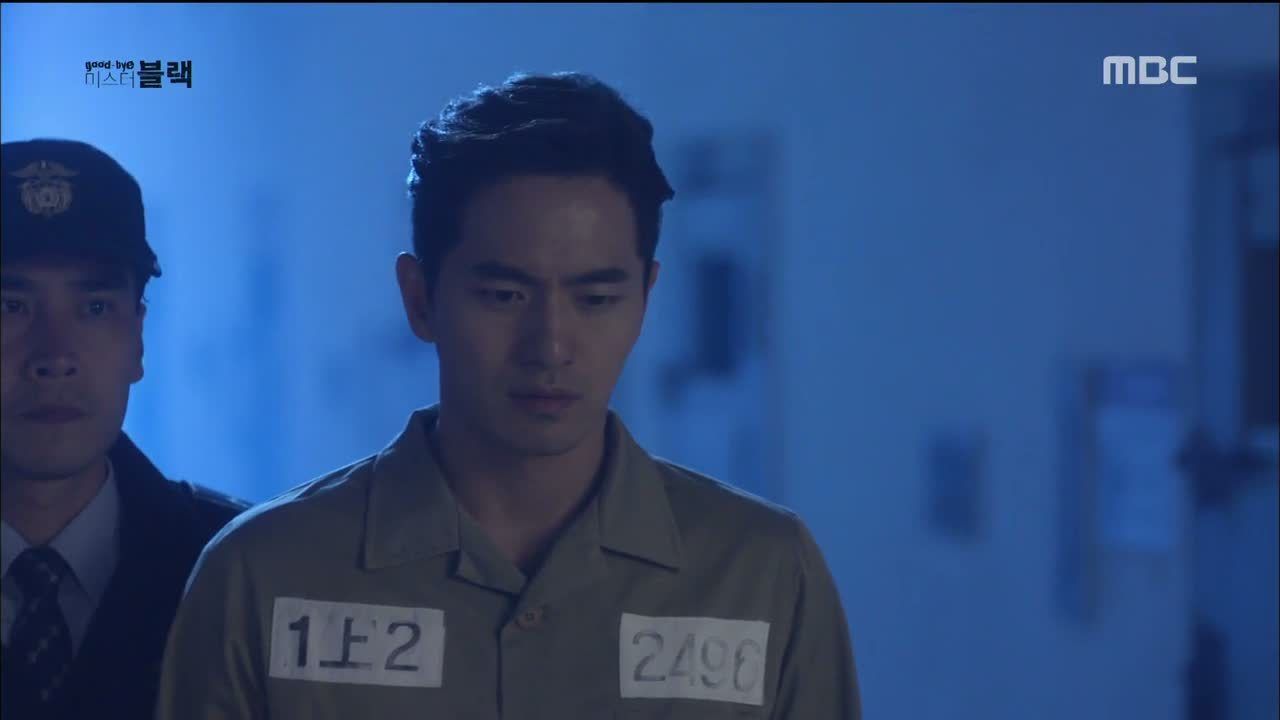 Then as Black gets led onto the prison transfer bus, Swan smiles at him from the press line. Woo-jin tells her gently, "Don't make Winnie the Pooh worry." Wait, I thought you were Pooh? Swan listens and smiles for Black's benefit, even as tears stream down her face. He smiles back at her gratefully as the bus pulls away. And then he's locked up in his prison cell.
Mari asks Sun-jae for a favor, and says she wants him to send Black and Ji-soo somewhere else, because life was good before they came back. Really? Your husband might be a murderer, so what you want is to bury your head further in the sand?
She says that they should just give Black everything he wants: "All I need is you." Sun-jae says he feels the same way, and assures her that Black won't be getting out of prison. But Mari asks him not to press charges so that Black can go free, not because of any lingering feelings, but the guilt she feels when looking at Ji-soo. She only wants to think of Sun-jae and their baby, and when she says that, Sun-jae agrees to do as she wants.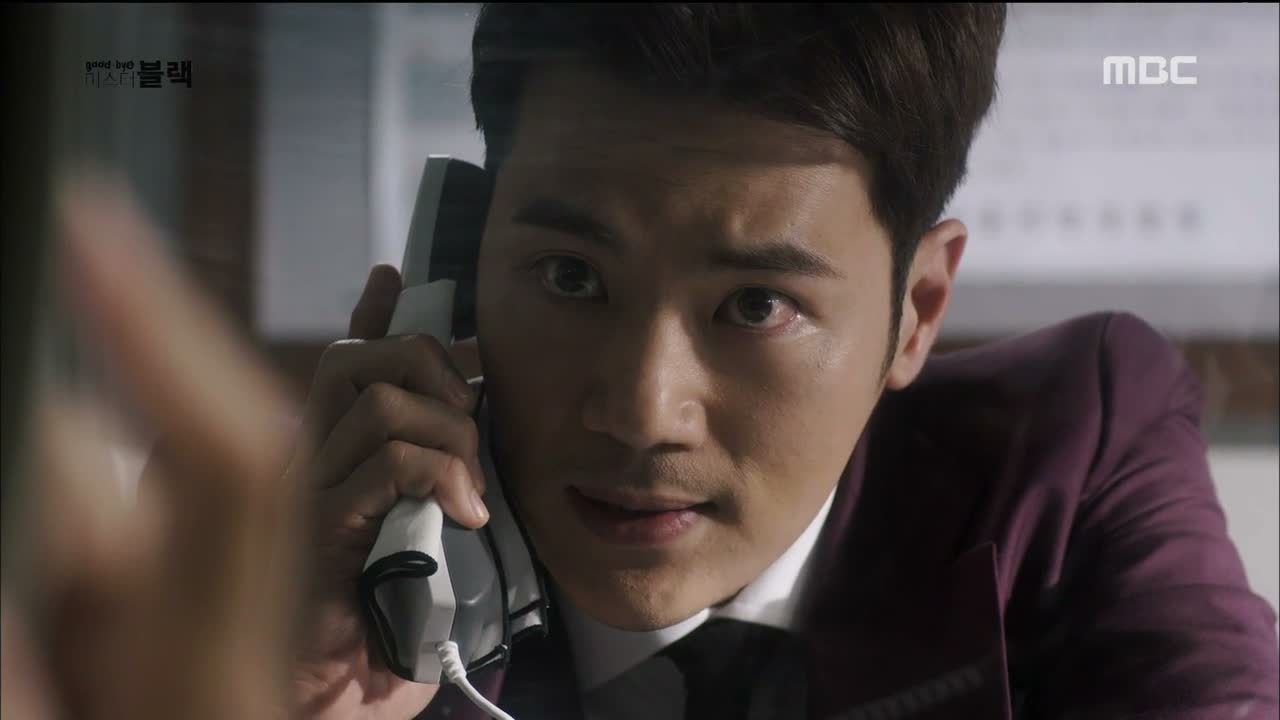 Black's interrogation is interrupted when Sun-jae calls the prosecutor and shows up to visit Black in prison. Sun-jae makes a big show of taking out a handkerchief and gingerly picking up the phone, like he's afraid to get prison cooties.
Sun-jae wonders how they ended up like this and guesses that Black thinks it's unfair. He says that's how he used to feel, but points out that Black didn't earn anything or work for what he had: "You were just born well."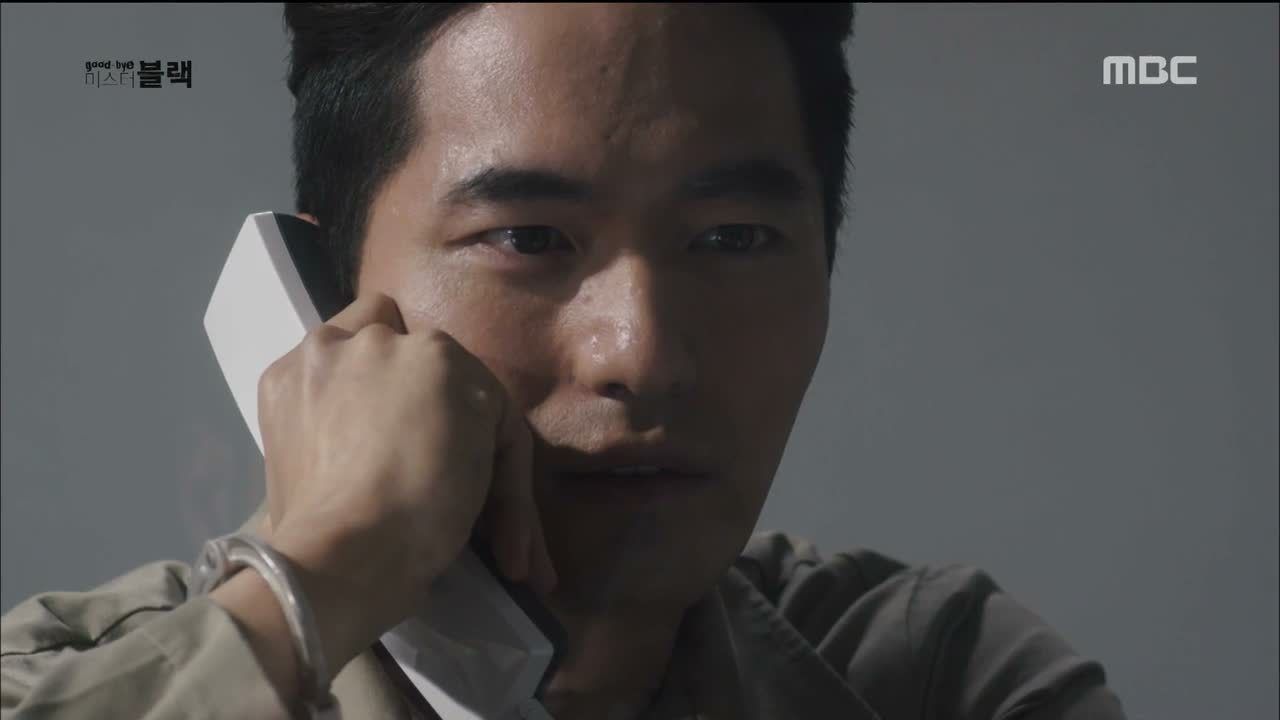 But Black just listens calmly and says, "You shouldn't have come here. I hated you to death, but now I feel sorry for you." Oh, burn. That gets Sun-jae all riled up, and he growls that Black isn't the heir of Sunwoo Group anymore—he's just a murderer. Black points out that he never killed anyone, which is what worries Sun-jae.
Black thanks him for not coming here and begging for forgiveness: "I was shaken for a brief moment, because you showed such fear." Sun-jae laughs and asks what he could possibly do from in there, but Black tosses back, "I came back from the dead, so what can't I do?" He leans in and says that he always let Sun-jae win back in the day because they were friends, but he's no match for him, and Sun-jae seethes.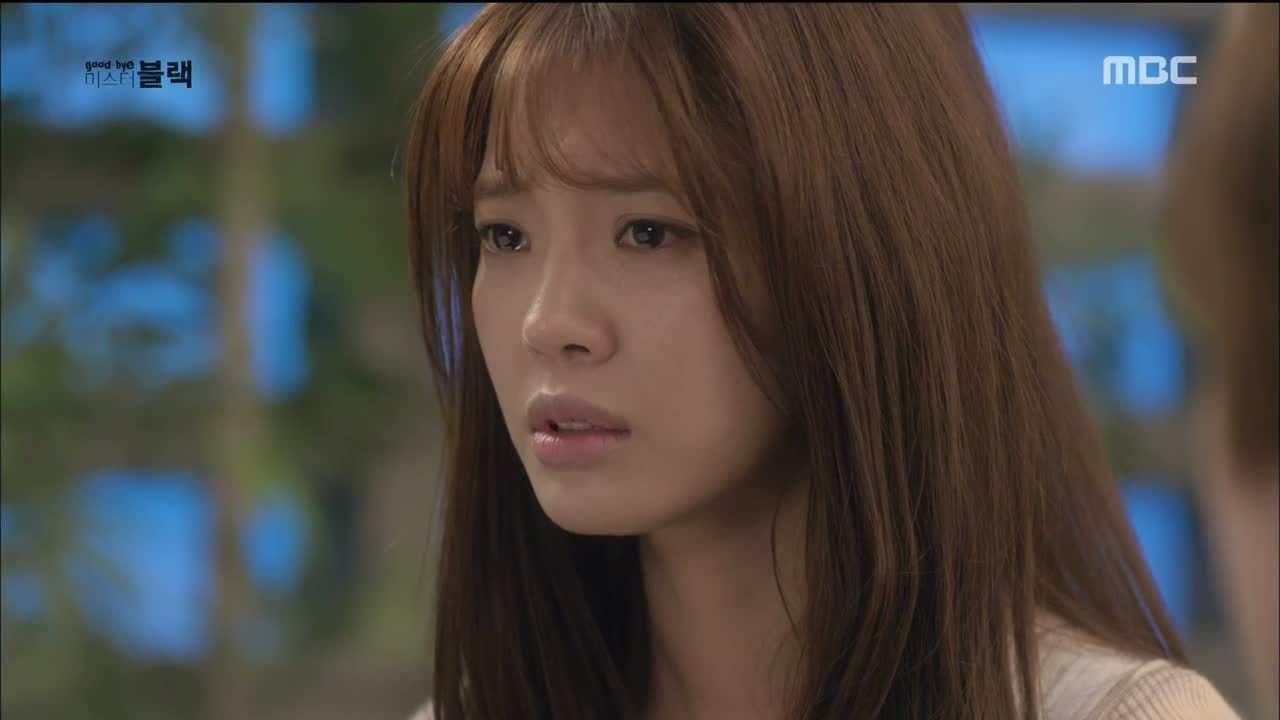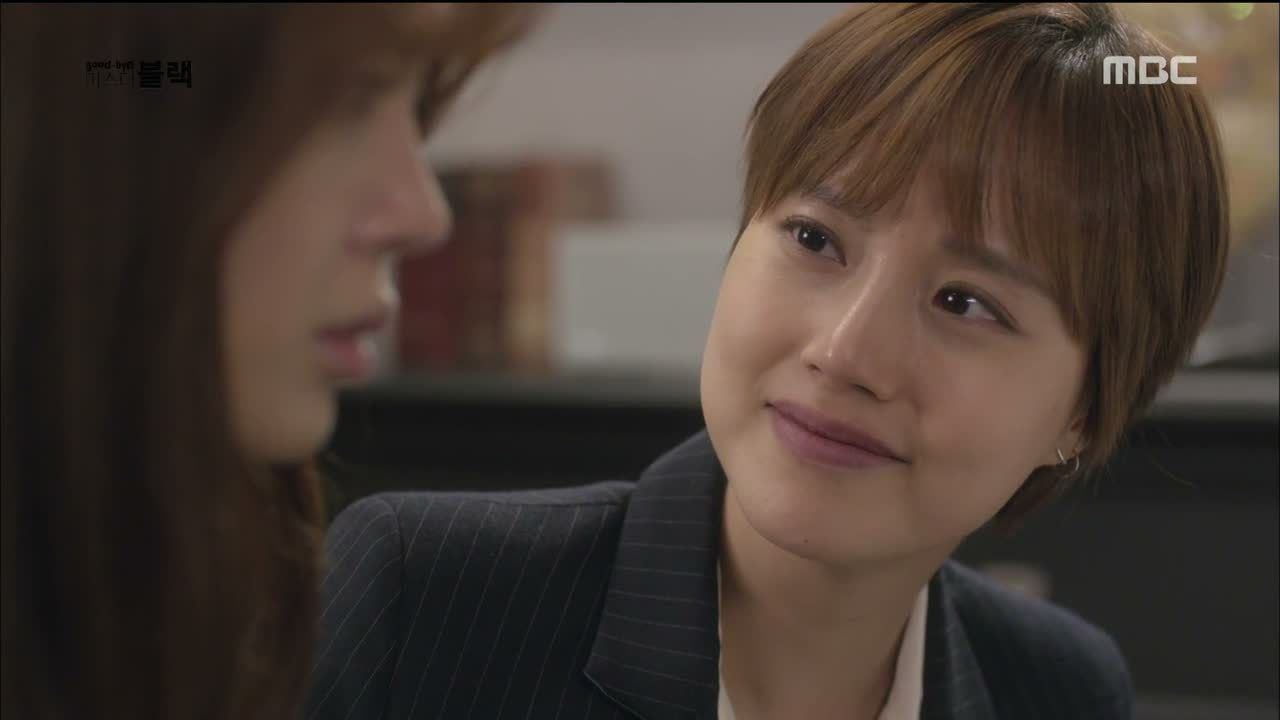 Swan and Ji-ryun are looking after Ji-soo at home now, and Swan puts Black's gold compass in Ji-soo's hand to put her at ease. She says that she and Black have been afraid before too, but the hope of finding his sister is what kept him going. She promises that he'll return, and that they'll wait for him together.
In his cell, Black struggles with more headaches and pops another pill. It calms him to look at the compass on his hand, and he caresses it with a pained smile.
Black gets another visitor in prison, but he's visibly disappointed when he sees that it's Mari. She notes his reaction but asks him to sit anyway, and cries as she tells him how sorry she is for not looking harder for Ji-soo. Black just says, "Don't cry in front of me. I'm sorry too—I've forgotten you now."
He tells her not to come back and gets up to leave, and Mari says that Sun-jae will get him out and that she knows Black didn't do it, all the while apologizing that this is all she can do for him.
But the case goes to trial anyway, with Ji-ryun representing Black as his lawyer. The prosecutor lays out the charges, from the first murder he was framed for back in Thailand, to the attempted murder of Sun-jae. That's when Mari realizes that Sun-jae isn't going to keep his word (I can't believe you thought he would!) and storms out of the courthouse.
Black pleads innocent, though the defense doesn't get their turn until tomorrow. Swan stares daggers at Sun-jae the whole time, and afterwards he comes up to her and says she should only write about the facts. Well now you just turned it into a challenge, didn't you?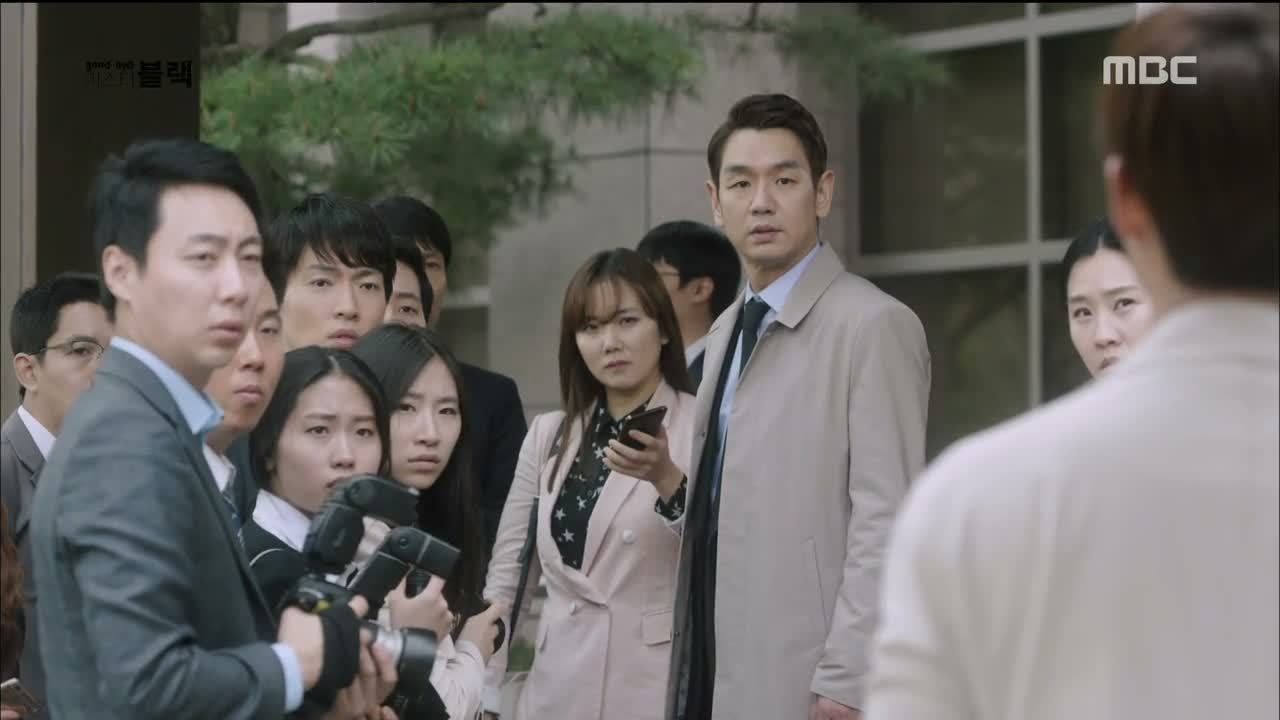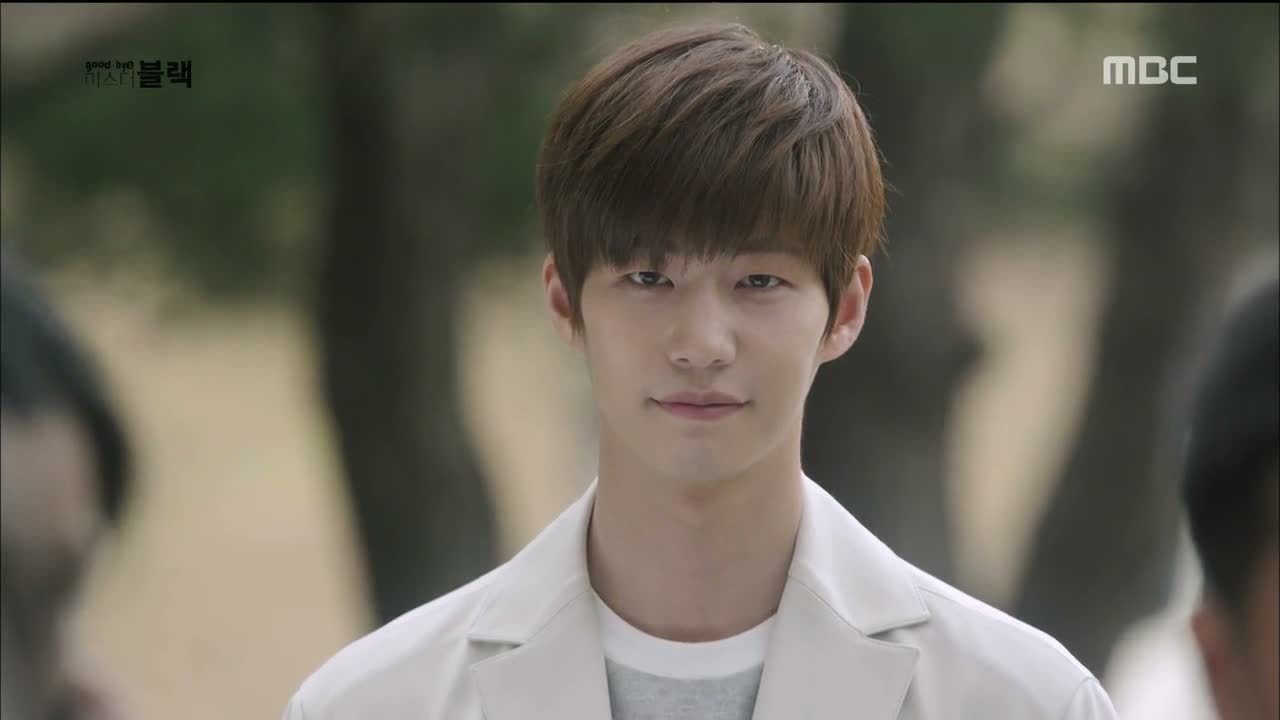 Ji-ryun is flocked by reporters on his way out of the courthouse, and when they ask about all the accusations against Black, he pointedly tells them to only ask about the facts. From the back of the crowd, Woo-jin pipes up and asks if it's true that Sun-jae got the sole heiress of Sunwoo Group to hand over power of attorney and then made her disappear, which is what he and Black fought over in the penknife fight. Go Dark Blue! He and Ji-ryun exchange little smiles.
Mari confronts Sun-jae about going back on his promise, and demands that he tell the truth before she does, admitting that it scares her now, waiting to see what lie he'll tell next. He sticks to his story that Black stabbed him, so Mari finally takes out her phone and shows him the video of their fight. And the first thing he asks is if Black put her up to this.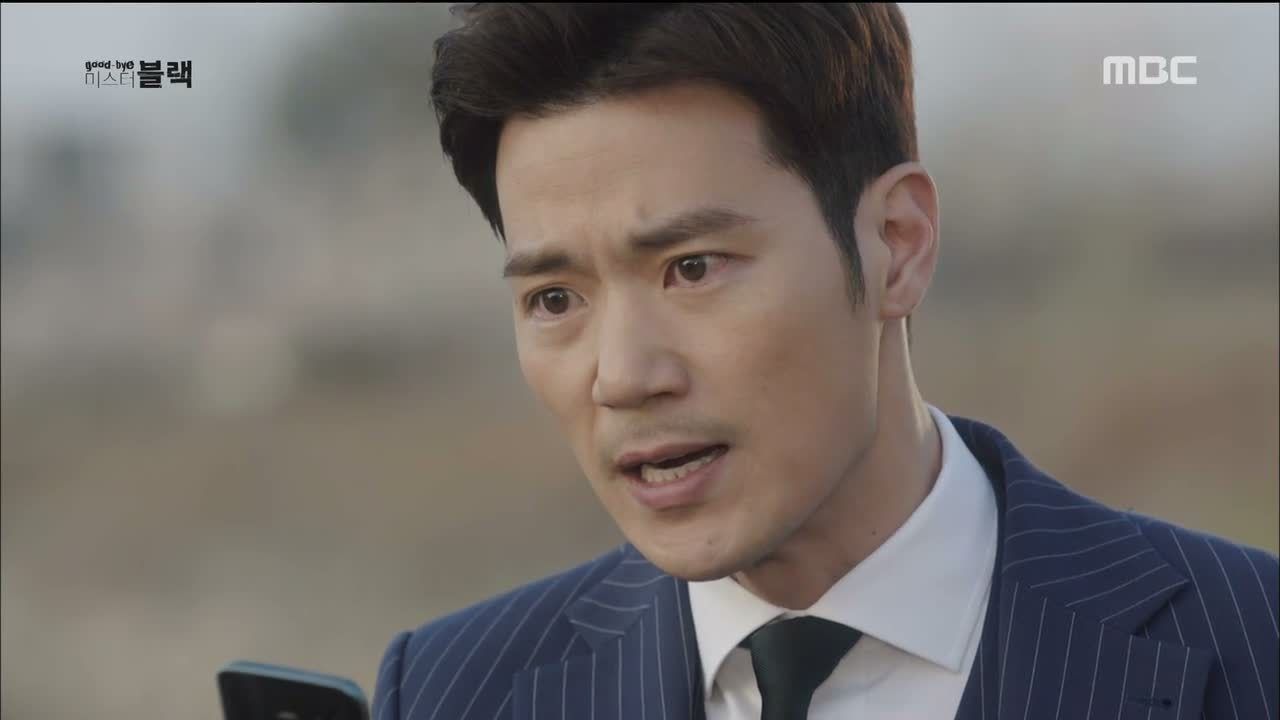 Sun-jae says this is why he can't let Black out of jail, even if he wants to (yeah right). Are you even listening to what she's saying?! He begs her to stop angering him and says that Black is a murderer, but Mari defends him to the end.
Ji-ryun tells Black to prepare himself because Sun-jae will get the media to turn on him and start a witch hunt, and then introduces his new office manager. Swan walks in wearing glasses for her new job, ha, and Black laughs.
She struggles to put on a brave face for his benefit and tells him that Ji-soo is doing well. He asks her professional legal opinion on whether he'll make it back home, and she assures him that he will. He's not so sure and says his compass is gone, so Swan draws him a new one on his hand, this time with an elephant that will always keep one eye open and guard him.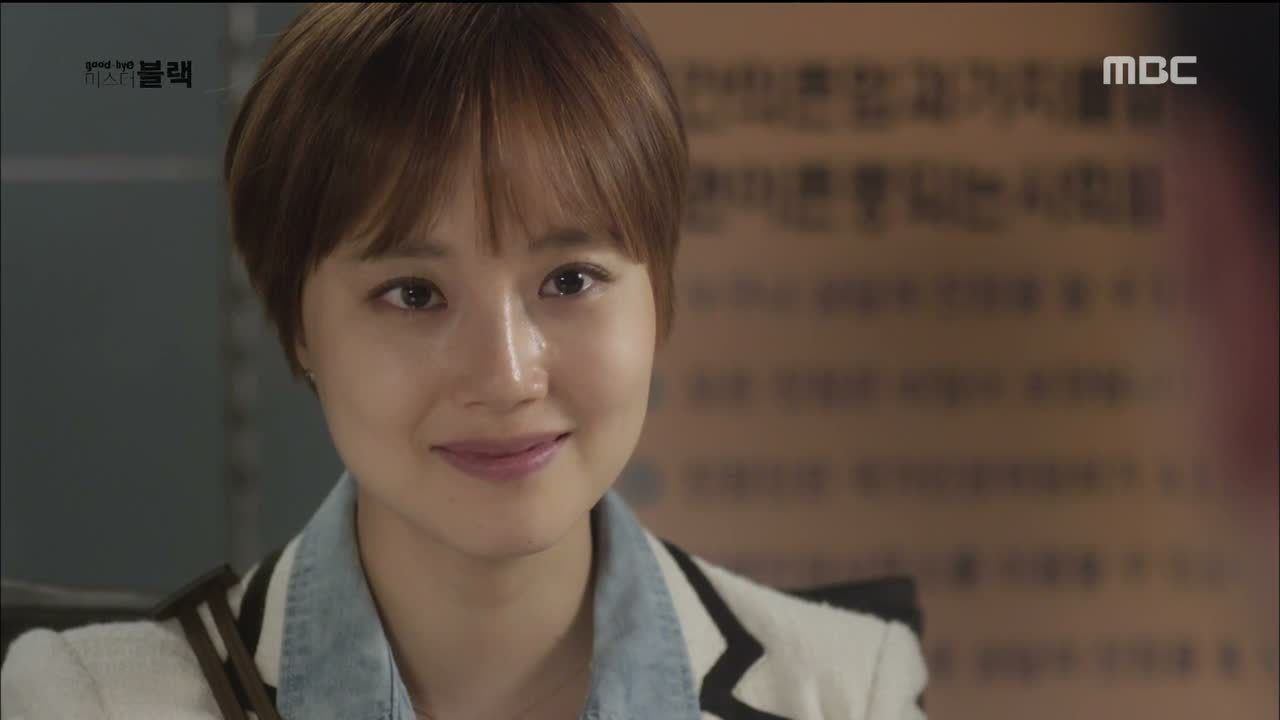 She tamps down her tears and misquotes Panda quoting Pooh, and says that love is not making the other person worry. She tells him not to worry and calls him Ji-won, and he says he wants to be Black, at least to her. He says their names together, and that a black swan is supposed to represent an unattainable miracle because they don't exist in nature. But… wouldn't you rather be symbolized by something attainable?
Ji-ryun tells Swan that he intends to get witness testimony from the woman who was Ji-soo's caretaker. Which of course means that something's about to happen to her. Sure enough, she's magically released from prison and brought to Teacher Baek, who pays her off and says she did a good job.
In flashback we see that he instructed her to lead Black and Swan to Ji-soo, and he intended for Black to find his sister all along. Teacher Baek is delighted that Black and Sun-jae are fighting each other, because he's certain it'll end in death for one of them.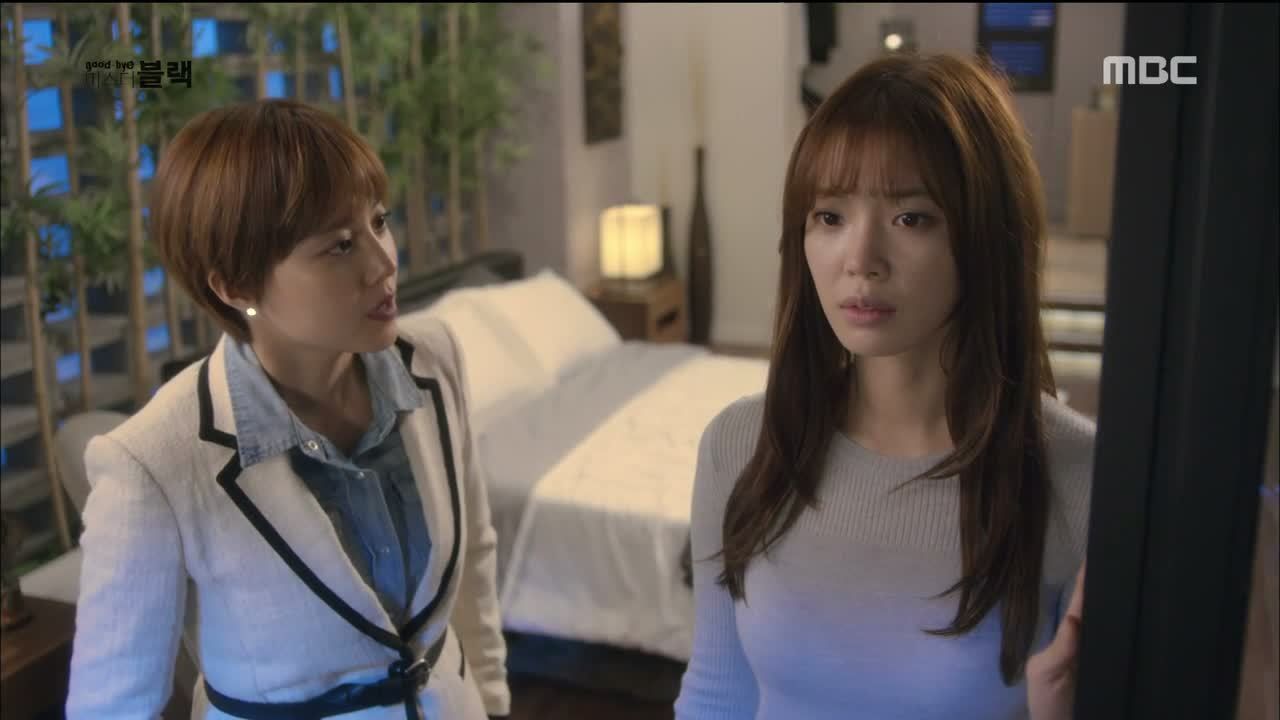 Swan continues for care for Ji-soo very gingerly, knowing that she's very fragile. But when Swan wakes up from a nap, Ji-soo calls her by name and asks where her brother is because she wants to see him.
Sun-jae is alarmed when he finds his bed empty in the morning, and he races out when he sees a text from Mari telling him to reveal the truth before she does.
Teacher Baek orders his minion to look into a matter in Thailand, and is handed a stack of pictures of a little girl. For some reason, the girl immediately makes him think of the elephant painting on his wall.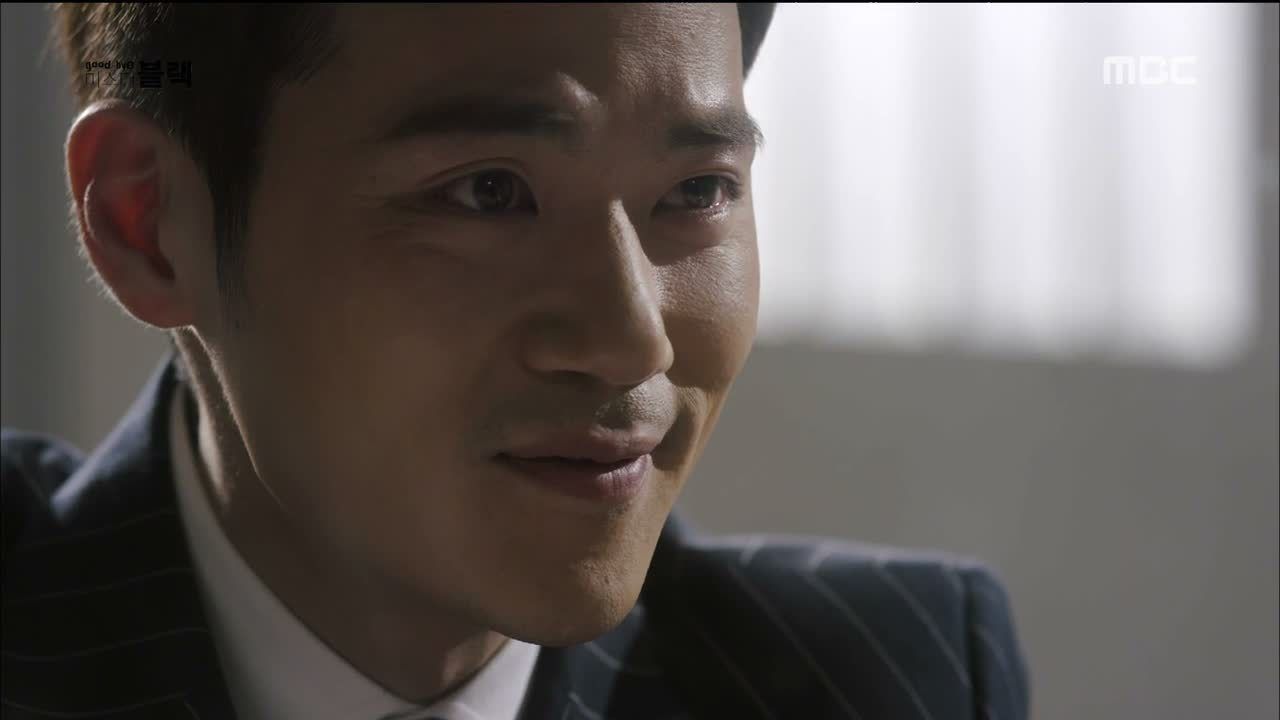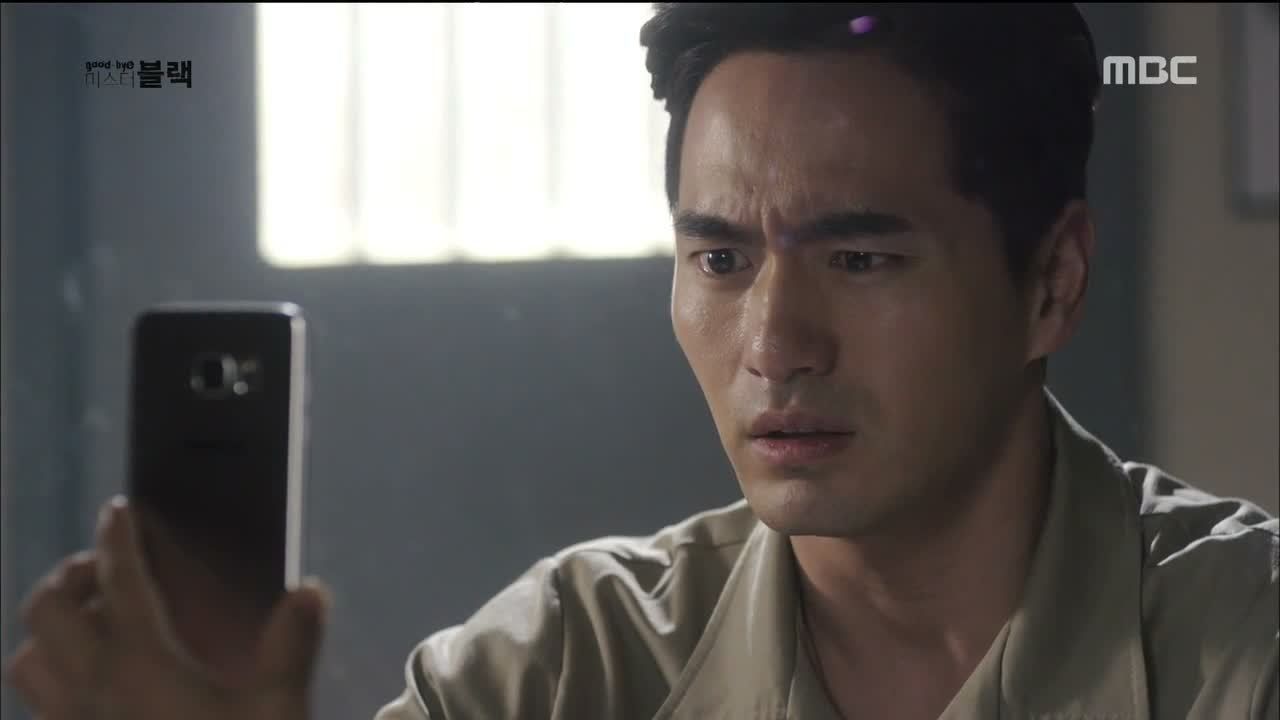 Black stares at a phone that's held up to the glass in the visiting room, his face wrenched with emotion. I'm totally expecting it to be Mari with the video of the fight, but it's Sun-jae, showing him a live feed of someone who's following Swan's every move.
Sun-jae says that she's on her way here right now, but she won't make it. Then he declares triumphantly that Black is going to have to stay in prison. He sighs, "Ji-won-ah, I don't want to commit any more sins." So then stop!
Black fights his anger and sheds a tear as he says in defeat, "Okay, I killed him. I'm a murderer. Leave Swan alone."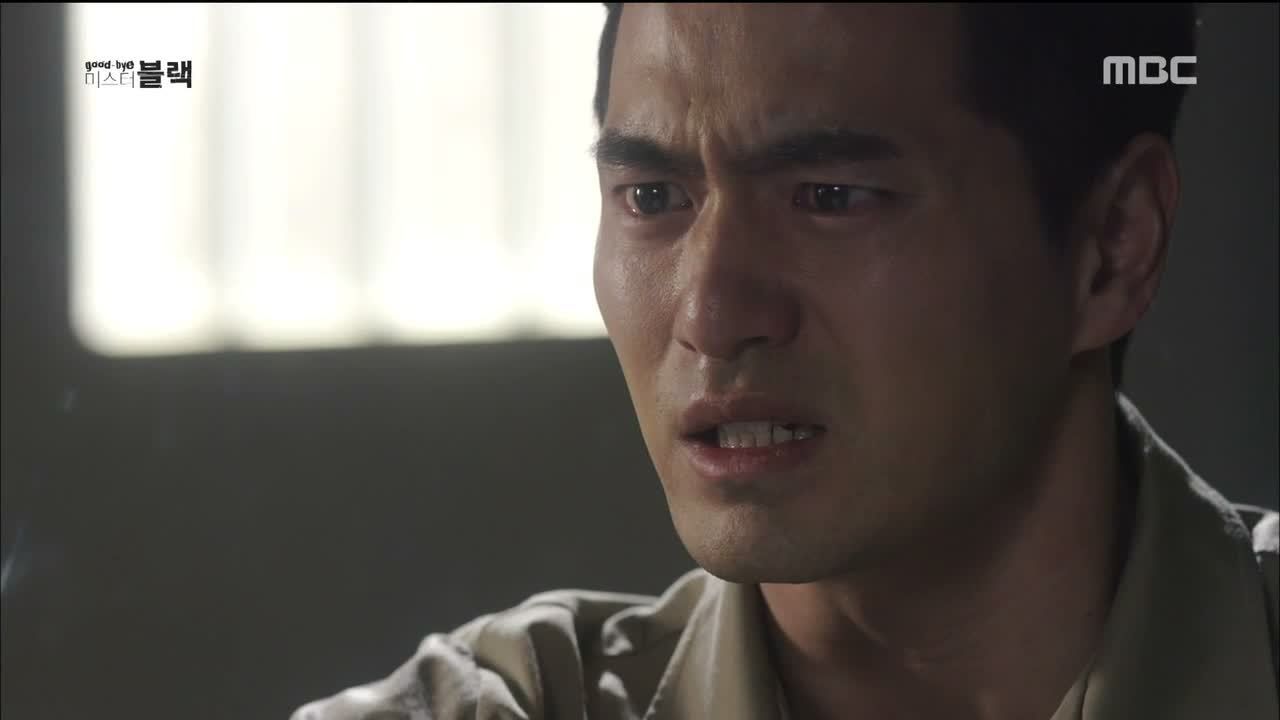 COMMENTS
No! Don't fall for it! Sun-jae is really bad at murdering people, so the odds are in your favor that he'll fail at killing her too! And what will Swan think when she finds out that you took a murder rap just to protect her? You know, as much as I don't understand why Black didn't run this time, I am glad for the sake of plot that something new is happening and the dynamics are shifting now. Because I feel more for Black when he's backed into a corner and fighting against more powerful people. I don't trust the law to be on his side, but character-wise he's more relatable as the underdog, and we get better angst out of him when he's been caught and his hands are tied. Not to mention better emotional pull for the romance, which is frankly still lacking, but sooo much better now that there's a conflict driving them apart physically, and closer together emotionally. It doesn't make up for the fact that I'm still confused about how and when Black fell in love with Swan, but at least their relationship in its current state has something interesting going on because he can't be by her side.
I do think the plot took a big upturn with the return of Ji-soo, because her reappearance upsets everyone—the people who loved her, the people who said they loved her but really just forgot about her, and the one person who was hoping she was dead. If I had known it would take Ji-soo's return to really make Black snap and dive into his revenge wholeheartedly, I would've been pleading for her comeback sooner. Also, does that mean his revenge was only halfhearted to begin with? Were you not even trying before? Don't you think that's inconsiderate for those of us who thought you were giving your best? In any case it's more interesting to see Black fly off the handle and do some unpredictable things, even if it led to prison. I just hope he has a plan for how to prove his innocence that isn't just blind faith in Ji-ryun or the law. I like Ji-ryun, but I would like to think that Black has something up his sleeve.
My favorite thing in the episode was seeing Sun-jae slowly unravel. It's fascinating that even when Sun-jae is in a position of power, he's obsessively insecure, while Black remains self-assured even in prison. Sun-jae is just a ball of neurotic inferiority, and it says so much that he can't see that his wife is choosing him, because he's SO sure that she's chosen Black. In his mind that's how he expects it to go—of course Mari would choose Black, never him—so even when she's baldly choosing him in the face of what he's done, Sun-jae doesn't see it. You just want to shake him and scream, Stop killing people! She loves you! He actually got the one thing he's always wanted, and he's pissing it away because he's still competing with Black. If he weren't a villain, it'd drive me crazy, but since he's just digging his own grave, there's a nice sense of satisfaction in watching him do that.
As with everything in this show, what we're given always makes me sigh over how nice it would've been to add a layer of mystery and subterfuge—for instance by keeping us in the dark about Black and Sun-jae's fight. If we had only seen the bloody aftermath and Sun-jae's word against his with all the evidence piling up against Black, it would've been nice to wonder, even for half a second, if Black had gone off the deep end with rage over what Sun-jae had done to his sister. It would've made for a great turn in the story, especially if he'd gone dark enough to sever ties with Swan and make us wonder what his intentions were in going over there late at night. I know, Winnie the Pooh is just not that kind of bear. But don't you think it would've been cooler to have a revenge drama where your hero wasn't such a boy scout? Would it really be so bad to let us think he stabbed Sun-jae on purpose? I don't even think he hit any major organs! I would've still taken his side, I swear! But they never give us the chance to wonder and make that choice, because good is good and bad is bad. But hey, both are pretty.

RELATED POSTS
Tags: Episode 10, featured, Goodbye Mr. Black, Kim Kang-woo, Lee Jin-wook, Moon Chae-won, Yoo In-young