Jo Jung-seok jokes his way through interviews for Time Renegade
He may have laughed and joked his way through several interviews for his upcoming film, Time Renegade, but it's clear that Jo Jung-seok (35) takes his craft very seriously. He's always had the performing bug, and he was a theater major at Seoul University before he was forced to quit to support his family. He began earning money in 2004 by landing parts in musicals, and had made a name for himself in the musical theater world before his big mainstream breakout in 2012's Introduction to Architecture, in which he played the protagonist's bestie, Napdeuki.
He's since continued to build upon his career, working in films, in dramas, and appearing on variety programs. What I found endearing about Youths Over Flowers in Iceland was the humility of all of the actors, but Jo in particular seemed earnest and eager to please. The years he spent as a struggling actor seem to have ingrained in him a sense of gratitude regarding how far he's come, and correspondingly, have imbued in him a willingness to try anything.
"It's not always good to be constantly changing or to always try new things, but I think now is the time to try hard [to push myself]. I don't want to stick with the things I'm good at. Whether they are failures or successes, I will continue to try my hand at various works and I'd like to hear, 'That's Jo Jung-seok for you,' about those choices."
For the recently-released Time Renegade, he becomes a character living in 1983, a music teacher named Ji-hwan. To the press he teased, "I'm fed up with playing someone from the past," but he quickly recanted. "Actually, I like it. From Napdeuk in Introduction to Architecture to The Face Reader to The King's Wrath, I hope to be an actor for whom past characters continue to fit as well as they do in the present."
Ji-hwan is engaged to the love of his life and fellow teacher Yoon-jung (Im Soo-jung). After getting into an accident, Ji-hwan starts to connect through his dreams with Gun-woo (Lee Jin-wook), a violent crimes investigator living in 2015. Through glimpses of Gun-woo's life, he learns that Yoon-jung will be the victim of a murder, and the two will work together to attempt to save Yoon-jung. Ji-hwan and Gun-woo are connected in more ways than one; in the present (or near-present), Gun-woo is in love with So-eun, who's also played by Im Soo-jung.
It was Jo's first time working with Im, and he praised his co-star. "I was really taken aback. Im Soo-jung plays Yoon-jung in the 1980s and So-eun in 2015. If the two characters had been Jekyll and Hyde, they would have been easier to play. Yoon-jung and So-eun are similar but also different people. Not just depicted through hairstyles or clothes. There's a delicate feeling that Im Soo-jung played to perfection."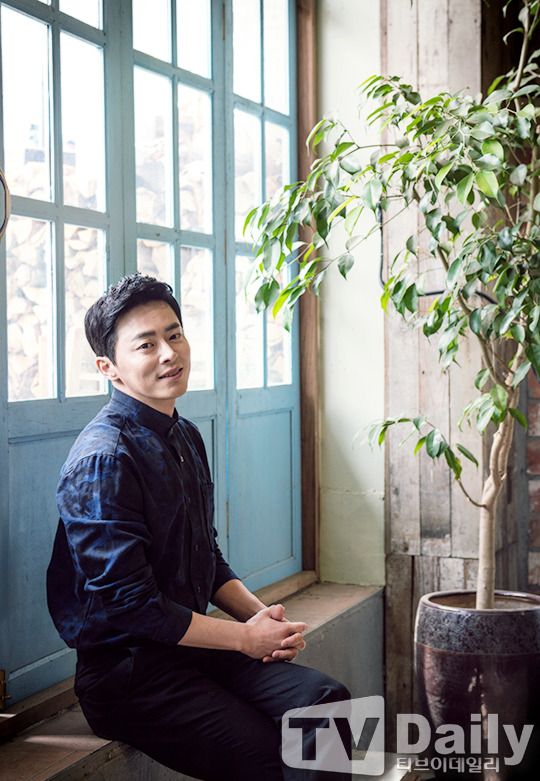 He's proud to be known for having chemistry with all of his female co-stars, in both dramas and films. "I really love that. As someone who puts my all into my work, I value chemistry above all else, and because of that, I feel good when I hear that an ensemble [I was part of] was successful. Leading and supporting actor awards are nice but I feel better when I receive an ensemble or couple award.
"At the end of last year, a portal site held a vote of the drama couple who complimented each other the best, and the prettiest kiss scene. Oh My Ghostess won both categories and I felt great. For You're the Best Lee Soon-shin, I won a couple award with IU and for My Love My Bride, people questioned whether Shin Mina-ssi and I would be a good fit, but after the film came out, people told us we looked good together. I think that hearing these things is a source of great strength as I work on projects."
There were a couple of things that drew him to this film. It was his first time working with director Kwak Jae-yong (My Sassy Girl, The Classic). "In all honesty, I've been a fan since I was a little kid… After working with him, I'm in awe of director Kwak's emotional intelligence. I think that emotional quotient is embedded in the film."
He was also enamored by the script. "The script was so fun I couldn't put it down. I knew at once I wanted to be a part of this project. Whether it was as Ji-hwan in the past or as Gun-woo in the present, I didn't have a preference, but I definitely wanted to be a part of the film." He continued, "The story is so fast-paced you'll follow along without stopping to take a breath, and although it's a thriller, it is also a hidden melodrama."
Jo had a concept in his head for Ji-hwan, the idea of a normal but also courageous person. There's a scene during which music teacher Ji-hwan watches 80s program Chief Inspector and says, "I want to be a detective, too." Jo thought it pointed out Ji-hwan's heroic nature. "The first scene is one in which Yoon-jung gets pickpocketed and he chases after [the thief] and fights. That's Ji-hwan."
There's a scene in which he plays piano. "I practiced up until right before we filmed [that scene]. I'm supposed to play a music teacher so I needed to play well. Because of the editing, it looks as though I am playing well." (Laughs.)
He was asked if there were difficult aspects to filming, and he replied, "As I watched the film, I realized I ran around a lot." (Laughs.) "In particular, the last rooftop action scene was very difficult. It was really cold because it was December and there was a sprinkler truck making it rain and I was filming in just a shirt. Because of the rain, you could see under the clothes and so I couldn't even wear protective gear while filming. The square bars that appear in that scene are real square bars. I woke up the next morning and looked down at my stomach because it hurt so bad and found railroad tracks." (Laughs.) "I had taken some heavy hits to the stomach with those bars."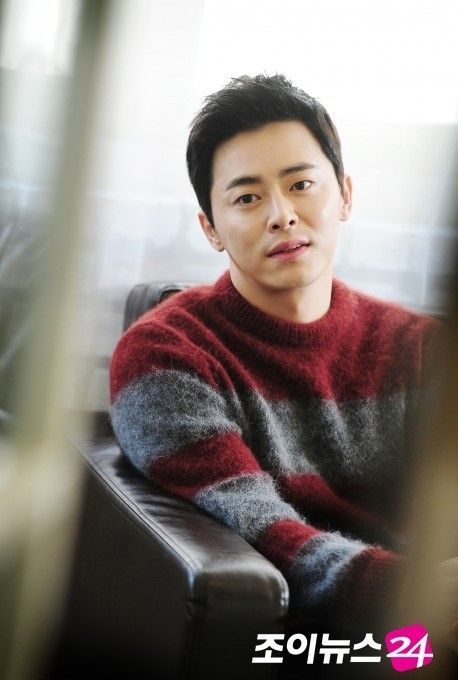 When tasked to channel his emotions to play the part of someone about to lose his fiancée, he thought of his girlfriend, singer Gummy. "I think it was easier to empathize [with the character] because I am dating." Jo continued, "If I dare say this, I really loved Yoon-jung during filming."
On the similarities between him and Ji-hwan, Jo said, "I haven't experienced a situation where I had to risk my life for a loved one, but for a loved one, I think I could do anything." He goes on, "A loved one could be a significant other, or it could be a family member, right? When I'm with my mom or a family member and someone gets confrontational with them, I get pointlessly angry and my muscles start twitching." (Laughs.)
The film is about pure, everlasting love. Jo's thoughts? "People in the current day and age date quickly and break up and the divorce rate is high. If you look at the statistics, fantasies [about everlasting love] could be broken, but for me personally, I want to keep holding on to the fantasy. A lot of my married acquaintances will tell me, 'You haven't been married so you don't know,' and they act like they've lived out their whole lives already. Still, you have to live to know and I also have a lot of friends who are living blissfully in love, so watching them, I can continue to believe in the fantasy."
Time Renegade premiered in theaters on April 13.
Via Chic News, Joy News 24, Sports Chosun, TV Daily
RELATED POSTS
Tags: interviews, Jo Jung-seok