Cinderella and the Four Knights still without a broadcaster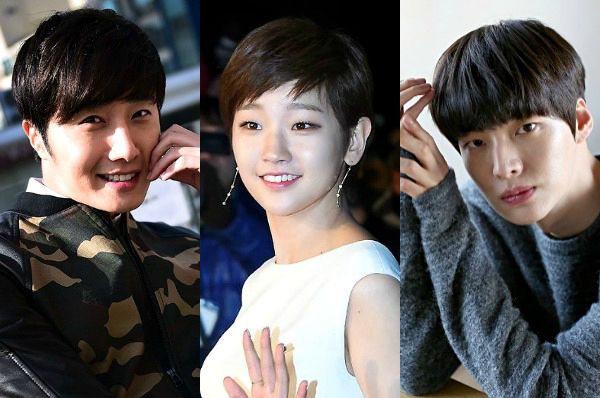 It's too bad, but it looks like we might not be seeing youth romance drama Cinderella and the Four Knights this year. The window is slowly closing on remaining timeslots in 2016 for the Big 3 and tvN (or should we just call them the Big 4 now), and the series isn't any closer to getting picked up by a broadcaster. The other problem is that the shooting schedule is falling behind, and with lead actress Park So-dam (Because It's the First Time, The Priests) due on the set of Beautiful Mind by early June, it's unclear what Cinderella's fate will be.
The series is based on a novella of the same name about a young woman who's an outsider in her own family, and gets the chance to move into a huge mansion when she helps out a grandpa, not knowing that he's a chaebol. She'll move in with his three beautiful grandsons, who are all cousins: rebellious boy Jung Il-woo (Records of a Night Watchman), cold bad boy Ahn Jae-hyun (Blood), and nice church-oppa type Lee Jung-shin (Temptation), and find love and friendship among them. Unlike the original, which is set in high school, they'll be in their twenties.
The 16-episode rom-com is being produced by HB Entertainment, and set out with a plan to finish shooting the entire drama by late May. But according to a source within the production, the scripts haven't been completed for the series, and they've only shot 10 out of 16 episodes. On the one hand, it seems crazy that the scripts aren't done when the drama has been in development for so long, but on the other hand, shooting 6 episodes in 3 weeks is normal live-shoot crazy, by dramaland standards.
It might be a case where aiming to be 100% pre-produced actually backfired on the show, because now it's floating around with no broadcaster, and the lead actress won't be available after May, so they have to finish shooting now. Part of the reason she couldn't officially join Beautiful Mind was because Cinderella hadn't settled on a broadcast date, and she couldn't commit to a show that might air at the same time on a competing network.
On the upside(?), the window has closed on Cinderella getting a summer timeslot; on the downside, it's rarely a good thing when a show has footage in the can but no broadcaster attached. Is it just bad timing? Is it an indication of the show's quality? Or is this just going to become part of the process as more and more shows move away from the live-shoot and become pre-produced?
RELATED POSTS
Tags: Ahn Jae-hyun, Cinderella and the Four Knights, drama production, Jung Il-woo, Park So-dam