Running Man: Episode 297
Our cast will be chasing after the sun this week featuring the military officer couple who took our breaths away. Given less than half a day to complete the tasks, find the hidden spy, and avoid punishment, everyone will need to keep a sharp eye out to remain on top. Will they be able to find the Red Sun in time? Or will the enemies claim their victims?
EPISODE 297. Broadcast on May 1, 2016.
We open on a sunny spring day, where Jae-suk and Haha claim responsibility for their guest, actor Jin Gu, being a married man today. Cue sound of a thousand breaking hearts.
Dressed in his BDUs, Kwang-soo tries to squeeze in with his stilted emceeing skills, and after many interruptions, we're finally introduced to Master Sergeant Seo Dae-young—er, I mean, Jin Gu. And immediately Suk-jin tries to slyly capture a selca together.
Jin Gu greets the viewers with a salute, then asked whether or not it's true that Jae-suk and Haha played a part in his now-married state. Jin Gu confirms it (he appeared on Infinite Challenge in December 2013 confessing his one-sided love. The two later married in September 2014), then reveals that Jae-suk handed him a congratulatory money envelope when he appeared on KBS's Happy Together.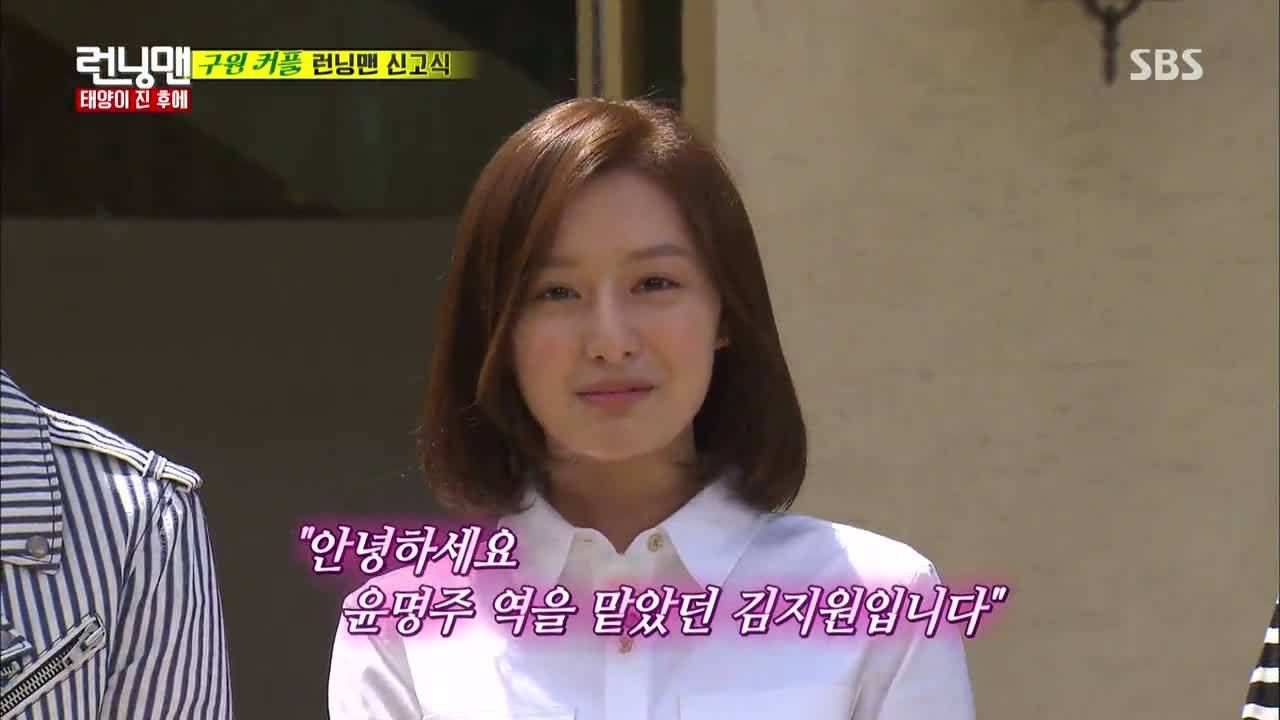 Not willing to be outshined, Haha follows up: "Mine's [coming] today." Another shouty intro cues the arrival of Kim Ji-won, followed by our third guest, WJSN's Eunseo. It's as if Jae-suk can read my mind when he asks how Eunseo is related to the drama…
… and she says she's representing the viewers. At the question of whether Kwang-soo pulled some strings for the rookie idol because they belong to the same agency, he says she was in a Descended music video. Everyone is more impressed that he can pull ANY strings at all.
Jae-suk launches into interview mode, and Jin Gu says he started Instagram, which now boasts one million followers. Gary: "It took Suk-jin three years to get to a million!"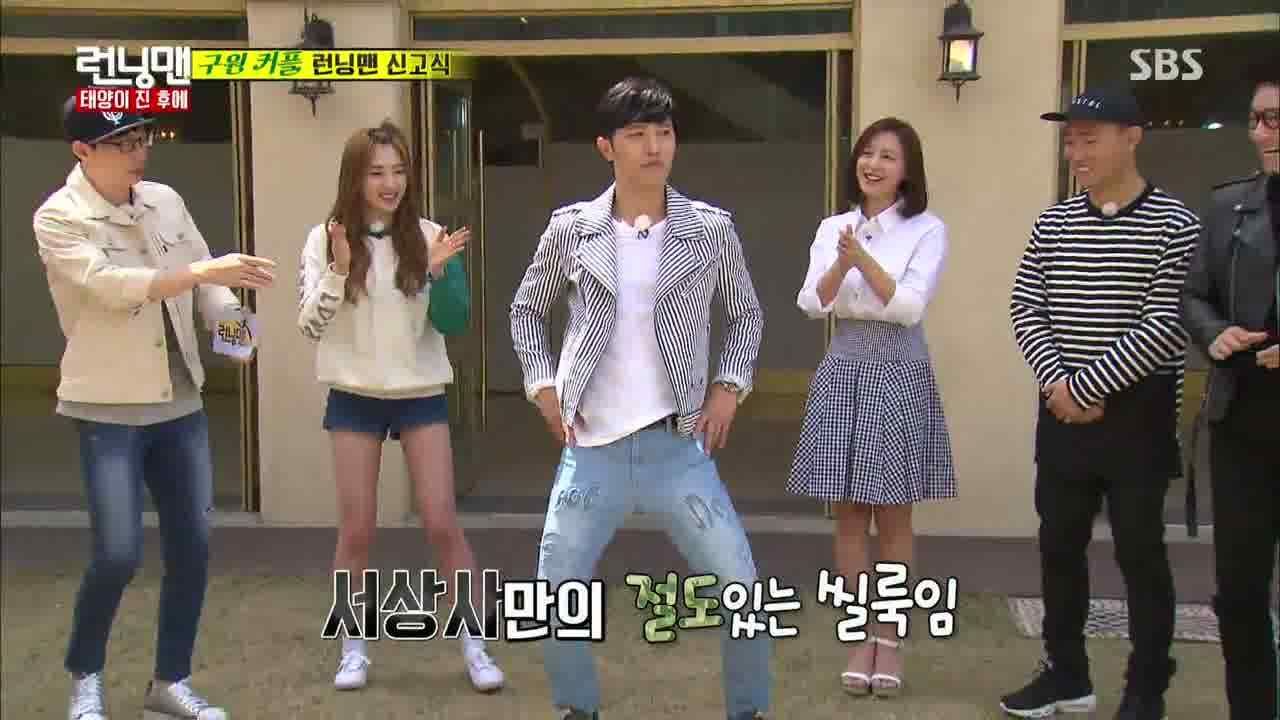 As for Ji-won, she's been enjoying her time off. She does her best in singing a jingle from a commercial she appeared in years ago. The conversation turns back to how Kwang-soo attended the Descended cast and crew dinner, and it takes Jin Gu nor Ji-won a few minutes to realize he was even there. Aw.
After Eunseo is given the promotional spotlight for WJSN, Jin Gu shows off a glimpse of his character's stiff dance moves. Hee, I love it. Ji-won is put under the spotlight too, and does a cutesy heart dance that Jae-suk says he can pull off.
Every cast member does their own version of the dance, but Jin Gu's "manly" version still my favorite. When Haha takes off Gary's hat, the latter still commits to the moment, shorn hair and all.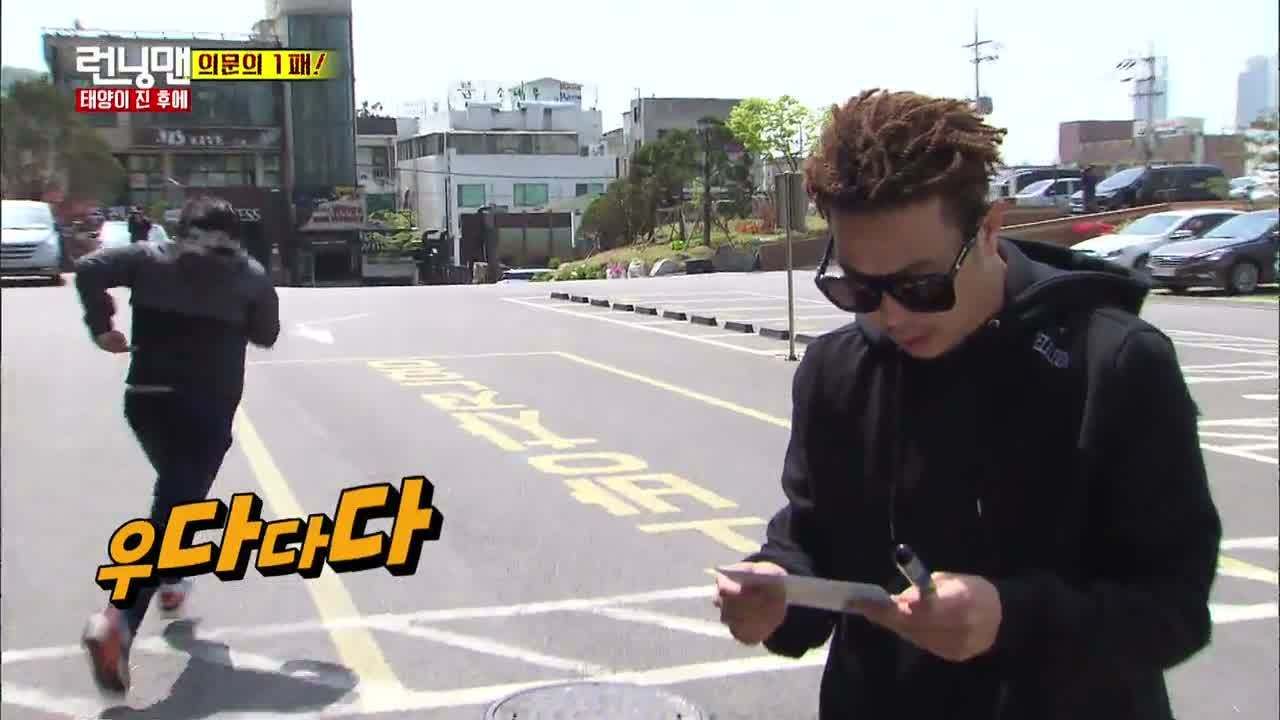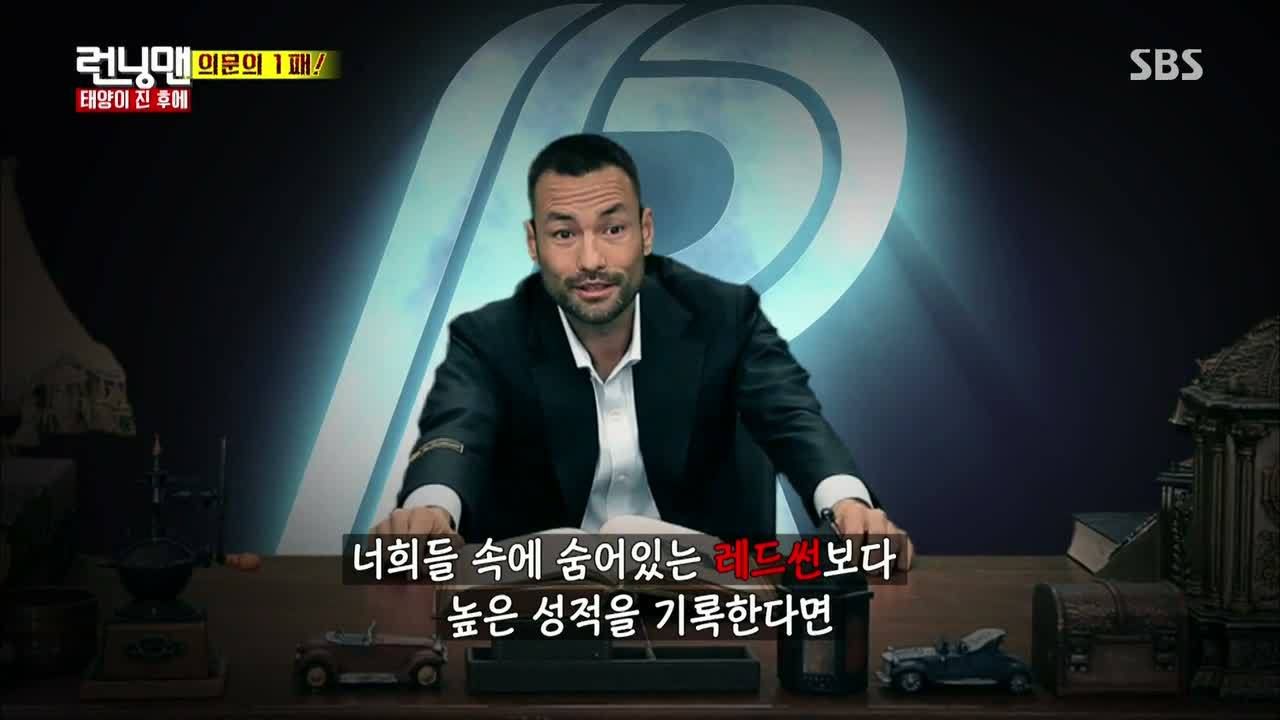 Suk-jin, Gary, and Ji-hyo are brought forward to receive stickers which we need to jump back in time to explain. Jae-suk had been given a mission card that told him to run after the PD and write the answer of the math problem below on his arm.
Everyone had been given the same mission, and ha—Jong-kook gave the PD a head start before starting the hunt. Back in the present, someone else graciously provides an explanation: Argus (David Lee McInnis).
Argus discloses that the Loser stickers mean they were slower than the Red Sun in the first run-and-tag game. And so it will be in this forthcoming six-hour race—it'll be up to the group to find the Red Sun.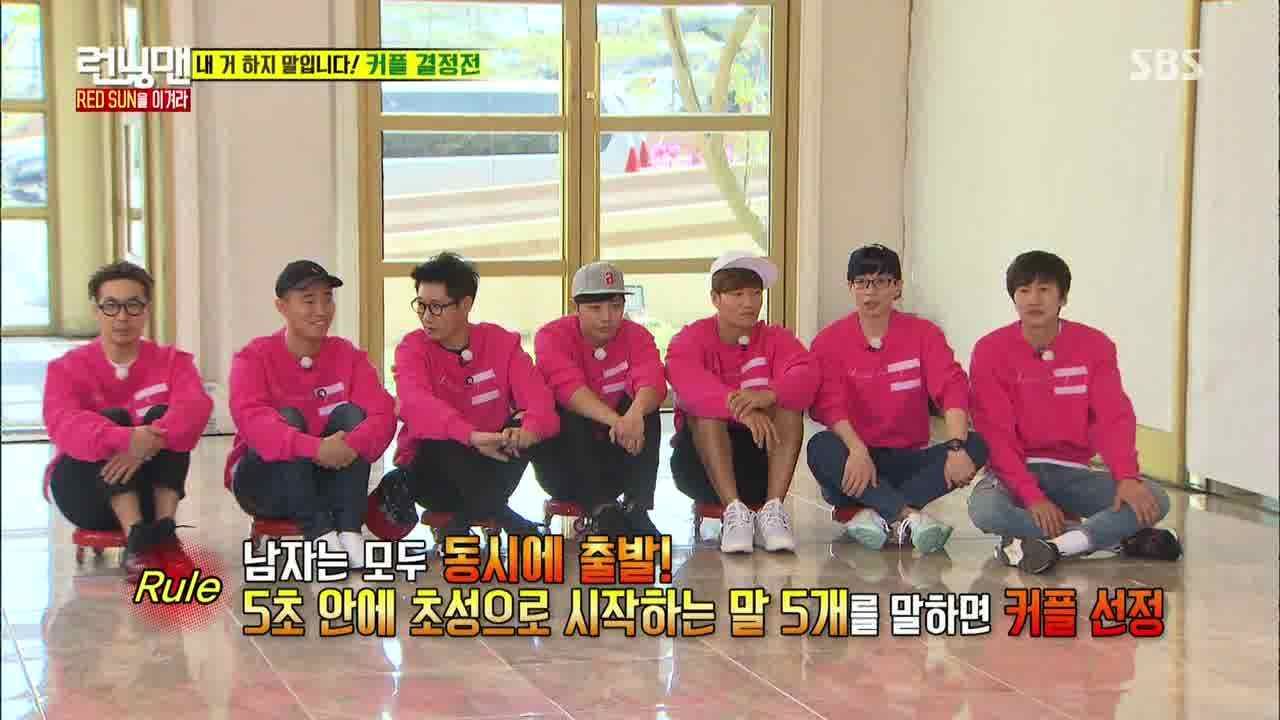 If one ranks lower than the Red Sun, they'll be stuck with a Loser sticker. If the Red Sun doesn't place in the Top 3, that person will receive a Loser Sticker. And if that person comes in last, they'll face punishment alone. From the screams emanating from the audio sneak peek, I'm thinkin' it's a rollercoaster.
Everyone gets changed to start the "After Sunset Race", and they'll need to pair up for their first game, based off of a scene in the drama. Here, the guys will scoot toward the ladies and have five seconds to name five words that begin with the same letter.
Ji-won is the first contestant, and all the guys freak out when she says there is one person in her heart. She calls the letter S, and there's a lot of pushing and pulling of hair once the whistle blows. Haha gets there first and starts naming items, but he runs out of time after blurting: "I love you!"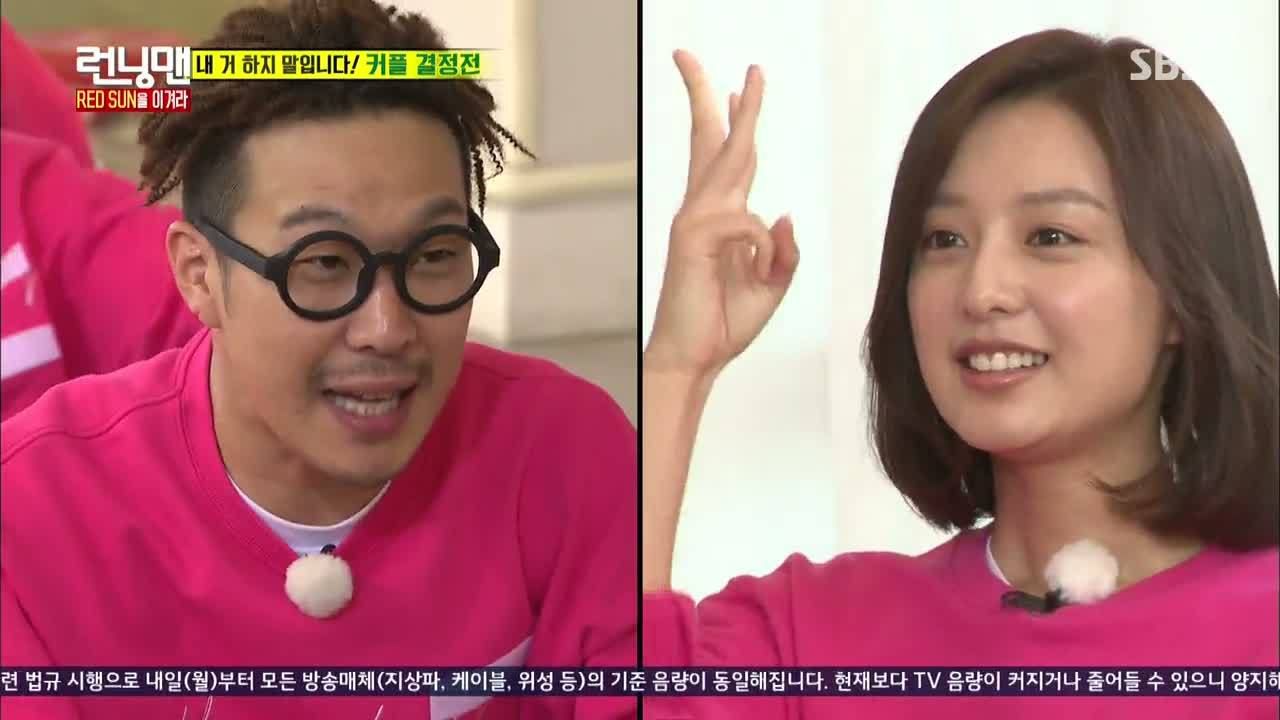 Ji-won deliberately counts slowly for Jin Gu, but he runs out of time too. She counts quickly for Jong-kook, then goes straight to five for Suk-jin. When she counts quickly for Kwang-soo, he immediately asks, "So not me?"
So that special person is Jae-suk, whose glasses get taken away. She counts slowly but he too runs out of time.
The next sounds is "ch-" and Ji-won gasps when she sees Kwang-soo biting Jae-suk. She flies through the first few suitors until Kwang-soo comes up and he karate chops her throat to stop counting.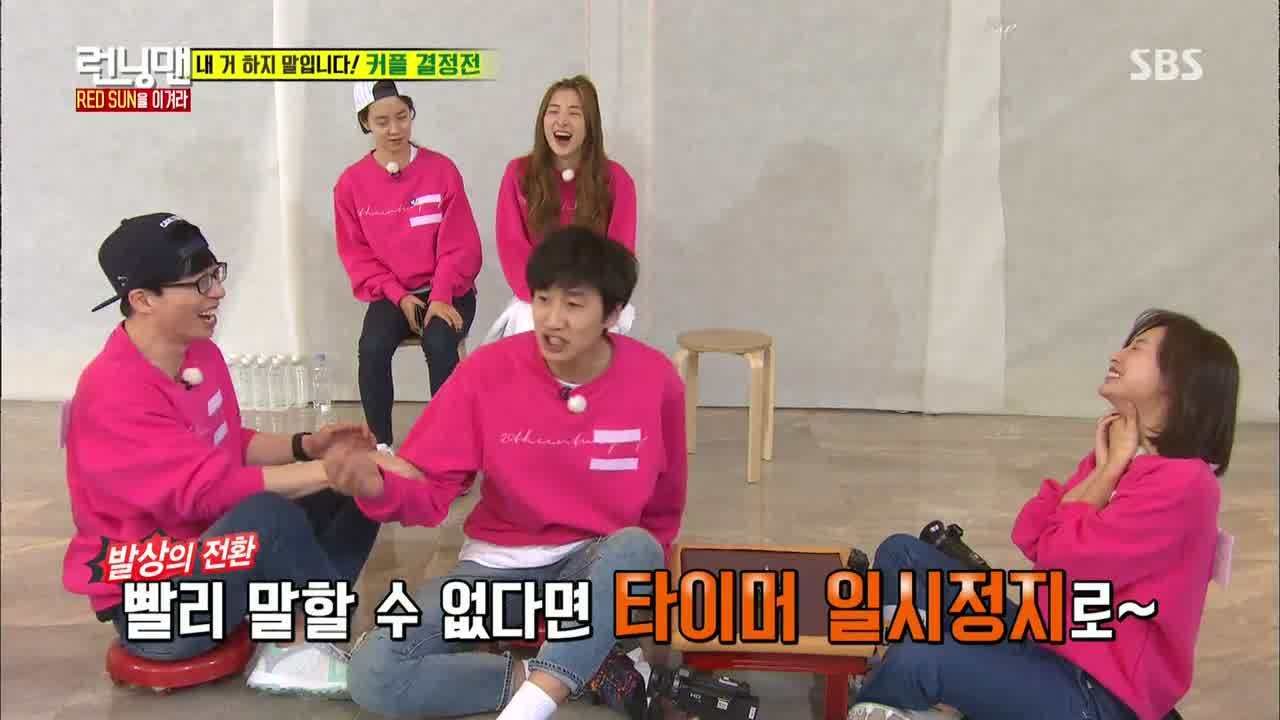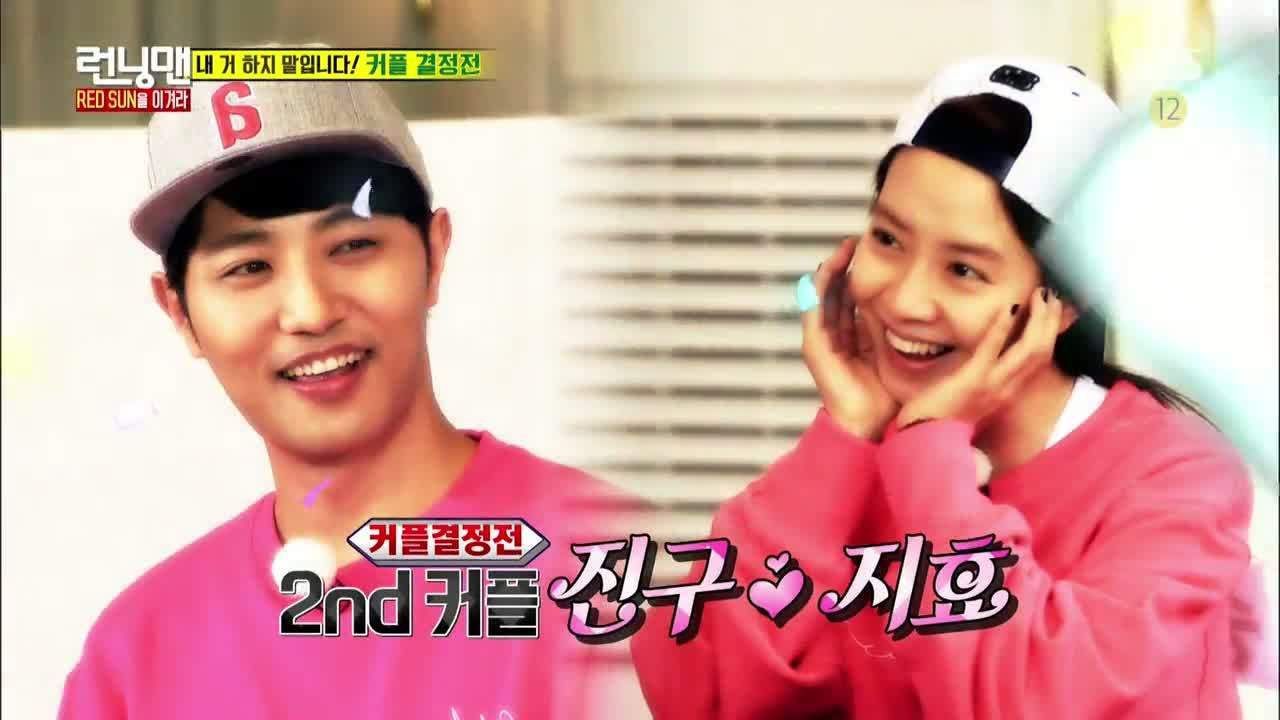 Kwang-soo feels bad for it, but suffice it to say that he's out. She says she fine, saying that she's crying because she laughed so hard, then jokingly cries "Oppa, you were too much." She counts slowly again for Jae-suk until he names five items.
Ji-hyo is up next and picks J for "that person", and lo and behold, Jin Gu scoots forward. It's no surprise that they're coupled together, then it's Eunseo's turn. Haha scoots ahead, only to be pushed back by Jae-suk. But then he whirls around and scoots forward again.
Haha gets upset when Eunseo skips from two to five, but she calls out "5!" when Suk-jin rings the bell. Not a chance. In the end, Eunseo is paired with Kwang-soo, leaving us with Haha and Jong-sook-ie, as well as Gary and Suk-ja.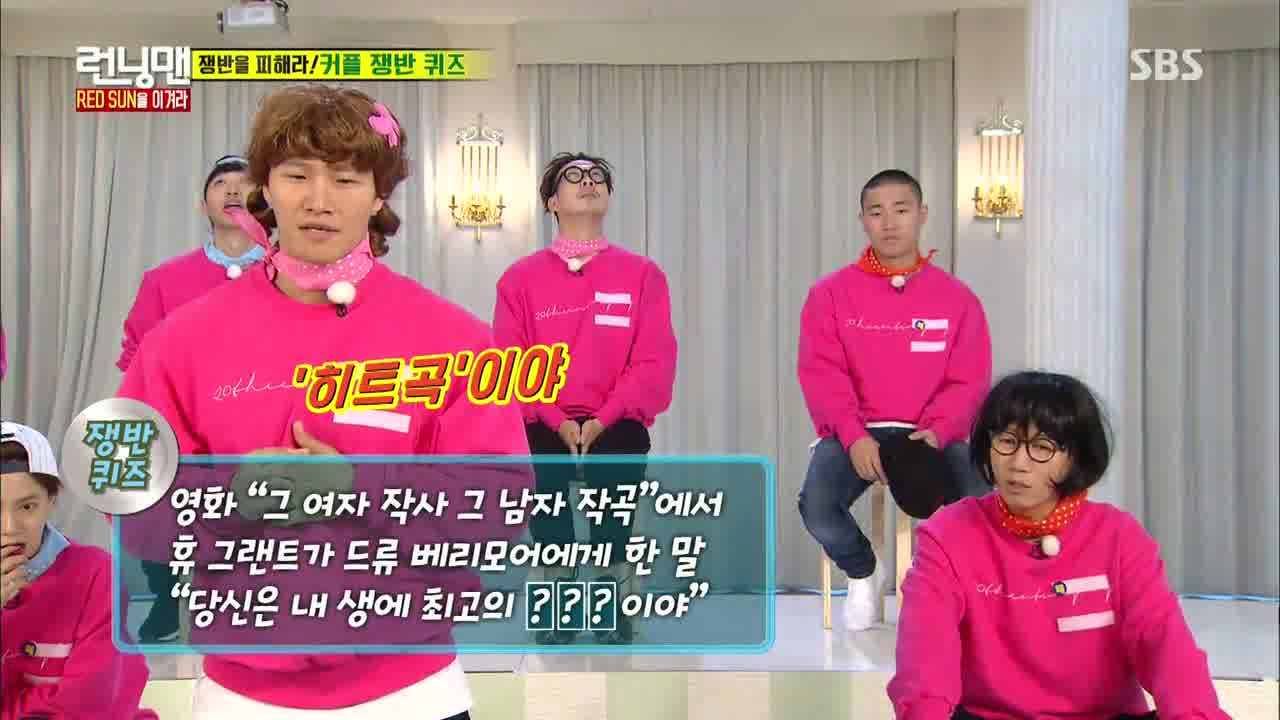 Now that everyone's paired up, it's time for their first couples game: a trivia quiz. The ladies must first sing and dance to announce their turn before answering. Getting a wrong answer means that their male teammate will be hit with a tray.
Jong-kook takes a crack at the first question from the rom-com movie Music & Lyrics and gets it wrong. Jae-suk gets hit after whispering the wrong answer to Ji-won, and Gary gets hit for Suk-jin singing oldies.
The PD says Jong-kook was closest, and all the other guys get hit when he gets the right answer. For their second question, the ladies must show a bit of aegyo before answering the "nonsense" quiz, and Ji-hyo slays the room with her aegyo. But it's not enough and Jin Gu gets hit.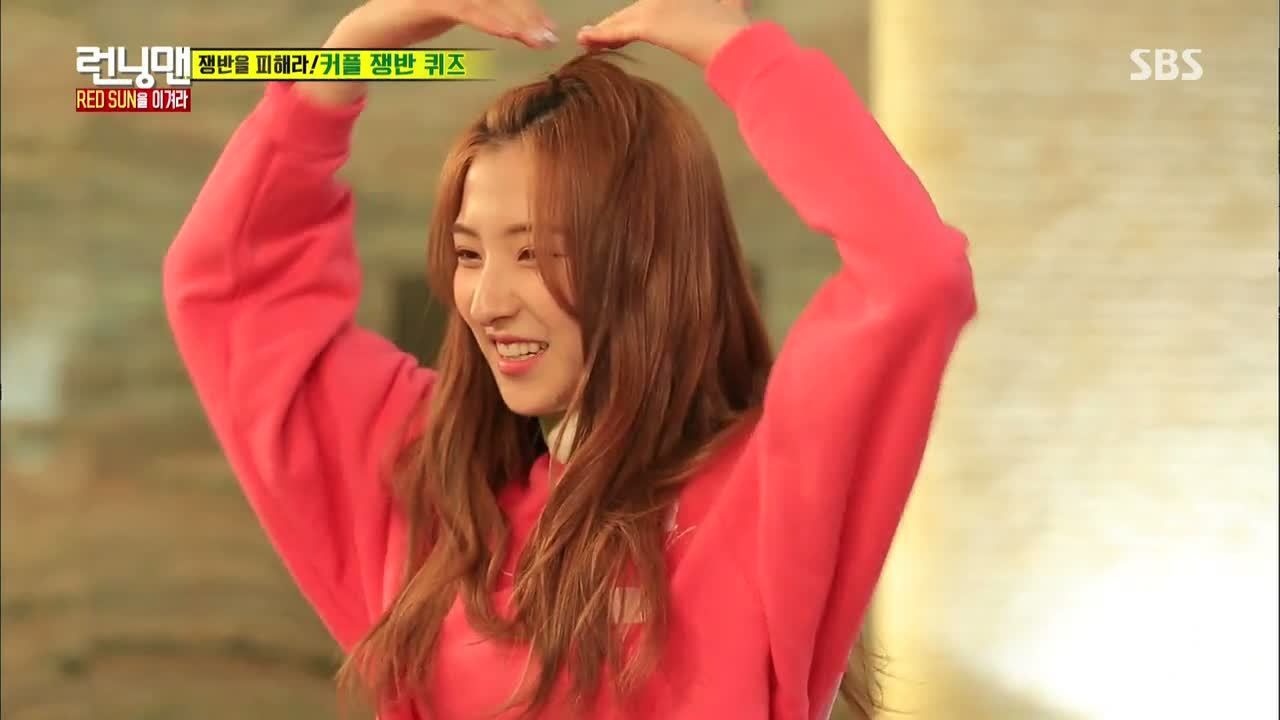 She watches Eunseo sing a cute song, but the idol gets it wrong too. So Ji-hyo takes another crack at it, but none of the guys can bear to see her act cute. She gets close with her answer, but no cigar.
It's worse when Suk-jin steps up, and his aegyo annoys Jae-suk enough to wrench his arm behind him. Jong-kook says he knows once he's given the first syllable, but it's Ji-hyo who's allowed to answer. She gets it right (Q: "Gary went to the onsen" A: "Spa-gary", a spin off of "spaghetti").
Now the guys and girls switch places, and Haha jogs everyone's memories that they need to think about who the Red Sun might be. All the guys clamor to show their best aegyo, and Jin Gu gets to answer and picks up the point. Well, I think there are points involved, but then again, we'll never know since that was never actually explained.
The guys show off their dance moves for the next question, and Jong-kook remarks on Jae-suk's dancing with: "I'd be embarrassed if he were my boyfriend." Kwang-soo whispers: "That's why he went out with a tall, ugly girl in high school."
Haha gyrates his hips for his chance to answer, and correctly answers the question of an older word for "love" (sarang) for dasom. He gets the next question right too, and then it's time to give out Loser stickers to Kwang-soo, Gary, Ji-won, Suk-jin, and Ji-hyo.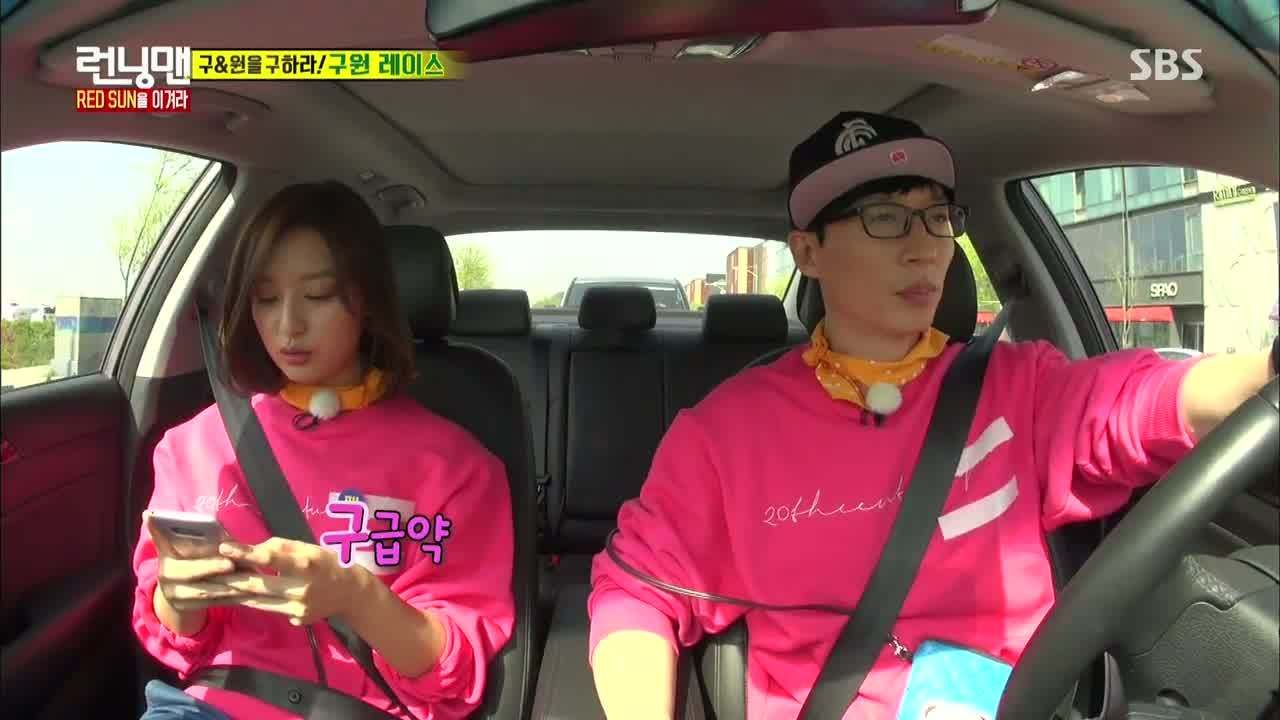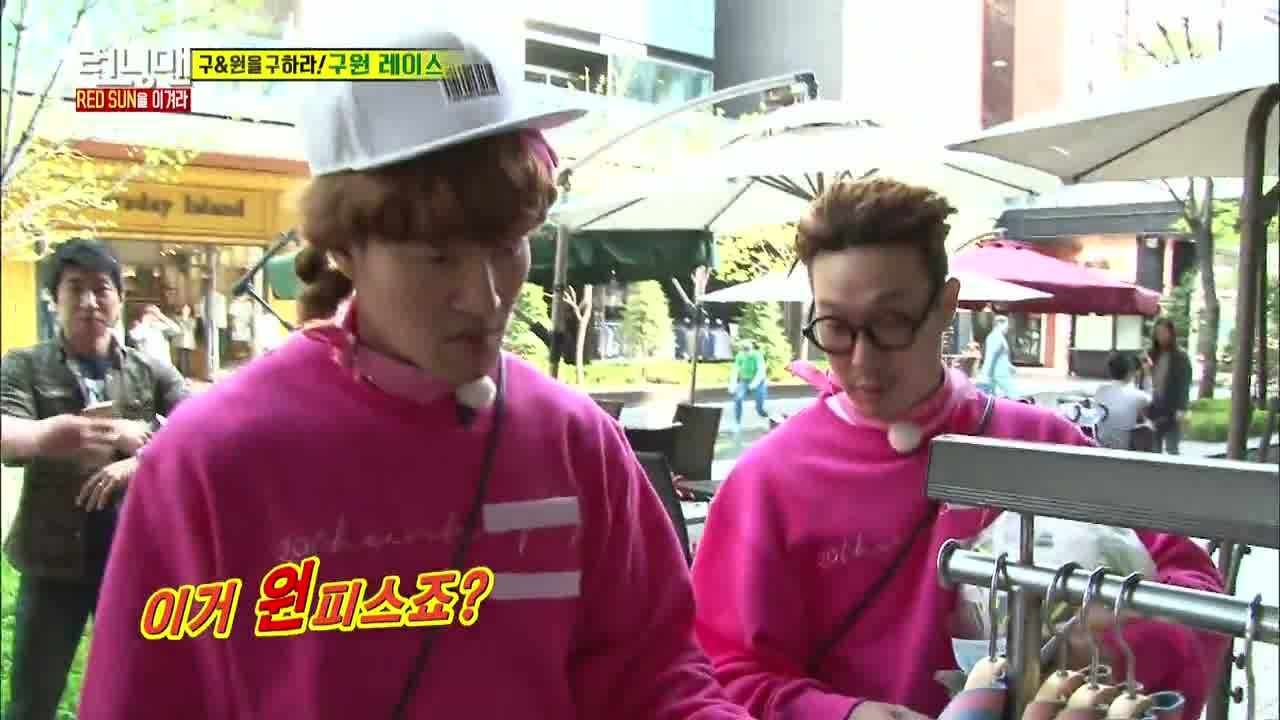 The reason why they're receiving these stickers is because they were hit with the tray more times than the Red Sun. Eunseo is sticker-free, and the thought that they were supposed to keep track of how many times they were hit sends chills down Haha's spine.
Again, the rules for the following mission pass by in captions: with 100,000 won (about 100 USD) the guys must buy three items containing the character "gu" and the ladies must buy three items containing the character "won". The teams must take photos of the items if they go over their budget.
We find out that they must travel holding hands when they arrive at their destination, and Ji-won already has a list in mind. Jin Gu has made sure to take the car keys, lest some other team tries to steal their car.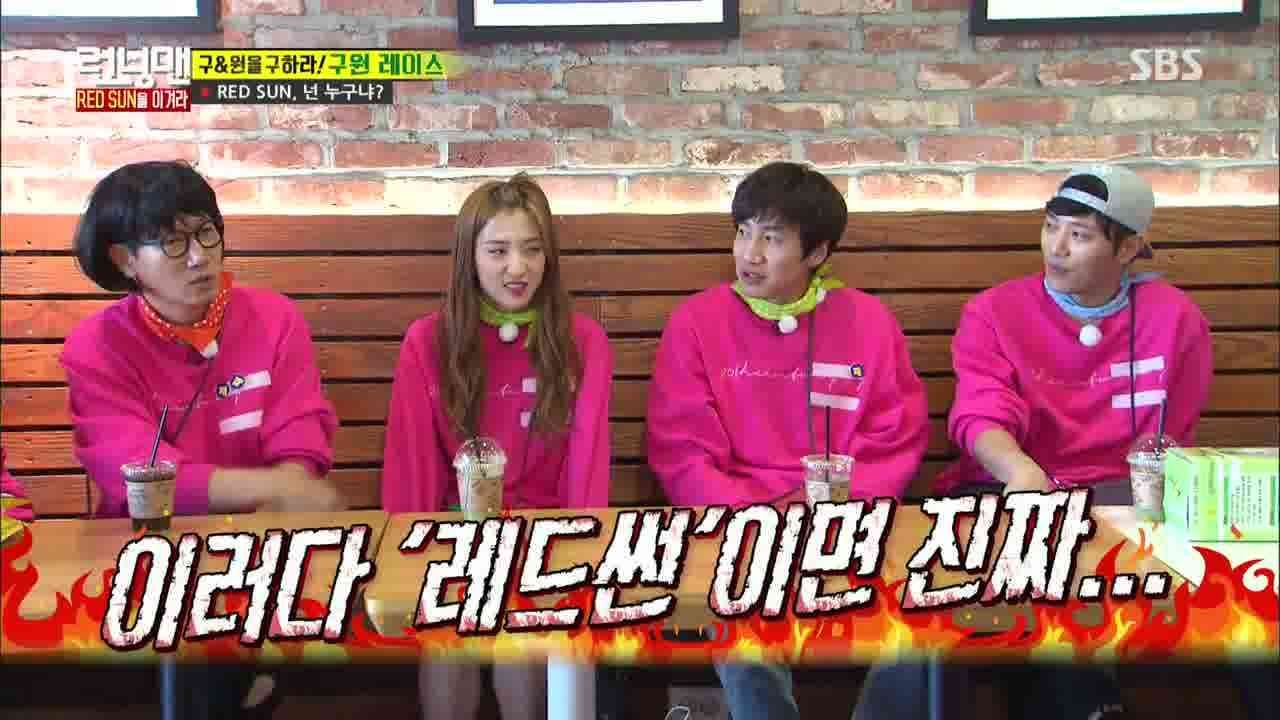 The teams travel around the marketplace, and Ji-hyo thinks of more items like gudu aka "shoes". Everyone sits down for coffee, where Jin Gu admits to being a terrible liar. So Suk-jin asks if he's the Red Sun, and Jin Gu replies that he doesn't even know how to be the Red Sun because the rules are so complicated.
More Loser stickers are distributed to Suk-jin, Haha, and Kwang-soo. They're receiving these stickers because they spent more money than the Red Sun. Suk-jin is still suspicious about Ji-won because she and Jae-suk kept their spending low.
Only one hour remains until the punishment. That's just enough time for the final mission, where they'll need to reenact scenes from Descended. Appealing to the judges will extend their time for the actual final game where they'll be given 40 seconds to break open a box using boxing gloves, attach the wings to their female teammate, who needs to yell "I'm an angel!" Yeah… that's a lot.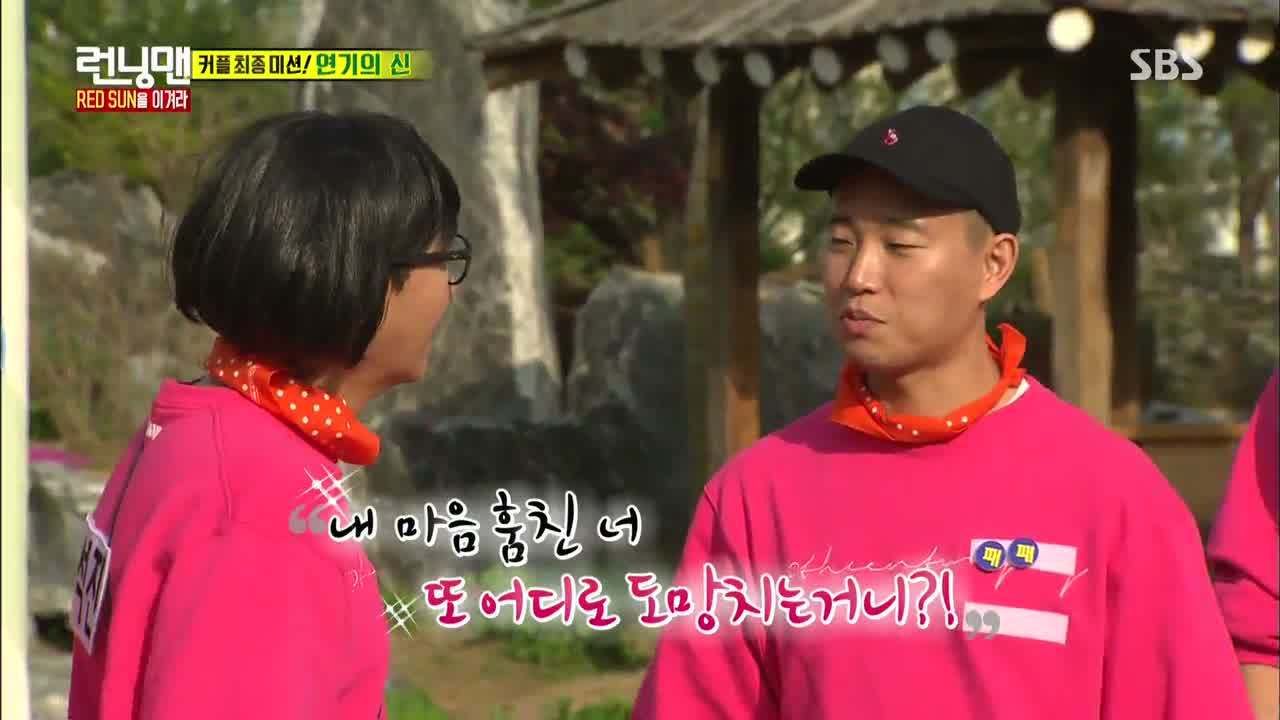 If they can't finish in time, they'll be dumped with water from above. Jin Gu and Ji-won are asked to reenact a romantic scene where Dae-young leaves her in Uruk. Everyone reels at the acting performance, and Jin Gu gets yelled at by all the guys: "Say something already!"
Suk-jin read the same lines ("Are you really going to leave me?"), to which Gary replies, "I'm going to the PC bang." Lol.
Then it's Jae-suk and Ji-won's turn again, and Jae-suk has to act as Song Joong-ki's character Shi-jin, telling the heroine: "Do you always look sexy in the operating room?"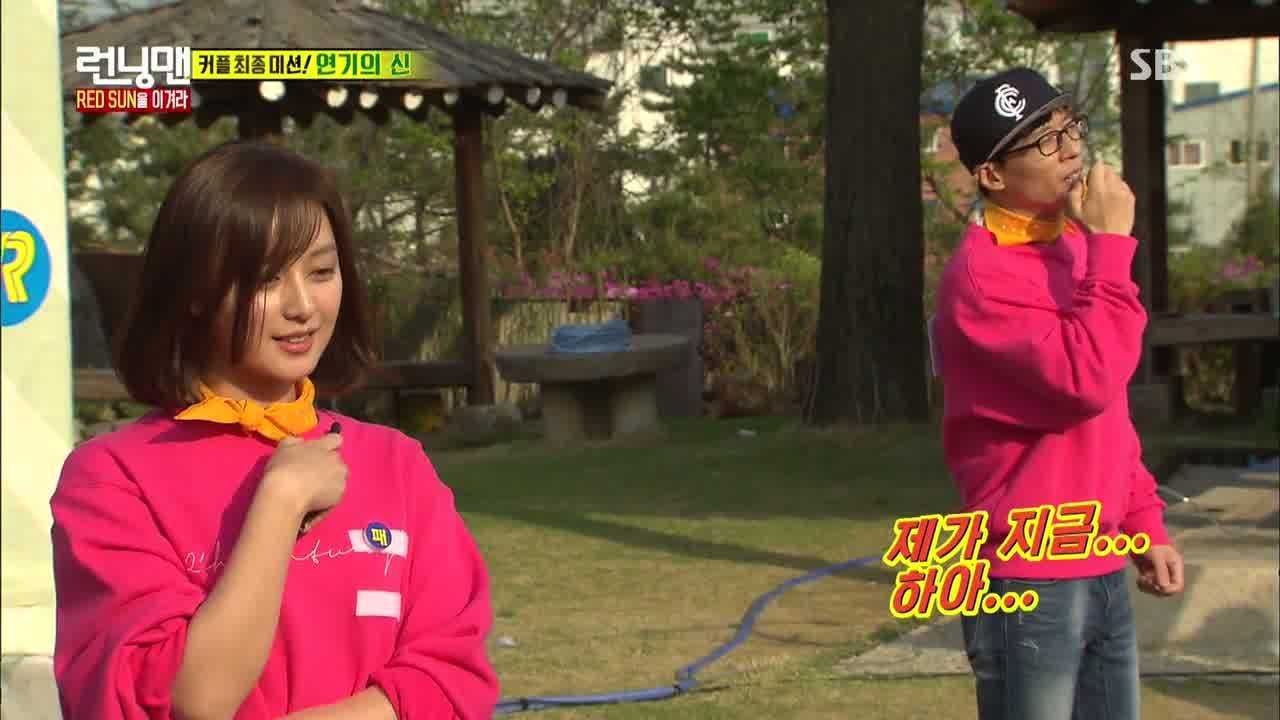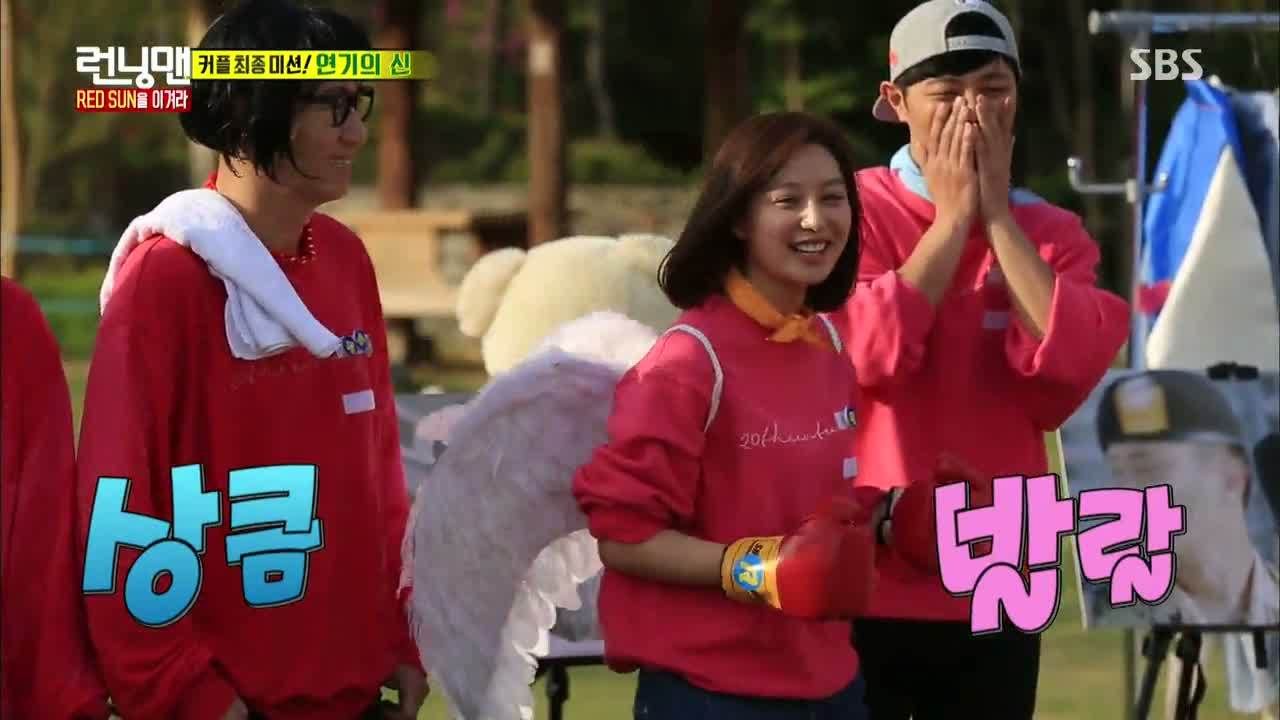 Jae-suk's stilted acting makes everyone cringe, and when he asks "Do I look sexier in person?" Ji-won slaps him: "It would've been better if I hadn't seen you." She responds to his wrist grab with another hard smack with the walkie-talkie.
Still that gains them an additional 20 seconds, and Jae-suk looks like a beaver ripping through the wrapping paper with his teeth. They succeed with seconds to spare.
Jin Gu and Ji-hyo are up, and he barely gets a line out before she slaps him and beats him on the chest. Gathering her hands together, he asks her to stop and apologizes. That segues into Jin Gu tying her shoelace, just like the memorable scene in the drama…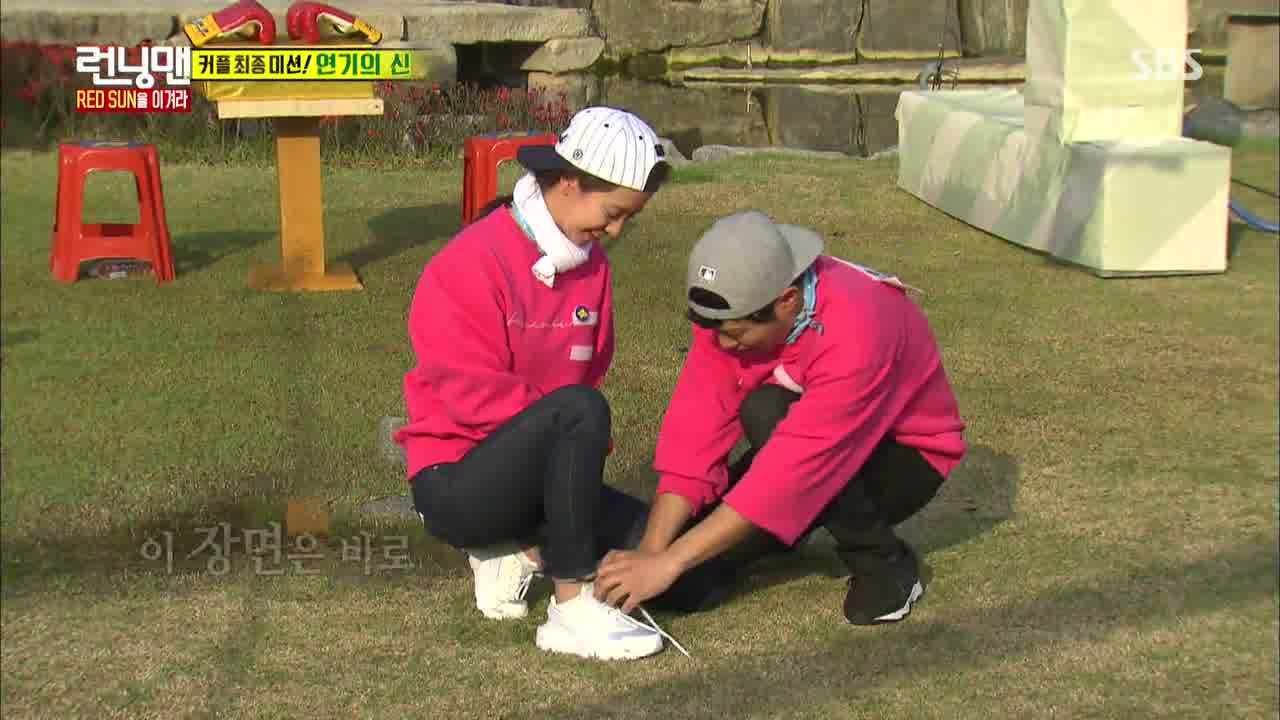 … or so we think because he unties her shoelaces and runs. LOL. They're given ten extra seconds, and Jin Gu tears through the wrapping. They finish with four seconds left.
When it's Gary and Suk-jin's turn, Gary slaps Suk-ja after "she" slaps him in their scene. They barely get the box open and get drenched with water.
Eunseo throws water in Kwang-soo's face in their scene, and when he tries to pull her back, she slaps him and pushes him. They barely get the box open too and get drenched.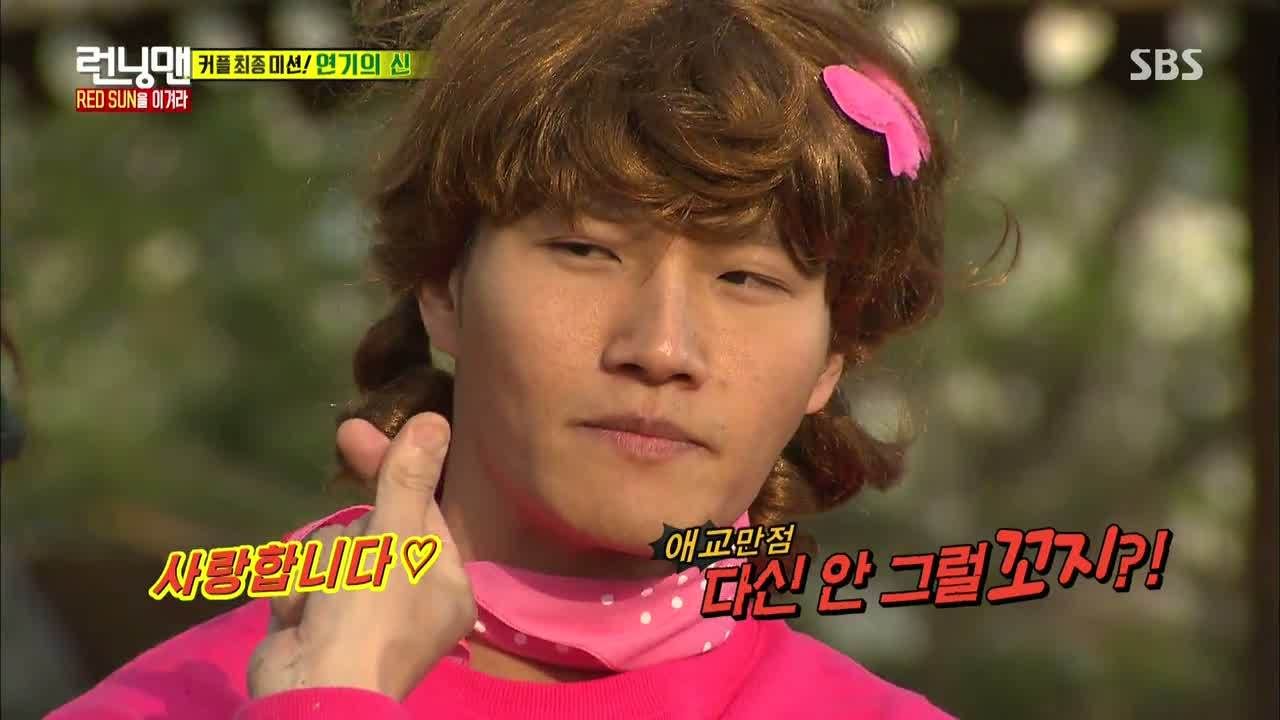 Jong-kook tries his best to look peeved. When Haha issues the line "Should I apologize or confess my feelings to you?" she rolls up her sleeves, ready to give him a scolding. He bends over and he hits him with a plastic hammer.
So Haha tries again, this time apologizing and giving Jong-kook a small heart gesture. She kisses his hand, then asks, "Did you smoke?" Haha says nothing, which means he's in for another beating. Caption: I protect my lover's health.
Haha points the finger of blame at Kwang-soo, who gets hit too. So do Suk-jin and Jae-suk, and that scene earns them an extra 20 seconds. As Haha and Jong-kook put on the gloves, Jae-suk runs in to steal the box. Ha.
They've got 20 seconds left by the time they get the box back, then Jong-kook punches through the box. He grabs the wings, but the timer runs out anyway. Haha and Jong-kook drag Jae-suk to the chair to punish him, and all three of them are doused with water.
With that, it's time for the final distribution of Loser stickers: Jong-kook, Haha, Suk-jin, and Gary. The stickers were given because they had lower heartbeats than the Red Sun while reenacting the scenes.
Now it's time to find out who the Red Sun is by counting up the stickers. Suk-jin is ranked the lowest, but isn't the Red Sun. Gary isn't either, and neither is Kwang-soo, Haha, or Ji-hyo.
Neither Jong-kook or Ji-won are the Red Sun either, leaving us with Jin Gu, Jae-suk, and Eunseo. After a long pause, Jin Gu is revealed to be the Red Sun.
We turn back the clocks 30 minutes prior to the opening where Jin Gu is given his codename Red Sun. Stickers were placed inside his sneakers, and he was told that he must place in the top 3 lest he get a Loser sticker.
Jin Gu reveals his identity wearing a huge smile, and even gives Kwang-soo one of his Red Sun stickers. That frightening amusement ride is the Vikings ride in Wolmido. David Lee McInnis is waiting there to ask them all a question: "Yes? Or No?"
That's a question that'll be answered next week with a new crop of guests (including Lee Je-hoon. Yay!).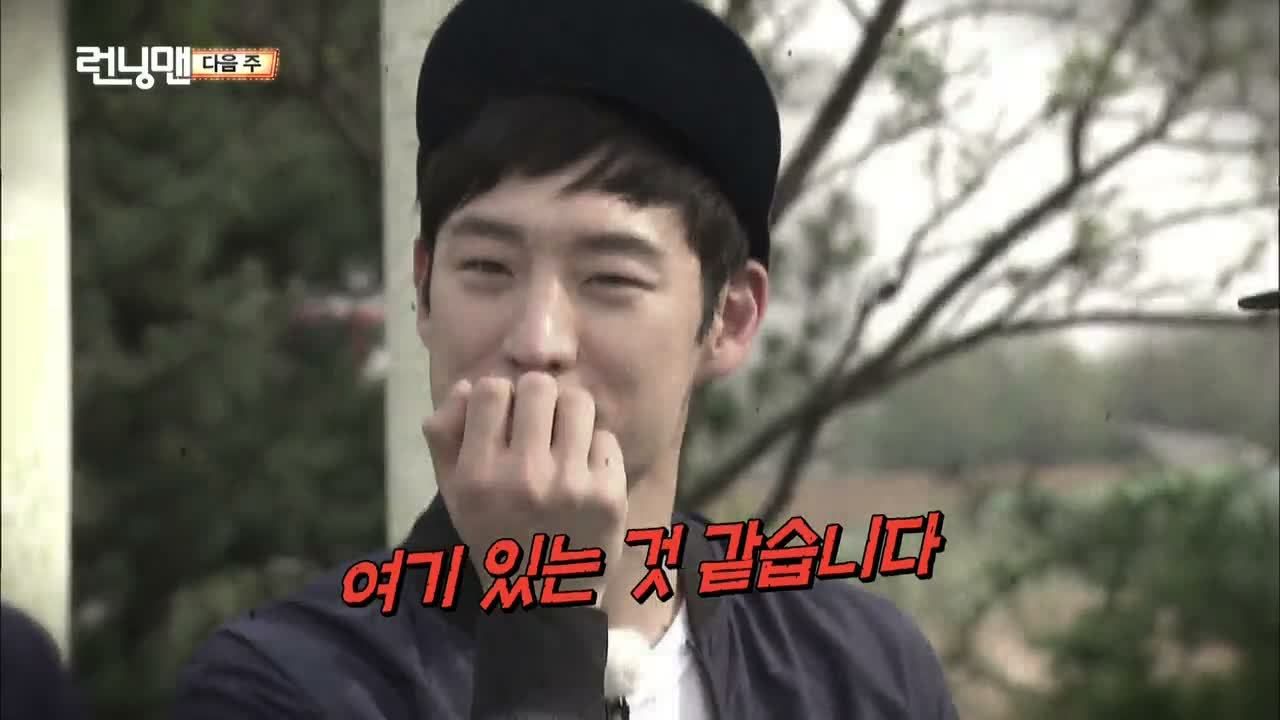 RELATED POSTS
Tags: featured, Haha, Ji Suk-jin, Kang Gary, Kim Jong-kook, Lee Kwang-soo, Running Man, Song Ji-hyo, Yoo Jae-suk