Tense stares and prison meetings in tvN's The Good Wife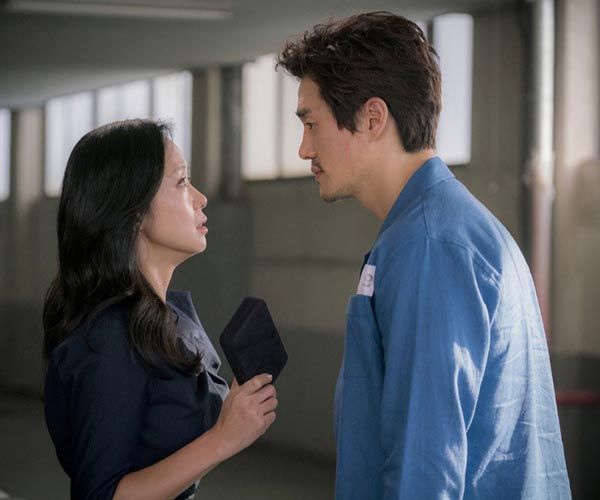 Here we go, first stills from tvN's remake of American TV drama The Good Wife, which is a series I'm anticipating for its standout cast, headed by A-list film star Jeon Do-yeon (The Shameless, My Dear Enemy) in her first drama in 11 years (the last being Lovers in Prague).
The drama centers around a woman whose successful prosecutor husband Yoo Ji-tae (Healer, The Tenor – Lirico Spinto) is caught up in a corruption scandal and sent to prison. She returns to the workforce as lawyer for the first time in years after quitting upon marriage, and ends up at a law firm headed by Yoon Kye-sang (Last); the story follows her rediscovering herself and coming into her own as she juggles career and family while becoming the sole breadwinner.
In these stills, Yoo Ji-tae is already wearing his prison uniform in his tension-filled scene with Jeon Do-yeon, while Yoon Kye-sang looks sharp (and rather sharkish) in his crisp suit. One big question mark for me regarding this series is how faithful of a remake it will be: On the upside, the original is chock-full of smart, well-written material, but on the downside, how do you satisfyingly condense a seven-season series into a 16-episode miniseries?
I don't know how lovelines will go in this version, but regardless of whether romance or reunion is in the cards for our married couple, I do hope we'll get to look forward to lots of crackling scenes between these two film veterans. Of course, I'm pretty fond of Yoon Kye-sang too, so let's just say I'm glad that anywhere we look in this drama, we'll be able to land on a solid actor; supporting cast members include Kim Seo-hyung (Assembly), Kim Tae-woo (Goodbye Mr. Black), Lee Won-geun (Sassy Go Go), and Jeon Seok-ho (Misaeng).
Writing is Han Sang-woon of Spy, while PD Lee Jung-hyo of Heartless City and Witch's Romance directs. The Good Wife follows tvN's upcoming Friday-Saturday drama Dear My Friends, premiering on July 8.
Via Sports Chosun
RELATED POSTS
Tags: Jeon Do-yeon, The Good Wife, Yoo Ji-tae, Yoon Kye-sang