Police Unit 38: Episode 10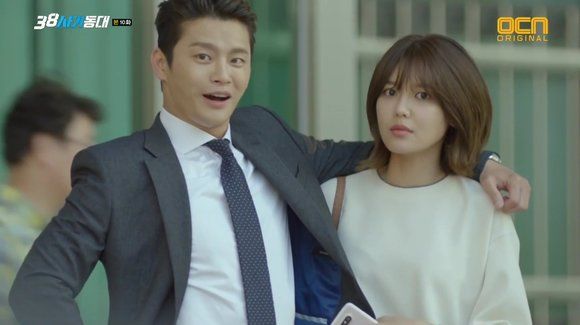 Seventy minutes of mayhem ensue as Jung-do, Sung-il, and the crew move in for the kill. Loyalties are tested and assumptions are upended as new and old enemies band together against our heroes. They say there is no honor among thieves. Our resident teddy bear ajusshi is about to find out just what his trust is worth to Jung-do.

EPISODE 10 RECAP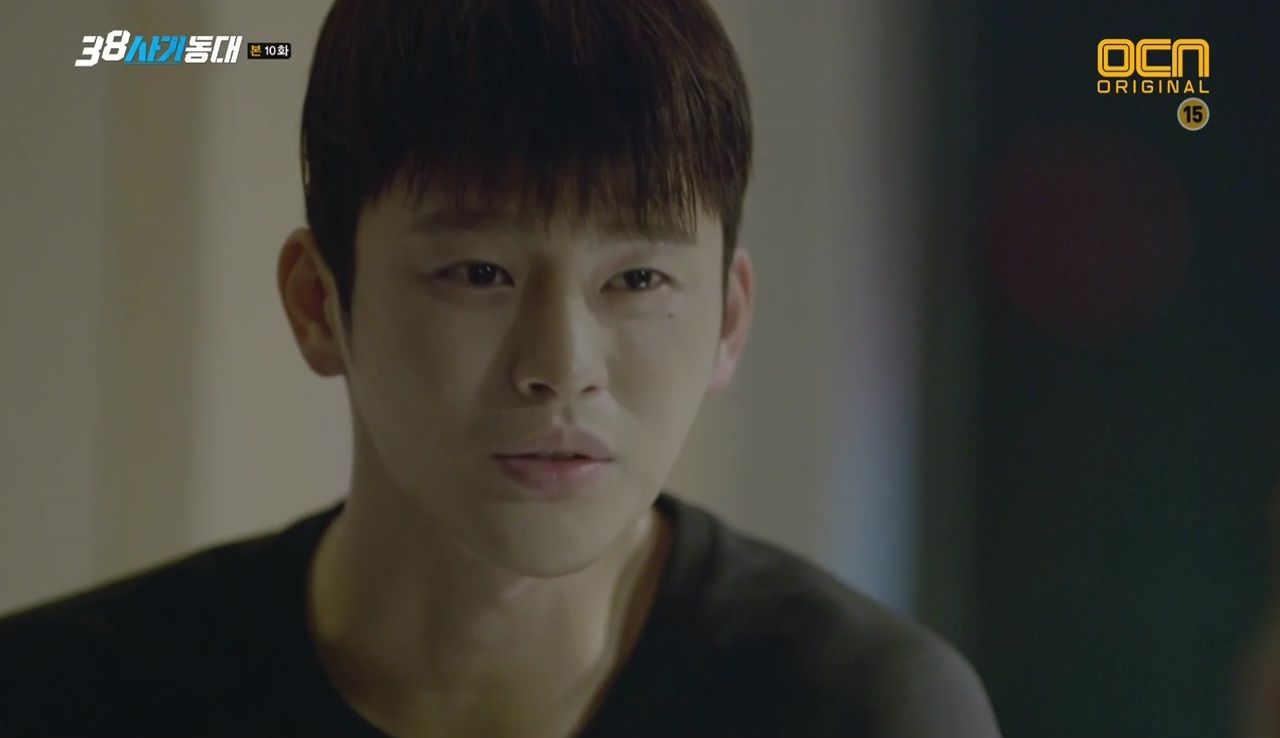 Sung-il tells Jung-do about detective Jae-sung's allegations against him and waits for Jung-do to scoff and deny it. But instead, Jung-do smiles coldly and says that the detective was right — "I am using you." Sung-il tells him to stop joking but Jung-do carries on in the same half-amused, confessional tone.
He tells Sung-il that after getting the $50 million in taxes out of the Bang family, he intends to pull down the paper company President Bang runs in the name of Chairman Choi. Once that happens the media will start looking into their businesses, and at that point, says Jung-do, he will leak the news that Mayor Chun worked with Baek Sung-il of Division Three to con rich men out of unpaid taxes. It'll have a certain impact on society, he says to a shocked Sung-il.
With fear and hurt in his eyes, Sung-il slowly asks if Jung-do is serious. Jung-do finally breaks eye contact and looks down as Sung-il's anger and disappointment rise. A moment later Jung-do starts laughing and the tension lifts easily from the air. Sung-il almost collapses from relief as Jung-do calls him adorable for falling for his act.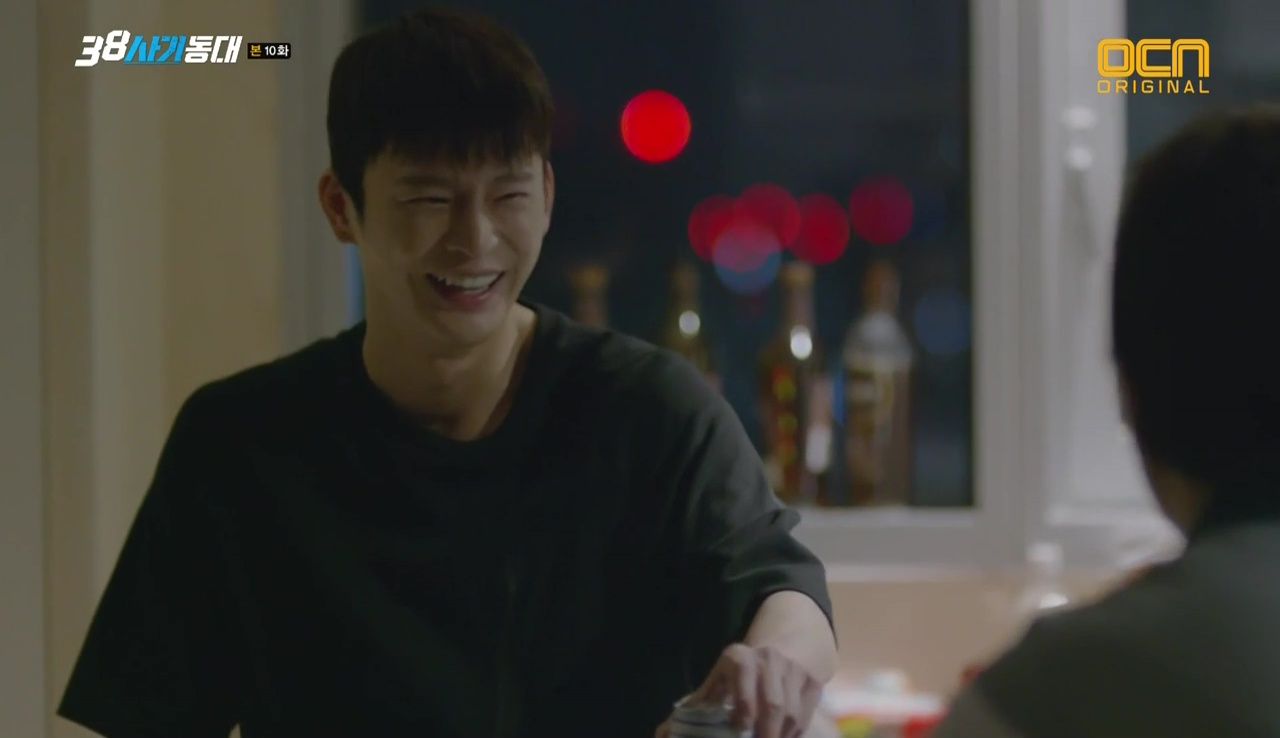 Sung-il believes him instantly, but asks how he knew about President Bang's paper company and Mayor Chun's involvement. Jung-do explains that he picked up stray information from Sung-il on his brother-in-law's memorial day. Jung-do asks in turn why Sung-il thought the detective would have anything good to say about Jung-do, and tells him to focus on conning Bang Min-ah instead.
They adorably make up over drinks, but later Jung-do calls an unknown associate to tell them that Sung-il knows about their plan. He promises to be careful and hangs up. The charming Jung-do is replaced by a chillingly calculating version of him as he sits alone, contemplating this new complication.
Jae-sung's minion cop visits him in prison and reports that Sung-il has decided to side with Jung-do. Jae-sung doesn't seem particularly disappointed. He tells the cop that the people who always listen to them best are criminals. They fear the police, he says, and turn informants against their teammates to survive. Jae-sung cryptically tells his minion that someone came by earlier who can hand them Jung-do.
Sung-il sneaks out of the office again, and Sung-hee notices Commissioner Ahn immediately following him out. She sends a warning text to Sung-il, and he calls her back from the road. He tells her that he can't just change his destination suddenly, or Commissioner Ahn would be suspicious of Sung-hee. He asks her to trust that he'll handle the matter and hangs up.
Sung-il makes a U-turn and Commission Ahn follows closely. Then Hak-joo jumps out in front of Commissioner Ahn's car, bringing him to a stop. Sung-il grins as Commissioner Ahn gets out to call emergency and watches in frustration as Sung-il's car gets away from him.
Min-ah walks around Insa-dong, noticing the "cultural ministry's" employees carrying out their nefarious dealings, and smiles to herself. In a planned move they had to abort once before, Sung-il bumps hard into Min-ah causing her to twist her ankle. Sung-il apologizes while conspicuously trying to hide a rather large box behind his legs.
He invites her into the cultural ministry's van for coffee and a medicinal pad for her foot. Min-ah observes that the ministry people seem quite busy making side deals in the antique business, and Sung-il launches into an earnest tirade about the unfair inheritance tax laws in the country. He finds a sympathetic audience in Min-ah as he explains that he helps people burdened by this law to avoid paying the tax.
Min-ah wants more information, and when Sung-il hesitates she pleasantly threatens to visit the police on her way home. Sung-il gives in and tells her that a friend in the Appraisal Unit in Busan Harbor helps him get expensive antique pieces into the country at low prices. She asks if the box he has with him now contains one such piece, and Sung-il proudly takes out an authentic ceramic vase that makes Min-ah gasp in appreciation.
In a gesture of good will, Sung-il gives her the vase. He asks her to keep his team's activities a secret and tells her that they can help each other out in the future. Min-ah limps into an antique dealer's shop with the heavy box and gets the vase appraised.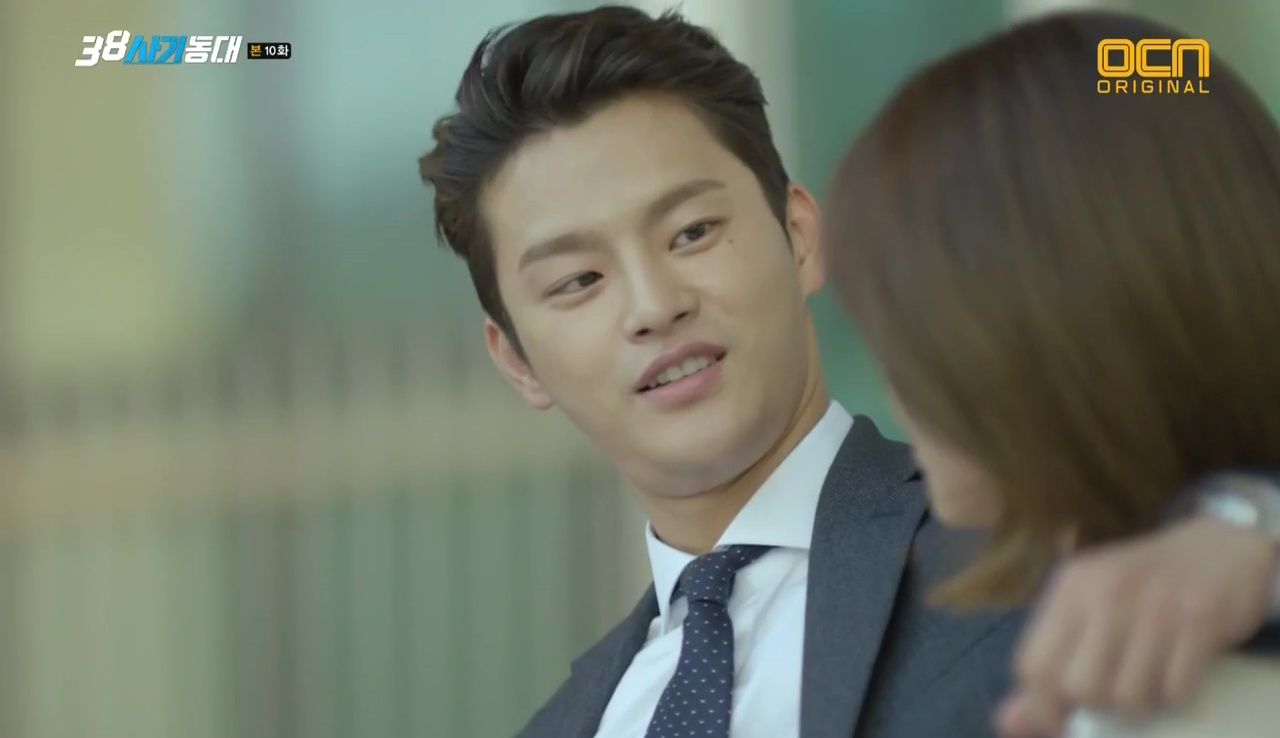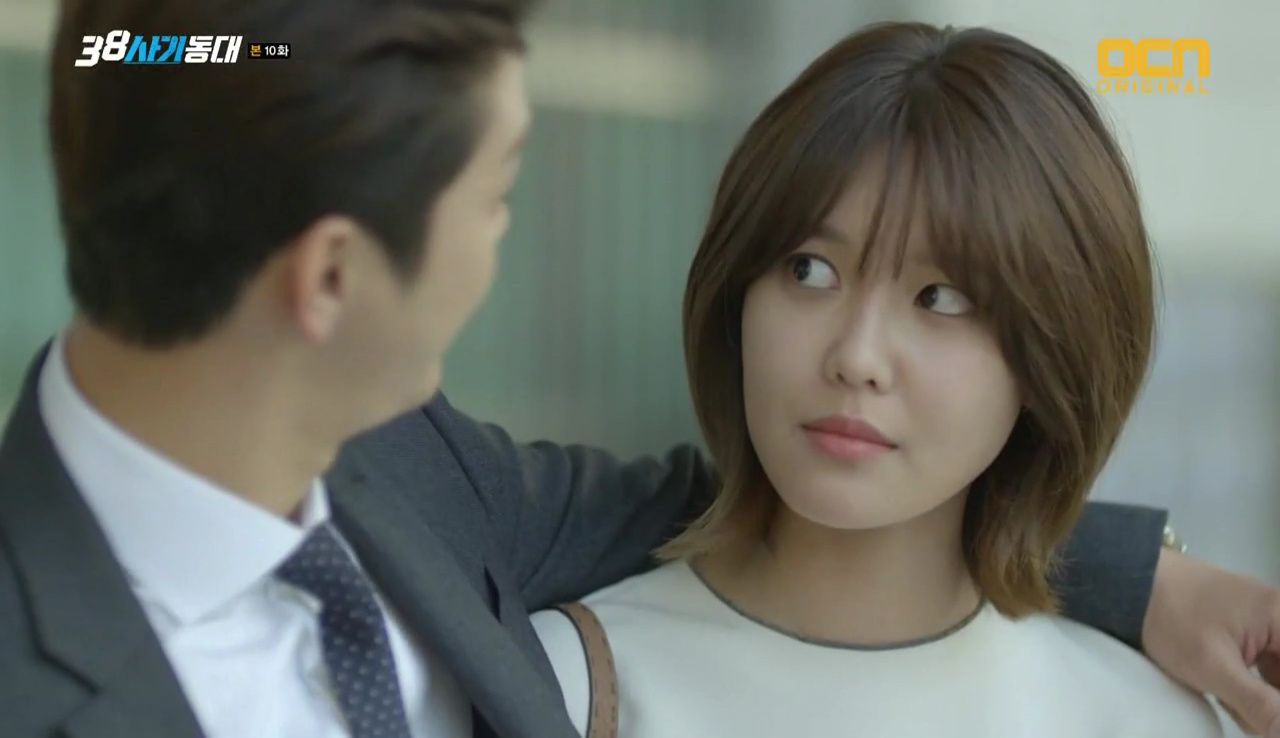 When the dealer tells her that it's an extremely expensive antique, Min-ah calls up Sung-il and asks him to help her out since she has been burdened by unfair tax laws too. Sung-il agrees happily and hangs up to tell Madam Noh, Ja-wang, and Ji-yeon that he's good at scamming people now. Pfft. Why is he so adorable?
Sung-hee gets a call from Jung-do while leaving the office, asking her if she's ready to go to the dinner, where she and Jung-do are supposed to have a double-date with Bang Ho-seok and his wife. Sung-hee tells him angrily that she's not going and to tell Ho-seok that she's dead, but it turns out he's waiting for her right outside, along with Ho-seok and his wife. Ho-seok asks if they're still fighting, but Jung-do puts an arm around Sung-hee and claims that they made up last night. They stand awkwardly while the silence stretches, until at last, Sung-hee agrees unconvincingly that they made up.
At dinner they sing the birthday song over a cake and candles, and Sung-hee has to ask Jung-do whose birthday they're celebrating, not knowing that it's supposed to be hers. Hahaha. Ho-seok's wife gushes over how cute her husband looks when he's eating, and Ho-seok asks Sung-hee what she liked about Jung-do when she first met him. At first Sung-hee just says that she doesn't remember and everyone thinks that she's being shy.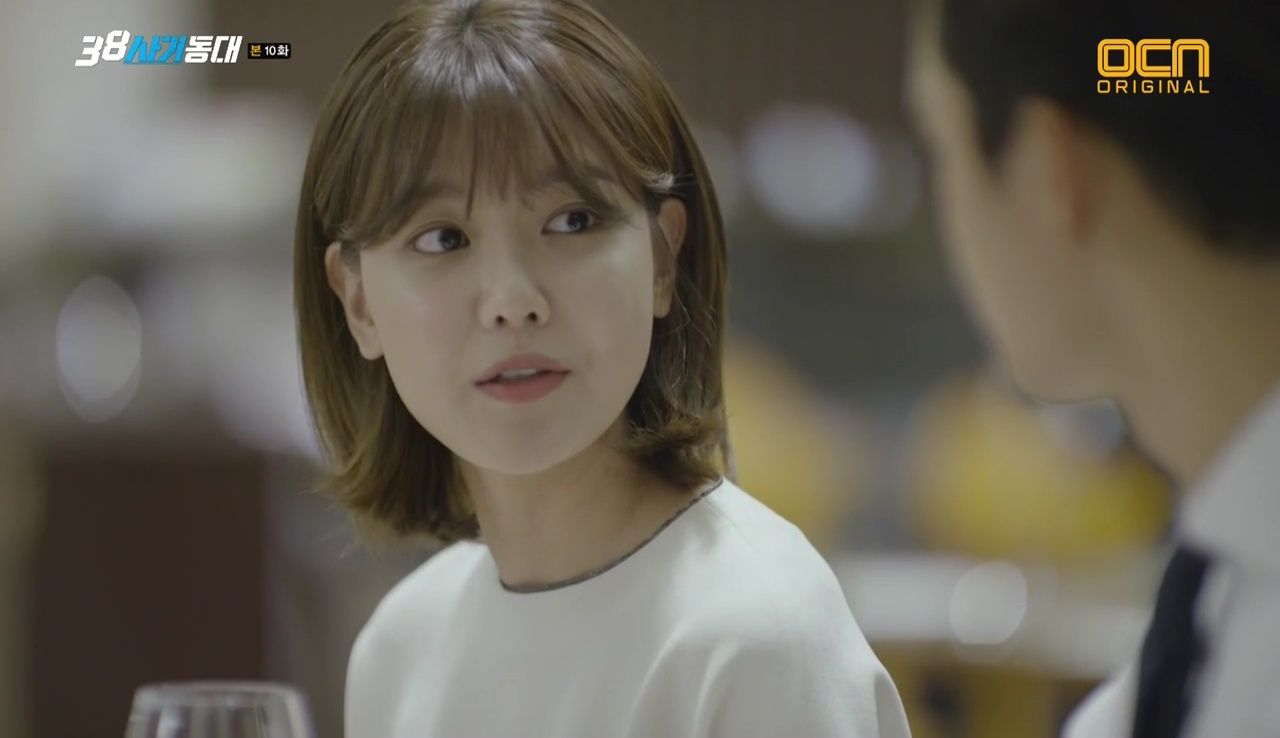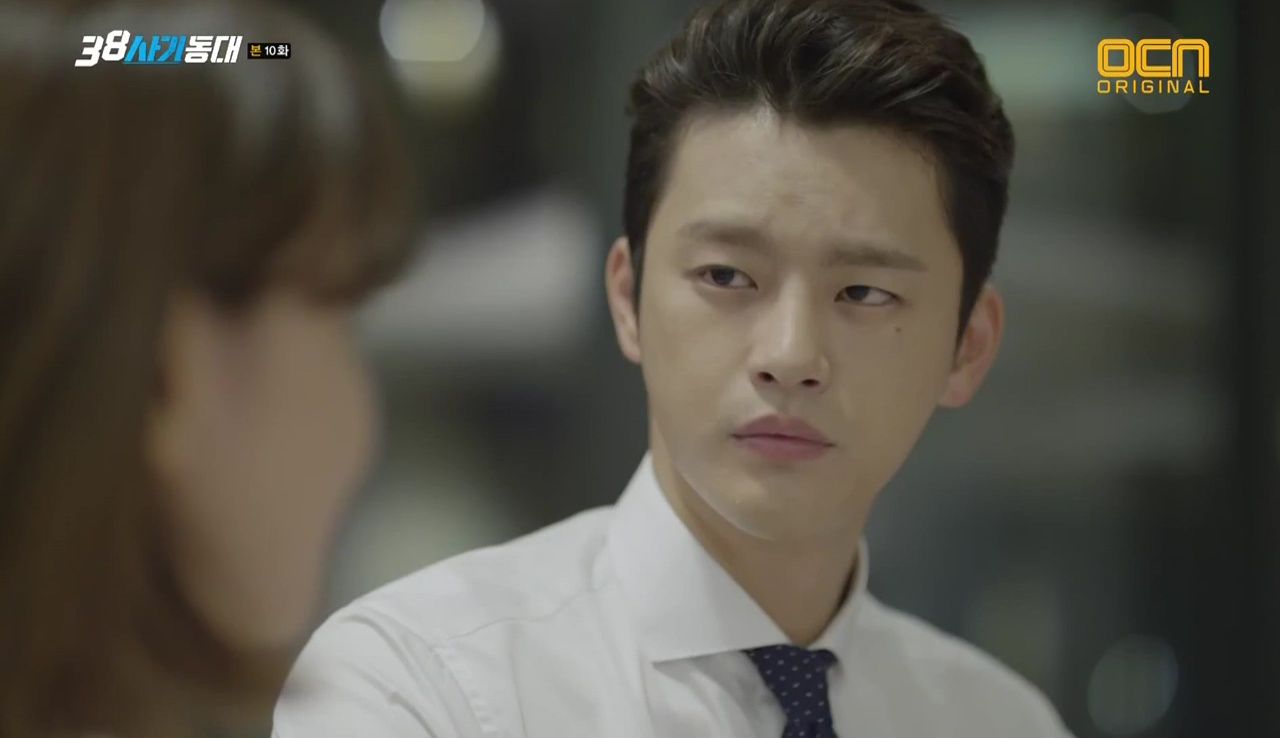 But when Jung-do pushes her by saying he's curious too, Sung-hee explains that when you're hurt badly by someone you love, you forget why you liked them. She looks at Jung-do and says that you forget what your emotions were and what you did back then. The table falls silent and Jung-do's act falters as he absorbs her words. Ho-seok's wife whispers to him that Jung-do had probably cheated on Sung-hee.
After dinner, the "wives" stand together while Jung-do and Ho-seok discuss business matters. Ho-seok's wife decides to bond with Sung-hee over disappointing husbands and confesses that she wants to flatten "the pig." At Sung-hee's surprise, she explains that she married Ho-seok because he's rich and actually hates the way he eats.
Business talk done, Ho-seok and his wife drive away, leaving Sung-hee and Jung-do standing alone. Jung-do says they won't get any cabs on this street and starts walking. When Sung-hee tries to point out that there's a cab not too far away, he comes back and takes her by the hand. Sung-hee doesn't protest much.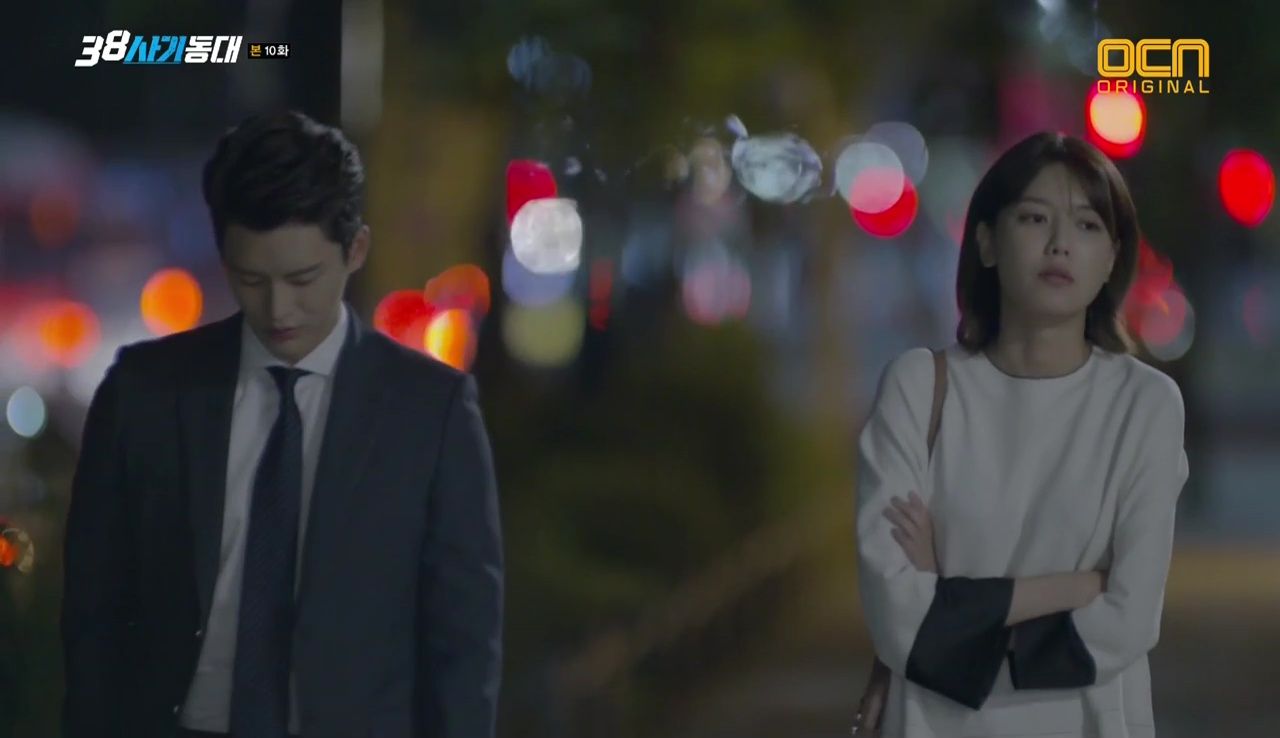 They walk together and Sung-hee asks what Jung-do had been telling Ho-seok. Jung-do tells her his plan without hesitation: He was trying to get Ho-seok to invest a big amount in a racket that brings in original antiques hidden among fake ones, so they can avoid paying import taxes and sell them at a large profit in South Korea. Sung-hee catches on to the plan immediately, and Jung-do wonders ruefully why it took Ho-seok so long to understand the concept.
Sung-hee asks if Ho-seok agreed, and Jung-do says not at first. Jung-do had to work him some more, pointing out that bringing original pieces into the country, packaged as fakes, would give them ten times the profit. A convinced Ho-seok asked if he could see the antiques before investing and Jung-do agreed easily, smiling like a cream-fed cat.
Sung-hee catches a cab a little further on and tells Jung-do not to involve her in this again. He agrees and bids her goodbye. As the cab pulls away, Jung-do calls up Sung-hee and says: "I'm sorry… that only I have the good memories." Sung-hee doesn't answer and Jung-do hangs up. He walks home alone, thinking back to the day he broke up with Sung-hee.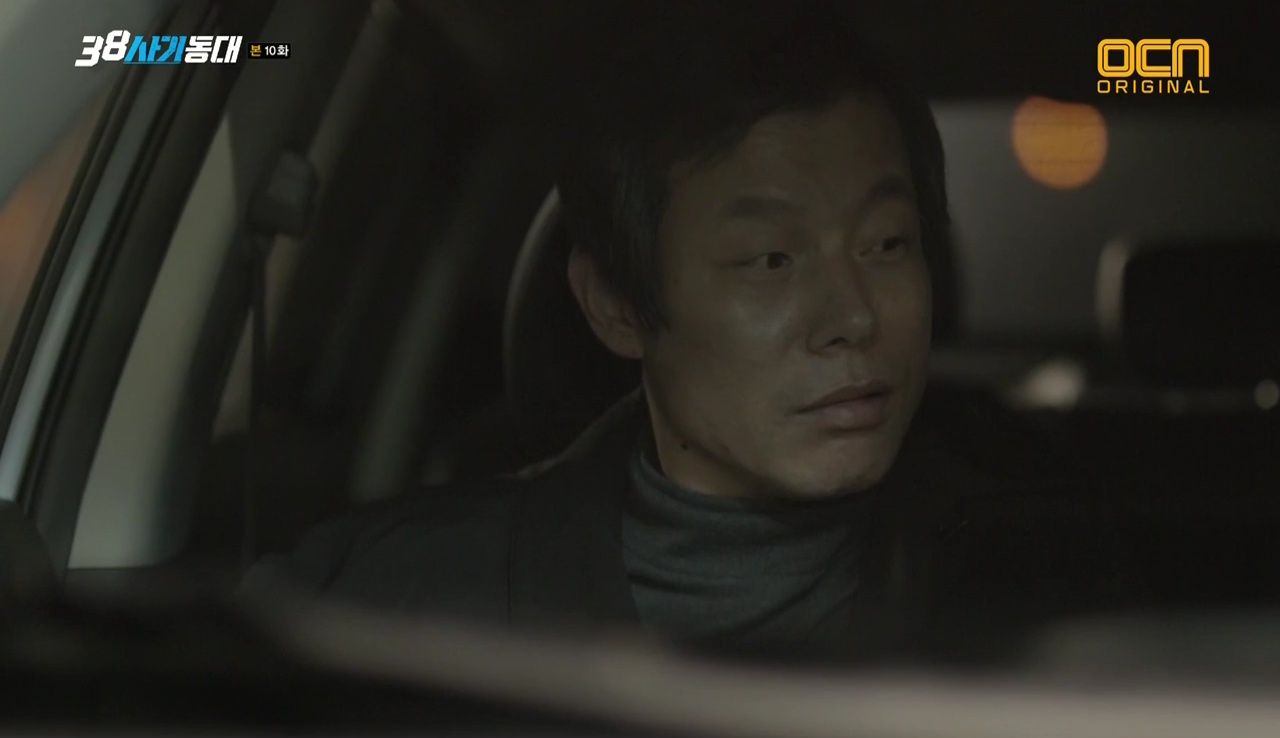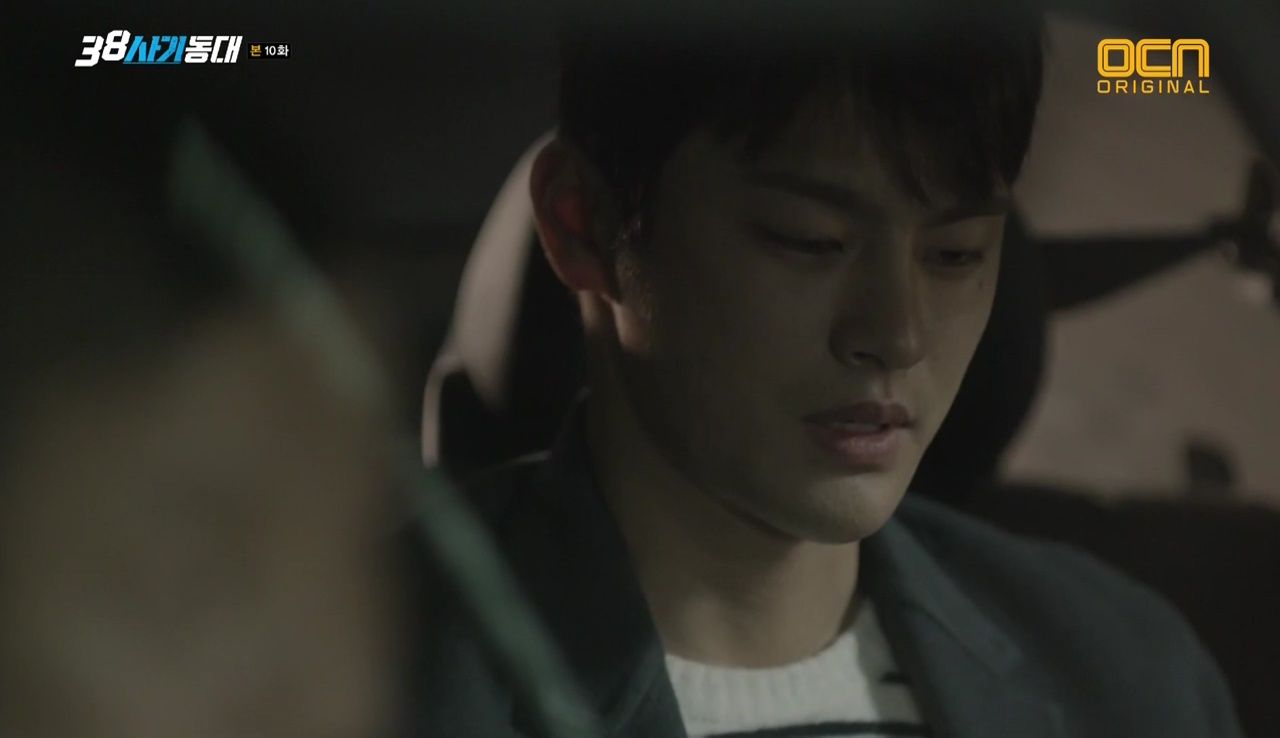 He had sat outside the pub while Sung-hee drank herself numb inside. Jae-sung arrived moments later to arrest him. On the way to the police station, Jae-sung asked if Jung-do really liked the girl or was so bored that he seduced her despite Sung-hee being poor. Jung-do told him that since he turned twenty, this was the first real thing he did, and now it's become fake. Looking forlorn, Jung-do asked Jae-sung to please just drive.
The next step in Jung-do's plan is merging the two groups and bringing the con home. Mi-joo is tasked with finding replicas of a couple of priceless artifacts and Sung-il is given a stack of information to memorize about the pieces. Then Jung-do calls up Ho-seok about checking out some "samples" that just came in, who in turn calls his antique collector sister, Min-ah. And then whom does Min-ah call? "The only antique expert that Bang Min-ah trusts… a public official who is just a little bit dirty," says Jung-do.
They meet at the UN Communications office and Jung-do sets two ceramic figurines before the Bang siblings. When Sung-il is introduced as an antique expert, Jung-do acts a little offended at their distrust and tells Sung-il to be careful while handling the artifacts. Sung-il examines them and gets a disturbed look on his face. He starts to say that it's wrong, and Min-ah asks if it's a fake.
Sung-il explains that they are pieces of extreme historic value and should be in museums, not in a private collection. He sets out to educate them about the history of the figurines but Ho-seok and Min-ah are more interested in their monetary value. Sung-il estimates the value to be around $500,000, and Jung-do smirks and points out that a $100,000 investment magically turns into a $500,000 profit in Korea — just as he had promised.
After the meeting, Min-ah invites Sung-il to her house for lunch and Jung-do sits with Ho-seok to discuss his investment. They settle on $30 million but Ho-seok says he needs to borrow the money to invest. Jung-do tells him he should go for it and even offers to lend him the money, which Ho-seok gratefully declines.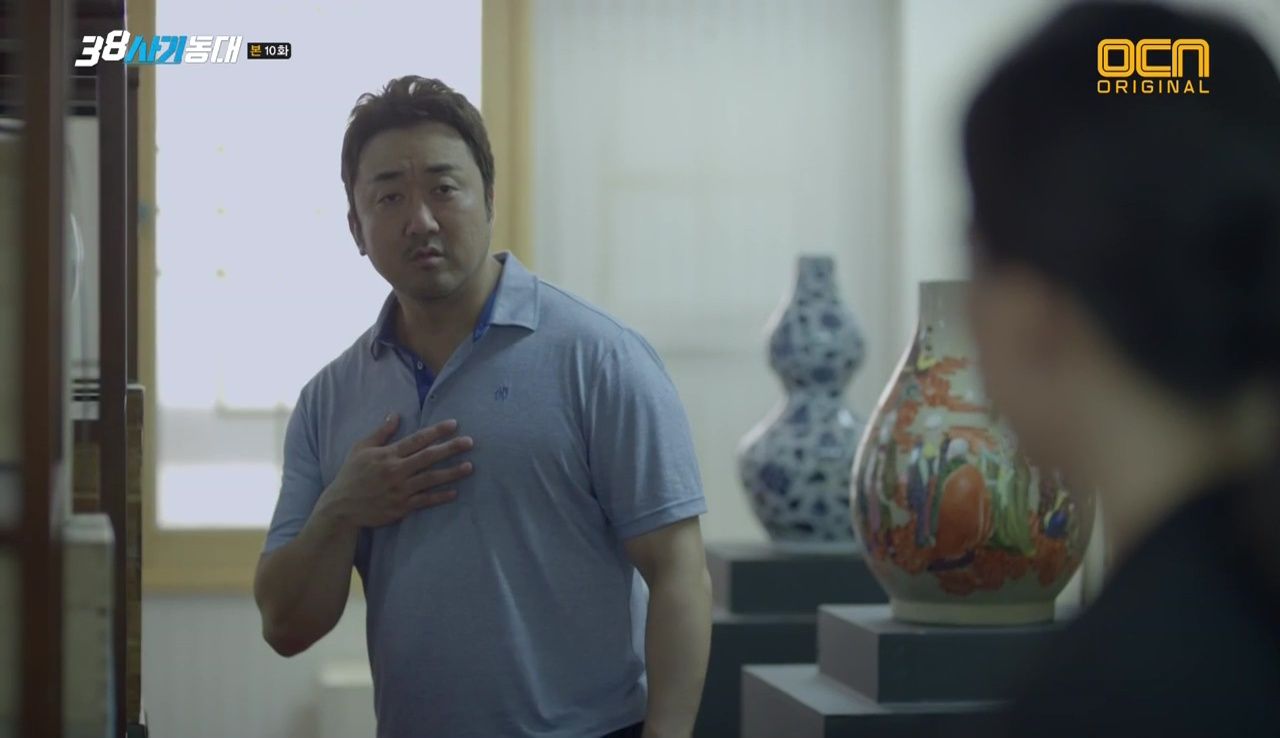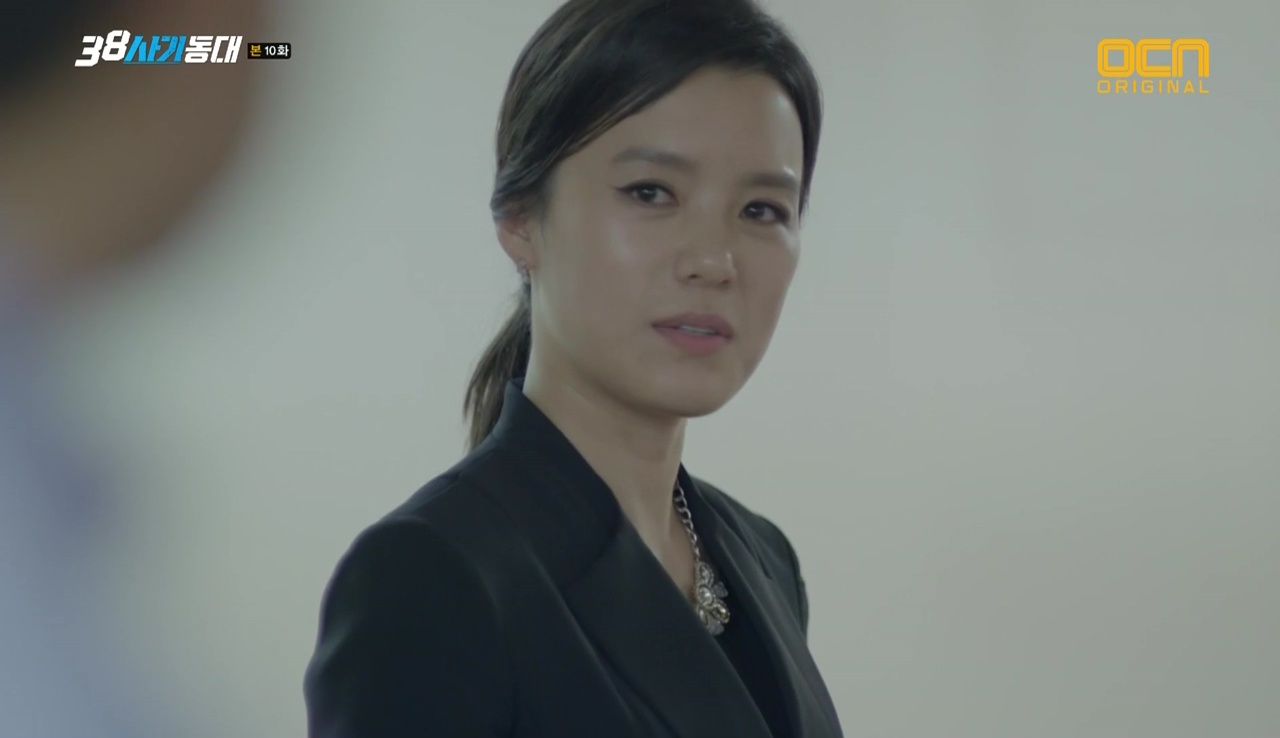 At Min-ah's house, Sung-il and his hostess drink tea and discuss the next shipment coming into Busan Harbor. Sung-il tells her that he'd told his contact to focus on ceramic vases for Min-ah. She'll need to spend $20 million, he says, but will make thrice that amount in profit.
Min-ah asks Sung-il to follow her and leads him down to a basement guarded by a small army of men. She unlocks the door to a room full of extremely valuable ceramic artifacts — everything Min-ah has collected in 20 years — and asks him to appraise them for her. Sung-il happily agrees.
Commissioner Ahn's hoobae has been tailing Sung-il and he reports back that Sung-il was seen coming out of Min-ah's house that day. The commissioner takes this news to Mayor Chun, convinced that Sung-il was carrying out a con, and the mayor walks down to meet the Division Three team. He asks them where Sung-il is and Sung-hee covers for him by saying he's at a borough office, collecting files.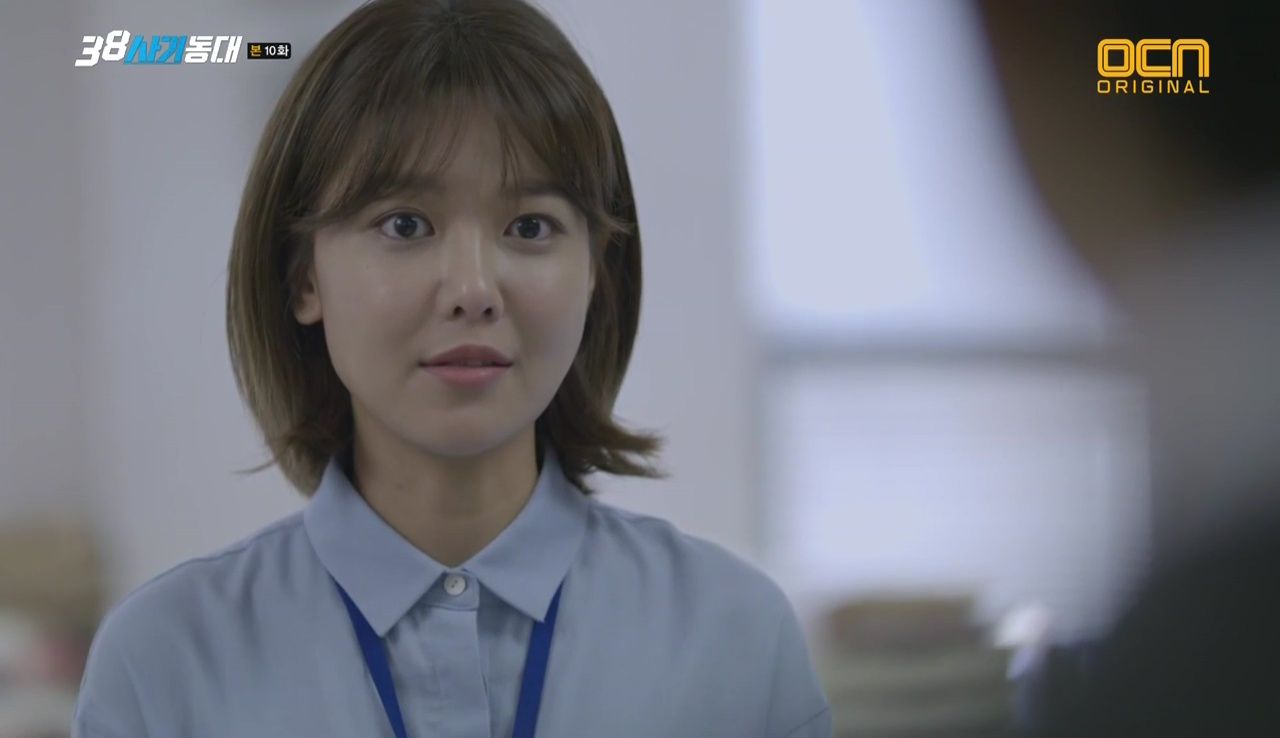 The mayor moves closer to her and asks if she's sure that that's where Sung-il is. Sung-hee pauses for a beat and then says yes, making her allegiance clear. Later, the mayor asks Commissioner Ahn if Sung-hee is in on the con. The commissioner confirms that she definitely knows about it but he's unsure of whether she's helping them.
Jae-sung meets the "criminal" who'll double-cross Jung-do, and it's Mi-joo. She looks unsure and scared as Jae-sung bullies her into confessing everything to the Bang siblings. As soon as Mi-joo tells them about the con, Min-ah calls their father. President Bang arrives at the UN Communications office and slaps his son for being a fool. Ho-seok bawls like a toddler — complete with stuttering, uncontrollable sobs — and President Bang's bellows subside as he comforts his big baby boy. Gag.
President Bang agrees to help get Jae-sung out of jail and focuses on how to catch the conmen. As Mi-joo watches with trepidation, the siblings invite Sung-il and Jung-do to Min-ah's house. Mi-joo begs Min-ah not to force her to face Jung-do, but Min-ah has no mercy for her. Min-ah calls the guards up from the basement and the Bang family sits down with tea to wait for the scammers to arrive.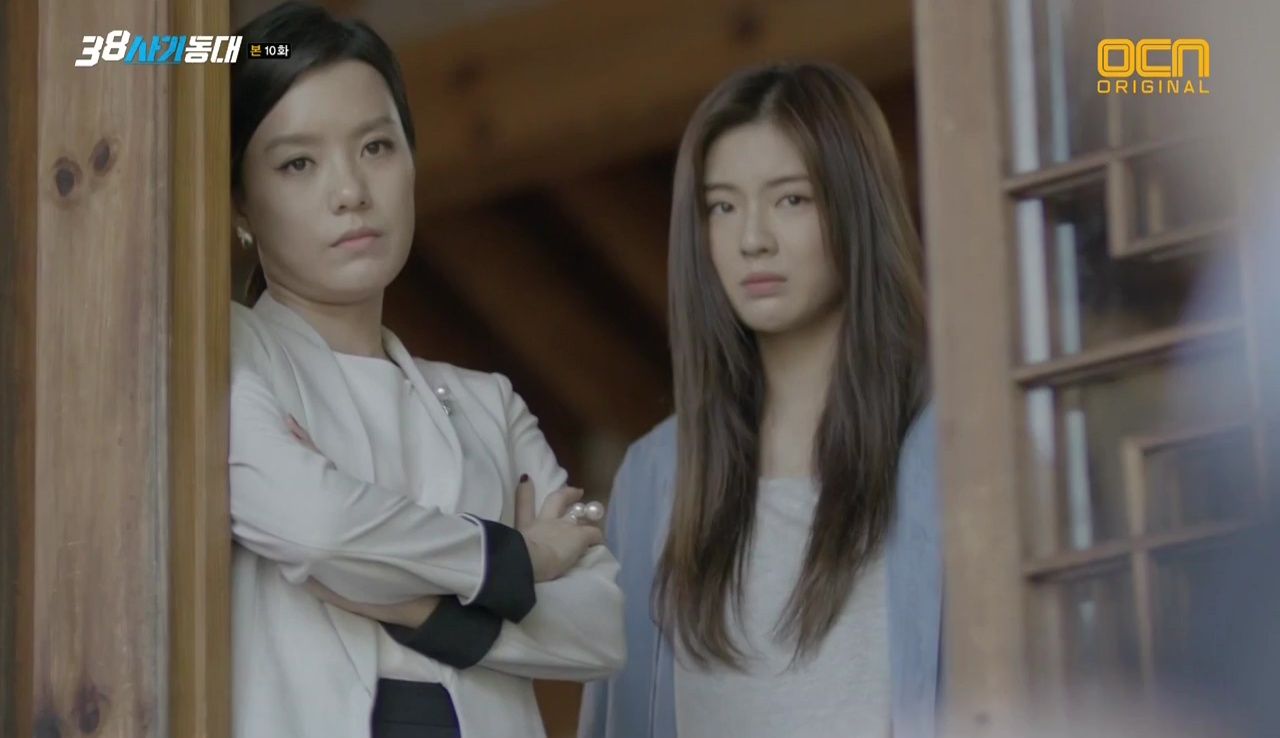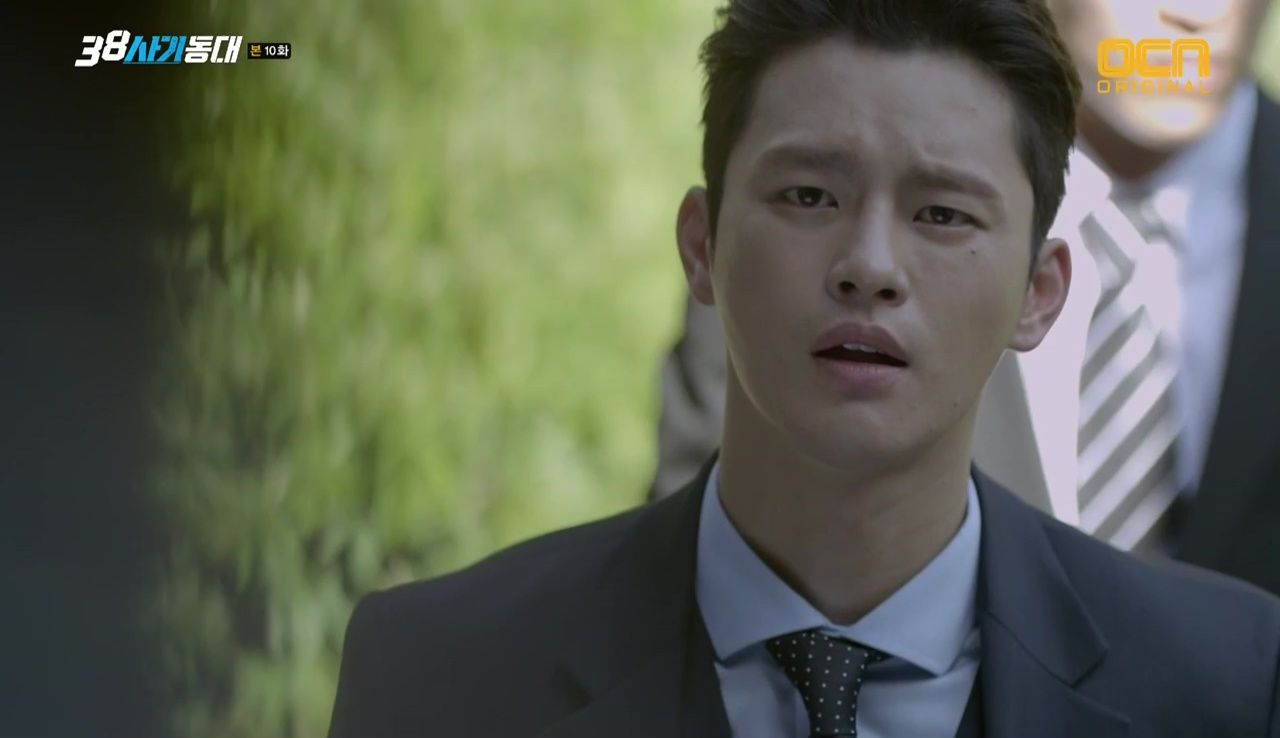 Sung-il arrives first and Jung-do enters the residence to find him standing stock still at the doorway. He turns to Jung-do and says, "I think we're caught." President Bang walks up to the door and tells the guards blocking off the exit to take them to the police. Ho-seok grabs Jung-do by the collar, blustering, but gets shaken off when Jung-do sees Mi-joo standing beside Min-ah and realizes her betrayal.
Sung-il and Jung-do are thrown in lockup, and Sung-il calls Sung-hee to ask her to submit a request for two days' absence from work. She asks if he's in trouble but he says that two days will be enough to sort everything out. President Bang meets the police chief to pressure him into sending Sung-il and Jung-do to jail for a few years, but unfortunately (hah!) no money has been exchanged, so the scam hasn't happened yet. The police can only hold them for 48 hours.
As the chief explains the situation, Min-ah and Ho-seok give their statements to the police. When Min-ah accuses Sung-il of pretending to be a government official, Sung-il calmly points out that he is a government official. (Muahaha!)
The police chief says with frustration that no money had exchanged hands and Min-ah was the one to receive a gift that is valued at hundreds of thousands of dollars. And no matter how much Ho-seok threatens the police with connections at the prosecutor's office, Jung-do is a VIP client at his company and has done nothing illegal.
President Bang shouts that all of that was just to gain their trust, and the police chief agrees helplessly that he's right. But as matters stand it will be easier for Sung-il and Jung-do to file a case against the Bang siblings than for the police to charge the two with fraud.
48 hours later, Sung-il and Jung-do come out of lockup unbathed and itchy. They go to their regular hangout to eat some food and discuss their next move. Sung-il says he'll visit Min-ah first and then President Bang, and Jung-do declares his intent to visit Ho-seok. Sung-il leaves and calls up Min-ah, and Jung-do calls up Mr. Kim in prison and asks to be connected to "him." Mr. Kim hangs up and tells Chairman Wang that Jung-do seems to be starting for real now.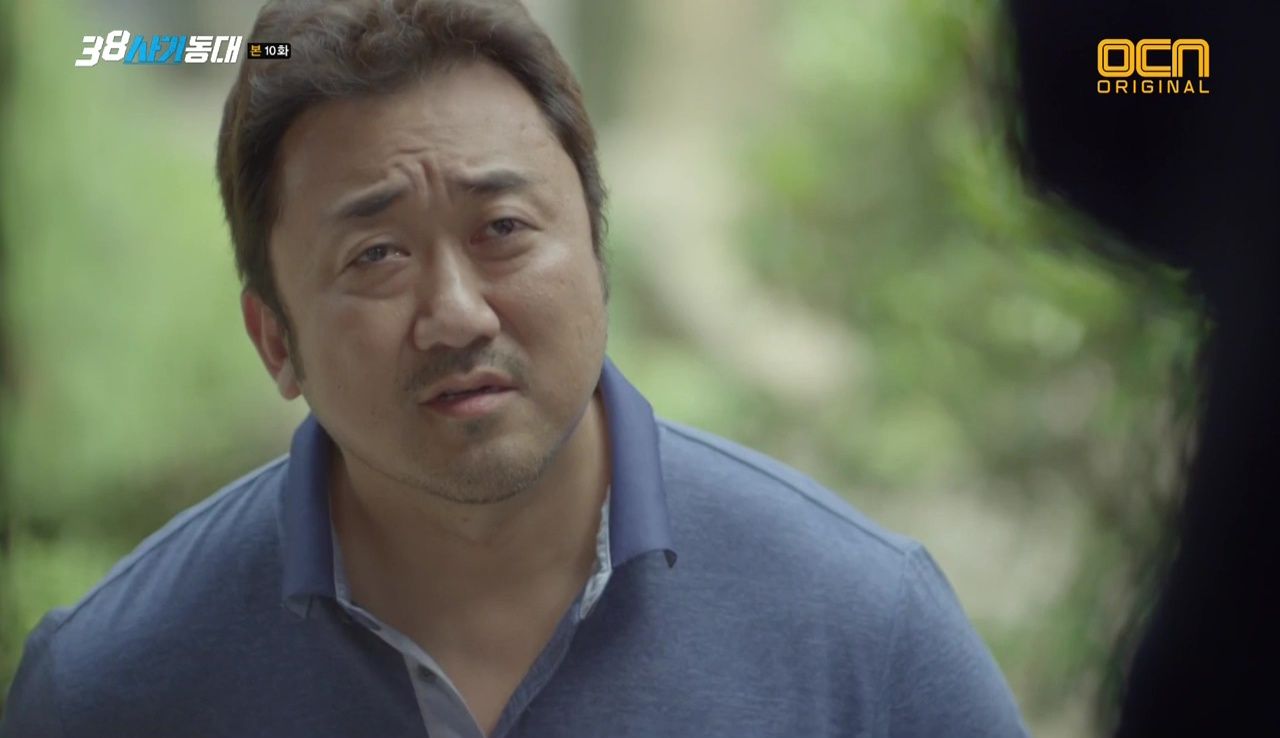 Sung-il visits Min-ah at her house and she asks him whether he wants his vase back. He smiles and says he's not that low, but wants to just ask one thing: "Will you not pay your taxes?" Min-ah laughs at him and speaks down to him in banmal, asking if he doesn't understand the situation. Her father will get him with or without proof, she says.
Sung-il calls her rude and tells her that he understands the situation perfectly but was giving her a last chance to pay the $50 million her father owes the government. He then reveals that Mi-joo never betrayed them. She only needed to get close to Min-ah to "borrow" something. Min-ah's superior smile evaporates as she takes out the keys to her treasure trove basement from her pocket and realization dawns.
We see in a flashback that when Mi-joo was begging Min-ah, she had taken the keys out of her pocket and used the molten wax of an incense candle from the bathroom to get molds of the basement key. Then when Sung-il and Jung-do were being dragged away to the police station, Mi-joo slipped the keys back into Min-ah's pocket.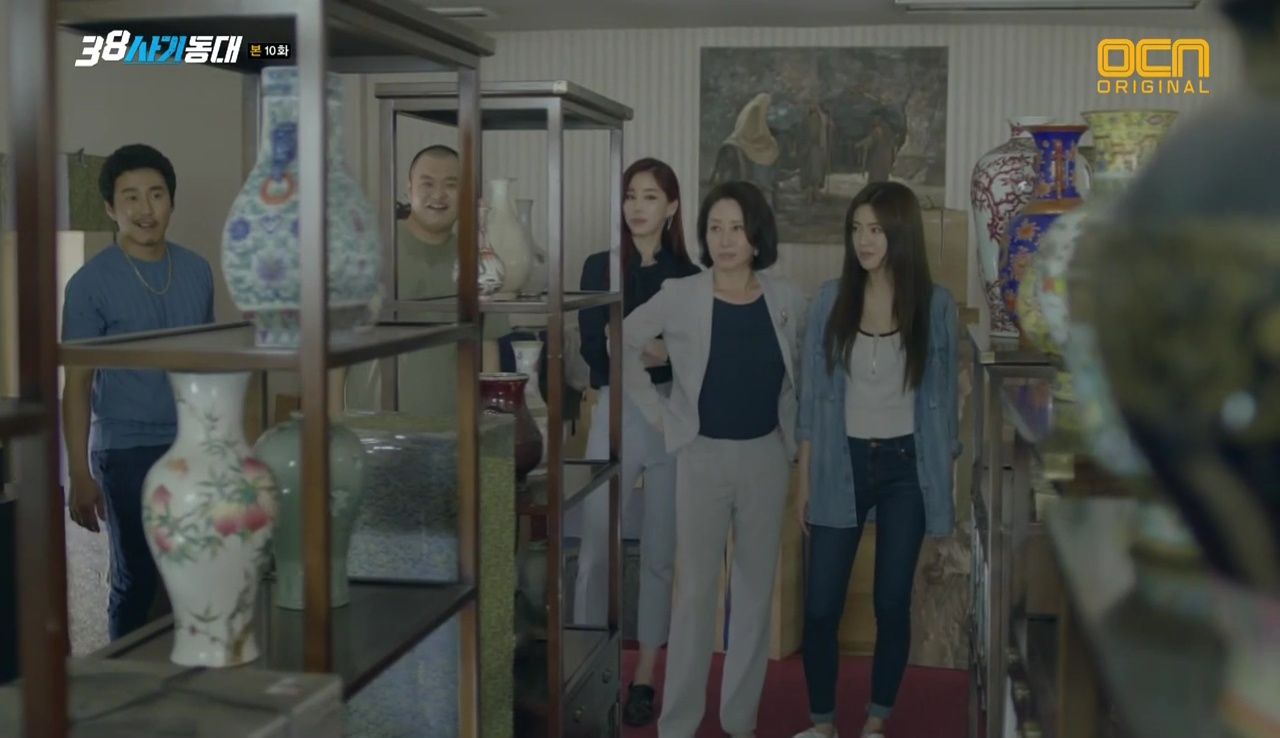 In the present, Sung-il explains that he has a boss named Commissioner Ahn who had found out about the con. What he didn't know was that Hak-joo was tailing the hoobae who was following Sung-il. So, says Sung-il, they beat the commissioner to the punch by revealing everything themselves. He points out that when they were all at the precinct, Min-ah's house had been empty, and asks if she isn't going to check the basement.
Min-ah rushes down, tripping over her own feet in her hurry, and opens the door to find her entire basement completely cleaned out of the precious antiques it once housed. While the Bang family and our two conmen were at the police station, Hak-joo, Mi-joo, and Madam Noh brought in a crew and cleaned everything out. The guards were guarding a burgled house until now.
Min-ah collapses to the floor and Sung-il follows her down to explain that everything has already been liquidated and since they were in jail when the burglary happened, the Bang family can't pin it on Sung-il or Jung-do. Min-ah, hyperventilating, tries to bribe Sung-il, but Sung-il says his wife runs a pork trotter restaurant and they do well enough. He tells her to call her father and takes the phone from her.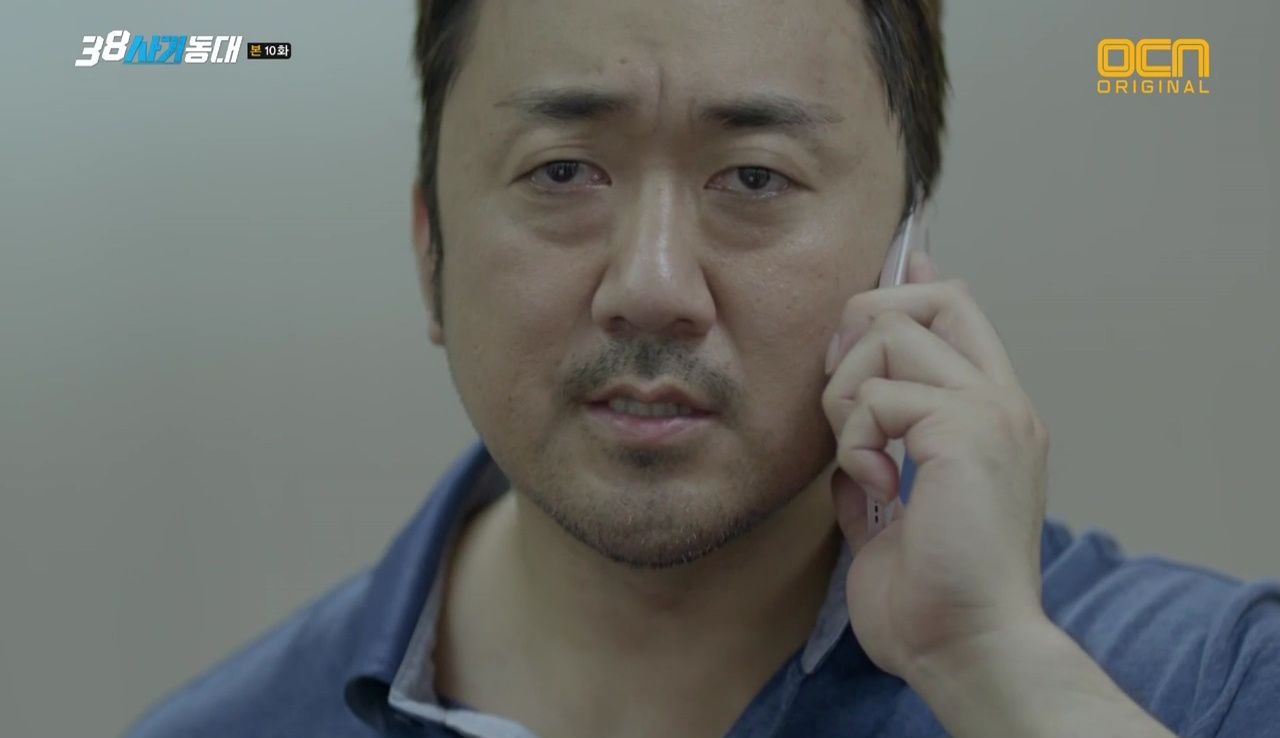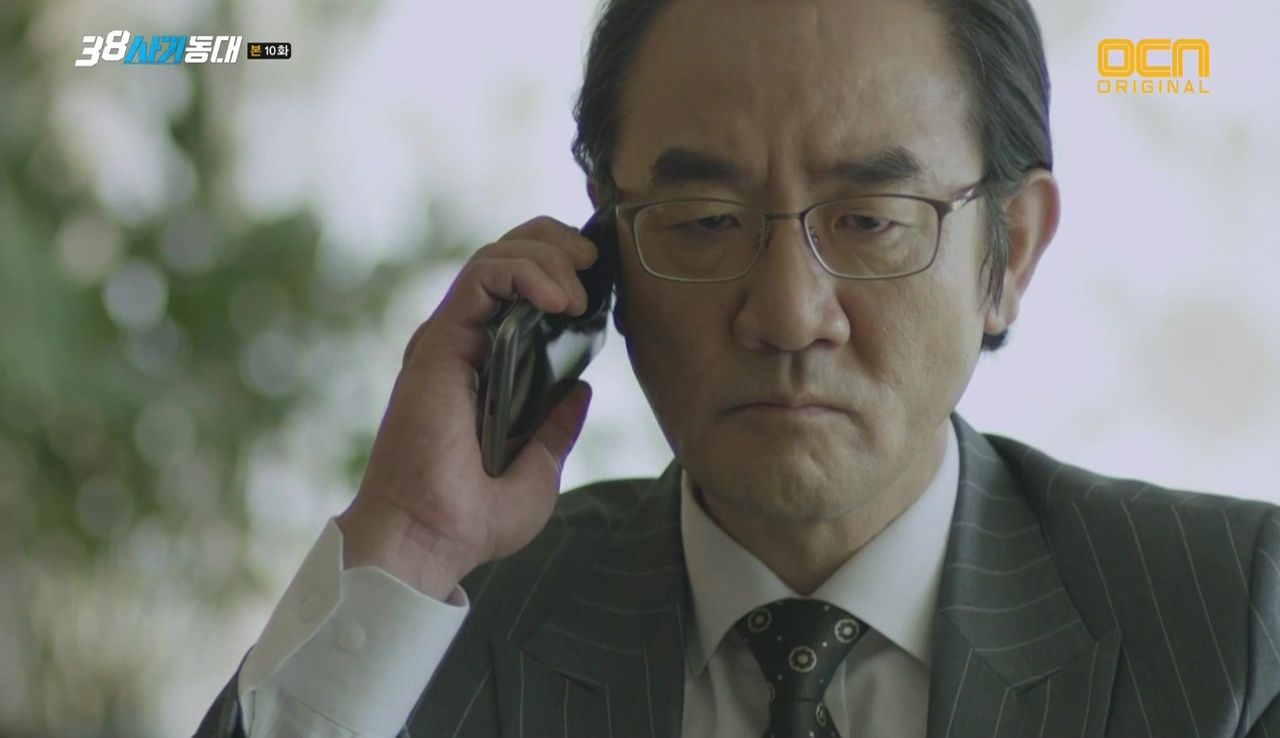 Sung-il tells President Bang that he might not remember Sung-il's name or face, but Sung-il has met him several times. He reminds President Bang that six years ago, he's said he doesn't owe the nation anything. Sung-il tells him that fine, he can believe that, but for the rest of his life, President Bang will have to compensate the people who got hurt because of him. And to begin with, Sung-il says, he has now paid off his $50 million tax in full.
President Bang puts down his phone slowly and starts laughing in disbelief. Sung-il tells Min-ah to live as a decent human being and leaves the basement. On his way up he gets a call from Jung-do, who tells him he's sorry, but he needs to use this money for something else. Sung-il tells him to knock it off but Jung-do says again that he'll use the money — after all, he did do most of the work.
Sung-il realizes he's serious and half-pleads, half-shouts that Jung-do said he wasn't lying to him. Jung-do laughs, sitting right beside President Bang, and says: "Of all the people to trust in the world, you trusted a con artist, ajusshi?" Jung-do thanks him for the money and hangs up, then turns to President Bang and asks him what he'll do now.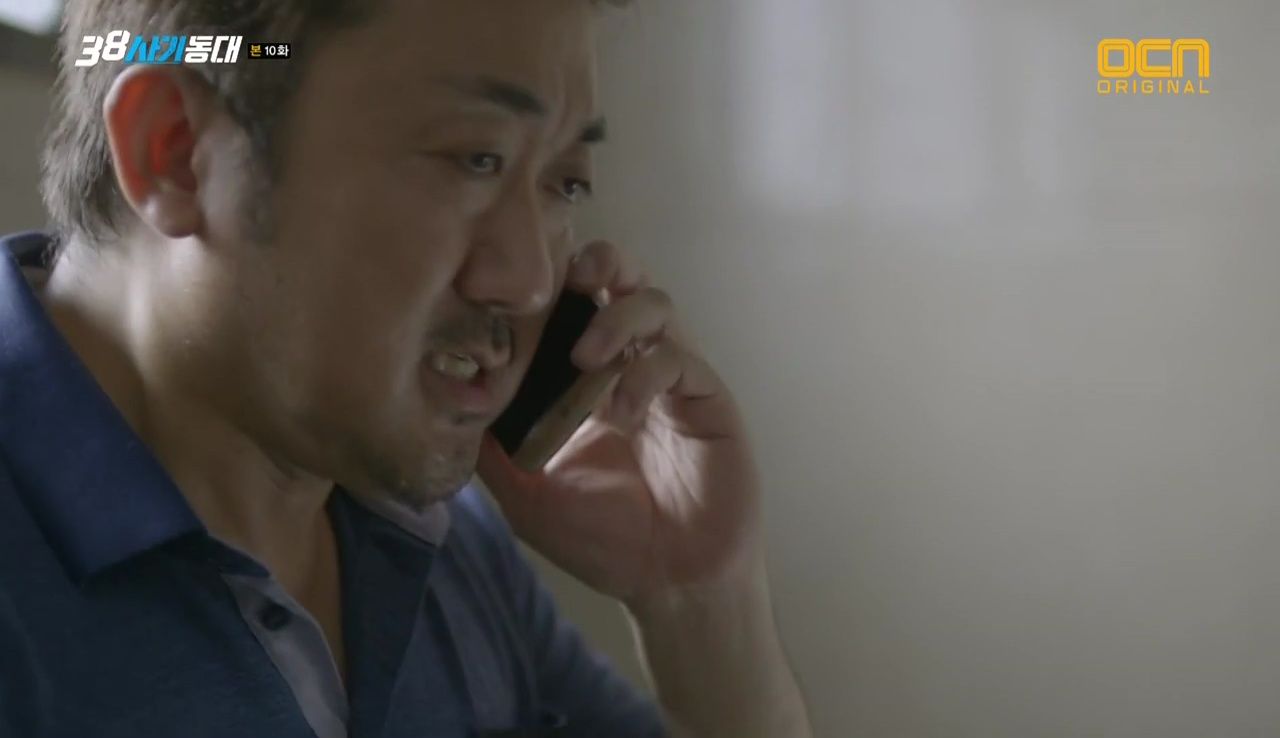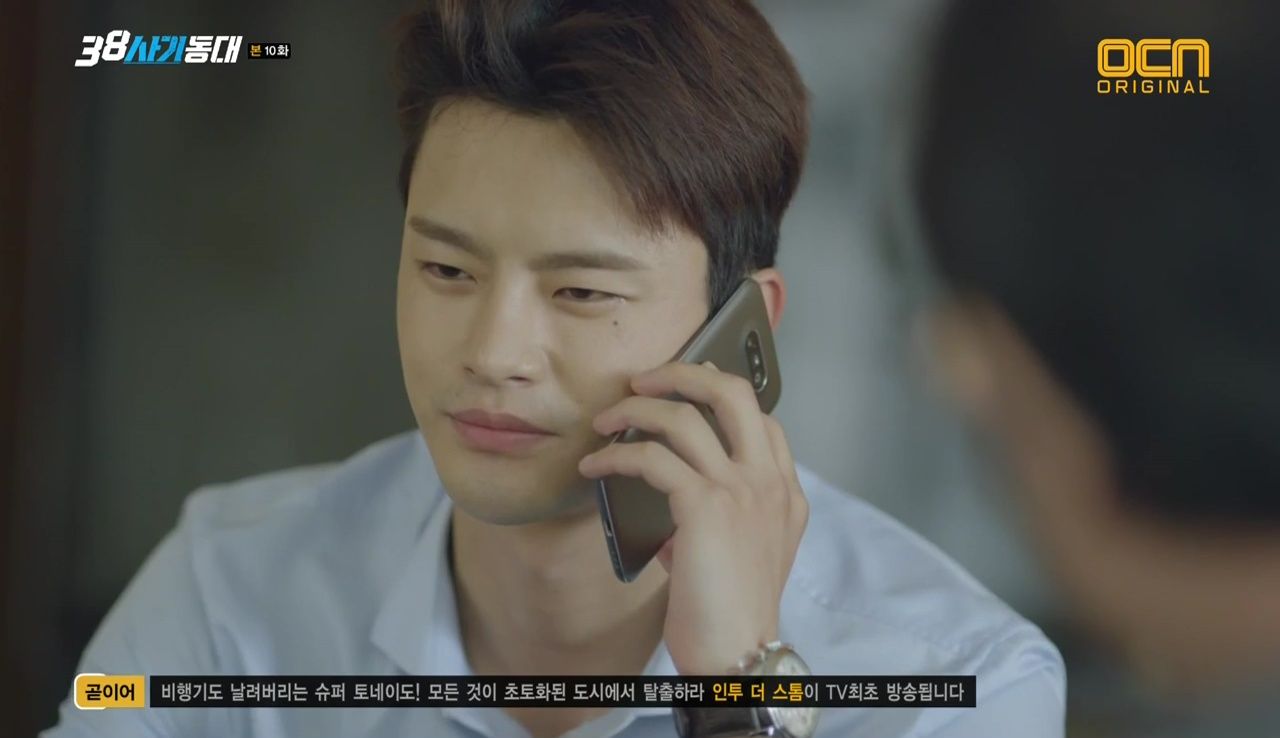 COMMENTS
No, no, no, no, no!
I think I'm a little traumatized. I can't imagine a scenario where Jung-do is doing this for Sung-il's own good, but then this has never been a show where I could predict the next turn. That's the hope I'm clinging to because if Jung-do just double-crossed Sung-il for real — no matter how lofty his higher purpose is — I'm going to be majorly pissed. In that turn of events, the only thing that could save this show from my wrath would be Sung-il pulling one over on Jung-do and getting all that money back. I think Sung-il and I are both done with people taking him for granted! But putting my personal (and violent) feelings aside, this is exactly how conmen work. Jung-do helped Sung-il to catch tax evaders and faithfully deposited all the money into their income tax accounts, building Sung-il's trust in him over time. Sung-il pulled off the same scam on Min-ah. So, he obviously understands the principle but just refused to apply it to his own situation.
While I love that Sung-il is getting so good at scamming evil tax-evaders, the world is very black and white for our beloved ajusshi. There's the Bang family, who are fair game because they hurt people, and then there's Jung-do, who is to be trusted because he's a friend and has helped him once before. It's very in character for Sung-il to believe Jung-do the moment he says that he was just kidding about the Machiavellian betrayal plan. But aside from his trusting nature, Sung-il is also in alien territory, depending completely on the guidance of an experienced native. If Jung-do was lying, Sung-il would have nowhere to go. Therefore, Jung-do must not be lying. It's almost a survival instinct at this point.
Jung-do likely knows and capitalizes on that. When he looked away from Sung-il's astonished gaze in that first scene, it was like he was reining in the urge to keep telling Sung-il the truth. He knew Sung-il wouldn't be able to handle it. I also suspect that Jung-do couldn't bear the look of fear and disillusionment in Sung-il's eyes. Maybe that's why, in the last scene, he chose to hurt Sung-il over the phone rather than face him.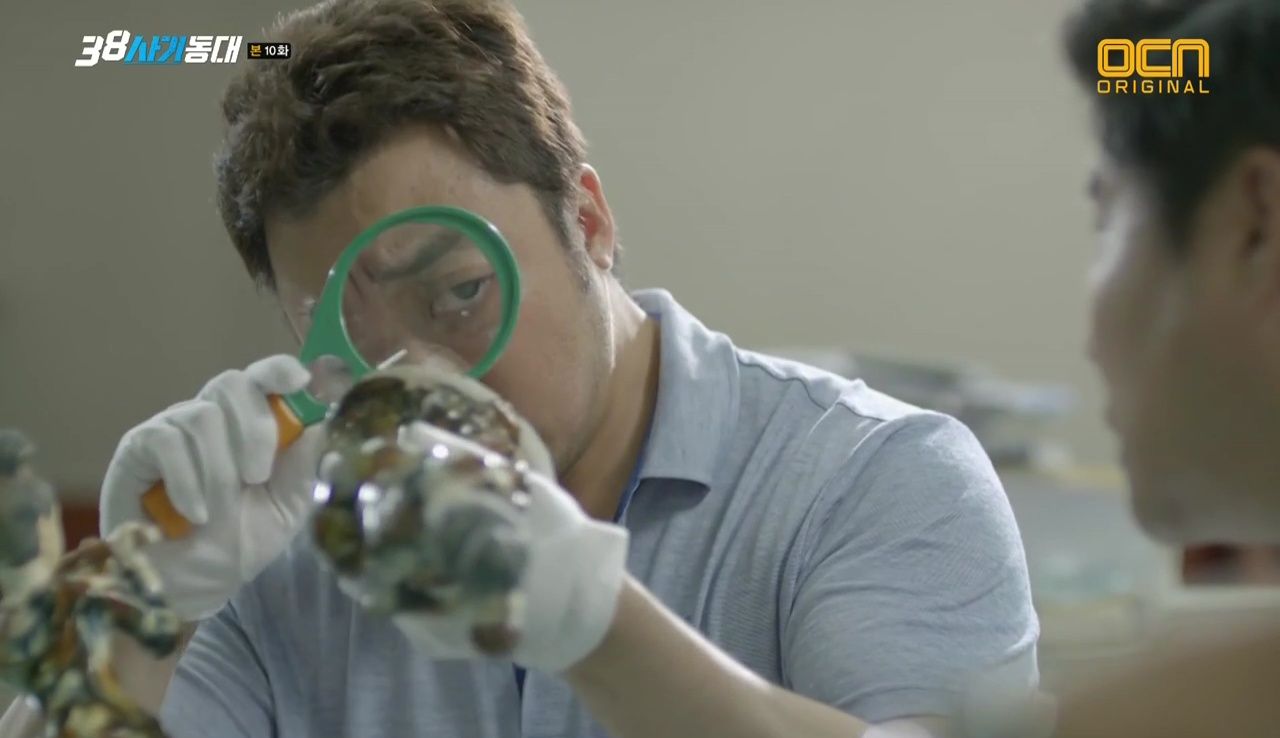 We already suspected that Sung-hee was the real deal for Jung-do but it was nice to have it confirmed. I liked that although Sung-hee is willing to go along with a charade for a couple of hours, she hasn't forgotten what Jung-do did to her and isn't above reminding him. With six episodes to go, and with feelings still running deep under the surface for these two, I suspect that Jung-do confessing his reasons for dumping her would be enough to at least start the process of forgiveness in time for the finale. But I can't see how we can achieve a happily-ever-after without major time-skip happening towards the end, to give these two some months at least to relearn each other. And that's only if Jung-do hasn't really screwed Sung-il over. I'm pretty sure that that would be a nail in the coffin of their love, for Sung-hee.
The con that this writer-director team pulled over on us, the viewers, was so clever. They spent so much time building up the fake smuggling business — Jung-do asked for $30 million and Sung-il for $20 million from the siblings, bringing the total "investment" to the $50 million they owed in taxes. We were convinced that that was how they were going to get the money out of the Bang family. But then they played us good. I don't think anyone expected them to go the burglary route. But how elegant! I loved that the Bang family had nothing on them! It was totally worth it to see President Bang's influence failing to do our conmen any harm. The writer and director have my loyalty for life now. Anyone who can think up and execute twists like these in a TV show without compromising on logic or consistency will always get my money.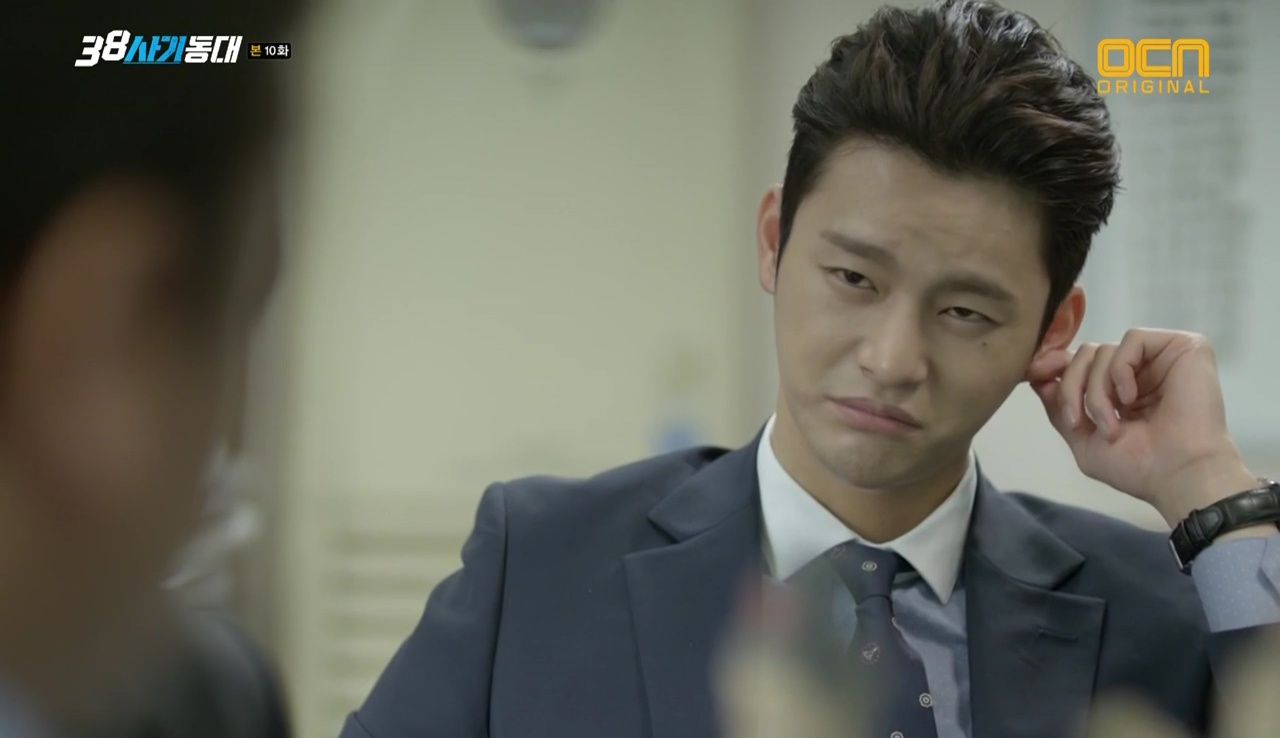 RELATED POSTS
Tags: featured, Ma Dong-seok, Police Unit 38, Seo In-gook, Sooyoung