Jealousy Incarnate: Episode 7
It's amazing how this show is able to make finger-pointing and child's play so fun. Given the right context, immature adults acting like children can be the funniest thing in the world, and this episode strikes the perfect balance of petty and childish to make the jealousy quite entertaining to watch. I could watch these two children fight all day.

EPISODE 7 RECAP
Chef Rak looks at the note from Hyung about putting Pal-gang in Ja-young's care, but he barely has time to process his confusion before Ja-young and Sung-sook attack him for hiding Pal-gang from them. They accuse him of flirting and messing with them, and Chef clears things up by claiming that he has no interest in women. He looks to both women and thinks aloud that he can't trust either one of them to raise Pal-gang.
Hwa-shin hides his unbuttoned shirt that reveals his bra, after being beat up with a pan by his mother. He's stuck against the wall in front of Hyung's memorial, and the rest of Pal-gang's pseudo-family watches his struggle. Chef clarifies to the group that Hwa-shin is Na-ri's senior coworker, and Chi-yeol finds it relief that Hwa-shin doesn't seem too threatening (in fact, he looks pretty pitiful).
We get another look at the scene with Hwa-shin fuming with anger as he watches Na-ri share the video to Jung-won.
At 3 a.m. in the morning, Na-ri rushes out of her rooftop house and groggy Chi-yeol follows her out with her things. She's rushing off for the morning broadcast, and she finds a car parked out front waiting for her. It's Jung-won, who's fallen asleep while waiting for her. She watches him sleep while thinking back to all his swoony gestures, but the moment is ruined by Chi-yeol, who yells at his noona to ask if there's a weird person there.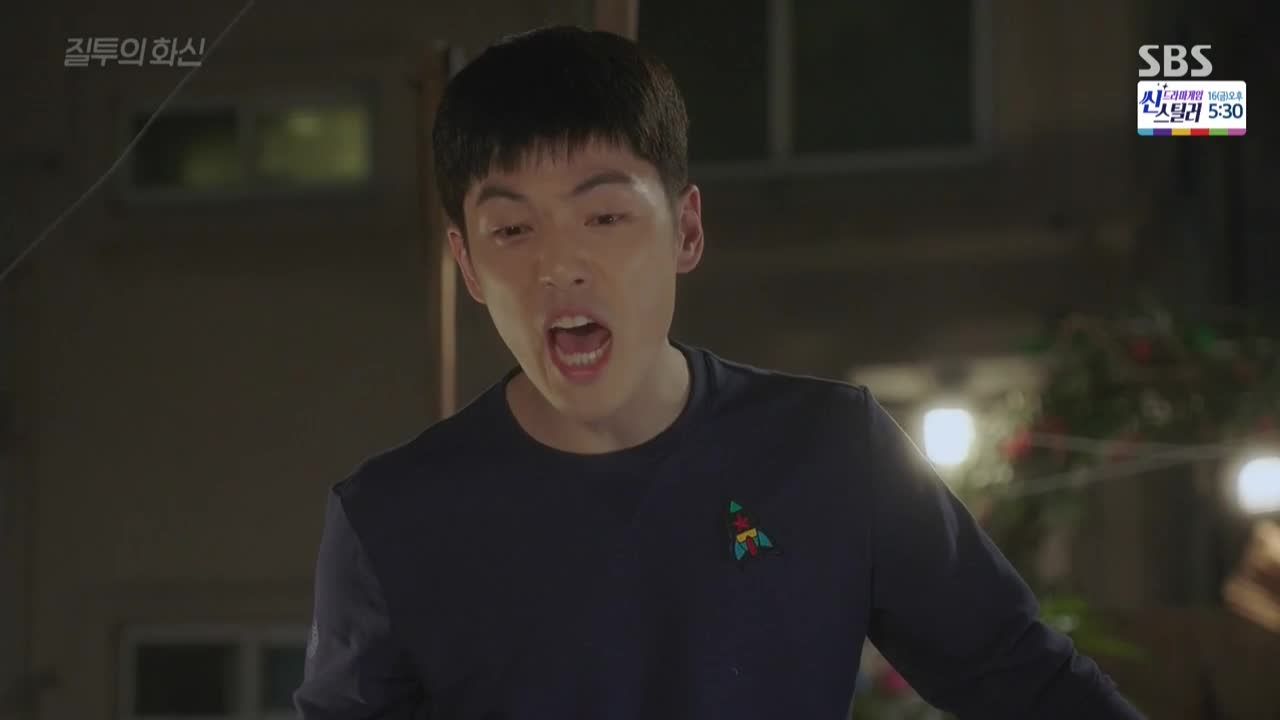 Na-ri quickly shushes her brother, but Jung-won has now woken up. His eyes aren't fully open yet, but he comments on Na-ri's fashion, saying that she looks worse than she did in her hospital robes (ha). She asks if he's going to offer a ride, and he gladly does.
As he drives, Jung-won asks how Na-ri gets to work every day at this hour and explains that he's just taking her this morning because he's off to catch an early flight. Na-ri wonders if he'll give her a ride ¬every morning, or if he'll just buy her a car if she asks. She warns him that she's materialistic and advises him to reconsider his dating offer, but he says that he'll lose good things (and women) if he thinks too much.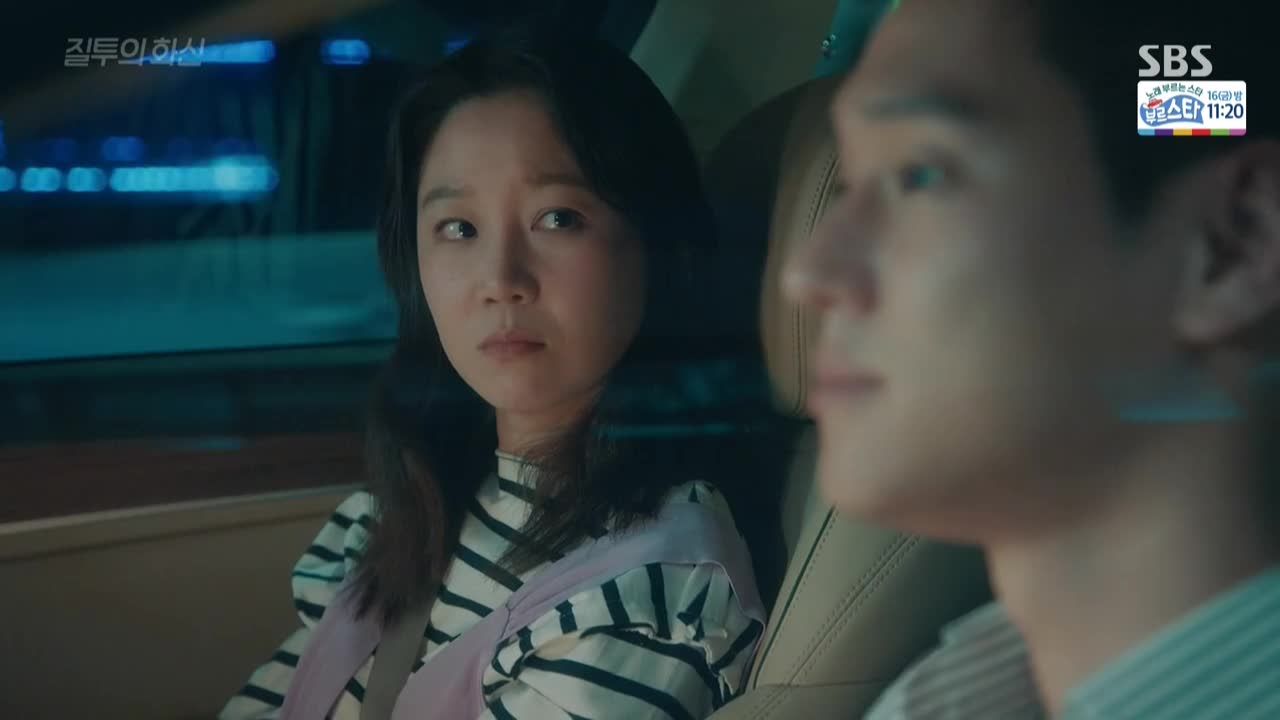 Na-ri asks if Jung-won has told Hwa-shin about his courtship, but Jung-won says he's going to wait to tell him. He claims that he wants a passionate relationship with Na-ri, to which she responds, "Oh my god." Yes girl, same.
Then, he asks if she'd still date him if he didn't buy her a car or drive her to work every day. And because that's a lot of swoony talk, Na-ri tries to distract herself with the lack of stars in the sky.
The morning news begins, and Na-ri prepares her shoot on the roof of her building. She's in a hanbok, and the strong winds uncontrollably blow her outfit around. The staff tie a rope around her hanbok to tame it from the winds, but right before Dong-gi cues her shot, she unties the rope.
Na-ri reports the weather forecast with her hanbok flying everywhere, making the point that winds are very strong. Dong-gi thoroughly enjoys Na-ri's approach to the forecast and compliments her delivery.
In the lobby, Na-ri spots Hwa-shin with milky beverage and warns him not to drink such things during his recovery. She offers to trade her drink with his, but he completely ignores her and walks away with his staff.
Teary-eyed Pal-gang sits in her room looking at a picture of her dad while Ja-young knocks on the door, repeatedly calling out for her. She drops off Pal-gang's favorite food, and tells her to focus on school and beware of boys.
Sung-sook arrives next, with clothes and an offer to pay for everything Pal-gang wants. She stuffs money into the milk bag at the door and takes Ja-young's food as she leaves. After she leaves, Chef takes the money out of the bag and shakes his head at Sung-sook's approach.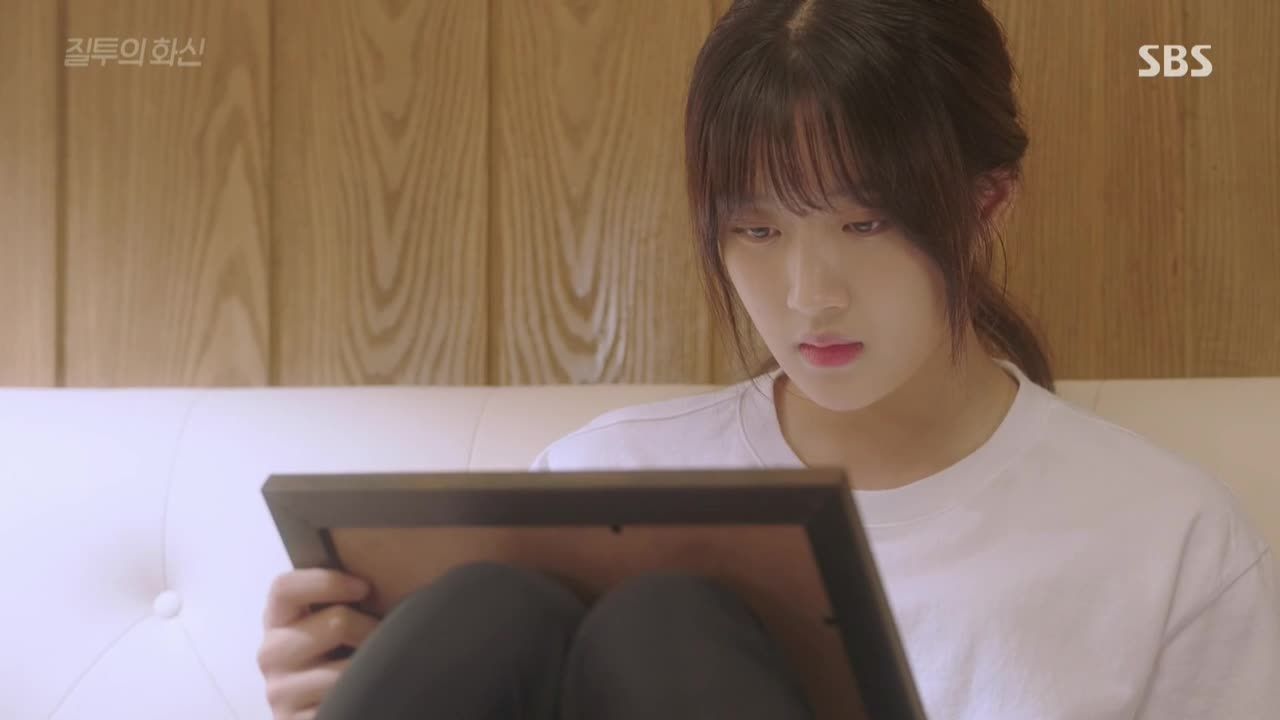 Na-ri visits the set of the evening news and watches the special report conducted by Hwa-shin. It's a report on the occupational safety of window cleaners, who hang on ropes off the roofs of tall buildings to do their job despite the windy conditions.
Hwa-shin hangs with a worker, conducting the interview and report with professionalism and relatable concern. At one point, his shoe slips off, and the impact of his shoe falling to the ground amplifies his angle about the poor safety conditions of the window cleaners.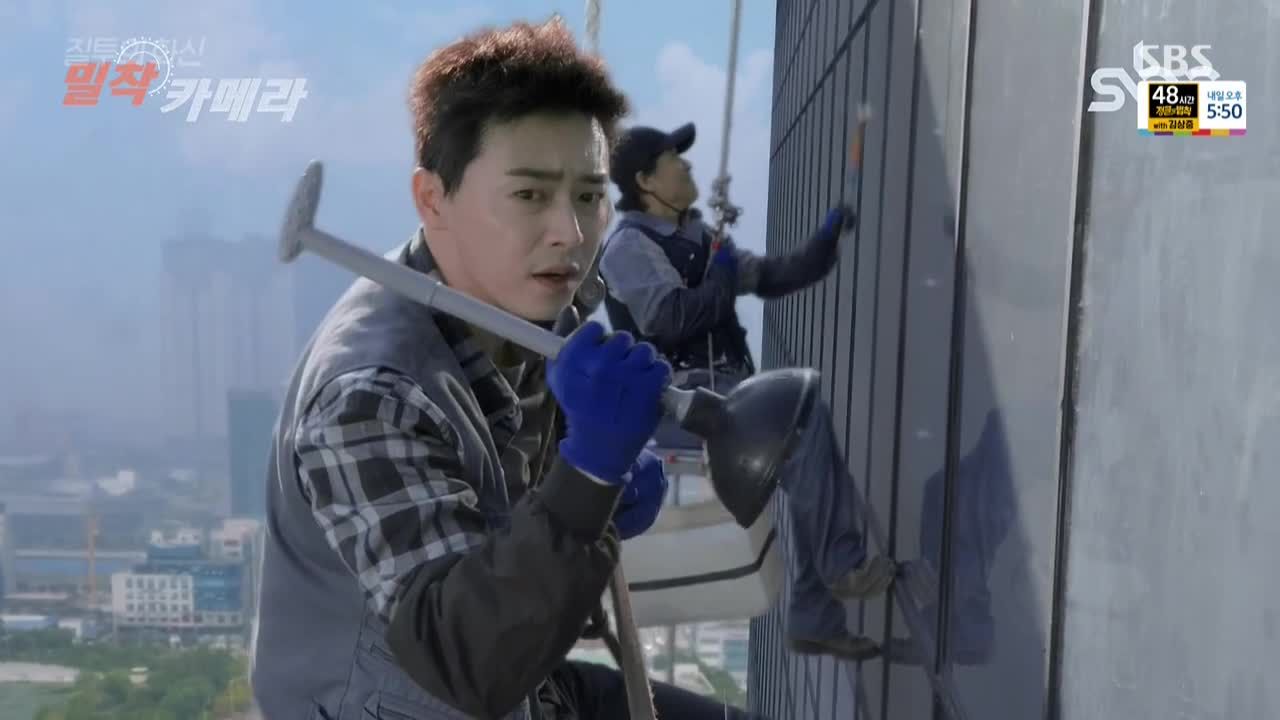 The news concludes, and Na-ri looks to Hwa-shin to give him a thumbs-up. He briefly glances over, still trying to ignore Na-ri as she waves her thumbs at him to grab his attention. PD Oh worries about Hwa-shin's precarious reporting, but Sung-sook assures him that Hwa-shin isn't trying to get himself killed.
Sung-sook then looks to Na-ri and complains that she's still lurking around after her morning broadcast and tells her to go to sleep. But Na-ri follows Hwa-shin out of the set, still trying to get his attention with her thumb. She gets pushed aside by Hye-won, who follows Hwa-shin to ask about her anchor performance that night. Hwa-shin tells her that she was just overall bad, and when she says the same about his report, he refutes her point by claiming that he was perfect. What an ego.
Hwa-shin hands his empty coffee cup to her as he walks away, and she drops some profane insults about Hwa-shin (understandably so). Na-ri spies on this whole interaction and glares at Hwa-shin for purposely ignoring her.
Later that night, Mom forces Hwa-shin out of her house and throws his suitcase out with him. She tells him to never step foot in her house again, and Hwa-shin stands outside the house in defeat.
Sung-sook arrives at Mom's house the next morning and takes a deep breath in preparation of their encounter. She finds Mom gardening outside and approaches her to announce that she'll be fighting for custody of Pal-gang, arguing that the court will favor the biological mother.
Mom throws dirt at Sung-sook and tells her to taste dirt like her son, who's buried in the dirt now. She tells Sung-sook that she doesn't deserve the title of Pal-gang's mother, but Sung-sook turns the blame on her ex-mother-in-law — Mom was the one who caused the divergence to push Pal-gang and Sung-sook apart.
Hwa-shin visits Pal-gang's school and watches her refuse to eat the food that Dae-goo brought for her. He looks at her with worry and stands in the hallway, conflicted about facing her.
Jung-won brings Na-ri to a high-end clothing store to fulfill his promise to sponsor her broadcast outfits. She seems pleased, but just as she's about to try on the clothes in the fitting room, Jung-won's mother arrives at the store with Soo-jung.
Jung-won looks flustered to see his mother and Soo-jung there, and he tries to make casual conversation. But casual conversation turns into a conversation about his and Soo-jung's marriage, which Jung-won finds ridiculous because they haven't even gone on a proper date yet. Soo-jung suggests that they date after getting married, which is an even more ridiculous suggestion.
After hearing the conversation, Na-ri tip-toes out of the fitting room and Jung-won leaves the ladies to their shopping to follow her out.
Outside, Jung-won stops her, but Na-ri assures him that their relationship isn't serious enough for him to worry about this encounter. He asks her to clarify their relationship, and she says that she's tasting it out. He asks what it tastes like: Salty? Spicy? Sour? After some thought, she tells him that it's sweet, which also scares her. Jung-won tells her to keep tasting, and they're back to their happy flirting.
At the hospital, Na-ri meets with Dr. Geum for a check-up, and she seems to be recovering well. Hwa-shin, on the other hand, has not revisited the hospital for a single radiation treatment, and Dr. Geum worries that he'll relapse. Na-ri finds Hwa-shin crazy for not coming in for a single follow-up. Does he want to die?
At the broadcast station, Na-ri gets ready for bed and runs into Hwa-shin, who arrives with his suitcase and continues to ignore her. As she brushes her teeth, Na-ri thinks back to Dr. Geum's persuasion that Na-ri is the only one who can convince Hwa-shin to routinely visit the hospital for radiation. Hwa-shin is probably very sensitive and irritable, like most breast cancer patients, and they can't just leave him to die.
Hwa-shin sits on a bed in the dormitory, and as he's about to go to sleep, he receives a message from Na-ri about going to the hospital the next day with her for treatment. As expected, he ignores it, leaving Na-ri more worried.
Jung-won enters the dorm and climbs into bed with Hwa-shin. He says that he found out about homeless Hwa-shin through their mothers, which is another way to suggest that Hwa-shin stay with Jung-won for the time being. Hwa-shin refuses to follow his mother's wishes, so Jung-won decides that he'll stay at the dorm until Hwa-shin decides otherwise.
Jung-won wraps his arms around Hwa-shin and says that he'll try to be as good of a brother as Hyung. Since Jung-won claimed the role of Hwa-shin's hyung, he tells Hwa-shin to take care of his mother and Pal-gang — he'll take care of Hwa-shin. Aw, this bromance.
Pal-gang dances the night away at the club and thinks back to all the things that her mothers warned her of, like boys. Ready to break all the rules, Pal-gang lures Dae-gu onto the dance floor with her and kisses him. It means nothing other than rebellion to her, but Dae-gu looks shy because he clearly likes her. She then tries to seduce Chi-yeol, but he's not falling for her rebellious ways and tries to drag her out of the club.
Hwa-shin wakes up and sneaks into Na-ri's dorm in desperate search of her phone. He can't find it in the drawers and stares down at her as she wakes up. He knows that she shared the mortifying bra footage with Jung-won, and that's when Na-ri realizes why Hwa-shin has been ignoring her all this time — he felt betrayed and embarrassed.
Na-ri doesn't understand why Hwa-shin won't receive radiation after his surgery, so he explains that he feels guilty for trying to survive when his hyung just passed away. He doesn't care if he dies a little early, but he doesn't want to die in embarrassment. She gives up and tells him to die if he wants, but Hwa-shin goes right back into a frantic search of her phone in her bed.
She kicks him off her bed, and he continues to eye her suspiciously. Na-ri empties her pockets to show that she's not hiding anything, but Hwa-shin still senses that she's hiding her phone because she texted him earlier that evening. Na-ri thinks back and runs out of the room.
She finds her phone in the bathroom and hides it behind her back as Hwa-shin runs into the stall with her. She offers to give up the footage if he accompanies her to the hospital tomorrow — they could even lie that he's the guardian. But Hwa-shin doesn't trust Na-ri and continues to fight her for the phone. Their struggle ends when her phone drops into the toilet, and Hwa-shin looks satisfied. In fact, he's satisfied enough to offer to buy her a new phone.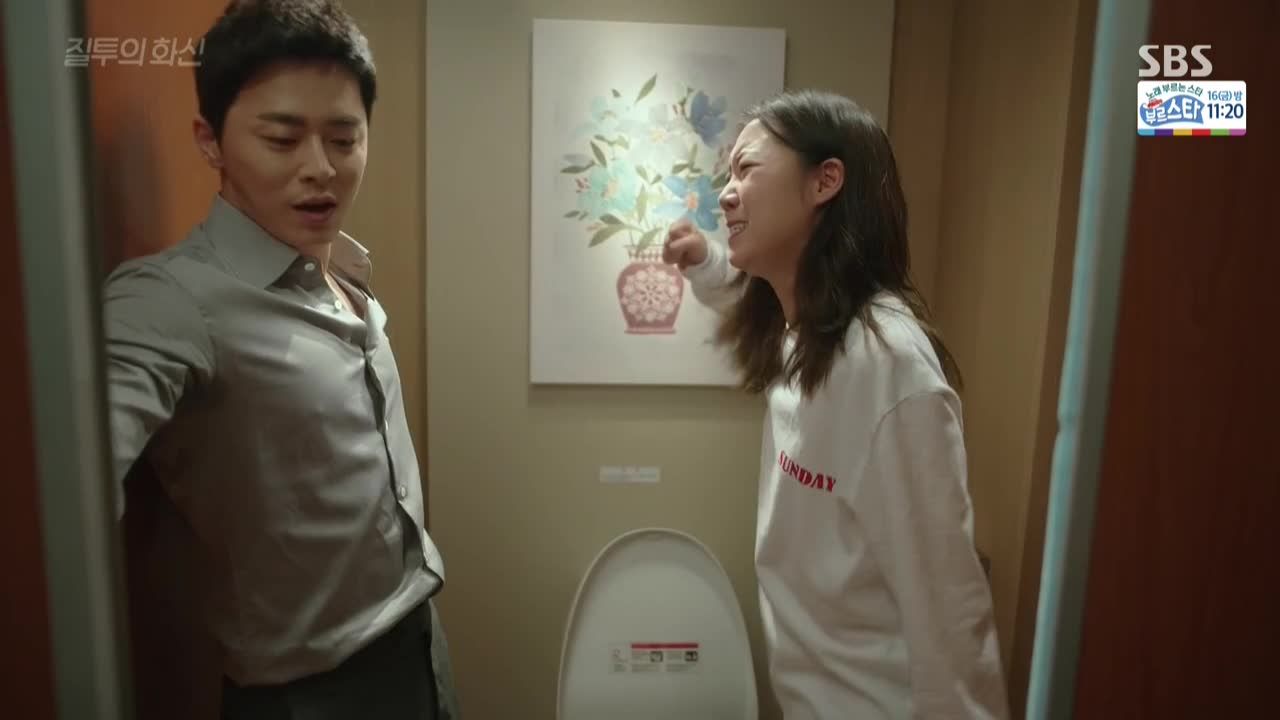 Na-ri rejects the offer and storms out of the bathroom. She tries to dry off her phone at her desk, and their loud argument is then accompanied by Jung-won. They're pointing fingers at each other, calling each other the enemy and fighting about her phone. Na-ri argues that she has important pictures of her mom and records on her phone — things that are more important that Hwa-shin's footage.
At the mention of the footage, Hwa-shin instinctively jumps at her, but Jung-won says that he also has the footage on his phone. Hwa-shin looks defeated and expresses his feeling of betrayal. Jung-won acknowledges that it's a funny video and asks how one could hold in laughter when watching it. Hiding behind Jung-won, Na-ri realizes Hwa-shin's misunderstanding and tries to signal him that he's got the wrong idea.
Na-ri tries to motion him to stop, but Hwa-shin starts to reveal more about his illness, which confuses Jung-won. Just as Hwa-shin starts to mention the bra, Na-ri steps in to choke him and cover up. She improvises an explanation that Hwa-shin is mentally strained, and Jung-won luckily believes it and tells his friend to take a break from work.
At the club, Pal-gang dances with no regard for the people around her, and when she fails to apologies for stepping on another lady, a fight breaks out.
Jung-won shows Hwa-shin the footage that Na-ri showed him, and sure enough, it's not the bra footage. It's footage of him in Thailand, practicing his dancing part before the shoot. Na-ri had secretly recorded him in admiration of his effort and because it was funny. Jung-won tells Hwa-shin to apologize to Na-ri, but Hwa-shin refuses to. Then, Hwa-shin receives a call from the police department.
Everyone shows up at the police department for the three adolescents, including all of Pal-gang's guardians. Dae-gu called Ja-young because she paid the most at Dad's memorial service, and Chi-yeol called Sung-sook because she asked him to call if anything came up.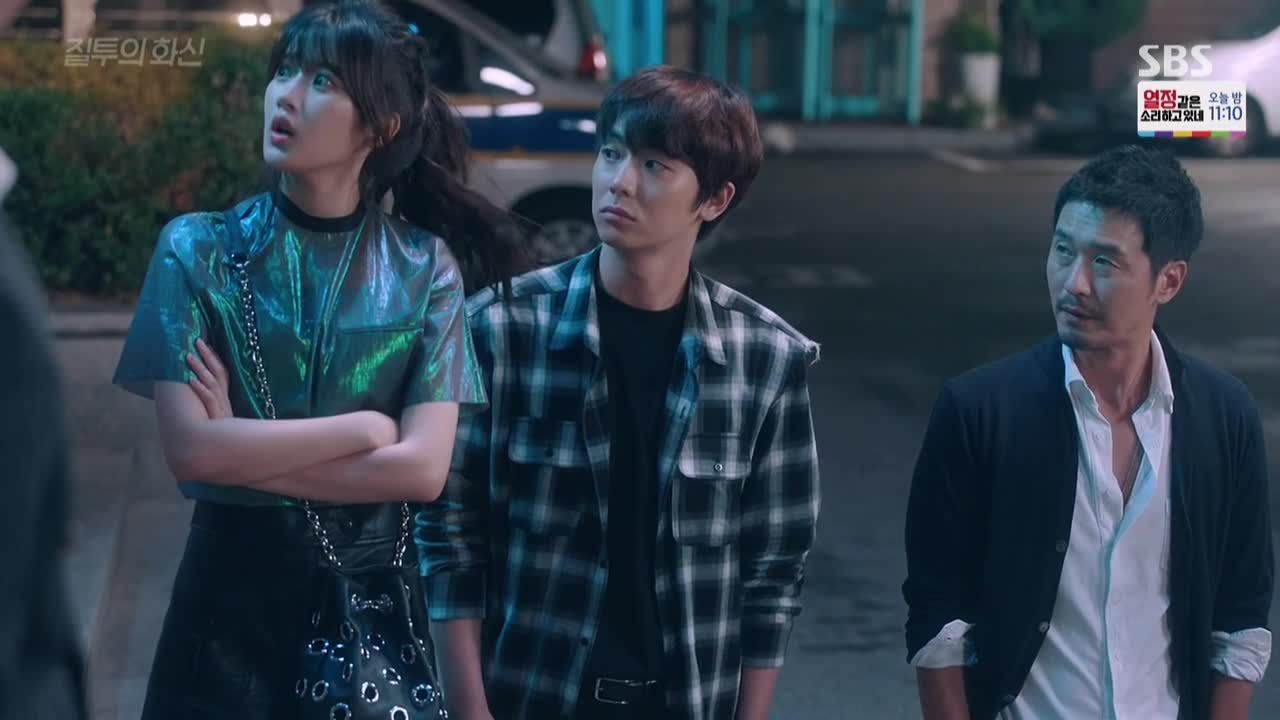 Hwa-shin also came for Pal-gang, Chef for Dae-gu, Na-ri for Chi-yeol, and Jung-won because he's affiliated in every way. The adults defend and point fingers at the other two kids who aren't theirs, but Pal-gang quickly ends the big argument by wondering aloud what the boys felt about their first kisses with her.
Na-ri drags Chi-yeol for a talk, as does Chef with Dae-gu. Pal-gang links arms with "Rich Oppa" aka Jung-won and walks away, leaving Hwa-shin to clarify to the mothers that Pal-gang's first kiss was actually in middle school. He also tell them that he'll be taking Pal-gang to live with her grandmother.
Sung-sook shakes her head at how similar Pal-gang's bad personality is to hers, and Ja-young acknowledges it. Sung-sook then turns to Ja-young and criticizes her for showing up in full make-up when her daughter was stuck in the police department. Ja-young explains that she was coming from work, but Sung-sook continues to criticize her for wearing a full face of make-up to find a man, which has yet to happen. In response, Ja-young claims that her first kiss was in middle school, just like Pal-gang. So petty!
Everyone arrives home, and the kids are sent upstairs. Looking hurt, Dae-gu asks Pal-gang if she really kissed Chi-yeol too. Pal-gang doesn't answer and just follows Chi-yeol up to the rooftop.
Jung-won tries to talk Hwa-shin and Na-ri into a late night snack. Hwa-shin refuses the offer, but Jung-won insists that Hwa-shin and Na-ri can't end the night on bad terms. Hwa-shin offers to buy Na-ri a new phone, and that pushes her over the edge.
Na-ri confronts Hwa-shin that if he's all about everything being fair, then he should pay her back for the bra. Luckily for Hwa-shin, Jung-won seems confused and mishears her words (as "bragat" not bra gabt, which means "bra price"), but that's enough of a threat for him to forcibly join their late night outing.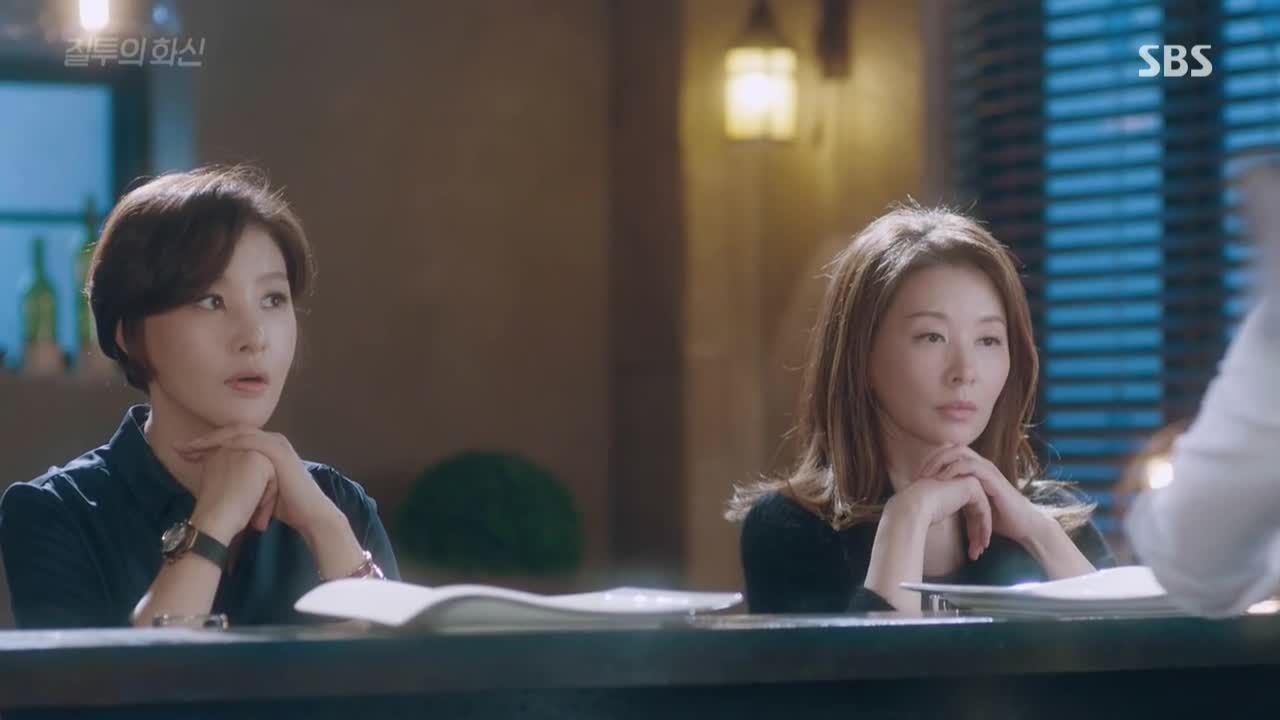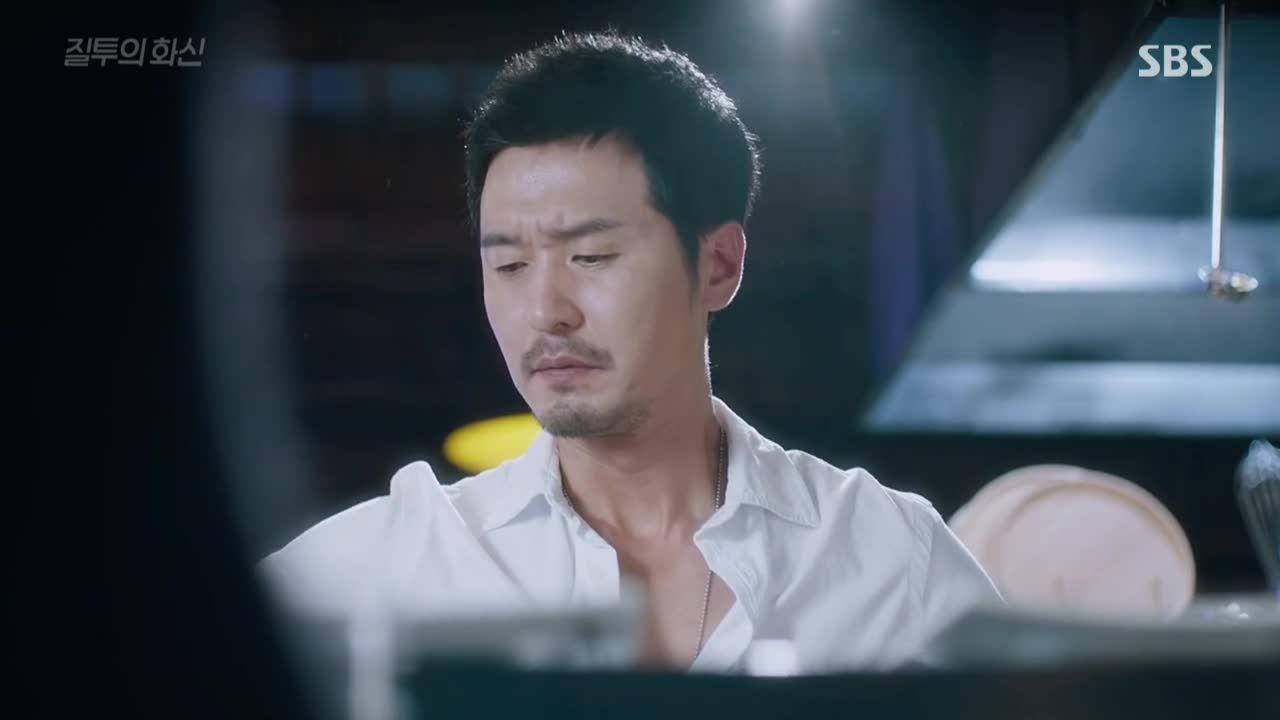 Chef asks the two mothers to stay and talk, so Ja-young and Sung-sook watch Chef cook up the pasta. They're both clearly checking him out, and they both glance at each other awkwardly.
On the rooftop, Chi-yeol asks Pal-gang which mother she's going to live with. He also asks why she told everyone she kissed both boys, when she only kissed Dae-gu. She offers to kiss him now, and Chi-yeol tells her to stop confusing him. Pal-gang says that she's never been confused and tells him, "I'm going to live with the mom who's more jealous because more jealousy means that she loves me more."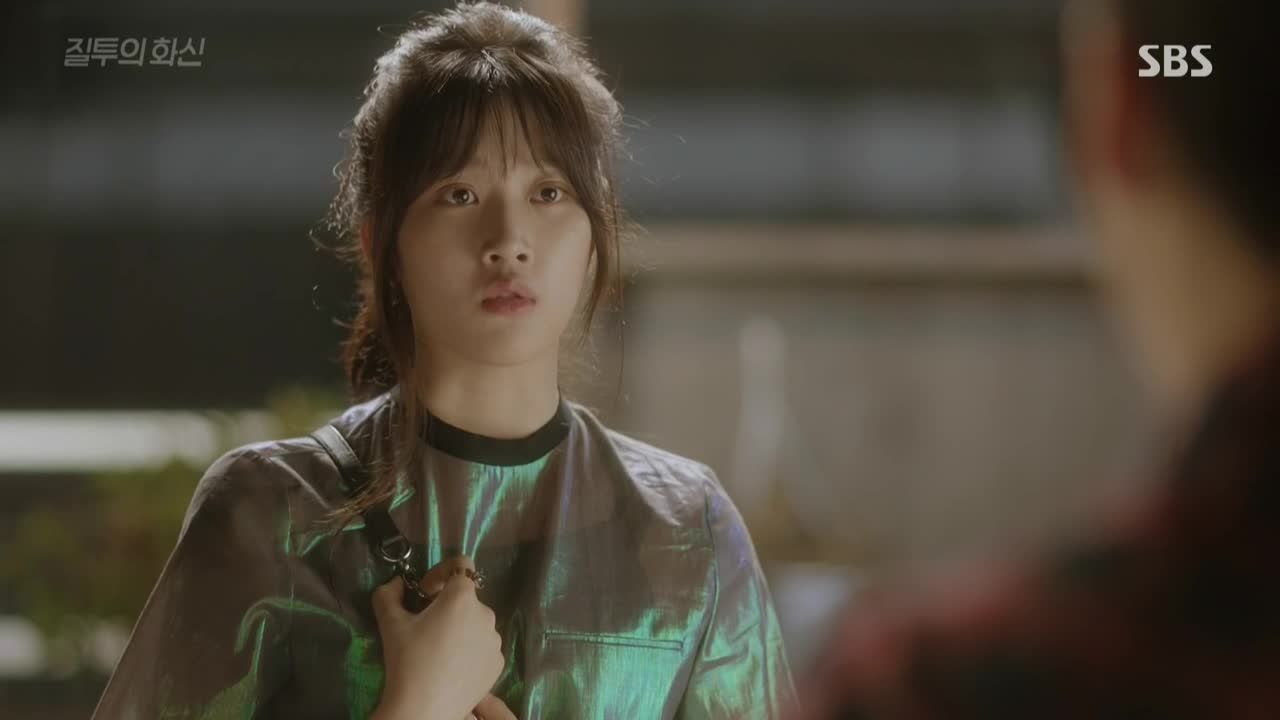 At the late night stop (ha, it's called "Burning Chest/Heart Galbi"), Hwa-shin pays Na-ri for one bra, but she reminds him that he ordered to buy two so that he can wear them interchangeably. Embarrassed and ready for the humiliation to stop, Hwa-shin quickly pays up and tells her to keep the change. Na-ri doesn't like free things and insists on giving him change.
Jung-won still can't figure out what a "bragat" is and tells Hwa-shin that he'll buy him a lot of this later. Na-ri chuckles to herself, and the two glare at each other. Jung-won asks if this is the end of their compensation, and they both confirm that simply this is the end.
Chef presents the mothers with the dishes, saying that he was offended when they insulted his pasta and wanted to prove his skills with good pasta. He apologizes for hiding Pal-gang from them, and Ja-young apologizes for slapping him. The women dig in and overreact to the delicious taste of the pasta, and Chef tells them that Pal-gang is like a niece to her. He says that it's important to him who her mother will be, and he reaches into his back pocket for the letter from Dad.
Hwa-shin tells Na-ri to stop eating because her food baby will show during the broadcast, but she doesn't want to leave any leftover of the expensive meat. She then asks Hwa-shin if he's ever bought her something as little as ramen, and though he claims to have bought her food in Thailand, she clarifies that he was buying that meal for Jung-won, not her. Hwa-shin's irritated at her retorting, but Jung-won looks upon with amusement.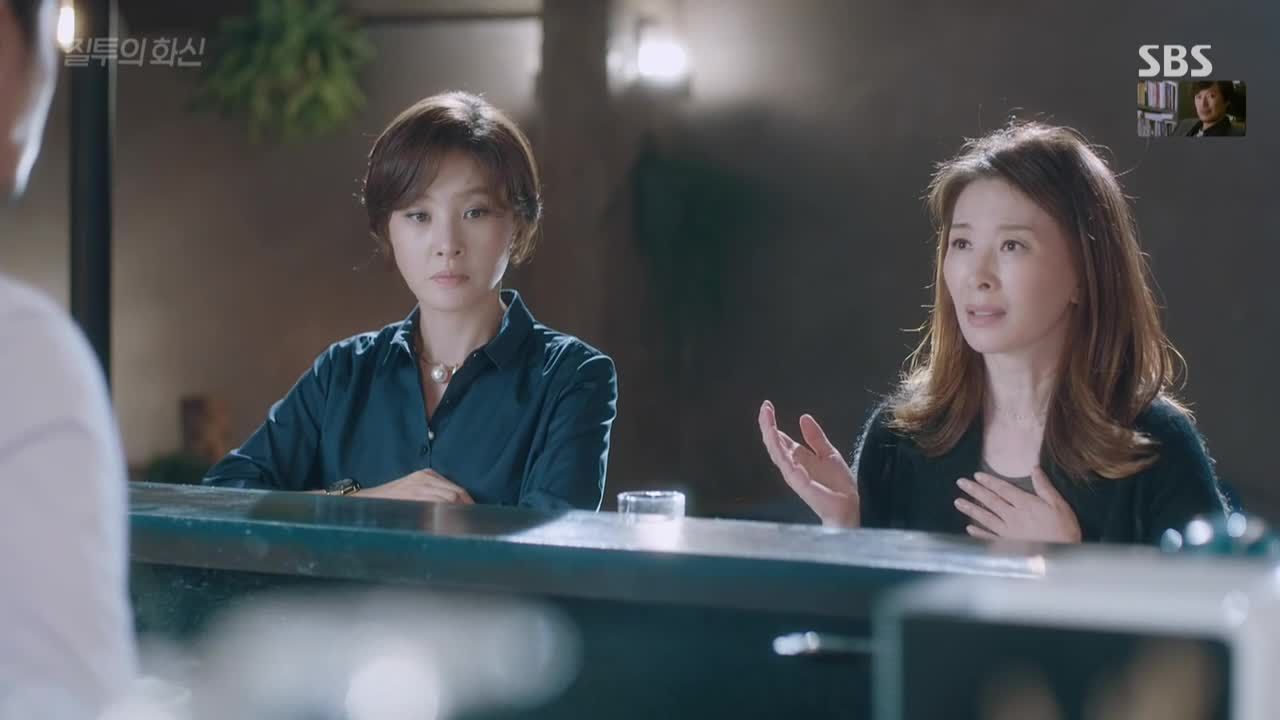 Before Chef pulls out the letter, Sung-sook emotionally pleads that she wants to hear Pal-gang call her "Mom," since she is Pal-gang's biological mother. Though Ja-young raised Pal-gang, Sung-sook can't stand the jealousy from losing to Ja-young. She's worked tirelessly against men to get to where she is now, so she believes that she deserves the Mom title. Chef reconsiders the situation and stuffs the letter back into his pocket.
Na-ri offers a lettuce wrap to Jung-won, and Hwa-shin thinks back to when she curiously asked him about Jung-won at the hospital. Hwa-shin tells the two that they look good together and suggests that they date. Jung-won asks if that's alright with Hwa-shin, since they've had similar tastes in women, and Hwa-shin feigns his nonchalant approval.
Hwa-shin tries to remind Na-ri of her crush, but she looks at him blankly, wondering if she did. Jung-won scoops the bubbling stew for her and asks how it tastes, to which she responds that it's not quite there yet — it needs to boil a little longer.
Hwa-shin reminds Na-ri of her wish to passionately date someone, even if it ends in a break-up. He seems to imply that Na-ri will get dumped by Jung-won, but he tells her to try to work it out without getting hurt this time. He takes a shot of soju and says, "Jung-won is a better man than me."
Hwa-shin leaves the table and lingers in front of the store, glancing back at Na-ri. A colleague recognizes him as he leaves, and Hwa-shin asks for a cigarette. The colleague offers it to him but seems confused because Hwa-shin supposedly quit smoking, which doesn't matter to Hwa-shin right now.
Hwa-shin sticks the cigarette in his mouth and looks back at Na-ri, who's all smiles. Out of earshot, he tells her to stop smiling, but she continues to smile widely in her conversation with Jung-won. He lingers a little longer, and says, "Receive a lot of love this time."

COMMENTS
The regret and jealousy from Hwa-shin were tangible in that ending (with that background music — Ra.D knows how to kick in the feels), and I think that's my favorite mood from him. You can just see how crushed he feels as he slowly realizes that Na-ri is over him. My heart aches a little when I see his face crumble, but honestly, I feel more satisfaction than heartache because that man is so full of himself. There's nothing more satisfying than watching an ego deflate, especially when the character works so hard to maintain his fragile pride.
I am still not over that bra gag, and neither is this show, so I'm happy to continue on with it because it's so damn funny. It really shouldn't be (it's just a bra), but the irony is hilarious. When you have a character who cares so much about his masculinity and proudly wants a bra to maintain his chest figure, it's hilarious to see him fall apart when he believes his secret got out to the world. He fears emasculation more than death — clearly, since he was obsessed with finding Na-ri's phone to erase any evidence of his bra-wearing. Dr. Geum warned us of the moodiness Hwa-shin may exhibit, but I think Hwa-shin is normally that sensitive with his frail masculine identity. He just doesn't know how to gracefully lay down his pride and admit to anything that threatens it.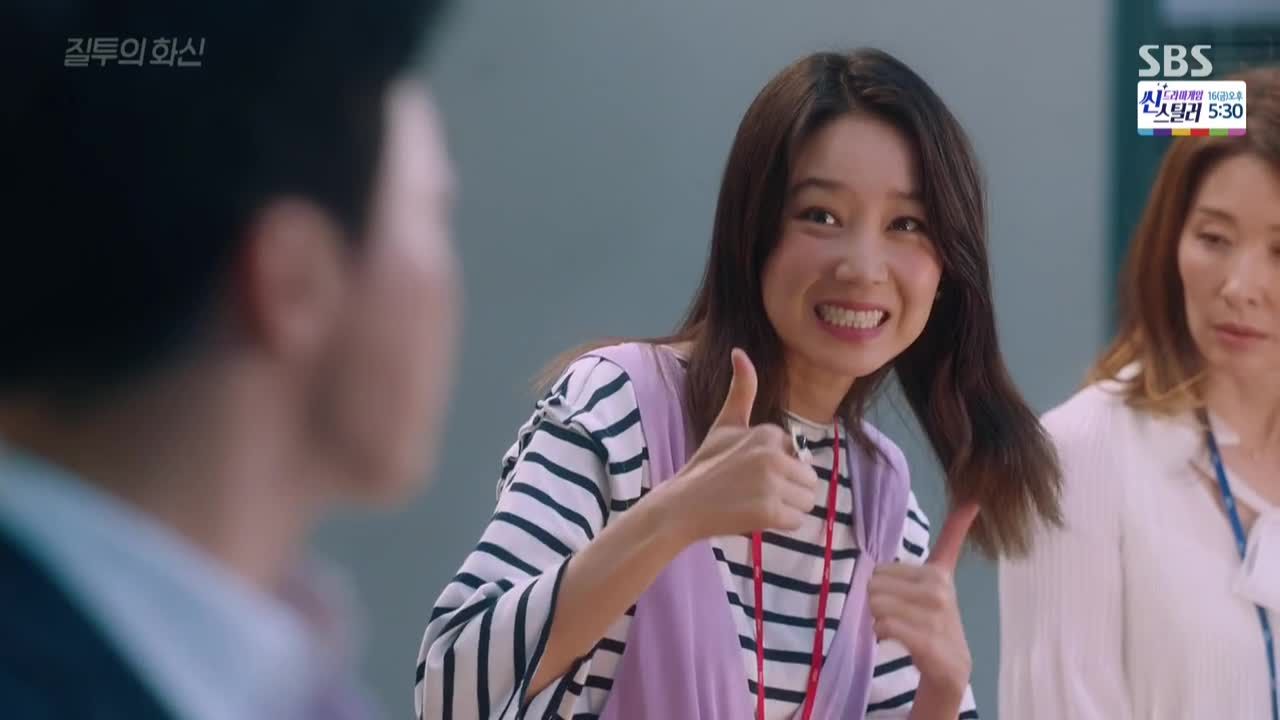 Jung-won, on the other hand, doesn't seem so caught up in his pride. He flirts and confesses very directly, and I love that he's so honest with his feelings. Maybe it's his wealthy background that partly fuels his confidence, but I think it may have more to do with his personality. He's very upfront with everything and cuts through all the bullshit to say what he means. And he means what he says. He's almost the complete opposite of Hwa-shin, who never means what he says and never says what he means. It's a fun juxtaposition between friends, and I'm anticipating all the hijinks as Na-ri tries to navigate both personalities. Currently, I'm enjoying the back and forth chemistry between the Na-ri and Jung-won, which seems so natural. I love the metaphor of taste to gauge their blooming relationship because it feels like an accurate comparison — testing things out and getting a feel for the dynamic. Go Kyung-pyo is wonderfully sweet, and I'm happy that he's the character who's frankly the better man in the love triangle.
While we don't get to see much of the brother-sister relationship between Na-ri and Chi-yeol, I like the small bits and pieces that we're shown. It's adorable to see how protective they are of each other. They don't wallow in the fact that they've only got each other, yet we see that is the case through their care for each other. So far, it's just been protectiveness about romantic advances, but I enjoy seeing the strong sibling bond, which could also be another version of jealousy.
I found Pal-gang's standard of love an interesting one: that the level of jealousy correlates with love. It's fitting for this drama, and I think that definition of jealousy makes sense with our characters. I don't think the two are interchangeable emotions, but the connection is there. Of course, we've still got some stubborn folks (ahem, Hwa-shin) who don't understand the connection, but I'm looking forward to the uncomfortable realizations that will inevitably include more hilarious hijinks.

RELATED POSTS
Tags: featured, Go Kyung-pyo, Gong Hyo-jin, Jealousy Incarnate, Jo Jung-seok