Woman With a Suitcase: Episode 1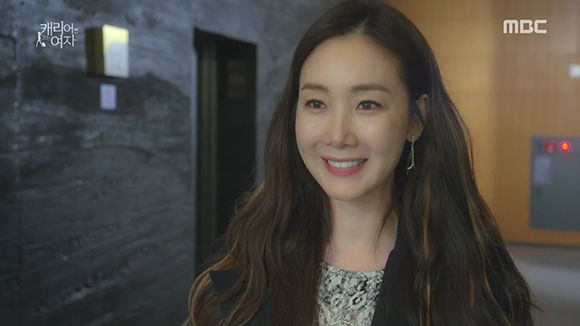 Woman With a Suitcase promises to tackle some difficult questions with the story of its heroine, an accomplished paralegal who considers herself successful, but one whose confidence camouflages her weaknesses. Though she's worked hard to build a reputation for herself, an encounter with a prospective client challenges her to evaluate what success means—is it about money, relationships, a desire for justice, or a high-end handbag? Add in a former prosecutor turned scandalmonger, and you have the beginnings of a very interesting journey.

EPISODE 1: "Woman Carrying Queen Monaco's Bag"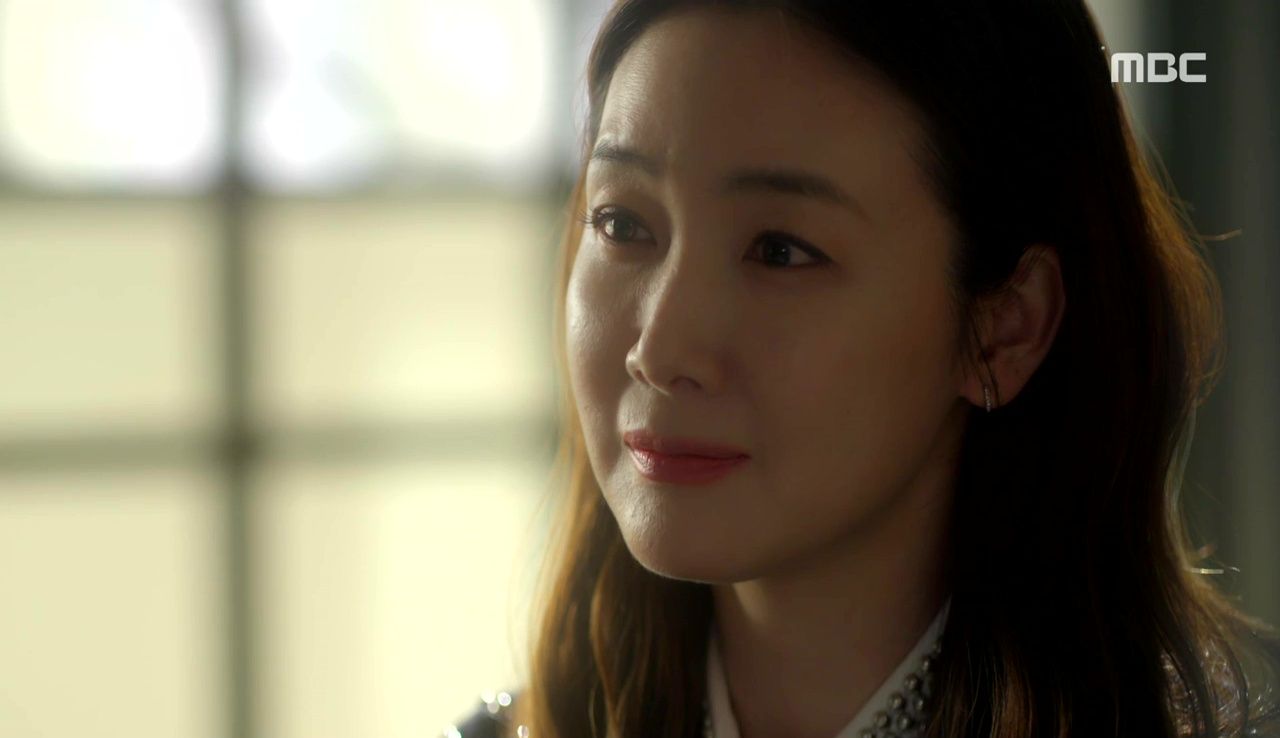 A smartly dressed woman walks towards a detention center pulling a suitcase behind her. Inside, she takes out a large file entitled, "Na Gil-tae Case Files." She reads through it before marking it as "Guilty." Just then her name, CHA GEUM-JOO (Choi Ji-woo), is called.
Geum-joo sits across from prospective client, NA GIL-TAE, separated by a partition. Na Gil-tae compliments her good looks, wondering if that's why she is so expensive. Geum-joo explains that she is expensive because she is good at her job. He claps, thrilled that she will be helping him. Geum-joo breaks the news that her analysis of his case resulted in a guilty verdict.
Geum-joo calmly explains Na Gil-tae's options: confess to the murder of his wife and serve seven years, or deny it and get twenty years. She promises her help if he makes a reasonable choice. Na Gil-tae loses his temper, but Geum-joo maintains her cool and explains she is only doing her job by advising him honestly. He answers her by spitting at her, though it only hits the partition.
A woman holds a photo of her meeting with a man. She tries to negotiate a trade with the owner of the photo to use the evidence she has gathered on a rival and agree to bury her scandal. Later, a meeting takes place at that same company, K-Fact. The man with the exclusive photo faces his team, asking them what they are. A young woman answers, "paparazzi," but he disagrees. He points to a photo of a woman kissing a man on a balcony and asks the team if an adultery scandal is "fresh." He wants something more scandalous that will have more appeal.
Inside a cell, a young man sits with his head down. He is OH GYEONG-HWAN, a teenager charged in the rape of a homeless girl. The incident took place six months earlier when Oh Gyeong-hwan was staying with other homeless teenagers. While the other teenagers watched television, a girl sat alone answering a text on her phone. She arranged to meet someone, just as Oh Gyeong-hwan joined her.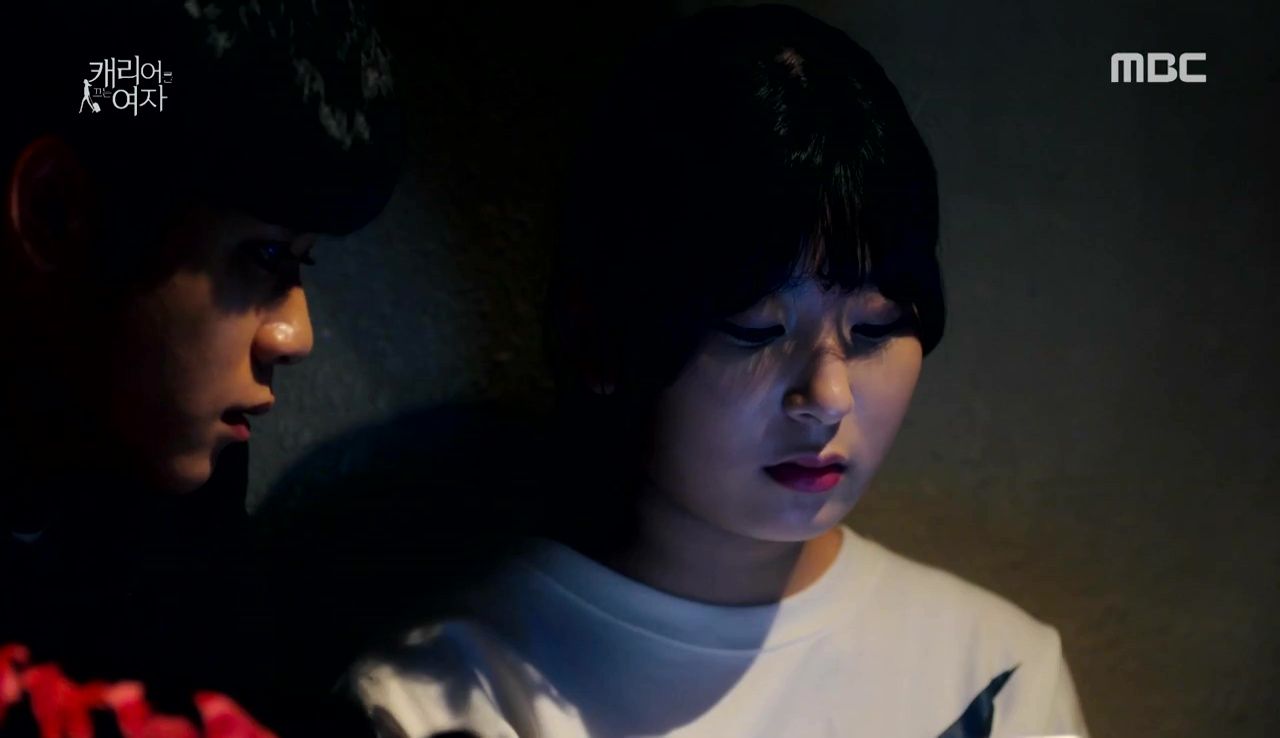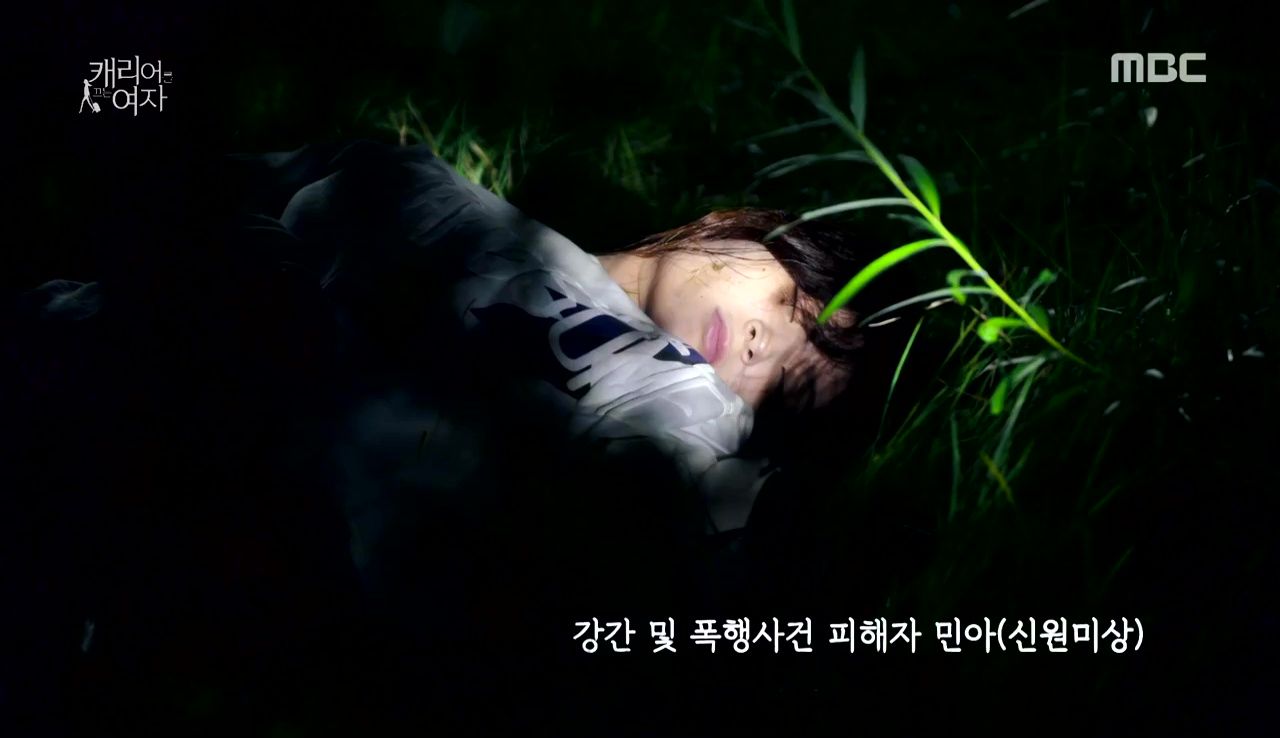 Oh Gyeong-hwan noticed that her phone was new. He asked if is she was getting paid for sexual favors, but she denied it. He warned her to be careful and then noticed that she was wearing his shirt. He told her that she could keep the shirt and she thanked him as she got up, leaving her phone behind. Oh Gyeong-hwan picked up the phone and looked at it after she walked out. Outside, the girl realized that she didn't have her phone just as a car pulled up, a woman wearing sunglasses behind the wheel. The girl entered the car, and it drove away.
A security guard discovered the girl lying in some bushes, severely injured. Her clothing was later analyzed by forensics and something was detected on the front of the shirt. At the police station, the teenagers that shared quarters with the girl were all talking at once, except for Oh Gyeong-hwan, who was visibly nervous.
Back at their place, the teenagers admitted that they didn't know the girl, MIN-AH, very well. They asked Oh Gyeong-hwan about her, saying that they seemed close. Someone mentioned that her phone had gone missing. Just then, the police entered to arrest Oh Gyeong-hwan. Six months later, he sits in a cell, visibly scared.
Lawyers wait for an elevator in the lobby of their building when one woman is asked about her case to defend K-Fact. She is confident of a win, but her colleagues really want to know about K-Fact's CEO Ham. They declare him to be sexy, young, and single. They file into an elevator and as the doors close, a suitcase appears, forcing the doors to stay open.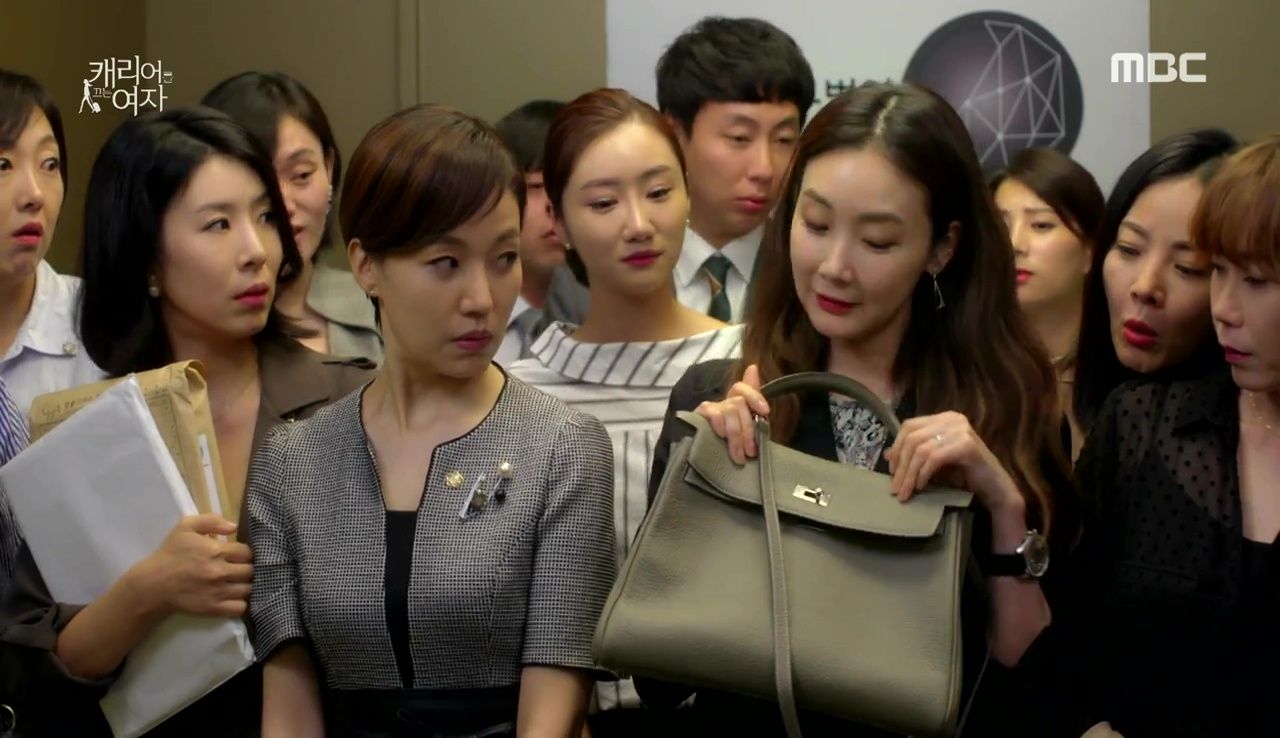 The attorney defending K-Fact tries to kick the suitcase out of the elevator. Geum-joo squeezes in with her suitcase, which is called "Joojoo." The attorney on the K-Fact case notes that Geum-joo works hard even though she isn't young anymore. The elevator passengers laugh, but Geum-joo agrees and whips out her new handbag named "Celly," her gift to herself. It is a high-end bag that was used by Grace Kelly, then the princess of Monaco, to hide her pregnancy. It's obvious the other professional women are envious of it.
Geum-joo exits the elevator but hears one of the passengers shout out that she isn't even an attorney. Her smile fades briefly before she continues on to her office. Inside the elevator, the passengers admit that they have heard that Geum-joo does all of the work. The attorney opposing K-Fact promises to step on Geum-joo in court.
A resume is reviewed while a woman, Park Hye-joo (Jeon Hye-bin), expresses thanks for being seen. The man she is meeting with seems more interested in her sister, "The famous Golden Tree." He notes her sister's surname is Cha while hers is Park. She explains that she is the daughter from a second marriage, making Cha Geum-joo her older sister.
The meeting becomes awkward as the man admits he became aware that Hye-joo is best known for her part in a training institute scandal. He ends the interview by suggesting they meet with her sister sometime.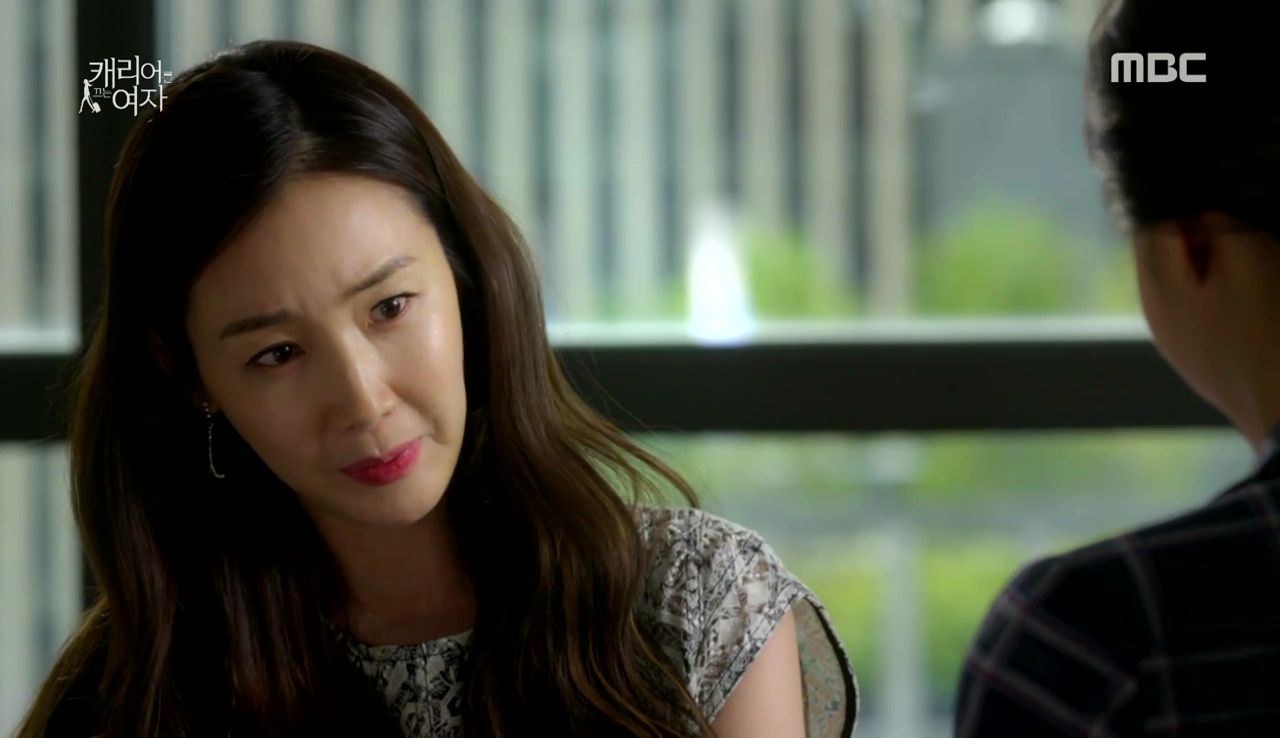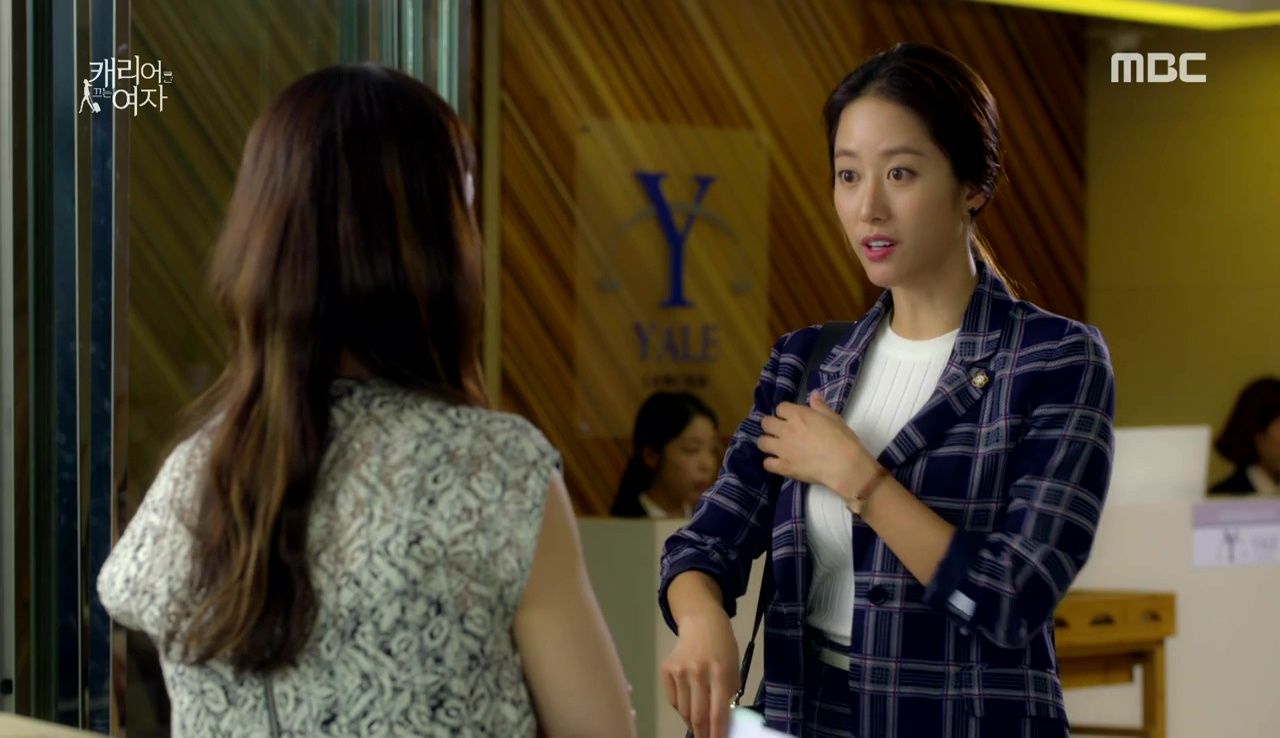 Hye-joo walks into her office to find Geum-joo burdened with files. Geum-joo sets everything down and hands her sister notes for her face-off against Attorney GOO JI-HYUN, the opposing lawyer in the K-Fact case. Geum-joo suggests that Hye-joo change into something pretty for court, since the judge likes pretty women. Hye-joo is hesitant because of her scandal, but Geum-joo cautions her not to feel down, or she will lose.
A car pulls up in front of the courthouse and the CEO of K-Fact exits to waiting reporters. Inside, he walks with Attorney Goo, and they face off with the opposing team: Hye-joo, who is wearing a more feminine dress, and Geum-joo. In the courtroom, CEO Ham pulls out a book to read while Geum-joo sits behind her sister, jotting down notes. The judge definitely notices Hye-joo's dress as she questions a reporter. Attorney Goo then questions a blogger, a friend of the plaintiff. She threatens the witness with a charge of perjury as Hye-joo objects.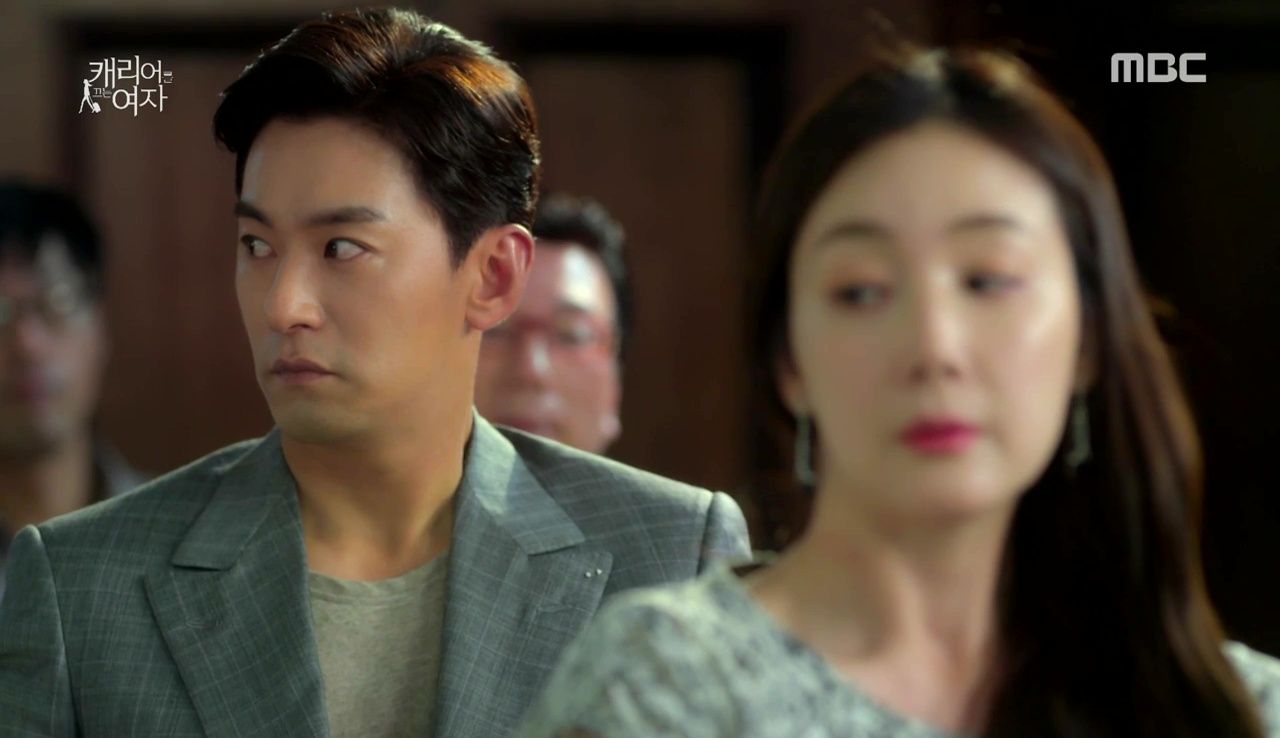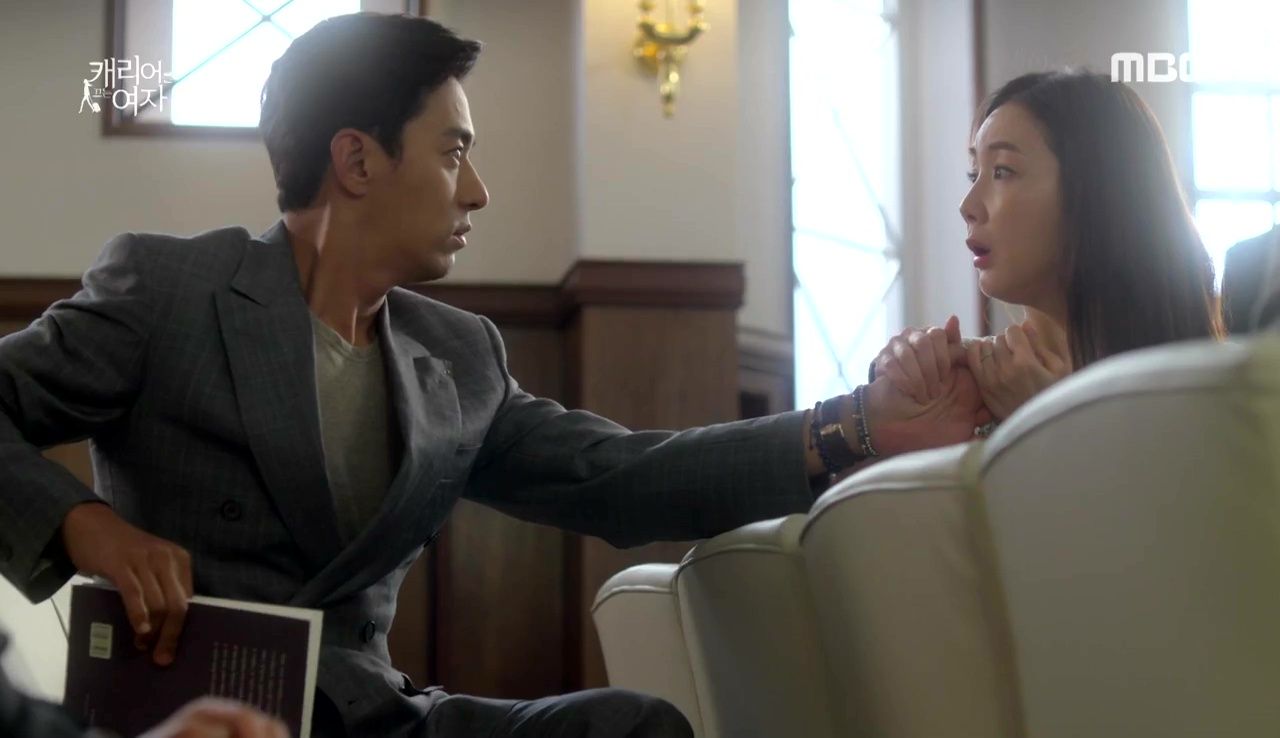 Attorney Goo's aggressiveness with the witness makes Geum-joo worry. She notes the CCTV cameras and asks the paralegal with her to provide her with cover. He leans over as Geum-joo reaches for the back of her dress. CEO Ham looks up from his book to see that Geum-joo's top is unzipped.
The witness is being pressured to answer a key question as CEO Ham struggles with what to do. The witness is about to answer just as CEO Ham taps Geum-joo on the shoulder. She makes a big show of turning and grabbing his hand, revealing her exposed back to the courtroom.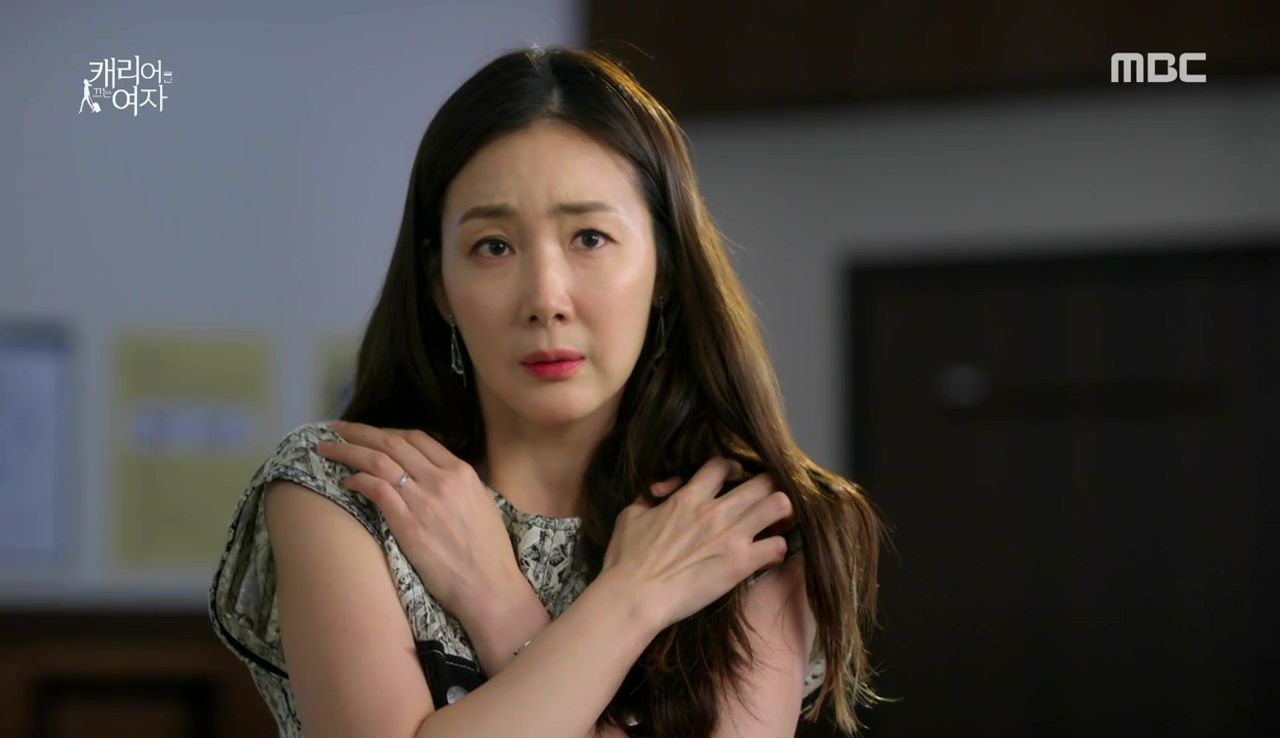 Geum-joo falsely claims sexual harassment, causing a disturbance. The judge calls for a recess and the witness is saved from answering Attorney Goo's question. During the break, Geum-joo is suddenly pulled into an empty courtroom by CEO Ham. He pins her against a wall and gets uncomfortably close. He points out he would have to be at least this close for an accusation of sexual harassment and laments that he was accused when he didn't even get to do anything.
Geum-joo admits she felt uneasy because she wasn't harassed, but claims that now she feels better, as she nods to the CCTV cameras in the room. Geum-joo gets to the point and advises that CEO Ham stop the questioning of the current witness. She points out how the press will represent the case if he wins: They'll say that he was willing to destroy the longstanding friendship between the plaintiff, DO YEO-JEONG, and the witness.
Citing that Do Yeo-jeong suffers from depression, Geum-joo addresses the CEO by name, HAM BOK-GEO (Joo Jin-mo), saying K-Fact will be responsible if anything bad happens to the plaintiff, like her committing suicide. Bok-geo defends his company's position. Geum-joo then whips out a tiny recorder and plays back his denial of responsibility.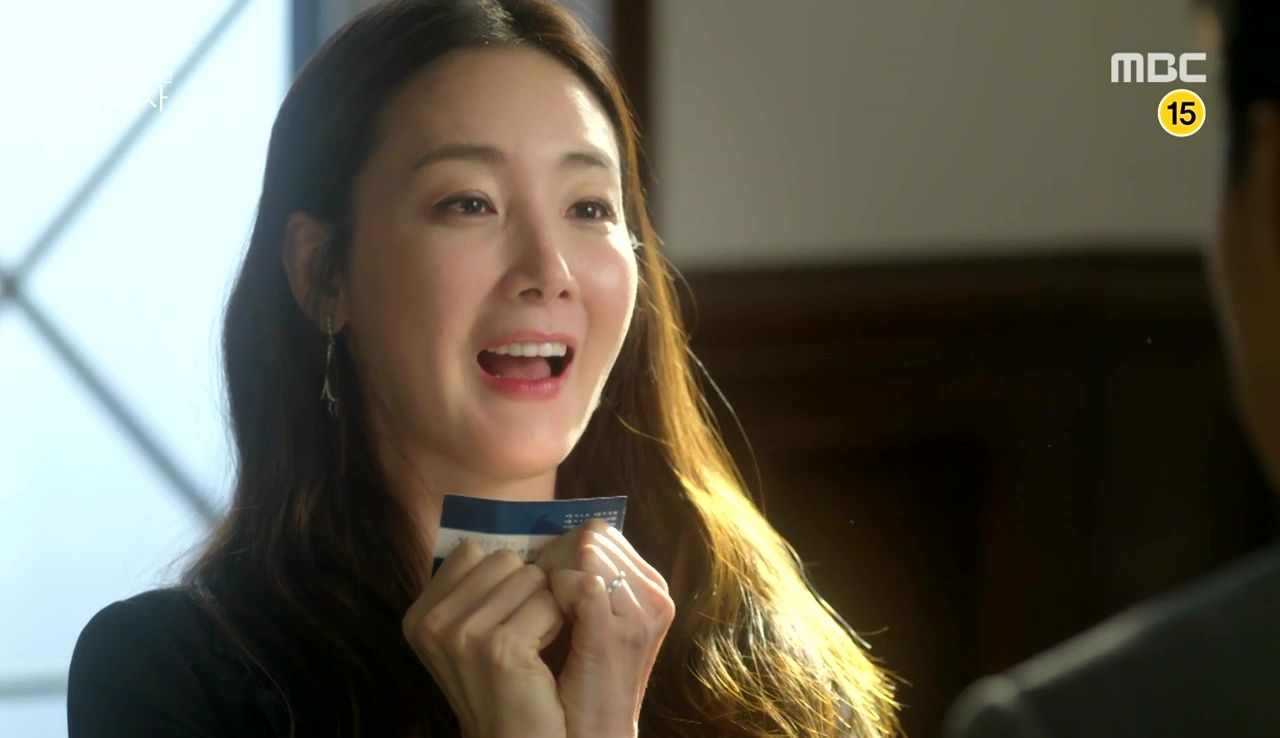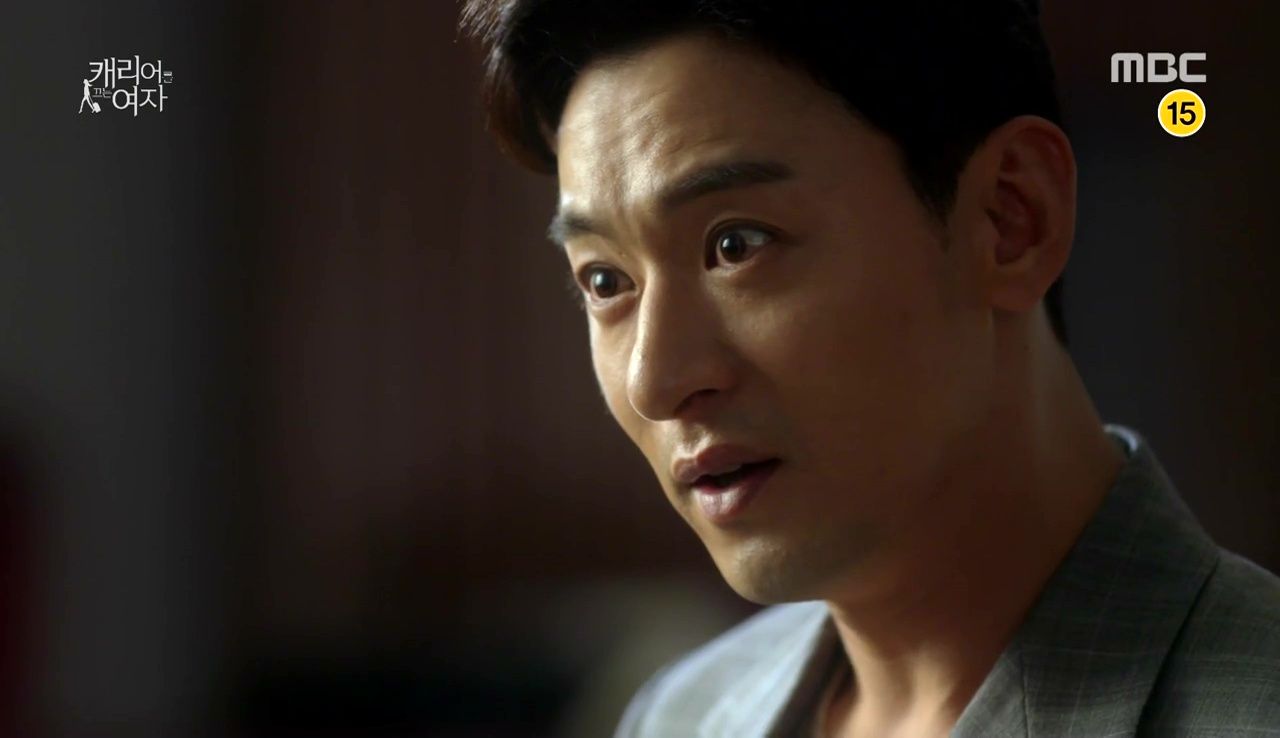 Bok-geo questions Geum-joo's shameless tactics, and she realizes that he thinks she is a lawyer. Promising to be a forever friend, she presents her business card to Bok-geo, identifying herself as Paralegal Cha Geum-joo of Yale Law Firm. He takes her to task for negotiating with him and acting like a lawyer.
She claims she is just a very capable office manager, listing the many ways she could help him in the future. He rebuts every offer, and she makes what sounds like a prophetic observation: "I haven't met anyone who doesn't face twists and turns in their lives."
Hye-joo interrupts to announce that the recess is almost over. Geum-joo assumes their deal is made and laughs to herself when she realizes that Ham Bok-geo's name sounds a lot like "hamburger." Once court is back in session, Attorney Goo announces a settlement and an end to the case. Geum-joo bows towards a defeated Bok-geo.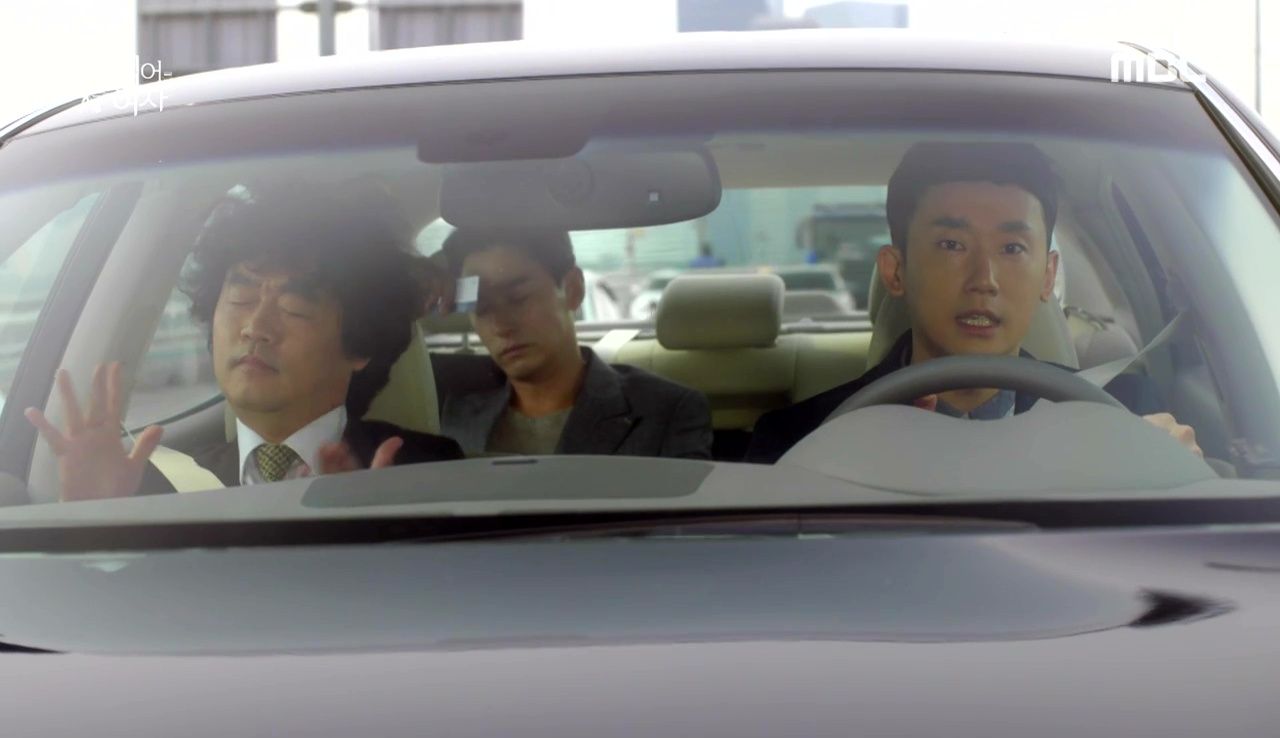 The K-Fact team drives away, and the young man driving wants to know who grabbed Bok-geo's hand during the trial, declaring her his type. His team member pokes him and hisses that they lost the case because of that woman. Bok-geo scoffs at Geum-joo's business card with her motto, "I'll be your forever friend," which happens to be the song playing on the radio. His team happily sings along to it until Bok-geo yells for them to turn it off before he tosses Geum-joo's card out the window.
Back in the office, Bok-geo's assistant reviews Geum-joo's reputation in the legal field, which explains her impressive record. Elsewhere, Geum-joo toasts to Hye-joo's 100% win record. Hye-joo acknowledges that she owes everything to Geum-joo, and admits that her mind went blank in the courtroom during the difficult questioning by Attorney Goo.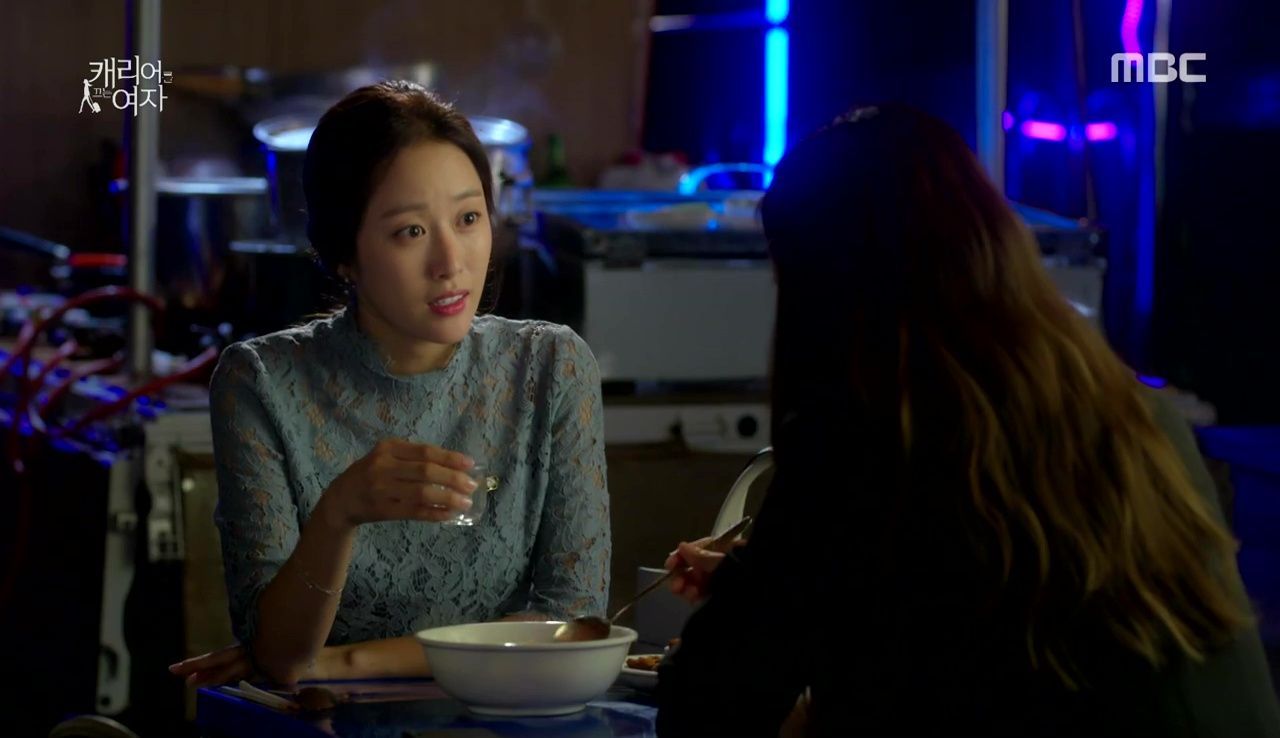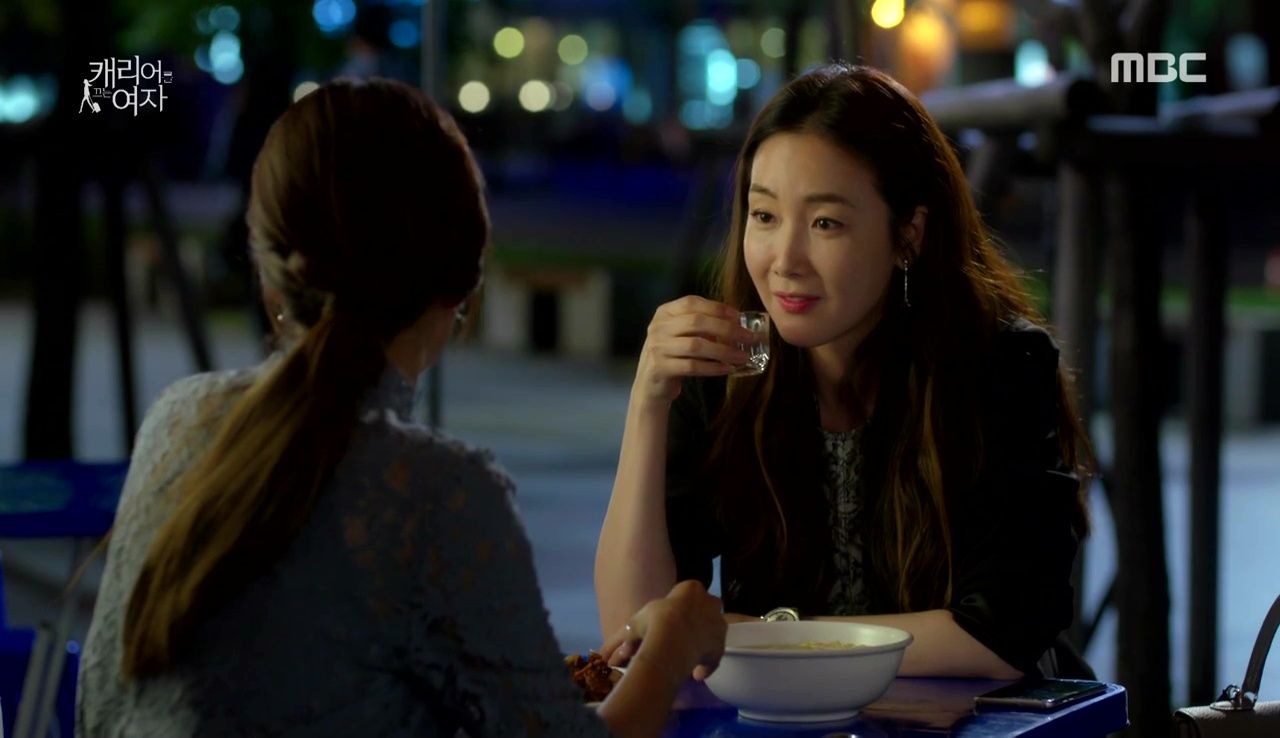 Hye-joo suggests that Geum-joo try once more to become a lawyer. Geum-joo urges her sister to take care of her own business and asks if she broke things off completely with a certain Prosecutor Choi. Hye-joo feebly says she has. Later, Geum-joo hails a cab for Hye-joo, who protests that Geum-joo should leave first, since brother-in-law is waiting for her.
Geum-joo walks home and recalls her last attempt to pass the bar exam, ten years earlier. Her mother offered her a talisman, assuring Geum-joo of a passing score. Hye-joo provided her sister with a handkerchief. It turns out that Geum-joo has a serious case of test anxiety, and broke into a sweat so severe that she couldn't hold her pencil, and her test paper ended up damp and smeared.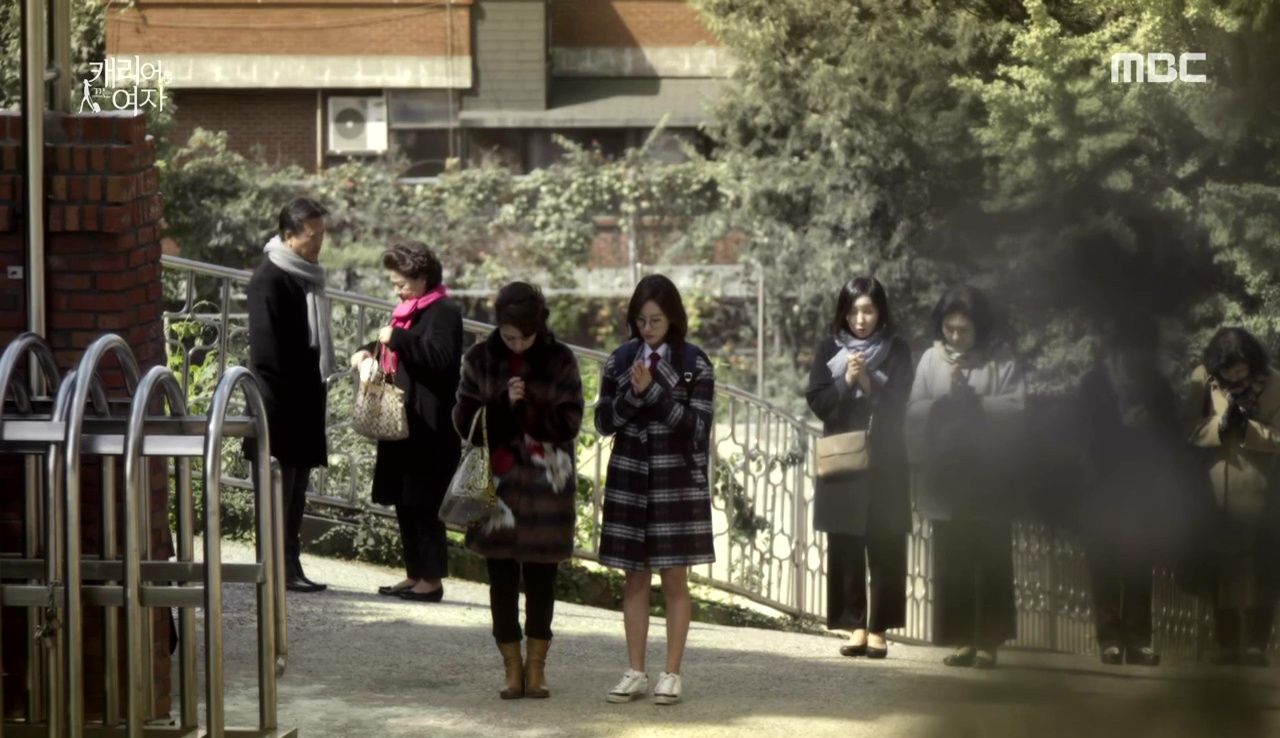 Outside, Hye-joo was confident her sister would pass, and Geum-joo's mother said she must, because she had to support her family members and pay off their debts. She blamed their father for their financial situation. Hye-joo called Geum-joo's mother "Ajumma," since the two are stepsisters. (It seems like Geum-joo's mother married Hye-joo's father later in life, which might explain why Hye-joo doesn't call her "Mother.")
Geum-joo exited the test and hid when she saw her mother and sister praying for her, her unfinished test back in the testing room. In the present, Geum-joo tells herself that she is successful, and that she doesn't need the lawyer's badge. She takes comfort in her new purse that was favored by the Queen of Monaco.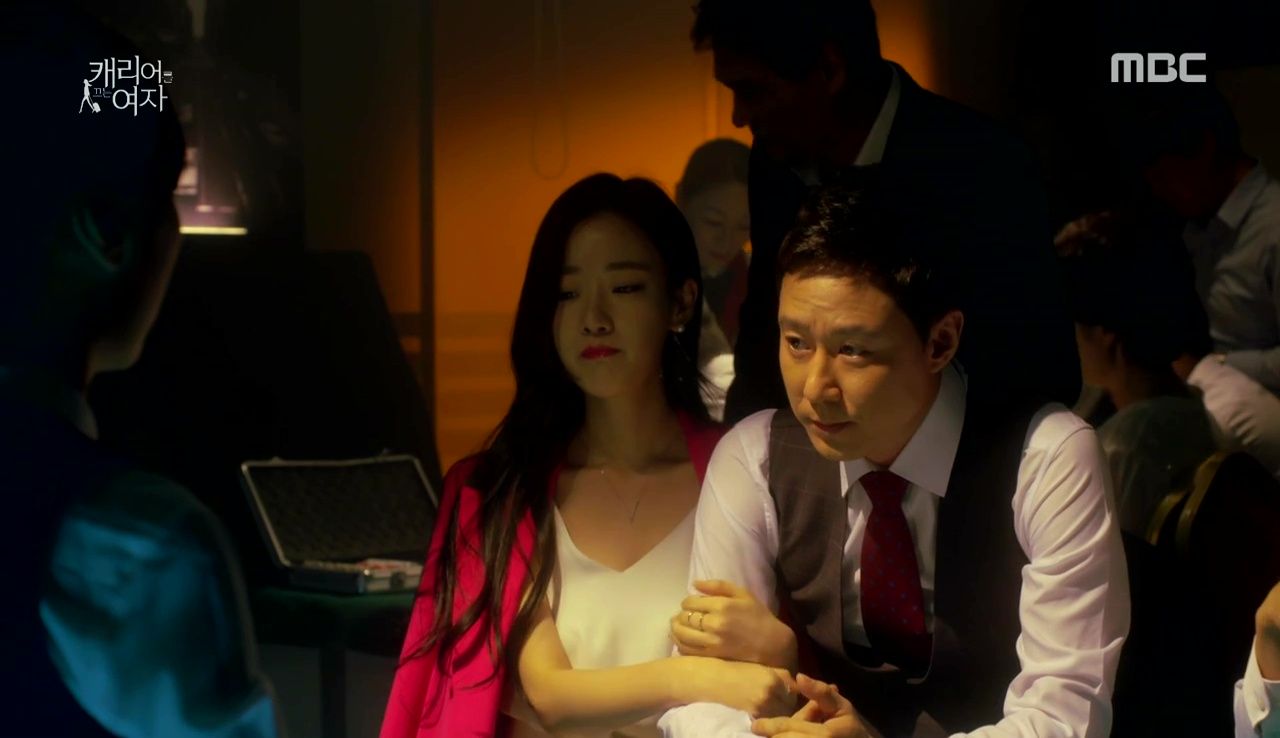 A man sits at a gambling table with a beautiful, young woman on his arm. An attendant brings him a tray of gambling chips as the woman urges him to stop. An official asks him to sign for the chips but the man next to him protests, identifying him as the husband of Cha Geum-joo of Gold Tree in Seocho District. Geum-joo's husband demands more money.
At home, Geum-joo pours over files at her desk. Her husband comes in late, pretending he was at a company dinner. He asks about her case and tells her how much he respects her when he hears about the win. Elsewhere, a bedroom door swings open and a woman is backed in, locked in a passionate kiss with her partner. It's Hye-joo and Prosecutor Choi.
In the morning, Geum-joo is still at her desk, having pulled an all-nighter. Hye-joo and Prosecutor Choi are asleep when her phone wakes her with a call from a professor.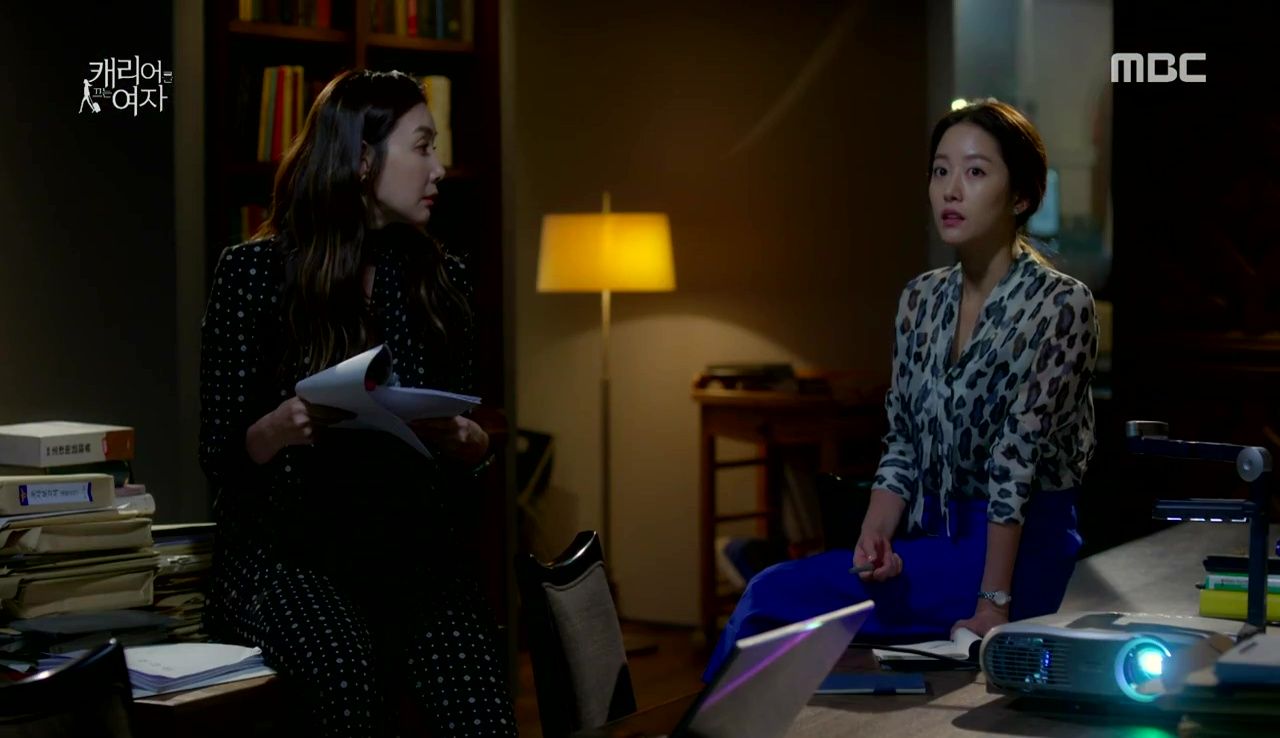 At the law office, Hye-joo and Geum-joo review the rape case of Min-ah, who is in a coma, and the suspect, Oh Gyeong-hwan, both homeless teenagers. Oh Gyeong-hwan claims the police investigation was flawed. Geum-joo thinks there must be a reason he was charged and Hye-joo informs her that his semen was detected on Min-ah's clothes.
Geum-joo declares the case difficult and is surprised that Hye-joo plans to take it anyway. Hye-joo explains she can't refuse Professor Kim, as he was the only one who looked after her. Geum-joo seems to sense something in her sister's demeanor, observing, "You're saying you've got your license. But you're a lawyer with a flaw." Cautioning her sister to protect her winning ratio, Geum-joo leaves for the detention center.
Geum-joo faces a subdued and humbled Na Gil-tae. He realizes she is the only one who can help him, and he begs for another chance. She spells out her rules, and Na Gil-tae is most agreeable. She ends with the most important rule: payment first.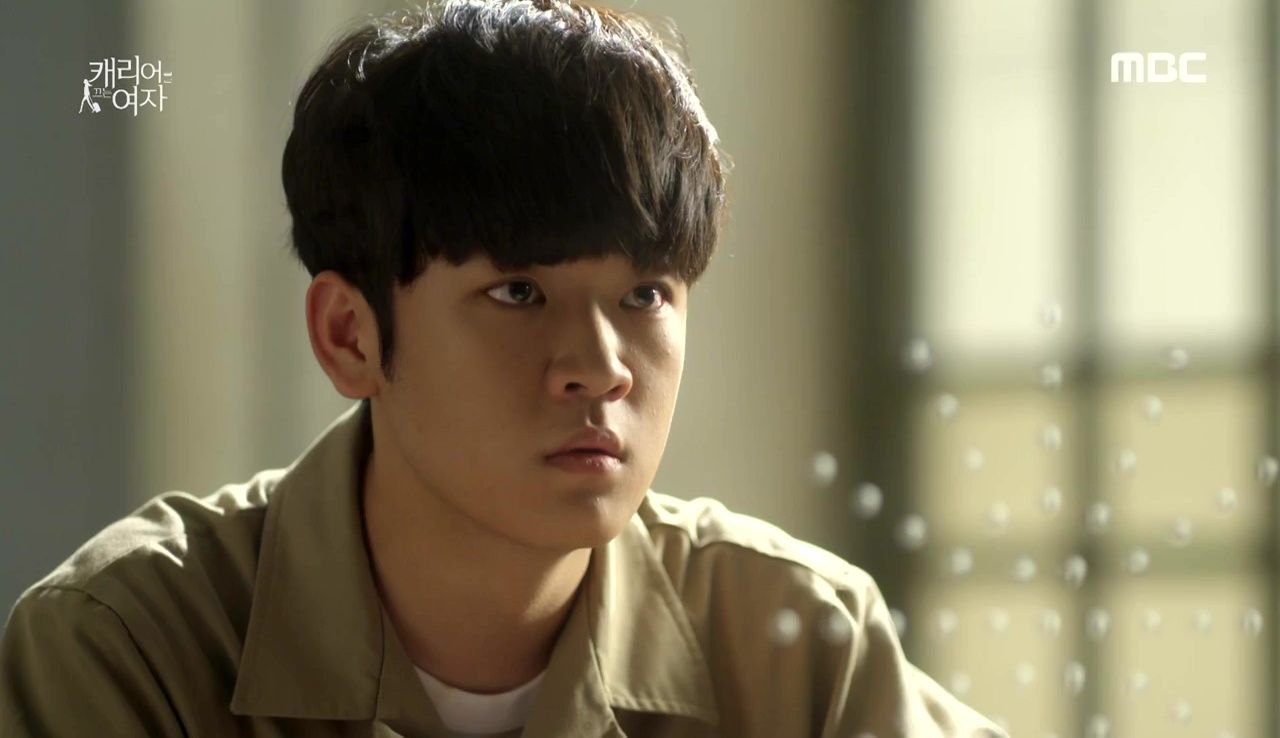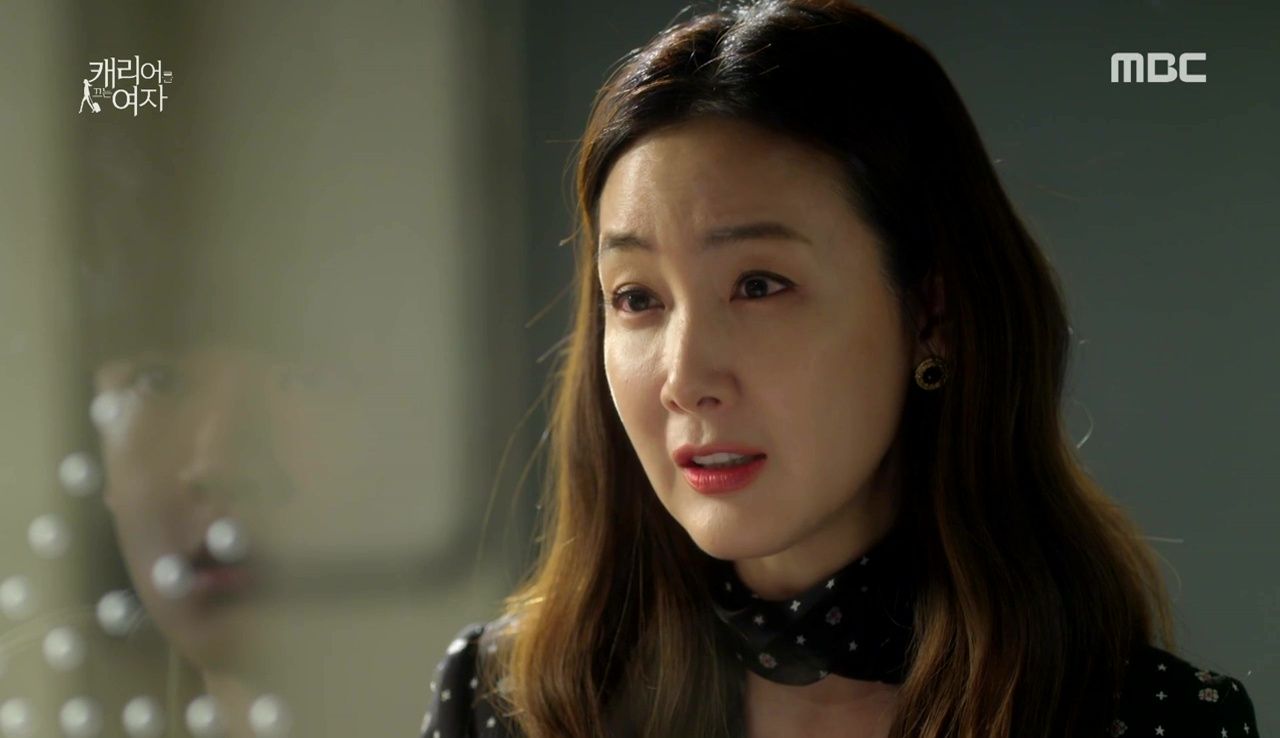 As Geum-joo drives away from the detention center, she suddenly slams on her brakes. She pulls out the file on Oh Gyeong-hwan's case and sees that he claimed Min-ah's shirt was his. She interviews him at the center, where the boy insists on his innocence. He is encouraged that Geum-joo is on his case, but she informs him that he won't be able to prove his innocence. She thinks that he isn't being completely honest with her and advises Oh Gyeong-hwan to confess before the victim dies.
Oh Gyeong-hwan wonders if seeming guilty makes him guilty. Geum-joo agrees with the statement, and explains that a judge is like a god in the courtroom. Geum-joo claims she has no confidence that she can reverse Gyeong-hwan's likely guilty verdict. Gyeong-hwan wonders if Geum-joo is lacking because she isn't a lawyer. The poor boy accuses Geum-joo of not caring about him and wonders what exactly she is paid to do. He claims she won't take his case because it won't make her rich. The outburst causes Geum-joo to look at Oh Gyeong-hwan more closely.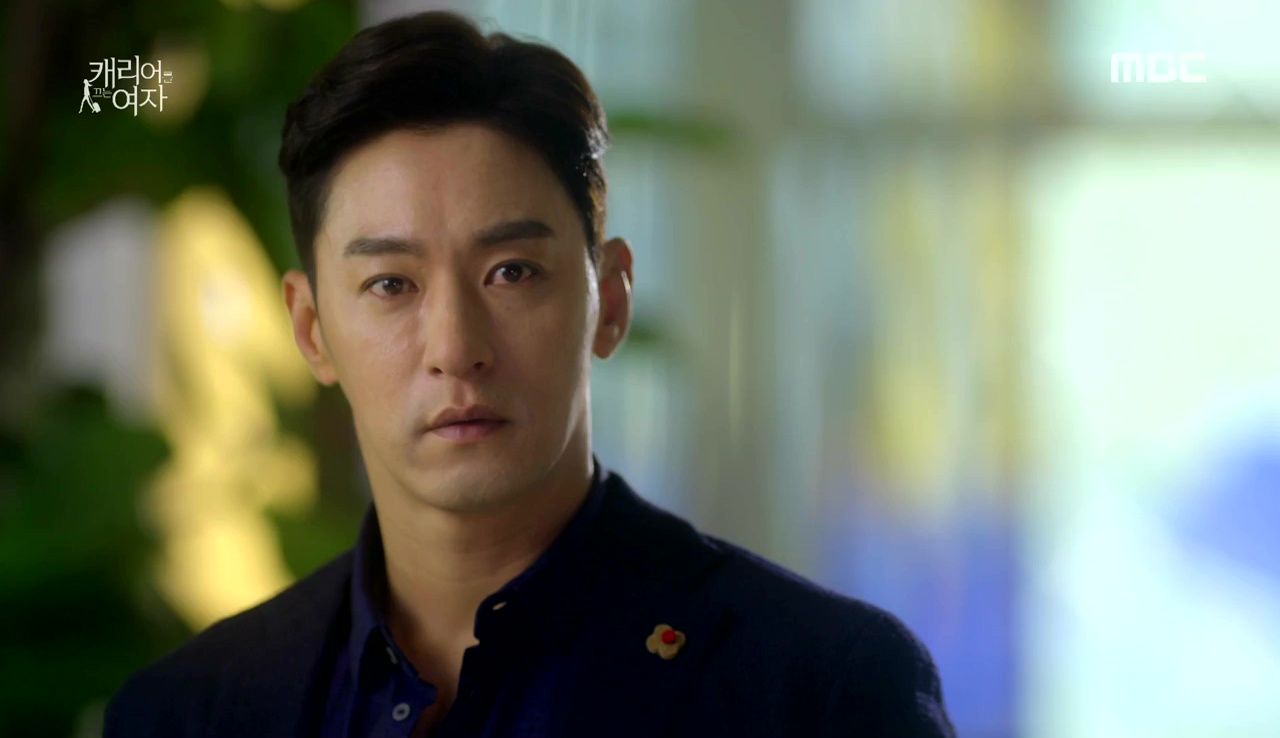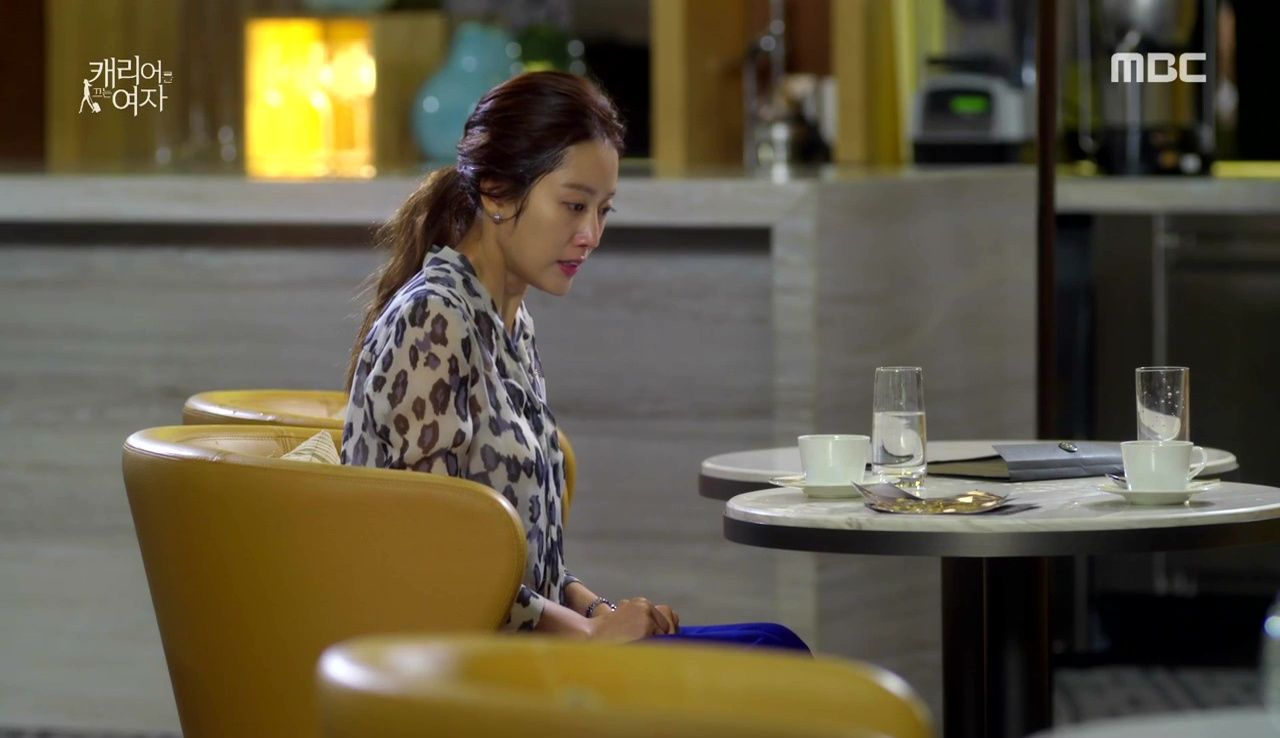 Bok-geo offers a contract to an informant, but tells him to leave when he balks at the terms. Elsewhere, revealing photos of Hye-joo and Prosecutor Choi are slammed down on a table in front of Hye-joo by Prosecutor Choi's mother-in-law. She loudly threatens to revoke Hye-joo's license, wondering if she will come to her senses if she is forced out of her profession.
Hye-joo raises her voice as well, pointing out that Prosecutor Choi came to her. That gets a glass of water thrown in her face just as Bok-geo enters the lobby with his source. Recognizing Hye-joo from the courtroom, Bok-geo covers her shoulders with his jacket and sits with her. She explains these things happen to lawyers, and then apologizes for how the case with K-Fact was handled.
Geum-joo visits Min-ah at the hospital and asks her doctor if she might wake up. Elsewhere, a woman's voice is heard declaring that Min-ah is brain dead. She asks a shadowy man what she should do as he faces some stained glass windows.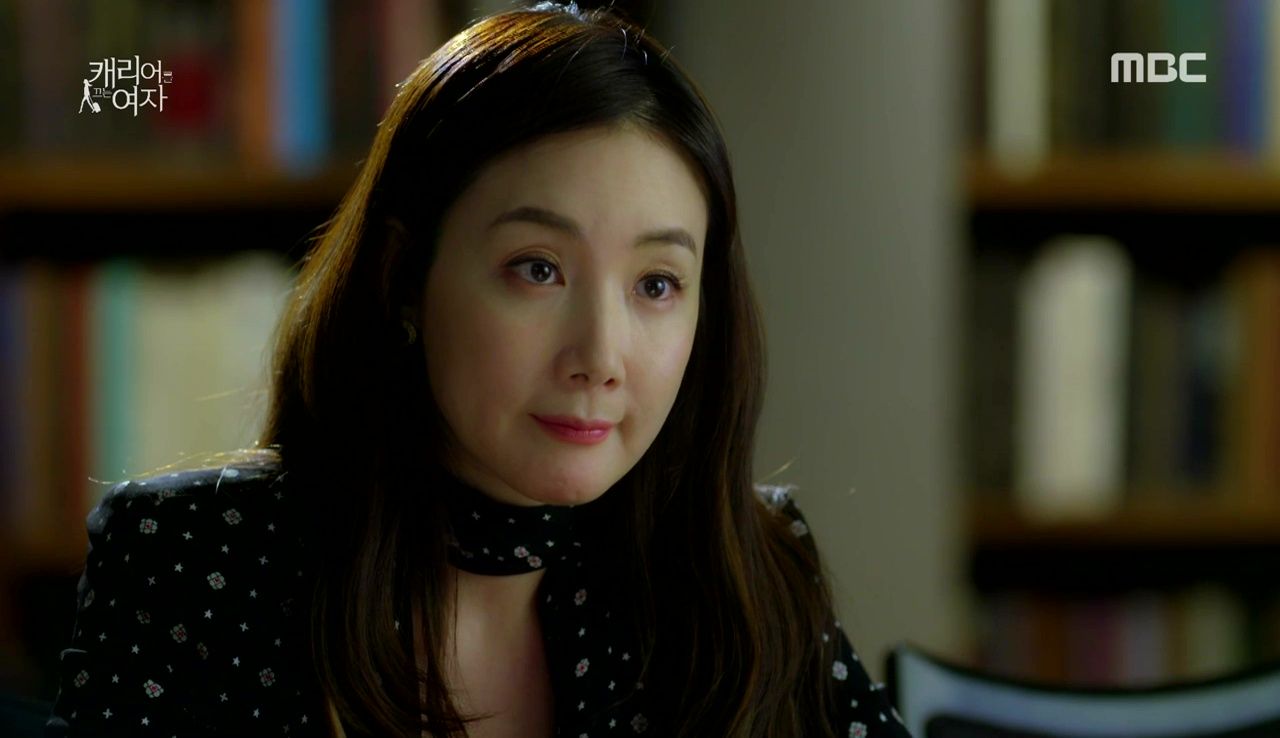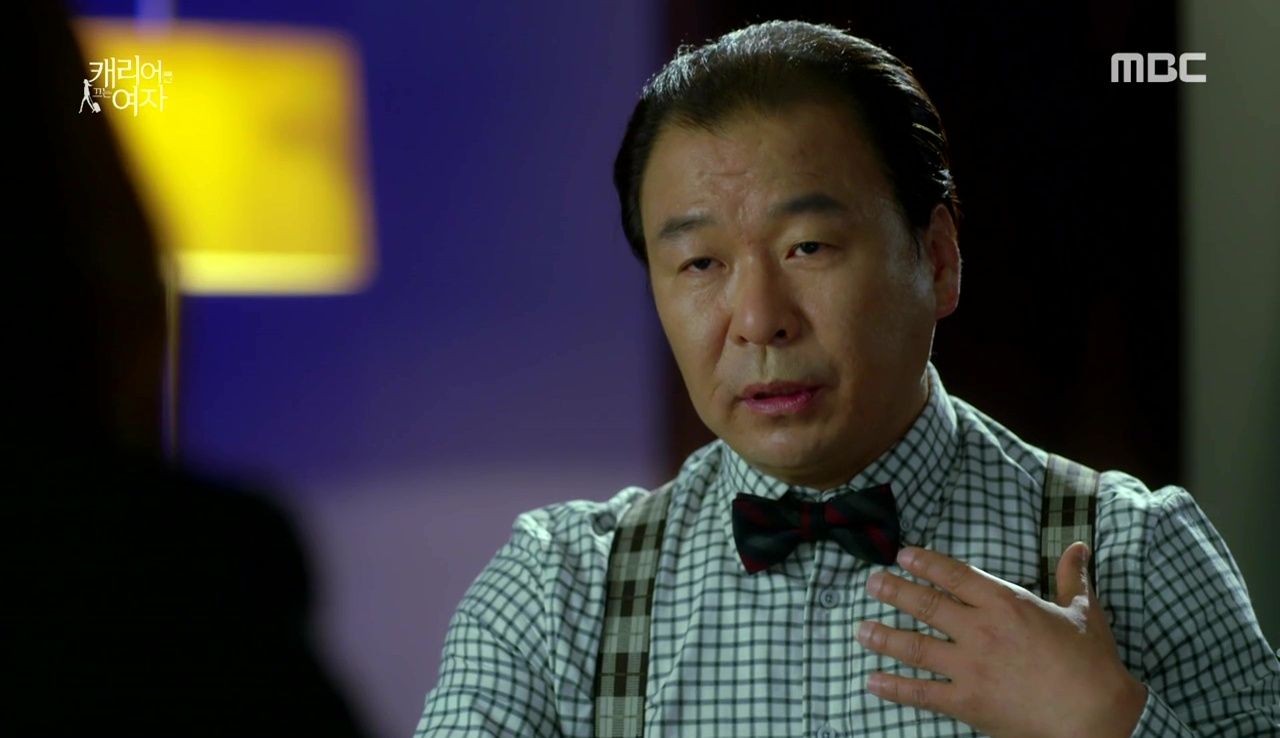 Geum-joo meets with the legal team at Yale Law Firm to discuss Oh Gyeong-hwan's case. Her fellow paralegal confesses his intuition that the case is weird, and that they shouldn't take it. Another colleague points out they won't even get paid, so Geum-joo drops their incentive money on the table. The young woman sitting next to Geum-joo thinks they should take criminal cases from time to time so that they don't lose their touch. They decide to take the case as the intuitive paralegal stares at Geum-joo in disapproval.
Office workers recoil from a man who is splashing what looks like gas around as he demands the return of his money. Attorney Goo rushes out, and in a tense face-off, he pulls out a lighter. Later, he strolls into a small office. A young man sits down with him but old man asks for the lawyer. The young man pulls out his only business card, identifying himself as Attorney MA SUK-WOO (Lee Joon).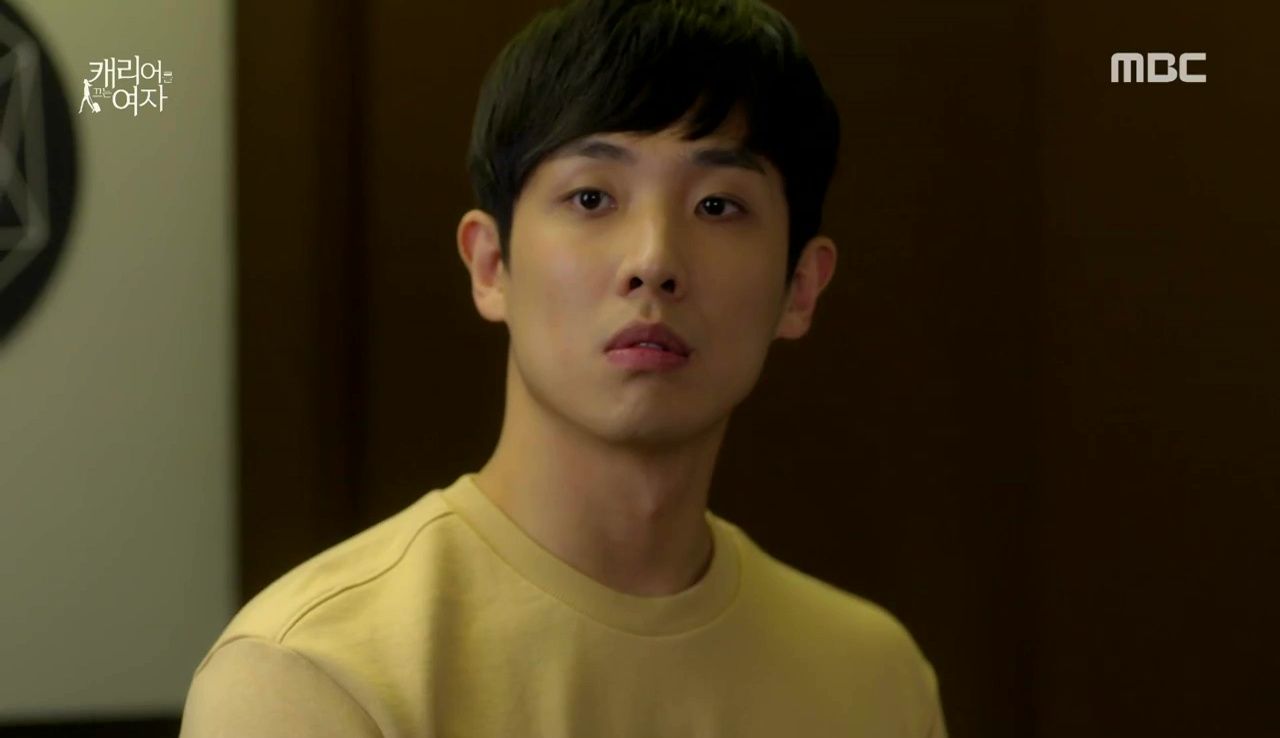 Suk-woo enters an elevator occupied by Geum-joo, dragging the container the old man was carrying. She somehow knows he is headed for the 18th floor. Geum-joo exits on her floor as Suk-woo stares after her. He then goes to Attorney Goo's office, splashing water everywhere in much the same fashion as the old man did, explaining that it's because she coldly ordered her secretary not to give the old man any water.
Geum-joo shows some homeless people Min-ah's photo, asking if anyone knew her. Not having any luck, she returns to her office and hunts for information online. The boys who lived in the rooms with her are talking online, and they agree that Oh Gyeong-hwan is innocent and think that Min-ah was meeting another man, a rich sponsor. Geum-joo joins the online conversation, asking if Min-ah was on Pagebook. She immediately gets called out for sounding like a cop.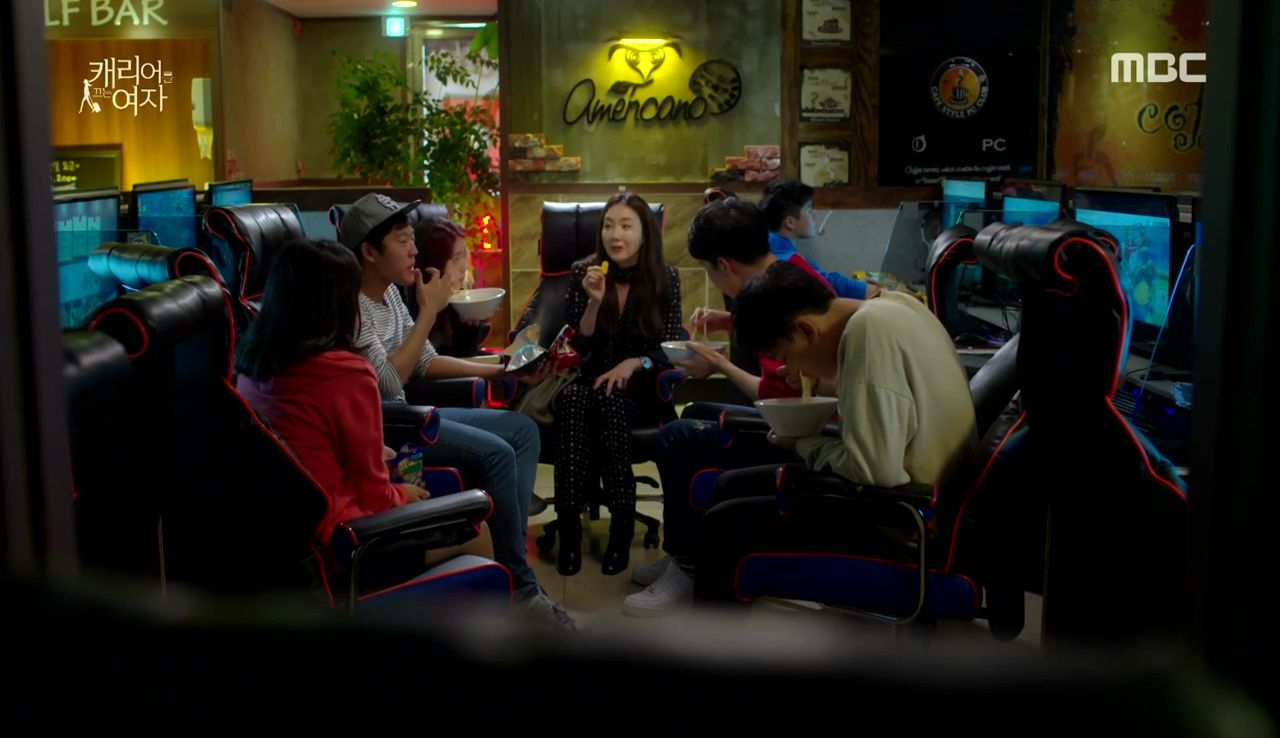 Geum-joo buys the boys dinner at their computer cafe. She asks about Pagebook and the boys get annoyed, moving to leave. Geum-joo offers them her computer pad if they can provide Min-ah's Pagebook ID.
A young woman sits alone in a car on her phone. She reports: "She's an office manager. Very famous." She hangs up as a mysterious man approaches a parrot in a cage elsewhere. He tells the parrot, "You'll get a guilty verdict," and the parrot repeats the phrase perfectly.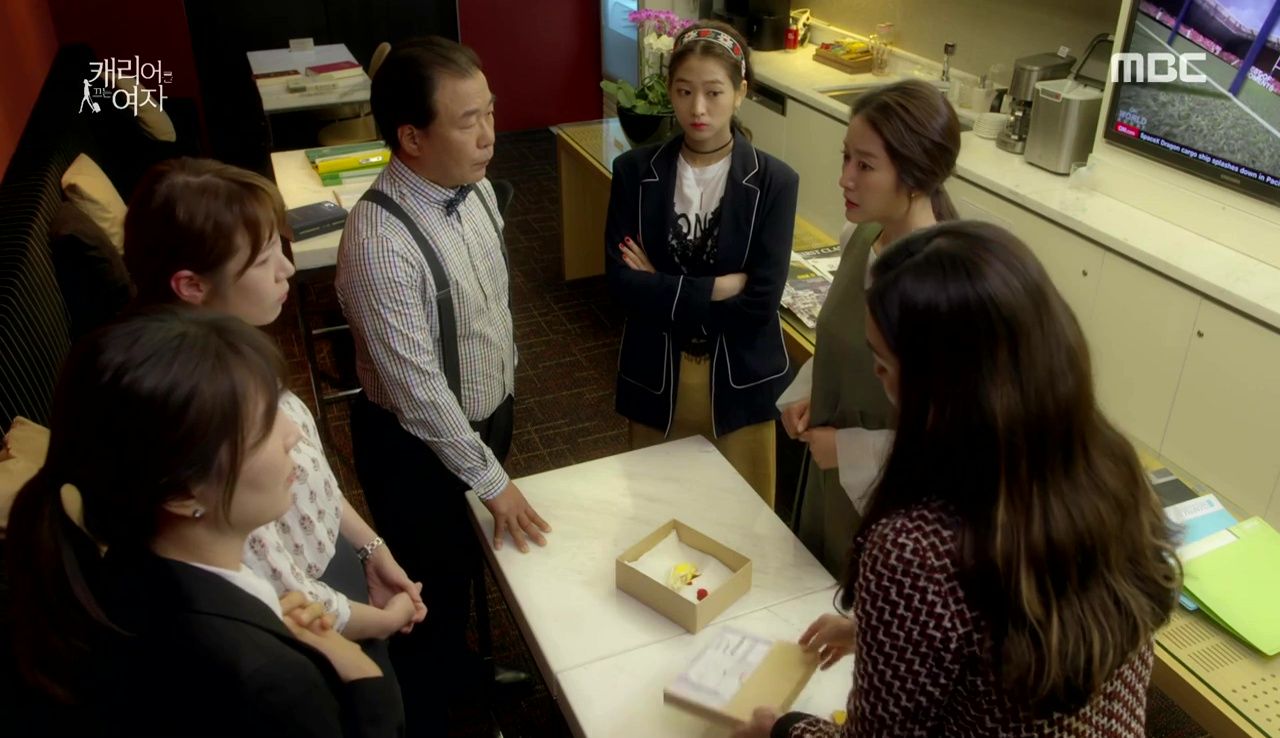 At the Yale offices, the team is shocked over the delivery of a dead parrot, addressed to Geum-joo. (Her colleagues note that this is a way of telling someone to keep their mouth shut.) She takes it as a sign she must be doing her job well and forces herself to look positive.
Geum-joo hands Min-ah's Pagebook ID to a team member named OH AN-NA (Bae Noo-ri). She warns An-na to stay out of it if she is scared. An-na says she isn't scared at all as Hye-joo looks at Geum-joo with concern. An-na finds out who contacted Min-ah the day she was assaulted, a man named Tomy Kim. The profile photo for Tomy Kim leads them to a priest.
Geum-joo calls Bok-geo, addressing him as Mr. Hamburger. He hangs up on her when she identifies herself. She texts him and promises him ten million views. Calling her a scammer, he ignores her texts. Geum-joo walks out of her building just as Bok-geo pulls up. Geum-joo gets in his car and he pulls away, calling her a pathological liar. He notes her bag, but assumes it's a fake.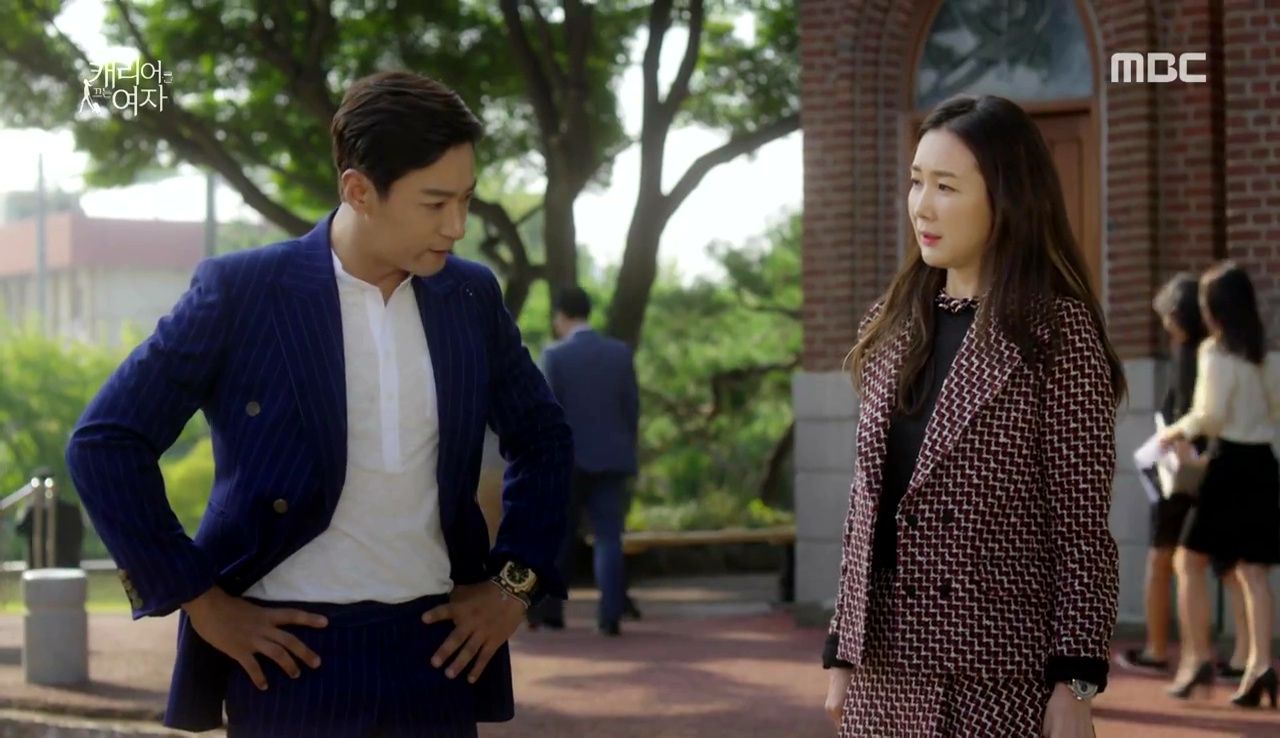 In church, Geum-joo poses in prayer as Bok-geo wonders what they are doing there. The priest giving the sermon is the one who matched the photo of Tomy Kim. After the service, Geum-joo chases after Bok-geo. They bicker, and the priest approaches them to inform them that they don't perform wedding ceremonies at the church any longer. Bok-geo scoffs at the priest's assumption.
The priest reviews his photo on Pagebook and claims that he doesn't use social networking anymore. It was as Geum-joo expected: that someone else used his photo. She just wanted to check out the story herself and enlist a certain someone's help. Bok-geo realizes she's talking about him and walks out when his phone rings.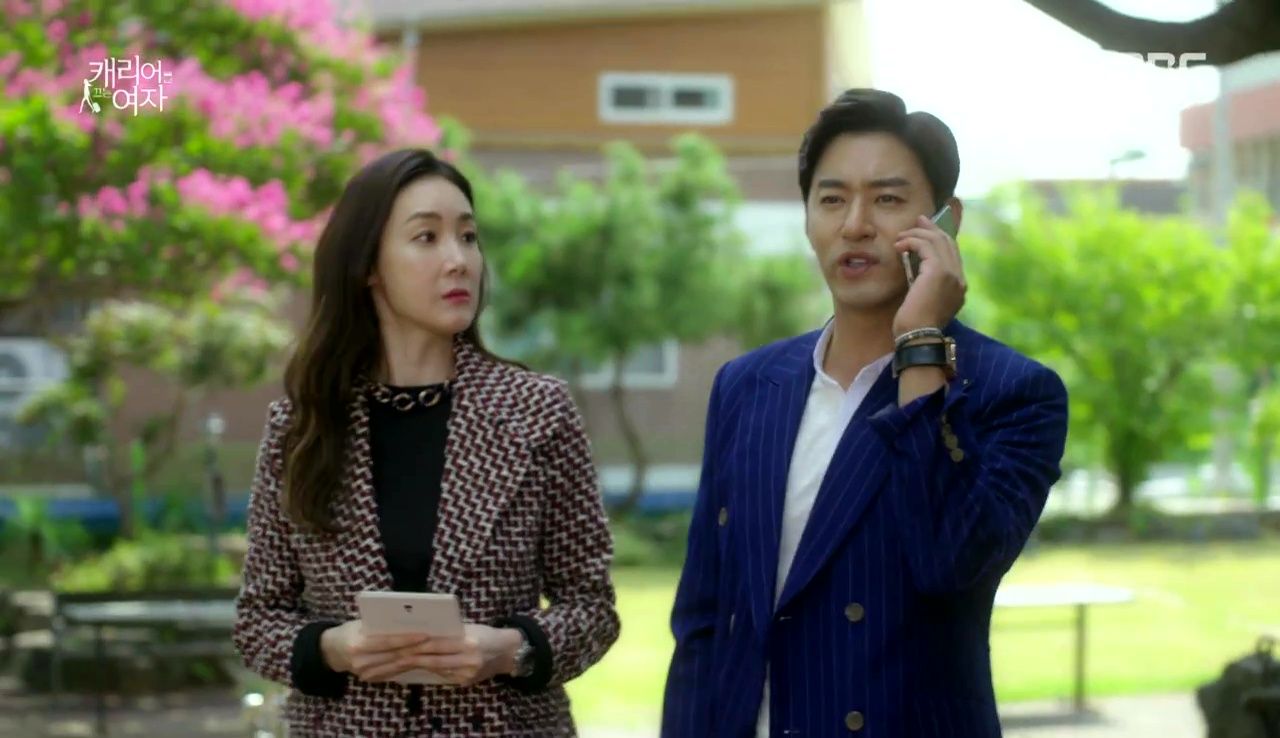 It's Hye-joo, who is calling to return his jacket. Bok-geo informs her that he is busy playing with her paralegal, and she realizes that her sister is with him. He tries to find out what Geum-joo is after, but Hye-joo doesn't know. Hye-joo looks unhappy to know that Bok-geo and Geum-joo are together.
Geum-joo follows Bok-geo to his car, insisting there is more to the story. He tells her to dig around, but she admits that she has hit her limits. She appeals to Bok-geo to use his resources to help her. Geum-joo points out he is the only one who can save a young boy's life, but he responds that his business isn't in helping people.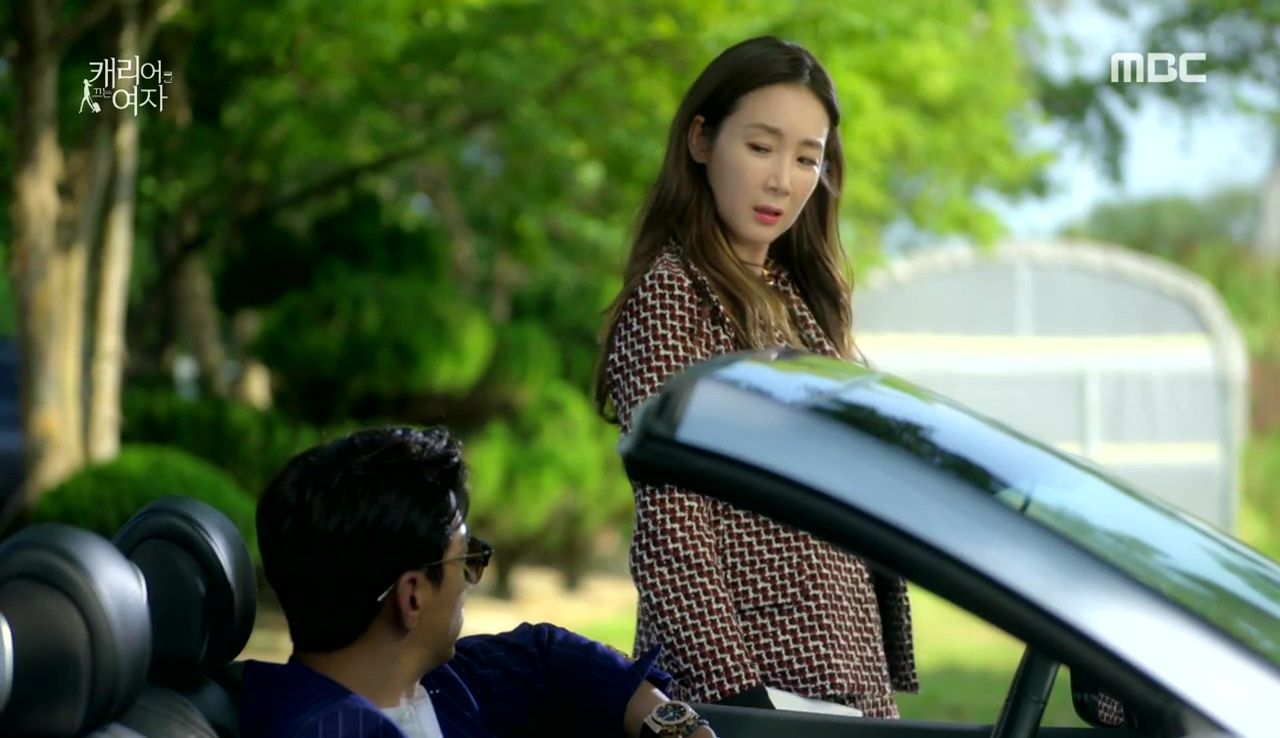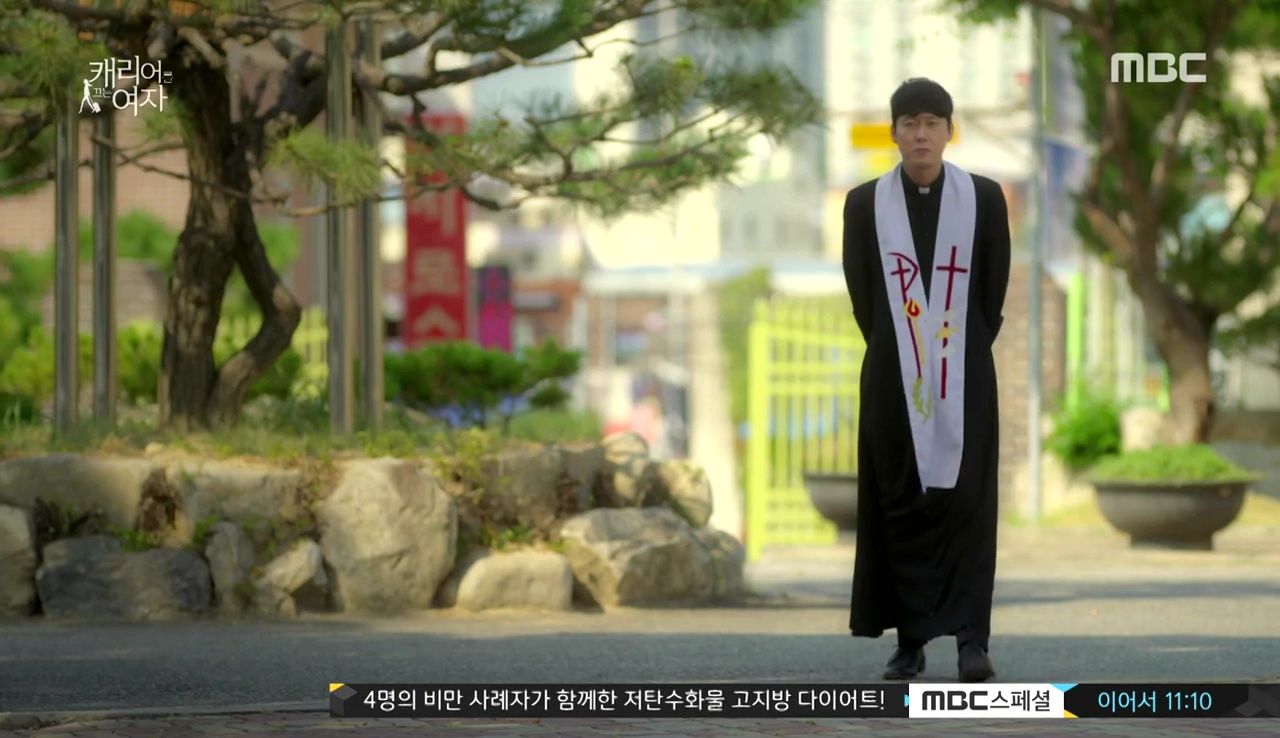 Bok-geo tells Geum-joo not to contact him again, telling her that her messages will go to spam from now on. He drives away without her, but suddenly stops. Geum-joo runs to the car and, just as she gets close, Bok-geo drops her bag on the ground and then proceeds to run over it. She picks it up, protesting that it isn't fake. Admitting that K-Fact was her last hope, Geum-joo walks away under the watchful eye of a second priest, the same mystery man who spoke to the parrot.
Geum-joo reviews Oh Gyeong-hwan's case with Hye-joo. She provides a photo of the boy wearing the same shirt that Min-ah was wearing when she was attacked, supporting his story that the shirt was his. The other paralegal explains he obtained the photo from Oh Gyeong-hwan's sponsor.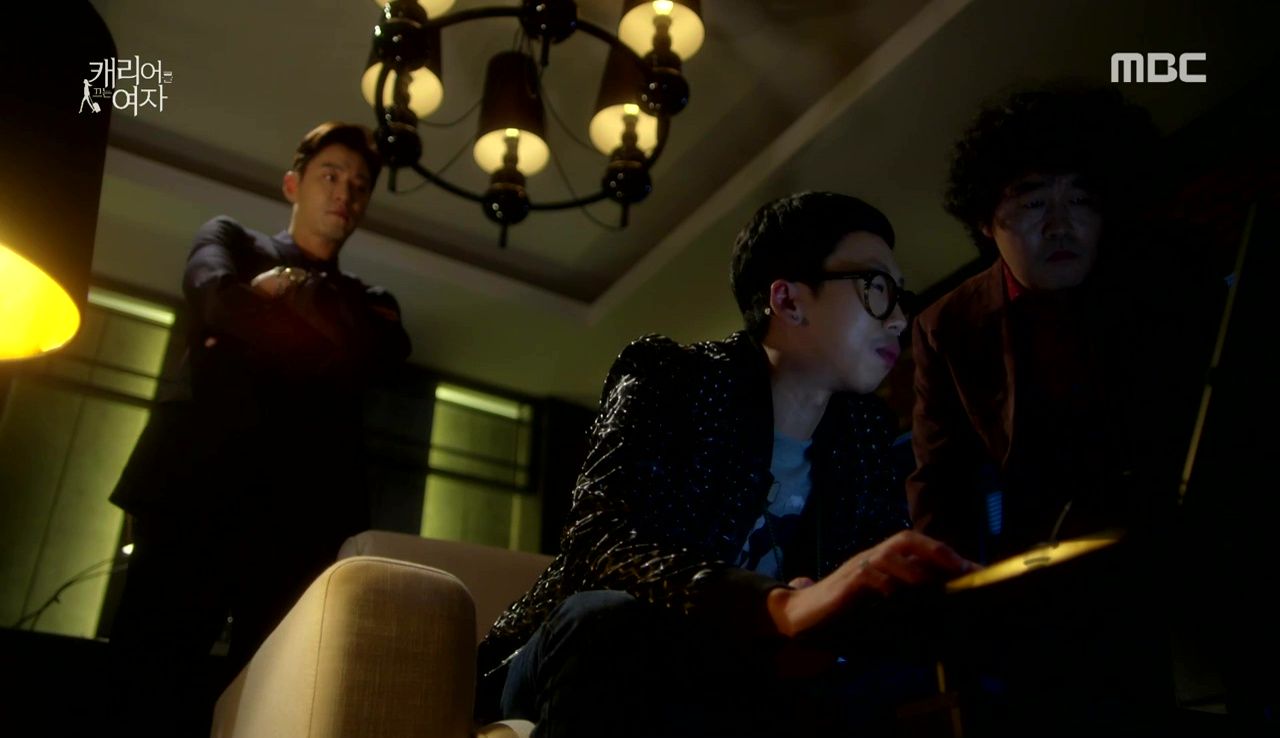 Bok-geo is at K-Fact, where he has someone trying to locate Tomy Kim's residence. Geum-joo approaches the courthouse with her suitcase in tow. She takes a call and is asked if she is on her way to Oh Gyeon-hwan's trial. The caller, the man/priest who was watching her, continues, "This is your last warning. Take your hands off of this." He asks, "Do you know why human beings stopped evolving? Because we started paying attention to things that are irrelevant to our survival." Geum-joo hangs up and takes a deep breath before heading into the courthouse.
At K-Fact, Bok-geo reviews the Pagebook profile of Tomy Kim. He recalls a case where he (as a prosecutor) questioned a witness who changed her testimony, and it's the same woman who made the call reporting on Geum-joo. After glancing at another attorney, the man who reviewed Hye-joo's resume, she claimed to not remember a car she had previously identified.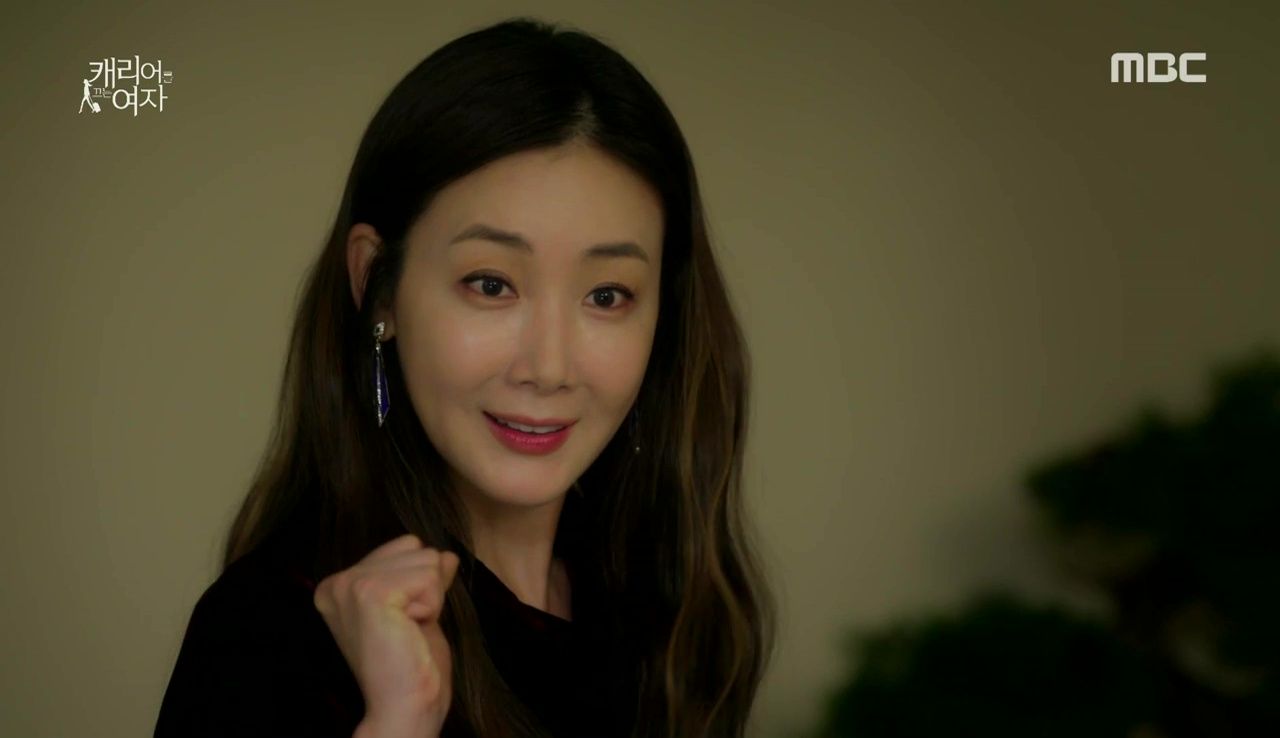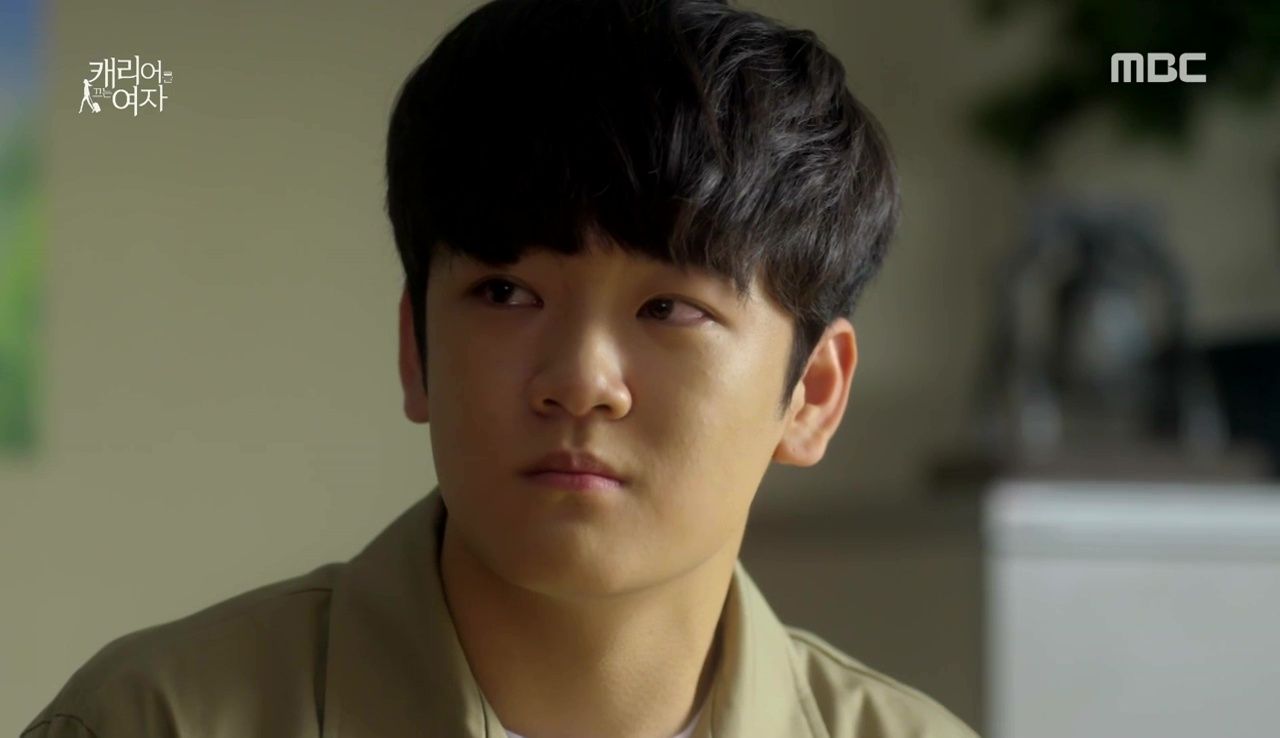 Geum-joo meets with Oh Gyeong-hwan. He's visibly nervous and she advises him that if there is anything he needs to say before the trial, he should tell her now. He manages to thank her for helping him. Geum-joo tells him, "I wanted to show you what I do… So, I worked really hard." She leaves him with an encouraging, "Fighting!"
At K-Fact, Bok-geo's assistant asks what he should do as the CEO ponders over a USB file. The assistant points out, "A person's life depends on it, so we can't just cover it up." Bok-geo responds, "Our editor is so just."
Geum-joo is intercepted by a team of policemen on her way to the courtroom, who announce that she is under arrest for violating the Attorney-at-Law act. She explains that she has an important trial and asks them to wait until it is over before arresting her. Geum-joo moves towards the courtroom and the policemen grab her, pulling on her bag. The handle is ripped from the bag, causing Geum-joo to fall to the floor, hitting her head.
Meanwhile, Bok-geo instructs his editor, "Erase it. Erase all of the records of the photo we just saw. Including the Geo data and that photo…including your brain cells that remember all that. Delete everything."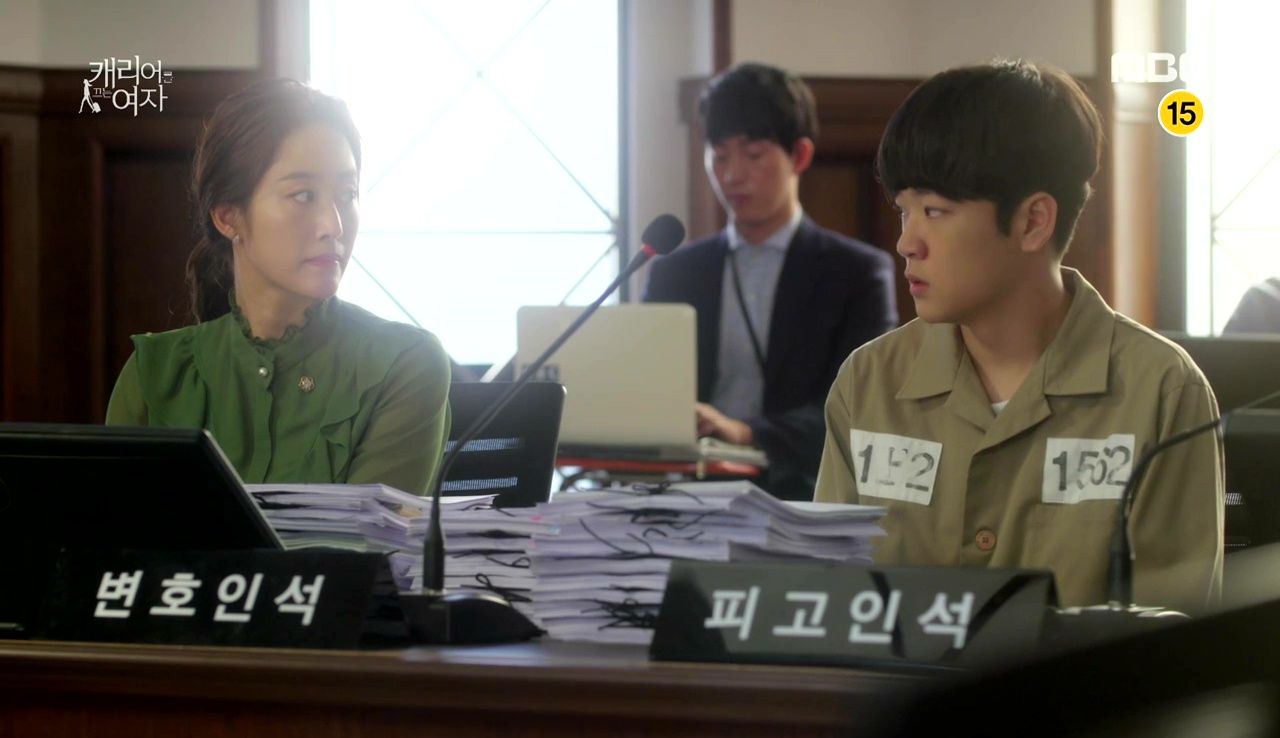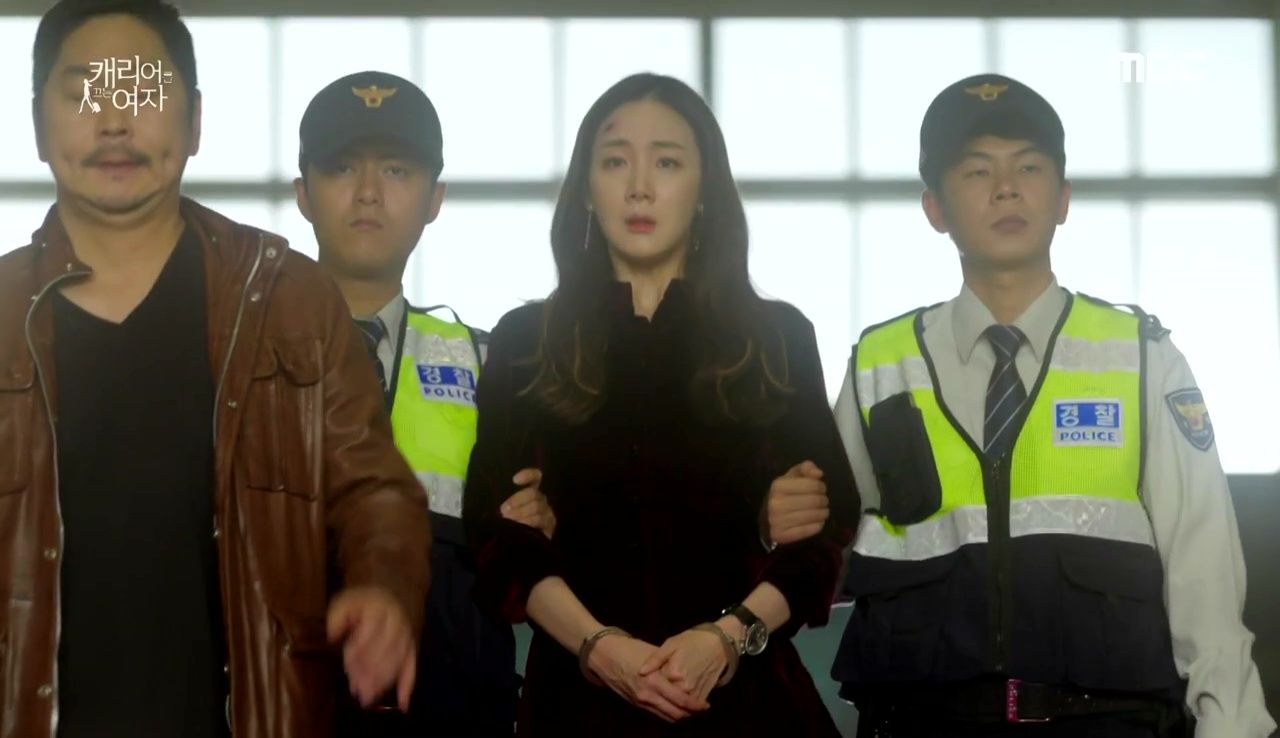 Geum-joo is escorted from the courthouse in handcuffs, a visible gash on her forehead. The man/priest who made the warning phone call watches her from above. Inside the courtroom, Oh Gyeong-hwan's trial begins as Hye-joo looks around nervously for her sister. We hear in a voiceover that Cha Geum-joo was sentenced to one year in prison.
A bus pulls up to a prison as Geum-joo narrates, "There's a rule of not predicting the outcome in our field. Until the defendant is found guilty, you don't conclude the defendant's crime carelessly." Geum-joo exits the bus, her hands bound with rope. She is guided to a cell as she narrates that she didn't know the same rule applied to life: "I shouldn't have concluded that my life was a success."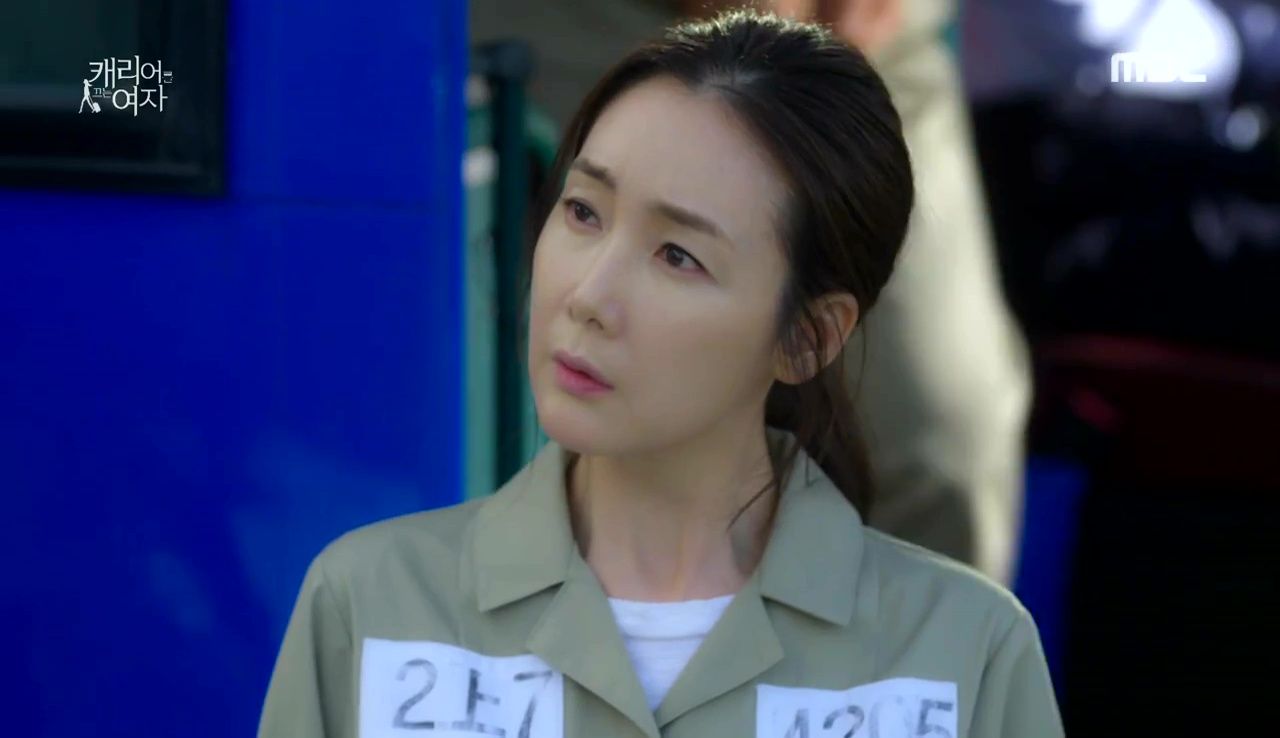 COMMENTS
What a sudden and spectacular fall from grace for Cha Geum-joo! Even though she has her flaws, she has her good qualities too, and to see her so utterly humiliated was shocking. What on earth did she stumble upon to result in such devastation, or did she really? There are some very powerful people behind this, and finding out how they are all connected should be very interesting. I'm sure it has something to do with Ham Bok-geo's backstory, and why he's no longer a prosecutor. I was puzzled by the scene with Hye-joo and her resume as her interviewer was more interested in her sister than in her. Seeing that he was part of Bok-geo's courtroom flashback, I'm thinking there was more to that meeting.
Geum-joo has made a name for herself in spite of her weaknesses. What a shame that she doesn't test well, otherwise she would be an attorney for sure. She has the intelligence and the drive. What she doesn't seem to have is a deep desire for justice. For her, becoming a lawyer was all about making enough money to help her family, and that underlying purpose is evident in her current career as a paralegal. She evaluates her cases based on the likely verdict, not whether or not her clients are innocent or guilty, until she met Oh Gyeong-hwan. His confusion as to why he must accept the consequences for something he didn't do made an impact on Geum-joo and made her think about what she gets paid to do.
Geum-joo has been fooling herself for a long time that she is successful because of her professional successes, and her handbag, the Queen of Monaco's bag, serves as an interesting symbol. In a culture that values high-end bags, Geum-joo's bag is a public testimony about just how well she is doing. But as the episode progresses, that bag is damaged until it finally breaks, just like Geum-joo's life. It underlines how nothing is forever, and, by Geum-joo's own narration at the end of the episode, how foolish she was to claim success.
Looking at her personal relationships makes it pretty clear that the only area that is working well for her is her professional life. Her sister depends on Geum-joo for her success in the courtroom. Geum-joo's husband is gambling away her earnings. Her mother needed Geum-joo to pay off family debts. I'm surprised Geum-joo could afford such an extravagant hand bag in the first place. I am looking forward to Geum-joo confronting the realities in her life as well as she does the cases that she evaluates.
RELATED POSTS
Tags: Choi Ji-woo, Episode 1, featured, first episodes, Jeon Hye-bin, Joo Jin-mo, Lee Joon, Woman With a Suitcase