2016 Buil Film Awards
The Buil Film Awards were held on October 7, 2016 at the Bexco Auditorium in Busan, as part of the Busan International Film Festival. The awards are usually the second event of the festival following the opening red carpet the day before, and the awards are industry-wide for domestic Korean films, not festival-specific awards for the films programmed at BIFF. So they're more like the Blue Dragons or the film section of the Baeksangs, rather than the competitive jury awards at the end of Cannes or Venice. I'm not sure why BIFF does it this way, especially since the awards themselves overlap with Baeksangs and Blue Dragons and Daejongs in terms of selection, but Buil has been around since 1958 (so older than the Blue Dragons). It's not like one more trophy ever hurt anybody, right?
The winners were familiar projects, since many of them have already won one or more of the other film awards mentioned. At Buil, Ryu Seung-wan's action thriller Veteran won Best Picture while Lee Jun-ik won Best Director for his biopic Dongju: The Portrait of a Poet. At the Baeksangs, it was the reverse: Lee Jun-ik won the Daesang and Ryu Seung-wan won Best Director (which he also won at the Blue Dragons).
There weren't any surprises in the top honors in acting—Lee Byung-heon and Sohn Ye-jin took home the big prizes—but I was happy to see that veteran Kim Eui-sung (W–Two Worlds) won Best Supporting Actor for Train to Busan, and that Park So-dam (Cinderella and the Four Knights) won Best Supporting Actress for The Priests, when she was expected to win another Newcomer award. Basically, it was a good year for Dad and Cinderella, in both film and TV.

WINNERS LIST
Best Picture: Veteran
Best Director: Lee Jun-ik (Dongju: The Portrait of a Poet)
Best Actor: Lee Byung-heon (Inside Men)
Best Actress: Sohn Ye-jin (The Truth Beneath)
Best Supporting Actor: Kim Eui-sung (Train to Busan)
Best Supporting Actress: Park So-dam (The Priests)
Best New Director: Yoon Ga-eun (The World of Us)
Best New Actor: Tae In-ho (Shadow Island)
Best New Actress: Kim Tae-ri (The Handmaiden)
Best Screenplay: Dongju: The Portrait of a Poet (Shin Yeon-shik)
Best Cinematography: Veteran (Choi Young-hwan)
Best Music: Dongju: The Portrait of a Poet (Mowg)
Best Art Direction: The Handmaiden (Ryu Sung-hee)
Yu Hyun-mok Film Arts Award: Yeon Sang-ho (Train to Busan, Seoul Station)
Buil Readers' Jury Award: The Handmaiden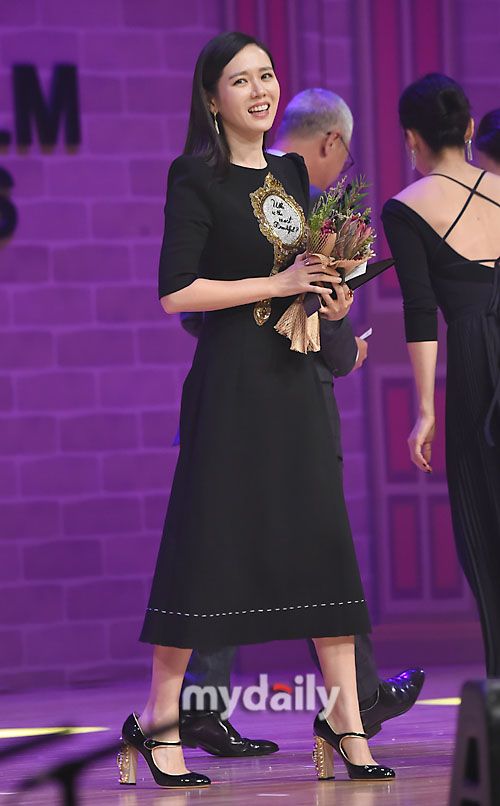 Sohn Ye-jin won Best Actress for The Truth Beneath, and her award was presented by last year's winner, Jeon Do-yeon (The Shameless), and last year's Best Supporting Actor Lee Kyung-young (Minority Opinion). Sohn Ye-jin's dress is cute, but it's oddly informal, and seems like something she should wear to an afternoon tea party (the mirror graphic says "Who is the most beautiful?"). I actually like the dress itself and I absolutely love the shoes, and she looks gorgeous… but that's just not a red carpet look, and I'm a little miffed that she wasted a chance to show up in something amazingly flowy and godessy. On the upside, next to Jeon Do-yeon in her random I'm-not-even-going-to-try black matron dress, Sohn Ye-jin looks downright fancy.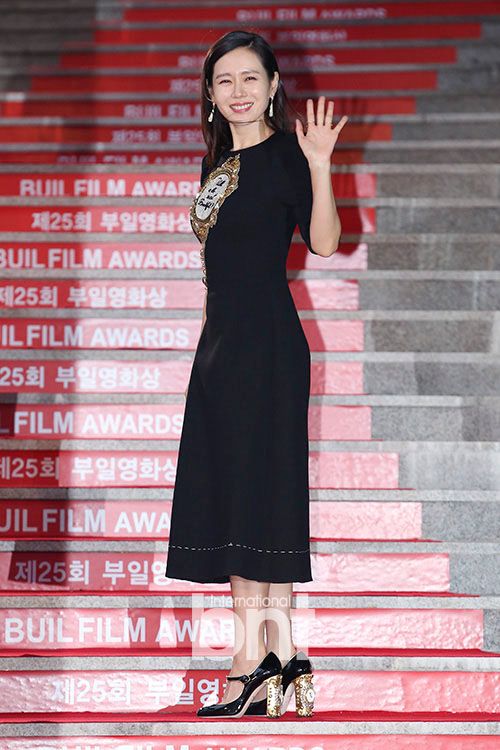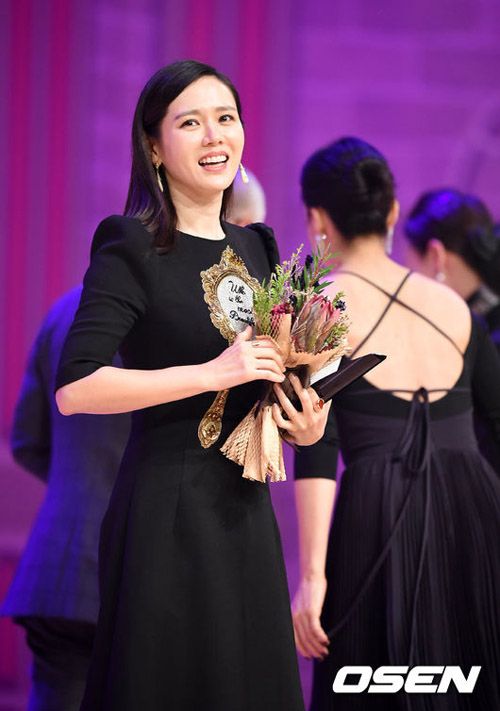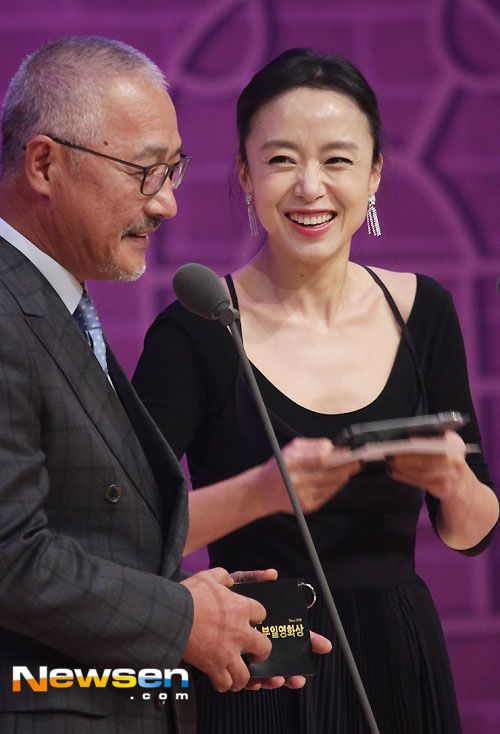 Lee Byung-heon took home the Best Actor award for Inside Men, and looks perfect, as usual. The patterned tux is a winner.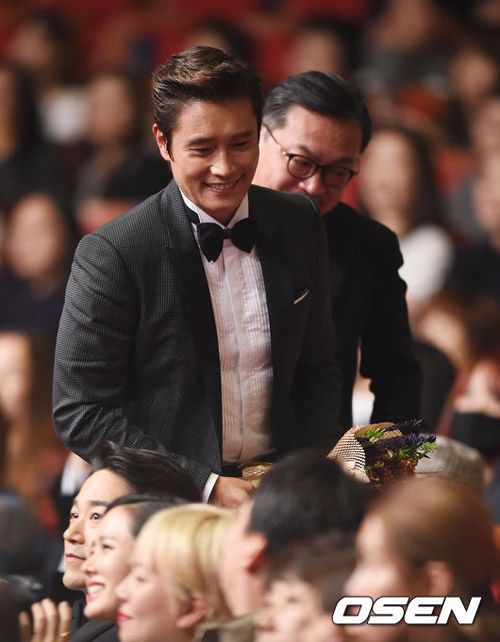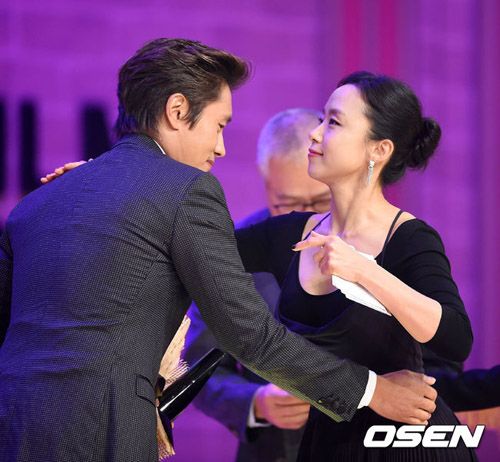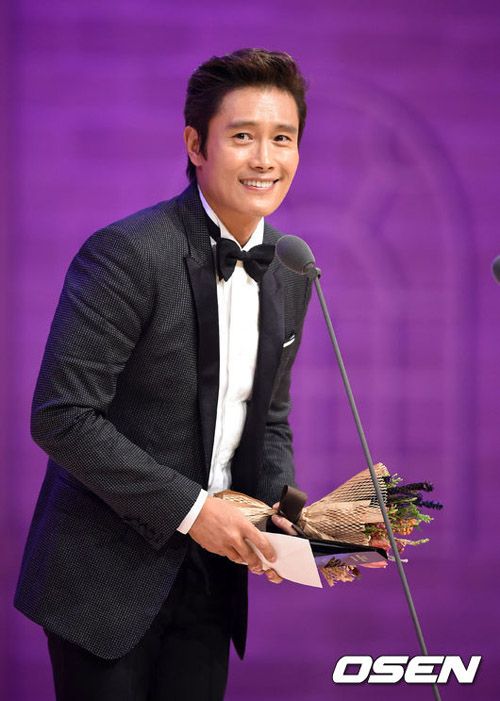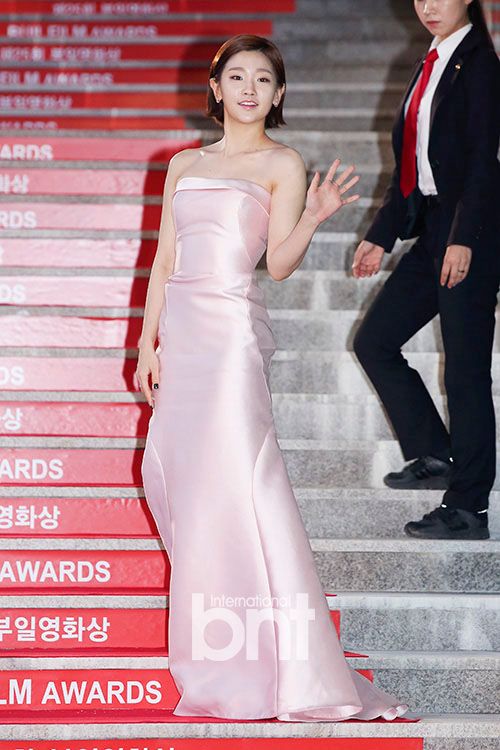 You know, I'm glad that Park So-dam went full Cinderella this time, because why not when you're young and raking in all the awards? She picked a good night to wear a pink ball gown—it's not a very interesting dress in and of itself, but she's styled perfectly, she looks amazing, and it's her big night to stand out against the crowd, as the Best Supporting Actress for The Priests. I loooooove her hair this way (so much better than the ponytail with bangs she had last night), and her youthful, glowy look.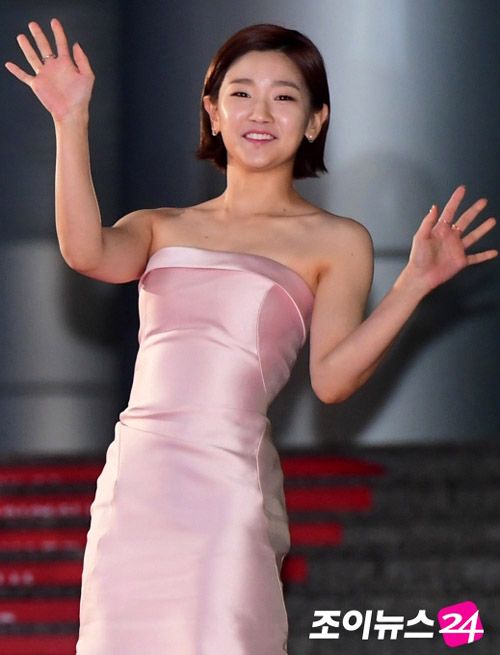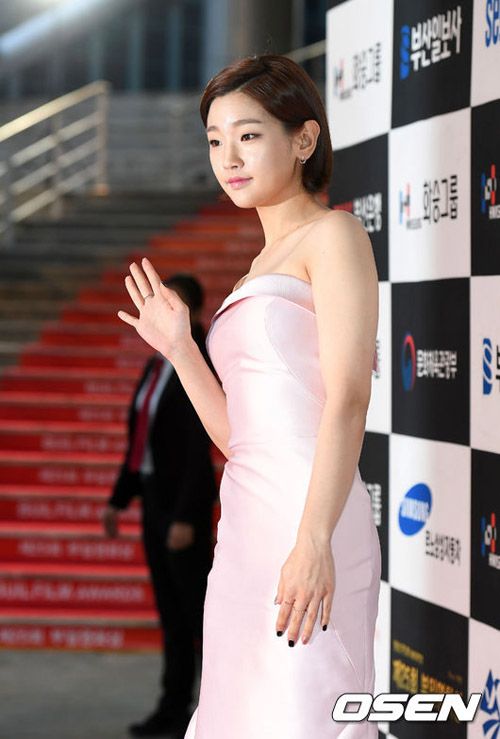 Tae In-ho took home the New Actor award for his indie film Shadow Island. It's nice to see him getting recognition, because he's been really good in dramas (The Good Wife, Misaeng); hopefully this means bigger and better roles to come! Oh, and I like the blue tux, even if I can't tell that it's not black in most shots.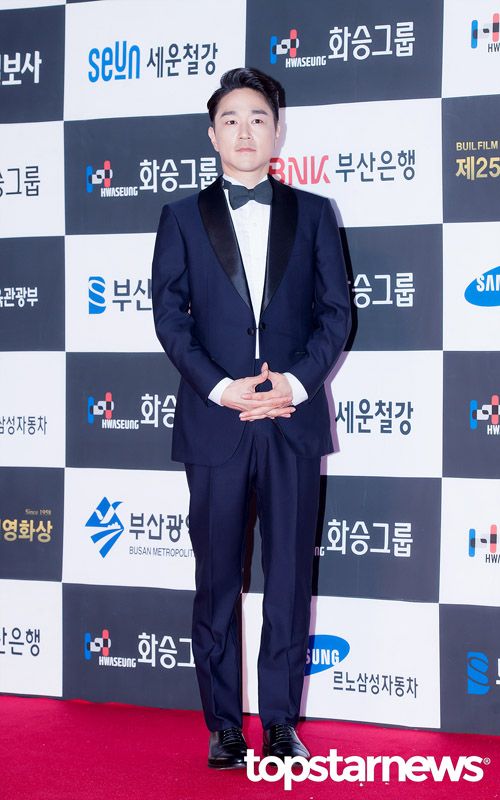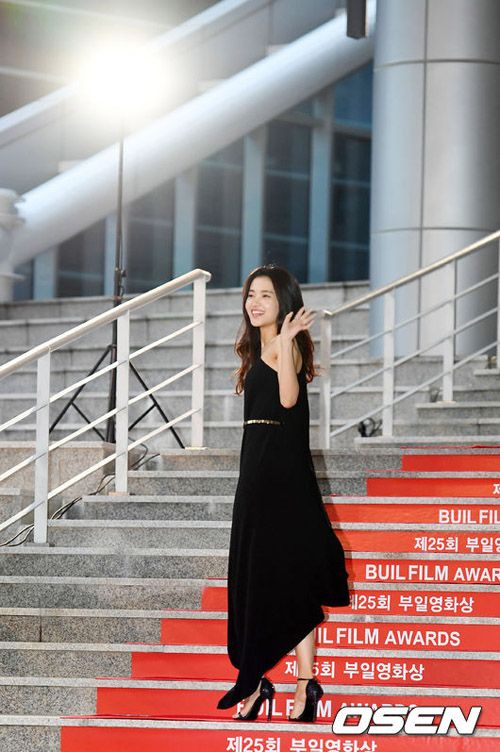 Rookie actress Kim Tae-ri just debuted this year in Park Chan-wook's The Handmaiden, and picked up the New Actress award. I like her simple but flattering dress, though as the fresh-faced ingenue, I would've liked for her to pick something brighter and flashier. She's probably got a lot of red carpets in her future, so maybe she'll work her way up to it.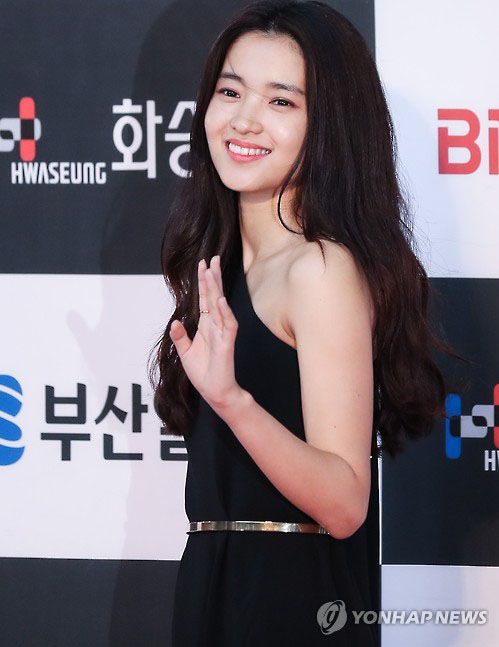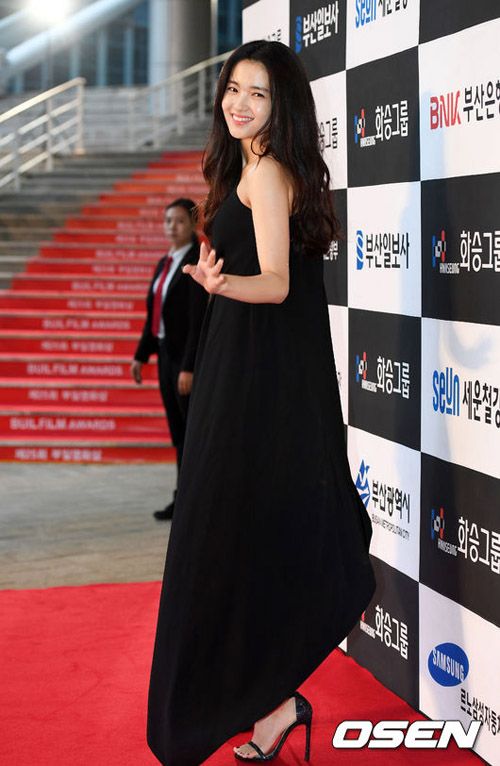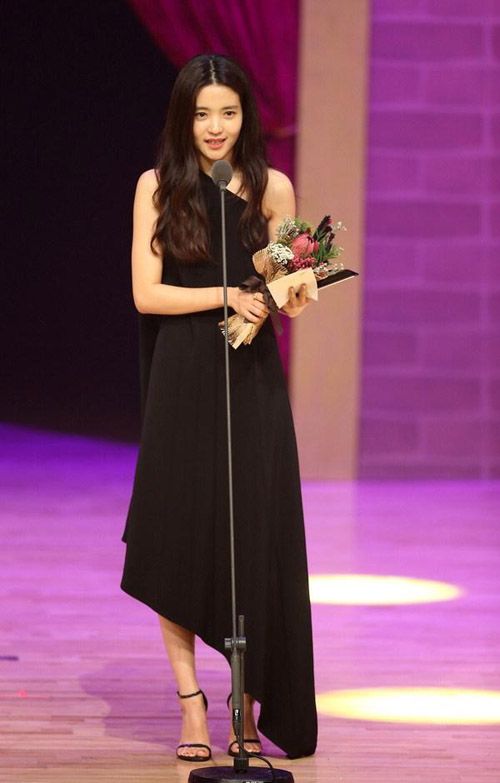 Byun Yo-han (Socialphobia) and Lee Yoo-young (Spring) were last year's New Actor and New Actress winners, and came to present awards. I kind of miss Byun Yo-han's scruffy look, because he suddenly seems like a kid again. The top half of Lee Yoo-young's dress has too much material and I don't like the neckline, but it's such a lovely color, and the bottom ruffles are so pretty.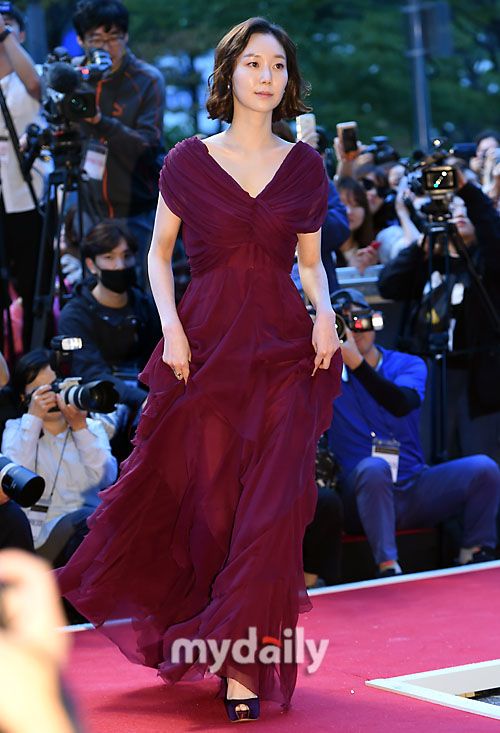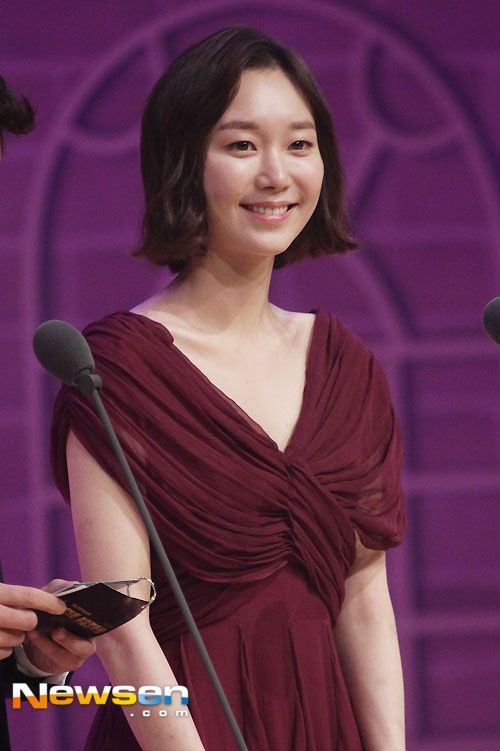 Ohn Joo-wan (Time Renegades) and announcer Ahn Hee-sung were MCs for the event. He seems really dressed down next to her in the red gown, but he looks good. I preferred his tux last night—now that was perfect.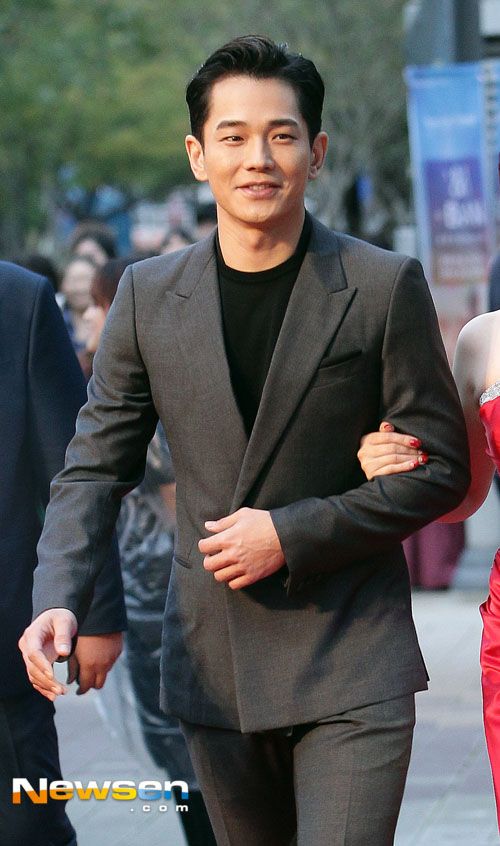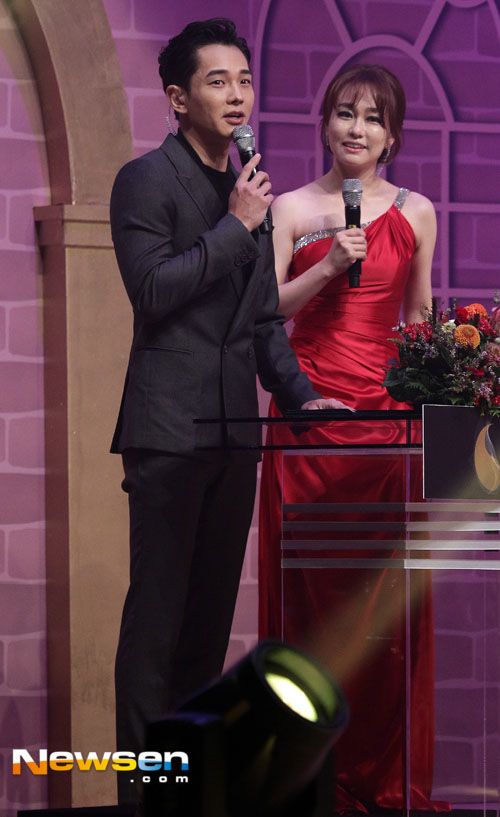 Last year's Best Supporting Actress winner Moon Jung-hee (Cart), presenting an award with Kim Bo-sung (Analog Human). I love this dress on her. I think this is the silhouette that Sohn Ye-jin should've gone for, if sleeves were her thing—floor-length, perfectly fitted, elegant. There's just something really aesthetically pleasing about the simple I-fit-so-well-I-could-be-a-T-shirt formal dress, and Moon Jung-hee looks so good in it.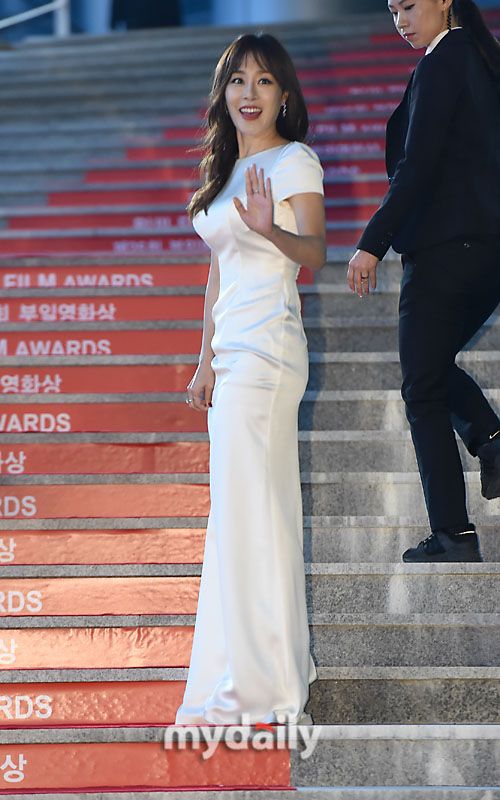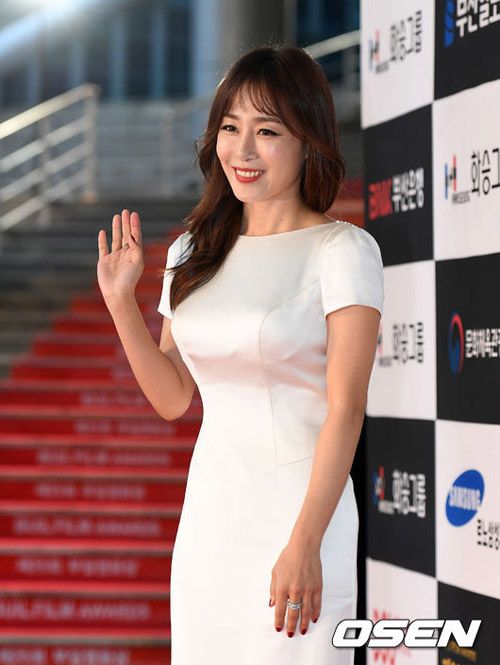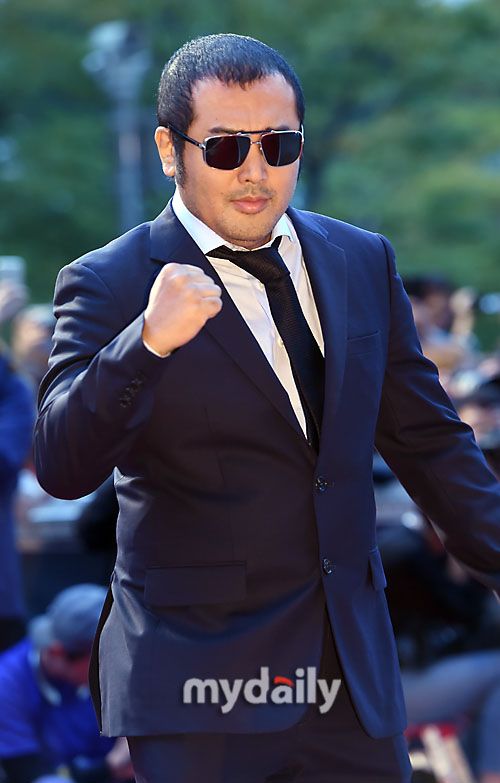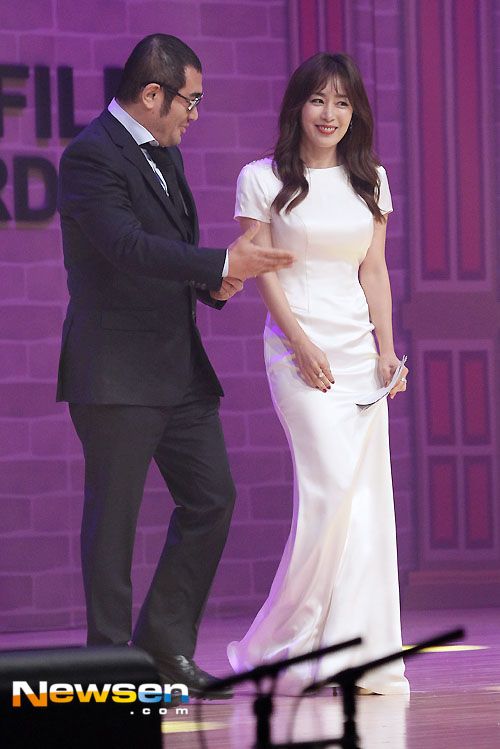 Director Kwak Kyung-taek, last year's Best Director winner for The Classified File.
Director Lee Jun-ik, who added a Best Director trophy to his collection tonight for Dongju: The Portrait of a Poet.
Director Yoon Ga-eun picked up the Best New Director award for The World of Us.
Musician Mowg won Best Music for Dongju: The Portrait of a Poet.
And writer Shin Yeon-shik won Best Screenplay, also for Dongju: The Portrait of a Poet.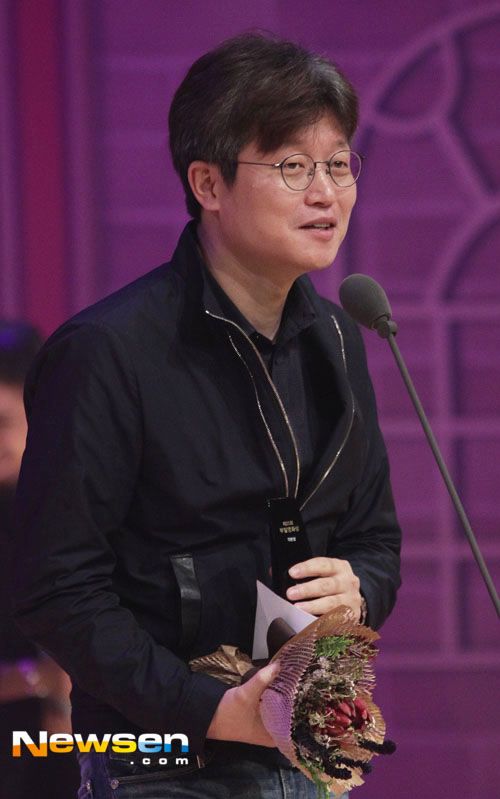 Best Supporting Actor Kim Eui-sung (Train to Busan) is having a stellar year. He said in his acceptance speech, "I've worked many kinds of jobs, but there's nothing better than being an actor. I get paid to do something this fun, and now I even get an award for it—it's incredible." Aww.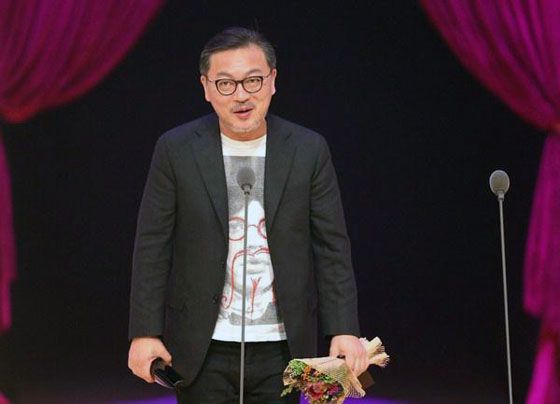 Via Naver, Xports News
RELATED POSTS
Tags: awards, Byun Yo-han, Jeon Do-yeon, Kim Eui-sung, Lee Byung-heon, Moon Jung-hee, Ohn Joo-wan, Park So-dam, Sohn Ye-jin