My Sweet Seoul: Episode 4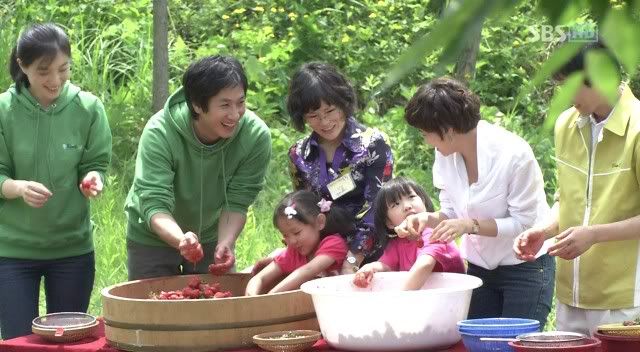 Here's my take on My Sweet Seoul: The story is unexceptional, the characters are average, and the problems are common and everyday. So far, there's nothing about this series we haven't seen before. And yet the show is very charming because it's executed well, the credit for which goes to the director — in the hands of someone less skilled, this could be bland, or mediocre, or mind-numbingly dull. But it isn't.
Instead, it's pleasant, and I appreciate its everyday feel. However, the flipside of that coin is that this is also why I'm not hooked on My Sweet Seoul.
I'm thinking a lot in food metaphors these days — maybe it's all the Top Chef I've been watching? — and in culinary terms, I'd say My Sweet Seoul is the example of a tasty homey dish using clean, simple ingredients. It's good — just not exotic, bold, or spicy.
SONG OF THE DAY
Howl – "Les Amante" [ Download ]
Audio clip: Adobe Flash Player (version 9 or above) is required to play this audio clip. Download the latest version here. You also need to have JavaScript enabled in your browser.
EPISODE 4 RECAP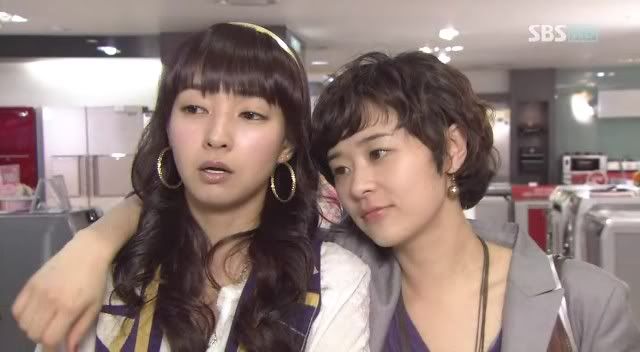 Episode 4 actually made me feel sympathy for Jane, which I wasn't sure I'd be able to feel because she's a spoiled brat who hasn't done anything but whine or brag so far.
She's still in a tiff with Yoo-hee, with Eun-soo still caught in the middle. Jane complains that Yoo-hee's always been a little weird with her — she's never invited them home, and she has a complex about money. It's not Jane's fault she was born rich! (Thus Jane invokes the Pantene "Don't hate me because I'm beautiful" defense — which, while true, is also graceless.)
Tiny cracks form in Eun-soo's relationship with Tae-oh. Nothing big occurs, but they've arrived at the point in their relationship where things have settled down a bit, and now we start to see the disparities between them. They're little things, like Tae-oh wanting to meet her friends, which Eun-soo's not ready for yet. She tells him okay, but it's with a noncommittal "Sometime later."
What it boils down to is that Tae-ho's much more into her than she is. She likes him, but he's always wanting more than she does, and although Eun-soo is starting to retract a little, it can't be long before she snaps at the strain of pretending she feels the same.
Especially with The Voice on the scene, to whom Eun-soo is slowly starting to grow more and more attracted. (Actually, I get the sense she was attracted to him initially, but because of his seemingly lukewarm response, she convinced herself he was boring and a bad match. I think it was one of those pride self-preservation things.)
In any case, a team of her colleagues accompanies Young-soo to a strawberry farm. There, they take pictures for Young-soo's company's book while Young-soo interacts with the farmers and kids.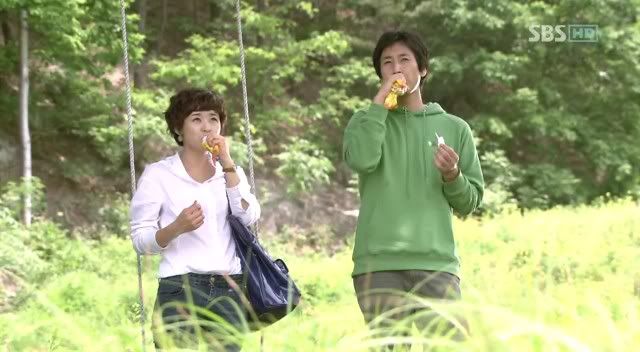 Eun-soo finds herself watching Young-soo over the course of the day, smiling to see how well he gets along with the children and how comfortable he is. He's much more relaxed and warm than he's previously been, even surprising Eun-soo with his subtle wit.
It's a nice, lazy day, and Eun-soo and her teammates lounge around leisurely. Eun-soo sees Young-soo doing some slow neck rolls, which someone has dubbed the "sunflower exercise" — so called because it resembles the gradual movement of a sunflower slowly rotating its head to face the sun all day. She's charmed.
The next time she's working with Young-soo, she receives a call on her cell phone from Tae-oh, and decides to ignore the call. She apologizes later for missing the call because she was working — which is true — but it's just one more example of her changing feelings, even if she isn't aware of them yet.
But before you start feeling sorry for Tae-oh, he starts creeping me out with his excessive attention to Eun-soo, waiting for her outside her apartment for hours and referring to it as "our home." Furthermore, he observes Eun-soo punching in her door's passcode and memorizes it, telling himself, "Next time I'll wait inside." Eun-soo startles at that, but Tae-oh just smiles and moves on. I don't actually think he means anything dangerous — but his eager devotion is treading close to the crazy stalker zone, and it's vaguely unsettling.
Eun-soo senses it as well, but she's probably not willing to face it yet — they've just started telling each other "I love you" and are, generally speaking, in a stable stage of their relationship. But she does turn him away and send him home for the night rather than let him spend it with her, making excuses for why he ought to go home and get a good night's rest.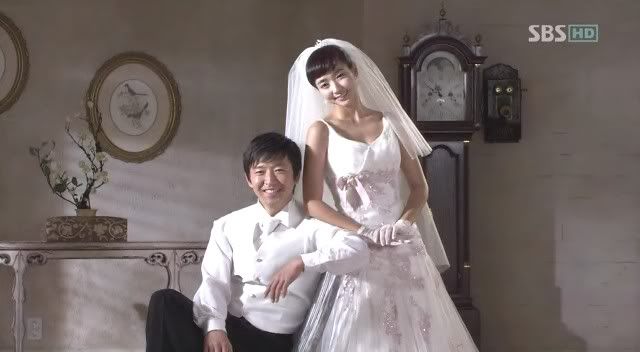 Meanwhile, Jane continues along with her wedding preparations, but it's obvious her fiancé is a jerk who doesn't care about her (he does care a LOT about himself), and would rather she just shut up and looked pretty.
Despite her materialism, Jane does crave romance and affection, and tries to engage her fiancé in conversation. But he remains stoic and silent, barely tolerating her presence or even Eun-soo's when they finally meet for the first time. Jane is eager to introduce her best friend to her husband-to-be, but the guy really doesn't care. He even takes offense to Eun-soo for saying, politely, "Take care of her for me," insulted that she would presume to tell him what to do. Jane starts feeling keenly that she's making a mistake, but isn't quite ready to admit it to her friends yet.
At work, we see a small glimpse of office life as the first printing for one of their books comes in, but bears a critical error — in the company's credits, the VP's title is misprinted for the lower title of department chair. Eun-soo's nervous boss is about to demand that the team stick little corrective labels over the offending term — there's no way they can afford to reprint the entire batch for that error — until Eun-soo comes up with a clever way to bypass the problem. The company can reprint only the copies that go to the employees, so that the only people who would care about that mistake won't have to see it. As for the rest of the world, well, nobody would even notice.
Eun-soo also gets stuck placating an angry woman whose phone number has been misprinted accidentally as a customer service number. Oops. The woman is livid with rage at all the phone calls she's being bombarded with, and Eun-soo spends all day answering the phone and redirecting the calls to the correct number.
Yoo-hee has been hard at work with her musical training classes, still irked at the issue that her age presents with the other participants. She still hasn't told her mother about quitting her job, and on top of that, has lost her cell phone.
Thinking some stranger must have picked up her phone somewhere, Yoo-hee calls her own number to talk to whoever answers. Only, when someone picks up, he knows who she is.
The recognition isn't a pleasant one, and when Yoo-hee arrives home, an unidentified man is waiting for her. He begs her urgently to talk to him, but they obviously have some kind of turbulent past, and Yoo-hee angrily brushes him off.
And finally, Eun-soo goes on a date with Tae-oh (to see Kung-fu Panda, a far cry from their arty French classic last time) and runs into her mother in the bathroom. Both women are acting nervous and out of character, but neither notices because they're both lying about their movie companions (Mom's supposedly with a neighborhood ajumma; Eun-soo's with Yoo-hee).
So it's with some alarm that Eun-soo emerges from her movie with Tae-oh and spots her mother in the crowd, emerging from her movie — with a strange man. Uh-oh!

Additionally…
Not too much to say about this episode, which was nice and light (I'm grateful that they're keeping these episodes short and sweet at 50 minutes a pop, because they don't need to be any longer).
This will sound like a criticism, but it's actually a compliment to the director that although My Sweet Seoul lacks a strong concept, which results in episodes with somewhat meandering plots, it's still an engaging show. With so many things to watch at any given time, I've got a pretty short attention span for boring — I can take weird, or bad, or even irritating shows better than boring, because at least my attention has something to grasp. For some reason My Sweet Seoul isn't boring.
However, I'm aware that writing about My Sweet Seoul yields less interesting commentary — it's just one of those shows you should watch yourself to enjoy. That means that depending on how I feel about When Night Comes and Gourmet, I may stop doing recaps of this one. How do you feel about that?

RELATED POSTS
Tags: Choi Kang-hee, Lee Seon-kyun, My Sweet Seoul