A Star's Lover: Episode 8
Well, things are chugging along nicely.
I wonder at how the secondary romances (Woo-jin, Eun-young) will continue, because we're not even halfway through and our main coupling looks like it's hitting its stride. I tend to find the trickiest part of romantic dramas to be striking the right balance of keeping the main couple apart — but not TOO apart, and also not TOO together — until everything finally resolves in the end. Too much conflict and the audience tires of the yo-yo effect; too little, and you get bored. I really hope this drama doesn't fall too far on either side.
SONG OF THE DAY
EZ Hyoung – "Café Fermata" [ Download ]
Audio clip: Adobe Flash Player (version 9 or above) is required to play this audio clip. Download the latest version here. You also need to have JavaScript enabled in your browser.

EPISODE 8 RECAP
Chul-soo comes back, ready to defy Tae-seok's decree that he and Mari never meet again. Mari asks, puzzled, "Why are you doing this, because you feel sorry for me?" She doesn't want him here out of pity or duty, but Chul-soo insists, "I came to help!"
Mari doesn't want his help — or, rather, she's afraid that he will ruin himself. In fact, she seems more worried at damage being done him than herself (oh, love). She's in no mood to read books and study, but Chul-soo is determined to help her make the lie true. He says, "I want to do this together. You said we were accomplices." When she tells him to go, he stands firm and says, "I can't."
With the scandal spreading by the minute, Mari starts receiving phone calls. First is a director, to whom Mari replies that she's not worried about gossip. Next, Woo-jin calls and references Heathcliff, which means nothing to Mari. Chul-soo understands right away and whispers that he's the lead character in Wuthering Heights; he puts the phone on speaker and writes a note to Mari, who parrots back to Woo-jin, "Heathcliff and Catherine were childhood friends, weren't they?"
Woo-jin answers, "Yes, they were fated, like you and I." Chul-soo smirks at the corny line, so Mari shuts off the speakerphone.
At this indication that Mari has people willing to help her, Chul-soo starts to rescind his offer. Mari holds him back and asks for help, and now she's dropped polite speech in earnest and talks in the familiar banmal: "You mustn't ruin yourself because of me. Just promise me that."
As Chul-soo settles into his temporary room, Eun-young calls to tell him she's moving back to Korea this week. Chul-soo says this is good news, but for the moment he won't be able to see much of her due to his new live-in position. Someone's in a tight spot and needs him to help, just for a month.
Eun-young's smile disappears. "Is it that you have to help, or that you want to help?" Chul-soo answers, "Both." Unhappily, Eun-young replies, "I can understand."
Chul-soo thinks the rumors will blow over, and Mari concedes that she is used to this — she had a lot of scandals and they've all passed. Still, "This time, it's true."
Reporters crowd at the management company, asking about the ghostwriter. Tae-seok takes the firm denial route, dismissing everything as ridiculous: "If you reporters don't believe us, how can anybody else?"
Byung-joon (who is a supreme idiot) is worried for Chul-soo's sake, but he's so obvious in his questions that it's a wonder he doesn't blurt out the whole story right then and there. This, folks, is a concrete example of what some of us call Too Stupid To Live. Thankfully, nobody catches on, as they are distracted by the appearance of Mari and instantly swarm around her.
Mari is ushered inside, away from the reporters, where Tae-seok brings her a glass of champagne to toast their ten-year-long relationship. As a formality, he hands her a contract to renew their partnership. To his surprise, Mari doesn't sign immediately and answers that she'll think about it. Right now, she wants to go home.
Tae-seok offers to take her home. At Mari's insistence on leaving alone, Tae-seok prods, "Do you have someone waiting at home? Kim Chul-soo?" Mari asks if he had her followed, and (in an effort to prove that Tae-seok is not omniscient about her life), she lies and says she's dating someone else. (He laughs, not believing her bluff.)
Mari tries to leave, and he grabs her arm — just as Woo-jin comes in.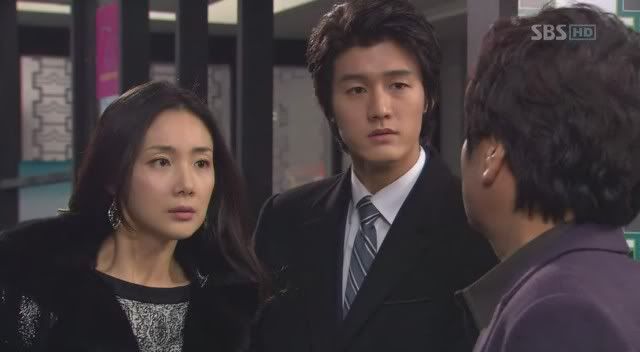 Tae-seok asks, "Is this the guy?" Mari sees the opening, so she slides her arm through Woo-jin's and lies, "This is the man I'm seeing." Woo-jin doesn't understand, but he's sharp enough to feel the tension in the room and plays along, saying firmly, "That's right. So I'd appreciate if something like this didn't happen again." Woo-jin had scheduled an appointment with Tae-seok, but suggests they postpone the meeting, and leaves with Mari.
In the car, Mari apologizes for making Woo-jin play along. Woo-jin, however, is happy to be of service, and enjoyed it (although he says it in his typically pretty way: "It was an honor to be able to act with you"). He asks if she needs anything, a little disappointed when she merely requests to be dropped off at home.
As she steps out of the car, Woo-jin notices, "You're smiling now that you're home. Is there something good at home?" She answers, "Something that I like," but won't elaborate, saying, "It's a secret."
Just then, Woo-jin glances over to see Chul-soo standing nearby (he had run home after hearing from Byung-joon about Mari's hellish encounter with the press). Mari fumbles for an excuse explaining Chul-soo's presence, so Chul-soo blurts out, "I'm her bodyguard." He just came to drop off something for her, and drops his heavy bag in her hands, then walks off.
Chul-soo wanders around outside in the cold, waiting for a safe time to return. Knowing about the reporters at the office, Chul-soo asks if anything happened today, but Mari says there was nothing.
He nags her to continue with her reading, suggesting a few motivational tools to help her along (like making Mari do the housework if she fails). If she finishes her reading, they'll split the housework, but if she doesn't, she has to do it all.
Mari cooks dinner, after which both settle down for some evening reading. (Chul-soo notices approvingly that the book — The Little Prince — moves Mari to tears.)
The next day, Mari loses a movie deal. Tae-seok has blocked newspaper reports, but the internet is still abuzz. She feigns unconcern with Chul-soo, pestering him to come along on her shoot today. (She also proudly announces her next reading selection — The Brothers Karamazov — hoping to impress him by picking a thick book. He's a little impressed).
At the photo shoot, it's (finally?) Chul-soo's turn to exhibit a little jealousy over Mari's enthusiastic greeting of her co-star. They've acted together before, and have so much chemistry together that whenever they work together, rumors spread that they're dating. The shoot requires the couple to cuddle affectionately, which Chul-soo grimaces to see.
Meanwhile, Actor Friend guesses that Mari's dating, and that her new "friend" Chul-soo is the guy. Mari denies it, so Actor Friend kisses her on the cheek, watches Chul-soo's face turn sour, and he says, "See, I'm right." (Mari insists he's just a friend, to which Actor Friend says, perceptively, that it's more interesting to hear her call him that — she's always had boyfriends, but no friends.)
Afterward, Mari tells Chul-soo to come home for dinner, since she has something important to say. When asked what he likes to eat, he picks japchae; she scoffs that it's a common food, but Chul-soo reminds her that it takes a lot of work.
Since Tae-seok has had no luck with Mari, he sends Ye-rin to try her hand at getting Mari to sign the contract. Ye-rin is the type of woman who speaks bluntly (but with a false smile), and her tack is to impress upon Mari that she's in a precarious situation and needs her management. After all, she's not getting any younger, and the gossip is starting to have a negative impact on her job offers. Fighting with her managers and insisting upon having her way makes her seem like an ungrateful child.
Mari answers (with an equally pleasant smile) that she has essentially been a child all these years, which is why she's trying a different approach now — she'll learn to walk on her own before she gets any older.
Ye-rin doesn't respond to Mari's suggestion to leave, so when Woo-jin arrives, Mari again makes him into the excuse to prompt Ye-rin's departure. Again, Woo-jin picks up Mari's cues quickly and goes along.
Mari apologizes for using him, but Woo-jin again tells her he was happy to go along.
The reason for Woo-jin's visit is to discuss his idea for a documentary based on Lovers in Asuka, which was rejected by Tae-seok. Mari agrees that the timing isn't right, but I don't think Woo-jin is ready to give up, particularly now that he feels that the book has brought them together. (As he feels this affinity for the writing itself, I hereby declare this an invitation for people to get a jump on that Chul-soo/Woo-jin slashfic!)
Referring to their childhoods, Woo-jin explains that he'd gone back to look for her when he returned to Korea, but she'd left the orphanage by then. After that, he lived in the States, and after that, she appeared as his cousin's girlfriend. Then, when she rejected his cousin and jumped in the water, he wanted to save her, but was late once again: "This time I don't want to be late."
Mari asks, "What do you mean?" Woo-jin: "I like you. Let's not act, and date for real."
Eun-young arrives a day early and accompanies Chul-soo back to his place. In a serious tone, Chul-soo starts to tell her something, which Eun-young must guess is something she won't like to hear, because she seizes upon the first excuse to interrupt him: When Byung-joon The Idiot (which will be his full name until he proves himself otherwise) walks in on them, she eagerly invites him to join them for dinner.
Dinner is an awkward affair, with Eun-young trying to keep up a steady stream of small talk and Byung-joon The Idiot always saying the wrong thing, which causes embarrassed silence. Everyone knows bits and pieces of the full story, but nobody knows what the others know.
(Example: Chul-soo thinks Eun-young doesn't know that his ghostwriting project was Mari's book. Byung-joon The Idiot tries to make it sound like he knows nothing at all but ends up blurting all sorts of things. He says laughingly that he'll love Mari forever, then catches himself. He says, "Sorry, Chul-soo," as though afraid he'd offended Chul-soo. Then he realizes he said this in Eun-young's presence and catches himself again. Like I said, he's an EEJIT.)
It's sad when their only safe topic of conversation is Chul-soo's sister's illness. A surgery is available in the States for Yuri's as-yet-unspecified condition, but they can't afford it. Eun-young wants to visit Yuri, and goes with Chul-soo after dinner.
Mari waits at home with her prepared dinner, and calls while Chul-soo is sitting with his sister. Mari guesses he forgot his promise to be home for dinner, then suggests dropping by the hospital. As he's with Eun-young, Chul-soo hurriedly tells her not to.
Mari wonders whether she should leave Tae-seok, and rather than telling him the whole story, she asks Chul-soo to just give her his general impression. Chul-soo thinks it's a good idea to leave, but doesn't know why she'd ask for his opinion. Satisfied, Mari accepts that answer.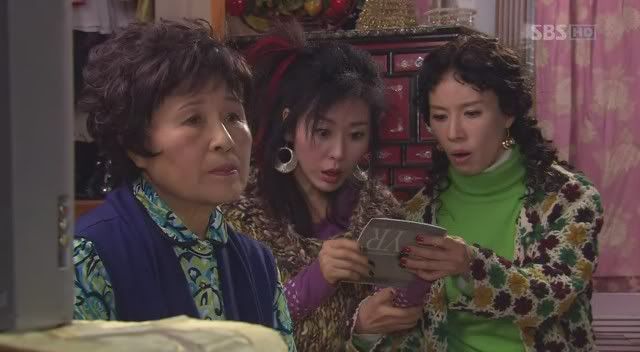 Chul-soo's aunts worry about Yuri's surgery, and wonder if they should ask Yuri's mother Bo-young for money. They all hate the idea because Bo-young had stolen their money when she left last time, so Middle Aunt takes out her precious jewelry and agrees to sell it off. Youngest Aunt takes out her fur and handbag to sell, and Eldest Aunt takes out an account book — she's been scrimping up over the years for the kids' marriages, amounting to 10 million won ($8,000). Might as well use it now.
I'm not sure if Eun-young is being purposely obtuse, but she doesn't take Chul-soo's suggestions to leave, putting Chul-soo in an uncomfortable situation (he can't leave, and her presence is a little awkward). Giving in to her impulse to drop by, Mari sneaks in while Chul-soo and Eun-young step out for coffee. She drops off a packed dinner and tries on Chul-soo's glasses in fun.
Thus, she's caught off guard when Chul-soo walks in with Eun-young. Flustered, Mari pretends to be a stranger and makes the lame excuse that she walked into the wrong room (which nobody believes).
Chul-soo starts to go after Mari, but Eun-young holds him back.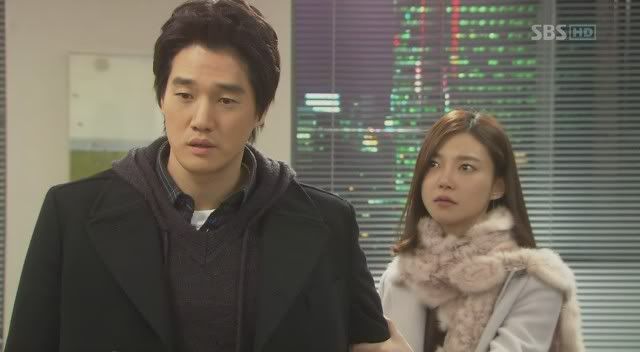 Time to come clean. Eun-young has suspected for a while that the book he wrote was Mari's, and that he's working for her now. Chul-soo had been trying to figure out how to tell her the truth and apologizes, to which Eun-young says she understands. The situation makes her uneasy, however: "Can you not help her?" Chul-soo: "It's not that I'm helping, I feel responsibility. We made the mistake together, so we should take responsibility together."
Chul-tries to confess something further, saying, "What I couldn't be honest with you about… I might have to admit something I don't want to admit…" Again, Eun-young cuts him off: "It's okay. I know you didn't make the decision easily, and you probably resisted at first and gave in because you had to. It's not your responsibility. I know you."
Chul-soo tries again: "That's not what I'm talking about, there's something I have to tell you—" And again, she interrupts: "Let's stop talking about it."
Tae-seok receives Mari's contract in the mail, satisfied to have won this battle of wills. As soon as he reads the document, though, he realizes that Mari hasn't signed. In effect, she's firing him.
He tells the hairstylist (name: Seung-yeon) to convince Mari to sign. By now, Seung-yeon knows Tae-seok's ways, and she asks shrewdly, "Did you leak the news?" Although they've worked together for years, it's like Seung-yeon has finally decided it's time to draw the line because Tae-seok is going too far. Furthermore, she has never felt good about the incident with Mari's first love, Seo Woo-jin, because "Mari's never been able to love someone properly after that."
Seung-yeon isn't cutting ties with Tae-seok, but will decide how to handle Mari after he takes care of the current scandal. Tae-seok doesn't take kindly to this, and warns, "You're going to regret this." Seung-yeon: "Okay, let's try regretting something for once."
Eun-young calls Mari for a meeting. Mari greets Eun-young with polite friendliness, but Eun-young keeps a cool, distrustful distance. For instance, when Mari says assuringly that she and Chul-soo are only in a professional relationship, Eun-young answers stiffly, "I'd know that better than you. I didn't come to talk about that. I'm not worried about that, because I trust him."
What she is worried about, then, is the ghostwriting — it could become a problem for him at school, and with his budding writing career. She asks if Mari's ever read his novels (she hasn't), and says they're very good. He can't jeopardize his future over this. Therefore, she requests that Mari stop meeting Chul-soo, suggesting that the only reason Chul-soo is continuing to meet her is because he's softhearted and can't say no.
Mari seems to feel embarrassment for thinking otherwise (that he had acted out of a reason other than pity). Realizing she must have been wrong, she says with chagrin, "He must have felt very burdened. I pestered him quite a lot. I feel bad now."
Eun-young picks up on her reaction, and asks, "Do you like him?" Mari: "Do I have to answer that too?" Eun-young concedes that she doesn't, and Mari tells her, "Okay, I'll stop. I won't see him again."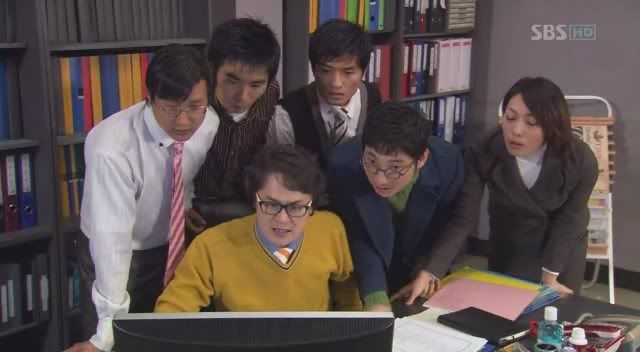 More internet scandal. This time, the Box Head Man from Japan is identified as the likely ghostwriter.
On Mari's way home after meeting with Eun-young, she calls Chul-soo, who apologizes for the night before. Hearing that he's on his way to the hospital, Mari decides to meet him there, since she has something to tell him.
Chul-soo arrives first, in time to see his mother crying at Yuri's bedside, blaming herself for Yuri's illness. Infuriated at her nerve, Chul-soo storms in, grabs her, and drags her outside. Mom has just heard what illness Yuri is suffering from (although we remain in the dark), and wails about not having money to pay for the surgery.
Unmoved by her tears, Chul-soo tells her: "If you're that sorry, why don't you go to the church or the temple and cry alone quietly, instead of in front of Yuri."
Mari arrives to catch the latter half of the scene. This time, Chul-soo walks right past her without acknowledging her on his way out.
Mari follows him out. Frustrated at Mari for witnessing another moment of weakness and also feeling displaced anger at his mother, Chul-soo treats her harshly, demanding to know what she came to say. Mari asks how much he needs — she'll give it to him. As expected, Chul-soo doesn't take the suggestion happily: "You're going to calculate our time together and pay me off with cash?"
Chul-soo: "What do you know about me?"
Mari: "I don't know much."
Chul-soo: "If you don't know, don't do anything. Don't cross the line!"
Mari's stung. She asks, tearing up, "Why are you so angry?"
Chul-soo draws a line in the ground with a rock. He says firmly, "Don't cross over anymore." As he turns to walk away, Mari calls out, "I will."
Repeating, "I will cross over," Mari steps over the line and takes a few steps toward him, then stops.
Even angrier at her disobedience, Chul-soo warns, "I told you not to cross the line." He glares at her for a few moments, but then it's as though something breaks down.
Giving in to the impulse, Chul-soo suddenly covers the remaining ground between them and grabs her in a kiss.

COMMENTS
The impression I had of Eun-young in the previous episode intensified here, because she is actively building up a wall of denial around herself even in the face of mounting evidence. Heck, Chul-soo practically tells her how he really feels about Mari, but she is so intent on preserving her illusion that she won't hear it. I know ignorance is bliss, but what's interesting about Eun-young is that she isn't ignorant — she knows the truth, but doesn't want to acknowledge it. She has formulated a script that works for her, and must stick to the script to keep control over her situation.
I have to admit I found Tae-seok's consternation at losing control over Mari almost amusing, where before it was borderline creepy. He may have been able to scare off one lover (Seo Woo-jin), and then another (Chul-soo), but now with the appearance of Jung Woo-jin, I almost expected him to burst out in exasperation, "Another one?! Good lord, I'm getting tired of making all you people disappear! Why can't you just let this old man rest in peace?"

RELATED POSTS
Tags: A Star's Lover, Choi Ji-woo, Lee Ki-woo, Yoo Ji-tae