ATHENA: Episode 3
As aberdeen_angus said, we are left with the least exciting cliffhanger in the history of Korean dramas. Maybe I exaggerate – but where does a flashback and brooding leave us to start with?
It leads to why the two were separated in the first place.
As Jae Hee and Jung Woo brood over each other, Jung Woo remembers way back when the former head of NTS had ordered him to resign as a field agent if he wanted to continue dating Jae Hee. Odd request, right? Not really – because the head of NTS is Han Jeong Pil – Jae Hee's father.
Jung Woo points out that Director Han was a field agent himself when he married Jae Hee's mother. However, because Director Han was rounding up some drug cartel baddies, Jae Hee's mother was killed out of revenge against him. Director Han leaves him one word of advice: no field agent can have both career success and happiness.
Chul Hwan reports to Kwon – Jung Woo interfered on an NTS mission, so can Kwon talk to the kid? Kwon is uninterested: "He is the kind of person who needs to feel under-utilized and upset to do his share of the work." HA!
And what do you know, Jung Woo is doing his work – with Joon Ho's help he finds out that Jae Hee had killed the Russian mafia leader, Sasha, and his father. Meanwhile, the Russian gangsters receive word from the Russian Intelligence that they are to seize Kim Myung Guk. Victor puts a hold on that plan though; he wants to get Jae Hee first.
A fellow agent informs Jae Hee that Victor is heading to the racetracks to meet NTS' undercover agent, and that spurs her to head over. Jung Woo on the other hand is brooding over the black rose he found on the ship. Hye In comes upon him and notes that black roses are meant to represent deep love or, for the Russian mafia, revenge. Jung Woo realizes that the ritual was a vow to get Jae Hee.
Calling Sung Chul for help, he heads to the racetracks as well. Another techie Kyung Won informs the team that Sasha was supposedly killed in a napalm explosion…except, Victor has the exact same burn marks as Sasha. A face comparison confirms that the two are one and the same (with the help of plastic surgery).
At the race tracks, Jae Hee spots Victor standing behind the glass windows of the private rooms. He points at her threateningly, and two of his goons come up behind Jae Hee to take her to him. Kyung Won pulls up the surveillance cameras of the place, and the entire team at NTS headquarters is set to searching for Jae Hee. Backup is also heading over to the racetracks. For an agent ousted from NTS, Jung Woo still gets to command all the resources and people they have…
Sung Chul finally spots her in the basements, fighting off the goons as best she can. But she is brought face to face with Victor/Sasha. He reveals his true identity to Jae Hee, and raises his gun to finish her off.
The lights turn off. A gun slides across the floor towards Jae Hee. Jung Woo emerges, shooting down Victor's men as Jae Hee grabs the gun to get a couple of others. Jung Woo nearly hits Victor, but he gets away.
Navigating through the dark basement tunnels and hallways, Jae Hee searches for Victor while Jung Woo is left to finish off the men. Victor appears behind her, wielding a sharp dagger, and starts swiping at her. She loses her gun, and they end up in a fist fight. Victor slashes her abdomen, finally getting the upper hand. He stalks towards her, ready to stab her, when Jung Woo fires.
Victor doesn't let the bullet get to him and goes for Jae Hee again. Jung Woo shoots several more bullets – this time all over Victor's torso – and kills him. Chul Hwan gives the report to Kwon, saying that though it appears Victor was primarily in Korea to take revenge against Jae Hee, his true purpose was to get Kim Myung Guk. Kwon raises the security around the nuclear plant. He also heads out to meet Kim, informing him that because his research and technology is nearing completion, security will be even tighter.
Jae Hee meets Jung Woo at the National Intelligence Service Hall where he works. Jung Woo tells her to take care of her wound, even though she shrugs it off as a scratch. Nothing can hurt more than the scar on her heart. Ouch – heavy stuff for some small talk over coffee, eh? She's not here to thank him for saving her life; she's only here to tell him that they don't have to be uncomfortable around each other anymore.
However, she vents her frustrations and pain on a punching bag, thus suggesting that she doesn't feel as comfortable as she says she is on seeing Jung Woo again.
Hye In has a rendezvous with Son Hyuk in a garage, where she tells him that Kwon has tightened security around Kim, making it even harder for DIS agents to track Kim. Son Hyuk regrets letting Kwon live, but no use crying over spilled milk. Instead, he's going to have to take extreme action to force Korea to hand Kim Myung Guk over to him.
Son Hyuk flies back to Hawaii, where he meets the head of ATHENA (Douglas Day Stewart). Turns out, Victor was actually working for ATHENA. He reminds Son Hyuk that the South Korean president must not get his hands on the completed nuclear reactor. Son Hyuk reassures him – their operation in Vicenza will begin soon.
Sean Richard meets with a couple of hired hit men and gives them photos of Jo Soo Young (Lee Bo Young). They want her kidnapped and will pay 2 million USD for the job. (By the way – I will keep referring to Sean Richard by his real name until his character's name is revealed. He's Son Hyuk's right hand man in any case.)
Back at NTS, Sook Kyung does a presentation on the bug prototype for Joon Ho and the others. Though the bug flies, it makes a LOT of noise, making it impossible to do sneaky surveillance. The bug pinpoints Joon Ho and starts flying directly at him. Suddenly Jae Hee comes in and catches the bug. Joon Ho is way excited to see his pretty sunbae at NTS.
Jae Hee is joining the team as a new agent, and she meets all the team leaders. Team Leader Sook Guk begins his report on Ayachi, the Algerian hit man. A terrorist, he was caught entering Korea under a false name and immediately put him under surveillance. Chul Hwan orders Sung Chul to head the reconnaissance mission, putting Jae Hee under his charge.
Sean Richard finds out that NTS knows about Ayachi, so that calls for drastic measures. While NTS agents are tracking Ayachi leaving his hotel via garage, Sean Richard drives into the garage, aims his gun, and shoots Ayachi in the head from several rows away. He exits the garage undetected.
Kwon gives the NTS agents crap for losing their suspect. He orders them to find out who killed Ayachi – it's their last chance to prove they are worthy of being NTS agents. Meanwhile, Son Hyuk phones Ayachi's associate, Suh Min Hyuk, and lets him know that he can take over the job and receive the two million instead.
Kwon visits Jung Woo at the NIS Hall. He asks if Jung Woo is still interested in returning to NTS. Of course, Jung Woo leaps at the chance. He tells Hye In that he's going back to NTS and she congratulates him. Sheepishly, he hands her a pink rose. It represents appreciation; he thanks her for helping him deal with children, and the coffee she made him. If he comes back to visit, will she make him another cup? Hye In smiles; looks like she's warming up to him!
Sook Guk manages to identify Suh Min Hyuk, a former North Korean operative that now solely participates in terrorist activities. Jae Hee volunteers herself to go to Algeria and investigate Min Hyuk, where he is currently located. She's worked with the French government and is confident she can find out information about Min Hyuk. However, Kwon has other plans – Jae Hee can stay and investigate who killed Ayachi, while Sung Chul is sent to convince Ki Soo to go to Algeria.
Ki Soo is drunk and completely unwilling to go, so Sung Chul drops a threat – he knows the detective in charge of the area where Ki Soo's gambling den is…and that detective needs a promotion, which could be assured by a well-placed tip about a gambling den…
Begging not to do the mission doesn't get anywhere, so Ki Soo sluggishly goes over to the airport, where he meets Jung Woo, his partner for the mission. Neither are too happy about it. This sounds like a perfect buddy-cop movie!
Jung Woo reports back to NTS from the oppressive Algerian heat: Min Hyuk has contacted a bunch of mercenaries and already left the country. Their contact says that Min Hyuk contacted someone known as Grigio Gatto, or Grey Cat, who sells information in Milan. Joon Ho says he might have a hard time processing the information Jung Woo got, so our Odd Couple gets permission to go to Milan.
They go around the city searching for Grigio Gatto. Now, Ki Soo is in his element, rocking a red orange blazer and catching a gypsy lifting Jung Woo's passport as she begs him for money. He peeks at it and asks if it's a real passport; Jung Woo says yes. "Then," Ki Soo says slowly, "you're a year younger. But you've been getting all the respect from me while talking in that damned tone of voice to me?" HAHA – of course Ki Soo would pick on that rather than say whether he got any intel. Jung Woo is incredulous, so Ki Soo acquiesces – how about they treat each other as equals? Jung Woo: How 'bout you tell me about Grigio Gatto?
Grigio Gatto is a bookstore. They find a skinny Italian man managing the store. In English, Jung Woo shows him a picture of Min Hyuk and asks what information he sold to the guy. The Italian says he doesn't remember and asks for a minute. He takes that opportunity to go to his back room and start burning up all his papers. When caught, the Italian runs out of the store, with Jung Woo in hot pursuit. They race through the narrow alleyways, and the Italian runs across a small street – only to be hit full force by a white van. Informant dead. It's a freak accident by the way.
They return to the backroom, and everything is already half-destroyed or useless. Jung Woo finds a strip of negative film however and sends it to Joon Ho for analysis. He wants to visit all those places in the pictures, and so the two head for Vicenza.
Ki Soo complains the whole way about how disorganized NTS is, so Jung Woo tells him to go fetch him a drink. Ki Soo complains about that, saying he's older. But in the end, he obeys Jung Woo, leaving the NTS agent to approach Jo Soo Young, who is sitting at the foot of the stairs to a building.
He asks if she's Korean in Korean. She looks up, hesitates, and replies in Japanese that she doesn't know what he's saying. Jung Woo replies in Japanese and her face just says, "Ohhhhh crap…." Now forced to carry on the conversation in Japanese, she awkwardly lies in her answers to his questions. When Jung Woo sits by her, she makes for a hasty exit.
Jung Woo muses who the mercenaries could possibly be searching for in such a small city. He chooses to check out the cafe scouted out by the mercenaries. Of all people, their waitress is Soo Young, speaking to them in Italian. Jung Woo immediately talks to her in Korean, calling her out on her lies about being from Osaka. Nervous, Soo Young leaves to get them water. Ki Soo is impressed – is Jung Woo already hitting on her after meeting her less than 24 hours ago?
Soo Young returns with their water; she lied about being Korean because she didn't want distractions from her studies in architecture. Jung Woo asks when she gets off from work – he'd like her to show the two of them around. Back in Seoul, Son Hyuk phones Min Hyuk about NTS agents being in Vicenza with Soo Young. Min Hyuk gets the message – he'll deal with the agents.
Jung Woo shows Soo Young photos that he got from the negatives – does she see a connection among all those places? Yes – they're all places she frequents.
Son Hyuk receives a call notifying him that North Korea is starting to make their moves. He has Sean Richard dig up more about Lee Jung Woo, whom they've identified as the agent with Soo Young, and then heads over to the Blue House.
President Jo has a special guest – it's none other than Park Chul Young (Kim Seung Woo making his guest appearance), who is now the head of State Security Department in North Korea. He was sent to meet President Jo in regards to Kim Myung Guk – they found out that Hong Seung Ryong and Kim Myung Guk's disappearances might have something to do with South Korea. Secretary Choi and President Jo ask if there is evidence, and deny any involvement. Chul Young is unfazed: if they find out that Kim Myung Guk is in South Korea, all progress in relations between the two countries will be broken.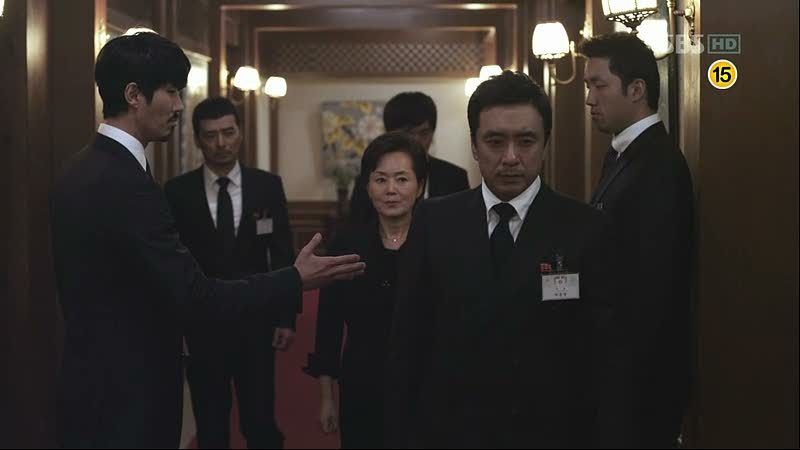 As Secretary Choi walks Chul Young out, they bump into Son Hyuk, who recognizes Chul Young. He extends a hand in greeting, but when Secretary Choi introduces him as head of a USA DIS branch, Chul Young walks right past him. Son Hyuk says, "Don't be prejudiced against me. Today's enemy may become tomorrow's friend." Chul Young turns around to face Son Hyuk, who only gives him a smile and a small nod of the head.
Back at NTS everyone is working late, and Jae Hee spots Joon Ho checking out Vicenza. He tells her that Jung Woo is there at the moment, and a cloud passes over Jae Hee's face at the mention of his name. At the same time, Secretary Choi is informed that NTS agents are in Vicenza, of all places, chasing a terrorist. She calls up Kwon immediately.
Jung Woo and Ki Soo walk with Soo Young home and thank her for the tour. After they leave her, Ki Soo regrets letting go of such a pretty lady and wants to go back to get Soo Young's number. Jung Woo is all, "Want her number and email? I didn't even ask her for it. Go get beer and fruits if you want it." That's enough to set Ki Soo running for the nearest market.
Jung Woo goes up to their apartment, and he notices the door had been forced open. He puts the key in and turns the lock, taking out his gun. He cautiously enters the apartment, and one by one, checks each room. A mercenary approaches from behind him as Jung Woo enters the living room, and they start fighting, Jung Woo losing his gun in the process.
They make a good deal of ruining every piece of furniture in the house, smashing all the glass. Jung Woo beats the guy up using only a water bottle too. They grapple with each other, and plunge out the window, falling down onto a parked van outside. The mercenary makes a run for it. Jung Woo can barely get on his feet to chase him, and Ki Soo runs to his side, worried. Jung Woo's phone starts ringing – it's Sung Chul, informing him that Soo Young is the First Daughter. That's enough to finally get him on his feet.
He tries to contact her but to no avail, setting off on foot and leaving Ki Soo behind. Finally, all the clues come together for him, and he dashes up the stairs to her apartment. As he goes up, an elevator is going down…
Jung Woo enters her empty apartment, and sees the microwave beeping after reheating food. A car squeals outside, nearly hitting Ki Soo. It's Min Hyuk and his men, with the kidnapped Soo Young. Jung Woo runs through empty buildings, leaps over fences, and jumps through glass windows to catch up to the kidnappers. He leaps in front of the getaway car and fires bullets through the front window. The car hits him, and he rolls right over the car. It swerves and it's gone.
Comments:
Hm. Interestingly, this episode moved along quite quickly and set up more plot lines. Now we get to the kidnapping of Soo Young – which I had worried wouldn't come soon enough. We also get Chul Young (Kim Seung Woo!!!), which was a surprise for me since I didn't expect him to make an appearance so soon. Chul Young is back to his cold, soldier-like ways, reminiscent of the beginning of IRIS, when he hadn't gone all soft over Hyun Joon and had faced an identity crisis over his beliefs.
I say "interestingly" because I also feel like this episode was slow. The story with Victor ended quite abruptly, and next thing I knew we're on to the next devious plan (kidnapping Soo Young). The set up on how Soo Young was the target was so long, and it was so clear that she was the President's daughter, that when the revelation came in the final two minutes, it was a little anti-climactic. Perhaps all the spoilers regarding her character ruined it for me. I wondered just how good of an agent Jung Woo was since he didn't pick up on all the clues laid out for him.
Otherwise, I think Kim Min Jong was a standout in this episode. He's the lackey who's more obsessed with getting a girl than he is with giving information. Sure he's got perks to being a well-connected former official, but he also seems to hate those perks because he'd rather have nothing to do with them. Kim Min Jong is comical, which I think is great in this action-packed series. It's nice that a main character is not as sleek and refined as spies usually are.
At least this cliffhanger was way better than episode 2's.
RELATED POSTS
Tags: Athena: Goddess of War, Cha Seung-won, Choi Siwon, featured, Jung Woo-sung, Kim Min-jong, Lee Jia, Su Ae