Sly and Single Again: Episode 5
Hello everyone! Another newbie here! I'm odilettante and I'll be joining in to bring you all things Sly and Single Again. Thankfully this was a fun episode to recap, although it was a headache, both literal and figurative, for the hapless Jung-woo, as Ae-ra stepped up her revenge game. On a more serious note, both our leading ladies were able to be vulnerable and honest about their pasts, and Seung-hyun continues to charm us all with his perfect dimples.
EPISODE 5 RECAP
As a way to thank Ae-ra and Seung-hyun for capturing the person who stole the company's data, Yeo-jin and a very unwilling Jung-woo treat them to dinner at a fancy hotel restaurant. She apologizes for not being able to reward them properly due to the sensitive nature of the data breach, but promises to find a way to compensate them for their efforts.
Bringing up the dinner date with the CEO, Yeo-jin is surprised (and a little envious) to discover that after dinner, Jung-woo had driven Ae-ra to a "nice place" (aka the dream house). We all know that the date ended in disaster and Jung-woo continues to squirm in his seat, even though Ae-ra is meticulously polite and cheerful in her word choice. Yeo-jin adds that meeting such a loyal employee as Ae-ra must be fate. Oh, if she only knew.
Yeo-jin gets called away and Seung-hyun hurriedly excuses himself to use the restroom, just so he can beg his noona to not tell their father that he was actually useful to the company. Ha.
This means Ae-ra and Jung-woo are left alone at the table, and her smile quickly melts into a scowl as she spits out, "You crafty, vicious jerk." He's taken aback at her sudden switch to informal (and crude) language, and as they trade barbs across the table, he switches tactics to ask why she's at Dontalk: "Do you need more money?" Ae-ra takes offense at this, and tells him her true reason: "To stay in your life and bother you forever."
Jung-woo returns home to nurse his growing headache, and curses everything that allowed Ae-ra back into his life. He should have never kept his old phone, he should have never gone down to the police station to bail her out, he should have never let Secretary Gil make him watch that dating show. But Secretary Gil isn't having any of that nonsense, and keeps reminding him that Jung-woo was the one who hired her.
Ae-ra returns home to find her BBF Min-young and brother Soo-cheol sharing a moment over sliced fruit, and I'm thinking this is going to be a fun pairing. After she shoos her brother out, she settles in front of her computer, planning her revenge.
Min-young, being the lovely Voice of Reason that she is, suggests that Ae-ra just forget Jung-woo completely, walk away, and start fresh. "Losing is winning, you know." Ae-ra admits she'd already considered that, but it's too late now: Jung-woo has gone too far, and it's now Ae-ra's sworn duty to crush him. As Ae-ra dramatically hits the "enter" key on her laptop, Min-young reminds her that she'd already resigned from the company. Oh no!
Ae-ra rushes to the office before anyone else arrives and frantically searches around the team leader's desk, hunting for her resignation letter. It's nowhere to be found.
"Looking for this?" Seung-hyun holds out her letter, claiming that it fell on the floor and he picked it up, but a flashback shows he actually took off the team leader's desk when he was delivering a report. I'm not sure why the self-proclaimed slacker is at the office before everyone else, but all that matters is Ae-ra has not resigned from Dontalk.
Yeo-jin confronts her father over his gangster business practices, and we flashback to when she and her new husband (who I don't think has a name yet, but I do know he's played by the ridiculously handsome Ricky Kim) were recklessly driving away after their wedding. But this time we see a few of her father's minions driving after them, calling out for them to stop.
But the distraction (and a couple of kisses) causes the husband to lose control of the car as he swerves around a truck, and it spins and spins, finally rolling a dozen times down an embankment. It's amazing she even survived. "Back then," she warns her father, "I lost my man. But this time I'm going to protect him." (The reference to Jung-woo doesn't carry a specifically romantic connotation.)
Jung-woo enters the office building, and cheerfully greets his employees — who all bow respectfully as they try to hide their knowing smirks and giggles. Secretary Gil comes across a group of laughing employees, and discovers the revenge that Ae-ra enacted last night: "The Four Stages of the CEO," which is a collage of awkward photos of Jung-woo (the "fourth stage" being how he looks currently, and the "first stage" includes the adorable bowl cut he was sporting when we — and Ae-ra — first met him).
Needless to say, this spreads like wildfire among the staff, but Secretary Gil proves his worth and immediately tracks down the IP address, which turns out to belong to Min-young. Oops!
Jung-woo immediately calls Ae-ra to threaten that he can sue her for using his image without permission, and she calmly sasses back that she was just providing a "fan service" for all his employees but showing him a more relatable, embarrassing side, and she's too busy being a productive employee to deal with such baseless threats.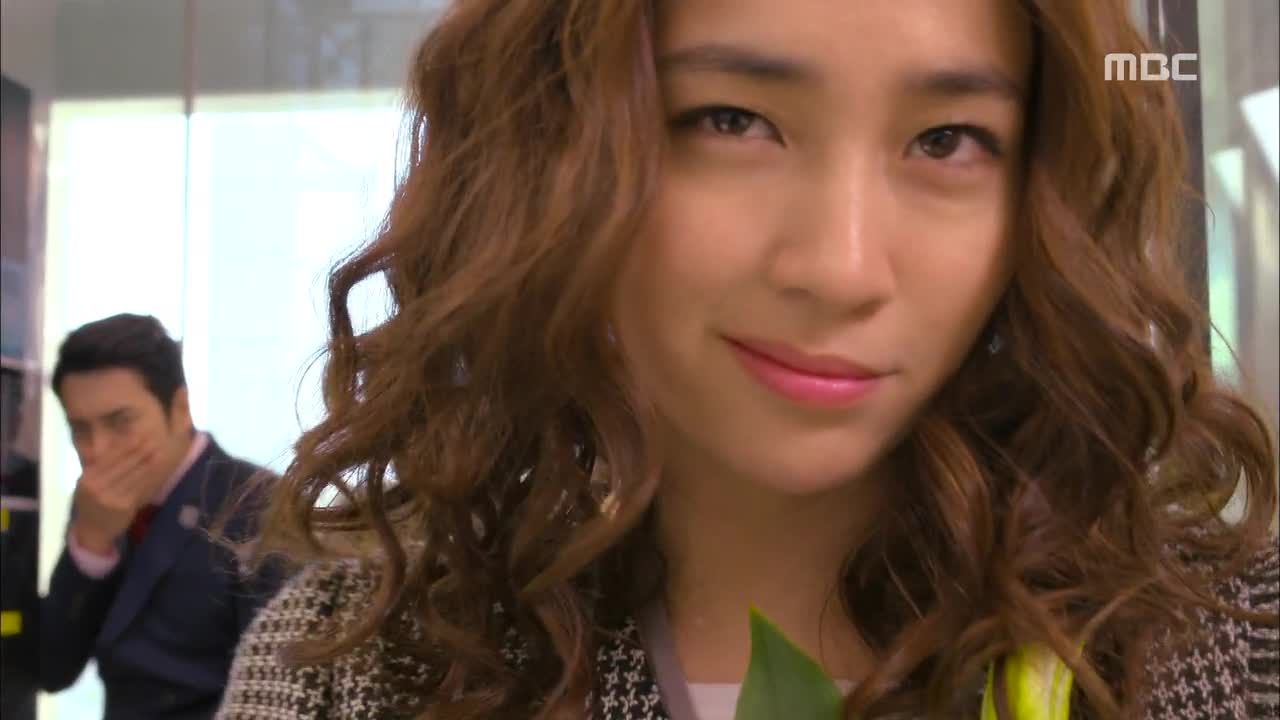 Later, Ae-ra dashes to the elevator in order to "coincidentally" meet Jung-woo as he's on his way to a staff meeting. She cheerfully offers him a bouquet of lilies that she bought to brighten up the office, but he cowers in fear, and rightly so — he's incredibly allergic. Ae-ra is all dismayed apologies, but her smirk gives away that she knew about his allergies all along. As a result, Jung-woo spends the meeting being as distracting as possible as he shifts in his seat due to the hives that have broken out over his body.
As Secretary Gil rubs ointment on the hives all over Jung-woo's naked back (rawr), he recommends that Jung-woo just apologize, since it's obvious that Ae-ra isn't going to make life easy for him. But Jung-woo just petulantly yells at Secretary Gil to get out — which he does, but only after petulantly throwing down the ointment bottle and saying all this wouldn't have happened if Jung-woo wasn't such a coward. (Oh, Secretary Gil, so wise and sassy; I lub you.)
Jung-woo sends a terse instant message to Ae-ra demanding to see her, and she rolls her eyes but heads to his office, only to be suddenly pulled into the stairwell and pinned against the wall. He tells her to be quiet, but she says that will only make her scream louder, so he claps his hand over her mouth before she can make a noise — only to have his hand bitten. HA! Now it's not just his pride, but his body that's been wounded, and he threatens that she will be fired tomorrow.
He meets with Yeo-jin, who is clearly not onboard his train of thinking, as she questions why they wouldn't make Ae-ra and Seung-hyun, who've done so much for the company, permanent employees once their internship has ended. Jung-woo elegantly states that they shouldn't show favoritism when there are other interns hoping for a permanent position as well. Yeo-jin finally agrees with his arguments, and says they'll have to find another way to recognize Ae-ra and Seung-hyun.
Later that day, Ae-ra is called to Jung-woo's car for yet another secret meeting, and he lays it out plainly: How much will it cost to get her to leave the company?
Ae-ra: "I'm not leaving. Why should I, when I worked so hard to get here?" Jung-woo insists that the only reason she was hired is because of him, and she retorts that it was only so he could show off his success and rub it in her face. She's not leaving, no matter what, because she actually likes working for his company. Unlike him, she's able to separate her personal and professional life.
But as she walks away, we hear her true reasoning: "After I torment you to my heart's content and get an apology, I wouldn't stay even if you asked me to."
In order to work off his frustration, Jung-woo invites Yeo-jin on a "spot inspection," but surprises her by leaving behind their support staff. Turns out, a "spot inspection" means making their way through the crowded subway, checking out all the people using the Dontalk messaging app as they go about their daily lives. Jung-woo is adorably proud to see that his creation is used by so many people.
Yeo-jin suggests that they hold a design competition, open to not just employees, but the public as well. Jung-woo beams at her for her good idea, and as the subway train takes a sharp turn, she stumbles against him, and can barely hold her composure when he offers his shoulder for her to lean against.
Later, over drinks, Jung-woo expresses his gratitude for all that Yeo-jin does as his right-hand woman, helping to run his company. He adds that he's afraid he works her too hard, though, and that she doesn't have time for a relationship and will never get married.
Yeo-jin takes a deep breath, and admits that she was married before, but it was a marriage that everyone opposed. Even so, she doesn't regret it because she truly loved him, even if he's no longer with her now. It's a vague enough statement that Jung-woo takes it at face value, and says that her ex-husband must be unlucky to have let such a wonderful woman get away from him.
Jung-woo reassures her that she'll find someone else who will make her forget all the past pains, and she agrees, adding that she hopes he's not too far away — all the while staring directly at Jung-woo. If we had any doubt of her intentions, they're pretty clear now (although Jung-woo seems oblivious of the underlying meaning).
Director Oh is helping President Kook play a first-person-shooter game on his phone (these two are just so cute together) when Yeo-jin returns home. Seung-hyun runs up to his noona to let her know that he's planning on throwing a birthday party for her tomorrow, and asks if she'll invite Jung-woo to come. She coyly says he's a busy man, but she'll try to see if he's available.
At the Dontalk offices, posters are up for the new contest that Yeo-Jin proposed: submitting experiences of when a messenger service disappointed you, and then saying what you really wished the service could provide. For the Mobile Shopping team, though, it's still business as usual, and Team Leader Wang sends out the interns with Manager Kam to do some field work on helping Dontalk's new project mission to revitalize small local businesses by selling coupons to their establishments (think of it like Groupon or Living Social).
Manager Kam tells them to follow his lead, but he ends up being humiliated and kicked out by the feisty restaurant ahjumma, so he's happy to have the excuse to return to the office and let the interns do the rest of the field work. Ae-ra earnestly and unsuccessfully tries to convince business owner after business owner that they need the Dontalk services, while Seung-hyun hangs out in the back, not expending any effort to help (in fact, his pretty face only seems to distract the shop-owners from Ae-ra's sales pitch).
Seung-hyun finally convinces Ae-ra to stop and have lunch, and outsmarts her in a round of rock-paper-scissors to see who would have to pay. She takes him to her mother's restaurant, which is empty due to a large shopping center opening nearby. Mom's friend (who had tried to set up Ae-ra with the widower) barges in with more information about the prospective husband, and Mom tries to shoo her out. But not before the woman blabs that Ae-ra should be lucky to find such a catch when she's a divorcee.
Seung-hyun briefly freezes at that news, but then keeps on eating like nothing happened. Ae-ra begins to defend herself, saying that she she hadn't lied or hidden it on purpose — it just hadn't come up.
Seung-hyun stops her: "By any chance, do you like me?" Ae-ra scoffs at the idea, but he explains, "Then why are you explaining like a person who deceived her boyfriend and feels sorry?" She sputters that she shouldn't have to apologize to him: "Did I do anything wrong to you by getting divorced?" Seung-hyun says that that's the kind of confidence she should always have when saying that she's divorced, and that she shouldn't feel apologetic about it to anyway, because that confidence suits her better.
Once they return to the office, Ae-ra is about to tell Manager Kam they were unsuccessful in finding a business, but Seung-hyun jumps in to inform him that they found the perfect business: a rice soup shop. Ae-ra pulls him aside to argue that it won't look professional for her to recommend her family's business, but he replies that that's why he was the one to suggest it.
They're called in to Yeo-jin's office to once again discuss the fact they still haven't decided how to reward Seung-hyun and Ae-ra. Ae-ra says that it's okay, because she didn't act on the expectation of compensation, and that she's just happy to know she helped the company.
Seung-hyun sticks around to pitch the idea of using Ae-ra's family's restaurant for the mobile coupon. Yeo-jin asks if he's responsible for the "Four Stages of CEO Transformation" photos, which he denies. But he begins to sense that his sister may have feelings for Jung-woo, as he notes the fond smile she gives while she declares the photos "cute."
Team Leader Wang overhears him call Yeo-jin "noona," and suddenly realizes that Seung-hyun is the son of President Kook. Which means she's suddenly 100 percent onboard his idea to use Ae-ra's restaurant for the revitalization project.
Ae-ra gets to working on the advertisement (ha, in a parody of a popular cell phone CF that starred Lee Min-jung's husband, Lee Byung-heon), and soon the coupons are being sold like crazy. To celebrate the success, the Mobile Shopping team decides to have a work dinner, and you know what that means: noraebang!
Ae-ra is a bit tipsy as she decides her karaoke pick (Lee So-ra's "The Wind Is Blowing") which is a sad, slow ballad — and a total buzzkill. Once her snotty coworker Song-hee notes that Jung-woo and Yeo-jin have arrived at the noraebang, she quickly shuts off the music, cutting Ae-ra off mid-song.
Ae-ra sweetly suggests that the CEO grace everyone with his vocal talents, but a flashback shows that Jung-woo is pretty much tone deaf. Smirking, Ae-ra hands off the mic to Jung-woo, who can't refuse and risk losing face.
Suddenly Yeo-jin offers to help him out, and as they begin their duet (Lee Su-eun's "Miracle"), they're… actually really good. Ae-ra seems just as surprised I am, and she bitterly gulps down the rest of her beer as her plan to humiliate Jung-woo in front of his employees falls apart. But as she watches, she seems begins to sense the way Yeo-jin and Jung-woo look at each other, and with the awareness of their chemistry as they harmonize together, a faint look of dismay creeps over her face.
COMMENTS
Is that jealousy I see on Ae-ra's face? I wonder if she's picturing Yeo-jin living in the dream house, and having the life that Ae-ra once thought would be hers when she first married Jung-woo.
Honestly, this episode has tipped the balance for me in terms of falling in love with the characters. I was hesitant about this drama at first because of the loose plotting and shaky characterizations, but the more I spend time with all the characters, the more I'm delighted with everyone, and looking forward to knowing them more (yes, even the ridiculous coworkers on the Mobile Shopping team).
While I do enjoy the fun and childish antics as Ae-ra and Jung-woo try to seek revenge for their past hurts, what I really appreciate is how thoughtful and mature they can be when they're around the Kook siblings. Hands down, my favorite moment in the episode was how gracious and thoughtful both men were when Yeo-jin and Ae-ra confessed that they were previously married. Not that Jung-woo is one to talk about judging someone for being divorced (although it's a little unclear to me if she's widowed or divorced, because I just assumed that her husband had died in the car crash, but now I'm wondering if Daddy Kook somehow made him disappear. I get the feeling there's more to this story than just what we've been shown so far). But he was left incredibly bitter and heart-broken from his divorce, so I respect that he doesn't resent all women for what he perceives as Ae-ra's injustices against him. I really love how gentle and thoughtful he is with Yeo-jin, even though at this point in time, it's clear he doesn't see her "as a woman" but just as a coworker.
As for Ae-ra, she's held so long to the belief that to be happy in life, she needs to fulfill her dreams of being a wife and homemaker, so it's no surprise that she still feels ashamed to admit she's divorced. Which is why I wanted to cheer when Seung-hyun showed her that she had no reason to feel apologetic over something that happened in her past, and is instead something that she should proudly claim is a part of who she is. His optimistic attitude of just appreciating Ae-ra for who she is no doubt is a huge contributor to my swiftly growing Second Lead Syndrome (that, and his dimples, of course), and is also why I would have no problem with this show becoming about second chances and a noona romance.
Even so, I did think that, for the trajectory of bringing Ae-ra and Jung-woo back together, Jung-woo would be the first to crack. While she walked away from everything, he's the one who kept his old phone, the model of the dream house (which he turned into reality), and who seems more intent on delivering the same kind of emotional blow she dealt him when they first divorced. To me, that signifies he's still not over her, and still cares deeply for her, even if it's turned to the desire to see her admit that he's successful and he managed to do it without her.
Ae-ra, on the other hand, is more intent on pricking Jung-woo's ridiculous pride with the hundreds of little annoyances until she finally gets that apology (for taking away her dream to be a happy homemaker) and thank you (for supporting him for so long while he was trying to establish his company). Over and over throughout this show, she's made it clear that that is all she really wants: not money, not for him to fall in love with her again. Just an apology. But he's too stubborn (or cowardly, as Secretary Gil points out) to admit he was wrong.
And Ae-ra is too proud and headstrong to admit that her impulsive temper gets the better of her.
In the previous recap, purplecow likened this show to Persuasion, but to my mind, it's more like Pride and Even More Pride.  I'm not sure who exactly is the one with "even more pride" — it seems to switch back and forth each week.
But I do enjoy seeing Ae-ra standing up for herself and fighting back, so I'm hoping that her crestfallen look at the end of this episode is just a minor setback. Considering that, once upon a time, her goal in life was to become the submissive housewife, well, she's definitely come a long way in the past few years.
If nothing else, we at least know that her bark is just as strong as her bite.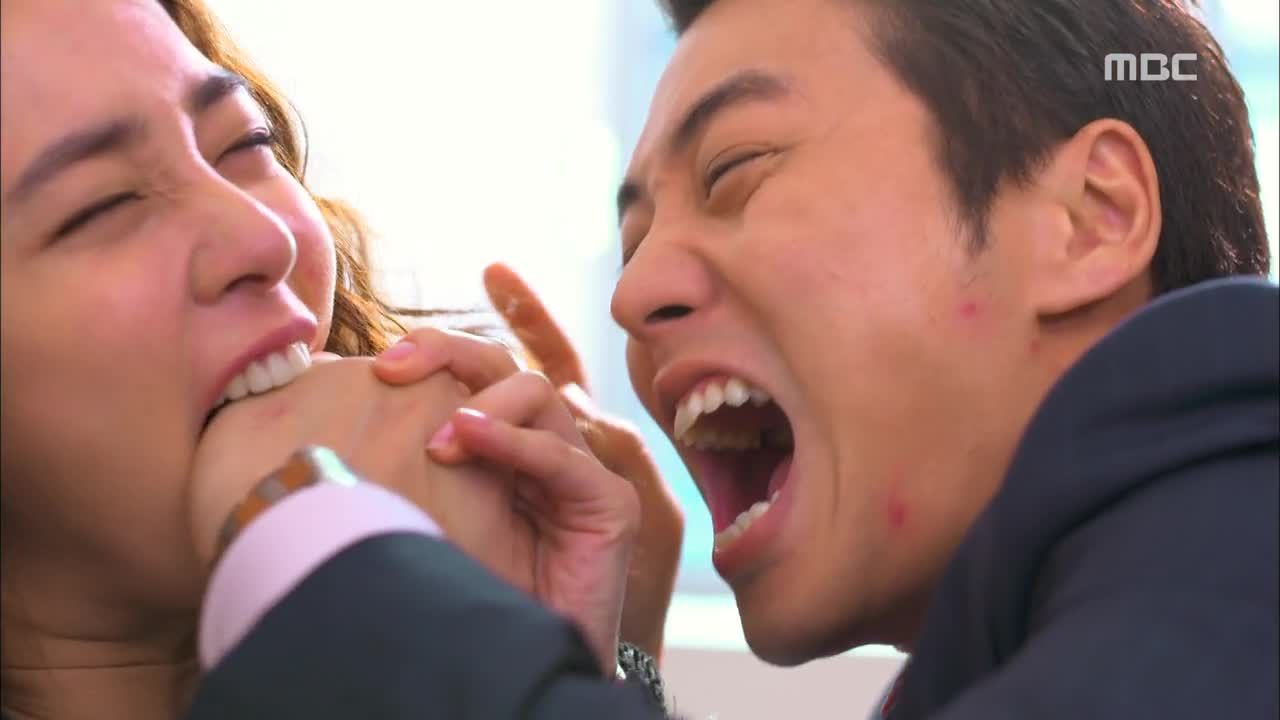 RELATED POSTS
Tags: featured, Joo Sang-wook, Lee Min-jung, Sly and Single Again