It's Okay, It's Love: Episode 12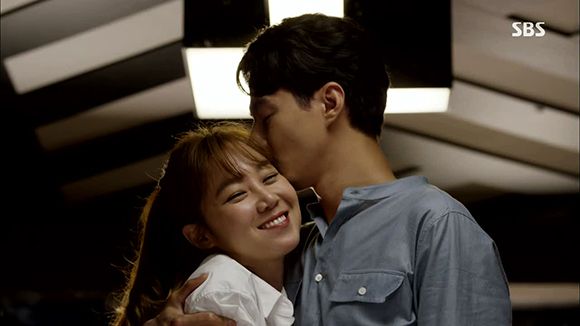 It feels like only last week that these two bickering lovebirds were still finding their footing relationship-wise, but if it were up to Jae-yeol, we'd already hear wedding bells ringing. Just because there's a life commitment on the table doesn't mean that they don't still have their small everyday problems to deal with too—because we all know that without those, these episodes would be all of ten minutes long.
SONG OF THE DAY
HA:TFELT – "핫펠트(예은) (Ain't Nobody)" [ Download ]
Audio clip: Adobe Flash Player (version 9 or above) is required to play this audio clip. Download the latest version here. You also need to have JavaScript enabled in your browser.

EPISODE 12 RECAP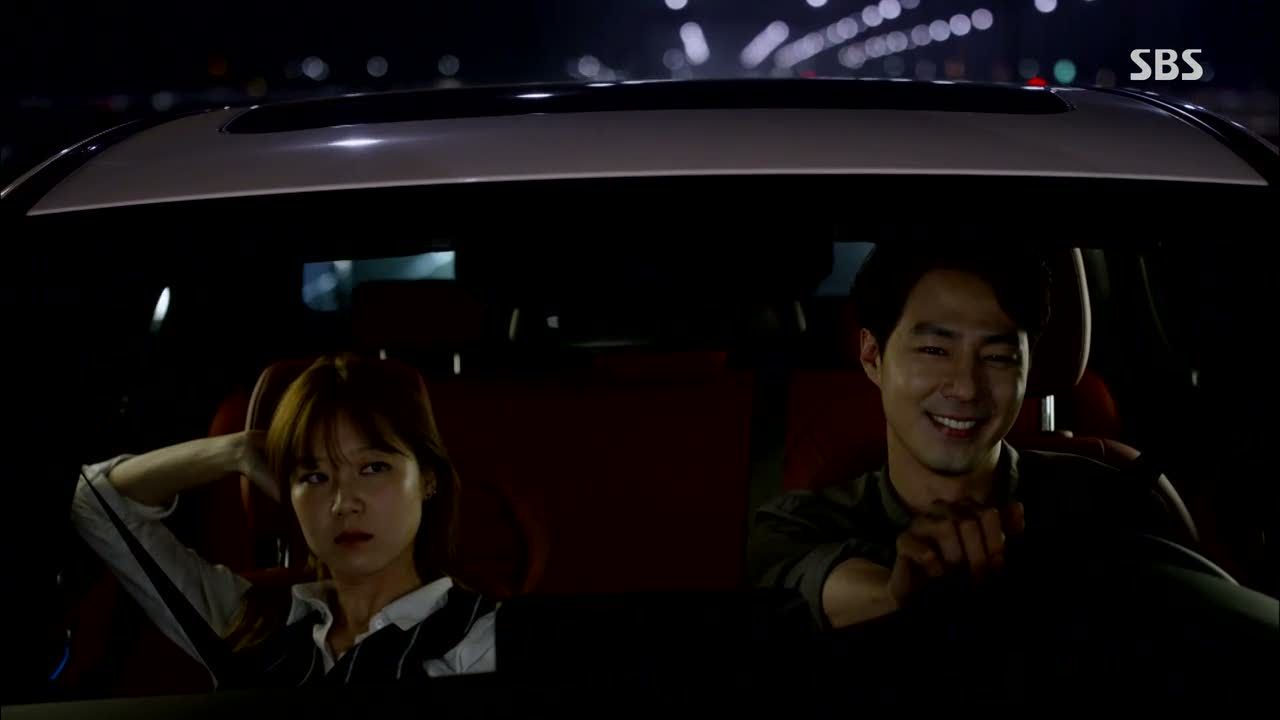 Hae-soo just blinks at Jae-yeol's sudden marriage proposal, and she finally just starts misinterpreting his question in the hopes that she heard wrong. But nope, he meant what he said: "Let's get married."
She tries to pass the situation off lightly, and scoffs that he'd have a hard time if he found a woman who would say yes to a proposal like his. Obviously, she's not that woman.
After Tae-yong breaks down into tears when Sunbae Jo tells him that Jae-yeol will need treatment, we find our couple at a bar where Yoon-chul and his schizophrenic wife work.
As usual, Jae-yeol is keenly interested in how Hye-jin has a successful relationship and career with her condition, which Hae-soo claims is perfectly healthy.
"Let's get married," Jae-yeol mentions again suddenly. Hae-soo asks him how he can ask it so lightly, to which he asks in return whether she'd like him to get a ring and turn the proposal into a production. That's not what she wants, as she explains how she couldn't handle being married right now, what with her family's debt and her career.
Jae-yeol accepts her explanation at face value, and says it's fine—they just won't get married. Then Hae-soo gets upset that he dropped the matter so easily, but it's clear that she's deliberately antagonizing him because she seems to find it fun. Or something.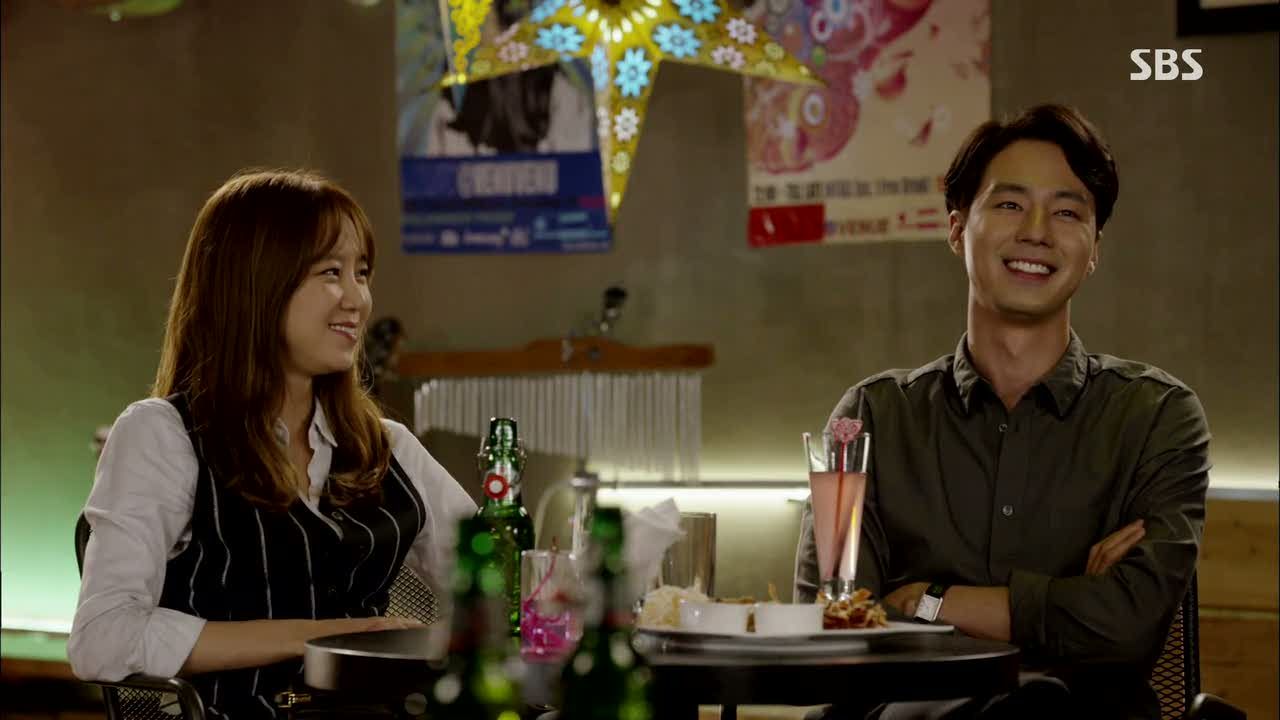 "I'm just wondering… How long do you think we'll be happy like this?" she asks. "What would be the reason if we were to break up?" She brings up how it always happens in makjang dramas with the disapproving parents, and wonders whether she'll receive an envelope of money from his mother in order for her to disappear.
He just chuckles that his mother doesn't have the money, and even if she did, he'd want Hae-soo to bring the money to him so they could run away together. Ha. But in the absence of parental rejection, he claims the only reason they'd have to break up is because of their tempers, which has Hae-soo spitting up her drink.
Serious now (for real you guys), Hae-soo asks if he really has plans to marry her. She can't seem to believe that she's the first woman he's ever asked, and that he's dead serious. She wonders why he'd want to marry her when she's iffy on the kids issue, terrible at housework, and prefers studying above all else. So why would he insist on marrying her?
Jae-yeol would rather call it a night, but Hae-soo demands that he tell her his reasons now. He'd rather give her a gift he got her—a new wallet, complete with a picture of them and money inside. (Does this practice exist across all cultures? I also grew up being told that you never give someone an empty wallet or purse. Bad luck or some such.)
But Hae-soo won't let him leave without telling her why he wants to marry her, and makes it easier for him by closing her eyes to hear his answer. Only then does he tell her:
"I sleep in a bathtub instead of a bed, and my mom sleeps in her cold living room with the windows open every night, even in winter. And the fact that my brother has spent the last fourteen years of his life in prison… I don't have the courage to share those stories with any other woman but you. Even after hearing and witnessing all that about my life, you don't feel disgust or pity toward me. Do you think there's another woman out there who can listen like that and like me for who I am, like you? I don't think there is. Hae-soo, if you know of another woman like that, please tell me, so I won't have to cling to you as much."
He apologizes for not giving her the lighthearted answer she was expecting, and the two part ways with much to consider. Hae-soo calls him later that night with a heavy sigh: "Jang Jae-yeol. If I told you I don't want to marry you, would you stop dating me?"
"No," he replies simply. She seems surprised that he wouldn't, and asks whether he wouldn't see any other women, either. Again, his answer is no. Hae-soo: "Why not?" Jae-yeol: "Because I love you."
When she asks why he loves her so much, he admits that he's not quite sure himself. After a bit more back and forth, Hae-soo confesses that she misses him and wishes she could hold him right now, but he tells her she'll have to endure being apart for now.
The next morning, Hae-soo tells Sunbae Jo about how she rejected Jae-yeol's sincere marriage proposal. Now that he knows about Jae-yeol's illness, he tells her she made the right choice, only to switch to what she wants to hear instead.
But it's clear that the issue is weighing on him all throughout breakfast, as Hae-soo gives Soo-kwang the laundry list of reasons why she doesn't want to get married—since she likes having her own space, having a boyfriend for one day a week actually works out pretty well for her.
Soo-kwang mentions how his parents are coming to the cafe to meet So-nyeo, since they've always been worried that he'd never meet anyone with his condition. He knows meeting So-nyeo will make them happy, even if his roomies aren't as enthused.
It's only when Soo-kwang defends himself by mentioning how Sunbae Jo has something going on with both his wife and Doctor Lee that Sunbae Jo explodes at them. After he leaves, Hae-soo and Soo-kwang joke that he must be going through menopause, before Soo-kwang mentions that it's probably because of Tae-yong, who he saw sobbing in Sunbae Jo's office the day before.
Afterward, Tae-yong tells Sunbae Jo that "Kang-woo" first started to appear to Jae-yeol three years ago, when Jae-bum stabbed him with a fork. Tae-yong never thought much of it, but Jae-yeol's been mentioning Kang-woo much more then usual recently.
Soo-kwang's parents are not as enthused as he hoped they'd be, since his father could care less about him having a girlfriend and instead chooses to berate his son for not curing himself of his Tourette's. He's in such denial of his son's condition that he actually tells him he should hold his episodes in, as if he actually could control them that easily. Wow.
At least Soo-kwang fights back by telling his father that maybe he would've been cured if he hadn't been raised by a father who constantly made him feel like a freak. When his father storms out, Soo-kwang stops him to absolve him of any guilt. "It's not your fault," he cries. "I'm happy with my life… and I want you to be happy too."
But nothing gets mended, and both Soo-kwang's parents leave. So-nyeo witnesses the entire exchange, but says nothing.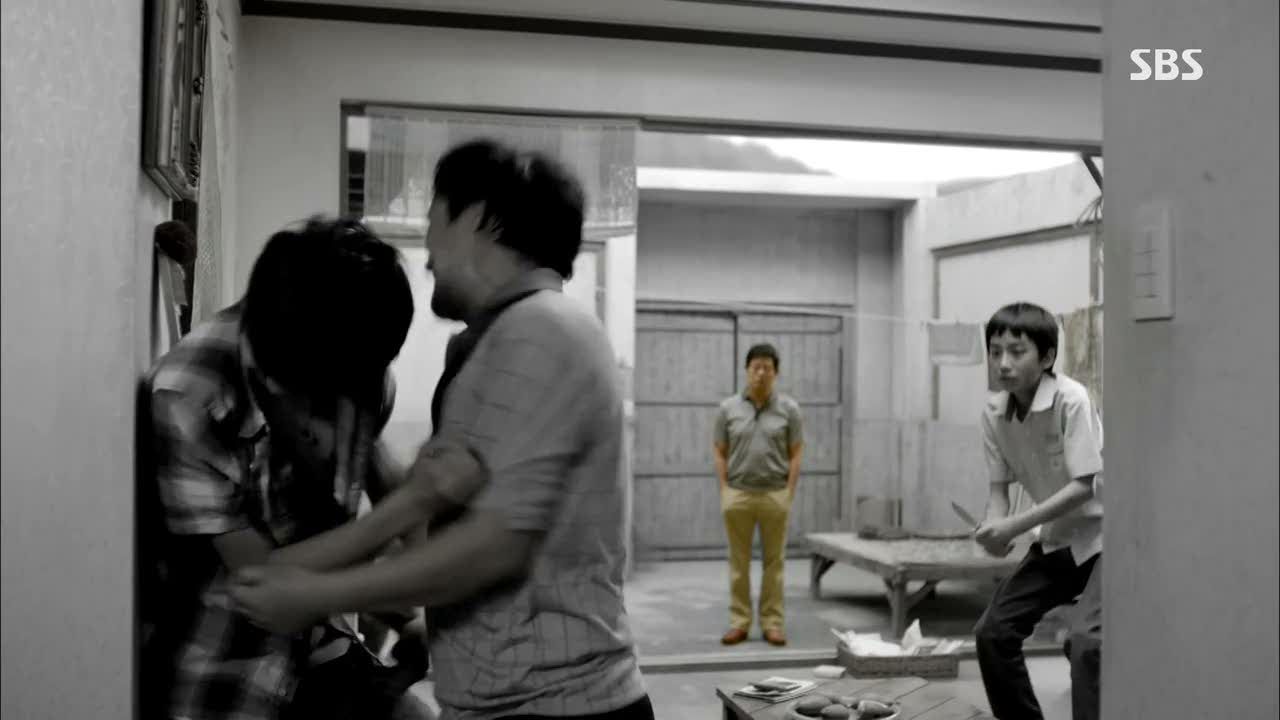 Tae-yong takes Sunbae Jo to Jae-yeol's childhood home, where Sunbae Jo sees the events of that fateful night play out like a movie: In his struggle with their stepfather, Jae-bum had thrown him off, and it was by accident that their stepfather fell on Jae-yeol's knife.
Jae-bum then immediately took the blame as he hoisted his brother onto his shoulders to rush him to the hospital. Mama Ok-ja was left alone in the house, only for her undead husband to reach out and trip her. According to the prosecutor Sunbae Jo talked to, that's the last thing Mama Ok-ja remembered.
In an interesting twist, it turns out that the psychologist who examined her at the time believed she suffered from dissociative disorder, a defense mechanism where the mind can be detached from physical actions to create a sort of out-of-body feeling. (Possibly more in the realm of dissociative amnesia to protect her psychological state?)
But then Sunbae Jo sees the scene continue past what Mama Ok-ja admitted, to where Jae-bum and a conscious Jae-yeol were still in the house when their mother lit the fire. Her husband was still alive and reaching for her as she ran out, leaving him to burn alive.
So what likely happened (according to their former lawyer) is that Jae-yeol witnessed what his mother did, and when he heard that the cause of their stepfather's death was asphyxiation, he spared his mother by blaming his brother instead.
Hae-soo calls Jae-yeol to ask what he called her mother about, and he plainly admits he told Mom that he proposed to her. "Let's get married, not right now, but after a year," he proposes. It'd give her time to take that year off, and works with their goal-oriented brains.
Jae-yeol says he's already included her in his life plans, and that she should start doing the same. It'll take compromise, since he's lived his life the way he's wanted to, but now he's adjusting in order to match with her. Hae-soo scoffs, "I like the way things are right now."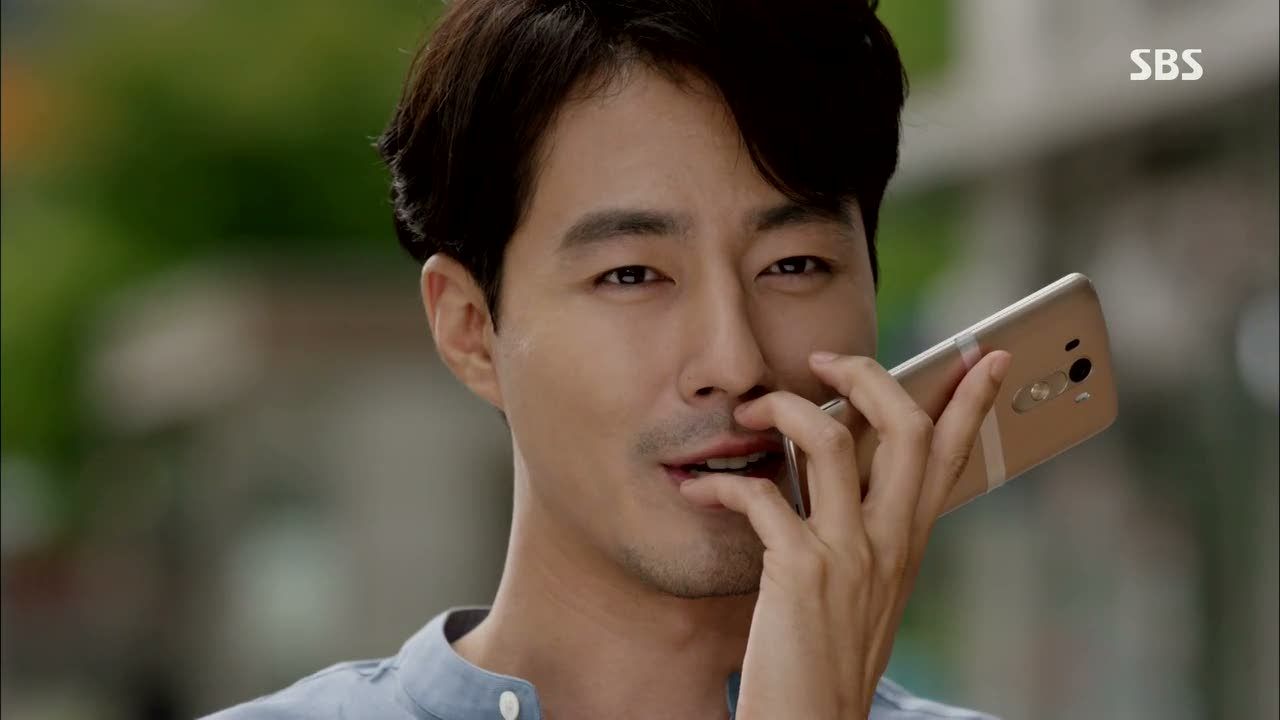 When he asks why, she claims that all the tension will seep out if they date with the intent to marry, because it'll turn their relationship stale and boring. Jae-yeol says that won't be a problem—if she starts to get sick of him, she'd just leave him.
But if they were married, he argues, they couldn't betray or abandon each other because they'd be forced to be more considerate, loving, and dedicated to making the marriage work. Hae-soo begins to make an argument about how this doesn't work with her career, but Jae-yeol hangs up before she can really get into it.
After Sunbae Jo tells Tae-yong that they have to break the news about Jae-yeol's mental disorder to Mama Ok-ja and Hae-soo, we find Hae-soo visiting her parents' restaurant just as Mom receives some disturbing news.
Hae-soo's unni explains to her that Ajusshi Kim will be moving away forever with his terminally ill wife, so what Mom got was like a breakup call. Hae-soo's unni then admits that she ignored the affair because she didn't want Mom to run away from home and leave her to take care of their father, and that Hae-soo did the same because she wouldn't have gone to medical school without Ajusshi Kim. Now, suddenly, Hae-soo claims she understands Mom too.
Sunbae Jo invites Jae-yeol out, but when he tries to weasel out of spending more than one hour with him, Sunbae Jo uses his elder powers to order him to clear out his entire day. Which means Jae-yeol can drink now that he's not going to be writing anytime soon, and the guilty pleasure aspect of it makes him giddy.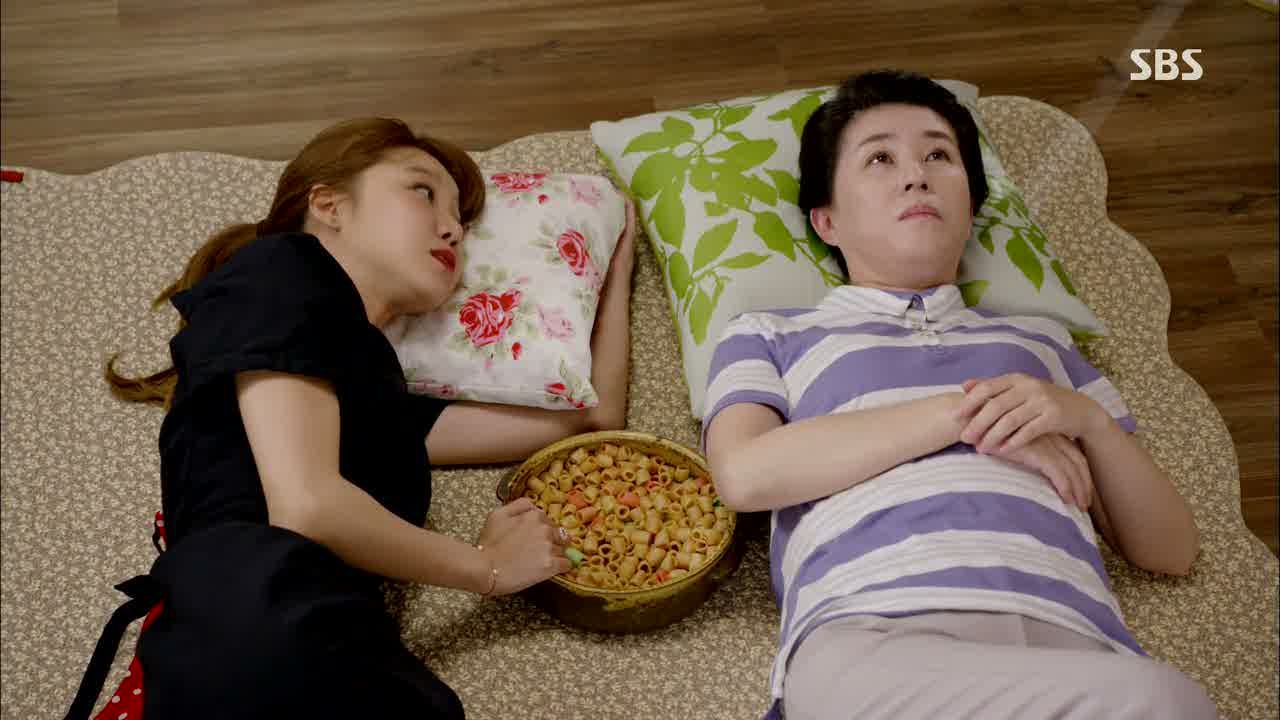 Hae-soo stays with her mother as a way to comfort her in the wake of Ajusshi Kim's move, but her attempts to get Mom out of bed for retail therapy don't work. Mom would rather talk about Jae-yeol's marriage proposal instead, but Hae-soo quickly changes the subject.
After a few drinks and stories about how Sunbae Jo treated a habitual flasher, he asks Jae-yeol if Kang-woo ever went to the hospital, since Jae-yeol had asked him where he could go. This segues into Sunbae Jo asking him how he became friends with Kang-woo, and Jae-yeol answers that it was because of writing.
But then Jae-yeol muses that it could be because they both came from an abusive family, only for Sunbae Jo to ask when he started to see Kang-woo more frequently. Jae-yeol drunkenly answers that Kang-woo's been coming around more since he started seeing Hae-soo.
Since Sunbae Jo is using the guise of a drunken conversation to get into Jae-yeol's head, he asks if he's always been this optimistic, only for Jae-yeol to admit that it was only after their stepfather's death that he forced himself to practice smiling in order to give his mother strength.
Jae-yeol references the desert camel paintings he keeps in his bathroom when he tells Sunbae Jo about their psychology—how they'll stay rooted to the same tree even if they've been untied from it, because the memory of being tied remains.
"I don't want to be like those camels," he slurs. "The camel should realize that the sun has risen. So that's why I try to control my mind. The past is the past, it doesn't exist any more. I'm free. I tell myself that I'm strong, very strong. Like the sun that chases away the darkness, bright and vibrant. Just like the light that swallows all the darkness… very, very bright, and strong."
Sunbae Jo asks if he compares himself to his brother, but Jae-yeol claims that his brother is weak, and he has nothing to fear from him. Even though he's given him everything he has monetarily, Jae-yeol's optimistic facade falters as he wonders (mostly to himself) whether it'll be enough to compensate for Jae-bum's suffering.
Things turn even more serious when Jae-yeol waves his phone in front of Sunbae Jo's face, claiming that Kang-woo is calling. During the imaginary conversation, Kang-woo tells Jae-yeol that he lost a writing competition he tried out for, and is worried that Jae-yeol will be disappointed in him.
"Even if everyone else in this world may be disappointed in you, I never will be," Jae-yeol replies. He then invites Kang-woo to come out with them, but Kang-woo's already promised to meet his mom.
After they hang up, Kang-woo rides his bike into the street… and into the sound of screeching tires and honking horns. Is this the accident Jae-yeol envisioned?
Though Kang-woo's fate remains uncertain, Sunbae Jo and Jae-yeol turn up on Hae-soo's doorstep completely wasted. Jae-yeol more than Sunbae Jo though, since he needs Hae-soo's help just to get to his old room.
When Soo-kwang pokes his head out to ask whether he should see So-nyeo or not, Jae-yeol drunkenly gives him the go-ahead—but with a warning for Soo-kwang to keep his dignity above all. It's cute how everyone cheers him on before he goes outside to see his kinda-sorta-girlfriend.
Soo-kwang is embarrassed that So-nyeo saw his exchange with his father today, and explains that his father doesn't hate him even if it seems that way. So-nyeo responds to his worries with a kiss.
That a girl would initiate a kiss with him takes Soo-kwang by such surprise that he starts having an episode, which is definitely his most tragic (and best) moment thus far. So-nyeo seems to have finally grown up, since she doesn't react other than to put her headphones over Soo-kwang's ears.
It's enough to calm him, and he kisses her. Sunbae Jo watches from the window and smiles in pride. Jae-yeol and Hae-soo do the same, all but giggling as they close the curtains to give the two young lovebirds some privacy.
After sobering up, Jae-yeol leaves a note outside Soo-kwang's door that reads: "Out of all the men I know, you're the manliest, Park Soo-kwang." Aww.
Hae-soo pouts that Jae-yeol didn't leave a note for her, and asks why he hasn't brought the marriage question up these past few days. He replies that it'd be boring if he kept asking her before they say their fond farewells until their next once-weekly planned date.
Jae-bum calls his little bro to request that they have a private meeting once he's released, without letting anyone else know. That way, Jae-bum claims, they can sort out who really stabbed their stepfather.
The memory of watching Mama Ok-ja light the fire flashes though Jae-yeol's mind right before he tells his hyung that everyone knows he was the one who did it. Jae-bum doesn't care what his brother says, because he just wants Mama Ok-ja to know (what he assumes to be) the truth.
Hae-soo makes her hospital rounds, which includes a Russian woman suffering from pseudocyesis, aka a false pregnancy. She later collapses in exhaustion next to Doctor Lee as she wonders aloud, "What do I do?"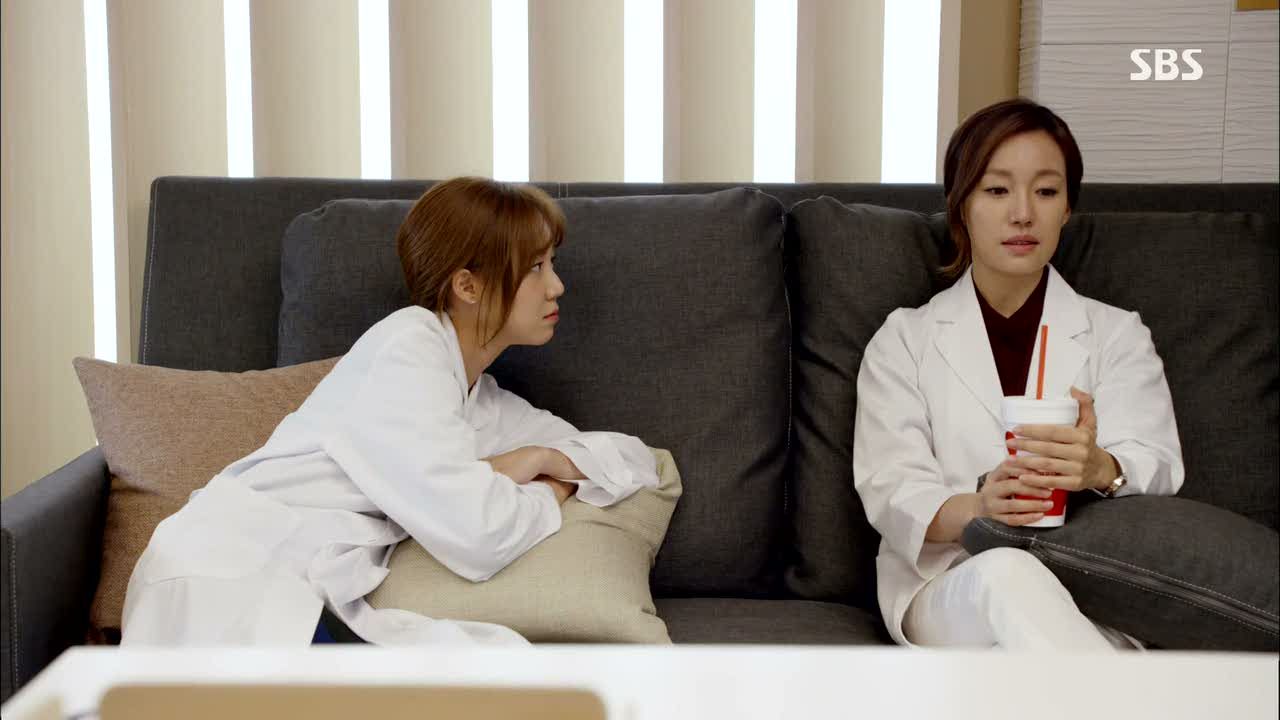 "Just get married," Doctor Lee replies. Hae-soo replies that she has too much to lose if she were to get married, only for her colleague to advise her to weigh the pros and cons carefully—if she has more to gain than lose, she should go for it. (Is no one going to bring up the fact that they haven't even known each other that long? No? Just checking.)
Doctor Lee speaks from the heart when she admits how regretful she is about being so full of herself back when she was married. Now, she questions how she could have given up the man she loved and the possibility of a child for her career. More importantly, what has she gained?
Hae-soo reminds her how far she's come as a doctor, but it's not enough for Doctor Lee anymore: "If I had a baby and became a mother, I may have become an even better doctor." But since she can't change the past, she can only focus on doing the best by her patients.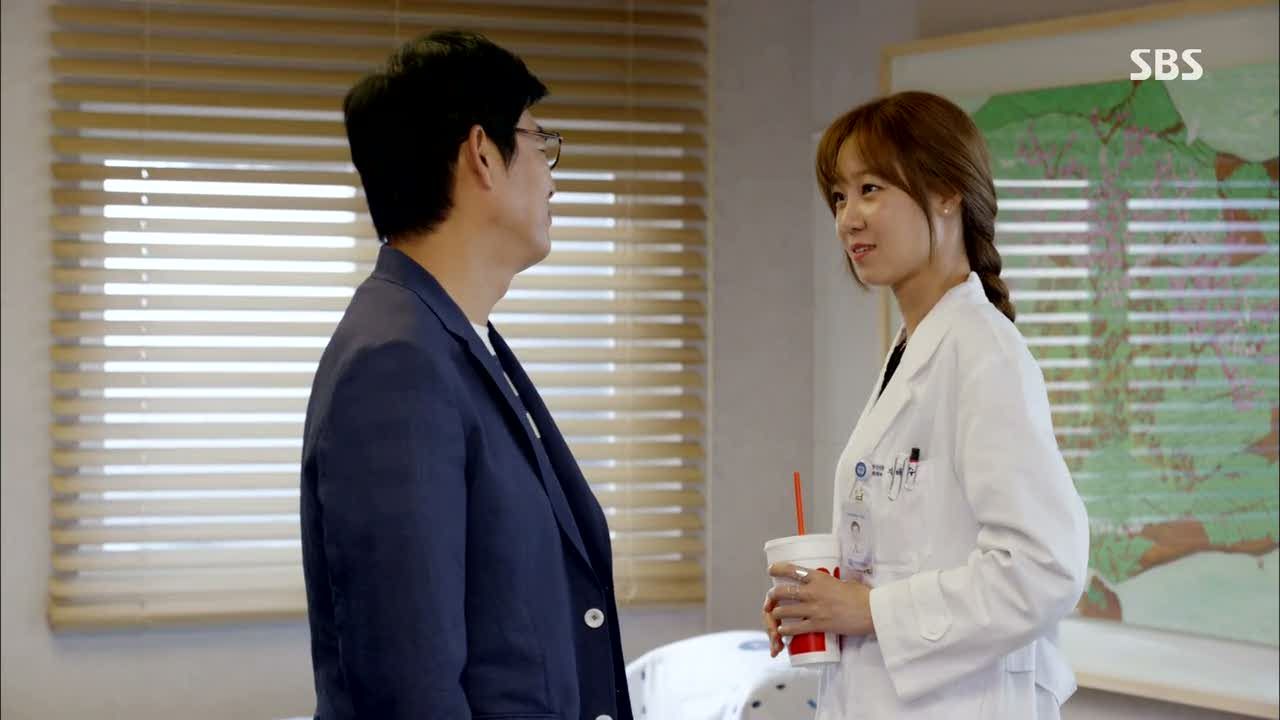 Sunbae Jo drops in just then, and stops Hae-soo when she gets up to give them some privacy by asking seriously, "You're strong, aren't you?" Hae-soo doesn't know what deeper meaning he's hinting at and leaves none the wiser.
Once they're alone, Sunbae Jo tells Doctor Lee that Jae-yeol has a psychiatric illness. After she reviews his files, Doctor Lee comes to the conclusion that Jae-yeol must be suffering an intense amount of guilt over his brother, and the lie he told to save his mother.
Sunbae Jo claims that Jae-yeol would've been better off if he could've actually convinced himself that what he did was right given the situation, but since he's too kind to forgive himself, he created someone similar to him he could actually protect: Kang-woo.
Doctor Lee reasons that Jae-yeol probably wanted to leave his mother in her dissociative state so that she could live her life without being haunted by guilt, which likely pressured him to conceal the truth even more. Sunbae Jo acknowledges this before adding that Jae-yeol's hallucinations have been going on for three years, and have just been getting worse.
Which brings up the concern that Kang-woo has become so real to Jae-yeol that there may be no way to convince him that he isn't real. Doctor Lee wants Hae-soo to know about Jae-yeol's psychosis—it's bad enough to where he'd be forcefully admitted to a mental hospital if the tape of his phantom fight was ever shown.
Sunbae Jo is reluctant to tell her, but his ex-wife convinces him that not doing so would put Hae-soo in danger. With a sigh, he calls Hae-soo to come to his office after work.
Hae-soo calls Jae-yeol up, and in the course of their short conversation, mentions that she doesn't want to get married. Jae-yeol just replies that he knows, and doesn't press the subject any further. (I think he was probably right about the subject becoming boring if mentioned too much.)
Instead, he sends her a photo montage of the different traces/messes she's left behind in his house. Even though he's OCD, he misses her so much that he can't clean up her messes because it'd erase the fact that she's been there.
"I hope that one day, these traces of you will become an everyday presence even if we don't get married. I love you, Ji Hae-soo," he writes. She replies that she's fifty-one percent won over now.
But when Hae-soo gets home, she finds Doctor Lee and Sunbae Jo waiting for her. "What is it?" she asks, oblivious. "Why do you both look so serious?"

COMMENTS
And we're one step closer. It's interesting how the story line with the most forward momentum is one about the past, and less so the more immediate romantic thread involving Jae-yeol and Hae-soo. While the side characters have their own murder mystery going on, things with our main couple have stayed more or less the same these past few episodes—though I imagine that'll start to change after Hae-soo learns the truth.
I do like how what really happened during that chaotic murder scene keeps changing, since we've been led from the assumption that Jae-bum was the murderer to the suspicion that perhaps it was really Jae-yeol the whole time, and now we're finally faced with what seems to be the most reliable version of events thanks to Sunbae Jo. Though we knew from the beginning that Mama Ok-ja was somehow involved in a cover-up, I hadn't considered the possibility that she would turn out to be the actual murderer.
So if Sunbae Jo's account is to be believed, Jae-bum has not only suffered for her crime all these years, he hasn't even known about it. Jae-bum is the one true innocent party in all this, fork-stabbing aside, since he wasn't the one holding the knife. Even though Jae-yeol was, and even if that had killed their stepfather, it could be argued that it was all in self-defense. But what Mama Ok-ja did? That was some cold, premeditated murder. She was abused and had her reasons, but knowingly burning her husband alive seems to rate higher on the list of offenses as compared to Jae-yeol holding a knife his stepfather happened to fall on.
Watching that scene play out was chilling, especially with the realization that Jae-yeol was the one to dictate who in his family would be punished. No wonder he's started to crack under the weight of his guilt—not only has his brother suffered irrevocably because of him under the wrong assumption, his mother has also spent years living in an alternate reality where she either thinks Jae-bum did it, or that she sacrificed one son to save the other.
Either way you slice it, it's a pretty messed up familial situation, and it's a wonder that Jae-yeol made it to adulthood before he started experiencing his incredibly-realistic hallucinations. It's difficult not to feel bad for someone who practiced smiling so much for someone else that it's become an automatic response, but then again, it's also difficult to reconcile the Jae-yeol who lives every day knowing he's done his brother a terrible injustice with the Jae-yeol who just wants to get married to the only person in this dramaverse that doesn't.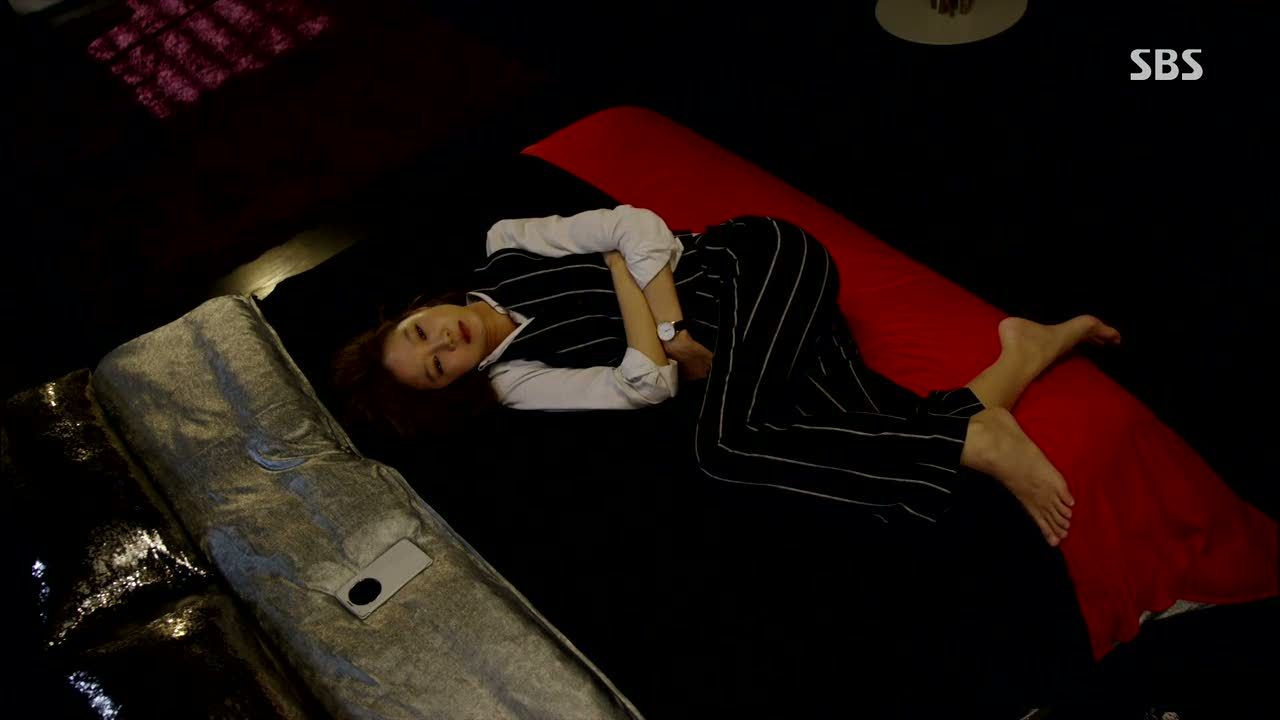 RELATED POSTS
Tags: featured, Gong Hyo-jin, It's Okay It's Love, Jo In-sung