Running Man: Episode 210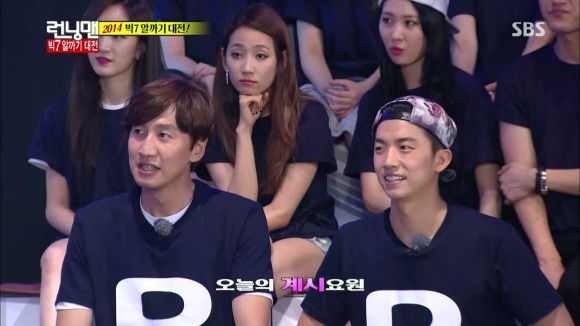 It's up to our cast to choose their own teammate for this week's baduk pieces tournament. They'll meet a variety of famous faces from all different kinds of agencies along the way, but only one celebrity can help them come up on top. There are a few unexpected personalities that give us plenty of laughs in this episode and others who are waiting to show off their dexterity at this game. Who will our cast members choose and which team will reign supreme?
EPISODE 210. Broadcast on August 24, 2014.
Our Running Man worker bees are busy at the office where they're eager to please their boss, Maknae FD. Sure feels like we haven't seen him in a while, eh?
During their morning check-in, Ji-hyo claims that she slept this weekend to prepare for Monday morning. At the rumors that she was allegedly hanging out with Gary, the latter clarifies that no, they weren't together. "I briefly met another woman." Heh, really sticking to that Monday Couple rule, aren't we?
After taking a call from the higher-ups, Maknae FD announces that they'll be participating in an alkkagi tournament (a twist off of a baduk game) for their conglomerate's fifth-year anniversary. The catch? It's up to our cast to invite today's guests (and teammate) and return to the SBS building by 5 PM.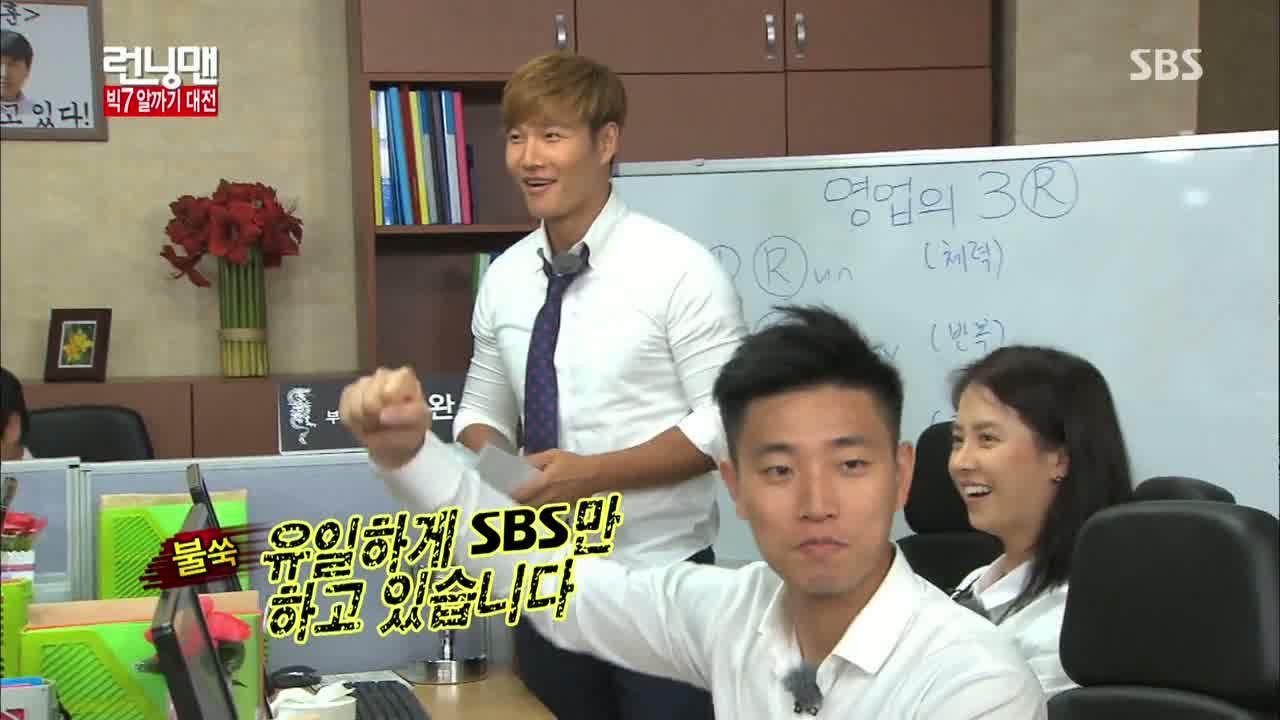 For a minute there, I thought they'd have to recruit anyone who was free, but it turns out the production crew are sending the cast out to hit up major entertainment agencies or broadcasting networks.
Jong-kook is elated that he'll be recruiting in-house at SBS ("This is our company!"), to which the others quickly point out how Spartakooks is a host on Crisis Escape No. 1 on KBS. This of course, coming from the men on MBC's Infinite Challenge. Conversely Gary proudly affirms his SBS-only variety status.
Suk-jin will be swinging by FNC Entertainment, which manages the occasional RM guest Jung Yong-hwa from CNBlue. Chances are, he's probably swamped with Three Musketeers right now. Kwang-soo gapes to learn that he's heading out to JYP Entertainment. Gary seems happy about his model agency assignment, but gets his bubble burst when Jong-kook reminds him that all the ladies there are taller than he is. Aww.
Jae-suk isn't worried about visiting CoKo Entertainment, since the notable comedians there (including Lee Guk-joo, who dropped by not too long ago) are all his hoobaes. Ji-hyo reminds herself to smile and be polite to the rock stars she'll be seeing soon, while Jong-kook practices flicking motions in the car.
Haha is excited about meeting the pro basketball team Seoul SK Knights. Sure he had to give up his childhood dream of becoming a pro basketball player when he stopped growing, but Haha relays to us the wise words of Allen Iverson: "You don't play basketball with your height, but your heart…"
"… but still, Iverson stood over 180 cm," Haha finishes.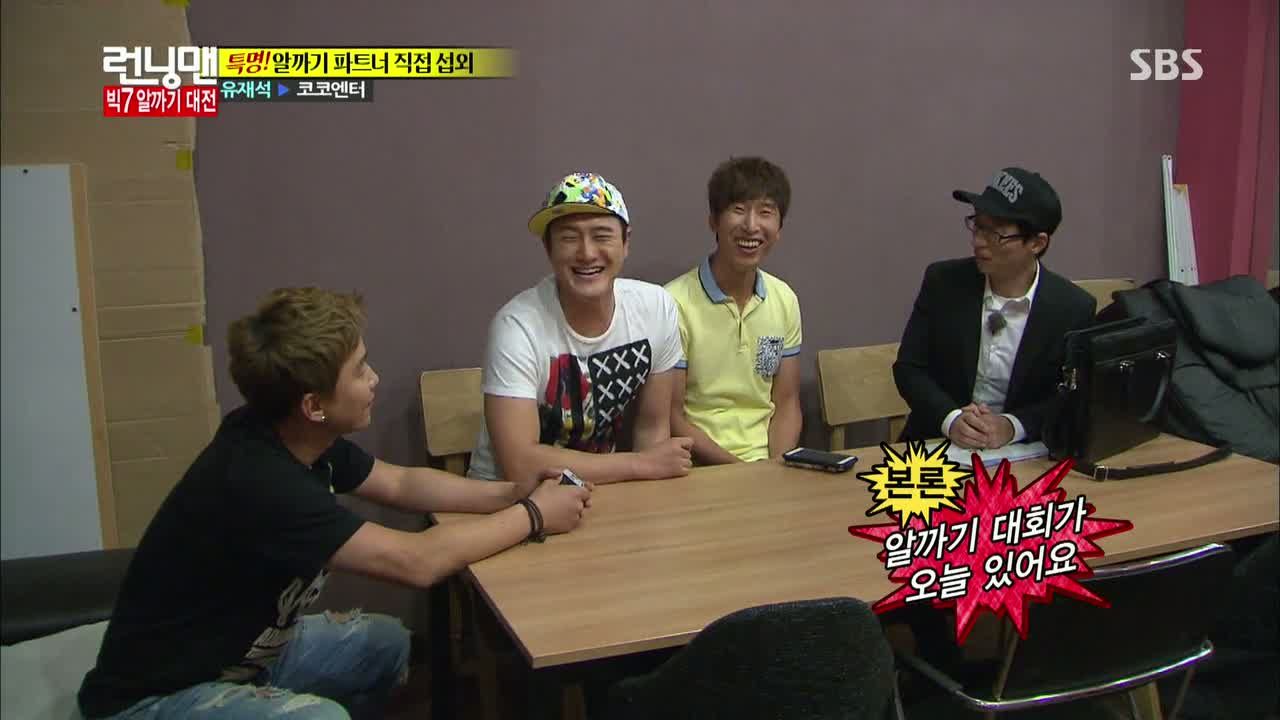 Once at CoKo Entertainment, Jae-suk introduces himself to the employees, though he adds that his representative company will dissolve after today. "It's a paper company, so don't call us."
He sits down a trio of comedians who happen to be in the office today: Kim Won-hyo, Lee Kwang-seop, and Yang Sang-gook. All three comedians laugh in disbelief at the baduk pieces tournament and collectively gripe when Jae-suk asks where the pretty comedienne Kim Ji-min is. "Just use the people who are here!" Yang Sang-gook cries.
When Jae-suk asks if they're the only celebrities in the office today, Yang asks again, "Do you not like us?" Hahaha. Flustered, Jae-suk tries to hand over his business card to smooth things over… only that they all already have one. Lee Kwang-seop exclaims, "You gave me two!"
Jae-suk's willing to buy lunch for the guys, but they quickly catch on that Jae-suk just wants to wait for Ji-min. I love how shameless Jae-suk is about getting a pretty lady on his team though, since he keeps asking about her. (She's apparently in rehearsals for Gag Concert.)
Jong-kook coincidentally runs into another familiar face at the SBS building: Noh Sa-yeon. Gary stands on his tippy toes as he walks into ESteem Modeling Agency. Meanwhile Kwang-soo runs into Miss A's Jia, who compliments his appearance today. He blushes pink and is practically over the moon when he gets to meet HA:TFELT (Ye-eun) and Sunmi.
Over at FNC Entertainment, Suk-jin runs into CNBlue's Lee Jung-shin and actress Kim So-young, who are busy going over their lines for SBS drama Temptation. Unfortunately the two has to head over to the drama set soon, but Suk-jin isn't willing to let Jung-shin go that easily.
At the mention that girl group AOA is probably free, Suk-jin is instantly all, Let's go. HA.
Unlike the small crowd of excited fans outside JYP Entertainment, Ji-hyo pulls up to a quiet street where ROXTA MUSIK is located. She is, however, greeted with hearty cheers to see the award-winning supposed rockstars sitting on the floor like ajusshis eating jjajangmyun together.
All the men fawn over how pretty Ji-hyo is, and assure her that their dextrous guitar-playing hands will prove handy for flicking baduk pieces.
Haha oohs and awws over everything about the basketball team and meets Coach Moon Kyung-eun (a legendary basketball player in his heyday), whom Haha hugs like the excited fanboy he is. It's adorable.
Apparently the CoKo recruiting process has moved over to the conference room by now, where Yang Sang-gook says all they've been doing is practice flicking baduk games to pass the time. Since they're taking a break from Gag Concert and all.
Jae-suk suggests they check their horoscopes today and grows excited when his zodiac sign talks of riches. But then he's told that what he needs is already by his side. Ha, guess he's got to choose among this comedian trio. However, Jae-suk looks into his specific birth year which elaborates that the temptation of those around him could lead to an undesirable outcome.
Kim Won-hyo's horoscope is pretty depressing, and Lee Kwang-seop's fortune knocks him out of the running. But Jae-suk puts their skills to the test (along with another arrival, Hong In-gyu), giving this lofty speech beforehand about the bigger picture to fulfill their dream today by winning in today's tournament. "But where's Ji-min?" Jae-suk asks again.
The ROXTA MUSIK house is having a house party, and boy do those guys know how to have fun. She puts their baduk piece flicking skills to the test too, and the others quickly wipe the sweat off of Rose Metal's bassist Yook Joong-wan's face. He appreciates it… until someone comes at him with a sock. HA.
Yook Joong-wan comes closest, giving him the chance to compete with Ji-hyo today. Since he's been acting like quite the admirer ever since she walked in, I think it goes without saying that he's pretty happy.
Meanwhile, Haroro is grinning from ear to ear while wearing the standard basketball uniform that's too large for his shorter stature. A three-pointer shootout highlights Coach Moon's basketball skills, along with players Choi Boo-kyung and Park Seung-ri (aka David Michaels).
When it's Haha's turn, Coach Moon remarks that it'll go in while the ball is still in the air. Can he… calculate that in his head? Unfortunately, it hits the rim and bounces out. Haha is rewarded with some painful forehead flicks, and then recruits Choi Boo-kyung.
Over at JYP, Kwang-soo sits down with the ladies plus 2PM's Wooyoung and Chansung. Wooyoung's skills get him recruited today to represent JYP. It turns out that Kwang-soo's day got a lot better because his AOA crush Seolhyun happens to be free today. CNBlue's Kang Min-hyuk gets jokey-upset at that decision.
Gary puts the models through a battery of tests, and eventually picks model Lee Hye-jung. Jong-kook enlists the help of our resident RM announcer Kim Hwan. It looks like nearly everyone has found their teammate today, save one: Jae-suk.
Apparently they've played eight rounds of tests already and all agree that THIS will be their last. Kim Won-hyo is the lucky winner, but the captions tell us that he came dead last in the baduk piece flicking contest.
Yang Sang-gook mentions this is his first SBS variety appearance ever, so Jae-suk lets him and Kwang-seop tag along as cheerleaders. Jong-kook encourages his teammate Kim Hwan to eat up since he'll be treating. So Kim Hwan jokingly asks for an expensive cut of beef.
All the teams gather at the SBS building to squeeze in some extra practice time before the big match. Big Nose Hyung leaves an impression by knocking out seven baduk pieces off the board in a row whereas Kim Won-gyu looks like he's going to get hit by an angry Jae-suk.
While everyone's busy practicing (well, some teams better than others), now's a good a time as any to explain the basic rules of alkkagi: knock off all of your opponent's baduk pieces on the board while leaving your own. It's an all-kill elimination-style tournament, so may the best team win.
All the teams are met with warm cheers as they file in. Aww how cute—their fellow celebrities from the agencies/sport team showed up to cheer them on. I see Announcer Kim Il-joong! Hahaha, the other rejected three comedians came to support Kim Won-gyu, but they're also the only three members from CoKo Entertainment in attendance.
MC Yoo takes the stage to lead the event, then explains how today's supporters voted which team would be most likely to win. CoKo Entertainment comes up with the fewest with six votes, to which Jae-suk says three OTHER people voted aside from the three comedians. Yang Sang-gook chimes in, "It could be six other people!" Well-played, sir.
Female announcer Jang Ye-won is introduced, and both Jong-kook and Sang-gook are eliminated as potential suitors. With that, the alkkagi tournament begins with the first game for the quarterfinals: Jae-suk & Kim Won-hyo vs. Haha and Choi Boo-kyung. Five baduk pieces each.
Like any major tournament, Suk-jin and Jong-kook sit together to provide commentary, which should give us some hilarious moments. Jae-suk chooses an unconventional method by moving a piece over instead of attacking right away, which Haha reciprocates. Two can play at this game.
Jae-suk attacks, but his baduk piece stops at a dangerous position just barely off the board. Haha flicks it out, but not without sacrificing his own piece.
Suk-jin sounds like a baduk flicking expert as he tosses out game jargon like everyday vocab. He even regales everyone of how Haha sharpens his baduk pieces in Germany (where Haha was born). Jae-suk knocks off one of Haha's pieces, bringing the latter's count down to three.
Then he knocks off another two. Damn, who knew that baduk piece flicking could be so dramatic? And though Haha knocks one of Jae-suk' pieces away, Jae-suk gets rid of Haha's final piece.
Kim Won-gyu and Choi Boo-kyung face off next, and curiously, Choi attacks using the side of his finger. It's certainly unconventional, but it gets the job done as he knocks off his opponents pieces one by one. The teams need two wins in a round in order to advance, and a miscalculation on Jae-suk's part allows Haha and Choi Boo-kyung to move on up.
I like the little stats model we've been getting about each team, like how Jae-suk and Won-gyu are strong in variety sense and teamwork and Suk-jin and Seolhyun have a large generation gap between them.
Seolhyun is up against Lee Hye-jung, and both ladies have similar yet different setups. The picture within a picture informs us that Gary won the first match, so it's to model Lee's advantage to secure this win.
Seolhyun opts for the Choi Boo-kyung one-finger approach, and Suk-jin's remarks in the background (basically jargon that may sound crude but are appropriate for the game) cracks me up. For instance: "Flick the ones you wanna flick!"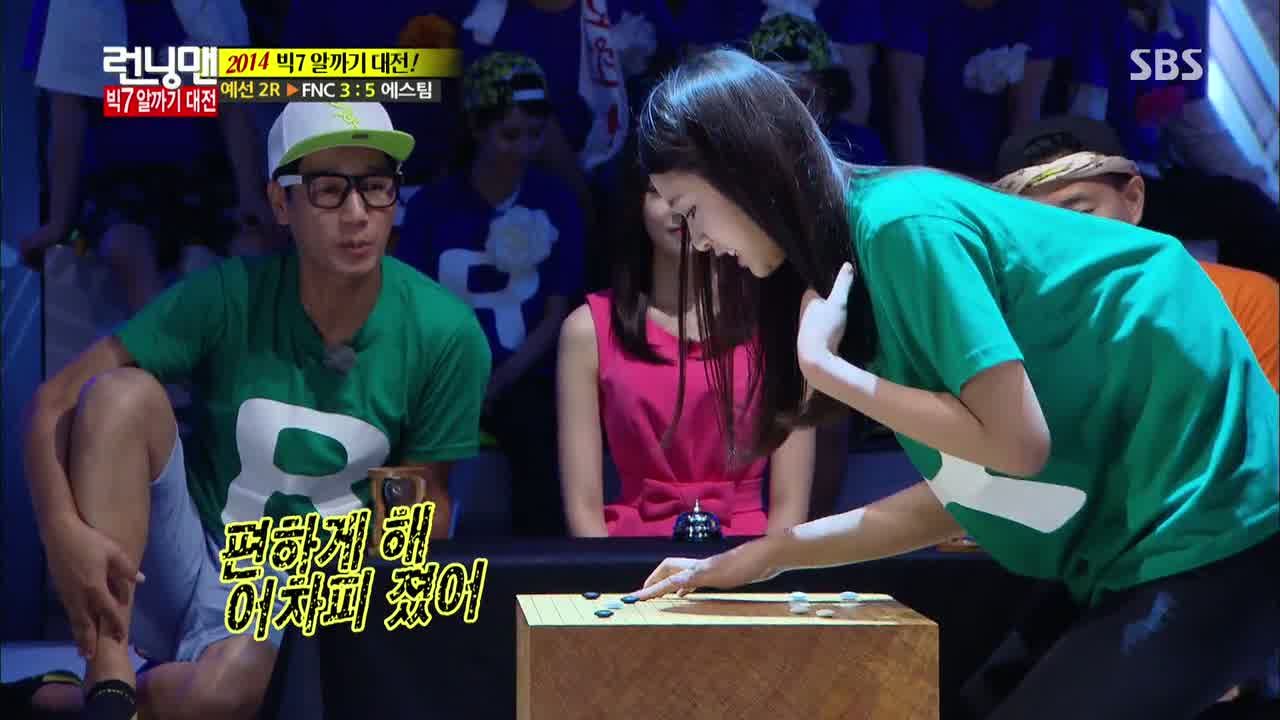 Lee Hye-jung has the advantage after Seolhyun loses two pieces, then the latter makes another grave mistake, bringing her baduk pieces down to two. Suk-jin takes the tough dad approach with his teammate, reminding her how difficult her trainee days were. "How far have you come that you can't overcome this obstacle?!"
The words help her focus, and Seolhyun knocks off two of her opponent's pieces. Are we to witness a reversal in this match? Perhaps we are because another attack ties it up 2:2.
The following attack ties it up again to 1:1, and Lee Hye-jung takes her time before she flicks her piece… which flies off the board. Seolhyun breathes new life into her team, who still has another shot to advance.
Now the tables have turned with Suk-jin listening to the words of his much-younger teammate. Our three MCs (Jae-suk, Jong-kook, and Haha) take a minute to remark how beautiful the ladies look together, adding that they look even prettier next to the guys like Gary, Suk-jin, and Yook Joong-wan.
Gary starts off with a strong and accurate shock, as our MC trio tells us that Gary has a 100% accuracy rate so far and even enjoys playing pool in his spare time. Another well-timed remark may or may not have influenced Suk-jin's attack, but he manages to stay alive after each one of Gary's attacks.
But Gary doesn't miss his target a single time, which is pretty damn impressive. Suk-jin employs one last attack, but that sacrifices his last piece, and Gary and Lee Hye-jung advances to the semifinals.
HA, I love how Kwang-soo and Wooyoung are notably strong in "Hallyu Power" and "petty tricks," whereas Jong-kook and Kim Hwan are strong in power, competitiveness, and physical prowess. Apparently we've already skipped to the third match, where the teams are tied 1:1.
I like that the show's editing out all any unnecessary footage, since forty plus minutes of watching the same game over and over again could easily get tiresome. Wooyoung sends two of Jong-kook's pieces in one attack and eventually secures the win.
In our first face-off in the semifinals, we've got Haha and the "one-fingered approach" master Choi Boo-kyung vs. 100% Accuracy Gary and Lee Hye-jung. As expected, Gary knocks off one of his opponent's pieces with the very first strike.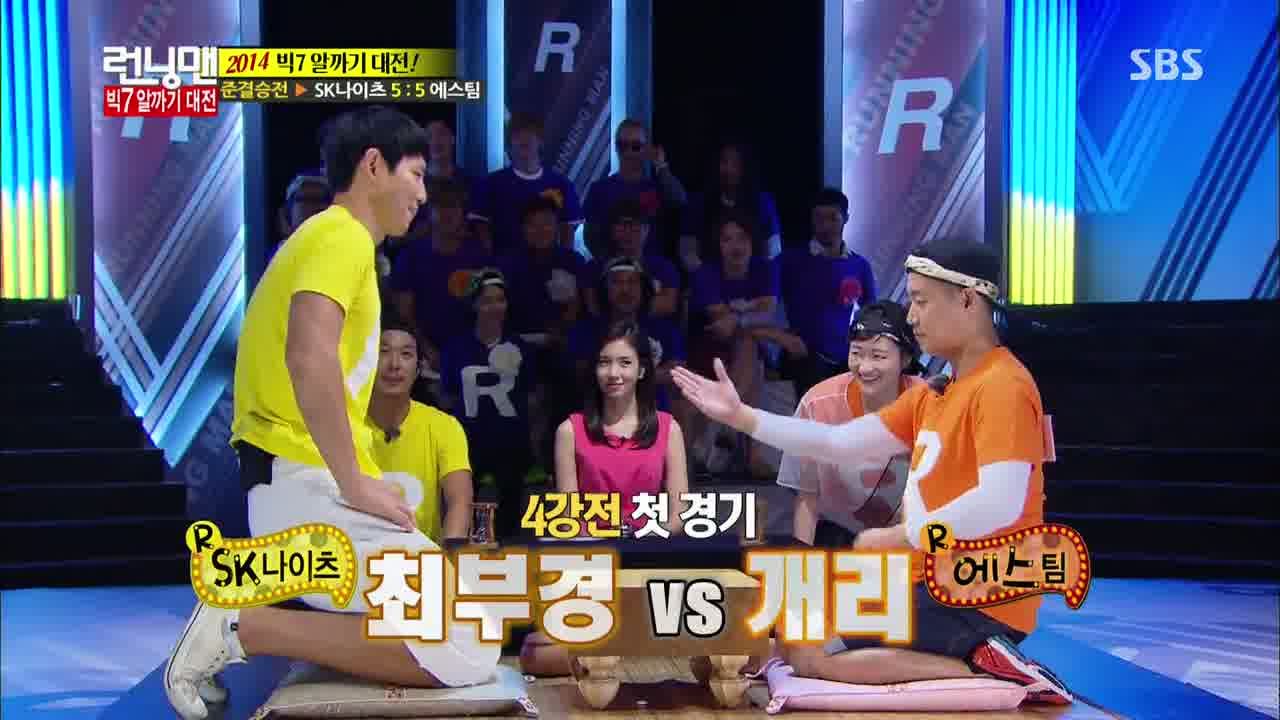 Just watching Gary in every turn is simply impressive, because his piece stops short as soon as it makes contact with another piece. He has the advantage with 3:2 pieces on the board, but then sacrifices one of his own to knock off another piece.
Gary makes a crucial mistake when his piece flies off the board, so Choi Boo-kyung shifts his last remaining piece around, hoping that Gary might slip up again. And then Gary does.
A quick cutaway informs us that Haha and Choi Boo-kyung advances to the final, and then it's time for the other semifinal match between Ji-hyo and Yook Joong-wan vs. Kwang-soo and Wooyoung.
The ROXTA MUSIK family has a prepared cheer: they scream "Jang Wooyoung!" repeatedly, then finish, "Sorry, but you're not my style," which is one of Rose Metal's songs.
Our semifinal commentators gape at the competitor's unconventional setups, but it's the first move that counts. Yook Joong-wan sends one of Wooyoung's pieces off the board and another dangerously close to the edge, but then his next attack loses one of his own.
Suk-jin gives us another laugh when he uses military jargon in his commentary on how that lone piece could lure the enemy troops in. Wooyoung ties up the pieces on the board again 2:2, then knocks off yet another one of Yook Joong-wan's pieces.
But Yook Joong-wan isn't going to go down without a fight and flicks off another one of his opponent's pieces. That lone piece comes pretty close to Yook Joong-wan's, but the latter fails to knock anything off the board.
And then all of a sudden, Yook Joong-wan starts rocking back and forth, as if desperately praying for a miracle. What's great is that all the other rocker start joining in. Ha, these guys are funnier than some of the comedians right now.
If that wasn't enough of a distraction in of itself, Yang Sang-gook advises Wooyoung from the bleachers to put his own life on the line. But then both pieces fly off—it's a draw.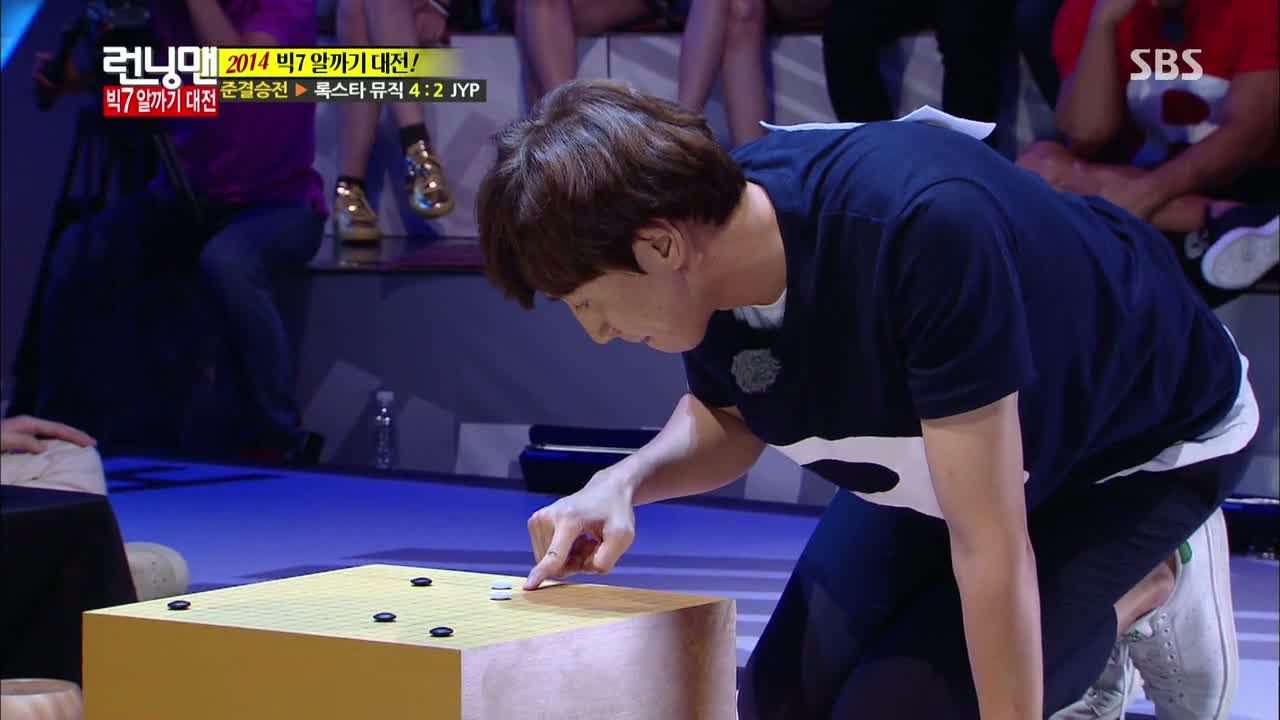 Ji-hyo is pitted against Kwang-soo for their final match. The latter moves around so that he can attack towards his body despite looking the awkward position. It's a futile attack, and Jae-suk and Suk-jin are quick to remark that Kwang-soo isn't very good.
A little later, Ji-hyo has four pieces versus Kwang-soo's three on the board, and Wooyoung assures his teammate that she can't attack. But Ji-hyo manages to knock off another one, and Kwang-soo loses yet another piece. Ji-hyo finishes him off, and thus she and her teammate advance into the finals.
It's down to one last match in these finals between Haha and Choi Boo-kyung vs. Ji-hyo and Yook Joong-wan. Each competitor will be playing with seven baduk pieces, and last player standing will win it all.
It'll be Yook Joong-wan vs. Choi Boo-kyung, and the former knocks off one piece in his first move. Choi Boo-kyung returns the favor in kind, and later on, Yook Joong-wan still has the advantage 5:4.
Choi Boo-kyung lines up his target and successfully flicks another piece, but his opponent makes a successful counterattack. After Choi sends off another one of Joong-wan's pieces, he sits down in his place to at least limit Yook Joong-wan from attacking wherever he likes.
Choi is down to two pieces now, and lines up his attack to take down two of Yook Joong-wan's in one shot. It's ambitious, but would make a nice reversal. He ousts one but the second hangs on.
Choi's now down to his final piece, and it's nice how the audience cheers on any formidable competitor in this tournament. His move doesn't take out any other piece, giving Yook Joong-wan a shot to end this match once and for all.
Everyone waits with bated breath, and then Yook Joong-wan comes up victorious. He and Ji-hyo are awarded their prizes, and both Juniel and two models share in the celebration (with gold) since they voted for the ROXTA MUSIK team… when only one of the ROXTA MUSIK family did. Hahaha.
As for the winning team, Ji-hyo and Yook Joong-wan are given baduk boards. You know, for more baduk fun.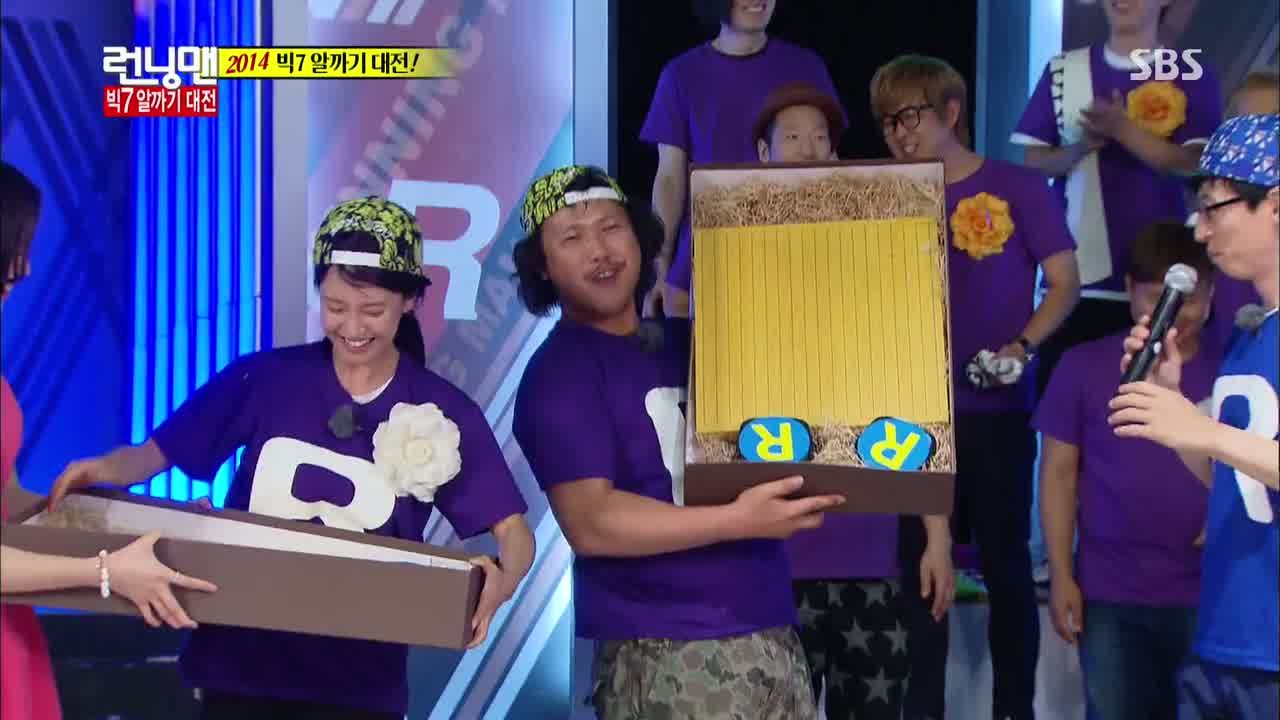 RELATED POSTS
Tags: featured, Haha, Ji Suk-jin, Kang Gary, Kim Jong-kook, Lee Kwang-soo, Running Man, Song Ji-hyo, Yoo Jae-suk