Village: Secret of Achiara: Episode 8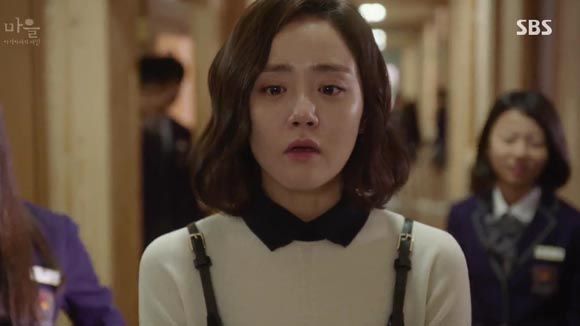 Our heroine turns a corner and happily, finally, exhibits some grit in the face of unpleasantness—nice So-yoon was rather boring to watch, since the extent of her activity seemed to be looking wide-eyed and accepting what everyone said. But shunned So-yoon is, gratifyingly, more proactive and assertive, and it's a relief to see her pushing back and refusing to roll over quietly like the town expects. Like sister, like sister?
SONG OF THE DAY
Sweden Laundry – "버려진 것들" (Abandoned Things) [ Download ]
Audio clip: Adobe Flash Player (version 9 or above) is required to play this audio clip. Download the latest version here. You also need to have JavaScript enabled in your browser.

EPISODE 8: "Madam Baengi"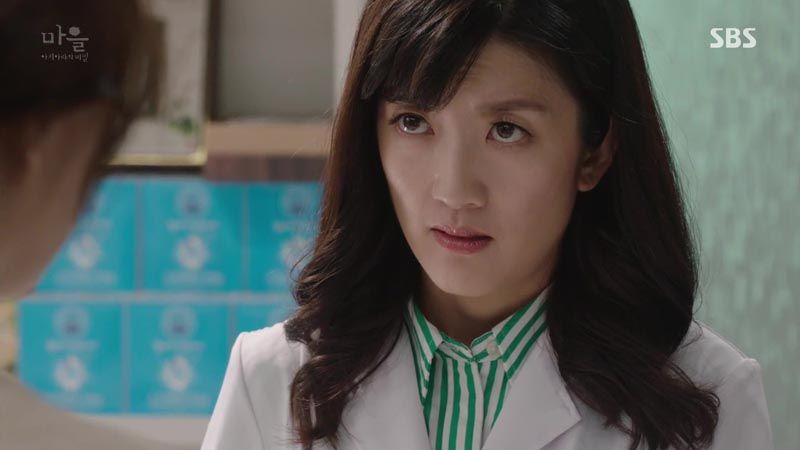 The TV program's open call for information about illegal adoptions in Achiara sends Ga-young's mother running to Joo-hee in a fret. The broker from 30 years ago is called Madam Baengi, and the only person who's ever come asking about her is Kim Hye-jin. What prompted this interest?
Joo-hee says Hye-jin can't have been the only child adopted through Madam Baengi, and complains, "I don't understand. Why the hell would they go searching for parents who abandoned them?" Then she clocks the other woman's anxiousness, which strikes her as suspicious, and asks why she's so worried. Ga-young's mother laughs nervously that she just doesn't want more hassle. Hm, I'm not convinced, and Joo-hee doesn't look it either.
Ki-hyun drops by with suspicions of his own, asking about Joo-hee's relationship to Gun-woo. The two in-laws aren't outright hostile, but they're definitely not warm and fuzzy, and Ki-hyun suggests that Joo-hee had a hand in getting Gun-woo promoted. She denies it, but tenses when Ki-hyun says he doesn't know why his father would do that for her.
He sees the Green Child Services donation box on the pharmacy counter, which links her to Teacher Park, who serves as its president. He informs Joo-hee of his chat with Teacher Park, and how he thinks she drew So-yoon here intentionally. Joo-hee tenses and feigns ignorance, but he's done his research and shows her the phone logs between them, coinciding with So-yoon's hiring process and arrival.
Joo-hee says she's a big donor to the organization, but Ki-hyun points out that huge sums were deposited into Teacher Park's personal account. Joo-hee explains that she wanted Hye-jin's sister to come to town and shake things up, because she didn't like how Hye-jin disappeared and nobody said a thing. Hye-jin had found the newspaper clipping and So-yoon's address, but disappeared before she could mail it herself. Joo-hee merely finished the task.
Ki-hyun says she could have spoken up sooner, and she points out that she's related to Hye-jin's biggest opposition, Ji-sook and Assemblyman Seo. I can't tell if Joo-hee's telling the truth or if this is just a very plausible explanation, and it seems like Ki-hyun doesn't know either.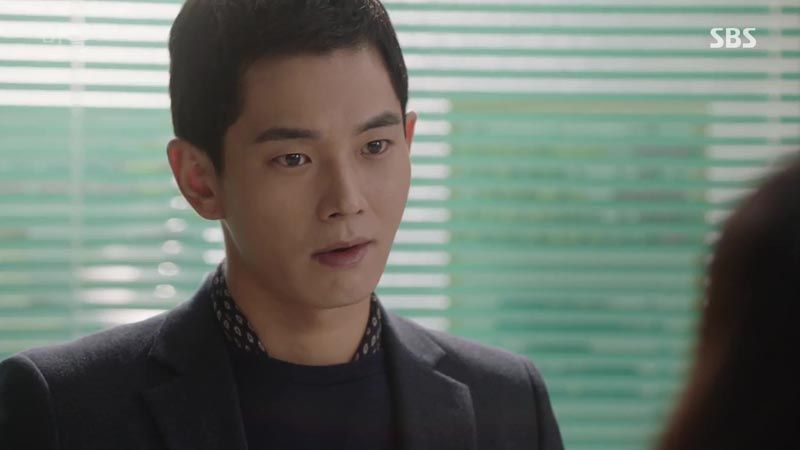 She mentions Ki-hyun being questioned by the police over meeting Hye-jin, and asks pointedly, "Did you tell them that you met her again after that? The day she disappeared."
So-yoon meets with Ji-sook to tell her of Yoo-na's fears, that her mother is sending her away to get rid of her. Ji-sook says she's only doing it to help Yoo-na, and warns So-yoon to butt out her daughter's affairs from now on—she doesn't want Yoo-na learning under Hye-jin's sister.
So-yoon replies that she and Hye-jin aren't blood related, if that makes a difference, and that Ji-sook should put Yoo-na first. Ji-sook bristles, asking if So-yoon intends to stay here. So-yoon seems to have found her backbone in the past few days, and says firmly that she will—she's here to teach, and intends to find her sister's family.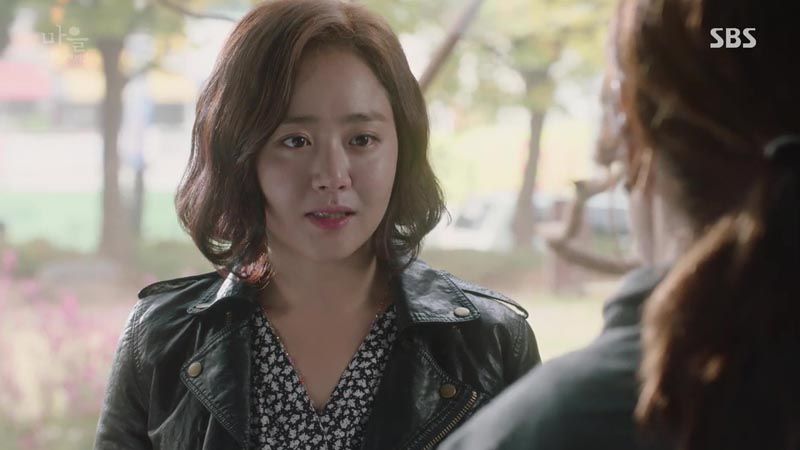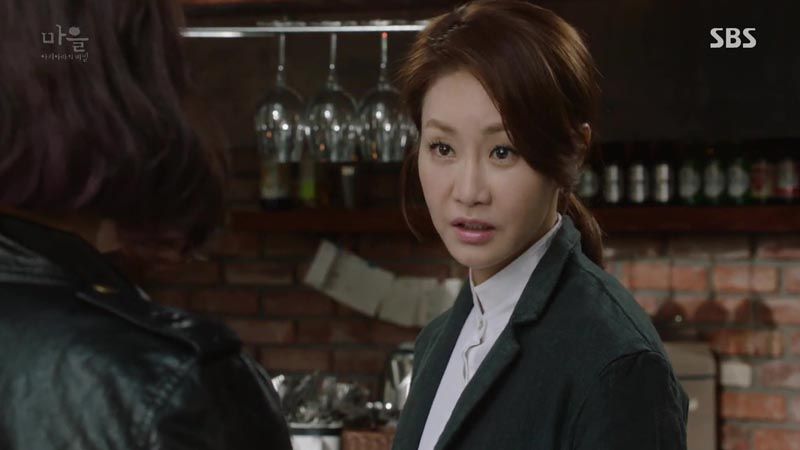 Back to Ki-hyun, who's stunned that Joo-hee knows as much as she does. Joo-hee recalls seeing Hye-jin walking by that last afternoon and getting into someone's car—Ki-hyun's. Nobody saw her after that.
"Keep it a secret that I brought the English teacher here," Joo-hee says. "Then I'll keep your secret."
He still can't understand her reasons, so she says that her sister scares her—if Ji-sook found out what she did, she'd probably take her shop away. Joo-hee suggests that Ji-sook was only ever nice to Ki-hyun out of selfish motives: After marrying the assemblyman, she found Grandma standing in her way. She won over the love-starved boy easily, and with Ki-hyun on her side, Grandma wasn't able to send her packing.
Ki-hyun can't believe it, but she says Ji-sook is probably nervous even now that Ki-hyun returned and could take away everything. He asks why she's doing this, and Joo-hee replies that she wants people's truths to be known, not the masks they wear.
He doesn't like anything Joo-hee says but it does trigger some doubts, and he remembers Hye-jin saying Ji-sook was the worst kind of trash. On that last afternoon, she had asked how low humans could go to cover up their own weaknesses: "Would they even murder?"
The PD calls So-yoon in to fill her in on the findings about the illegal adoption ring, and many were arrested in a bust 25 years ago. Madam Baengi was named but not caught because she had been inactive for several years.
So-yoon asks him to put her in contact with Madam Baengi, and he asks her to appear on the program in return, saying that this is a much bigger story than finding her sister.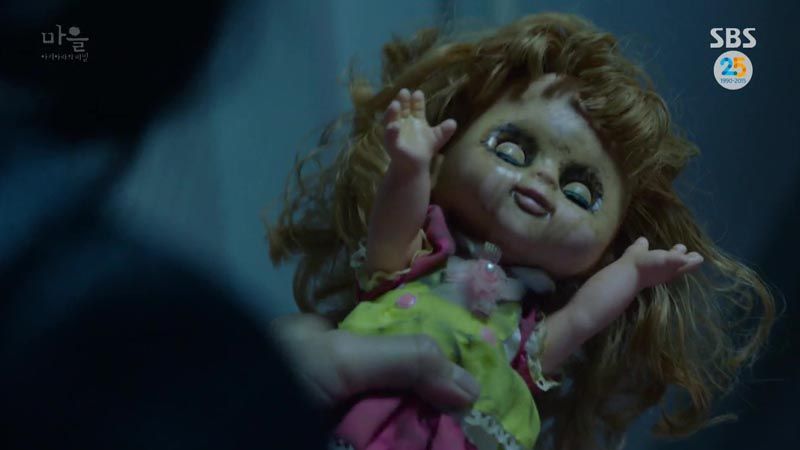 That night as So-yoon heads home, the hallway lights flick off, and when she gets to her apartment, she finds a doll hanging on the door, its eyes closed and face dirtied. Gack! Why would you do that, whyyyy? Then the eyes open and the doll starts to exclaim something, spooking So-yoon thoroughly. She stomps the voice out of the doll, and her fortuneteller neighbor comes out to check on her.
So-yoon asks if she's ever heard of Madam Baengi, disappointed when she hasn't. The lady tells her to leave the village quickly, lest she end up like her sister.
Our two officers are called to a fancy bar, where the burly manager has information for them. Apparently the assemblyman's ex-chauffeur was in this bar regularly two years ago (with the credit logs to prove it), and got caught up in a fight with the manager. Sergeant Han records the charges against Driver Yang, and tells a happy Woo-jae that they'll be pursuing the case. I guess if your boss forces you off the murder case from the front side, they'll go through a side door.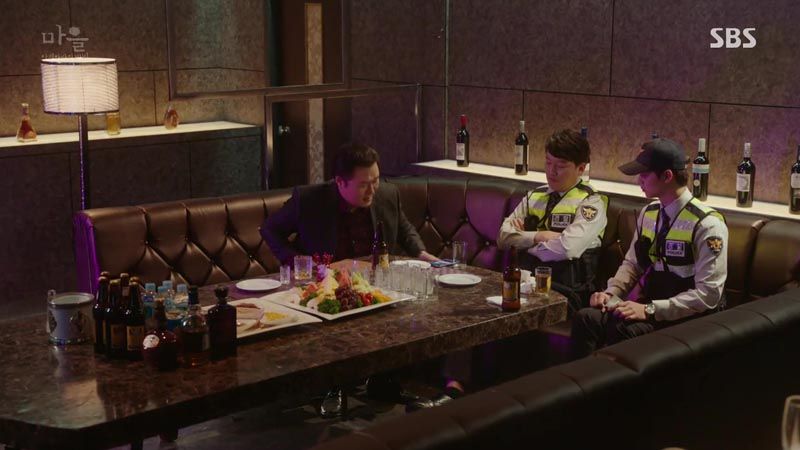 Assemblyman Seo is in good spirits with his tourism project going well, until his secretary lets him know about the very small, likely irrelevant story about Achiara's illegal adoptions that popped up recently. He figures it's so old it's not likely to be a problem, but the assemblyman's face suddenly darkens and he throws some papers in frustration.
Ki-hyun wasn't wrong when he predicted that the town would turn its scorn onto So-yoon for being related to an adulteress, and her students snicker behind her back. All through the school, students jeer at So-yoon, saying they'd be too ashamed to come to school for being related to such filth. So-yoon confronts a trio of brats for saying that death was too cheap for such a slut, telling them that no matter what a person has done, "the likes of you have no right to judge their death."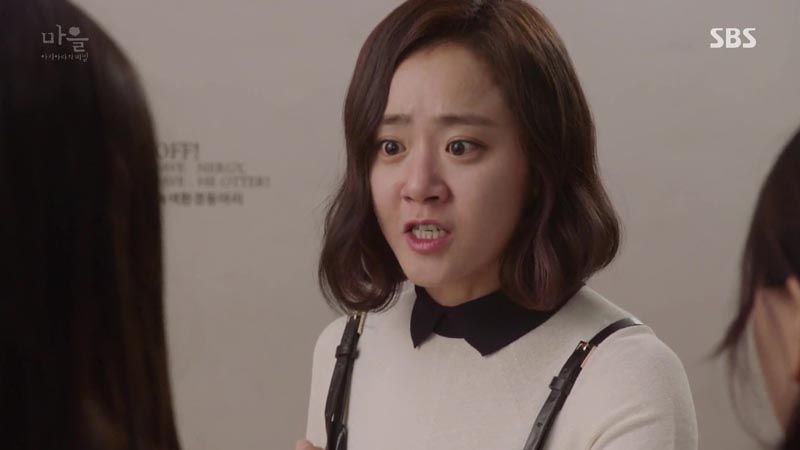 Woo-jae arrives at the house of a grandma who hasn't seen her tenant (grandson?) in half a year—he's holed himself up in his room playing games. Woo-jae forces his way in and grabs the guy when he tries to run, and the comical struggle ends when Grandma hoses them down in the yard.
It seems the gamer is on friendly terms with Woo-jae, and Woo-jae needs his computing skills to get old phone logs that the company says are too old to retrieve. The gamer is happy to oblige, after extorting some gamer-related goods out of Woo-jae (expensive armor and weapons from his game of choice), and gets to work hacking the system.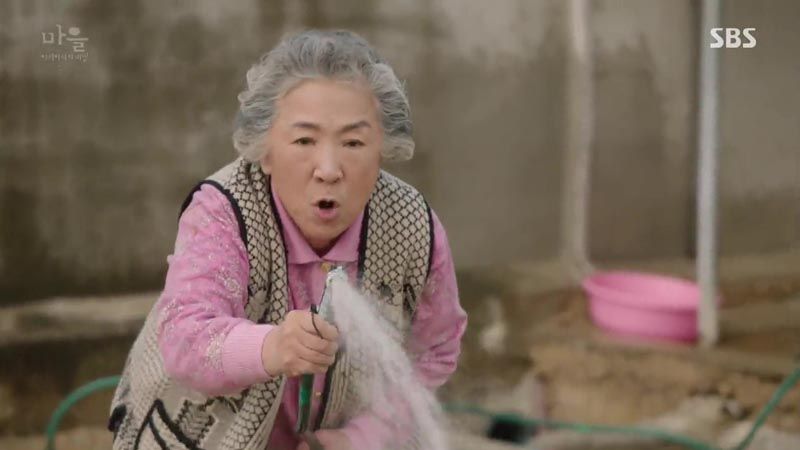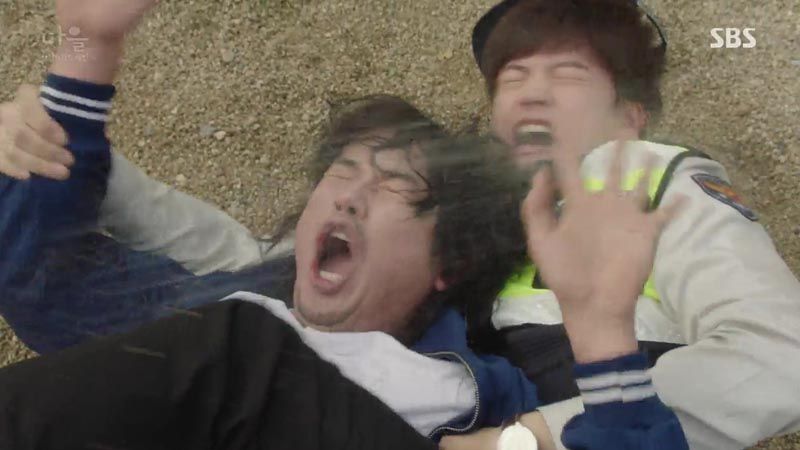 On top of the club violence charge, (Ex-)Driver Yang is called in by the police for a whole host of other offenses, including building and dumping violations. When he gets back to the farm, he finds health officials testing his cows for infections.
It's our two cops, attacking Driver Yang through all the legal channels, wearing him down. It's an indirect route, but Sergeant Han sighs that there's little more they can do but wait for a reaction.
Yoo-na's grandmother is appalled to hear that Hye-jin's sister is teaching at the school, and decides she'll have to call for her firing right away. Ki-hyun reminds Grandma that he's the director now, and promises to take care of it himself, which gets her to back down.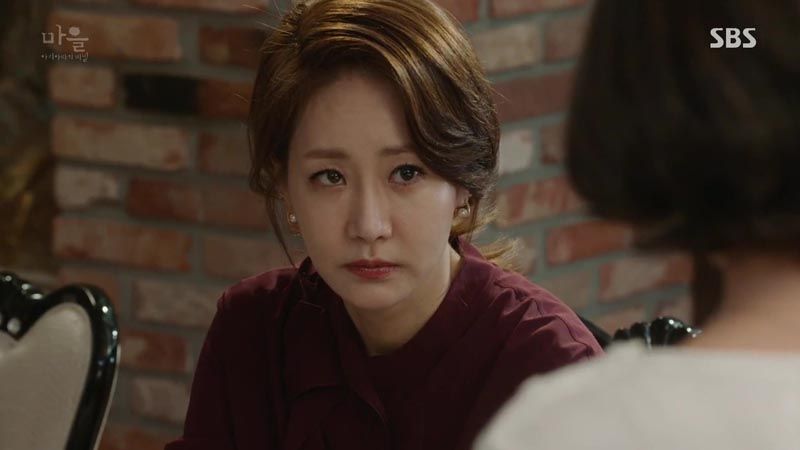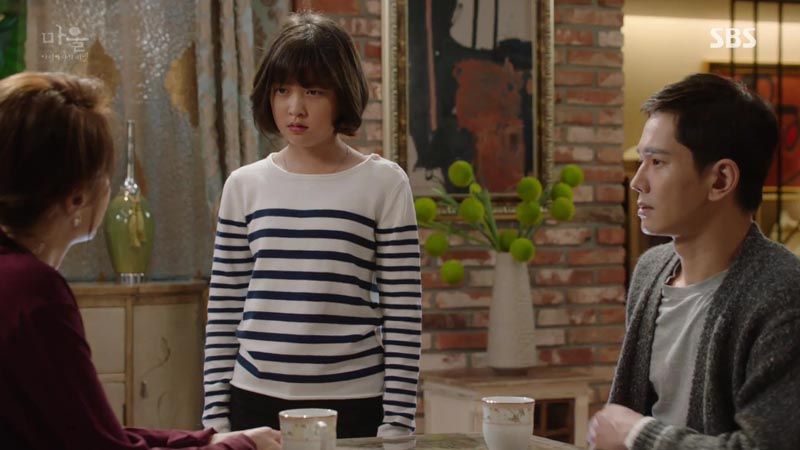 To Ji-sook, he says he can't fire her when she's done nothing wrong, though Ji-sook argues that she could have negative influence on the children and stir up bad memories. Yoo-na accuses her mother of being two-faced, sweet-talking So-yoon when she wanted something and throwing her out when she's done with her.
Ki-hyun says her mother's just concerned for her, but Yoo-na tells him to wake up from his dumb misconception: "Mom doesn't worry about me. At all!" When Ji-sook asks for his help in sending Yoo-na to a foreign school, he protests and looks at her with new, distrustful eyes.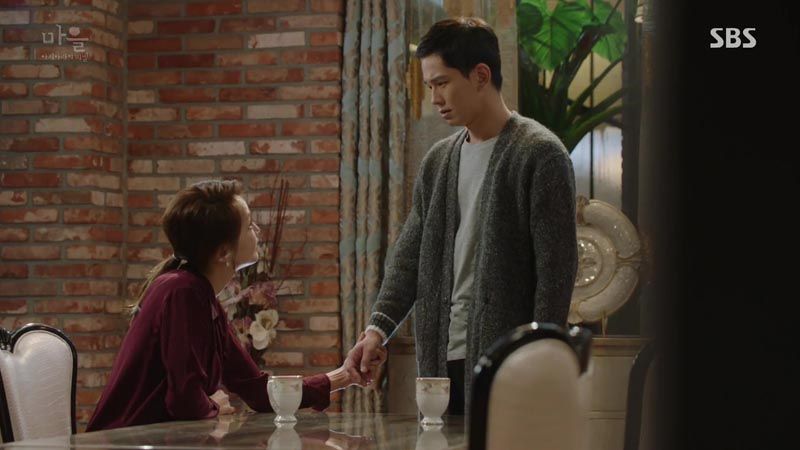 So-yoon drops by the pharmacy on her way to visit the senior center, and asks Joo-hee if she's ever heard of Madam Baengi. Joo-hee says no, and guesses that So-yoon must be off to ask the older residents, since it happened thirty years ago.
Immediately, Joo-hee makes a call and gets online to an internet cafe called Achiara's Corpse's Sleepless Night.
So-yoon's trip to the senior center is received with surprising hostility. When she asks about Madam Baengi, one grandma yells at her to go, calling her an outsider and flinging water in her face.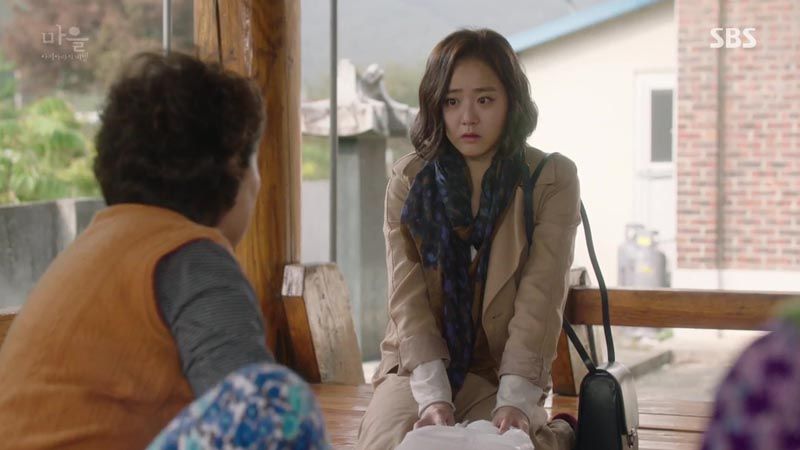 Woo-jae encounters her on the road as she trudges back, and takes in her sodden appearance. He wonders why they treated her so poorly, recounting how nice they were to him. He's not an Achiara native either, but he figures it's because he does so much around town helping them as part of his job. He offers to ask around on her behalf since he might get a better response, and that cheers her up considerably.
Woo-jae asks Sergeant Han about it, but despite being a native to the town, he hasn't heard of Madam Baengi. He points out that it's likely a fake name, so normal residents wouldn't be familiar with it.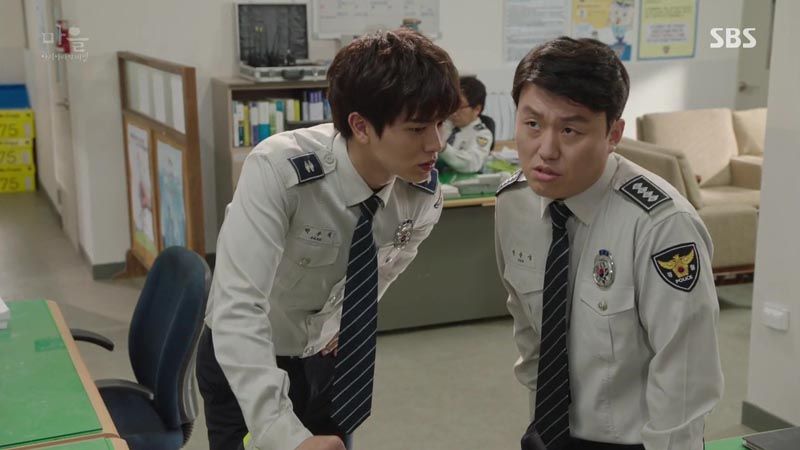 Assemblyman Seo waits on pins and needles for news, and when it finally arrives, it's good: His tourism development plans have been approved. He puts in the call to the mysterious boss pulling his strings, and the old man is pleased to hear it, saying that Assemblyman Seo should only focus on the project now and not side problems, which he'd taken care of for him all this while. The assemblyman promises not to have any more problems like Hye-jin crop up.
Woo-jae heads to the main station to deliver a report, only to find it empty. He sees the board in the middle of the room and takes in all the evidence and photos of the serial killer, adopting a pose like he's a detective on the case. HA, he's too cute—he wants to be a bigtime cop so bad.
Turns out the lead officer, Detective Choi, is napping nearby, and he bolts up when another officer brings him autopsy reports of the seventh victim. The woman wasn't raped, but a signature was left, and the cause of death was heart failure after hours of torture.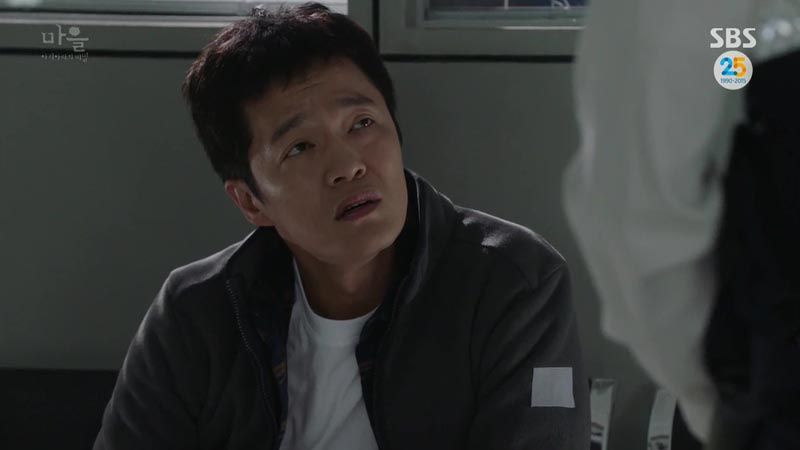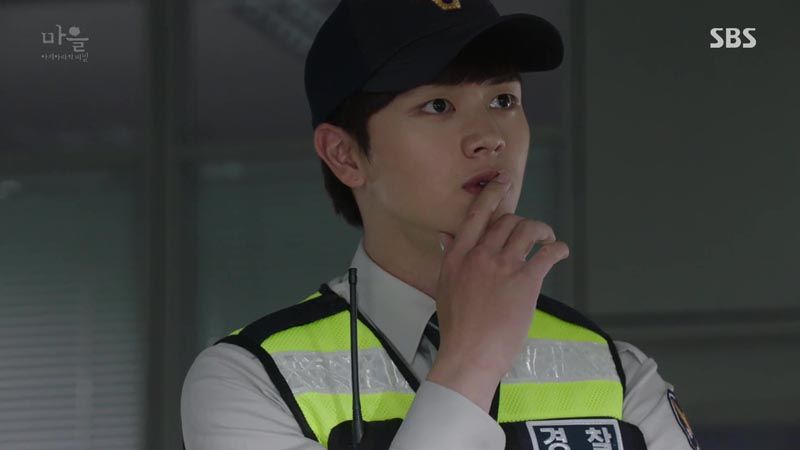 Woo-jae gets into the analysis and interjects into their conversation, which gets him kicked out of the room. Although after he leaves, we see that his deductions were right, since the detectives echo his thoughts—the killer's growing more brutal.
Detective Choi fixates on the sixth case, which happened within their jurisdiction and stands out for being out of the pattern: It was on a Tuesday, not Wednesday, and on a night without rain. The killer didn't hide his car from sight, which went spotted by a witness, and the body was discovered soon thereafter. Thus: He was in a hurry that night and didn't have time to hide the body—it wasn't a coldly calcu lated murder like the others.
The conclusion: "I think the criminal lives in this neighborhood."
The program focusing on Achiara's illegal adoptions is suddenly yanked, and the PD in charge is dismayed and apologetic to So-yoon. His guess is that someone extremely powerful leaned on the station to pull the story, and he has no power to push back. The only thing he can do is to pass along information to a broker who might have known Madam Baengi, Oh Gab-soo.
Over at the lumber mill, Agasshi finally meets the ajusshi who has newly moved in and set up an art studio here. He's an old friend and they catch up pleasantly, though it looks like ajusshi's wife isn't a fan of Agasshi, pulling her daughter away from him.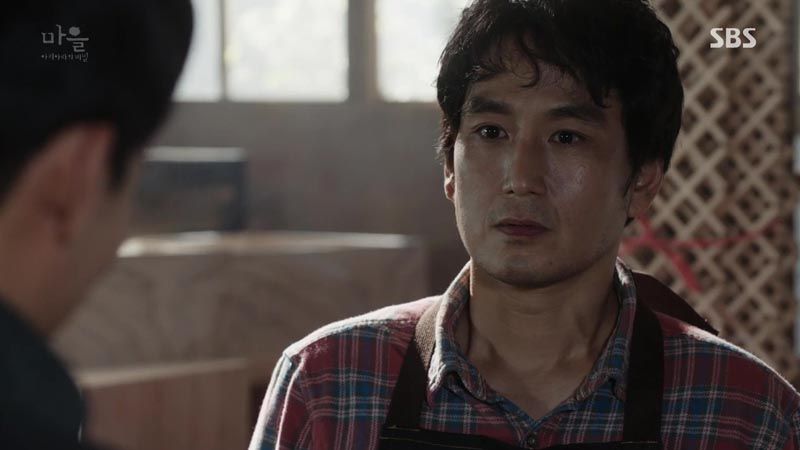 Agasshi asks if Artist Ajusshi has heard of the dead body, and the man feigns surprise while being clearly nervous at this line of conversation.
At school, the principal pulls So-yoon as homeroom teacher and adds that he'd like her to quit the school entirely, because she might be an unsavory influence on the kids. She states that she has no intention of going along with that, but he advises her to take the pleasant course, which the director has approved.
Ki-hyun offers her a ride after school, calling it the safest route, but she refuses his favor and says coldly that she will find her own safe route. He persists in following her in his car, so she relents and goes with him to Ga-young's mother's restaurant. But when she confronts him about wanting her to quit school too, he just tells her to do as she wants.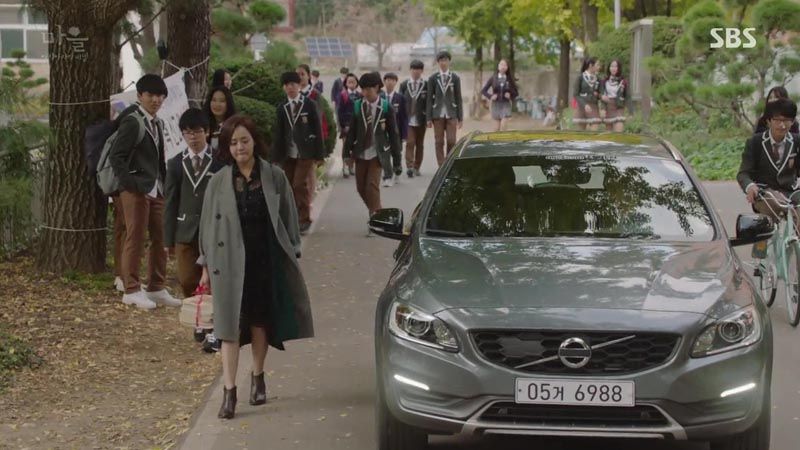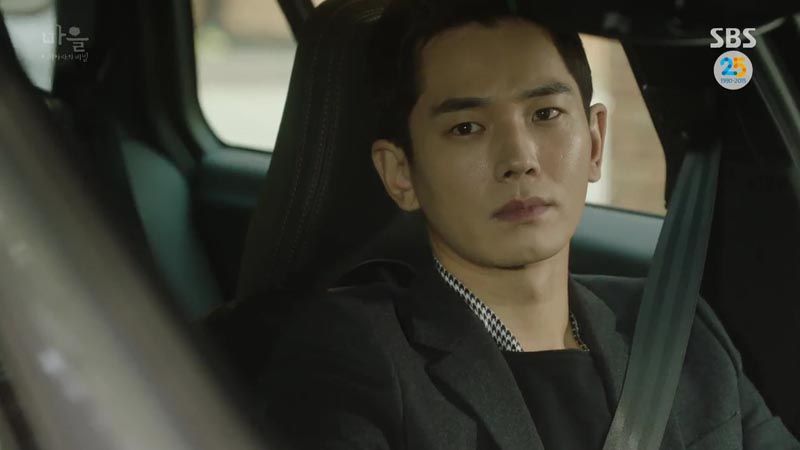 He explains Ji-sook's background, and how she was dirt-poor growing up with a single mom and a sister from a different father, which made her the object of derision. But nobody looks down on her now, because of his father, and "because our townspeople are that simple."
She asks if he means to do the same for her, and he replies that he wants to help her any way he can. She replies, "I can't trust you."
"Why, do I seem like the culprit to you?" he asks. "You're hiding something," she returns.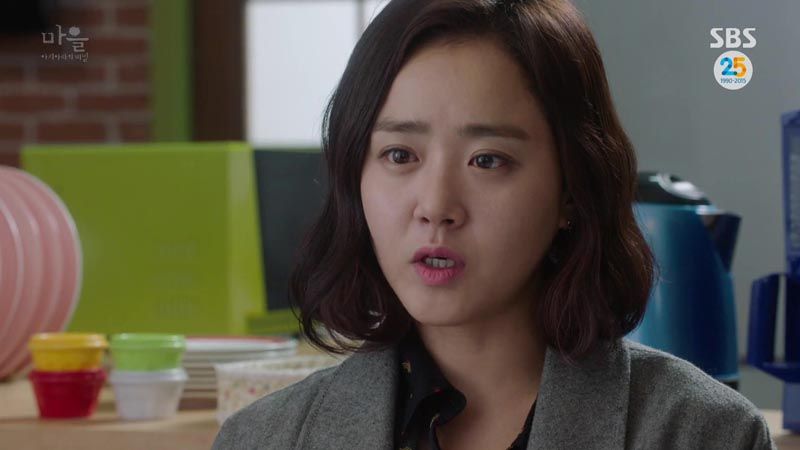 He says earnestly, "But I didn't kill Kim Hye-jin. And I truly don't want for you to be hurt."
That night, Ga-young comes to Gun-woo's studio as he's painting a dark portrait, and sends him a series of text messages. She insists that she knows he has feelings for her, that she'll wait, and pleads for him not to deny it. "All I want is love. Are you so afraid of that?"
But as his phone buzzes nearby, she sees that he doesn't even look up from his painting, ignoring it wholly. Then he sees the phone and reads the messages, sighing heavily. She sends one last message—"IloveyouIloveyouIloveyou"—and waits with bated breath… and he throws his phone angrily away.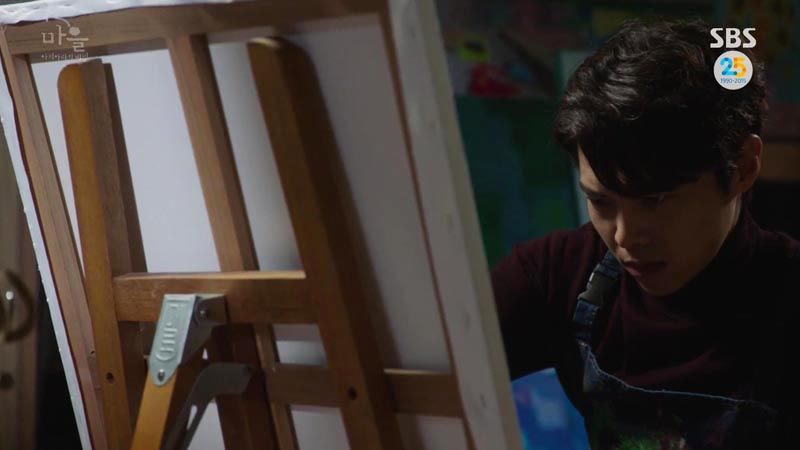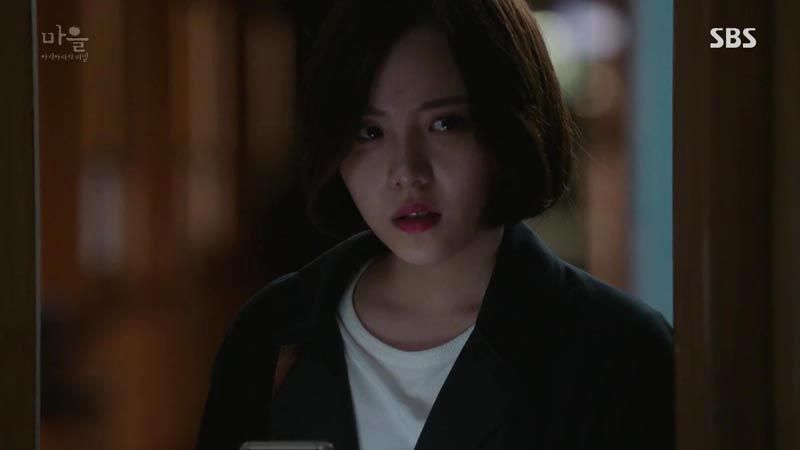 Driver Yang is dealt another blow when his cattle test for brucella infection and his barn is temporarily shut down. In a taxi, Woo-jae follows his truck out of the farm, but Driver Yang catches wind of his tail and pours on the speed to shake them.
Thankfully for their chase (but not for Woo-jae's nerves), the taxi driver skillfully dodges traffic, runs lights, and sticks to the truck's tail… until a bigger truck slams into their path and cuts the chase short. Driver Yang gets away, and hurries to Assemblyman Seo's boss.
So-yoon finally gets a hold of Oh Gab-soo, the former broker, who does in fact know of Madam Baengi. He mentions that her daughter came asking about her a couple years ago—Madam Baengi had sold her own child. So-yoon asks for a name or description, just as three thugs arrive to confront Oh Gab-soo over "a troubling matter."
The flirty art school assistant gets Woo-jae's attention with the promise of more information, and somehow interprets his interest in a case he's been pulled from as evidence of his interest in meeting her. Ha, he looks appalled at the thought.
She clues him into that Achiara internet cafe and points to a post talking about Madam Baengi, mentioning Oh Gab-soo. He's so excited that he thanks her profusely, which gratifies her (and her misplaced ego) greatly.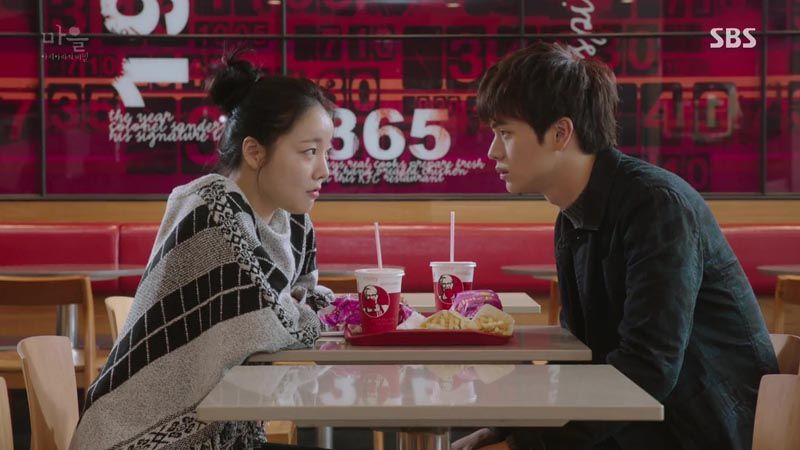 So-yoon tracks down the meat processing center where Oh Gab-soo had been working and asks for its employees. He happens to live on site as a security guard, and she is pointed in his direction.
So-yoon knocks on his door calling out to him, but the door swings open and the room is empty. She wanders into the other areas of the plant, calling out cautiously, but only sees meat hanging on hooks.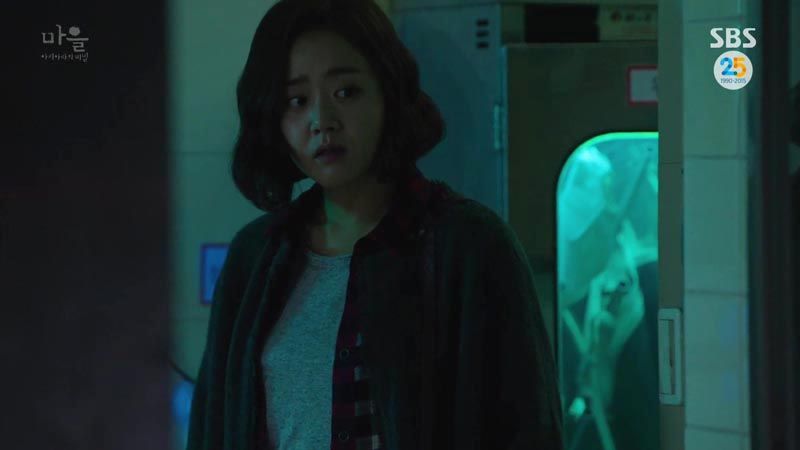 Yoo-na marvels at a piece of Ba-woo's whittling, saying it's much better than the one he put into their time capsule. He shakes his head, saying that their things weren't in it. She can't believe he wouldn't tell her he found it, but he says that he gave it "to that person" because he was told it would help catch the killer. He refuses to tell her who that is.
So-yoon's fortuneteller ajumma performs some kind of rite, wondering at the name Madam Baengi.
Joo-hee gets dressed up and shops at a department store. A chic white suit catches her eye, which she buys and takes to a beautiful older woman. The woman sits in a wheelchair, and Joo-hee smiles, saying, "I think heaven is helping me."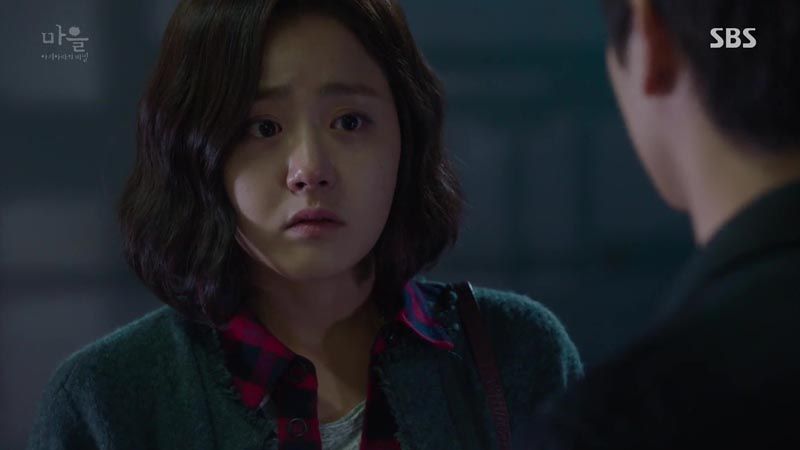 So-yoon hears a noise in the plant and heads over to see… Woo-jae? Ah, the cafe pointed him here. He accidentally switches on the conveyor belt conveying the meat and gets hit by one, but gains his bearings… just as So-yoon looks over his shoulder in surprise. Ack! What do you see? What is hanging on that hook?
The fortuneteller racks her memory for the name Baengi, and lands on the name Lee Jung-im.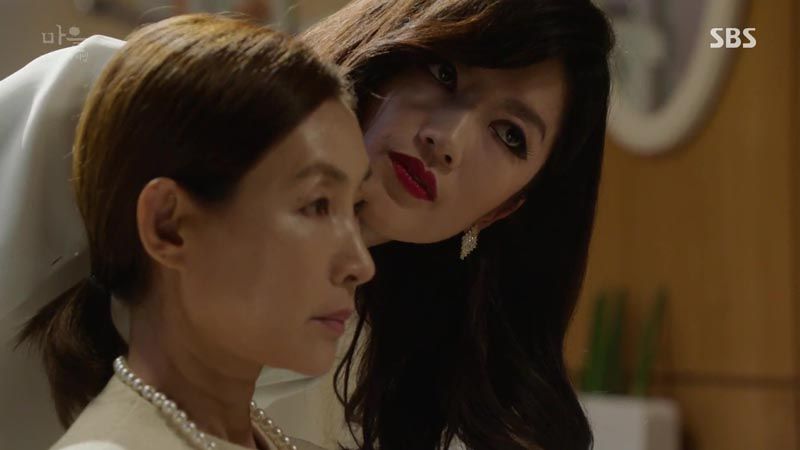 Joo-hee tells the older woman that everything is proceeding very well: "in the opposite direction of what you wanted so badly." She smiles chillingly and adds, "How far will things be revealed?"
We see the woman wearing a hospital wristband with her name on it: Lee Jung-im.
"Mom," Joo-hee says.
Back to the meat hooks. It's a man in his worker's uniform. Oh Gab-soo?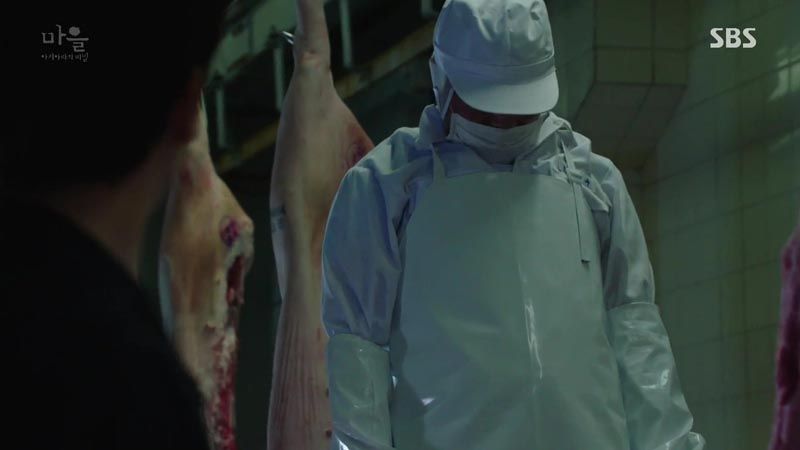 COMMENTS
This is all rather convoluted, but let's try to get things in order: Assuming nobody's lying regarding the recent discoveries, Madam Baengi was an adoption broker who sold her own daughter off thirty years ago, and Hye-jin came looking for her shortly before she disappeared. Madam Baengi is Lee Jung-im, who is Joo-hee's mother, and therefore also Ji-sook's mother. Which means the three ladies are all half-sisters, and Hye-jin is Yoo-na's aunt.
That suggests that the elder sisters should know about having once had a sister, though they seem to be curiously uncurious about what became of her. What prompted Mom to give her child away? Seeing how Ji-sook and Joo-hee grew up into tough-as-nails manipulators of the highest order, I suppose it was Hye-jin's good fortune to be adopted by a loving family, even if that time was cut short by the parents' deaths.
And if Hye-jin's grievance lay with her mother, then what was the purpose of her deliberately insinuating herself into the family to seduce the assemblyman? Revenge against Ji-sook, perhaps? It seems to be more about Ji-sook than the assemblyman at this point, especially when we consider how Hye-jin was the one who sent the affair photos to Ji-sook (in Episode 1) and watched her reaction to them.
Joo-hee continues to creep me out, in a good way; she's got more faces than a deck of cards, and she's so quick on the uptake that it's unclear even to us when she's telling the truth or when she's inventing a logical explanation to get herself out of trouble. She's the type of person where she's more frightening when she's happy than when she's angry, because whatever she wants, it can't be a good thing.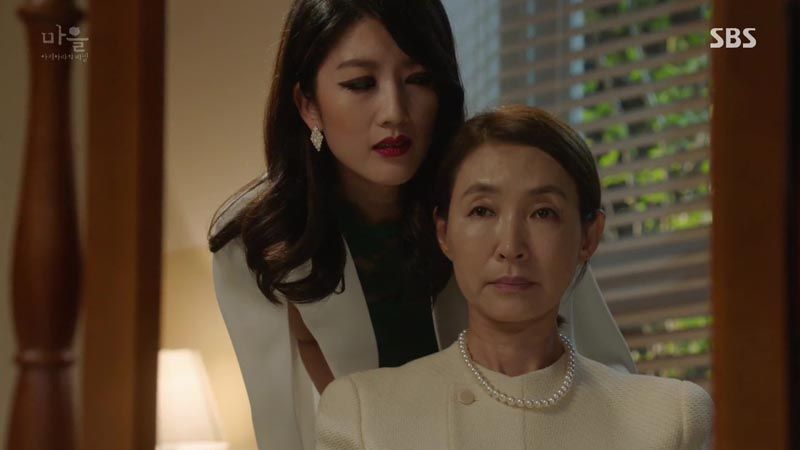 I like that Ki-hyun is catching on, both to Joo-hee and to Ji-sook, and he's able to shake her calm facade, even if it's only for fleeting seconds. The more we see of him the more decent he seems to me; he's clearly hiding things, but I believe him when he sounds earnest. His trouble is that he has a fierce loyalty to people who may not deserve it, so until he can clear his eyes of the blinders, he's likely to be more of an obstruction than a helping force.
On a side note, I'm totally getting chemistry between Ohn Joo-wan and Moon Geun-young, which I know isn't a focus of the drama—based on the story direction thus far and things the PD has said about not forcing a loveline, I don't expect anything to come of any of the romantic attractions in this show. That said, I'd be happy if one sprung up between them, even if on paper maybe the flirtation with the cute police officer seems more logical. Sure, it's no hardship watching Woo-jae's cute puppy-dog crush on So-yoon, but I don't see even the remotest flicker of chemistry between them. Whereas, my interest tugs in favor of Ki-hyun and So-yoon.
It definitely helps that So-yoon's character finally perked up this episode, displaying more verve the more she was stepped on. It's not fun to watch her being sniggered at, but at least she's not wandering around cluelessly anymore, and asserted herself. I wanted to applaud her newfound fortitude, and if being knocked down is what it takes for her to step it up, I'll even welcome the struggles sure to block her path.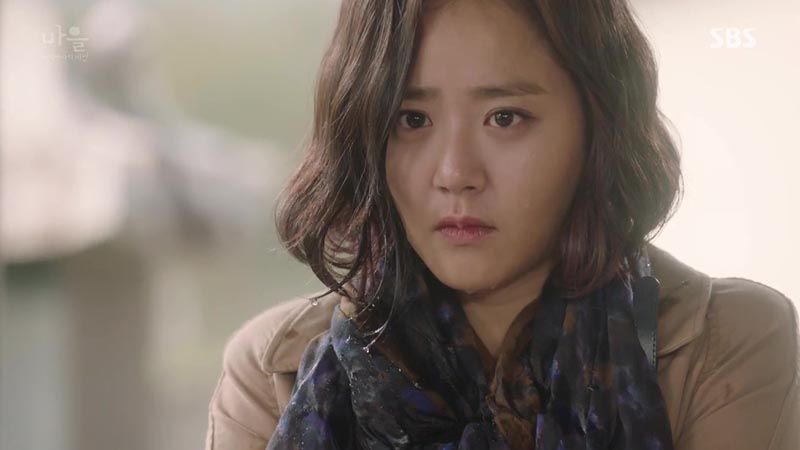 RELATED POSTS
Tags: featured, Moon Geun-young, Ohn Joo-wan, Shin Eun-kyung, Village: Secret of Achiara, Yook Sung-jae