Running Man: Episode 299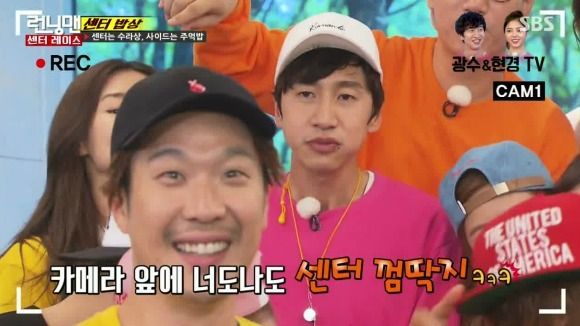 It's a battle for the spotlight this week, where our cast members will team up with other celebs for a few shining moments of glory. Having all eyes on them may sound like a tempting idea, but everyone will quickly learn that running the show comes with its own high expectations and burdens. There's only one way to find out who can take center stage, and who will remain left at the ends.
EPISODE 299. Broadcast on May 15, 2016.
We open on a rainy and windy spring day with a throne flanked by six chairs on a hotel patio. First to arrive, Kwang-soo happily sits in the center, though when Gary arrives, he's told that the center is the worst spot to kick off the episode.
So Kwang-soo changes spots, and no one is surprised when Suk-jin plops himself down on the throne. Jae-suk definitely has something to say about that when he walks in, and so does Jong-kook. Jae-suk: "[The viewers] will only briefly see Suk-jin sitting in the center for the opening."
Today's "Center Race" is inspired by last week's conversation when Jae-suk gave Suk-jin flack for sitting in the center (where their guest should be seated, and he later called himself out as a hypocrite, ha). Thus born the phrases "Center Syndrome" and "Side Syndrome".
Since Suk-jin is sitting in the center, he'll be our main MC of the day. The cast fully expects an outdated MC style from the mat hyung, and things goes south almost immediately as the wind breaks the board in Kwang-soo's hands.
Looking at the board indicating how many times each member stood in the center for the opening, Jae-suk has been in the center spot 109 times. Gary thinks his 19 times were just a happy coincidence.
Additionally Haha and Kwang-soo have stood at the very ends the most (144 and 161 times, respectively). Just then, a flowery red carpet is rolled out and Suk-jin introduces our guests.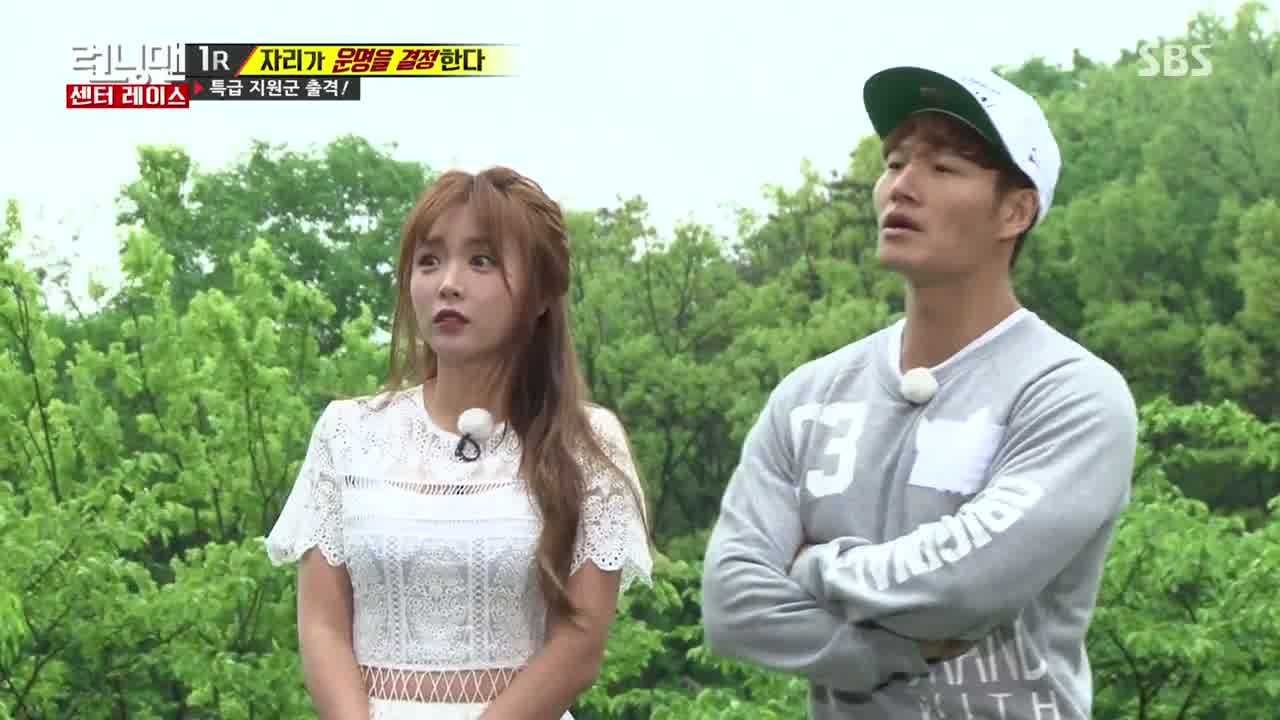 Cue Jo Boa (Monster) to be paired with Suk-jin, and trot singer Hong Jin-young with Jong-kook. Suk-jin is critiqued to make the intros more likely, and then Jae-suk takes it as a sign from the heavens when the wind blows the red carpets aside. "The heavens say no!"
Jae-suk's teammate is actress Yoo In-young (Goodbye Mr. Black) who was also Haha's teammate last time. Ji-hyo's teammate is Block B's Zico, who dons a personal sized multi-colored umbrella. He carries extra swag down the acupuncture mat.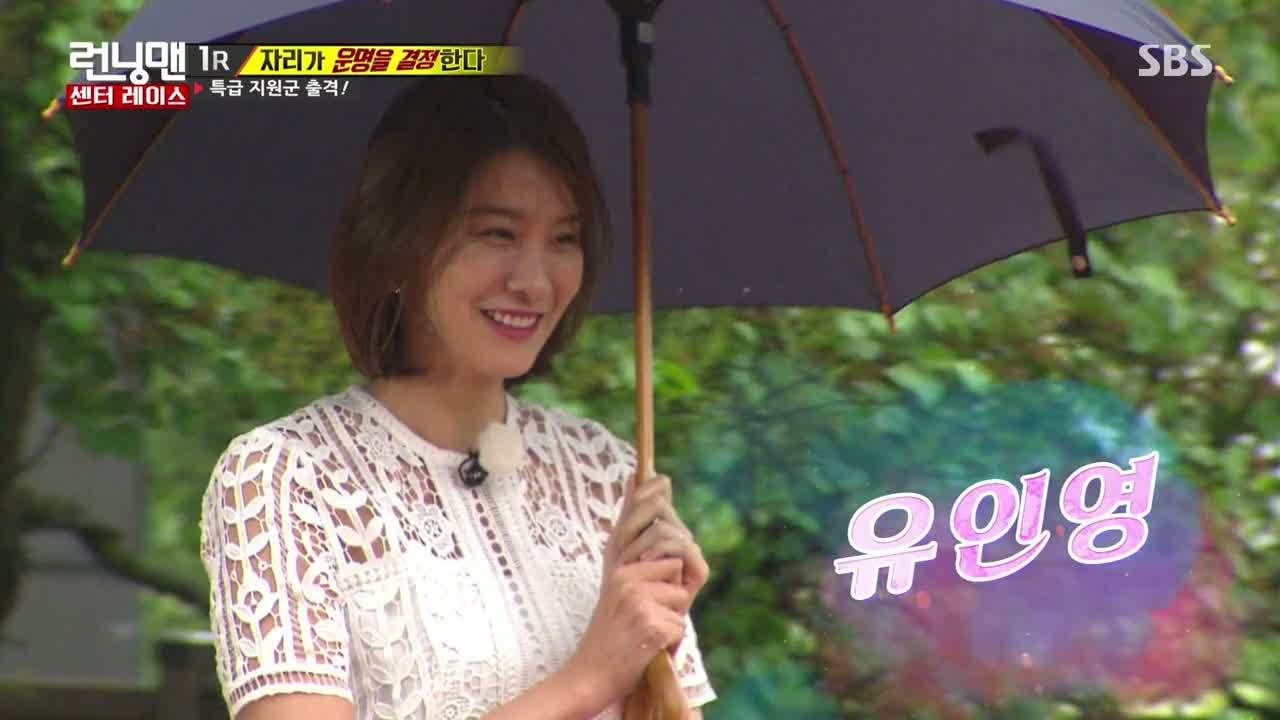 Actress Uhm Hyun-kyung (All Is Well) loves giraffes, making Kwang-soo her ideal teammate. Jae-suk beats Suk-jin to the punch before he gets to finish introducing Haha's teammate, model Stephanie Lee (Yong-pal).
The guys help her across the buckets of ice, then Jae-suk cuts Suk-jin off again for Gary's teammate, actress Kyung Soo-jin (Splish Splash Love).
None of the guys can put up with Suk-jin's '90s-style interviewing skills, as Gary says they've spent two hours on the opening and Jae-suk asks if this is his first MC gig. But Suk-jin moves on to Jin-young, whom Haha claims drunk-called Jong-kook in the middle of the night.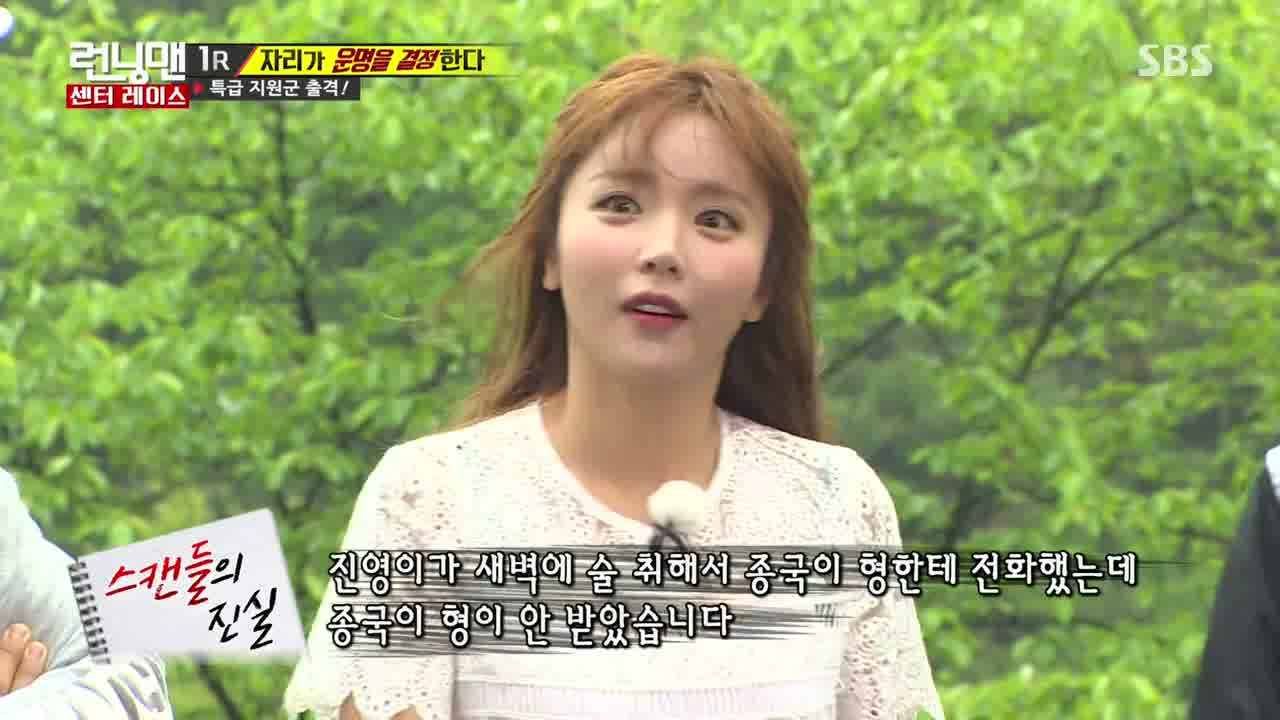 Jae-suk adds some kindling, saying that Jin-young asked for Jong-kook's number first. And then Suk-jin asks if she's put on some weight. Whoa… maybe we stay away from talkin' about a lady's weight.
After ordering Zico to show some dance moves, Suk-jin zips past to Hyun-kyung and admits he's a fan of hers. Haha: "Why is an MC confessing his feelings!" Jae-suk butts in to say that Hyun-kyung used to be on X-Man which successfully pulls in interest towards his story.
Suk-jin asks if she isn't interested in switching teammates, to which she declines. Also, you have your own actress to take care of!
Gary still remembers how he won with Soo-jin the last time she was here, and deliberately cuts the interview short since she's freezing. Stephanie admits she wanted to be Kwang-soo's teammate, but wore flats once she heard she'd be paired with Haha.
Today will be a fight for the center spot, where those who secure the center after each mission will be rewarded in points and advantages. The punishment for those who do not take the center spot will be placed in blue suits against a blue screen.
That's how Suk-jin and Boa start off with four points, and the group relocates for a warm-up game. Here, the team who blows out as many candles as possible wins a whistle to start the actual first game.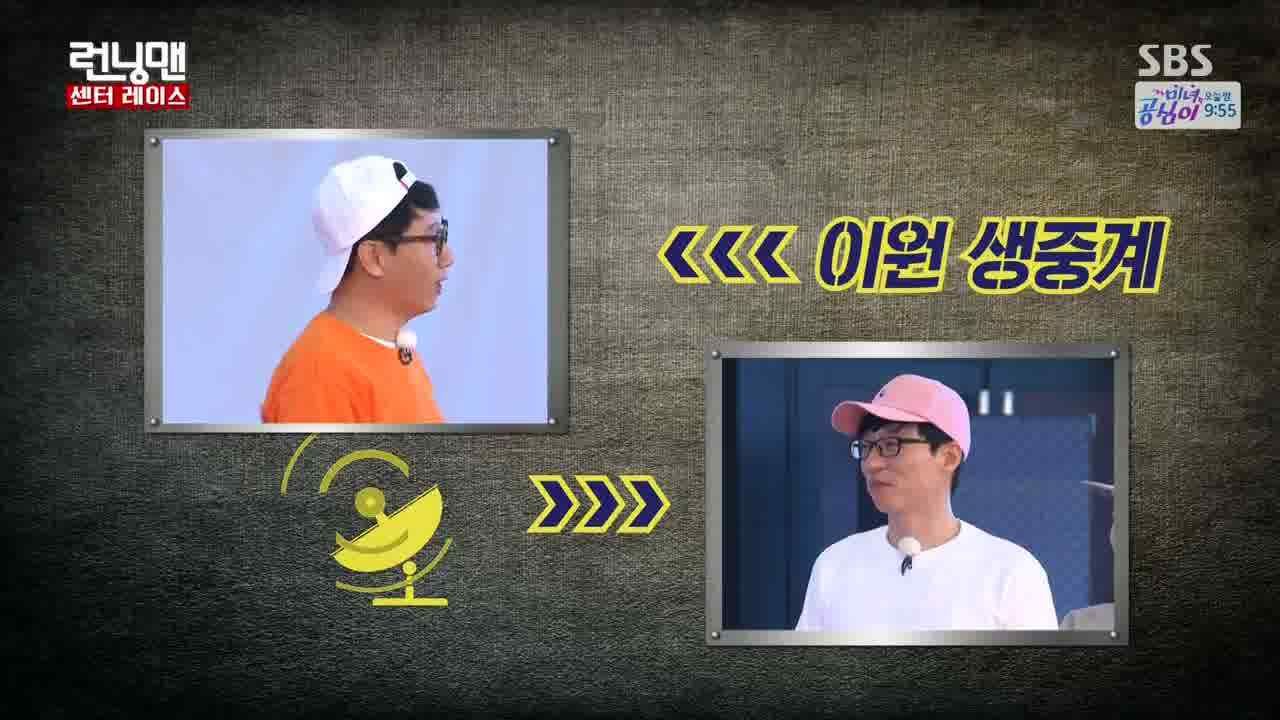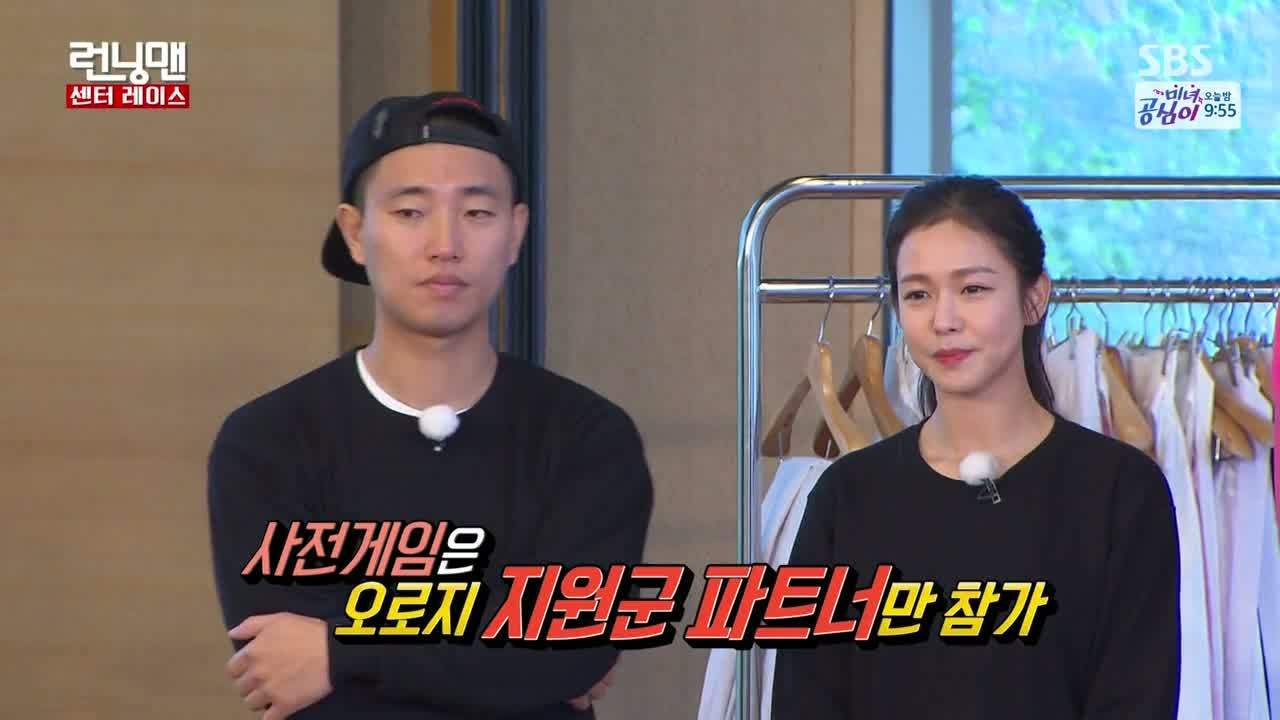 When Suk-jin suggests they go straight into the game, Jin-young pipes up to say that she's never been this silent on this show for this long before. With some reluctance, Suk-jin hands off MC duties to Jae-suk.
Jae-suk focuses on Soo-jin, whom Gary said she asked if they were doing a nametag ripping game today. Gary had said he wanted to be paired with her today, as Kwang-soo adds that Gary wanted Soo-jin's number too.
Jae-suk can't help but add in a Yoon Eun-hye joke when shifting focus to Jin-young. But then he points out Jin-young's trademark aegyo, and Suk-jin says everyone looks happier now.
Boa shyly confesses that she wanted to be paired with Jong-kook, which makes him smile. Jin-young: "You like that? I'm your partner today!" She's asked to do an acrostic poem for his name, and the zinger is: "I really want to change partners."
Suk-jin makes up a poem using Boa's name too, but it ends up being about how much he hates the center spot. Hyun-kyung is given the spotlight to show off her stiff dancing skills, and when Zico shows off some of his own, it transitions to Stephanie and Haha dancing together.
But the height difference makes it hard for Haha, who says, "It's like dancing with my mom!" The mood instantly shifts again when Jae-suk hands the metaphorical mic back to Suk-jin to start the game.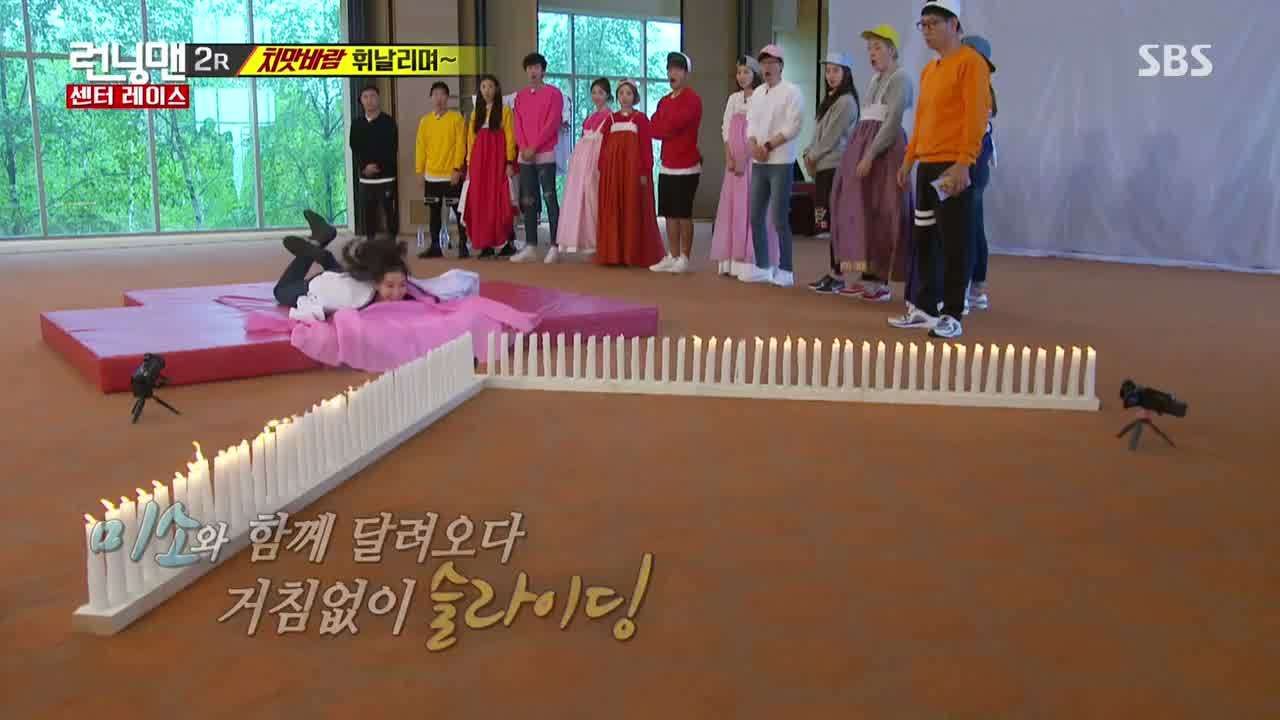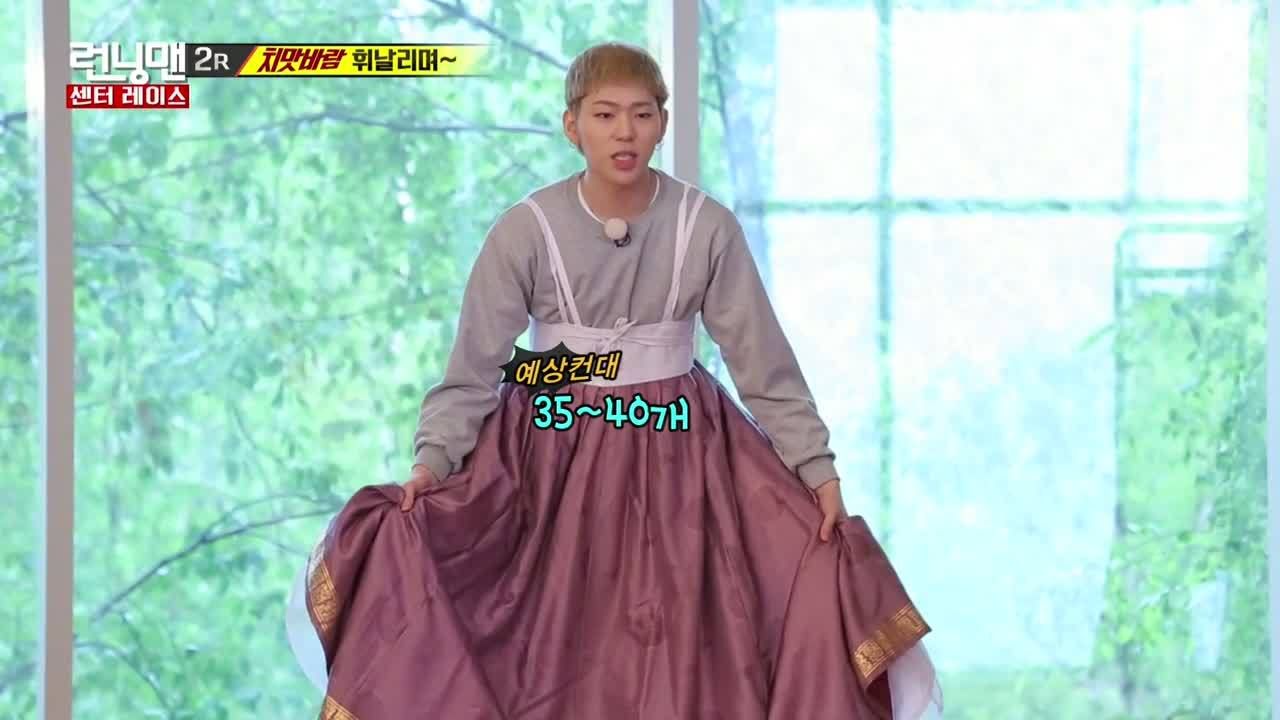 Soo-jin is our first competitor, blowing out 31 candles with her skirt. Stephanie logs in 33, and Hyun-kyung lets out a yelp before falling to blow out 10 candles. Jin-young slips on the mat, though I'm more relieved she didn't run straight into the lit candles.
Zico is the only male contender… who falls on his nose. Now it's down to Boa, who blows out 34 candles. This means Suk-jin and Boa secure the whistle for the Photo Zone game, where the teams will jump to be captured inside the TV frame.
Not only are additional points on the line, but lunch options as well. Everyone gets ready to run during the music portion, then runs when Suk-jin blows the whistle. Once the picture is taken, Kwang-soo, Hyun-kyung, Haha, and Stephanie's faces can be clearly seen.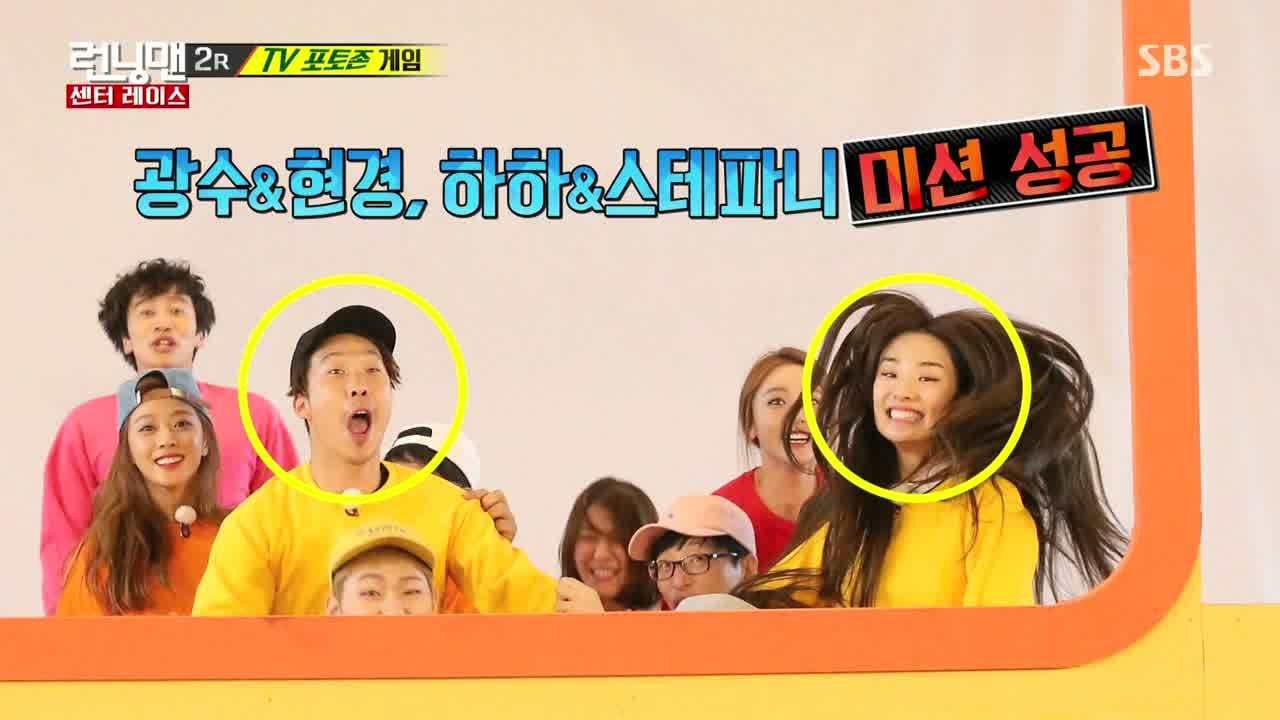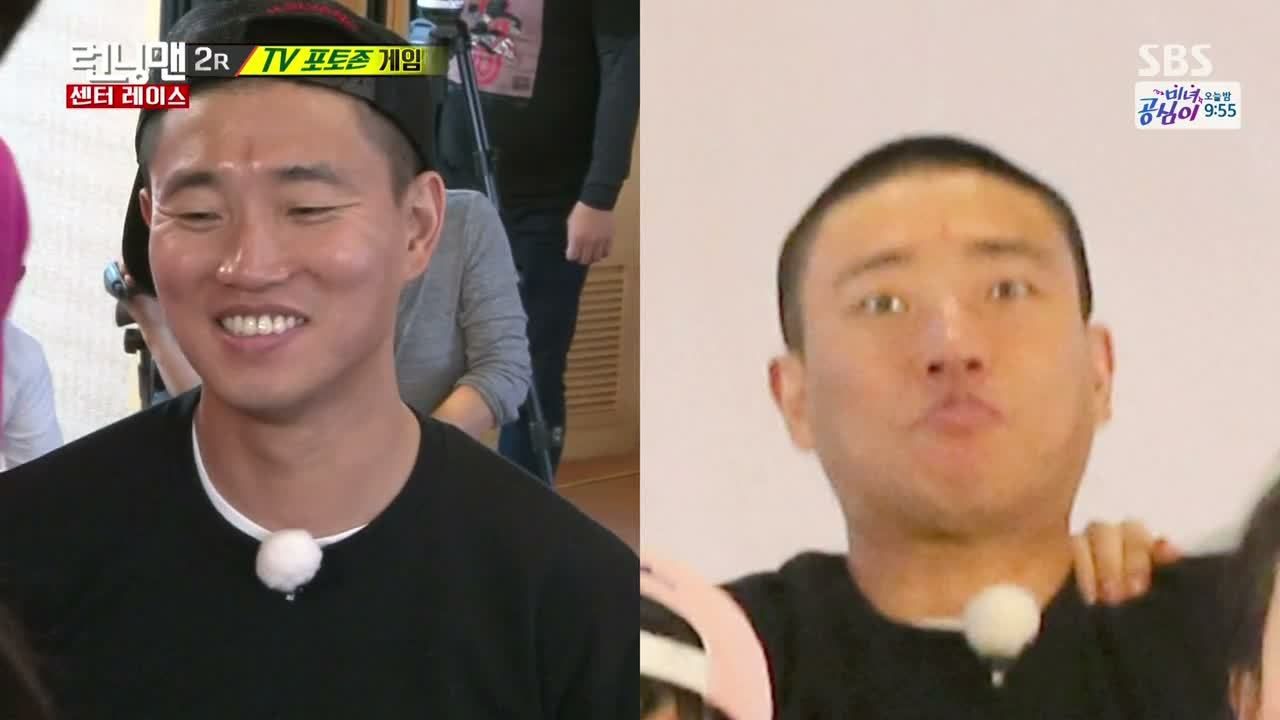 There's more jumping Round 2, in which three teams' faces are seen. Ha, Gary's face isn't so peaceful anymore. Those three teams face off in Round 3, and Jae-suk and In-young are also considered nominees for the center.
A smaller TV frame is brought out with a pair of hanging gold crowns. The teams jump and it's Kwang-soo and Hyun-kyung who win. Haha and Stephanie look at his half-obscured face (thanks to Jae-suk) sighing at how close they were to victory.
There's a whole spread waiting for Kwang-soo and Hyun-kyung, and the music slows down as we go down the chain, from a standard meal to a lonely rice ball. Kwang-soo loses control of the room as the new MC, and he's immediately approached for food.
Or rather, they're more like hyenas picking off whatever they can from the spread. He starts yelling and by the time the others return to their seats, Kwang-soo's left with less than half the food he started off with.
Jin-young plucks off a whole steak, and then another. Something else goes missing every time Kwang-soo returns to the table, but then the alley cats get their punishment when their VJs are taken off their shifts.
That's no problem since the others gather around the main camera. HA. Kwang-soo doesn't seem that upset when they're done eating and gather around together for a cheer. He calls out "Kwang-soo's…" and the answer is: "an idiot!"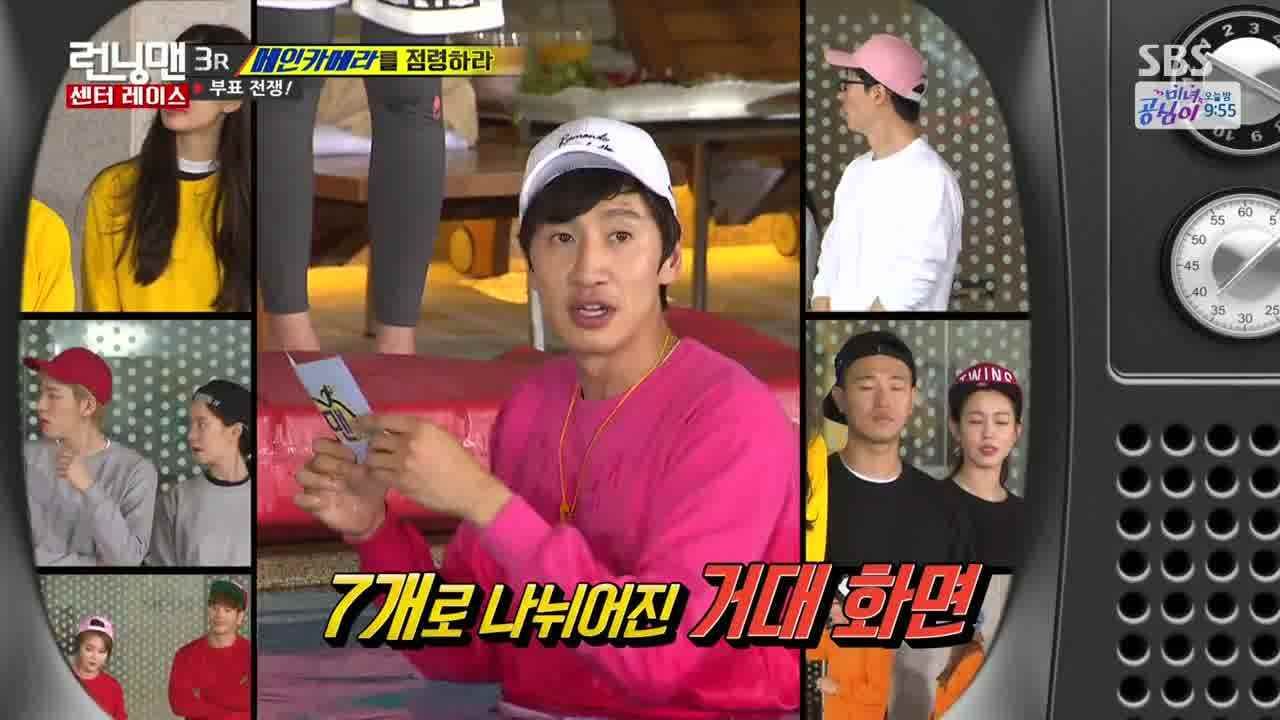 Then it's off to the pool for their next game, where Haha can't listen to two sentences out of Kwang-soo's mouth before kicking him in. Here, the teams will swim to a platform and make a heart gesture, hoping that they'll be captured on the largest screen.
Once the whistle blows, everyone jumps looking for the right platform. Hyun-kyung climbs on and tries to pull Kwang-soo up, only to get pulled into the water again. That's when Zico climbs up and pulls Ji-hyo up to win first place and the center spot.
Time for the second round, and Kwang-soo chomps down on Jong-kook's butt cheeks. Hard. Everyone slips off the platform, allowing Stephanie to jump on… but it's too far for Haha. Aww.
Stephanie slips off when she tries to help Haha a second time, as Jae-suk tries to find out who the monkey on his back is. Oh, that's Soo-jin. Boa hangs on for dear life as Soo-jin climbs over her and Kwang-soo to get on the platform.
Boa and Suk-jin share an almost Jack and Rose moment as she keeps hanging on whereas Suk-jin gets dragged away. And while that's going on, Jae-suk and In-young secure second place.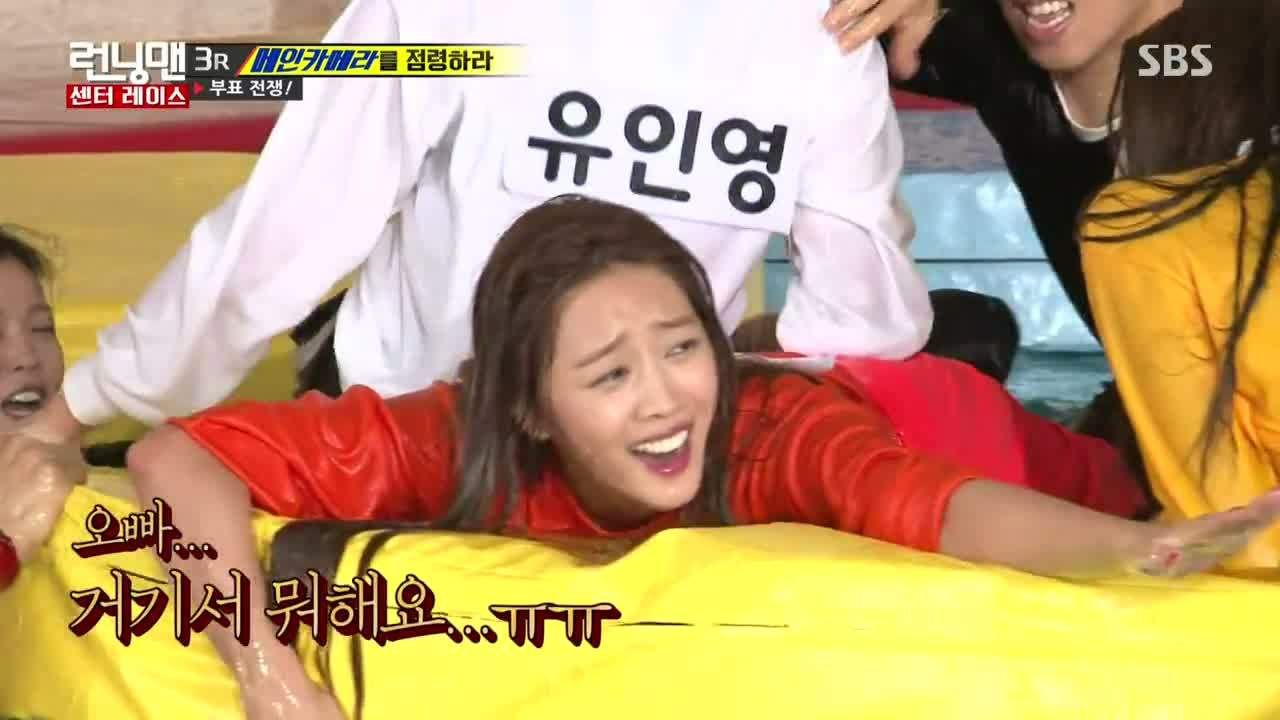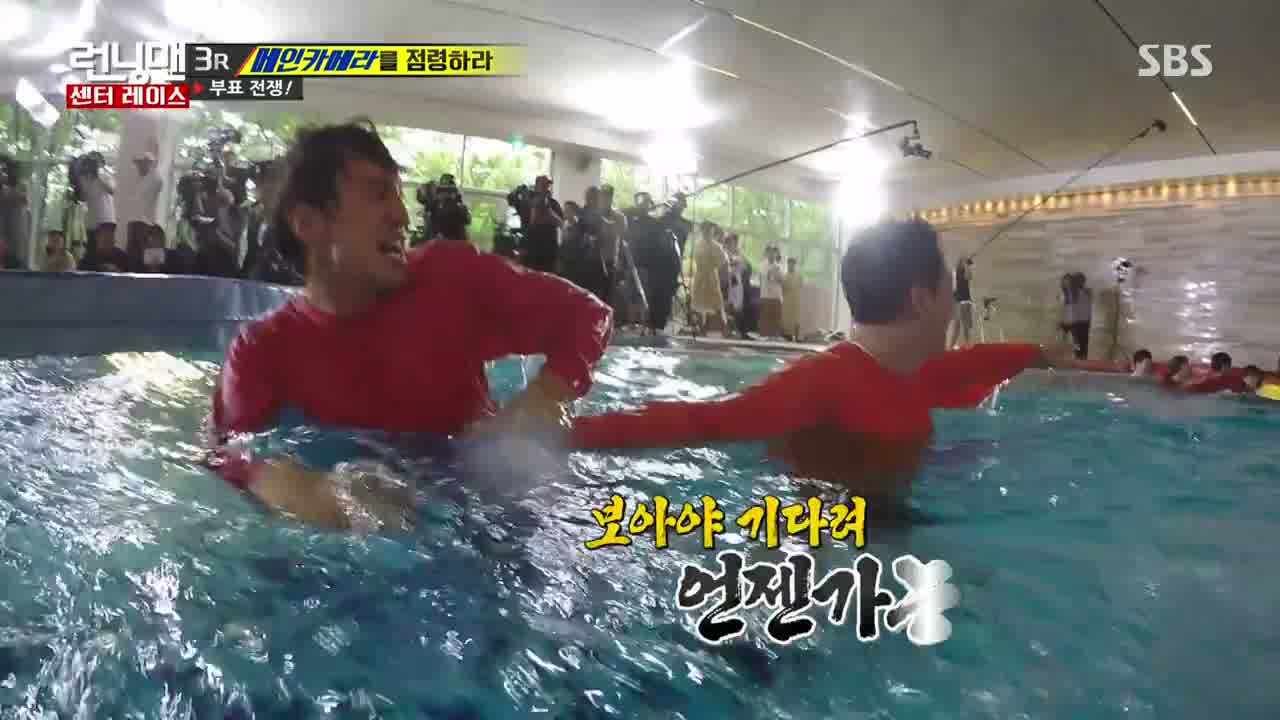 Boa plunges into the water for Round 3 whereas Hyun-kyung jumps platforms. Jong-kook climbs on first and pulls Jin-young up to secure the other spot beside the center. Exhausted, Boa holds onto Jong-kook: "I wanna be paired with him too!"
There's someone who has lost his shorts—Kwang-soo—who jumps back into the water. Two more teams secure the spots second-to-last, while the remaining two is stuck at the ends.
Jin-young has to leave early because of a last-minute change in travel plans, but Jong-kook doesn't appear too broken up about it. The game here is entitled Camera On/Off, where the teams will bet their points in order to win bonus points.
Each team will remove one plug which will either turn their monitors off or leave them on. Looking at the scoreboard, some teams will need to bet all their points to remain in the game.
Haha and Stephanie bet all five points and pull the plug… which turns off their monitor. Whoops. Gary and Soo-jin double their points to a total of eight, and so do Suk-jin and Boa for a whopping total of 14 points.
But Kwang-soo and Hyun-kyung tops that number for a total of 15, and Jae-suk and In-young bet eight points. Unfortunately, they lose when the screen goes black. Jong-kook has to pull the plug on his own and his screen remains on for 13 points.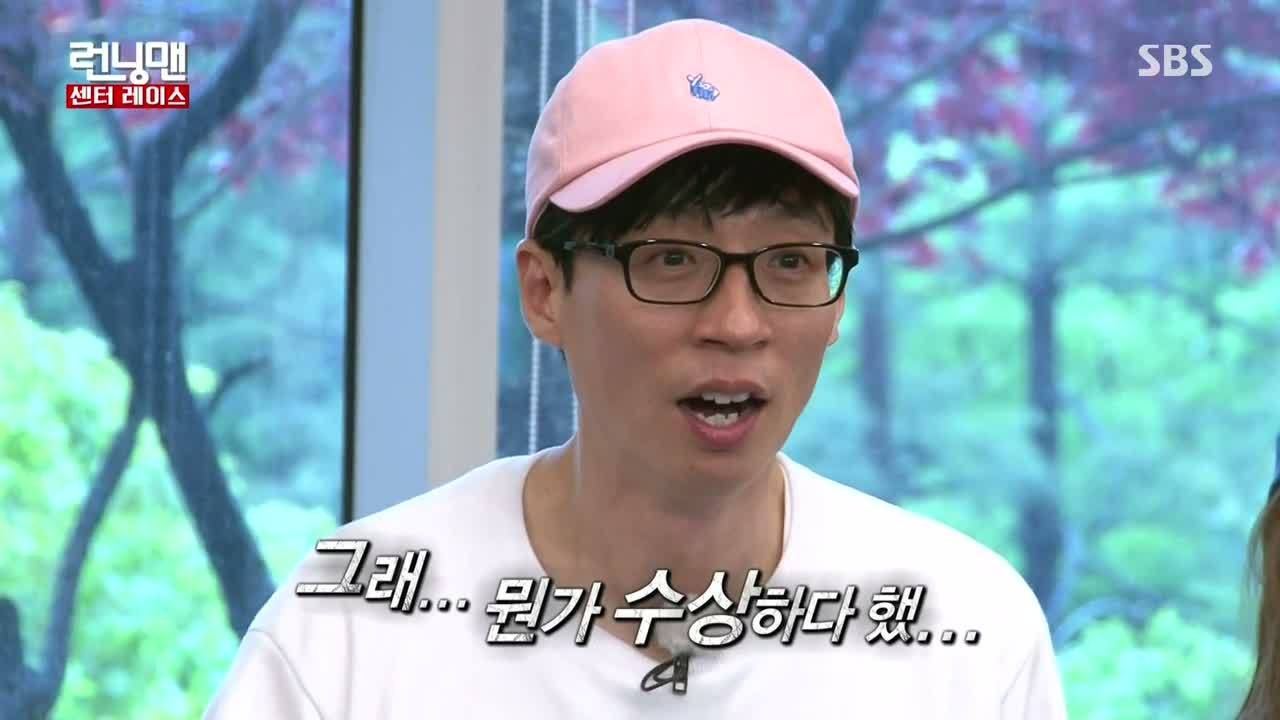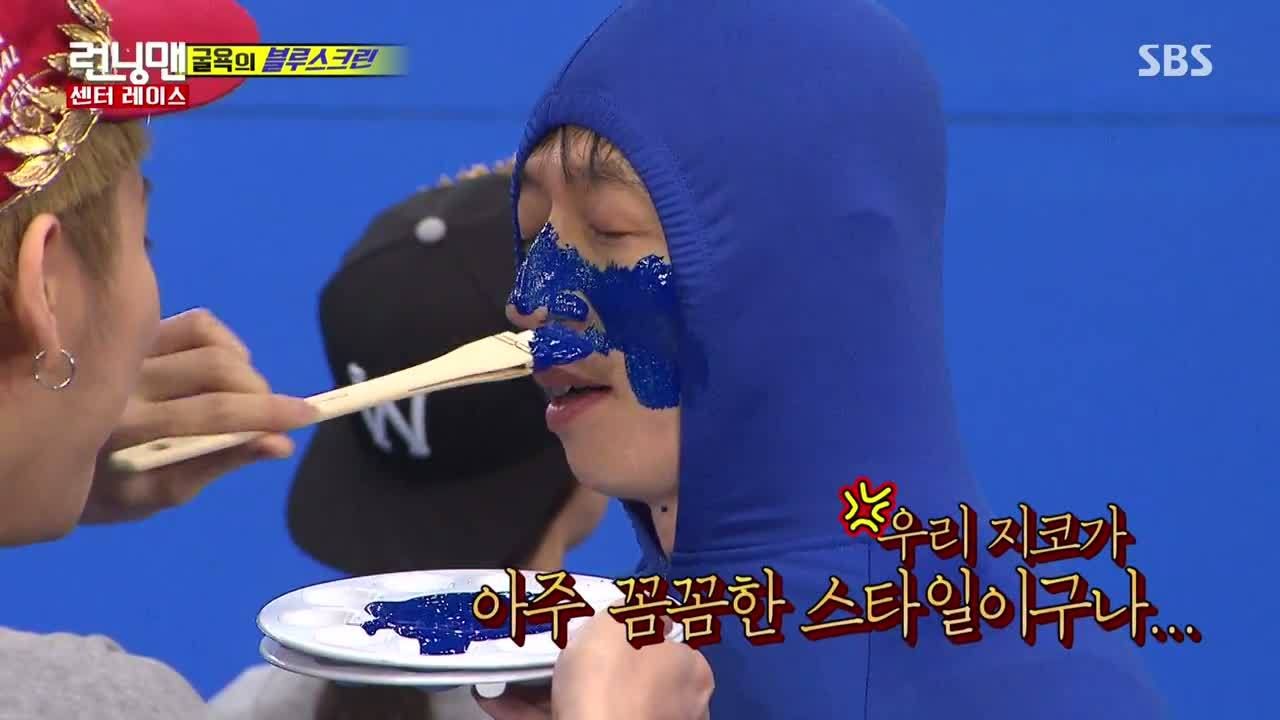 Ji-hyo calls Zico out for being too cautious when he's reluctant to bet all their points. They give into peer pressure and pull the plug together. And their screen remains on, giving them 16 points in total.
It's then everyone realizes that their monitors capture different people, and Jae-suk looks up expectantly, hoping that there's a reversal. But there's not.
Everyone gathers together again in front of the blue screen where everyone aside from Ji-hyo and Zico will wear blue suits AND blue paint. Jong-kook likens Jae-suk in the suit to the performance group, the Blue Man Group.
Then it's time for the unveiling and both Jae-suk and Haha are practically invisible as Zico takes center stage to the tune of Block B's "Toy."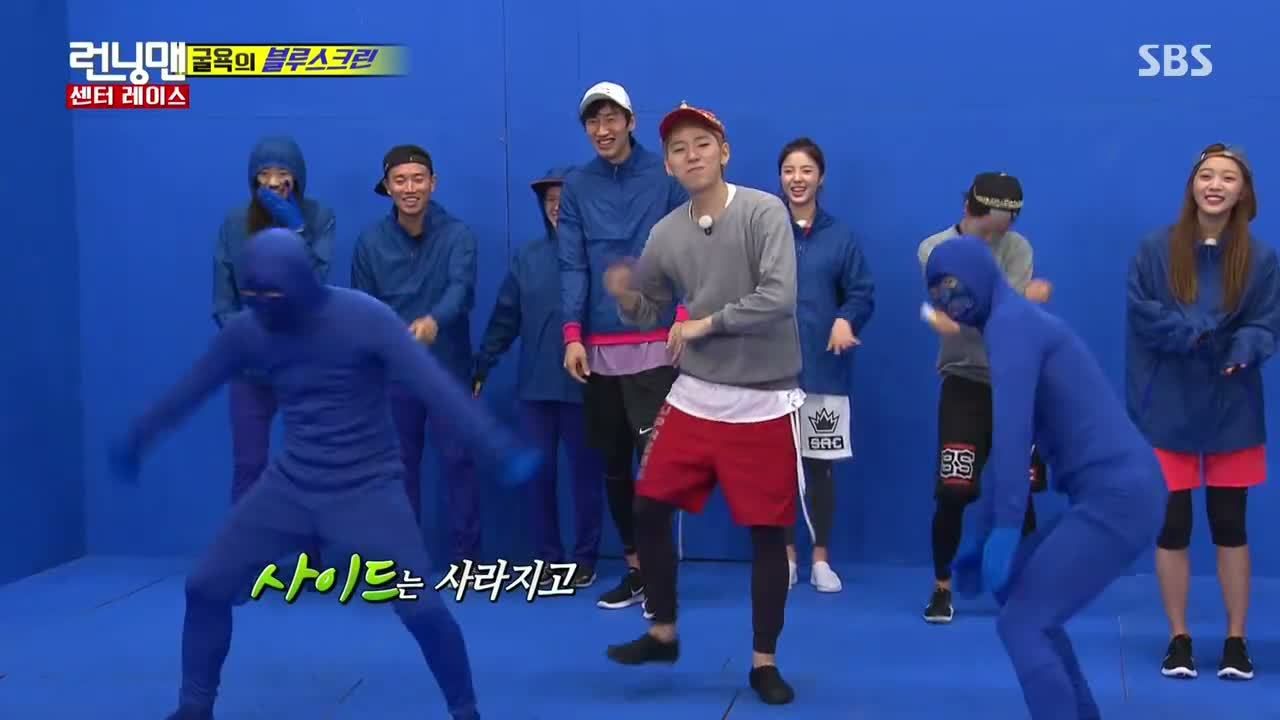 RELATED POSTS
Tags: featured, Haha, Ji Suk-jin, Kang Gary, Kim Jong-kook, Lee Kwang-soo, Running Man, Song Ji-hyo, Yoo Jae-suk