My Sweet Seoul: Episode 11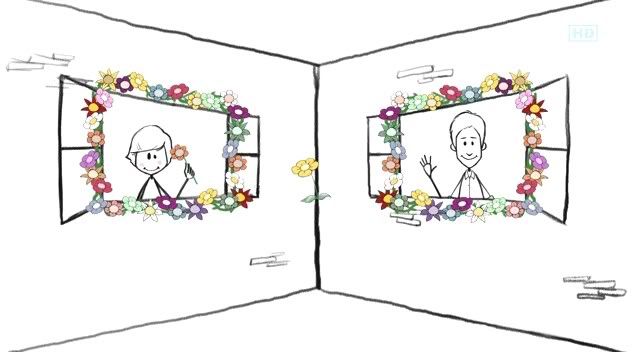 I like the opening animated sequences of My Sweet Seoul because they're usually cute, literal representations of the metaphors Eun-soo uses in the drama itself. In this one, for instance, wall meets wall at the corner. A small flower springs up where they connect, windows are created on both walls, the blooms flourish, and Young-soo waves at Eun-soo. So you can be a brick wall and still find love. Aw.
SONG OF THE DAY
Taru – "오! 다시" (Oh! Again) [ Download ]
Audio clip: Adobe Flash Player (version 9 or above) is required to play this audio clip. Download the latest version here. You also need to have JavaScript enabled in your browser.
EPISODE 11 RECAP
So now Young-soo and Eun-soo are dating, albeit slowly, in marked contrast to her quick-paced progression with Tae-oh. I wouldn't say they're being hesitant, but rather enjoying the early stages of giddiness at being together, spending lots of time texting back and forth. The messages are usually fairly mundane (such as, "What are you doing?" and "I'm cleaning my place"), but it's the simple act of connecting with each other, I think, that has them both so happy.
Jane's shocked to hear that they haven't even kissed yet, though, and Eun-soo says in her defense that they've held hands once. Then she remembers that it wasn't really holding hands — he was leading her along while she kept her eyes closed.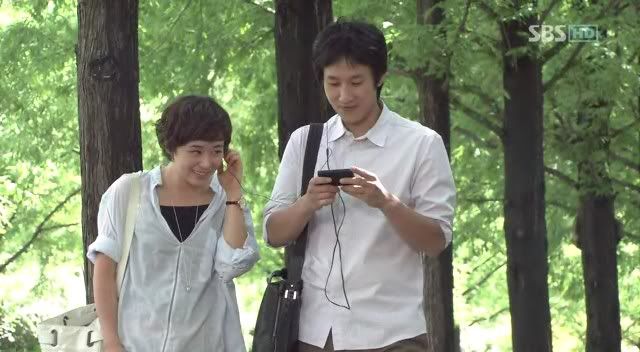 Thus when they next meet, Eun-soo sneaks furtive glances over to his arm, as if to gauge whether she should hold his hand. Young-soo mentions wanting to do certain activities with her, things that he wants to try now that he has somebody to do them with. Like sharing earphones while listening to a song, or going to the zoo together. Eun-soo laughs and agrees to go along, but when he asks if there's anything she'd like to do with him, she hesitates (again sneaking a look at his hand), then says no.
Jane has opened up her own shop, and ropes her friends into helping her set up (at least she's paying them, now that they're unemployed). She also runs into Yoo-joon and seems to get the idea in her head of having some fun claiming him as her best male buddy. I'm not quite she why, and neither are Yoo-hee and Eun-soo, who shrug at each other quizzically when Jane goes out for a bike ride with Yoo-joon. (Jane pouts when she comes back to find Eun-soo already gone, because she'd gone through the trouble of doing it in front of her. It's as if to say, "See who's best buds with Yoo-joon now?" although it's not in a malicious way. But neither of her friends takes her antics seriously anyway; they're merely amused.)
On their way to a date, Eun-soo asks to stop by the library to drop off some books, and while she's inside, Young-soo waits for her by the car. He notices a disturbance at the other side of the parking lot, and sees a group of high school boys beating up another student. Young-soo runs in and tries to get them to stop, but they ignore him and push him aside, continuing to kick and beat the student.
Mixed in with his desperate pleas for them to stop are flashes back to the past, when Young-soo was involved in a similar fight as a young student. Only, in that instance, the boy being attacked had hit his head on a rock and (presumably) died. It's as though Young-soo half-reverts to his younger self, caught up in the panic of history repeating itself, and he curls protectively over the student, shielding him from the blows and bearing most of the brunt.
Eun-soo comes back to the empty car and looks around curiously. She sees the group of boys running away, and heads over to the area, and sees Young-soo collapsed on the ground next to the other (equally injured) student.
She calls for help, and he's taken to the hospital, mumbling the name of the dead boy all the while. Eun-soo tries to insist upon remaining at the hospital, but his co-worker hyung persuades her to go home, convincing her that it's what Young-soo would want.
He later calls her to let her know that the tests came out normal, and that Young-soo will be fine. Eun-soo briefly talks with Young-soo over the phone, and he notes her wobbly voice and assures her he'll be fine. He tells her not to cry, apologizing for making her worry.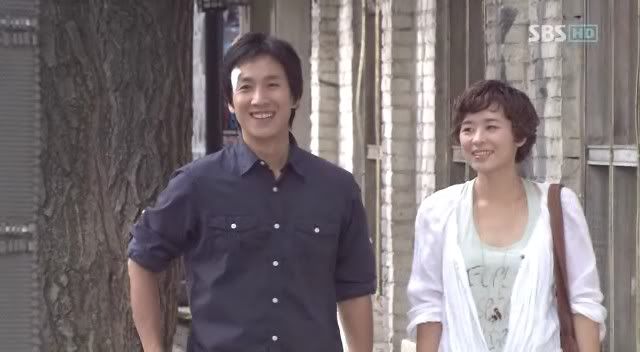 True to his word, Young-soo's healthy and happy in no time.
Yoo-hee tries out for her first musical along with two of her classmates. She does her fierce best during the audition and feels good about her chances, but in the end none of them make it. It seems like the others expected her to succeed, given the guy's surprise when she doesn't (I've got to learn his name — for now he is, in my mind, Happy Snaggletooth Guy).
He tries to cheer her up, telling her nobody makes it the first time, that life's a marathon. Yoo-hee marvels how he utters such trite clichés with complete earnestness, as though he was the one who'd coined those phrases, but she does eke out a reluctant smile.
Yoo-hee is called away by Chan-seok, and takes a calm, firm approach to wrapping up their relationship. She brings him to the tree they'd planted together on the mountainside all those years ago and assures him she didn't bring him here to make him feel bad, but that she wants to end things now.
On their way to a date, Young-soo and Eun-soo stop by his place to find some documents for his hyung, who takes the opportunity to share some stories about Young-soo (the stories paint Young-soo in a heroic light, to his embarrassment).
Eun-soo asks about Young-soo's parents, to which Young-soo answers thoughtfully and slowly, suggesting there are some issues there. Young-soo shares a bit about when he was younger, how he used to be very competitive and ambitious. He tells her, "I want to tell you everything, but if there is something I can't share with you, it's because it's something I really can't talk about. Can you understand?" She nods.
At their housewarming celebration for Jane's shop, Eun-soo regales her friends with endless tales of Young-soo. She shares: "Sometimes he talks in a really low voice, and it makes me think, 'Ah, those thoughts are emerging from the deepest part of him. I'm hearing him say something nobody else gets to hear.'"
Yoo-hee tries to be the supportive friend despite being in a funk, and Eun-soo continues to talk, driving her friends crazy with boredom. Eun-soo acknowledges that she's been monopolizing the conversation, and promises to stop… after one last story? Her friends tell her NO.
Things get a little tense when they ask Yoo-hee about her audition and she tells them she didn't make it. Jane's immediate reaction is a little laugh — it hurts Yoo-hee's feelings, but Jane apologizes and says it was just ironic because Yoo-hee had been so cocky. Meekly, she says it was a joke and to forget it. That causes Yoo-hee to retort that her friends might see life as a frivolous thing, quitting jobs left and right and setting up their shops out of boredom, but for her, this was everything. She'd put her entire life into this.
Yoo-joon cuts in that she's being unfair, saying that everyone goes through pain and hard times. Yoo-hee realizes she was out of line and apologizes, saying it must've been and old flare-up from her youth (when she'd been sensitive about being from a poor family).
Eun-soo's former co-worker isn't having such an easy time working with Young-soo on the Fresh Cat account, and calls Eun-soo after a particularly vexing business meeting to vent (not knowing that Eun-soo is currently in the car with Young-soo). Eun-soo stifles a laugh and looks over at Young-soo in amusement while assuring her that Young-soo had been like that with her, too.
They meet up for coffee later, and the co-worker (I forget her full name, but she's Ms. Jang) passes along the contact information for a job with another company. Eun-soo goes on the interview, but things get tense when the interviewer asks for her desired salary, and she cites a number he clearly thinks is too high. He answers her in a sort of passive-aggressive, roundabout way (talking about "worth" and people's "prices"), and Eun-soo stands up for herself ("I'm not an apartment or a car… I'm a person"). Needless to say, the interview isn't successful, but Eun-soo still walks out feeling good about herself for speaking confidently.
Hating to eat alone (huddled in her shop with no customers), Jane calls Yoo-joon to have lunch together. She wonders if Yoo-hee was right, if her life really is pathetic, but Yoo-joon tells her nobody can meet Yoo-hee's high standards: "That's why we should all live our own way."
As they get up to leave, Jane recognizes someone passing by, and calls out his name — it's Tae-oh. Immediately afterward, she calls Eun-soo to let her know whom she's just run into, and Eun-soo's reaction is, well, just like the picture below. Whatever that means.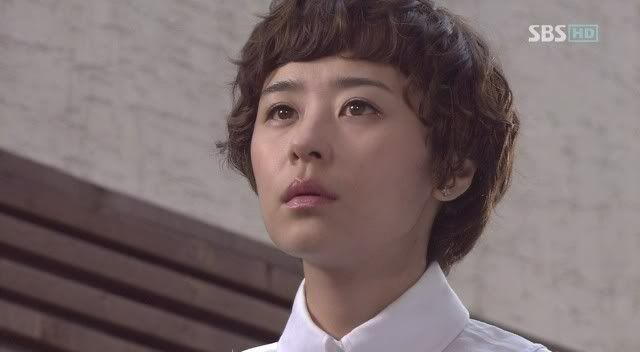 COMMENTS
Cute episode, yes. Cute developments between Eun-soo and Young-soo, yes. Cute friend moments, yes. Losing interest in this drama, also yes.
I do wonder what they've got planned for Jane and Yoo-joon (if they've got anything planned at all). Is this a romantic pair-up, or simply a friendly one? They do seem to be on the same wavelength these days, and Yoo-joon is doing a good job of acting the supportive friend role that her girlfriends have been kind of slacking off on in the past. In fact, his role in this episode is reminiscent of Tae-oh's attitude in a previous episode — he's willing to listen, seeing through her silliness to her underlying insecurities.
I'm also wondering what they're going to do about Yoo-hee and her musical buddy. I'm pretty sure those two will be paired up, but their path seems pretty obvious, so I'd like to see how they make it more interesting.

RELATED POSTS
Tags: Choi Kang-hee, Lee Seon-kyun, My Sweet Seoul